Advertising is important for all businesses. But in 2023, businesses are looking to target their ads and place them in prime real estate. That real estate could be your website, allowing you to generate revenue while providing advertisers a place to get the word out about their products and services.
A lot of businesses are partnering with ad networks for this reason. These online services allow advertisers to run ads with multiple publishers and manage their campaigns from one central location.
You might be wondering whether a service like that is too good to be true. In this article, we're going to talk about what an ad network is, go through how they work, discuss the pros and cons of working with an ad network, and talk about what makes a quality ad network before highlighting 20 of the best options out there today.
What Is an Ad Network?
An ad network is a service that connects advertisers with publisher websites looking to host ads. The purpose of an ad network is to match available ad space with the needs of businesses placing ads.
Of course, not just any old ad placement will do. Advertisers are looking for high-traffic sites that have either something to do with their industry or an overlap with their target audiences.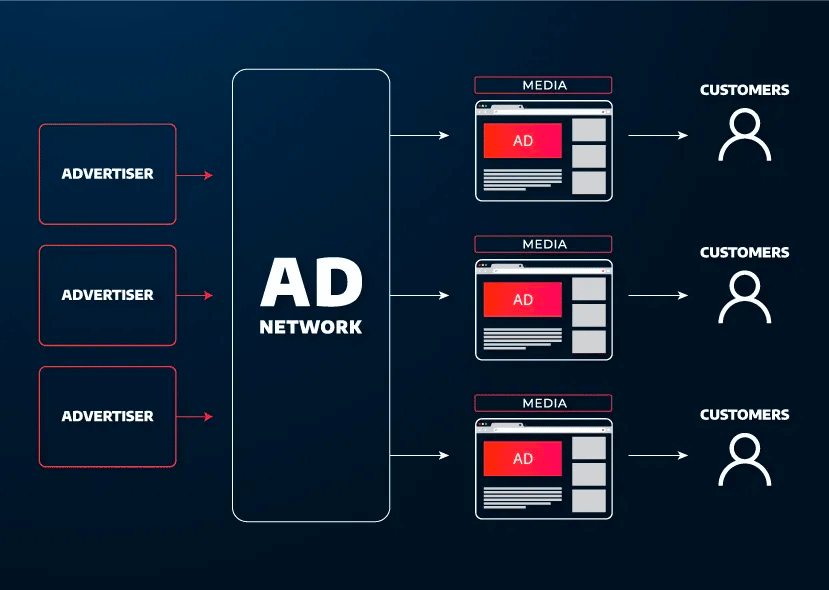 For advertisers, an ad network will compile all of their ads in one central hub. This would then list all ad campaigns running, where they're running, who they're targeting, and how they're performing. Publishers would be able to use their dashboard to determine how much revenue ads are generating.
What Ad Formats Do Ad Networks Use?
Ad networks use many different ad formats. If you're going to become a publisher, you should reserve some ad space on your site. Thankfully, you won't have to run any formats you're not comfortable with. For example, if you don't want pop-up ads interrupting your customer-friendly user experience, you can select banner ads or sliders.
The following ad formats are some of the most popular options on ad networks:
Pop-up ads
Native ads
Push notifications
Offerwall
Geo
Device
Video ads
In-text
Mobile-specific
Slider ads
Carrier
OS
IM floater ads
How Does An Ad Network Work?
Now that you have a strong understanding of what an ad network is, let's take some time to discuss exactly how it works and how it can be beneficial for both publishers and advertisers.
Advertisers set up campaigns within the ad network. This includes the actual ads themselves and the parameters for the campaign. The parameters that need to be set include the budget, cap, frequency of ads published, and target audience the advertiser is trying to reach.
The ad network takes that information and provides publishers with ad tags to install directly onto their pages. Once that's done, the ads can be published, and the advertiser has the freedom to rotate their ad banners and manage everything through the ad network's central control panel.
That means there's no need for contact between the advertisers and publishers. All ad management is done through the network, so you're not going to have to worry about a lot of back and forth.
There are various types of ad networks to choose from, depending on your needs as either a publisher or advertiser.
Premium Ad Networks
Premium ad networks only sell space for notable publishers. These are popular websites that can create a high demand. Premium networks also have higher content standards, leading to increased conversions and more revenue generated for publisher websites.
Vertical Ad Networks
Vertical networks sell topic-specific content. A great example would be an ad network specifically designed for the fashion industry or tourism. Publisher websites for a tourism network could include travel blogs, hotel websites, travel agency sites, and more.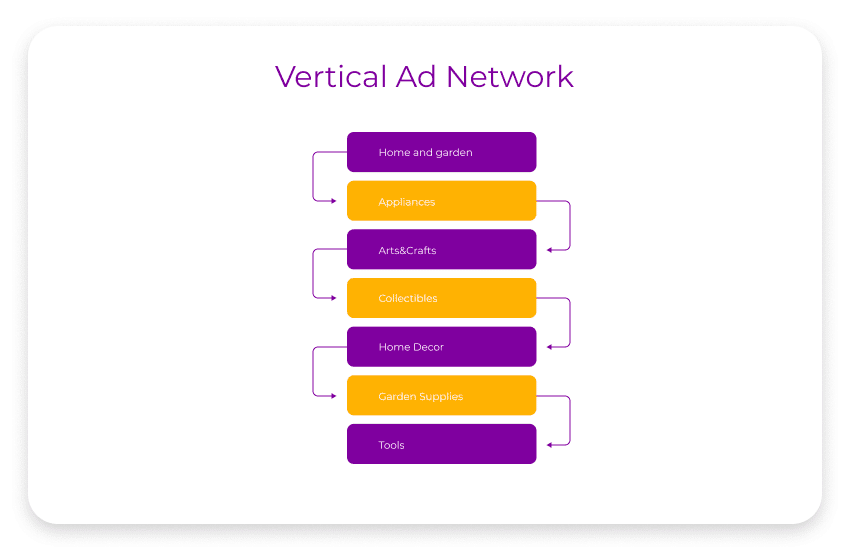 All ads generated in a vertical network should appeal to similar audiences. While volume on these networks might be lower than some other options, they're more highly targeted and relevant, so they generate quality traffic.
The advertisers who publish on your site through a vertical ad network can choose between running ads on your entire site or just certain sections.
Horizontal Ad Networks
A horizontal ad network provides more volume and a more comprehensive inventory base. However, the targeting of the ads run on these networks is more generalized, which means lower quality interactions could occur.
However, these ads run on a much broader network, so the opportunity for impressions will be much higher.
Specialized Ad Network
A specialized ad network, sometimes known as an inventory-specific ad network, focuses on specific types of ads or devices.
For instance, someone running ads on a specialized network might only want to run mobile ads or push videos for their content marketing strategy. These mobile ad networks provide ads for apps, so if you've developed an app and are looking to monetize it, one of these networks might be the right move for you.
Performance and Affiliate Ad Networks
A performance ad network might be the right move if you're interested in getting involved with influencer marketing or affiliate programs. These networks allow influencers like podcasters, YouTubers, Twitch streamers, and bloggers to connect with companies looking to push their products through popular platforms.
Most big businesses run an affiliate ad network. Amazon is one of the more famous platforms out there, but you'll also see companies like Target, Home Depot, and Best Buy getting involved.
These networks typically run on a cost per conversion or cost per acquisition model, so payouts are entirely based on performance.
How Do Ad Networks Benefit Advertisers and Publishers?
Publishers and advertisers benefit tremendously when working with a good ad network.
Publishers can sell off space on their sites that they weren't even using in the first place.
Advertisers can benefit by spreading their ads across many different publishers while still managing their campaigns using one centralized platform.
Ease of use is a huge benefit for advertisers. They only have to set up their campaigns once and launch them on multiple sites.
What's more, budgets and capping are honored across the entire network. That means no individual management is needed.
Factors To Consider When Choosing an Ad Network
You'll want to consider a few important factors before choosing an ad network to do business with.
For starters, what business models are offered through the network? Some common examples include:
CPM (Cost per mille), which means cost per 1,000 impressions
CPC (Cost per click)
CPI (Cost per install)
CPA (Cost per action)
CPV (Cost per view)
Some other factors that you'll want to think about before signing up are:
Verticals offered
Ad types
Ease of use
Payment options
Targeting
Top 20 Ad Networks for Publishers in 2023
1. Google AdSense
When people talk about ad networks, the first one they typically think of is Google AdSense. It's far and away the largest and most well-known ad network in the world. It allows publishers to make ad space available by pasting an ad code onto their site and can even be added to WordPress with a plugin.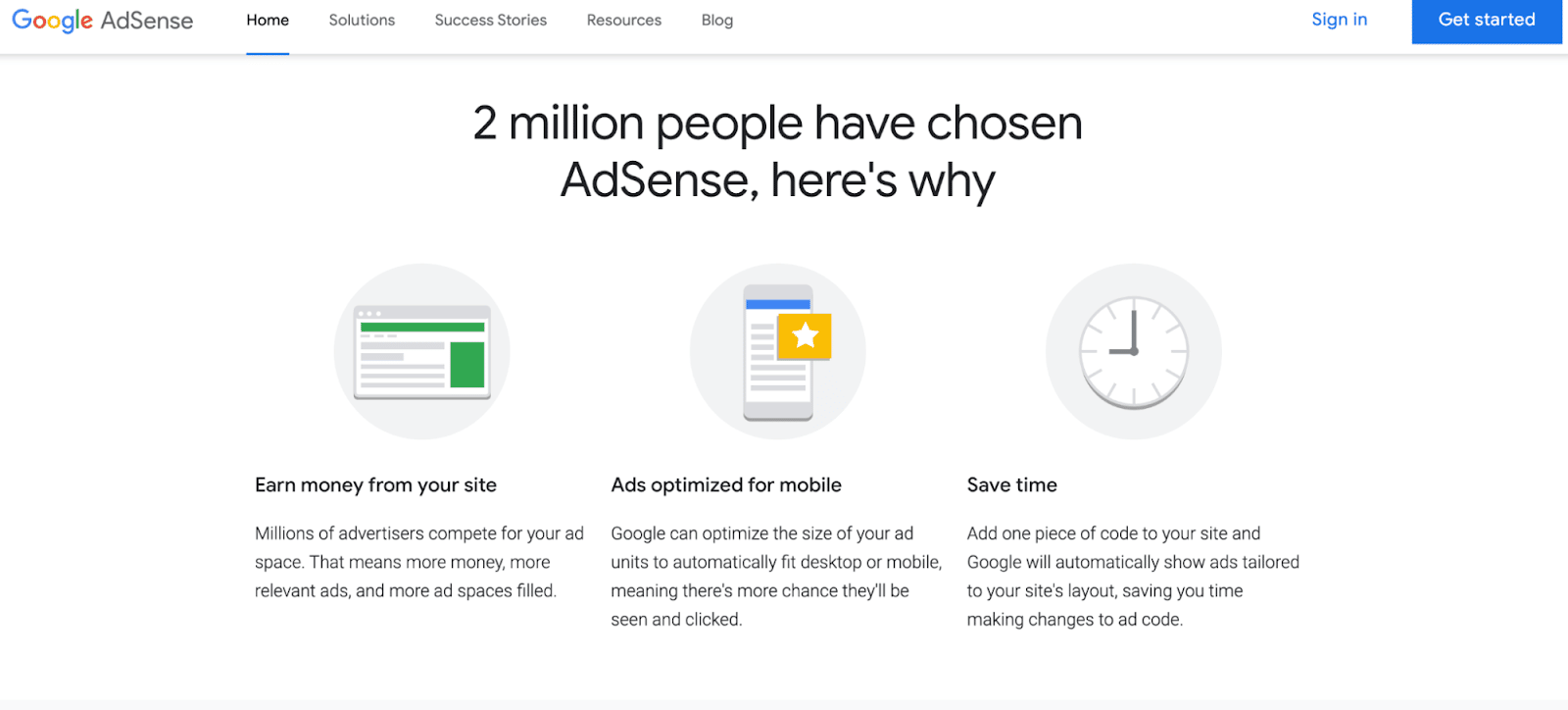 Once that's done, publishers can choose where they want ads to appear. There's also an option where Google runs tests to locate the best ad placement on your pages. The advertisers then bid on placement, and the highest-paying ads appear on your site. Once that happens, the publishers are paid.
AdSense has a minimum payment threshold of $100. While this is the most well-known service, there are several AdSense alternatives to choose from.
2. Amazon Associates
If you're interested in affiliate marketing, Amazon was one of the first big names in this arena. The Amazon Associates network is a marketing program that allows publishers to place product links on their websites manually.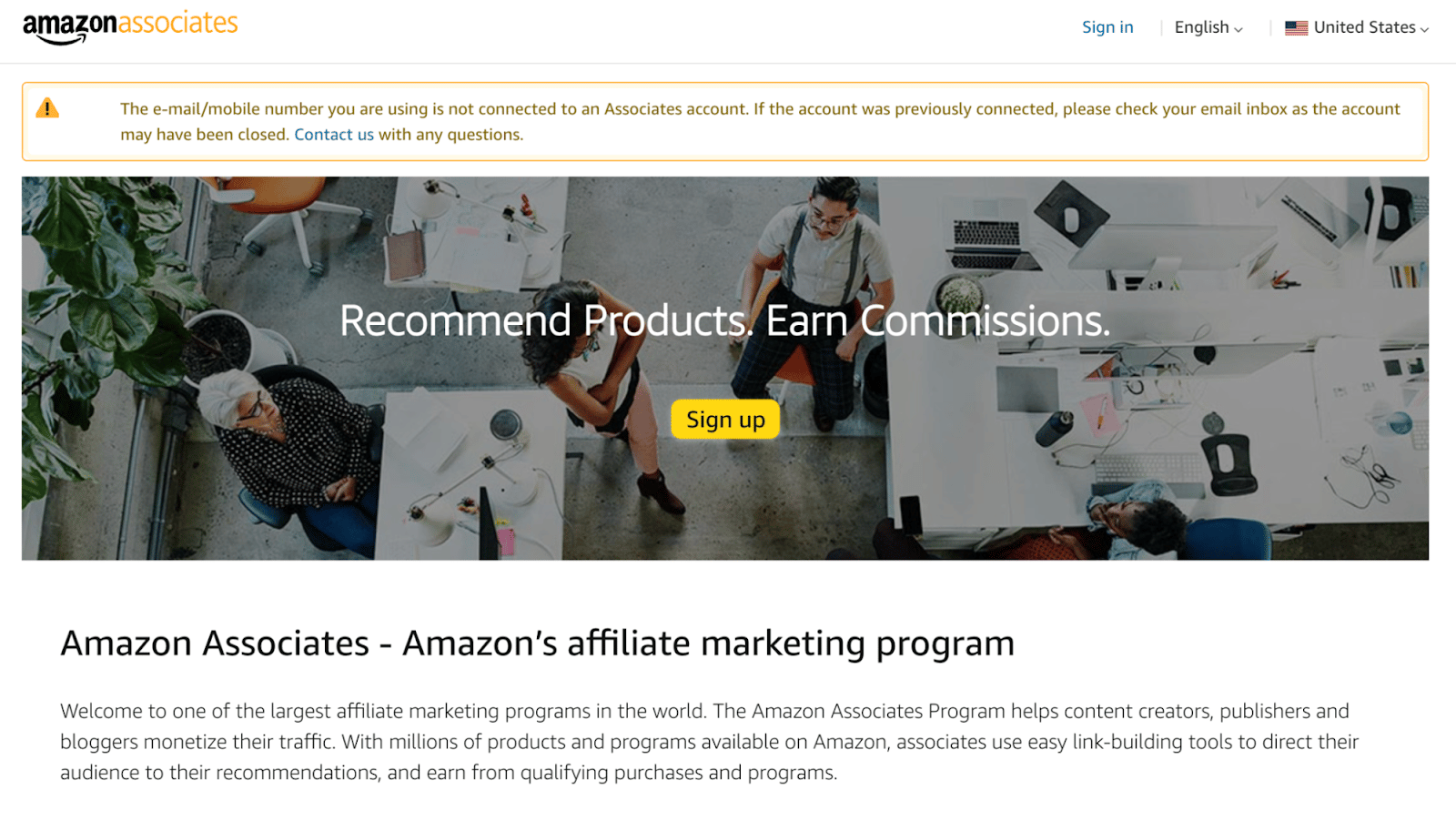 There's also a hands-off approach called Native Shopping Ads, which lets you display contextual Amazon products based on the page they appear on.
Once the visitors click on your ads and purchase, you receive a commission off that sale. Not only that, but you'll earn a commission on additional purchases the user makes while using one of your links.
The payout threshold for Amazon Associates is only $10.
3. Ezoic
Ezoic is a full-service ad delivery platform that ties in multiple ad networks into one platform, so rather than choosing just one or a few networks, you can get access to hundreds of them seamlessly, including Google's coveted AdX network, which is only available to Google Certified Publishing Partners.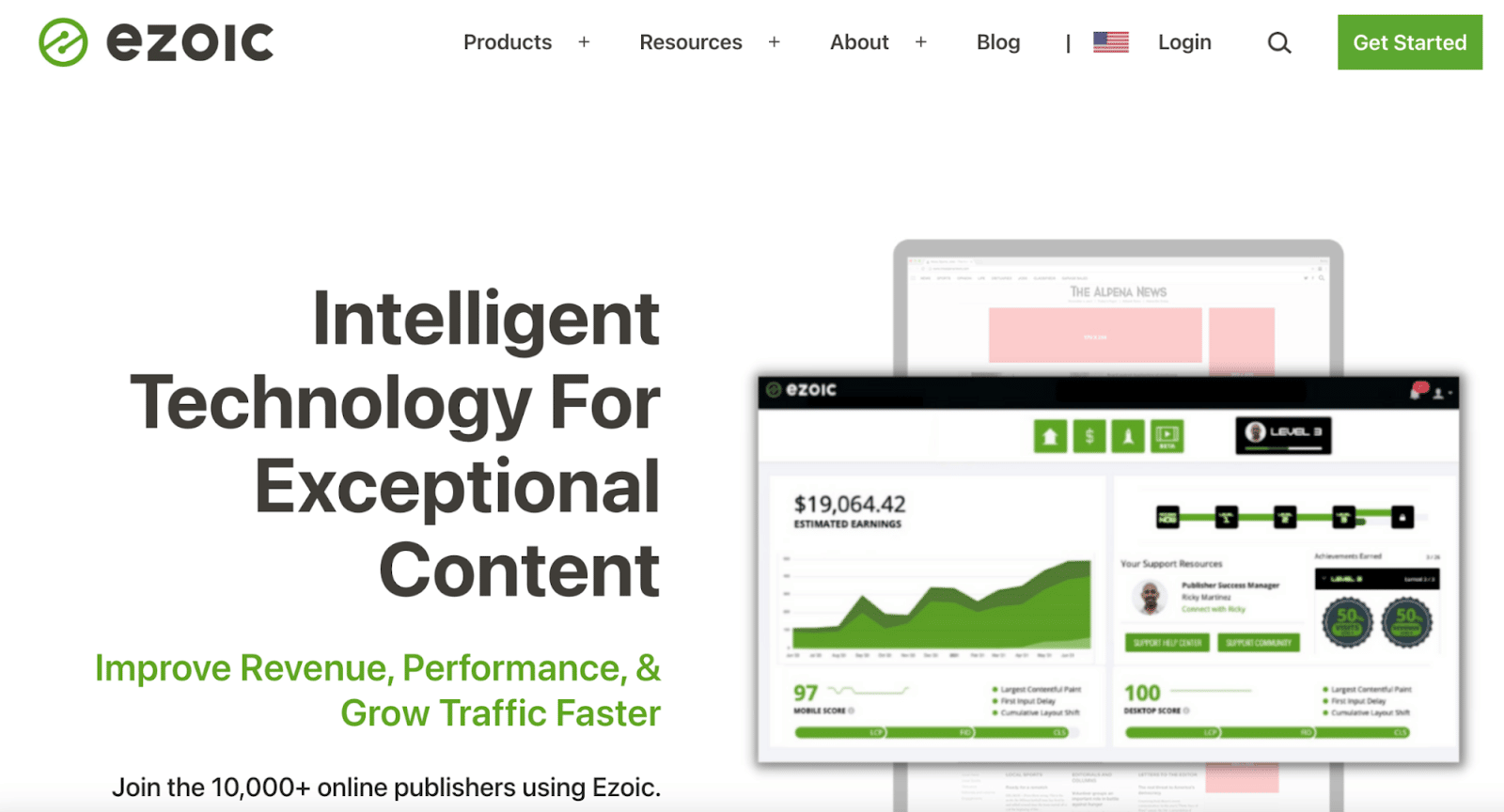 Powered by Ezoic's proprietary AI, your visitors get optimized ad experiences down to a visitor-by-visitor basis, ensuring that each visitor only gets targeted with the amount, location, and size of ads that they're most receptive to.
Because Ezoic is a Certified Google Publishing Partner, publishers have access to Google's coveted AdX portfolio of advertising partners. AdX can't be accessed through Google Adsense, this premier level of advertisers means publishers get higher paying ads displayed on their site.
There are no pageview minimums with their Access Now program, so all publishers can start monetizing their content with ads, provided they get approved by Google.
4. Monumetric
Monumetric is an ad network that allows publishers to display ads in a user-friendly way that won't hinder the browsing experience.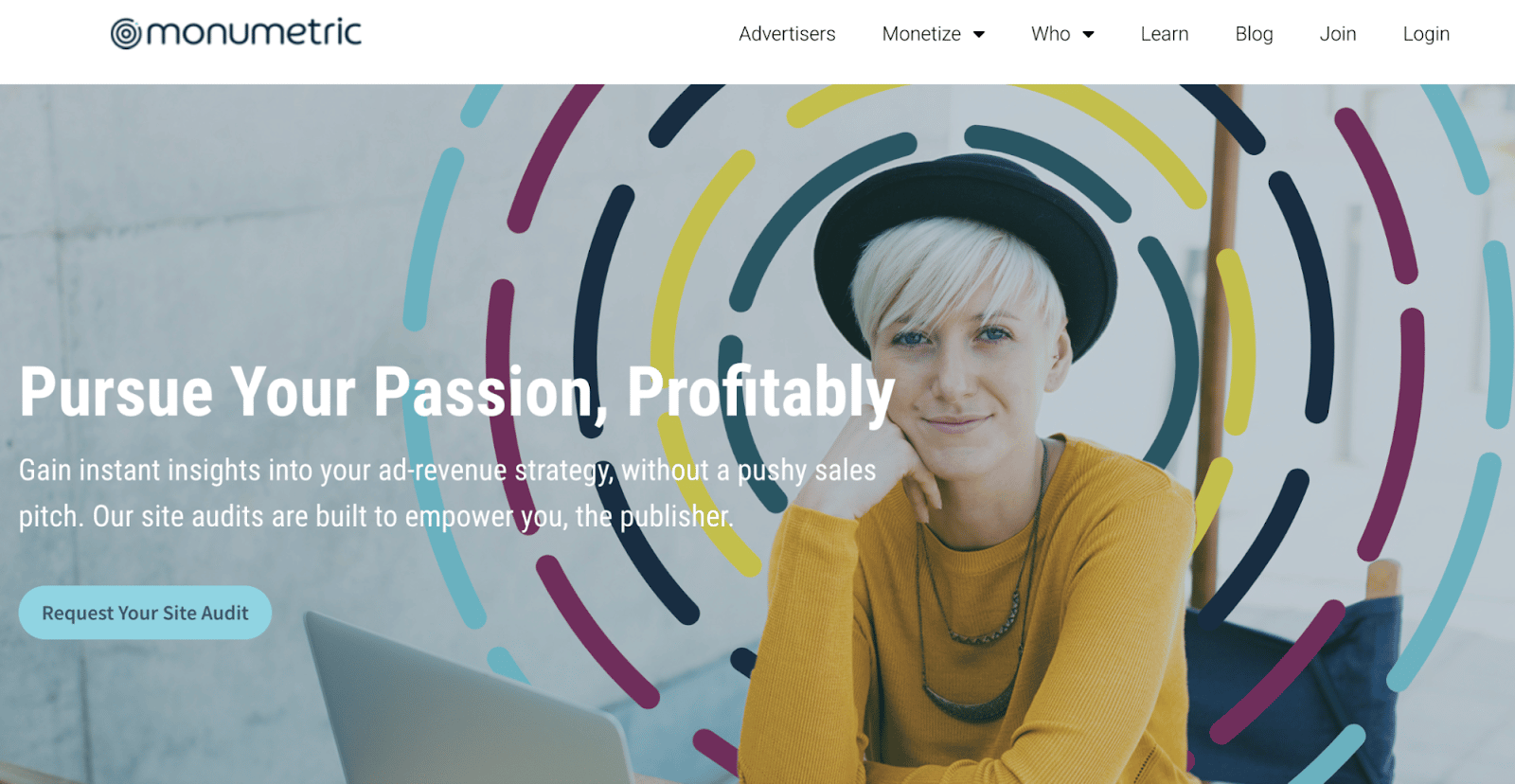 When signing up with this service, list the ad space that you have free. Monumetric will then fill that space accordingly.
However, if there are specific types of ads or companies that you don't want to be pushed on your site as per your positioning strategy, you can specify these preferences, and Monumetric will take care of it.
This service comes with a $99 setup fee that can be waived if your website has more than 80,000 page views. The minimum threshold to become a Monumetric publisher is 10,000 monthly page views. The minimum payout requirement is $10, payable via direct deposit or PayPal.
5. Adcash
When running ads on your site with Adcash, you can choose between native ads, pop-unders, interstitial ads, and banners. The company runs off of CPM, CPC, and CPA business models and has no minimum traffic requirement.

When working with Adcash, you'll have access to renowned technical support from multilingual account managers with extensive advertising experience.
The minimum payout threshold for Adcash is $25. After requesting a payout, you'll receive your money after 30 days.
6. Mediavine
Mediavine is an ad network that has seen popularity in the lifestyle content niche. Travel blogs, food websites, home improvement platforms, and mom blogs have had a lot of success using this network.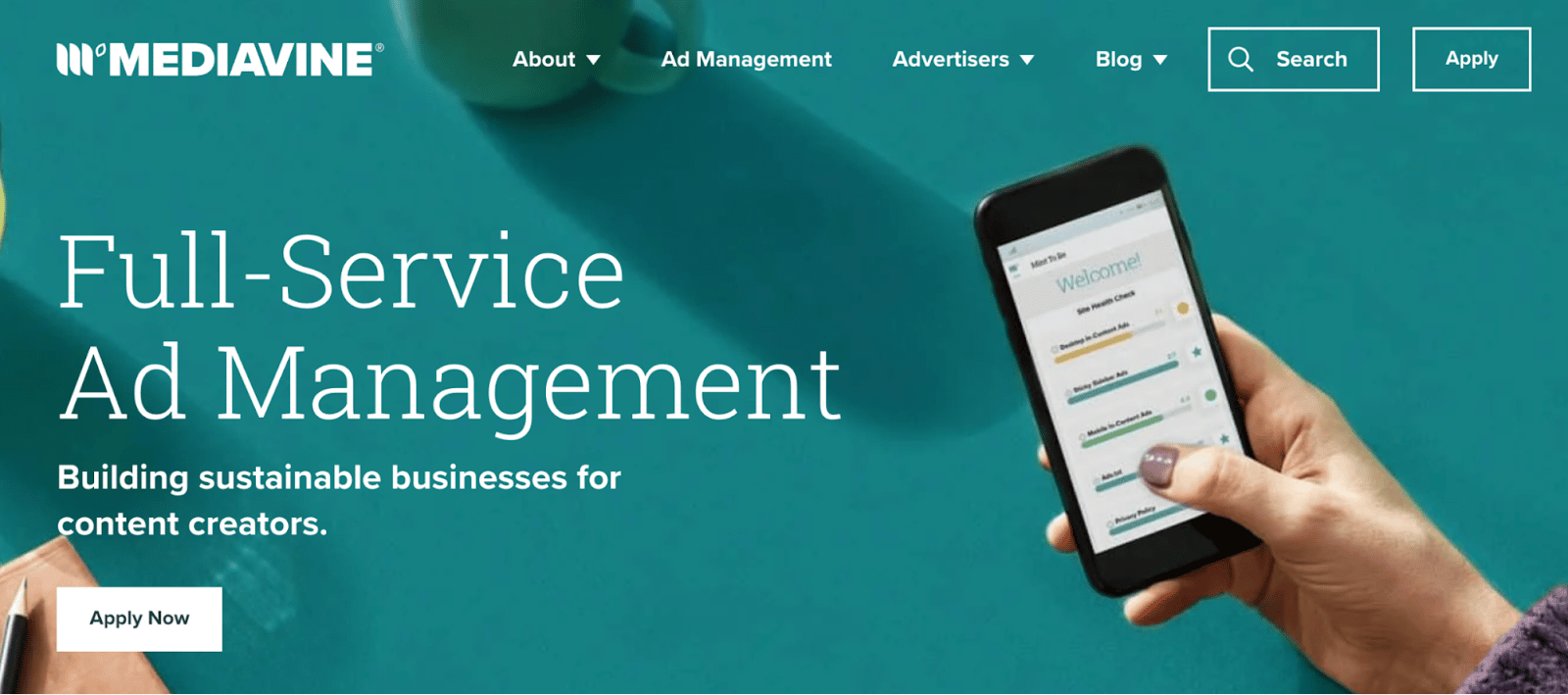 While these verticals have seen the most success, the network isn't limited to the lifestyle center. Anyone can join.
The minimum traffic required for Mediavine is 50,000 monthly visits. The network pays out on a Net 65 basis, which means you receive your payment after 65 days.
All payments are made on the fifth of the month. You receive a boost in your revenue share every year as part of a special loyalty bonus. Depending on your chosen payment method, the minimum payment threshold varies between $25 and $200.
7. Epom Market
Epom Market serves up more than 13 billion ad impressions monthly for 15 different verticals across over 40 countries.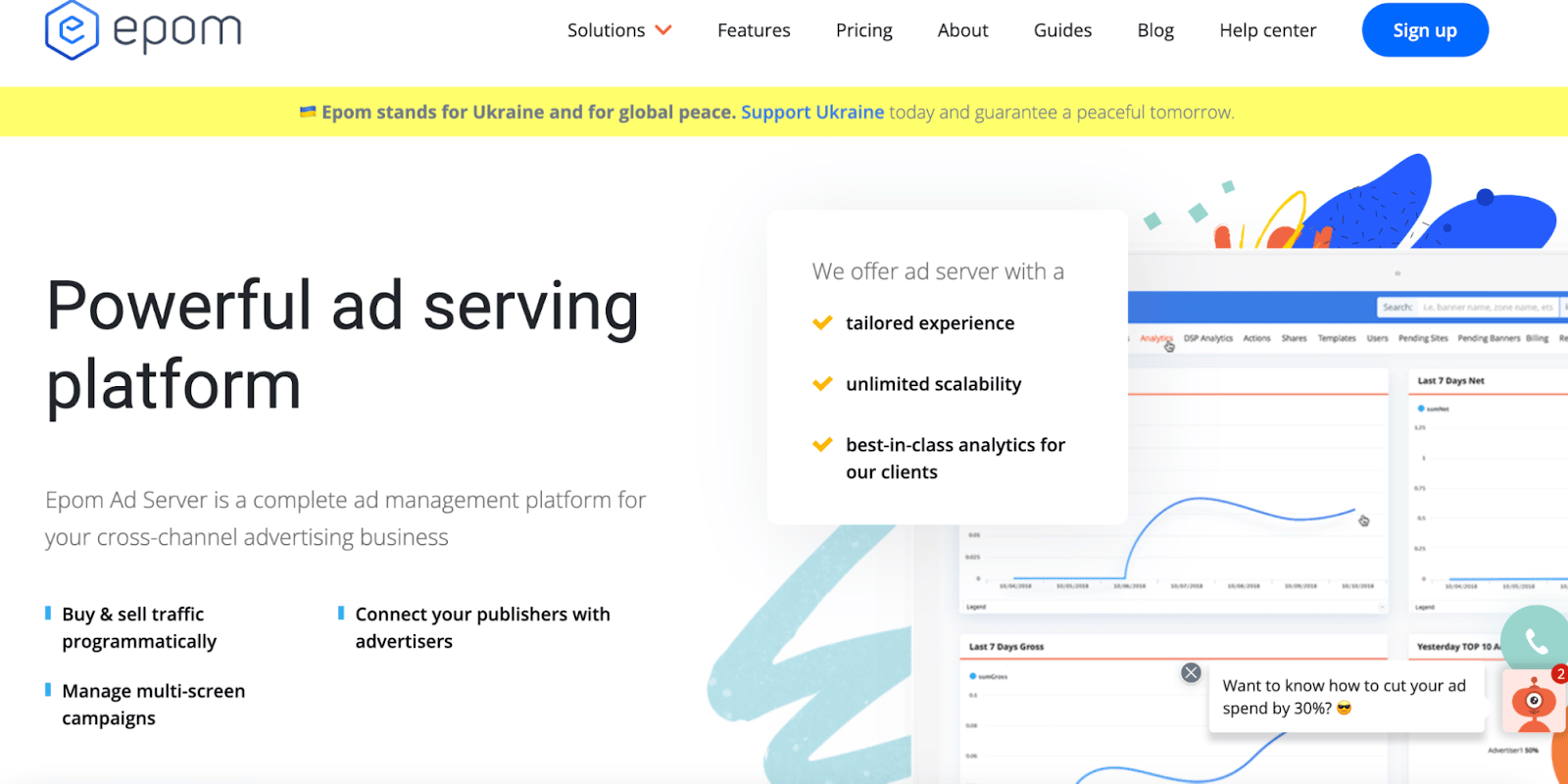 When running ads on Epom Market, you can use banner ads, in-text, mobile-specific units, and video ads. It runs off the CPM, CPC, CPA, and Auction business models and requires publishers to have 500,000 monthly impressions.
A 30-day trial of the network can generate up to 1 billion impressions free of charge. Epom market has a monthly fee, starting at $212 per month for its basic level and rising to over $2,000 per month the higher up you go.
8. AppLovin
AppLovin is a mobile ad network connecting mobile advertisers and publishers.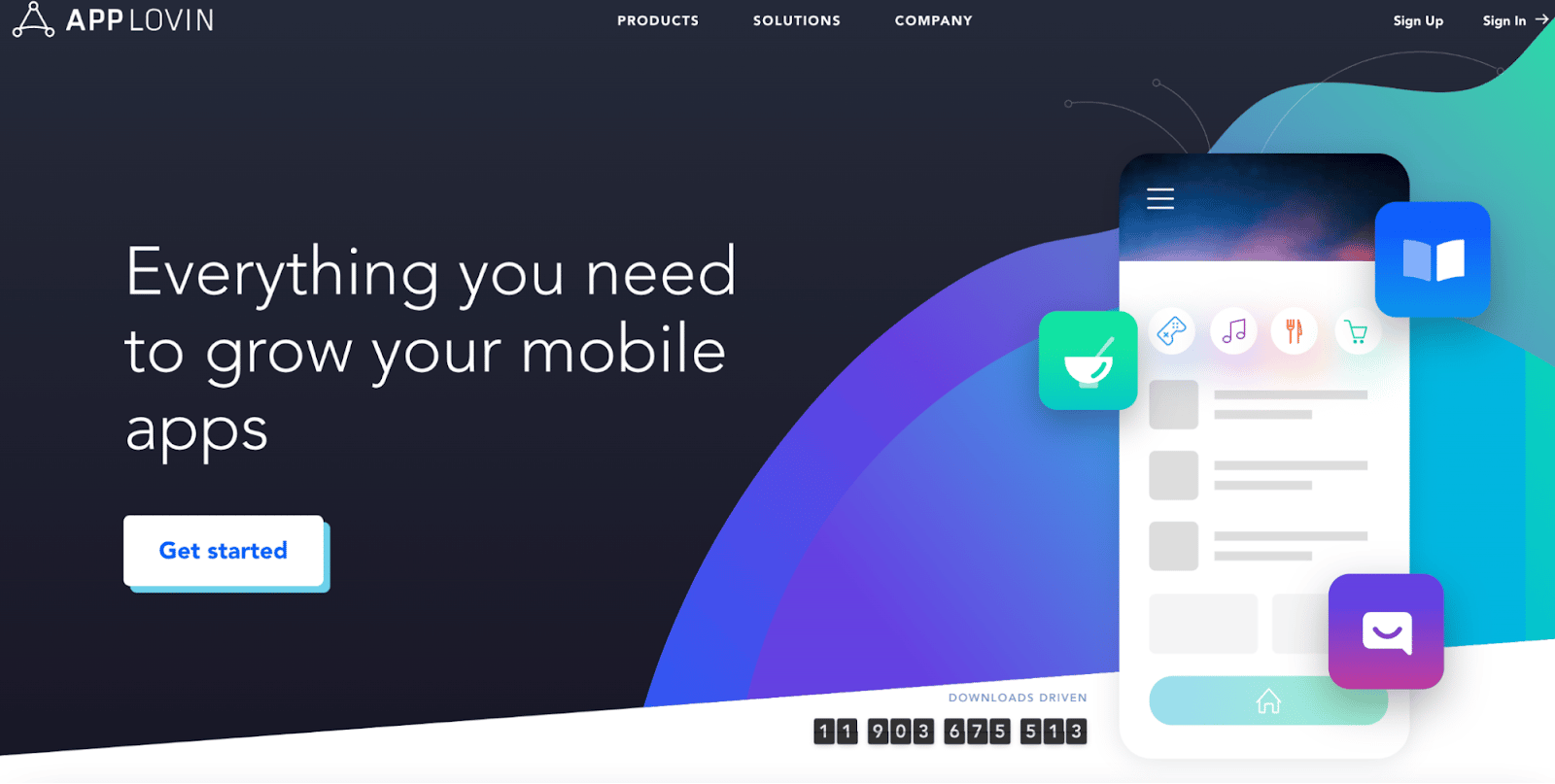 There are options available for apps of all sizes, and this network runs off CPA and CPV business models. There is no minimum app traffic needed to start using the AppLovin network.
AppLovin pays out on a Net 15 system, meaning that all revenue generated by the end of one month would be paid out 15 days later.
9. Clickadu
Clickadu is a digital ad network that supports both websites and mobile channels. It runs on a CPM business model and has several different ad formats available.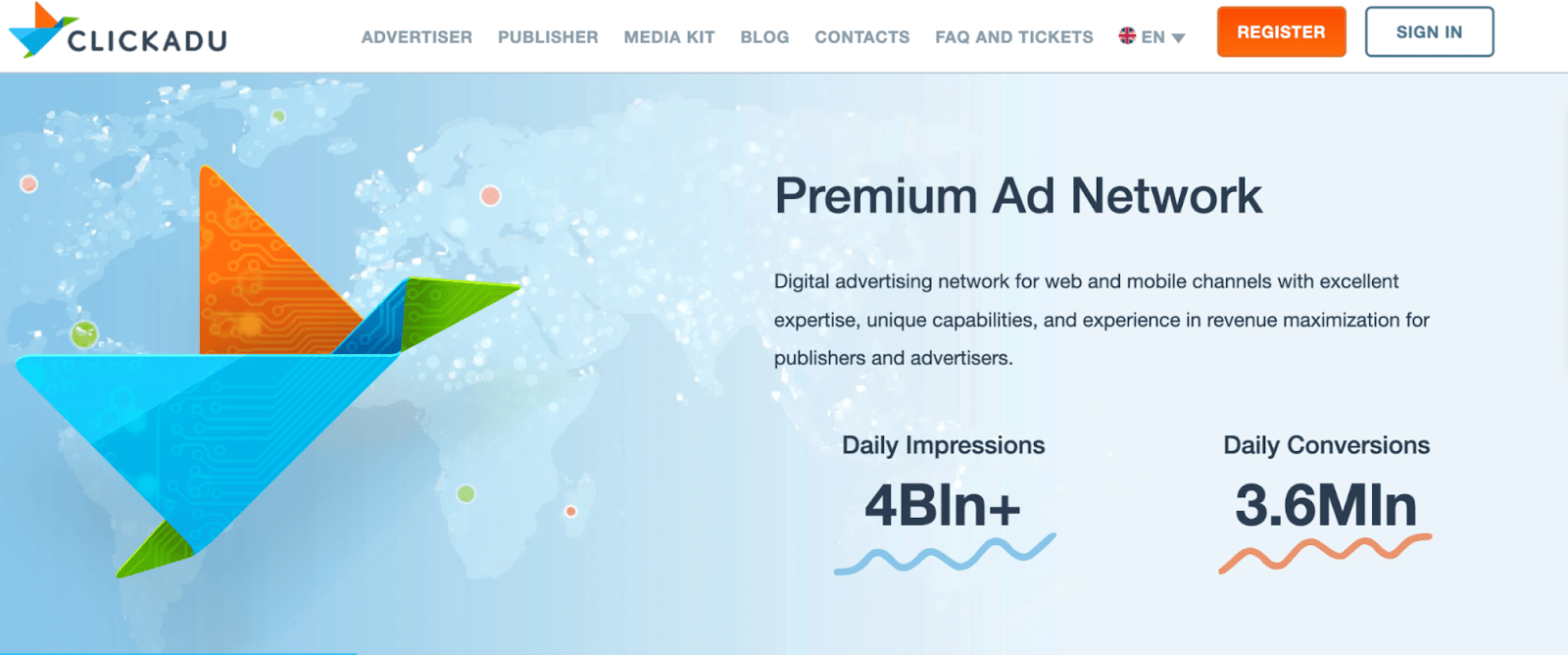 This includes skim, video pre-roll, and pop-under ads. Campaigns can be both managed or self-service. Advanced targeting options are also included.
There is no minimum traffic requirement for Clickadu. The minimum payout threshold for most payment options is $50, but if you're using PayPal, it's only $10.
10. Infolinks
Infolinks places contextual ads with specific keywords in your content for enhanced relevance and user interaction. It matches ads with your content specifically, and users will be able to see the ad when they hover over a highlighted keyword.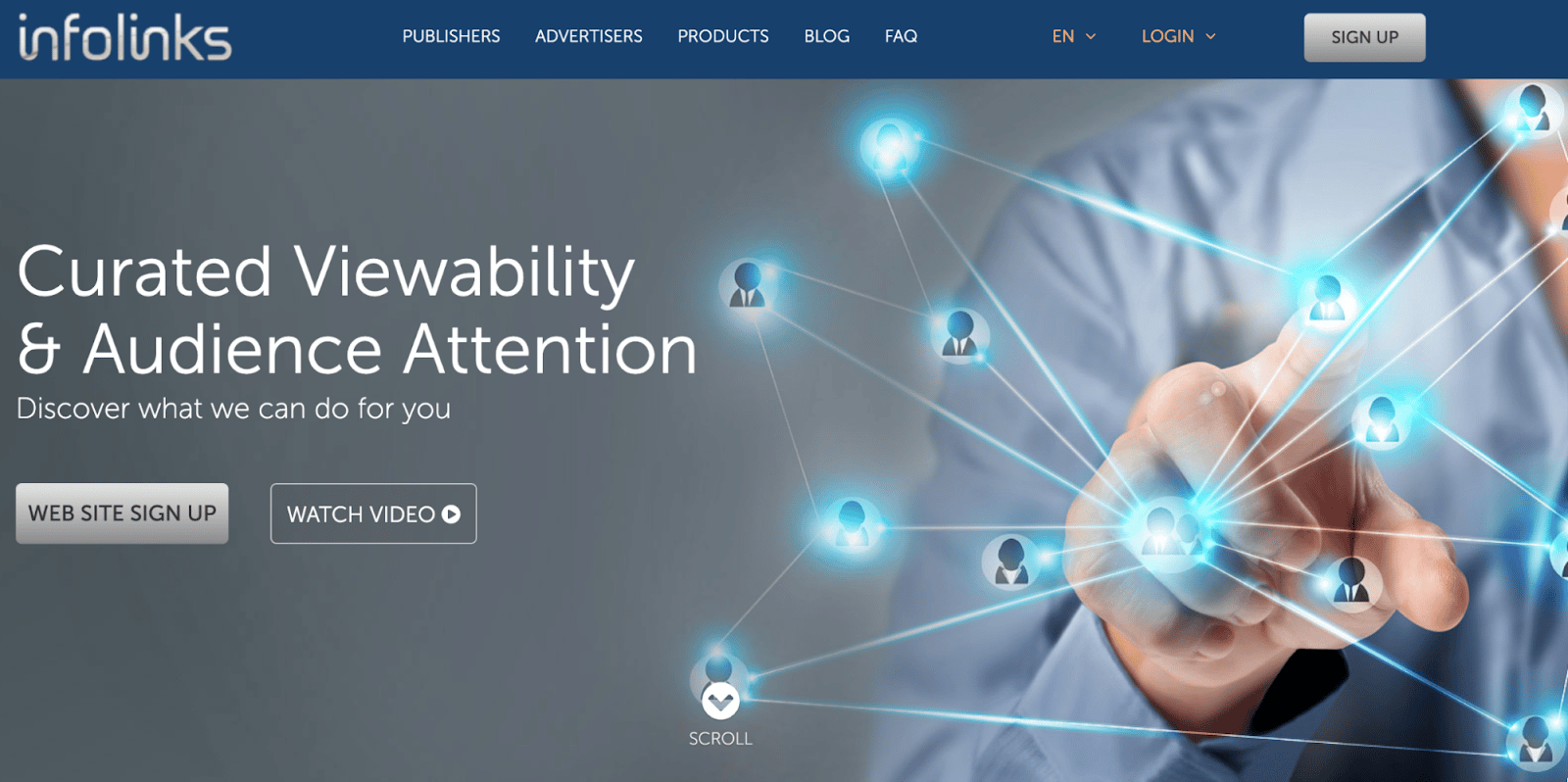 The network also uses static notification bar ads at the bottom of the screen, interstitial ads that pop up between page views, and vertical ads on either side of your site.
The minimum payout threshold for Infolinks is $50.
11. PopAds
PopAds specializes in pop-under ads. It's a fast service with enhanced security that offers clients real-time consumer data to analyze. This can be used for layout optimization purposes.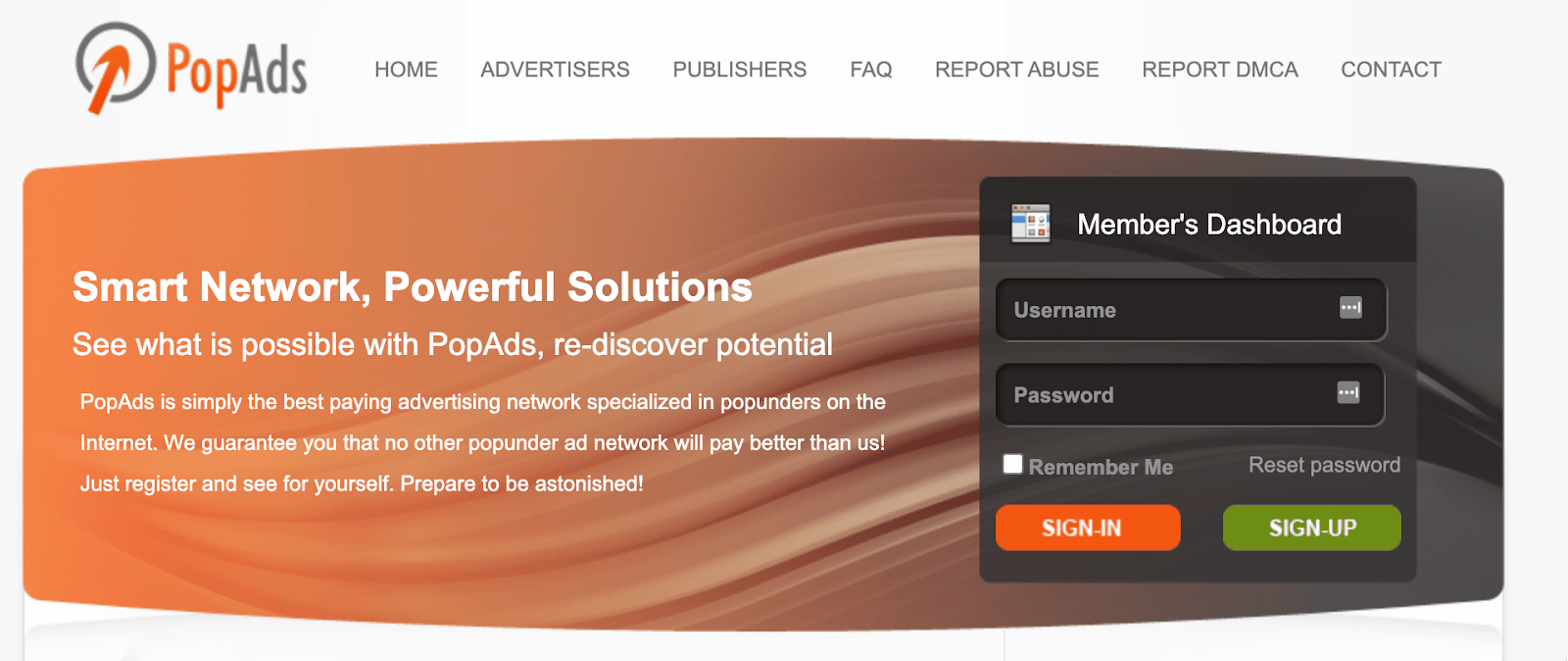 PopAds uses CPM and CPV business models and has no minimum threshold for traffic. The payment threshold for Popads is only $5.
12. Traffic Force
Traffic Force connects publishers to more than 100 partners and works off an impression-based business model.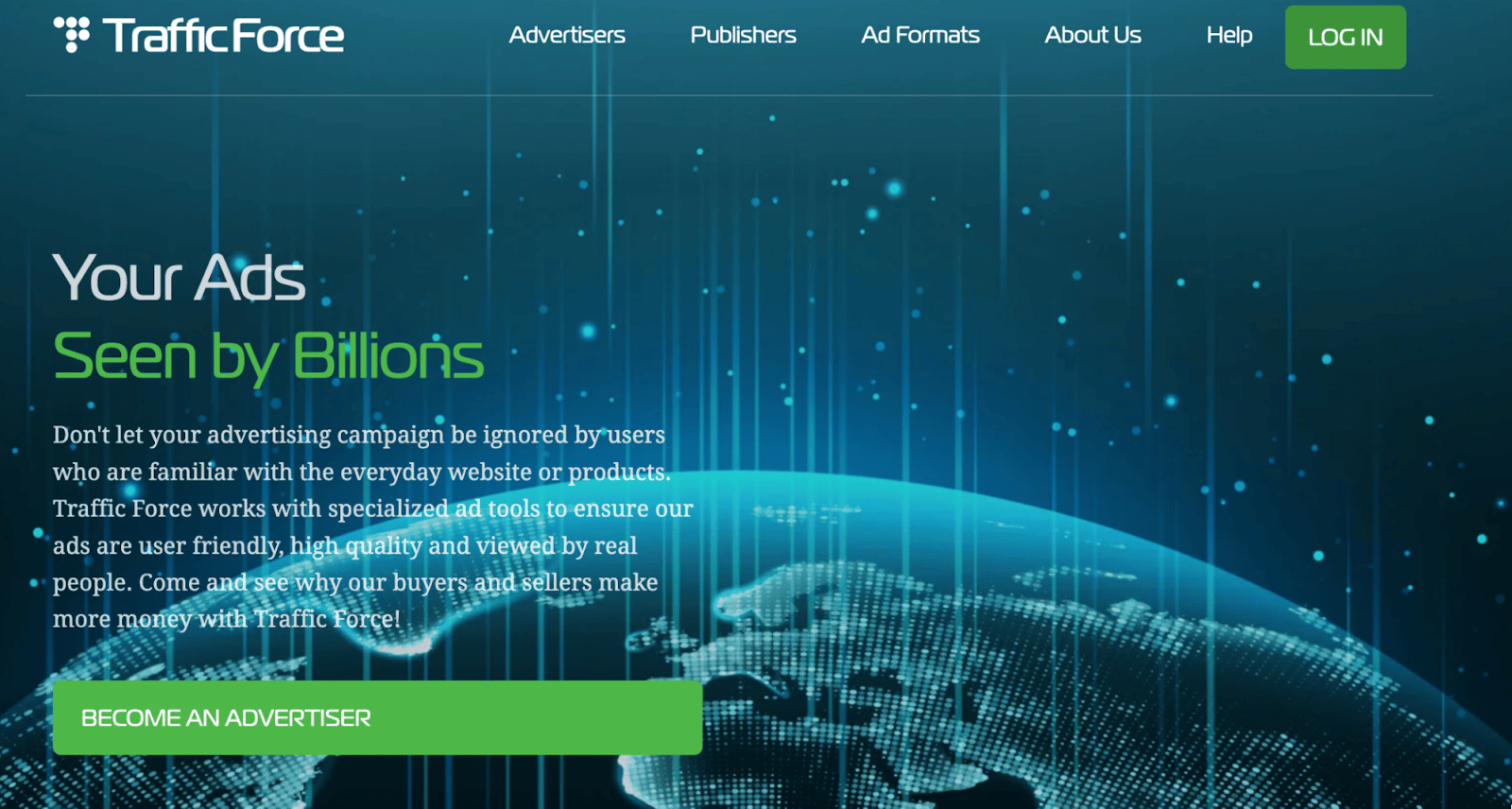 Ad formats range from display banners to IM floaters, pop-unders, and in-stream video ads. It deals with traffic using OpenRTB technology. This network is incredibly secure, using software to scan all ads for malicious advertising. It adds another level of security with SSL secure ads.
There is no minimum traffic requirement for Traffic Force. Payments can be made weekly, bi-weekly, or monthly based on publisher preference.
13. Taboola
Taboola is an ad network that monetizes your blog or site with content suggestions. These suggestions appear as ads that come after your site's content.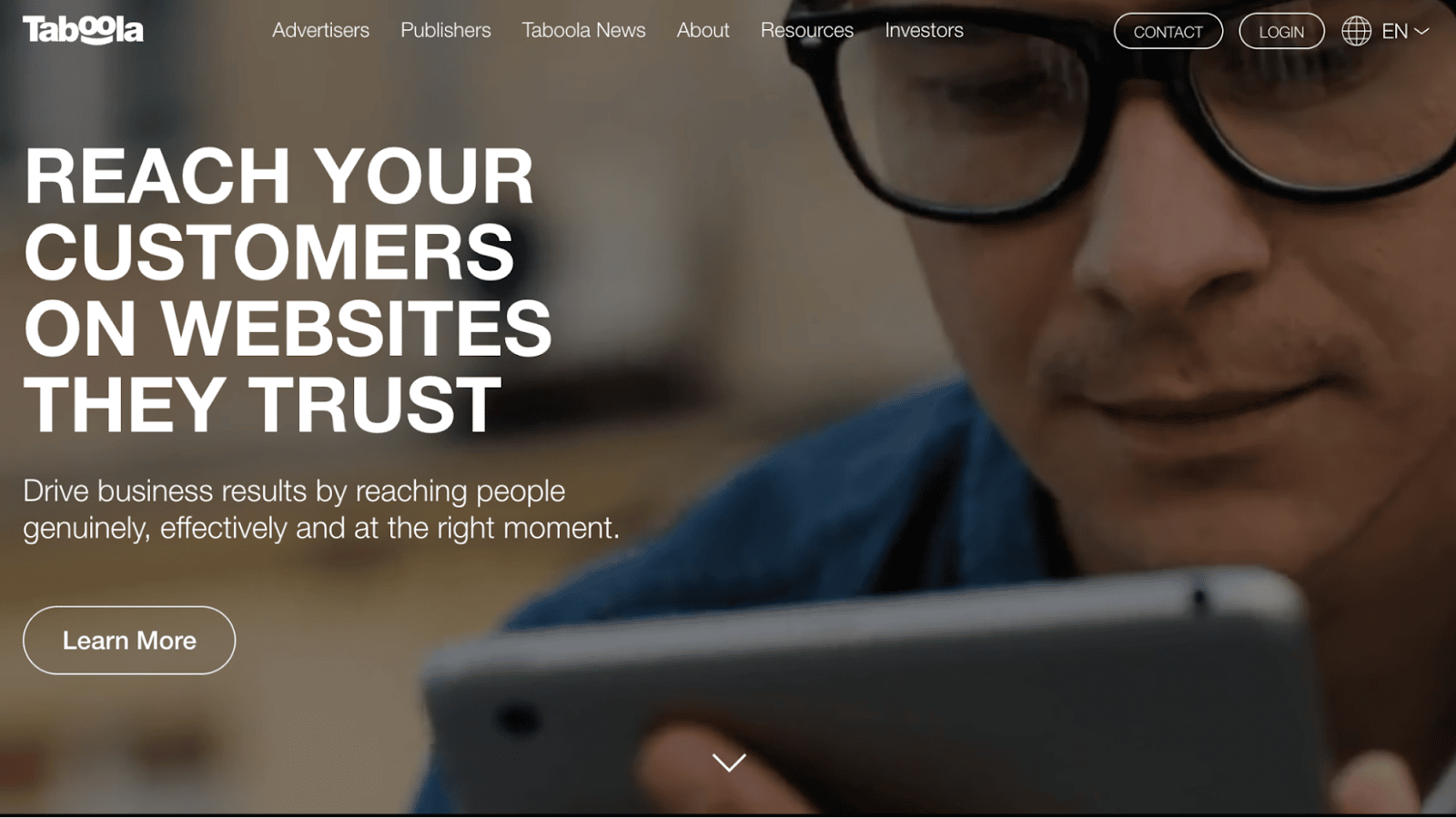 This is a network designed for larger sites, with a minimum of 500,000 monthly visitors to become a publisher. The network issues your first payment 45 days after the end of your first month.
14. Adblade
Adblade specifically targets media agencies, and has worked with ABC, Yahoo!, and Fox News, among many other massive publishers.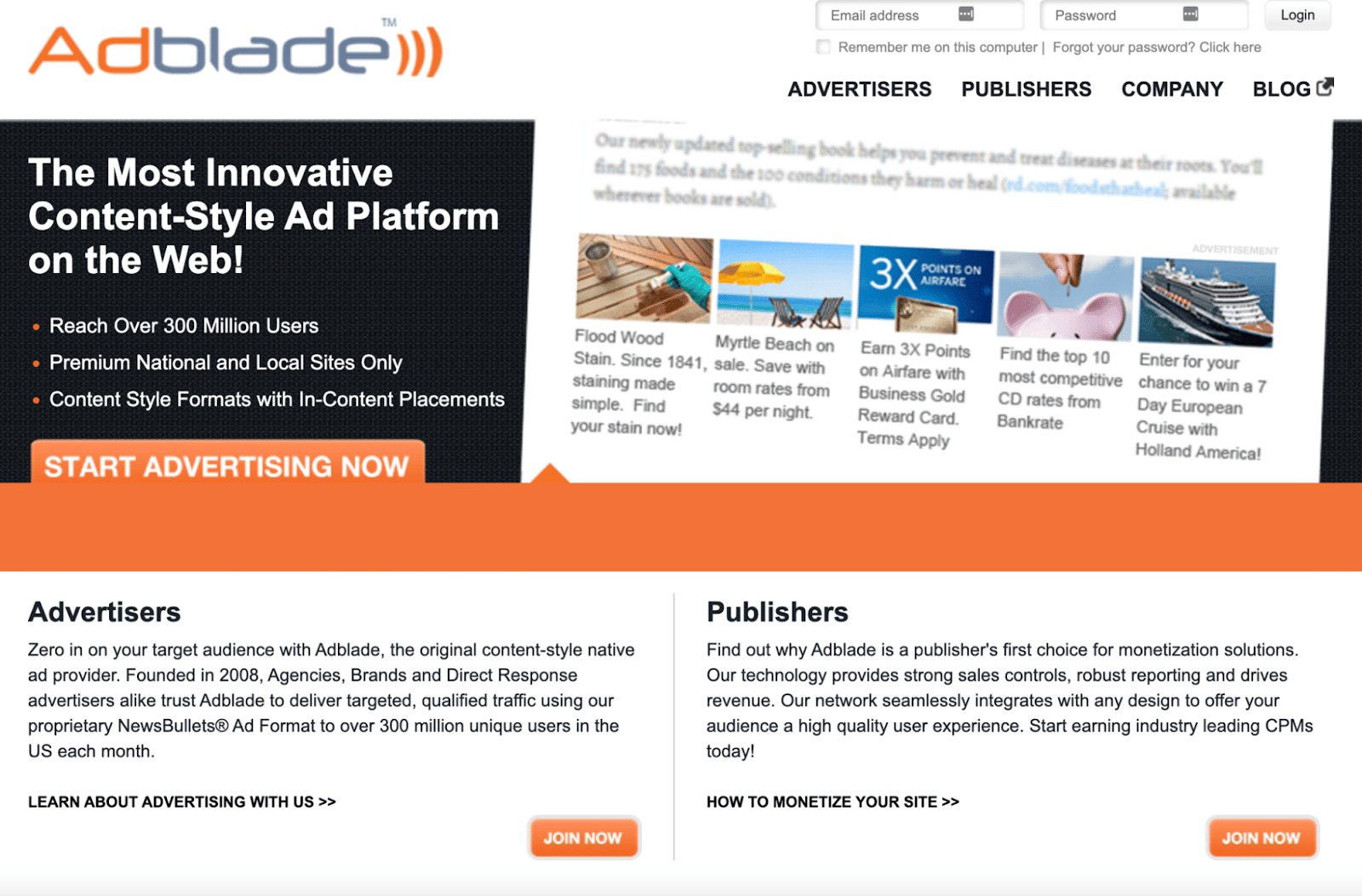 It runs off of CPM, CPC, and real-time bidding business models and requires publishers to have a minimum of 500,000 monthly users to sign up. Adblade pays out 30 days after the end of a month and has a minimum payment threshold of $100 for checks or ACH transfers. International transfers have a minimum of $250.
15. Propel Media
Propel Media is a CPV/PPV ad network with a reputation for reaching high-intent audiences. It does this through the use of display ads and contextual text ads. It uses push ads, lightbox ads, and new tab experiences.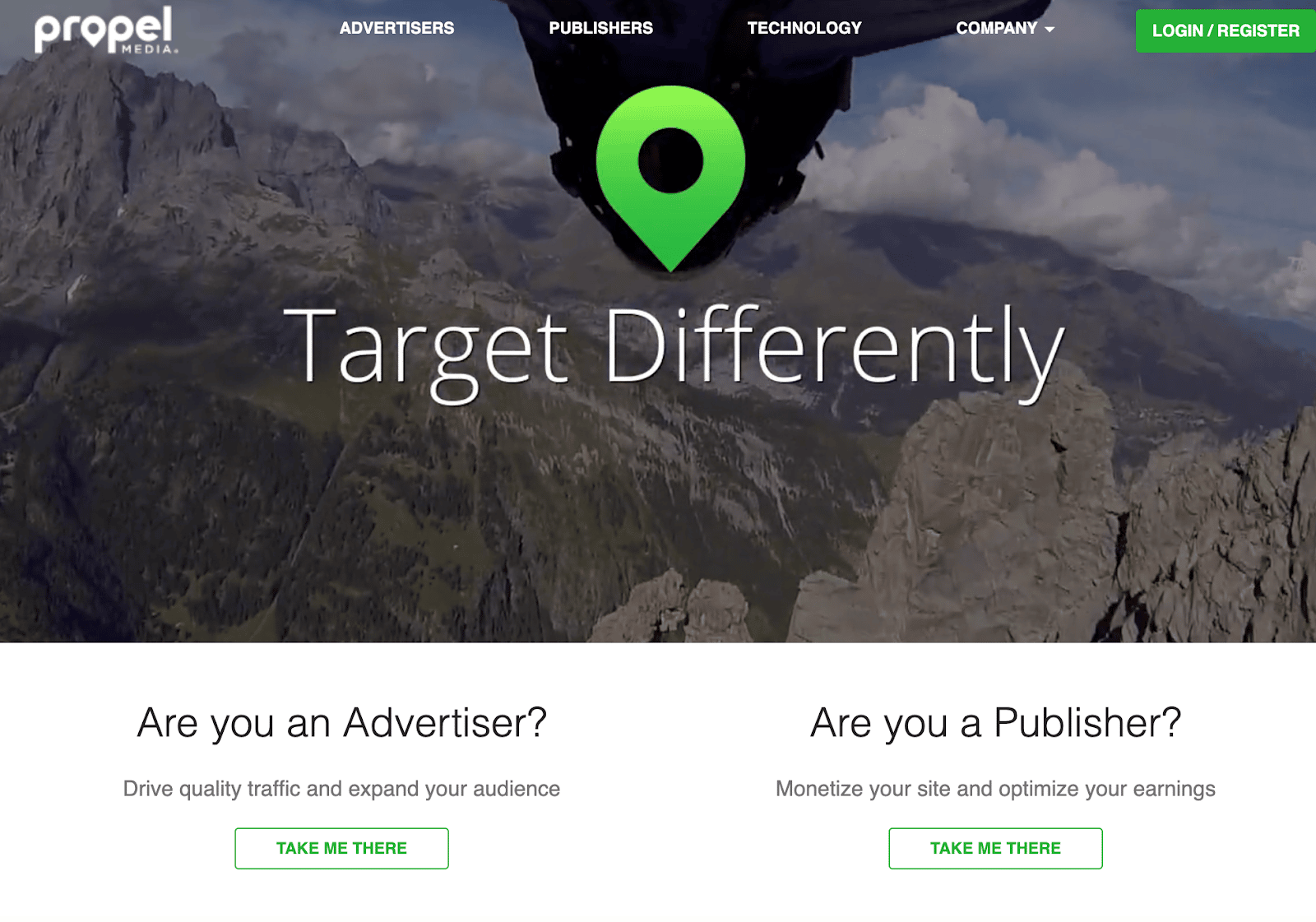 There are enhanced optimization options available with this network, along with visual analytics. There are no minimum traffic requirements,
16. Undertone
Undertone is an ad network that provides video marketing and flexible integrations for advertisers and publishers alike.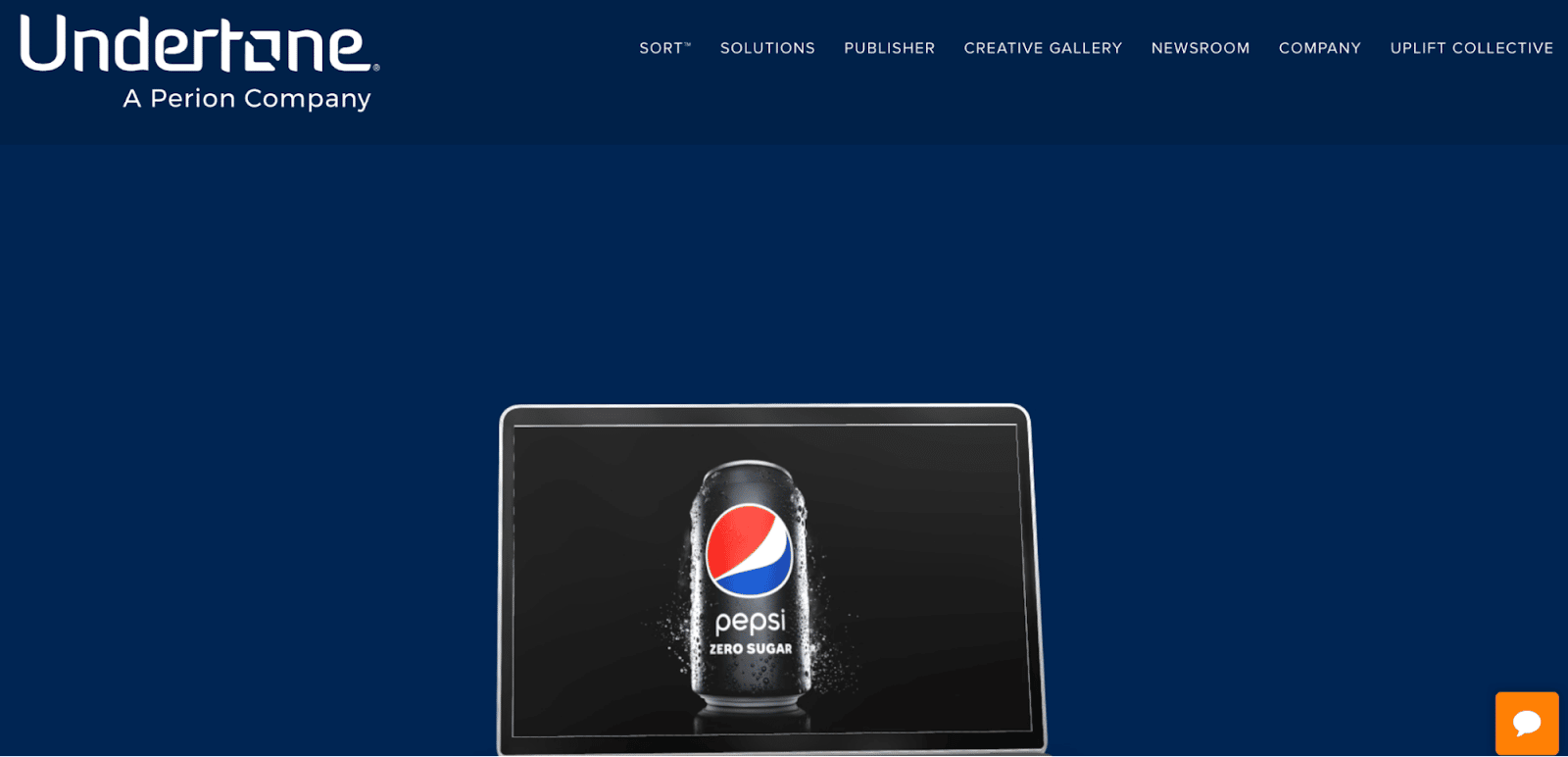 Undertone's claim to fame is mobile ads, web ads, and in-app ad experiences on various devices. It runs off of CPM, CPC, CPA, and CPV business models and requires publishers to have 500,000 monthly users to sign up for the service.
17. AdMaven
AdMaven has a reputation for being one of the best pop-under networks, but it also supports several other ad formats. This includes lightboxes, interstitial ads, display ads, and slider ads.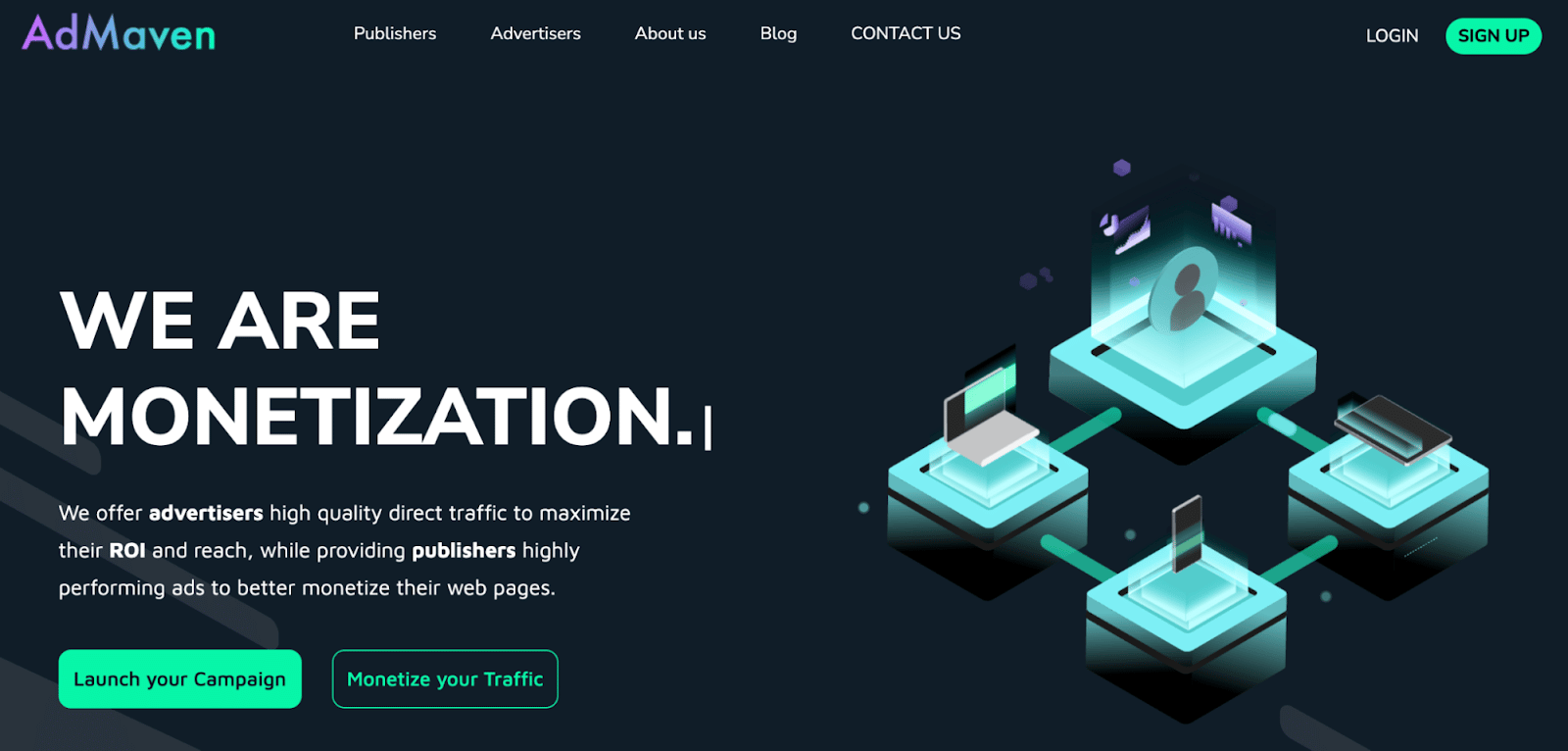 It uses CPA, CPI, CPL, CPC, and CPM business models and requires no minimum traffic amount. The minimum payment threshold for AdMaven is $50 unless you're opting for a WireTransfer. That requires publishers to make a minimum of $1,000.
18. PropellerAds
PropellerAds is an ad network specializing in several different ad formats. This includes your traditional display advertising options, along with smart links, pop-under ads, interstitial ads, and browser push notifications.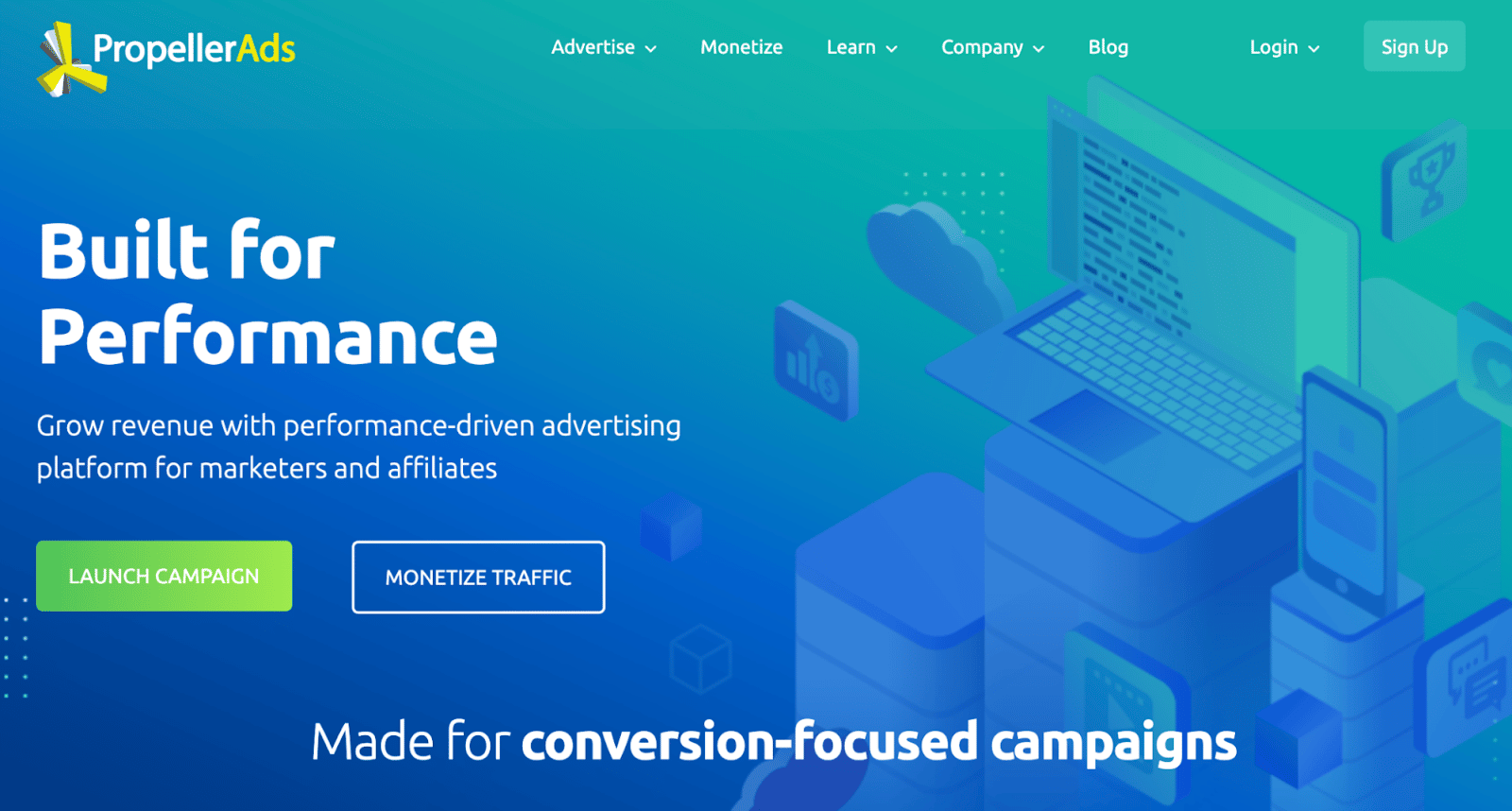 The minimum payment threshold for PropellerAds is just $5, and payouts are available on a weekly basis.
19. BuySellAds
BuySellAds lists inventory for publishers in a central marketplace that advertisers can directly purchase. You won't ever need to communicate with advertisers, as the network handles everything directly.

You'll also be able to select "fallback" ad options that can pop up if you haven't sold a spot yet. This ensures that you're never without ads on your site. There is no minimum traffic requirement for this network. Depending on your payment choice, the minimum threshold can vary from $20 to $500.
20. Raptive
Raptive (formerly AdThrive) is a network that focuses on lifestyle websites and blogs. This includes parenting, food, travel, home improvement, and DIY blogs, among others. Much like Mediavine, you don't have to be involved with those verticals to work through Raptive. They're just its highest performers.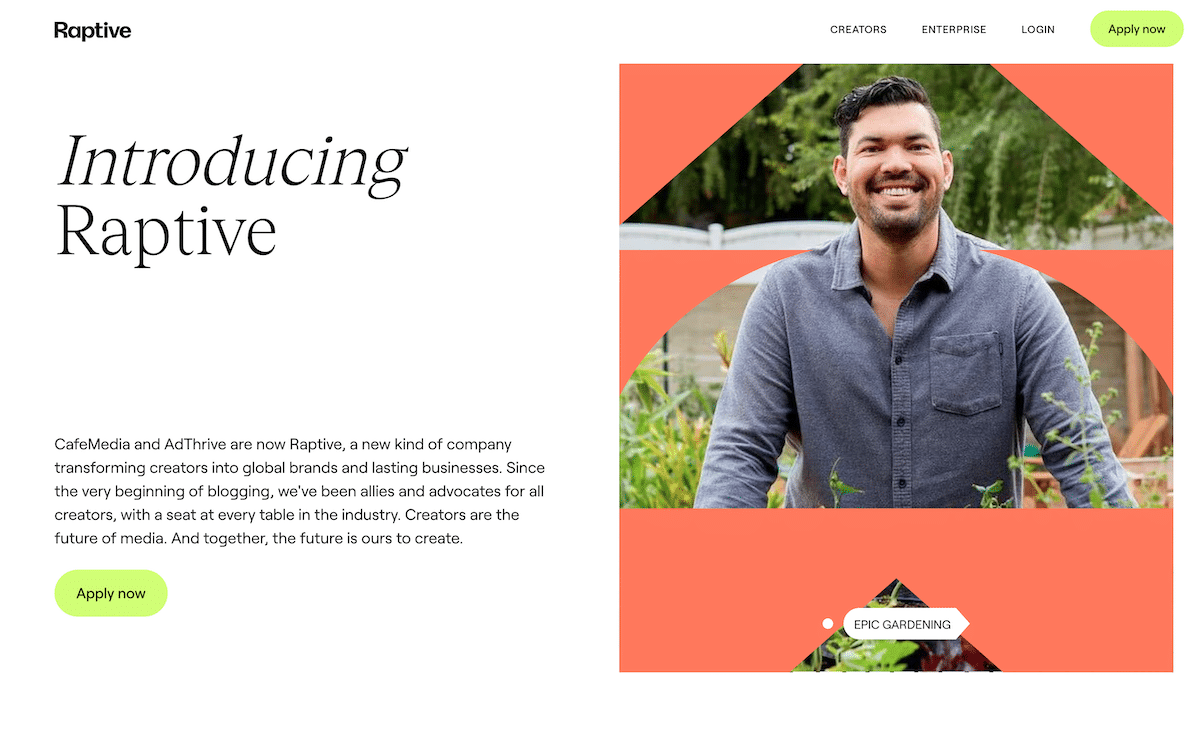 Raptive is a network that actually guarantees payouts, which means that even if an advertiser doesn't pay them, they will still pay you. It primarily works with traffic based out of the US, so websites with a global audience might not get the most out of it.
To use Raptive, you must have a minimum of 100,000 monthly page views and have Google Analytics installed on your site. Raptive pays on a Net 45 schedule with a minimum payment threshold of $25. Wire transfers, however, have a minimum threshold of $100.
Summary
Ad networks can be a great way to monetize your website and add advertising to WordPress with minimal effort. You won't have to interact directly with advertisers and can sit back and let the network take care of everything.
When working with an ad network, you can focus on your website content, ensuring that your page views are up for maximum ad exposure and maximum profits while using your Kinsta APM feature to monitor performance.
For more options on hosting your site effectively, including managed WooCommerce hosting, reach out to Kinsta and schedule a demo today.