Learning how to promote a podcast is a sure way to stay ahead of the fierce podcasting competition. Though podcasts are just over 20 years old, data from Listen Notes shows that there are over 2.7 million podcasts and 122 million podcasts episodes online today.
And the stakes are high. Approximately 104 million Americans aged 12+ listen to podcasts monthly. That's roughly 1/3 of the population, or 39% of men and 36% of women.
But here's the thing. How do you promote a podcast effectively with so much competition to beat? How can you find your audience among the millions of monthly podcast listeners?
That's what this article is all about. Read on, and we'll cover 17 strategies you can use to promote your podcast and some tips to help you find, inspire, and keep an audience long-term.
Let's go.
Identifying and Reaching Your Podcast's Target Audience
It's easy to look at successful podcasts like Planet Money and Stuff You Should Know and forget that the podcasters behind them once struggled to find listeners. But it's true.
All podcasts start somewhere, but what separates successful podcasts from unsuccessful podcasts? Clever marketing and carefully building a loyal audience.
So, before we discuss podcast marketing, let's cover three audience-building strategies that can help you create a loyal listener base from day one.
1. Build a Listener Persona to Understand Your Audience
Understanding who your audience members are is crucial in reaching them effectively. That's where a listener profile, or listener persona, comes into play.
A listener persona is like a buyer persona, but it's specific to podcasts. Your listener persona describes your audience by characteristics like:
Age
Ethnicity
Gender
Interests
Education
Location
Frustrations
Goals and motivations
Building a listener persona will help you design great content with your target audience in mind.
To create a persona, ask your audience to fill out a survey that collects demographic information. Alternatively, if you publish your podcast on a platform like Youtube, you could collect some demographic data using the "YouTube Studio Analytics" tab.
Once you've collected it, you can use data analysis software to look for trends and build your profile around the most common audience characteristics.
For inspiration on building a solid listener persona, take a look at this example developed by Lauren Popish from The Wave Podcasting: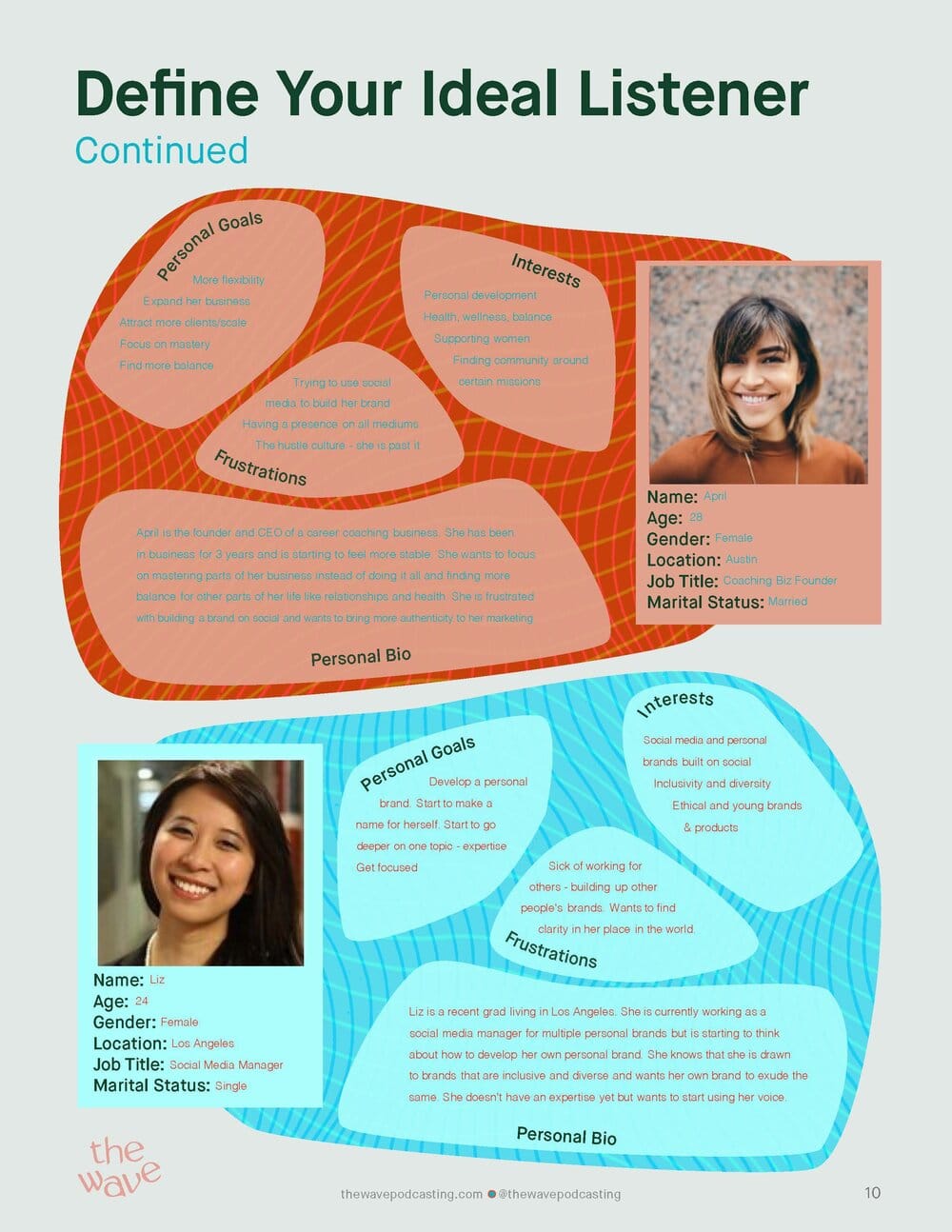 2. Adjust Your Podcast Content Using Audience Feedback
People won't listen to podcasts they don't like. That's where audience feedback comes in. Collecting feedback from your listeners can help you adapt your episode lengths, show format, content, ad reads, and editing to your audience's taste.
Here are some easy ways to gather feedback from your audience:
Monitor metrics like the number of downloads your podcast gets and your watch time (how much of each episode listeners consume)
Conduct audience surveys
Use media monitoring tools to stay up-to-date with what listeners say about your podcast online
Read your reviews
3. Develop High-Quality Content
Finally, make sure you invest in producing high-quality content to engage your listeners. Although "high-quality content" will look different for every podcast, looking at the top podcasts shows us some general trends among high-ranking podcasts:
They have dedicated topics
The hosts build rapport with the audience
There is a clear structure (including a beginning, middle, and end)
Each podcast episode has a throughline and a "raison d'être" ("reason to be")
The episodes are long enough to dive deep into a topic, but not so long that people get bored (for reference, the average podcast is 41 minutes and 31 seconds long)
The podcast hosts are honest and authentic but don't dominate the microphone
How to Promote Your Podcast (17 Tips)
Now that we've discussed ways to engage your listeners, let's dive into promotional strategies to grow your podcast in 2023. Here are 17 things you can try:
1. Publish Your Podcasts On All Major Platforms
If you publish your podcast on only one platform, you'll limit your traffic substantially.
Data shows that 76% of podcast consumers use four key platforms — Spotify, Apple Podcasts, Google Podcasts, and Pandora.
To build the widest audience possible, you should publish your content onto all four platforms, as well as smaller platforms like:
Audible
NPR One
TuneIn
Deezer
Podcast Addict
RadioPublic
Stitcher
Overcast
Pocket Casts
CastBox
iHeartRadio
Podtail
Podbay
SoundCloud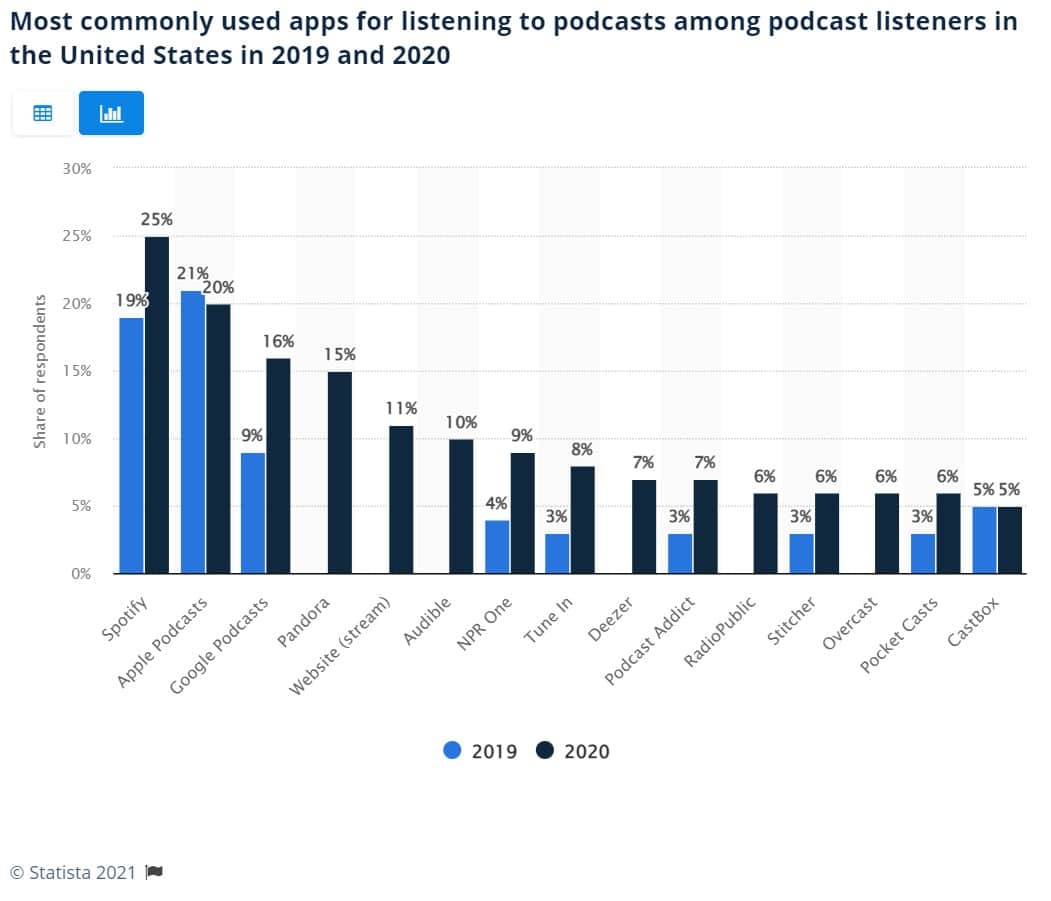 Additionally, as 11% of listeners play podcasts through the podcaster's website, don't forget to add your podcast to your website with an audio player.
And, of course, don't focus only on listeners in your home country unless your niche is localized. Statista data shows that 49% of South Korea's population, 41% of Ireland's population, and 38% of Spain's population listened to a podcast last month.
If you choose a localized platform, you could miss these potential listeners.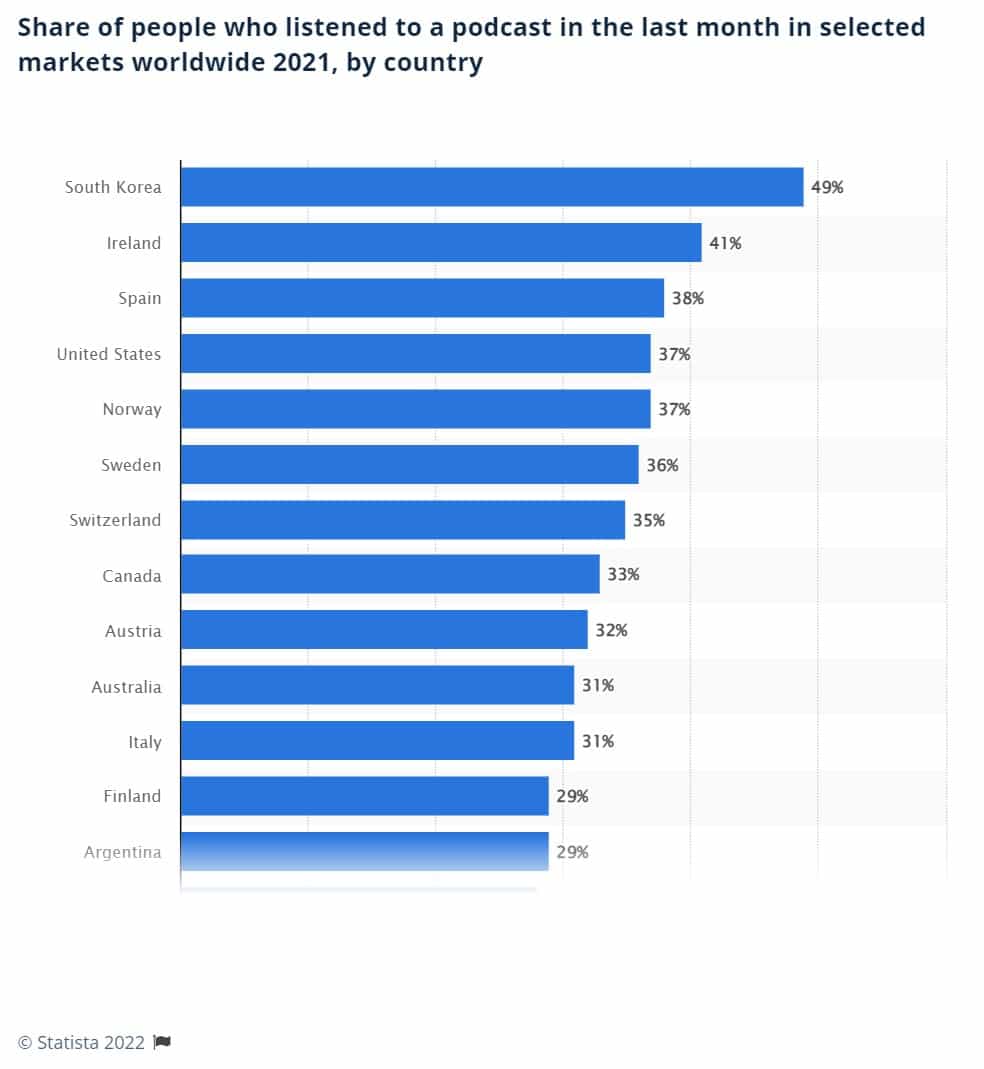 2. Post Organic Social Media Posts
As marketing experts project that 3.96 billion people worldwide will use social media in 2022, promoting your podcast on social media channels is a fantastic way to find new listeners and engage with your existing audience.
Posting organic content helps you build an audience by giving you a way to share links for new episodes with listeners and a medium to build a community.
There are many interesting types of posts you can share on social media, including:
Question and answer-style posts
Polls
"Behind the scenes" posts
Infographics, images, and animations about your podcast topic
User-generated content (UGC) sent in by listeners (this includes fan art)
Quotes and jokes from recent episodes
"Get to know us" style posts about your podcasting team
Episode clips
News articles covering stories in your niche
If you are looking for an example of social media content from a successful podcast, look at this Twitter post from Swindled below.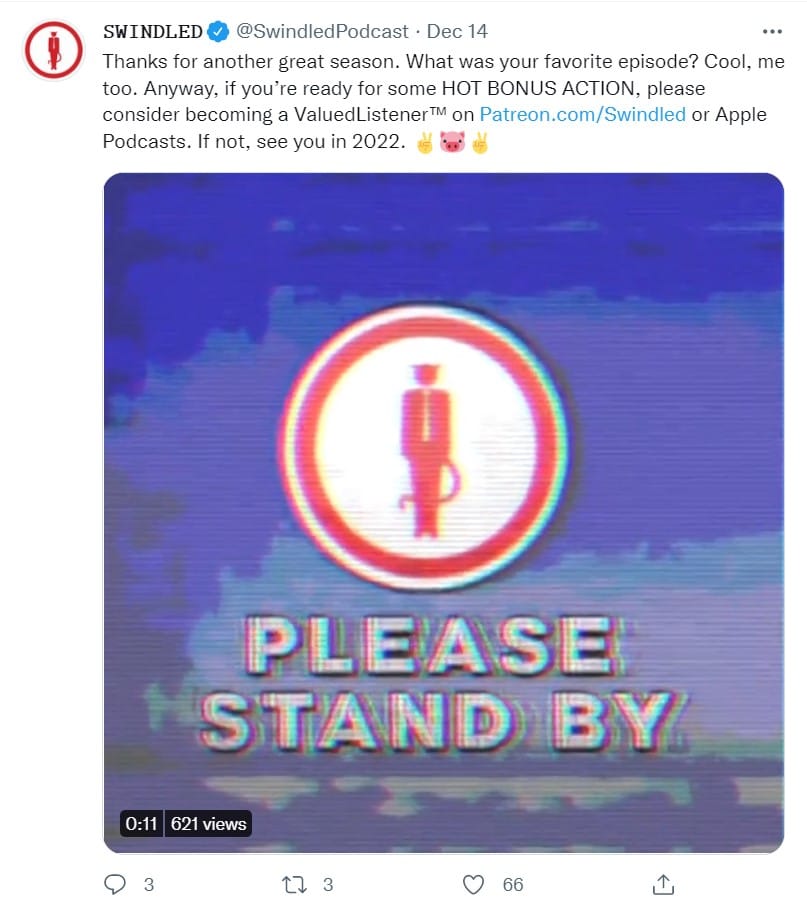 3. Get an Apple Smart Banner
An Apple Smart Banner links your podcast in the Apple Podcast app. People see Apple Smart Banners when they browse websites in the mobile version of Safari (which accounted for 26.45% of mobile browser traffic in December 2021).
To add a banner to your website, add the meta tag <meta name=" apple-itunes-app" content=" myAppStoreID> into the head element of the pages you'd like the banner to show in.
You'll need to change myAppStoreID to your podcast's ID. You can find this ID on your Apple Podcast page.
4. Join the Podcasting Community
Networking with other podcasters can help you improve your work, learn from other podcasts, and make connections in the industry. All three of these outcomes will increase your traffic, as the better your podcast is, the more people will start listening to it.
New podcasting communities start up all the time, but here are some of the top communities to join in 2023:
The Podcast Hackers Facebook group
Alternatively, you can find complimentary podcasts within your niche and privately build relationships with the hosts. Complimentary podcasts cover similar topics but aren't your direct competitors.
5. Submit Your Podcast to Podcast Directories
Podcast directories are like phone books for podcasts. They catalog links to podcast episodes and sort them by genre, producer, playlist, and popularity.
Submitting your podcast to directories is an excellent way to increase your listener base, as they make it easy for people looking for a podcast in your niche to find you.
One of the most popular directories is Listen Notes, which has millions of podcast episodes.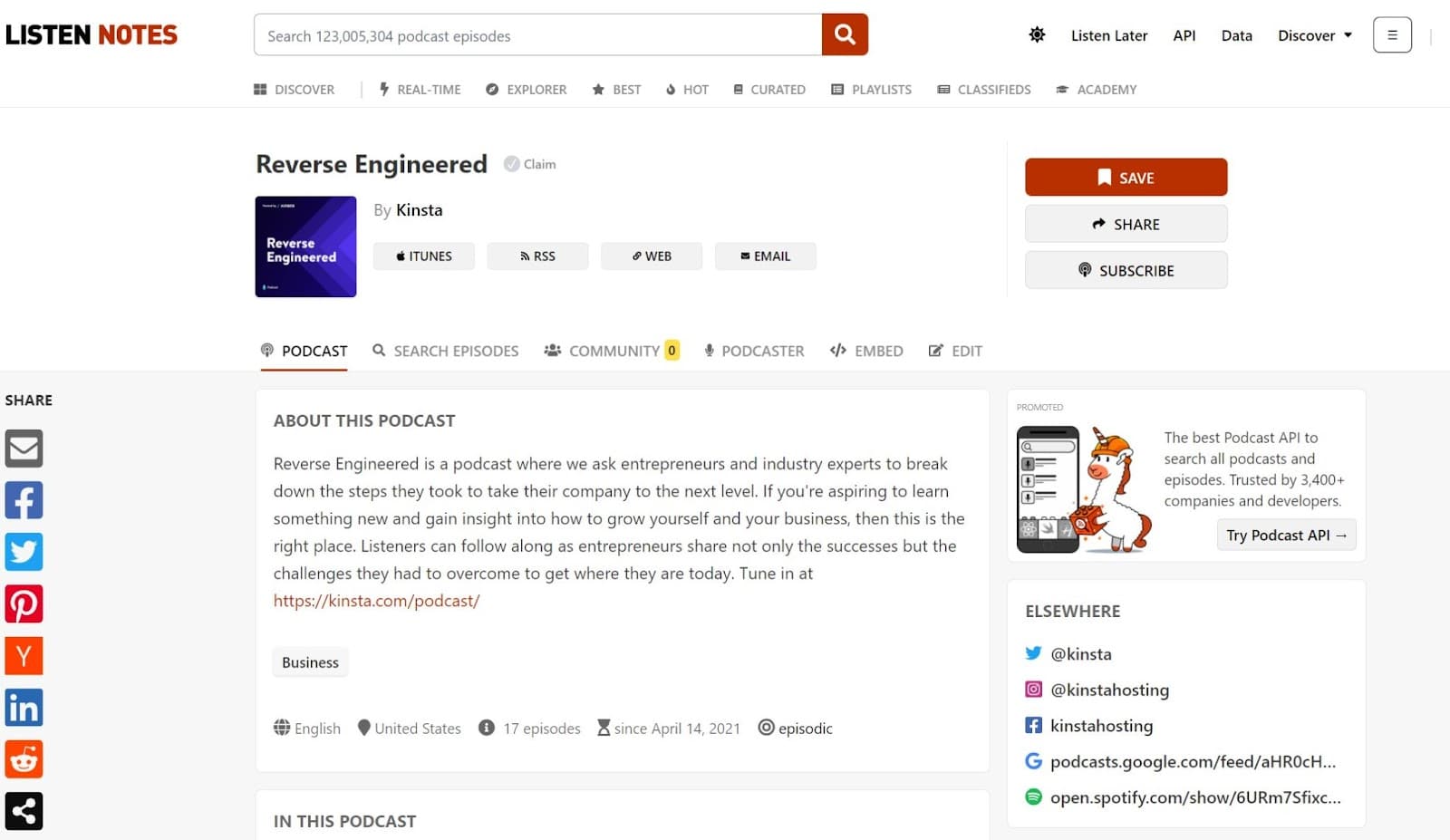 You can also use other directories like Podcast Index, Picasso, Charitable, Podchaser, and Podtrac.
For best results, make sure you include a detailed description of your podcast, high-quality images, links to all episodes, links to your website, and links to your social media in every listing you post.
6. Build a Website for Your Podcast
Though 89% of listeners consume podcasts outside the podcast's website, building a website can help you increase your web presence and link listeners to your podcast episodes.
Building a WordPress website is easier than you think, as you need to choose a domain name, sign up with a WordPress host, and craft your website using a free or premium WordPress theme.
Once your website is up-and-running, you can customize it to promote your podcasts. For example, you could:
Create a forum for people to discuss episodes
Share extra episode notes, links, and information through a dedicated page for each episode
Add a plugin so people can follow your podcast through RSS feeds
Start a blog to share more detailed information from your podcast
You can also share new episodes with a podcast plugin like Seriously Simple Podcasting or PodLove Podcast Publisher.
7. Invest in Paid Ads on Social Media
Paid social media ads are an affordable way to promote your podcast to people who fit into your target audience, as you can target your ad at people who fit into your listener persona.
Many social media platforms currently offer ads, including Facebook, LinkedIn, Twitter, YouTube, Instagram, and Pinterest. Facebook marketing tips can always come in handy, as the platform allows you to reach such a large audience.
8. Solicit Reviews and Shares From Listeners
This marketing strategy may seem simple, but there's a reason we included it: it works exceptionally well.
Asking people to leave you a review and share your podcast with others is one of the best ways to attract new listeners. This is because 79% of people trust reviews they read online as much as they trust a recommendation made by someone they know.
To leverage word-of-mouth marketing, prompt people to share your podcast at the end of every episode and in the episode description.
9. Engage in Guest Podcasting
Guest posting is huge in the podcasting world, as it allows you to market your podcast through a complimentary podcast.
Make sure you guest star on other podcasts and host guests on your podcast. Like guest posting on blogs, this creates cross-promotion between podcasts, so the more you help others, the more they will help you.
Check out the subreddit r/PodcastGuestExchange or the "Podcast Guest Collaboration Community – Find a Guest, Be a Guest" Facebook group for guest post opportunities.
10. Market Your Podcast on HARO
Help a Report Out (HARO) is a service you can list your podcast hosts as experts in your niche. Then, journalists can contact you with questions about your field.
Listing your podcast on HARO is a fantastic way to attract backlinks and free promotion opportunities from the mainstream media. These opportunities will introduce your podcast to more people and boost your credibility as a reliable source.
HARO currently has over 75,000 journalists and bloggers, including people from publications like Reuters, TIME, and Refinery29.
11. Create Audiograms
Audiograms are short and engaging clips that include your podcast's images, audio, and soundwaves. These clips are designed to grab people's interest and get them invested in your content.
Audiograms are essentially audio and video versions of highlighted quotes in an article. Here's an example of an audiogram from the podcast episode "AI in healthcare: Microsoft's Kevin Scott on how tech can treat a pandemic."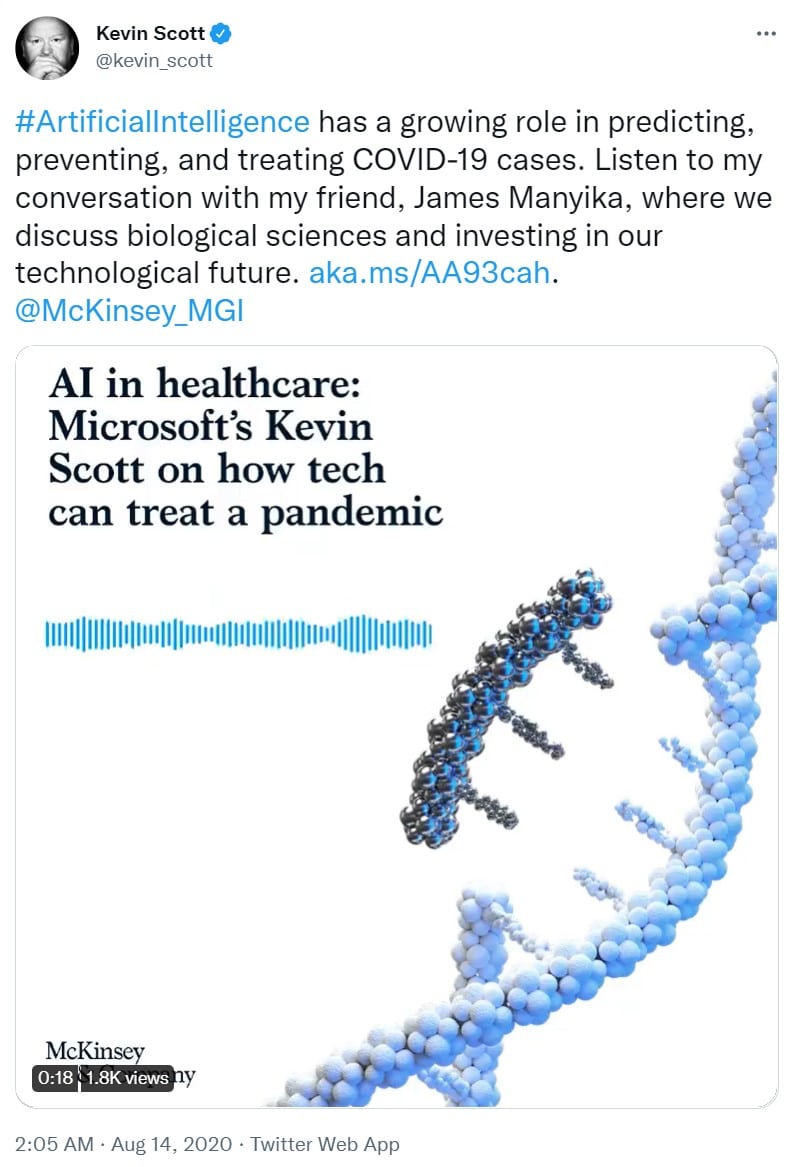 To create an audiogram, use software like Audiocado or GetAudioGram to produce a 5 to 50-second clip. Then, create a caption for your clip that includes a link to the full episode, and share it on social media. You may also want to embed it on your website.
12. Optimize Your Podcast for Listeners and Search Engines
This strategy may seem obvious, but optimizing your podcast listings for people and search engines can increase the reach of your podcast episodes.
To optimize your podcast using search engine optimization (SEO), make sure you give your episode an engaging title with related keywords and include these keywords in your podcast's description.
Use your podcast description to link listeners to other content, including similar episodes they may like and your social media accounts.
Or, read "YouTube SEO: The Ultimate DIY Guide To Start Video Marketing" for Youtube-specific tips.
13. Build an Email List
Email marketing is a tried-and-true promotional technique with a return on investment (ROI) of $36 for every $1 invested. In 2022, we expect email marketing to blossom in popularity, as 77% of digital marketers got more engagement from it in 2021. Naturally, it's a solid promotional technique for new and established podcasts.
You can learn to leverage email marketing, build an email list fast and effectively, and add an email marketing list plugin like Holler Box or MailOptin to your website.
14. Connect With Influencers
Influencer marketing campaigns have an ROI of $5.78 for every $1 spent. Hence, partnering with an influencer can be profitable to find new podcast listeners.
To work with an influencer, pay them for a social media promotion, or invite them onto your podcast as a guest.
You don't need to choose a traditional social media influencer for influencer marketing to work. Known experts in your field make great podcast guests. Here are some of Reverse Engineered's guests: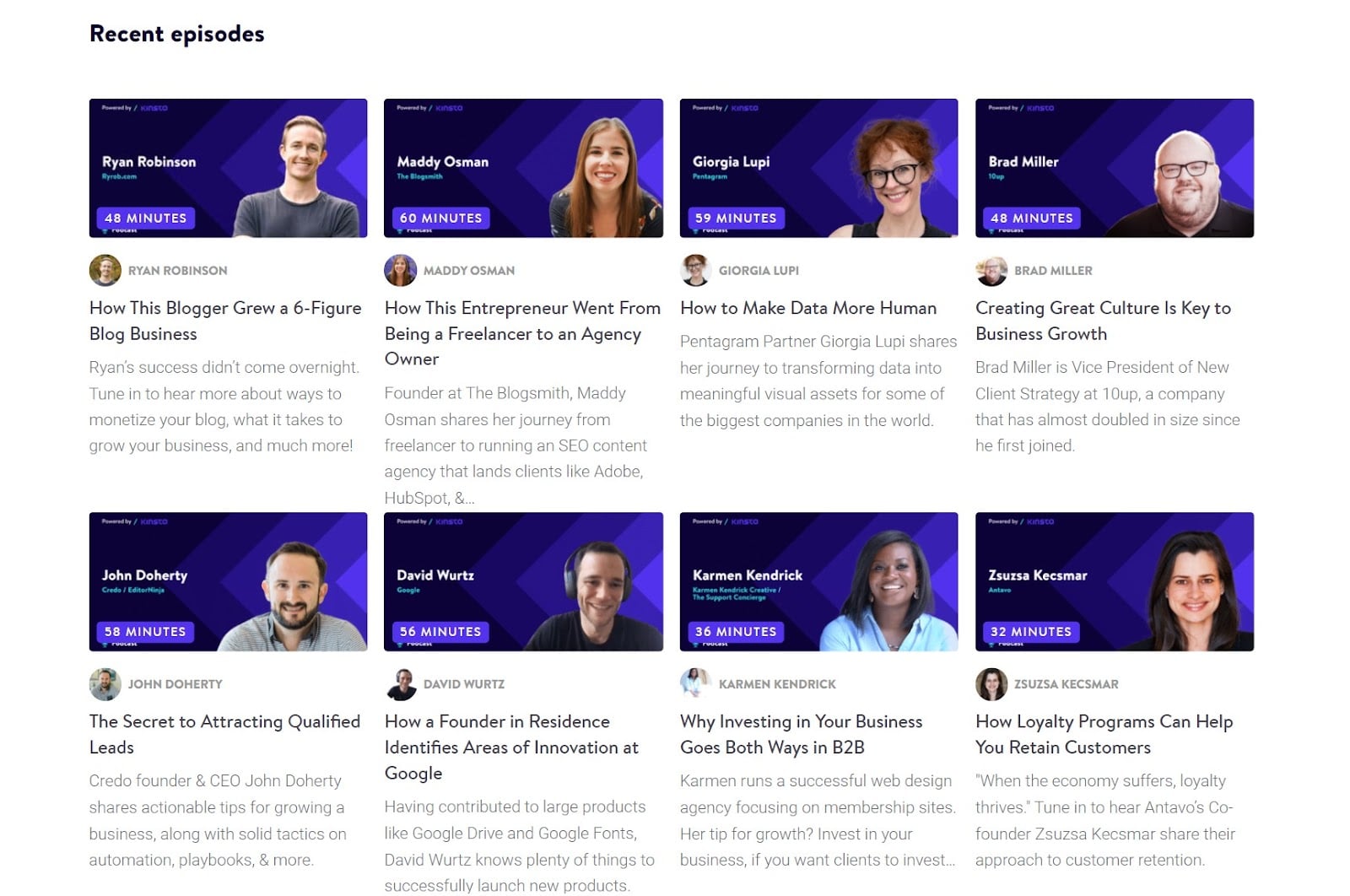 If this partnership style isn't what you had in mind, consider purchasing ad space on another podcast. For example, the new podcast Small Town Murders bought advertising space on the popular podcast Swindled.
15. Transcribe Your Podcast Episodes
Transcribing your podcast episodes allows you to share them in other mediums, including in articles and blog posts. Additionally, transcribing will enable people who can't listen to podcasts to consume your content by downloading it from your website.
Here's an example of how McKinsey shares transcripts and show notes for inspiration: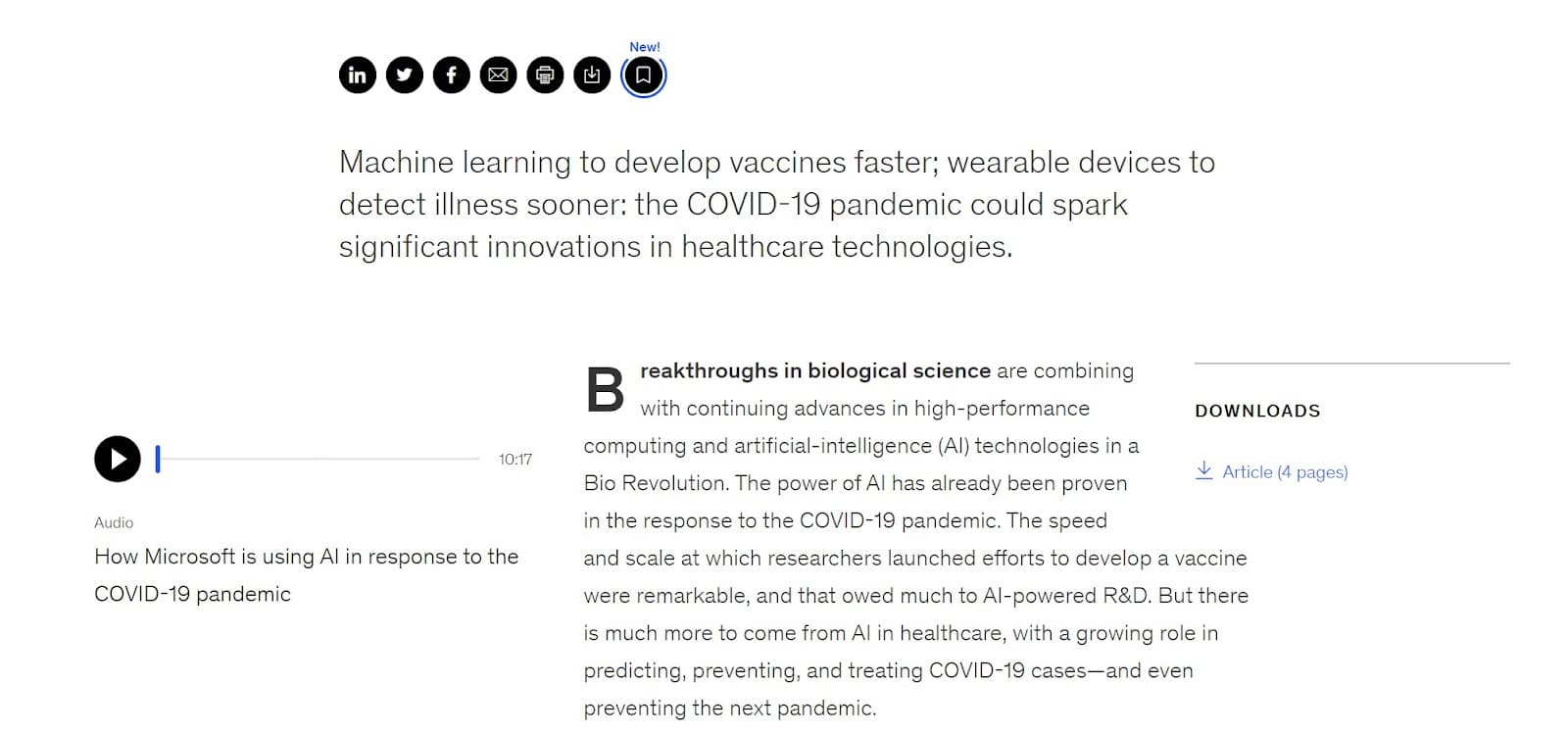 16. Host a Giveaway
Giveaways are a great way to get new listeners, as you can use them to incentivize listeners to share your podcast in return for entering into the giveaway.
Giveaways are a very flexible technique, as you can alter the scope, content, and style of the giveaway to suit your podcast and audience. For example, while some podcasts give away free merchandise, GirlsTalkTooMuch chose to partner with small brands and giveaway items that align with listeners' interests.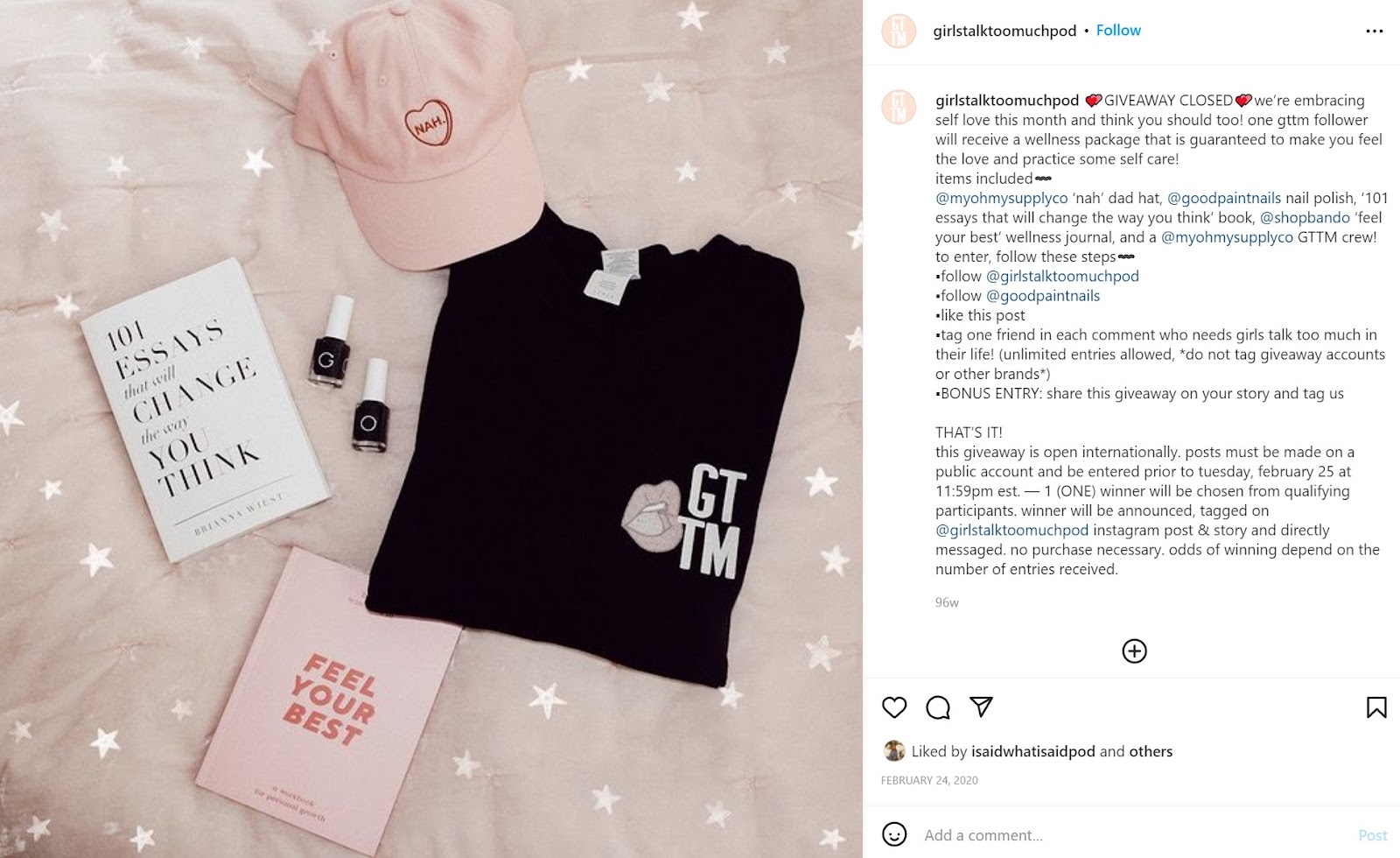 17. Add Video to Your Podcast
Finally, consider adding video into your podcast and streaming through a video hosting service. Though we tend to think of podcasts as audio-only, around 17% of podcasts now feature video.
Adding video to your podcast has many advantages, as it:
Sets your podcast apart
Allows you to supplement your content with images, videos, animations, and infographics
Helps you capture the audience's attention
To add a video feed to your podcast, start a Youtube channel or use a Youtube alternative like Facebook Watch, Vimeo, or DailyMotion.
3 Tips to Find the Right Podcast Marketing Strategy
Podcasting can be overwhelming even for seasoned marketers and content creators. Naturally, embracing all 17 promotional strategies in this article may seem daunting.
So, we'd like to leave you with three tips to help you determine which promotional strategies work for you.
1. Try Multiple Strategies
As every podcast is different, you won't know which strategies work with your podcast audience until you try them.
Don't be afraid to try multiple promotional strategies at once. Leveraging several methods can help you maximize your marketing efforts and reach a wider audience (as if you limit your promotion to a single platform like Facebook, for example, you can only reach Facebook users).
2. Track Your Progress With KPIs
Key Performance Indicators (KPIs) give you a tangible and easily quantifiable metric to track your podcast success.
There are many KPIs you can choose from, including:
Number of unique downloads
Number of downloads per episode
The average number of new subscribers monthly
The average number of listeners from each source (i.e., Apple Podcasts, Google Podcasts, Spotify, etc.)
Click-through rate (CTR)
Number of backlinks (backlinks are links to your podcast or website from other websites)
For best results, set SMART (Specific, Measurable, Achievable, Realistic, and Time-bound) goals to guide each KPI.
Try the format, "by (time/date), we will (metric)" to create easy SMART goals. For example, "by the end of March, we will reach 500 unique downloads."
Tip: because people's listening habits change over time, you should monitor and update your KPIs long-term. For reference, here's how podcast listening trends in the U.S. changed across 2020: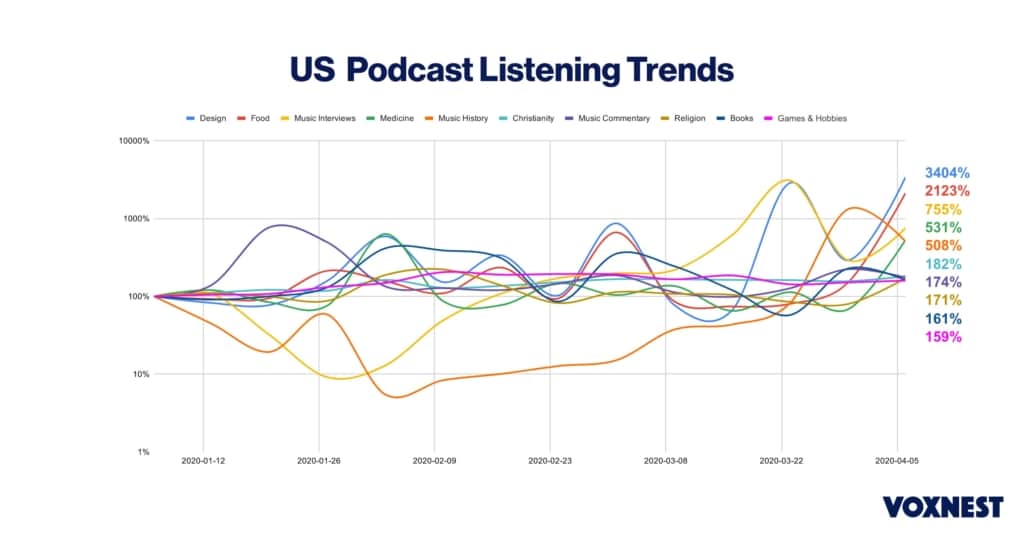 3. Compare Your Strategies With A Rating Scale
Finally, make sure you compare your promotional strategies to see which are most and least effective. One of the easiest ways to compare your strategies is to develop a subjective rating scale that rates them based on factors like:
Cost-effectiveness
Results
Possibility for long-term growth
Ease of implementation
Popularity with audience
This rating scale will give you a way to compare strategies that seem like apples and oranges or don't share measurable KPIs.
For example, you might score Instagram ads 1/3 for cost-effectiveness,1/3 for results, and 1/3 for the possibility for long-term growth, and episode transcripts 2/3, 2/3, and 1/3, respectively.
That would show you that episode transcripts are more aligned with your long-term marketing vision.
Summary
According to Voxnext, podcast listens have increased by 42% since the start of 2020. And while COVID-19 helped boost the popularity of podcasts, people's interest in podcasts has grown steadily over the past few years. In 2009, 43% of Americans were familiar with podcasts, and by 2019, that number had increased to 70%.
With so much competition, it's crucial to market your podcast using strategies like:
Social media promotion
Submitting your podcast to databases like Listen Notes
Leveraging video podcasting
Making your podcast available on multiple platforms
Now that we've shared our best strategies for promoting a podcast, we'd love to hear your experiences. Which podcast promotion strategies worked best for you, and if you could give a new podcaster a single piece of marketing advice, what would it be?
Please share your answers in the comments below.