Gmail is the most popular email service — it has over 1.8 billion active users. But there are many reasons why you may want to migrate to a Gmail alternative or at least improve your Gmail experience, especially if you use email for marketing or business communications.
To make it easier for you, we've reviewed and compared the best Gmail alternatives. After reading this, you'll know exactly which email provider or client fits you.
Check Out Our Video Guide On The Best Gmail Alternatives
Why Should You Look for an Alternative to Gmail?
For starters, Google is notorious for its data collection, occasionally including privacy-invading practices and email scanning. Also, Gmail shows personalized ads to its users, which might feel intrusive.
Gmail is part of Google's ecosystem, which means it's not the most sustainable email provider in the world.
Finally, Gmail isn't immune to cybercriminal attacks and phishing attempts. Besides regular spam, Gmail users often have to deal with forged emails impersonating legitimate organizations, which are much riskier.
Gmail was considered the most user-friendly email service back in the day, but this is no longer the case. Many Gmail alternatives offer a clean design and an intuitive interface, and some look almost identical to Gmail.
If you care about your privacy, want to switch to a green email provider, or are tired of seeing ads in your inbox, it's time to pick a Gmail alternative.
13 Top Gmail Alternatives You Can Use
Below we've put together a comprehensive list of Gmail alternatives.
1. Tutanota
Tutanota is a privacy-first email service. It provides an ad-free email experience and easily secures personal and business email.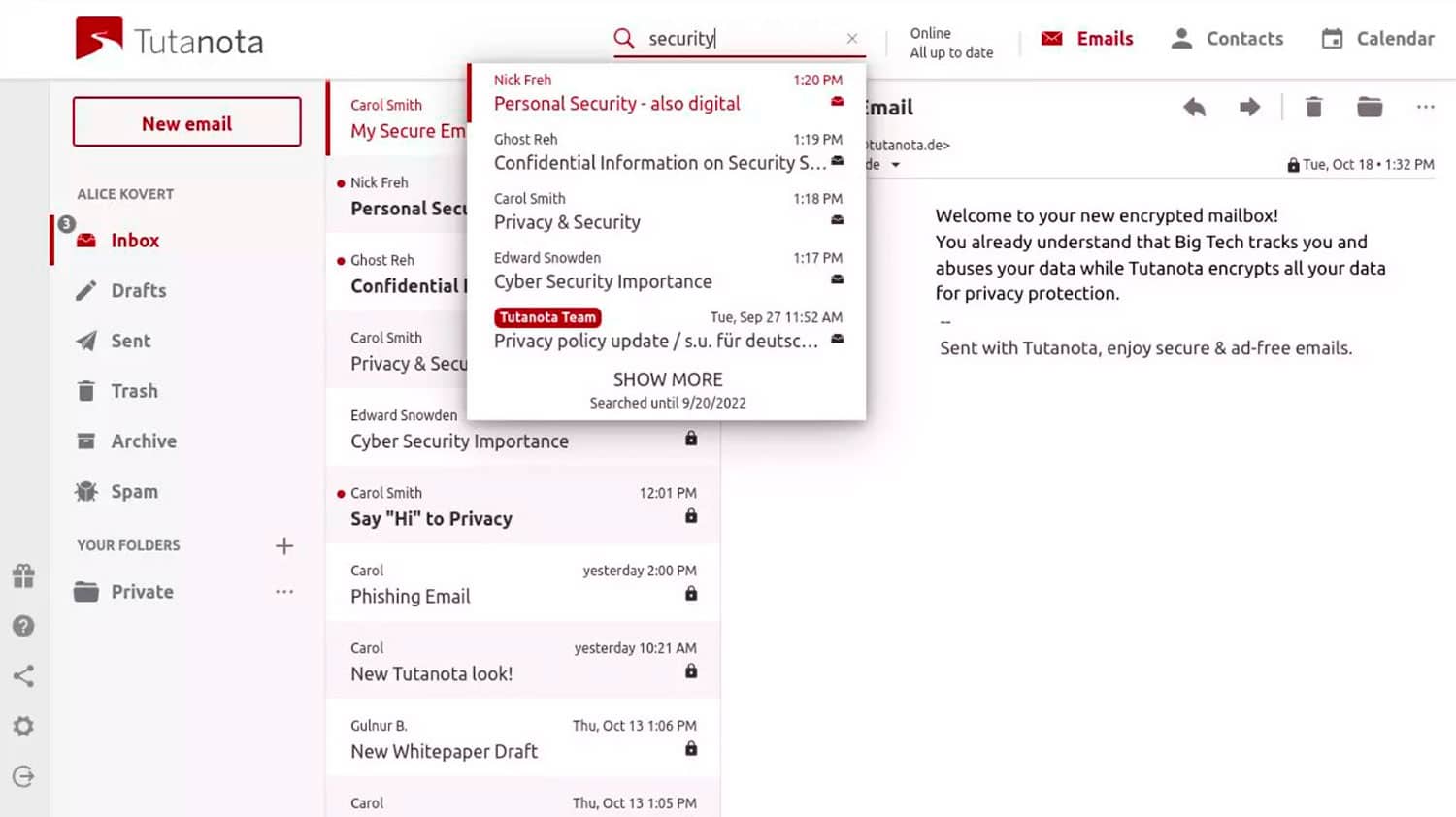 Here's what makes Tutanota an attractive Gmail alternative:
It's an open-source service, meaning any cybersecurity expert can peruse their code to ensure that Tutanota delivers what it promises.
The service has its own zero-knowledge calendar. All event notifications are end-to-end encrypted.
Your contact list, just like your emails, stays encrypted.
The company is Germany-based, so it complies with the GDPR and local data protection laws.
Tutanota has apps for iOS, Android, Windows, Linux, macOS, and browsers.
You can create an anonymous email account — no phone number is required.
Tutanota offers intuitive UI, customization, a clean design, and a built-in search function.
The service enables you to add an end-to-end encrypted contact form to your website.
Tutanota's data centers are powered with renewable energy, so it's also a more sustainable Gmail alternative.
On the flip side, some users find Tutanota's support slow to respond, which is to be expected since it is run by a small team.
Pricing: Tutanota has a free plan and offers flexible pricing. An account with 10 GB of storage and 5 email addresses costs around $5 a month. Prices for a business email account vary between $2–$8 a month.
Recommended for: Users and companies looking for an affordable, ad-free, and secure email service.
2. Proton Mail
Proton Mail is one of the most secure and easy-to-use Gmail alternatives. It's not only an email service but also a calendar, cloud storage, and a VPN.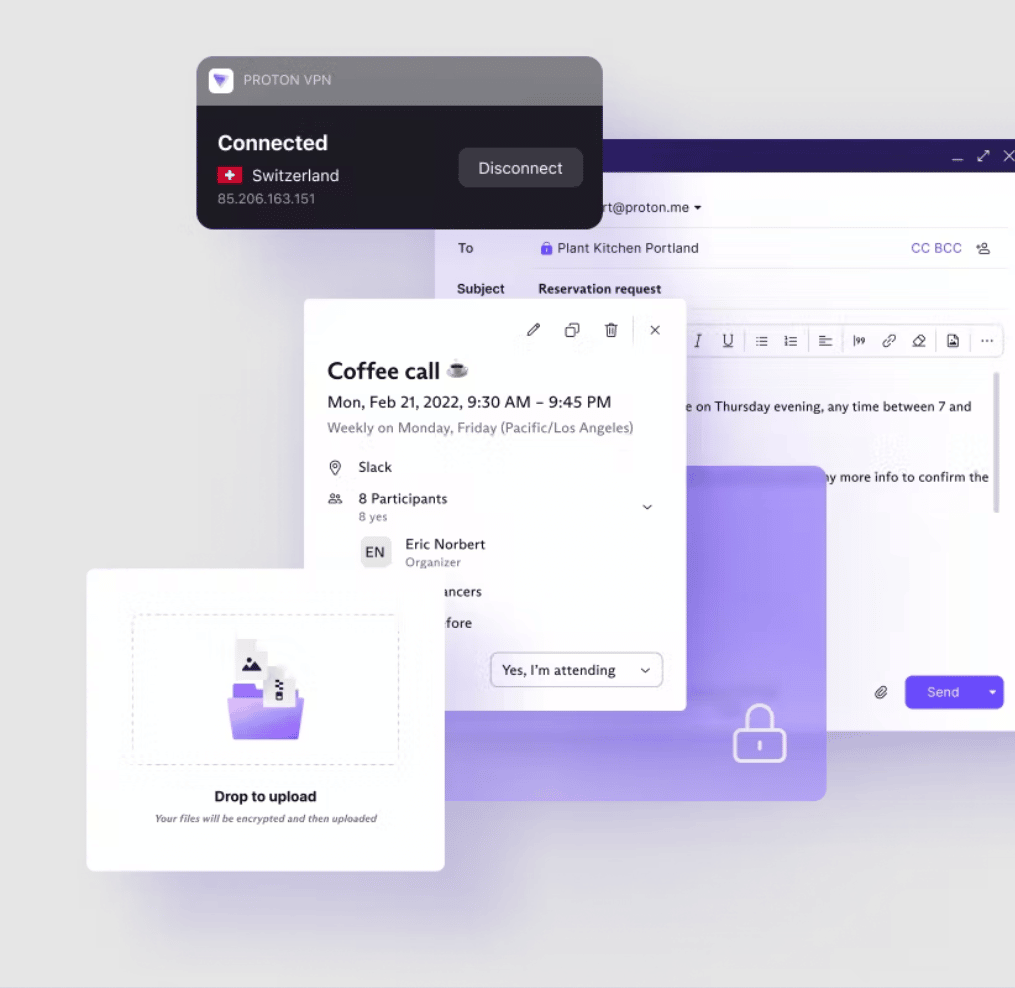 Let's look at what makes Proton stand out from the Gmail competition:
Proton's security claims are verified by independent tech experts.
Over 70 million users and 10,000 businesses worldwide trust Proton with their data.
The company is based in Switzerland and, therefore, is GDPR-compliant and operates in line with local privacy laws.
Proton has apps for Android, iPhone and iPad, Windows, Mac, Linux, and other platforms.
You can instantly access and manage your email, storage, and calendar from a single Proton Account.
Proton offers easy migrations from Google, Outlook, or other services. It's not the cheapest Gmail alternative on the market but surely the most approachable and feature-rich.
Pricing: Proton has a limited free plan. All-inclusive plans cost around $11 a month. If you just need email and the calendar, pick the $6.99 monthly plan.
Recommended for: Users and businesses looking for a full-featured and secure Gmail alternative and ready to pay extra to get reliable performance and instant support.
3. Mailfence
Mailfence is an ad-free Gmail alternative that allows you to send encrypted emails, schedule events, store documents, create secure chats, and protect your contacts.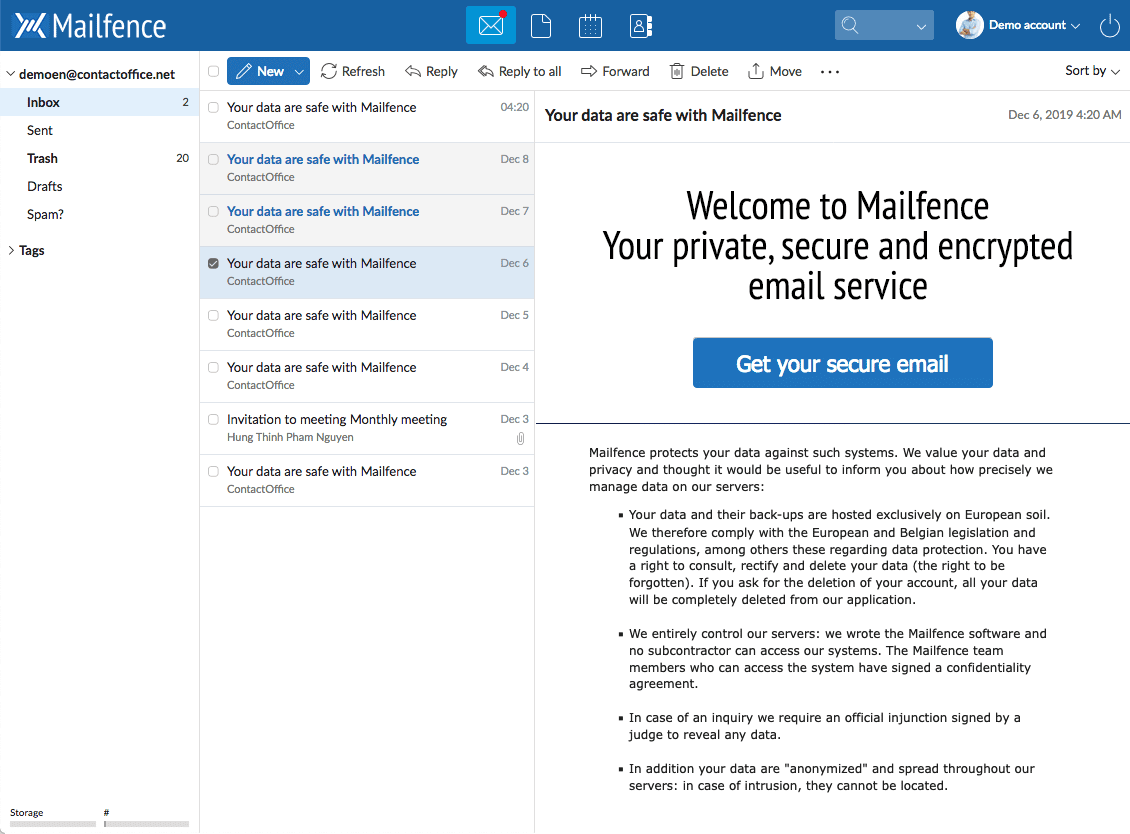 There are a few things you should know about Mailfence:
It uses end-to-end encryption, two-factor authentication, and service-level authentication standards such as SPF and DKIM.
The service gives users full control over key management with an integrated keystore.
Mailfence follows Belgian privacy laws, uses a non-US SSL/TLS certificate, and doesn't track its users' activities.
The company uses green energy and donates 15% of its Ultra plan revenues to support the Electronic Frontier Foundation (EFF) and European Digital Rights.
Mailfence maintains an up-to-date transparency and warrant canary report, and its code is open to audits.
Pricing: Mailfence has a limited free plan. Premium plans start at $2.50 a month. Paid accounts have POP, IMAP, and secure SMTP.
Recommended for: Privacy fans and organizations looking for a secure email service that won't break the bank.
4. StartMail
StartMail is built by the founders of Startpage, one of the most private search engines. It keeps your data protected according to Dutch privacy legislation and GDPR. StartMail helps you avoid spam by using anonymous aliases.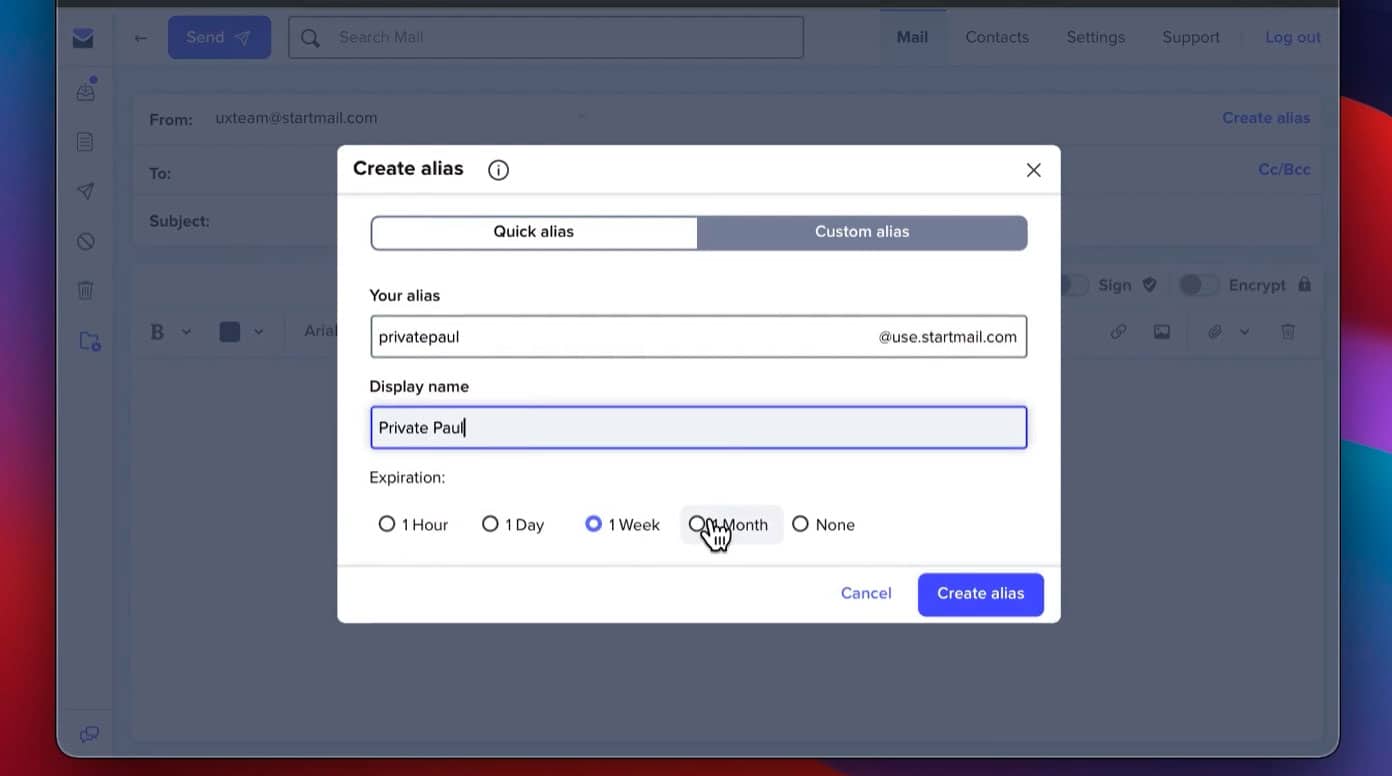 With StartMail, you don't have to worry about being tracked, spied on, or taken advantage of:
You can organize your inbox with filters, create contact groups, and use the search tool to find a particular email. StartMail also offers quick migrations and some flexibility regarding the inbox layout design.
Pricing: StartMail costs $6 monthly, $7 with a custom domain. It has a 7-day free trial. To save money, wait for a sale or choose annual billing.
Recommended for: Anyone needing a safer Gmail alternative that provides a nice UX.
5. Posteo
Posteo is an eco-friendly, open-source, and ad-free email provider from Germany. It's 100% financed by its users. Posteo can be used for sending encrypted emails, managing contacts, and scheduling events securely.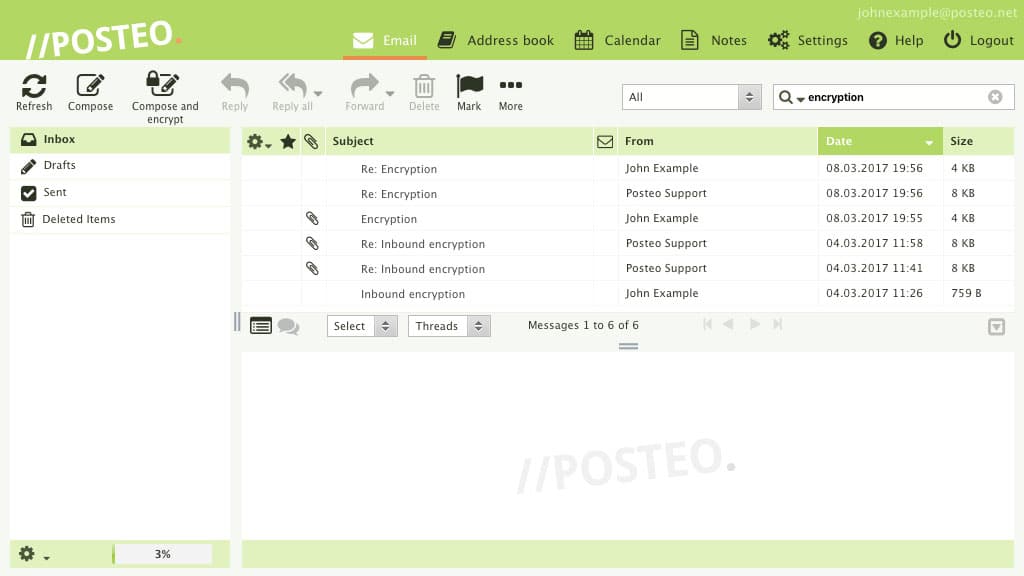 Here's what sets Posteo apart:
The service doesn't save your IP or use tracking. It doesn't engage in data trade or circulation.
Posteo servers are located in a highly secure German data center.
It offers anonymous signup — you can create an account without specifying your name or phone number. Payments are also anonymous.
Posteo uses energy-efficient hardware powered by Green Planet Energy. The company is an ethical employer, and it donates to NGOs.
The service offers inbound encryption with S/MIME or OpenPGP and TLS-encrypted access and transmission. It also conceals your IP or local address.
Posteo also has typical email features you already know and use, such as alias addresses, "list" or "conversation" view, auto-replies, and unlimited filter addresses.
Some Posteo users point out that its support team isn't exactly fast. Because of Posteo's dedication to privacy, customer inquiries aren't tracked or stored for more than two weeks.
Pricing: Posteo costs €1 per month, which at the time of writing equals $1.03. You can buy additional storage space, alias addresses, or calendars for less than 25¢ a month.
Recommended for: Users who care about sustainability and data privacy.
6. Outlook
Outlook is an email service and part of the Microsoft 365 product family. The service now has a fresh, modern look and an impressive set of features, so it's well worth considering Outlook as a Gmail alternative.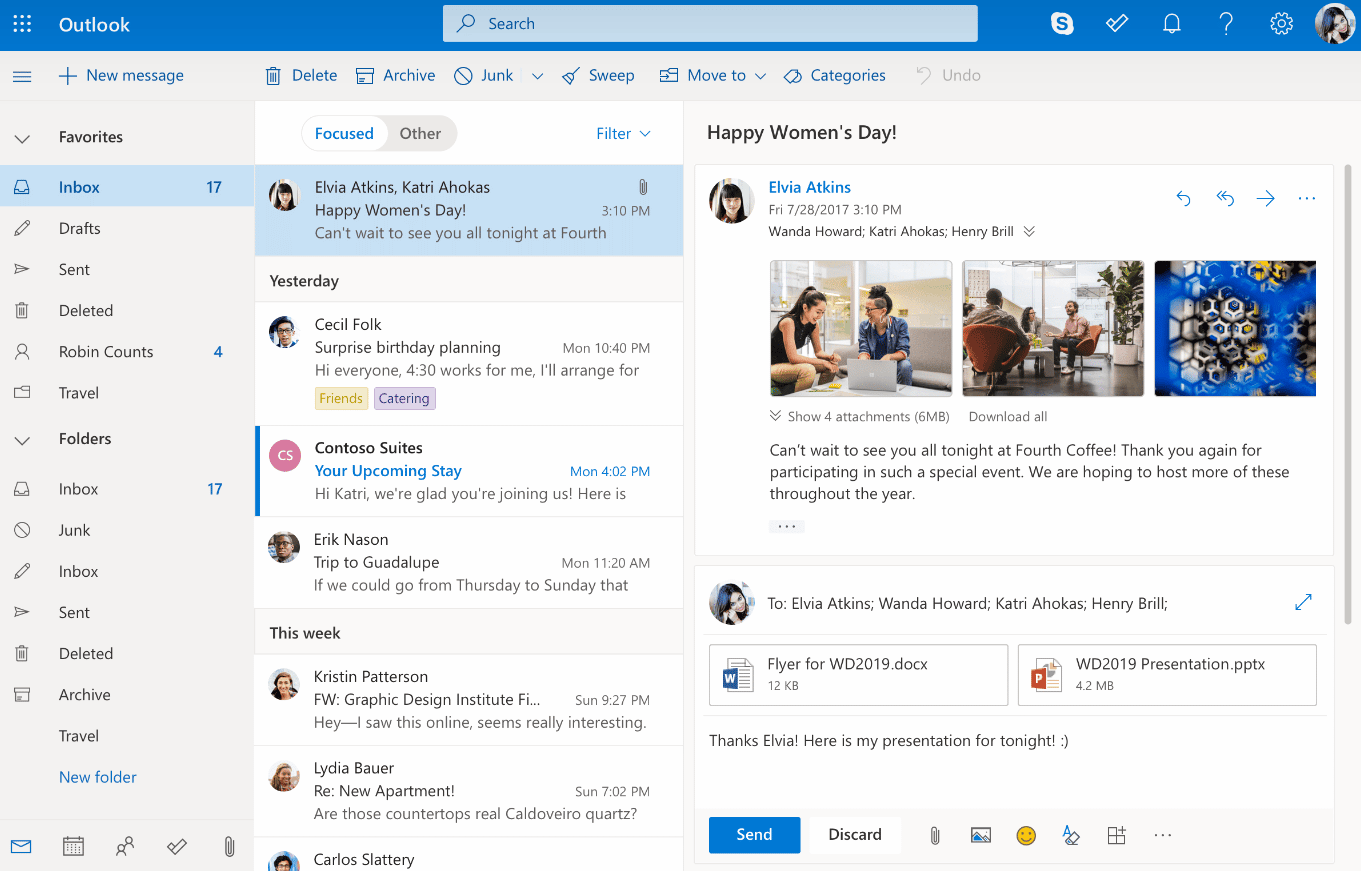 Let's see what makes Outlook a superior choice:
It's both an email service and a calendar, so you can seamlessly communicate and plan meetings.
You can use the calendar to send your colleagues or clients your availability or even check in to upcoming flights.
Outlook allows you to view detailed contact profiles for a more conversational context.
The service helps you create and manage tasks right from your inbox.
Advanced search tools are great for finding crucial bits of information even in the most cluttered inboxes.
Microsoft ensures your privacy by encrypting your emails, detecting ransomware, and automatically deactivating suspicious links.
Outlook makes it easy for you to collaborate in Word, PowerPoint, Excel, and Skype using a single account.
The service has multiple accessibility features, such as intuitive voice-controlled navigation.
Remember that with an Outlook SMTP server, you can configure your preferred email client to send emails using your Outlook account.
Pricing: Outlook is available for free. To unlock premium Outlook features and tools, you'll need a Microsoft 365 subscription. The prices start at $6 a month per user.
Recommended for: Teams who will benefit from having a Microsoft 365 subscription or already have one.
7. Zoho Mail
Zoho Mail is an ad-free email service provider powered by Zoho. The beauty of this email solution is that you can access your email communications, contacts, calendar, notes, tasks, and bookmarks in one click.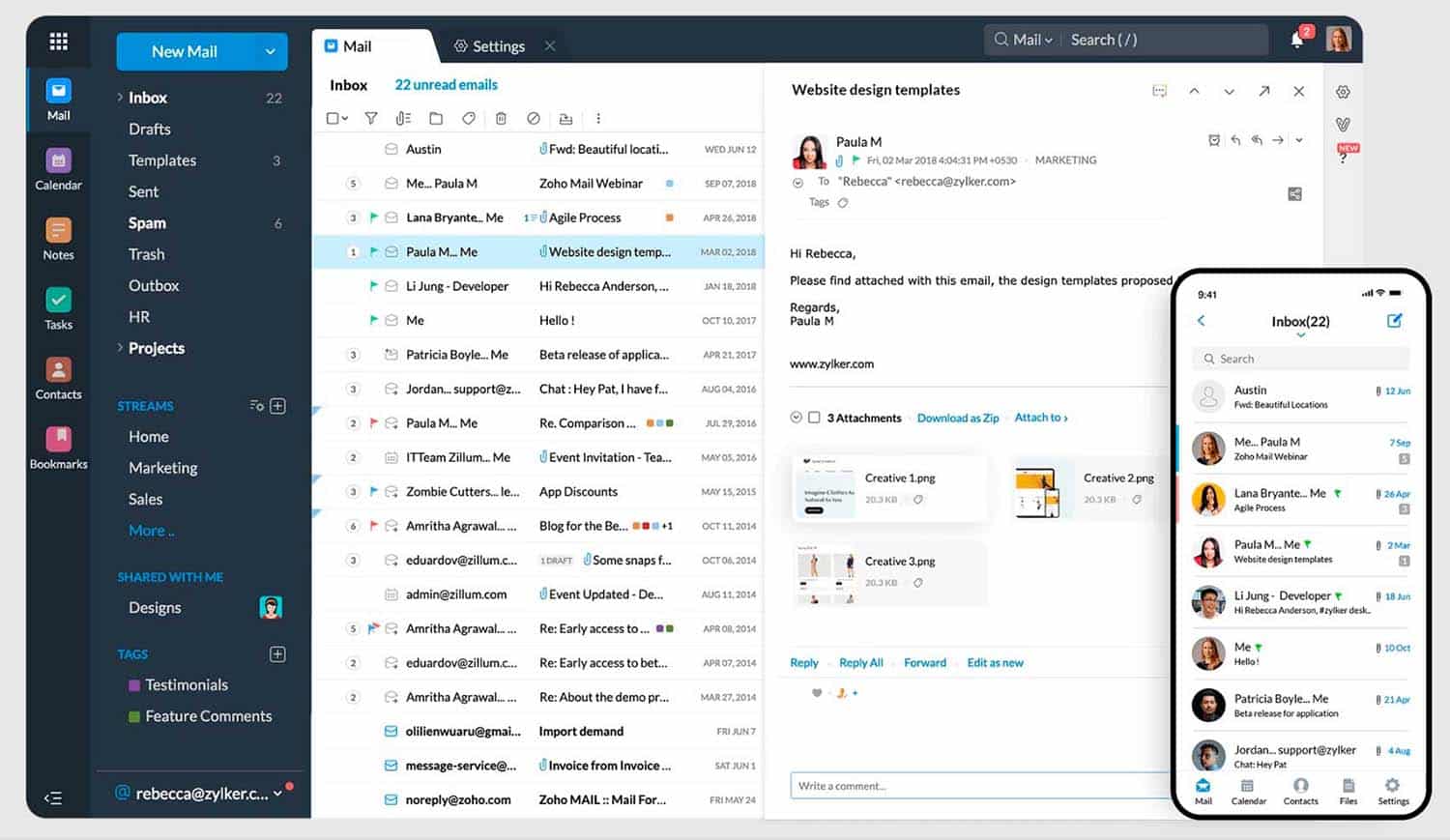 With Zoho Mail, you can:
Keep your emails encrypted both at rest and in transit with the help of S/MIME and TLS Indication.
Rely on Zoho's top-notch hardware security and data centers with a 99.9% uptime.
Protect your company's data against phishing, malware, and other threats.
Tap into Zoho's template library to supercharge your email design.
Set up custom domains for your colleagues and departments.
Manage your settings, users, group aliases, content policies, and more from a single control panel.
Customize your email layout with ease.
Automate email retention and backups and use advanced search to ensure data accuracy and accessibility.
Effortlessly migrate your email and calendar data from Google Workspace.
Integrate Zoho Mail with your CRM to supercharge your sales efforts.
Take advantage of Zoho's email marketing tools and nurture your prospective clients at scale.
Zoho Mail is a powerful email hosting service with much to offer. Zoho protects your corporate addresses from spam and DDoS attacks and allows you to collaborate and build professional connections.
Pricing: Zoho Mail plans start at $1 a month per user. The most popular plan costs around $3.70 per user. Also, there's a free-forever plan including five users.
Recommended for: Users relying heavily on email to communicate with prospects, partners, and high-value customers.
8. Spike
Spike is a collaborative email solution allowing you to transform your email into a real-time chat and streamline your workflow. With Spike, you can keep your Gmail account, but it'll be significantly "upgraded."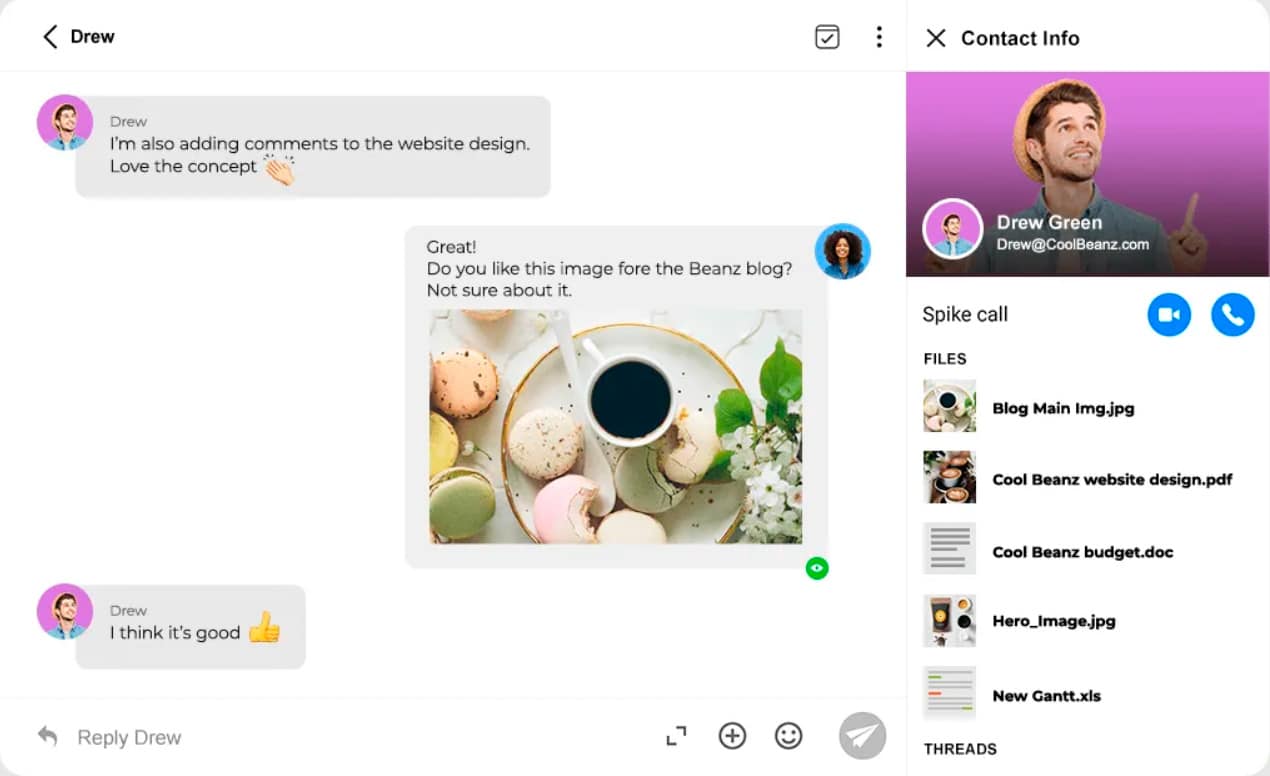 Here's what makes Spike a unique email tool:
Spike's intelligent Priority Inbox feature removes distractions and helps you focus on urgent messages.
Dynamic Notes let you capture, develop, and share your ideas in a natural way.
Collaboration features allow your teammates to comment on your Notes.
The chat feature helps you turn clunky email threads and messy attachments into an intuitive conversational flow.
Integrated tasks and to-do lists allow you to stay on top of your work by managing projects and setting reminders directly from your inbox.
Built-in video meetings and voice messages enable you to keep your communications engaging and personalized.
Spike's calendar lets you merge all your calendars together and avoid overbooking or missed appointments.
Advanced email search lets you preview attachments and filter the results by person, tag, keyword, or file type.
The Groups feature simplifies team communications and collaborations by eliminating the need to install multiple apps.
Pricing: Spike has a limited free plan for personal use. Team plans start at $5 a month per user. You can save 38% by paying yearly.
Recommended for: Busy professionals sending or receiving hundreds of emails every day.
9. Mozilla Thunderbird
Thunderbird is a free desktop email client supported by the Mozilla Foundation and the international community of contributors. It can also manage calendars, news feeds, chats, and newsgroups. Thunderbird has been around for over 20 years and is still strong. Just like WordPress, it's extremely affordable and customizable.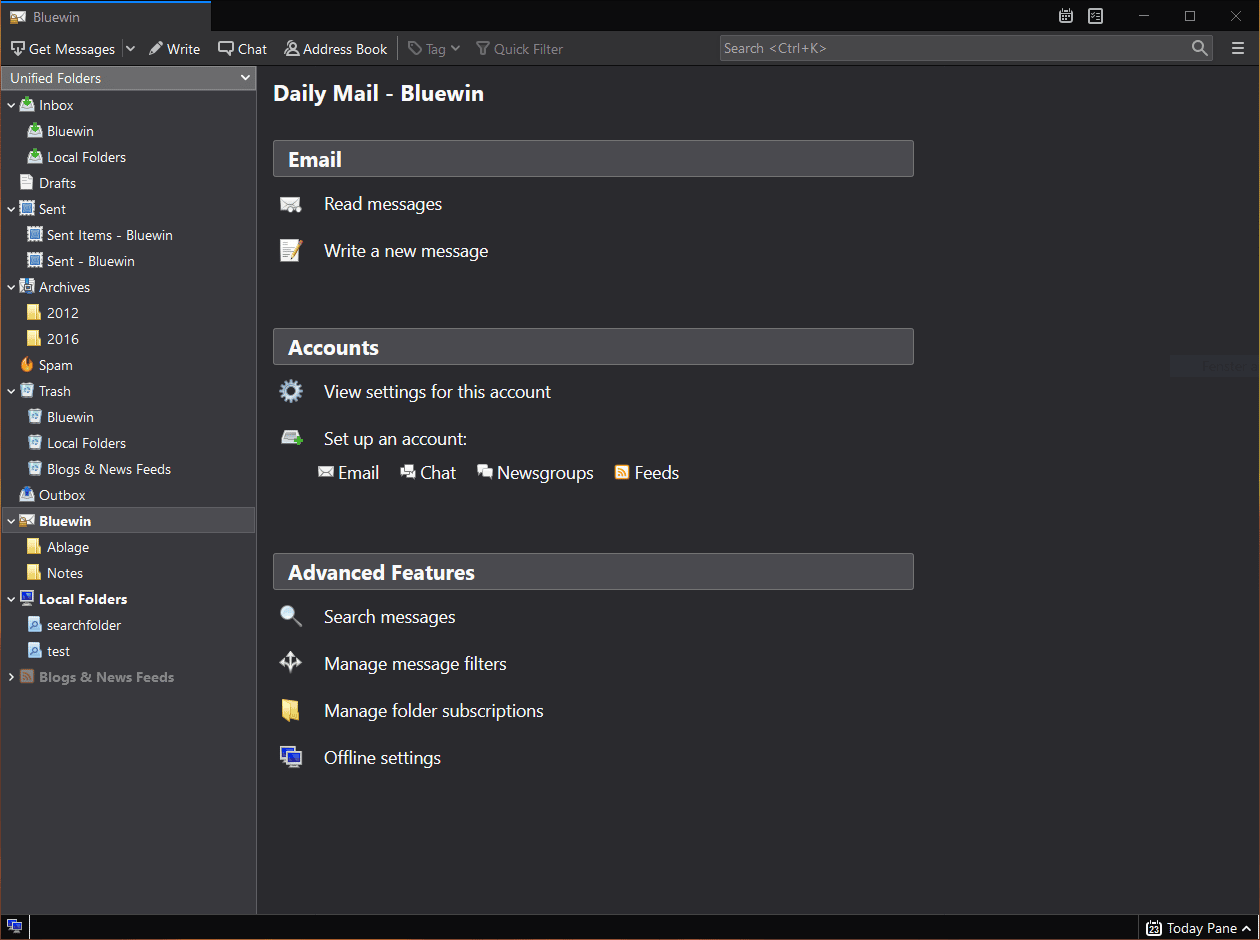 Since Thunderbird is an email client, it can be connected to your Gmail or any other email account. By doing that, you'll switch to a privacy-first platform without losing your address.
There are a few reasons to start using Thunderbird for your Gmail:
It can easily be customized with the help of limitless add-ons (just like Gmail extensions).
Thunderbird has tabs, an email archive, filters, search tools, and many other familiar features.
You can use the Add-ons Manager to find and install add-ons directly in Thunderbird.
Thunderbird protects you from spam and phishing by indicating suspicious links and blocking remotely hosted email images.
The app allows you to add as many email addresses as you want.
Pricing: Thunderbird is absolutely free and funded by users' donations.
Recommended for: Anyone who needs a free, safe, and reliable email client for managing multiple inboxes.
10. iCloud Mail
iCloud Mail is an obvious choice for macOS users who're used to slick, secure, and pixel-perfect solutions. However, you don't necessarily need an Apple device to access it. On your Windows computer, you can view your iCloud mail, contacts, and calendar in Microsoft Outlook.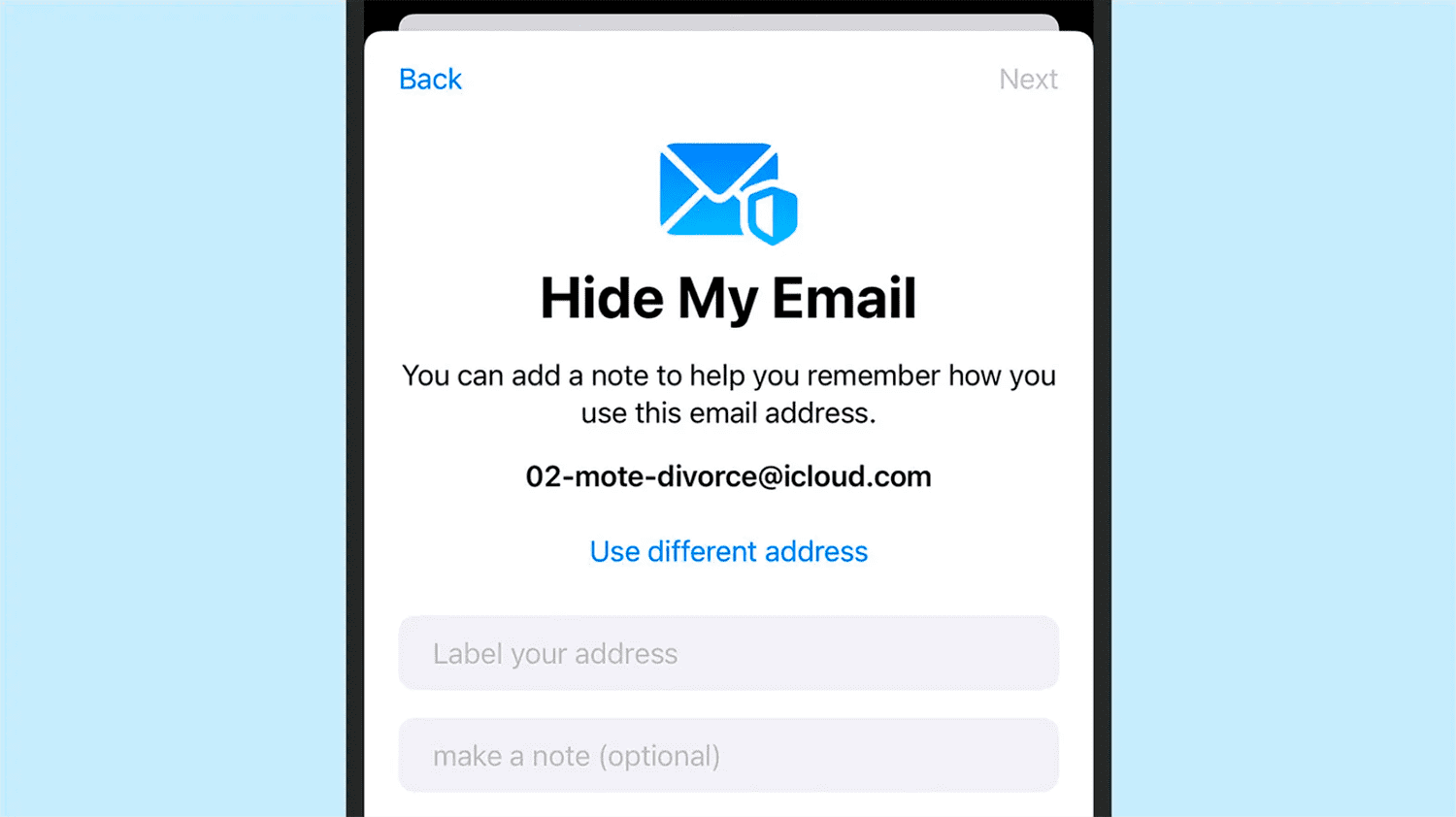 iCloud Mail is on par with Gmail or, in some ways, even better:
It lets you add and manage email aliases.
You can set up to 500 rules to filter incoming mail.
iCloud Drive can fully replace your Google Drive.
All of your data is synced across devices and pre-installed iOS apps.
You automatically get 5 GB of storage with an option to buy more.
You get to choose between standard and advanced data protection.
iCloud Mail supports optional S/MIME for message encryption.
Pricing: iCloud Mail is free. You can purchase Apple's premium cloud subscription, iCloud+, to get more storage and features. 50 GB will cost you $0.99 monthly.
Recommended for: Apple fans.
11. Mailbox.org
Mailbox.org is another German email service that is both affordable and convenient. It offers a full package: cloud storage, video conferencing software, a calendar, and a task planner.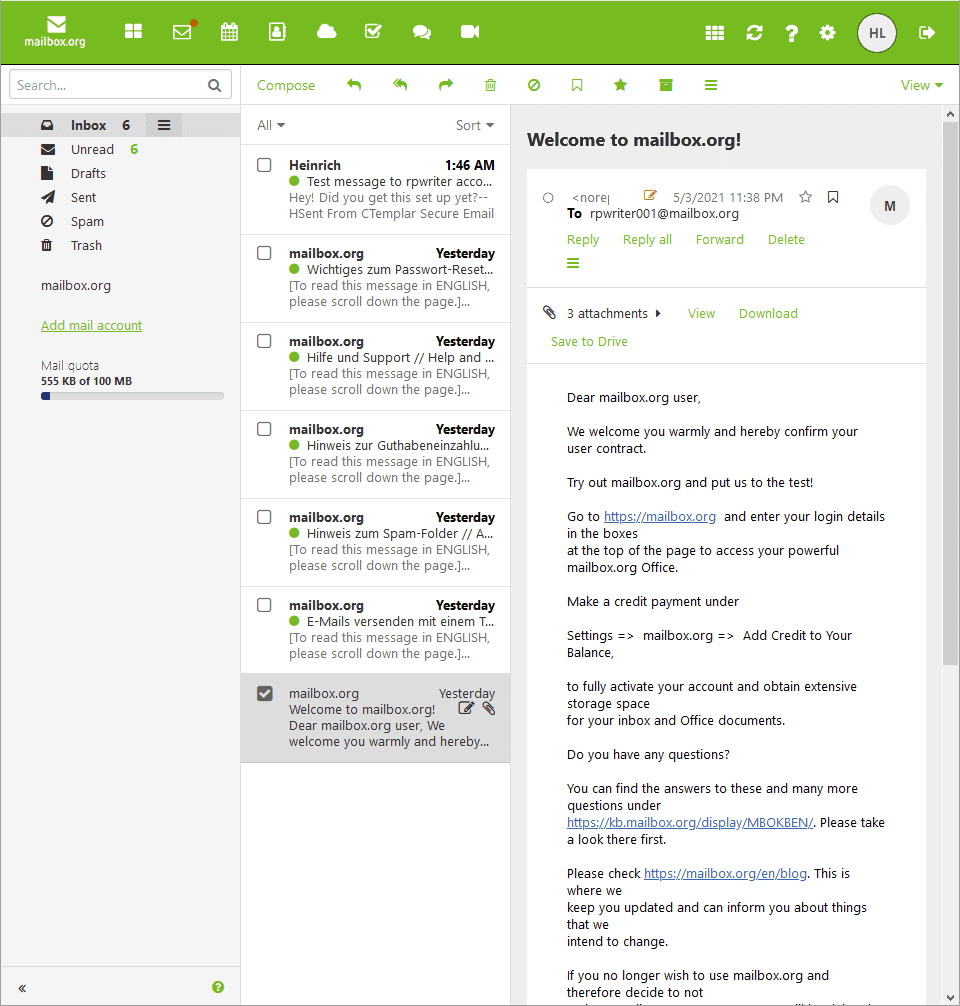 Here's what you can do with Mailbox.org besides sending encrypted emails:
You can use the service anonymously. Mailbox.org's servers are powered by green energy, and the company regularly publishes transparency reports, which makes it a more ethical alternative to Gmail.
Pricing: Mailbox.org gives you 30 days of free use to help you decide if you like the service. Pricing plans start at €1 a month — this equals $1.05 at the time of writing.
Recommended for: Businesses and individuals who value privacy and look for a robust and versatile email solution.
12. Runbox
Runbox is a Norwegian email service that can be used for personal and professional communications. It guarantees you an ad-free and tracking-free experience. The company's transparency reports are available online.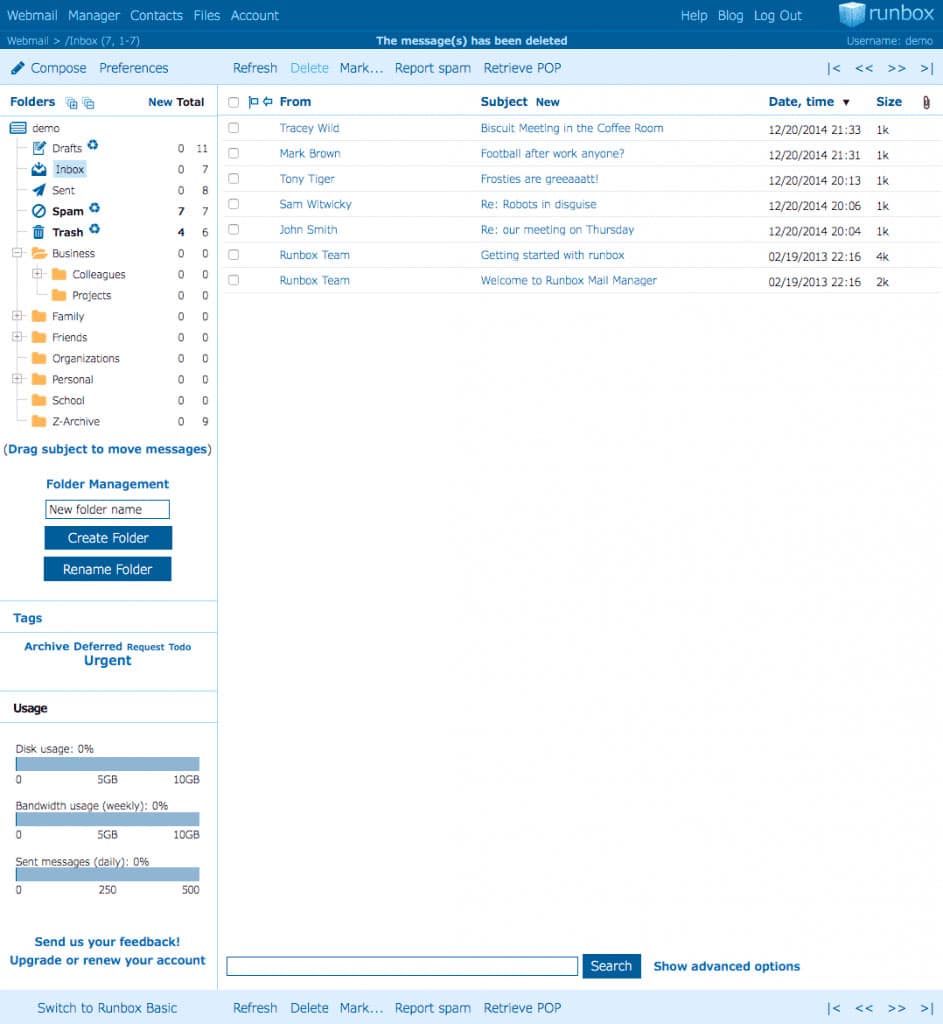 Let's quickly run through its most prominent features:
In addition, you can request more advanced privacy features, such as backup-free storage.
Runbox email servers are located in a maximum security facility in Oslo and powered by renewable hydroelectricity. You can learn more about the company's approach to security and privacy from its website.
Pricing: Runbox offers a free trial month and a 60-day money-back guarantee. Pricing plans are customizable and start at $19.95 per year.
Recommended for: Users who prefer independent, privacy-first software providers.
13. MsgSafe.io
MsgSafe.io is a less-known Gmail alternative with plentiful email features and a solid approach to security. It fully supports end-to-end email encryption. Its primary technical operations are located in Curaçao, one of the most privacy-oriented jurisdictions in the world.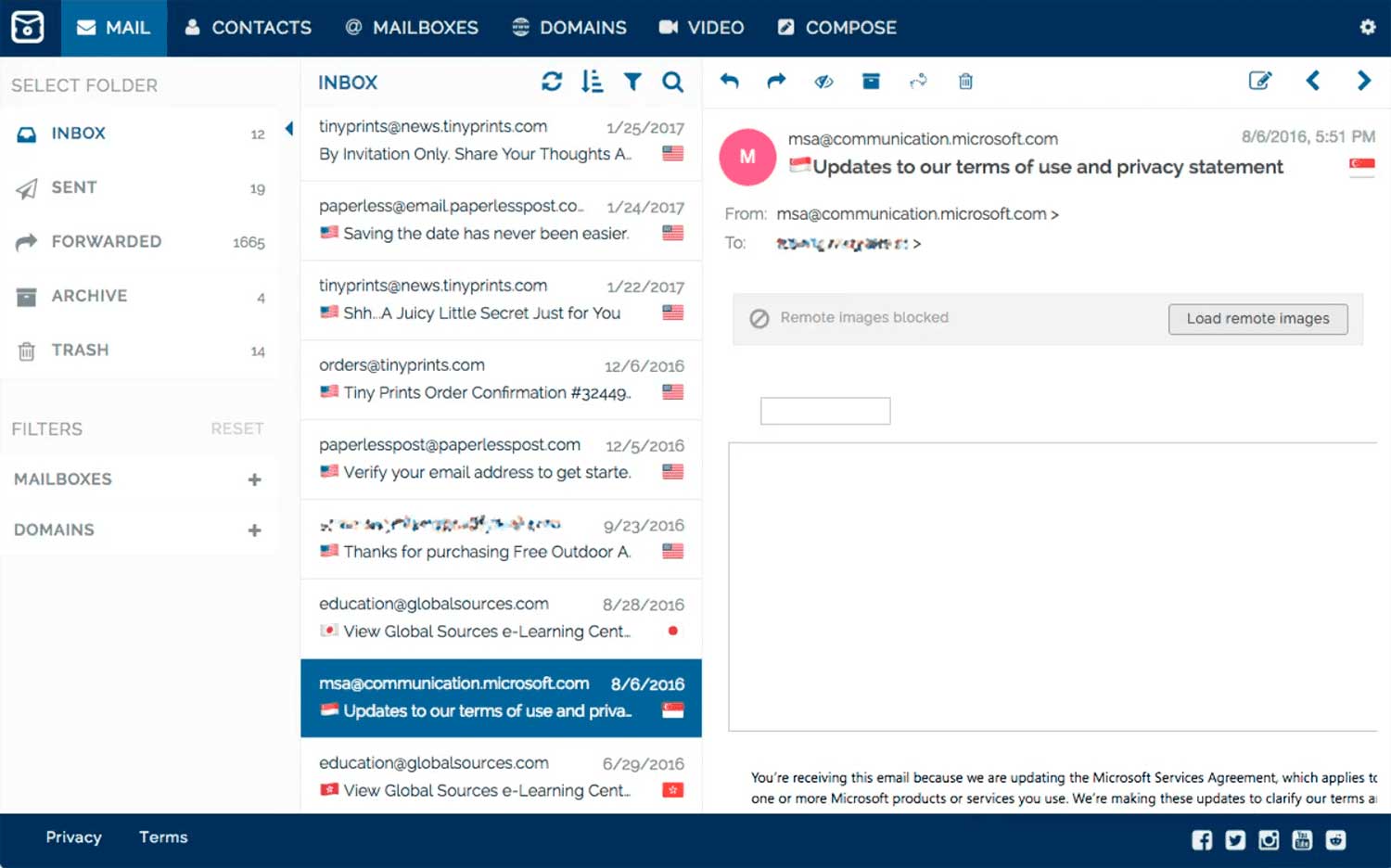 Here's what MsgSafe.io offers in terms of email and beyond:
The best part is, MsgSafe.io can be used alongside Gmail, Protonmail, or any other email provider. This way, you can add an additional level of security to your regular email without having to install or change anything. If you forward your emails to MsgSafe.io without storing them, not even law enforcement can gain access to them.
Pricing: MsgSafe.io has a generous free plan with 1 GB of storage. The more advanced plans start at $6 a month. To get a discount, choose to pay annually.
Recommended for: Users who worry about cybercriminal attacks or the government potentially spying on them.
How To Choose a Gmail Alternative That Meets Your Needs?
To find a better alternative to Gmail, consider these factors:
Price. An email service is never a one-off purchase — you'll be using it continuously for months and, hopefully, years. Make sure that the provider of your choice won't hurt your budget in the long run.
Design. Unlike Snapchat or Discord, email is an essential communication tool. Your new email app shouldn't be difficult to use; otherwise, it would defeat the whole purpose of moving to a Gmail alternative. Take a look at the new service's interface before you buy it to see if you'd enjoy using it for hours daily.
Storage. By default, most independent email providers will give you 1 GB of storage, which pales compared to the free 15 GB that Google offers. If you're a high-volume sender, check whether the email platform of your choice allows you to buy more storage.
Scalability. Can you add more users once your business grows? How many email addresses or custom domains can you create? Your new email solution shouldn't limit you in any way, especially if you purchase it for commercial use.
Migration. Is it troublesome to transfer your messages from Gmail to your new email account? How to avoid data loss? Ideally, your provider's support team should be equipped to help you with that.
We're all spoiled by the dirt-cheap tools that Big Tech corporations give us, but we rarely question what makes them so cheap.
With a Gmail alternative, you might end up paying more, but in exchange, you'll get more privacy and peace of mind, and it's hard to put a price tag on that.
Finally, some email services support integrations so you can take the best of both worlds.
Summary
As you can see, sticking to the default option isn't always the wisest choice. It's crucial to keep your content and communications safe, especially if it's not just your data but that of your customers, clients, or partners. Is your hosting secure and reliable enough? If you're unsure, consider switching to Kinsta.
Over 26,400+ companies and 55,000 developers and entrepreneurs trust Kinsta with hosting their websites, applications, and databases. We offer the fastest CPUs, integrated performance monitoring tools, global CDN, IP-based and firewall protection by Cloudflare, and a superb support team. Migrate to Kinsta for free and enjoy speed and stability 24/7.