The question of how to get web design clients is top of mind for every freelance web designer who's suffering from the feast and famine cycle.
As a freelancer, your talent gets the work done — but you need the business and marketing knowledge to attract clients and avoid this common problem freelancers face. You should have ways to both attract clients (inbound marketing) and seek them out (outbound marketing) to maintain a constant stream of clients in your pipeline.

To help you get a head start, we've compiled 7 tips to get the web design clients you want.
Read on to learn more.

Check Out Our Video Guide on How to Get Web Design Clients
What To Look For in Web Design Clients
As a freelance web designer, you can choose the clients you work with. You may have had your share of bad clients and have created your client red flag checklist to avoid headaches. But client green flags are also worth noting.
Before we get into how to get web design clients, here are a few indicators that a client will be great to work with:
Respect for your time and boundaries: Good clients respect your time, boundaries, and expertise. They know you work with other clients and won't be available 24/7. They consider your schedule and ask you whether their suggested timeframe would work.
Clear and realistic expectations: Working with a client who knows what they're looking for is much easier than with a client who doesn't give directions. Sure, having creative freedom over the output is a dream — until the client asks for constant revisions since they don't have a clear concept in mind.
Open to suggestions: In a freelancer-client relationship, both parties contribute equally. The client hires you for your expertise, so they should be open to your direction or advice.
Timely and thorough communication: Good clients respond to your questions or clarifications without long delays. Besides that, they provide you with the content and direction you need to proceed with your work.
Full rate pay, on time: Quoting prices is one of the scariest things for a freelancer. Good clients seldom haggle because they respect your experience and skill and are willing to pay for them. They understand you're a business owner too, so they pay on time.
How to Get Web Design Clients
We've compiled our top tips for finding and attracting high-quality web design clients. By following these suggestions, you'll have plenty of work in no time at all.
1. Create a Portfolio Website
Having an online portfolio is one of the quickest ways to get clients since it shows potential customers and employers what you can do. You can use websites like Behance or Dribble to showcase your designs, but we highly recommend creating a custom portfolio website. By having your own website, you can rank on Google search results. When paired with the best search engine optimization (SEO) practices, your website can bring in clients without you having to lift a finger. For example, if you search "WordPress web designer," Google shows web designer Jill Lynn's website at the top of the results. This means Jill has put a lot of thought and effort into her site's SEO.

FirstPageSage shares that a web page ranking on the first position gets a 39.6% click-through rate (CTR). Imagine the inbound traffic she must be getting from potential clients. If you don't have a website, you can start today and build your website in a matter of minutes using beginner-friendly website builders or spend some time on your website to showcase your web designing skills. We recommend building your portfolio website on WordPress. Used by almost 43% of all websites, WordPress is the most popular content management system or CMS. You can use the software for free, but you'll have to host your website via a hosting provider — Kinsta provides affordable hosting plans — and get portfolio plugins to add functionality to your website. Once you've set up your website, you can benefit from content marketing by sharing information such as:
Past web design projects you've worked on
Niches you specialize in
Web design software you use
Stories and inspirations behind your design
Your design process
Case studies
Client testimonials
If you want to rank higher on search engine results pages, or SERPs, publish regular content, as this helps drive traffic to your website.
2. Promote Your Services on Social Media
Besides a website, you must also have a social media presence. While a portfolio website showcases what you're capable of, a social media presence gets the word out. On top of that, your social media accounts showcase your personality and help you build a personal brand. You don't need to have a presence on all social networking websites. Choose the social media networks your respective clients use and grow your brand there. Here's a quick summary of how different social networks can serve you in your web designing career:
You can also utilize hashtags to share your content with targeted audiences. For instance, the #webdesign hashtag on TikTok has over 180 million views.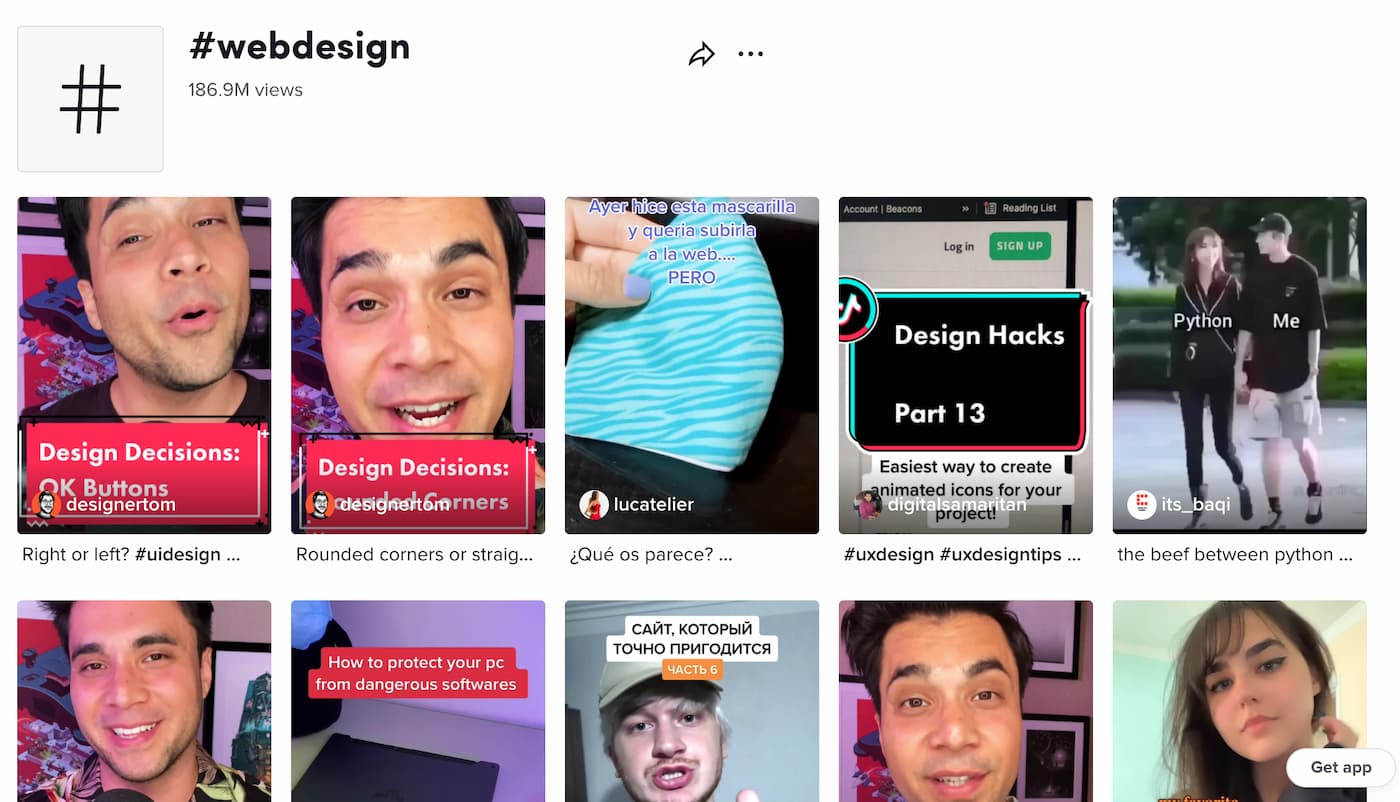 When building an audience on various social networking websites, remember that each platform's audience is different. Avoid cross-posting as a social media strategy. Create content for each platform according to its audience.
3. Share Helpful Content
Share helpful content on your website and social accounts to build an online presence in which clients and other freelancers can benefit from knowing you. Sharing helpful content benefits you by:
Building trust
Positioning you as an expert
Growing your audience
But how do you position yourself as an expert? Start by niching down. One way to niche down is by offering specific web design services catering to certain:
Markets — you can focus on ecommerce businesses
Software or technology — you can do web designing for WordPress websites
Services — you can design only landing pages
By niching down, you will be the person people look to for specific help. Niching down also makes it easier to create content about your expertise. While positioning yourself as an expert, remember to back it up by continuing to invest in your education. Upskilling empowers you to demand a higher rate. During lean months, take the opportunity to:
4. Create Multiple Income Streams
Once you build your following, you can also try selling digital products your audience may be interested in. Why? As a service provider, scaling your income can be challenging. No matter how much hard work you put in, there will come a time when your web designer salary plateaus. Most six-figure freelancers have multiple income streams. Besides client work, they develop relevant digital products they can sell. For example, you can create and sell website templates as a web designer. Besides passive income, it demonstrates your skill and gets you sales, so you don't have to worry about how to get web design clients. Brett of DesignJoy came up with a digital product in the form of a subscription-based, productized development service and scaled his design business to generate $1 million each month. Besides digital products, other ideas for income streams include:
Consultancy: Once you establish yourself as a thought leader, you may get consultation requests.
Speaking gigs: You might receive invitations for paid speaking gigs if you build your personal brand. It's also an excellent way to get your name out there.
Being an affiliate: You can start recommending products you use and earn money. For instance, Kinsta has a great affiliate program you can join.
Selling e-courses: Platforms like Skillshare or Teachable make it easy to sell online courses. You can also create a membership site and use it as a long-term revenue stream if you've got a large audience.
5. Consider Industry-Specific Job Boards
Job boards are another way of finding new web design clients. We don't mean freelance marketplaces like Upwork or Fiverr since people on those platforms compete on prices, and it's not worth the effort to race to the bottom. Check out industry job boards like:
While most job listings are for full-time roles, you can still try pitching your services as a freelance web designer.
6. Targeted Outreach
Cold emailing is a great way to offer your services to prospective clients who might benefit from them. It can even land you gigs with your dream brands. Here're some steps for performing targeted outreaches.
1. Create an Ideal Client Persona
As a freelance web designer, you can choose which clients to work with. There are 4 types of clients:
Clients you don't want to target and who don't need your services
Clients you want to target but who don't need your services
Clients you don't want to target but who need your services
Clients you want to target and who need your services.

But how do you get those web design clients?
First, you must be clear about the type of clients you want to work with. Listing down the traits of your ideal client persona helps narrow down your search.
For instance, here are some things to consider when determining your target market:
Client goals
Annual income
Background
Problems, worries, and fears
Motivations
After developing your ideal client persona or personas, list the solution or service you can offer them. For example, enterprise clients may benefit from your design services, while new web designers may prefer buying your web design templates.
2. List Down Prospects
Start looking for prospects after developing your ideal client persona. For high-paying clients, you can target startups that have received funding. They're more likely to pay you respectable rates than businesses just trying to stay afloat. Look through websites such as Crunchbase and venture capital (VC) databases for data such as annual revenue or sales and VC funding. Check the company's website to check if they're legitimate. Look for red flags such as:
Spelling, grammar, and punctuation errors
Generic or spammy content
Outdated content
If you've got the patience and like the challenge, you can choose to work with these clients. Otherwise, if a business doesn't understand the importance of brand image and marketing, you may spend a lot of time in meetings trying to convince them to do the right thing. List down all prospects on a prospecting tool. It doesn't have to be fancy; a spreadsheet is enough. Include the following details:
Company name
Company website
Company's LinkedIn profile
Contact person's details, including:

Name
Position in the company
Email
LinkedIn profile
You can also add these sections:
Notes or details from past conversations to insert in your cold email or letter of introduction (LOI).
Status to keep track of who you've contacted and when (for easy follow-up).
3. Send a Cold Email
Craft a perfect cold email with all the details you have. It should be well designed with your target clientele in mind. Some tips to keep in mind:
Connect with the potential client. Before sending the email, try to find an opportunity to interact with a client via social media or at a networking event. It helps build trust and recognition if you've interacted with a client before.
Tailor your pitch. Show your prospects you understand their business. Tell them what you can do for them and why you're the best option. Ultimately, a cold email's goal is to converse with the client. From there, you can discuss your process and their needs and budget to check whether you're a good fit.
Follow up. Don't be disheartened if you don't hear back. Maybe they're just busy. Feel free to follow up after a few days — 35% of decision-makers consider follow-ups a great reminder due to their busy schedules.
7. Network
A guide on how to get web design clients would be incomplete without networking. Attending networking events is a great way to meet new people in the industry and build deeper connections with existing contacts. Follow these suggestions to expand your network:
Attend Industry Events
Attending industry events and meetups is a great way to build trust and visibility for your web design business. You get to meet your target audience face-to-face and make connections that may help you find the next client. According to research by Mark Granovetter published in the American Journal of Sociology, we're more likely to hear about a job from an acquaintance than a close friend since our acquaintances are part of different groups than us. Another advantage? Potential clients and collaborators will be more comfortable working with you when they can put a face to a name.
Reach Out to Old Clients
It's easier and cheaper to retain an existing customer than acquire a new one. If you're trying to get web design clients, it's worth reaching out to former clients to upsell or get referrals, especially if you've delivered excellent service.
Ask for Referrals
Actively ask for referrals from past clients, people in the industry, or fellow freelancers. Getting an endorsement or recommendation from people you've worked with encourages potential clients to work with you. You can incentivize the process by giving small tokens of appreciation — discounts or gifts — to people who send work your way.
Partner With Other Freelancers
Another way to get freelance work is by partnering up with freelancers offering complementary services. You can reach out to SEO experts or content writers whose clients may be looking for someone to revamp their websites. You can even reach out to web developers whose strengths lie in building websites and not website design. You access your partner's existing client base, and they offer your services to their clients, which creates additional value for both parties.
Join an Agency
Besides partnering with other freelancers, you can also join an agency. An agency is an organization providing services to other businesses. In this case, it can be a group of freelancers working together on complementary projects. The advantage of working with agencies is that they have a recurring base of big-budget clients and an influx of new customers. Since their clients pay them market rates, they also pay their freelancers and subcontractors better. If you're looking to learn and earn the ins and outs of the business, agencies are your best bet. Once you learn the skills you need, you can even scale from freelancer to agency. For a list of pre-vetted agencies to work with, check out Kinsta Agency Directory.

Kinsta's agency directory is a comprehensive database of agencies we trust. You can filter results according to:
Budget
Services offered
Technology stack
Locations
Language
Whether you need help or are looking for your next gig, you can find it here on Kinsta.

Summary
Learning how to get web design clients is a mix of kick-starting your personal brand, showcasing your expertise, and building relations with other people. You can apply different inbound and outbound marketing strategies to attract potential clients.
Still, before implementing the strategies you choose, it's essential to know the ideal web design clients you want to attract — those who know what they want and respect your expertise as a collaborator.
Are you looking to work with other content or web design agencies? Check out Kinsta's agency directory. If you're interested in being listed in our directory, contact us today.