There has never been a better time to get involved in the world of ecommerce. However, if you're thinking about selling online, figuring out which platform to use can be challenging. Many people find themselves debating between Magento vs WooCommerce.
Both are feature-packed, popular, and powerful platforms. Determining which one is best suited for you is simply a matter of learning more about what each option has to offer.
In this post, we'll introduce you to Magento and WooCommerce and discuss their key features. Then we'll compare the two platforms on a handful of important factors, including security and pricing.
Let's get started!
An Overview of Magento and WooCommerce
Magento and WooCommerce are two of the most popular, self-hosted ecommerce platforms. They both have a lot to offer, as well as individual drawbacks. Before we get into the nitty-gritty, let's take a quick look at each platform.
An Introduction to Magento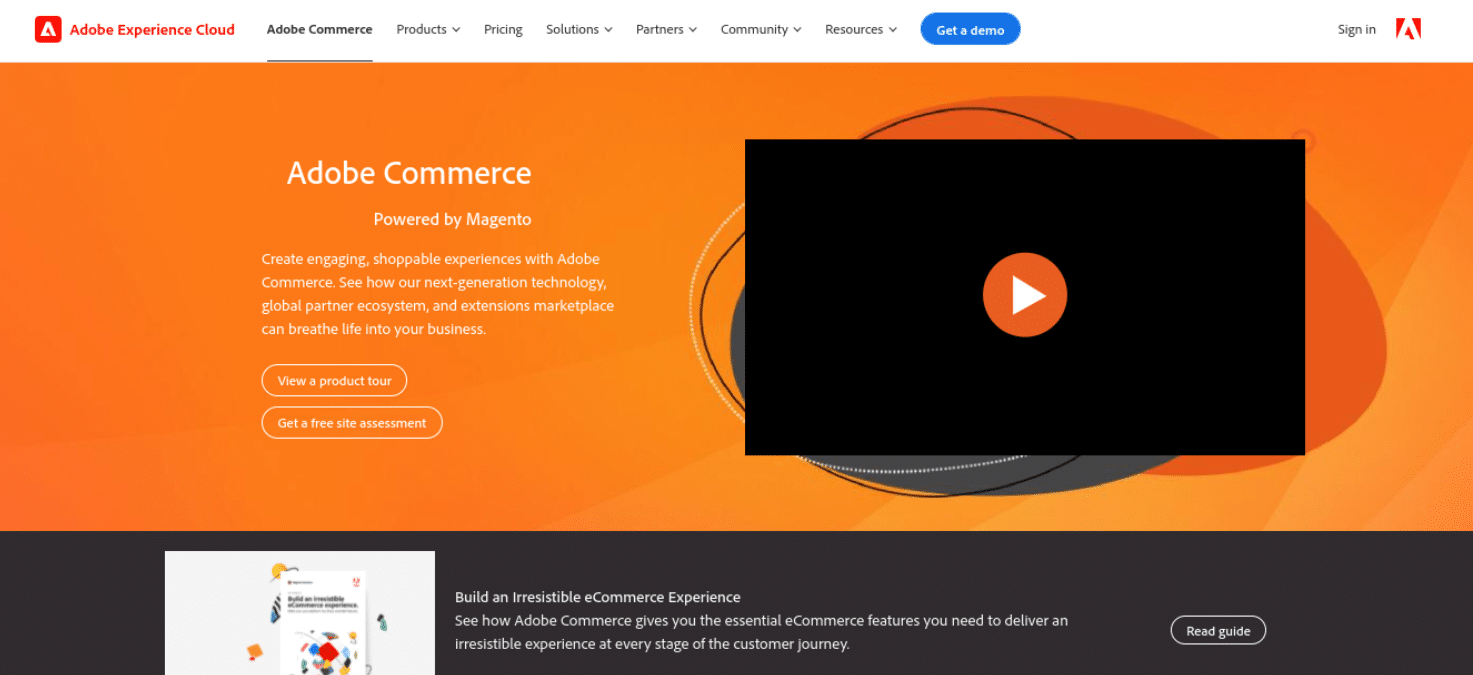 Magento is a Content Management System (CMS) built specifically for ecommerce. Bought by Adobe in 2018, it is also referred to as "Adobe Commerce." This platform is somewhat complex as it's mainly geared toward developers. While it's not the most beginner-friendly option, it can be a robust solution if you're tech-savvy and looking to create large-scale, sophisticated ecommerce projects.
There are two versions of Magento: Magento Open Source (also referred to as Magento Community) and Magento Commerce (also called Magento Enterprise). For this article, we'll primarily focus on Magento Open Source as it compares to WooCommerce.
Some of Magento's key features include:
Support for unlimited products
Hundreds of free extensions
API integrations
Theming and layout system
While Magento is a flexible and intuitive platform, it may not be the best option for beginners as it involves a bit of a learning curve. It's vastly more suited for development professionals.
An Introduction to WooCommerce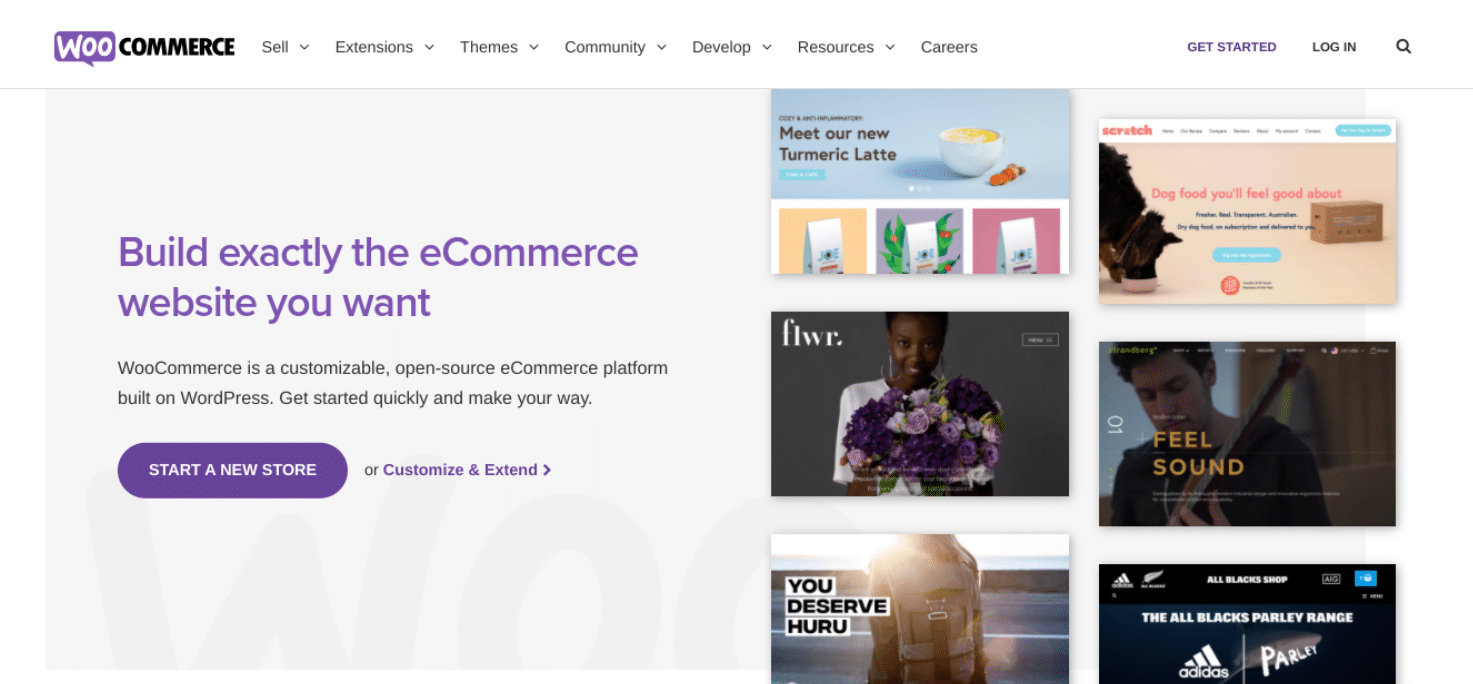 Launched in 2011, WooCommerce is one of the most widely used ecommerce platforms on the planet. It's an open-source plugin built on WordPress, the most popular CMS.
It's incredibly user-friendly, with a quick and simple setup process that can have you creating your online store within minutes. It also offers plenty of extensions to enhance the built-in functionality.
WooCommerce has many helpful features, including:
Unlimited products
Massive library of extensions
Quick and easy setup process
Built-in security features
Tons of payment processors
Helpful documentation
There aren't very many cons of WooCommerce. However, the main drawback is that if you're not already a WordPress user, the CMS can take some getting used to. This means you have to learn how to navigate both WooCommerce and WordPress.
Magento vs WooCommerce: A Head-to-Head Comparison
Now that we've introduced each platform, it's time to dig a little deeper. Below, we'll take a closer look at Magento vs WooCommerce and see how they compare on crucial aspects.
Payment Gateways
If you want to enhance the purchasing experience for your customers, it's essential to provide them with convenient payment gateway options. This is easier to do when choosing a platform that supports the most popular payment processors.
Both Magento and WooCommerce offer a solid amount of options. WooCommerce has built-in support for PayPal, Stripe, checks, offline and bank transfers, and cash options. It also provides extensions for additional payment gateways, including Amazon Pay, Square, Google Pay, Alipay, and more: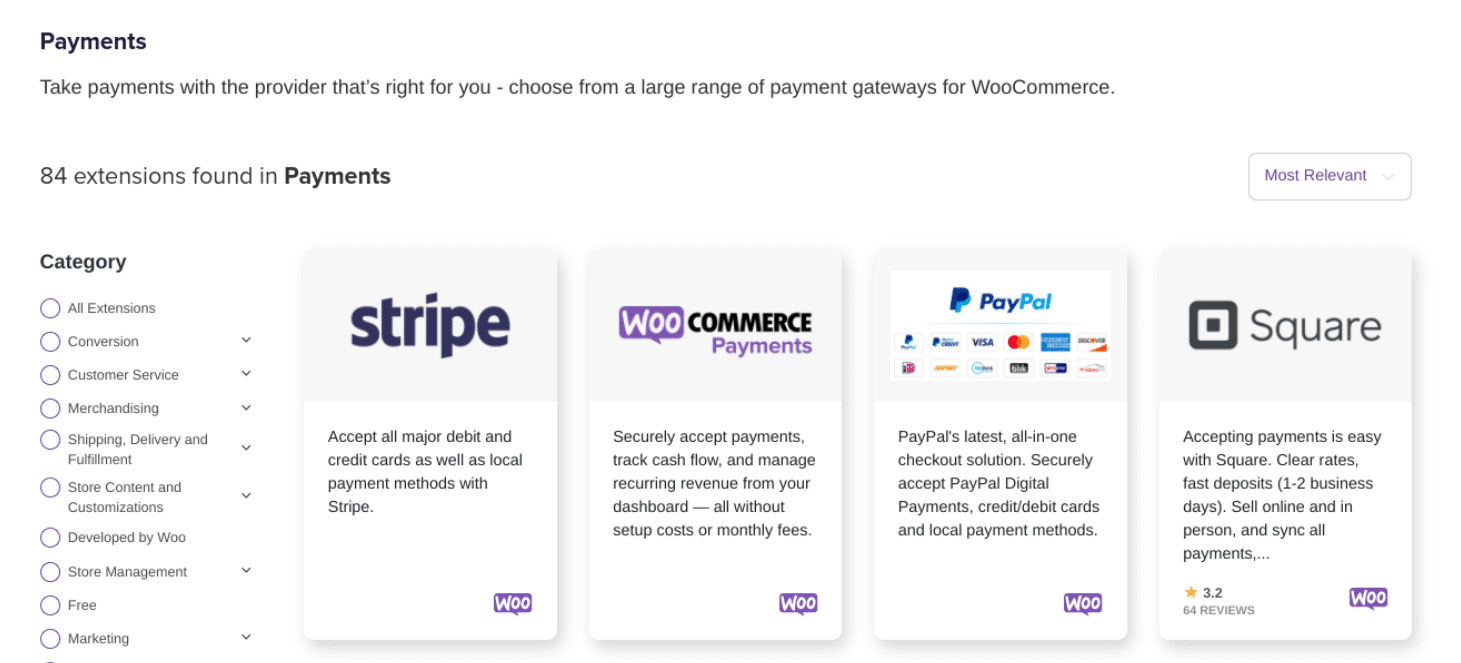 Meanwhile, Magento offers support for PayPal, Authorize.net, and Braintree right out of the box: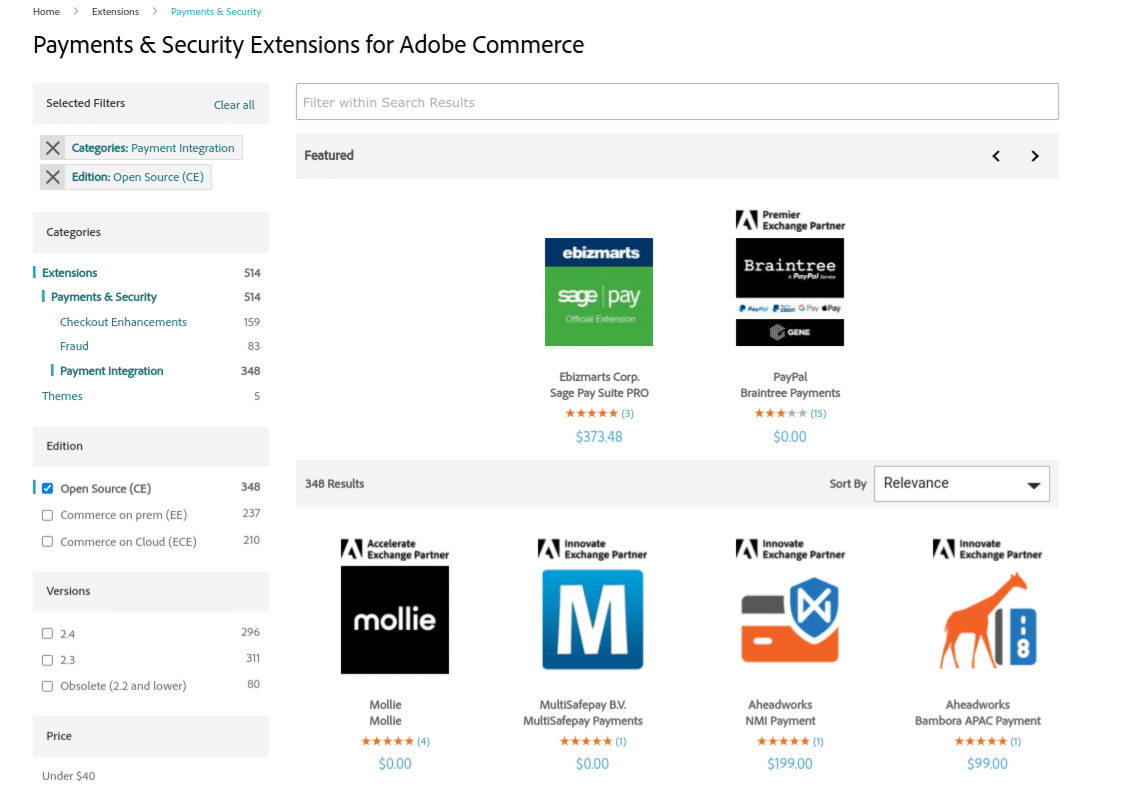 There are extensions available for Stripe, 2Checkout, Skrill, Google Checkout, and more for additional payment gateways.
There is no real winner in this category. With each platform, you get built-in support for some of the biggest payment gateways, as well as plenty of add-ons.
Ease of Use
Ease of use is critical to consider in an ecommerce platform, especially if you're a beginner. In this department, WooCommerce comes out on top.
As we mentioned, Magento is geared more toward developers with technical knowledge. Therefore, it cannot be easy for regular users. For example, you'll need to learn some basic code and a fair share of technical terminology. It's a more complex platform that requires some development skills.
On the other hand, WooCommerce is an incredibly beginner-friendly solution, especially if you're already familiar with WordPress: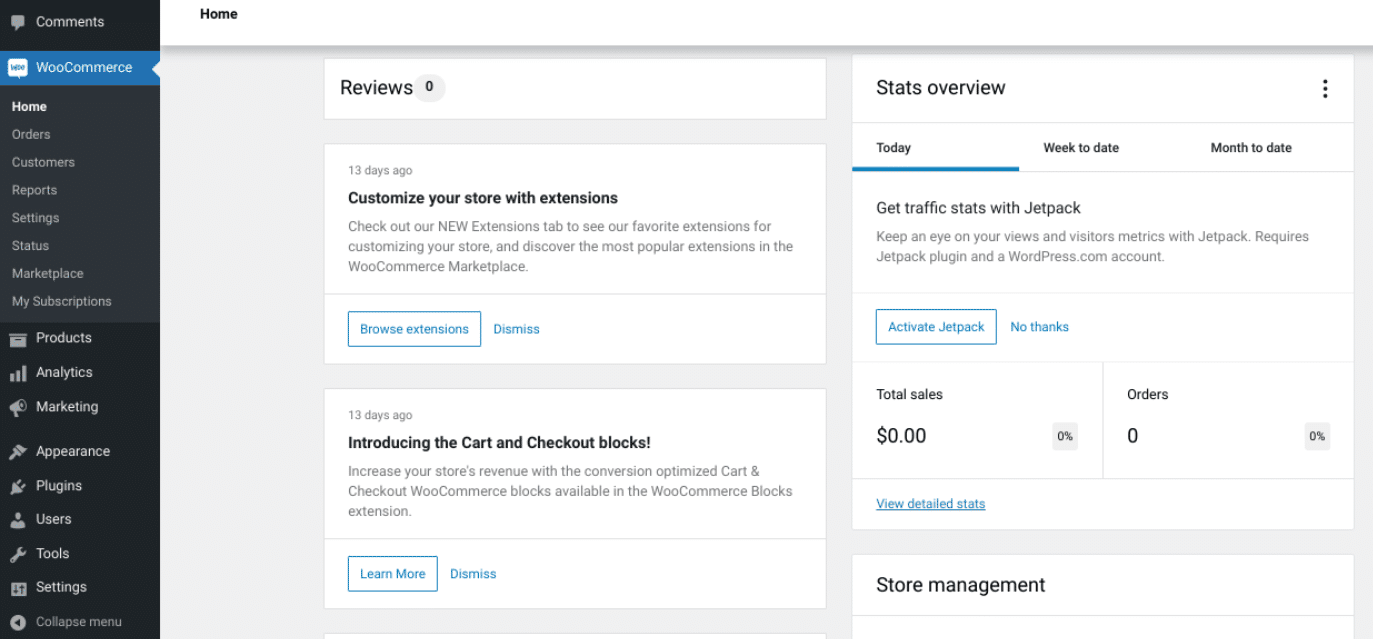 To add it to your site, you need to go to Plugins > Add New. Once activated, WooCommerce will take you through a setup wizard.
Magento also has a user-friendly dashboard and an intuitive navigation system. However, the setup and configuration process is not nearly as seamless. You need development knowledge to set it up.
For example, you need to use a command line to install it and set up a server that meets Magento's requirements. Also, if you're already familiar with WordPress, learning an entirely new platform can be challenging.
Speed and Performance
The speed and performance of your online store play a critical role in your success. After all, customers will not stick around if your pages take a long time to load or your checkout process lags.
A Quanta research study comparing the performance of some of the most popular ecommerce platforms revealed that Magento had faster loading times than WooCommerce. However, comparing the speed and performance of Magento vs WooCommerce can be tricky due to the number of factors at play. For example, the hosting plan you use, how many plugins and extensions you install, and whether your images are optimized can all affect a site's speed. WooCommerce does have some extremely fast themes.
Security
Ensuring that your store is secure is of utmost importance as an online business. Security risks are at an all-time high. You need to choose a solution that will help protect your data and your customer's personal information, such as payment details.
Both Magento and WooCommerce are open-source platforms. This means that store owners need to take active and proactive measures to safeguard their sites.
That said, Magento generally requires fewer plugins than WooCommerce. In turn, this means there is less risk of security vulnerabilities being introduced. The extensions it offers for security features tend to be more complete than those for WooCommerce.
Magento also offers dedicated security patches. However, it's important to note that these aren't easy to implement, and you may need help from professional developers. If you don't mind paying for assistance with your store's security, Magento might be the better option.
Scalability
When it comes to comparing the scalability of Magento vs WooCommerce, Magento is a strong contender. However, this is only applicable when talking about the Commerce version rather than the free, open-source platform, which can be limiting.
With Magento Enterprise, you can process thousands of orders with no issue. The same can also be said for WooCommerce. Both platforms support unlimited products.
Regardless of the platform you choose, it's essential to make sure that you decide on powerful ecommerce hosting capable of handling unexpected spikes in traffic. For example, at Kinsta, we offer high-performance WooCommerce hosting plans. Magento's Open Source version is self-hosted, but the Magento Enterprise version includes web hosting.
Extensibility
Out of the box, Magento offers an impressive amount of features. This includes multi-language options, multi-store capabilities, and complex configurable products.
WooCommerce doesn't come with as many features by default. However, both platforms are highly extendable through plugins, themes, and add-ons.
WooCommerce Marketplace offers thousands of extensions, free and premium:
You can also find more ecommerce tools in the WordPress Plugin Directory. Likewise, Magento offers thousands of extensions, both free and paid: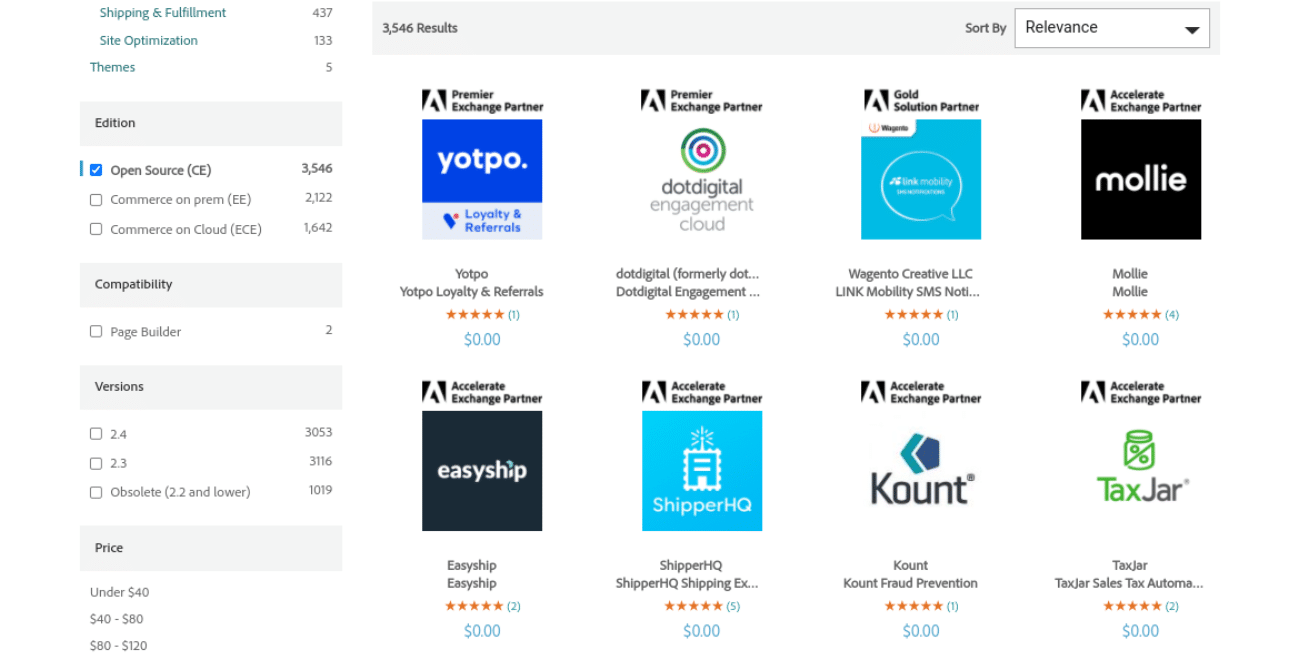 However, when comparing the extensibility of Magento vs WooCommerce, it's important to note the price point of premium add-ons. Overall, WooCommerce add-ons tend to be more affordable than Magento's. On the other hand, because Magento's extensions are more complex, they tend to be more powerful.
Plugins are also easier to install on WooCommerce than Magento. Being the more complicated platform, setting up and configuring extensions on Magento usually requires web development skills.
Marketing and SEO
Search Engine Optimization (SEO) and online marketing are a big part of driving traffic to your store and, in turn, increasing sales. Therefore, another important consideration of Magento vs WooCommerce is what marketing and SEO features or options are available.
WooCommerce is built on a CMS that was initially meant for blogging. Therefore, it already includes much of the features and functionality needed for publishing posts and other content marketing campaigns. It can also be paired with dozens of different marketing and SEO plugins to help further optimize content, such as Yoast SEO:

By default, Magento does not come with built-in blogging functionality. For that, you would need an extension. However, similar to WooCommerce, there are plenty of add-ons you can use to help optimize your site and integrate it with marketing tools such as Google Analytics.
Magento does offer advanced marketing tools. However, they aren't included with the Community version, only Enterprise.
Support
Being so widely used, both Magento and WooCommerce have large, supportive communities. This means that finding resources and answers to questions online is relatively easy.
WooCommerce provides a public knowledge base filled with helpful tutorials and guides: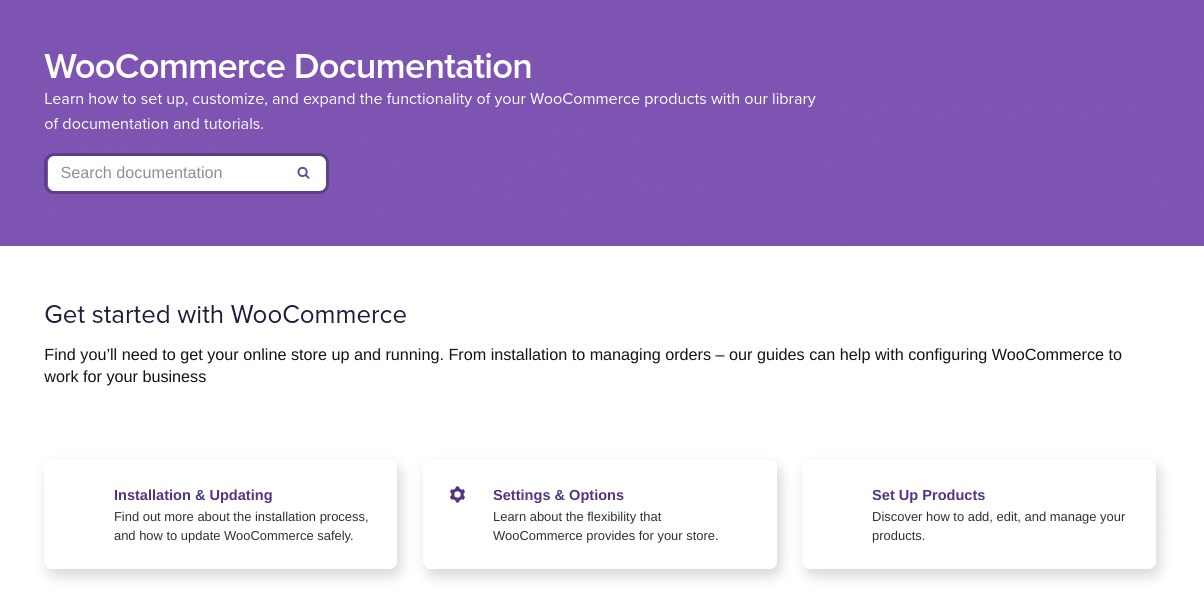 Beyond that, support is only available for paid extensions. With the free version of Magento, you can find help online: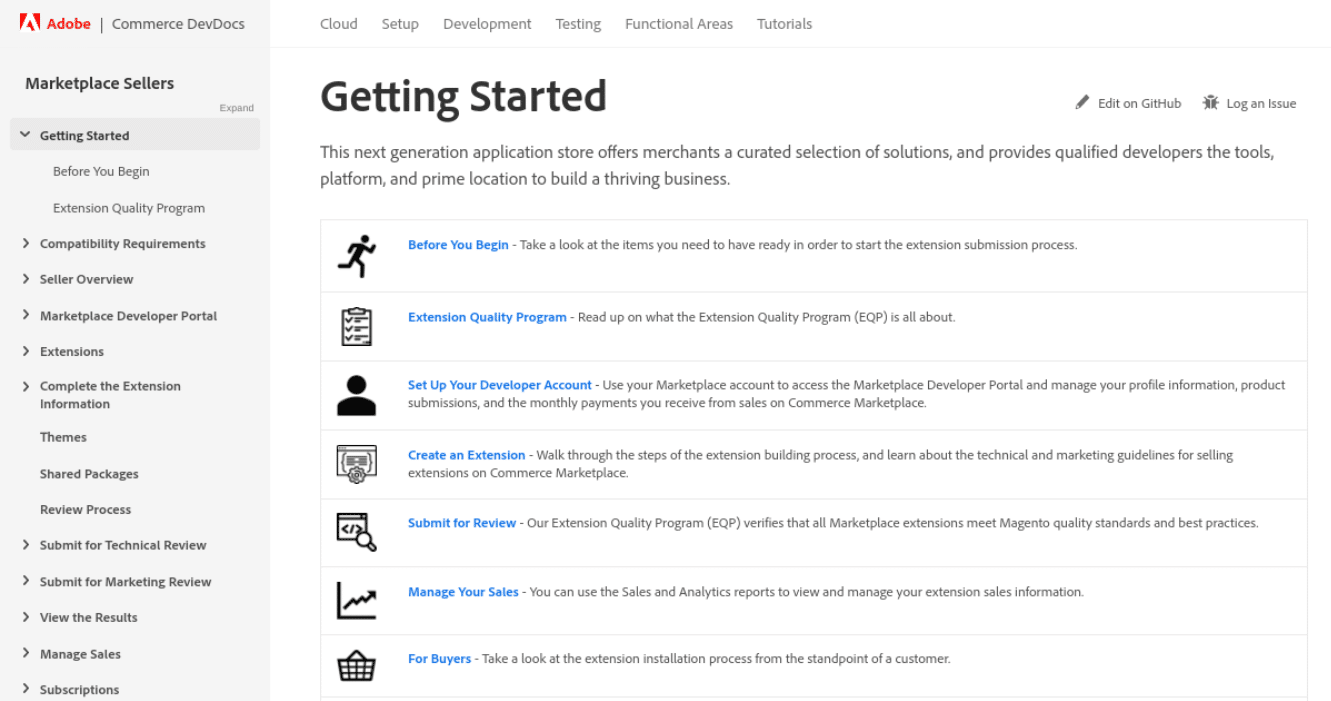 Dedicated or direct support through email, phone, or a ticketing system is only available if you purchase a Magento Commerce plan. You may need to hire a developer for more complex issues.
Pricing
When you're trying to decide between platforms, the cost likely plays a significant factor in your decision. Magento and WooCommerce are open-source, meaning you can download and use the core code of both for free.
However, this doesn't account for customization or long-term costs. For example, you likely plan to use themes and plugins to extend the appearance and functionality of your store rather than stick to what you're given out-of-the-box.
The costs of these platforms can vary widely depending on which premium extensions you purchase. As we mentioned, WooCommerce premium extensions tend to be more affordable than Magento's.
Magento Enterprise doesn't include pricing on its website. However, you can expect to pay around $2,000 per month.
With Magento Community and WooCommerce, you also need to factor in the costs of purchasing a domain and hosting plan. However, WooCommerce still tends to be less expensive.
Recapping Magento vs WooCommerce
At this point, you should have a solid understanding of the differences between Magento vs. WooCommerce. However, before we wrap up, let's take a moment to summarize how they compare in key areas:
| | | |
| --- | --- | --- |
| | Magento | WooCommerce |
| Payment Gateways | Built-in options plus extensions (PayPal Authorize.net, Braintree, etc.) | Built-in options plus extensions (PayPal, Stripe, etc.) |
| Ease of Use | Geared toward developers | Beginner-friendly |
| Speed and Performance | Varies | Varies |
| Security | Security extensions and patches (require developers) | Regular updates, built-in security features, and plenty of security extensions (free and paid) |
| Scalability | Supports an unlimited number of products | Supports an unlimited number of products |
| Extensibility | Highly extendable with thousands of extensions, but they tend to be pricey | Thousands of free and premium extensions |
| Marketing & SEO | Extensions available | Built-in blogging functionality; SEO plugins available |
| Support | Online support forums; dedicated support available with Commerce package | Knowledgebase; dedicated support available for paid extensions |
| Pricing | Free (with premium Commerce version available) | Free |
Summary
Choosing a platform for your ecommerce business is not an easy task. There are a lot of factors to consider, especially when you're comparing Magento vs WooCommerce, both of which are robust solutions with plenty to offer.
If you're a smaller business and don't have much development experience, WooCommerce makes the most sense. However, Magento can be a solid choice if you're tech-savvy and looking for a more advanced solution.
Do you have any questions about how WooCommerce and Magento compare? Let us know in the comments section below!