WordPress is the reigning content management system, and Mailchimp is its email marketing software equivalent.
So, why not combine the two?
In this guide, you'll learn how to configure Mailchimp for WordPress. With it, you can enable opt-in forms on your website, set up email marketing campaigns, and send out emails whenever you publish a new blog post.
Let's get started learning how to add Mailchimp to WordPress!
Why Use Mailchimp for WordPress?
The WordPress Plugin Library already offers a wide range of email marketing and list-building plugins and widgets.
That begs the question: What makes Mailchimp more desirable than the dozens of alternatives? Why should you use Mailchimp on your WordPress website?
Here's why:
Mailchimp offers a free account for up to 2,000 contacts. Many premium email marketing apps don't have free plans, and if they do, it's hard to beat the features you get from Mailchimp.
You can make email opt-in forms with Mailchimp through a manual method or by using a plugin. These two options make for a somewhat flexible setup. WordPress supports custom coding, and there are plenty of Mailchimp plugins, so it's possible to utilize whichever makes you more comfortable.
It's also possible to use Mailchimp for website registration forms. Users come to your site and create a user profile; these are frequently utilized on membership, eCommerce, and forum websites.
The Mailchimp email design process is unmatched. Its beautiful templates and drag-and-drop editor mean you don't have to be a designer or email marketing expert to construct stunning campaigns. You also get an extensive library of templates.
Several automation tools link WordPress updates to Mailchimp emails, allowing you to send out emails for things like new posts, and as welcome emails or drip campaigns when people sign up for your list.
Mailchimp comes with advanced targeting tools for giving your WordPress readers/customers a chance to choose which emails they want to receive. You can also target based on user types on your own.
If you don't like the primary plugins or methods for integrating Mailchimp with WordPress, you can always turn to third-party extensions, seeing as how there are hundreds of them on the market. That's just one advantage of Mailchimp being a rather popular email marketing tool.
You can display the Mailchimp statistics on your WordPress dashboard, but they're packed with essential information like email open rates, click-throughs, and user locations.
Mailchimp integrates nicely with WooCommerce websites, helping you send automated transactional emails for things like abandoned cart messages, receipts, and coupon codes.
A Mailchimp and WordPress integration mean you're tapping into a wide variety of other automation and marketing features outside of the usual email marketing. For instance, you can link your social media accounts, run digital ads based on the emails, set up landing pages, and more.
As you can see, Mailchimp offers a pretty solid suite of tools. But when you optimize Mailchimp for WordPress and integrate the entire process, it becomes a far more helpful marketing platform for your website.
How To Set Up a Mailchimp Account
The first step in setting up Mailchimp for WordPress is to:
Have a WordPress site
Create a Mailchimp account
After you establish those two accounts, we can move forward in linking them together with a plugin or code (more on this below).
Our guide on getting started with Mailchimp covers most of the process of going to the Mailchimp website to figuring out how to move around your Mailchimp dashboard.
As a brief reminder, here are the steps to launch a Mailchimp account, along with some additional tips not shown in that guide:
Begin by going to the Mailchimp.com website and checking out the features to ensure it's exactly the email marketing platform you want to use for your WordPress site.
Once ready, click on the Sign Up Free or Get Started Today buttons — both bring you to the same page to make an account.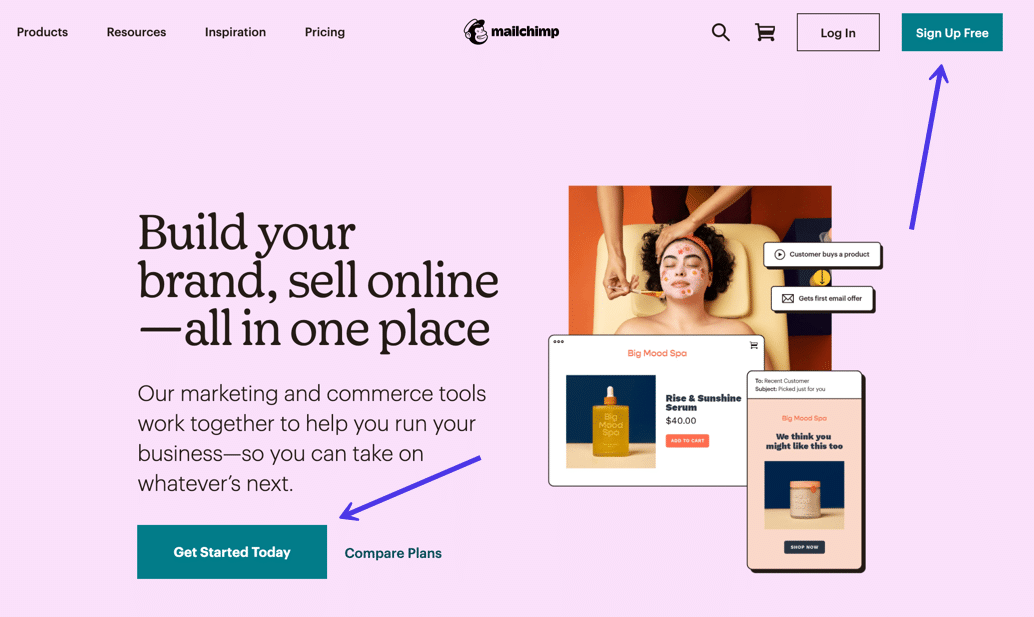 You're asked to select a Mailchimp pricing plan. We recommend starting with the Free plan until you've surpassed the 2,000 user maximum or require one of the premium features.
The following screens show you fields to type in your email and a desired username and password. You'll also be prompted to tell Mailchimp your first name, last name, and potentially some other personal information to complete the account configuration. They even have a marketing quiz that you can skip, but it's helpful to situate the right features on your dashboard.
After all of that, Mailchimp sends you to the main dashboard, where you'll see a welcome prompt, quick statistics once you send campaigns, and details on the size of your email list.
Read our guide on using MailChimp (and build your email list) to continue with the process.
Setting up Mailchimp for WordPress means you'll integrate this current Mailchimp account to place a Mailchimp form on your WordPress website — in an area like your homepage, sidebar, or header.
With a form included on your site, all entered user data gets pushed from that site form to the database within Mailchimp. You can manage all aspects of the email list from Mailchimp, with options for targeting, putting users in groups, and looking at stats. You can also adjust the design of your subscription form in Mailchimp.
The main goal with the Mailchimp for WordPress integration is to build an email list. Everything afterward depends on your creativity, desire to send out emails, and the type of business you run. Mailchimp is filled with tools to satisfy all your needs, like:
You want to have automated welcome emails for those who sign up on your form
Create monthly newsletters for your retail store
Link the integration with your ecommerce store for delivering receipts
Set abandoned cart messages
Send other transactional emails
How To Set Up Mailchimp on WordPress
Mailchimp integrations come in many different forms, some of which include:
Creating a Mailchimp signup form without a plugin on your WordPress site.
Making a Mailchimp signup form with a plugin to put on a WordPress site.
Inserting a Mailchimp signup form on your WordPress site as a widget — go in the sidebar, footer, or other widget areas.
Linking your WordPress site so that automated actions occur like sending blog post updates or ecommerce messages from your WordPress site.
In the following section, we'll cover linking your WordPress site to Mailchimp and complete all of the types of integrations mentioned. You can then decide on the one that makes the most sense for your organization based on cost, skill-level requirements, and what comes out with the best-looking forms and emails.
How To Create a Mailchimp Sign Up Form for WordPress Without a Plugin
Mailchimp offers its own WordPress plugin (even though we don't recommend it), and you can find quite a few third-party plugins for adding a Mailchimp form to WordPress. However, everyone should know how to add a Mailchimp form to WordPress, or any website, without installing a plugin.
Opting out of a plugin has its advantages, from minimizing the number of plugins on your WordPress site to shortening the time you spend designing the form and getting it on your site.
Go to the Mailchimp dashboard and select the Audience menu item. This brings you to the Audience Dashboard, which lists the different audiences and how many subscribers are on each list.
An "Audience" is what Mailchimp calls an email list. Audiences are emailed list databases that log all customer contact information.
To build a form on Mailchimp, you must first understand that Audiences are directly linked to your forms. When you create a form, all of the data collected goes to one of your Audience lists.
Luckily, by default, the Free plan from Mailchimp automatically links your primary Audience to whatever forms you make (seeing as how you can only have one Audience in the Free plan). With more advanced plans, you must assign an Audience to each of your forms.
The Mailchimp Audience Dashboard page displays information like the name of your list (in this case, we named the Audience "WordPress List"), and the number of subscribers in the Audience. It links to Add Subscribers, Import Contacts, and make Signup Forms.
Now that you understand Audiences, navigate to the Signup Forms menu item under the Audience Dashboard tab.
This button brings you to a page for creating, customizing, and embedding Mailchimp forms.
Several types of signup forms are available through Mailchimp.
We'll discuss alternative options further in this article, but the classic way to add a Mailchimp form to WordPress is with the Embedded Forms builder.
Therefore, click on the Select button next to the Embedded Forms option.
On this page, you'll see a menu with form styles like Classic, Condensed, Horizontal, Unstyled, and Advanced.
Feel free to click through these styles to view how they each look. The Classic form usually serves as a wise start, but the Condensed and Horizontal forms offer more modern designs. The Unstyled and Advanced form tabs work well for heavy customizations.
For instance, switching to the Condensed tab changes what you see in the form Preview module.
You can see that it offers a slightly sleeker design and fewer fields, making it ideal for an area of your website where there's not as much room.
The Unstyled tab, on the other hand, strips the entire form of any styling, allowing you to put it on your WordPress website and either leave it in its raw form or later customize CSS in WordPress for a more branded look. The Advanced tab works similarly to the Unstyled option in that it allows for more complicated customizations.
Having said all of that, go back to the Classic tab.
We're fond of the Classic style due to its modest design, ability to integrate on just about any website, and the options for adding more or fewer form fields.
We encourage you to explore the various settings under the Classic tab and watch as each setting adjusts the styling shown in the Preview section.
For example, we can mark the Show Only Required Fields radio button, which results in the Preview hiding all fields except for the Email Address field.
From the other perspective, you may want more fields included. In that case, choose the Show All Fields radio button.
Now we have "non-required" signup fields like First Name, Last Name, and even one for the customer's Birthday.
It's also not a bad idea to sift through the additional settings such as:
Show Interest Group Fields
Show Required Field Indicators
Show Format Options
And the Optional Form Width field
Once you're done customizing the Mailchimp form, scroll to the bottom of the page to locate the section to Copy/Paste Onto Your Site.
You don't need to know anything about this block of code, just that it contains the styling and database elements to present your form the right way and collect all data inputs.
Select the entire code block and copy it to your computer's clipboard.
Now we need to get the form on your WordPress site.
To complete that task, open the backend dashboard of your WordPress site.
The embeddable forms from Mailchimp can go anywhere on your site that accepts embeddable HTML code. So, you could create a new post, page, product page, or widget, all of which should support HTML. You might even want to open a previously published page or post to insert the form somewhere.
We've navigated to the site's Homepage for our tutorial, where we'll put the form at the bottom of the page underneath a list of products.
To make this happen in the visual block editor, click the Add Block button (it looks like a plus sign). Either browse through the collection of blocks available through WordPress or consider typing "HTML" in the Search bar.
Find the Custom HTML block and insert it into your WordPress page or post.
The Custom HTML block allows you to paste in HTML from any source. Afterward, WordPress processes the HTML to show its true design.
Place a cursor into the Custom HTML block field, then paste the Mailchimp form code you copied to your clipboard earlier.
You should see that code in the block.
Select the Preview button within the Custom HTML block to test what the form looks like.
And that shows we've successfully added a Mailchimp for WordPress form on the website.
To complete the process, click the Publish or Update button in WordPress.
Navigate to the frontend of that page and check to see if everything looks right.
You should also think about testing the form functionality itself.
Type in information from a fake customer — your email address and name — and click on the Subscribe button.
You'll see a Thank You For Subscribing message, which can be customized in your Mailchimp dashboard.
Back in Mailchimp, jump to the All Contacts tab under the Audience section to check if the user subscription test was a success.
As expected, we have a new contact (it went from a count of 2 to 3), and the list of email addresses towards the bottom of the page contains the email we typed into the form.
Other Styles of Embeddable Mailchimp Signup Forms
We saw that a handful of other form styles are available on the Signup Forms page in Mailchimp.
Not all of them work out well for embedding into your WordPress website. Still, they all serve a purpose, particularly if you'd like to generate a separate, shareable web page for your signup form or have a pop-up window appear when people come to your site.
In the Signup Forms section, you can click on these form styles to see which ones may help with your own design needs.
The Form Builder link, as an example, provides a design tool for constructing an extended version of what we created with the Embedded Forms.
Yet, we should note that the Form Builder doesn't generate an embeddable Mailchimp form, but rather a Signup Form URL for sharing with other people, posting to your social media accounts, or potentially linking to a button on your website.
It's nice to have a link like this if you need to send the form to someone quickly. The Form Builder offers a complete design experience with customizable fields and field settings.
Remember that the link produced sends users to a web page hosted by Mailchimp, not your website. It's still your form, and it continues to collect customer information and place it into your Audience, but you must opt for Embeddable Forms if you want to configure Mailchimp for WordPress. You can always design a form in the Form Builder and jump to the Embeddable Forms page to locate its code.
Another form style, called the Subscriber Pop-up form, enables you to embed a hidden code within your WordPress site files so that a pop-up form appears whenever a customer completes an action like scrolling down on the Homepage, trying to leave your website, or browsing the site for a certain period.
Mailchimp provides a sleek pop-up form builder with options to adjust everything from the form fields to the success messaging.
You can also choose from the following settings to decide on when the pop-up form appears:
Immediately
After 5 seconds
After 20 seconds
After the user scrolls to the middle of a page
After a user scrolls to the end of a page
When a user tries to exit your website
The catch with a pop-up form in Mailchimp involves the fact that you must add a bit of code to your WordPress site files. Although you don't need to know much about the code, this process requires some knowledge of the WordPress file architecture. We recommend reading our guide on WordPress files and how to use them if you plan to put a Mailchimp pop-up form on your site.
In Mailchimp, you need to click on the Connect Site link to make a pop-up form in Mailchimp for WordPress.
After that, Mailchimp proceeds with detailed guidelines on publishing the pop-up form on WordPress, or any other content management system or website builder.
There are some integrations, but in general, it's required to access the <head> part of your WordPress site's files and paste in the recommended code. In addition, Mailchimp asks you to type in your Website URL.
How To Create a Mailchimp Sign Up Form for WordPress Signup Form With a Plugin
Many people have no interest in adding a Mailchimp form to WordPress using code, especially when you must tap into the WordPress files. Although the basic process of inserting HTML code into WordPress is relatively simple, there are plenty of advantages to working with plugins.
First off, Mailchimp for WordPress plugins remove the need for coding through drag-and-drop editors, visual designers, and form templates. And although it's not that big of a hassle, you don't even need to copy an embed code when using a plugin. That's quite the luxury.
Furthermore, Mailchimp for WordPress plugins expand upon the basic form-building features in the Mailchimp dashboard, giving you more design elements, prebuilt themes, and options to create things like unique notifications and multiple forms and other form styles like top bars.
What's more, dozens of third-party developers offer their own Mailchimp to WordPress integrations with distinct features you can't find anywhere else.
This section will guide you through several tutorials to configure Mailchimp for WordPress using plugins.
We'll show you how to install a WordPress Mailchimp plugin on WordPress.com. After that, we'll explain how to complete a similar process for WordPress.org (the self-hosted version of WordPress). For more information, read about the differences between WordPress.com and WordPress.org.
WordPress.org still has an official plugin called Mail List Subscribe Form, but it hasn't been updated in many years, probably due to the poor reviews. Even Mailchimp suggests some third-party plugins in its documentation, which we'll discuss below.
How To Set Up Mailchimp With Ninja Forms
For those with WordPress.org — the self-hosted version of WordPress — you'll need to use a third-party plugin to activate Mailchimp for WordPress and put a form on your site. There's no built-in Connection feature like the one you can use on WordPress.com. And although Mailchimp does offer its official WordPress plugin, they seem to have currently abandoned its development. Maybe we'll see an update in the future, but your best option is to install a third-party plugin for now.
One of those plugins is called Ninja Forms.
The Ninja Forms plugin provides features for building beautiful contact, sign-up, and lead generation forms, all without messing with any coding. You can also add additional form fields to obtain specific information from customers who submit. In addition, Ninja Forms integrates with several email marketing providers, including Mailchimp. With that integration, you can take advantage of the superior Ninja Forms design features, while also sending subscriptions to the good old Mailchimp Audience Manager.
To use Ninja Forms to make the connection between Mailchimp and WordPress, go to your WordPress dashboard and install the Ninja Forms plugin. This can be done by going to Plugins > Add New and typing "Ninja Forms" into the search bar.
Install and activate Ninja Forms. The free plugin works for making a wide range of contact form styles, but you must also purchase and install the $49 Mailchimp for Ninja Forms extension to add the functionality for linking those forms to your Mailchimp database.
You can then view documentation from the Ninja Forms website to configure a form for your Mailchimp mailing list.
How To Set Up Mailchimp With Gravity Forms
Another form plugin that makes it easy to configure Mailchimp for WordPress while also offering excellent form design tools, is called Gravity Forms.
Gravity Forms doesn't have a free plan, but you can get the basic version for $59 per year. You'll also need to activate the Mailchimp addon, which comes for free with all Gravity Forms premium plans.
Gravity Forms doesn't have a free WordPress version, so you need to sign up for an account on the Gravity Forms website. You then pay for the plugin, download it to your computer, and upload it to your WordPress website.
This can be done by going to Plugins > Add New > Upload Plugin in the WordPress dashboard. Following the installation, click the Activate button to get it running.
The first step in using Gravity Forms with Mailchimp is to turn on the Mailchimp addon. In WordPress, click on Forms > Add-Ons. The Forms button is the new Gravity Forms button.
Look for the Mailchimp Add-on section, and click the Activate button. This usually requires you to log into your Gravity Forms account to activate the feature. You should see a green Active indicator below the Mailchimp Add-on module.
You now have the Mailchimp add-on ready to go, but there's still the need to connect your Mailchimp account to that add-on.
Like Ninja Forms (and about every plugin that connects to your Mailchimp account), you need to generate an API key in the Mailchimp dashboard; that key is then pasted into the Gravity Forms Settings to complete the integration.
In Mailchimp, click on your profile avatar in the bottom left-hand corner of the screen. Go to Account > Extras > API Keys, then scroll down to locate the Your API Keys section.
For every new app integration, it's wise to make a new API key. For instance, if you already tested out the Mailchimp connection with Ninja Forms you should also make a new one for Gravity Forms.
Click on the Create A Key button to proceed.
The next screen presents an API Key in the fourth column, which you should copy to your clipboard.
Close Mailchimp and move back to WordPress.
Go to Forms > Settings > Mailchimp.
Look for the Mailchimp API Key field underneath the Mailchimp Settings panel.
Paste that key you copied from Mailchimp into the field.
Make sure you click on Save Settings to activate the integration.
With the Gravity Forms/Mailchimp connection activated, you can access all Audience email lists from Mailchimp within the Gravity Forms editor.
After that, read the plugin documentation on the Gravity Forms website to complete tasks like making an opt-in form, segmenting email lists, and enabling double opt-in forms.
How To Add a Mailchimp Widget for WordPress
Besides putting a Mailchimp form on a WordPress page or post, you can insert a WordPress widget to show a form. Widgets have several advantages, especially when it comes to Mailchimp opt-in forms: they're great for minimizing the amount of space taken up by a form, and widgets show up on most pages, so visitors aren't just prompted to sign up for your email list on one page.
There are a few methods to configure Mailchimp for WordPress using widgets:
By copying and pasting HTML code into a widget
With a shortcode
From a plugin
To start, we'll show you how to add a Mailchimp form widget by copying and pasting HTML code into a widget. This is almost the same method we covered earlier in this article — where you grab the HTML code from Mailchimp and paste it into an HTML block — but this time, we're pasting the code into a widget instead of a page or post block.
Therefore, go to Mailchimp and click on Audience > Signup Forms > Embedded Forms.
Feel free to select the style of the form you want to embed in the widget. The Classic form works well, but the Condensed version makes it easier to fit into the small amount of space provided by a widget. You may even find that a Horizontal form looks better depending on your WordPress theme's layout.
For this example, we'll choose a Condensed form.
Regardless of which format you go with, configure all the desired settings, then select the entire block of code in the Copy/Paste Onto Your Site section. Copy the code to your clipboard.
Back in WordPress, go to Appearance > Customize. There's also a Widgets button that brings you to the same place.
Once inside the WordPress Customizer, select the Widgets button.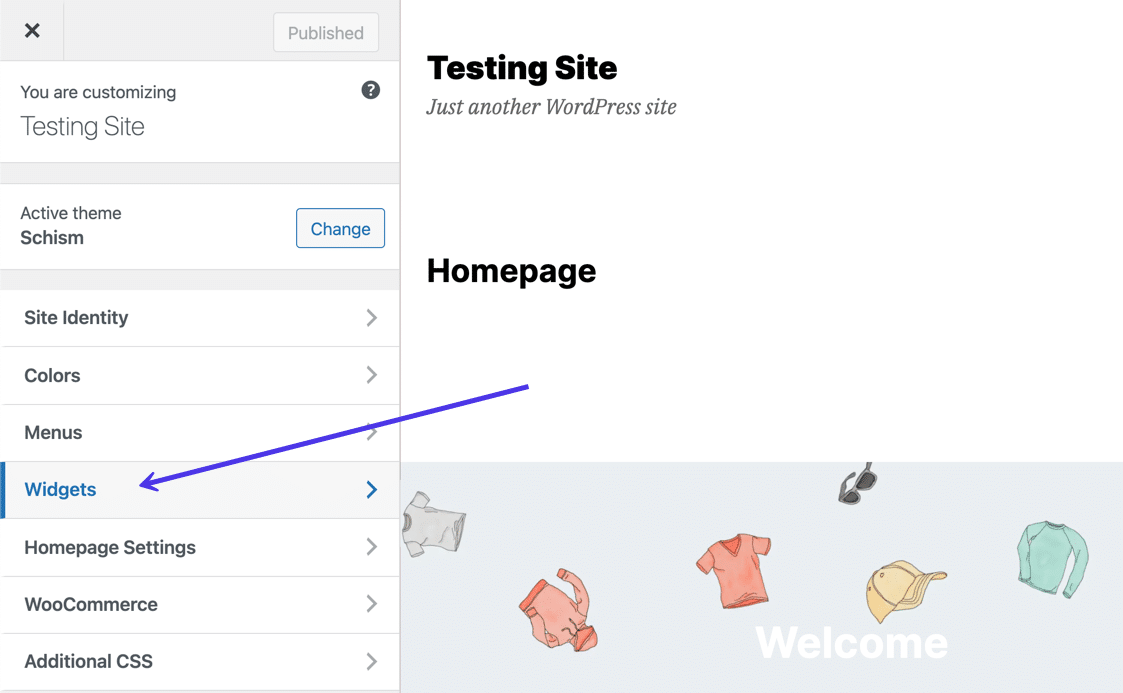 This shows several designated widget areas for the currently installed theme. Every theme has its unique widget support, so you may see options for widgets in the sidebars, headers, or footers. Some themes don't allow for widgets, while others have numerous widget locations.
Click the widget area that makes the most sense for your Mailchimp form. We'll go with the Footer Column 1 location for this tutorial.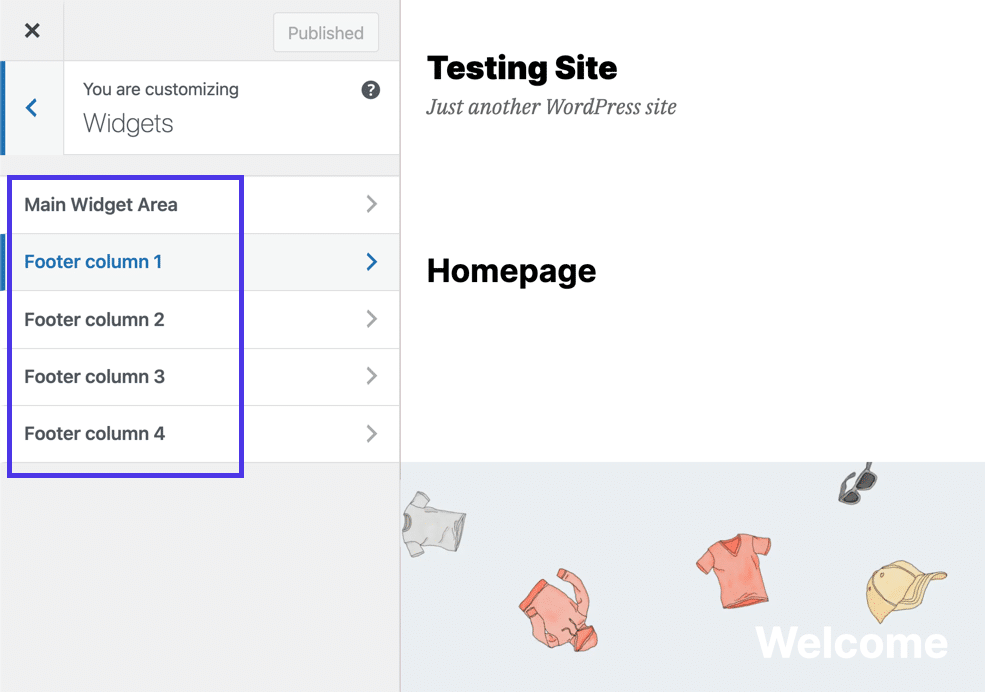 You insert widgets just as you would with blocks in pages or posts. Click on the Add Block (black and white plus sign button) to reveal the Add A Block library.
Search for "html," then click on the Custom HTML block widget when you see it.
The Custom HTML block provides a blank field to paste in whatever HTML you want. Therefore, paste the Mailchimp form code you previously copied to the clipboard.
The WordPress Customizer should now present a preview of the widget form on the right side of the screen.
Make sure you click the Publish button to render changes to your live website.
Add a Form Widget Using a Shortcode
Shortcodes are simpler, easier-to-understand lines of code that essentially do the same thing as chunks of HTML code, except they're slightly easier to reference and copy over to another location.
We only recommend using shortcodes if you already have a form plugin installed that offers shortcodes as a feature. Otherwise, you might as well take advantage of the free HTML version from above, or consider finding a plugin that also has a Gutenberg block for more control over the form's settings.
So, we encourage you to check any current form plugins you have installed. If it has a shortcode feature, and you find this more intuitive than the other methods, please use them!
For instance, Ninja Forms provides a shortcode for each form you make with the plugin.
To insert a form shortcode into a widget, navigate to the plugin of choice (in this case, Ninja Forms). You can find the shortcodes by going to Ninja Forms > Dashboard. Scroll through the list of forms and copy the shortcode next to whichever form you want to insert into a widget.
Go to Appearance > Customize.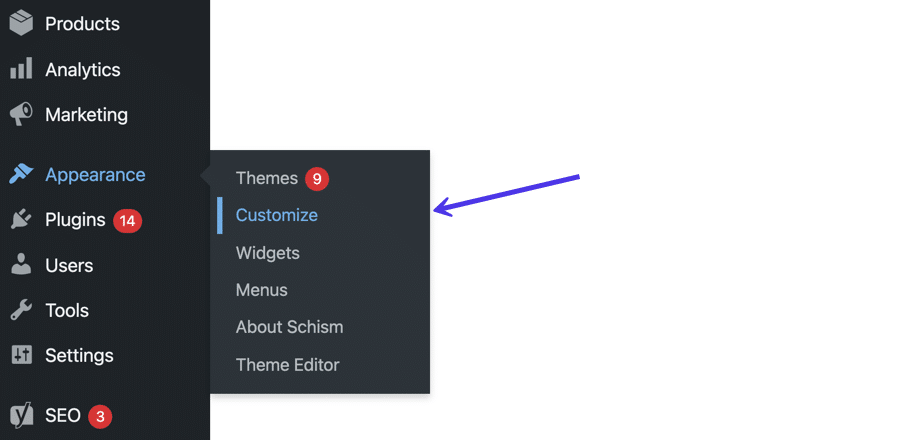 Select the Widgets tab to edit your widgets.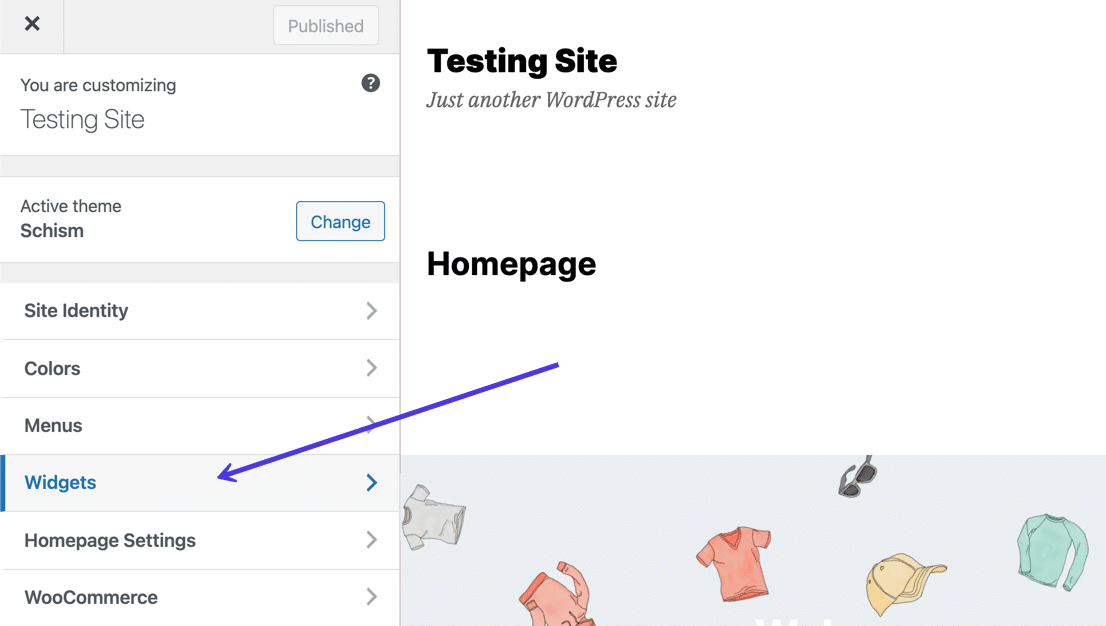 Click on the Add Block button (the black and white plus sign), and type in "shortcode" to reveal the built-in Shortcode block.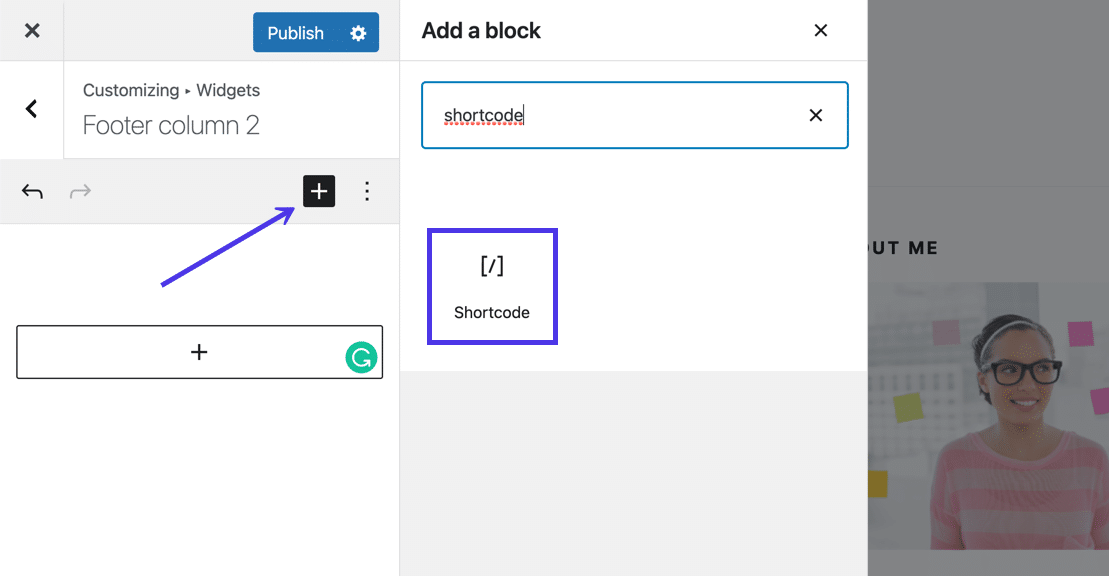 Paste that previously copied shortcode into the available field.
The WordPress Customizer should produce a preview of your form in the widget area.
Remember, forms published with HTML code or shortcodes require you to edit the form settings within Mailchimp. There's no way to customize elements like fields or field headers inside WordPress code widgets.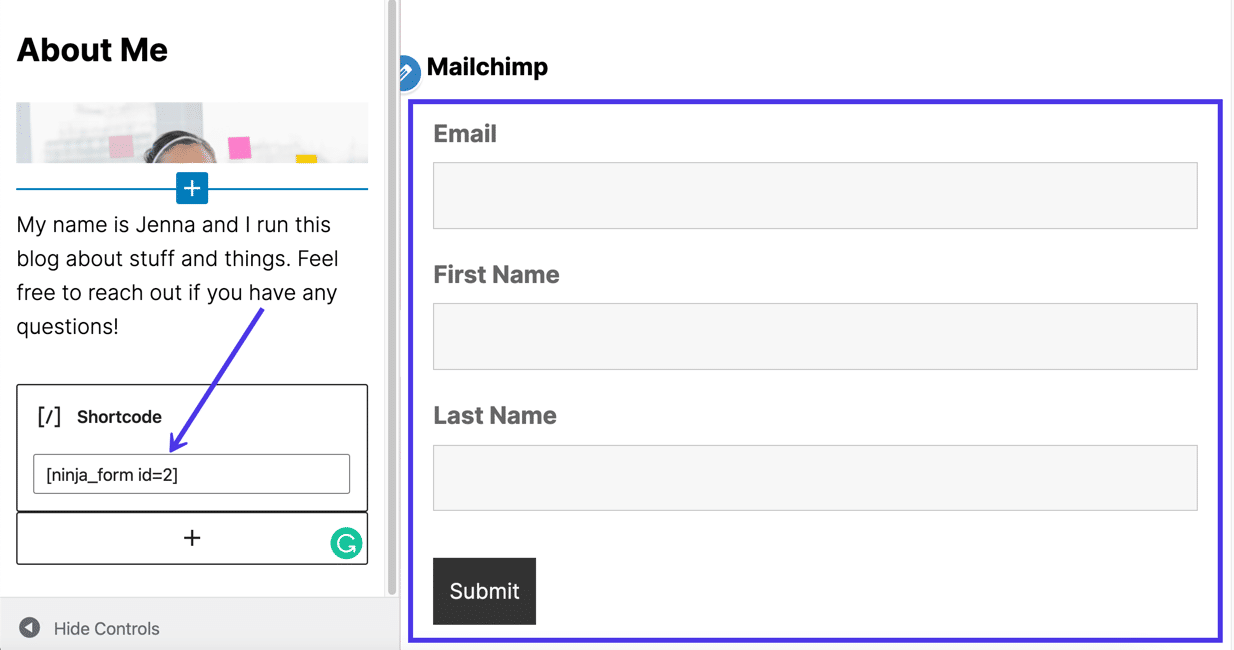 Using a Plugin (With a WordPress Block) to Add Mailchimp to a Widget
It's becoming more and more common for Mailchimp form plugins to include WordPress blocks as opposed to shortcodes, and that's because blocks are less intimidating, provide built-in settings, and can be inserted on posts, pages, and widgets.
Whereas we would recommend skipping the shortcode method from above, unless you already have a plugin with shortcodes installed, we'd say the opposite for plugins with blocks. That's because it's undeniable how much simpler it is to work with a block, so there's nothing wrong with getting a completely separate plugin to provide that convenience.
One plugin to add a widget block is called Another Mailchimp Widget. We'll use that plugin to demonstrate how to put a block in a widget, but there are plenty of other plugins to consider, all of which work the same way, at least to insert the block in the widget. However, the block in question will have a different name and unique settings depending on which plugin you choose.
Moving forward with the Another Mailchimp Widget plugin, go to the WordPress dashboard and install that plugin.
Once activated, go to Settings > Another Mailchimp.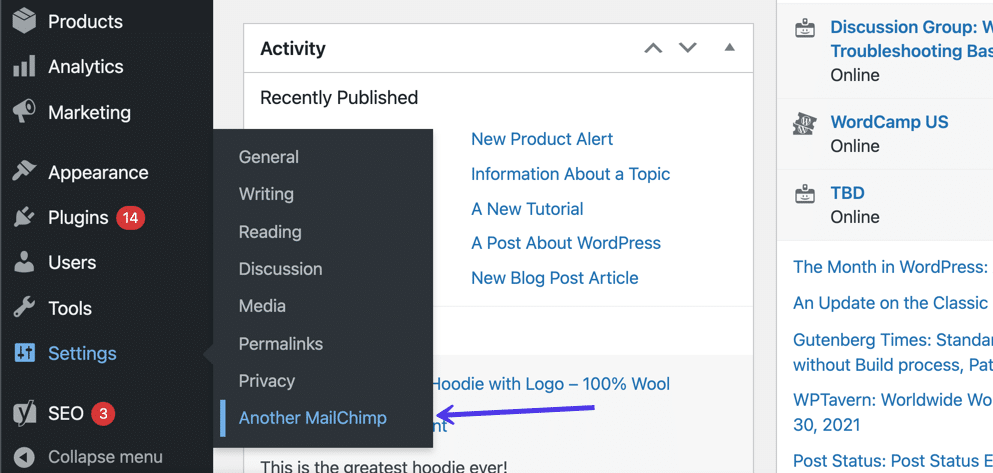 Jump over to the Mailchimp dashboard to obtain an API key.
To do so, click on the Profile icon in the lower left-hand corner of the screen. Then, go to Profile > Extras > API Keys. Click the Create A Key button to generate a new key.
Under the Your API Keys section, the combination appears beneath the API Key column.
Navigate back to the WordPress dashboard, where you should have the plugin's Settings page open.
Paste the API key into the field that reads Mailchimp API Key.
Click on Save Changes.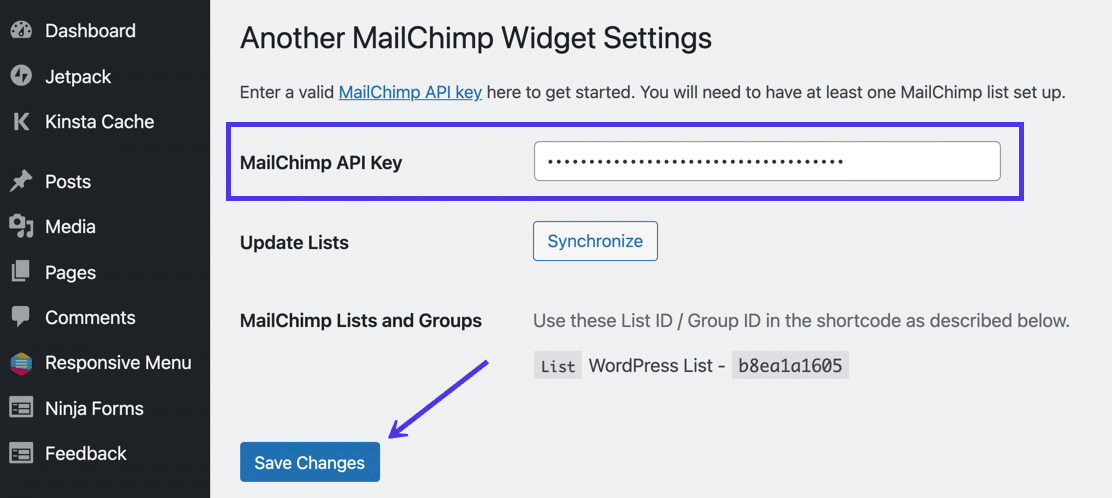 Now the plugin is linked to your Mailchimp account for selecting the right Audience and sending new subscribers to the email list database.
Still in WordPress, go to Appearance > Customize > Widgets. Select the widget area you want to customize, then click on the Add Block (black and white plus sign) button to open the library of available WordPress blocks.
Type in "mailchimp," and select Another Mailchimp Widget.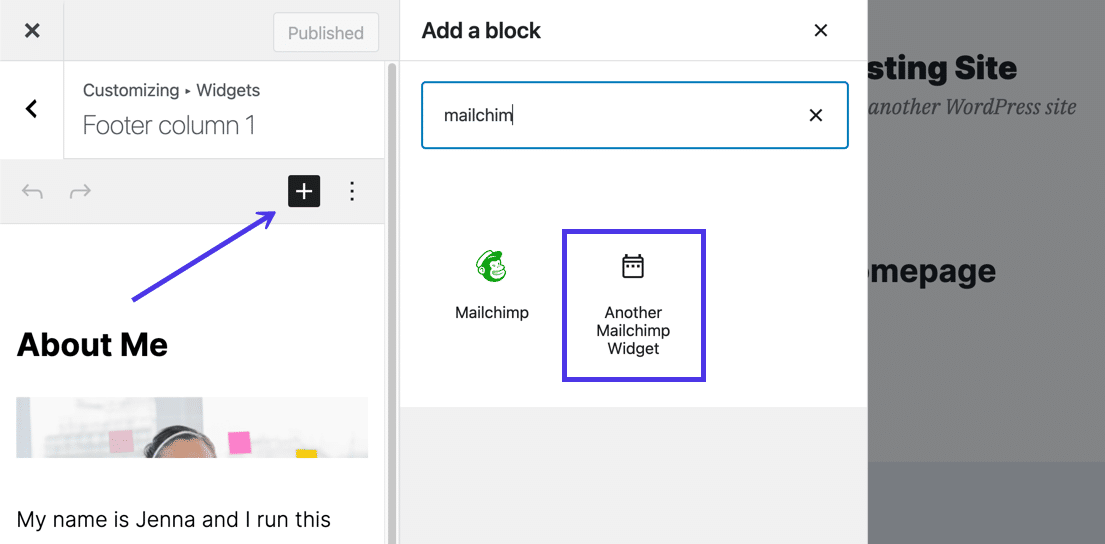 Seeing how this is a widget and not a piece of pasted code, you're given settings to customize some aspects of the Mailchimp form. For instance, the widget asks you to type in a Title. You'll also need to select the lists and groups of users (the Mailchimp Audience) to generate the form in the preview to the right. For example, once we picked the WordPress List Audience, the opt-in form appeared in the WordPress Customizer.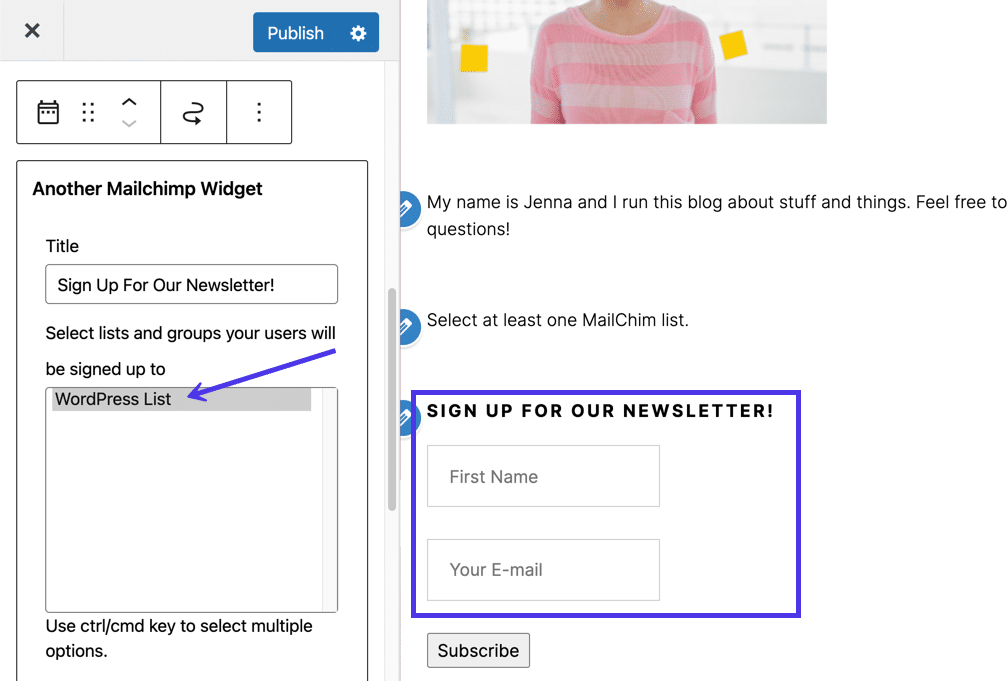 Finally, you can browse through all settings with this particular widget. Change the field labels, decide to collect more than just the email address, and write out a custom success message. As mentioned before, these settings are just one of the reasons using blocks inside widgets provides an advantage over shortcodes or HTML code.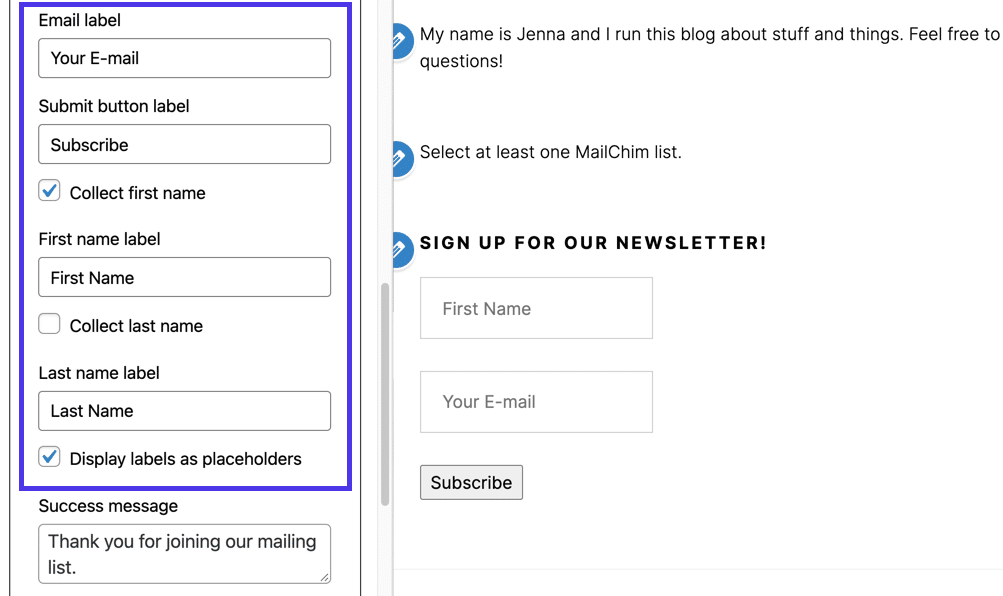 How To Autosend Blog Posts from WordPress to Mailchimp
Wouldn't it be great to automatically send out an email campaign whenever you publish a blog post on WordPress?
There are plenty of ways to achieve this functionality, but they often don't give you the design control provided by Mailchimp. We want to ensure that we're sending the emails to an updated Mailchimp Audience list. So, it makes sense to configure Mailchimp to send out these automated blog post notifications.
Luckily, it's easy to set up if you find your blog's RSS feed. To get started, find the WordPress blog's RSS feed and check to ensure it's working.
A WordPress site's primary RSS feed is located at http://example.com/feed/. So you would put the /feed/ at the end of your URL and see if that's it.
That's not always the case, however, so you might need to test out other options like:
http://example.com/feed/rss/
http://example.com/feed/rss2/
http://example.com/feed/rdf/
http://example.com/feed/atom/
Mailchimp tries to find your RSS URL if all else fails when you paste the blog URL in the following steps.
Once you have the RSS feed, it's time to paste that into Mailchimp.
From the Mailchimp dashboard, click on the Automations menu item.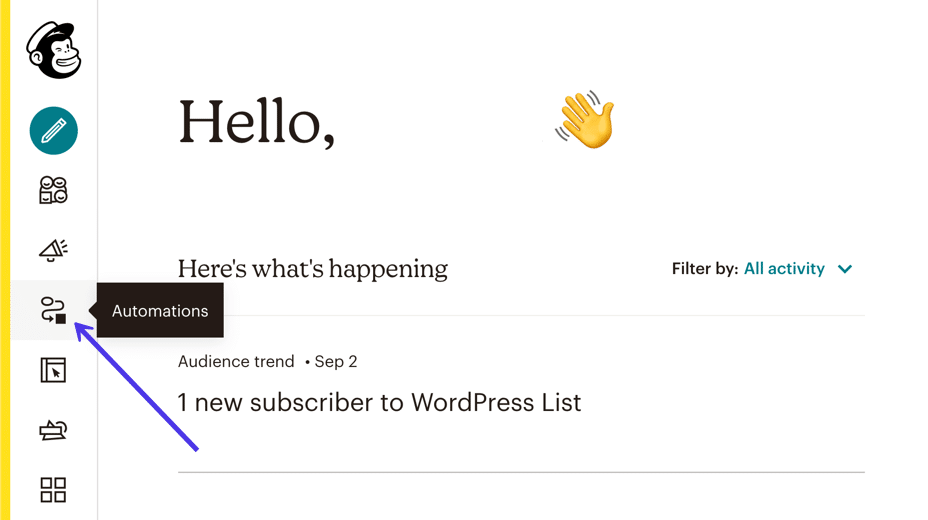 There are dozens of prebuilt automations to create on Mailchimp, so you have to scroll down on the Automations page to locate the one to Share Your Blog Posts.
This particular automation links an RSS feed to an email campaign so that you never have to send out an email for new blog posts manually. You can customize the design of those emails instead of relying on a generic design from another plugin.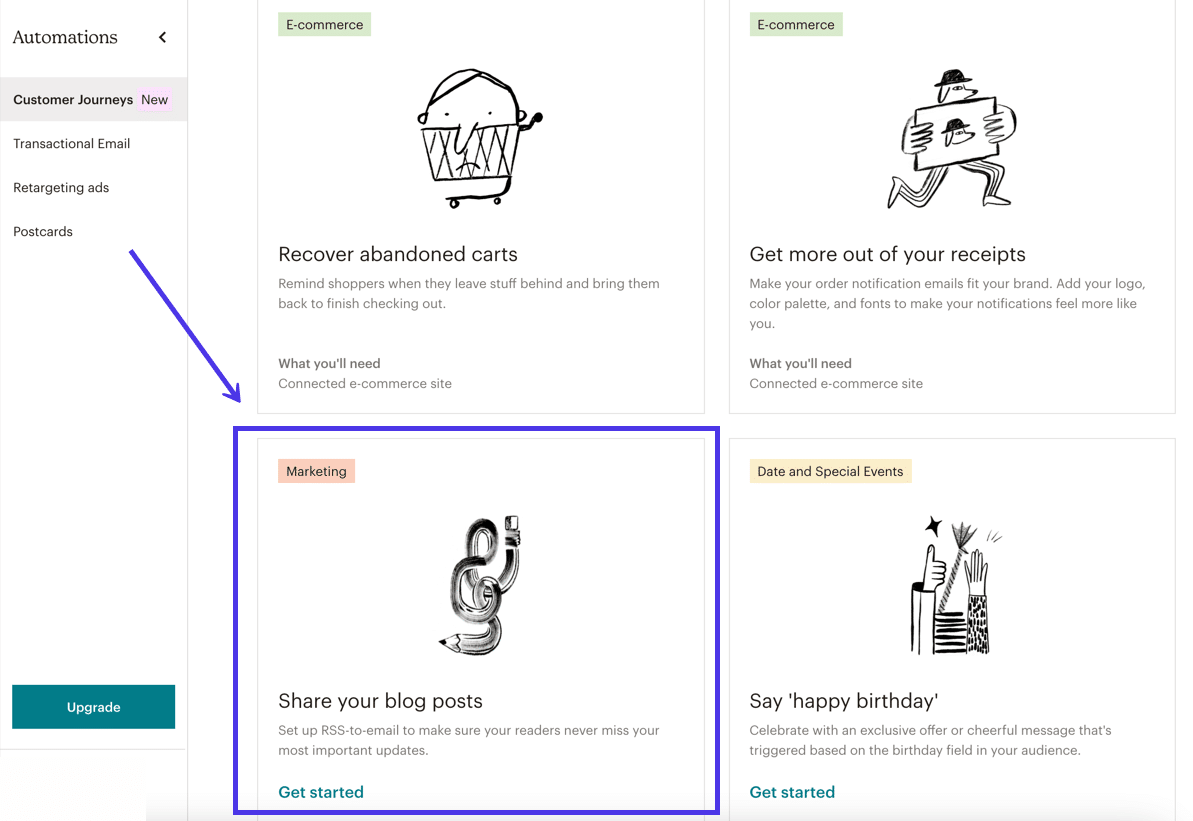 The following pop-up module asks you to type in a Campaign Name. You should also select which Mailchimp List should receive your automated RSS emails.
Click the Begin button to proceed.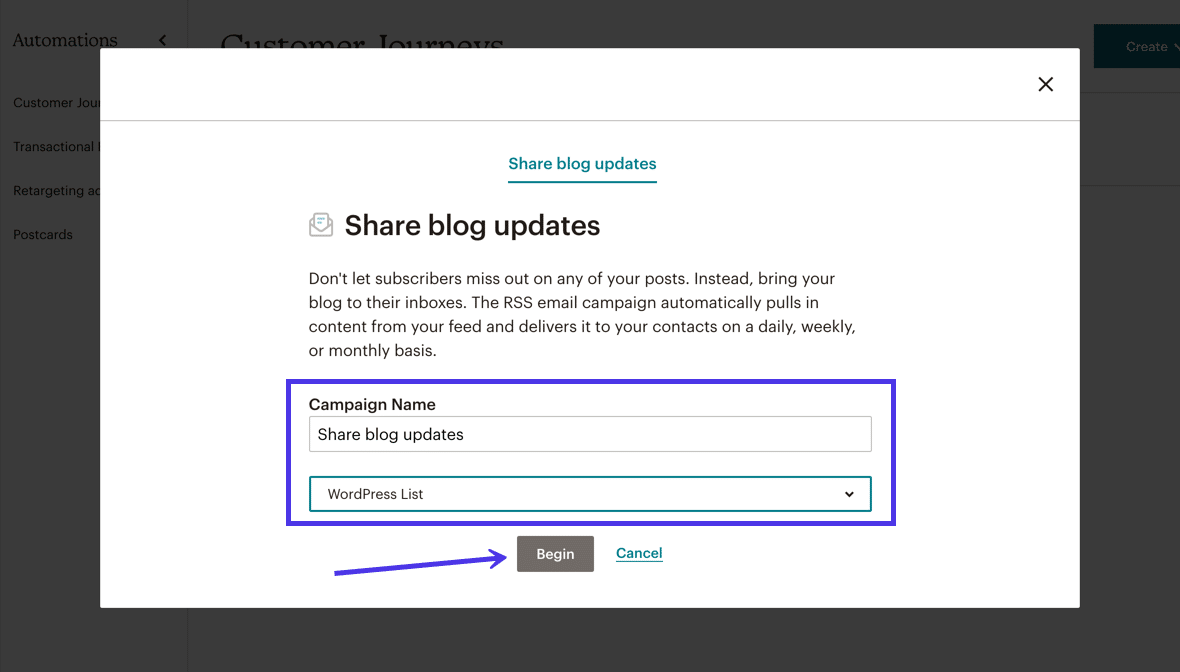 You can customize the RSS Feed And Send Timing from this particular page, but the most critical part is pasting in the RSS Feed URL for Mailchimp to pull data from your blog.
After that, decide on the frequency, days, and times your automated blog post emails will go out.
Finally, specify whether you'd like to have Mailchimp attempt to Resize RSS Feed Images for your email campaign. We've seen varied results from this tool, so make sure you initially run a test where you're the only one on the list. You can remove the Resize RSS Feed Image setting if you see a botched image.
Select the Next button when you're done with this page.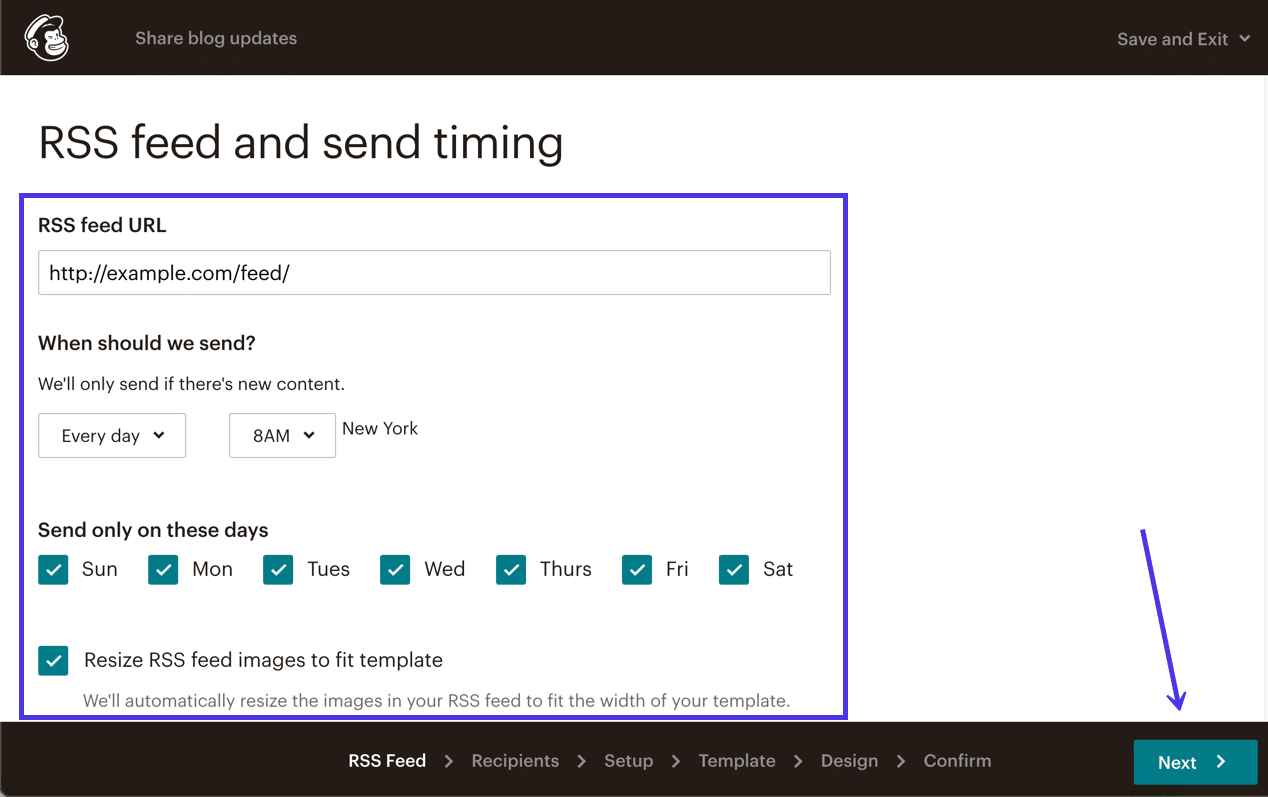 On the Recipients page, select to send your blog updates to one of the following groups:
Entire Audience
Segment or Tag
Group or New Segment
You'll most likely get better results by sending to a segment or group, but many companies only have one email list. If that's the case, there's no problem updating the Entire Audience with your new blog posts.
Click the Next Step: Setup button to move forward.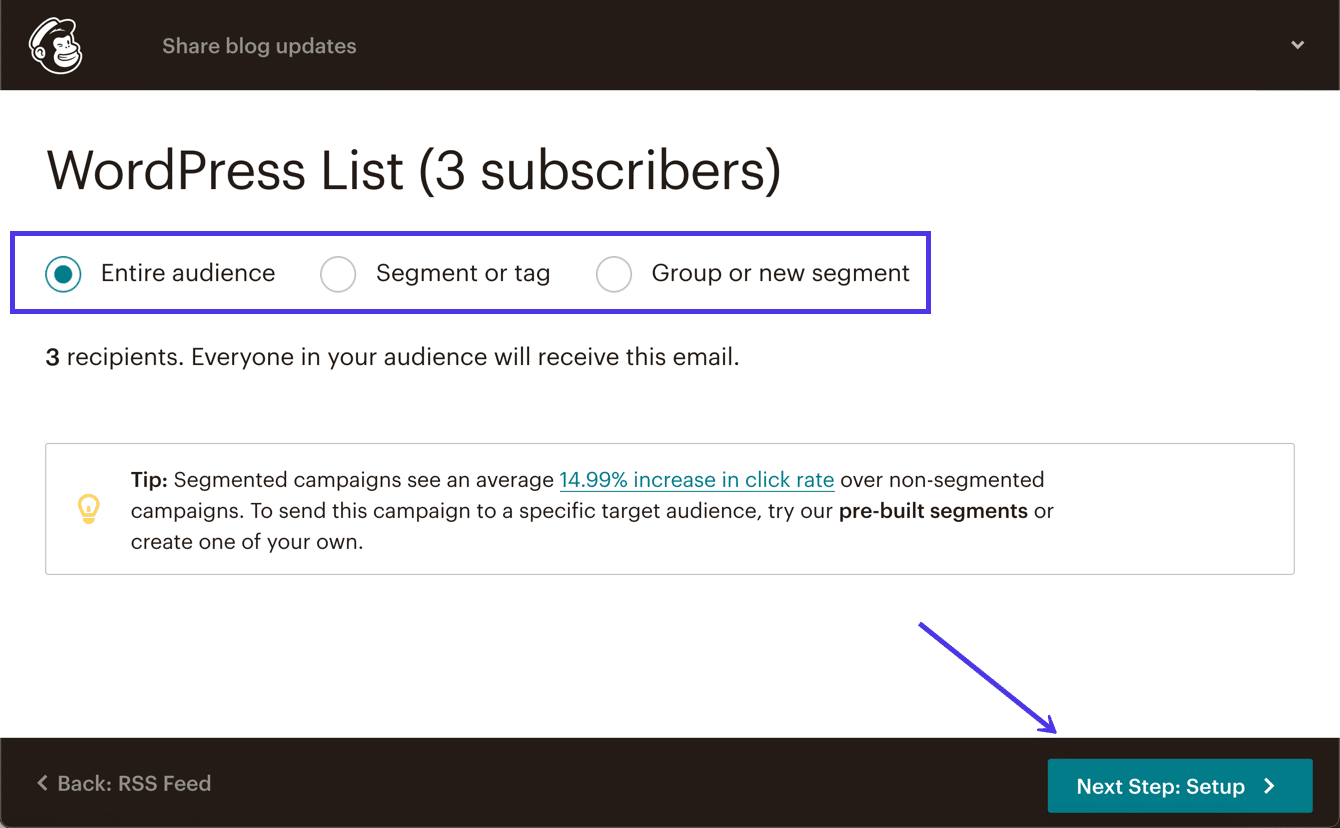 Here's where you configure campaign information like the name of your campaign, the email subject line, and many other settings.
Remember, this automated message doesn't get customized for every unique blog post you publish. Because of that, you want to create an inviting, but non-specific Email Subject and Preview Text.
Other settings to configure on this page include the From Name, From Email Address, and the option to Personalize The "To" Field.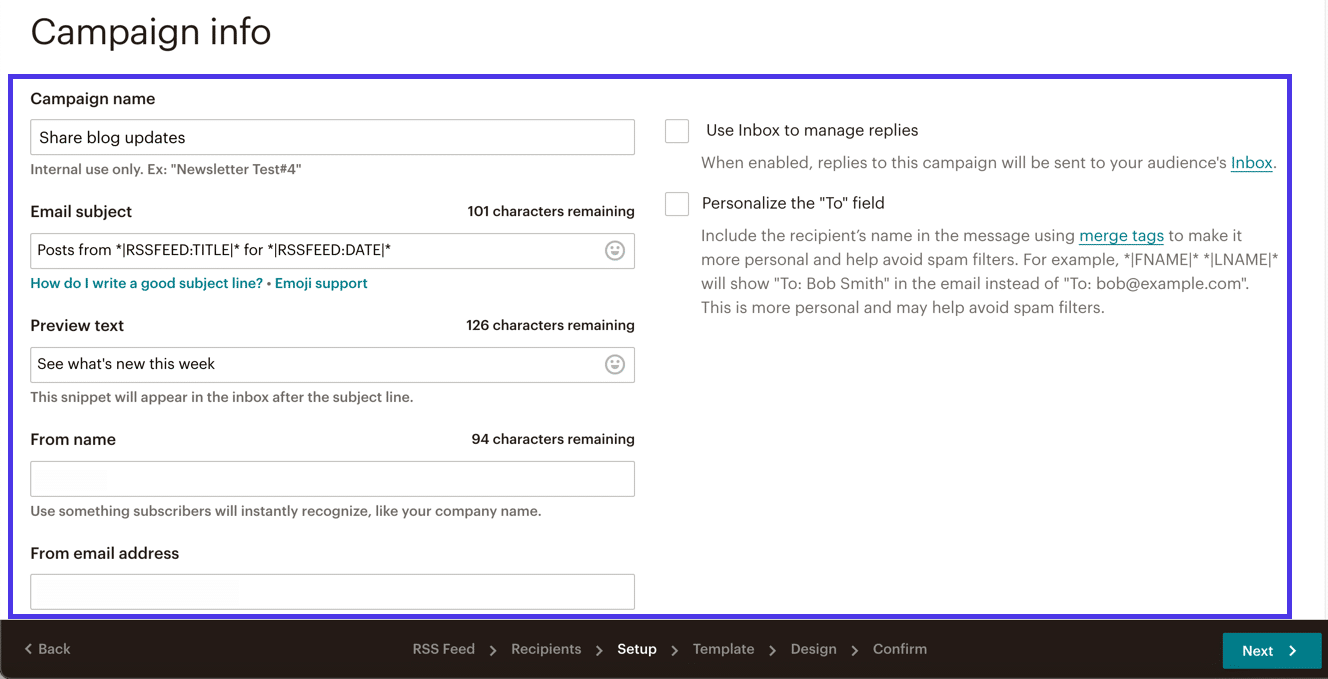 Before clicking the Next button, scroll down on the page to mark any Tracking or Social Media elements you want to include with the email. You may want to track opens, clicks, and plain-click texts, or even link to Facebook or Twitter for auto-posting.
After all of that, click the Next button.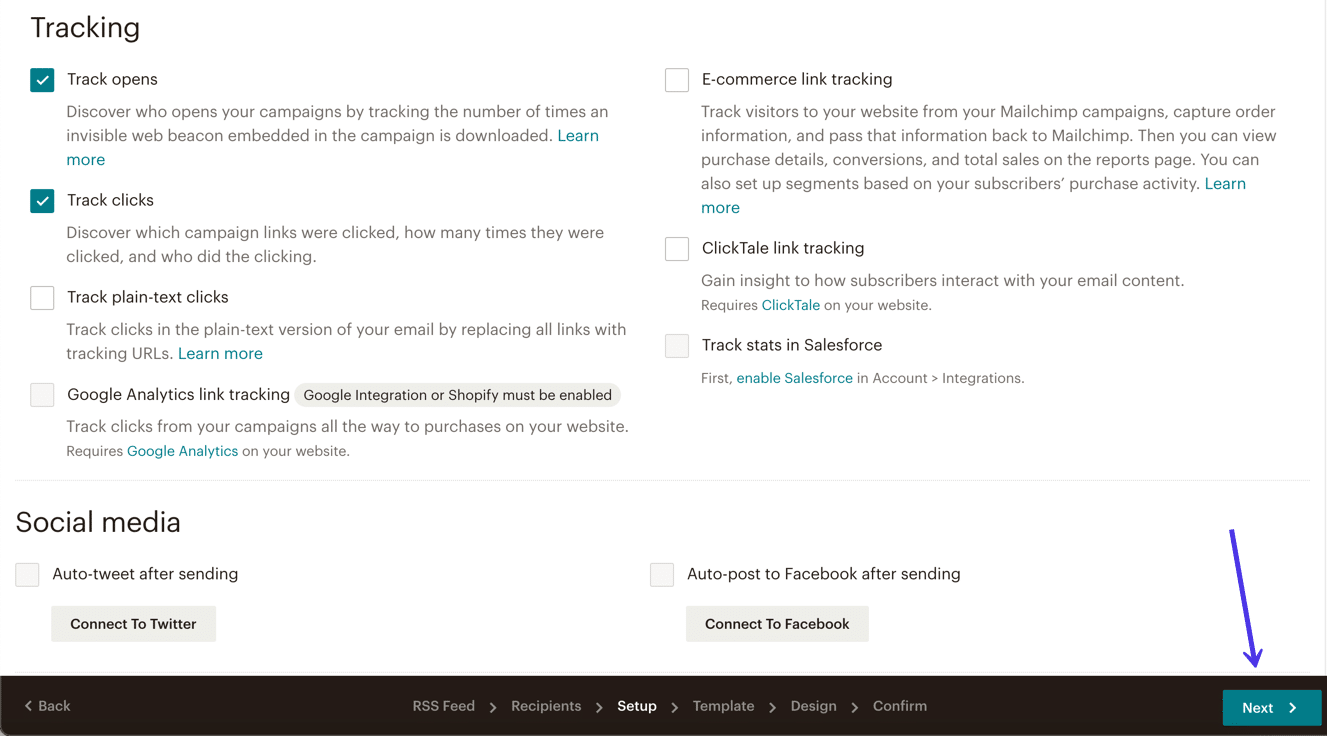 The Select a Template section allows you to make a campaign template from blank Layouts, Themes, Saved Templates, and Campaigns. You can even Code Your Own if you're inclined.
Automated blog post emails should stick to the basics: your brand's colors, fonts, and logo.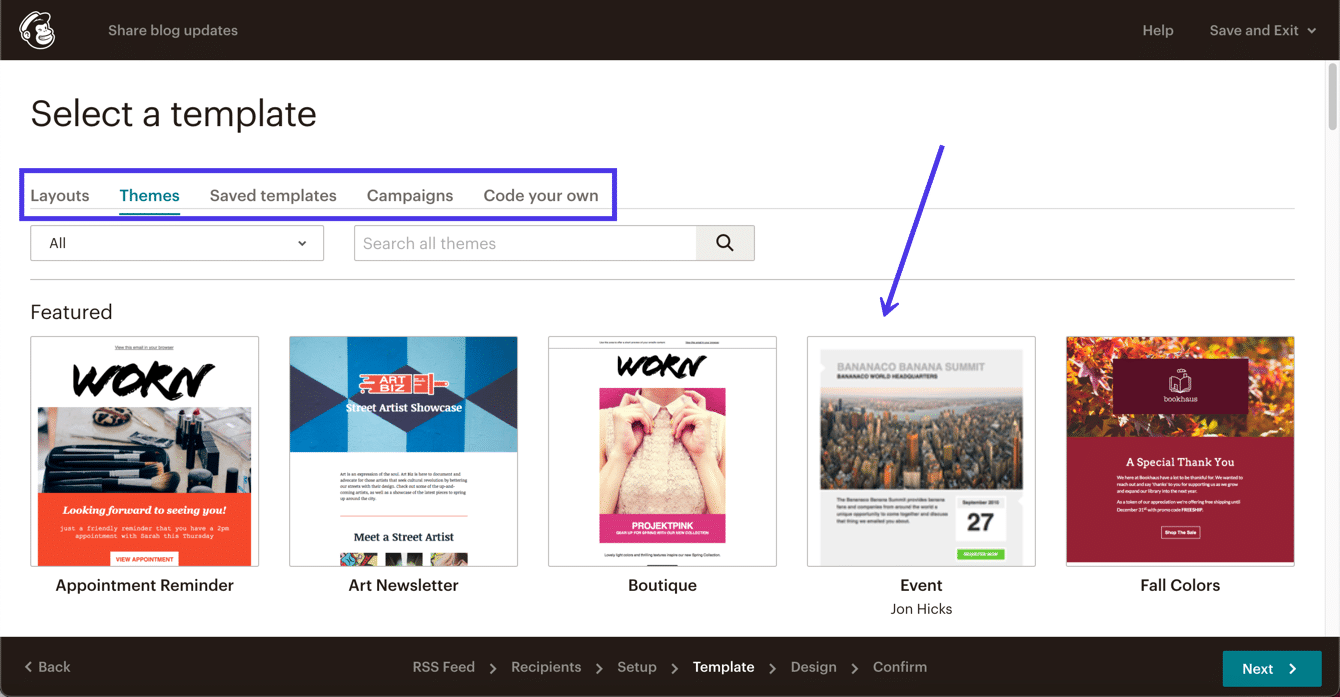 Once you're in the Mailchimp Designer, you'll want to eliminate all filler content like images, example text, and buttons.
Mailchimp will automatically put an image, preview text, and button in the email for each post from the automated RSS feed. Anything else besides your logo and brand colors will look out of place.
Click on the Next button to see the final confirmation page.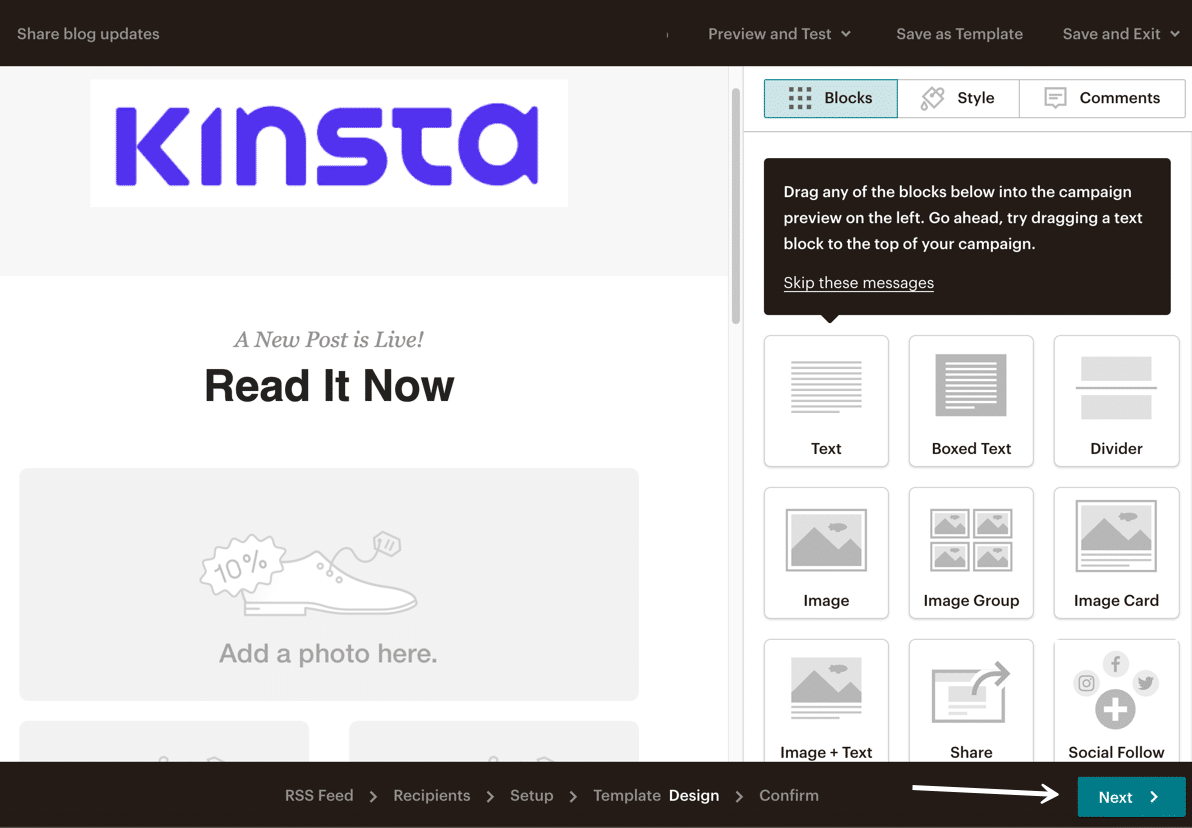 If anything is wrong with your campaign (like too much filler content in an RSS campaign), Mailchimp lets you know about it on this page. Otherwise, it tells you that you're ready to send the automated emails.
Click on the Start RSS button to activate the campaign. Remember that nothing sends to your Mailchimp audience until you publish an article to your WordPress blog, seeing as how that RSS feed triggers the campaign.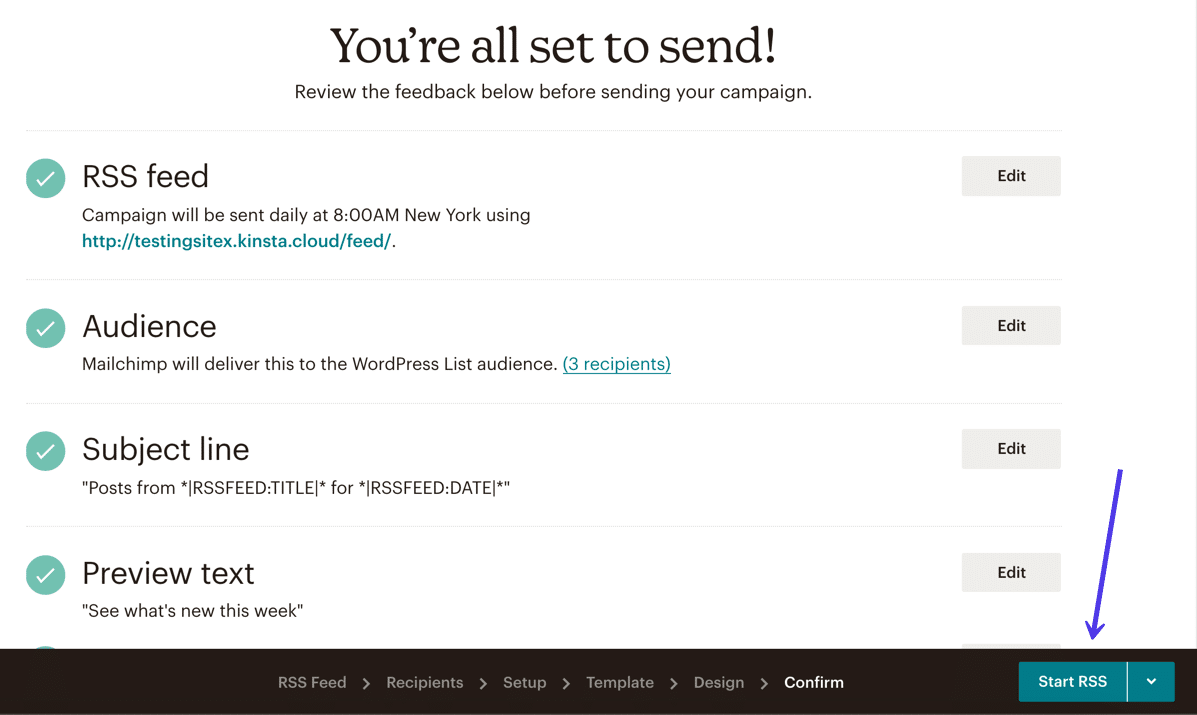 Note: WordPress.com offers the same RSS functionality as you'd find with WordPress.org. So, as long as you figure out the RSS URL, the process remains the same if you're using WordPress.com.
Configuring Mailchimp for WooCommerce Online Stores
Mailchimp offers integration for WooCommerce online stores, allowing merchants to increase revenue potential with help from automation, retargeting emails, and much more.
Some of the more standard ecommerce emails you would want to set up with Mailchimp include abandoned cart, product retargeting, post-purchase emails, receipts, welcome messages, and promotional coupon notifications.
These are essential for running an online store, so those businesses must have a reliable integration. That's where the Mailchimp for WooCommerce plugin comes into play.
This section will outline how to configure Mailchimp for WooCommerce, and we'll touch on how to run your automated ecommerce messaging.
Install the Mailchimp for WooCommerce plugin in the WordPress dashboard to get started. The plugin is available for both WordPress.org and WordPress.com sites. The only limitation is that you must have a Business Plan to install a plugin like this if you're using WordPress.com.

After you activate the plugin, you're brought into a setup wizard to link your WooCommerce site with Mailchimp.
Click on the Connect Account button to start the process.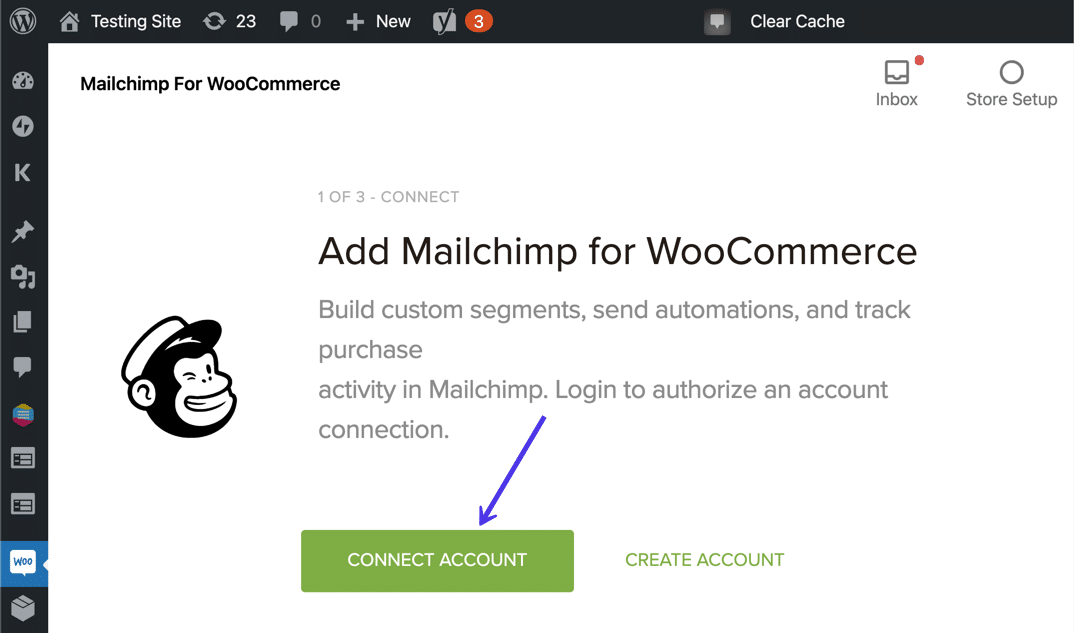 Log into Mailchimp using your Username and Password. Click on the Log In button after that.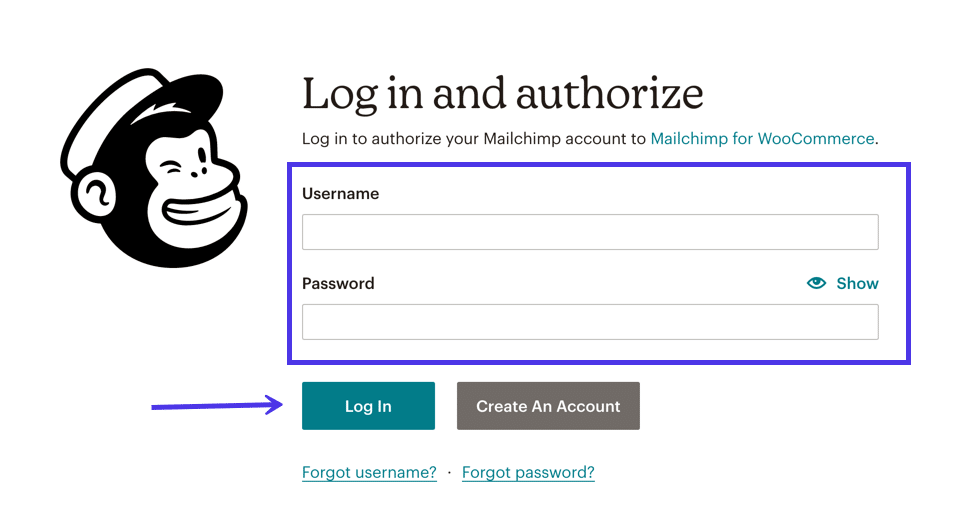 The plugin provides information on how it accesses your Mailchimp account.
Choose the Allow button to specify that you trust this plugin.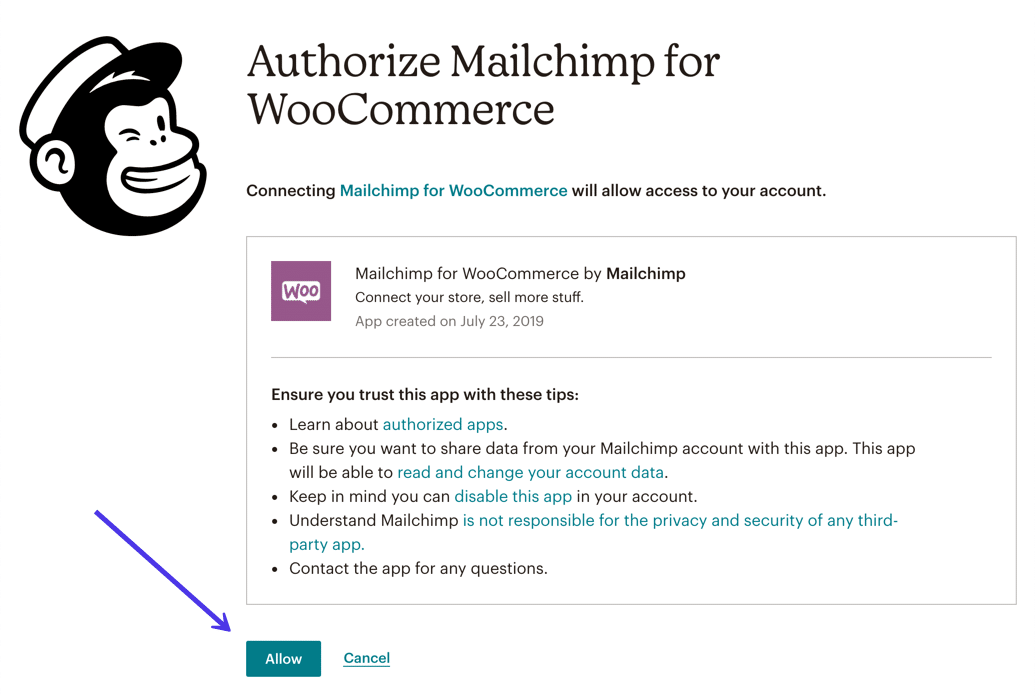 The Mailchimp for WooCommerce plugin needs some additional information to populate its emails with the right content, especially those automated emails.
Therefore, fill in the requested fields with information like your Name, Email, Address, and Phone Number.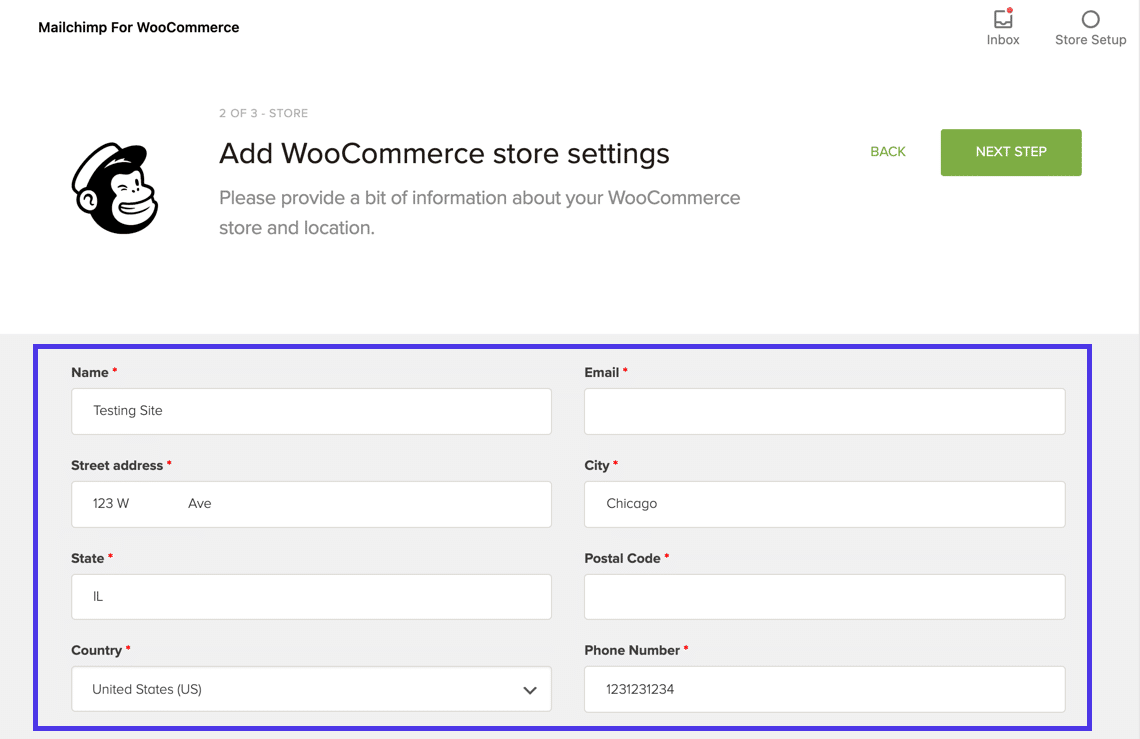 Go to the bottom of the page to set the store Locale and the Permissions Settings for the plugin. You can either give access to Shop Managers and Administrators or just Administrators.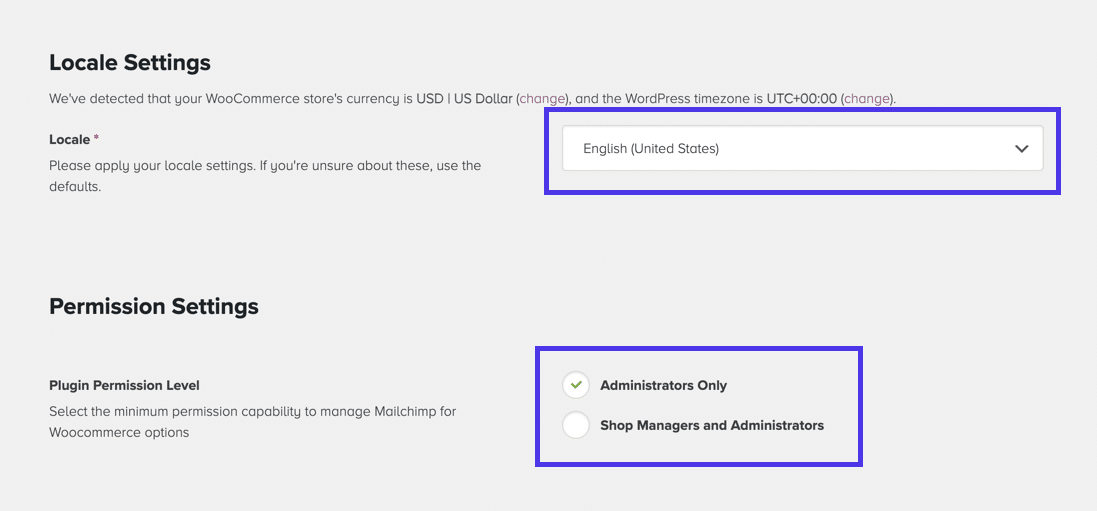 Return to the top of the page to click the Next Step button.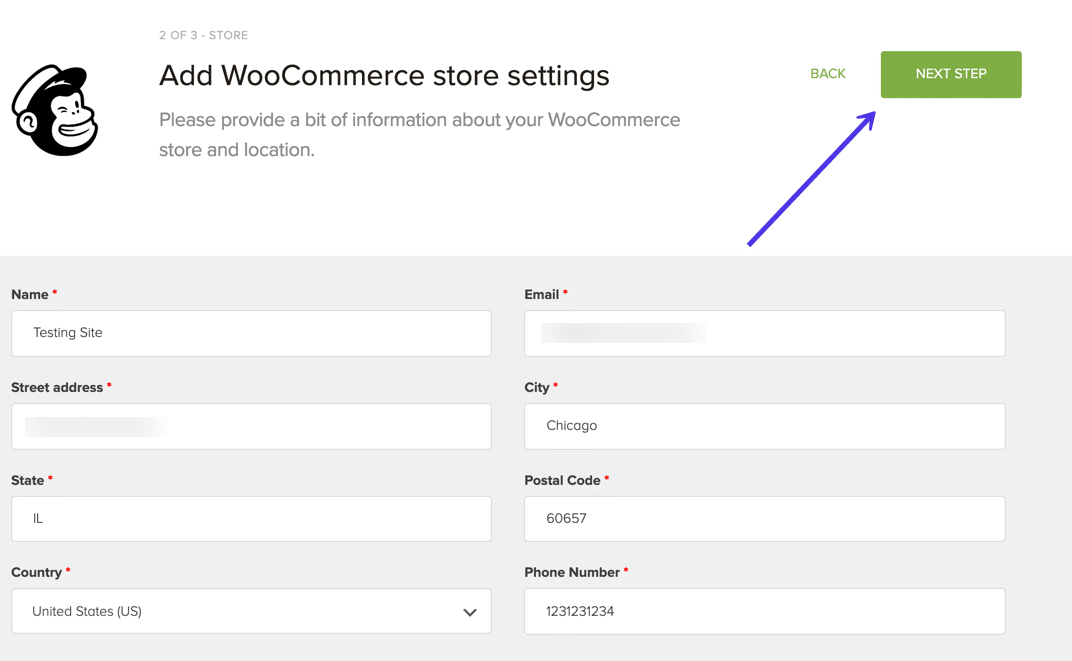 Under Audience Name, choose the Mailchimp Audience you want to link to the plugin. If you only have one (like we do), that Audience gets selected by default.
You can also opt to auto-subscribe all existing subscribers, add a default Subject line to your emails, and include a Permission Reminder Message so that people know why they're getting emails from your company.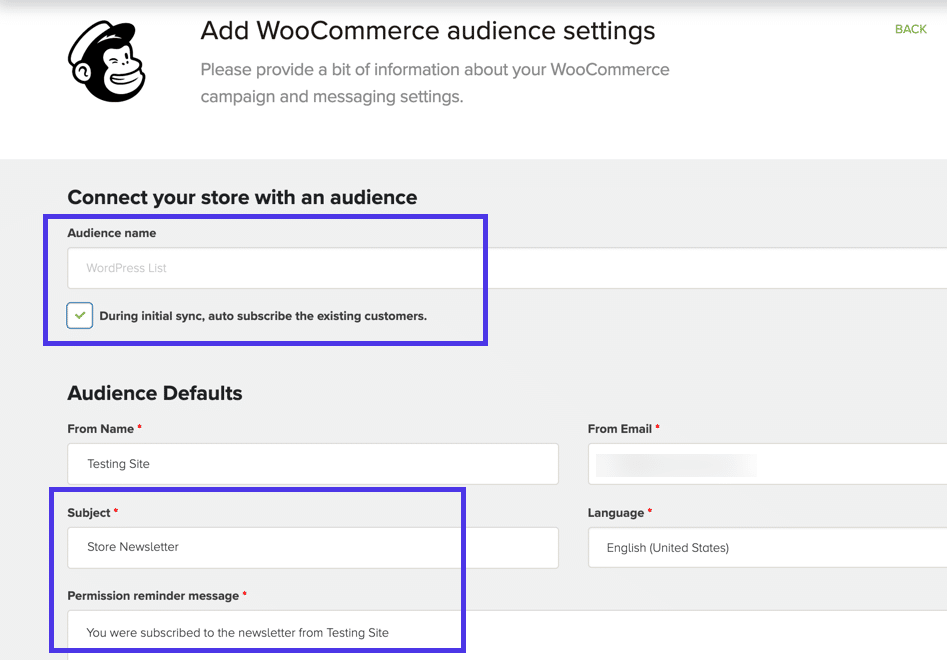 The Mailchimp for WooCommerce plugin automatically adds a Subscribe checkbox in your WooCommerce checkout module. There are some settings for changing the visibility of the checkbox, along with the message that people see.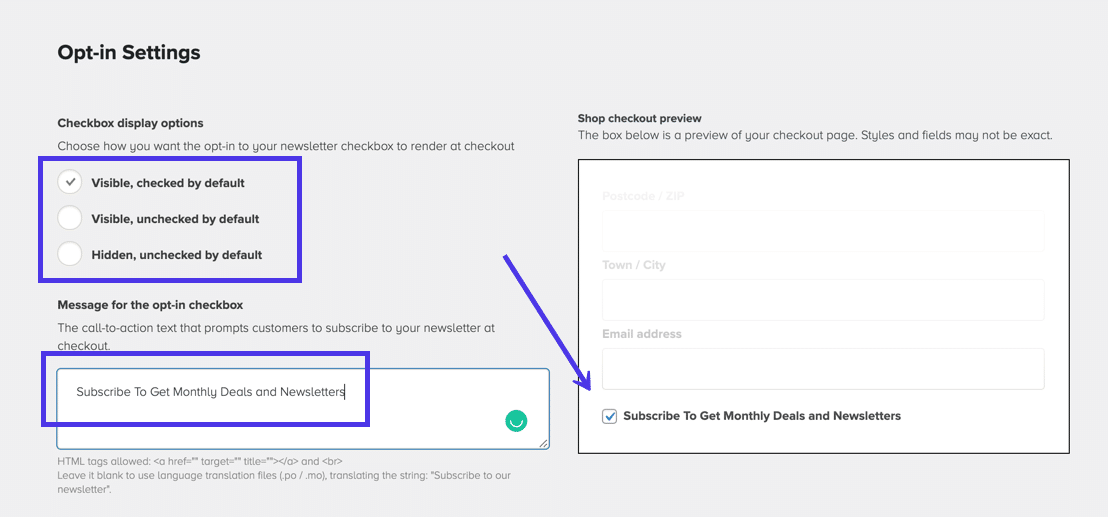 The last few fields on this page can usually be left as they are. If you have experience with WooCommerce form actions, feel free to manage the position of your Optin Checkbox. You can also give each new subscriber a tag when signing up for your list.
Finally, the Product Settings section provides a dropdown menu to adjust the default Product Image Size when they get automatically generated in your emails. This may require testing to see how your images look with different dimensions. In general, it's not a bad idea to stick with the default Medium 300×300 image size.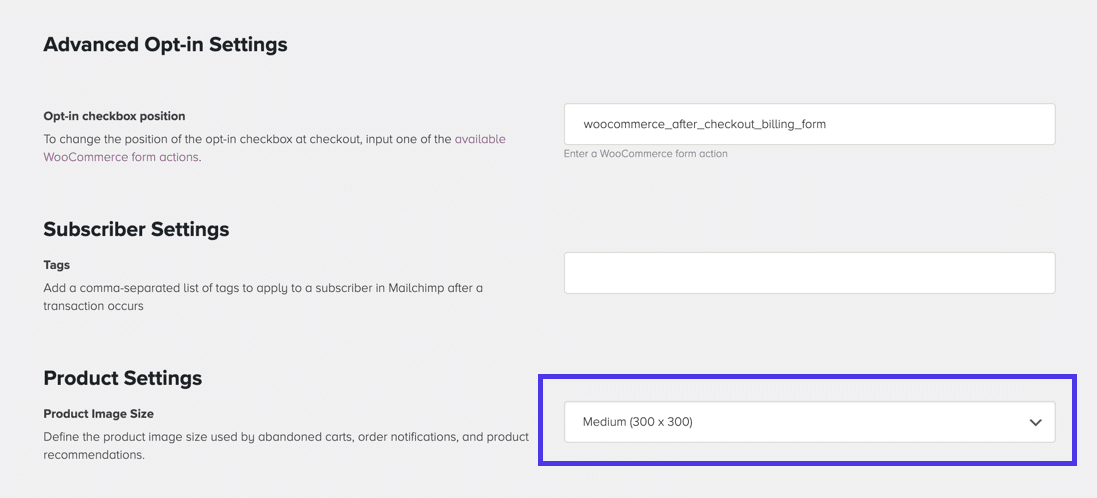 Go back to the top of the Audience Settings page and click on the Start Sync button. The sync begins to pull all the necessary data from Mailchimp to work well with WooCommerce.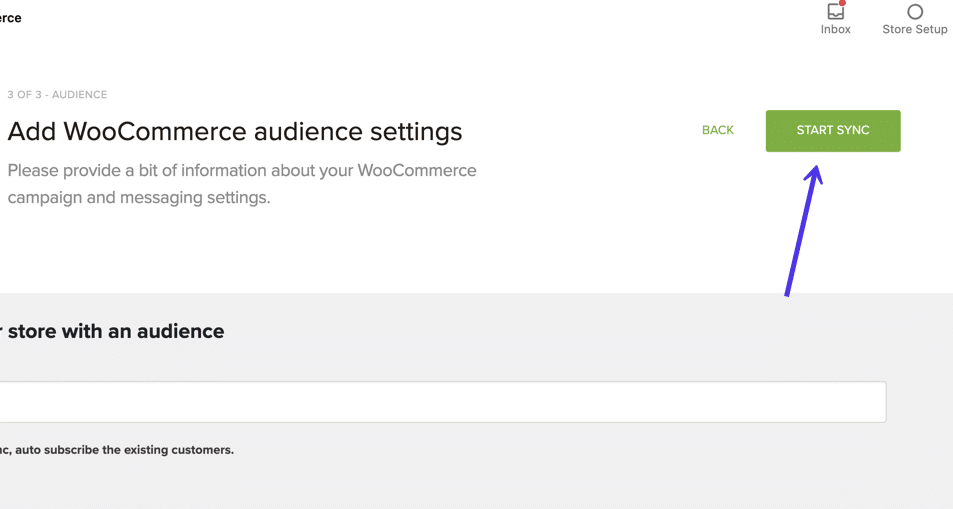 You'll see a Success message indicating that Mailchimp is connected to your WooCommerce plugin.
Below that, the plugin renders information like how many products you have in your store, the number of subscribers, and transactional emails in your Mailchimp account.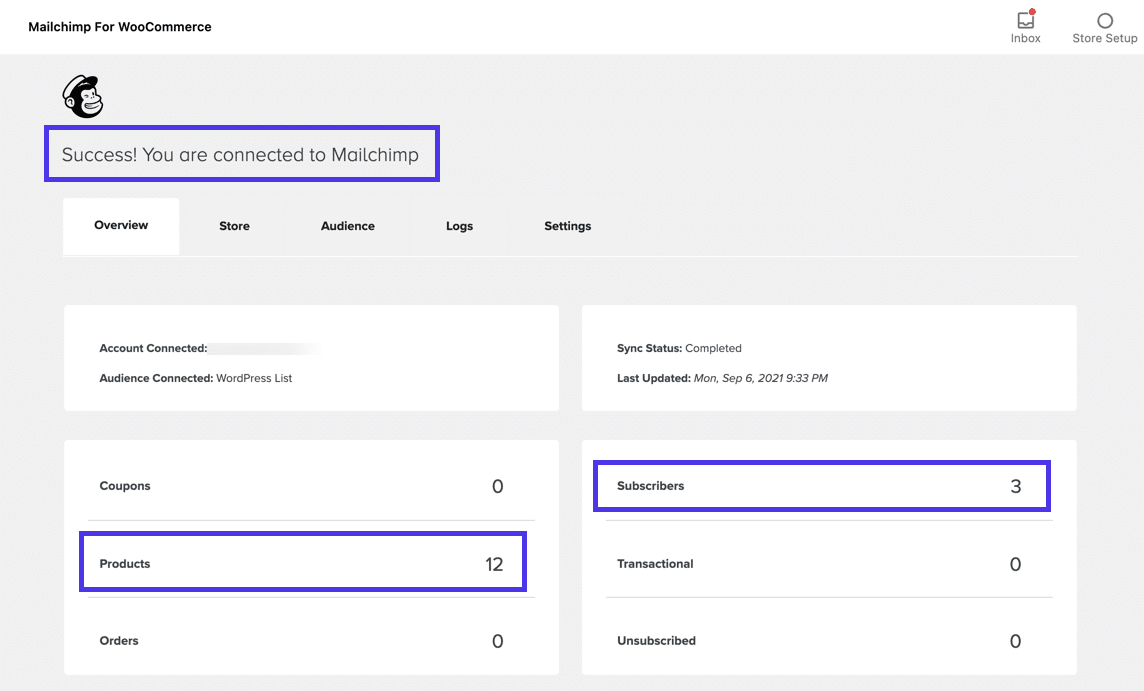 It's entirely reasonable to leave it at that. The Mailchimp for WooCommerce plugin is active and collects email addresses from users as they move through your checkout.
However, we encourage you to expand upon just having a basic sign-up form, considering Mailchimp offers an incredible number of automations that work through this plugin.
The good news is that most of these are easily managed within the Mailchimp dashboard. There isn't much else to complete in WordPress.
In Mailchimp, click on the Integrations menu item.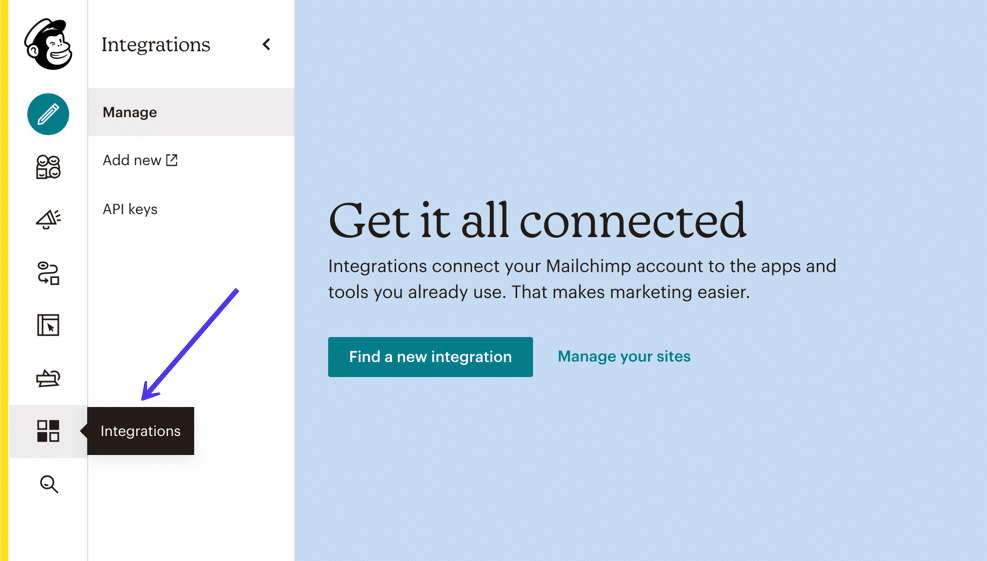 The Integrations page provides a long list of third-party programs. Scroll down (or look under the E-commerce section, to find and click on WooCommerce. It should already have a green checkmark that indicates you're integrated through the Mailchimp for WooCommerce plugin.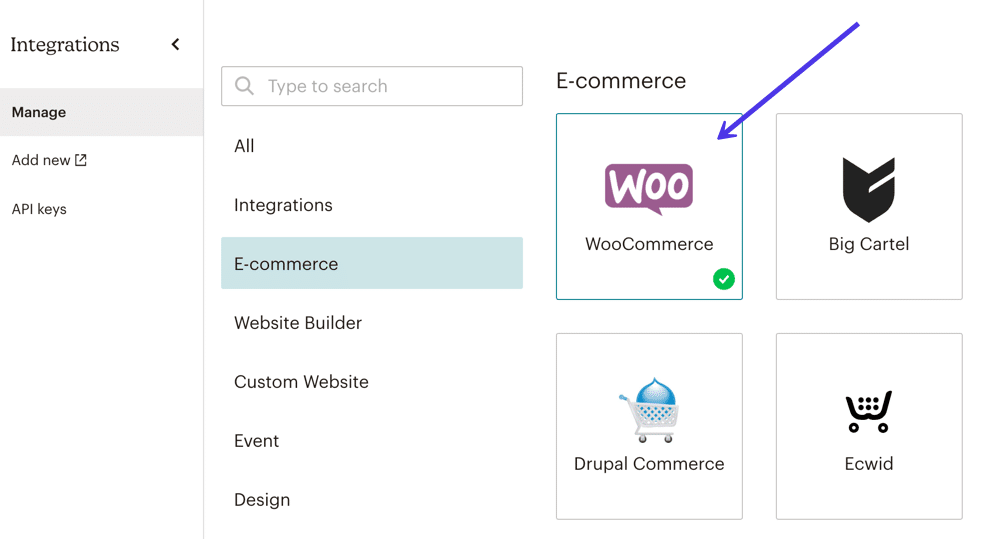 Click the Manage Your Sites button.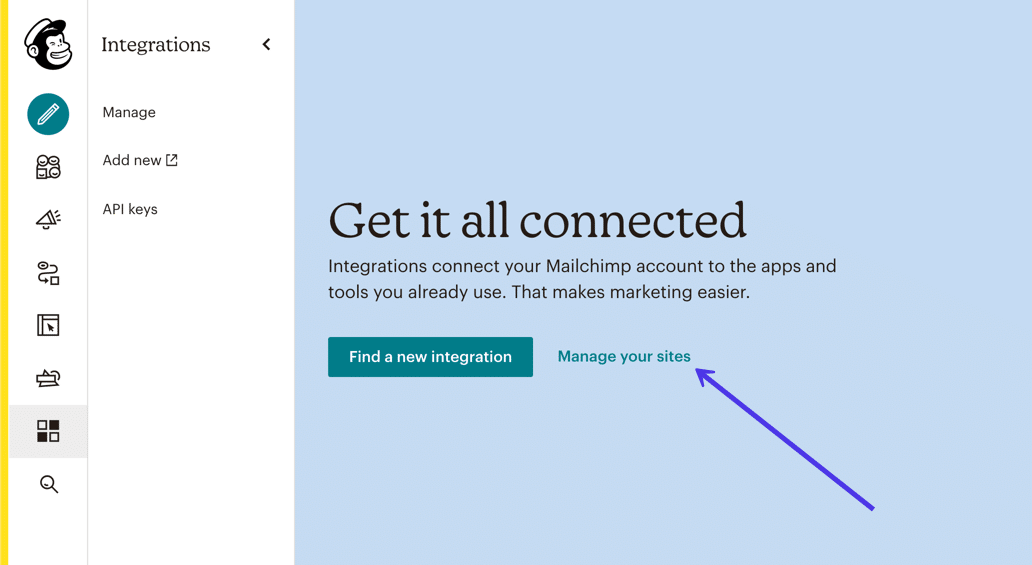 The name of your site shows up at the top of the page. That should tell you that you've found the proper integration. It also informs you of when WooCommerce was connected, which may be helpful.
Overall, this page provides the most popular automated messaging options for your new WooCommerce/Mailchimp integration.
You can click the Add button to create any of the following for your online store:
Pop-up Form
Abandoned Cart Email
Product Retargeting Email
Order Notifications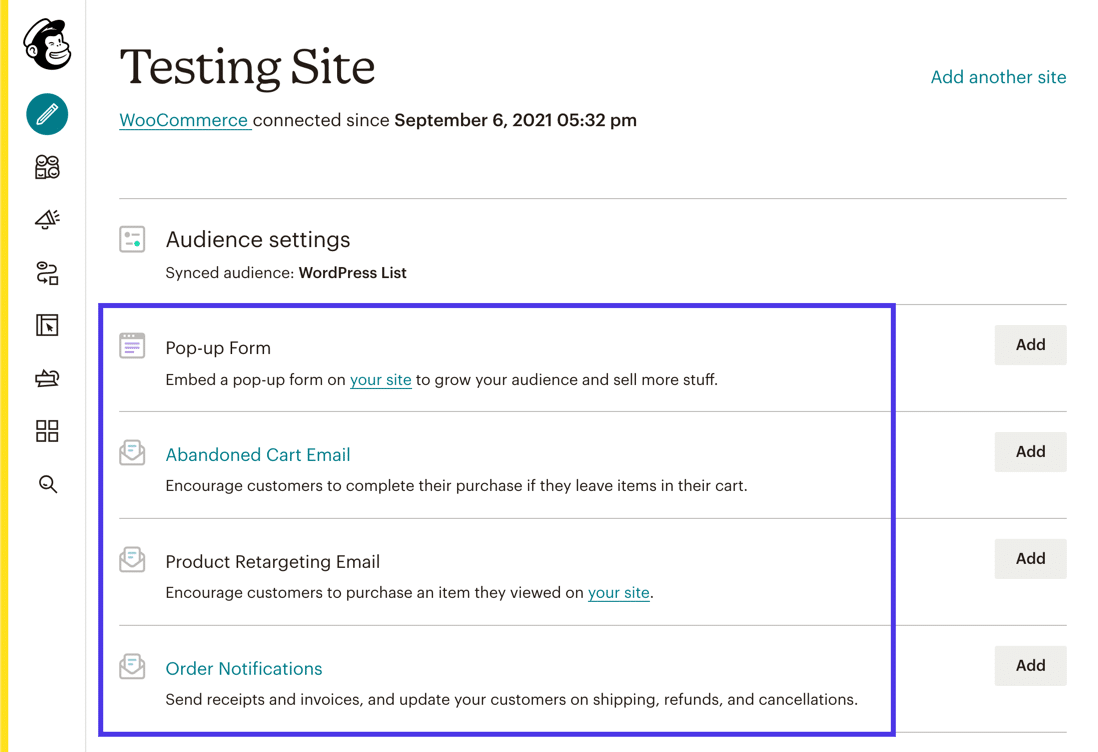 A smaller link towards the bottom lets you see a more extended list of automations available for WooCommerce. Click on the E-commerce Automations link to see those.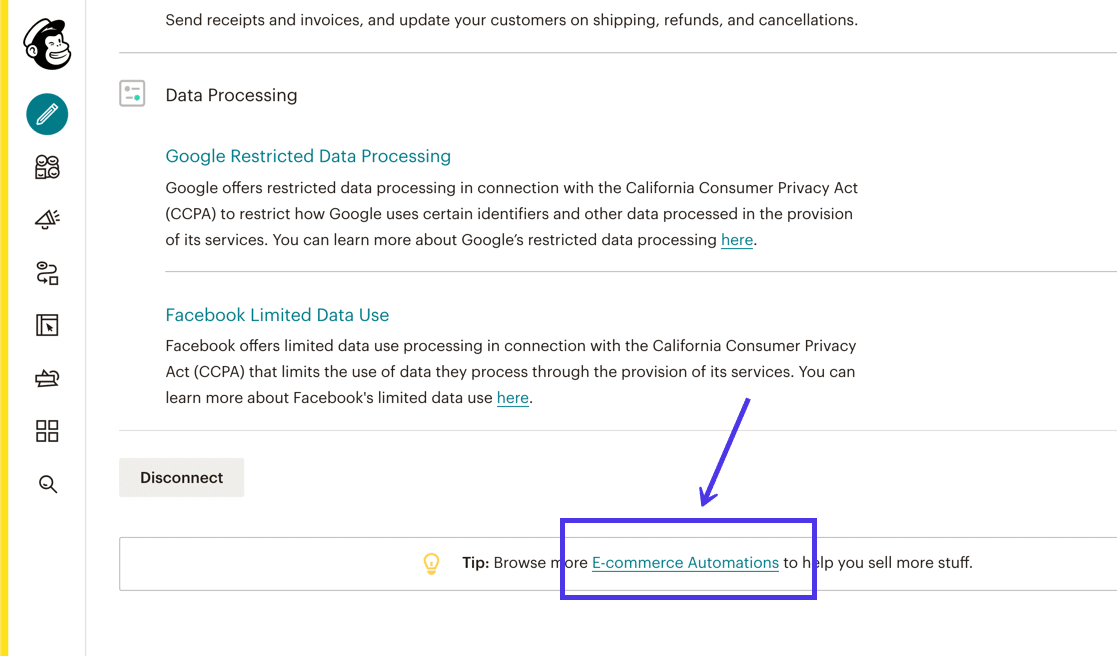 In the list, you'll see helpful automation emails for:
Thanking first-time customers
Rewarding your best customers
Retargeting site visitors
Turning on abandoned cart emails
Following up on purchases
Winning back lapsed customers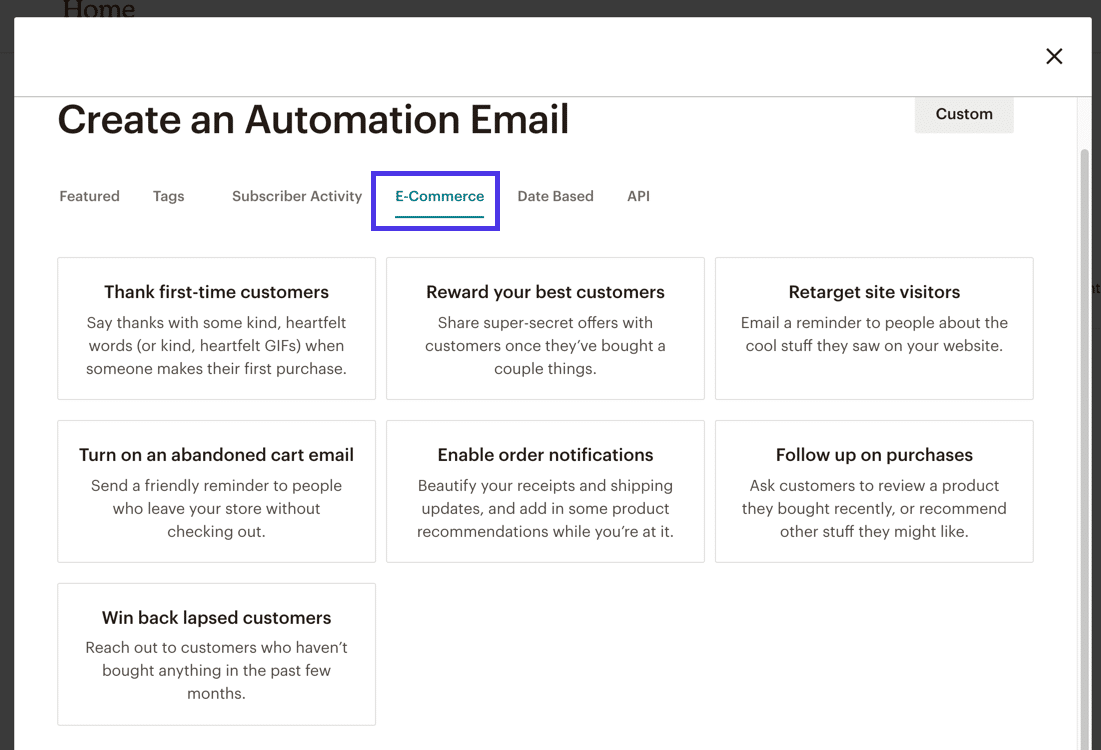 We won't guide you through each of these potential ecommerce automations. Instead, we'll create a quick Abandoned Cart Notification to show how easy it is to configure with a template and the already implemented merge tags from Mailchimp.
If you choose the Abandoned Cart Notification option, Mailchimp populates the vast majority of settings for you.
Yet, you can click on the Edit button to adjust any of the following:
The Sends To settings, decide how long to wait before sending out an email
The From email address
The Subject for every single one of your abandoned cart messages
The Content of the email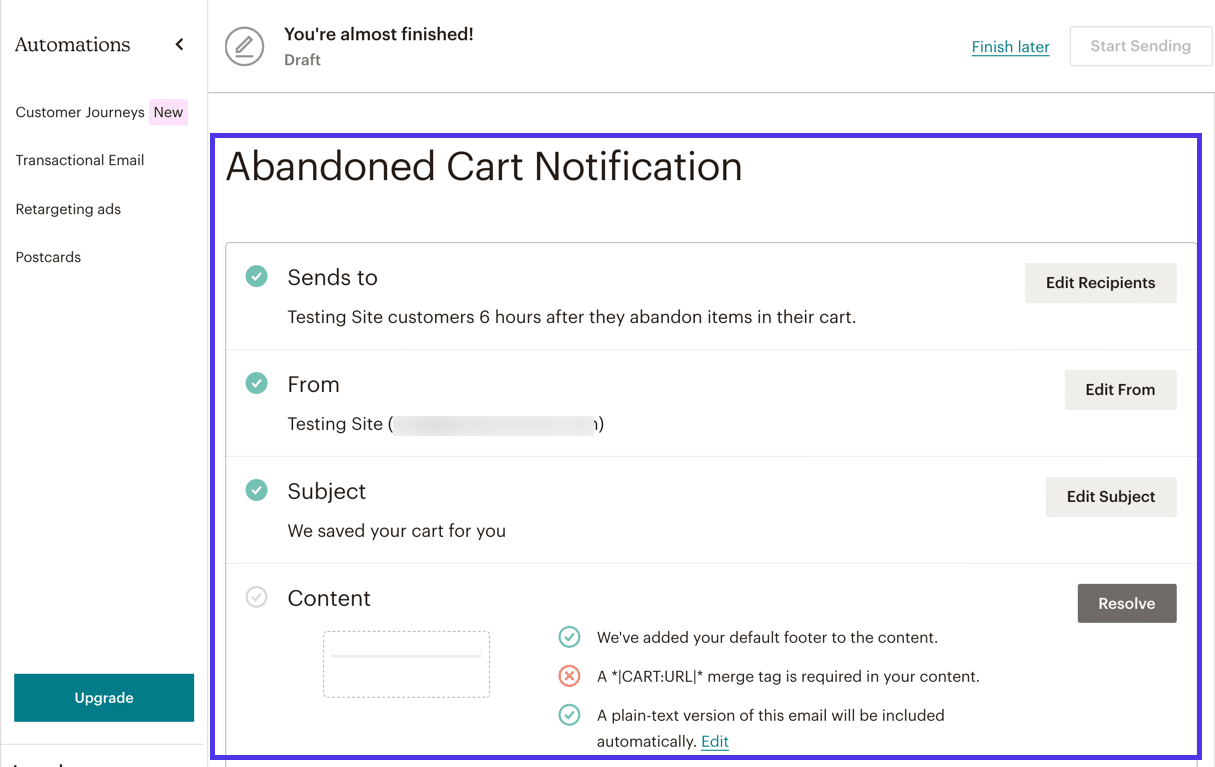 As a bonus, Mailchimp provides templates for all types of WooCommerce automation.
You have to select one of the Abandoned Cart templates, then move on to the design area.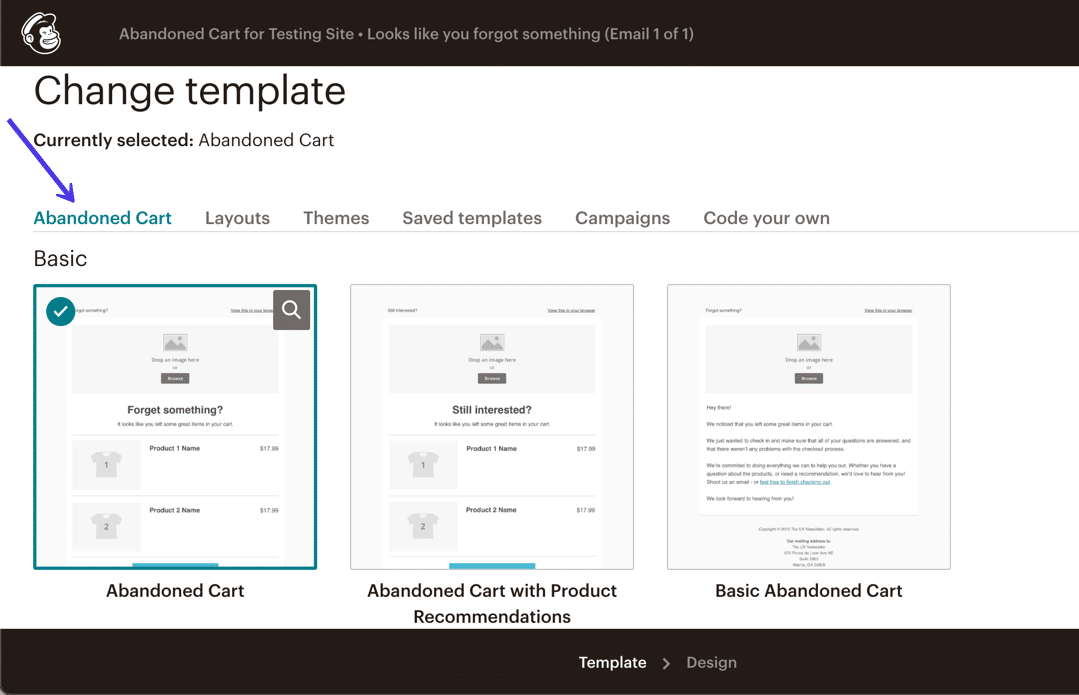 And as with most automated messages, you shouldn't have to customize much besides your logo, brand colors, and fonts. Otherwise, everything currently inside the template is designed to populate for each unique customer dynamically. The right products will appear, along with pricing, product titles, and the links to bring people back to your store.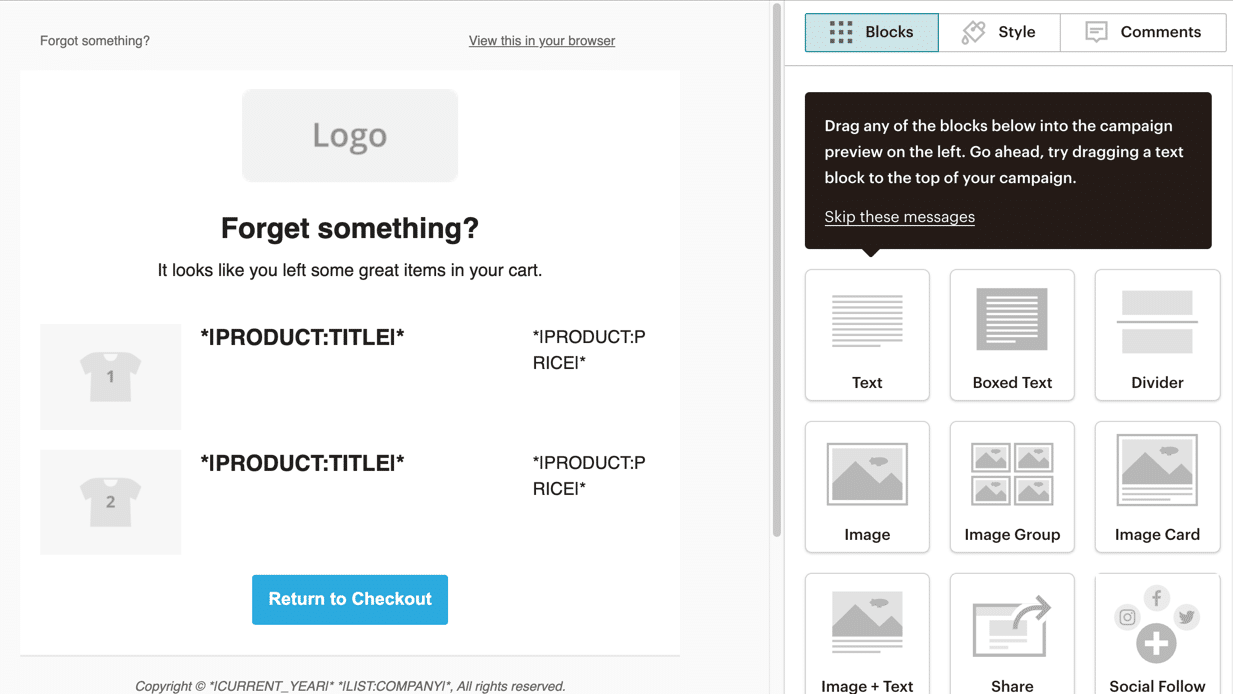 When you're done designing, go to the next page to confirm everything from the Sends To field to the Content is approved by Mailchimp and your review process.
Click on the Start Sending button to activate this automation.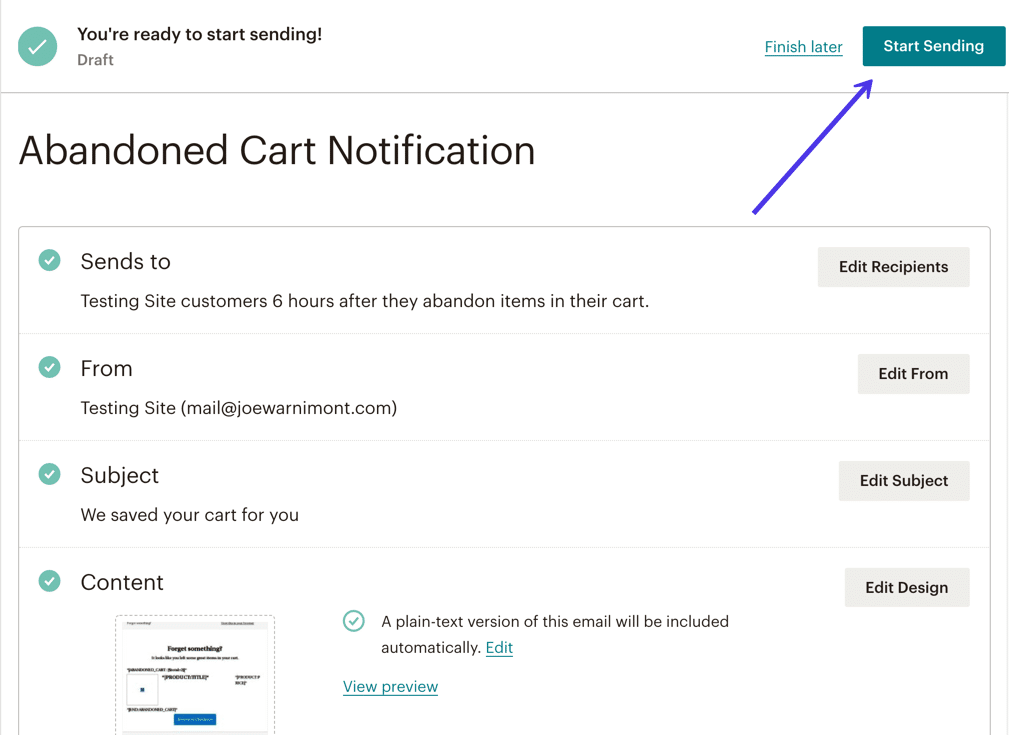 After all of that, your Abandoned Cart emails will begin hitting customer inboxes!
Best Mailchimp for WordPress Plugins for Added Functionality
If you've committed to Mailchimp to collect emails, send out newsletters, and potentially handle transactional messaging, you may find that you're looking to expand how Mailchimp works for your website.
As a popular email marketing system, you can find plentiful resources about Mailchimp and third-party plugins designed to add more features or integrations to the standard Mailchimp infrastructure.
These plugins still need Mailchimp to work, yet they're not necessarily made by the Mailchimp company or in line with the usual features you'd find on the Mailchimp dashboard.
You can already make email option forms, email newsletters, and other objects like websites, landing pages, and customer journeys. Still, the following Mailchimp plugins open up even more possibilities.
Here are some other Mailchimp plugins to consider. One or two of them might just help you gain some random feature you've wished Mailchimp had in the first place.
1. MC4WP
MC4WP is one of the most popular third-party Mailchimp plugins. It sells as a premium plugin for $59 per year, or you can opt for the basic free version.
Compared to the standard Mailchimp for WordPress integration, MC4WP boasts more advanced features for form styling, ecommerce integration, and user syncing.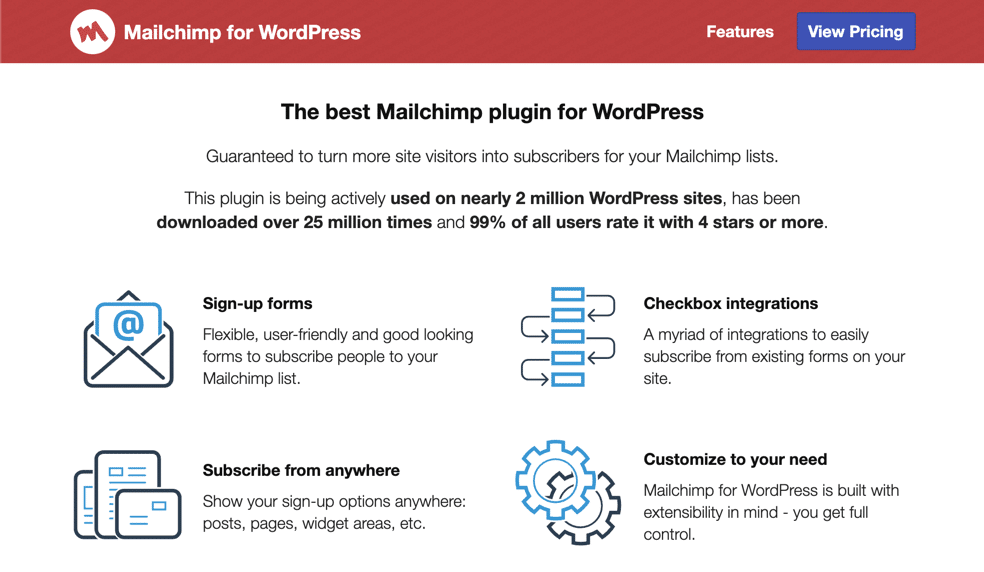 You can generate an unlimited number of forms, and work with the styles builder in the plugin to adjust any form element using a visual builder. There's no need to think about special coding since all aspects of the form are managed using visual control fields. A form preview appears next to the builder for you to get an idea of what it looks like.
In addition to that, MC4WP offers an incredible reports section with unique metrics for sign-in methods used by visitors, top forms on your website, and more. We also enjoy the improvements you can make to your ecommerce store, seeing as how MC4WP provides a panel to view exactly what each subscriber has bought from your store, along with how much revenue comes in from each email you send out to customers.
2. MC4WP: Mailchimp Top Bar

Made by the same Ibericode developers as the previous plugin, MC4WP: Mailchimp Top Bar does precisely what the name says. It integrates with the MC4WP plugin but provides the added functionality of giving you a beautiful top bar for grabbing email addresses right when people land on your website.
The top bar remains on every page of your site unless you decide only to have it shown in some areas. You can customize settings like the color of the top bar, the data collected, and the message that appears on the bar and Submit button.
3. Easy Forms for Mailchimp

The Easy Forms for Mailchimp plugin expands on what's already included in Mailchimp by allowing you to design an unlimited number of forms for your audiences — even multiple forms for the same audience. In Mailchimp, you only get one form design per audience, so the Easy Forms plugin opens up more opportunities for creativity.
The plugin works with shortcode and block modules for you to include your forms on pages, posts, and widgetized areas. We also like that it offers an alternative to the default Mailchimp form designer, seeing as how some users may prefer the design in this plugin, or maybe there are some templates or fields that fit your brand better.
Overall, all required is to insert the Mailchimp API Key in the plugin to make the connection. You receive a visual form builder with options for merge tags, required fields, and labels for all of those fields. There's also an excellent statistics module within the plugin for looking at how your list is performing.
4. MailOptin

The MailOptin plugin integrates with several email marketing services such as Mailchimp, Hubspot, and AWeber. The Mailchimp feature, in particular, has tools for building forms, generating pop-ups, and sending email newsletters right from your WordPress dashboard. Therefore, you don't necessarily have to log into your Mailchimp account to complete this process.
The primary advantage we see from MailOptin is the improved templates for elements like forms and lead generation boxes. You can easily add forms throughout your website, including ones that show up in the ecommerce shopping cart, then customize everything from the fonts to the colors, and the headlines to the effects that occur when the forms appear. We would argue that the forms from MailOptin are a bit more modern than the basic forms you receive with Mailchimp. We also like unique settings like AdBlock detection, referrer detection, and time on site triggers for pop-up forms.
5. WooChimp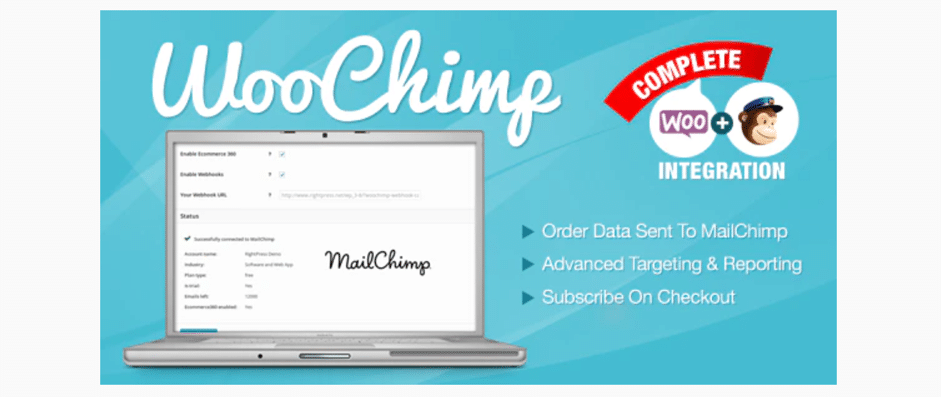 WooChimp is a premium plugin currently listed at $59. It offers similar features as the Mailchimp for WooCommerce plugin but with a few additions. For example, this plugin lets you automatically add users to groups, configure webhooks, and implement forms anywhere on your website using widgets and shortcodes. There's also some fancy campaign-to-order tracking to understand better how your email marketing campaigns affect sales.
6. Contact Form 7 Extension for Mailchimp

Some WordPress users love the Contact Form 7 plugin because it's free, simple to use, and you can maintain sleek, beautiful forms without much trouble. Therefore, it makes sense to see a Contact Form 7 Extension for the Mailchimp plugin that allows you to use Contact Form 7 with Mailchimp.
Much like Contact Form 7, this extension is entirely free. You can sign up for premium features, but that's if you need additional support for birthday fields, Mailchimp categories, or unlimited custom fields.
In the free version, the plugin integrates perfectly with Contact Form 7, and you gain support for quite a few custom fields, unlimited contact forms, and the option to choose between double and single opt-ins.
It's not much different from making a form through Mailchimp, or any other form plugin, but we know Contact Form 7 is one of the most popular plugins for creating forms, so it's wonderful to see there's a Mailchimp integration.
7. Featured Images in RSS for Mailchimp & More

The Featured Images in RSS for Mailchimp plugin comes in handy if you're having trouble generating featured images in your site's RSS feed. Sometimes this issue happens due to a problem with your theme, a plugin you have installed, or simply because the RSS feed wasn't configured correctly.
Regardless, here's a plugin that adds a workaround to all image issues and gives you more options for customizing featured images in your RSS feeds. After that, you can connect the RSS feed to Mailchimp so that emails get sent out whenever you publish a new blog post. The plugin lets you adjust settings like the padding, position, and image size for all featured images. Not only that, but WooCommerce integrates with the plugin to instantly add product photos to RSS feeds if necessary.
Summary
Setting up Mailchimp for WordPress offers several benefits. It's free to get started (and for up to 2,000 subscribers). You can typically integrate with WooCommerce using a quick copy and paste. Mailchimp also offers an onslaught of ecommerce automation for boosting revenue.
In addition, Mailchimp features some of the best design features you can find from an email marketing program. This way, your business looks professional, yet you don't need experience with coding to make that happen.
Have you ever used Mailchimp for collecting email addresses on your WordPress site?