If you're wondering how to create a photography website that will capture your potential clients' attention, you're in the right place.
With over 93% of consumers using the internet to find local businesses and service providers, it's one of the best things you can do for your photography business.
But it's not easy to stand out when there are millions of other photographers promoting their work already. You need the right design and approach.
In this article, we'll cover over 20 award-winning photography website examples, distill those into a few core lessons, and show you exactly how to create your website step by step.
20 Cutting-Edge Photography Website Examples
Let's take a closer look at 20 photography websites that exemplify how photographers should position themselves online.
1. Brandi Toole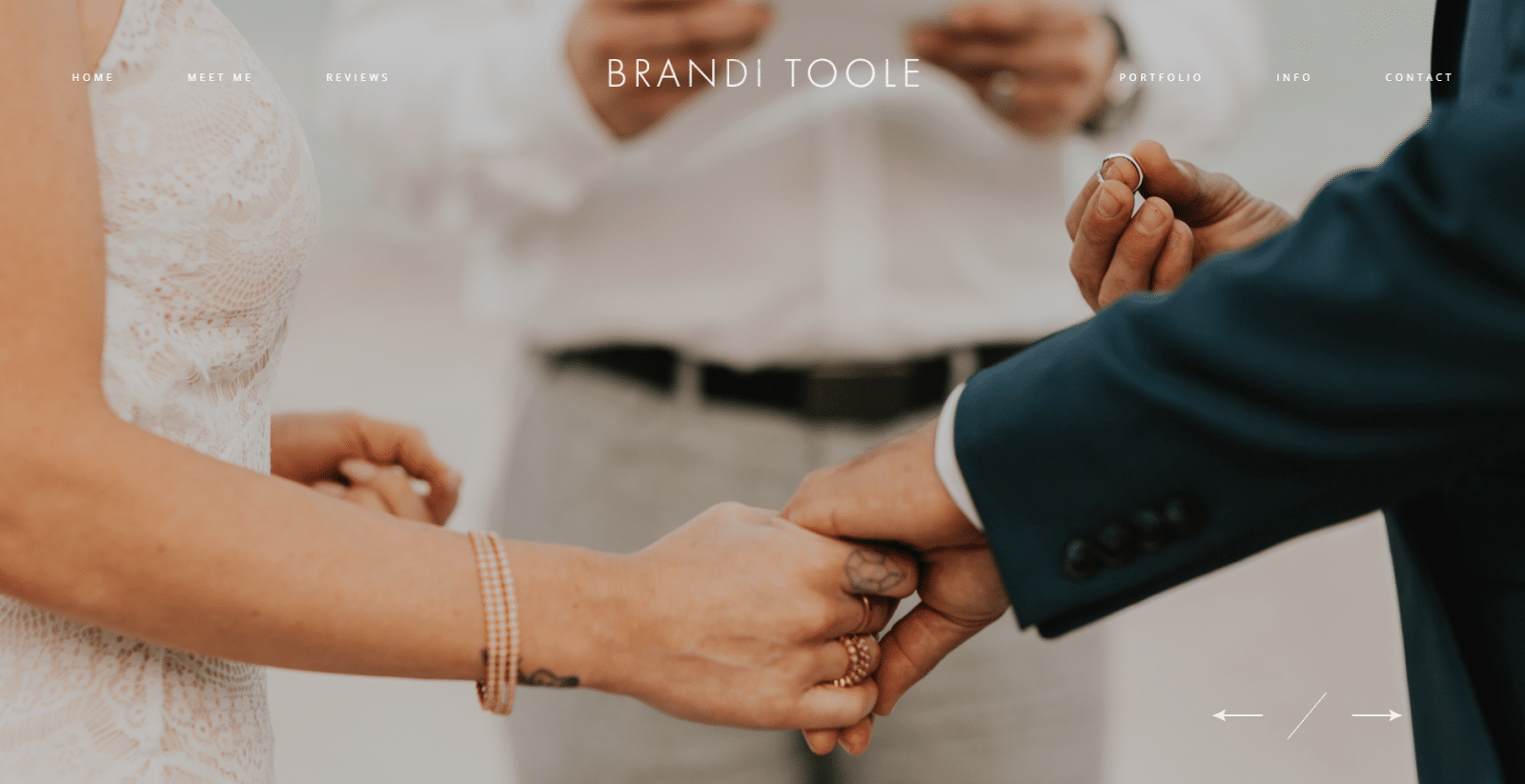 Brandi Toole is a wedding photographer from New York, and her website is the perfect example of letting the work speak for itself.
The pictures are front and center, with strictly essential navigation and a sleek, name-only header. The image choices immediately highlight Brandi's specialty, which is crucial when reaching your target audience.
2. Alessandro Romagnoli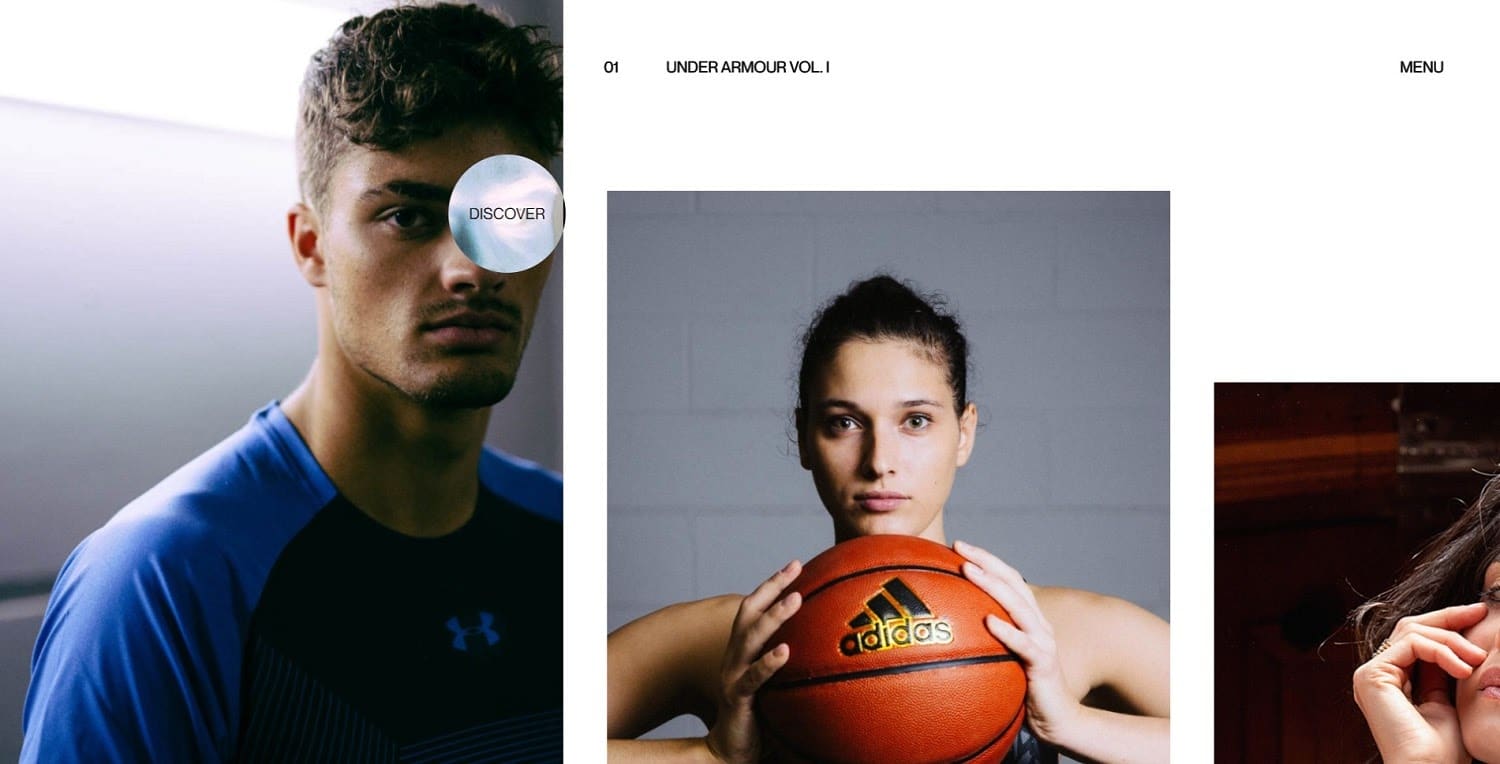 Alessandro Romagnoli is an Italian fashion and lifestyle photographer. The site highlights his work, with a unique user experience for the portfolio. Hovering over a photo reveals the negative, and you drag pictures diagonally rather than just left or right.
3. Nordica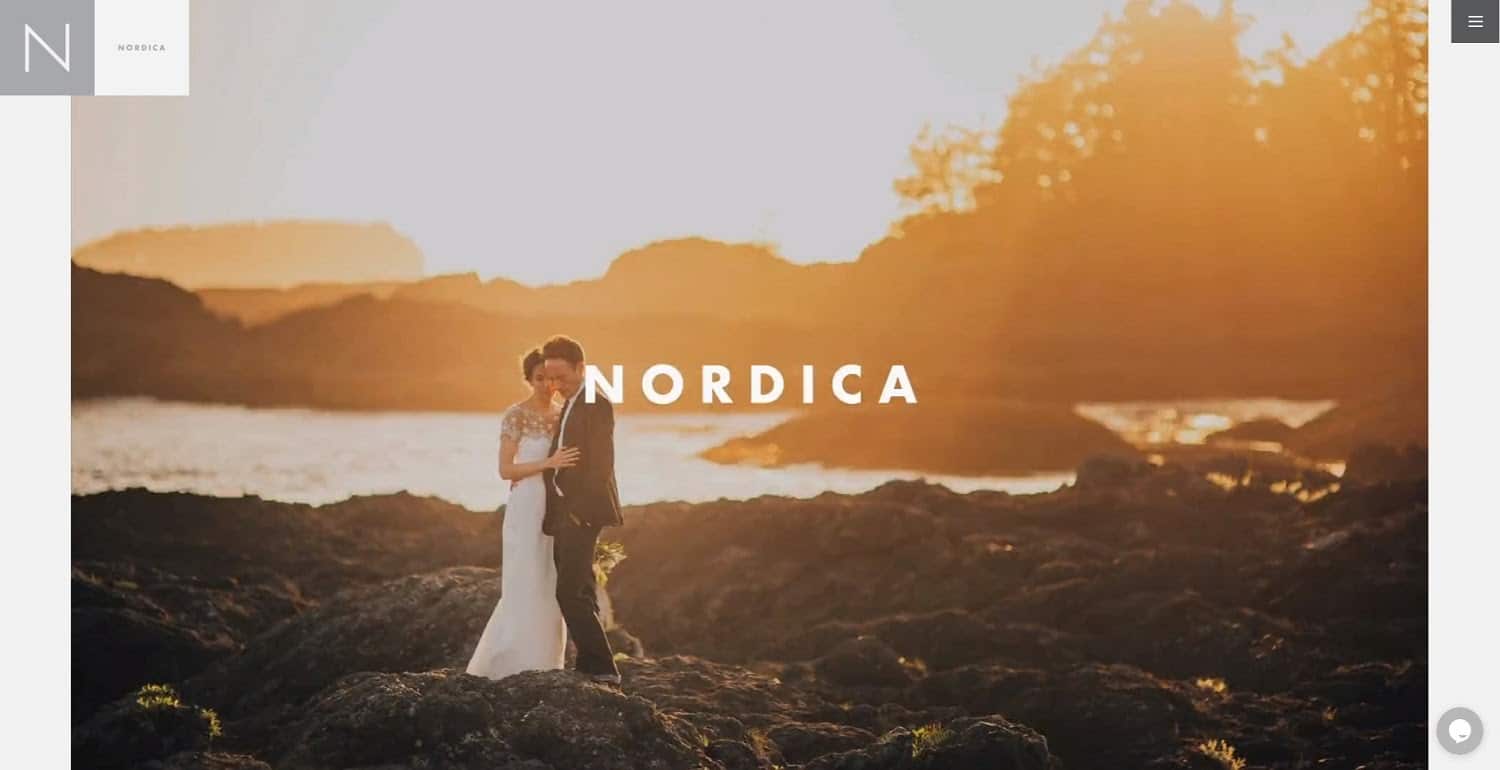 Cole and Jakob, the wedding photography duo at Nordica, use a showreel to entice first-time visitors and potential customers.
Their story page is also inspirational, telling visitors a story of how they came to be.
4. Ruud Luijten
Ruud Luijten specializes in nature and landscape photography from his home base in Antwerp. His site shows how powerful animations can be when establishing a first impression.
5. Clement Merouani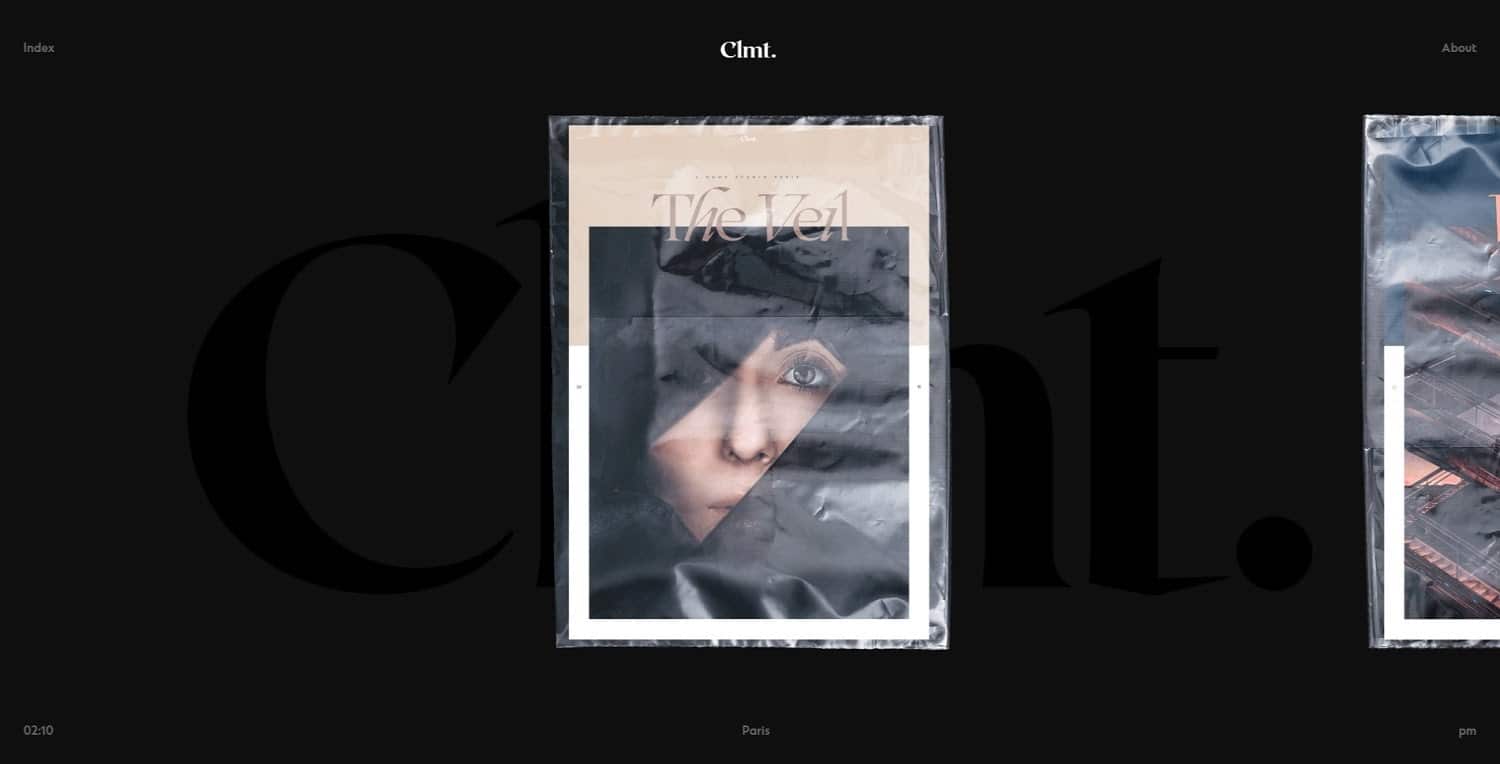 Clement Merouani is a photographer and art director based in Paris. He perfectly highlights the type of work he does by showing each project as the cover of a magazine.
This site is another example of how animations can contribute to a unique experience (but only with a fast enough host that doesn't make their site take forever to load).
6. Lieben Photography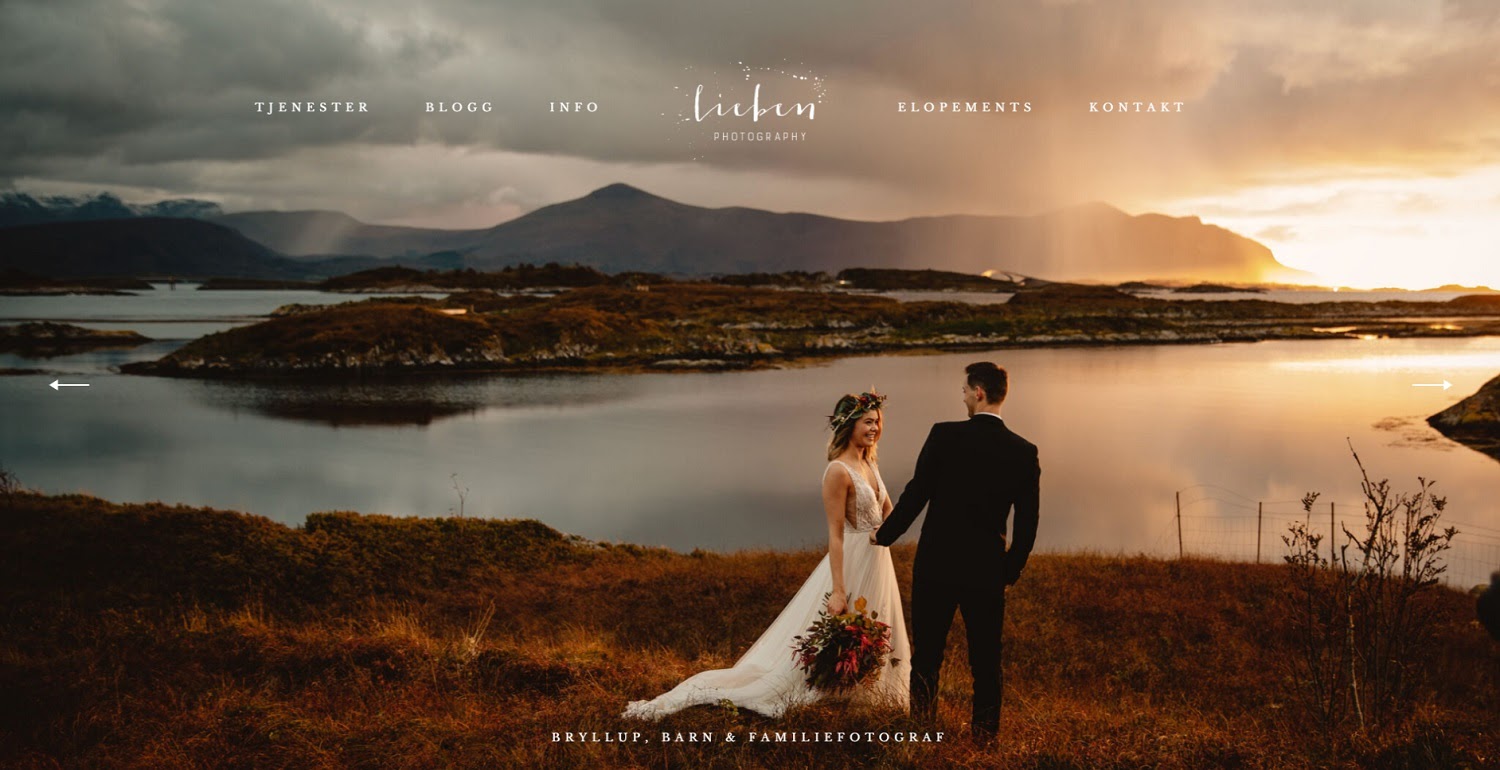 Lieben Photography is run by a Norwegian wedding photographer who specializes in scenic pre-wedding shoots.
The website's simple design shows how the most crucial part of any photographer's web presence is a compelling picture collection.
7. Mack Eveland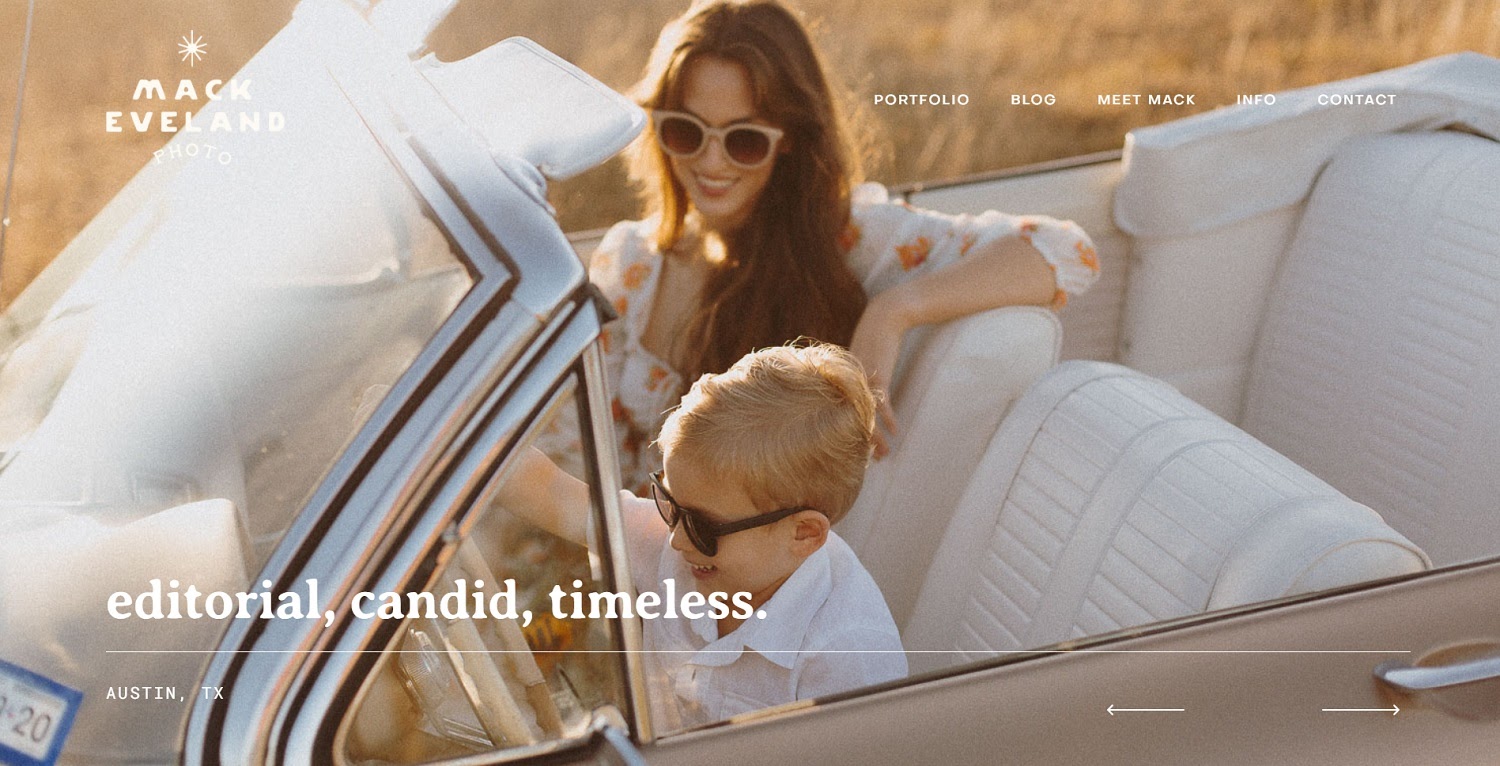 Mack Eveland is an editorial photographer based in Austin, Texas. Her site's front page features an auto-playing full-screen gallery, with a carefully picked selection of shots.
She also highlights the type of photography she does (editorial) and the locations to appeal to potential clients.
8. David William Baum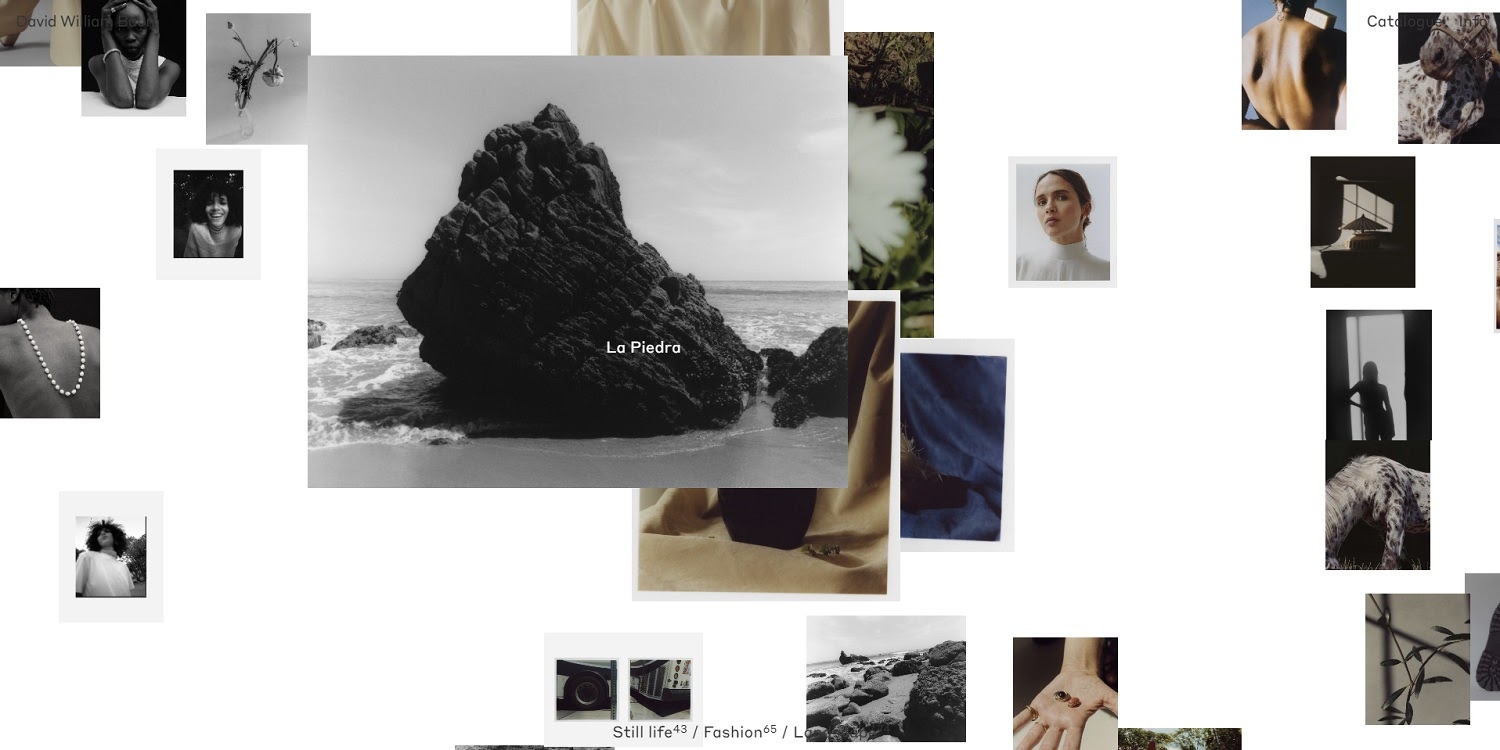 David William Baum's website is an interactive gallery that utilizes lots of white space and an animated interface that can cover different photoshoots.
It's an inspiring example for photographers who specialize in more than one area of expertise.
9. Dolly Ave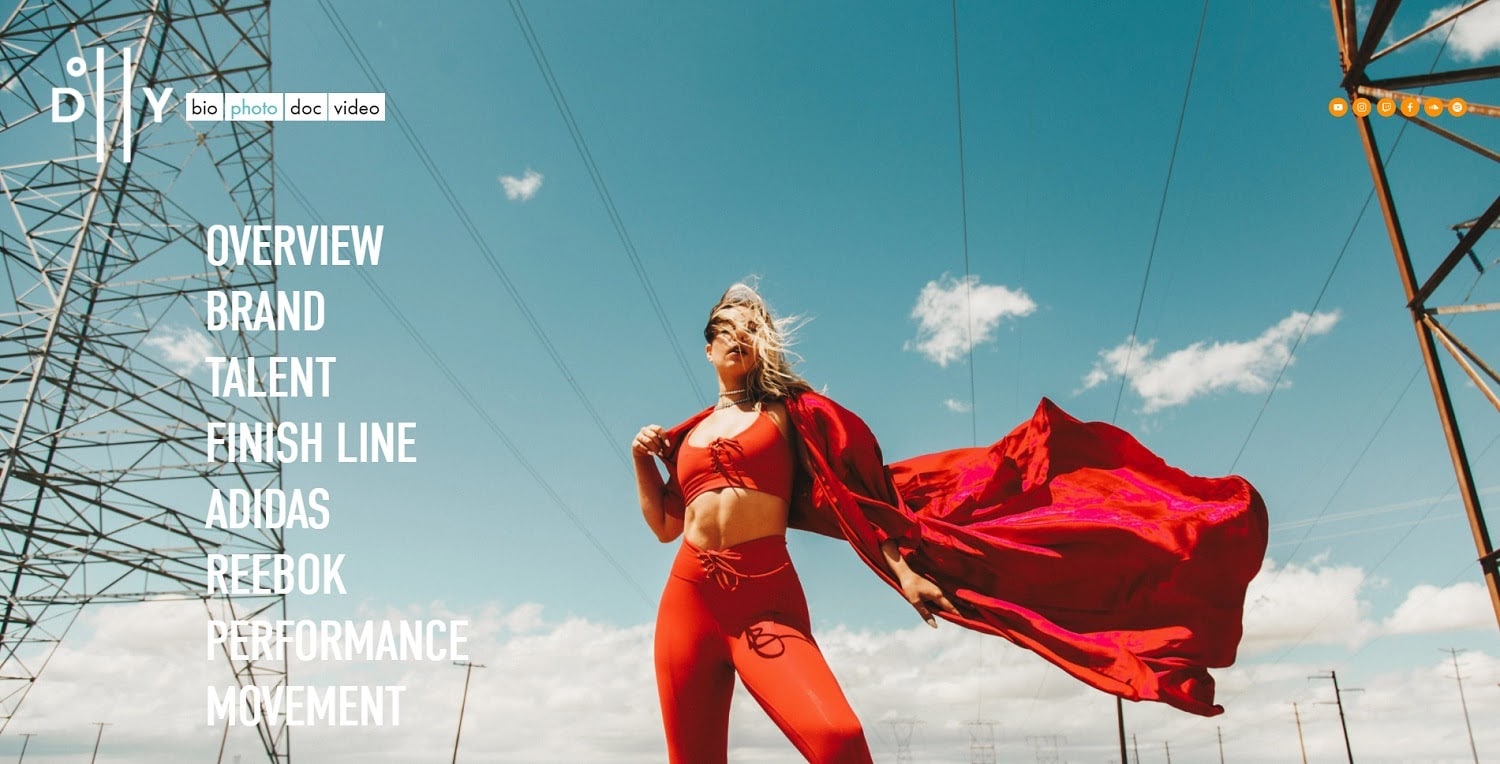 Dolly Ave's website is a good lesson in branding power. What a powerful first impression.
The chosen photo highlights the unique style of her shoots. With text, she highlights big brands from past projects.
10. Robert Clark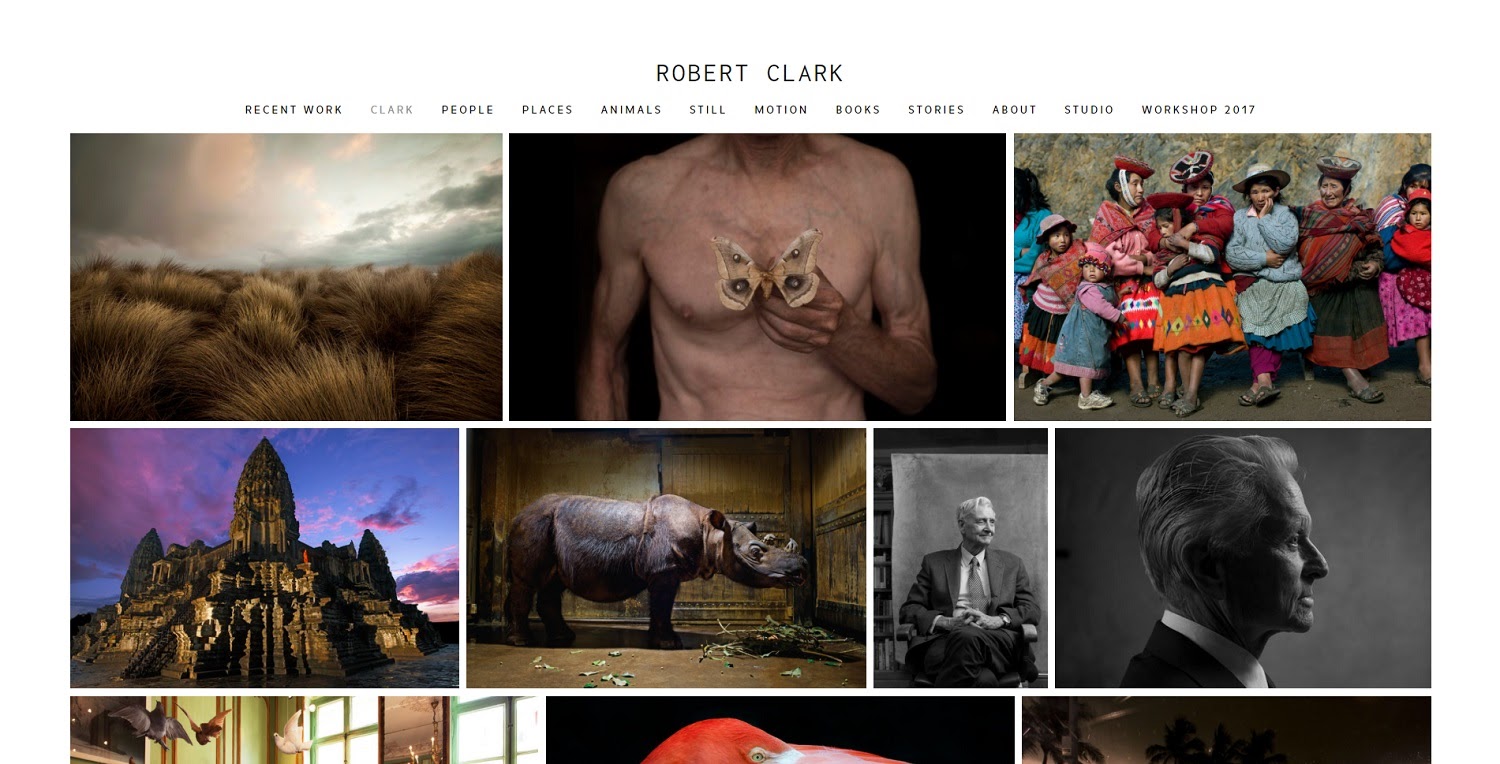 Robert Clark is an editorial and advertising photographer based in New York. With the right photos, even a simple grid gallery can deliver a powerful impression.
There's no better way to showcase your photography portfolio than right on your home page.
11. Ignacio Palacios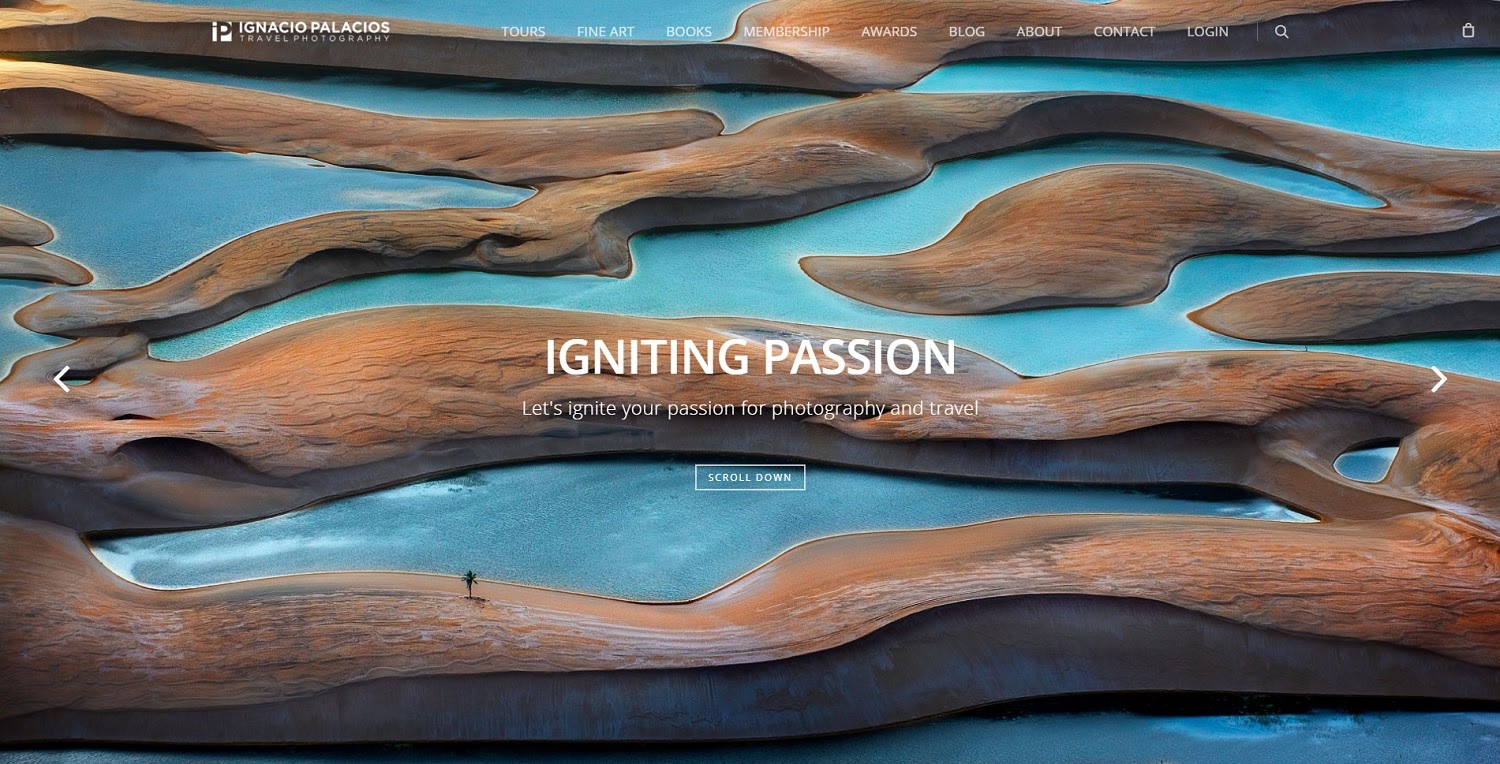 Ignacio Palacios is a unique example for travel photographers because he showcases a different branding and business strategy through his website.
Instead of catering to magazines and other potential clients, the website focuses on enticing and teaching beginner photographers, and promoting photography tours.
12. Clara Balzary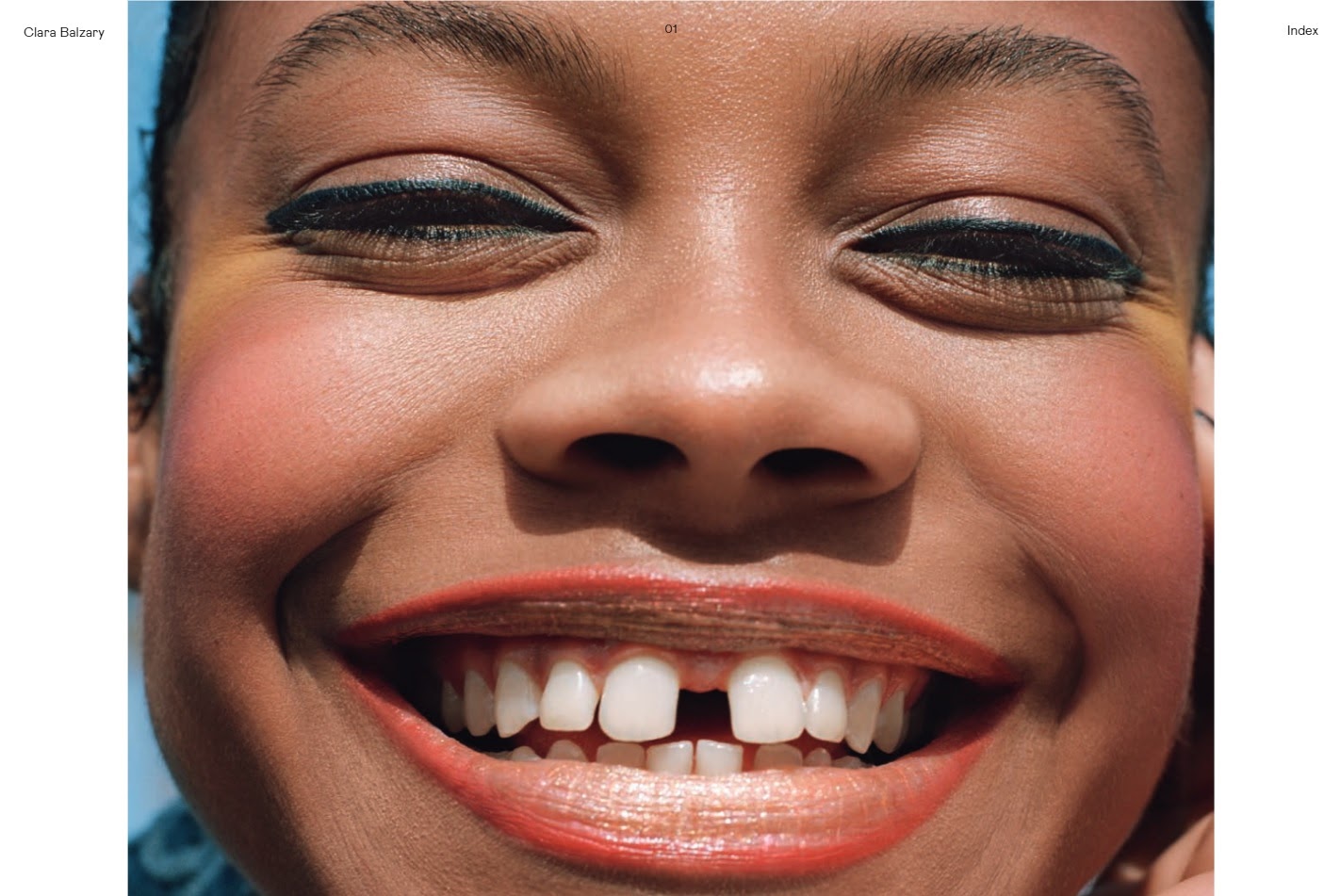 A picture is worth a thousand words, especially when it's a portrait or fashion shoot. Clara Balzary's website is a perfect example of this.
It has a contact page with client names, but apart from that, the whole site is a series of pictures.
13. Haris Nukem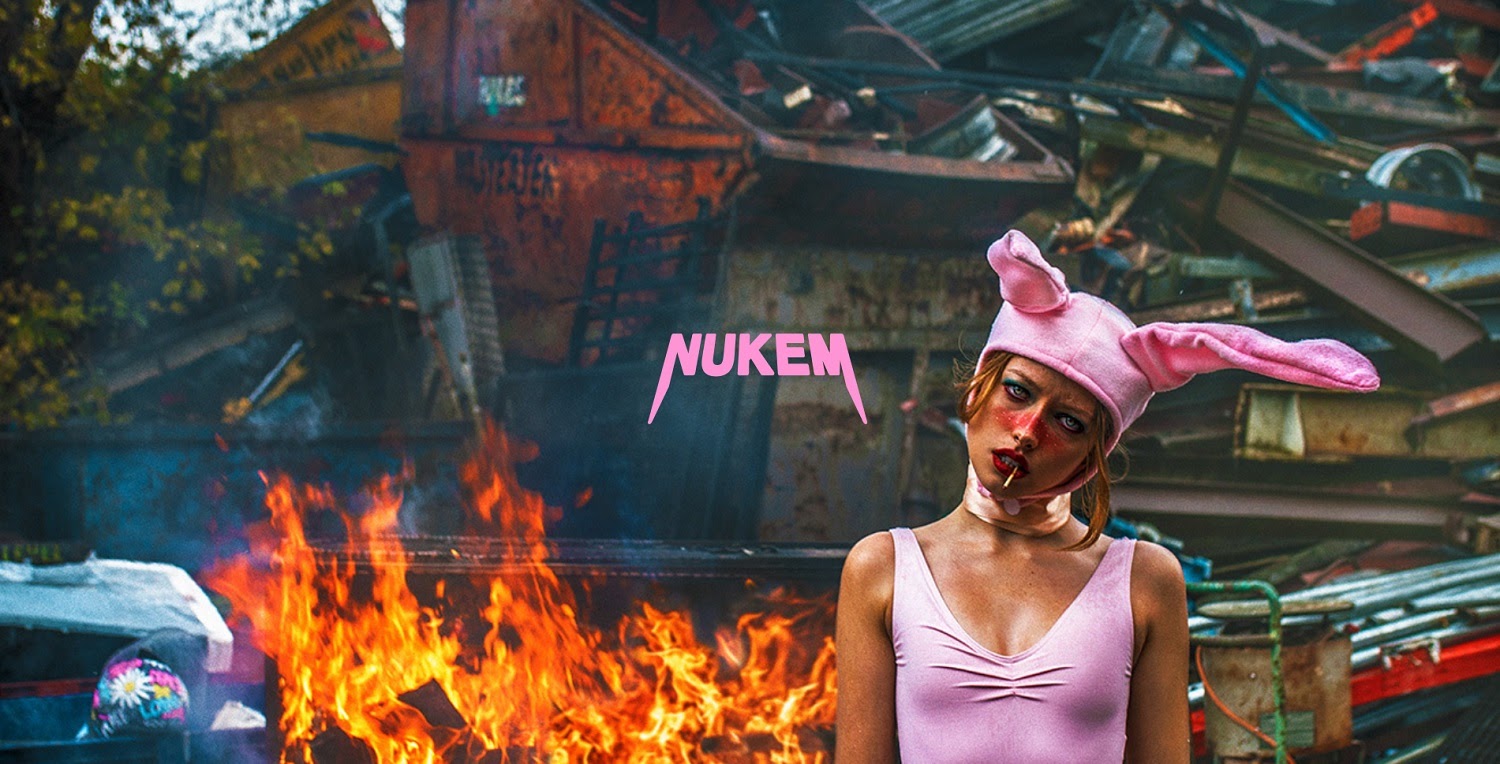 Haris Nukem is a photographer and visual artist based in London, UK, who has no problem conveying his unique style in a single photo.
While you should put your best foot forward on your website, you should never try to hide your style or who you are. Trying to blend in is the easiest way to fail to stand out.
14. Chris Burkard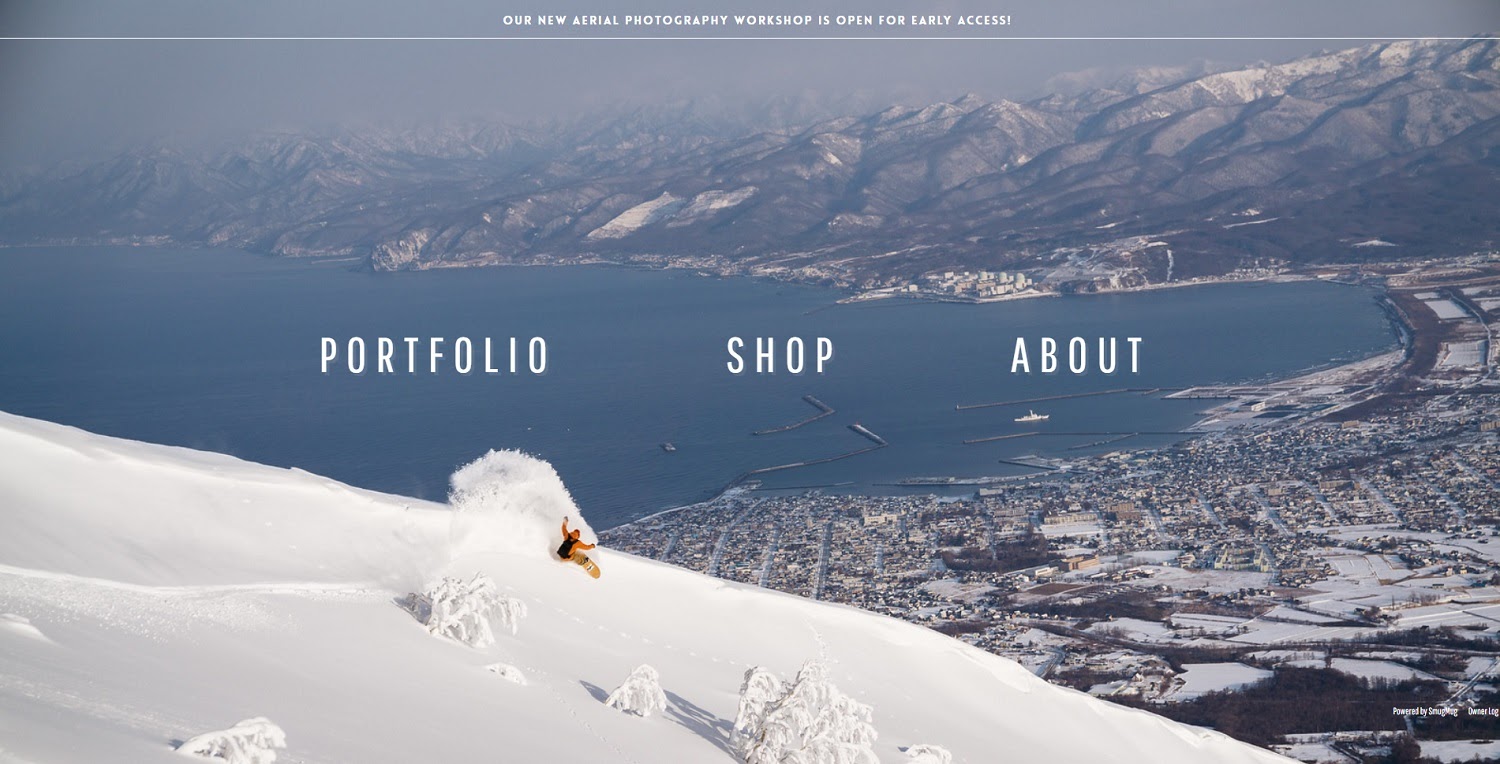 Chris Burkard is an explorer and travel photographer who does shoots and trips in very remote locations.
For adventure photography websites, showcasing that you can capture exciting moments is crucial. Chris does this flawlessly with his chosen photo.
15. Andreas Gursky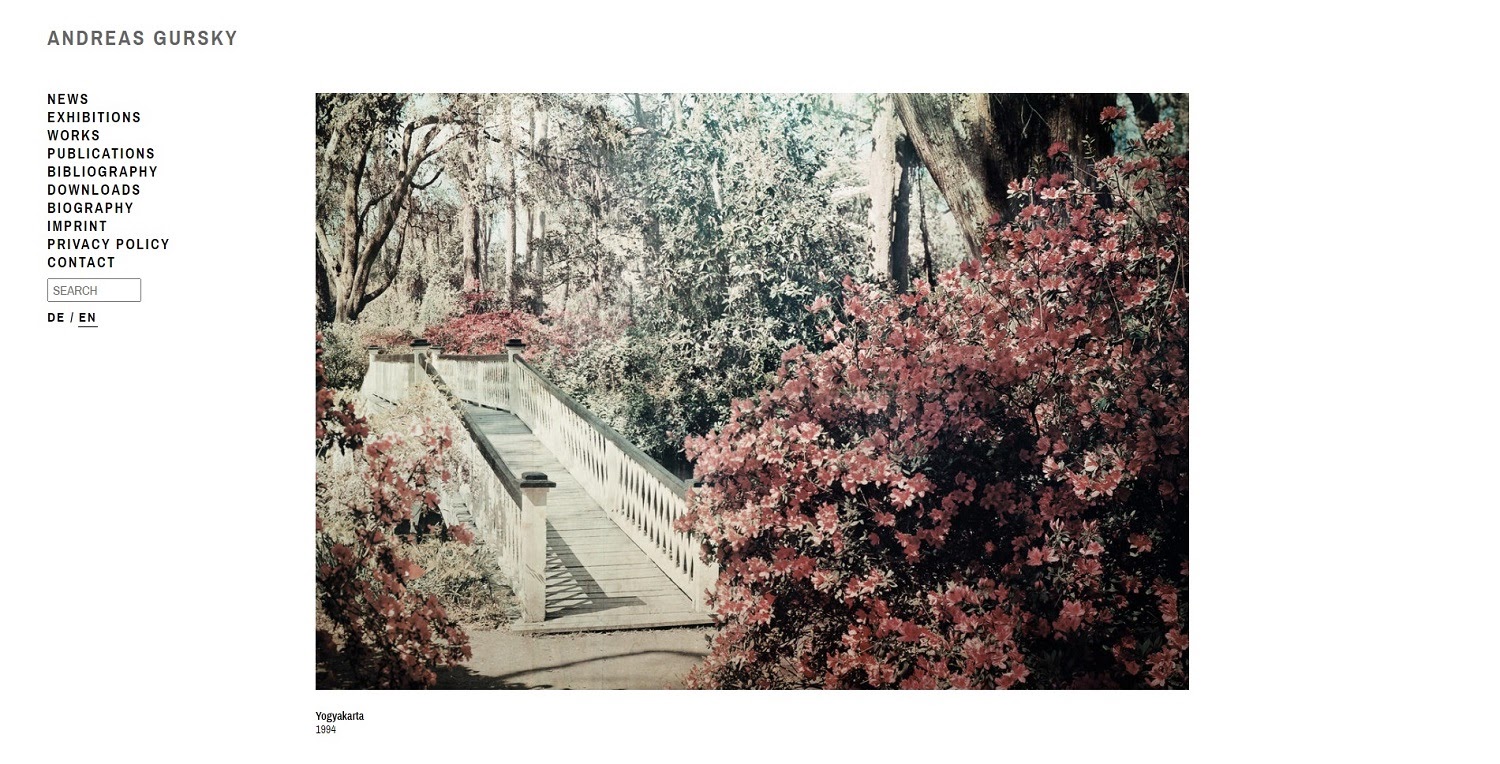 Andreas Gursky is a German photographer and artist. Instead of one carefully picked photo, you'll see a single random selection of his previous works every time you visit the site.
16. Levon Biss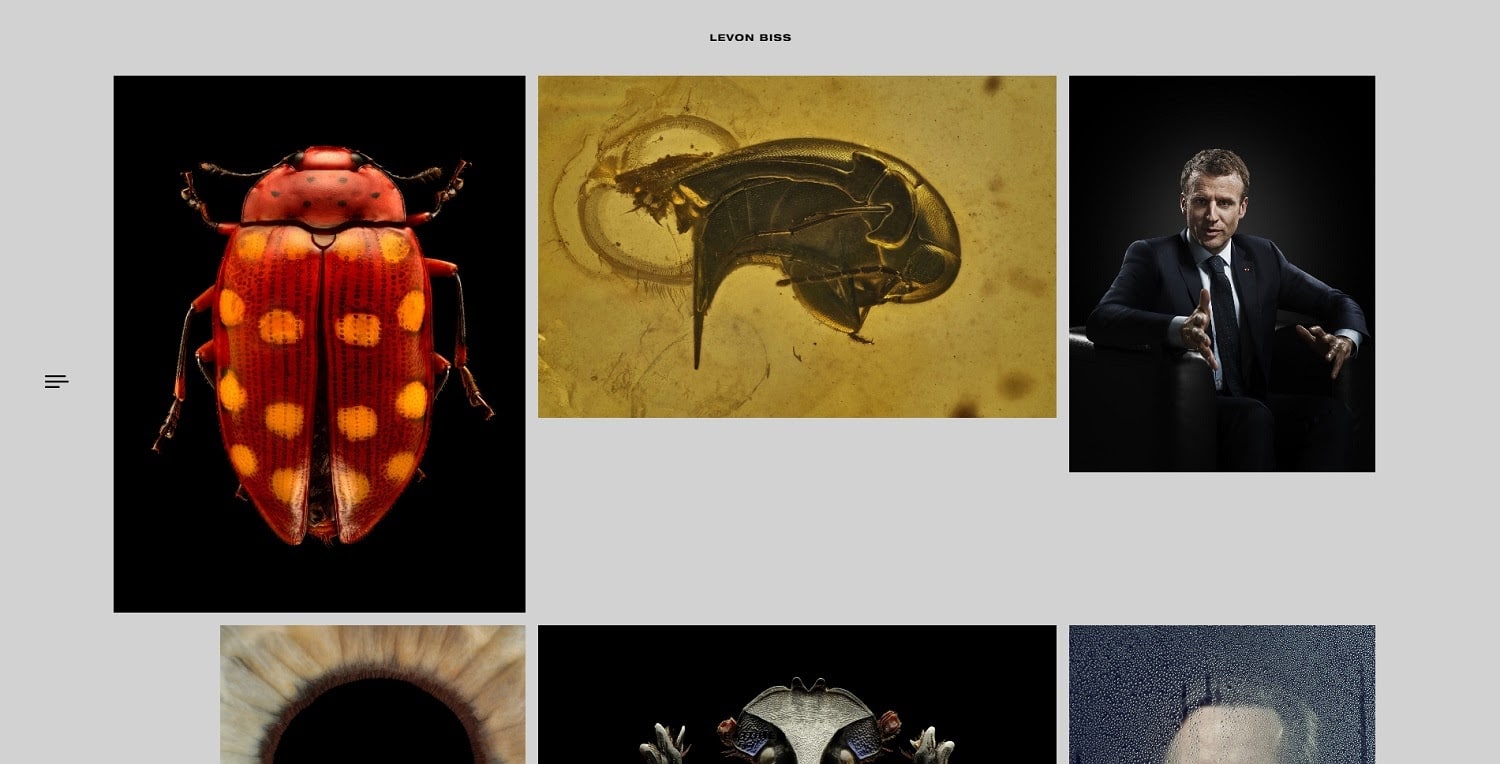 Levon Biss is a portrait photographer—for both people and bugs—and his website showcases his unique skill set with a varied portfolio.
17. Sarah E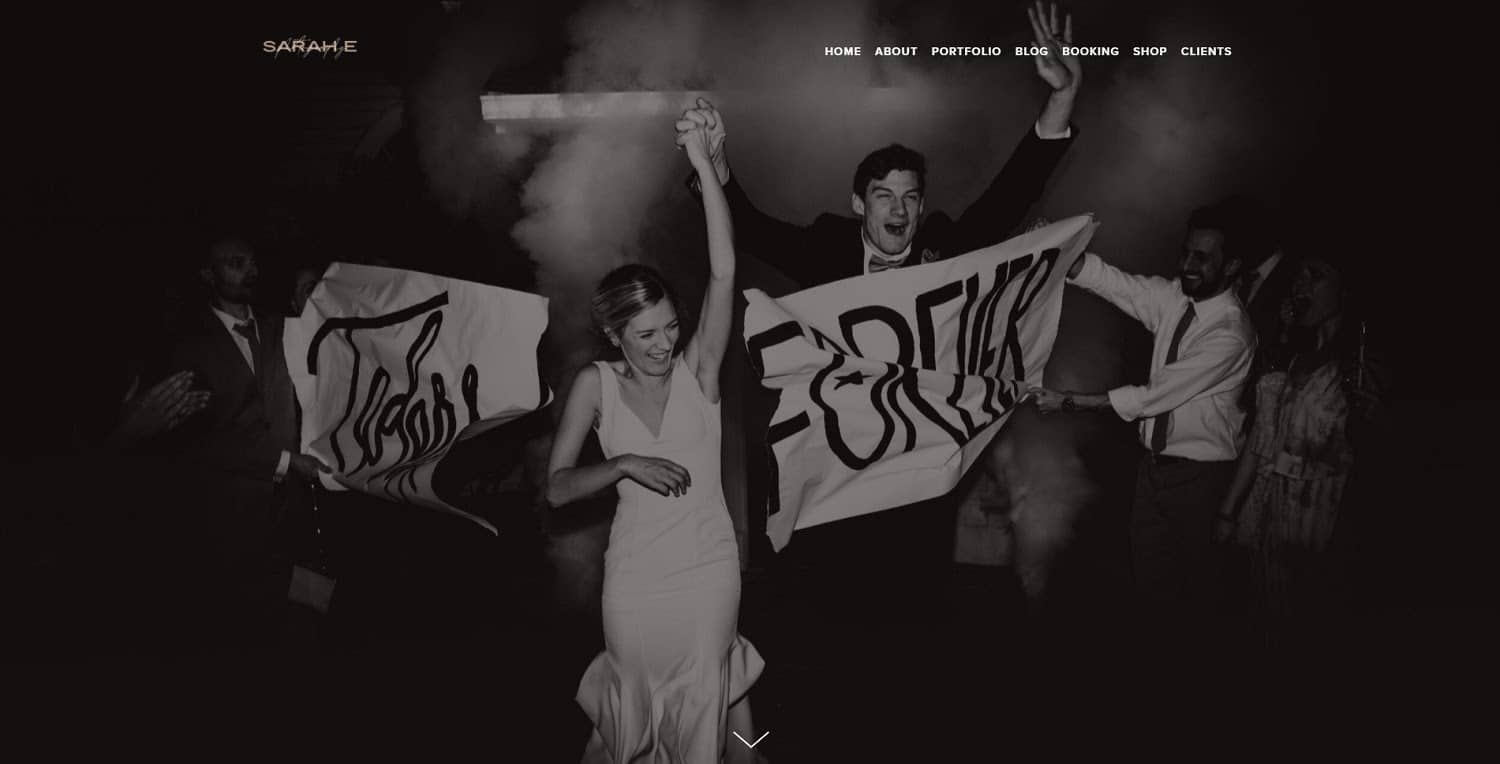 Sarah E is a Colorado-based wedding photographer with a unique, documentary-inspired style.
While she doesn't shy away from a perfectly staged shot, like above, her gallery highlights her authenticity.
18. Kristen Mittlestedt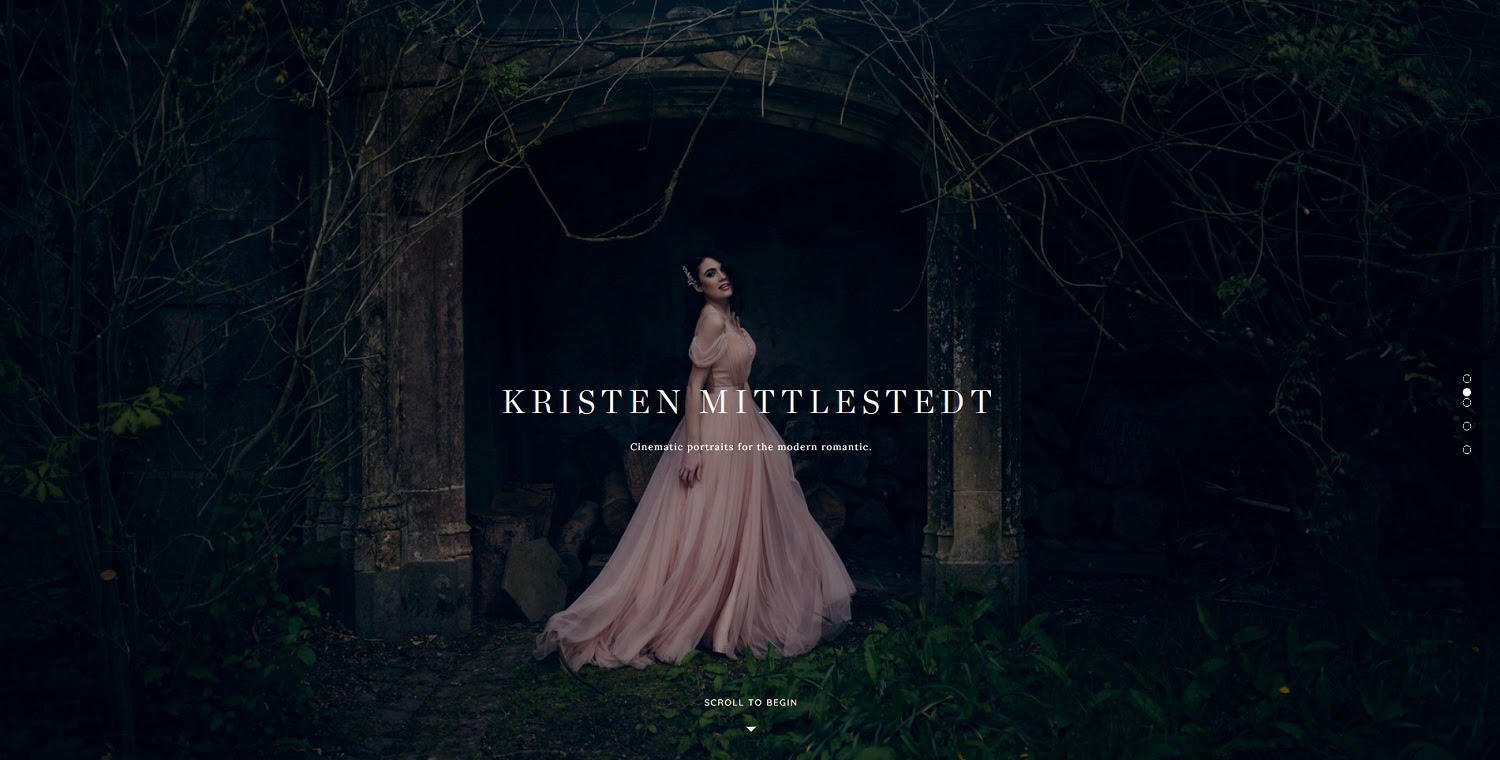 Kristen Mittlestedt isn't just another wedding or portrait photographer. Her cinematic style is highlighted everywhere on the website, from the simple scroll gallery to the highlighted pictures.
19. Alexey Titarenko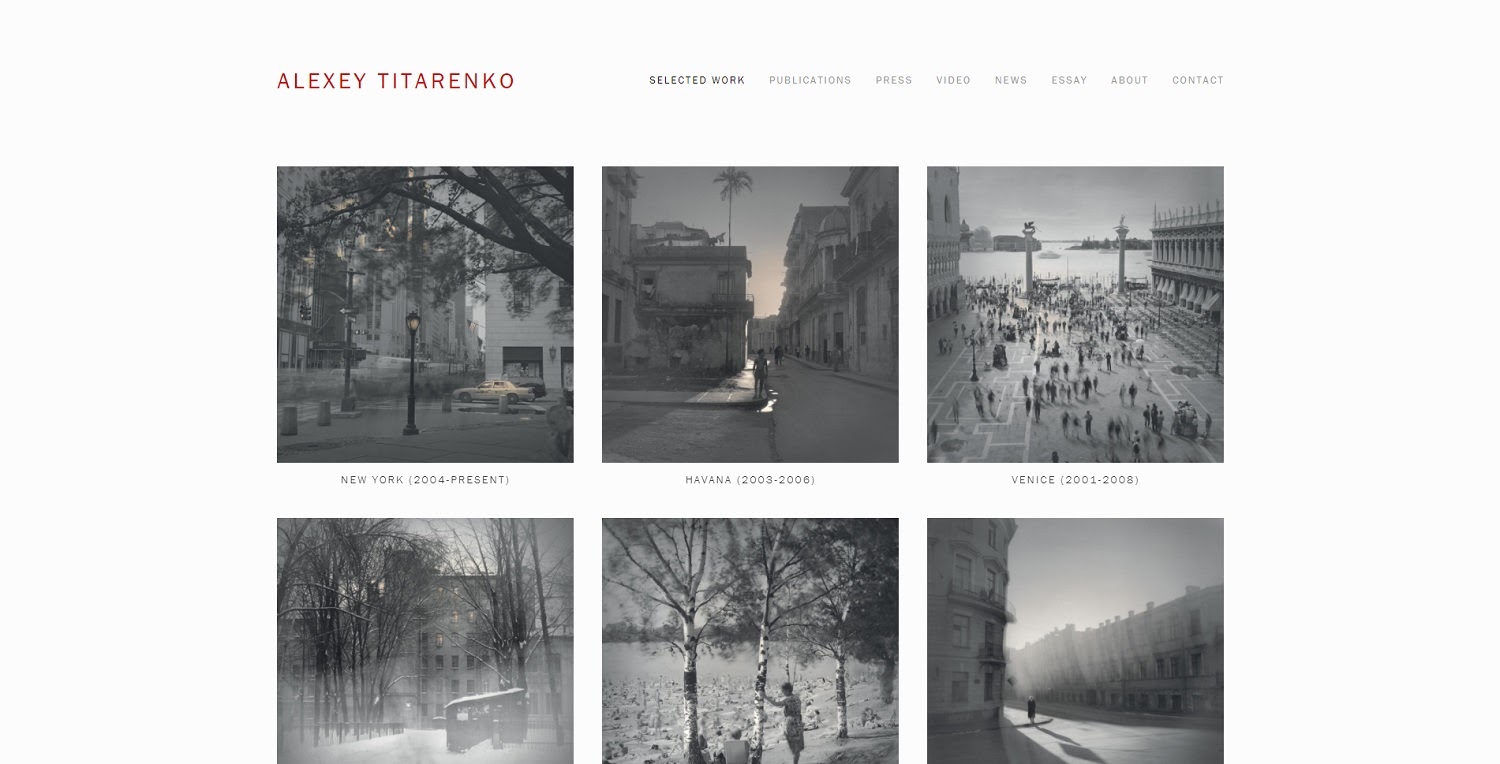 Alexey Titarenko is one of the most successful photographers within the modern art scene. His website shows the value of white space.
Your gallery doesn't need to use jQuery to force everything into a mixed grid. With the right proportions and chosen pictures, you can create an organized and compelling layout with less rigidity.
20. Tim Hawley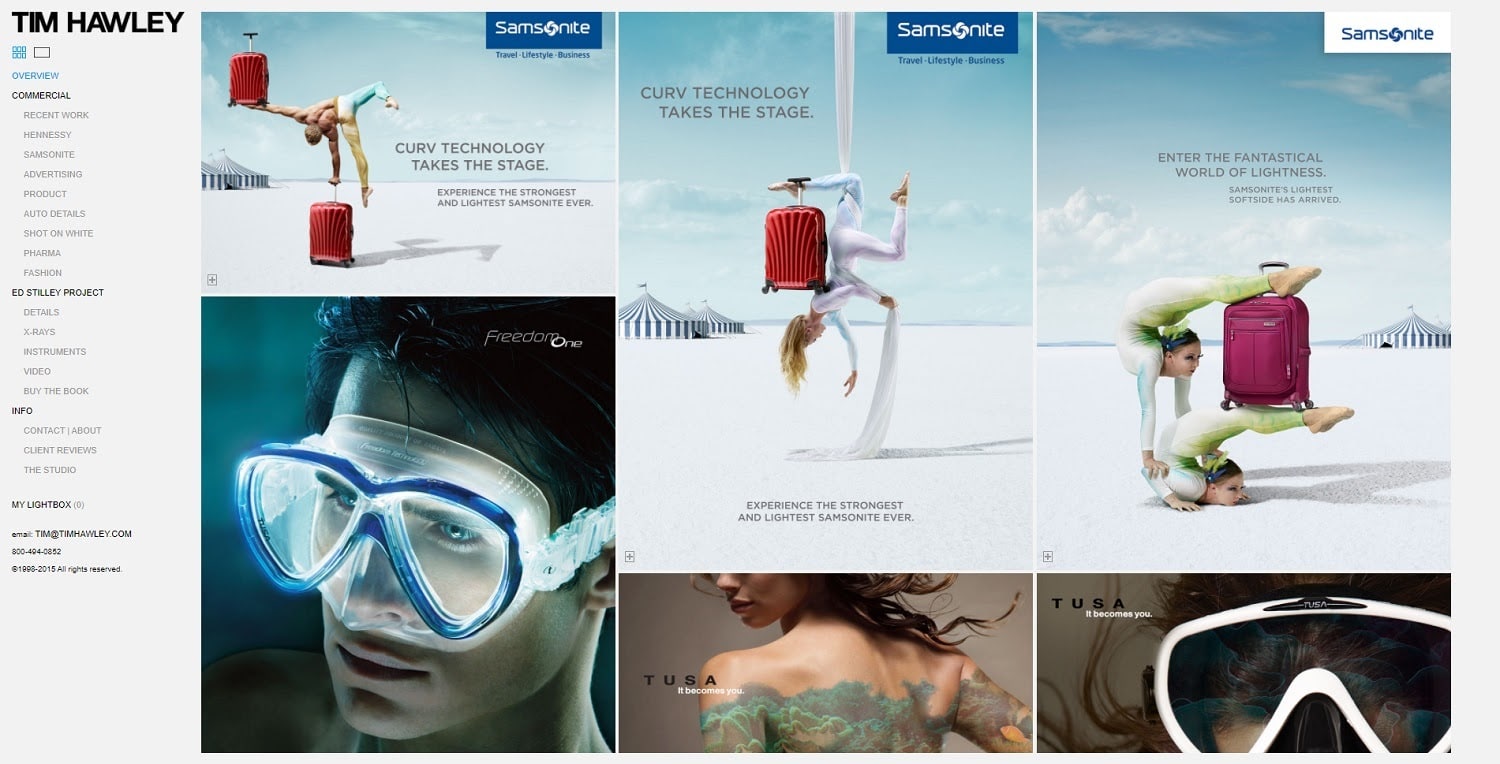 Tim Hawley is a commercial photographer and visual artist. His website shows unique creativity in product photography, highlighting his products in intriguing ways.
By including the logos of the companies he's worked with, he's also adding powerful social proof for potential clients.
7 Essential Photography Website Design Principles
If you paid attention to the sites above, you might already have noticed a few of the following founding principles.
1. Let Your Work Speak for Itself
Your pictures should be front and center on your website.
Your image choices should also reflect what services you offer and the type of customer you want.
Bear in mind how Clement, a fashion photographer, highlighted his work with magazine covers or how wedding photographers show unmissable emotional moments from weddings.
2. KISS: Keep It Simple, Silly
Don't try to create a complicated design to highlight your artistic prowess. As a photographer, the best thing you can do is keep the design sleek and simple.
Stick to a premade template or theme for best results.
3. Use Your "About" Page to Sell the Experience
Your "About" page shouldn't primarily be about your dog (unless you're a pet photographer) or your unusual hobbies.
Use it to explain why someone should choose you as their photographer. Show your experience or philosophy about your work, and illustrate what they can expect as clients.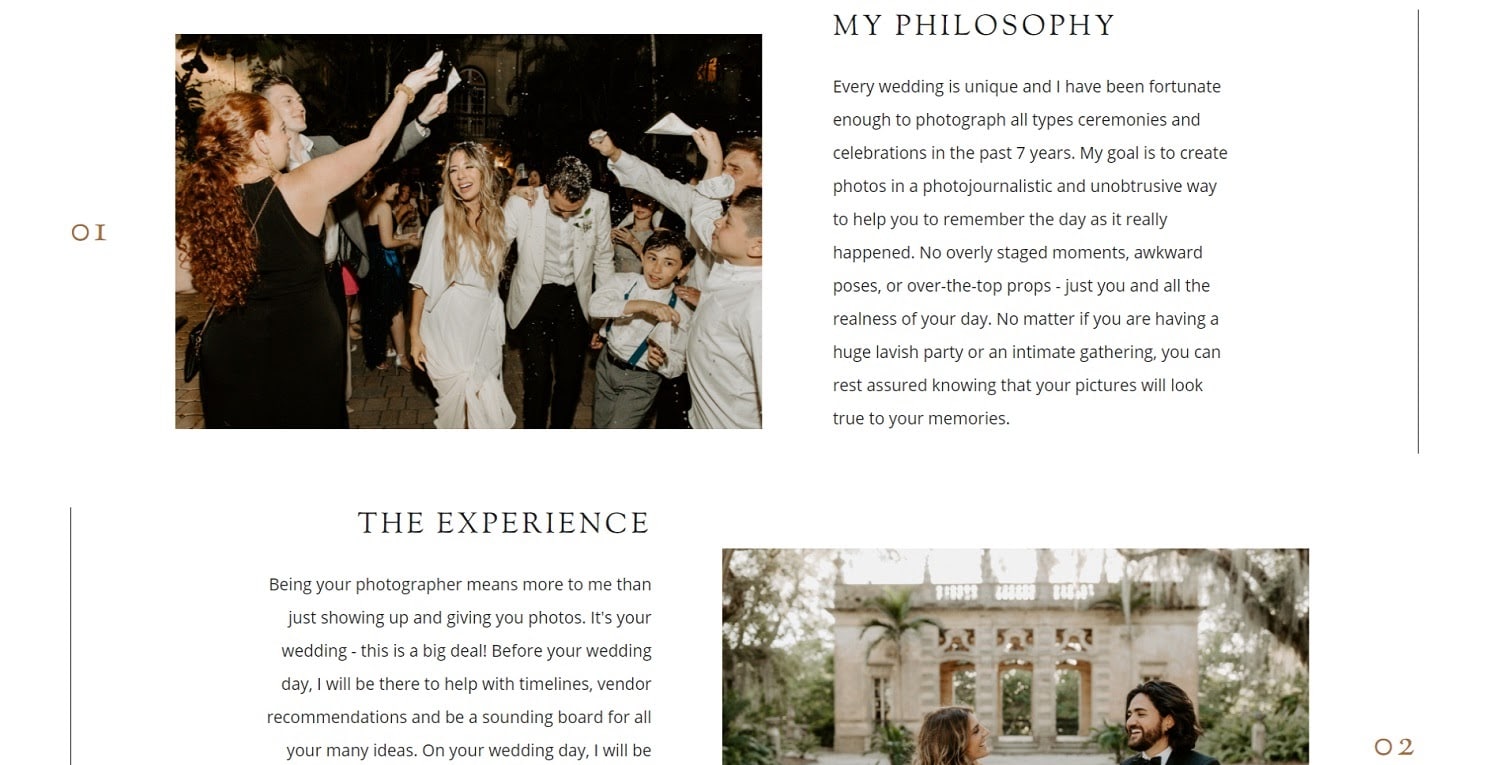 Brandi Toole does a great job here. Her "About" page covers her philosophy and the experience of working with her. Aim to emulate this.
4. Clear Navigation
Keep your navigation menu clear and concise. If users can't find the page they're looking for, they will leave your website and never come back.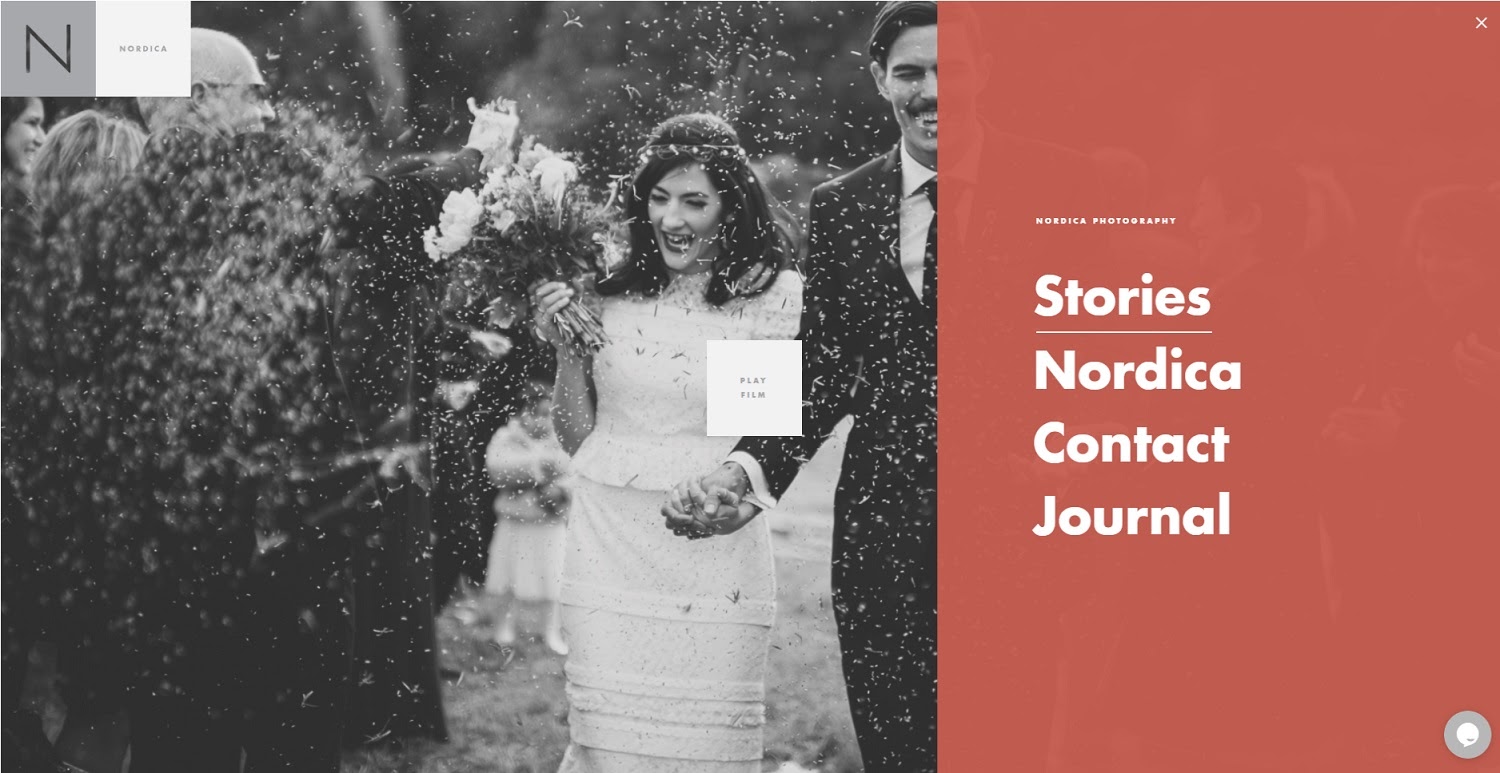 This example from Nordica highlights the basics: an expandable menu with click links to the "Portfolio," "Contact," and "About" pages.
5. Start With the Client
When picking pictures and creating the design for your website, always start with a potential client in mind.
It shouldn't be about your ego or creative drive, but what resonates with your ideal client.
6. Don't Try to Reinvent the Wheel
If you're not a web designer or developer, you shouldn't try to start from scratch. Instead, rely on existing tools like templates and plugins to help you build the site you need.
7. Make It Easy to Contact You
Consider why you're creating a website in the first place. To build awareness and get in touch with potential clients, right?
That means that an easy and obvious way for interested users to contact you is essential for success.
You should have at least one of the following methods highlighted on your website:
Contact form where visitors can reach you
Phone number (for example, a VoIP redirect number, so you don't share your private number)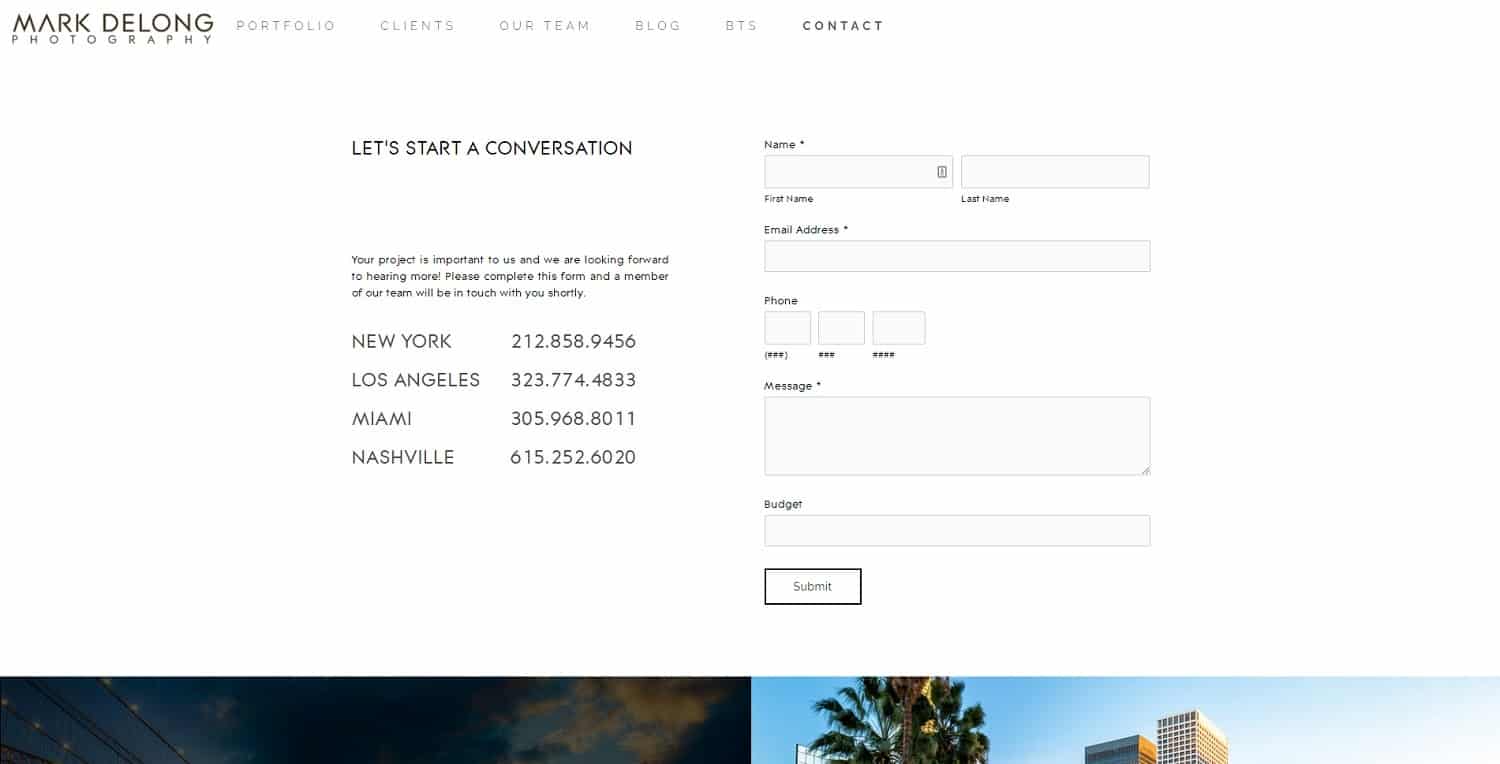 Mark Delong's website has a good Contact page. It features a contact form, along with numbers to all of the local offices.
Of course, if you're a one-person shop, you don't need multiple phone numbers.
How To Create a Photography Website
There are many ways to create a photography website. You can build it with static HTML and CSS, use a free service, or get hosting and build the site using a CMS (Content Management System).
What Is the Best Way to Build a Photography Website?
For our money, self-hosted WordPress is the best way for a photographer to build a website.
Why?
Full content ownership and control: you maintain full rights to all your content (unlike a website builder).
Usability and features: drag-and-drop content creation, and full customization of your website's look and experience.
Extensibility: thousands of plugins (including hundreds of photography-related ones) to help you deliver the experience you want.
Professional setup for a penny: choose from hundreds of cheap and free professional templates and plugins.
Better site management: Easy to backup, migrate, and move.
When WordPress powers 40% of the internet, you know they're doing something right.
Create Your Site With One Click
Kinsta makes it incredibly easy to create a new WordPress site. In our case, all it takes is a single click to get started.

No complicated manual setup process is required.
Choose from Thousands of Photography Site Templates (WordPress Themes)
There are over 370 free photography themes available in the official WordPress theme directory.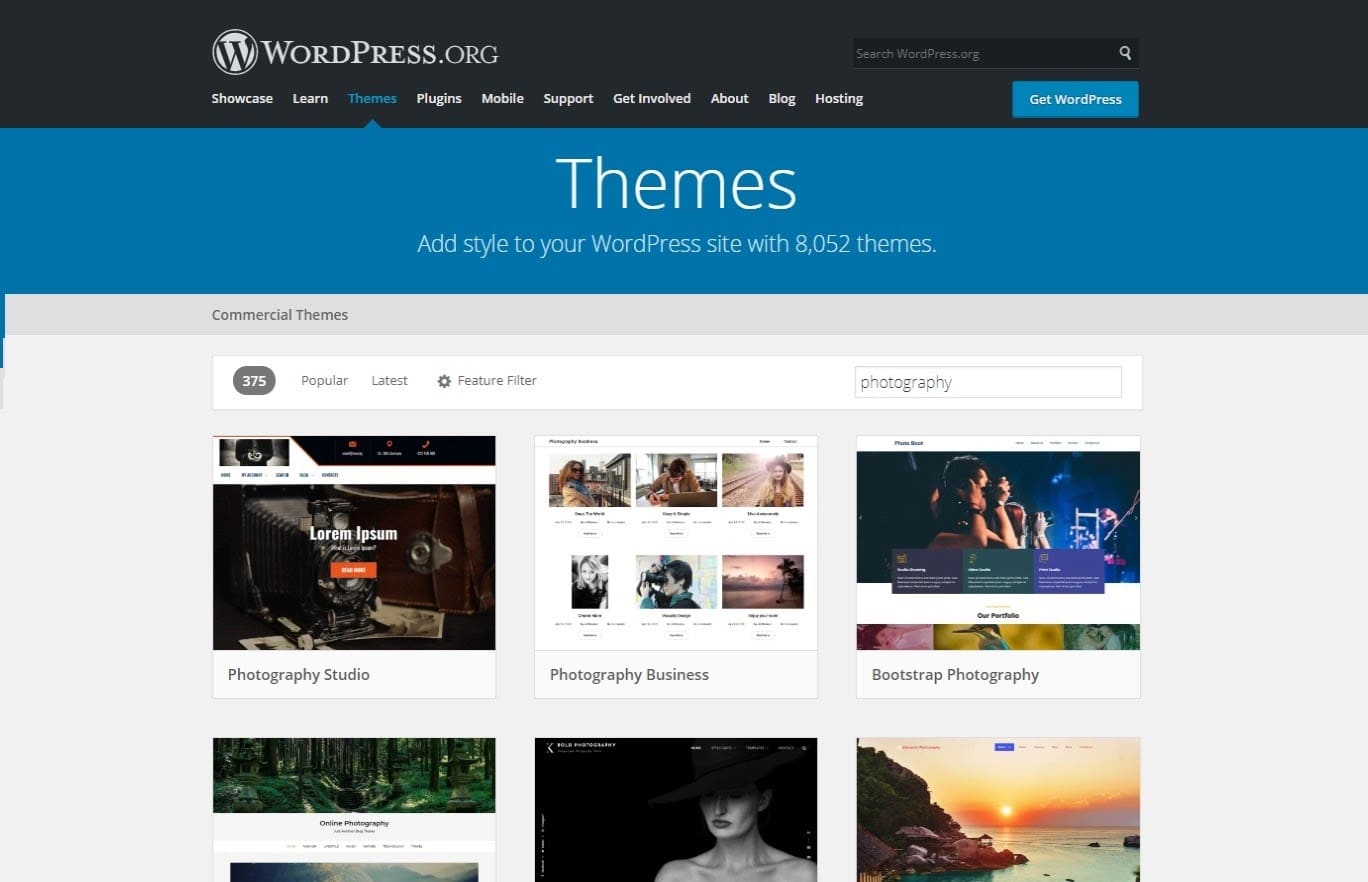 There are also thousands of themes available from third-party websites and developers.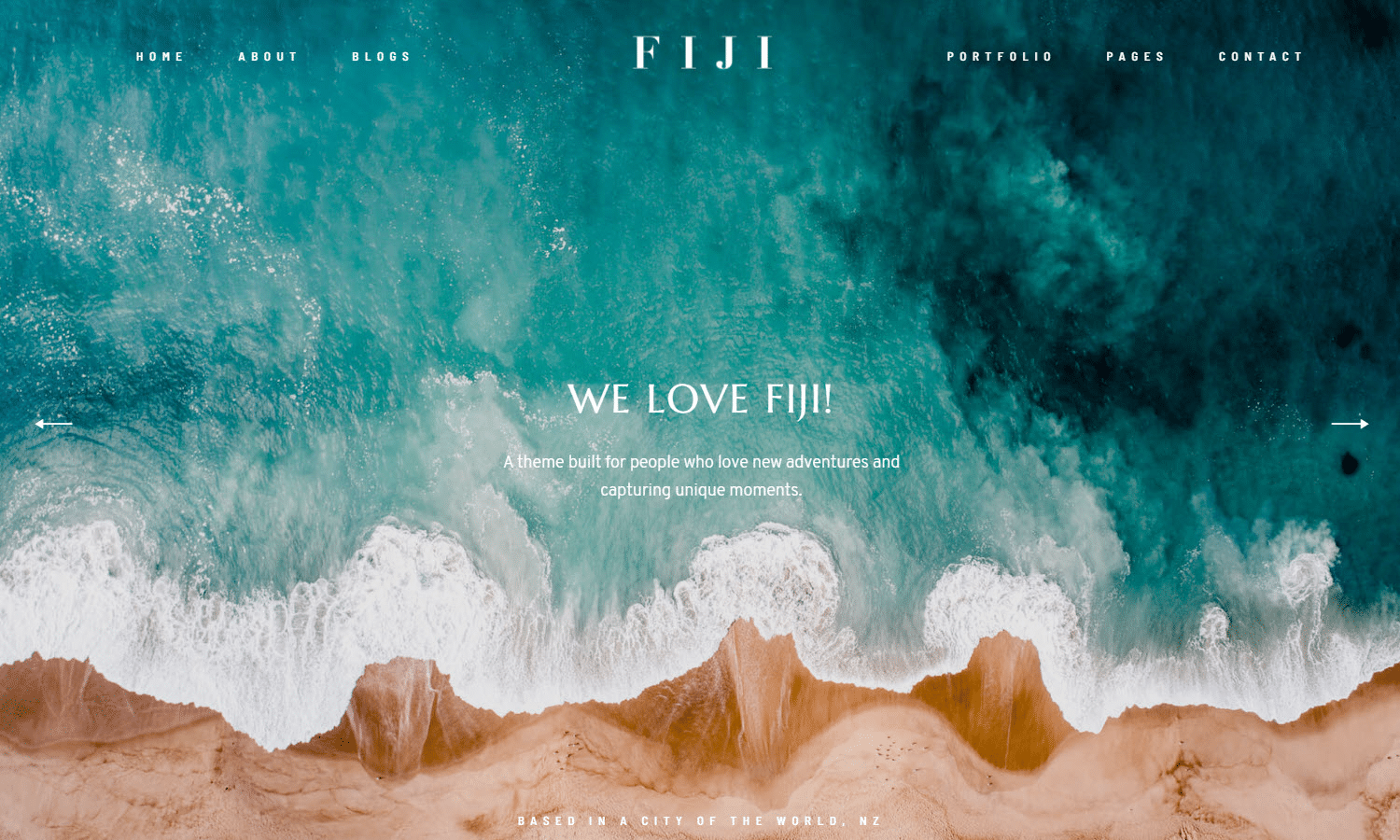 For example, the Fiji II theme is a great starting point for any photographer. You can change the atmosphere 180° with the pictures you choose to feature.
Start With an Attention-grabbing Homepage
Once you have a theme, it's time to start creating the actual pages of your website. Begin with the first thing a visitor sees when landing on your site: the homepage.
The homepage should:

Be eye-catching
Highlight your primary photography specialization
Showcase your very best work
Speak directly to potential clients
To create your first page, click Pages in the menu to expand it, then the Add New link.

You then have to set your homepage in the customizer. Select Appearance > Customize in the menu and click through to homepage settings.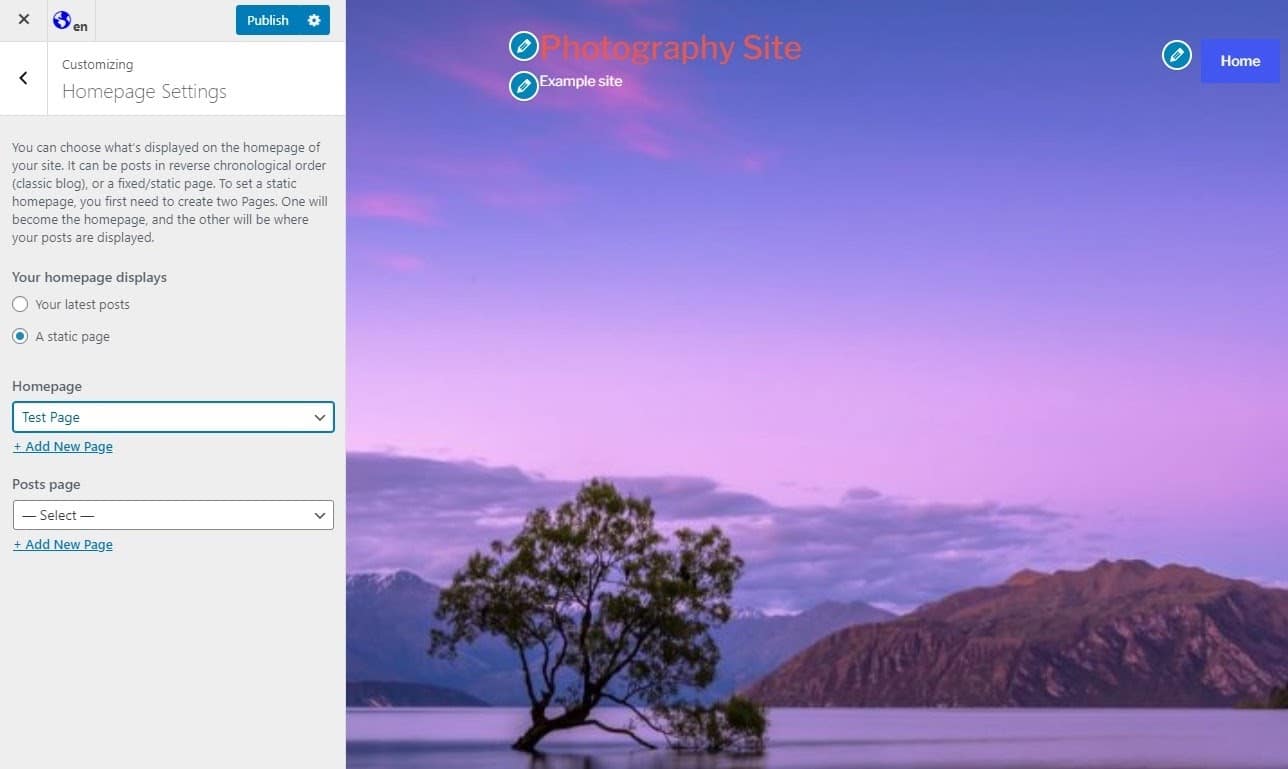 Choose the page you just created and Publish to save the changes.
In WordPress, with a photography theme, you can most likely edit the front page from within the customizer.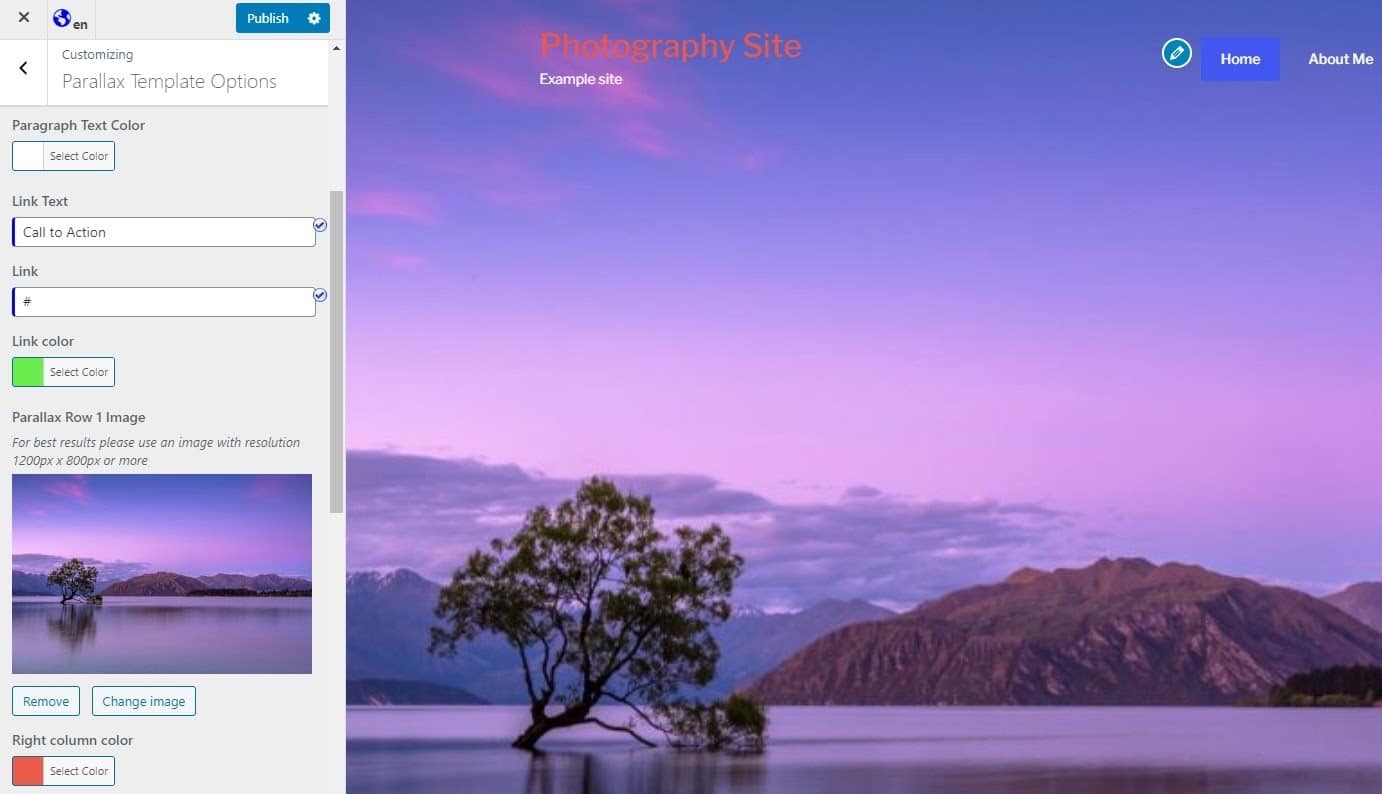 In this particular theme, you can edit the settings in the Parallax Template Options.
No matter the type of photography you do, choose your picture carefully, with the intent to grab a potential client's attention. Be careful that the colors in your menu or headline don't clash with the photo.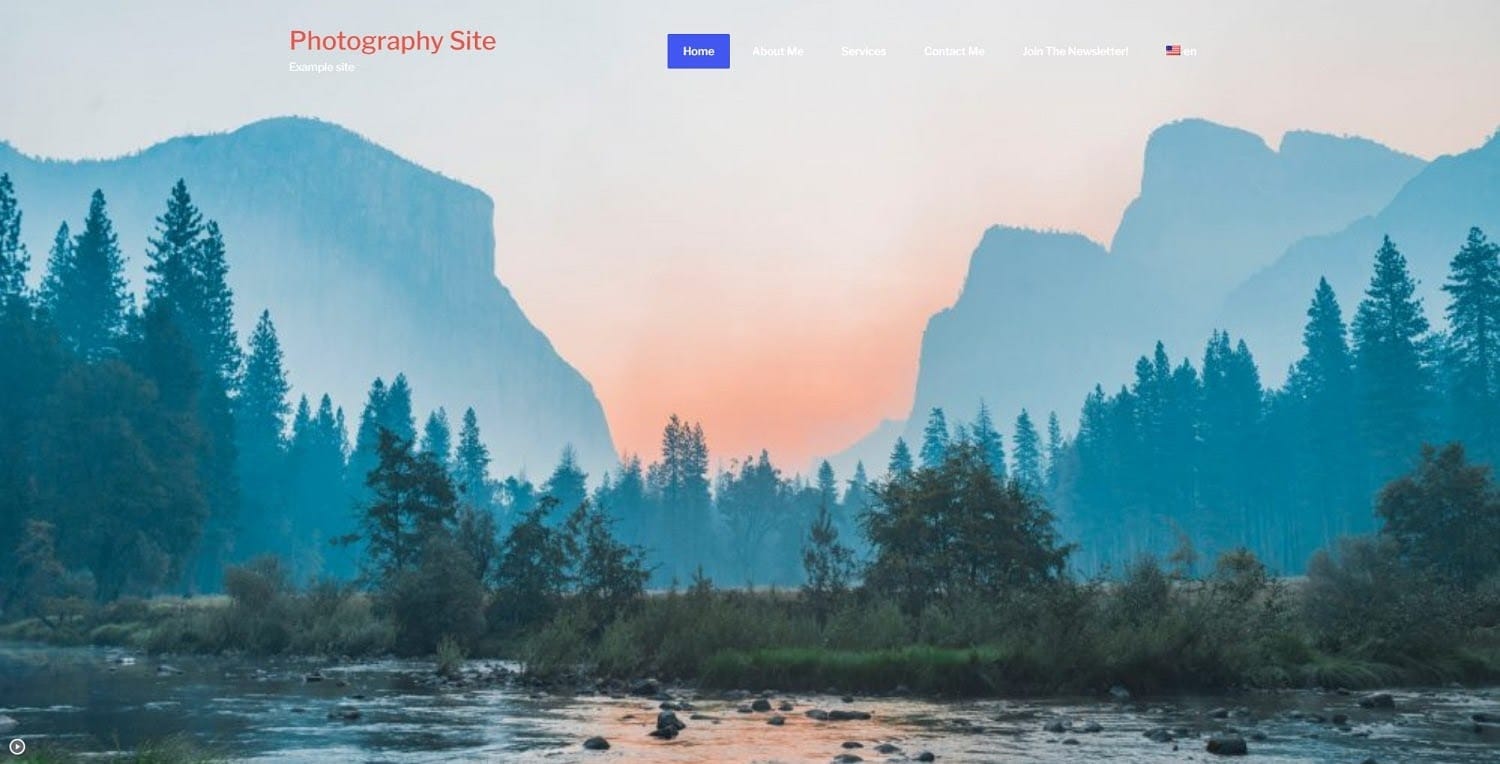 A few wrong moves can lead to the creation of a site that looks unprofessional.
Use a shot with a natural motif that attracts the attention of any visitor. Color the headline or logo to blend with the photo (or any of multiple pictures) you choose.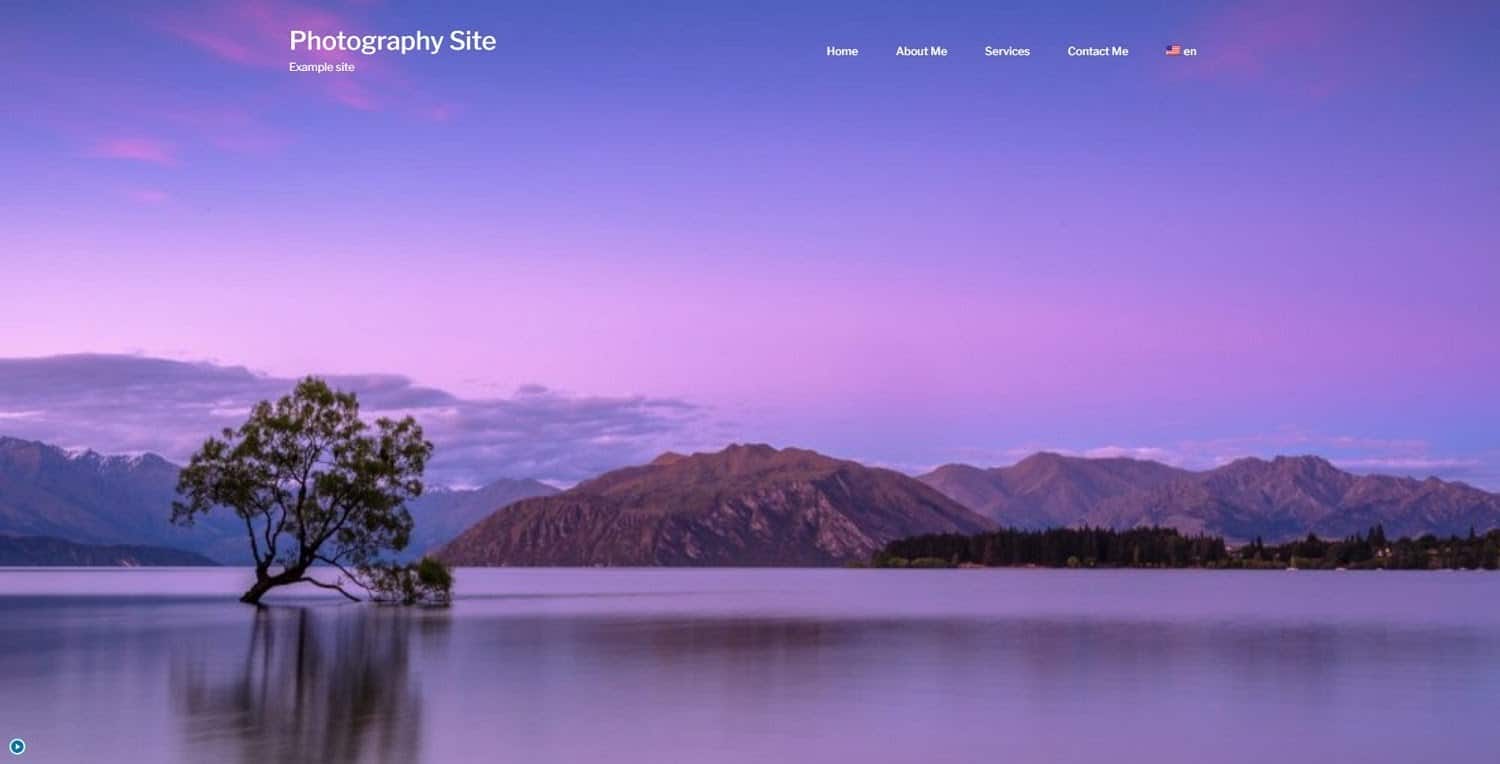 There's a reason almost all the photography sites we covered utilize black or white text. The written content isn't the leading actor in this setting.
3 Essential Pages for Any Photography Site
Next, you want to repeat the process. Create a new page (but skip the homepage settings) for at least three more sections.
Contact page: This is where visitors (and potential clients) find out how to reach you.
About page: This is where you highlight your experience and what clients can expect (not your favorite food or color).
Portfolio or Gallery page: Your portfolio or gallery is where you showcase past work. You can also create multiple pages based on different categories. If your homepage is itself the portfolio, you can skip this.
For an "About Me" page, you can easily use WordPress' drag-and-drop editor to create the layout you want.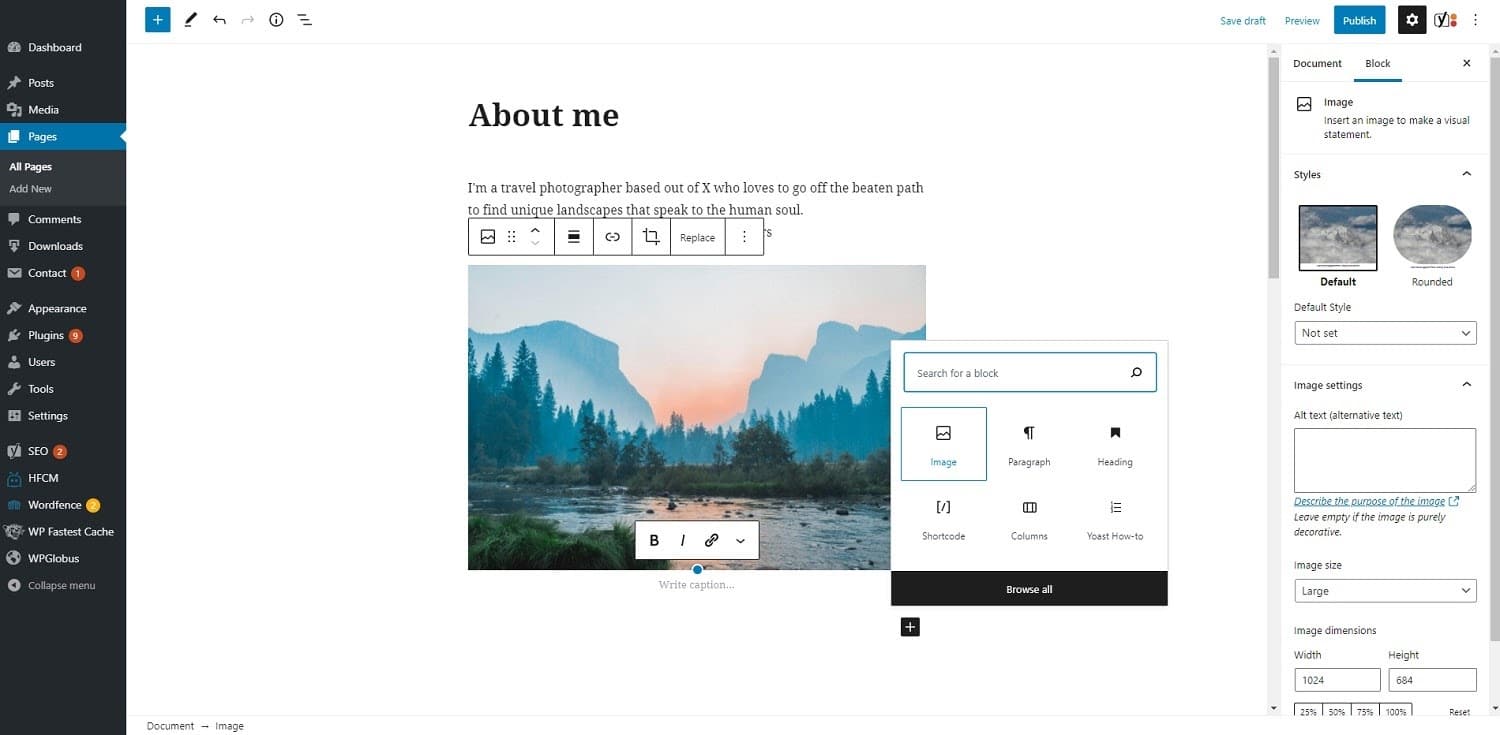 To create a contact page, you'll need a WordPress contact form plugin. After installing it, you can drop a contact form box in from the editor.
Creating a great-looking portfolio page is a little more complicated, but you can get it done in minutes with the right tools.
Use a Gallery Plugin to Create an Interactive Gallery or Portfolio
Next up, it's time to complete your photography portfolio website with its most crucial element: the portfolio.
The first step is to carefully select and upload only your best images to include in the gallery or portfolio page.

Then you need to find the right WordPress photo gallery plugin that meets your specific needs. They will allow you to create flexible, free-flowing grid galleries that showcase your photos in style.
Take Modula, for example. It uses JQuery to create a grid-style gallery that feels alive.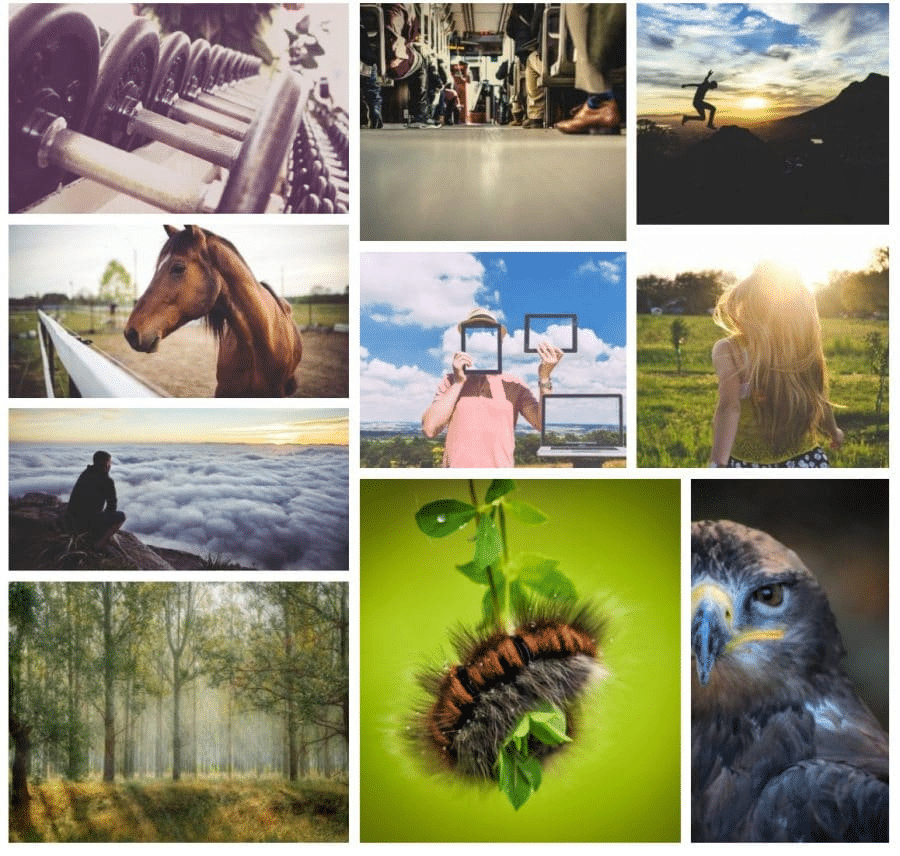 Depending on the plugin, it'll generate its own page, or you'll need to copy and paste a shortcode to a Portfolio page that you create.
Don't Let a Slow Loading Speed Ruin Your First Impression
If you make your visitors wait before you can see the site, they're more likely to leave instantly (bounce). If it takes even just five seconds, they're 90% more likely to leave.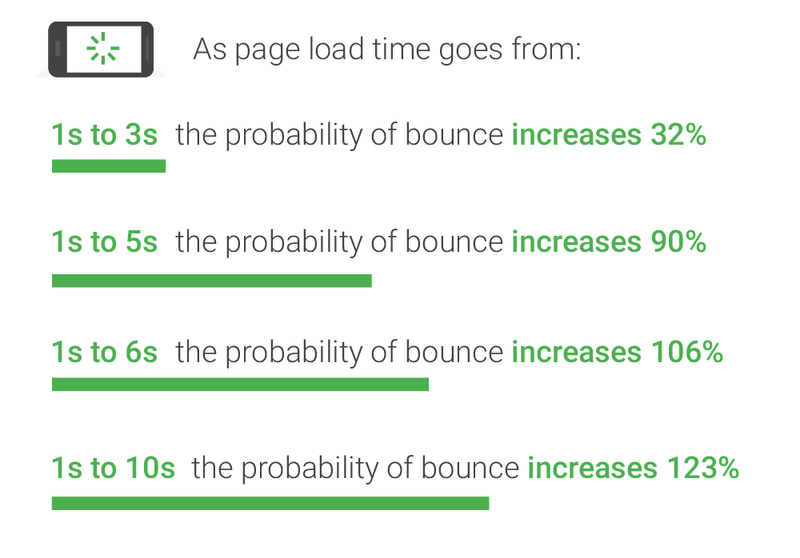 Photography websites inevitably have a lot of big, rich media files. Low-resolution images don't deliver anywhere close to the same professional impression. It would be best if you took countermeasures to ensure fast loading speeds. These can include:
The first step is the most important. With an unreliable shared hosting plan, nothing you do will make your website load as quickly as you want.
At Kinsta, speed is a priority. Our custom-made environment runs on lightning-fast Google Cloud VMS. We also use the latest in caching and other performance optimizations to ensure fast speeds.
Summary
Creating a photography website is a crucial step toward establishing yourself in your industry and local area.
By learning from the examples above, keeping it simple, and starting with a suitable theme, you can finish a great website and build your online presence in just a few hours.
Take these measures to differentiate yourself from competitors and start landing more clients quickly.