WordPress has certainly come a long way since it was first launched in 2003 — so too have the WordPress statistics that help to define this powerful software tool.
The world's most popular and widely used content management system now powers 43.3% of all websites on the internet, but few outside the community of the most loyal WordPress users know the story of how it started.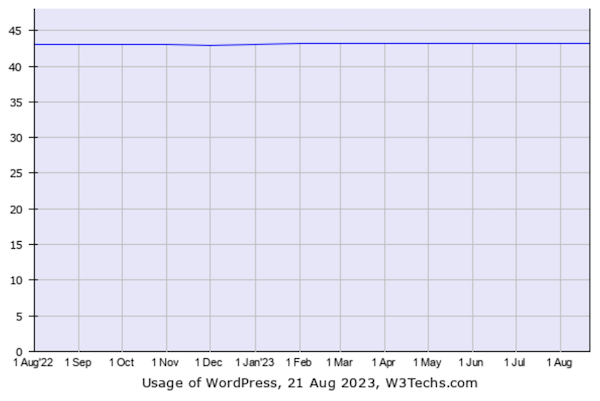 WordPress Statistics (Juiciest Only)
WordPress is the world's most popular content management system powering 43.3% of all websites on the internet. On top of that:
WordPress has a 65.1% market share in the CMS market
WordPress powers 14.7% of the world's top websites
500+ sites are built each day using WordPress while only 60-80 per day are built on platform like Shopify and Squarespace
The WordPress Plugin Directory features 55,000+ plugins
WooCommerce powers 22% of the top 1 million ecommerce sites in the world
So here it is — the story of WordPress:
WordPress was initially created and developed by Matt Mullenweg and Mike Little, who were spurred into action when the existing blog software b2/cafelog was discontinued by its developers.
It was clear to both Mullenweg and Little that there was a need for a more elegant personal publishing system. Though WordPress was initially based on b2/cafelog, both Mullenweg and Little — and many more open source contributors! — have since made significant developments to WordPress, setting it apart as unique from b2/cafelog.
WordPress is built on PHP and MySQL, and licensed under the GPLv2, which means it is free to use and modify by anyone. The total collaborative effort behind developing WordPress is estimated to have taken 151-people years to build, with an estimated cost of over $8 million.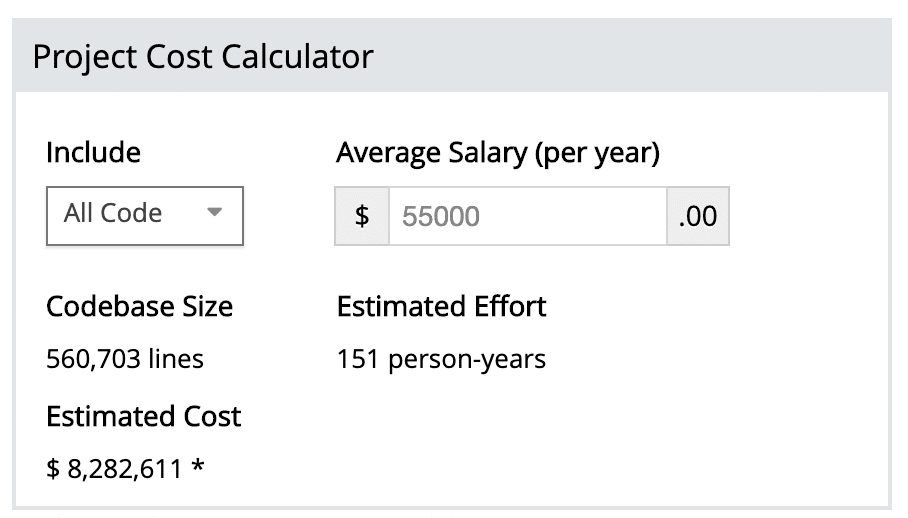 WordPress.com vs WordPress.org: What's the Difference?
The term "WordPress" is often used interchangeably when referring to two software variations. That said, there are significant differences between WordPress.com and WordPress.org that you'll want to know before picking the ideal platform for your project.
WordPress.org is the open-source content management system that we'll refer to in this article, while WordPress.com is another popular blogging platform with basic functionality that can be accessed for free.
While WordPress.com uses the WordPress.org core software, this is where their similarities end.
WordPress.com is fully for-profit, while WordPress.org is not. With WordPress.com plans, users can opt to have WordPress handle the technical aspects of running a website — including the installation of themes and plugins and the routing of a domain name to your blog.
However, WordPress.com isn't as customizable and flexible as WordPress.org, where you have to take care of everything yourself (including finding a web host and installing the WordPress software). But with this freedom comes a price, since this means you also have to take care of the less fun aspects of having a website, like troubleshooting site maintenance if your website suddenly goes offline.
With a basic understanding of the differences between these two WordPress platforms, let's look at some of the most interesting WordPress statistics that support the use of WordPress as a content management system (CMS).
WordPress Usage Statistics
The following WordPress statistics focus on WordPress' market share and other usage statistics.
WordPress now powers 43.3% of websites, with a 65.1% share in the CMS market.
Besides being the most widely-used CMS, WordPress is also the fastest growing. Of the top 10 million websites online, more than 500 sites built each day are powered by WordPress (versus 60-80/day that are built on managed platforms such as Shopify or Squarespace).
Adding to that, WordPress powers 14.7% of the world's top websites.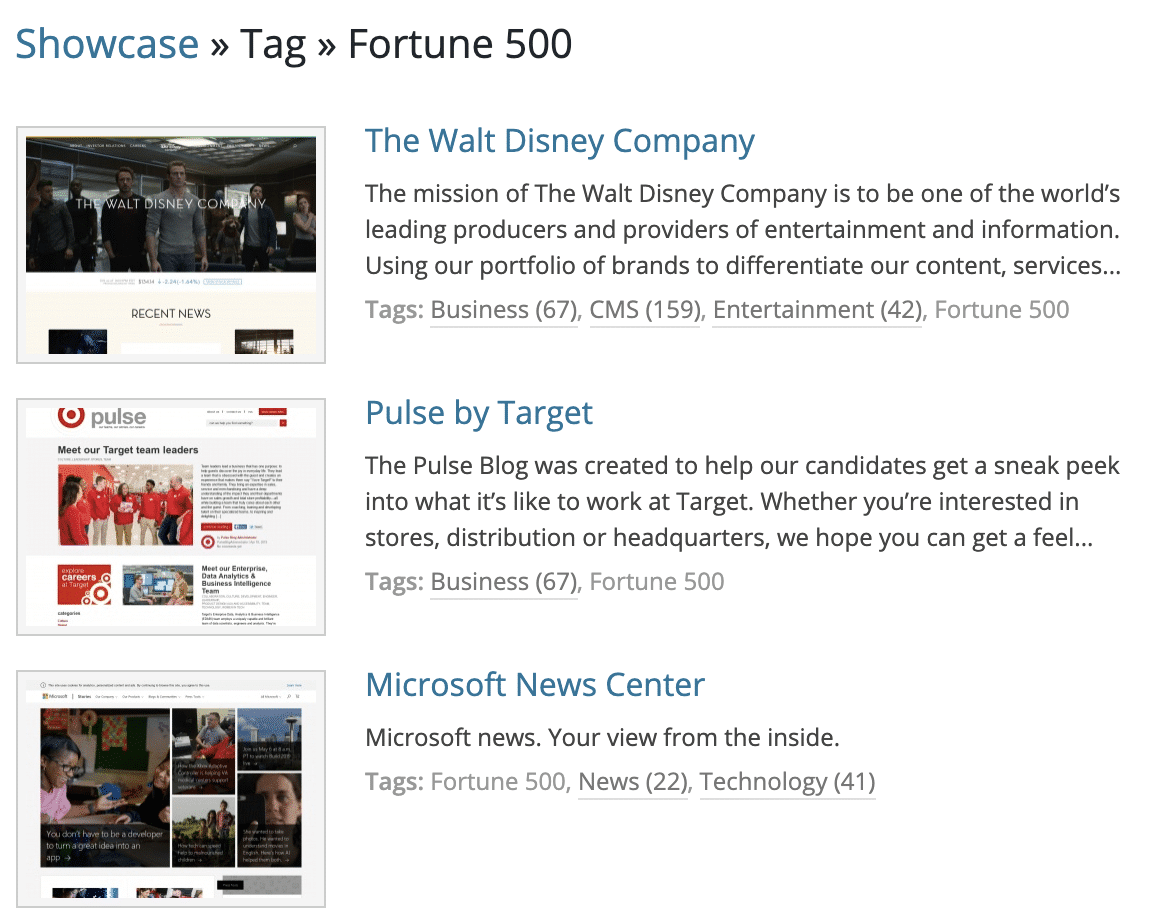 These top websites include The New York Times, Spotify, TechCrunch, The White House website, BBC America, and even the Facebook Newsroom! The fact that WordPress can work well for all of these different entities is a testament to how flexible it is. WordPress can effectively act as the backend for many different types of websites, including personal blogs, news websites, portfolios, and ecommerce websites.
There are some 17 blog posts published on WordPress per second, and if you ever doubt the popularity of WordPress, know that there are 37 million global searches made for the term "WordPress" on a monthly basis. Furthermore, real-time WordPress activity data shows that each month, there are over 409 million people viewing over 20 billion WordPress pages, with over 70 million new posts, and 77 million new comments.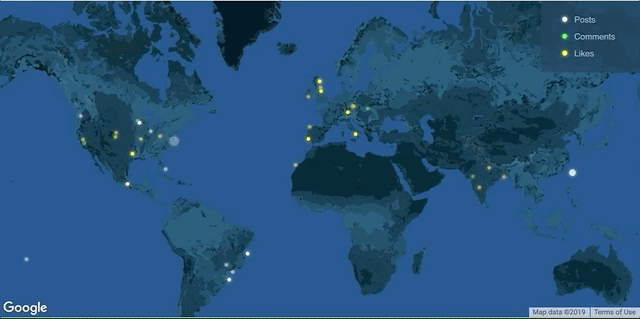 WordPress Version Statistics (with a Focus on Gutenberg)
The following WordPress statistics focus on how WordPress is changing over time.
At publication, WordPress is running on version 5.2, and more than 20% of users have updated to the current WordPress version. It has been download over 16 million times.
However, roughly a quarter of users are still running on version 4.9.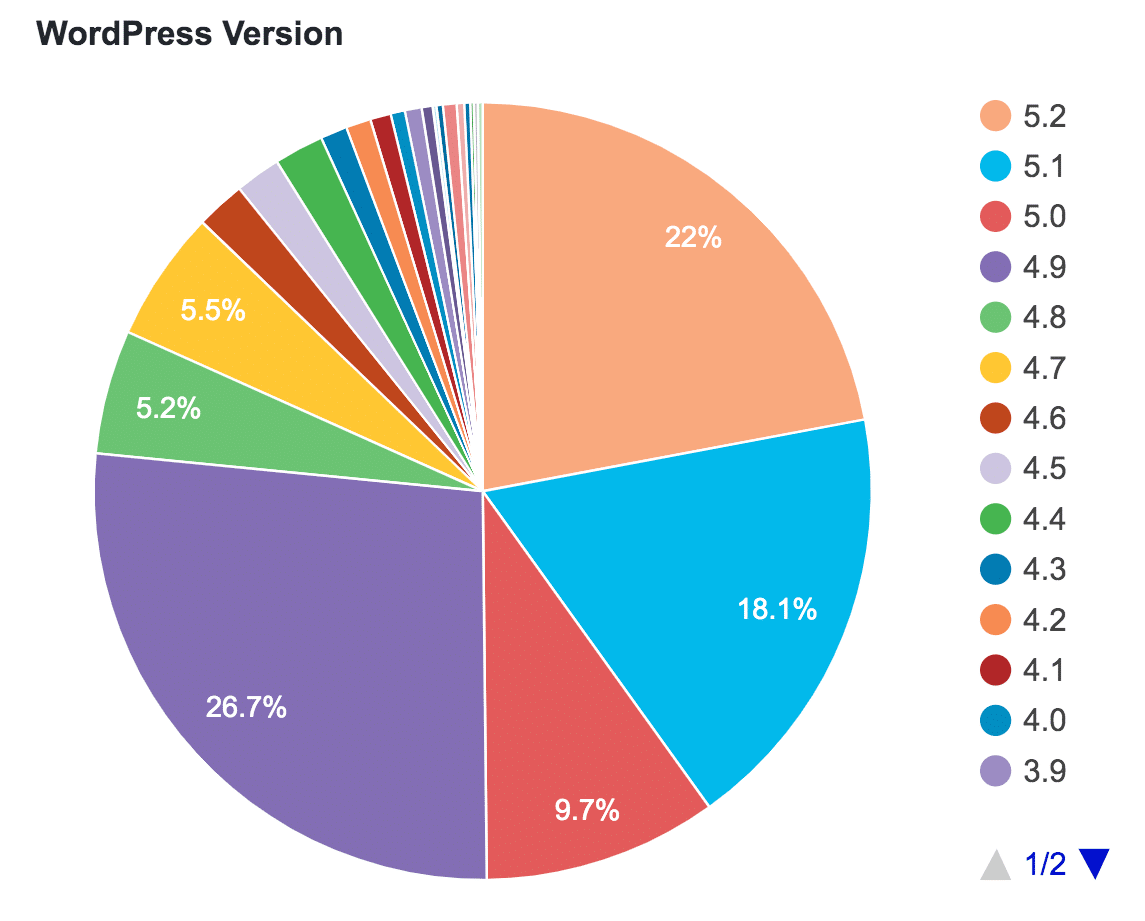 The reason behind a failure to update for many users may have something to do with Gutenberg, the new block-based editor that was introduced in WordPress 5.0.
Gutenberg brought about the largest change to the WordPress visual editor since the beginning of this Content Management System.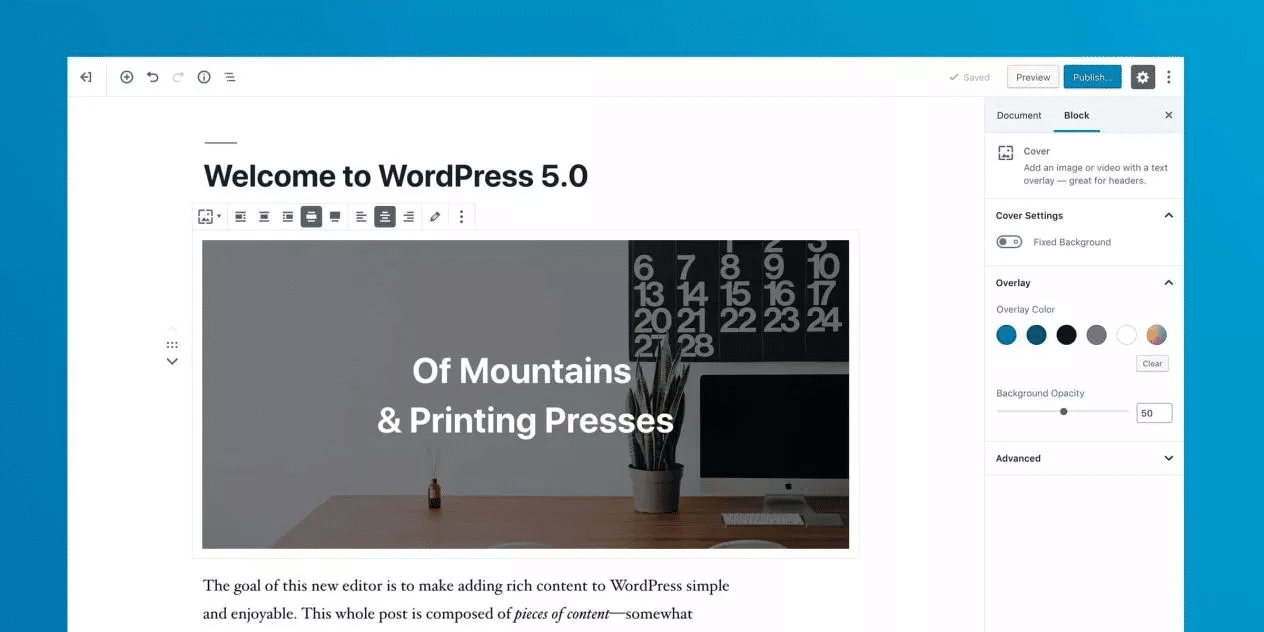 Since Gutenberg was released, there have been:
Over 19 million active installations of Gutenberg.
24 million posts written with Gutenberg (note that these stats are reported specifically from Jetpack on blog posts created using Gutenberg, meaning that they likely don't represent the full number), with 157,000+ posts written with Gutenberg daily.
The most popular Gutenberg block is the paragraph block, which is used 60% of the time when people use Gutenberg. WooCommerce Blocks is a plugin developed exclusively for Gutenberg-based sites and used by over 170,000 sites (as of April 2019; Gutenberg was released in Dec 2018).
Gutenberg aside, major upgrades to WordPress are released every 152 days, and each release is named after a jazz musician. This is because, according to the official WordPress roadmap, "the WordPress core developers share a love for jazz music".
WordPress is available in 72 languages and counting, and 71% of WordPress sites have English set as the primary language.
Automattic WordPress Stats
The following WordPress stats are associated with Automattic — often referred to as the company behind WordPress, but that's oversimplifying things a bit. To be fair, WordPress is continuously improved thanks to the work of many open source contributors who don't necessarily receive compensation for the time they spend on this project.
Besides its contributions to the WordPress CMS, Automattic is also involved with a number of projects that impact the WordPress ecosystem, including Jetpack, WooCommerce, Simplenote, Akismet, and Gravatar.
As of May 2014, Automattic was valued at $1.16 billion. It currently employs 873 people working remotely from all over the world. The remote work culture is so strong at this company that people stopped showing up to its San Francisco office and Automattic closed it.
On the topic of remote work, one of Automattic's newest projects is Happy Schedule, the first in a line of tools called "Happy Tools" — built to help remote teams.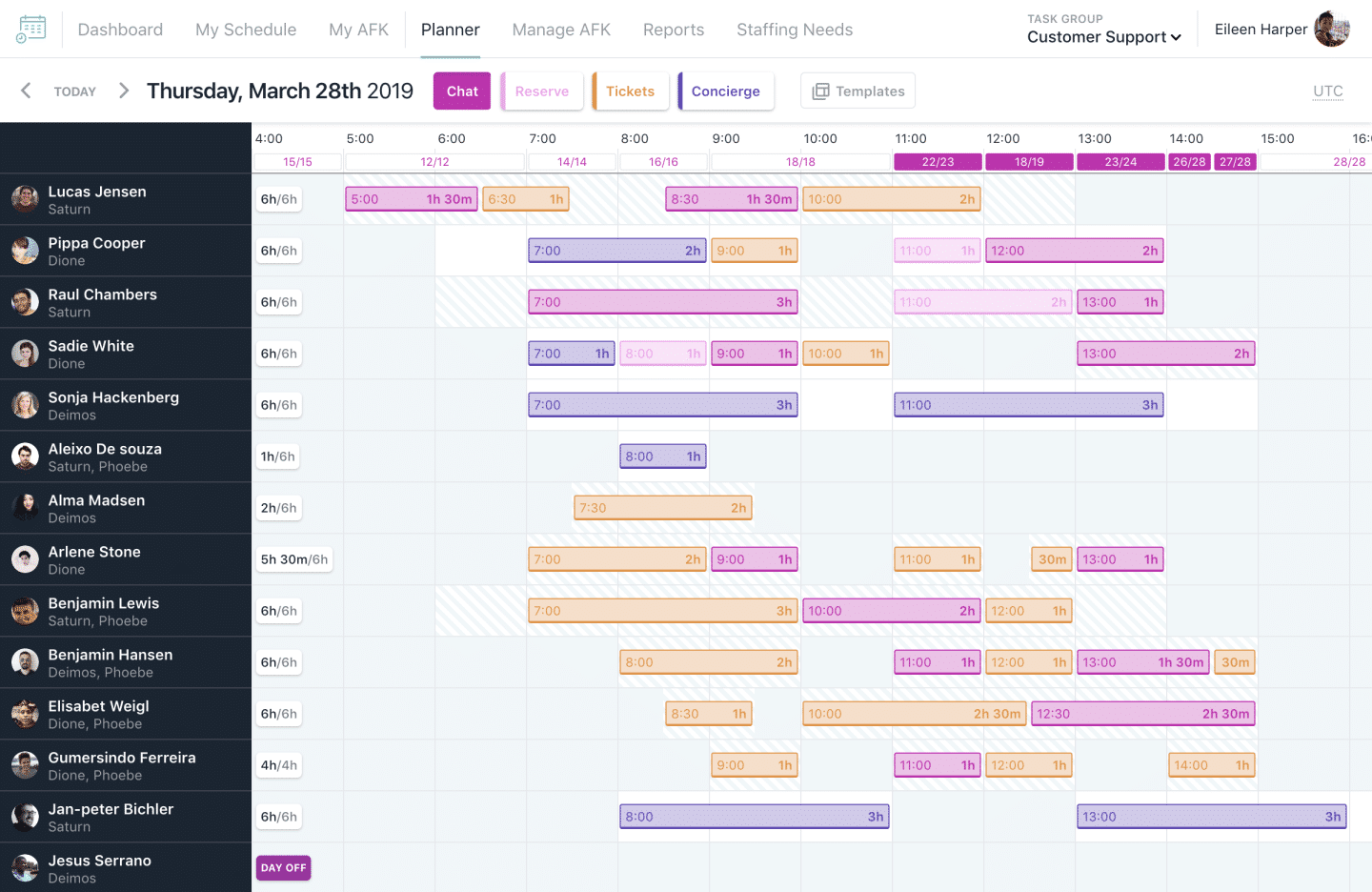 WordPress Plugins Statistics
These WordPress statistics focus on plugins. Plugins extend the basic functionality of the WordPress CMS to help users personalize it for their unique needs. There are many free and paid plugin options available on the market, empowering you to make changes to WordPress that fit your budget.
At publication, there are over 55,000 plugins on the WordPress Plugin Directory, with many new options added daily. Considering everything on the WordPress Plugin Directory, these plugins have collectively received over 1 billion downloads to date!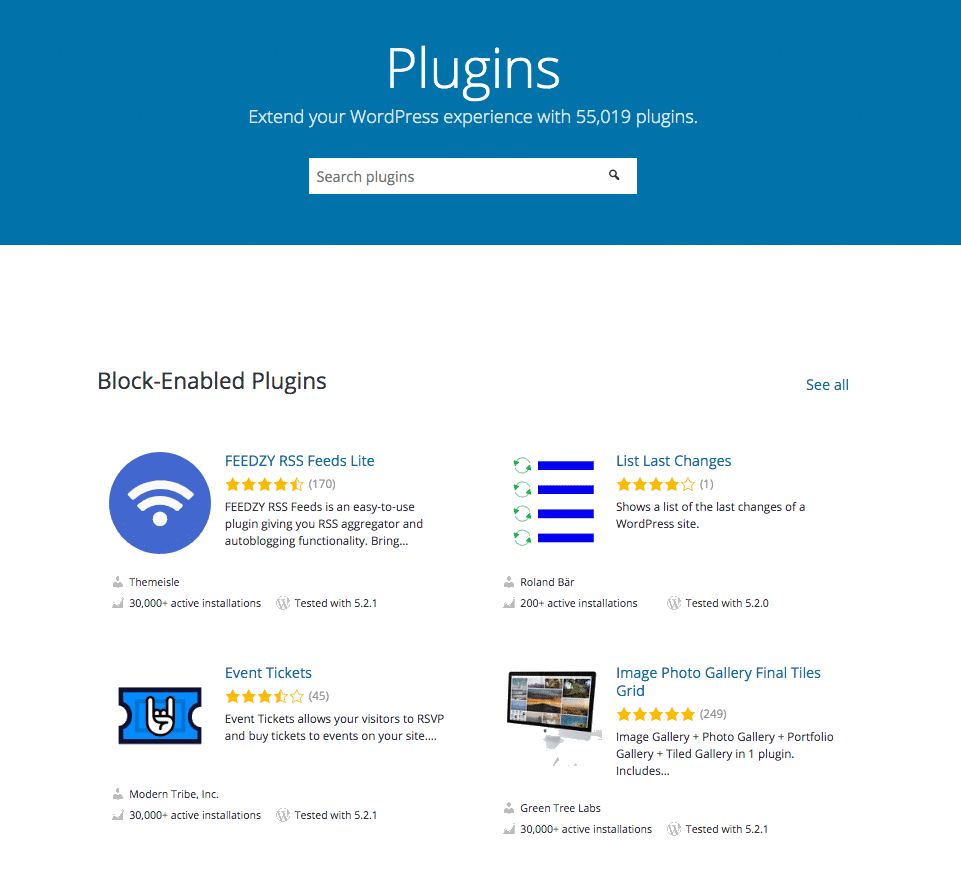 In data collected from April 15, 2016 to April 16, 2019, there have been 18,262 plugins published. Of those plugins:
3% have never been updated.
Only 30 plugins published in the last three years have 100,000+ installations. The top installed plugin is Classic Editor, with over 4 million active installations (this number is definitely correlated to the slow adoption of Gutenberg). Following in close second is the Elementor Page Builder with over 2 million active installations.
About 57% of plugins have never been rated (they have no reviews).
76% of plugins have a homepage link.
47% of plugins have a donate button.
The most popular and best WordPress plugins of all time include:
Besides these freemium options, Visual Composer and Slider Revolution are some of the best selling paid plugins. This might have something to do with the fact that they come prepackaged with many themes available on Envato Market.
Speaking of Envato Market, CodeCanyon is the plugin division of this company. On CodeCanyon, there are more than 6,000 premium plugins available for sale. 80% of searches on CodeCanyon focus on functionality, meaning that people search specifically for plugins that enable sliders, calendars, forms, and so on.
WooCommerce Statistics
Another popular WordPress plugin is WooCommerce, which adds ecommerce functionality to your WordPress website. It powers over 70 million ecommerce shops on WordPress, and 22% of the top 1 million sites using eCommerce technologies.

Like WordPress, WooCommerce is also free to use, but you'll have to pay if you want to use any of the 300+ WooCommerce extensions that provide extra functionality, such as product variation swatches and the ability to sell subscriptions.
A new challenger to the WordPress ecommerce market to go up against WooCommerce and Shopify is BigCommerce, which recently launched a headless commerce solution for WordPress (make sure to read: Intro to Building Websites with Gatsby and WordPress). At publication, the BigCommerce WordPress plugin has 600+ active installations and is growing daily.

WordPress Theme Statistics
These WordPress statistics focus on WordPress themes or a collection of templates and stylesheets that define the appearance and display of a WordPress site.
Like plugins, there are both free and paid themes available. Most WordPress themes are powered by what you see is what you get (WYSIWYG) editors, which help the user see changes live as they configure them. This functionality was introduced to WordPress and created by Shane Melaugh and Paul McCarthy.
If you're just getting started or have simple needs, you can download many WordPress themes for free on the WordPress Theme Directory, which releases free default themes each year, with a simple title representing the year of release (ie. 'Twenty Twenty'). The earliest default WordPress themes were known simply as "WordPress Classic" and "Default" (or Kubrick).
If you have the budget for premium (paid) themes, some of the most popular website to browse for options include Envato Market (previously known as ThemeForest).
Speaking of Envato Market, there are dozens of designers on this marketplace who have sold over $1 million worth of themes. In fact, an item is sold on Envato Market every 5 seconds. Furthermore, there are over 11,000 themes on Envato Market, with 70% of searches centered around niche themes.
The top themes sold on Envato Market include:
Avada: A responsive, multi-purpose theme with over 500,000 sales.
X: A super fast theme with over 200,000 downloads.
Enfold: Another multi-purpose theme with 181,000+ downloads.
93% of sales on Envato Market are for responsive themes, and the average cost of a theme (regardless of the marketplace) is $59.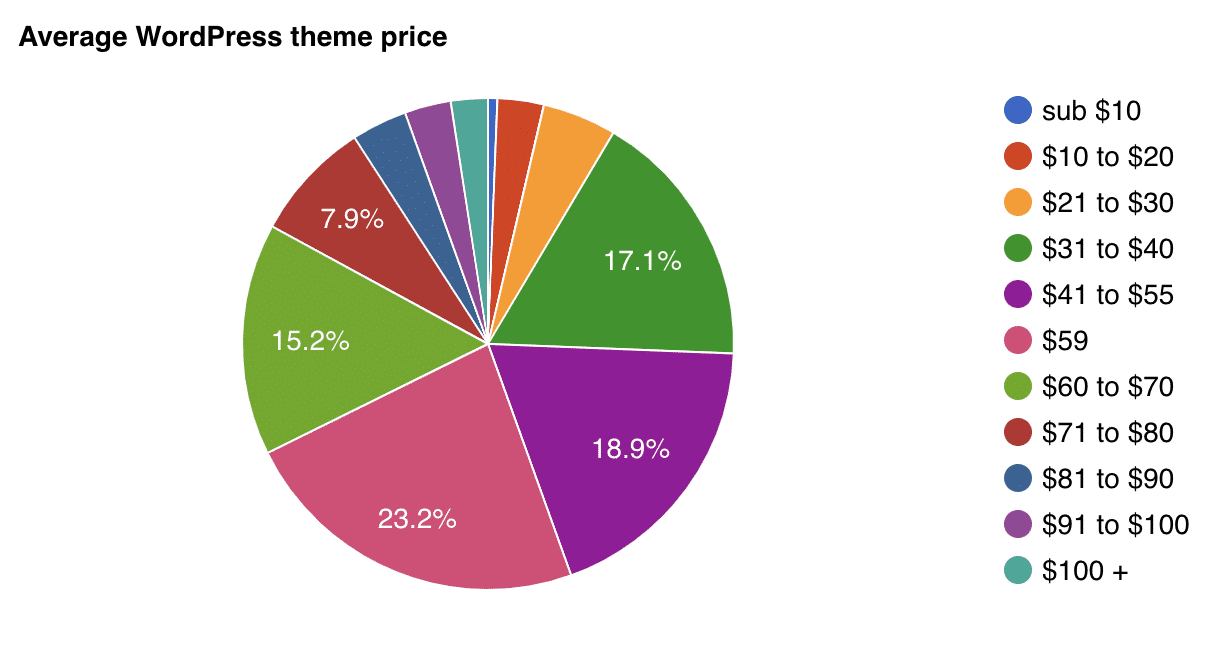 If you get bored easily when it comes to your WordPress theme design or are a website developer who needs access to several different theme options, the average theme subscription membership (for companies such as TeslaThemes or Themes Kingdom) charges an annual cost of $145 for access.
When it comes to all WordPress themes, Divi (6%), Avada (4%), and the Genesis Framework (7%) are the most popular themes of all time.
If you opt to do a completely custom WordPress website design, expect to spend anywhere between $500+ to $52,800+.
WordPress Security Statistics
These WordPress statistics are concerned with the overall security of WordPress.
WordPress is generally considered to be secure, but it's not without its share of data breaches. Since it's the largest and most popular CMS, it is also the most prone to hacking (read: WordPress Hacked: What to Do When Your Site Is in Trouble and Ecommerce Fraud Prevention).
Sucuri, a security plugin, reports 90% of its cleanup requests in 2018 were from WordPress.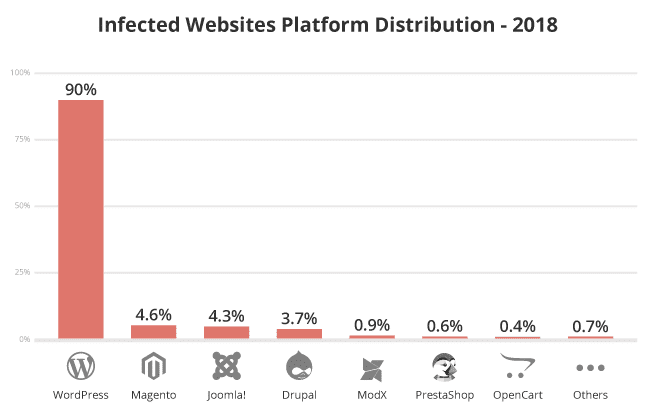 The most common WordPress malware infections are backdoors, drive-by downloads, pharma hacks, malicious redirects, and stolen passwords.
According to various sources:
The biggest data breach to hit WordPress happened back in 2011, when 18 million users were compromised due to an attack.
Another one of the largest data breaches to hit WordPress was the Panama Papers Leak in 2016, which affected 2.6TB of data, 11.5million documents, and 4.8 million emails. The cause? A website that wasn't running the latest version of the Slider Revolution plugin!
The iThemes Security plugin had the most ironic security breach to date.
To prevent data breaches such as those described above in this list of WordPress statistics, it is important for users to keep their WordPress core, plugins, and themes consistently up to date.
WordPress Community Statistics
The WordPress community is diverse, made up of people who represent many different ages, races, backgrounds and skill sets — brought together by their mutual love of the software. The WordPress community is generally known as helpful and friendly, with many individuals contributing to software updates and getting involved with organizing free events to help people learn more about how to use WordPress.
WordCamps are not-for-profit events organized by volunteers around the globe. WordCamp events can represent cities, regions, or even countries. New locations are added on a regular basis as community members step up to the plate to take on the responsibility of organizing events, according to increased demands in areas that don't yet have an established WordCamp.
The first WordCamp was organized in 2006 by Matt Mullenweg in San Francisco. As of this article's publication, there have been 990 WordCamps in 73 cities, in 65 countries, and 6 continents.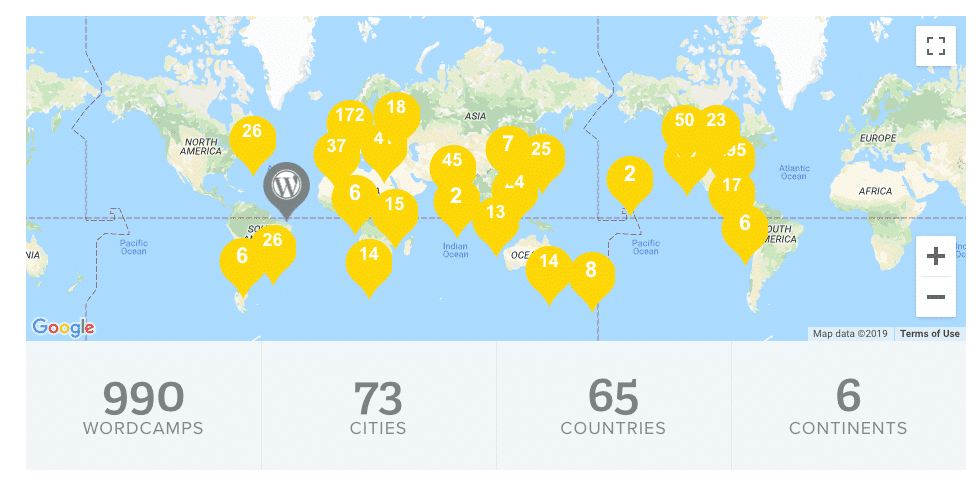 WordCamp events aim to be accessible to as many attendees as possible, with tickets selling for as low as $40 for 2 days. These fees cover logistical costs, like the use of a certain venue — speakers are not paid. Global and local sponsors help to subsidize the cost of tickets to keep attendance affordable.
If you miss a WordCamp event you hoped to attend, note that you can watch replays of talks on WordPress.tv.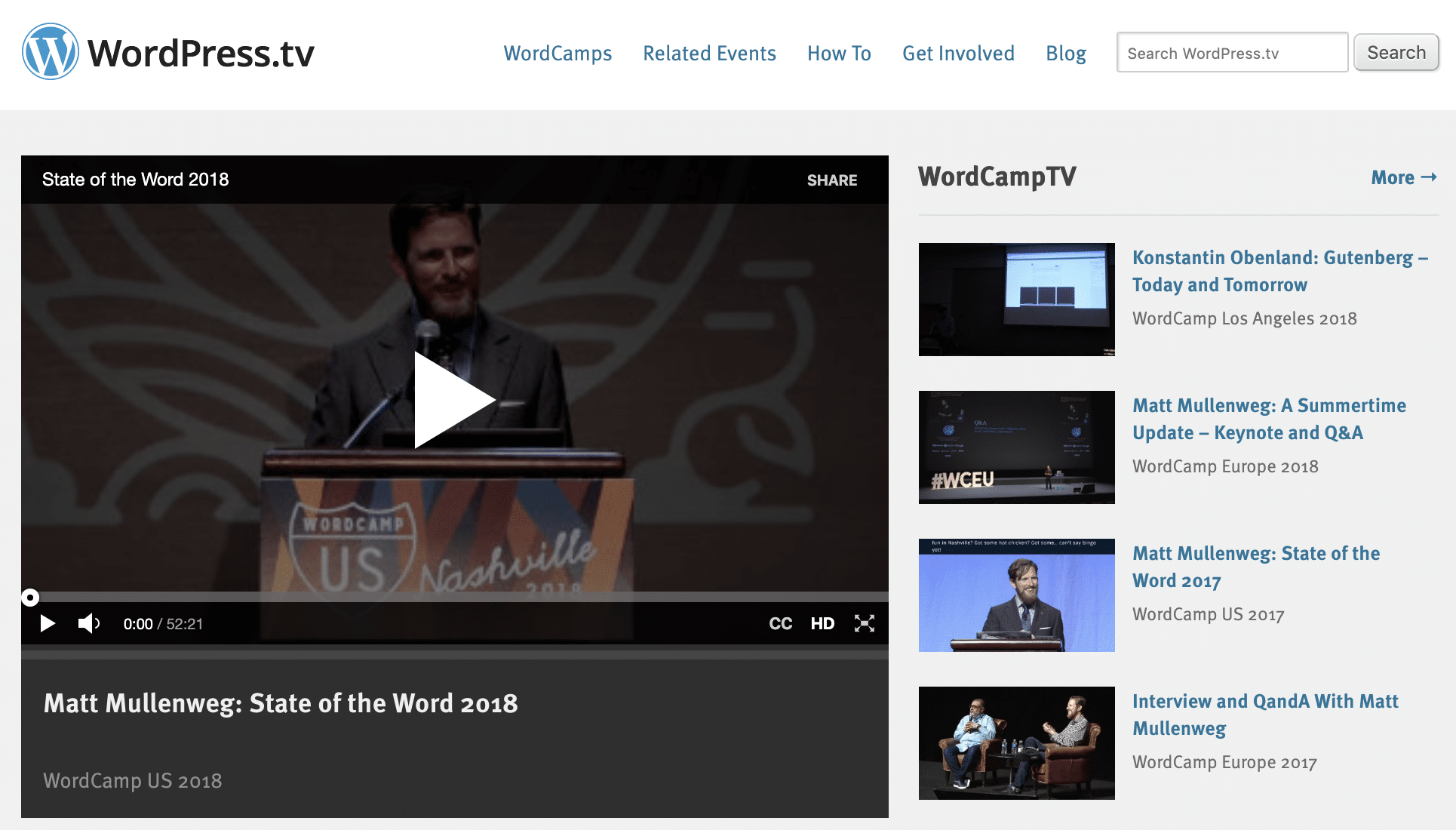 WordCamps were born out of WordPress meetups, which are smaller, more intimate WordPress gatherings. There is an official account for WordPress meetups on Meetup.com, which has 740+ associated meetup groups and over 370,900+ members.
Besides WordCamps, some of the most popular WordPress events include:
Earning with WordPress Statistics
There are multiple ways to earn money with WordPress, and they can be very lucrative. A quarter of WordPress users make a full-time living off the CMS.
Some ways to earn on WordPress include:
Being a WordPress developer/designer, plugin/theme maker/developer, hosting company, SEO professional (or agency), and starting a WordPress maintenance service.
Half of WordPress theme makers on Envato Market have made at least $1000 per month and 5% earn $10,000+ per month. Less than 4% of all themes on Envato Market have made less than $1000.
WordPress developers charge anywhere between $20-$100 per hour (the lower end of the spectrum includes people from countries with a lower cost of living).
Summary
Started in 2003, WordPress is now over 15 years old. A lot has changed since its original inception but the core functionality behind the platform — to empower users to start blogs of their own — will always be a feature of this tool. It has also evolved over time and is now used by all different kinds of companies, from Enterprise to Fortune 500 companies.
Were there any specific WordPress stats that you hoped we'd cover in this article but didn't? Tweet your thoughts at @Kinsta and we'll share our favorites!