Affiliate marketing can be an effective strategy to earn passive income online. However, you may not know how to become an affiliate or launch your own affiliate program. Without the right tools, you'll likely struggle to generate links and track your progress.
Fortunately, WordPress has many plugins that can make affiliate marketing easier. If you're a content creator, these tools will help you optimize your affiliate links. Meanwhile, if you run an online business, you can use plugins to create a successful affiliate program.
In this post, we'll explain what affiliate marketing is and what to look for in a WordPress affiliate plugin. Then, we'll round up 10 of the best options to help you maximize your revenue. Let's get started!
Check Out Our Video Guide on the Best WordPress Affiliate Plugins:
Can You Use WordPress for Affiliate Marketing?
In affiliate marketing, a blogger or social media influencer will advertise products for an ecommerce store. When they drive new traffic and sales to the business, affiliates can earn a commission.
For example, you can sign up for the Kinsta affiliate program. By simply promoting our hosting services on your blog, you'll earn up to 10% in lifetime monthly commissions: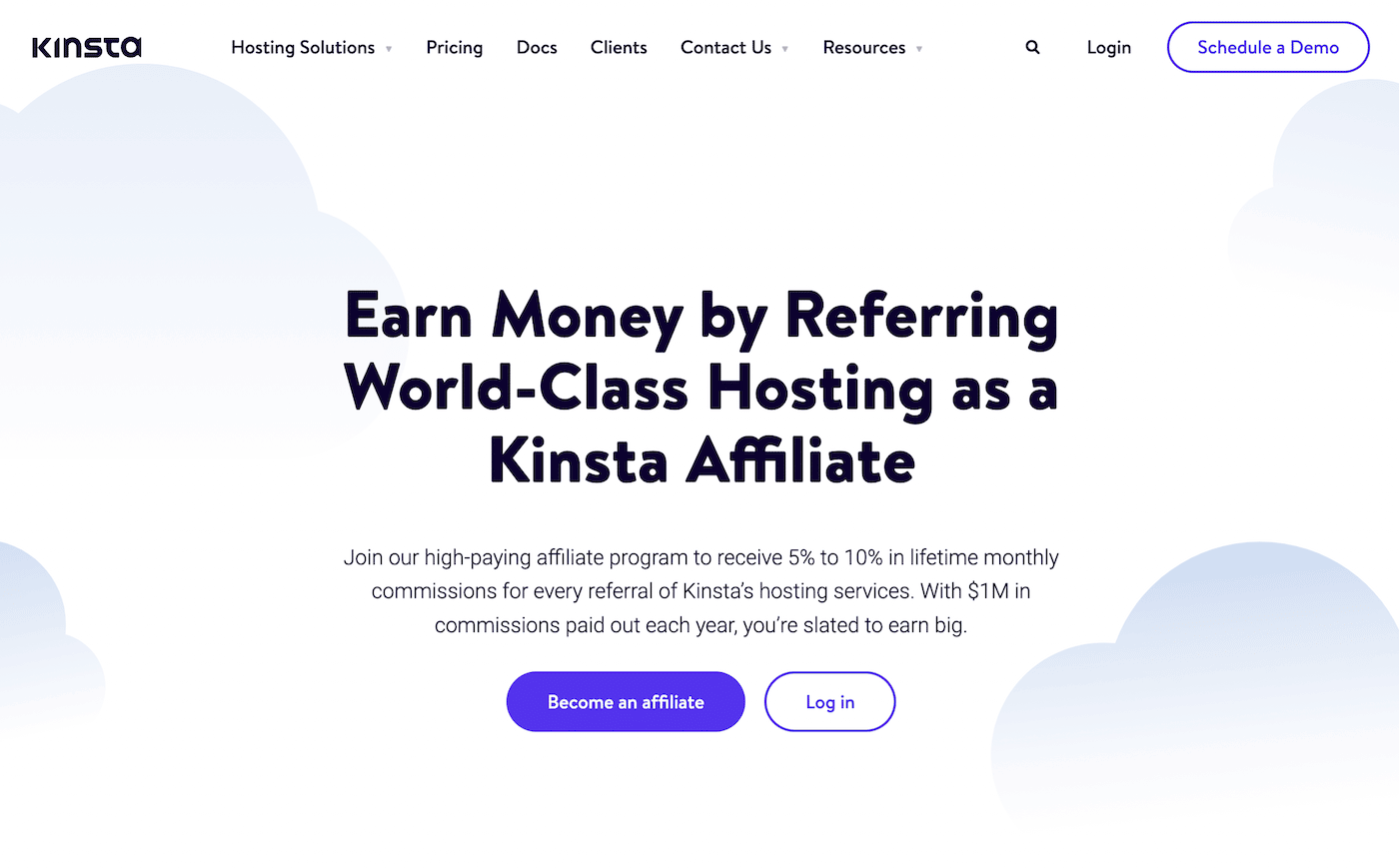 We also provide helpful analytics for your page views, referrals, and payments. Once you sign up for the program, you can start to improve your marketing techniques and increase your income.
If you want to become an affiliate, we recommend that you use WordPress as your main platform. This Content Management System (CMS) comes with several plugins that can help you track your affiliate links and sales.
Alternatively, you may want to start an affiliate program for your business. With WordPress, the process is simpler than you might think. The right plugin will help you set up a self-hosted program in minutes. Then, you can start accepting new affiliates and monitoring their performance.
What To Look For in a WordPress Affiliate Plugin
Since there are many WordPress affiliate plugins out there, you'll need to know how to narrow down your options. First, consider whether you want to be an affiliate or run your own program.
If you're a content creator, you'll want a plugin that lets you do the following:
Create and manage affiliate links from the WordPress dashboard
Share affiliate links to social media
Auto-link certain keywords
As a business owner, you'll want a plugin that enables you to do a variety of tasks, such as:
Creating fully functional affiliate programs
Tracking the performance of your affiliates
Automating welcome emails and commission payments
Whether you're a vendor or publisher, you'll want to look for an affiliate plugin with flexible pricing options. This can help you maximize your revenue and commissions.
10 Best WordPress Affiliate Plugins to Sell More in 2023
It's easy to become overwhelmed by the number of WordPress affiliate plugins on the market. To help you choose the right tool, we've rounded up the best options for 2023!
1. Solid Affiliate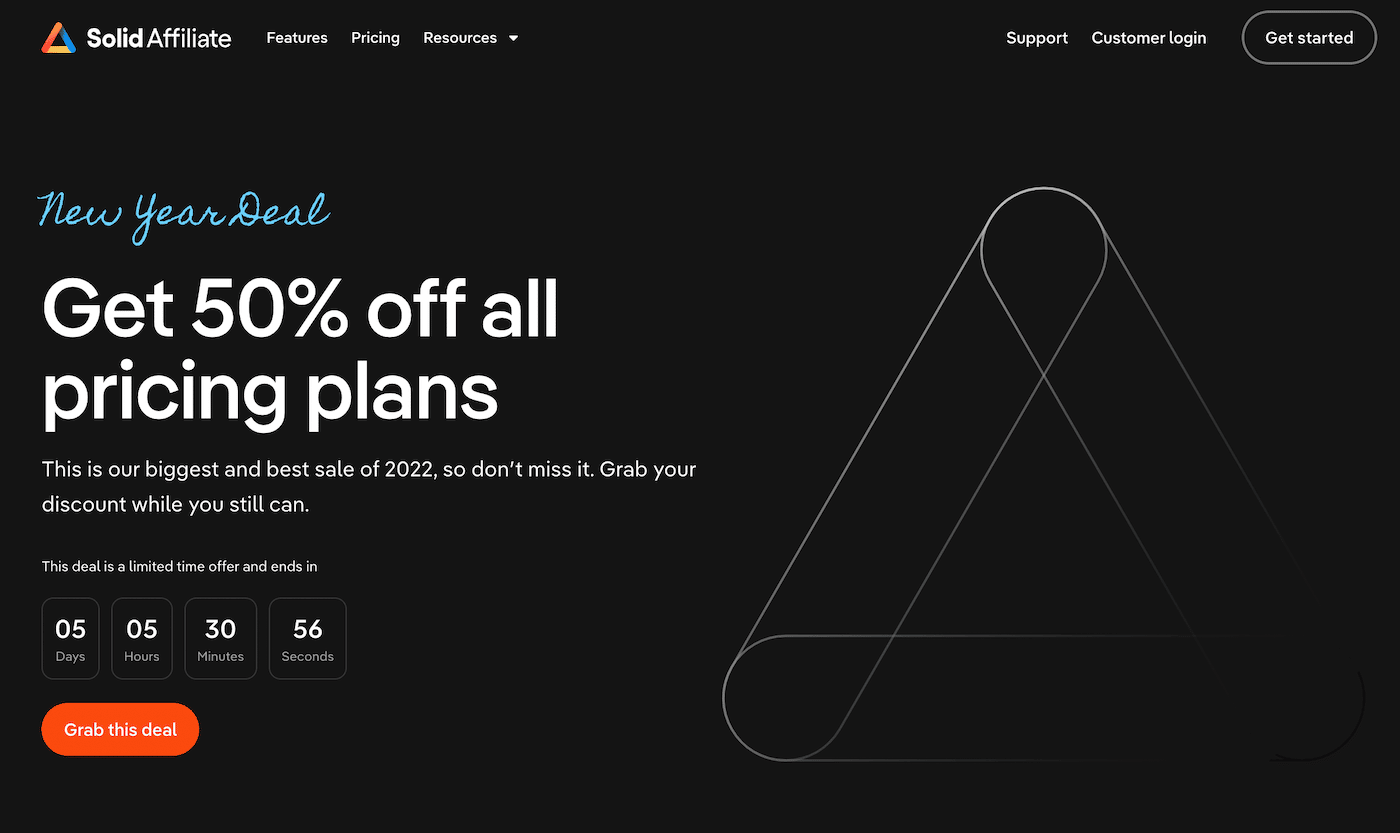 Solid Affiliate is one of the best plugins for building and managing an affiliate program. You'll be able to set up a commission structure, add affiliate registration pages, and even convert your current customers into affiliates.
Key features:
Four-step setup wizard
Real-time reporting
Drag-and-drop registration form builder
Banner ads and promotional videos to share with affiliates
Built-in referral link generator
Customizable commission rates
Automated notification emails
Integration with WooCommerce and PayPal
Recommended for: Vendors who need a fully functional affiliate program out of the box.
Price: Solid Affiliate is a premium plugin, with plans starting at $99 per year. These offer unlimited affiliates, creatives, and conversions.
Benefits of Solid Affiliate:
Solid Affiliate provides an extremely easy setup process for beginners.
You won't have to purchase additional add-ons to access all of the core features.
With the PayPal Bulk Payout integration, you'll be able to pay affiliates all at once.
You can create commission rate overrides, which will give you more control over your custom rates. For example, you may want to set a higher rate for a particular product.
Downsides of Solid Affiliate:
The plugin only supports PayPal as a payment method.
Although the affiliate registration form comes with many fields, you won't be able to add new ones.
There isn't a free version of the plugin.
2. Easy Affiliate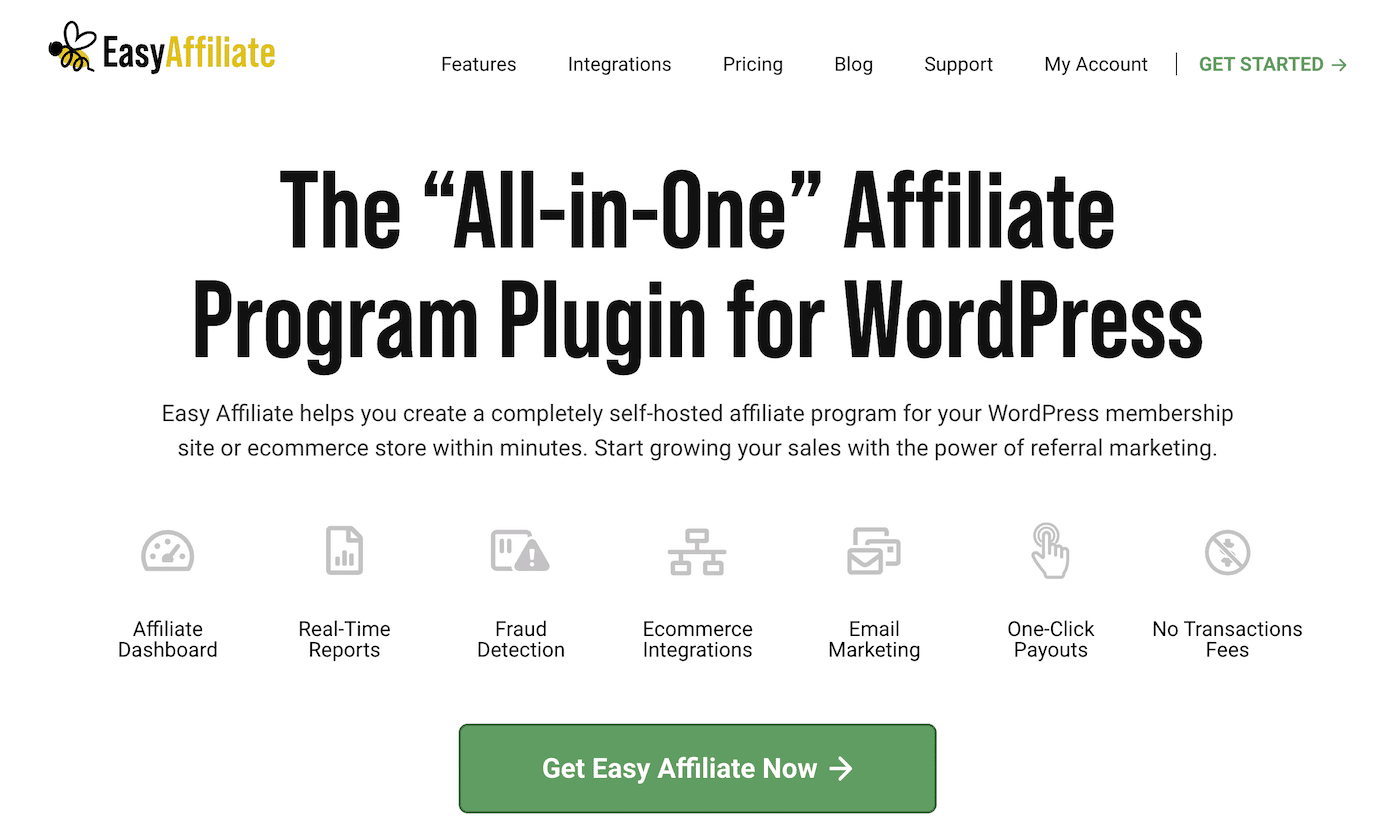 Easy Affiliate is another powerful WordPress plugin for building an affiliate program. It enables you to track commissions, monitor affiliate performance, accept applications, and much more.
Key features:
Simple installation process
Tracks transactions, click-throughs, and commissions
Built-in affiliate application
Creative management over links and banner ads
Custom affiliate link generation
Support for a variety of email marketing tools
Integration with WooCommerce, MemberPress, Mailchimp, and PayPal
Recommended for: Business owners who need detailed analytics for their affiliate programs.
Price: Easy Affiliate has premium plans that start at $99.50 per year.
Benefits of Easy Affiliate
Using this plugin, you can create a custom affiliate dashboard with the WordPress Customizer. Affiliates can then use this page to create links, monitor their progress, and view payments.
Easy Affiliate comes with fraud detection and other advanced security measures. This can help you ensure that only genuine users sign up for your program.
There are many useful integrations with tools like Formidable Forms, Pretty Links, and ConvertKit.
Downsides of Easy Affiliate
Like Solid Affiliate, Easy Affiliate doesn't provide a free version.
The cheapest plan doesn't include the full range of features. For example, you won't be able to create custom commission rules, add different commission levels, or use marketing integrations.
3. SliceWP

If you're looking for an affiliate plugin that is easy to use, consider installing SliceWP. This tool has a beginner-friendly interface that simplifies affiliate management. With SliceWP, you'll be able to quickly approve new affiliates, adjust commissions, and make mass payouts.
Key features:
Step-by-step installation wizard
Customizable affiliate registration form
Real-time tracking reports
Auto-approvals of new affiliates
Custom affiliate commission rates
Mass payouts
Custom cookie duration
Integration with Mailchimp, PayPal, MemberPress, and WooCommerce
Downloads: 3,000+
Rating: 4.9/5
Recommended for: Vendors who are new to affiliate marketing and plan to scale their program.
Price: You can use the plugin for free. Alternatively, there are premium plans starting at $169 per year. SliceWP also offers a one-time purchase for $429.
Benefits of SliceWP
As a beginner, SliceWP can provide an opportunity for scalability. With the free plugin, you can start registering affiliates and customizing promotional links. As your program grows, upgrading to a premium version will enable you to set up custom commission rates and multi-level affiliates.
SliceWP has a clear and simple interface that is perfect for learning the basics of affiliate marketing.
You can set a custom cookie duration for affiliate links.
Downsides of SliceWP
Compared to similar WordPress affiliate plugins, SliceWP has expensive subscription options.
4. Affiliates Manager

As a business owner, you might not have the budget for an expensive affiliate plugin. Affiliates Manager is a completely free tool for setting up an effective affiliate program, with real-time reporting and customizable registration forms.
Key features:
Unlimited affiliates
Customizable affiliate registration
Real-time reporting for traffic and sales
Referral link generator
Automatic and manual affiliate approval
Percentage or flat-rate payouts
Custom cookie duration
Integration with WooCommerce, Gravity Forms, MemberPress, Stripe, and more
Downloads: 10,000+
Rating: 4.2/5
Recommended for: Business owners who need a cost-effective WordPress affiliate plugin.
Price: You can download Affiliates Manager for free from the WordPress Plugin Directory. If you want to access premium technical support or unlimited site usage, you'll need to purchase the premium version. Plans start at $39 for a single site.
Benefits of Affiliates Manager
Other premium plugins restrict your number of affiliates based on your subscription tier. With Affiliates Manager, you can register unlimited affiliates for free.
You'll be able to choose between flat-rate and percentage-based commissions. You can also assign unique payouts for specific affiliates.
You can prevent affiliates from earning a commission on their own purchases.
Downsides of Affiliates Manager
There aren't many opportunities for automation. Unlike similar plugins, you can't automatically turn your customers into affiliates.
It has a decent amount of features that might suit small to medium-sized businesses. However, larger companies may need a more flexible plugin.
5. AAWP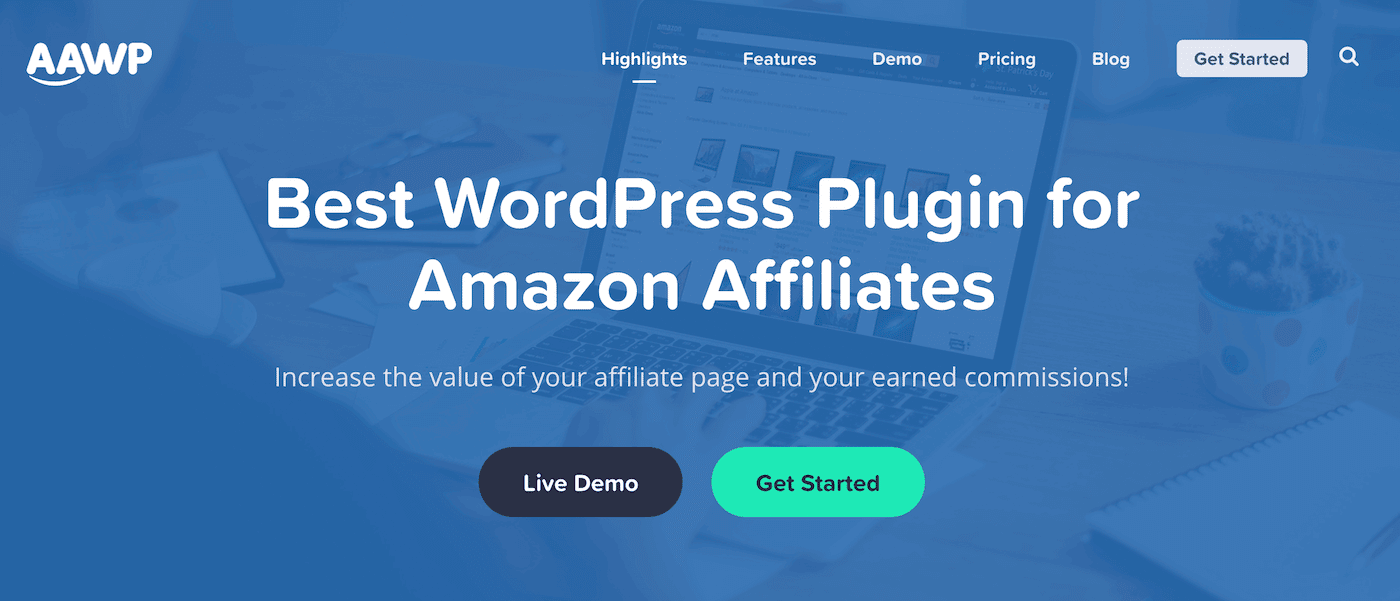 As an affiliate, one of the most popular programs you can join is Amazon Associates. To properly integrate Amazon products into your WordPress site, consider installing AAWP. This plugin will help you create product boxes, best-seller lists, and more.
Key features:
Not dependent on a WordPress theme
Responsive and mobile-friendly
Ability to create text links, product boxes, comparison tables, and more
Gutenberg blocks
Customizable product styles
Option to shorten product links
Click tracking
Recommended for: Affiliates who are joining the Amazon Associates program.
Price: AAWP is a premium plugin that starts at €49. With the basic plan, you'll get all the core features you need to display Amazon affiliate products.
Benefits of AAWP
In addition to text links, you can showcase affiliate products in product boxes, best-seller lists, comparison tables, and WordPress widgets.
Since Amazon consistently changes its product information and pricing, AAWP will automatically keep your affiliate links up to date.
AAWP has geotargeting, which means that you can earn commissions from a global audience.
Downsides of AAWP
Some reviewers mention that the interface is not very user-friendly. It can take time to master the plugin.
Although AAWP can help you build best-seller and latest-release lists, it won't allow you to directly search for Amazon products. Without this shortcut, you'll have to go to Amazon and generate the links yourself.
6. ThirstyAffiliates

If you're joining affiliate programs, it's important to find a tool to optimize your affiliate links. With ThirstyAffiliates, you can cloak, insert, and track links directly from your WordPress dashboard. This can help you improve your linking strategy and drive more conversions.
Key features:
Link cloaking and shortening
Keyword auto-linking
Smart uncloaking
301, 302, and 307 redirects
Click tracking and reports
Geolocation links
Amazon API importing
Automatic link health checker
Downloads: 400,000+
Rating: 4.6/5
Recommended for: WordPress bloggers who want to promote affiliate links to their global audience.
Price: There is a free version of ThirstyAffiliates. However, it doesn't include automatic keyword linking, geo-targeting, or Amazon API importing. To access these features, you'll need to upgrade to ThirstyAffiliates Pro. Plans start at $79.50 yearly.
Benefits of ThirstyAffiliates
One of the most useful features of ThirstyAffiliates is its keyword auto-linking. Once you identify a target keyword, the plugin will automatically add affiliate links to those terms.
This plugin can also geo-target your online visitors. This means they'll be redirected to an appropriate affiliate link based on their location.
The proactive link fixer will scan your site for broken links.
Downsides of ThirstyAffiliates
ThirstyAffiliates doesn't have many integrations available. You'll be able to use the plugin alongside Google Analytics and Amazon, but it doesn't support well-known plugins like WooCommerce.
7. Ultimate Affiliate Pro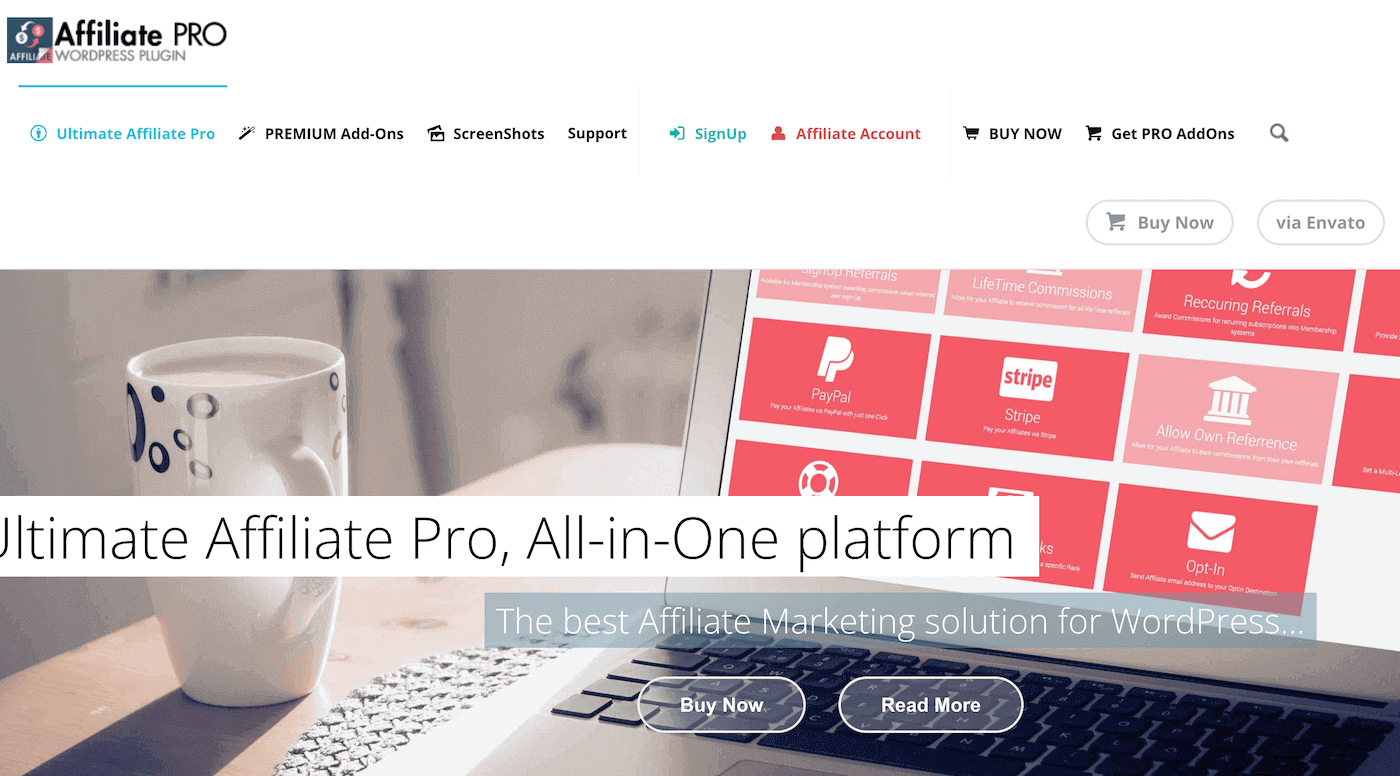 If you want affiliates to join your program, you can set up enticing rewards with Ultimate Affiliate Pro. This affiliate program management plugin can help you create performance bonuses, Multi-Level Marketing (MLM) systems, and special offers.
Key features:
Unlimited affiliates
Customizable registration form
Templates for login, registration, and account pages
Reports for affiliate activity, referrals, and payouts
Percentage-based or flat-rate commissions
PayPal and Stripe payouts
Integration with Easy Digital Downloads, WooCommerce, MailPoet, and more
Downloads: 14,000+
Rating: 4.6/5
Recommended for: Vendors that want to offer custom rewards to their affiliates.
Price: Ultimate Affiliate Pro is available for $69 on CodeCanyon.
Benefits of Ultimate Affiliate Pro
Ultimate Affiliate Pro provides many ways to gain high-performing affiliates. You can create different ranks with unique commission levels. The plugin also supports multi-level marketing, so current affiliates can bring new people into your program.
If your preferred currency isn't available in Ultimate Affiliate Pro, you can add your own.
There are pre-designed templates for affiliate registration, login, and account pages.
Downsides of Ultimate Affiliate Pro
If you need help with the plugin, you'll have to contact the developer's profile page on Envato. The business website doesn't offer any additional support channels.
8. Post Affiliate Pro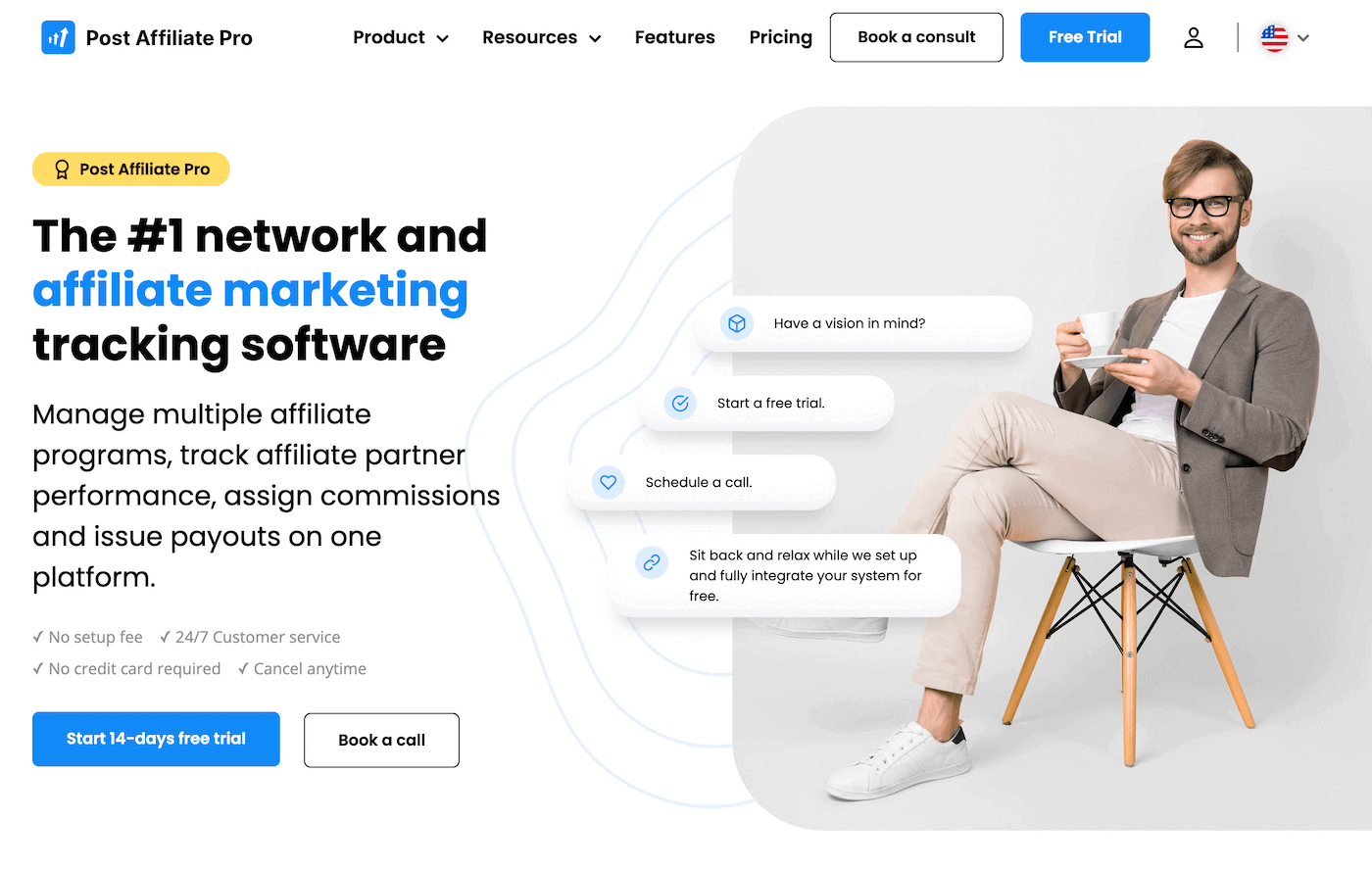 Larger businesses will likely require more extensive affiliate tools like Post Affiliate Pro. This plugin enables you to create more than one affiliate program and start building a network.
Key features:
Multiple affiliate programs
Reports on top affiliates, click-through rates, and commissions
Audit logs
Image, lightbox, flash, and PDF banners
Recurring and lifetime commissions
Mass payments
Multiple currencies
Integration with MemberPress, WooCommerce, Easy Digital Downloads, and more
Downloads: 1,000+
Rating: 4.6/5
Recommended for: Larger businesses that want to create and manage an affiliate network.
Price: Post Affiliate Pro has a free plugin. However, you'll need to purchase the software to integrate it into your WordPress dashboard. These plans start at $129 per month.
Benefits of Post Affiliate Pro
With Post Affiliate Pro, you can build multiple affiliate campaigns, including private ones. Using this feature, you'll be able to invite well-performing affiliates to promote specific products.
Post Affiliate Pro integrates with more than 125 other plugins.
Since the plugin has multilingual features, your affiliates can use the dashboard in their native language.
Downsides of Post Affiliate Pro
Post Affiliate Pro is more expensive than similar plugins. Plus, it will charge you an extra fee if you go over your set tracking request limit.
9. Affiliates by itthinx

Affiliates by itthinx makes it possible to create an affiliate program for free. Although this is a cost-effective tool, you'll be able to register an unlimited number of affiliates. It also includes detailed reports on affiliate links, traffic, and referrals.
Key features:
Unlimited affiliates
Real-time reports
Automated affiliate registration
Affiliate dashboard templates, shortcodes, and blocks
Flexible commission rates
Mass payments
Integration with WooCommerce, Ninja Forms, BuddyPress, and more
Downloads: 4,000+
Rating: 4.5/5
Recommended for: Business owners who need a free plugin for creating an affiliate program.
Price: You can fully set up your affiliate program using the free plugin. However, Affiliates Pro provides a more detailed dashboard with referral rates and export features. This version starts at $49 for a single site.
Benefits of Affiliates by itthinx
The plugin seamlessly integrates with the native WordPress functionality. You'll be able to customize the affiliate dashboard using familiar blocks and shortcodes.
There are many free integrations to extend the basic features. These include tools for social sharing, events, advertising, and form building.
Downsides of Affiliates by itthinx
The interface is a bit more outdated than other WordPress affiliate plugins.
You may not have as many features as a premium affiliate plugin. For example, the plugin doesn't support customizable cookies.
10. Pretty Links

When you create an affiliate link, it may contain extra characters that make it look spammy. In this case, you can use Pretty Links. This affiliate plugin enables you to shorten or cloak your affiliate links.
Key features:
Link shortening and cloaking
301, 302, and 307 redirects
One-click link sharing
Click tracking
Reports on daily clicks
Auto-link keywords
Link categories and tags
Integration with Google Analytics and MonsterInsights
Downloads: 300,000+
Rating: 4.8/5
Recommended for: Website owners looking to optimize their affiliate links.
Price: You can get started with the free version. If you need to access advanced redirects or create link expiration dates, Pretty Links Pro starts at $99.50.
Benefits of Pretty Links
Pretty Links can help you create links that maximize Search Engine Optimization (SEO). Plus, shortened or cloaked links can be more appealing to potential customers.
Along with generating links, the plugin provides detailed click-tracking reports so you can see your top-performing products.
Downsides of Pretty Links
It doesn't integrate into the WordPress Block Editor, so you can't manage links as you're writing content.
Pretty Links doesn't automatically check your website for broken links.
How To Choose the Best WordPress Affiliate Plugin
Now that we've discussed some of the best WordPress affiliate plugins, it's time to choose one for your website. To help you make the right decision, here's a rundown of the best options based on different factors:
The best value – ThirstyAffiliates
The best free option – Affiliates Manager or Affiliates by itthinx
For powerful reports – Easy Affiliate
For powerful integrations – Post Affiliate Pro
To reward affiliates – Ultimate Affiliate Pro
For beginners – SliceWP
To quickly create an affiliate program – Solid Affiliate
For Amazon affiliates – AAWP
For managing multiple affiliate programs – Post Affiliate Pro
For optimizing affiliate links – Pretty Links
Ultimately, you'll want to find a plugin that meets your personal goals. This can help you avoid paying for features you don't need. By identifying your needs, you can choose a compatible tool for building your affiliate program or becoming an affiliate.
Summary
You may consider manually creating affiliate links or building an affiliate program for your business. However, WordPress affiliate plugins can do all the work for you. Plus, most of them are designed to help you increase your affiliate income.
For example, Solid Affiliate enables you to instantly set up an affiliate program and turn existing customers into affiliates. Meanwhile, bloggers can use a plugin like ThirstyAffiliates to create affiliate links and integrate them into their content.
Are you looking for affiliate programs with generous payouts? When you become a Kinsta affiliate, you can earn up to 10% in lifetime monthly commissions. Check out our affiliate program to learn more!