You're mistaken if you believe that your website or online business can succeed without proper website traffic assessments and brand competition analysis. But how can you do that?
Enter website traffic analysis tools.
Millions of internet users, from small businesses to major corporations, employ web traffic estimators to segment traffic and use that data effectively to enhance the performance of their websites and marketing visions.
Finding the best tool for your needs can be tricky because there are so many options available. In this article, we've taken it upon ourselves to list the top 15 tools for accurately assessing website traffic.

What Is Website Traffic Analysis?
Website traffic analysis involves collecting and analyzing data about visitors to your site and their actions once they reach it. This information is vital for marketers to implement effective tactics that optimize website traffic and improve improve conversion rates.
The amount of traffic is no longer the only metric used to verify a business's success. That's why we have comprehensive website traffic analysis tools to help us make accurate assessments.
How Do Website Traffic Analysis Tools Work?
Tools for website traffic analysis look at important statistics that show the areas where your site is productive and where you need to make improvements.
These checkers scrutinize user behavior on your web pages and show calculated details about important key performance indicators (KPIs).
These KPIs include:
Traffic volume: The number of new and returning visitors to your website along with their demographic info.
Traffic sources: How users reached your site (e.g. organic search, sponsored ads, email, social media posts).
Page views: The number of times people visit specific pages on the site.
Session duration: The total amount of time a visitor spends on your website.
Bounce rate: The proportion of visitors who landed at any of your webpages and then left without further interacting with the site.
Conversion rate: The percentage of visitors that interact with a call to action on the website (such as submitting a form or purchasing a product). This interaction is known as a conversion.
Unique visits: Counts only a person's first visit, allowing you to separate potential clients from loyal users.
Exit pages: Identifies the pages from which each visitor leaves your website.
What Do Website Traffic Analysis Tools Measure?
Website traffic analysis tools measure the performance of your website using the aforementioned metrics. The data they gather allows you to compare your performance to your competitors' and make sure you're on the right track.
The key measurements, however, are centered around unique visitors (UVs), page views, and traffic curves.
Monitoring unique visitors will help you identify the number of individuals who viewed one of your website's pages at least once a month.
With traffic views, the duration of every session genuinely matters depending on the type of website you're running. For example, it would be a critical indicator for content-generating websites.
As for traffic curves, they help determine peak audience activity times. Consequently, you'd be able to learn at what times you can expect traffic surges so you improve your strategies.
Benefits of Website Traffic Analysis
Website traffic analysis tools play a critical role in helping you personalize your B2B strategy to match your clients' needs and learn more about your industry rivals.
Here are the top three advantages of employing these tools.
In-Depth Insight Into Website Traffic
Website traffic analysis reveals the different sources of online traffic, allowing you to determine which marketing model produces positive business outcomes. You'll also be able to track the progress of both organic and sponsored traffic in real time.
Improving User Experience
Your target audience is your source of profit. It's essential to develop a deep understanding of your intended clientele in order to market your products or services successfully.
Website traffic analysis tools help you identify the types of users that visit your website, their interests, and every action they take on your web pages. As a result, you'll discover how to improve user experience (UX) and get a clearer picture of how well your website is performing.
Consider this: Do you actually reach your target audience? Which pages do they stay on the most? Do you have any undetected technical problems that drive users away? Do you meet your ROI objectives? How well are you achieving your conversion goals?
Traffic analysis tools can also help you discover whether you're using a trusted web host that won't negatively impact the availability or load times of your pages, which can destroy your brand identity.
Boost SEO Rankings
Many website traffic analysis solutions include search engine optimization (SEO) tools for enhancing your site's ranking on search engines, especially Google. These features let you see how keywords are affecting your SEO and even how much traffic you're receiving from social media platforms.
With the aid of these checkers, you can make precise modifications to improve your SEO status and get recognized on Google's first pages.
Top 15 Tools for Effective Website Traffic Analysis
There are tons of powerful services on the Internet that you can utilize for measuring, tracking, and managing your site. We've compiled a list of the top 15 website traffic analysis tools to save you time and energy.
1. MyKinsta (MyKinsta Analytics)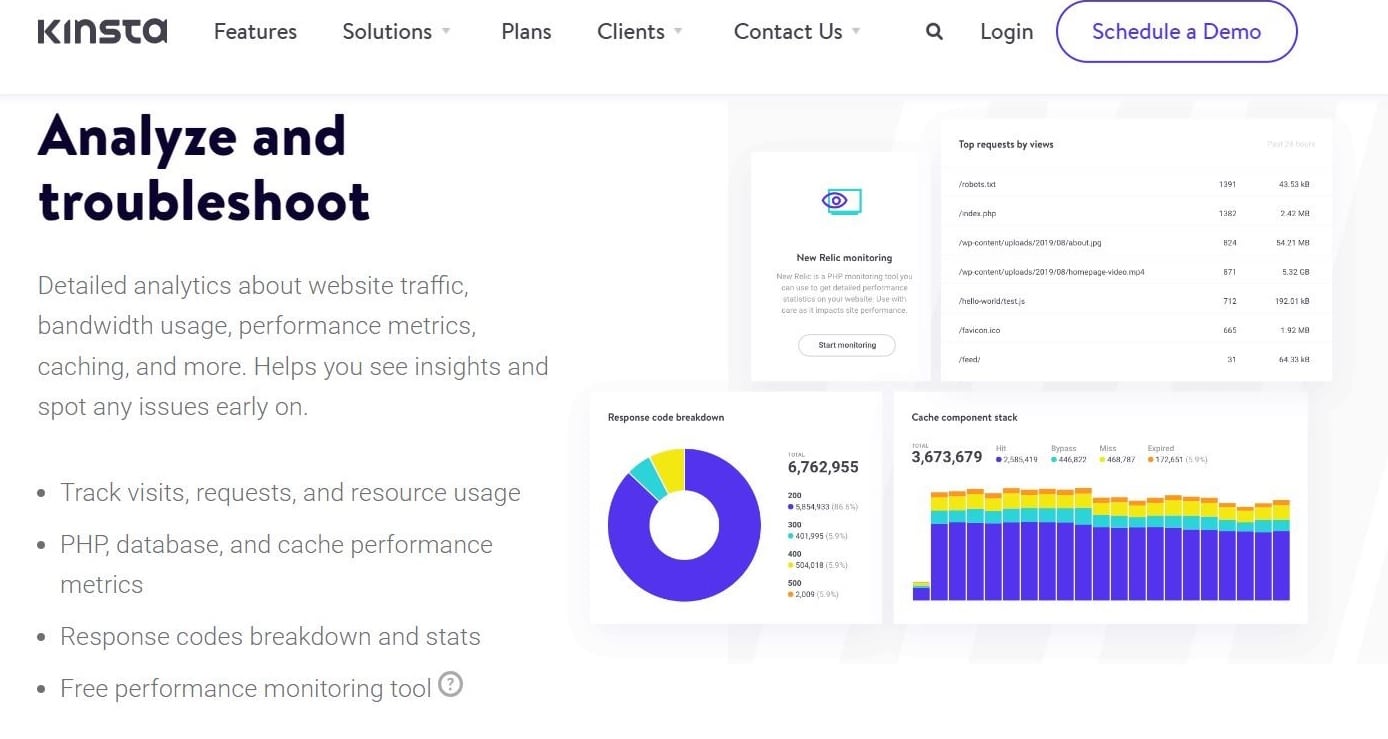 Developed in-house by Kinsta, the MyKinsta dashboard is one of the easiest full-fledged tools in the market for site management.
You can do pretty much everything through MyKinsta — from basic database search to employing server-level 301 redirects, issuing free SSL certificates, blocking IP addresses, harnessing premium DNS management, and so much more.
For the benefit of this article, we'll clap eyes on MyKinsta Analytics, a tool within the MyKinsta dashboard.
With this tool, you have access to a wealth of performance-related analytics. For starters, you can view statistics for each site separately or collectively, with lookback windows of 24 hours, one week, and one month.
MyKinsta Analytics also provides you with extensive reports on resource usage for visitors, bandwidth, and top requests by visits or bytes. Performance monitoring reports cover different aspects, including MySQL and PHP response times as well as AJAX usage.
What's more, the "Dispersion" section permits you to compare the percentage of traffic that comes from desktop and mobile devices for your website.
Plus, you receive a detailed analysis of the response codes on your website. These HTTP status codes range from 200 to 500. In addition, you can view the total number of redirects, success rates, errors, and error ratios. The tool's "Top 404" error list comes in particularly useful here.
To top it off, all sites hosted with Kinsta are complemented with the Kinsta APM tool for free. The Kinsta APM tool is a robust utility that's used to troubleshoot your website and boost its page loading speed. PHP processes, external HTTP calls, MySQL database queries, and other activities on your site can all be time-stamped in the APM tool.
Pricing:
For startups and businesses, Kinsta offers a variety of pricing options. The smallest bundle has a monthly cost of $35, and the most expensive is $1,650.
All Kinsta subscriptions are backed by a 30-day money-back guarantee.
Features:
Free APM tool
Resource usage tracking
Traffic analysis
Site and time period filters
Cache analytics
In-depth reports for desktop vs mobile visitors, countries, and requests
24/7 support
2. Semrush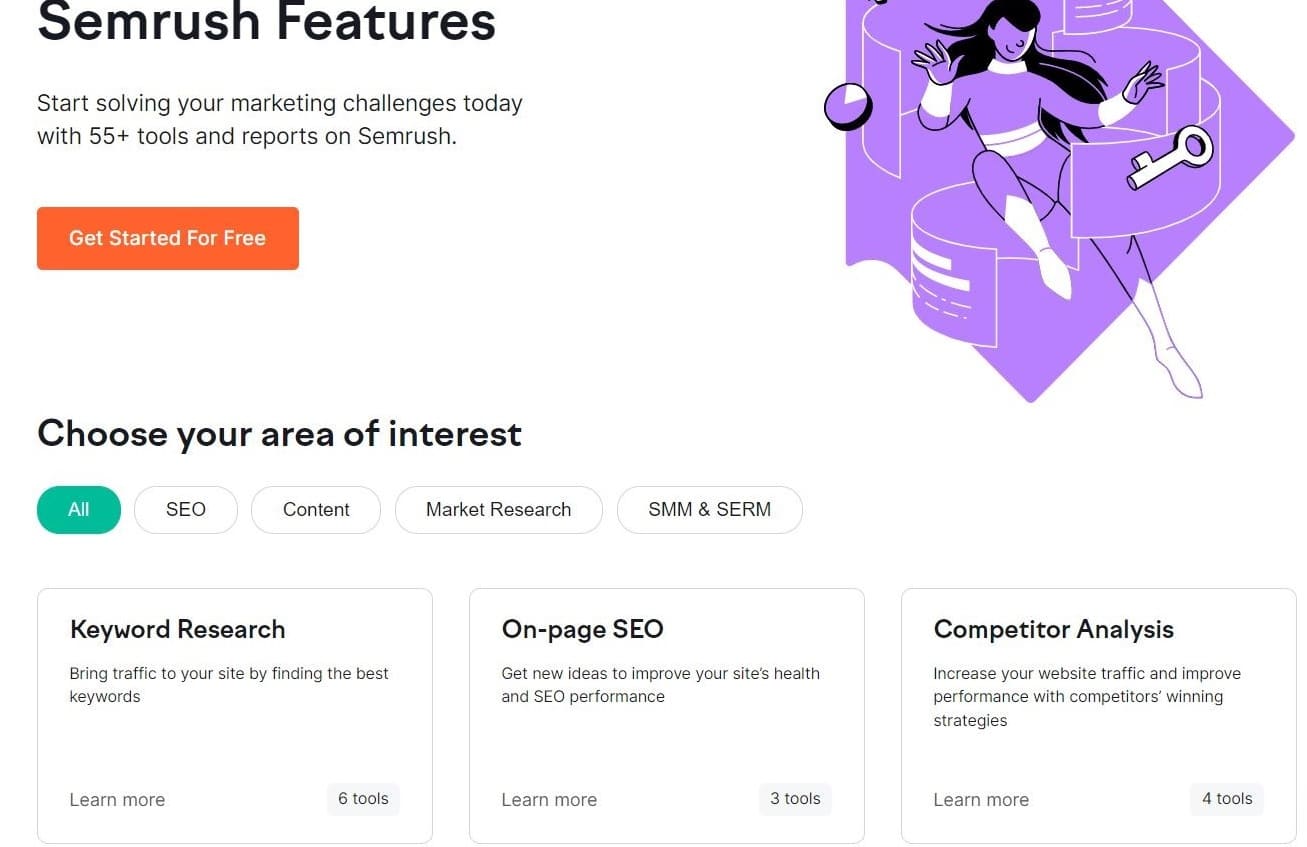 Launched in 2008, Semrush offers a whole range of marketing and accurate website traffic analysis tools for online businesses.
Semrush helps you measure your own online traffic and domain's performance by giving you complete reports of visits, session duration, and page views. Plus, you can analyze the ratio of mobile to desktop traffic and user interaction.
Semrush lets you check the performance of your competitors' websites as well. Through crucial metrics like the growth of monthly traffic volume, traffic segmentation by country, and leading keywords, you'll have a thorough understanding of how other companies in your industry are performing.
As a result, you'll gain insights about different successful marketing strategies and the latest trends. Simply type a URL, domain, or keyword into the search field to get a multitude of viewpoints.
Semrush allows you to explore lists of indexed pages and backlinks, too, and the Bulk Traffic Analysis feature to check the traffic volumes for several businesses at once. It additionally provides detailed solutions to optimize your website's content and SEO for local and global searches.
Pricing:
You can choose between monthly and yearly payments for Semrush's three price levels. Pro, Guru, and Business plans are $119.95, $229.95, and $449.95 respectively. Pro and Guru packages are available to try for free for the first 7 days of purchase.
Semrush also offers a free-forever account with capped features, which is a good option for beginners and startups.
Features:
Domain, backlinks, and keyword analytics
Up to 5,000 keywords to track
Mobile rankings
Up to 1 million pages to crawl per month
Link building, content marketing, and social media management
API access
Google Looker Studio integration
3. Similarweb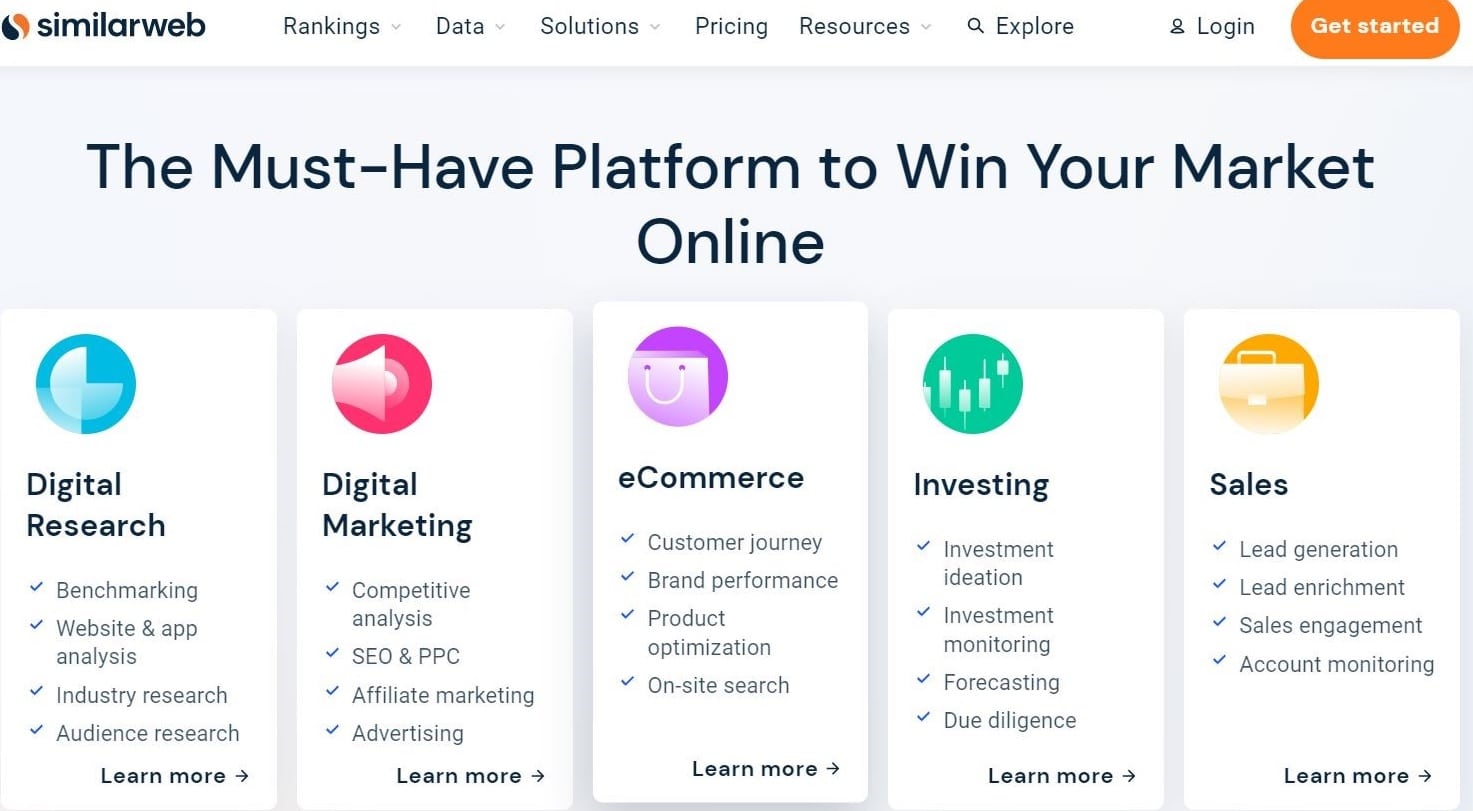 Similarweb is a powerful data platform for monitoring market trends and traffic in real time. It's ideal for growing businesses and large enterprises. Popular brand names that utilize this service include eBay, Booking.com, The Economist, PepsiCo, and Walmart.
The most notable thing about Similarweb is that it helps you fully understand everything happening on your site — including which locations send you the most traffic — through a simple and quick process.
This website traffic analysis checker also gives you a detailed breakdown of your audience and lets you see how other websites are performing. You can use it to analyze the interests of your visitors and review conversion analysis reports to generate more leads.
Using the "Referrals" feature, you can check your affiliates and learn which websites are directing users to the site, as well as the most common place for them to go after leaving.
To top it off, Similarweb provides you with a summary of the publishers and sponsored links that are used by the website for displaying ads.
Pricing:
Plans from SimilarWeb are focused on search, affiliate marketing, and display. There is also an Enterprise package that includes every feature available in each of those tiers.
You can contact the sales team to get an accurate quote. A free trial and a free version with limited functionality are also available.
Features:
Analysis for companies, apps, audience, conversion, and industries
Dashboards and excel export
API access
Global and country-level traffic monitoring
Display advertising
Affiliate tracking and SEO optimization tools
4. Sitechecker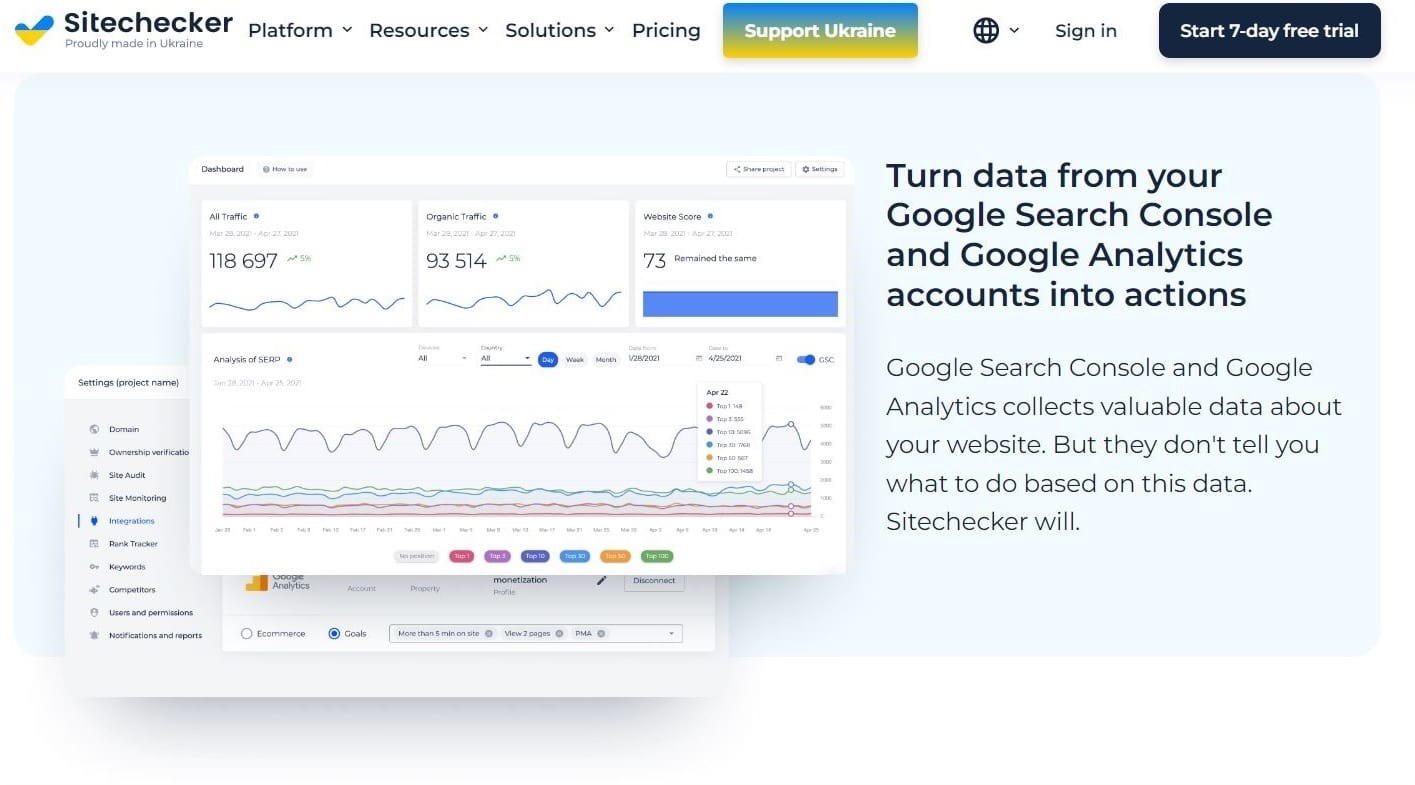 Sitechecker is a multipurpose SEO analytics solution that enables you to swiftly and effectively track the success of your web resource marketing strategy so that you can progressively enhance performance.
Sitechecker's website crawler function assists in finding — and instantly resolving — any and all technical SEO errors in order to drive more traffic. To help you maintain a healthy website, Sitechecker also lets you check for broken links, inspect your website's architecture, and explore the best landing page options. Furthermore, the built-in keyword rank checker lets you verify your domain's Google rank.
While Sitechecker focuses mainly on SEO optimization, it includes a website traffic analysis checker feature that shows comprehensive statistics for various channels and timescales.
If you're seeking a full-scale tool for technical SEO audits, on-page SEO booster, and keyword tracker, then Sitechecker is worth trying.
Pricing:
Sitechecker has four subscription levels available; you can sign up monthly or annually. Prices range between $23 and $499 for enterprises.
You can also try the service for two days and get a full refund if you decide to cancel.
Features:
Intuitive and user-friendly interface
Instant notifications function
Companion Chrome extension with SEO metrics
White label reports
Unlimited traffic, rank, and on-page SEO checkers
Weekly and monthly backlink tracker
SERP history
Up to 100,000 keywords
Mobile rank tracking
5. Serpstat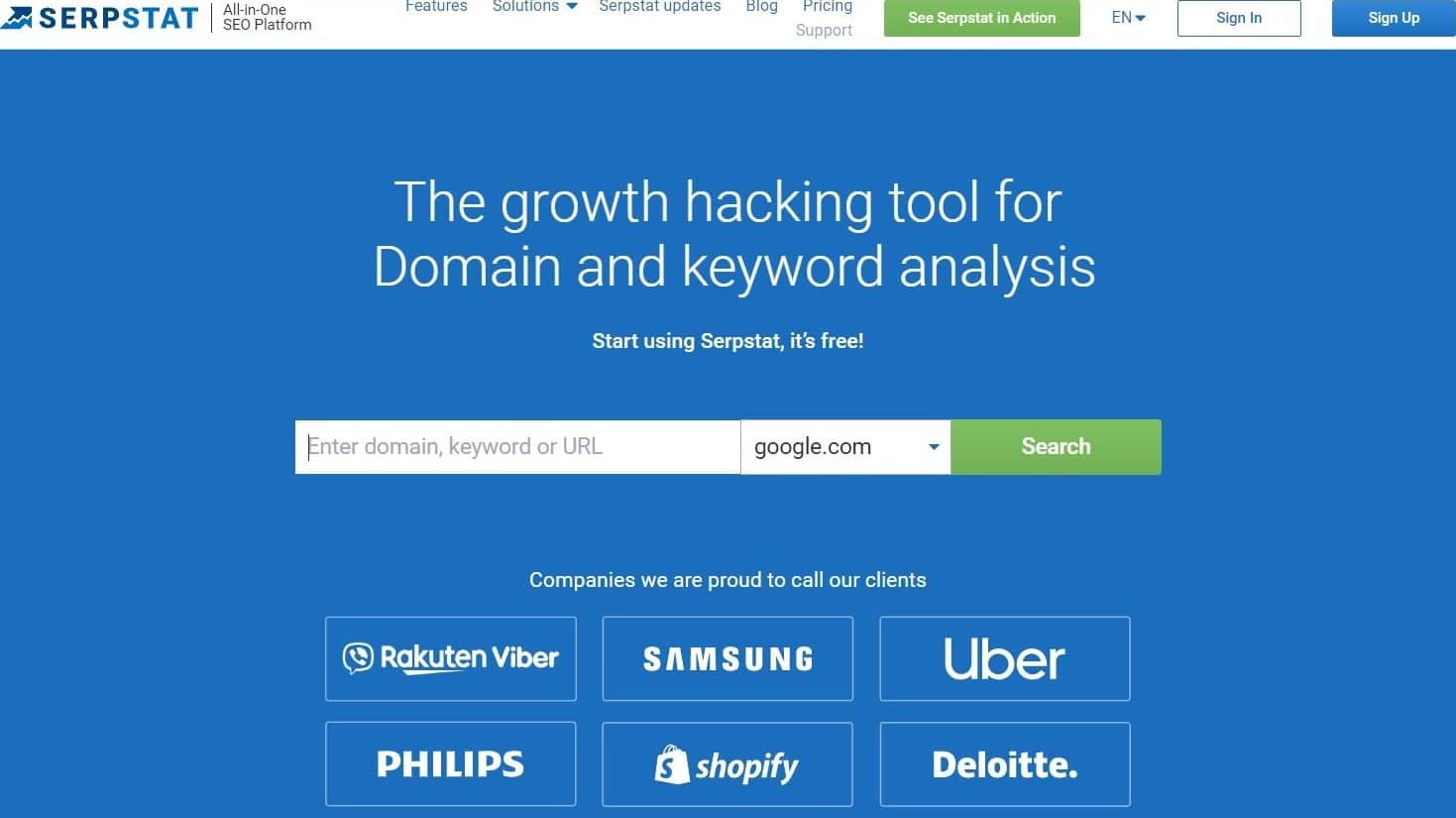 Serpstat is another SEO-centric website traffic analysis auditor to help businesses and professionals pipe more organic traffic to their sites. It assists you in automating every step of your search engine optimization campaign, sparing you hours or even days each month.
Backlink analysis, URL analysis, rank tracker, and keyword research are some of the tool's best components. What's more, Serpstat has over 230 Google databases available as keyword data sources.
You can evaluate your website using Serpstat in relation to the PPC keyword ranking shown by the keyword's click-through rate (CTR), visibility, and as organic traffic and keyword rankings. This online tool works at both the domain- and the URL-level for site analytics.
Serpstat additionally gives you a glimpse of the competitors' search base besides their site's performance. As a result, you'll know exactly how to raise your game and maintain a competitive edge.
The "Infographics" tab allows you to extract all the data from your site with just one click. Plus, Serpstat makes it easy to filter out data and customize views.
Pricing:
Serpstat has four preset packages (Lite, Standard, Advanced, and Enterprise) as well as a custom package to tailor according to your requirements. The Lite plan costs $48 per month, whereas the Enterprise membership is for $349.
A free trial is also available for a limited time.
Features:
Full-fledged SEO analysis tool
Clean interface and easy-to-use dashboards
API access
Fast and accurate site audit
Comprehensive visualizations and analytics reports
Up to 12,000 searches a day
Backlinking and rank tracker
Auditing for up to 2.5 million pages
6. Google Analytics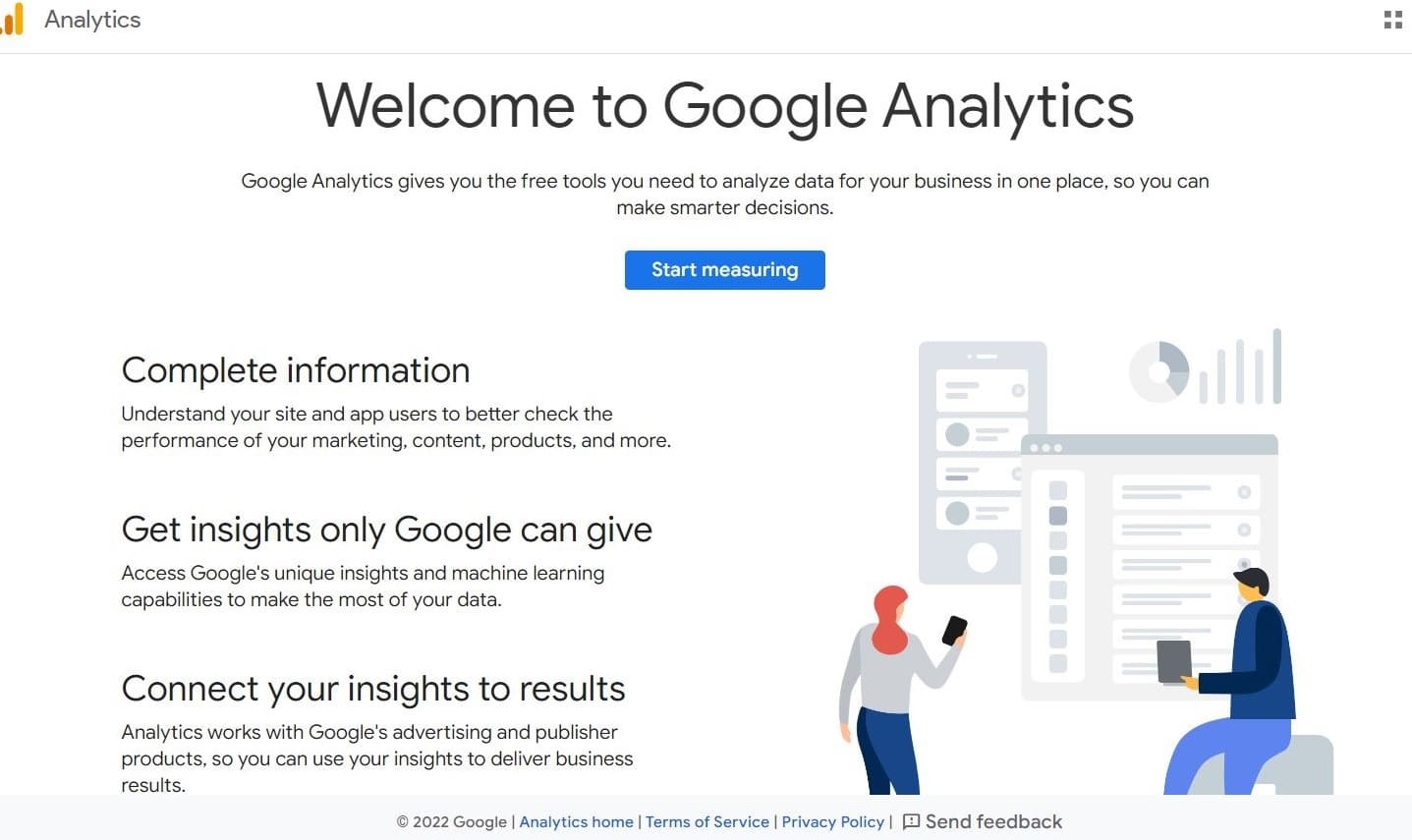 You've probably come across Google Analytics more than once already. It's without a doubt one of the most powerful freemium products out there, favored by thousands of users.
You can use its extensive reports to measure your site traffic, identify your most popular content, and see how visitors and prospects use your website to convert. Google Analytics also allows you to create audience segments for Google Ads' remarketing and promotional campaigns.
Google Analytics additionally lets you manage more than one property under one account. It's also possible to view parameters for different sites via a single dashboard. The service is fully compatible with a wide range of platforms and services, including WordPress.
Because of its boatload of features and comprehensive graphs, using Google Analytics can be tough sledding for newcomers. That's why many beginners seek friendlier alternatives.
Pricing:
Google Analytics is essentially free for all users. That said, there's a premium version available for large corporations, called Analytics 360. To get an accurate price tag, you'll need to contact their sales team.
Features:
Feature-rich free service
Compatible with most websites
Extensive reports (e.g. acquisition reports, audience reports, conversion reports, real-time tracking)
Funnel analysis
Semi-custom dashboards
7. Ubersuggest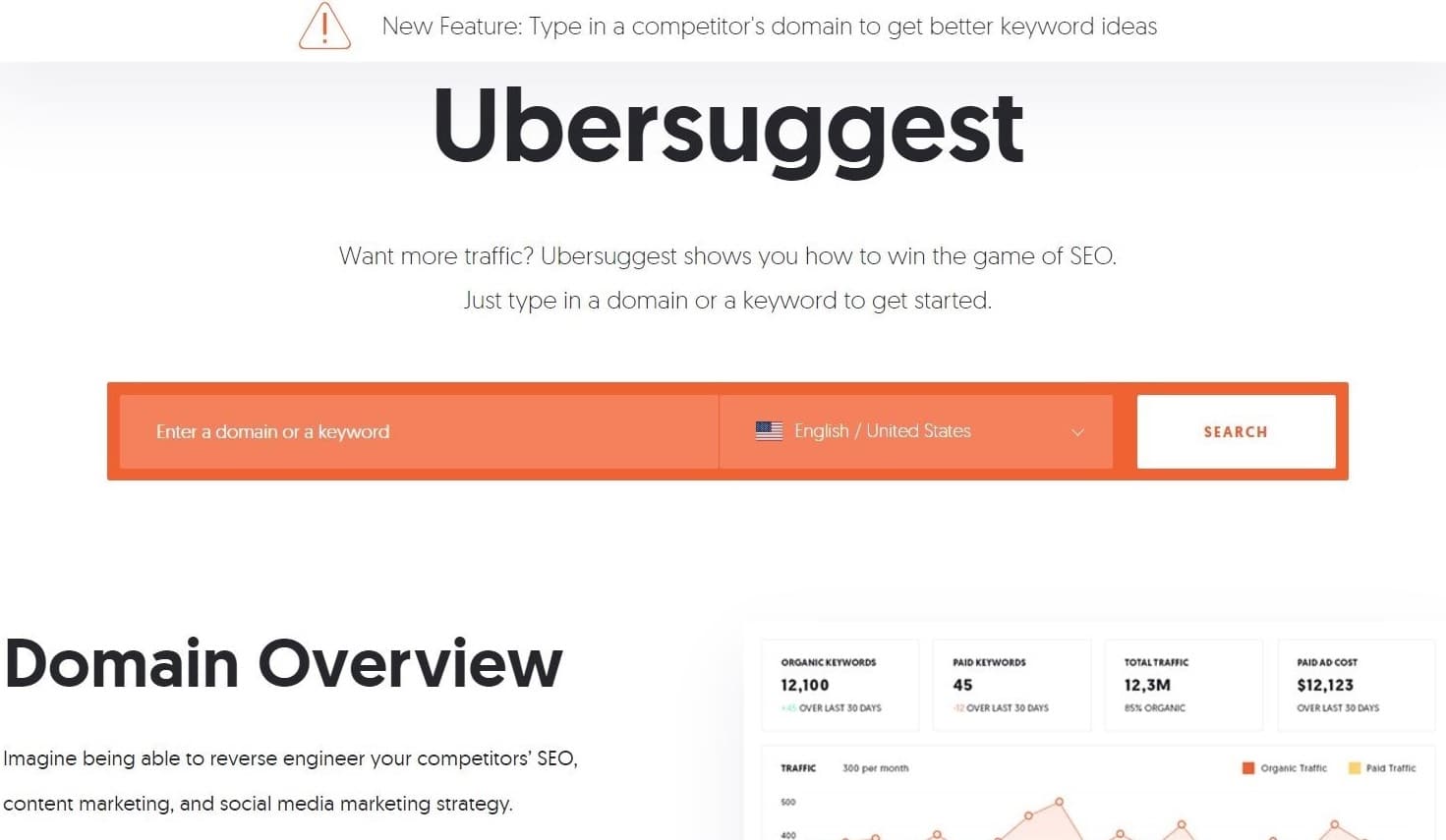 A brainchild of Neil Patel, Ubersuggest is an affordable, full-fleshed SEO research solution. It has an extensive library of suggested keywords and content to help startup businesses achieve high rankings.
Ubersuggest's keyword aspect is divided into five major subsections: overview, ideas, traffic, similar websites, and content ideas. Each segment performs a distinct task to give you detailed statistics on things like search traffic, SEO difficulty, relevant keywords, top results for keywords, and more.
Ubersuggest, like the other tools on our list, enables you to keep an eye on both your website and those of your opponents. Additionally, it has helpful functions like backlinks, rank tracking, and site audititing.
What's more, Ubersuggest includes a Chrome extension that's easy to install. This companion SEO plugin works quite well on Google and shows vital SEO data.
When utilizing Ubersuggest, you should submit information on the user dashboard first. After that, you'll add websites, projects, and organic keywords to the dashboard (depending on your subscription).
Need help? Live chat and email are available!
Pricing:
Ubersuggest prices range from $29 to $99 per month. All subscriptions come with a 7-day free trial, too.
A free plan is also available, granting you three searches a day.
Features:
Affordable plans
Extensive SEO tools
User-friendly dashboard
Self-help resources
Social media results
8. Adobe Analytics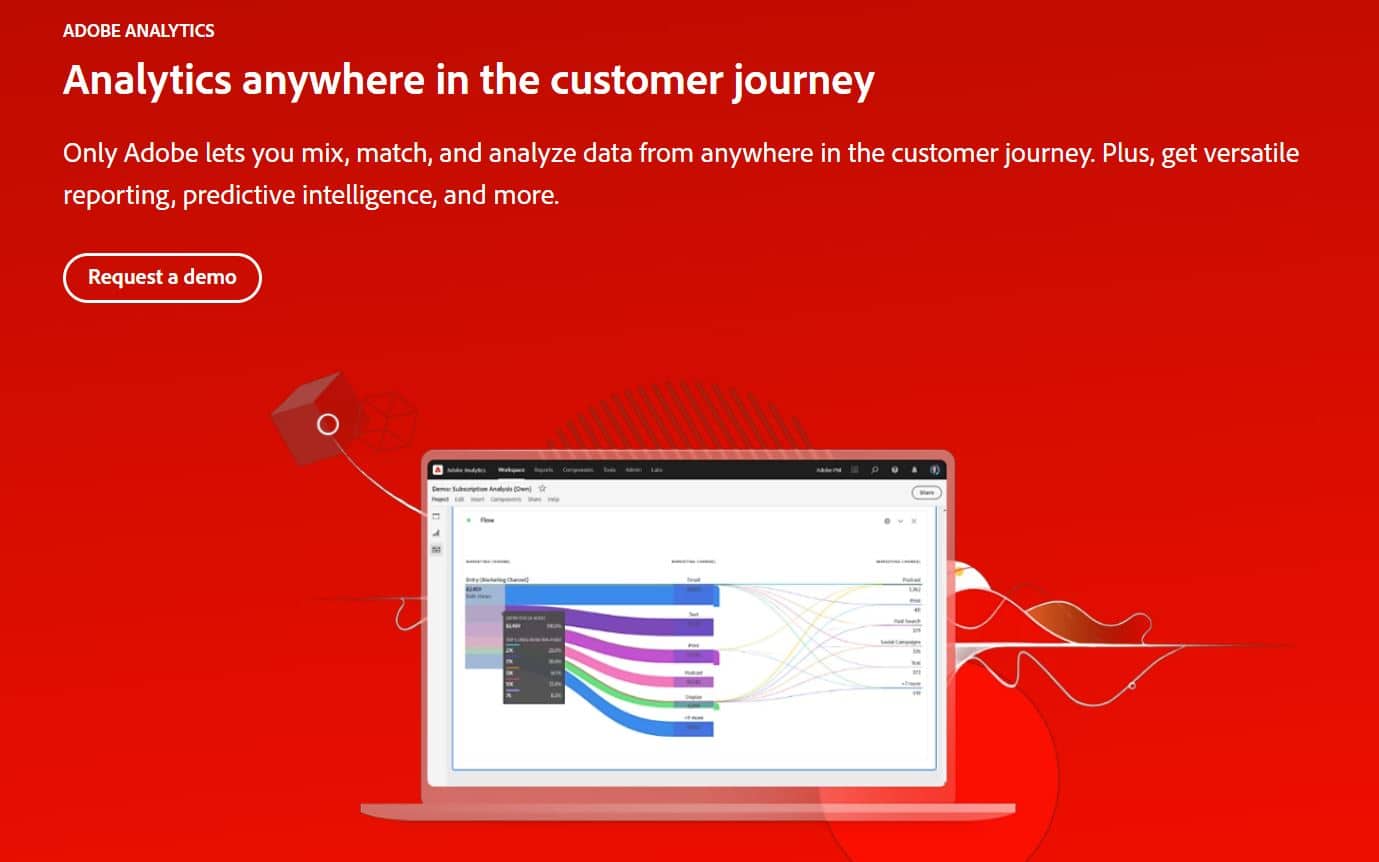 Part of the Adobe Cloud market, Adobe Analytics is a specialized, real-time web analytics service for large enterprises. The goal of Adobe Analytics is to capture web activity, spot prospects, and address problems.
The highly flexible Data Workbench tool permits users to compare and identify trends at all levels, from the broadest picture to specific customers, as well as measure the efficiency of mobile ads and videos. It's also designed with online and offline customer interactions in mind.
Predictive Analytics is another powerful feature. Using AI techniques and advanced statistical models, it analyzes visitor data, recognizes patterns, and estimates their future actions. Consequently, analysts will be able to use enormous data volumes more effectively which would otherwise be squandered.
Scalability and security, as well as the flexibility to personalize reports for visitors, are among Adobe Analytics' other top attributes.
Pricing:
Adobe Analytics has a high price tag. That's why we don't recommend it for beginners or small-business owners.
It doesn't come with a free version either. You can contact their sales department to get a quote.
Features:
Real-time data monitoring
Predictive analytics
Multi-channel support
Sophisticated segmentation
Tag management
Cross-device analytics
Offline data integration
9. HubSpot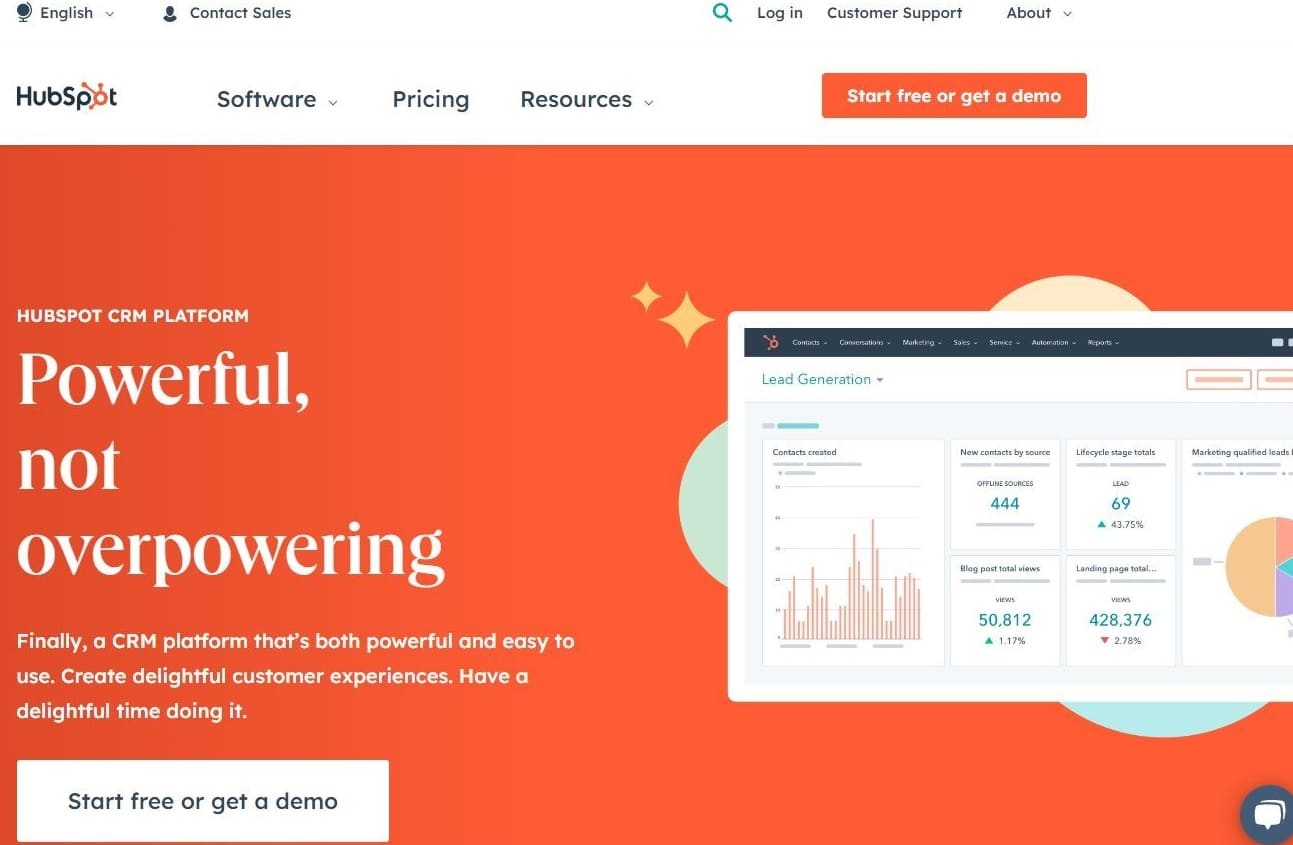 HubSpot is an all-inclusive website management and marketing platform with more than 120,000 users, including freelancers and B2B marketers from various industries.
The Hubspot CMS provides robust solutions for website traffic analysis, such as metrics, marketing, SEO, and management — all of which can be easily configured. With the analytics tool, you can check your site's traffic data which can be broken down by source, topic groups, device type, and more.
You also can alter the traffic report's interval and date scope, save or export it, and sort the data using specified analytics modules. Any further filtering you choose, such as a date range, will be applied to both the raw data table and the chart display.
HubSpot's dashboard is highly detailed and gives you access to a plethora of monitoring options with just a few clicks. Use its tabs to analyze bounce rates, sessions, visitors, page views, CTA clicks, referrals, and submission rates.
Pricing:
HubSpot offers a free plan with lots of useful tools including traffic analytics. It also sells three premium packages with prices starting from $23 per month.
A free trial is also provided for 14 days.
Features:
Built-in CRM
SEO recommendations home screen
Comprehensive traffic analysis tool
Adaptive testing
Drag-and-drop editor
24/7 phone support
10. Ahrefs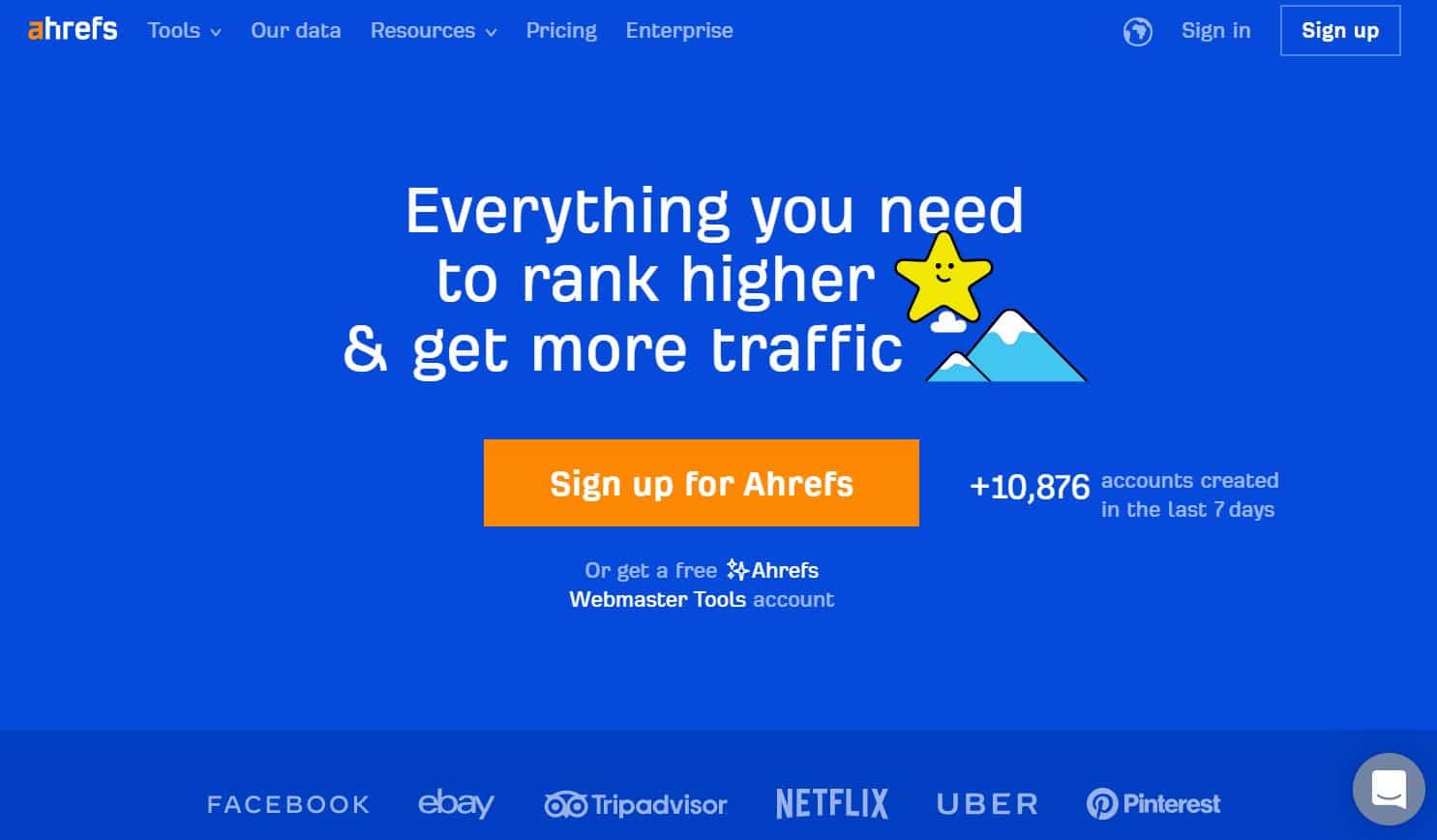 Trying to avoid negative SEO? This next tool in our list might be perfect for you.
Ahrefs is a powerful SEO and website traffic analysis checker to get accurate traffic and organic search insights as well as backlink checks and competitor analytics. This highly effective tool is used by Netflix, Facebook, Uber, and Kinsta.
Ahrefs sports a friendly interface that allows you to sort traffic reports by year, the last 30 days, or all time. Simply provide Ahrefs with phrases, and it will give you keyword suggestions, along with their difficulty levels, to use for content writing or marketing. You can even use Ahref's SEO audit tool to make technical tweaks for improved search results.
Domain analysis is equally simple with Ahrefs. It can be done for whole domains or for only certain pages on a specific domain. You'll be provided with extensive reports regarding your site's DR score, number of external links, total number of monthly visitors, anchor text, and the traffic value of the domain.
Pricing:
Ahrefs is available in four tiers (Lite, Standard, Advanced, and Enterprise), with monthly prices ranging from $99 to $999.
There is no free trial, but you can request a refund within 48 hours.
Features:
SEO dashboard
Rank tracker
SEO audit
Domain comparison
Data export
Keywords explorer
Domain analysis
11. SE Ranking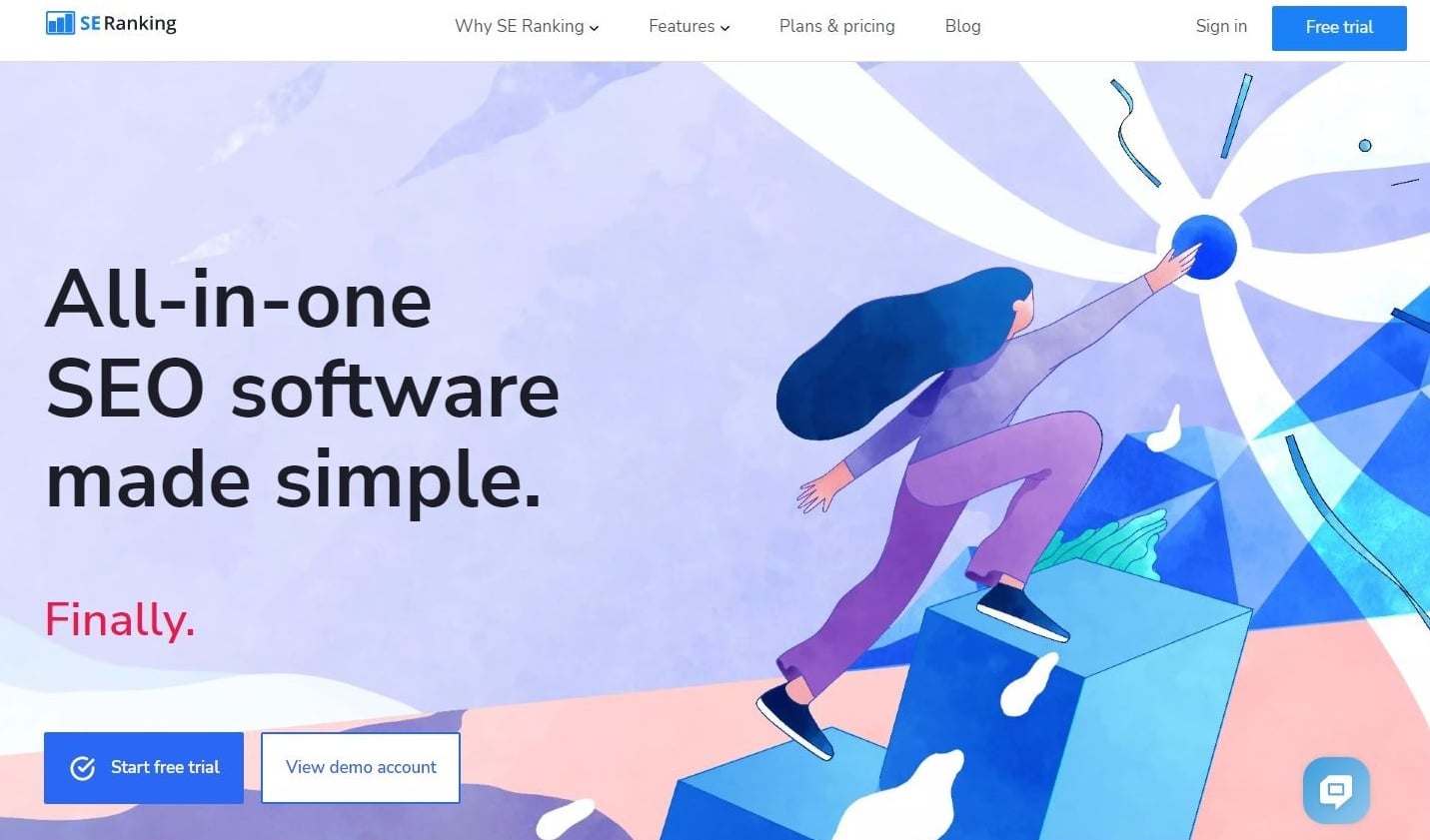 SE Ranking is not just a website traffic analysis service — it's an all-in-one SEO tool that comes packed with a wealth of useful features. It allows you to easily research keywords, track rankings, and check the traffic of any website from around the world.
The tool offers real-time ranking of your site's keywords across the major search engines, and you can track the ranking on a country, city, or regional level as frequently as you'd like.
Another useful built-in capability is the in-depth Website Audit tool, which finds any page issues and suggests ways to fix them. This audit tool is completely customizable, meaning you can select specific issues to be monitored.
One of the most important tools that SE Ranking provides is the ability to search for any website and instantly get an overview of the site's total organic and paid monthly traffic, plus the total number of keywords the site is ranking for. This is useful when sourcing your competitors' content for inspiration: You'll know immediately which keywords are worth the effort.
Pricing:
There are three main plans offered by SE Ranking: Essential, Pro, and Business. These packages are customizable based on the frequency of the ranking checks (daily, every three days, or weekly) and the subscription period (monthly, quarterly, semi-annually, every 9 months, or annually).
Prices start from $18.72 per month and go up to $899 per month. SE Ranking also grants a 14-day free trial of the Essential plan.
Features:
Keyword rank tracker
Backlink checker
Website Audit tool
On-page SEO checker
Report builder
Guest link
Lead generator
12. WebCEO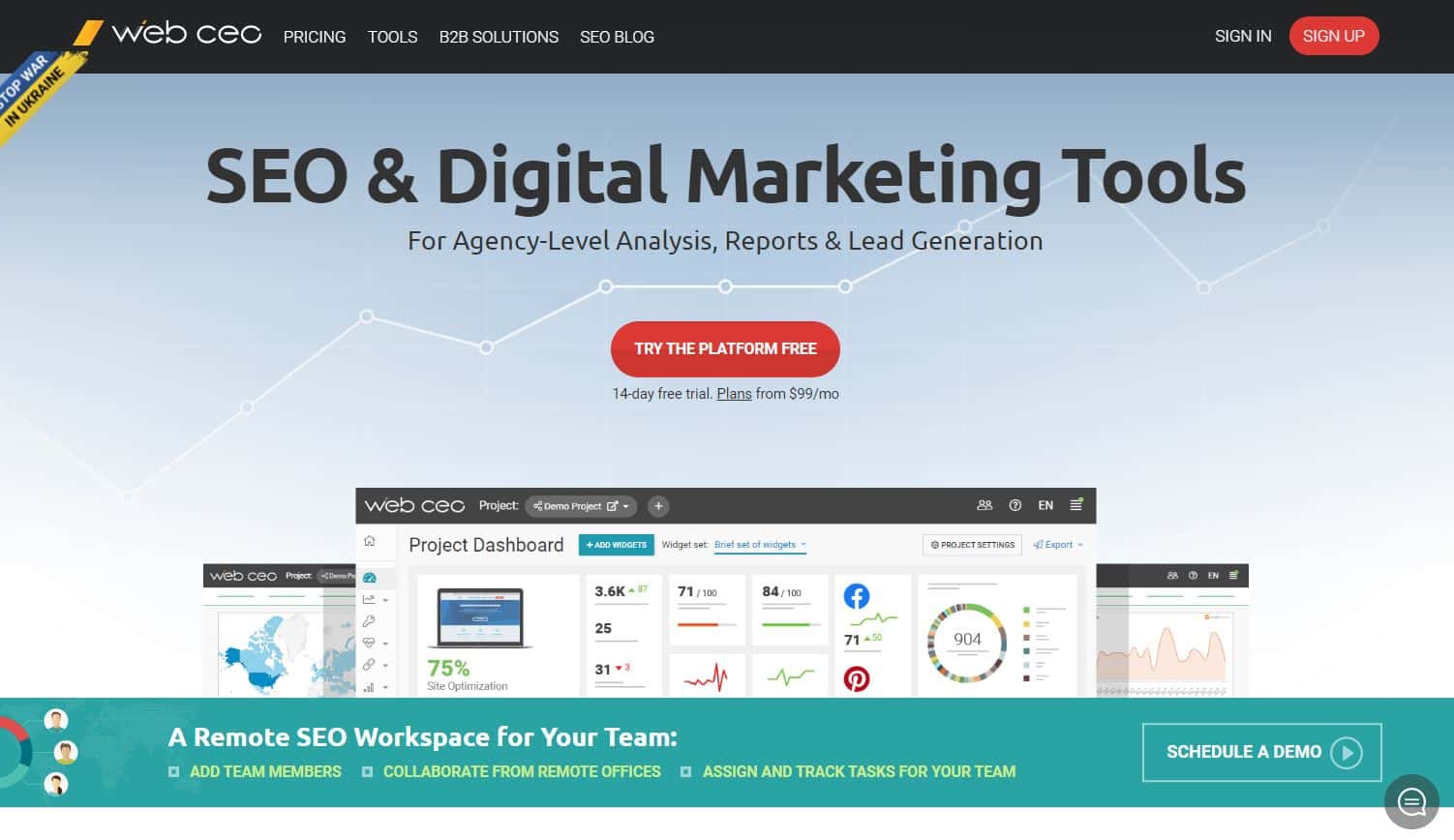 WebCEO offers a suite of SEO tools geared toward agencies and individuals needing to manage multiple projects together.
Unlike most of its competitors, WebCEO doesn't allow you to directly search for other websites' traffic data. Instead, you have to first create a project using your website and then use a tool called Competitor Metrics to analyze the traffic of those related sites.
The platform uses Alexa to pull data and provide traffic statistics of your closest competitors. This enables you to see your traffic trends over time, along with ranking position and shared keywords.
Among the numerous tools included are rank tracking, keyword research, technical audit, SEO analysis, internal links, sitemap generation, and traffic analysis, along with many more.
Pricing:
There are four different price plans offered by WebCEO: Solo, Startup, Agency Unlimited, and Corporate. With any plan, you can choose to be billed monthly or annually (the annual option comes at a lower monthly cost). Prices start at $33 per month and go up to $299 per month.
WebCEO also gives you a 14-day free trial, which includes the ability to try out all the tools, without needing to provide any financial information.
Features:
Weekly automated scanning
Daily manual audits
Up to unlimited projects (Agency Unlimited plan)
Up to unlimited keywords (Agency Unlimited plan)
Up to 20 Google Business Profile locations per project
13. Mouseflow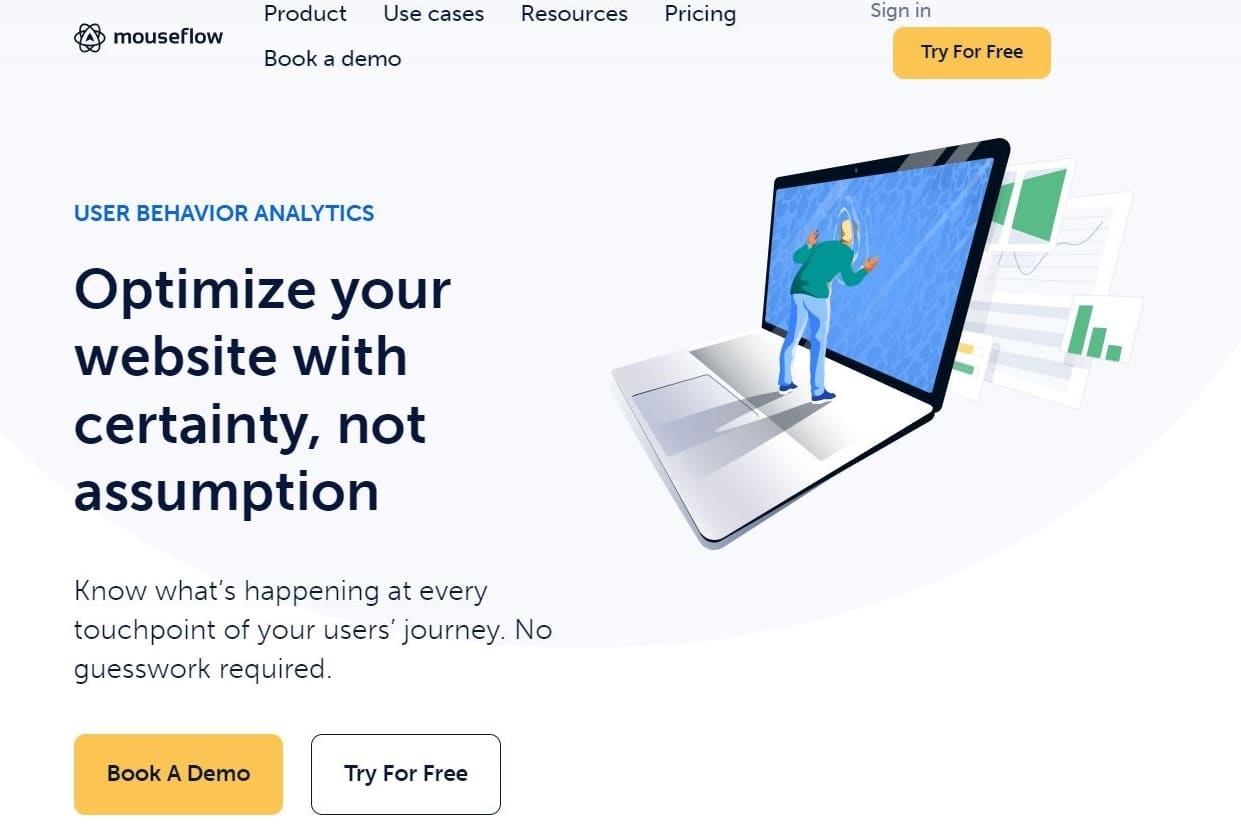 Mouseflow is a behavior analytics tool that is trusted and used by more than 190,000 users around the world.
Its most distinctive capability is the heatmap tool. This allows you to track the exact movement of your visitors throughout the website and even replay their navigation path so you'll know exactly where you can implement improvements and boost conversions..
You can also automatically build up to six types of heatmaps for all pages, set up funnels to determine where and why your visitors drop, improve your lead generation using form analytics, and learn more about your visitors through feedback campaigns.
Mouseflow comes highly recommended for UX professionals, product managers, digital marketers, startups, small businesses, and enterprises.
Pricing:
Mouseflow's pricing scheme consists of six plans: Free, Starter, Growth, Business, Pro, and Enterprise. The first one is not just a trial plan — it's actually free forever. In addition, most of the other plans (all except for Enterprise) come with a 14-day free trial.
The Enterprise plan is fully customizable and requires you to contact sales in order to get a quote. With the rest of the plans, you can choose to be billed monthly or annually, and the prices range from $24 to $399 per month.
Features:
Unlimited account users
Unlimited events
HTTPS/SSL/AJAX support
Mobile support
Data download/export
Documentation and training
Customizable dashboards
User friction detection
20+ plug and play integrations
14. Mixpanel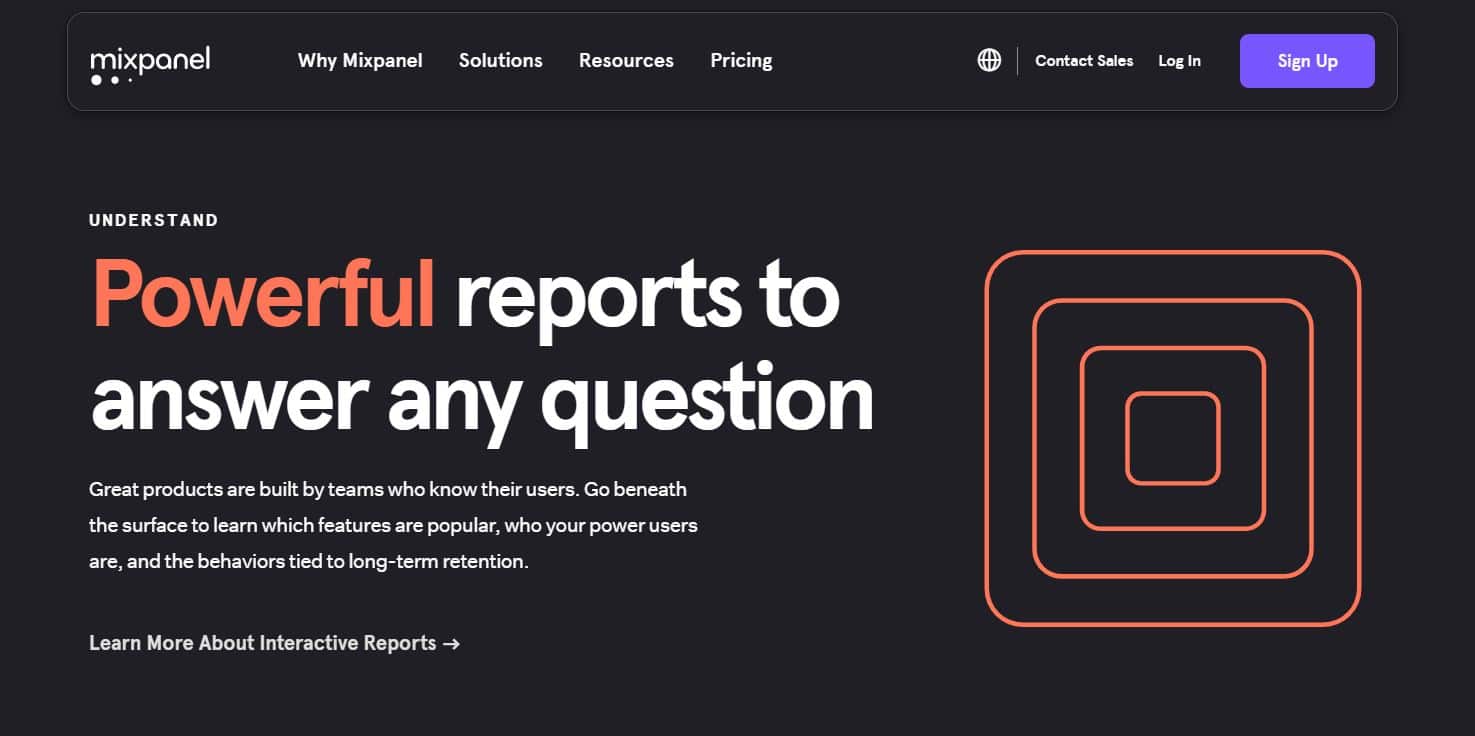 Similar to Google Analytics, Mixpanel is a tool that concentrates on user behavior to better assist you in getting a broader understanding of your audience. The platform is specifically built for product teams who need detailed data on how users interact with a given website or mobile application.
Mixpanel provides reports and insights into user groups, as well as the ability to create segmented clusters to see how each user group engages with your services.
You can also track users in groups by individual companies. Therefore, you'll be able to determine when a customer is most likely to convert, as well as the best possibilities for upselling.
What's more, Mixpanel provides teams with an add-on data governance tool that can merge duplicate data into a single log and remove irrelevant information. This tool is visually stunning, but can be somewhat difficult to configure.
Pricing:
Mixpanel offers a free plan for startups in addition to two premium packages (Growth and Enterprise). The Growth membership costs $25 per month, while the Enterprise subscription is custom-based.
Features:
Rich segmentation features
Sleek visualizations
Customizable plans
Data imports and exports
Real-time data tracking
Advanced analytics
Free plan
15. SpyFu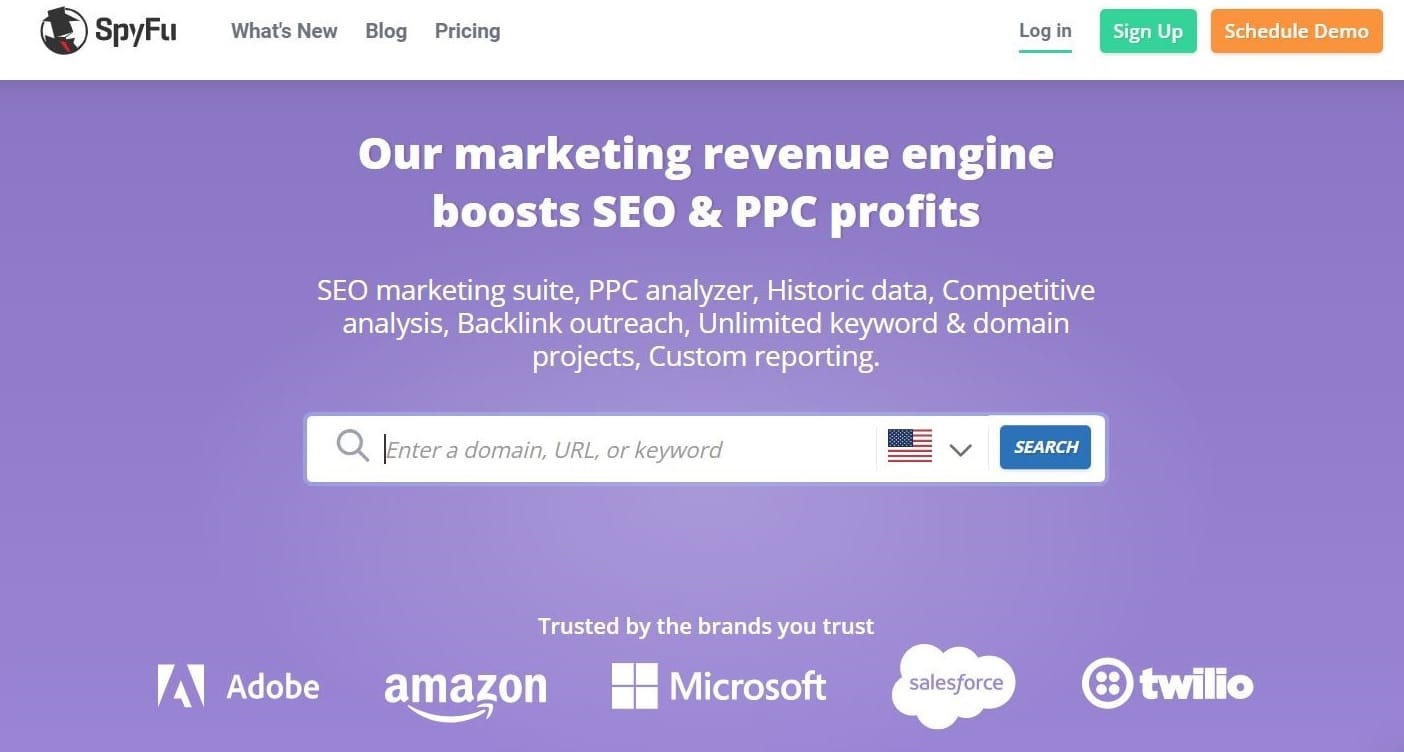 From its name, you probably guessed what SpyFu is about: spying on your competitors.
SpyFu specializes in domain and keyword analysis, but it also competes favorably as a backlink analysis solution. It's a good SEO and PPC option for small businesses that want to concentrate on the key benchmarks that will get them to the first page of Google search results at an affordable rate. The tool provides suggestions to assist you in growing your SEO and Google Ads campaigns.
Furthermore, SpyFu enables you to interact with trustworthy contacts to generate leads and build profitable connections. Plus, you can use it to conduct extensive PPC competitor analysis, check how many clicks they receive, and download all of your adversaries' PPC keywords without any download restrictions.
SpyFu includes a useful feature that harvests contact information from targeted websites, saving you a good deal of manual work. Moreover, you have the option to add notes to and rate the significance of each prospective link.
On the other hand, you should bear in mind that SpyFu doesn't crawl sites. If you require detailed analysis of a website's technical health, consider getting an SEO crawler to pair with SpyFu.
Pricing:
SpyFu has three plans (Basic, Professional, and Team) available as monthly and annual subscriptions. Monthly prices range from $39 to $299, and all memberships include a 30-day money-back guarantee.
Features:
Excellent for competitor analysis
SEO and PPC search features
Up to unlimited search results and data exports
Up to 40,000 tracked keyword rankings
Custom branded reporting
Sales leads filters
API access
Summary
Now that we've reached the end of our guide, you can see that there are plenty of website traffic analysis solutions that you can rely on.
If you have apps, manage databases or run a WordPress website, MyKinsta Analytics is a wonderful option for you — especially since it comes included with all of our application hosting, database hosting, and managed WordPress hosting plans.
If organic traffic is your top priority to increase your search rankings, Ahrefs or Semrush are great options that offer quality SEO features.
Do you care more about paid traffic? Then pick a tool that revolves around paid advertisements, like Similarweb.
Keep in mind that regardless of the tool you use to track user traffic and behavior, it's crucial to quickly assess the information you obtain from it and develop an action plan for your website. This way, you'll be sure to stay ahead of the competition.
Is there another important web analytics tool that we missed? Let us know in the comments section below.