Musicians need to get their music out there just like podcasters should publish episodes every week. The same can be said for authors with audiobooks and radio show hosts. All of these professions require an audio player to quickly upload and publish clips to their websites. One of the easiest ways to do this is by finding some of the best WordPress audio players and installing one of them on your site.
Some of the players we like best offer tools just for podcasters, while others are excellent for bands or authors. Regardless, we'll walk through all of the features you need and which of the WordPress audio players is best for you. But before that…
Features to Look for in the Best WordPress Audio Players
Not all WordPress audio players are created equal. Some of them are for bands sharing their music collections, while others are dedicated primarily to podcasters (suggested reading: how to start a podcast using WordPress).
However, there are some features that you should look for, regardless of what you're using the audio player for:
A quick upload tool for publishing your audio clips within seconds.
A playlist to organize your audio clips into a list and potentially categorize them into episodes
Support for unlimited playlists and tracks.
A mobile-friendly design so that users can listen to the audio on phones and tablets.
An automatic play feature for when users land on your website.
Customization tools for changing the color of the player and adjusting the size.
Multiple options for placing the audio player on a website, including shortcodes and widgets.
Embed support from other media sources like YouTube.
Integrations with Google and Apple audio services. For instance, it would be great to have subscription buttons for your podcast on the Apple Store.
Statistics to see information based only on your audio, as opposed to seeing everything combined with your entire website.
Options to pull audio feeds from other sources. For instance, you could have your podcast feed come straight from the Apple Store.
Best WordPress Audio Players
Before we delve into the top players, it's important to know that WordPress already has a default audio upload and publishing solution. It's nothing fancy, but it's possible that it's all you need on your website.
Here's how it works:
Go to whatever page or post you'd like to use or create in WordPress. You also have the option to copy and paste a file's URL, but the Gutenberg block editor has an easier way to almost instantly post your audio clips online.
Click on the button for adding a block, then select the Audio option.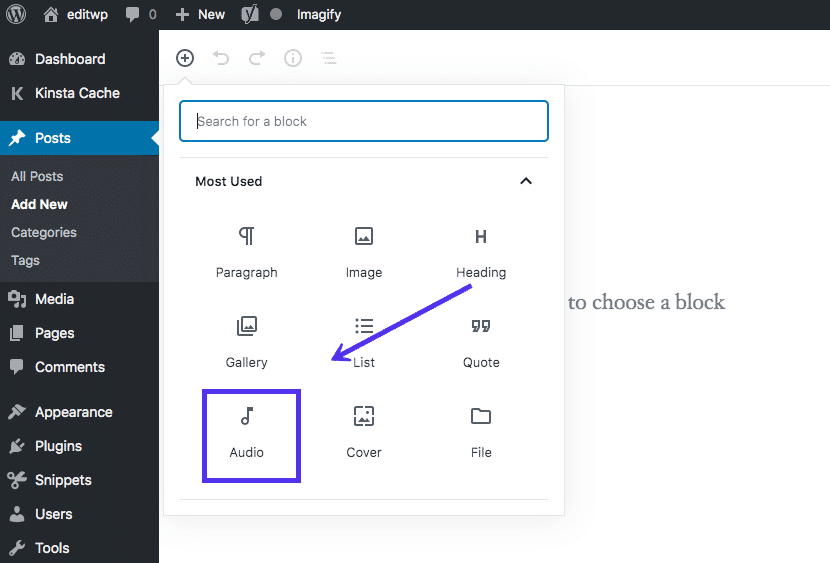 Either upload your audio clip or pull one from your media library. And that's it!

As you can see, the WordPress default audio player isn't anything too advanced. It's simply for listing and organizing multiple songs. You can adjust the CSS, but no other customization tools are provided.
And now, let's check out the best audio plugins!
1. PowerPress Podcasting plugin by Blubrry
The default audio player from WordPress is pretty nifty, especially if you're a regular blogger who posts clips every once in a while. We also like it for teachers who might occasionally include a clip on their course website.
But what about if you'd like to get more professional, or just fancier in general? That's where some of the WordPress audio plugins come into play. PowerPress is one of our favorites because it has several features dedicated to broadcasters, podcasters, and any audio personality. You could even use it for organizing your band playlist or a list of audio tracks for school.

All of the podcasting integrations are provided, such as Google Podcasts and Apple Podcasts. You can choose between simple and advanced modes for either getting your podcasts published quickly or for having more control of the design. You can also import your audio from different sources and ask for your customers to subscribe to your channel or podcast.
Pricing
Blubrry is one of the largest podcast databases in the world, so it offers this plugin for free. Advanced statistics are available, for $5 per month. You can also get hosting through Blubrry for $12 per month.
Features That Make PowerPress Podcasting a Great Choice
It's completely free and is integrated with a large database of podcasts. This means that you can also get your podcast listed on the site for exposure.
Quickly adds Apple and Google podcast feeds to your website.
You can pull both audio and video onto your site.
Place your Subscribe buttons anywhere on your site.
The plugin integrates with some of the most popular podcasting tools like SoundCloud, Squarespace, and LibSyn.
The plugin has an automated migration system for transferring old podcast content to your new site.
You have options for statistics and hosting to make the entire website creation process easier.
It shows podcast artwork to your listeners.
You can have multiple podcasts on one site and organize them into categories.
Who Should Consider this Plugin?
PowerPress is a godsend for podcasters. You don't have to pay a dime, and the features are incredible. So, it's mainly for podcasters, but the basic audio and playlist functionality works nicely for any type of music or audio clips.
2. AudioIgniter
The AudioIgniter plugin is one of the simpler solutions for getting audio clips to play on your site. It works by asking you to upload your audio. Then, you're able to organize the clips into playlists, while also placing those collections on posts and pages. Streaming is also possible, so those with radio broadcasts can get that done with AudioIgniter.

AudioIgniter boasts a clean, modern interface for those who are less interested in bells and whistles and more focused on getting lots of audio content on their website. The playlists are beautiful, you can customize the styles, and adding tracks is done within seconds on the backend. Not to mention the plugin supports an unlimited number of tracks and playlists.
Pricing
The majority of the features are in the free version, but the Pro version starts at around $34 per year and has some interesting features like bulk uploads and shortcodes.
Features That Make AudioIgniter a Great Choice
The plugin lets you post an unlimited number of playlists and tracks.
You can upload dozens of songs or audio clips within seconds on the backend.
Embed your playlists with the help of a shortcode.
There's a button you can add to ask people to buy the track.
The plugin has several customization tools for dimensions, track numbers, listings, and more.
The playlist module is responsible for playing on smaller devices.
You have premium options for bulk uploads, a visual composer, widget support, and total color customization.
Who Should Consider this Plugin?
If you crave simplicity and great upload speeds, AudioIgniter is the right audio plugin for you. It has a sleek interface and plenty of fast options for getting your tracks online without any problems. It's also nice if you don't want to pay any money for unlimited listings.
3. Seriously Simple Podcasting
The Seriously Simple Podcasting plugin is another wonderful option for those interested in publishing podcasts online. Sure, posting to the Apple and Google Podcast platforms is a great idea, but you also want to have your own presence. This allows you to market to your own audience and ensures people come back to your website.
Seriously Simple Podcasting has great reviews, and for good reason. First of all, it's one of the easier to use solutions for sharing your podcasts and making your site look clean in the process. The plugin has an integrated podcast hosting platform called Castos. This means that you can host your episodes on Castos without ever leaving your WordPress dashboard.
In addition, you can run several podcasts from the same site and organize your podcast playlists with ease. Both audio and video podcasting is allowed, and you also receive some shortcodes and widgets to ensure all of your pages have audio clips.
Pricing
The core plugin is free to use. The add-ons are also free.
Features That Make Seriously Simple Podcasting a Great Choice
Every aspect of the plugin is free. This includes a plugin that collects statistics about your listeners.
The plugin offers a simple interface that works for beginners and advanced podcasters.
You can either host your podcasts on your own platform or utilize the integrated Castos system.
The media player is beautiful and it shows your podcast artwork along with a list of all episodes.
Pull RSS feeds from multiple sources and display several podcasts on one website.
The plugin has support for both audio and video media types.
Use widgets and shortcodes to insert your playlists, or individual songs, anywhere on the website.
There are plenty of other free add-ons for things like transcripts, podcast speakers, and full Genesis Framework support.
Who Should Consider this Plugin?
Podcasters should take a look at this plugin if they're interested in a completely free solution. It's also a great option if you want simplicity. Finally, statistics don't come with all podcasting plugins out there.
4. Smart Podcast Player
Another great podcasting audio player is called Smart Podcast Player. It's one of the most interactive, colorful, and intriguing media players on the market, and it has some awesome features for serious podcasters. This is a beautiful audio plugin, but it's not a simple one. The media module includes everything from a search bar to an email list button. You get skip buttons and tags, along with playlists and artwork.

Some of the biggest podcasts in the world utilize the Smart Podcast Player–such as Smart Passive Income, Startup Stories, and The Lively Show. The plugin was actually created by Pat Flynn of Smart Passive Income. He compiled many of his greatest podcasting needs and made the ultimate audio plugin for professional podcasters. Some of these features include customizable skins, downloadable episodes, a custom sort tool, and timestamps.
Pricing
There's no free version of the plugin. You can pay annually for $8.09 per month or monthly at $12 per month.
Features That Make Smart Podcast Player a Great Choice
It's built by real, professional podcasters who wanted something better than what was already on the market.
The plugin has an email capture area so you can send out newsletters and keep people coming back to your own website.
Social sharing buttons are included to get the word out.
The speed control and skipping buttons help out your listeners.
You receive full-color customization.
You can show a Download button.
The plugin offers image customization for all of the podcast artwork you have.
It lets you upload and display an unlimited number of episodes and playlists.
You actually get to speak with a real person when you contact customer support.
You get to decide on the location of the Play module. For instance, you may want to have a bar at the bottom of the site for that.
Who Should Consider this Plugin?
Professional podcasters should definitely consider this plugin. We also like it for serious podcasters who plan on growing their listenership. It's a great way to make your podcast look professional online, and you can also collect email addresses. If you have a budget to pay the monthly fee, consider the Smart Podcast Player.
5. Fullwidth Audio Player
We've covered quite a few podcasting audio players, so let's get back into the regular audio plugins for general use. The Fullwidth Audio Player is a favorite of ours because of its design and overall efficiency. You can rapidly upload MP3s or connect to your SoundCloud account. It's a nice audio plugin for bands, radio shows, podcasters, and anyone who has audio clips. You're able to generate your own music page and provide a popup that continues playing when minimized.

Your listeners can move through your catalog by using keyboard shortcuts. The admin can add playlists and unlimited tracks from the backend, while also adjusting the colors and sizes of your playlists. The backend is pretty straightforward in terms of settings. It provides a nice place for you to customize your player and even create shortcodes for placing it on your website.
Pricing
This plugin doesn't have a free version. That said, it's pretty affordable at $26. You can upgrade for more support if you want.
Features That Make Fullwidth Audio Player a Great Choice
The pricing is exceptional for a premium audio player.
Your customers are able to navigate by using shortcuts.
All users can share your music on social media accounts like Facebook and Twitter.
The pop-up player closes and still plays as your users browse the website.
You can create a complete music page with the help of shortcodes.
There's a sticky bar that remains in one spot, such as the bottom of your page.
Speed control allows for people to speed up your podcast or jump back.
Attach any RSS feed to the plugin.
The player has a custom sort tool for showing the least or most recent episodes.
It works on all mobile devices.
The plugin shows timestamps so that you and your listeners can jump to specific spots in the episode.
Who Should Consider this Plugin?
The Fullwidth Audio Player plugin is an affordable option for serious podcasters and musicians. It also serves as a cheaper option for teachers and bloggers who may want to get some audio clips on their websites.
6. Music Player for WooCommerce
Music Player for WooCommerce has one major function–to post audio files on your eCommerce store. You then have the option to either give the media away for free or charge for it. This integrates seamlessly with WooCommerce so you can have a preview clip of the song and then include an Add To Cart button to promote sales.

The plugin also helps with creating playlists and galleries for multiple songs or audio clips. Overall, this is a great way for bands to sell their digital tracks. You also might consider this if you're selling audiobooks or sound clips for videos. Shortcodes come with the plugin, but the majority of your product listings are managed in the backend like any other WooCommerce product.
Pricing
The Basic version is free. You can also upgrade for a €30 fee, but the only features you get are audio file protection and the ability to define the file size for the demos.
Features That Make Music Player for WooCommerce a Great Choice
It's one of the quickest ways to get tracks posted and selling on your website.
You don't have to worry about confusing integrations since it combines well with WooCommerce and all reputable WordPress themes.
The plugin has features for organizing your audio clips into galleries.
Song demos can be shown on the product pages. You can actually include as many song files as you want.
Three player designs come with the plugin. All of them look pretty modern.
You can protect your audio files with additional security measures.
Utilize widgets to sell your audio files in the sidebars.
Several shortcodes come with the plugin for highlighting certain products and organizing them.
You receive a few skins so that you can customize the coloring and other visual elements of your player.
Who Should Consider this Plugin?
You would only need this type of audio player if you're selling your audio clips online. Some people might use it as a way to nicely organize free tracks, but the main reason for this would be when selling on a WooCommerce site.
7. ZoomSounds
The ZoomSounds plugin is a premium audio player being sold on CodeCanyon. It has some solid sales and plenty of good reviews. One of the reasons people like it so much is because of the customization options. You can make a wide range of adjustments to fit your brand and make your radio station or podcast look great. Both video and audio are supported, with hundreds of themes to create with the customization tools.

In fact, you can import some of the skins and examples with the click of a button. This is one of the easiest audio players to use since the majority of the design work is already done for you. There are also plenty of other features for social sharing, playlists, and linking to a WooCommerce website. It's a completely responsive audio player, and it plays songs and other tracks directly from SoundCloud. The developer has loads of videos to help users understand how to use it, and the pricing is rather affordable.
Pricing
There's no free version, but the ZoomSounds plugin only costs $20. You're able to upgrade for additional support into the future.
Features That Make ZoomSounds a Great Choice
It comes with several skins and demo content so that you never have to start designing your audio player from scratch.
The plugin offers social media buttons and comments for users to share the word about your music or clips.
Thousands of customization settings are available for making changes to the skins.
The music player looks beautiful on all devices, including tablets and Androids.
ZoomSounds integrates with WooCommerce in case you would like to start selling some of your audio clips.
Users can make comments directly on the timeline.
The plugin supports radio shows with the help of Icecast and Shoutcast integrations.
You can allow downloads for some of your users.
You can activate a constant loop so that all customers hear the same song over and over.
Upload your own cover art for things like podcasting or album covers.
The plugin is only $20, which makes it one of the most affordable premium options on the market.
The developer is known for excellent support. You also receive a lifetime of updates, so there's no reason to pay for an update in a year or two.
The plugin integrates well with ZoomBox, a commercial lightbox script.
Who Should Consider this Plugin?
We like the ZoomSounds plugin for those companies, podcasters, or bands that crave the best customization tools. Not only do you start off with some awesome skins, but you can change all sorts of colors, sizes, and even fonts. It's also an affordable choice if you want to sell on WooCommerce or prompt people to share on social media.
8. Compact WP Audio Player
The Compact WP Audio Player plugin provides a lightweight media streamer for when you don't need to take up tons of space on your website. This is an extremely basic audio player that mainly works with shortcodes. A Play button then pops up on your website and nothing else. Therefore, you would include any other information you want in the post or page text area.

You're able to upload MP3 and OGG files. Not to mention, the audio player is mobile responsive so that your customers or listeners can access your music while on the go. Other than the basic Play button there aren't many other features to worry about. And that's the glory of this plugin, especially for those who aren't interested in working with a more complicated audio player. For instance, there's an autoplay option and a way for users to listen to a preview. Other than that, the feature list is short.
Pricing
This is a free plugin without any upsells.
Features That Make Compact WP Audio Player a Great Choice
It's the most basic plugin for getting audio to play on your website. It's clean and doesn't have any unnecessary features if all you're looking for is a quick Play button.
The plugin is completely free.
You can upload two types of files, OGG and MP3.
All of your audio files can be embedded on both posts and pages.
The player is extremely compact so it can fit anywhere on your website, even in smaller sidebars or headers.
There's an autoplay setting so that your users hear the audio right when they land on the page.
The player is placed on your website with the use of simple shortcodes.
The audio player is mobile-ready so that it snaps into place when shown on phones and tablets.
When selling your clips the plugin gives you the opportunity to share a preview of the audio before people commit to buying.
Looping is available when users are browsing your website.
Who Should Consider this Plugin?
Only go with the Compact WP Audio Player if you want the bare minimum. It's a reliable, wonderful option for getting your music or podcast online, but it's best for websites that want a clean, minimalist look.
9. tPlayer
The tPlayer premium plugin sells on CodeCanyon and boasts some impressive ratings from the people who have downloaded. The player is for all types of audio, from music to audiobooks. It generates a modern-looking playlist where users can download, listen, jump around, and share. Feel free to upload some of your artwork, and consider changing around the feel with the numerous color settings. You can also adjust things like the size of the player and whether or not it plays automatically.

What's great about the tPlayer plugin is that you can link audio and radio feeds to the player. After installing on WordPress, the music or audio clips can then be organized on any page or post of your choice. What's more, is that any public link can play on your website. It simply has to be self-hosted or from a source like Google Drive.
Creating a playlist is intuitive as well, with 10 color schemes, advertisement options for the radio, and information for your users to see how many other people have listened to the music.
Pricing
The plugin is $25. You can upgrade your customer support for an extra fee.
Features That Make tPlayer a Great Choice
The tPlayer plugin connects your website to both audio feeds and radio feeds.
You can create playlists with an unlimited number of tracks.
All self-hosted audio tracks can be placed on your website. This includes music hosted on places like Amazon S3.
The playlist customization tools are extensive, with plenty of options for colors, sizes, and locations.
You can play your own advertisements at certain second intervals.
There are plenty of control options on the frontend such as shuffling, repeating, and auto-playing.
All track details are revealed on the playlist. This includes things like the title, duration, and cover.
Users can share your tracks with the help of social sharing buttons. For instance, you can activate buttons for Facebook, Twitter, and Tumblr.
Song stats can be shown on the player for elements like views and number of downloads.
The plugin is compatible with visual page builders like Divi and Gutenberg.
Who Should Consider this Plugin?
The tPlayer has some excellent features for those who want a solid, modern, and customizable audio player. It incorporates some of the most important parts of an audio player without being too overwhelming. We also like it for those who would like to play ads in between tracks and show off video statistics.
10. WavePlayer
The WavePlayer plugin is also listed on CodeCanyon, making it yet another premium audio player for you to check out. The player has a nice look–similar to that of SoundCloud. You can customize the player so that users can do everything from shopping to downloading, all from the convenience of the player.
You'll also find icons for users to like the songs and share them with others. It all starts by choosing the size of your audio player. Then, you can customize everything from the size to the shape.

We also like that the plugin has a waveform preview similar to SoundCloud. It seems like musicians and podcasters should have the most luck with this plugin. The reason we say this is because you can integrate with WooCommerce for selling tracks and make a stunning playlist that's easy for people to understand and use.
Pricing
WavePlayer has a list price of $26. You can also upgrade your customer support for a small fee.
Features That Make WavePlayer a Great Choice
WavePlayer offers a beautiful and responsive interface for your player to easily grab attention on your website.
Self-hosting of your tracks is possible. All you have to do is copy and paste the link to the track.
You can integrate the plugin with WooCommerce. It also has the functionality to generate batch products for all of your albums.
You get to choose from around ten different player layouts and sizes. Some of them will span the entire length of your page while others can fit in sidebars.
Handy functions are there for things like shuffling, repeating, and auto-playing.
The waveform visual has all sorts of customization settings such as color, compression, and wave asymmetry.
There's a module for adding your custom CSS.
Several buttons can be placed on the player, like for downloading, buying, playing, and liking.
Who Should Consider this Plugin?
We like WavePlayer for bands. It's a trendy-looking player that would go great on a band website. You also get that visual waveform that's popular for presenting music. It's a great solution if you want several buttons for things like shopping and downloading.
Which of These WordPress Audio Players is Right for You?
For some of the audio players, it's easier to see that it will work or not work for your company. For instance, some of them are more catered to podcasters. Overall, it's important to test out as many of them as you can to ensure you don't need to make a change in the future.
If you still have some questions about which of the WordPress audio players is right for you, here are some final suggestions.
That's it! Let us know in the comments if you have any other favorite WordPress audio players.