It's not begging if you're providing something in return! Many professions create art, happiness, prosperity, or world change, all without being able to sell products and make money like a regular business.
Sometimes it's a rainforest activist keeping large corporations from knocking down trees. Sometimes it's a blogger who publishes inspiring articles on a daily basis. From designers to writers, and politicians to charities, sometimes selling products or services isn't in the equation.
That's when they turn to donations. I know plenty of bloggers and developers who work on donations. The same goes for most political campaigns, churches, and nonprofit organizations.
It might seem like you're required to go out and beg rich people for money, but all you need is a WordPress donation plugin and a few other elements.
Why is WordPress Such an Attractive Platform For Charities?
The Ovarian Cancer National Alliance is a great example of a non-profit organization that has a national presence and also provides support to local partner organizations. They are using a customized responsive theme that has been integrated with an eCommerce solution (in this case WooCommerce). Let's look at the key features that make WordPress such an ideal platform from which to manage the digital presence of your charity:
It's Open Source and Free
Don't be put off by the fact that WordPress is open source and free! A massive user base is what has allowed the platform to become the powerhouse it is today. If your charity requires some specific website functionality, it can, with 99% certainty, be done on the WordPress platform. Open Source also means that the code that keeps WordPress running smoothly is not owned or controlled by one particular company who is focused on profiting from your use.
It's Scalable
No matter how large or small your charity is today, you want to choose a platform that will support your growth for years to come. With over 120 revisions of WordPress listed in the codex and 10+ years of development history, WordPress is tough to beat.
It Has a Massive User Base and Support System
Part of what makes WordPress such an amazing platform is the ecosystem that has rallied around it. Whether you need someone to develop a theme from scratch, customize a pre-built theme or design a plugin that meets your specific requirements, you can easily find what you're looking for.
It's Great for Communities
If your charity relies on community involvement, WordPress has you covered there as well. BuddyPress installs quickly and easily through the administrator panel. A free plugin, BuddyPress, enables you to develop and grow a community or social network right from within your website. You could potentially use BuddyPress to create and communicate with internal teams who are focused on different fundraising efforts, projects or community events.
It's Highly Customizable
From simple color tweaks to the complex layout and structural changes, WordPress has all the bases covered. Virtually every aspect of the platform can be adjusted to suit the needs of your charity. Many basic changes can be tackled within just a few minutes, while more complex changes may require an experienced developer capable of delving into code.
It Offers a Huge Choice of Themes
For most charitable organizations, keeping costs low is important. What you'll find with WordPress is an entire catalog of both free and paid themes, many of which are specifically designed for use by charities. Keep in mind that an inexpensive, paid theme will often meet many of your initial requirements.
What You'll Need to Accept Donations Through Your Site
WordPress – Download the popular CMS for free and run any type of website you want.
Quality Hosting – Kinsta offers hosting discounts for all non-profits. Hosting gets you online by storing and managing site files.
Domain name – This is the name of your non-profit website. It's often similar to the name of the charity or non-profit.
A charity or NGO theme – You could get a regular WordPress theme, but charity-specific ones have donation buttons, scheduling systems, and information sections for fundraising.
A WordPress Donation Plugin – We'll talk about these below.
A payment gateway – The system that processes and accepts payments through your donation plugin.
It may look intimidating at first, but you typically don't have to think about hosting after it's configured. The same goes for WordPress and your domain name. The only element that requires maintenance is the WordPress donation plugin, and that's because you're collecting donations and thinking of new ways to accumulate more money for your organization.
The Best WordPress Donation Plugins
Here's a short outline of what we're about to cover. If you'd like to learn about the main benefits from each WordPress donation plugin, read on.
1. Give – Donation Plugin and Fundraising Platform
Sometimes it's hard to pick favorites, but in the WordPress donation plugin world, that's not the case at all. The Give donation plugin is miles ahead of the rest in terms of pricing, beauty, functionality, and add-ons. The plugin makes money with the freemium model, but none of the add-ons are pushed onto you. In fact, most non-profits and charities will be fine using the default donation form without any add-ons.
As you might notice from the screenshot below (and the demos on the Give website,) the developers have put significant work into designing beautiful forms. The forms are better than most of the other plugins on the list, and there's not much need to customize them.

The free WordPress donation plugin includes slick donation forms, full-featured reporting, complete donor management, and the possibility to integrate with any of your favorite theme or page builders. Like I said before, most organizations won't need more than this.
However, you could consider one of the add-on bundles (starting at $15 per month) or pay for add-ons individually.
Regardless of your payment setup, here are some of the add-ons you can choose from:
Recurring donations
Form field manager
Fee recovery
Tributes
PDF receipts
Multiple payment gateways like Stripe, PayPal, and Authorize.net (if you don't know which one is better Stripe or PayPal read this comparison)
Google Analytics donation tracking
Manual donations
Many more
Why This WordPress Donation Plugin? The Standout Features:
The Give donation form looks professional and includes reporting and donor management, all for free.
You can pay for add-ons based on the ones you need.
The default donation forms include basic recurring donation functionality.
Place custom fields and goals on your donation forms to entice more people to give.
The forms can be customized, but they look pretty darn good on any theme, right out of the box.
Not only is the Give support documentation impressive, but it has a full page filled with demos before you pay for anything. It's one of the best WordPress plugin websites I've ever seen.
You don't get charged any transaction fees.
2. Charitable – Donation Plugin
Charitable – Donation provides a free WordPress donation plugin with support for geolocation, simple updates, videos, user avatars, anonymous donations, and even one year of premium support. The developers ask that you "pay what you want" so you have the option to support the plugin or grab it for free.
If you take a look at the premium memberships here, you'll notice they start at $99 per year and go up to $249 per year. It's not a bad pricing plan considering you gain access to a newsletter integration, gift aids, support for Easy Digital Downloads, and premium payment gateways.
The most expensive version (the $249 per year plan) offers some of the following features:
Recurring donations
Peer to peer fundraising
Automatic crowdfunding payments
Everything you would get from the lower priced plans
So, Charitable definitely stands out with some of its unique features. We particularly like the videos and geolocation tools found in the free version. It's also nice to see anonymous donation support, since not everyone likes to see their name plastered all over the internet after a donation.
Why This WordPress Donation Plugin? The Standout Features:
Solicit donations based on location.
Charitable doesn't charge transaction fees.
Connect with popular payment gateways like Stripe, Authorize.net, PayUMoney, and PayFast.
There's a peer-to-peer fundraising extension to expand your reach.
About 15 extensions are sold for expanding on your donation form's functionality.
Share campaign updates with your contributors.
All of the Charitable pricing plans allow for one site license and one year of premium customer support.
The online support includes a ticketing system, FAQ, documentation, and a blog.
3. Donation for WooCommerce
Donation for WooCommerce is a formidable WooCommerce plugin that helps you raise money for charity without charging your customers a transaction fee. The donation will be presented as a standard WooCommerce product that can be added to the user's cart and checked out. You may add "contribution acceptance" as a standard WooCommerce product with the help of the Donation Product so that The donation can be put in a visitor's cart and paid for there.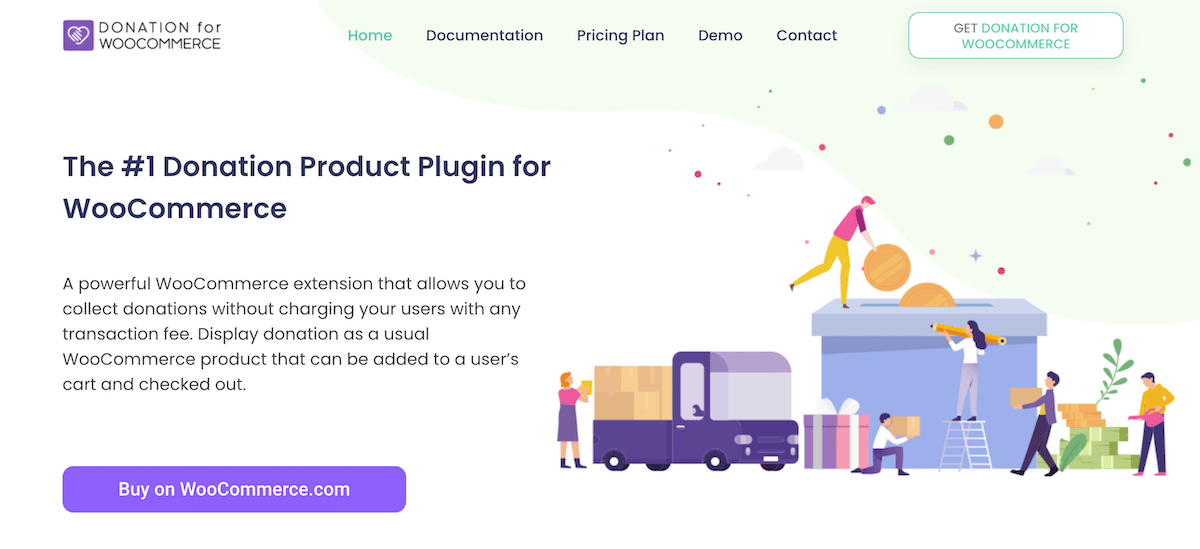 You can display several fundraising campaigns at once on the donation tabs page. On the front end, the tabs are displayed as options. Also, you can show the objective progress (fundraising bar) for your donation campaign. This will help you improve the donation widget's functionality.
It's a terrific method to generate money for nonprofits, charities, NGOs, clubs, and other causes to accept donations on your WooCommerce website. Contrary to popular assumption, if you have the proper tools and plugins, contribution systems are simple to manage for everyone.
Moreover, you can showcase your donation campaign's summary (title & description) on the donation widget. Through Donation for WooCommerce, you can adjust the donation campaign's ultimate goals. By this, you can see the progress and reset with a click.
Why This WordPress Donation Plugin? The Standout Features:
Utilize the WooCommerce Subscription extension to accept recurring donation payments.
Set a goal for how many donations your campaign should have received by the time it ends.
Users have the option of supporting several campaigns at once.
Take daily, weekly, or monthly recurring donations.
When the campaign achieves its objective, show a unique "thanks message."
Use a shortcode to showcase the contribution widget on the website's web pages.
Users have the option of supporting different campaigns in one go.
4. PayPal Donations
PayPal Donations might not sound like what you're looking for, but you'd be surprised how sleek and powerful this little gem is. In fact, it makes sense that PayPal knows how to do donations right, since the company has been collecting payments for quite some time.
I recommend PayPal donations for anyone who enjoys the simplicity of PayPal products. Everything from PayPal can be used by beginners, and it doesn't have any problem growing with your organization.
Keep in mind, this WordPress donation plugin wasn't actually built by PayPal. It uses the payment gateway, but you shouldn't expect customer support from PayPal.
That said, PayPal Donations adds a donation shortcode to your WordPress dashboard. This way, you can insert the shortcode on any page or activate the widget in a sidebar or footer. That's all there is to it. You must, of course, link to your PayPal account, but that only takes a minute.
Why This WordPress Donation Plugin? The Standout Features:
It's the fastest and easiest way to start collecting donations on your website.
About 15 translations are already built into the plugin, mostly removing the need to install an additional translation plugin.
The PayPal Donation buttons are already designed for you. This cuts down on development time. It's also great since so many people recognize and trust the PayPal brand.
The shortcode and widget are easy to find and add to a page, sidebar, or post.
5. Seamless Donations
Similar to many other WordPress donation plugins, you can download Seamless Donations for free, then buy add-ons and extensions if needed. The developers claim that you can get the plugin setup within five minutes. All it takes is a connection to your PayPal account and some messing with the settings.
As with the other top donation plugins, Seamless Donations doesn't collect transaction fees. Instead, it makes money through add-on sales.
As for the basic plugin features, you can start by collecting recurring donations. After that, the plugin has tools for tracking donors and donations. Thank you messages are also included in the feature-set, allowing you to thank some of the VIP donors.
The Seamless Donations plugin has strong currency and language support, so you're more likely to receive donations from around the world.
Also, here's a list of the most popular add-ons:
Giving level manager
Enhanced thank you messaging
Delete donations, donors, and funds
Anti-spam
CSV export
Why This WordPress Donation Plugin? The Standout Features:
Recurring donations are built into the plugin, so there's no need to get an add-on.
Dozens of currencies (like Thai Baht and Hungarian Forint) are accepted. The same goes for translations.
The plugin uses standard post types for donors and funds, so it's easier to track what's going on with your donation site.
The plugin developers provide support through an FAQ, documentation, video tutorials, and a forum.
6. WooCommerce Donation Plugin
If you're currently running an online store, or would like to make one part of your charity/non-profit site, it's worth installing the WooCommerce Donation Plugin to accept donations through your eCommerce store. The basic functionality adds a donation as a regular product, where the customer then adds this product to the shopping cart, pays for it, then doesn't get an actual product in return. The other option is to include a donation field in the shopping cart itself, prompting customers to donate a little extra, on top of what they're paying for already.

The field in the shopping cart receives any denomination of donation, then it adds the donation to the customer's total. Reports are delivered on the backend, where you can decide how much of your revenue is from donations and how much is coming in from regular products.
Many non-profits already sell merchandise like hats, mugs, and t-shirts, so why not include a donation option to see if people want to be even more generous?
Why This WordPress Donation Plugin? The Standout Features:
It changes nothing about your online store, but it gives customers a chance to donate on top of orders.
Simple reports guide your decisions on whether or not to continue a donation program. These are also great for seeing where the donations are coming from.
You can have the Donation field consist of a drop-down with predefined values or a blank field for people to type in their own donations.
Campaigns can be named for better tracking.
The WordPress donation plugin only costs a one-time fee of $18.
7. Smart Donations
Smart Donations is a WordPress plugin with very simple Donation buttons. These buttons can be placed anywhere on your site, and you can also set goals to convince more people to spend money.
One thing to keep in mind is that the free version is virtually useless. However, the premium membership plans start at only $19.99 and go up to $49.99. These are one-time payments without the need for spending anything in the future.
This Smart Donations plugin provides somewhat modern-looking donation buttons, along with a widget interface for placing your buttons in sidebars, footers, and anywhere on your theme a widget goes.
The analytics and recurring payments are nice, but the real reason I would consider this plugin is if I wanted to show how far I am from reaching a goal. This is similar to a crowdsourcing platform, where you set a goal and build buzz as the ticker moves closer and closer to the goal.
Why This WordPress Donation Plugin? The Standout Features:
You can set goals to reveal your campaign progress and show customers how close you're getting to the goal.
The plugin mainly runs with buttons, but you can create forms if you require more information from your contributors.
Recurring payments are built right into the plugin.
Donation walls are available. A donation wall is basically a wall of fame, where the top contributors are shown on the website and praised for their generosity.
You can't beat the Smart Donations pricing.
8. Donorbox
Donorbox isn't only a WordPress donation plugin. Yes, it integrates with WordPress quite well, but many other website builders and CMSs can use Donorbox as well. The benefit behind Donorbox is that it embeds onto your website within seconds, then it displays a beautiful recurring donation system. The process takes maybe 15 minutes, and it's all built on those recurring donations.

The downside to Donorbox is the transaction fee once you start collecting more than $1,000 per month. Sure, the 0.89% fee per month is not exactly high, but the majority of the WordPress donation plugins on this list don't charge anything. The platform pricing is also free until you hit that $1,000 donation per month mark. After that, it starts at $26.70.
Although the recurring payment is pushed pretty hard on the forms, you can still give your donors a one-time payment button.
Why This WordPress Donation Plugin? The Standout Features:
It has a strong focus on recurring payments, removing the need for you to pay for an add-on, while also guiding you to the business model that's generally the most profitable.
You don't have to pay a dime if your monthly donations remain under the $1,000 mark.
Accept payments through cards, ACH bank transfers, PayPal, and Stripe.
All donors have full control over their recurring donation plans. This means a donor could remove a monthly payment and adjust it to only pay out per year.
This WordPress donation plugin supports dozens of currencies and languages, expanding your reach to the world.
9. Total Donations for WordPress
Update: This plugin is no longer available. In January 2019, WordFence published findings of WordPress sites being compromised due to a zero-day vulnerability with this plugin. Therefore, if you're still using it, we strongly urge you to switch to an alternative.
The Total Donations for WordPress plugin is sold through CodeCanyon, but you can find some handy features, demos, and a knowledge base on this website. If you're looking for an easy-to-implement (and run) donation module, this might be the one for you. It's as barebones as they come, but you can go in there to adjust CSS or HTML for more advanced designs.
The standard donation module asks the customers how much they would like to donate. There's also a custom amount field for filling in any denomination.
The customer can select which campaign they would like to spend the money on, while also choosing how often they would like to make a contribution. All of these settings are customizable on the backend of your own website. PayPal and Stripe payments are both accepted, both of which have wonderful recurring payment tracking tools to see how much your organization should expect for the year.
Why This WordPress Donation Plugin? The Standout Features:
The plugin has a solid drag and drop form builder for adding items like checkboxes, text areas, and radio buttons.
The WordPress donation plugin is completely responsive on both the front and backends.
You can customize the donation widgets to include progress bars or show recent donations.
Auto-generated messages are sent out to donors. The messages have shortcodes for filling in personal information.
The plugin supports a wide range of languages.
10. Donation Content Locker
The Donation Content Locker does exactly what the name says: It locks content behind a payment wall until the user donates money. It's similar to the way some online magazines block portions of the website until you signup as a subscriber. The only difference is that with this the customers are considered donors.
So, it depends on what type of content you're willing to create with your non-profit or charity. If you have a blog, podcast, video course, eBooks, or anything similar, these are all items that could be seen as valuable.
The only reason you'd use the Donation Content Blocker is if you wanted to exchange content for donations. If that's not the case, look for another plugin.
Keep in mind that you don't have to run a non-profit for this to be useful. In fact, I can see lots of WordPress plugin developers using this. Bloggers might find it helpful as well.
Why This WordPress Donation Plugin? The Standout Features:
The plugin only goes for $15.
It effectively blocks certain parts of your website depending on what you'd like to get paid for.
The donation form looks modern and only takes a few steps to collect a payment.
Accept payments through gateways like PayPal, Payza, Authorize.net, or InterKassa.
Your content is protected by an activation link that's sent to the donor through email.
You can block donors who share activation links.
The design process is fueled by a WYSIWYG editor and shortcodes.
11. Donation Manager for WordPress
The Donation Manager for WordPress plugin embeds into a site with ease, handles donations on a website, and supports multiple payment gateways. The main feature that stands out is the unique payment gateway support. You can connect to gateways like InterKssa, Skrill, AlertPay, EgoPay, and Payza. Some people might not see these gateways as unique, but they're pretty obscure for those in the US.
So, if you're not interested in PayPal (or if your operation won't get approved by PayPal,) this WordPress donation plugin might solve your problems. Recent donations are shown on the page if you want, and there's a "target to reach" field to give folks an idea of how much more money is needed. What's more is that the user can actually select the payment gateway they want to pay through.
Why This WordPress Donation Plugin? The Standout Features:
Several payment gateways are supported, many of which are unique or specific to regions.
Display how much money you need to make.
You can send out thank you messages to your donors.
The plugin is translation ready for accepting payments from all over the world.
Narrowing Down the WordPress Donation Plugins
For the best value – Choose the Give WordPress donation plugin
For the simplest setup – Choose PayPal Donations
For geolocation and video support – Choose the Charitable plugin
For the most supported currencies – Choose Seamless Donations
For less common payment gateways – Choose Donation Manager for WordPress
For locking your content – Choose the Donation Content Locker plugin
For asking for donations through WooCommerce – Choose WooCommerce Donation Plugin
For more of a focus on recurring payments – Consider Donorbox
There you have it! These WordPress donation plugins are the best of the best. You're not going to find the same features in all of them, but that's why we tried to narrow it down and explain the situations in which you might use each plugin. If none of the above suit your needs, you might also check out CiviCRM, an open source CRM for nonprofits and NGOs. And yes, it does have a WordPress integration.
If you had any experience with any of the WordPress donation plugins above, or if you'd like to ask a question, drop a line in the comments below. If you still have questions make sure you check out this another detailed guide: Creating A Charity WordPress Site: Your Complete Guide.