WordPress for nonprofits? Well, it's probably the most popular platform among such organizations. For starters, it's free. But there's more to it than that. WordPress will provide your nonprofit with all the tools and flexibility you need to create a robust, professional site to reach new supporters and to fundraise and engage with your community.
In this post, we'll look at how nonprofits can get the most from WordPress. We'll identify why WordPress is the best website platform for nonprofits, look at some of the best themes for nonprofits, and show you how you can use plugins to add extra functionality that will help your nonprofit succeed.
So let's get started!
What is a Nonprofit?
According to Wikipedia, a nonprofit organization is:
"An organization that is dedicated to furthering a particular social cause or advocating for a shared point of view" and "uses its surplus of the revenues to further achieve its ultimate objective, rather than distributing its income to the organization's shareholders, leaders, or members."
So instead of making a profit for shareholders, a nonprofit invest any revenues back into its activities, which could be raising awareness or money for a cause.
Nonprofits include small community groups right through to international campaigning organizations. The National Council of Nonprofits reports that over 35% of them are focused on "human services", which includes groups that help people with housing, legal support, employment and more. 17% are focused on education and 13% on health.
Nonprofits' aims will differ between organizations: some exist to provide services, some to raise awareness, and others to support communities.
Modern nonprofit organizations use a variety of tools to raise their profile and deliver services, including the internet and social media, which is why it's so important for a nonprofit to have an effective website.
Let's look at why WordPress is the perfect platform for nonprofits.
Why use WordPress for a Nonprofit Website?
As the world's most popular CMS powering up 34% of the internet, WordPress is a Content Management System your nonprofit staff might already have used for personal sites, other organizations, or employers. In addition, there's a wealth of resources available on the internet to help you and your staff learn WordPress. This minimizes the time you have to spend on training.
Benefits of WordPress for NonProfits
Let's take a look at some of the specific benefits of WordPress for nonprofits in more detail.
1. WordPress is Free
The WordPress software is free and always will be. If you're creating a site with WordPress, you'll only have to pay for a few things only, like your hosting plan and domain name at least. You can install plugins to add extra functionality to your site and a theme for the design, all for free.
Alternatively, if you have some budget, there are premium themes and plugins that might make your site more effective or save you time. I'll look at some of the best free themes and plugins for nonprofits later in this post, so you can weigh up whether it's worth spending money.
2. WordPress is Open Source
WordPress uses a model of software development called open source. This means that the code is public: anyone can download it, copy it and modify it. There are no restrictions as long as you don't use it for anything illegal.
This means that no one can take away the code underlying your site in the future. It also means WordPress is unlikely to go anywhere: you won't find yourself having to switch to a different platform.
3. WordPress Has a Huge and Dedicated Community of Developers and Users
As an open source project, and a vast one at that, WordPress has a community of hundreds of thousands of developers around the world, as well as millions of users.
This community is passionate about WordPress and about the open source ethos. There are many experienced WordPress developers who do voluntary work on websites for nonprofits, and you may be able to find someone who'll support you in this way.
Myths About WordPress for Nonprofits
As a nonprofit organization, you may be a little wary of using WordPress because of rumors you've heard about it not being secure, or about it being less professional or harder to use than other systems. Let's take a look at some of these myths so you can sort fact from fiction.
WordPress is Just a Blogging Platform
It's true that WordPress started life as a blogging platform. But it's undergone significant development since those days and is now not only the best blogging platform out there, but also a fully-fledged CMS.
WordPress is hugely customizable and flexible, letting you add pretty much any functionality you could think of by installing plugins. It's great for blogging, sure, but it's certainly no longer restricted to it. Just think about WooCommerce.
WordPress is Insecure
WordPress has had a reputation in the past for being vulnerable to attack. And it's undeniable that because it's so large, it is the platform that hackers are likely to target.
But WordPress is no more insecure than any other website platform. It's used by vast organizations, including government departments, large media organizations, and nonprofits (some of which are listed below). If they're comfortable using WordPress, there's no reason you shouldn't be.
You can take extra measures to make your site more secure. And if you host your site with Kinsta, you'll enjoy extra security features and a malware security pledge which means if your WordPress site is hacked, we'll fix it for you.
WordPress is Unprofessional
People sometimes think WordPress isn't for people who want a professional website. This is probably for three reasons:
It's free.
It started out as a blogging platform and is still used by many hobby bloggers.
It's confused with WordPress.com, which is aimed at bloggers and small businesses.
For a nonprofit, the fact that WordPress is free is a benefit, not a disadvantage (you've got a tight budget; might as well make it stretch further). And we've debunked the myth about WordPress being a blogging platform. But what about WordPress.com?
WordPress.com is a version of WordPress that's hosted on WordPress.com servers and that's limited in its functionality. As a nonprofit, this isn't the platform you should be using. Instead, get yourself a self-hosted WordPress site, which is one you install on hosting space that you rent from a hosting provider.
Self-hosted WordPress gives you the flexibility you need to create a modern, professional website, and will often work out cheaper than WordPress.com.
You Need to Hire a Developer to Have a WordPress Site
This is a myth that still persists. But the truth is that you don't need to hire a developer to create a professional WordPress site for your nonprofit.
If you do decide to hire a developer, that will take some of the workload off you and make it easier to customize your site. But if you don't have the budget to do that, there are thousands of free themes and plugins you can use to make your site look great and to add the functionality you need to.
I'll list some of the best themes and plugins for nonprofits later in this post, and you'll be pleased to know that many of them are free. That doesn't mean they're any less effective.
Nonprofits Using WordPress
WordPress is already being used by plenty of nonprofits. Here are just a few of them.
The Jane Goodall Institute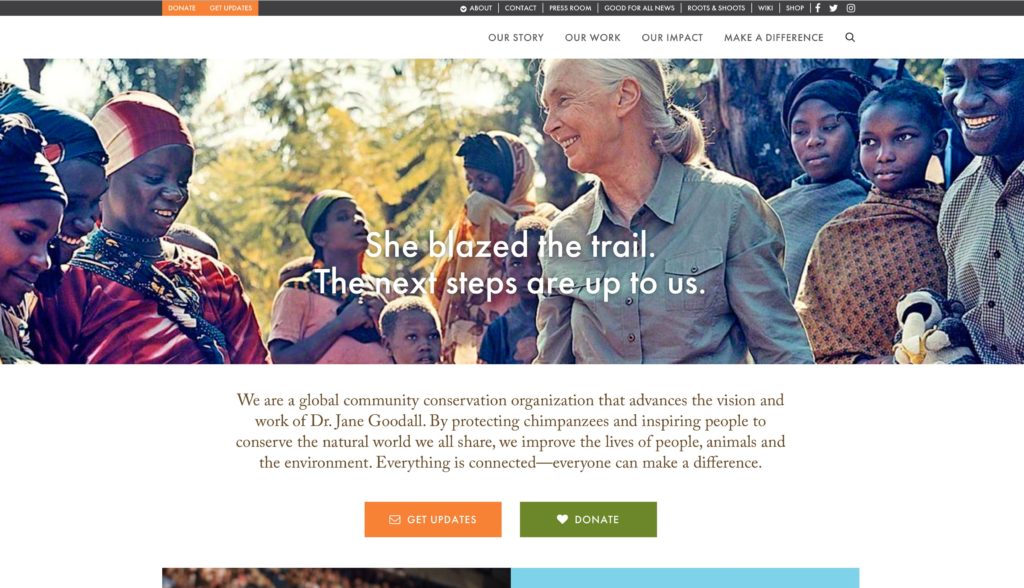 The Jane Goodall Institute is committed to conservation and environmental protection, carrying on the work of Jane Goodall with chimpanzees.
Their WordPress site includes:
A full-width banner on the home page that immediately makes it clear what the institute is about.
A static home page with information about the institute and links to more information.
A newsletter signup on the home page and elsewhere.
A press section with press releases and a press pack.
An interactive map exploring the institute's projects.
A page-based structure with sections and stories.
Donation, membership and subscription pages.
Clear call to action buttons on every page.
A fun chimpanzee-based 404 page.
Team Rubicon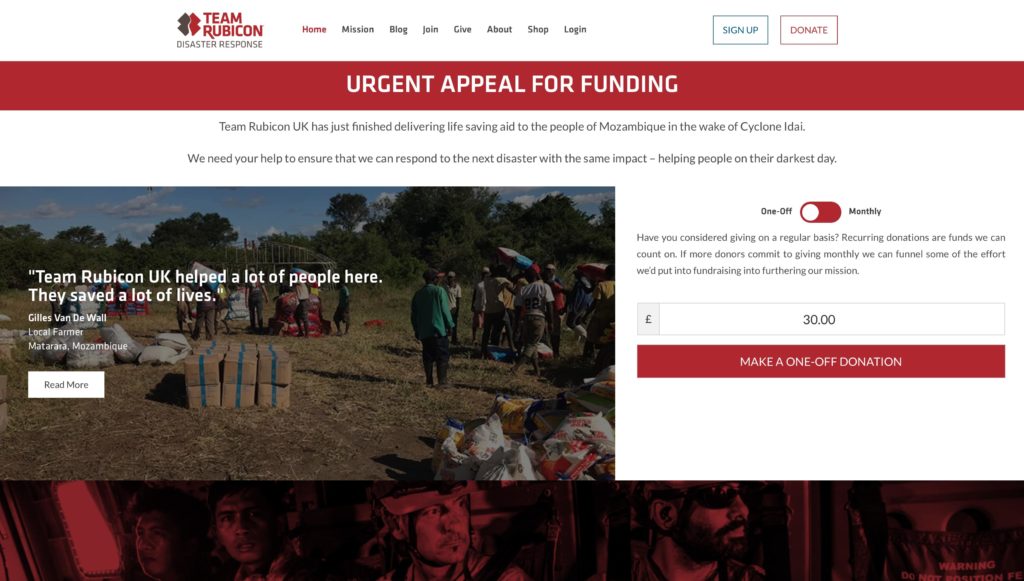 Team Rubicon is a global organization that provides humanitarian aid in the wake of disasters and supports veterans.
Their WordPress site includes:
A blog.
Donations.
Case studies.
Newsletter signup.
Alliance of Independent Authors
The Alliance of Independent Authors is a nonprofit supporting and advocating for independent authors. It uses a custom WordPress theme for its own site and encourages its members to use WordPress for their sites.
Their WordPress site includes:
A member-contributed blog.
A members' area with services and discounts.
Signup, subscription and joining options.
Multimedia content including an online conference and podcasts (suggested reading: how to start a podcast using WordPress).
Directories for members.
CURE International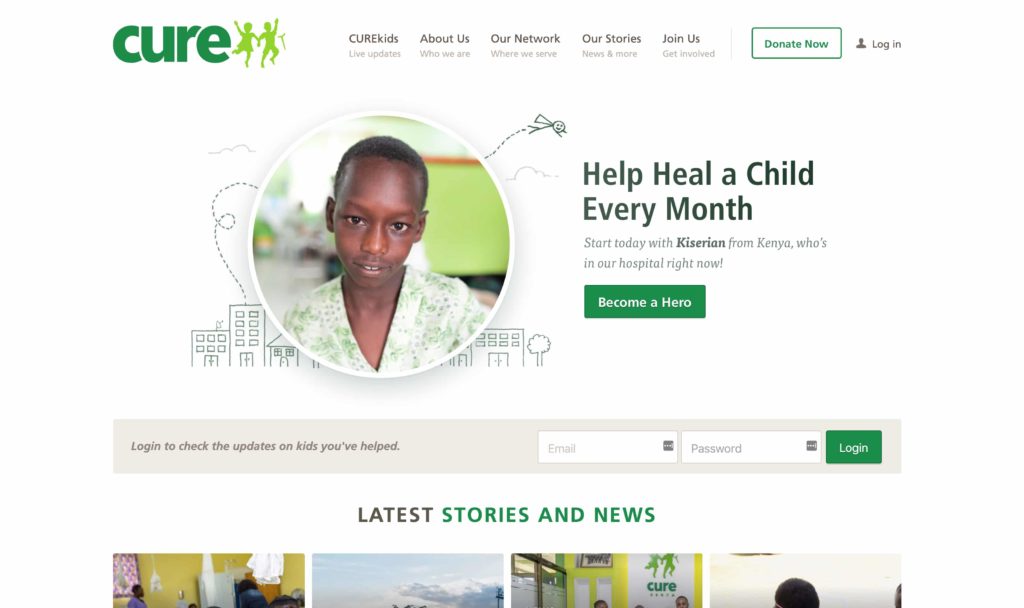 CURE International is a Christian nonprofit that provides medical care for children in developing countries. Their WordPress site includes:
A static homepage with calls to action and plenty of white space.
A news section that uses posts to give updates on its work.
Custom page templates for hospital information and individual children's stories.
Embedded video.
A member's section with login access.
The Big Give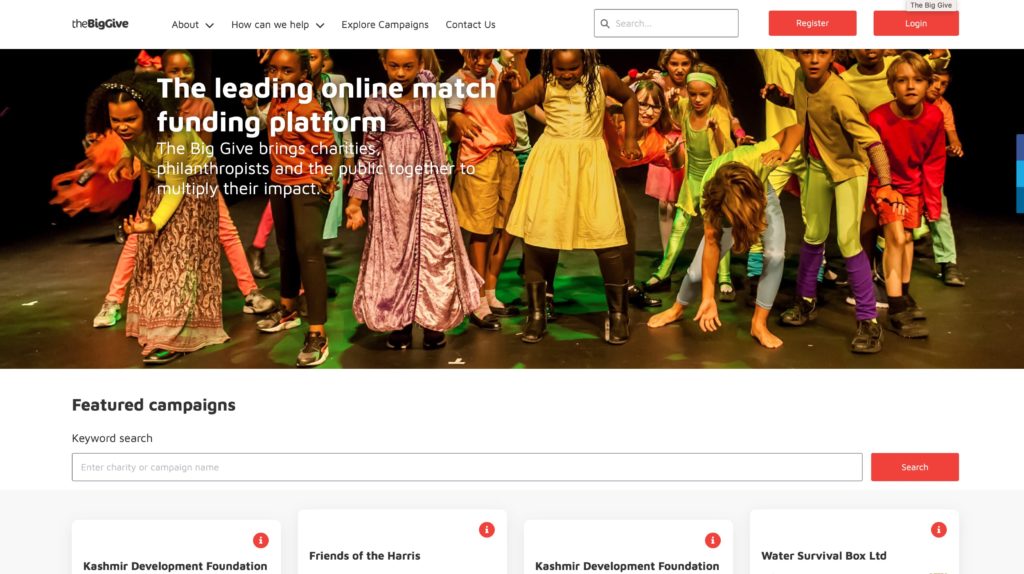 The Big Give raises money for community and charity organizations. It is designed to be a hub for charity fundraising and make it easier for people to donate.
Their WordPress site includes:
Charity registration.
Membership area for charities.
Campaign search.
Donations.
Save African History
Save African History is an initiative designed to record and digitize African artifacts so they are not lost to history.
The site is gallery-based, with an image-heavy layout on the home page and archive pages. Click through to one of the artifacts and you can find out more about it and its history.
Features of the site include:
Infinite scroll in the archive pages.
Custom layouts for individual artifacts.
A visual, image-based but clean design.
Information on image credits and use.
A newsletter signup in the footer.
The Interfaith Housing Alliance
The Interfaith Housing Alliance is a nonprofit that provides affordable housing programs in Maryland and south-central Pennsylvania.
Their WordPress site includes:
A home page comprised mainly of snippets from elsewhere in the site with links through to more information, including a list of the latest news.
A news section that uses posts for updates.
A "donate" call to action button on every page in the site which takes the visitor to an external platform for collecting donations (this button does introduce a few steps before you can donate, which might be off-putting for potential donors).
A resources section with information about other organizations that provide support.
Peoples Under Threat
Peoples Under Threat is a single-page site developed for Minority Rights Group. It's an interactive map designed to provide an online version of the group's annual 'Peoples Under Threat' report.
The site provides a map with countries highlighted where groups are under threat. Click on the country and a pop-up will appear with data on the groups threatened and the number of people affected.
Compassion in Dying
Compassion in Dying is a nonprofit that helps people prepare for death, both practically and emotionally.
Their WordPress site includes:
Online living will creation.
Resources section with organised information on preparing for death.
Donations via JustGiving.
A structured guide to planning end of life care using a bespoke page template.
WordPress Themes for Nonprofits
There are plenty of themes designed for nonprofits, some free and others at a cost.
When choosing a theme, don't worry too much about functionality, as you can add that with a plugin. Instead, look at the layout and the range of customization options. A customizable theme will let you add your own branding, logo, and more. Also, make sure the theme is fast because performance matters!
Here's a roundup of some of the best WordPress themes for nonprofits available.
6 Best Free WordPress Themes for Nonprofits
A free theme will have the major benefit of being free but is likely to have fewer features than the premium themes and slower support. If your needs are basic, your budget tight, or you're just getting started, this might be the best option for you.
1. NGO Charity Lite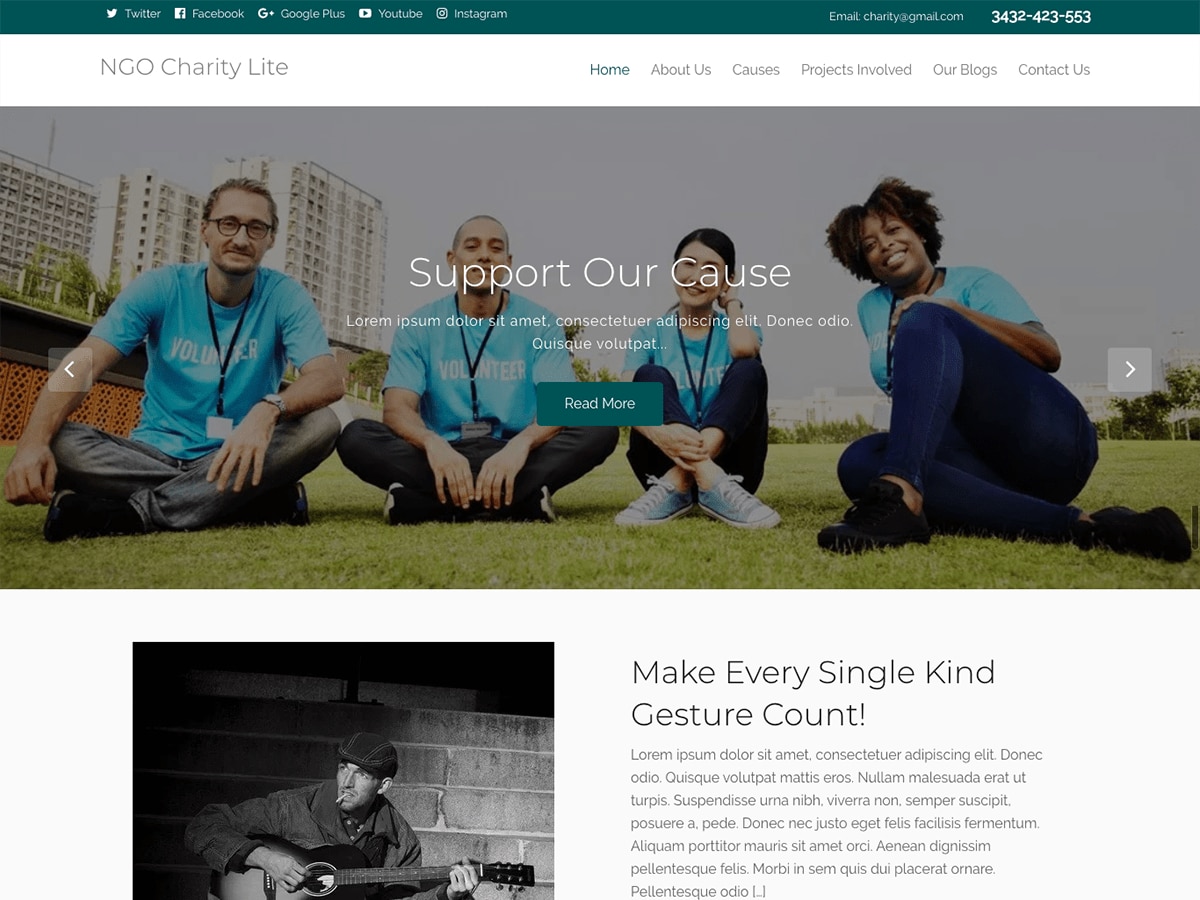 The NGO Charity Lite theme is designed for Non-Profit, Crowdfunding & Fundraising Organizations.
Features include:
Customization options: background, colors, header, logo, menu.
Full-width template as well as templates with a sidebar.
Grid layout.
2. Foster Charity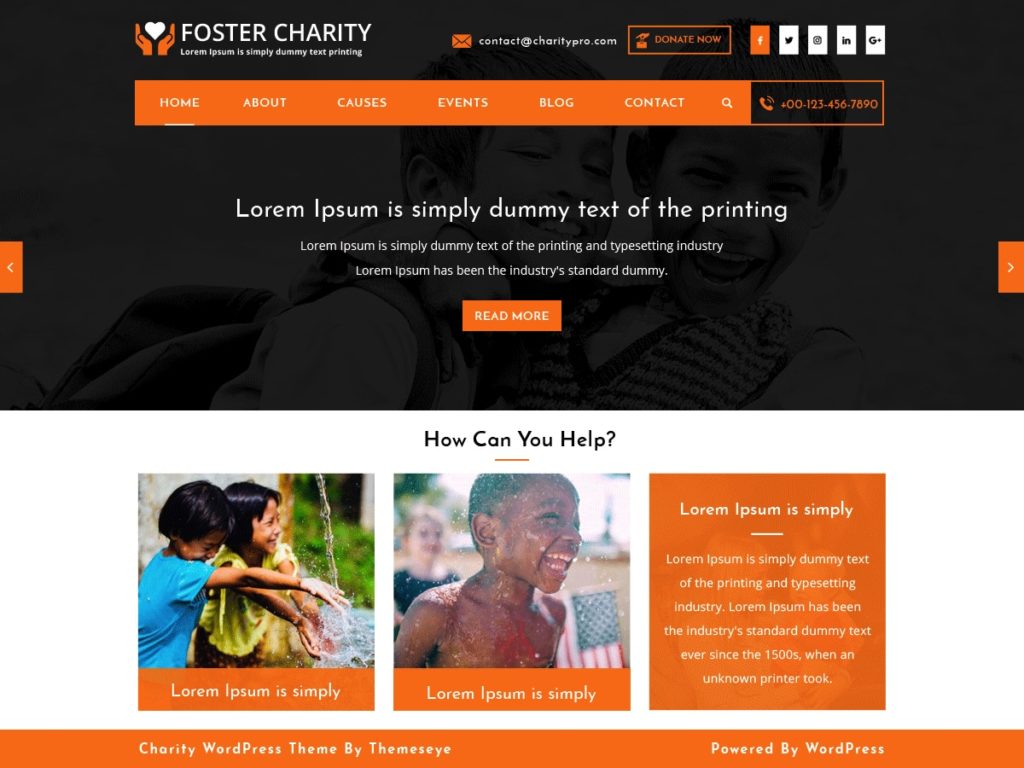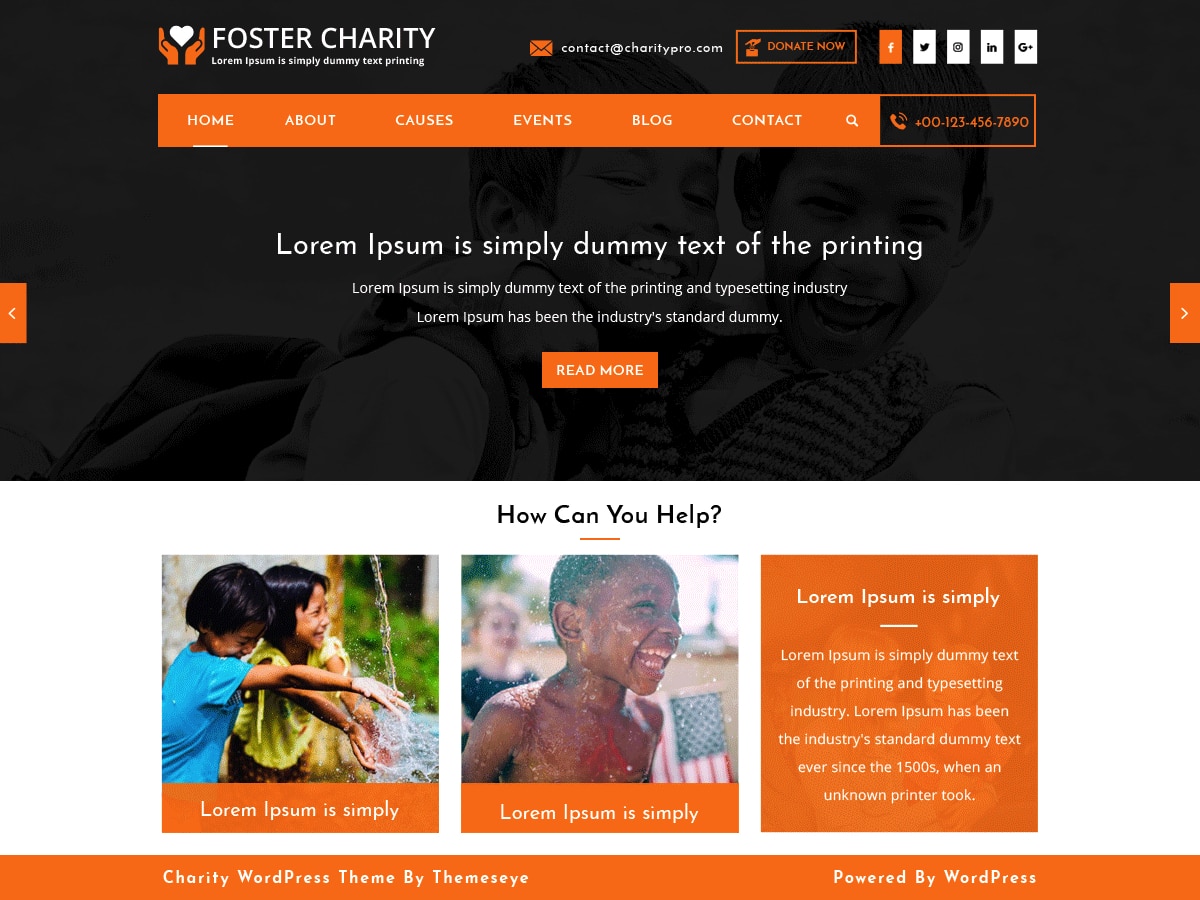 The Foster Charity theme is based on the Bootstrap framework and includes calls to action, sliders, and a customizable layout.
Features include:
Customization: background, colors, header, logo, menu.
Template options including template and grid layout.
Upcoming events section.
Sliders.
Call to action buttons.
3. FinRelief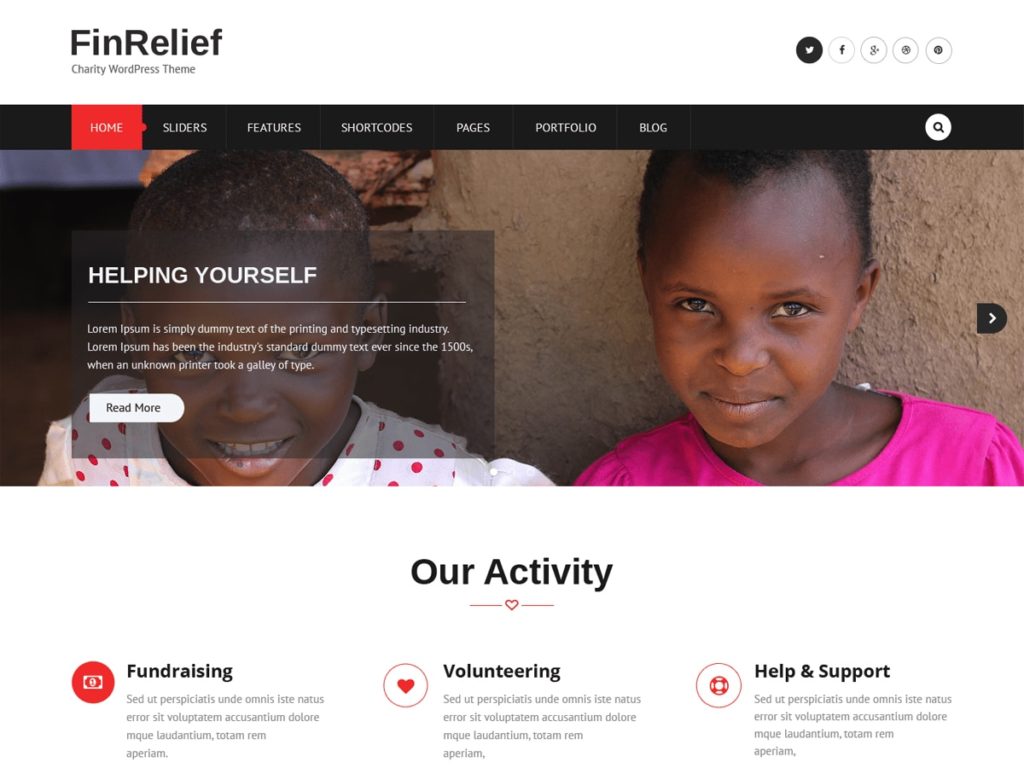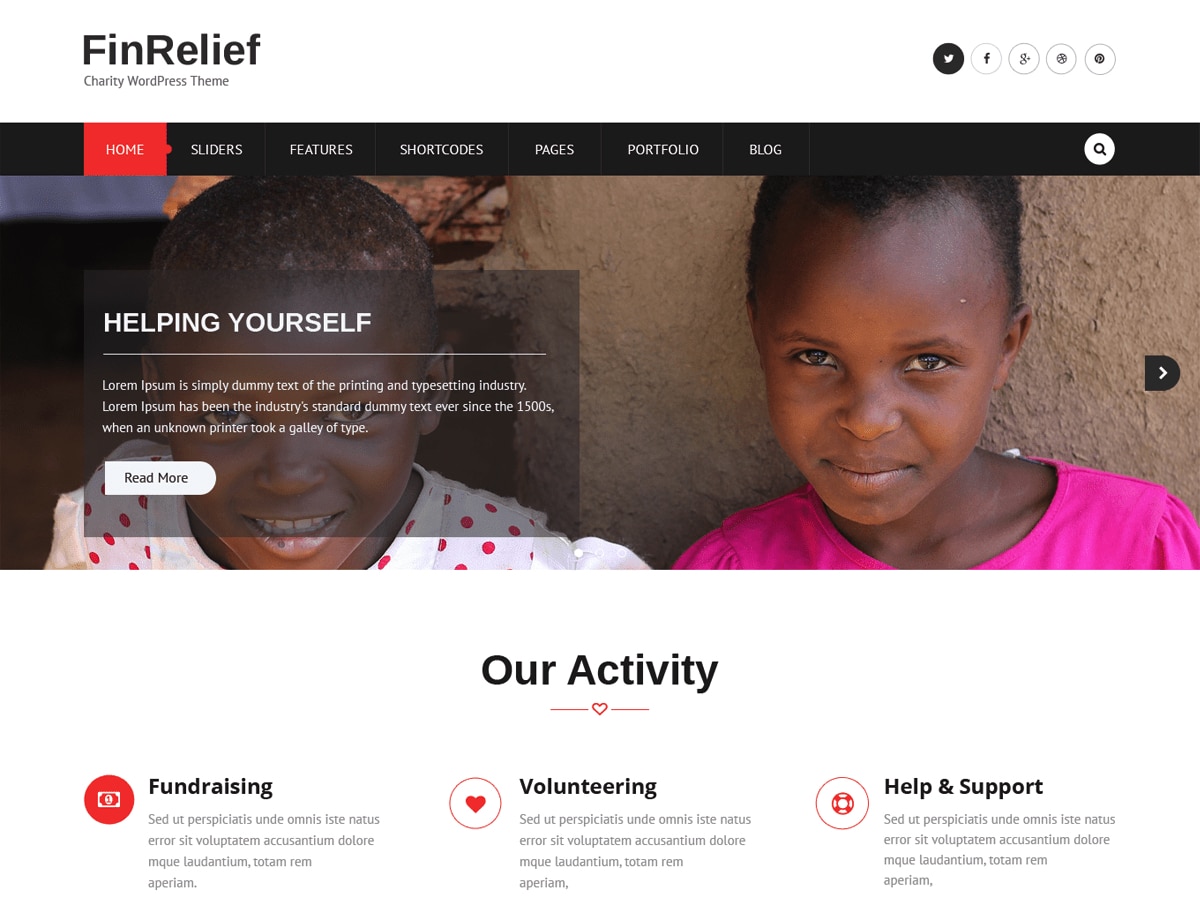 The FinRelief theme is designed for charities and nonprofits. It includes four footer widget areas and home page customization.
Features include:
Customization: background, header, logo, menu.
Template options including full-width template and right sidebar.
Home page areas to highlight your activity.
4. GivingPress Lite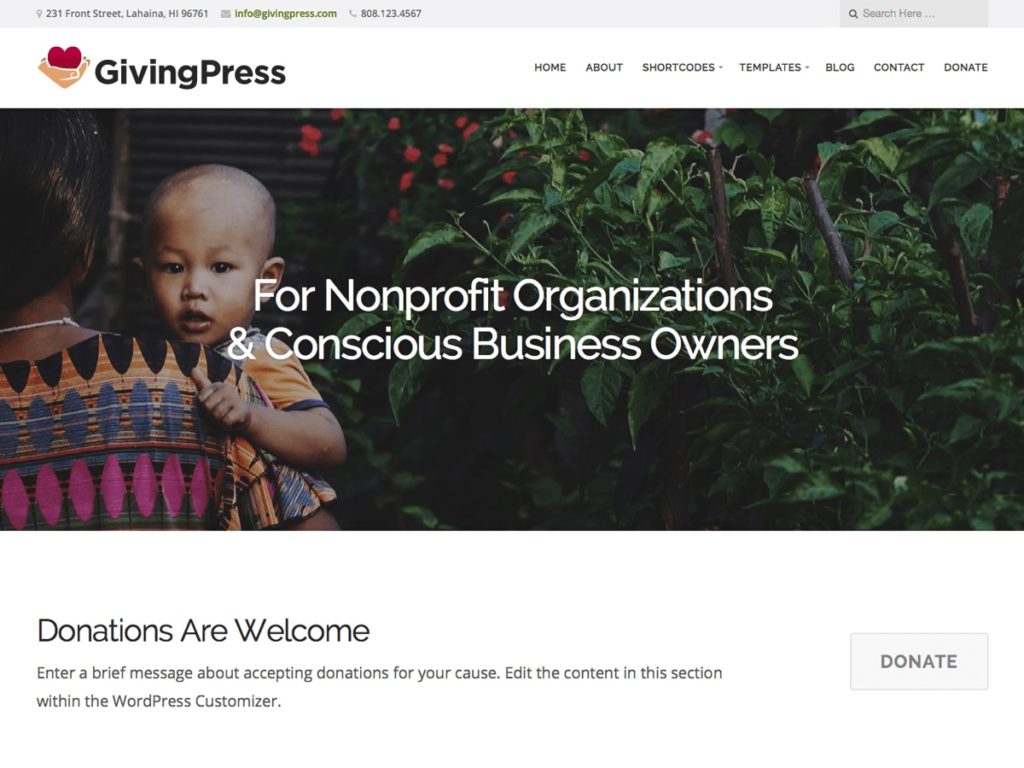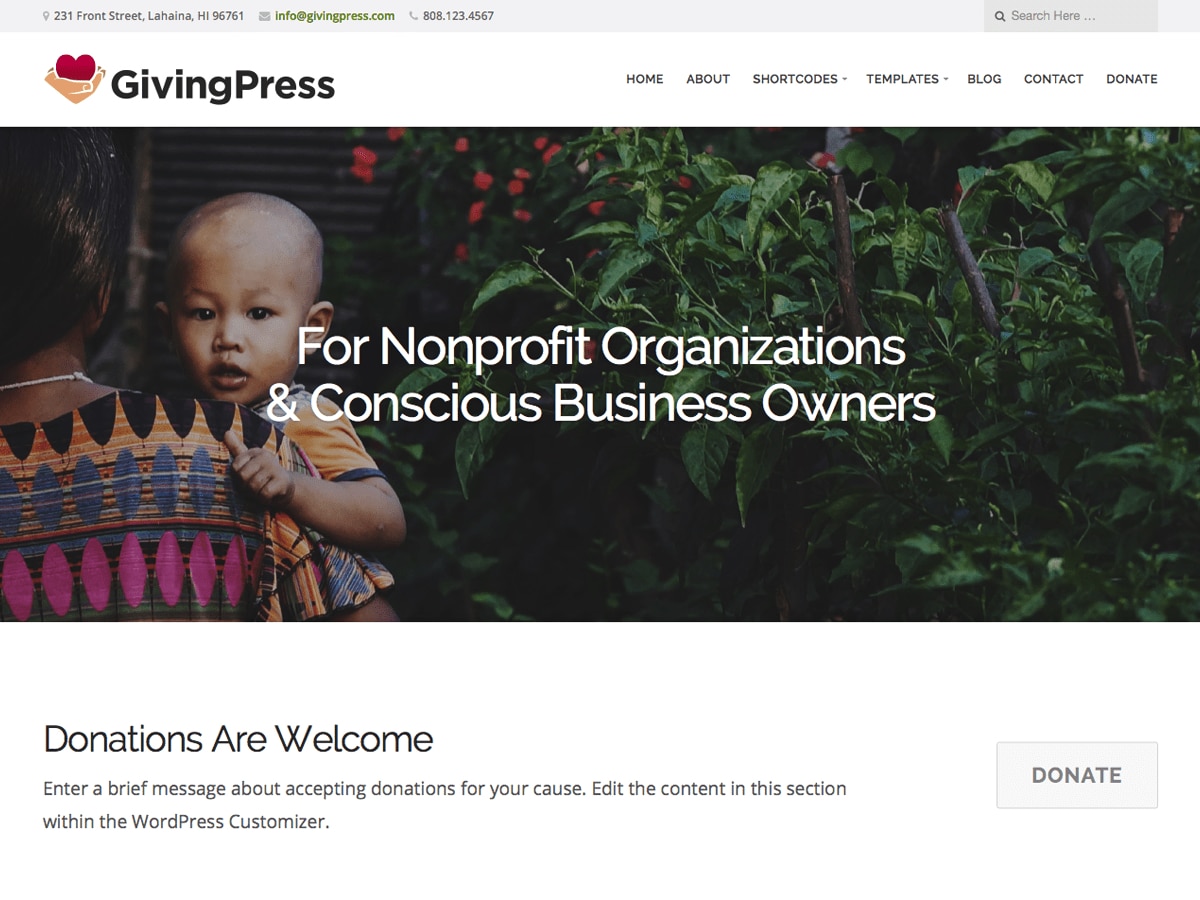 The GivingPress Lite theme is the free version of a premium theme, so if you need to upgrade in the future, you can do so without losing your work.
Features include:
Customization: background, header, logo, menu.
Template options including full-width template, right sidebar, two or three columns.
5. VW Charity NGO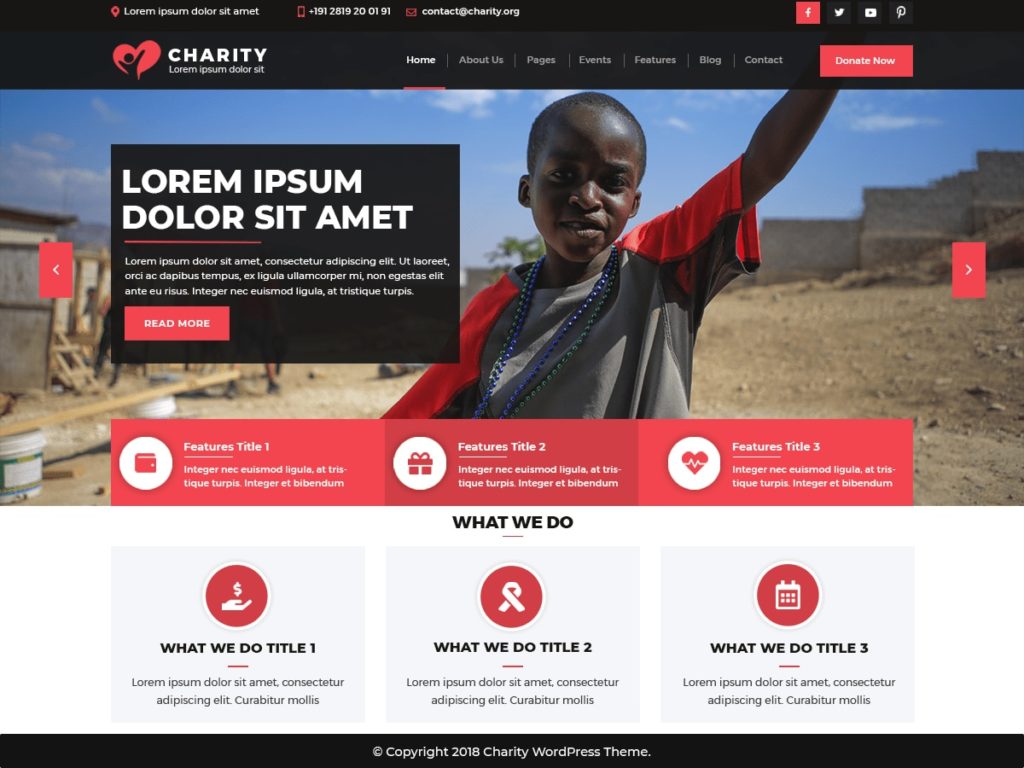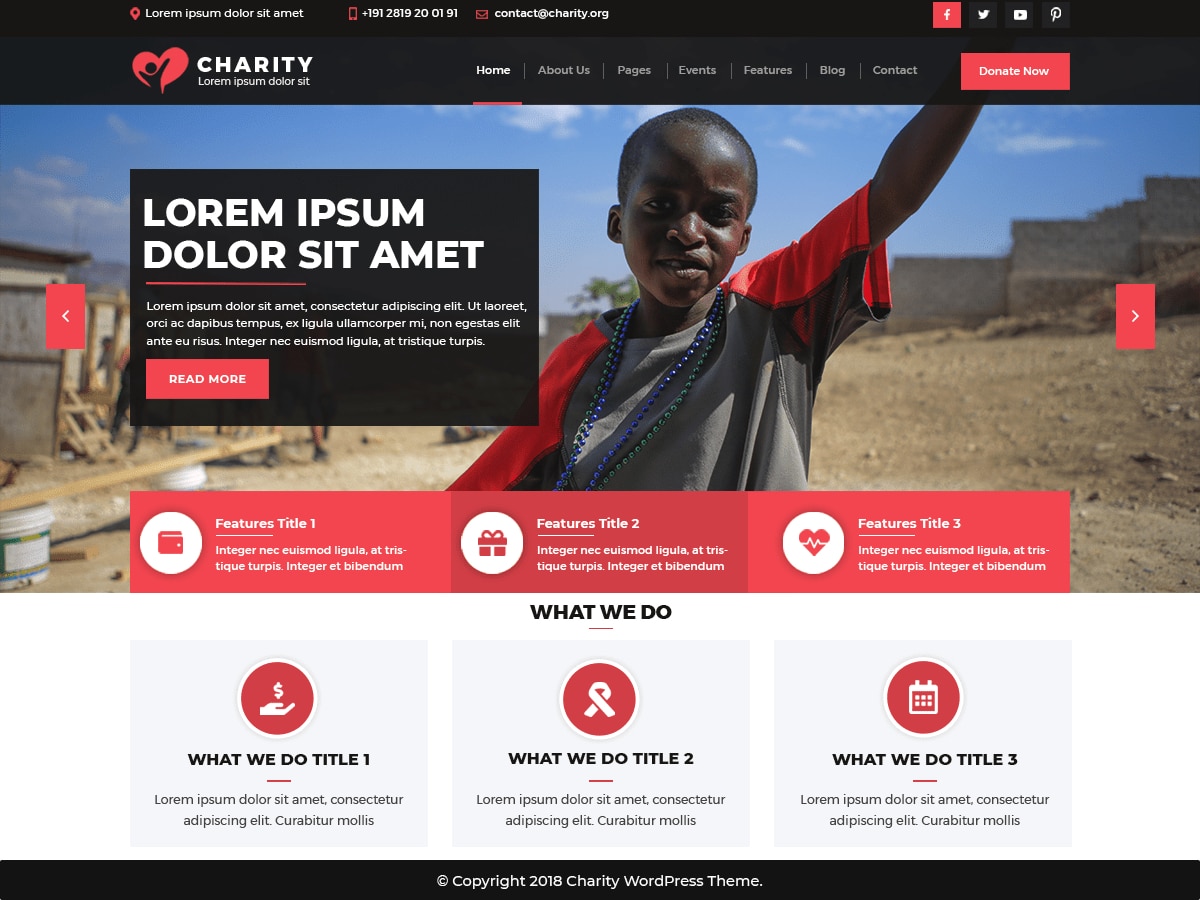 The VW Charity NGO theme is designed for showcasing your nonprofit's activity, for fundraising or for blogging.
Features include:
Customization: background, colors, header, logo, menu.
E-commerce options.
Template options including full-width template, grid layout, right or left sidebar.
Portfolio section.
Testimonials section.
6. Benevolent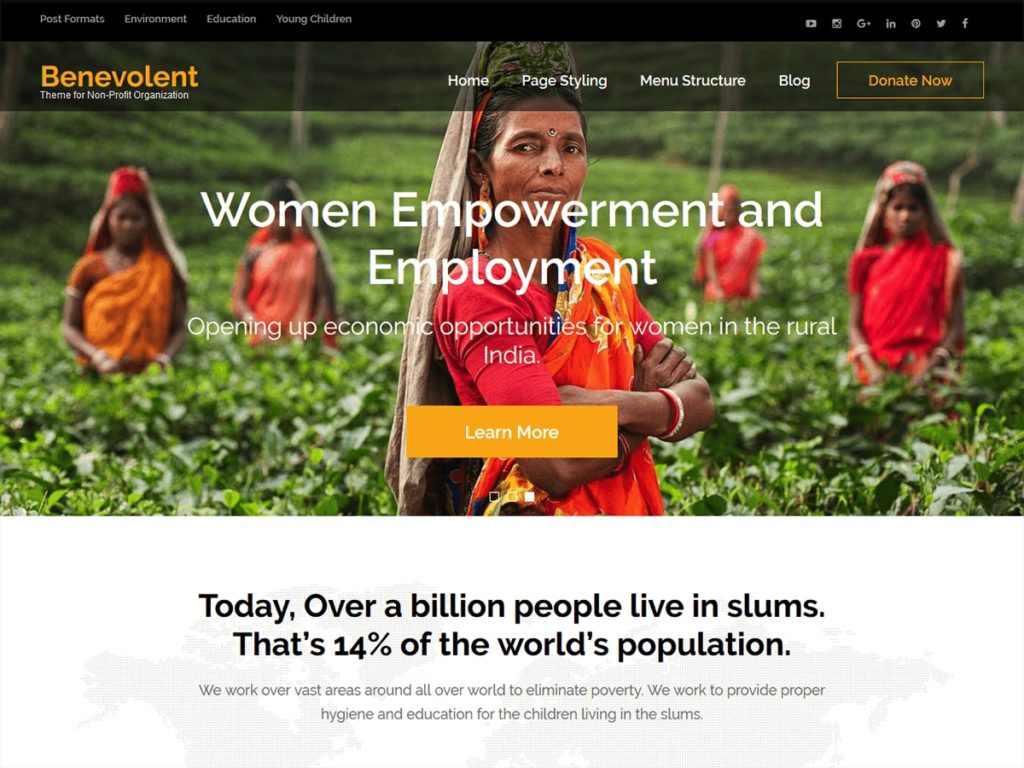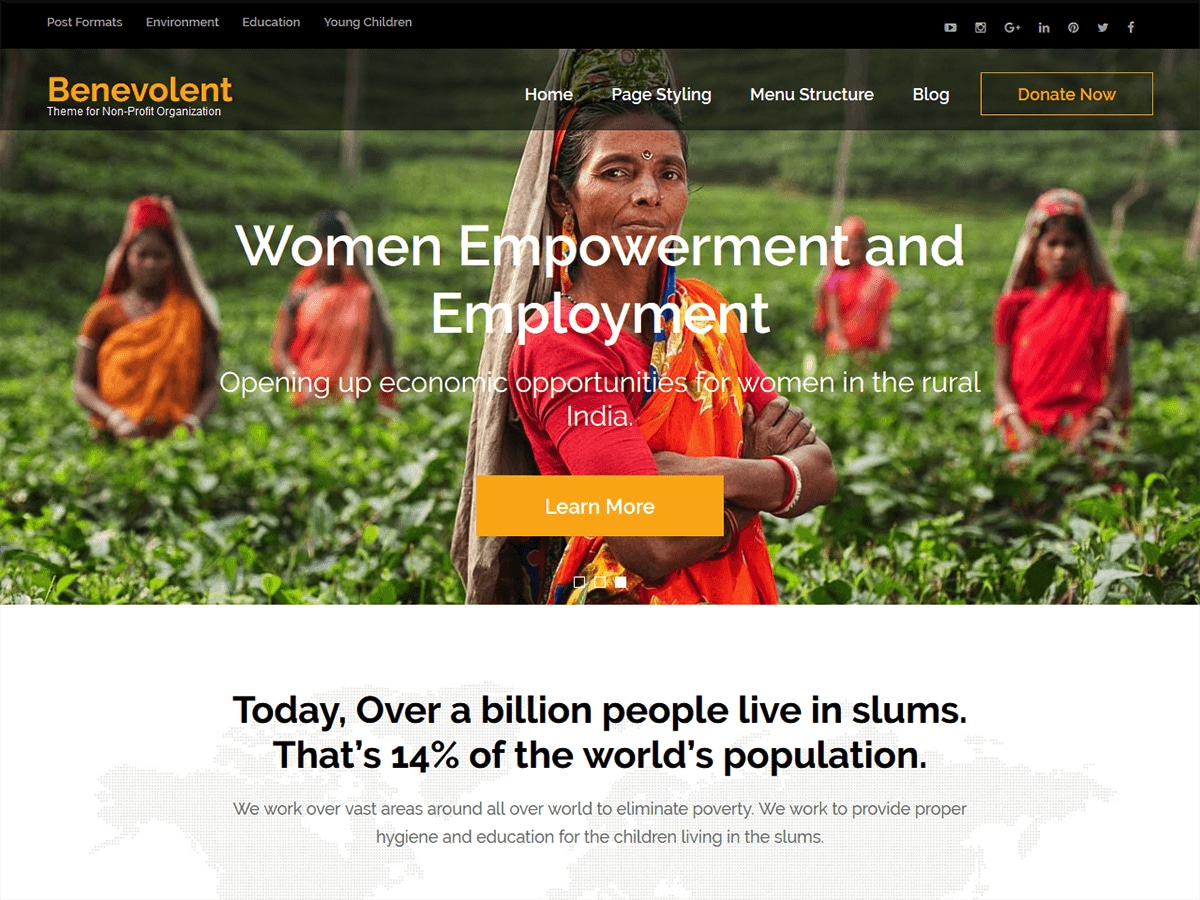 The Benevolent theme is designed for nonprofits and has been optimized for SEO.
Features include:
Call to action button in menu.
Full-width slider.
Banner with call to action button.
Client section.
Multiple layouts.
7 Best Premium WordPress Themes for Nonprofits
If you're looking for more features and often a more intuitive user interface, as well as better support, you might decide to spend money on a premium WordPress theme.
You don't have to buy one designed specifically for nonprofits: sometimes you'll find that a well-built general theme will meet your needs and have more flexibility. But there are plenty premium WordPress theme designed specifically for nonprofits you might want to check out:
1. Charity Foundation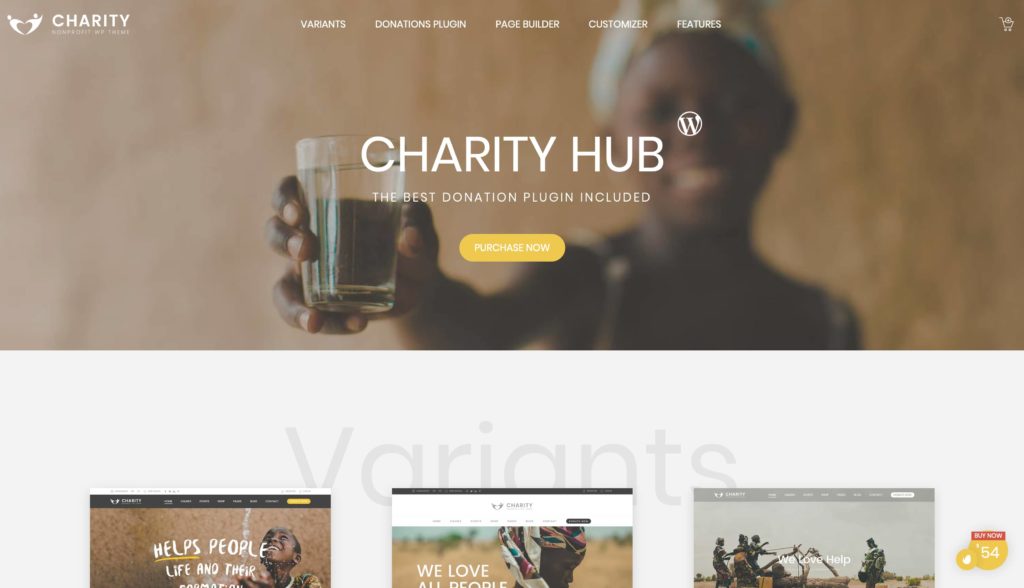 The Charity Foundation theme from theme vendor ThemeForest is designed for nonprofits.
Features include:
An events calendar.
Donations via Paypal.
The 'cause' custom post type.
Donors area with sign-in.
A visual page builder.
A slider.
2. Act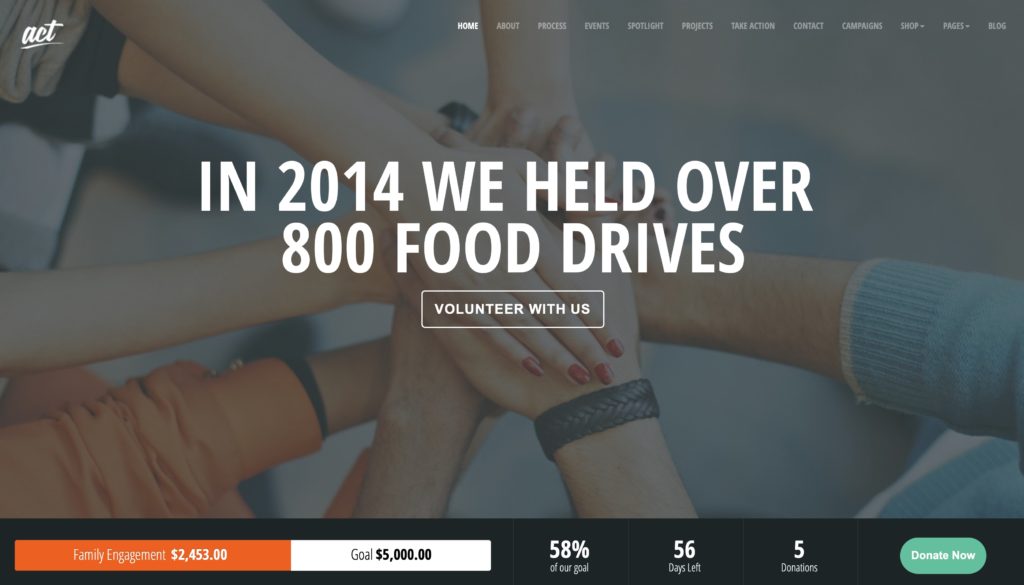 The Act theme, also from ThemeForest, is designed for nonprofits and includes a slider and visual page builder.
Features include:
The Visual Composer page builder.
A slider.
Customizable colors and fonts (with Google fonts).
A home page call to action feature for donations.
A library of icons.
An events calendar.
Parallax scrolling in the design.
3. Zeko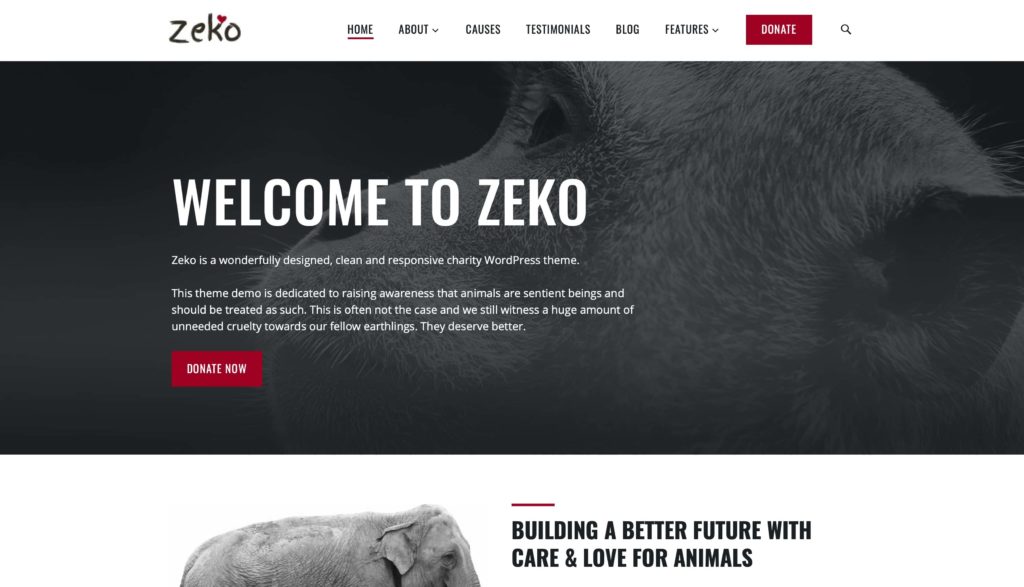 Zeko is one of three charity themes from Anariel Design.
Features include:
Donations built in.
WooCommerce integration for your store.
Newsletter subscriptions.
Community features.
Panel-based home page for ease of customization.
Six page templates designed for charities and nonprofits.
Page builder support.
Multiple widget areas.
4. Neve Charity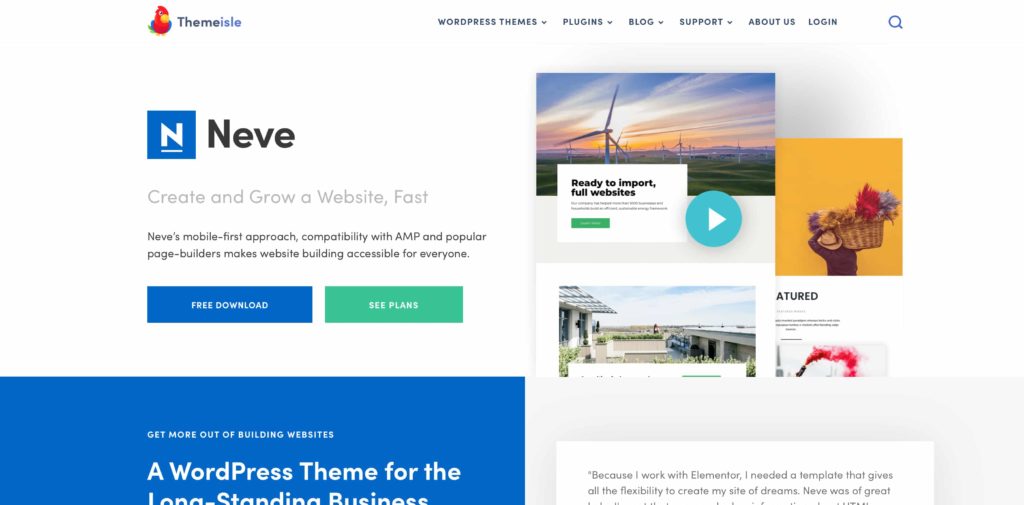 The Neve Charity theme is designed specifically for charities. It works with the Elementor page builder and is designed for speed.
Features include:
Customizable header and footer.
Multiple layout options.
A starter library to speed up the creation of your site.
Designed for WooCommerce.
Drag and drop blog layout builder.
5. Maisha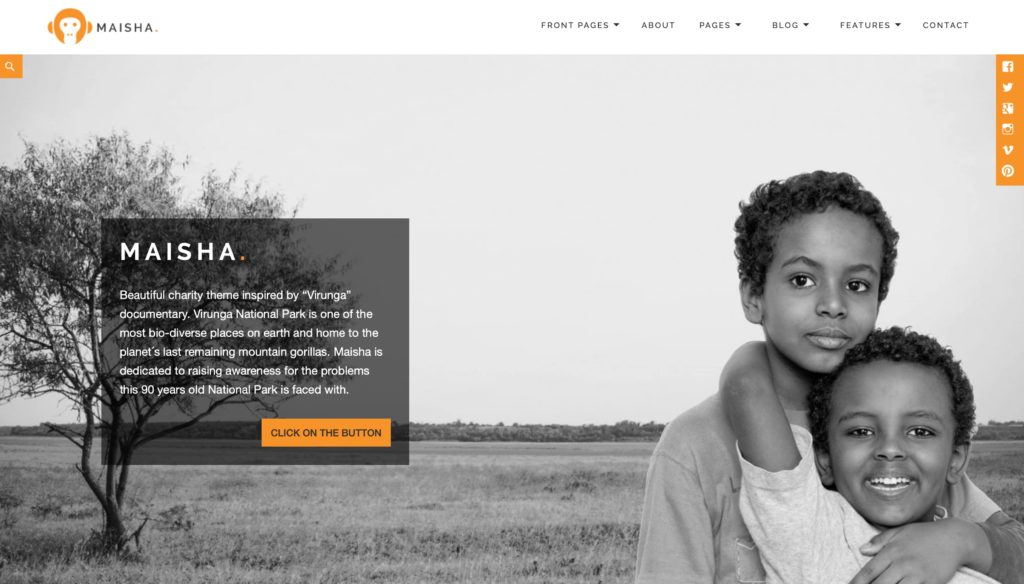 Maisha is another theme from Anariel. It features social media icons and a block-based home page design that you can customize to highlight key content.
Features include:
Prominent social media icons.
Panel-based home page for ease of customization.
Donations feature.
WooCommerce integration.
Newsletter subscriptions.
Community features.
Seven page templates designed for charities and nonprofits.
Page builder support.
Multiple widget areas.
6. Alone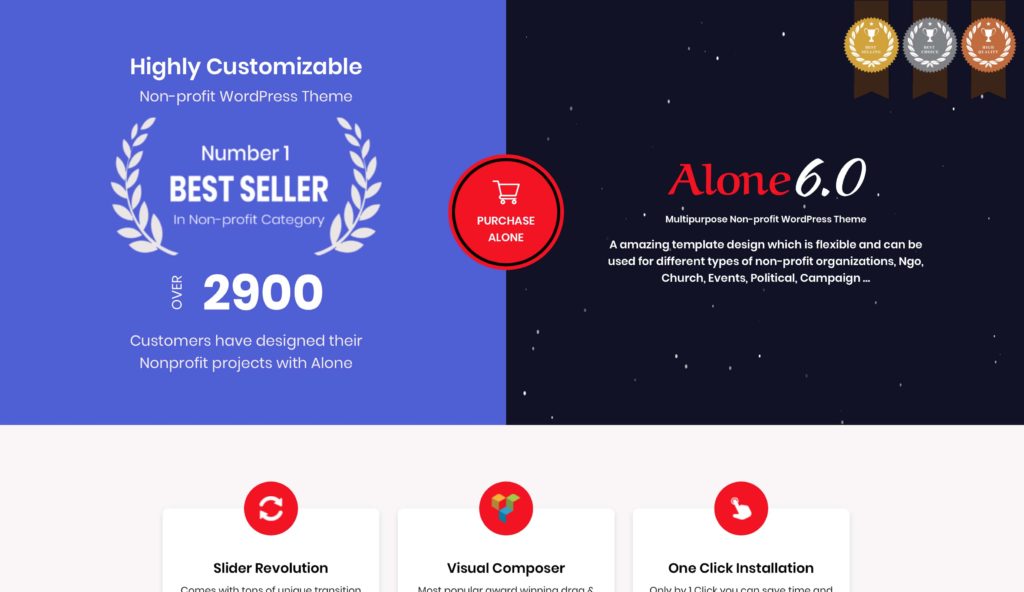 The Alone theme is one of ThemeForest's best selling charity themes. It features a bold design and customizable content areas.
Features include:
9 demo pages to help you quickly design your site.
The visual composer drag and drop interface.
Forms.
Donations, including a donations pop-up box.
Grid-based layout.
Slider.
Customizable colors, fonts and widget areas.
7. Hope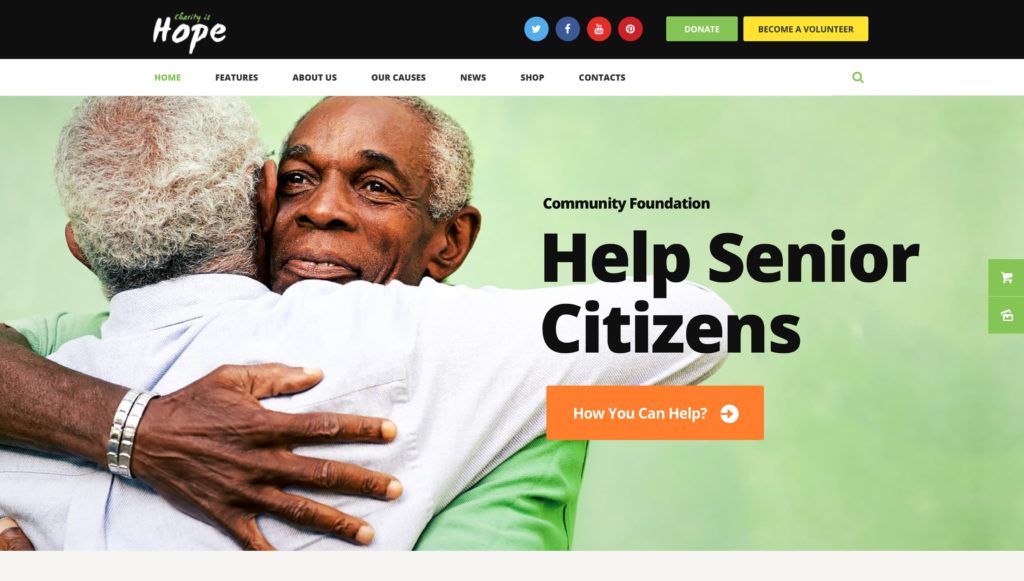 Hope is a non-profit and charity theme from ThemeIsle.
Features include:
Customizable sliders.
Customizable colors and fonts.
Donations.
A prebuilt demo to speed up site creation.
A drag-and-drop visual page builder.
An events calendar.
Essential Plugins for WordPress Nonprofit Sites
Once you've got your nonprofit site set up and your theme installed, it's time to add some plugins. WordPress works great out of the box, but adding some plugins will give you more powerful features.
The NonProfitWP site includes a roundup of free themes and plugins for nonprofits as well as advice for nonprofits using WordPress and is a valuable source of information.
Here are some of the essential plugins that every nonprofit WordPress site needs. I'll then move on to looking at plugins that add features that are especially relevant to nonprofits.
SEO
The Yoast plugin will let you beef up your search engine optimization and increase the chances of your site being found by people searching on Google and other search engines.
You may not be running a business or selling anything, but your website will be ineffective if people can't find it, which is why SEO is so important.
Here are some tips for enhancing SEO on your nonprofit site:
Update your site's content regularly. Search engines prefer sites that aren't left to go stagnant. Add regular posts to your site with news items and blog posts. These will tell people about what you do and provide more content for search engines to find.
Share all your new content on social media, like Facebook, LinkedIn, or Twitter. There's plenty of plugins that will let you connect your WordPress site to your social media accounts and automatically post to them when you add a new post to your site. This will help keep people alerted to what you're doing.
Consider what people are searching for and write content targeted to it. There will be some topics that people are likely to be seeking information on when they come to your site. Make sure you write content aimed at answering their questions. You could add it to blog posts, or you could create a section on your site full of information pages, similar to Kinsta's knowledge base section.
Use plugins to optimize titles and descriptions for all the content you add. The title is what Google shows as a clickable link when it shows a site in search results. The description is the text underneath, and it should be designed to entice people to click through.
Use Google Search Console to keep track of key information and issues related to your site.
Use sitemaps and a clean structure to improve your indexability and gain better click-through rates and Google sitelinks eventually.
Backups
If your site is hosted on Kinsta, you won't need a backup plugin, as all Kinsta users have daily automatic backups of their site. But if you aren't with Kinsta, a backup plugin means you can take a regular snapshot of your site and if there's a problem with it, you can restore an older version that was backed up before any problem arose.
The UpdraftPlus plugin is free and lets you schedule automatic backups as often as you need to. It's a good idea to take a backup as frequently as you'll be updating the content on your site. This means that if you have to restore the site from the last backup, you won't lose your latest blog post.
You can store your backups away from your site using a cloud storage service like Dropbox or Google Drive. Make sure you set up automated backups before you start adding any content to your site, so you know you always have a backup to fall back on.
Security
If you're with Kinsta, you won't need a security plugin as Kinsta provides top-notch security features already.
But if you're with another hosting provider, you'll probably need to make your WordPress site more robust. The WordFence security plugin will help you to harden your site and reduce the risk of attacks.
You can use the plugin to set up a firewall to make your site more secure and to scan your site for any vulnerabilities. The plugin will then notify you if there are any security problems. It'll also tell you when you need to update any of your themes or plugins, or when WordPress itself needs an update. Keeping your software updated will go a long way to keeping your site secure, as older themes and plugins can have vulnerabilities that have been fixed by later releases.
Performance
Performance is important for two reasons. Firstly, it'll enhance your SEO, as Google prefers sites that load quickly. And secondly, it will reduce the chances of people leaving your site before they've explored it fully, as a slow loading site is one that doesn't tempt people to hang around.
How to Create a Community on your Nonprofit WordPress Site
Adding BuddyPress for Community Engagement
The BuddyPress plugin lets you create a social media, where your members can both interact one another and plan events or fundraising.
You can activate whichever modules you need, meaning you have a level of flexibility and don't need to activate modules you don't need.
Adding a Membership Plugin
If you don't want full community engagement on your site, you can use a membership plugin to let people join your organization online and gain access to additional resources and communications.
A plugin like WP-Members will let you add different tiers of membership to your site, meaning you can grant access to extra resources to members on a higher tier. You could link membership to donations or subscriptions and give people an incentive to become regular donors to your cause.
How to Fundraise on Your WordPress Nonprofit Site
You can use your nonprofit WordPress site to make money in one or both of two ways: by adding a shop to your site or by taking donations via your site.
WooCommerce is the world's most popular ecommerce platform and many of the themes listed above are designed to integrate with it. Most WordPress themes will work with WooCommerce and display your shop well.
You can use a WooCommerce store to sell merchandise or goods created by communities you support, and add an extra revenue stream to your nonprofit website.
You can also add a donations plugin to add a "donate" page or button to your site, something included in most of the premium nonprofit themes listed above. This should be designed to be as obvious as possible so people don't miss the opportunity to donate money to your cause.
A plugin like Give will let you take donations on your site by connecting to the major payment gateways, making it easy for you to take donations.
The plugin will let you build custom donation forms, so you can gather data about your donors, will generate receipts and measure performance across campaigns, helping you to be strategic about donations.
Need to accept BitCoins donations? You can do that as well!
WordPress Multisite for NonProfits
If you're running Multisite for specific campaigns, or your organization consists of multiple sections who need a separate web presence, WordPress Multisite will make your life much simpler. You can even use a parent and child theme to give your sites similar (but not identical) branding or display content from one site on the others.
WordPress Multisite lets you create a network on your WordPress installation, meaning you can create as many sites as you need without having to install WordPress lots of times. This saves storage space and also saves time on updates, as you only need to update plugins and themes once.
Using WordPress Multisite doesn't mean all your sites have to use the same domain name: you can use domain mapping to tell each site to behave as if it's hosted on a separate domain. Or if you prefer, you can use a subdomain or subdirectory of your main site. A site on a subdomain is at newsite.mainsite,com, where "newsite" is the microsite and "mainsitecom" is your main site. A site on a subdirectory would be at mainsite.com/newsite.
WordPress CRM for Nonprofits
WordPress is a useful tool for managing nonprofits' donors, supporters, and members, and some of the examples of nonprofit sites built on WordPress include member and supporter areas.
To help you with this, you can install a CRM plugin in your nonprofit WordPress site and use that to manage relationships and keep people up to date with your activities.
CRM and community plugins that can be especially useful for nonprofits include:
BuddyPress. Use BuddyPress to create a community on your site and enable a social media-like interface for your supporters or activists. BuddyPress will let users add events, groups and more, and enable private messaging so you can manage activity and build networks.
Zero BS CRM gives you a flexible CRM system that you can customize to create a CRM that meets your needs. It's built by experienced WordPress developers and is regularly updated.
NPressive is a WordPress CRM designed especially for nonprofits. It lets you manage member data, send out targeted communications and take payments.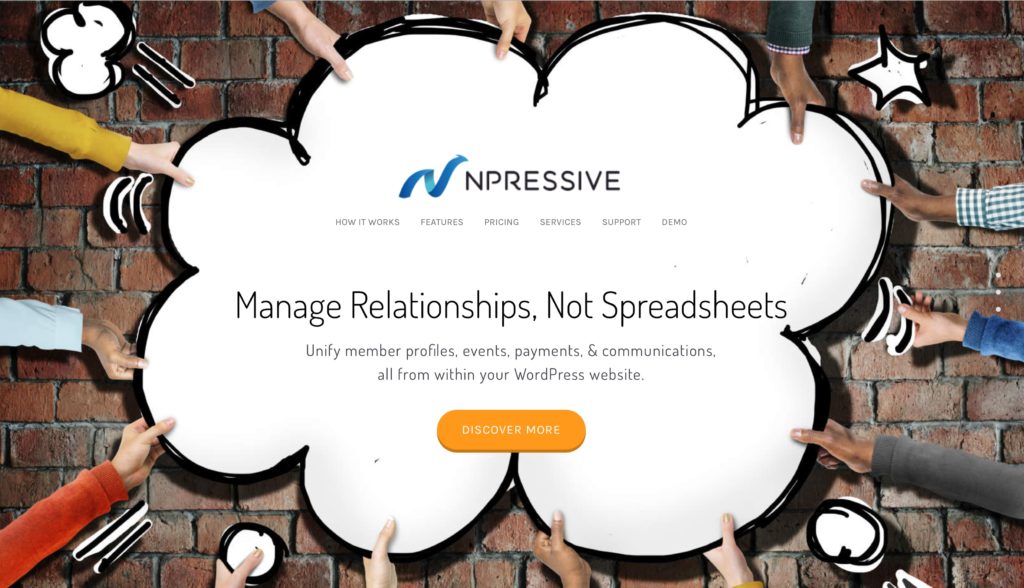 The NonProfitWP site recommends approaches to CRM for nonprofits and has a regularly updated list of the most useful plugins for nonprofits.
Summary
WordPress is a fantastic tool for nonprofits. It's free to download and use, it has an awesome community of users and developers and a wide range of themes and plugins perfect for nonprofits, both free and paid.
A large number of nonprofits are already using WordPress for a professional, engaging website that helps them spread their message and connect with donors and members. By using one of the themes above and a number of the plugins, you can create a WordPress site for your nonprofit at relatively little cost.
Check out Kinsta's web hosting for nonprofits and receive a 15% discount if you are a 501(c)(3) organization.