The Best of Google, for Your WordPress Site
When you depend on the availability and scalability of your WordPress website, get the power, performance, and security of Google Cloud Platform's global network, optimized by Kinsta.
Server management
Leave the provisioning, configuring, and scaling of virtual machines to us. We take care of the day-to-day server management of your sites on Google Cloud's infrastructure so you're free to focus on more important things.
Optimized for performance
We use state-of-the-art technologies including Nginx, PHP 8.0, LXD software containers, MariaDB, and Google Cloud's compute-optimized VMs, along with hundreds of server-level optimizations, to make sure your website loads in the blink of an eye.
Extra layers of security
We have active and passive measures in place to stop attacks and malicious intent, continuous uptime monitoring, Cloudflare with DDoS protection, software-based restrictions, free SSL support, IP Geolocation blocking, SFTP, SSH, HTTP/2 and A+ ratings on Qualys SSL Labs.
World-class WordPress support
Get WordPress help from engineers who understand Google Cloud Platform. No matter who you talk to on our support team, you'll connect with someone experienced in troubleshooting, server maintenance, and WordPress development.
Fine-tuned for WordPress
From our purpose-built MyKinsta dashboard to one-click staging, automatic backups, migrations, analytics and insights, and team collaboration, get the tools you need to run WordPress.
Developer-friendly tools
Get the tools you know and need, including SSH, SFTP, WP-CLI, Composer, Git, and Kinsta APM. New Relic (license required) and Redis are available as optional add-ons. We're developers here at Kinsta so it's important to us that our tools help speed up your workflow.
A trusted Google Cloud Platform partner
As an official GCP managed WordPress host, we'll help you innovate faster, scale smarter, and stay secure with leading-edge cloud infrastructure. Expand what's possible when you install WordPress in the cloud.
Why businesses choose Kinsta
From day one Kinsta has provided us with a premium managed hosting solution; with new features being added regularly that continue to save us time, and ultimately money. It's allowed us to continue to increase our client base without any degradation to the service our existing clients receive. We look forward to continuing to grow as an agency, alongside Kinsta as a valued partner, for many years to come.
Kinsta's infrastructure allows us to guarantee our clients a peace-of-mind that we haven't been able to find anywhere else. I cannot overstate how good that feels.
When making the leap from offering a Saas product to adding an SEO component, we knew we could trust Kinsta with our blogs. Using Kinsta's installs and features, our SEO channel (blogs via Kinsta) are now among the top producers of all our sales.
Kinsta provides peerless WordPress depth-of-knowledge and expertise for our multiple sites; some of which have high-bursting event traffic and many of which are of a considerably complex nature. Customer service is first-rate; we always receive a quick answer regarding the best configurations – from plugins to firewalls and CDN setup. We consider the Kinsta team a part of our team.
After struggling for years with WordPress hosts, we finally found a host that truly understood the unique requirements of a WooCommerce store. Their stack can be optimized to make WooCommerce fly.
We've tried more than 5 different companies over the past 6 years and were struggling with our scalability until we found Kinsta. Our CTO researched hosting companies and he was impressed with Kinsta's infrastructure. After moving we saw at least 20% faster page load speeds, better caching, 99.9% uptime, and the team is just there for you.
We started to use Kinsta around 2016-2017 and that has proved to be a great decision. We used to struggle with different hosting services for years, which hurt our business and created a lot of additional work for our developers. Kinsta is the way to go for our company. Our developers do not need to worry about server issues, like whether the server security is up to date or anything like that. When we develop a site on our local environment, we know it is also going to work in production.
Cloud hosting made for WordPress
Google Cloud Platform opens up new possibilities for how you deliver online experiences with WordPress, but its set-up and complexities can make it out of reach for some users. Kinsta supports your move to the cloud, optimizing WordPress for speed, scalability, and security.
We provide the user-friendly tools and expert guidance you need to take full advantage of the same infrastructure that powers Google.
Our customers enjoy the infrastructure and performance of Google Cloud Platform, the power and flexibility of WordPress, and our expert optimizations and support. An unbeatable combination.
Rock-solid, purpose-built cloud hosting
Google Cloud Platform is built with the same technologies, capabilities, and expertise that have made Google a global leader in tech and a household name. At Kinsta, customers enjoy a fully managed cloud computing experience optimized for WordPress for maximum speed and scalability. 
No matter what kind of site you have, whether you're a blogger, run a small business, sell online with WooCommerce, or run a Fortune 500 company, we've developed our services on top of Google Cloud Platform to scale and meet your WordPress needs.
Custom containerized hosting 
Proven cloud infrastructure with 99.95% availability
35 globally distributed data centers
World-class security with global load balancing and Google Cloud firewall
Enterprise-grade solutions built to scale
Six types of automatic backups
24/7 expert support with best-in-class response times
Affordable plans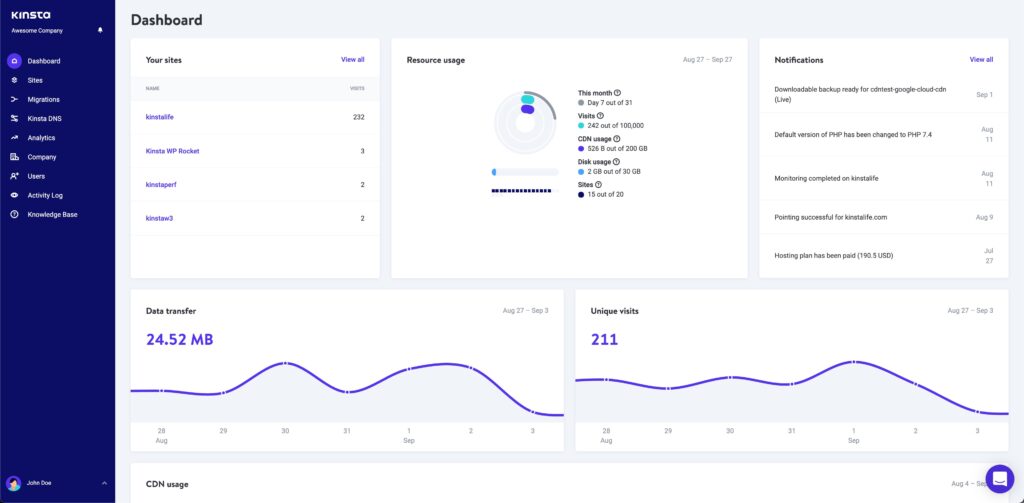 Simple site management with MyKinsta
The MyKinsta dashboard lets you easily manage all your websites in one place. We built it specifically for WordPress so you'll find WordPress-specific features and tools.
Free SSL certificates and migration
Uptime monitoring
24/7 expert support
Advanced site management tools
Take MyKinsta for a spin. Schedule a demo today.
Powerful Premium Tier network
This extensive private fiber network delivers traffic over Google's backbone, not the internet. It features over 100 points of presences (POPs) across the globe, making it the largest of any public cloud provider.
Get 200% faster performance
We also use Google Cloud Platform's robust compute-optimized C2 virtual machines and have further optimized this infrastructure to handle the demands of WordPress. We've delivered performance gains for our customers up to 200% faster, and sites that are more stable, secure, and speedy.
What is Premium Tier?
Premium Tier is designed to minimize distance and hops, resulting in the fastest global transport of your data. Inbound traffic to your site enters Google's network at the POP closest to your end-user, and the platform then delivers this traffic to your site over the private network.
POP shortcuts
outbound traffic from your site is delivered to visitors on Google's network and exits at the POP closest to them, wherever they are in the world. This means most traffic reaches its destination with a single hop to the user's ISP, enjoying low latency and maximum performance.
Get support from Kinsta
Host your sites on Google Cloud's servers while taking full advantage of our support team's deep WordPress expertise. Leave the server management to us and get fast response times, proactive solutions, and expert help at scale.
Fast, reliable, and scalable global network
When you choose Kinsta, you choose the same infrastructure that powers Google products including Search, Gmail, and YouTube. Your traffic transits on Google's private backbone for most of its journey, ensuring exceptional user experiences and high performance.
Global infrastructure

Build on the same future-proof infrastructure that returns billions of search results in milliseconds and serves 6 billion hours of YouTube video each month.
Flexible architecture

Google Compute Engine can scale dramatically. When you need tremendous resources in a short amount of time, Google Cloud Platform will grow with you.
Consistent performance and low latency

Choose from 35 strategically placed, globally-distributed data centers and serve your site closest to where your users are located.
Stable and reliable

Google Cloud Platform's highly redundant network of data centers ensures minimal disruption due to hardware failures, natural disasters, and other incidents.
High availability

Google Cloud Platform's data centers and network architecture are designed for maximum reliability and uptime, with 99.95% availability.
Scalable hosting

Our scalable infrastructure, built on Google Compute Engine servers, is ready to handle surges in traffic.
Advanced caching

Benefit from software and server-level caching we've built specifically for WordPress. We use bytecode cache, query cache, page cache, and CDN (plus optional object caching) caching for the perfect balance of performance and functionality.
Optimized tech stack

We've built Kinsta's hosting services on top of Google Cloud Platform using only the latest technologies, including Nginx, PHP 8.0, LXD software containers, MariaDB, and compute-optimized virtual machines.
Safeguard your site with world-class security
When you host with Kinsta, the same technology that secures Google's global network protects your data. Take advantage of Google Cloud Platform's multilayered security, physical data centers, infrastructure, and operations, optimized for WordPress by Kinsta.
Private network

Build on the same future-proof infrastructure that returns billions of search results in milliseconds and serves 6 billion hours of YouTube video each month.
Security at scale

Benefit from industry-leading infrastructure that is protected by more than 700 experts in information, application, and network security.
Enterprise-grade protection

Google Cloud's global cloud load balancing infrastructure provides always-on protection against DDoS, web attacks, and other threats.
Complete isolation

We use Linux containers (LXC), and LXD to orchestrate them, on top of Google Cloud Platform. This enables us to completely isolate not just each account, but every WordPress installation we host.
Uptime monitoring

We check the status of all sites we host every 2 minutes. That's 720 times every day, so if there's a problem with your site our engineers are informed right away.
Free SSL certificates

Get world-class SSL encryption with our streamlined set-up and built-in integration. All sites on Kinsta come with free Cloudflare SSL certificates, and custom certificates are supported as well.
Automatic backups

Sites we host are safe and secure with six types of backups. All sites are backed up daily and you'll always find 14 backups in your MyKinsta dashboard.
Fine-tuned for WordPress

We use Google Cloud firewalls, active and passive security, WordPress-specific security rules, and other advanced features to prevent access to your data.
Hack-free guarantee

Nothing is more important to us than the security of your WordPress website. If it's compromised on our servers, we'll fix it for free.
Top tier WordPress hosting, every time
For five years straight, Kinsta's topped Review Signal's WordPress hosting performance benchmarks for every plan we offer. We've proven that our hosting platform — backed by Google's recognized reputation for performance, innovation, and security — is consistent, reliable, and one of the fastest in our industry.
It's almost boring writing about Kinsta. 100% uptime. 0 Load Impact errors. 3 Load Storm errors. Another Top Tier performance that I've come to expect.
We're constantly innovating
We're committed to providing the best and latest technologies you need to make the most of what Google Cloud Platform has to offer.
The most powerful platform
Our hosting streamlines the set up and maintenance of the world's most popular website platform together with the power of the world's largest privately owned network. We take care of WordPress core and security updates so you get a fully managed solution.
Free migration for everyone
All our plans include free migrations. Migration plugins are great, but moving sites requires experts who can solve unexpected, unique issues along the way. Our engineers approach your site's move as it were their own, leveraging years of hosting and WordPress experience.
100% private data
Every site we host runs in an isolated container that has all the software resources needed to run the site (Linux, NGINX, PHP, MySQL). This means that the software that runs each site is 100% private and is not shared, even between your own sites.
High-performance caching
We use full page, server-level caching to deliver your content almost instantaneously to users. We've also developed our own caching plugin, which is enabled by default all on sites we host, giving you granular control over your site's caching.
Free automatic backups
We automatically back up all sites we host daily, and you'll find two weeks' worth of backups in your MyKinsta dashboard. We provide downloadable backups, manual backup restore points, and system generated backups, which are created during certain events. You can also purchase hourly and six hourly backups as add-ons.
365/7/24 support service
Get the answers you need now, no matter where you are in the world. Our support team responds fast—our average ticket response time in Q3 2019 was 1 minute and 19 seconds.
Contact us!
Talk to Sales to discuss your hosting needs and find the Kinsta plan that's right for you.
Or reach out to us and we'll get back to you within one business day.
Get started with WordPress on Google Cloud on Kinsta