Nowadays, it's easy to create a website, and there are many ways to do so.
One such way is to build a website on WordPress, the world's most popular content management system (CMS). However, while creating a WordPress website is free, you need to sign up for web hosting services to share it online.
Although many web hosting plans are available — including free web hosting — most newbies opt to get shared hosting. But is that the best hosting option?
Read on to learn more.

What Is Shared Hosting?
Shared hosting is a type of web hosting wherein multiple websites and domains share a physical web server.
Besides shared server space, all websites on the server also split common resources such as disk space and bandwidth with other customers. This setup lets web hosting companies offer affordable plans because multiple users split the cost of maintaining a server.
An advantage of shared hosting is that it requires little technical knowledge as the hosting provider takes care of server maintenance. Although shared hosting often offers basic features and support, many plans come with additional features like website builders, templates, and email accounts to help beginners.
Shared hosting packages are perfect for new blogs, small business websites, and other low-traffic websites and don't require extensive resources.
Advantages of Shared Hosting
Now that you know what shared hosting is and how it works, let's dive into why you should (or shouldn't) get it:
Cost-Effective
Shared web hosting is the cheapest because server maintenance costs are divided between multiple users.
Convenient
Because shared hosting services target beginners, they often come with features like built-in control panels, website builders, and email hosting, so you don't have to install your own.
No Technical Expertise Required
Unlike dedicated or virtual private server (VPS) hosting, the hosting company manages the server in shared hosting plans. You don't have to worry about the technical requirements.
Disadvantages of Shared Hosting
Shared hosting isn't perfect; it also has disadvantages. Let's look at the less desirable parts of shared hosting:
Security Issues
Because multiple websites share one server, shared hosting can be the most vulnerable to common cyberattacks. When hackers have access to one website, they can access every website on the hosting server.
Slower Speed
In shared hosting, multiple users share server resources. If a popular website on the server requires and uses up more resources than they're allotted, other websites on the server will be affected.
Long Downtimes
When websites use server resources excessively, the server is likely to crash. Some hosting companies resolve the issue quickly. Others don't.
Hidden Costs
Shared hosting plans usually range from $3 to $25 a month. No matter how you do the math, after expenses, $3 a month isn't generating any revenue for the hosting company — more so when you add the cost of support to that. One support ticket and they're already in the red.
A shared host makes a lot of their money by upselling and hidden fees. These upsells include migrations, domain registrations, renewal fees, SSL certificates (even for WooCommerce sites), etc.
Hidden Throttling
Most hosts offer their "unlimited resources" plan to make money. You have probably all seen this.
Well, there is no such thing in the real world as unlimited resources. Hosts will throttle the clients who use up a lot of the resources. This, in turn, ends up with those angry clients leaving, making room for more clients that don't use a lot of resources.
In the end, you have a vicious cycle of the hosting company pushing cheap plans, signing up customers who they hope won't use a lot of resources, and will purchase upsells. It's all about volume.
Shared Hosting Features
1. Disk Space
Disk space is the maximum amount of data a disk or storage drive is capable of holding.
All hosting plans offer a certain amount of disk space you can use to store files. Shared hosting plans usually offer the minimum amount of storage space.
Beware of shared hosting providers that promise "unlimited" storage." These frequently come with caveats like getting enough storage space within their acceptable limits.
It's best to estimate your website's storage requirements before choosing a hosting plan. If you can't estimate your storage requirements just yet, plan for growth by choosing a hosting provider that lets you buy more disk space.
2. Bandwidth
Bandwidth determines the maximum amount of data you can transfer and is critical if you want your website to run faster. You can compare bandwidths to a tunnel: the wider it is, the more data can go through. However, getting high bandwidth is difficult when servers split resources across many websites.
Shared hosting packages offer a set amount of bandwidth per month. You can estimate the bandwidth you need by looking at your website's size and traffic. Like with disk space, higher bandwidths come at a cost.
Watch out for hosting companies promising "unlimited bandwidths." Physical constraints often limit speed, making that impossible.
3. Uptime and Downtime
A shared hosting plan's uptime measures the time your website is available or accessible to users, while downtime is the percentage of time a website is unavailable.
If possible, look for companies that keep downtimes to a minimum and uptimes close to 100%.
4. Security
Security is another crucial feature worth considering before choosing a hosting provider.
WordPress is generally secure, but its popularity has made it a favorite target for website breaches.
Shared hosting plans don't offer similar security features. So, we suggest comparing default security features when checking out hosting plans.
5. Customer Support
Before signing up for a shared hosting plan, consider the company's customer service.
Looking at a company's customer support experience is especially important for new website owners and technophobes. You need someone who can help you resolve issues quickly and patiently walk you through the process. Imagine how frustrating it would be when your website crashes and you can't reach your hosting company.
Look for a hosting provider you can reach with as little friction as possible. While reading customer service reviews, you should also consider:
Availability: Agents should be available 24/7 on various channels such as email, phone, live chat, and social media.
Wait times: Long wait times mean too many requests, not enough skilled agents, or both. Do you want to work with a company that wastes your time and makes it difficult to reach customer support?
Technical expertise: Agents should be able to resolve customer requests promptly.
6. Extras
Hosting companies also offer a few extras to differentiate themselves from other shared hosting plans. Some examples include:
Pre-installed applications such as email hosting, cPanel, and website builders
Free domain name registration and SSL certificates when you sign up
Is Shared Hosting Right for You? Comparing Shared Hosting vs Other Hosting Types
Choosing the correct hosting package is crucial to website performance.
New website owners are often advised to get shared hosting because it's cheap and easy. But if shared hosting can't meet your website's needs, it'll cost more in the long run.
After looking at the features of shared hosting, as well as its benefits and drawbacks, let's look at how shared hosting stacks up against other hosting options.
Shared Hosting vs Dedicated Hosting
Dedicated hosting is the direct opposite of shared hosting. It's the perfect choice for websites that receive heavy traffic and need control over their servers.
It's also the most expensive type of hosting because you're not sharing the server with anyone else — you have complete control over it. Besides access to the fastest website speeds and getting as much storage as you want, having a dedicated server means you also have to take care of the operating system and maintenance yourself.
You can either go the DIY route and become your own sysadmin or hire a technical expert. This approach can be great, but it can also backfire if you aren't careful. Your time is worth money, and you should be spending it on growing your business.
Shared Hosting vs VPS Hosting
VPS hosting takes all the advantages of shared hosting and dedicated hosting and combines them.
Like dedicated hosting, websites on a VPS hosting plan each have their own server space minus the hefty price tag. Like shared hosting, websites share server space, so performance still depends on the other websites they share server space with.
VPS hosting is best for websites that need more control over their servers but don't need a dedicated server.
Shared Hosting vs Managed Hosting
Managed WordPress hosting (or WordPress hosting) is a particular type of shared hosting wherein servers are specifically configured for WordPress. WordPress websites under a Managed WordPress hosting plan run faster and smoother.
Like shared hosting, managed hosting plans include everything WordPress users could need for their website, including:
Pre-installed plugins
One-click WordPress installation
Pre-designed WordPress themes
Drag-and-drop builders
Customer support team with WordPress expertise
Shared Hosting vs Cloud Hosting
Shared hosting, VPS hosting, and dedicated hosting are all types of regular hosting.
With regular hosting, a website (or multiple websites) resides on a physical server. It is centralized, meaning when the server is down, all websites hosted on the server go down with it. Users would have to wait for the hosting company to fix the server.
Cloud hosting addresses that problem. Unlike regular hosting, cloud hosting operates on virtualization, wherein a group of servers combine to host multiple websites.
Your website's data appears to be stored on one server. But in reality, data is stored in different locations — if a virtual server doesn't work, you can still retrieve backed-up data from other sites. Cloud hosting plans let you choose data centers near your traffic source, ensuring faster load times.
The best thing about cloud hosting is its flexibility and scalability. It can accommodate high traffic volumes and traffic spikes and operates on a per-use basis, so it's easy to add storage.
Like dedicated hosting, cloud hosting is recommended for high-traffic websites that need plenty of processing power, bandwidth, and disk space. It can even be used as an alternative to ecommerce hosting.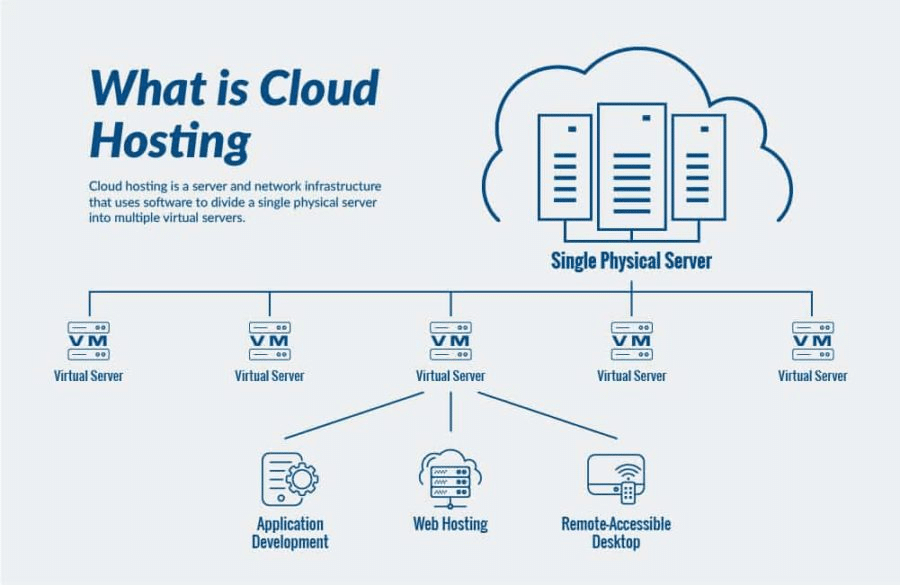 Does Kinsta Offer Shared Hosting?
Despite the few advantages of shared hosting, shared WordPress hosting isn't a part of our web host offerings.
Kinsta's application, database, and managed WordPress hosting plans don't fall into any traditional hosting categories. Unlike other hosts, which are cheaper and less secure, Kinsta is built for performance.
We maintain a custom and containerized hosting stack that does not compromise quality. Combined with Google's C2 VMS and Premium Tier network, which offers low-latency and faster traffic routing, Kinsta brings users the fastest hosting plan.
Summary
Now that you know what shared hosting is, how it works, its features, and what its advantages and disadvantages are, you're fully equipped to decide whether it's what your website needs.
If you're looking for something more reliable and secure, we suggest choosing a managed WordPress hosting solution instead. All of Kinsta's WordPress plans include:
Free WordPress installation
Free SSL certificates
Enterprise Cloudflare integrations
Staging environment
24/7 uptime monitoring
Technical support from actual WordPress developers
Get all that and much more with a 30-day money-back guarantee. Check out what our customers have to say or contact us to find the right plan for you.