Google Forms can help you engage your website's users and gather feedback from them. However, before you can start crafting top-notch surveys, contact forms, and other content, you'll probably want to find a way to embed them on your WordPress site.
Fortunately, in just a few steps you can embed Google Form to your WordPress site and start collecting responses from your users. This can enable you to improve your site and content based on that feedback. In this post, we'll show you how Google Forms can be beneficial to your site and your brand as a whole. Then, we'll walk you through how to embed a Google Form to your site in just a few quick steps.
Ready? Let's get to it!
An Introduction to Google Forms
Google Forms is a web application much like Google Docs or Google Sheets and is used to create interactive surveys and other types of forms. Some common uses include:
Event registration.
User polls and questionnaires.
Email subscription sign-up forms.
Quizzes.
Product orders.
Contact forms.
Like the other Google Workspace apps, you can store all your forms in your Google Drive. You'll also be able to take advantage of Google's sharing function. This is especially helpful if you work with a team to create content for your website and you want to enable others to collaborate on your surveys or other forms:
The free platform streamlines the form creation process. You can choose from a variety of pre-built templates or create your own templates and save them for later use:
Google Forms will also help you style your content to match your branding.
You can choose from a variety of themes or simply add your logo to each form. The platform will automatically adjust your form's colors, creating a unique look that's well-suited to your site. All Google Forms are also responsive, so your users can complete them from their smartphones or other mobile devices.
Finally, you'll also gain access to real-time results collected in your Google account: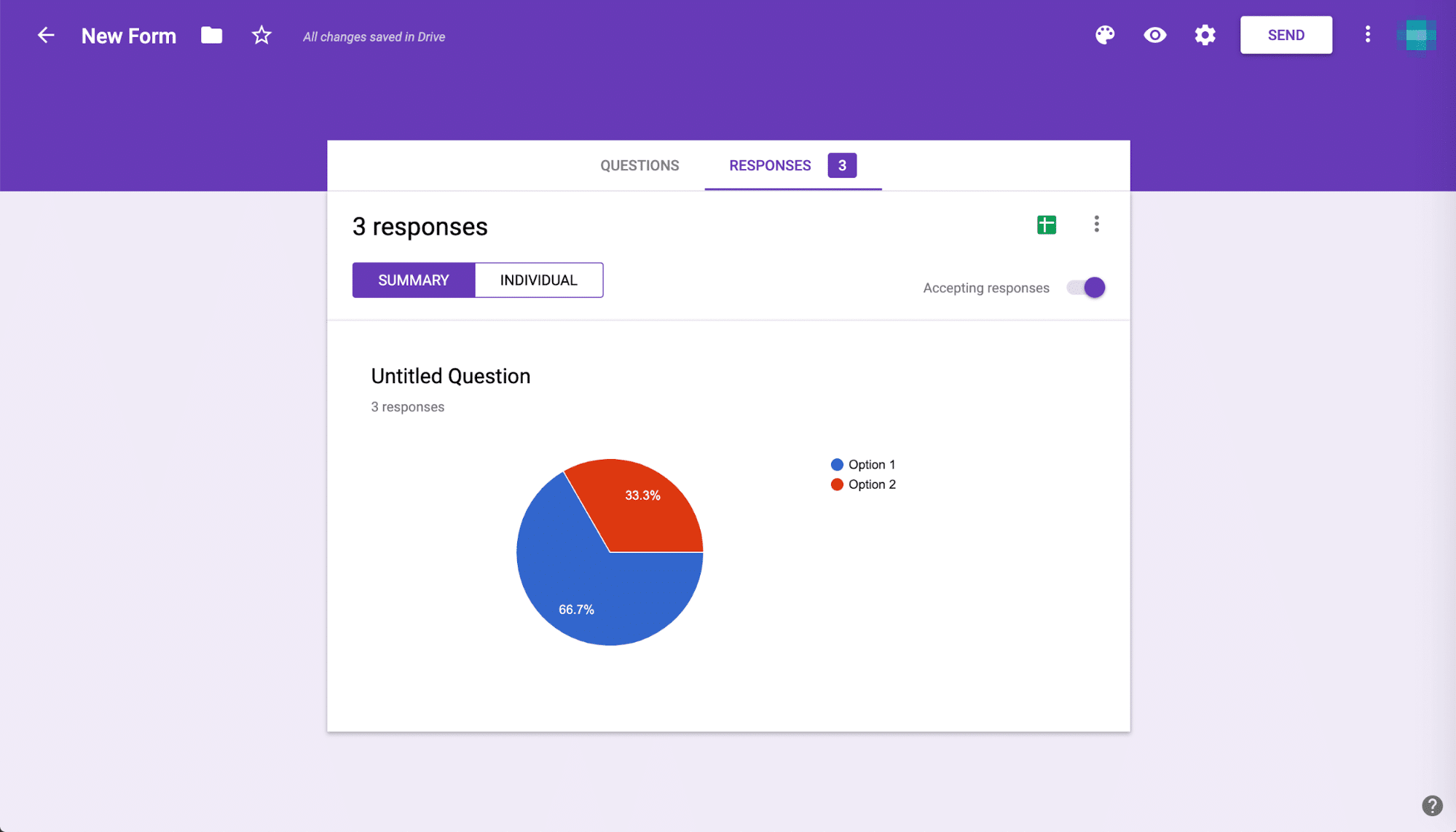 You can view your response info and charts any time in Forms, or export them to Google Sheets for further analysis. This makes organizing, assessing, and sharing your results with your team simple and convenient.

Why You May Want to Embed Google Forms on Your WordPress Site
If you're looking into ways to embed custom forms on your WordPress site, you've probably explored the possibility of using a WordPress form builder plugin. While these can be useful tools, there are a few reasons why Google Forms may be a better option.
First, using Google Forms enables you to take advantage of the platform's storage and sharing features. Second, by using Google Forms you can avoid adding another plugin to your site, which can cause slow loading times, so cutting back may help to improve your site's performance.
Additionally, while you can enable other users to create forms with a WordPress plugin, Google Forms gives you complete control over who is collaborating on your content. You can invite specific users to work on any given form, providing more security and avoiding mistakes.
Finally, using Google Forms can help improve not just your WordPress site but also your brand's overall presence. While a form built with a WordPress plugin will only work on your site, you can share a Google Form on any platform, including through social media and marketing emails.
No matter where your audience fills out your Google Forms, their responses will be recorded in a single place. This will help you keep track of a form's results across all of your brand's channels, not just your website.
How to Embed Google Form on Your WordPress Site (3 Steps)
If it sounds like Google Forms may be the best solution to your WordPress site's form-related needs, you're in luck. Although the process is not quite as simple as installing a plugin, you can embed Google Forms on your site in just three simple steps.

Step 1: Create Your Google Form
The first thing you'll need to do is create your first Google Form. Log in to your Google account, and then access Google Forms by finding the purple icon in the Google apps menu: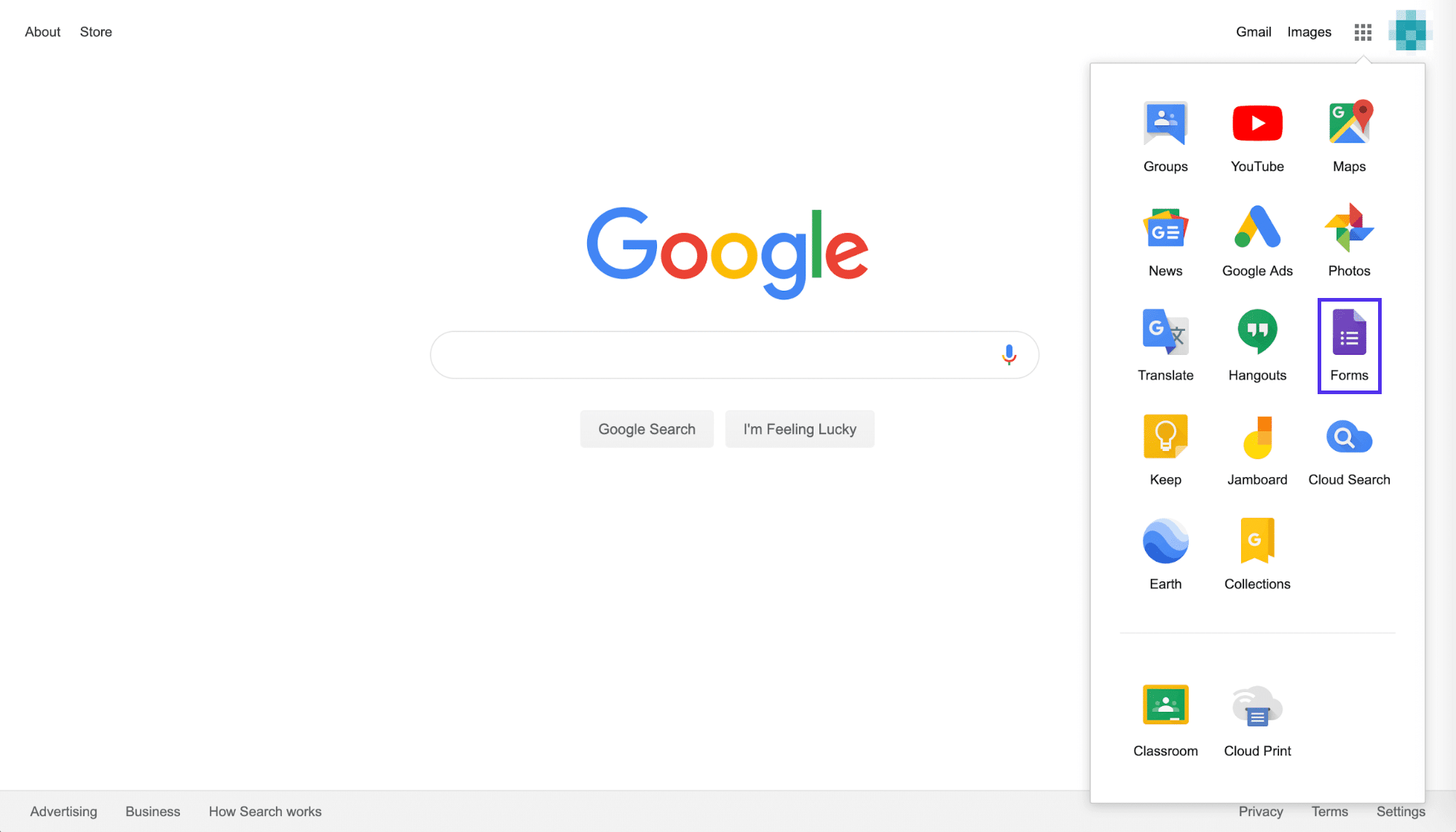 If you're a Google Workspace user, the Google Forms interface should feel pretty familiar. It's very similar to that of Google Docs and Google Sheets: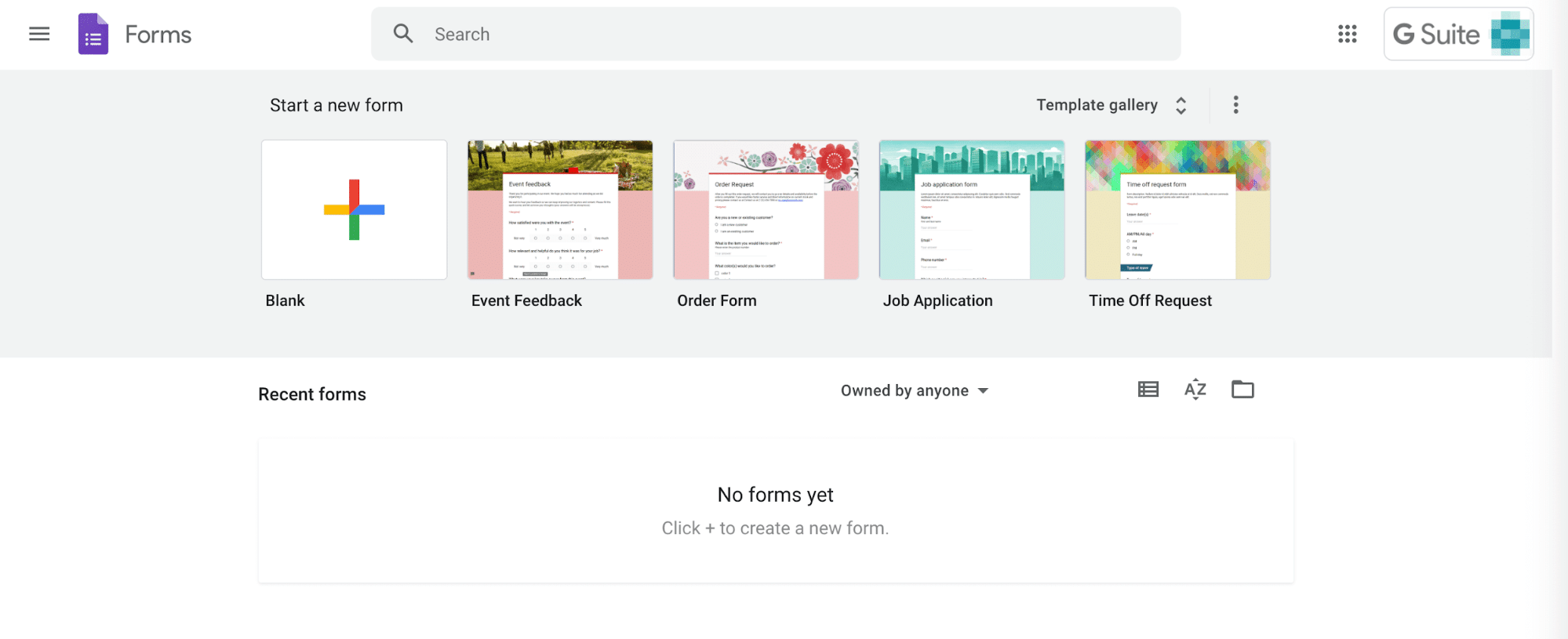 To get started with your form, you can either select the Blank tile from the toolbar or choose a template to work from.
Either way, you can type right into the form to add a title and description, and then create your questions and answer choices. You can also use the drop-down menu to select each answer's type: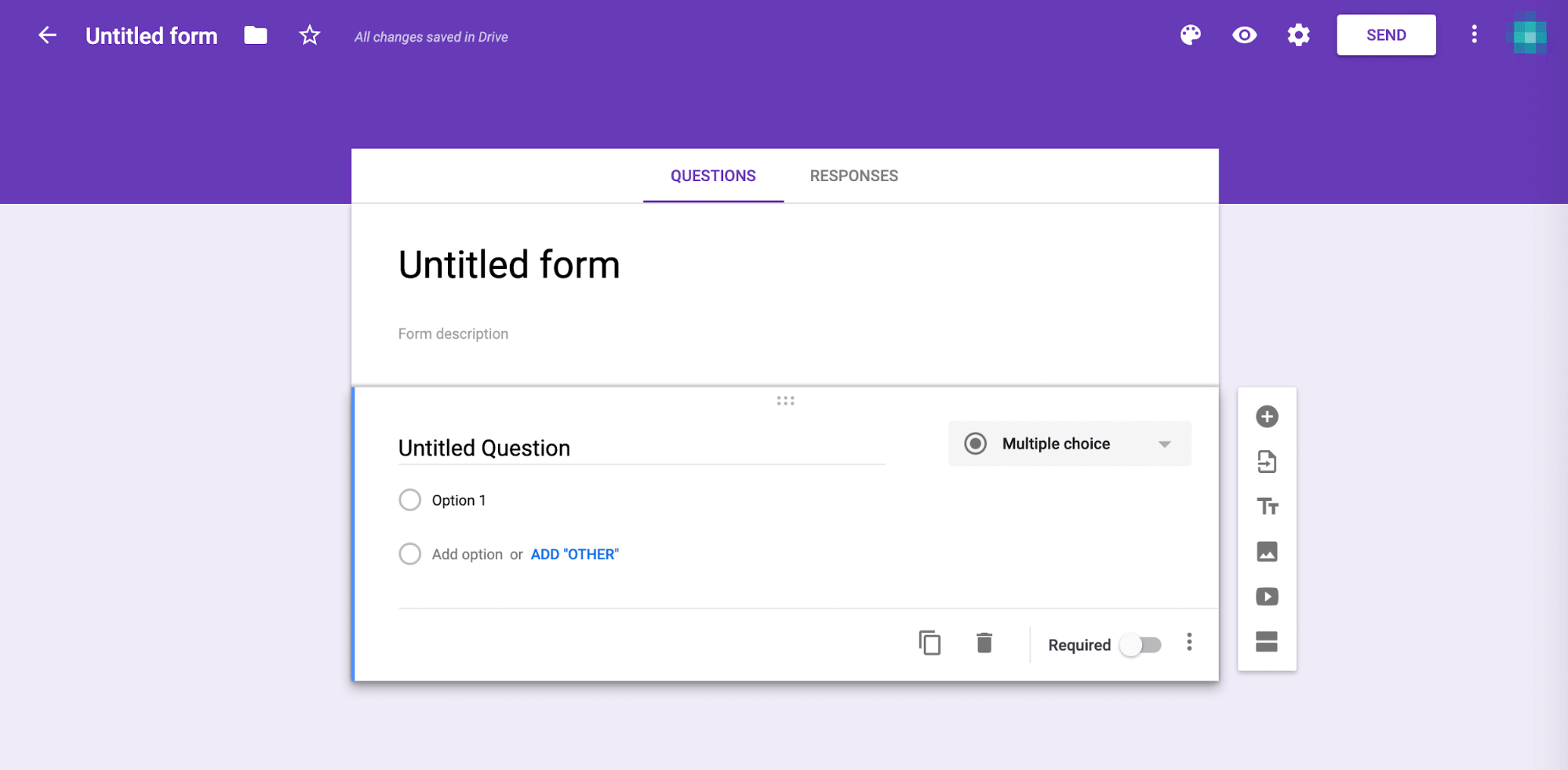 The toolbar on the right of the editor enables you to add new questions, import questions from another Google Form, upload images and videos and create additional sections. Then, the pallette, eye, and gear icons let you change your form's theme, preview the final product, and access advanced settings.
With these tools at your disposal, you should be able to craft just about any type of form you need. If you want to get input from your team, click on the three-dot icon and select Add collaborators: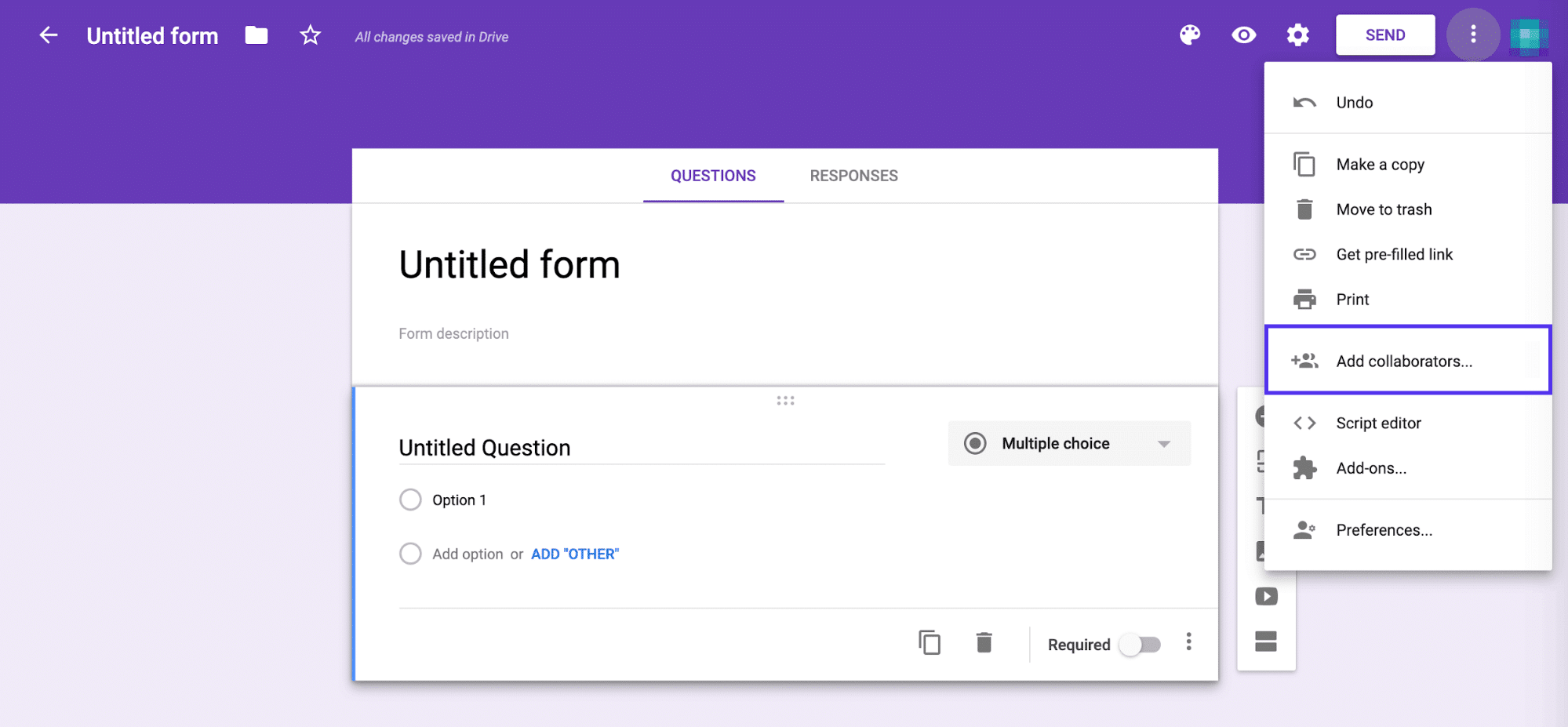 You can then invite team members to work on your form, by typing in their email addresses or using the link-sharing function. Your changes will be saved automatically in your Google Drive. Once you're done editing, you'll be ready to embed your Goole form on your WordPress site.

Step 2: Access Your Google Form's Embed Code
In order to embed your Google form, you'll need to click on the Send button at the top of the form editor. There, you'll have five options for sharing your form: via email, link, HTML, Facebook, and Twitter: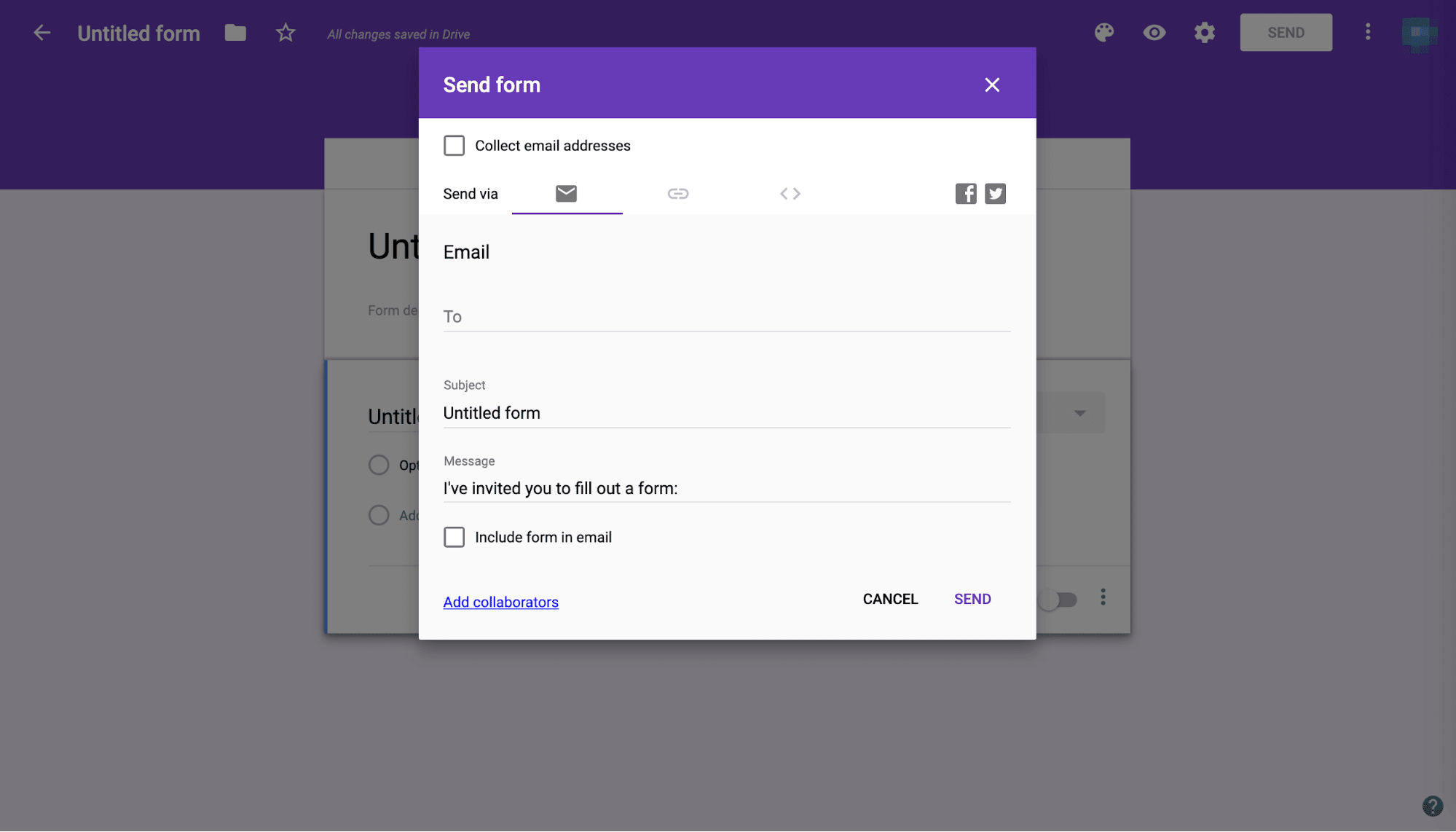 Any of these could prove useful, especially if you want to send your form to all of your email list subscribers or share it on your social media accounts.
However, for the purposes of this tutorial, we're going to focus on the HTML option. Therefore, select the < > tab. You'll see a code snippet under Embed HTML, as well as an option below that to change the dimensions of your form.
Once you're happy with its size, click on Copy in the bottom right-hand corner of the window: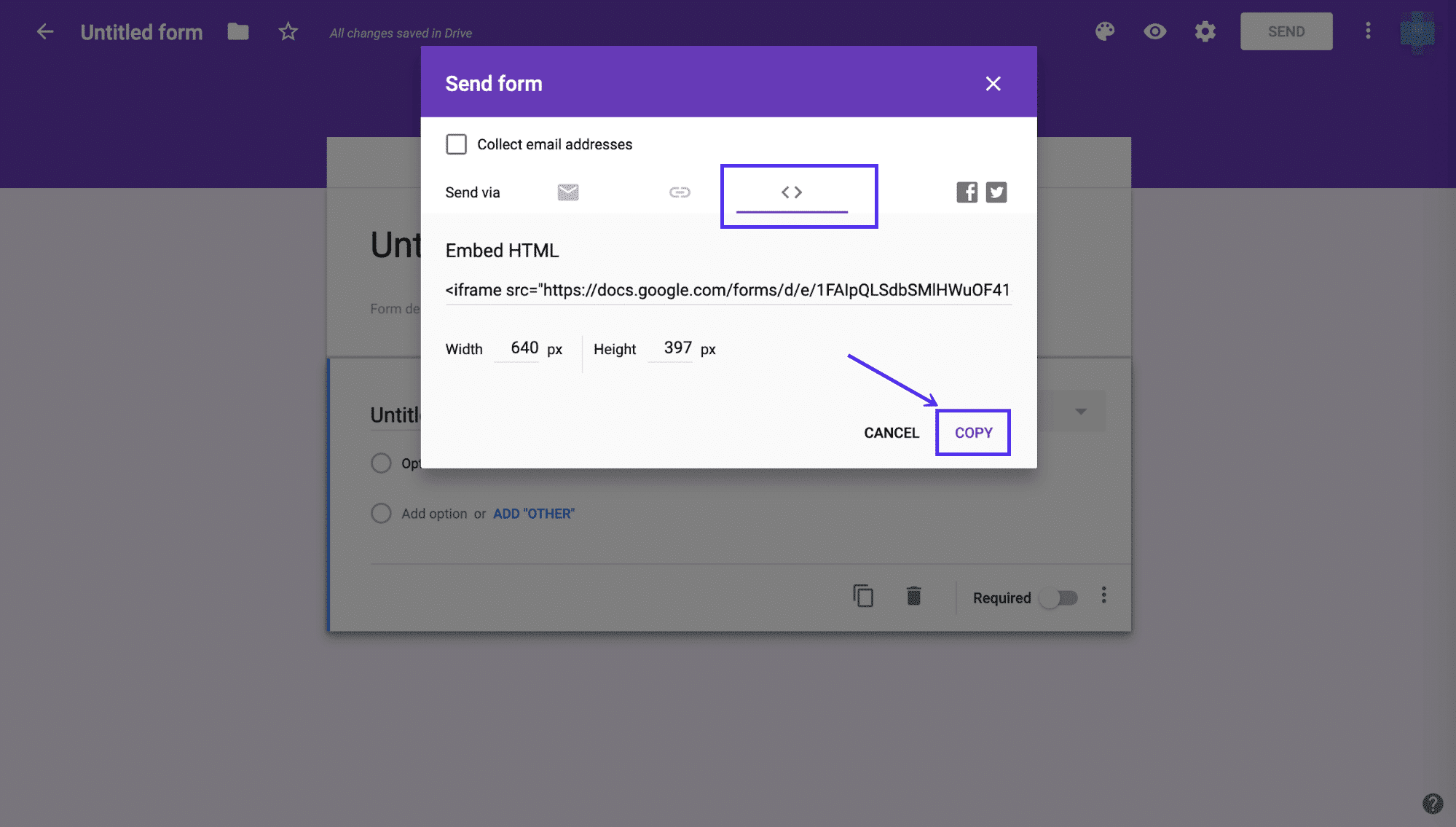 Next, head over to your WordPress dashboard.
Step 3: Add the Code to Your WordPress Post or Page
With your HTML code snippet in hand, you're ready to embed the Google form to your website. First, navigate to the post or page where you want to incorporate your form. If you're working in the WordPress Block Editor, you'll want to add a Custom HTML block: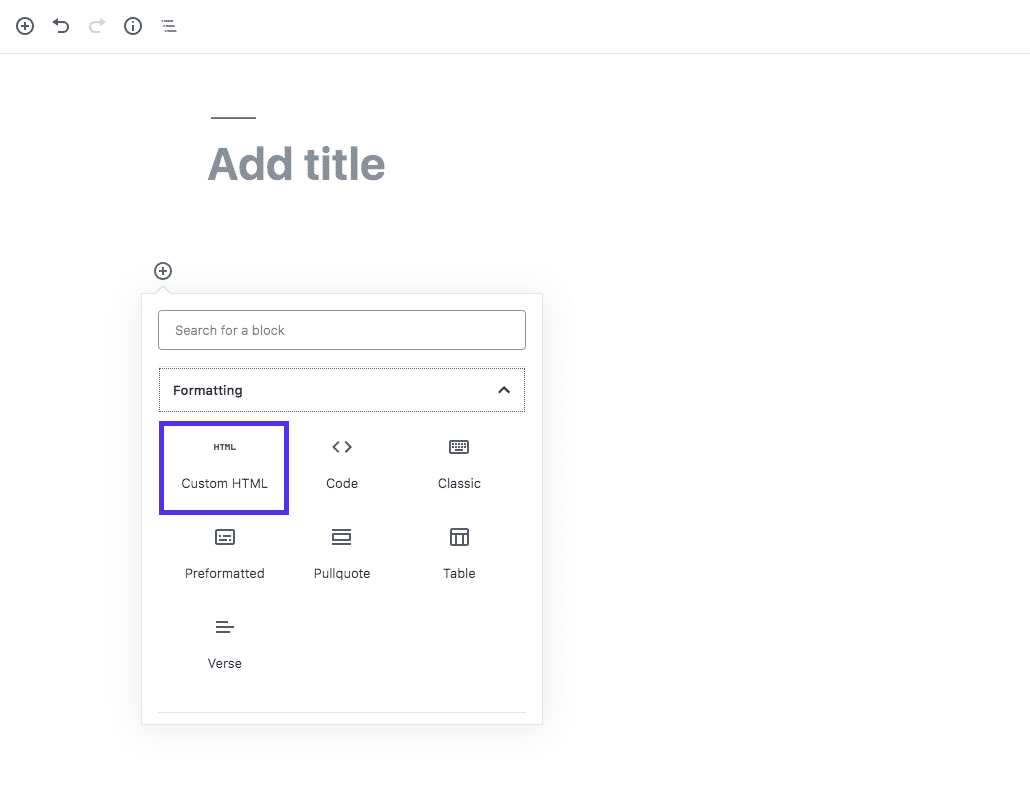 Then, paste the code from the Google Forms editor into that block:
If you click on the Preview tab in the Custom HTML block's toolbar, you'll see your Google Form just as it will appear on your site:
If you're using the Classic Editor instead, the steps will be a little different. In fact, you'll want to switch over to the Text Editor by clicking on the Text tab at the top of the toolbar:

Then you'll need to paste the Google Form embed code wherever you want it to appear on your page:
If you switch back to the Visual Editor, you should see your form in the editing field: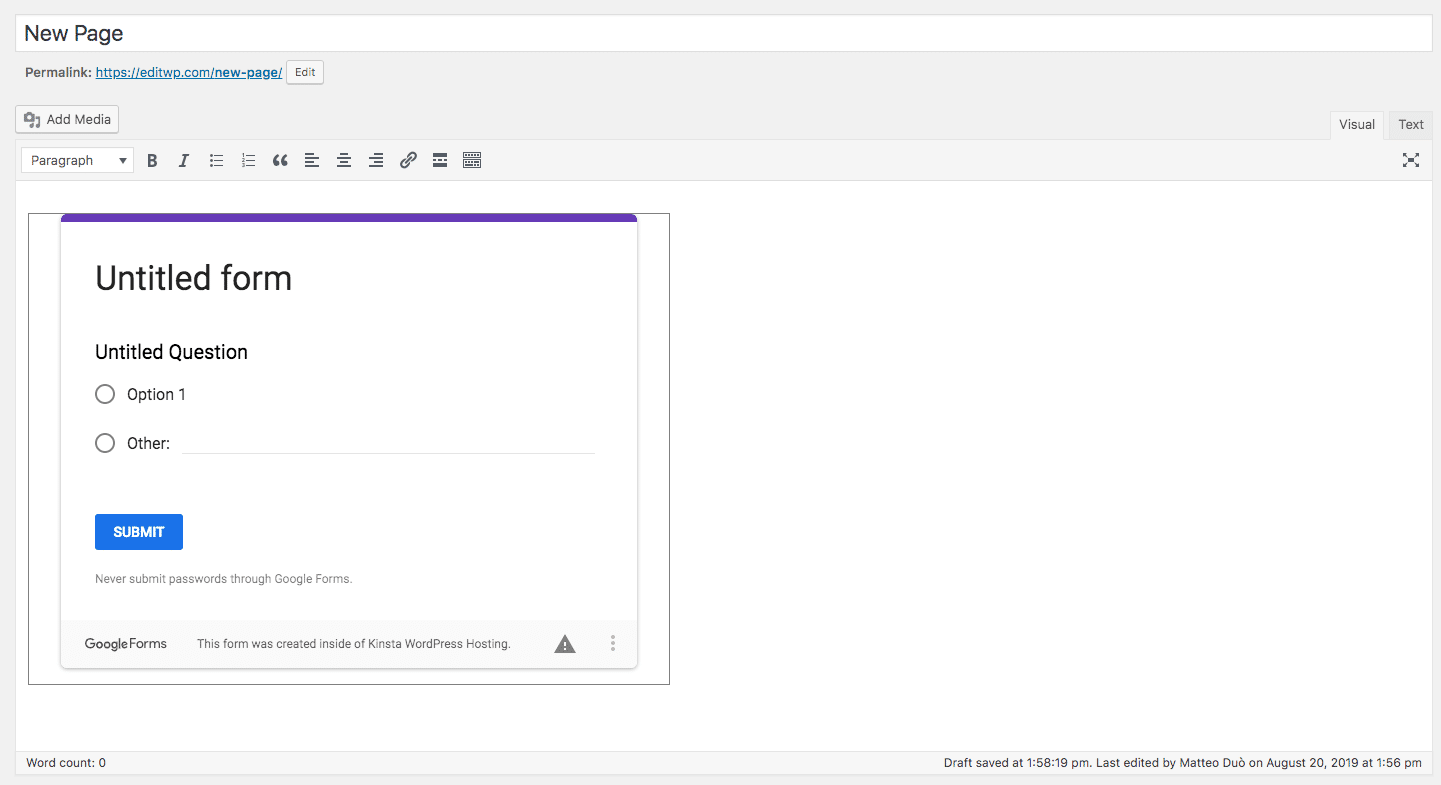 You can also preview the page to see how it will look on the frontend.
If you were looking to embed a Google Form to a WordPress post or page, that's all it takes!
(Suggested reading: How to Fix the Facebook oEmbed Issue in WordPress)
Using Google Forms With WooCommerce
As you may have already realized, Google Forms can be handy tools for WooCommerce and other ecommerce platforms as well. You can easily use this tool to create your own custom order forms and there's even an Order Form template to speed up the process: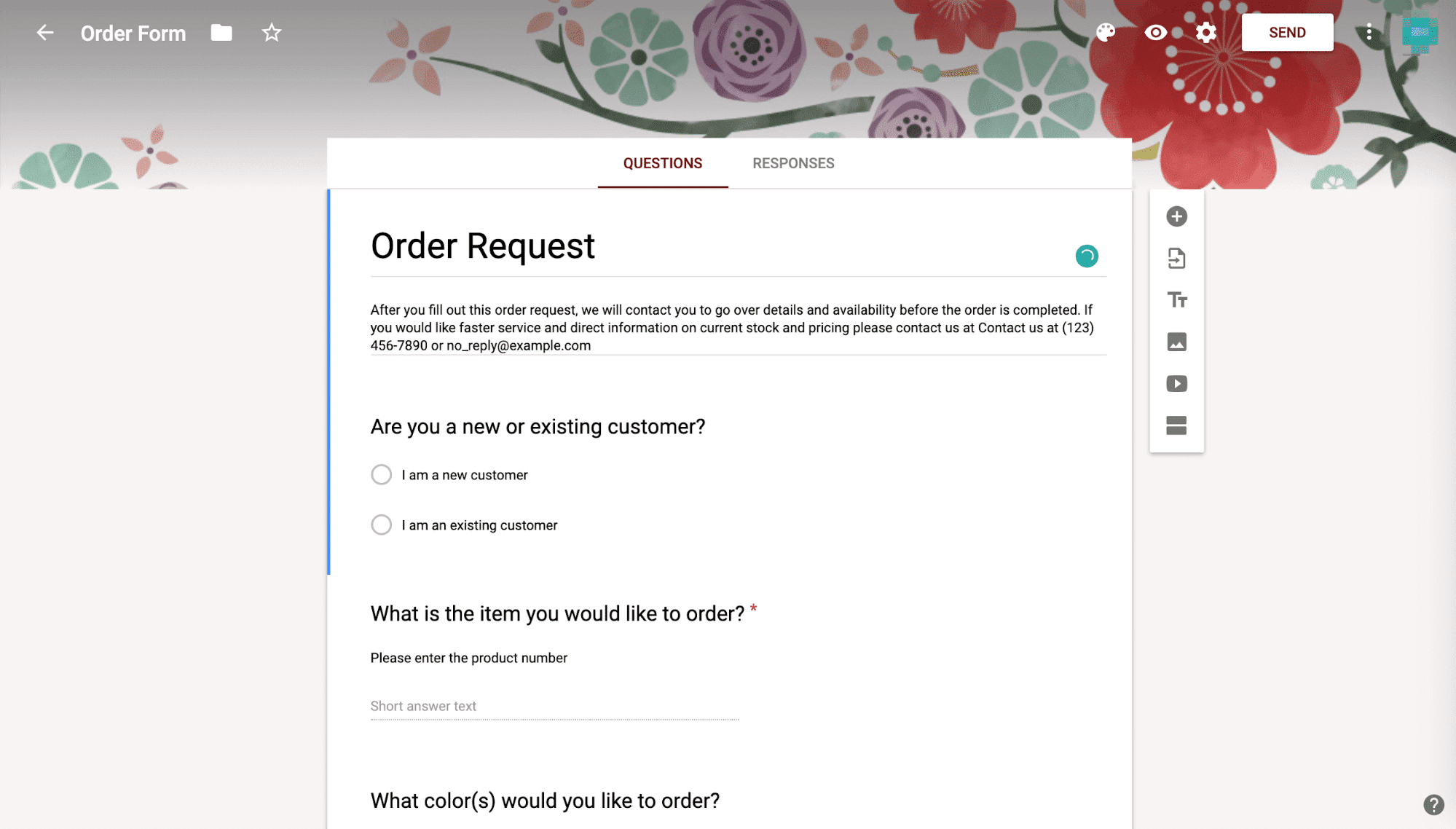 You may also want to solicit customer information, offer buyers a chance to rate products and their purchasing experience, many more.
There's bad news, though: simply embedding Google Forms on your product pages won't integrate the functionality of WooCommerce orders with those forms. Fortunately, there are some third-party solutions that can help.
Option #1: Automate.io
One example is Automate.io, a cloud application integration tool: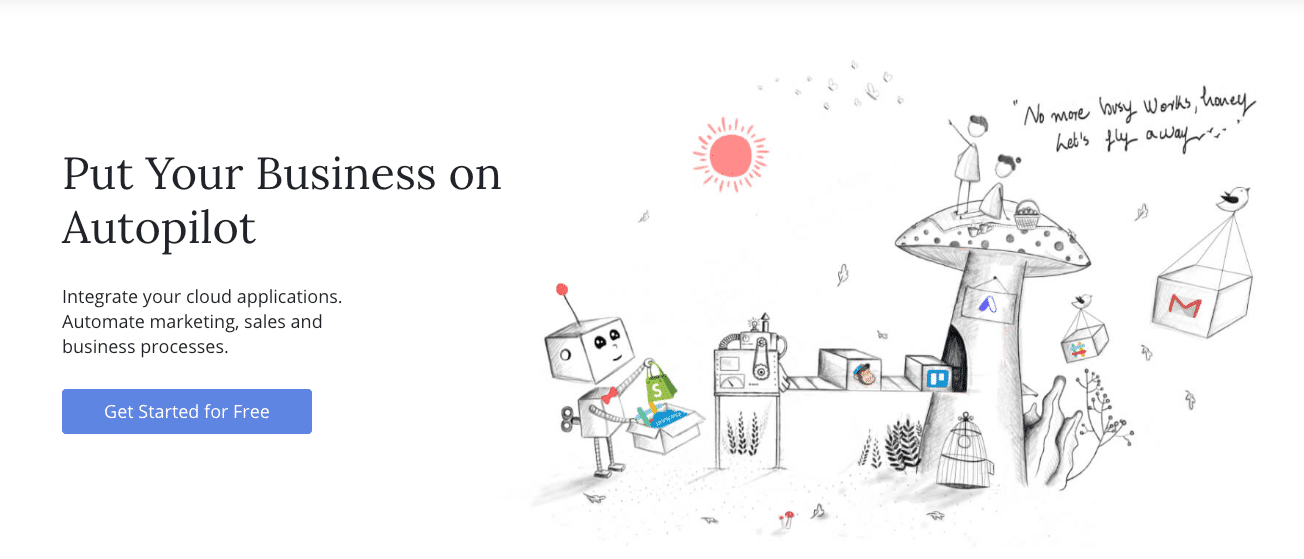 This solution enables you to connect WooCommerce and Google Forms and automates responses to based on specific triggers. For example, you can:
Add a new order in WooCommerce when a customer submits a Google Form.
Generate a Google Forms response when a customer adds or updates their information.
Create Google Forms responses for each WooCommerce order line item.
Integrate Google Forms, Sheets, and WooCommerce, so you can update customer and order information on all three platforms simultaneously.
Automate.io is free to use for up to 250 actions per month. For $39 per month (on an annual plan), you can bump your limit up to 10,000 actions.
Option #2: LeadsBridge
Another option you might also try is LeadsBridge, which will automatically integrate WooCommerce and Google Forms so you can keep track of leads: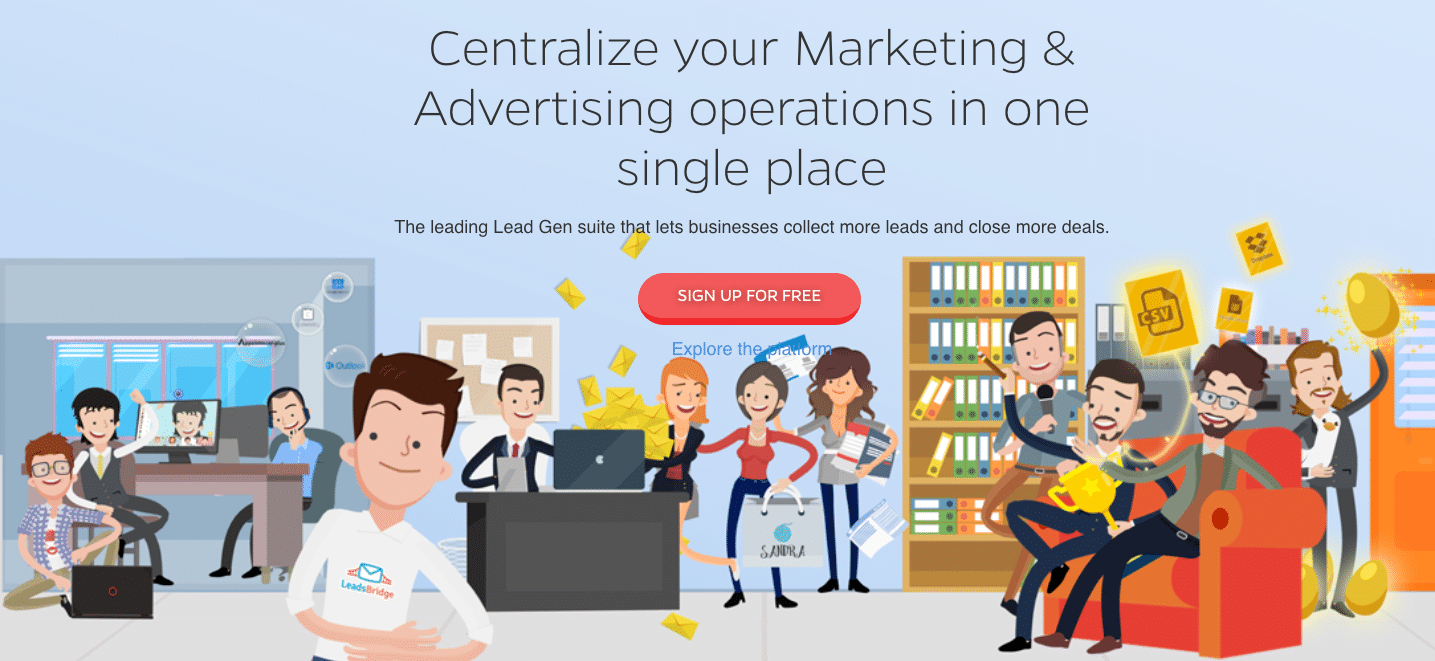 This is a simple way to keep a finger on the pulse of your online business and monitor its growth over time. LeadsBridge will walk you through how to set up your integration so you can create order forms and other useful features. With annual plans starting at $29 per month, this platform is slightly more affordable than Automate.io.
Option #3: Integromat
A third option is Integromat, which also offers Google Forms and WooCommerce integration: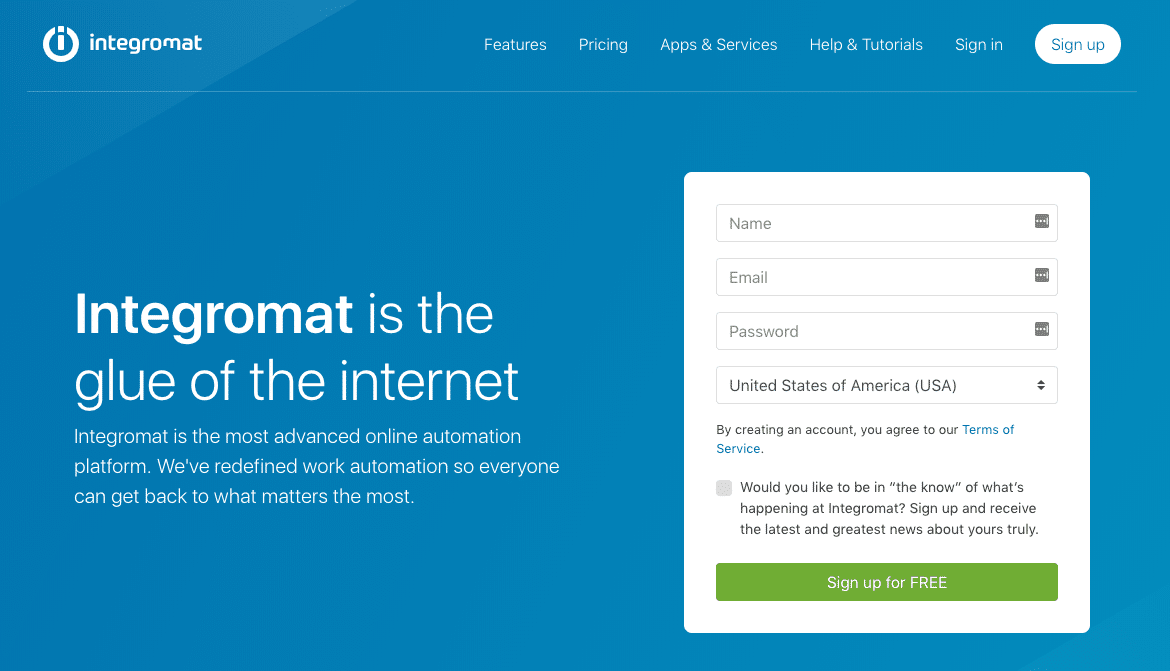 This tool can automate certain actions by using triggers related to both Google Forms responses and WooCommerce coupons, orders, customers, and products. Integromat is a little more affordable than Automate.io, with its free plan offering 1,000 operations per month, and its lowest tier starts at $9 per month for 10,000 operations.
Summary
Forms are an important part of so many different WordPress sites. Whether you wish to incorporate surveys on your site to gather user feedback, add detailed order forms to your WooCommerce store, or something else entirely, Google Forms is an easy-to-use free tool for crafting the perfect form. To embed Google Forms on your WordPress site, you only need to follow three simple steps:
Create your Google Form.
Access your Google Form's embed code.
Add the embed code to your WordPress post or page.
Do you have any questions about embedding a Google Form on your WordPress site? Let us know in the comments section below!