A WordPress private page functions much like the name suggests, in that the page is hidden from the public. But what are the features that come along with a WordPress private page? And what are the instances in which you may consider utilizing this functionality for?
There are two private options to consider, posts and pages. You also have potential privacy functionality for other post and page types, like when you have products activated with WooCommerce.
Keep reading to learn all about private pages and posts in WordPress, along with some tips on usage and plugins to make the process easier.
What Exactly Is a WordPress Private Page?
A WordPress private page is a regular, static WordPress page that's hidden from the public. A visitor who comes to that page accidentally, or with a direct URL link, doesn't see any of the content on that private page.
But then who has access to a WordPress Private page?
What Is a Private Post?
A WordPress private post has the same fundamental benefits of a private page. The only difference is how that website item is created in the first place.
A WordPress page serves as a webpage, like an About Us page or the homepage.
On the other hand, a WordPress post adds to a website's blog, generating a rolling feed of content added to the pages.
Both pages and posts are created in similar manners, but a page is static, usually remaining the same over time and being linked to from a menu.
A post works more like a news piece that's added to the continually growing blog.
As such, a WordPress private post is blocked from the public. Those with the right user access are able to see the private post if they log into the WordPress dashboard.
Which User Types Can See a Private Page?
WordPress has the following user roles built into the system: Administrator, Editor, Author, Contributor, and Subscriber. 
When you make a post or page private, only Administrators and Editors are able to see that content. Everyone else receives an error.
The Administrator user types are the only ones who can activate private pages. Editors don't have this control.
There are two more exceptions to the rule:
Author user types can edit and view their own private pages, but only if they've been created by that particular Author user.
Password-protected pages are private, but any user type has the ability to unlock the page if they have the password.
Private Page and Post Use Cases
It's important to understand when to use a private page or post in WordPress. Otherwise, you may not take advantage of this sometimes crucial functionality at all.
What Are Some Instances Where You Might Use a Private Page?
When Would You Use a WordPress Private Post?
How to Create Private Pages in WordPress
To make a private page or post on WordPress, begin by logging into the WordPress dashboard.
Go to Pages > All Pages if you'd like to make a current page private.
Go to Pages > Add New if you need to create a page from scratch.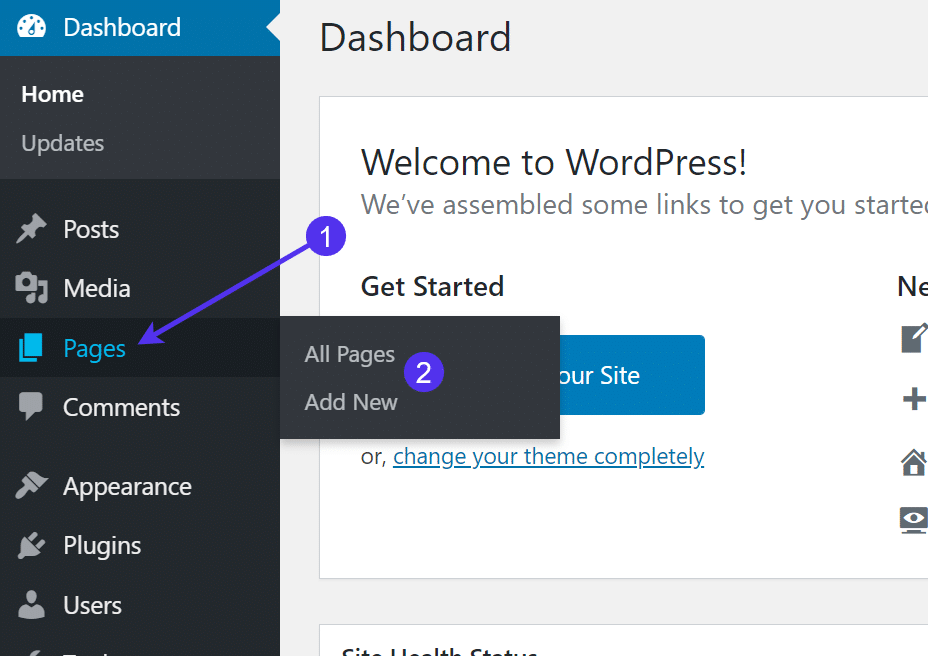 For this example, we'll pretend we're making a Members Only forum, private to only those members.
Under the Document tab, locate the Visibility option.
By default, it should say Public. Click on that Public link.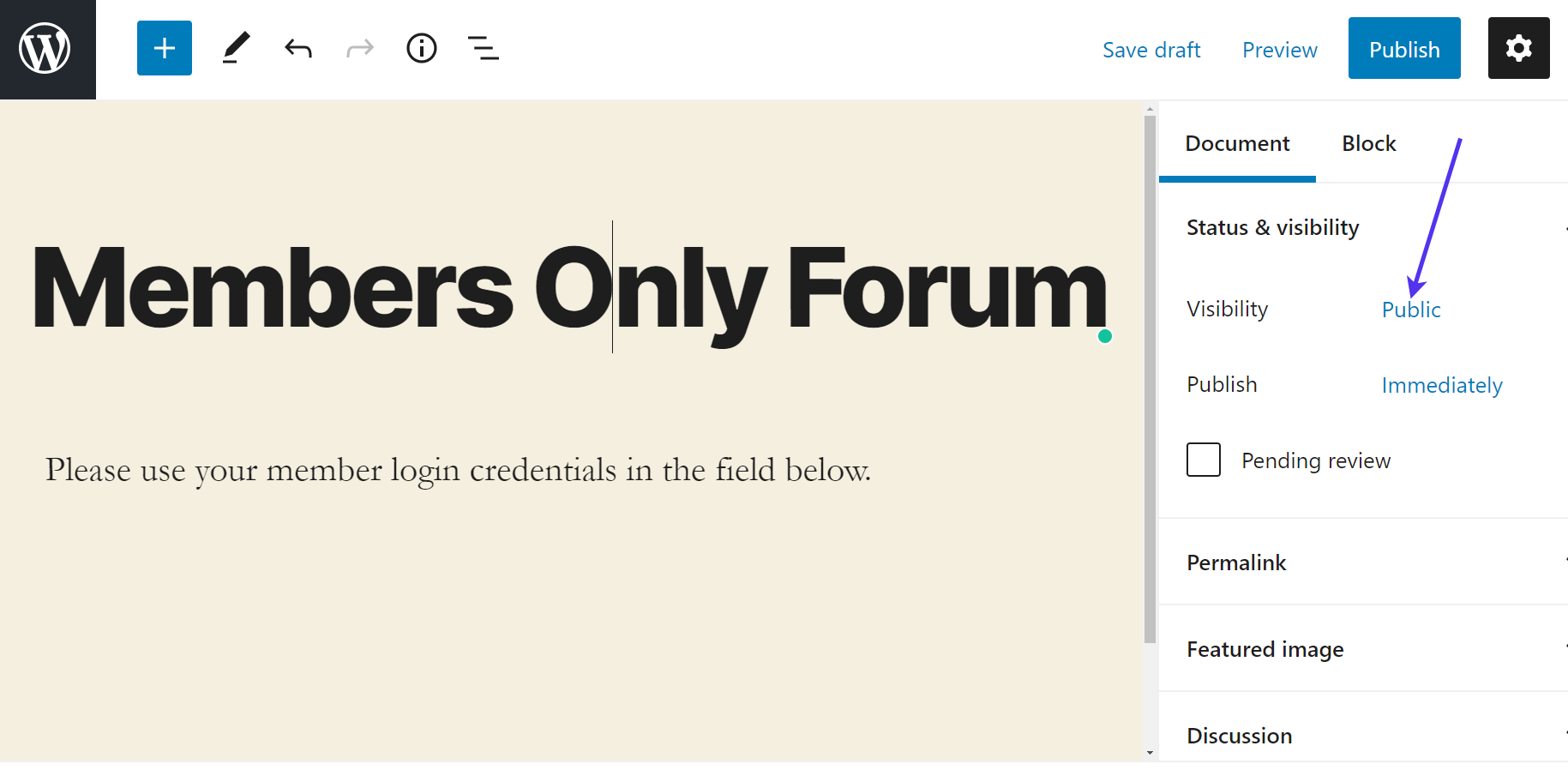 A dropdown menu appears with several options.
Choose Private to make this page accessible to only admin and editor user types.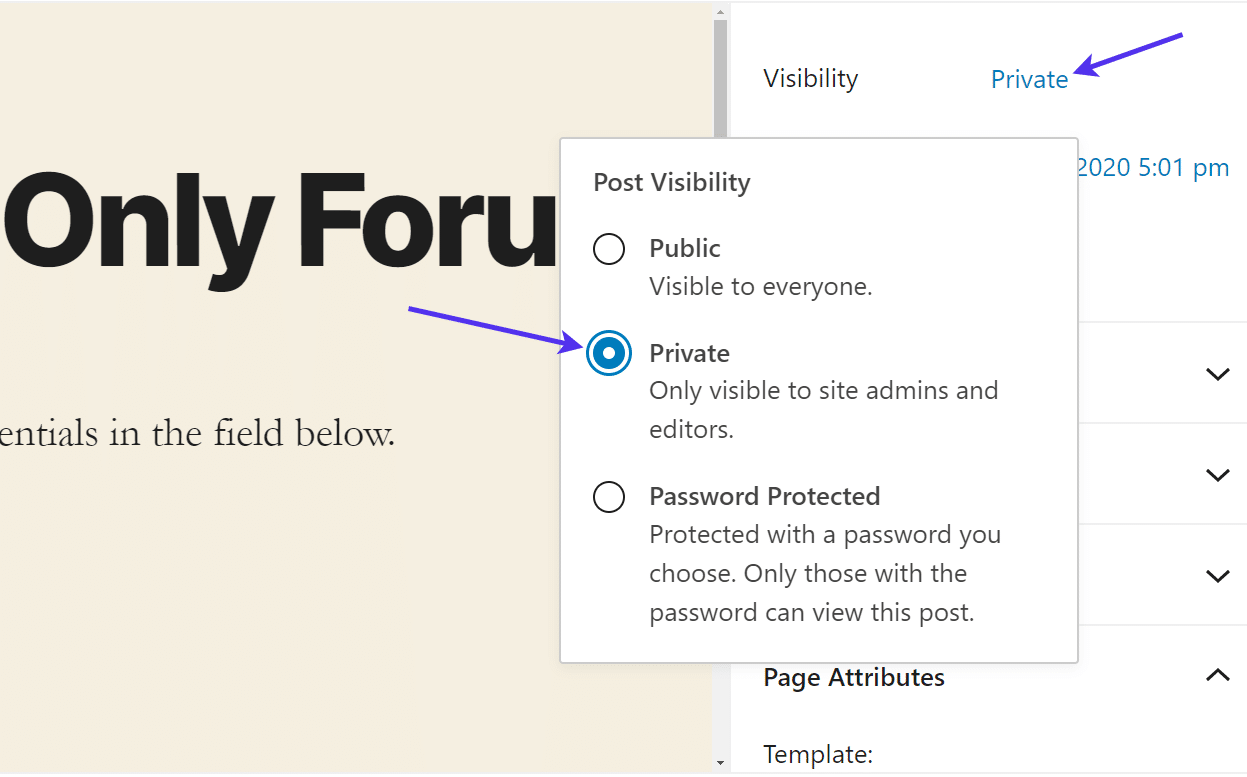 Now, if you navigate to that webpage as a logged-in admin or editor, the page content itself still shows up. That's because of your user access level.
However, a "Private" tag appears before the page title.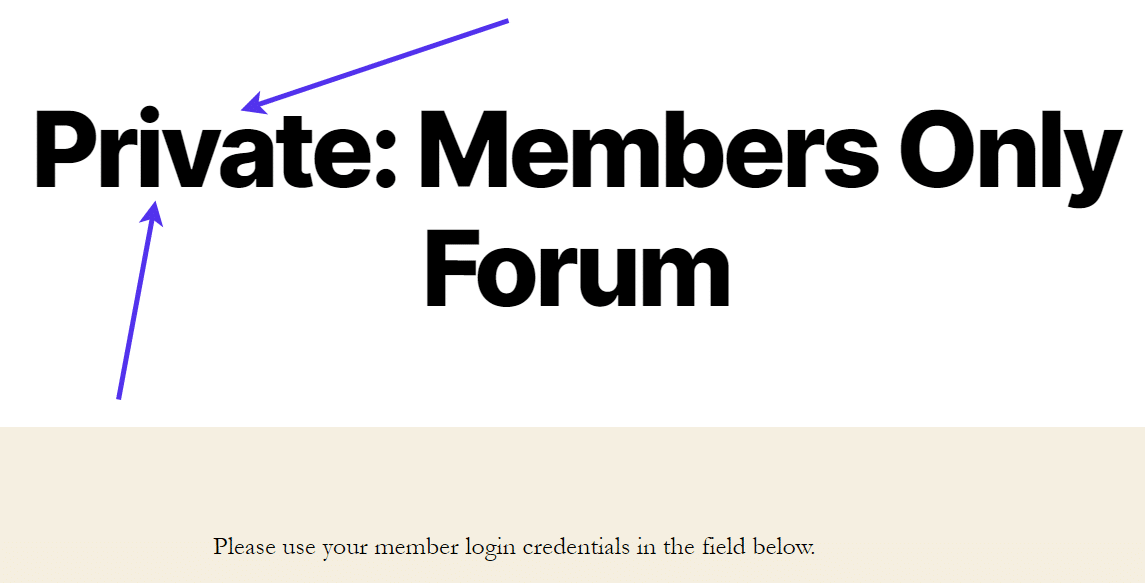 If you log out of your admin or editor user account, the same page doesn't show up. This simulates what a person sees if they don't have an admin or editor user account on your website.
The "Page Not Found" message indicates that the private page works.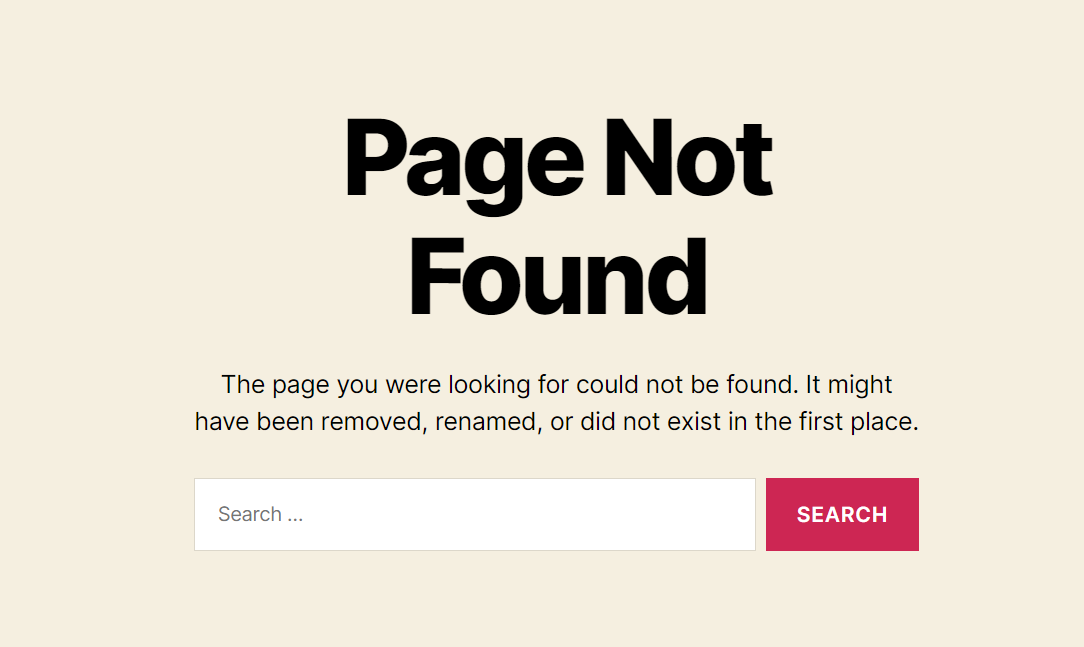 Another WordPress private page option involves setting a password to access that page.
This way, other user types (not only admins and editors) can gain access to the page. This is particularly useful for a membership area or a registered-only section.
To activate a private, password-protected page, go to the Visibility dropdown and select the Password Protection option.
Type in a password that users can use to unlock the page.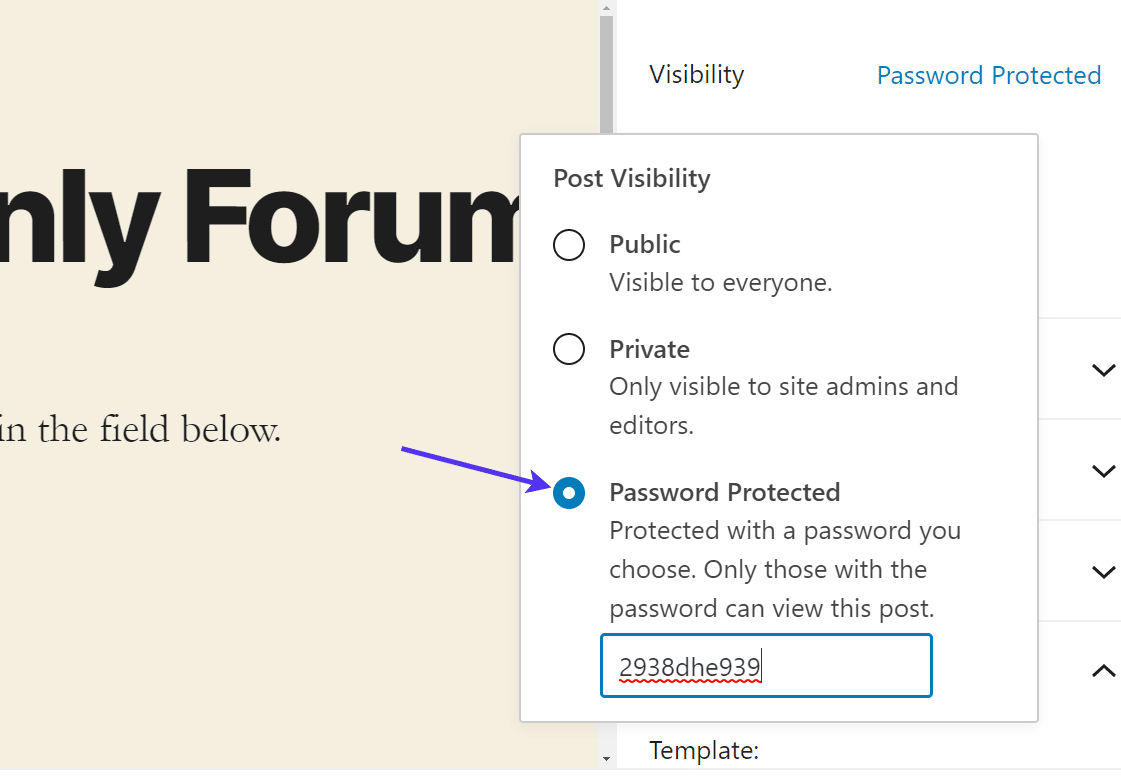 To test out the password-protected page, visit the page URL. You should see that the page is categorized as "Protected" and that a password field is required.
Simply type or paste in the password you generated from before to log in as a regular user.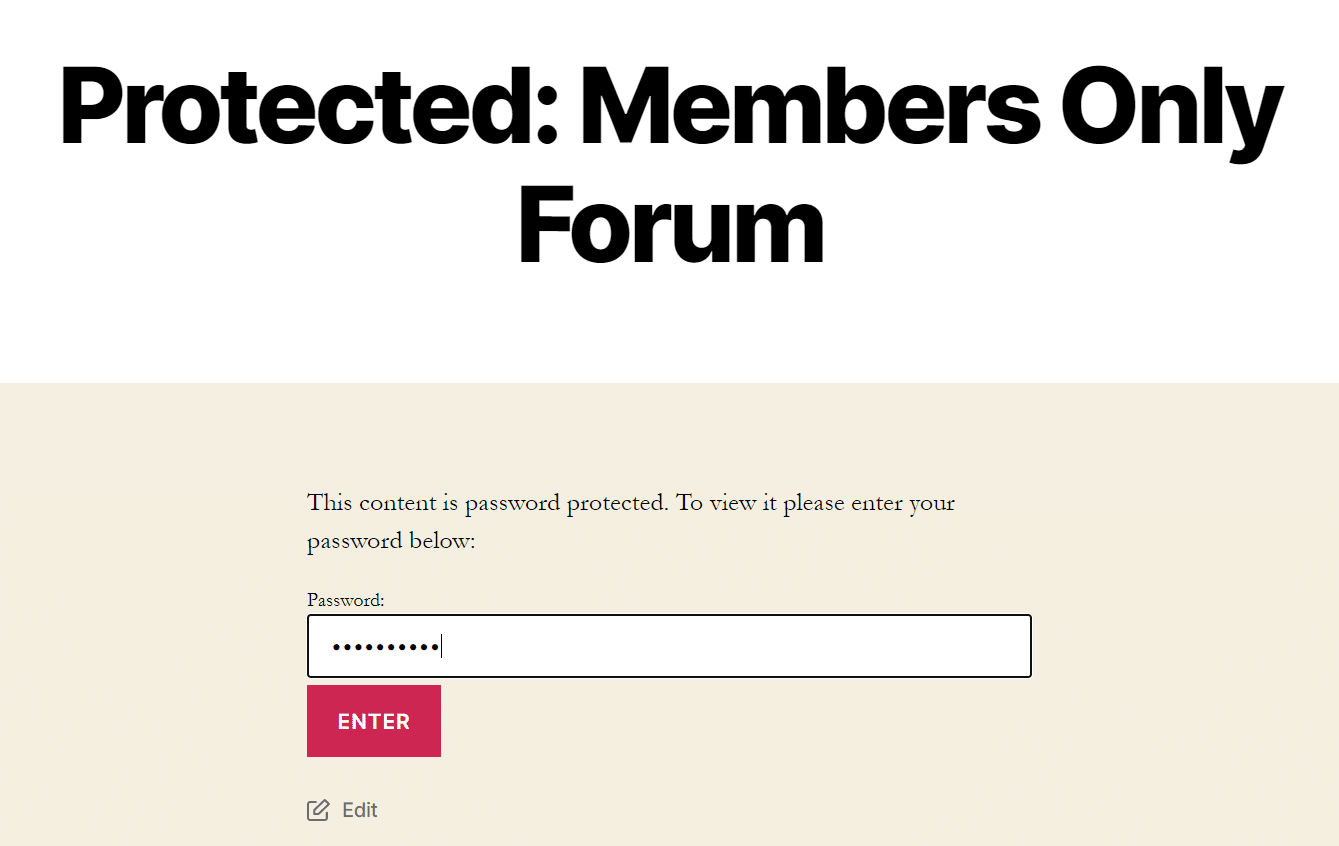 How to Create Private Posts in WordPress
Turning a standard WordPress post into a private one is almost the same process as doing so with a page.
The only difference is how you begin.
Instead of going to the Pages module in the WordPress dashboard, go to Posts > Add New or Posts > All Posts depending on whether or not you're starting with a new post or an old one.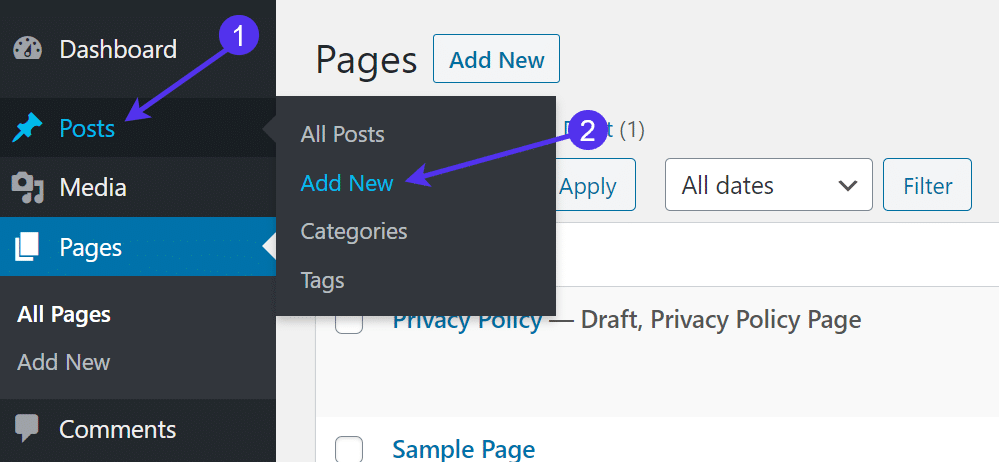 After that, follow the same steps as we did for the private pages.
Click on the Visibility dropdown link and choose either a Private post or a password-protected post.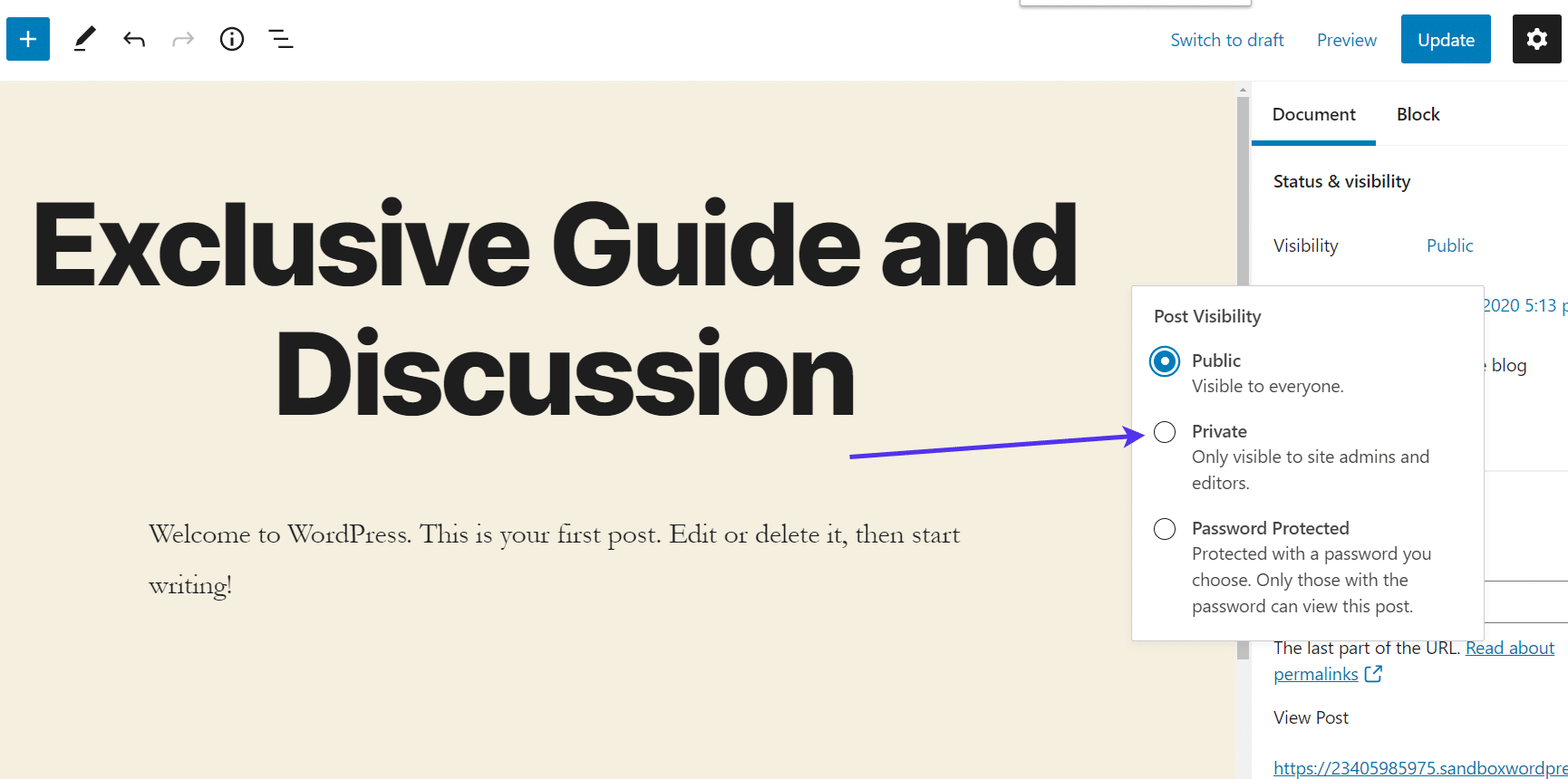 You can test out if it worked by completing the same steps from the private page tutorial.
Free Plugins for Generating Private Pages and Posts in WordPress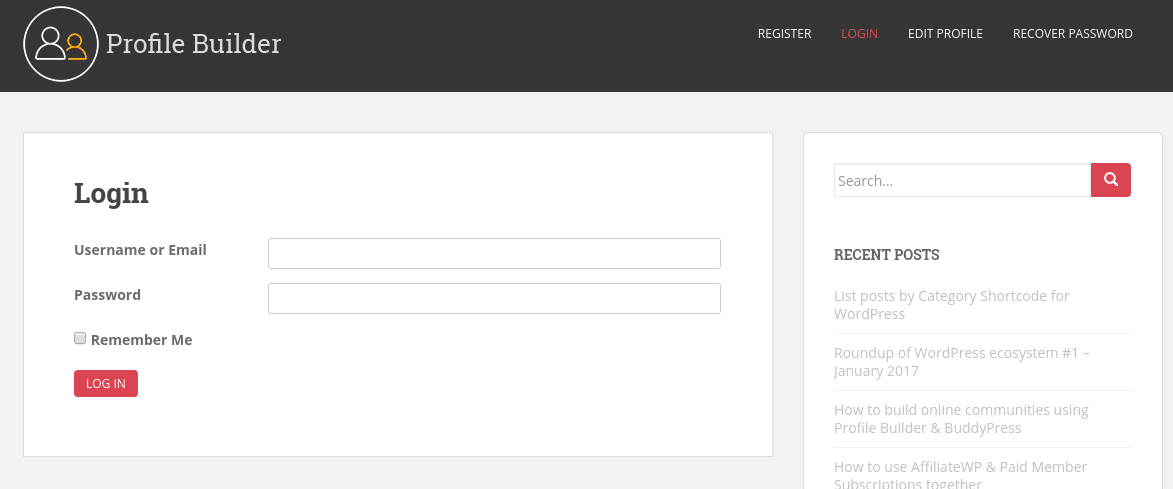 As covered above, WordPress already has built-in tools for activating a privacy blocker for posts and pages.
However, some situations require more advanced features to block out certain users or to better protect special information. You may even want a customized login page for members before they get to see the private content.
The following list covers useful free plugins to generate WordPress private page elements.
Premium Plugins for Making Private Pages and Posts in WordPress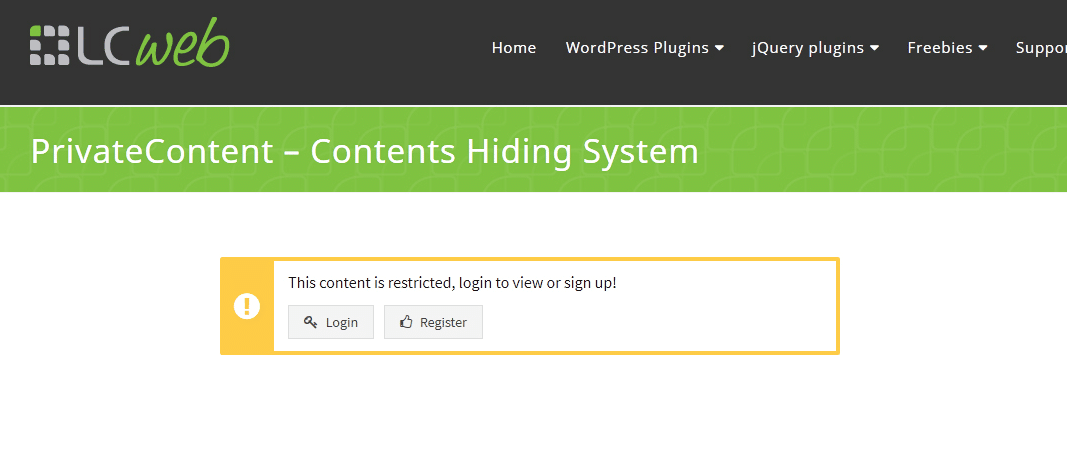 If you're finding that a free plugin doesn't have all the features you require, take a look at one of the best premium/paid plugins for adding advanced private posts and pages:
FAQs
Here are some common questions that often arise when talking about WordPress private pages and posts.
Is It a Good Idea to Use Private Pages for Sensitive Information?
It depends on what you consider sensitive information. Typically, this refers to things like customer data or contracts.
A private page is wonderful for adding a blocked section of your paid membership website or keeping your site clean during the development phase. However, exclusive blog posts and training materials are not really sensitive. Neither is an internal discussion forum.
A real estate agent or lawyer should not place contracts on a private page. An online store, or any business for that matter, shouldn't publish any sensitive databases or company secrets on a private page.
Why? Because private pages simply restrict access to that content. It's still technically published to the internet, so it's possible for outsiders to find a way in, whether that's through a brute force attack or some other method.
Are Media Items in Private Pages Still Private?
No, but it's unlikely that someone would locate an image published on a private page or post. Each image uploaded to your WordPress site is hosted with its own URL.
Therefore, if a person somehow finds this exact URL, they could technically bring it up in their own browser. The chances of this are slim, but it's worth knowing that it's possible.
Is There a Way to Grant Private Page Access to Users Other Than Admins and Editors?
The WordPress private page functionality only allows for administrators and editors to see the private content.
If you'd like to offer a private page to another user type, like an author or subscriber, you have the option to generate a password-protected page. In that situation, any user with the password receives access to the private page.
Another option is to install one of the many free or premium private page or content restriction plugins. They often include features for adding unique user roles to the list of people allowed to view the content.
Summary
Private posts and pages are excellent options for blocking website content from being accessed by specific users.
Private pages are popular for membership sites, internal company pages, and development projects. You have the option to either utilize the built-in WordPress private page and post tools or you could go the more advanced route and install a plugin to handle the job and implement more features.