Content marketing has been proclaimed several times over as "the next big thing" in digital — it's promised to "revolutionize" the way businesses communicate with and reach out to their target audience online.
But getting started with content marketing can be tricky process. There's tons to keep track of: blog & social media post scheduling, interlinking content, and even coming up with fresh ideas — all these mundane tasks can bog you down even before you can really kick things off on your content marketing campaign.
WordPress Marketing Plugins
The good news? Several WordPress plugins exist to take away some of that strain. Let's take a look at 5 of the top WordPress marketing plugins that allow you to make the most of content marketing even while keeping your sanity.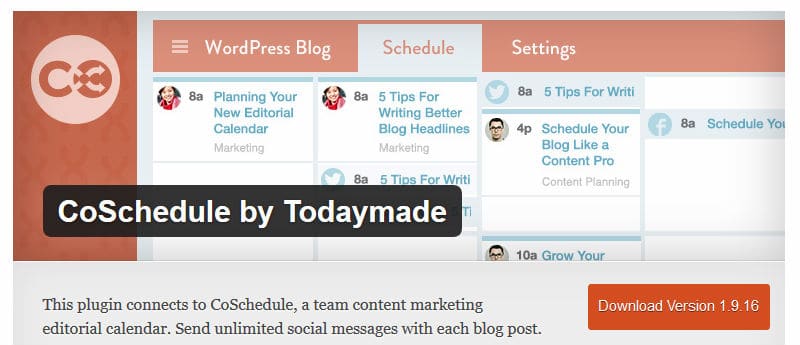 Would an all-in-one content marketing plugin make your life just that much easier?
If so, I strongly advise you to check out CoSchedule. With an impressive list of features, the plugin really is a content marketer's dream.
As you draft your content, it's not uncommon to be hit with inspiration for social media posts that you just know will go viral. With CoSchedule, you can document those social marketing brainwaves without having to interrupt your blog post writing flow. The plugin conveniently places a meta box under the post editor that you can use on the spot to write and schedule social media posts for that particular blog posts.
Scheduling social media posts is nothing new (particularly with hot tools like Buffer and HootSuite on the loose), but the cool thing with CoSchedule is that you're able to schedule posts relative to when your article is published.
For instance, you could send out a particular tweet or Facebook post 48 hours after publishing. If you postpone the time of your post publishing, the scheduled social media posts automatically adjust along with it, giving you one less thing to keep track of.
With the added ability to sync all your social media profiles across all the major platforms in one place, you'll end up saving yourself a lot of time.
If you're looking for even more control, there's a visual drag and drop calendar which combines your scheduled blog posts and your social media posts — you're able to see absolutely everything you've got scheduled in one convenient calendar.
Finally, CoSchedule has a great user interface that supports team communication and collaboration. You can assign tasks, send reminders, and even hold a conversation right in the native UI.
With such a wide array of features in just one place, it's little to surprise to learn that CoSchedule is a paid plugin; however, any serious content marketer can test the waters can take advantage of a 14 day free trial period.
CoSchedule is, without doubt, the best content marketing plugin well worth its price tag (which is why we included it in our roundup of WordPress productivity plugins as well).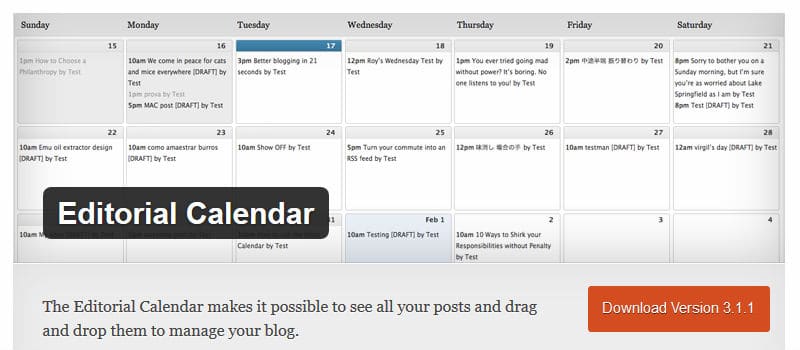 Not every content marketer will have the budget for CoSchedule. If you're a member of that marketing category, let me introduce you to a free alternative, the Editorial Calendar plugin.
This plugin understandably lacks many of the bells and whistles of the CoSchedule plugin, but if you're just looking for an easy way to schedule your content, then Editorial Calendar is still perfect.
As with the prior plugin, there's a drag and drop calendar allowing you to easily visualize and edit the date and time at which your posts are scheduled to be published. No social media post scheduling this time round, however.
If you want to change when a post is scheduled, all you have to do is drag the post to a different day and enter in a custom time. Needless to say, if you ever take it upon yourself to do a mass scheduling/rescheduling, this plugin is bound to save you a lot of time. Comparatively, going into the post editor to make the changes manually each time is a joke.
Editorial Calendar also groups together all the posts that are yet to be scheduled, so you can quickly and easily drop one into a gap in your content schedule. Personally, I think this is where it excels — the calendar acts as a reminder to publish unscheduled posts, preventing them from slipping through my net and into unpublished purgatory.
For any content marketers looking for a free solution to help them keep on top of their publishing schedules, this plugin is an absolute must.

The marketers who understand the importance of a constantly moving visitors around a website's content and giving them something to browse will appreciate Contextly.
Contextly allows you to create sidebar widgets linking to corresponding content (relative to the content a reader is currently viewing) and your most popular blog posts with a choice of four aesthetically pleasing widgets. These can then be positioned at the bottom of your article and/or in any widgetized sidebars.
This plugin is proven to boost pageviews per visit and decrease bounce rate — in some cases, websites that use Contextly have seen CTRs for the widgets reach as high as 10.5% — mighty impressive, compared to the CTRs your other widgets probably get.
As if that wasn't enough, Contextly also offers a couple of other neat features that elevate its status above other related content widgets.
Firstly, it allows you to run A/B tests on the widget designs. If you're looking to find out which of the four widget designs works best for your site, you can try displaying a different one for a set percentage of visitors to see which one generates the highest CTRs.
Second, Contextly comes with its own analytics function which can help you analyze your site's performance. The plugin will even make website recommendations to boost your engagement based on your visitor behavior.
As far as free plugins go, very few are as capable of keeping visitors on-site as Contextly.

Finding content ideas that are guaranteed to be successful in your content campaign is a difficult and time-consuming task for any and every content marketer.
Thankfully, MyCurator is a free WordPress plugin that takes the back out of it — the plugin makes coming up with fresh blog post ideas automated and super simple.
Throughout the day, MyCurator will scour the Internet looking for the best of what the web has to offer — content that is both popular and relevant to your website. It then feeds this content back to you at its dashboard, giving you inspiration for your next blog posts.
Now, inevitably, the first batches of content curated will be a bit of a hit and miss; after all, the plugin doesn't really know yet what you consider to be good content.
But here's the cool thing — you have the ability to  "train" the plugin's algorithms, by giving a thumbs up or thumbs down to each content listing. So over time, the plugin will become increasingly effective and a valuable part of your content strategy.
All in all, a great little solution to one of the most insignificant, yet pain-in-the-neck problems marketers face.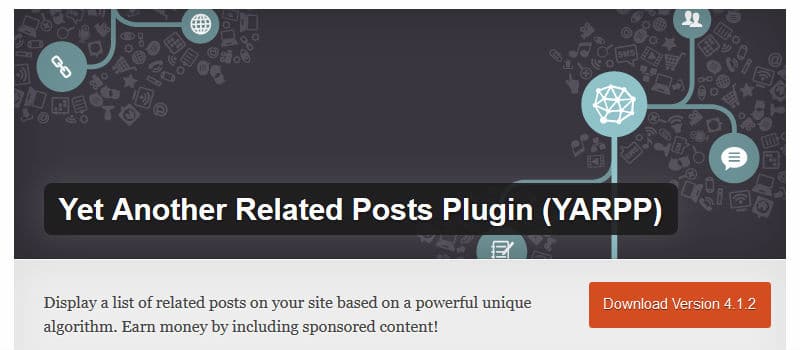 No prizes for guessing what this plugin does!
Despite the slightly self-depreciating name, YARPP is a useful addition to any blog.
YARPP has one of the most sophisticated related content display algorithms. It's capable of taking post titles, body keywords, tags, and categories into account to bring up links to the most relevant content to a specific blog post.
If you want more control over the type of related content the plugin puts together, you're even able to add your own input to train the plugin's algorithm (just like with MyCurator).
You have two display options to choose from — list view and thumbnail view. Overall, a decent plugin that gets the job done.
Wrapping Up
What's your experience with these WordPress marketing plugins? Think we've missed any valuable content marketing plugins?
Let's hear your thoughts in the comments section below!