Getting more local leads and Google My Business go hand in hand. When people search for a product or service near them, they are generally looking to purchase something.
In fact, 78% of local mobile searches lead to a purchase in-store or online according to Search Engine Land. These are the people you want to attract to your business.
In this guide, you will learn what a Google My Business listing is, how it helps your local SEO, how to set it up, and how to optimize it.
What Is Google My Business?
Google My Business (or GMB) is a local business listing service powered by Google.
It is completely free to use and the only requirement for using it is you must have some form of face-to-face interaction with your customers. Basically, if you are 100% online you can't really have a Google My Business listing.
If you've ever performed a local search, you will have seen it show up in Google search results. It looks like this: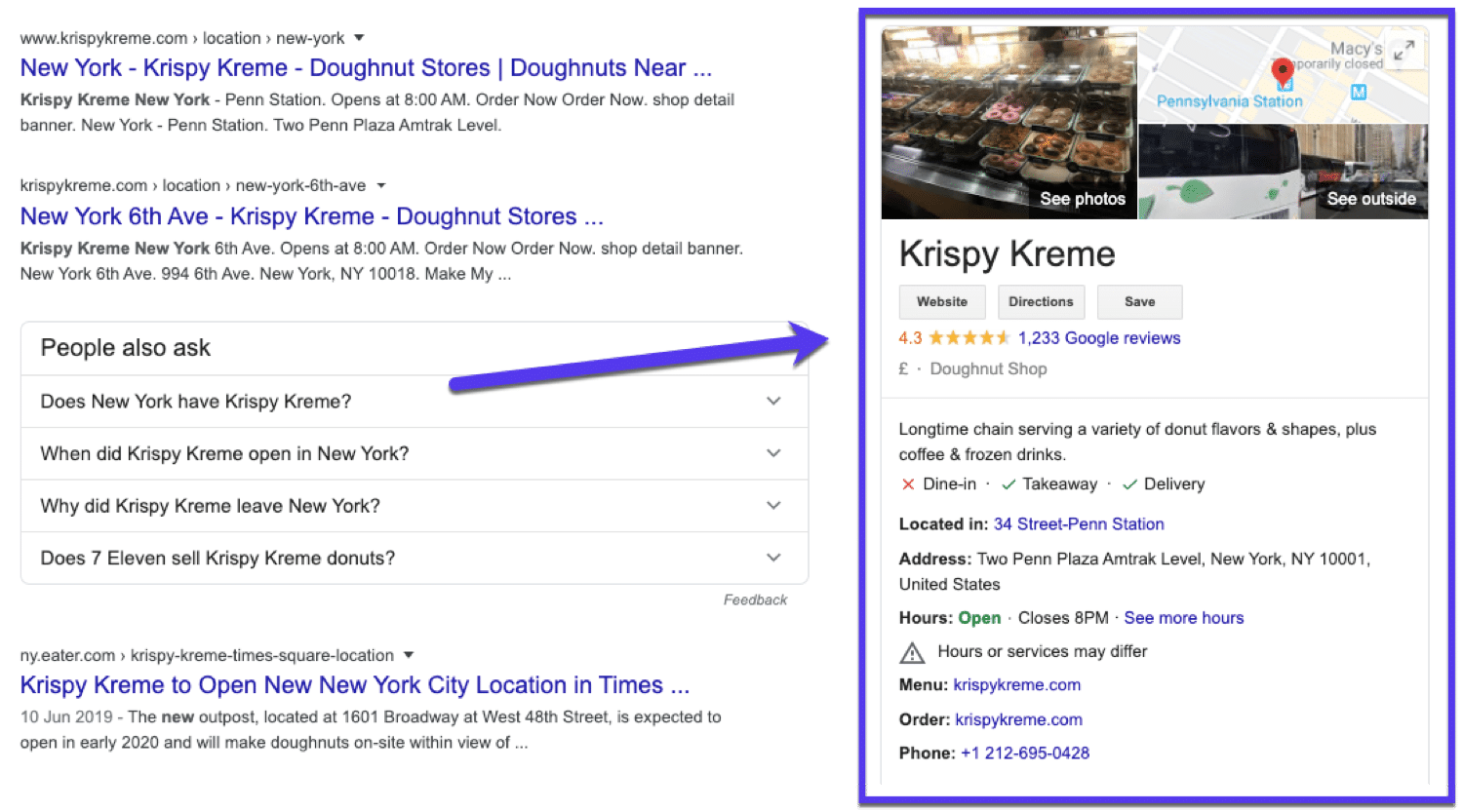 How Does Google My Business Work?
Google allows you to claim your business and get it live. This way, when people are looking for something you provide, your website will come up in their search results.
You can list the services you provide, add an FAQ section, a few photos, and also allow customers to leave reviews about your business. You can even add a few interesting attributes to your business that will show in your Knowledge Graph such as Online Care, Online Appointment, Online Estimates, and Online Classes.
Why You Should Use Google My Business
Let's face it: Google dominates search and especially local search. According to Net Market Share, over 70% of all searches happen on Google's search engine.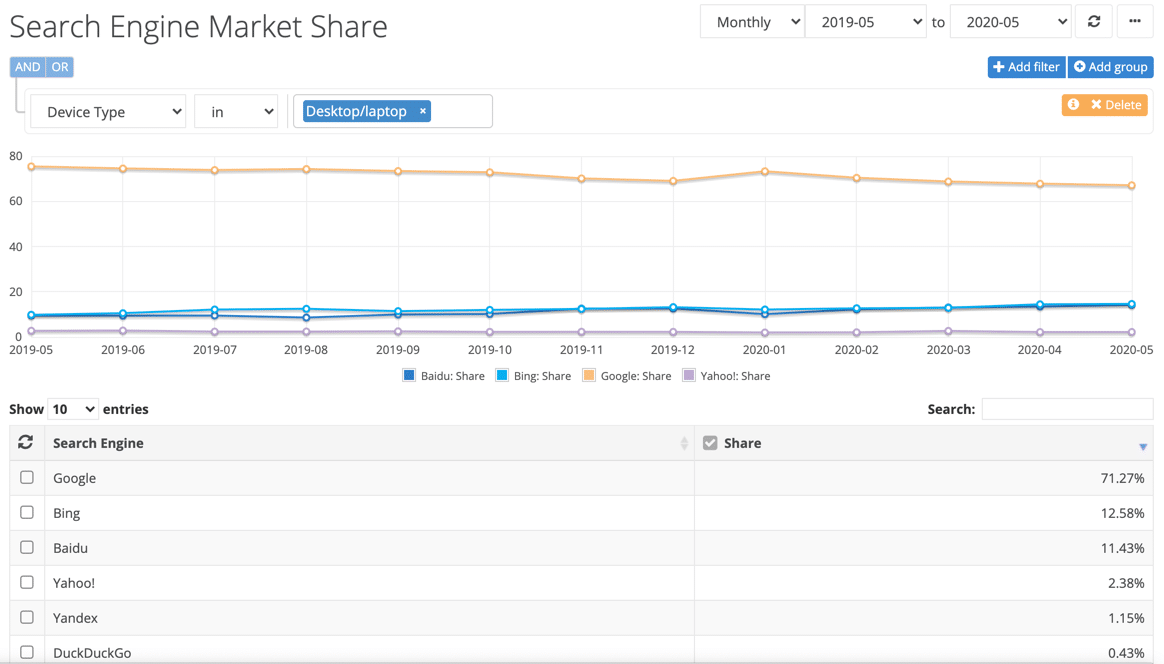 As a small business owner, you simply can't afford to overlook the benefits of using Google My Business (GMB).
Research shows that 92% of online buyers like to compare brands online before buying something. And most of them head to Google Search to find businesses they'd like to purchase from.
Additionally, 49% of all Google My Business listings get more than 1000 searches every month, while 96% of the listings are seen 25 times per month, at least.
Do you know what happens when your business is listed and seen on Google My Business?
Stats show that 56% of the people who see your GMB listing will click through to your website, while another 24% will call your business directly. That's great news for businesses that want to survive and thrive despite the challenging economic conditions.
This survey shows that a Google My Business listing can also drive local SEO success for small businesses, pretty much guaranteeing visibility on Google Maps and Google Search for SMEs.
Just look at these results from a study into Google's local ranking factors: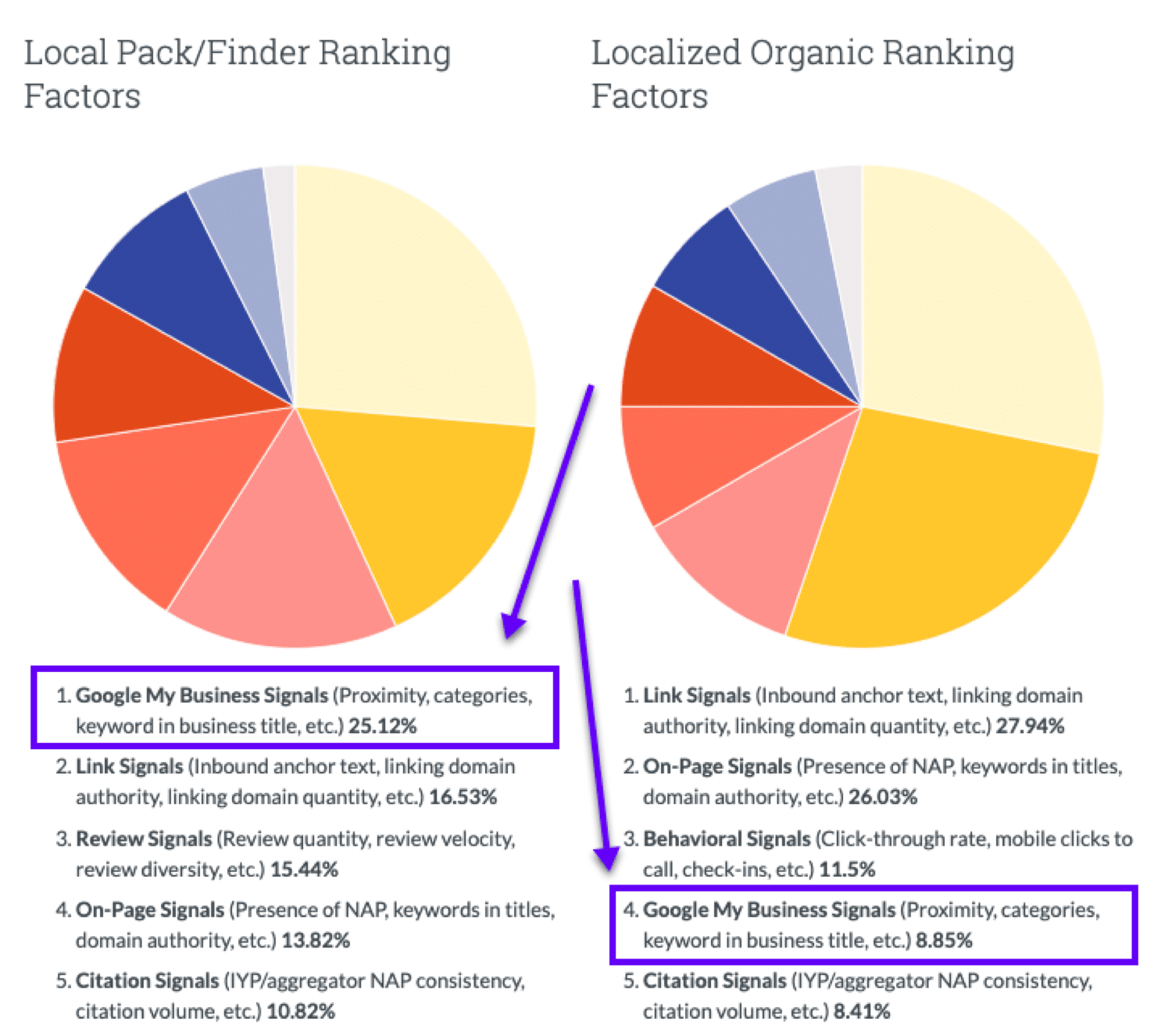 Also, GMB lets potential clients get in touch with you right away, while you get to keep track of your listing to learn what past customers think of your brand, plan their visit, navigate them to your location, and do so much more.
That's a lot of reasons to use Google My Business!
Now that you know what Google My Business is and why you should be using it for your local business, let's run through how to set it up.
How Do I Setup Google My Business? (And Get Listed on Google)
Setting up your Google My Business profile and getting listed on Google is a crucial part of local search. Here's how to get your businesses a Google My Business profile:
1. Go to the Official Google My Business Site
Visit the official Google My Business page and click the Manage Now button: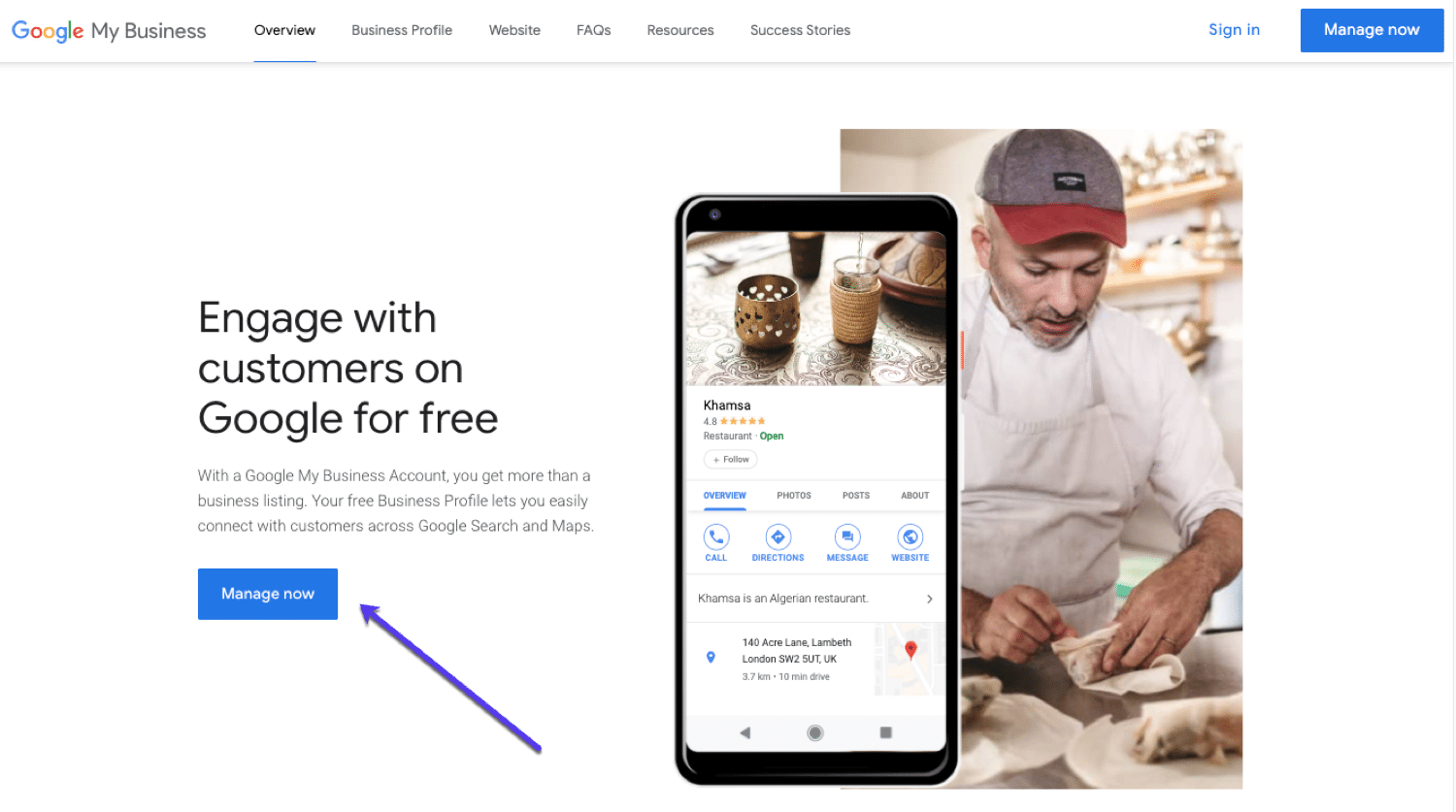 If you're not already signed into your Google account, it will ask you to sign in before going any further.
Make sure you are signed in to the account that you want to be associated with the GMB listing you are creating.
2. Finding Your Business or Creating a New Listing
If you haven't set up a GMB listing in the past, you can search for the name of your business or you can click to add a new listing.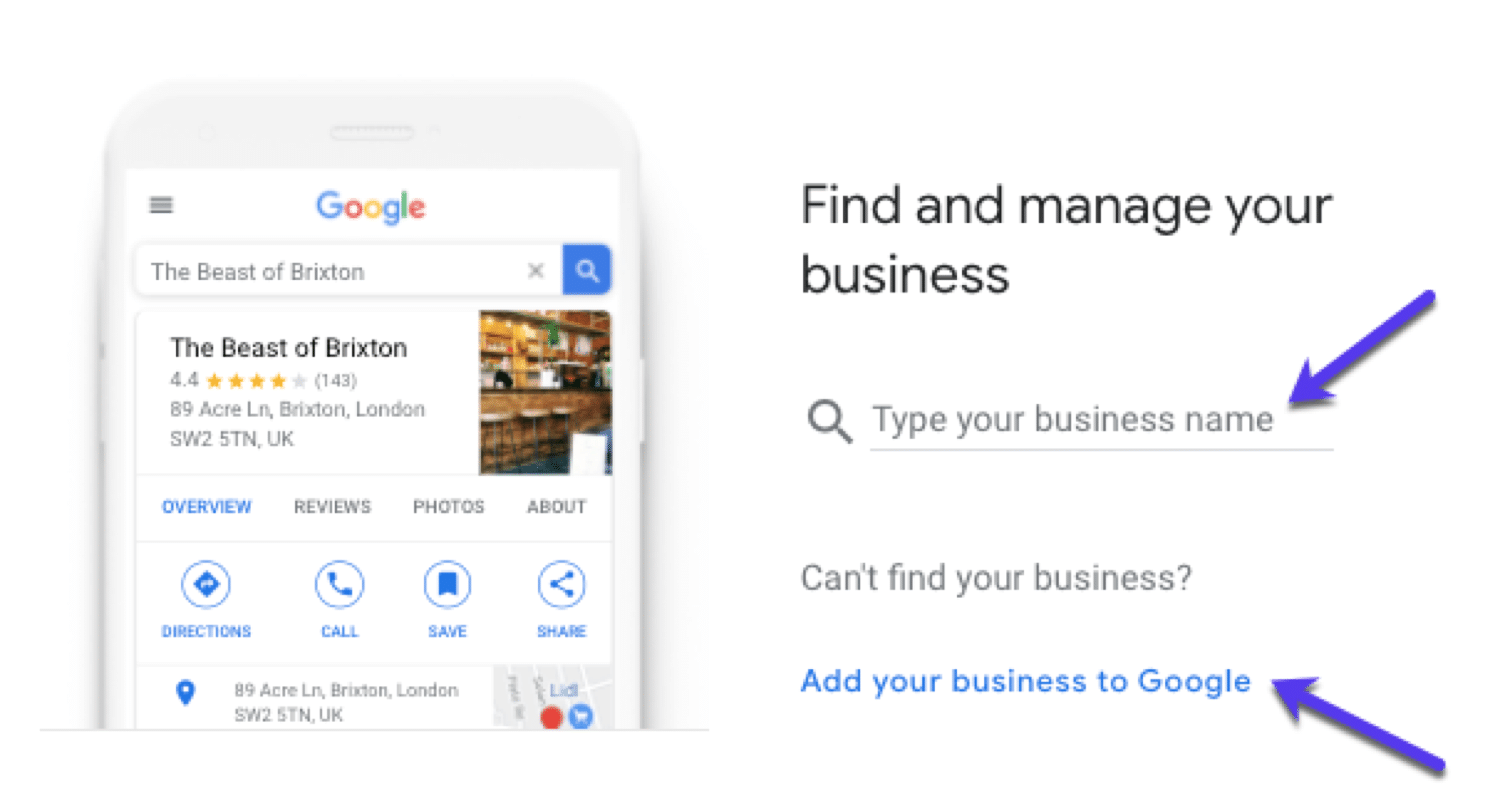 It's not uncommon for someone to have already listed your business. If this is the case, you should see your business appear. If it doesn't appear, click Add your business to Google
3. Setting Up Your Name
Now you'll be able to add your business name: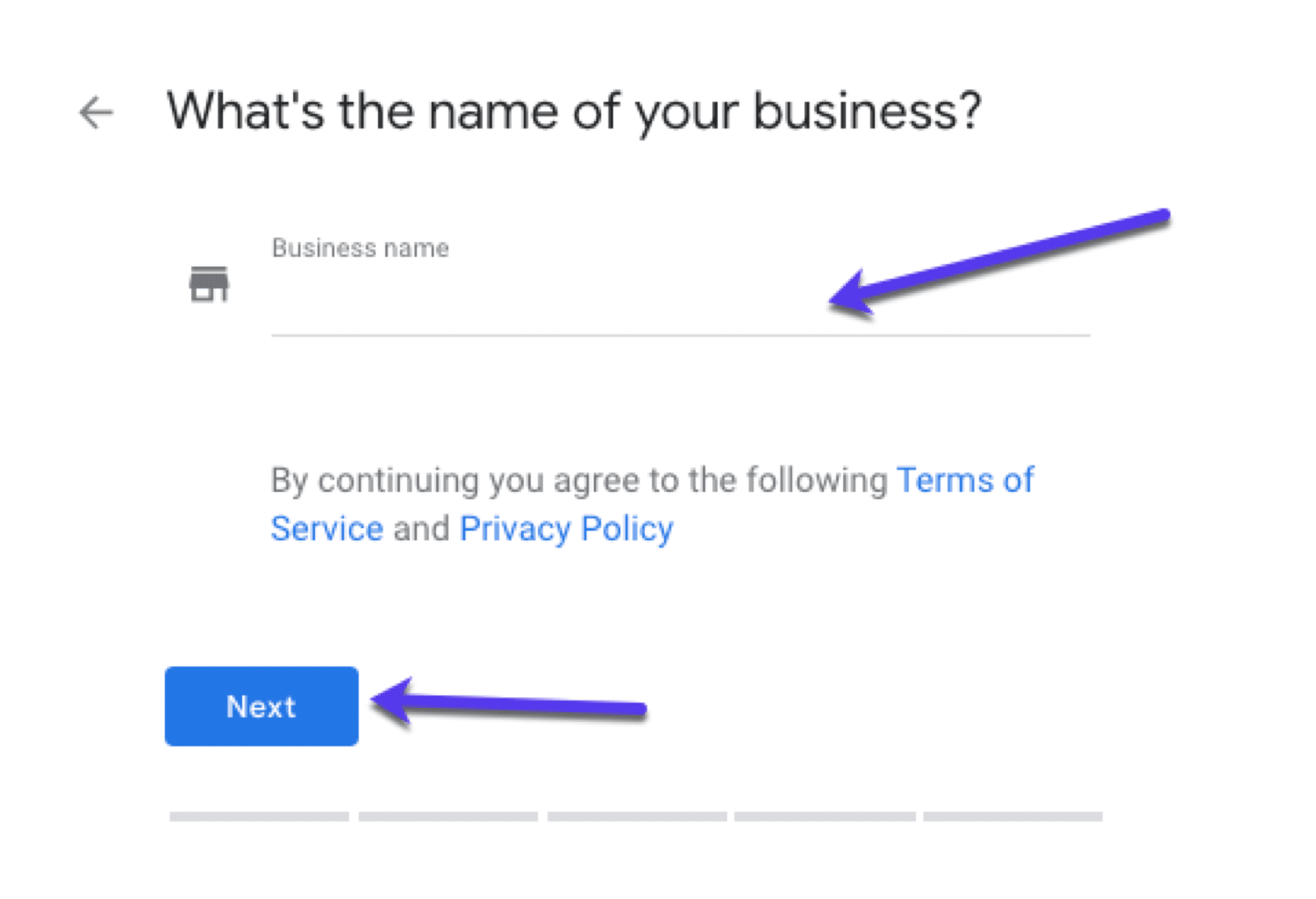 Once you've added it, hit next.
4. Choosing a Category
Now you need to choose the category that best describes your business on Google My Business.
This step is pretty important if you want to show up in Google's results page when customers are searching for a product or service that you offer.
You'll be able to set primary and secondary categories, pick these wisely.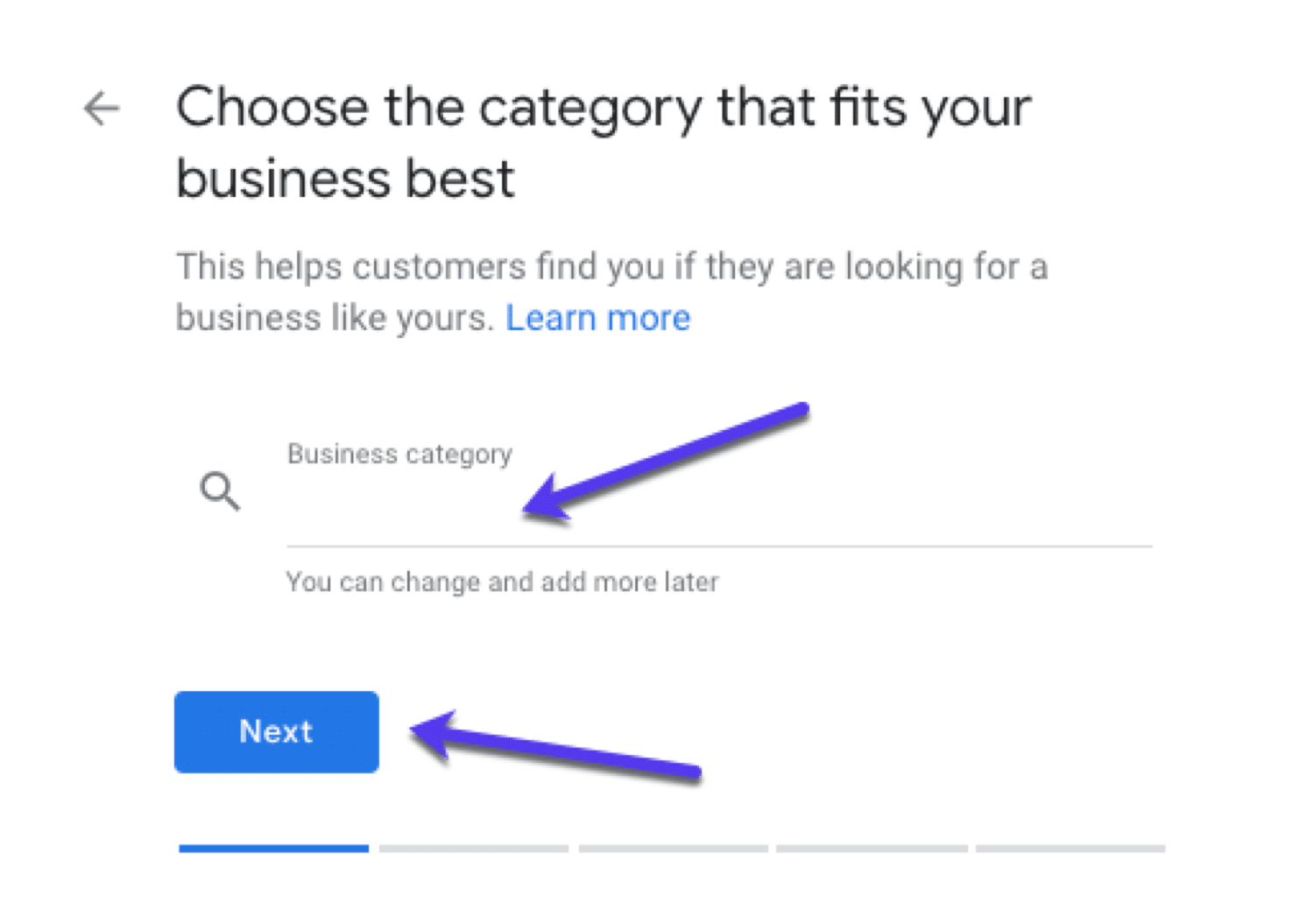 Under the "Business" category, type in what your business does and you'll get some auto-generated suggestions to choose from:
5. Setting the Address of Your Business
Now you need to set up the location to associate with your listing.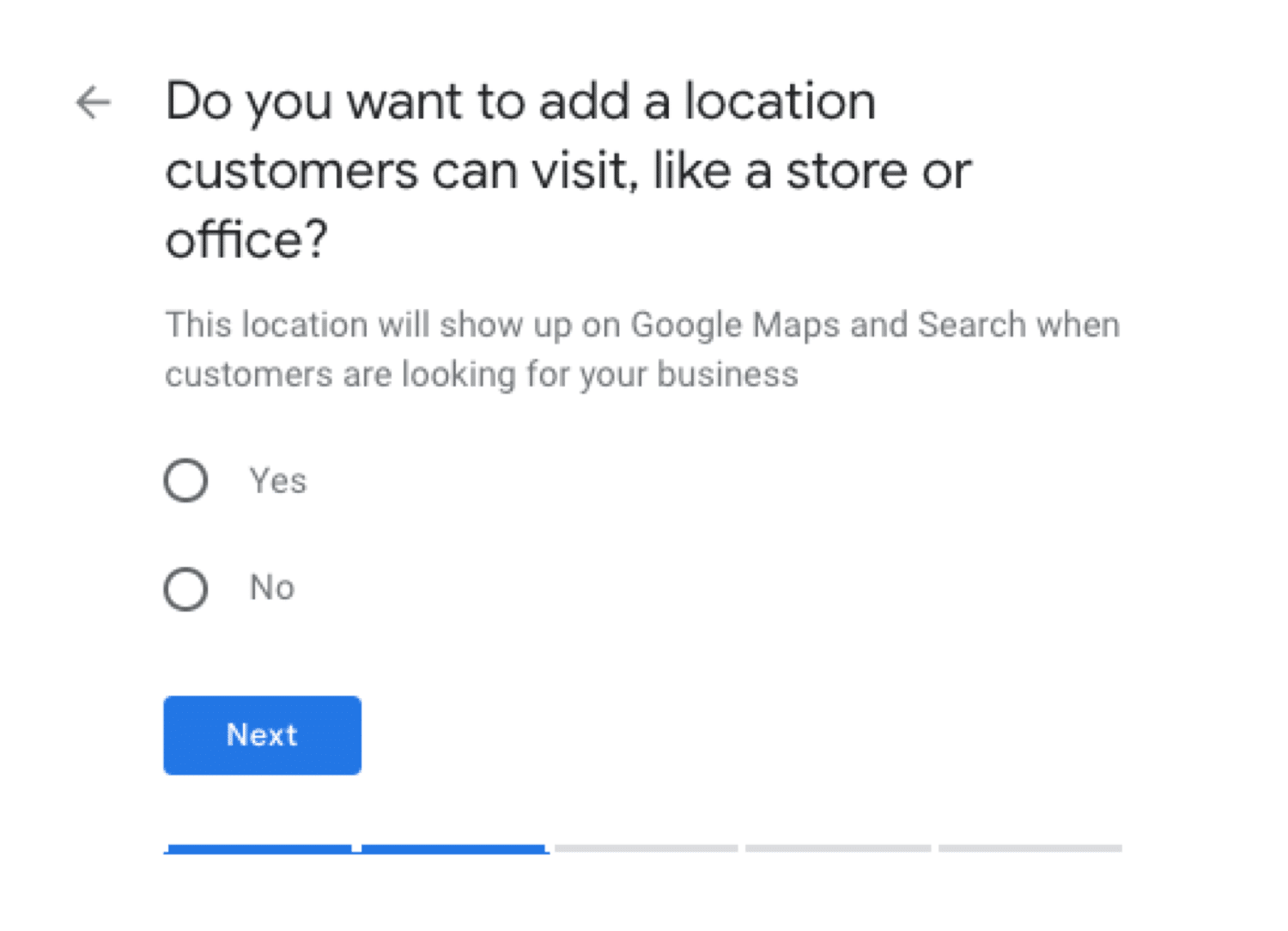 You'll need to choose between the following:
Option #1 (YES) Brick & Mortar Business Listing
Option #2 (NO) Service Area Business Listing
Let's quickly walk through each:
Option #1 (YES) Brick & Mortar Business Listing
If you are setting up a listing for a physical business with a location, add that here: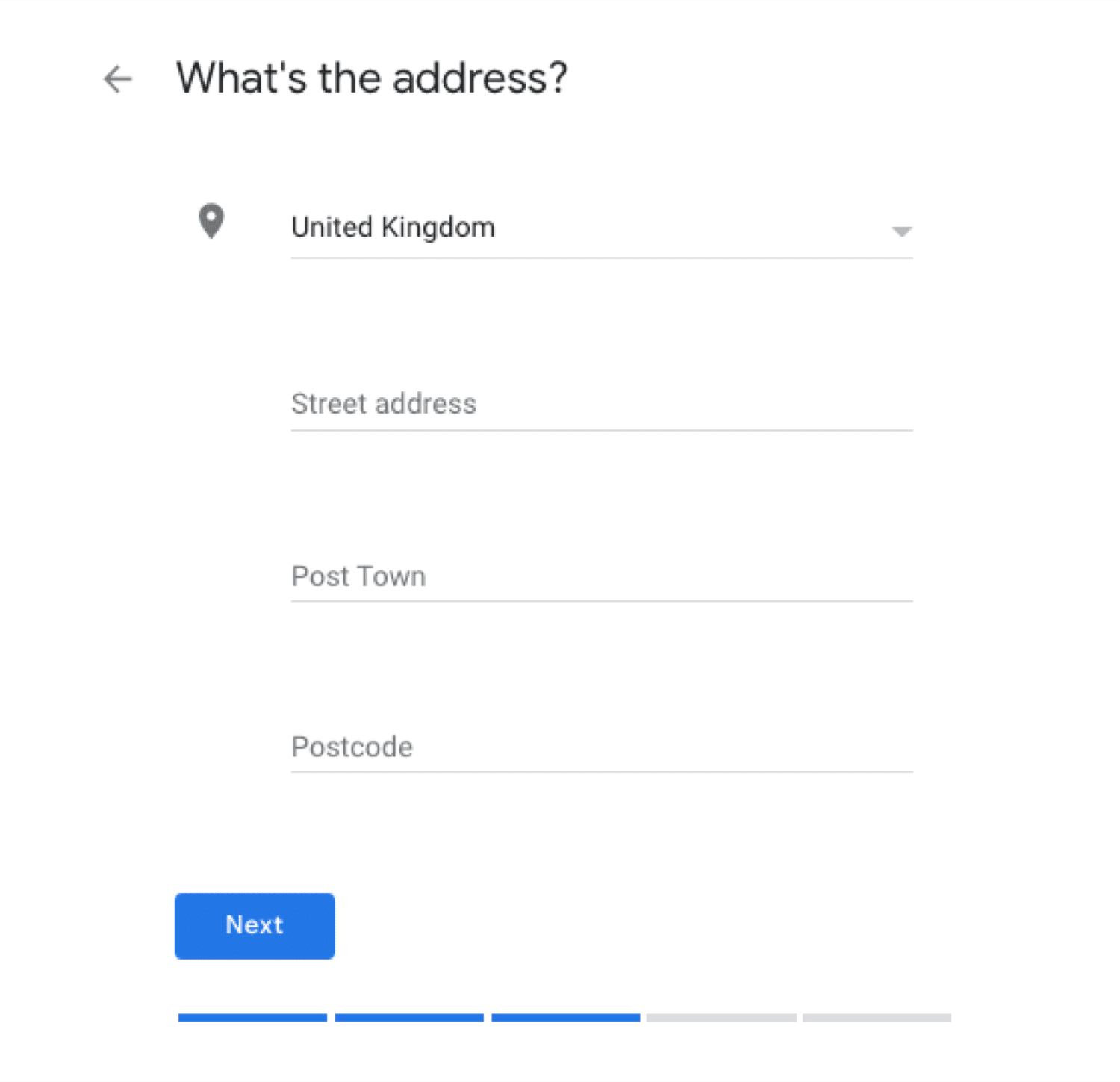 Option #2 (NO) Service Area Business Listing
If you don't have physical premises but still serve customers in an area, you can add that here: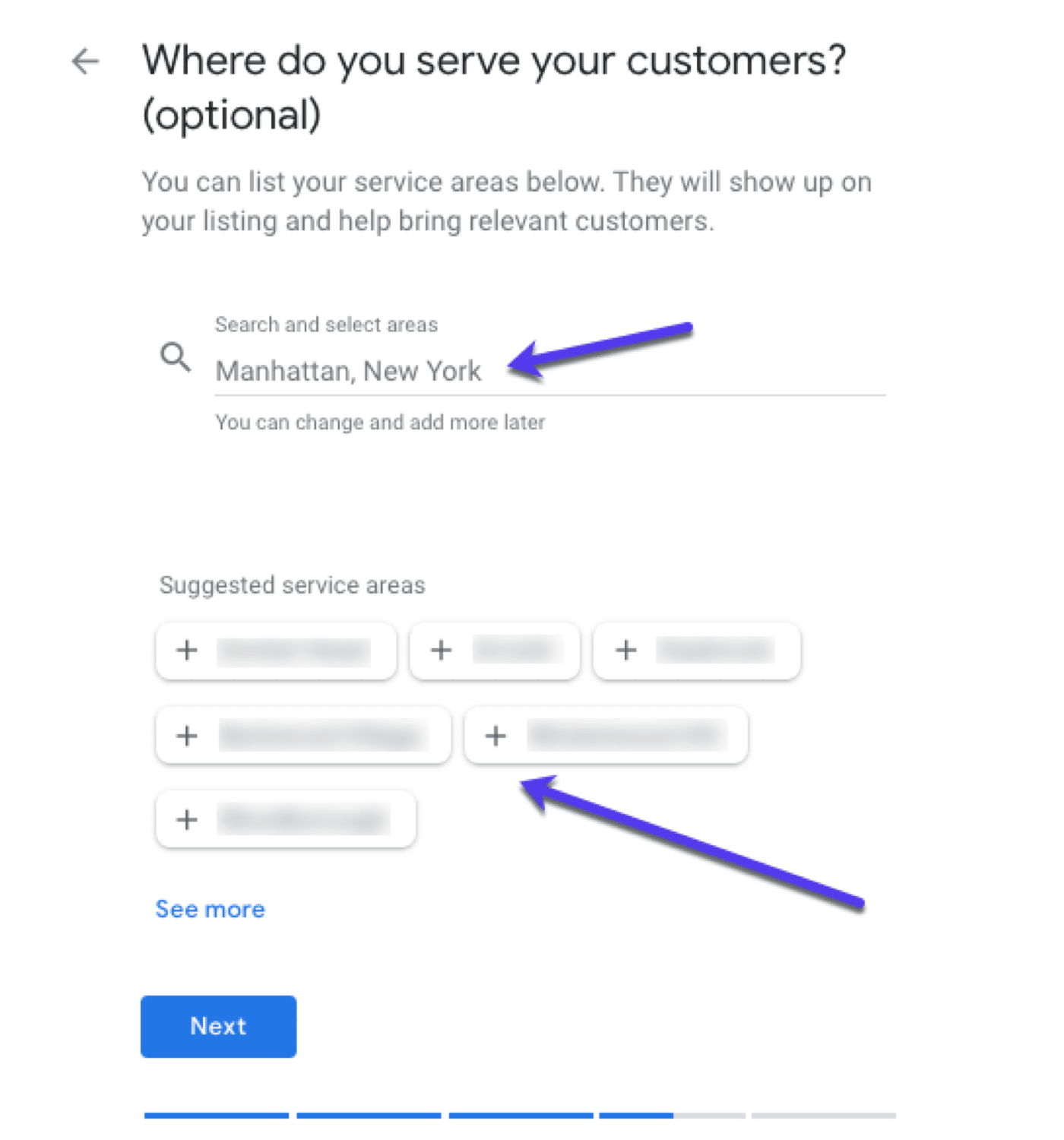 You can either search for your area or use the suggested options.
6. Add Your Contact Details
Now you need to add a way for customers to get in touch with you (phone + website):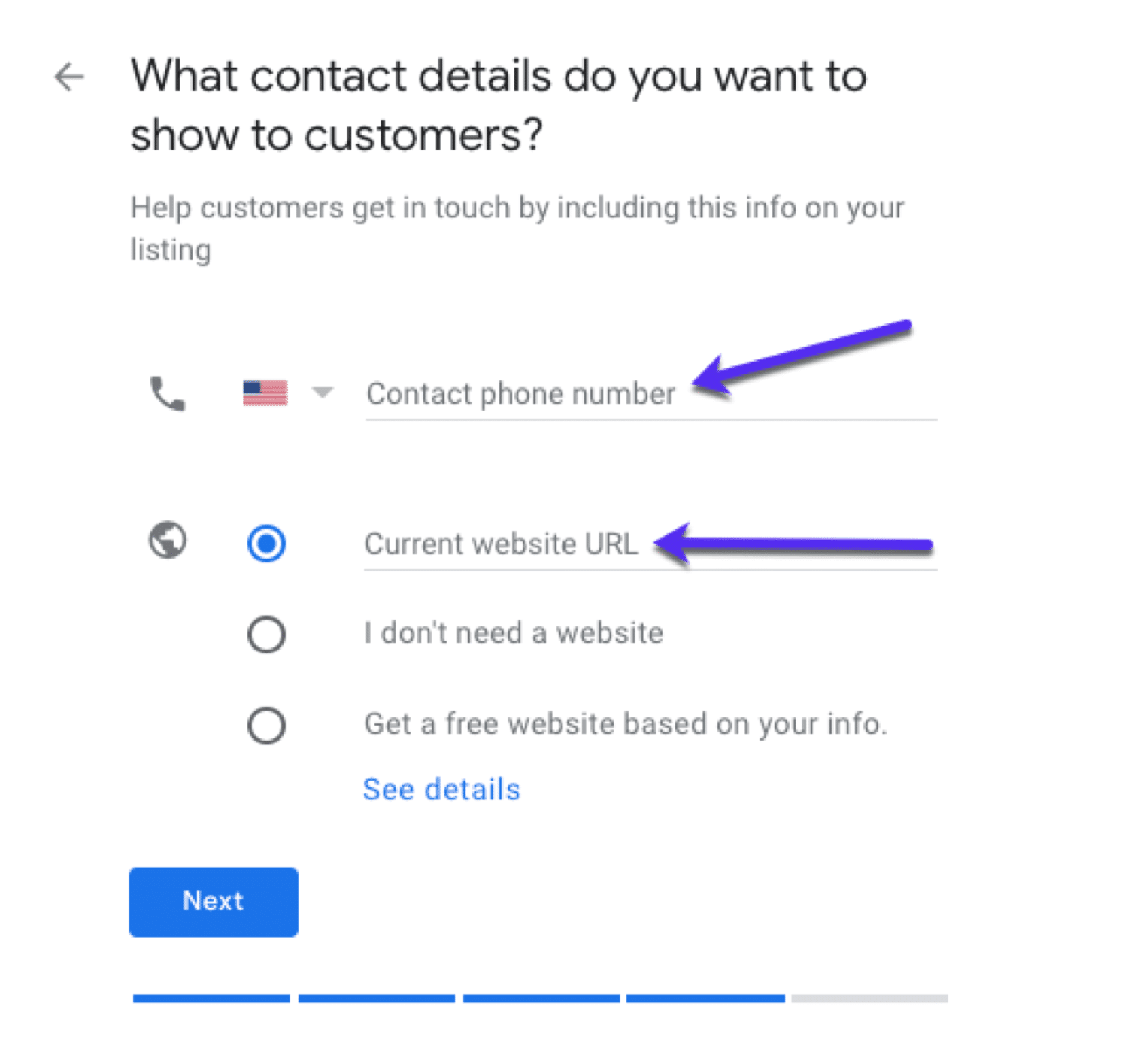 Adding your website to Google My Business can potentially drive a customer to your site where you can more easily convert them. Likewise, listing your phone number gives customers a way to contact you directly
7. Finish And Verify Your Listing
Once you've filled in all the relevant information in GMB, you can submit your listing: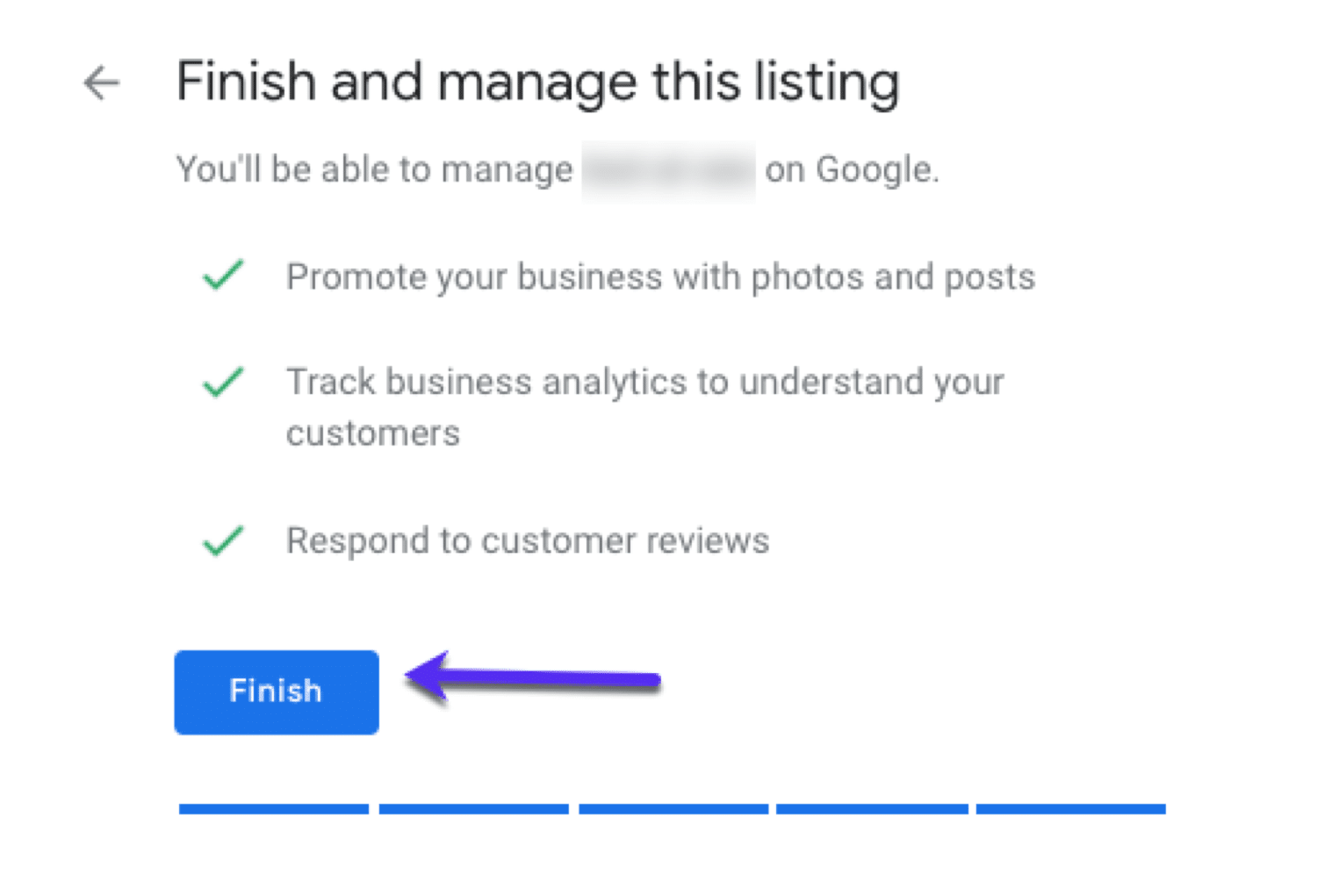 Almost there, but there's an important step you need to do here:
Verify your listing.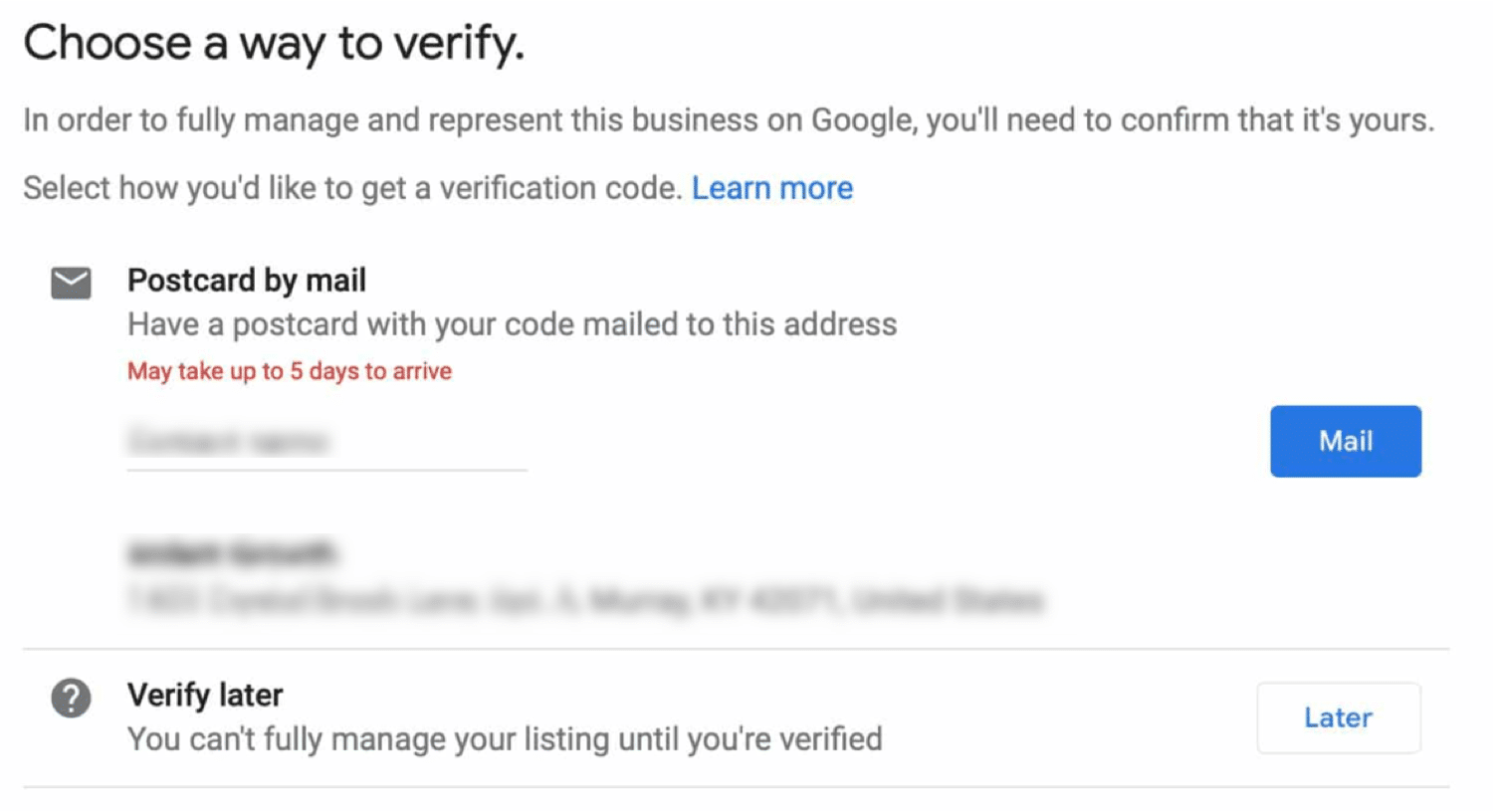 In order for your Google My Business listing to show up, you need to verify it. This can take a couple of days, although you can optimize your listing while you are waiting.
To get your listing verified, Google will send you a postcard with a verification code on it.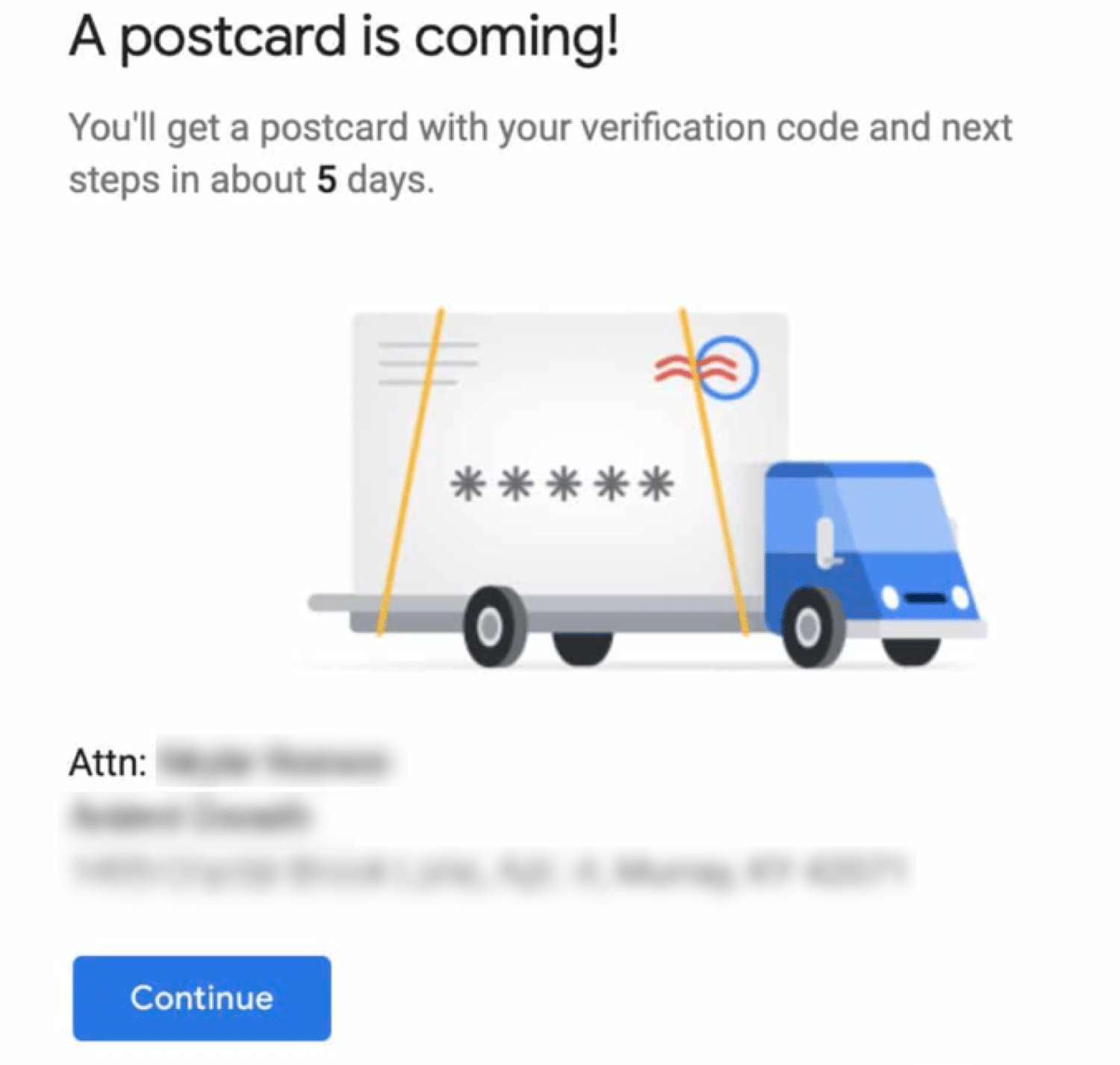 5 Ways to Verify Your Business on Google My Business
Depending on the type of business listing you're trying to get listed or to manage, you'll have a choice of options to verify your business:
1. Verify by Mail (Postcard)
The most common is via postcard. While logged into your GMB profile, check your business address is correct and click "Mail".
Once it arrives, you'll need to sign in to your Google account, click "Verify" from the menu and enter the verification code from your postcard.
While waiting for your postcard to arrive (which should take about 5 days), Google recommends that you do not:
Edit your business name
Edit your address
Change the business category
Request a new code
Doing so could slow down the verification process and require Google customer support to step in.
2. Verify by Phone
Google allows some businesses to verify their listing via phone. If this applies to you, you will see an option to 'Verify by phone'. Ensure your phone number is correct and you'll be send a verification code via text message.
3. Verify by Email
Google allows some businesses to verify their listing via email. If this applies to you, you will see an option to "Verify by email". Make sure your email address is correct and you'll be sent a link to verify your listing.
4. Instant Verification
If you've already verified your business with Google Search Console, you may be able to instantly verify your listing.
It's pretty simple, just sign in to Google My Business using the same account you used to verify your business with Search Console and you're done.
Some GMB business categories are not eligible for instant verification. If you don't see a notification asking you to verify your listing, you'll have to use an alternate verification method.
5. Bulk verification
If you operate over 10 locations for the same business, you may be eligible to use bulk verification. In order to qualify, you shouldn't be a service business or an agency managing multiple businesses.
Here's how to bulk verify your Google My Business listings:
Log in to Google My Business and choose a location
Select "Get verified" next to one of your locations
Click "Chain".
Now fill in the form with all the information (business name, location, contact details, etc.)
Submit the form (it can take up to a week for Google to process).
6 Tips for Optimizing Your Google My Business Listing
Let's recap, by now you should have:
Setup your GMB listing
Added your business details
Verified your listing
Now what? Well, it's time to optimize your listing!
Go to the Google My Business dashboard, click on your listing and select "Info". Then choose a section to complete or update.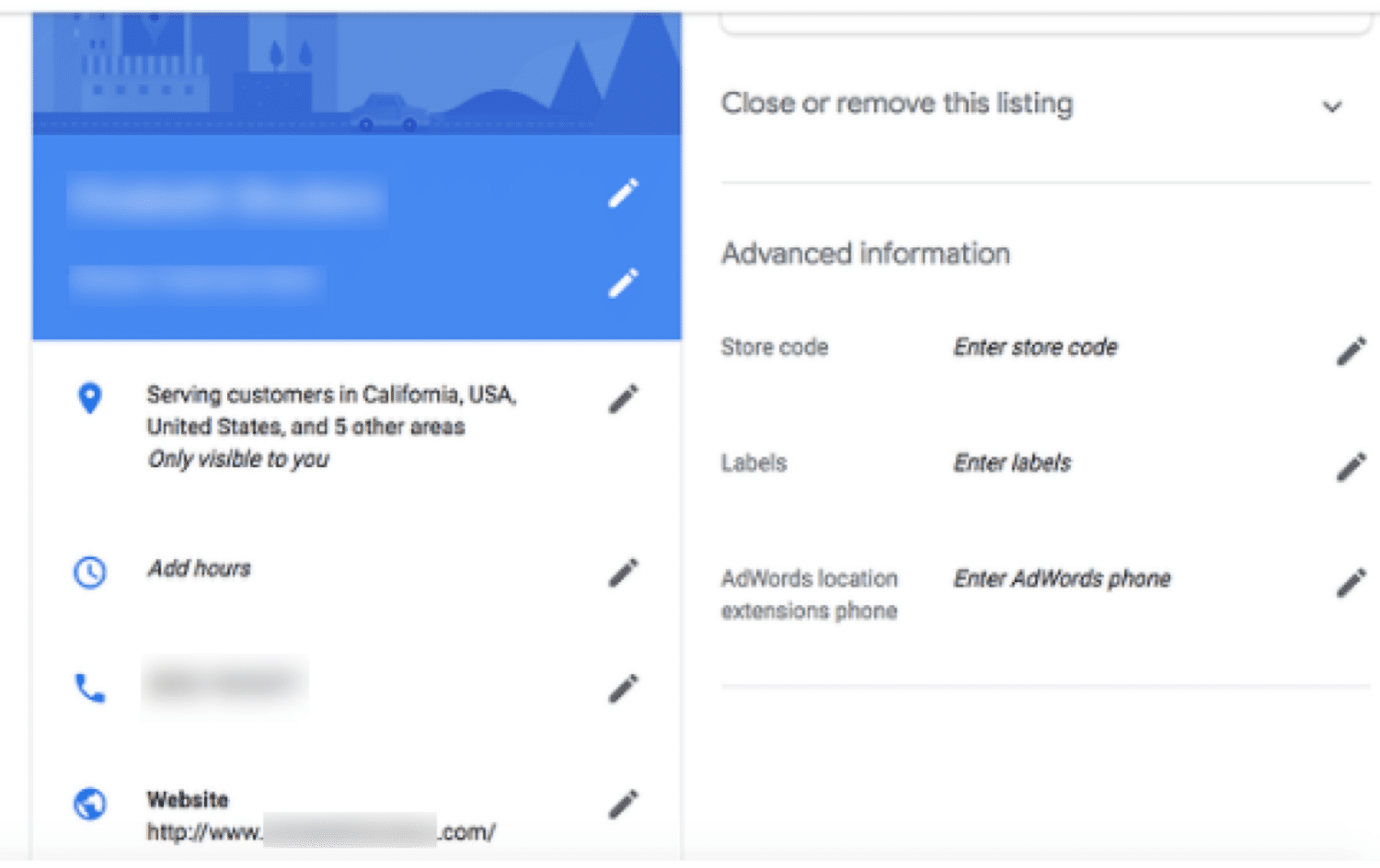 Check out these tips to get the most from your Google My Business Profile:
1. Keep Your Listing Information Updated
One of the best ways to optimize your Google My Business listing is also the most obvious: keep it up to date.
At the very least, make sure the following are always correct:
Name
Address
Phone Number
Website
Attributes
As a business, you should display contact info for the convenience of customers in case they want to reach out. And GMB is just an extension of this.
You want to make it as easy as possible for customers to find you and contact you.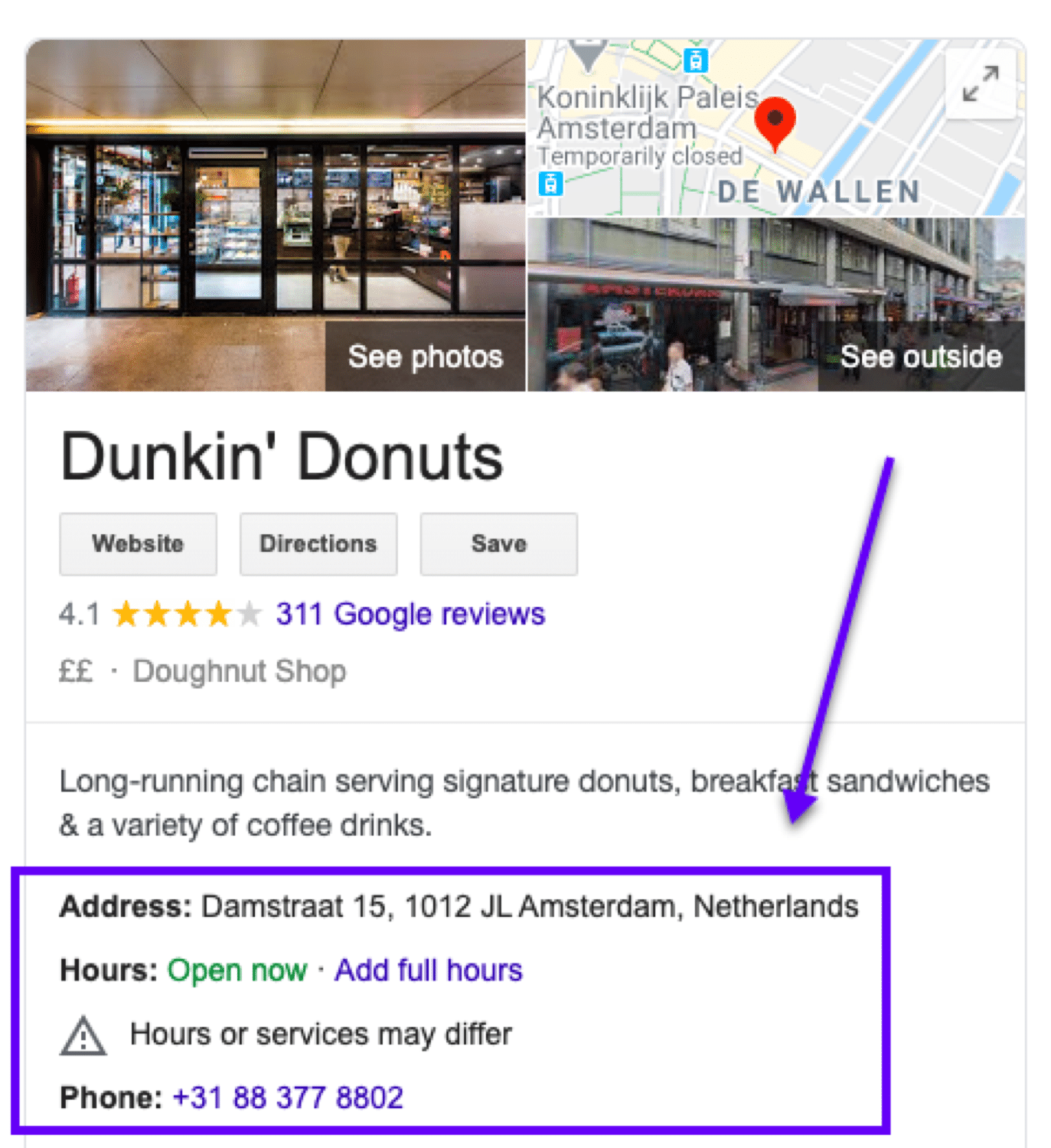 A correct address can help customers approach your business/service area quickly. If they can't find you easily, there's a chance they'll be getting in touch with a competitor.
Keeping your phone number, working hours, and product categories updated is useful for potential customers. Especially when you consider that, on average, a company's details show up as many as 1,009 times in search results per month.
You do not want to lose your potential customers by sharing any invalid/false information. So be careful to update your listing regularly.
This might come in handy if you want to add information about a new product or recently started services that you want to share with your customers.
Google usually takes three business days to verify and update the information. You can even add managers to run your business page.
However, beware of the competitors as they can also change your listings.
2. Upload Photos to Your Listing
Your GMB listing is the perfect place to show off your products and services by adding images, videos, and virtual tours to promote your business
You can upload appealing images of your products and services or maybe give visitors a peek into your office location.

Scrolling through these encourages customers to peek into the business website and ultimately get in touch with you to know more or place an order.
Once your business listing is verified, it can display a combination of tagged and uploaded photos. Meaning not only can you upload photos as the business owner, but customers can too.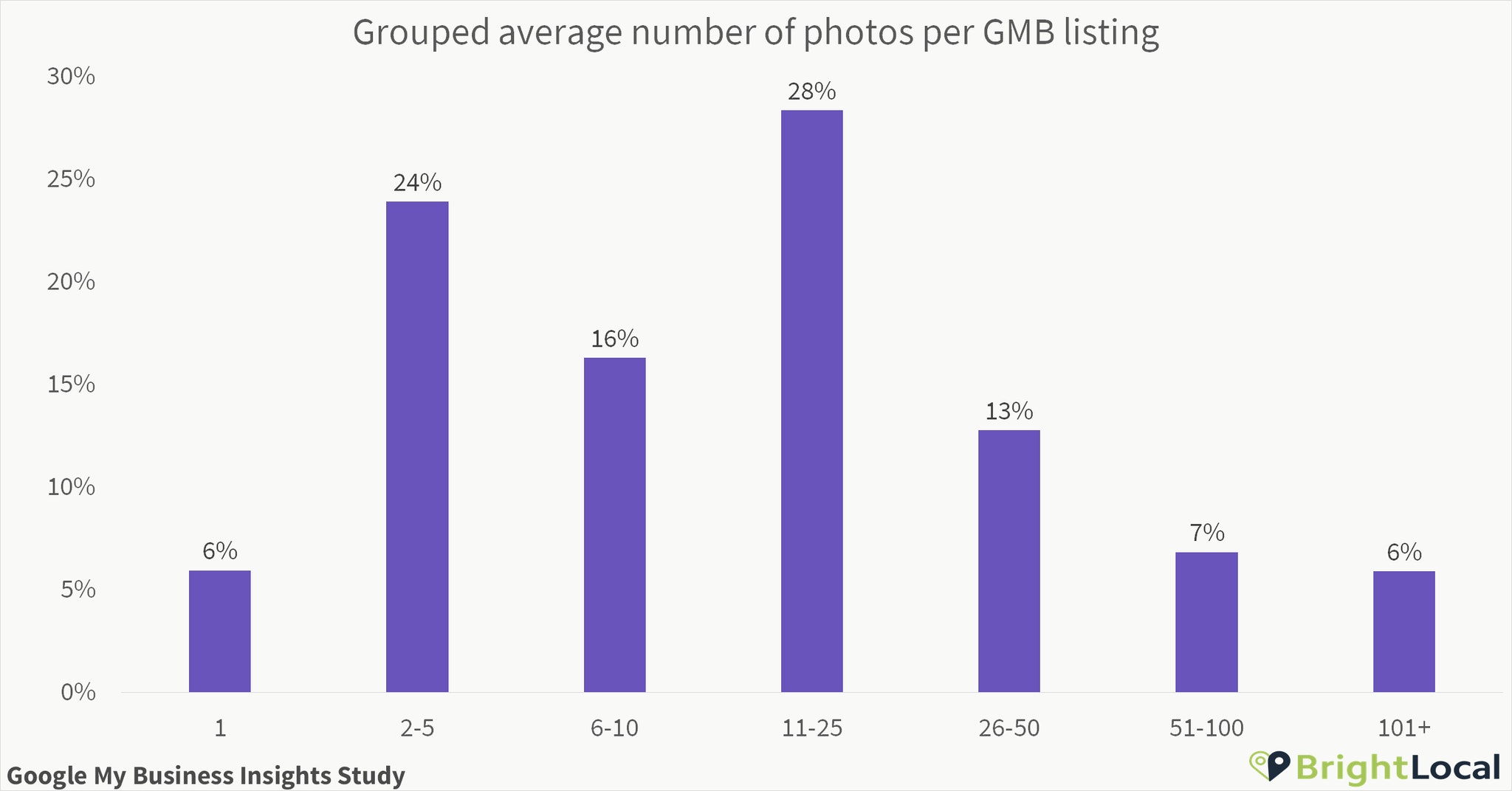 A study shows that small scale enterprises upload an average of 11 photos but there are plenty of businesses on GMB that have hundreds more. Also, don't forget to put up a logo or cover photo of your brand.
Google search results for your brand and keywords will display pictures and videos with the most views on the top.
When uploading photos, try to keep the file size between 10KB and 5MB and use PNG or JPG formats.
Here are the best Google My Business image sizes to use:
Profile image – 250 x 250 pixels
Cover photo – 1080 x 608 pixels
Shared images – 497 x 373 pixels
3. Add Information About Your Products/Services
Sometimes one of the best things you can do to promote your business is to show off what you do.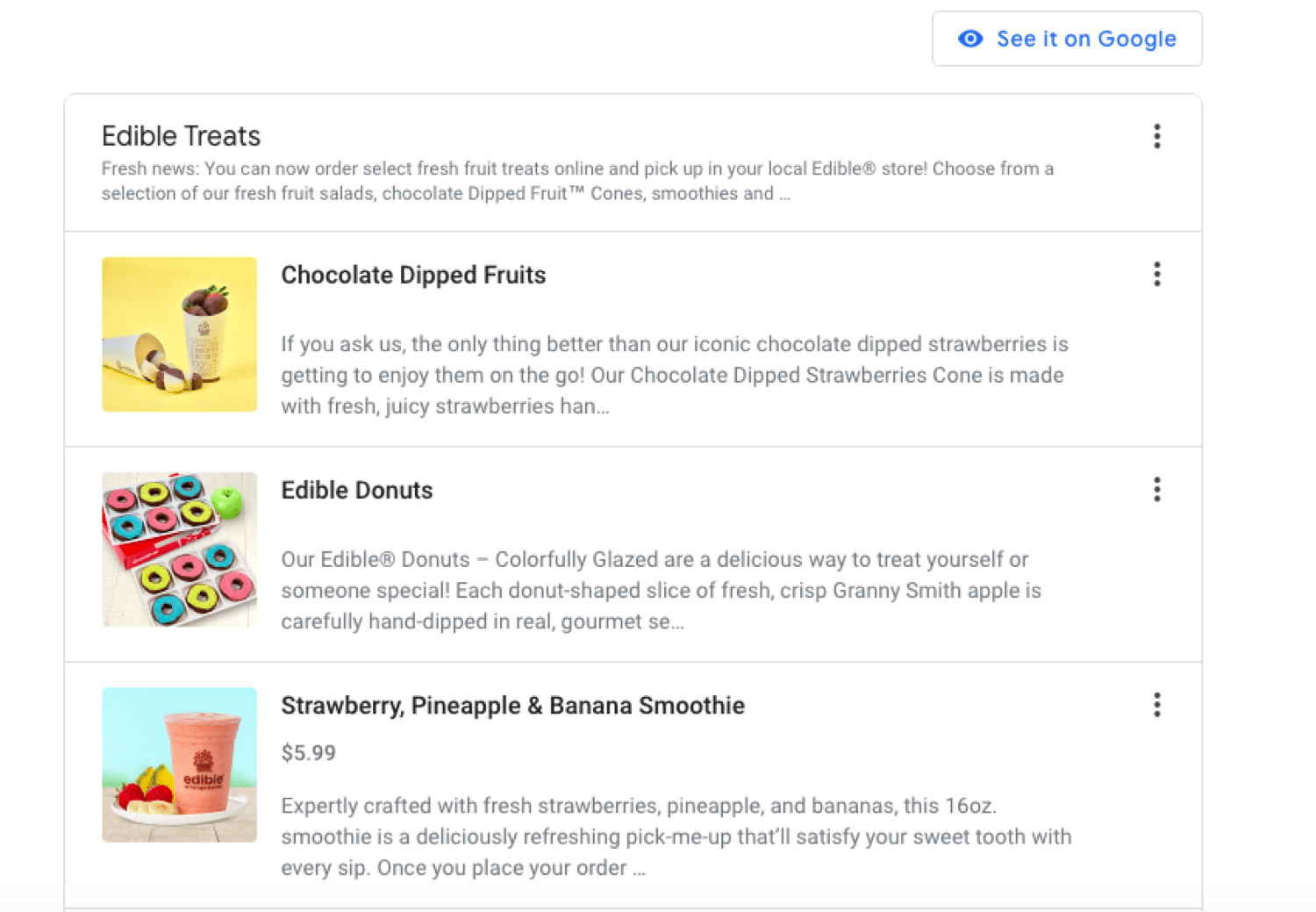 You can customize your company's GMB page by clearly mentioning the services you offer and the products you sell. This should help your customers understand what your business is about.
For example, restaurants can add links to their menus and pin their restaurant location.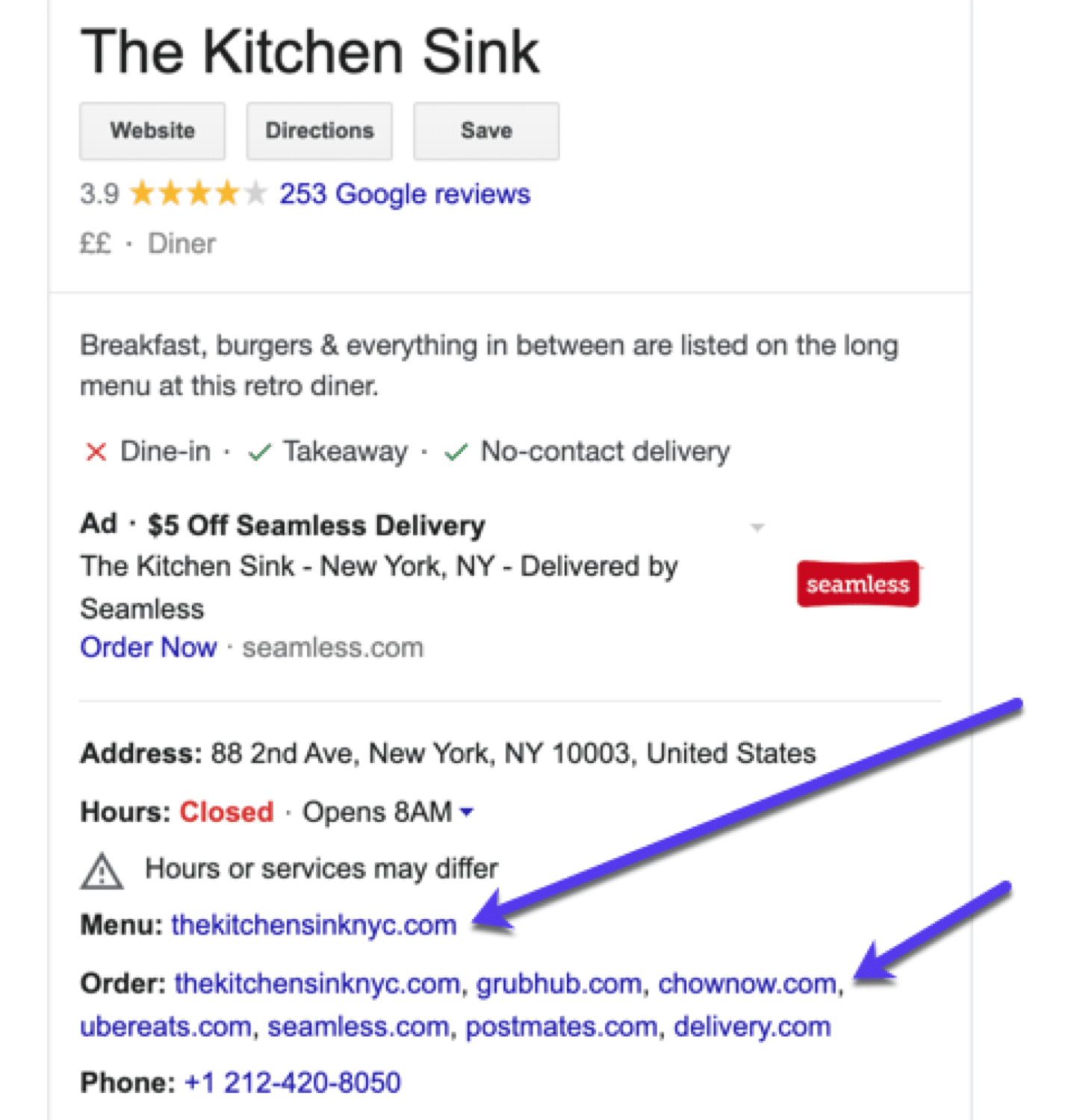 It is better to add different sections for a variety of food services available at the restaurant. In fact, you could add the descriptions and prices of everything to build a sort of virtual menu visitors can browse through take their pick.
Insurance companies, marketing agencies, online health consultancies, legal assistance firms, can put up different sections for the services they provide and provide the ability to directly book consultations.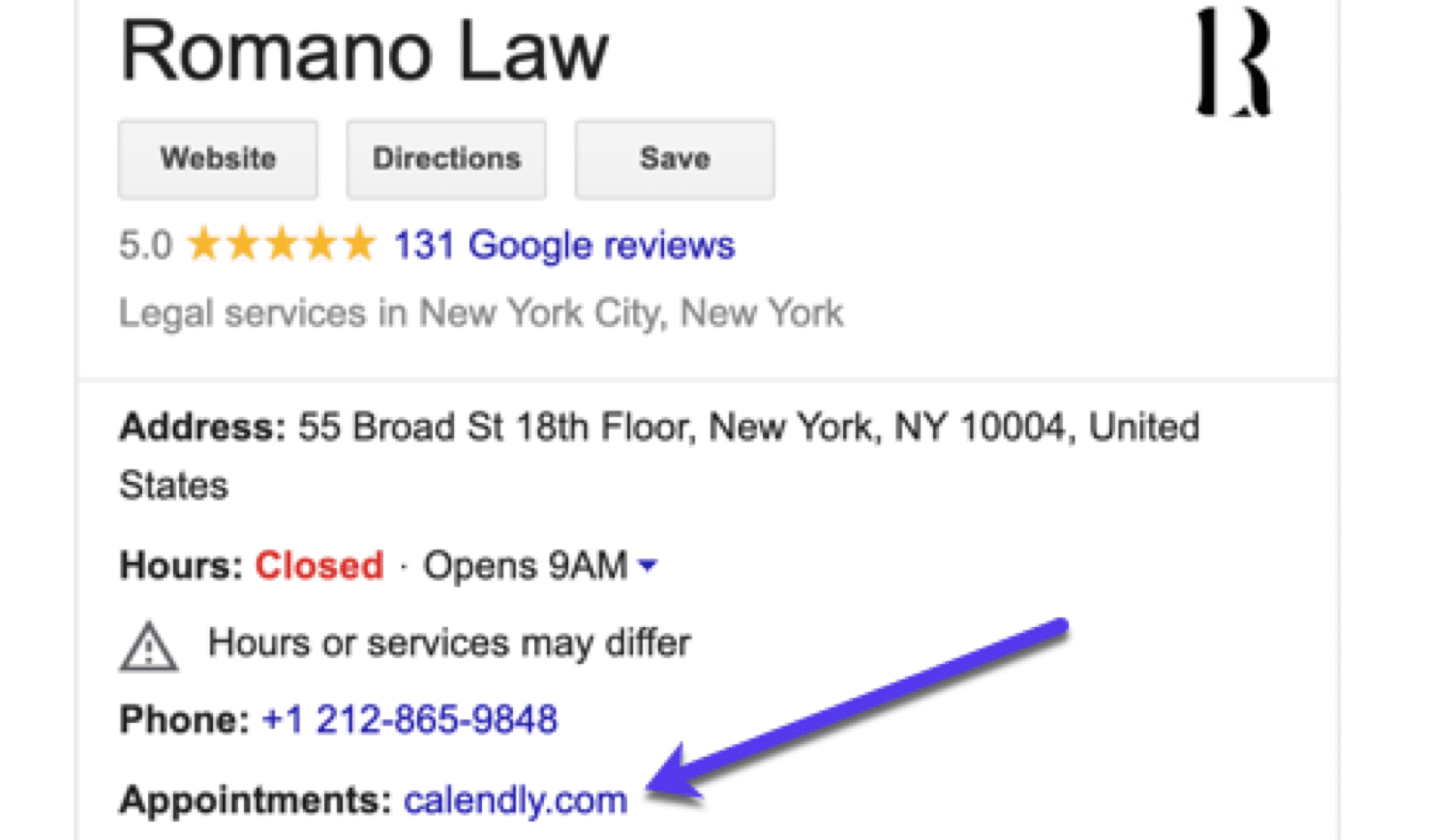 A description, along with the service charges, should be given to convince the customers to make a call.
Eliminate and relieve your customers from the need to wait in long queues and never-ending phone calls by using the "Reserve/Book" option.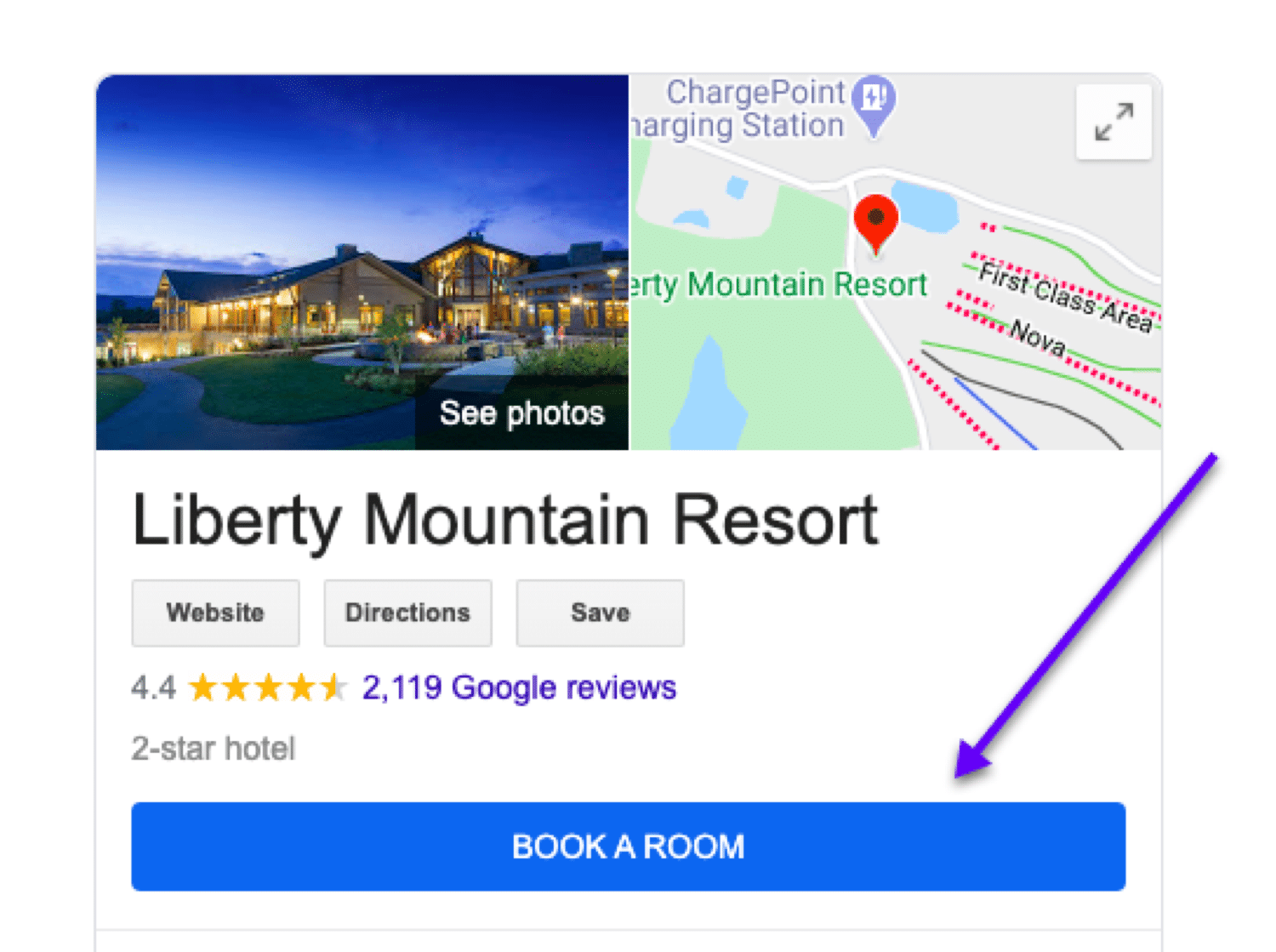 Anyone anywhere in the world can pay for tickets, book appointments, and reserve a spot at their favorite places.
4. Answer Questions (Before They Are Asked)
Did you know your Google My Business profile comes with a built-in FAQ tool?
Anticipate and clear any doubts people might have about your business. Create an FAQ section online to facilitate your customers. For instance, a potential customer might want to know the size or the age group a single product is suitable for.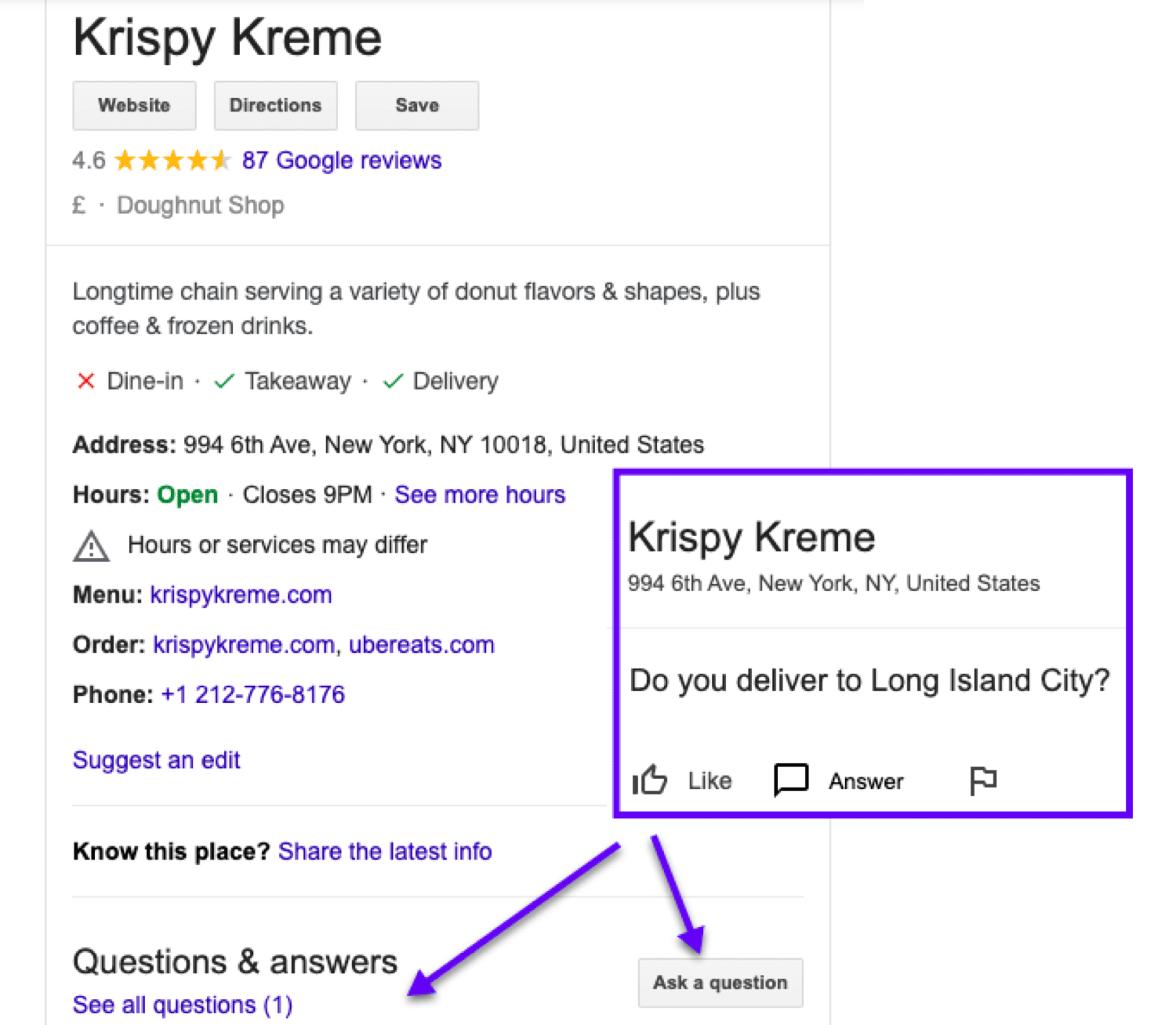 In the case of restaurants, a customer might want to check if the meal does not have any allergic ingredients added to it or the number of people it serves.
Likewise, in the case of service-oriented businesses, a person might check if a particular service is being provided in his/her area or if there are any side effects.
Clear these doubts and ambiguities through an FAQ section. If you want to go beyond this, you can also communicate with customers by turning on the messaging option!
5. Publish Google Posts
Want to win some clicks and potential sales? Take advantage of Google Posts: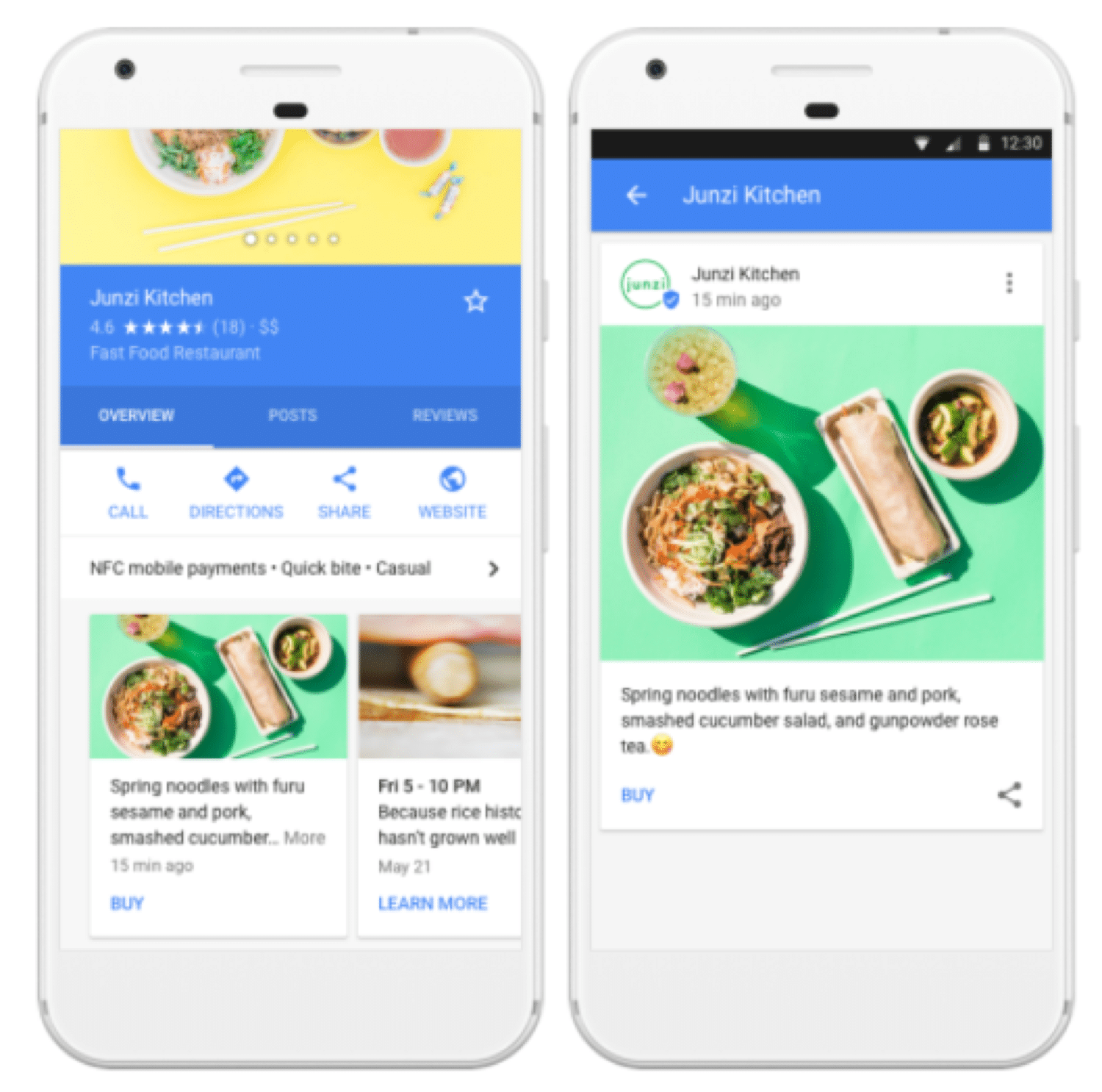 Google Posts are a great opportunity for you to connect directly to your potential customers by capturing their attention.
These posts help your local SEO strategy generate more organic clicks. You can include CTA buttons in your posts to encourage users to take action.
Here's how posts can help increase your local SEO:
6. Get Customer Reviews
Your customers are the lifeblood of your business. So make sure you value their comments and feedback reviews by responding to them well in time.
Google My Business makes it easy for customers to add reviews about your business to your profile, and for potential customers to read them.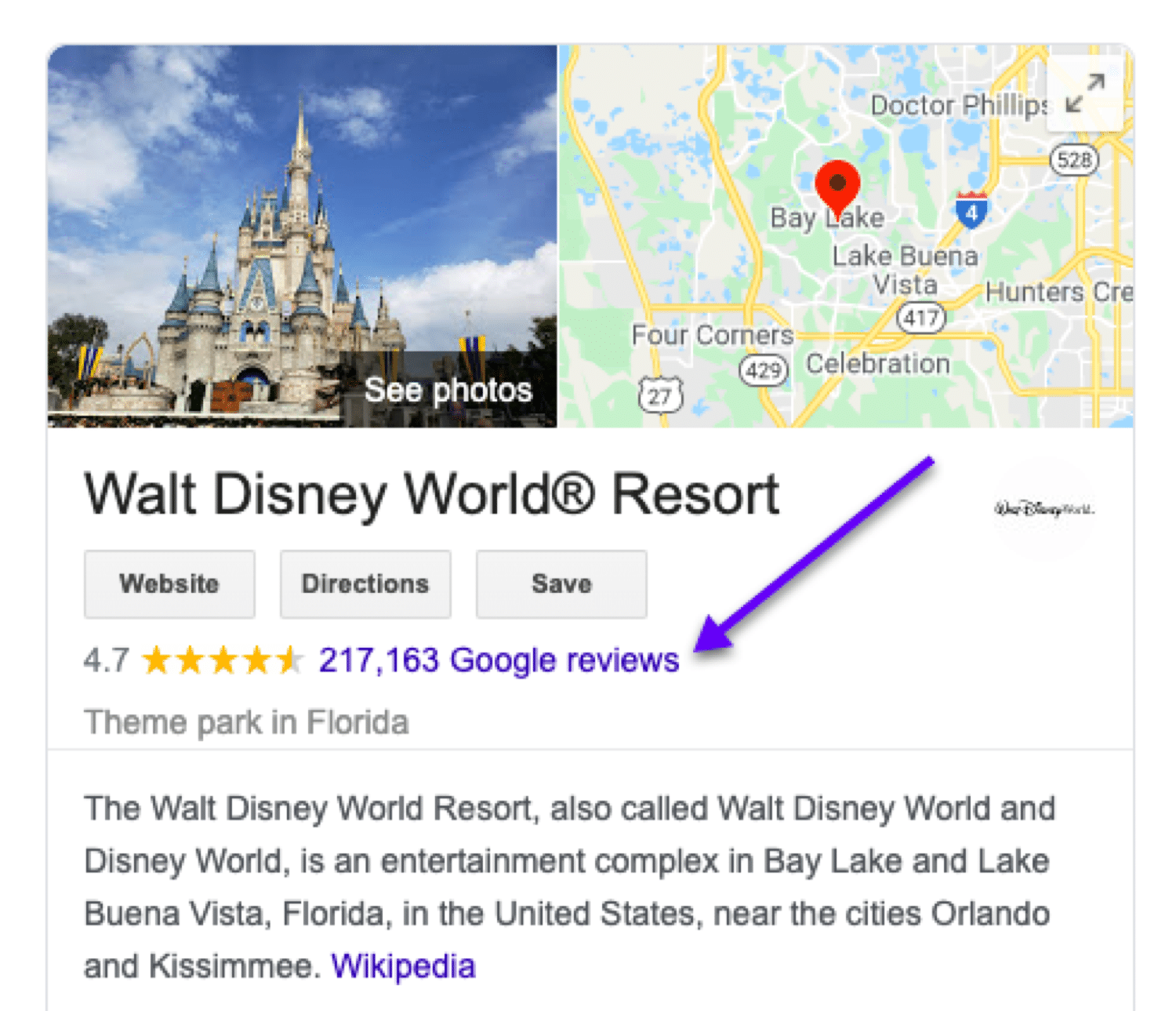 Why should you care about getting reviews on your Google My Business listing?
Well, for starters 82% of consumers read online reviews for local businesses.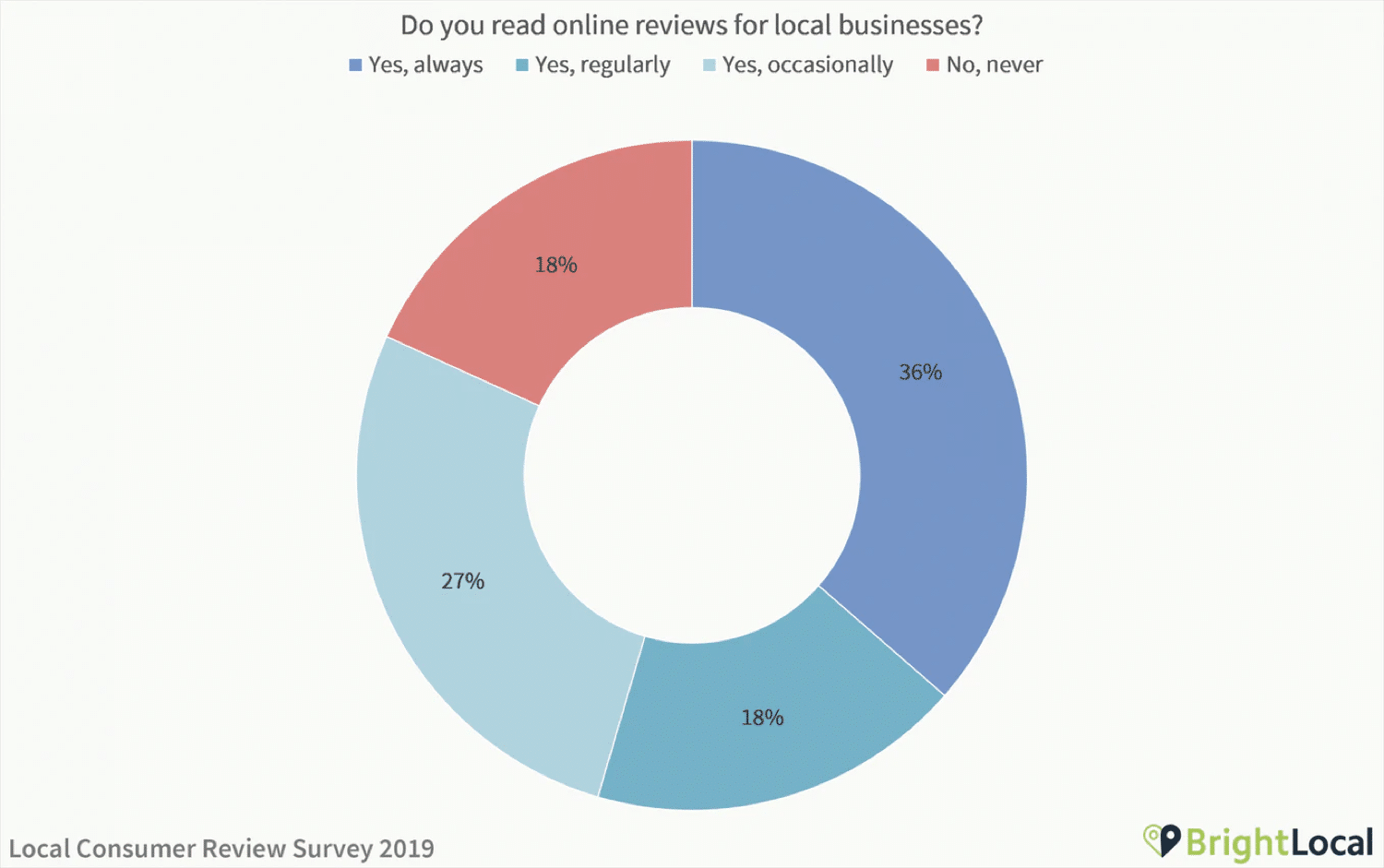 As well as highlighting the confidence and trust customers show towards your brand, Google reviews directly affect the search rankings.
Google My Business reviews are an opportunity for engaging more customers by giving out more information about your products or services.
Just be mindful of responding to any negative reviews.
It may seem counterintuitive (or you may want to just sweep bad reviews under the rug) but taking the time to respond to bad reviews can actually be more effective than ignoring them. It shows that you are engaging with your audience and care about the quality of your business.
And that's never a bad thing1
How to Get Help from Google My Business Support Team
Sometimes you may need some help with your GMB listing. You can always count on the Google My Business Help Community if you are facing any issues in operating your page.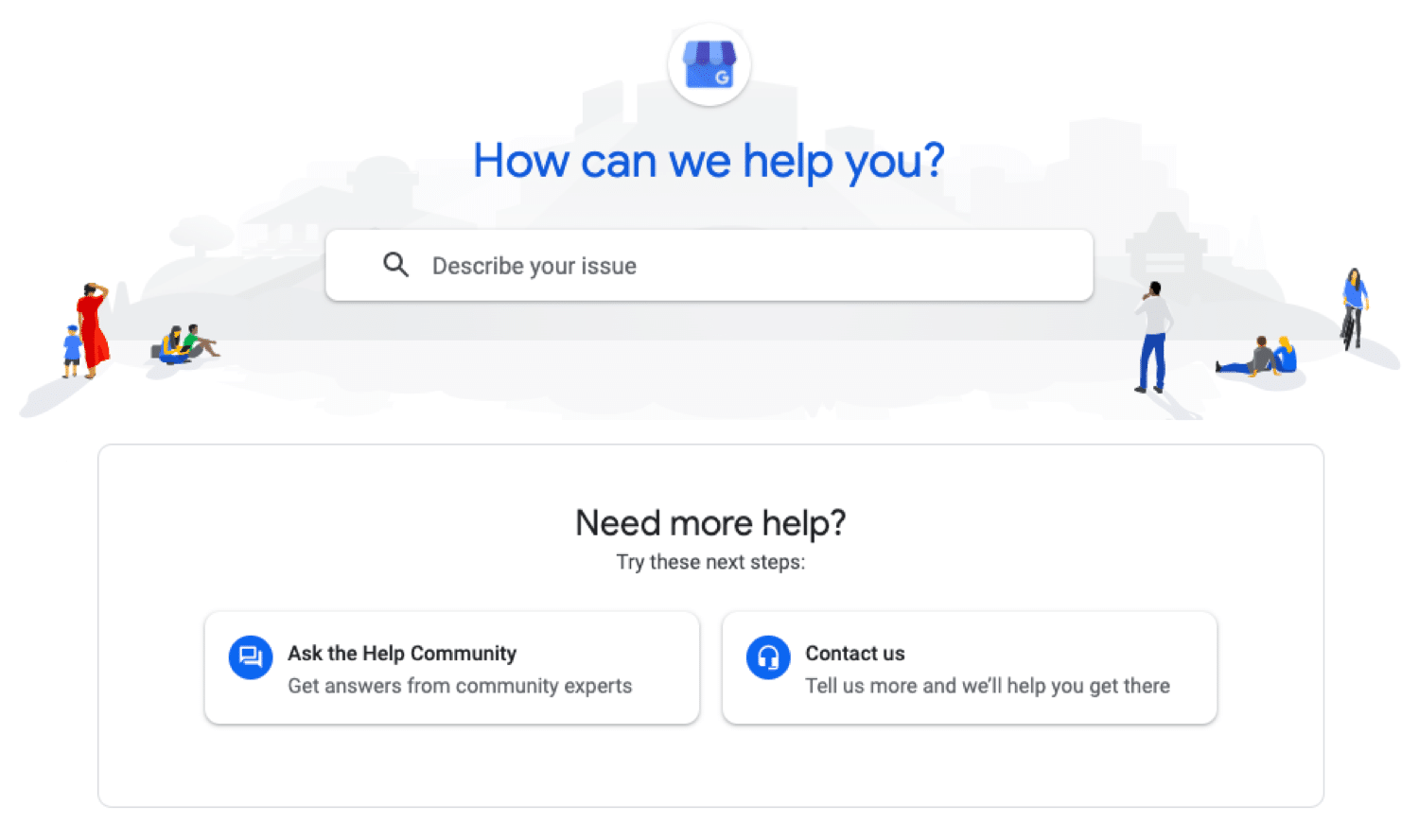 You can either search for a query in the GMB Knowledge Base or reach out to the volunteers and users for their assistance.
If you want to report fake listings or any fraudulent information, you can register a complaint with GMB using the official Business Redressal Complaint Form.
Likewise, in the case of fake customer reviews, you can raise the flag as "inappropriate" to ensure reliable and honest customer services.
Summary
When it comes to creating an online presence, generating leads and getting yourself noticed, having a Google My Business profile is just as crucial as other practices.
Not only does this give your brand a more professional outlook, but it also allows you to manage what you want customers to see and get your business listed on another Google's property at no cost.
---
Google My Business FAQs
This section answers some of the most frequently asked questions GMB users have:
What Is the Purpose of Google My Business?
Google My Business is a free-of-cost tool that businesses use to organize their presence online. Not only does this presence help people to find your website, but it also helps in locating your business through Google Maps.
Once you've completed the verification process of your company, you can add open hours, upload photos, and ask for reviews from customers. You can interact with your buyers online and ultimately expand your presence and enhance your entrepreneurial operations.
How Do I Use Google My Business? How to Get My Business On Google?
To get started, you must first create an account on GMB. Proceed to www.google.com/business and fill in the information. Upload your address, select the nature of your company, and tick the services you provide for your customers.
Get verified through postcards, phone, or email, and see your brand go live.
Does Google My Business Cost Money?
No, Google My Business is completely free for everyone. Just like anyone can list their business on Google Maps, you can create an account on GMB and get your business online. Moreover, Google also allows you to have several listings under the same account without any charges.
What Is Store Code In Google My Business?
Store code is a number that can only be viewed by the person managing the business. The code does not have much importance other than allowing Google to differentiate your business and uniquely identifying your location. Google also uses these codes to display inventory information to potential customers.
How to Stop Google From Calling My Business?
Google usually calls businesses listed on GMB for verification. Most of the time, these calls are automated recordings. They may want to confirm operating hours, ask about your services and your ads (if any).
To avoid getting calls from Google, you can report calls and register a complaint. You can also block their number or report it.
How Do I Access My Google Business Page?
All you need to do is go on to Google My Business page. Once you're there, log in with your credentials and Google will redirect you.
How to Hide Address On Google My Business?
To hide your address, log in to your Google My Business account. Click on the "info" tab and find the address section. Click on the little pencil on the corner to edit your address. To clear out the information, click "clear address," and then click "apply" when the dialogue box pops up. Make sure to save your changes when you're exiting the page.