10 WooCommerce Shortcodes To Improve Your Site
In collaboration with the WooCommerce experts at AnnexCore, get 10 WooCommerce shortcodes that will speed up your development workflow, facilitate standardization across your sites, and make all your sites easier to maintain in the long term.
Download for Free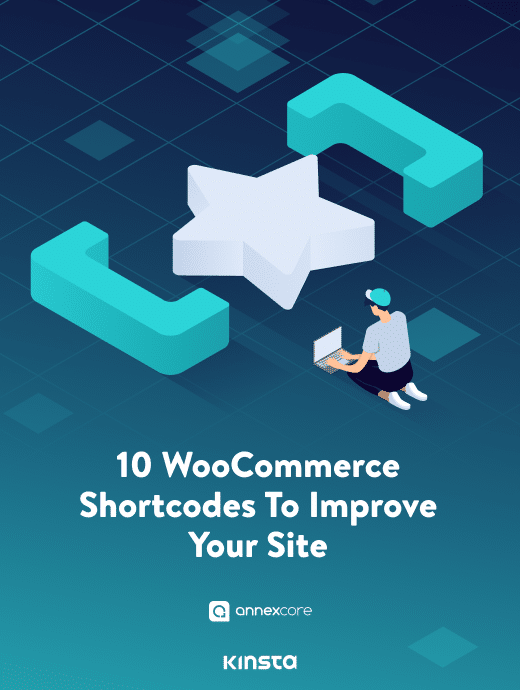 Sign up here to download the ebook
The holiday shopping season is upon us. Is your WooCommerce shop ready?
WooCommerce shortcodes are here to help. Shortcodes perform a particular function in a site with only a simple line of pseudocode. In fact, that's where their name comes from: Shortcodes = shortcut + code.
With them, you can do cool things with little effort as they eliminate the need for complicated scripts. 
Download this free ebook to immediately gain access to 10 of the top WooCommerce shortcodes as well as details on what they can do:
Products
Recent Products
Product Categories
Related Products
Add to Cart
Best-Selling Products
Cart
Top-Rated Products
Order Tracking
Checkout
Get started now!
About AnnexCore
AnnexCore is a Kinsta Agency Partner and a go-to agency for ambitious businesses using WooCommerce. They're all about the 10/10, "would recommend" customer service, and focus on providing the right solutions to help clients scale and stay ahead of the curve. They're also a member of Kinsta's Agency Directory, our trusted list of agency clients.

Turbocharge your business
About Kinsta
Kinsta is a premium managed WordPress hosting provider designed for enterprise level and high traffic sites. The first managed WordPress host to be exclusively powered by
Google Cloud Platform, with best in class performance and customer support.
Get started today
Fully managed
Security by Cloudflare
Free migrations
Ultimate speed
Daily backups
Google Cloud Platform