We want all of you to be successful with WordPress as a platform, whether you're a Kinsta client or not. Many of you run affiliate niche sites, high-traffic blogs, and manage large ecommerce (WooCommerce and EDD) stores. Regardless of what you're doing, WordPress probably plays a pivotal role in your income.
Figuring out additional ways to make money or increase your earnings is something that's probably always on your mind. 🤑 The frustrating part is many new strategies and approaches take time to test, and time is something a lot of you don't have.
Therefore, we decided to launch the Make Money with WordPress Facebook group focused entirely on how to increase your income with the best CMS on the planet! Learn affiliate marketing techniques and chat with others who have seen success and get applicable shortcuts to higher earnings.
Why You Should Join the Facebook Group
We'll be the first to admit that most Facebook groups are simply a waste of time. They are either full of spam or completely useless information. However, we can promise you that this one is different. Let's go over a few reasons why.
1. Chat with the Kinsta Marketing Team
First off, members of the Facebook group can chat directly with the Kinsta marketing team. Really! Ask the three of us (as seen below) anything you want.
While our expertise, of course, is in WordPress hosting, the three of us combined have decades of experience working with WordPress sites and blogs. Some of us run Amazon niche sites, Google AdSense-based blogs, flip websites, and even build/sell premium WordPress plugins.
Not only that, but we've also helped bootstrap Kinsta from $0 to 7-figures in revenue. So we would like to think, through trial and error, we know a thing or two about how to build a successful WordPress business; whether it be with a SaaS product, content marketing, or strategic advertising partnerships.
Take advantage of the things we have learned over the years to jumpstart your success.
2. Learn About Profitable WordPress Sites and Businesses for Sale
We are always on the lookout for new profitable WordPress sites (blogs, plugin shops, theme shops, etc) that are going up for sale on the market. You might be surprised at how many times some of the large sites you visit on a daily basis actually exchange hands behind the scenes. For some of you, these can be a great investment or perhaps an instant start to a full-time career in the WordPress industry that you've always wanted. Or maybe, you just want the content. 😏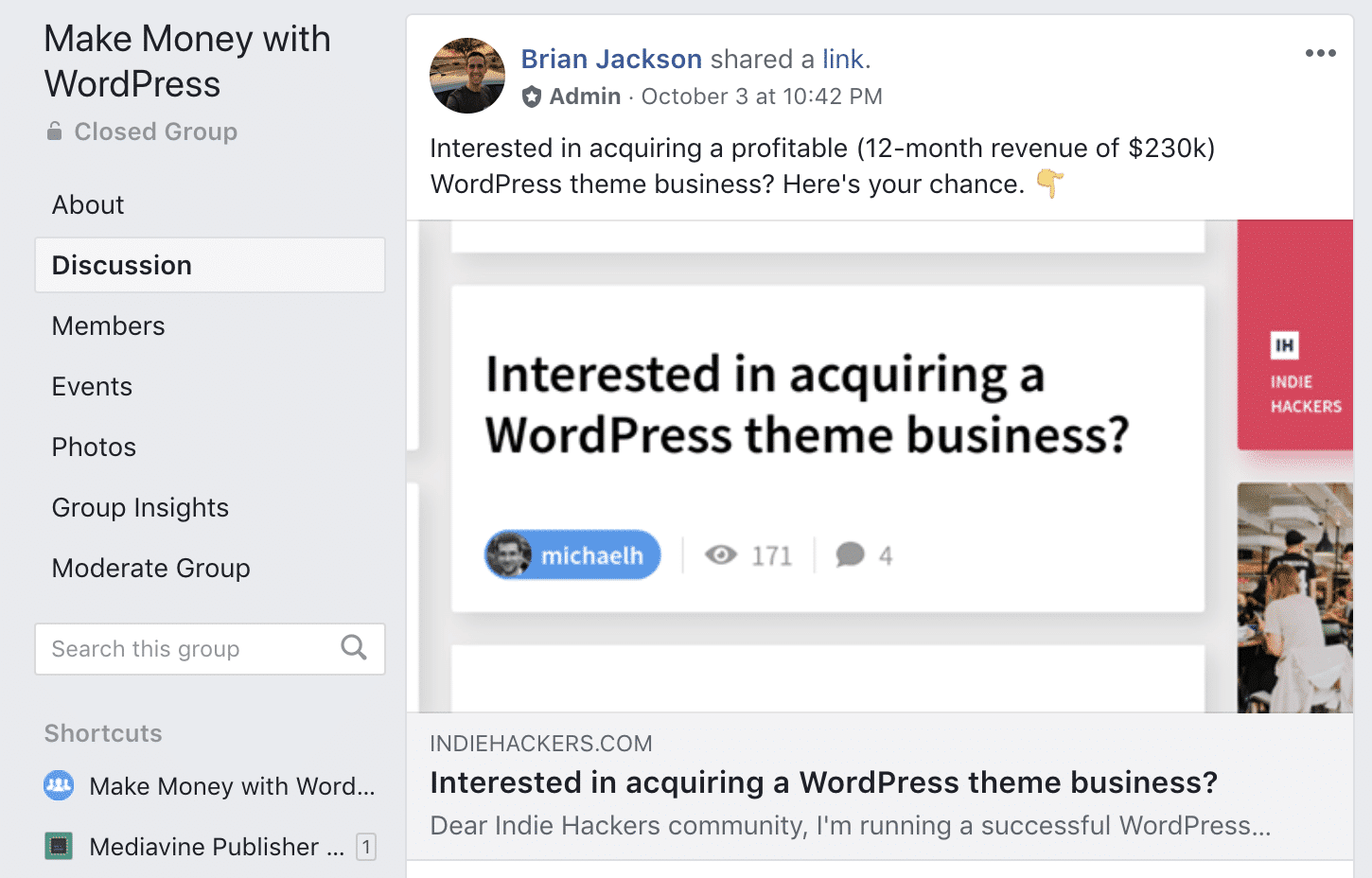 In the Facebook group, you can chat about a website's potential or how changes in traffic might impact what you should pay for it on Flippa.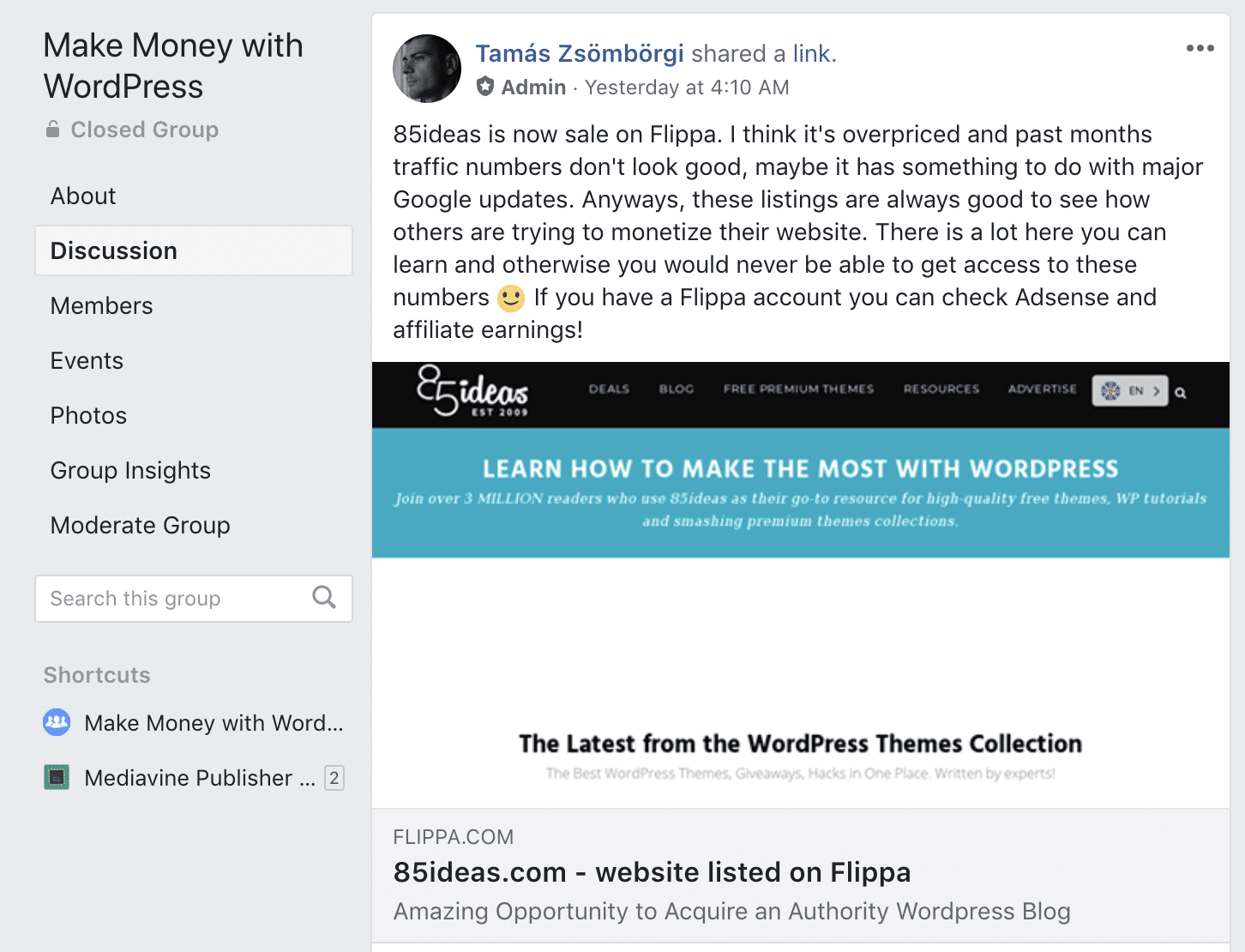 3. Discuss Strategies with Other Successful WordPress Bloggers
With over 250 new members in less than a month, there are a lot of great discussions already happening in the group. Many successful WordPress bloggers and business owners are sharing their own tips and strategies. Here are just a couple of the many topics you can expect to see in the group:
How can I increase my affiliate marketing income?
What are some good WordPress affiliate programs I should join?
I'm looking to jumpstart my affiliate career, where can I buy a WordPress business?
If my WordPress site only has a little traffic, what is the best thing to focus on to increase earnings?
How can I increase my Google AdSense earnings?
Are there better alternatives to Google AdSense?
What is better for an affiliate program: recurring commissions or one-time commissions?
What WordPress plugin is the best for redirecting and masking affiliate links?
How can I outsource content creating to ramp up affiliate earnings?
I'm selling my WordPress site, where should I sell it and for how much?
What type of traffic converts better?
Should I diversify affiliate programs or stick with one or two in a niche?
How are Ad Blockers impacting the affiliate industry?
What can I do to increase affiliate conversions?
Does my website's speed impact my earnings?
4. No Spam Guarantee
We can promise you that nobody hates spam more than we do! While we always encourage productive discussions that are on-topic, you never have to worry about spam in our Facebook group. Just like with our Kinsta blog, we want every member to walk away from the Facebook conversations having learned something. The best Facebook groups are those where members share applicable tips that everyone can apply to their own WordPress site.
Summary
Are you ready to join one of the best and fastest growing Facebook groups? Click here to join. We'd love to chat with you more about what is and isn't working when it comes to making money on your WordPress site. Don't be shy. Jump in on a conversation or ask a question to the group.
Have any thoughts? We would love to hear what you think about our new Facebook group or any suggestions on how we can help. And don't forget to check out Kinsta's affiliate program. You can earn up to $500 for every referral + 10% monthly recurring lifetime commissions.
---
Save time, costs and maximize site performance with:
Instant help from WordPress hosting experts, 24/7.
Cloudflare Enterprise integration.
Global audience reach with 35 data centers worldwide.
Optimization with our built-in Application Performance Monitoring.
All of that and much more, in one plan with no long-term contracts, assisted migrations, and a 30-day-money-back-guarantee. Check out our plans or talk to sales to find the plan that's right for you.