Wix appears to be an attractive and practical choice for small businesses due to its varied templates and intuitive interface. Users can create a Wix website quickly and effortlessly. However, as your business grows and limitations become apparent, it can be a good idea to gain more control and migrate your site from Wix to WordPress CMS.
If you're still on the fence about migrating, it can be helpful for you to know what type of market share both of these CMS platforms have globally.
The very first thing to do before migrating is to plan everything carefully. How big is your site? Do you need all your images and SEO settings (metadata)? You can also check out all the major differences between Wix and WordPress to get an even better understanding.
This post will guide you through what you need to do to successfully migrate your Wix site to WordPress using two different options.
Purchase Hosting and Domain Name
There are two critical items you have to consider and take care of before migrating your site from Wix to WordPress — purchasing hosting and buying a domain name.
When migrating from Wix, you will need to get hosting for your WordPress site; every site requires one. It stores all your website files and displays them to your site visitors. A WordPress hosting provider will also make sure that your website loads quickly and won't go down. On Wix, this is something they provided for you automatically behind the scenes, but you will need your own hosting space to migrate your Wix data into.
There are a considerable number of hosting providers available when it comes to WordPress. But if you liked not having to worry about maintenance at Wix, then managed WordPress hosting is the perfect fit for you. Managed WordPress hosting providers specialize only in WordPress and include updates, backups, security, and performance features. Typically they are slightly more expensive than other standard hosting providers but are worth it to keep your website fast and secure.
If you choose to go with Kinsta for hosting, the first thing you need to do after signing up is to create a fresh WordPress site. You can quickly do this with a few clicks within the MyKinsta dashboard.
You will also need to purchase a domain name to attach to your new website. You might already have a domain name, and if so, great, you can point your domain to Kinsta and start the process.
If you don't have a domain name yet, then you need to purchase one. There are several options to consider when figuring out how much you should pay for a domain name. When you have your name and hosting, then it is time to move forward with the transfer.
Ready to make the switch from Wix to WordPress? 👀 You're not alone. 😉 Learn how to do it seamlessly with this guide ⬇️Click to Tweet
Choosing and Customizing a Theme
Once you have successfully installed your WordPress site, you will be running the default theme, which is currently Twenty Twenty-One. However, it doesn't have to be this way. There is an extensive range of free and paid themes to choose from.
The simplest way to find and install a theme is right within your dashboard, under Appearance → Theme → Add New.
No matter which theme you choose, you may still want to customize it a little bit to get it looking the way you want. Nowadays, many themes come with options and customization panels that you can adjust easily according to your demands.
Option 1 – Import the Content from Wix to WordPress
Since Wix is a closed platform (not open source), there are no direct ways to transfer this CMS's content. However, it is possible to import the Wix RSS feed instead of recreating each post manually. First of all, you will need to download your website's RSS file. Follow the steps below:
Step 1
Add /feed.xml to the end of your Wix site URL to locate the RSS file.

It's important to note, though, that this approach only works for old Wix blogs. With their recent updates, there are no RSS feeds for new Wix blogs. If you're using a new Wix blog, skip down to option 2 to migrate your site.
Step 2
If you're using Chrome, you will see a page full of code. Right-click on that page and save the file on your computer. By default, it will be saved as feed.xml. If you're using another browser, such as Firefox, you will need to right-click and select View page source. Then save it to your computer.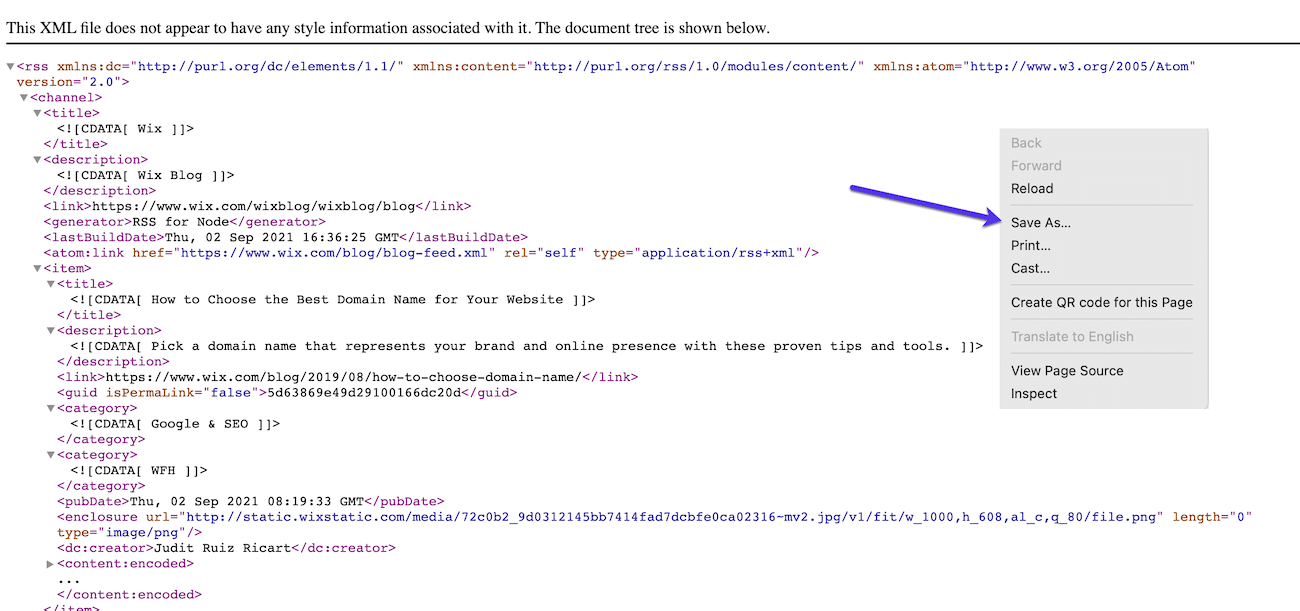 Step 3
Now go to your WordPress admin panel, Tools → Import. You will see the option to import RSS. Click the Run Importer button (Note: you might have to install it first).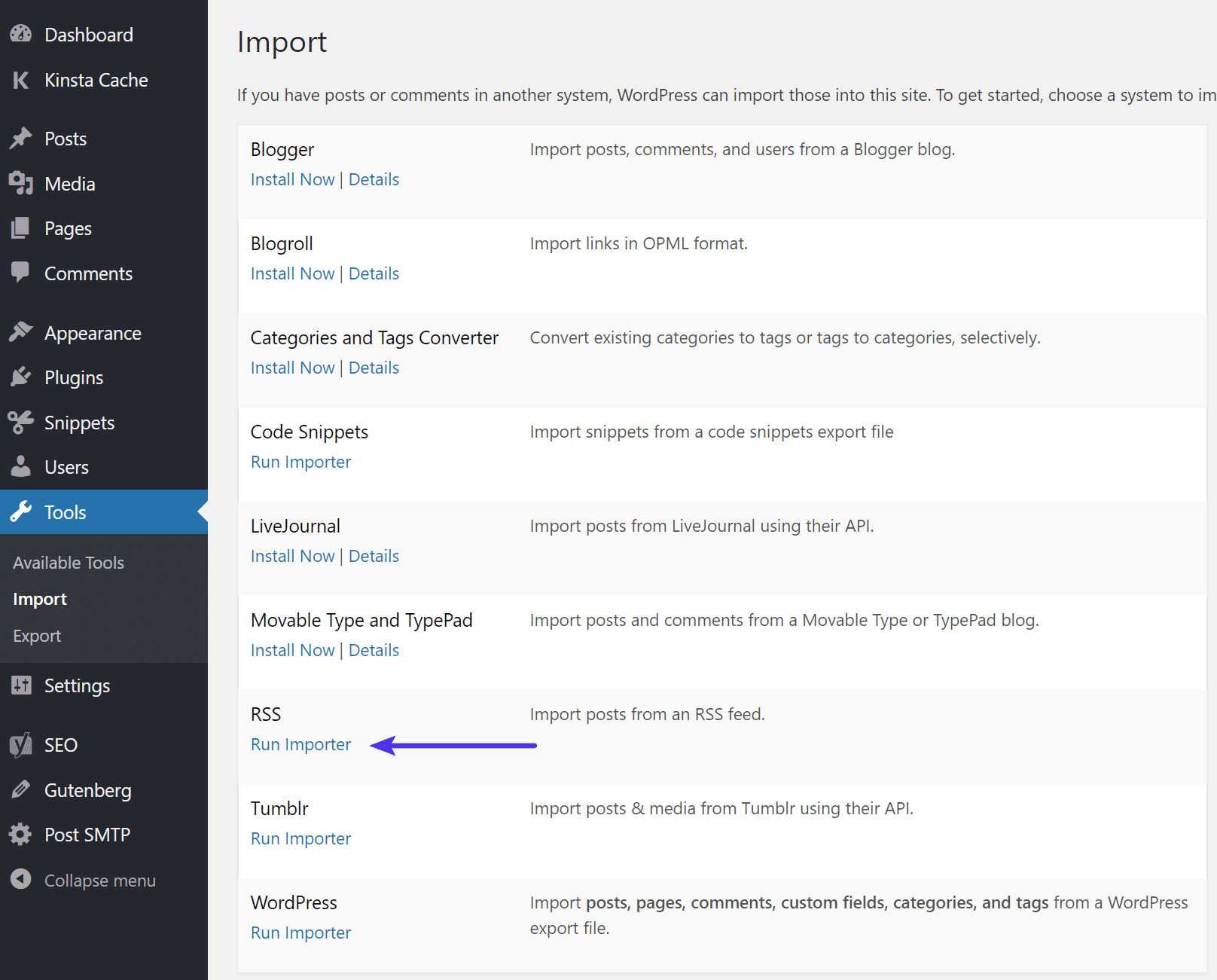 Step 4
Click the Choose File button and select the feed.xml file that you saved earlier. Then click the Upload file and import button.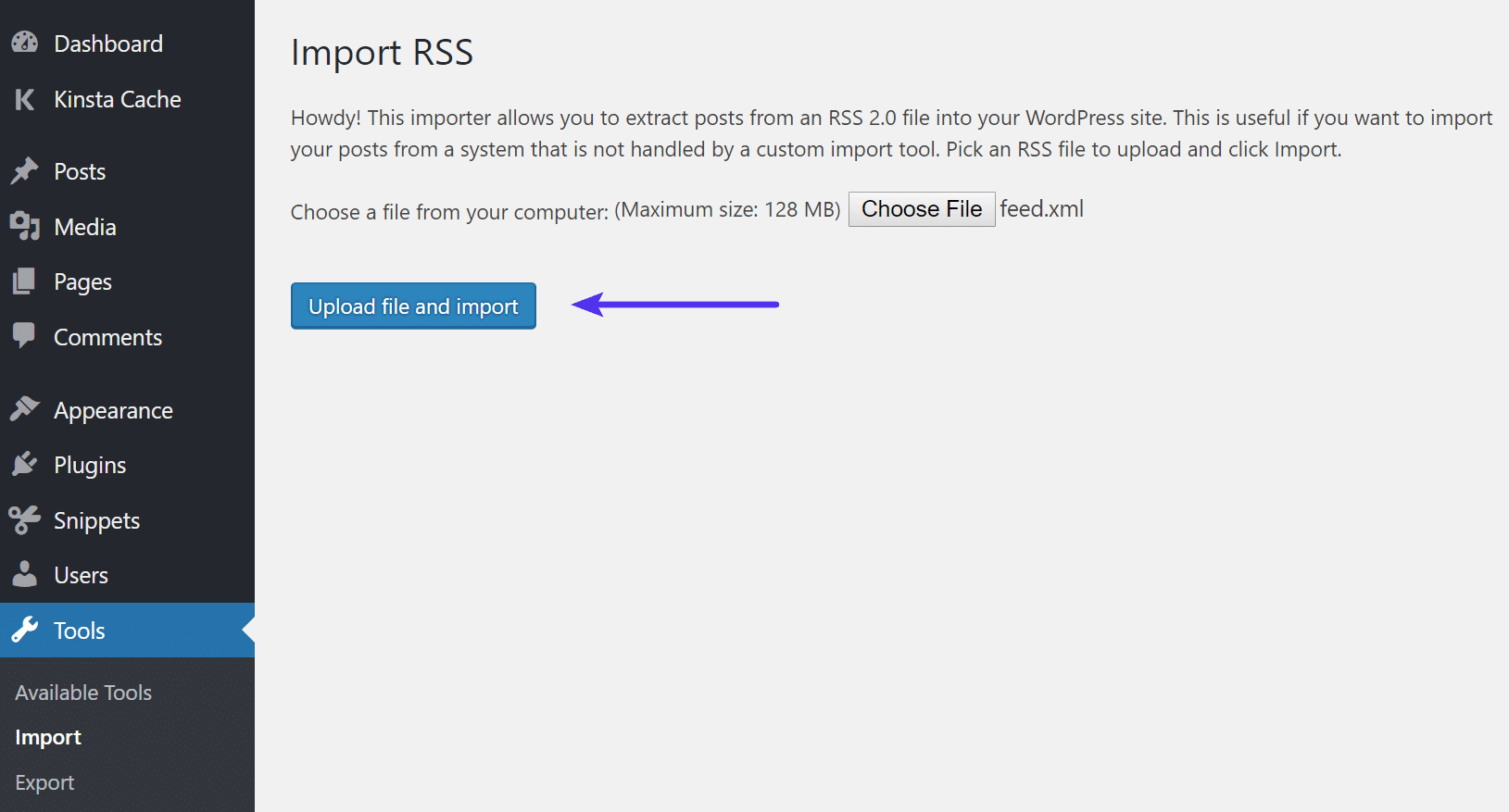 Step 5
You can check whether all posts have been exported properly by going to Posts → All Posts. Occasionally, your entire feed may not import appropriately on the first try. If this happens, simply edit your XML file and remove the posts that were imported successfully.
Even though your posts have been moved, the images in those posts are still hosted with Wix. To fix this, you have two options:
You can manually save all images on your computer and upload them to your Media Library in WordPress. You can upload them in bulk via FTP/SFTP.
You can install and activate the additional plugin Import External Images. After installing and activating the plugin, go to Media → Import Images and click the Import Images Now button.
Step 6
The last step is to move your Wix pages to WordPress. Unfortunately, there is no automatic way to do the transfer. So each page will have to be recreated in WordPress manually.
To do that, go to the Wix page you want to move to WordPress, copy all the content and create a new page with this content in WordPress Admin Dashboard → Pages → Add New menu. When you're done customizing the page, click the Publish button to make it go live on your WordPress site.
Option 2 – Use Kinsta's Partner, WordHerd
Don't have time to waste and need to make sure your WordPress site migration runs smoothly? Then we recommend checking out WordHerd. They are an official Kinsta partner and provide full-service website migration services to move data from any CMS (Wix) platform into WordPress.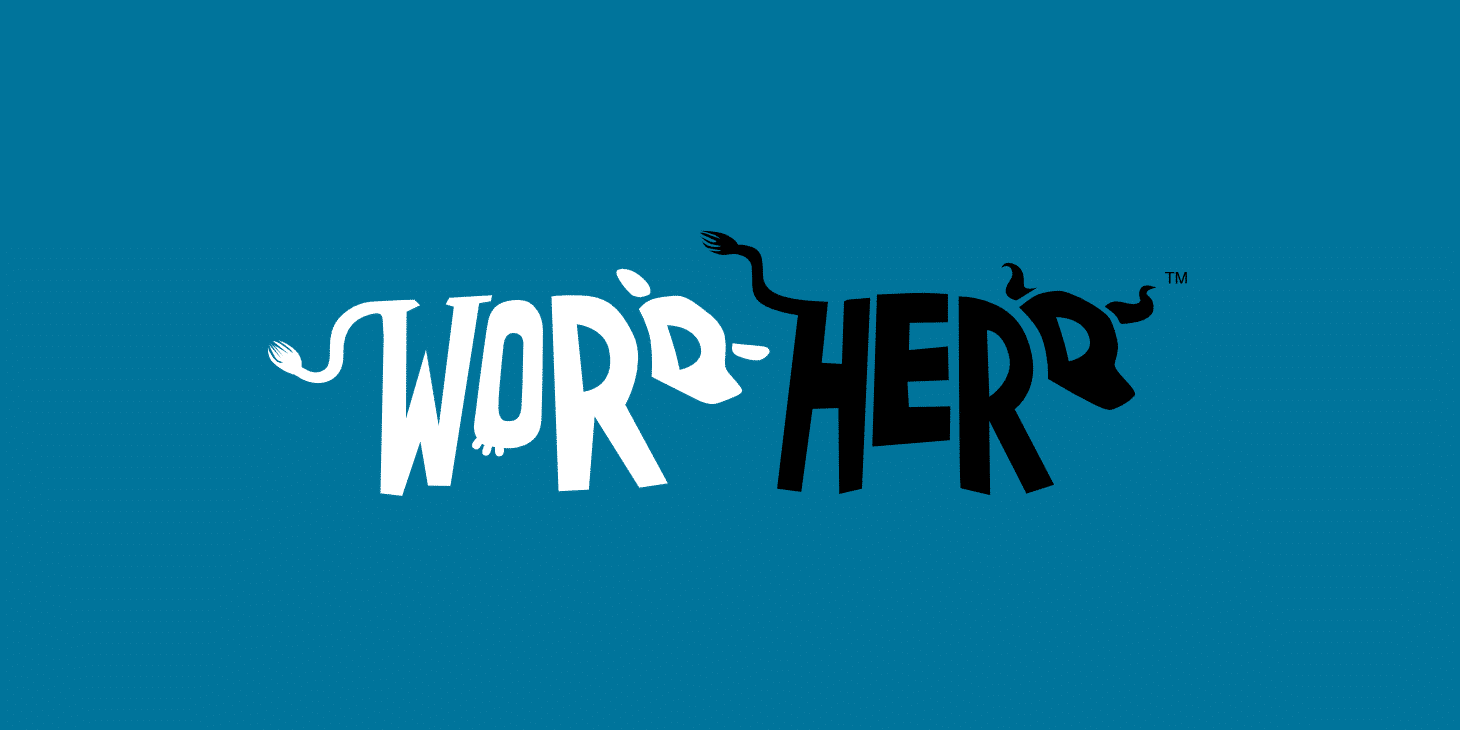 WordHerd handles migrations of all sizes, from small businesses to large enterprises. In addition to CMS migration, the WordHerd team is also well-versed in assisting with CRM data migration. Btw, if you want to know more about migration, make sure to check our list of the best WordPress migration plugins.
After Your Migration
After your Wix to WordPress migration, you will most likely need to update your new site further, especially if you're just starting to use WordPress. Here are a few recommendations and good places to start.
Website Security
It's always important to choose a secure WordPress host that offers additional features to protect your site. But even then, there are some best practices to harden your site further. Things such as changing your login URL, choosing a strong password, or even implementing a WAF solution such as Cloudflare and Sucuri can make a big difference. Check out this complete guide on WordPress security.
Choose a Fast, Solid Theme
WordPress has no shortage of themes. The key is to find one that is not only fast but also gives you the type of functionality you are looking for. There are WordPress themes for any niche, so you won't find a shortage of choices.
Conversely, if you are trying to build an ecommerce site, take a minute to look at some of the best WooCommerce themes available.
Website speed is handled on many levels. You must have a good idea of what to do and what steps to take to speed up your website. You can do this on a couple of levels.
So, whether you are a beginner to the world of WordPress website speed, or you're more seasoned and looking to take your WordPress website speed to the next level, there's a starting point for you to work with.
SEO
WordPress is great for SEO right out of the box. That's one reason people love it! However, just like with any platform, there are, of course, things you will want to do to help your site rank better.
Google Analytics
Implement Google Analytics on your WordPress site. This can help monitor your site's stats (traffic and conversions), track online performance, and analyze your visitors' behavior.
Extended Functionality
You will most likely need a few other plugins as well. That's probably one of the best things about WordPress — there are plugins for every possible function, both free and paid! However, that can also make it a challenge to find the right one. You want to take a deep dive into the best social media plugins, contact form plugins, CRM plugins, and other helpful performance plugins.
Make sure to check out the reviews of plugins on the repository and how recent they were updated. If you want to start an ecommerce store, we recommend WooCommerce or Easy Digital Downloads.
There comes a time when Wix is no longer the practical choice for your growing business. 📈 And when that day comes, WordPress is ready to step in. 😌 Learn how to make the switch here ⬇️Click to Tweet
Summary
Migrating from Wix to WordPress can be rather a complicated process, but it's worth it as you'll have much more control of your data and be able to extend your site however you want.
We hope this migration guide will come in handy for those of you making the transition.
Have you recently migrated from Wix to WordPress? We would love to hear your thoughts and opinions below.