Website performance optimization, the focal point of technologically superior website designs is the primary factor dictating success for modern online businesses. After all, unimpressive website performance kills a businesses' bottom line when the torture of waiting for slow Web pages to load frustrates visitors into seeking alternatives – impatience is a digital virtue!
And speed sells!
We created the following six chapter in-depth speed optimization guide to show you how important it is to have a fast loading, snappy website! Countless research papers and benchmarks prove that optimizing your sites' speed is one of the most affordable and highest ROI providing investments!
In the following guide, we'll try to explain the technical details while at the same time provide you with easy to follow instructions that you can start implementing right away! We hope you'll find it valuable and perhaps share-worthy! 😄
Lightning-fast page load speed amplifies visitor engagement, retention, and boosts sales. Instantaneous website response leads to higher conversion rates, and every 1 second delay in page load decreases customer satisfaction by 16 percent, page views by 11 percent and conversion rates by 7 percent according to a recent Aberdeen Group research.
Highlighting the Key Aspects of Website Speed Optimization:
Chapter 1: Introduction to Website Speed Optimization
What Exactly is Page Speed?
The term page speed essentially refers to the length of time at which web pages or media content is downloaded from website hosting servers and displayed onto the requesting web browser. Page load time is the duration between clicking the link and displaying the entire content from the web page on the requesting browser.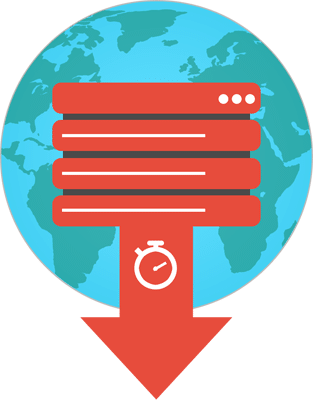 There are three core aspects necessary to understand page speed in the context of user experience and website performance:
The view of time taken in delivering the requested material along with the accompanying HTML content to the browser.
Browser response to page load requests.
The view of end-users as the requested web page renders on the browser – this is the ultimate empirical measure of page load speed.
Website performance subsequently impacts rankings in search engines developed under proprietary and undisclosed algorithms, incorporating key factors including page speed, user experience, website responsiveness and a whole lot of other website performance metrics.
The absolute critical principle in maximizing website performance is to focus on page speed optimization from the ground up. Performance optimization plugins, server-side scripts, and final tweaks have minimal – however noticeable – impact on page speed and load times. Yet, Web developers and online business owners tend to overlook page load times in their website development and design strategies.
Slow? How Slow?
Anything slower than the blink of an eye – 400 milliseconds. Engineers at Google have discovered that the barely perceptible page load time 0.4 seconds is long enough to cause users to search less.
The technology has come a long way in improving internet experience. The over-crowded cyberworld of the 1990s was often labeled as the World Wide Wait, but innovations in communication and networking technologies have revolutionized the way digital information is transmitted across the internet. The next generation of online businesses have all the resources they need to deliver content instantaneously, but to leverage and complement these resources, businesses need speed-optimized websites that deliver the best user experience.
Microsoft speed specialist and computer scientist Harry Shum believes 0.25 seconds of difference in page load time – faster or slower – is the magic number dictating competitive advantages for online businesses.
And what happens when they don't?
1 in 4 visitors would abandon the website if it takes more than 4 seconds to load. 46 percent of users don't revisit poorly performing websites. Website owners have a mere 5 seconds to engage visitors before they consider leaving. 74 percent of users accessing the mobile site would leave if it takes longer than 5 seconds to load. Every one-second delay in page load time could lead to $1.6 billion in annual losses for online merchants as big as Amazon.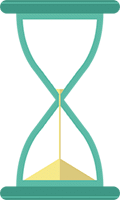 47 percent of ecommerce customers expect page load times of less than two seconds before they consider leaving – 40 percent of users would abandon the site at the third second of waiting, before a performance analytics tool even captures their presence on the site. The average peak load time for conversions is mere 2 seconds – faster than millions of websites out there.
And what happens when they speed up?
When Mozilla increased page speed by 2.2 seconds, Firefox download figures rose by 15.4 percent or 10 million per year! Walmart saw a 2 percent increase in conversion rates for every 1 second improvement in page load times. The numbers don't lie!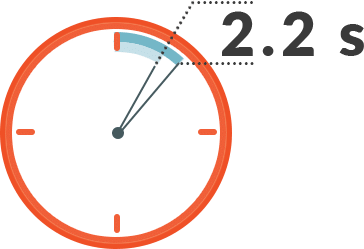 Acceptable Website Performance – The Neuroscience and Rhythm
100 milliseconds. That's how long the Occipital lobe in our brain stores visual information as a Sensory memory.
Google researchers suggest page load times of less than 100 milliseconds give visitors the illusion of instantaneous website response as the visual Sensory memory processor in our brain works in bursts of 100 milliseconds. The memory store clears itself after 0.1 seconds as photoreceptor cells in the eyes transmit more information to the Occipital lobe.
1 second of page load time does suffice in maintaining a seamless flow of thought – users feel in control of their Web browsing activities, and the mental stress is not aggravated unless the website fails to respond as desired.
At 10 seconds of delay, visitor attention is barely kept. The sensation of impatience, frustration, and feeling of abandonment is usually strong enough to keep visitors from revisiting such slow websites again.
The Pragmatic Psychological Conundrum
However, abandoning a website due to slow page speed is not always the quickest path to access the desired information on the web. An average user would spend several extra minutes browsing fast-responding but irrelevant websites, instead of waiting a few more seconds for sluggish relevant websites to respond.
And considering the sea of resources on the web, users eventually find the required information on some website or the other. But the eventual losers are online businesses unable to reach their online customers fast enough, despite hosting the exact information and services being sought.
Strange enough, visitors would rather spend excessive time browsing for the information elsewhere than waiting a few seconds for the right website to load. The experience is similar to the Houston airport incident from a few years back that led to a clever solution.

Passengers at the airport had to take a 1-minute walk to the baggage claim and waited there for 7 minutes to receive their bags. The customer relations center was ultimately inundated with complaints about the slow service.
So the airport executives came up with a cunning solution to "resolve' the issue. They moved the arrival gates far away and routed the luggage to the outermost carousel.
Passengers now had to take a 6-minute walk to the baggage claim area where they received their luggage within 2 minutes. The result? Zero complaints. Absolutely no passenger left unsatisfied – except with some tired legs.
Similarly, elevators contain mirrors so the passengers keep busy in styling themselves and not thinking about the time spent traveling. This passenger behavior is analogous to that of website visitors in the cyber world. And the same general principle applies for online businesses as well: It is the objective length of wait that defines the experience of waiting.
Now, online businesses can play with human psychology like the Houston airport executives and speed up evolution, but with virtually no specific formula to make website response times bearable for every individual visitor out there. Or they can actually reduce the objective length of wait in delivering the requested content to their online visitors with a fast responding website – whichever is possible when the website is designed to deliver instantaneous response and high quality, seamless user experience.
This guide will focus on the latter practice, and will actually help you maximize the potential of your online business by optimizing website performance and thereby enhancing customer satisfaction, retention, and loyalty.
Core Components of the guide include: