Stripe Revenue and Market Share in 2023
Stripe is a payment processor launched in 2010 for online transactions. The company is one of the highest-valued privately owned businesses in the US.
Stripe offers a highly customizable API as well as pre-built checkout pages, which can be used to take payment from customers. It provides additional features like fraud prevention and recurring billing.
In this article, we'll look at the statistics around Stripe and what makes it an exciting young company.
Stripe Revenue Up 60% in 2021
Stripe revenue has seen steady increases year on year. The company makes its money from taking a cut of transactions, 2.9% + $0.30 per successful charge for most cards. It also charges extra for international transactions and currency conversions. Its fees are lower than its main competitor PayPal.
The company experienced a significant increase in revenue in 2020 and 2021 as a result of the pandemic. With more people shopping online and using contactless payments, Stripe's revenue grew by 60% in 2021.
In previous years its revenue was:
2016: $450 million in revenue
2017: $1 billion in revenue
2018: $1.5 billion in revenue
2019: $2 billion in revenue
2020: $7.4 billion in revenue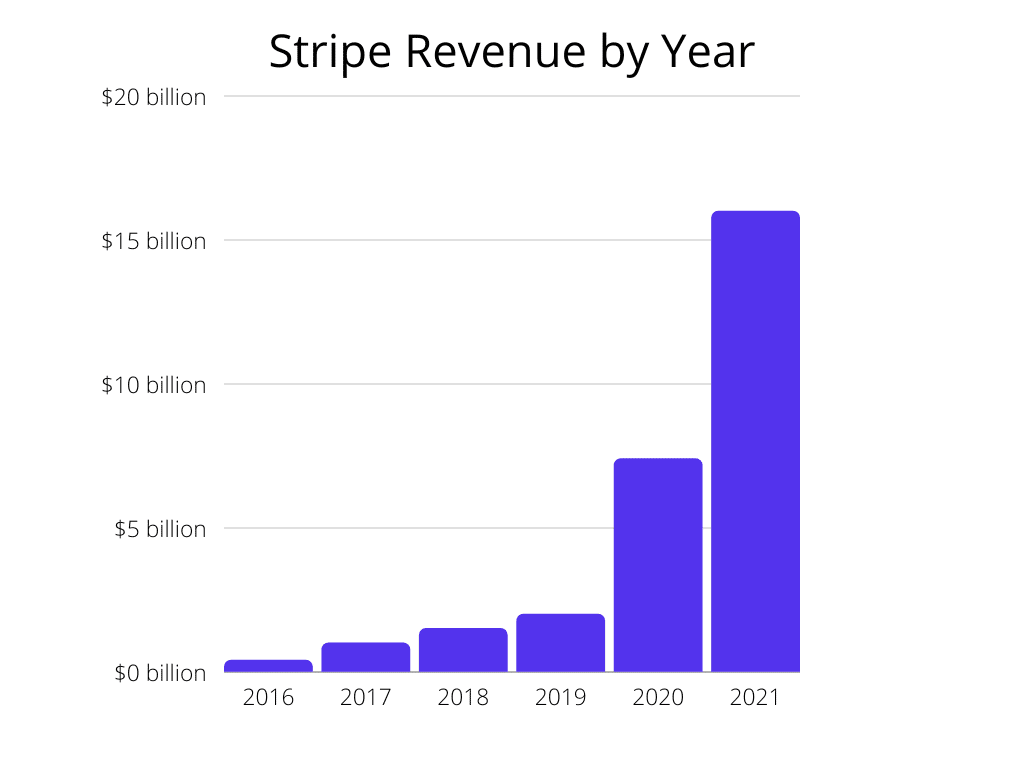 Stripe's growth can also be attributed to the success of its product and the company's focus on providing a developer-friendly service. The founders of Stripe are not expecting the growth to be as significant in 2022. They believe that the past two years resulted from a one-time behavior growth brought on by the pandemic.
As lockdown restrictions have been eased and countries have returned to some sense of normality, the growth in ecommerce will likely slow down. This doesn't mean that Stripe won't continue to grow, but rather that the company is realistically expecting more modest growth in the coming year.
Stripe's Growth Exploded Due to the Pandemic
The pandemic caused shoppers and merchants to flock online, which gave Stripe a significant boost. A record number of businesses choose Stripe as their online gateway, with an average of 1,400 companies joining them every day in 2021. Growth is expected to slow in 2022 as the pandemic recedes and life returns to normal.
Stripe's future is still bright, as 60% of all new startups are choosing its services instead of its competitors. The company also provides premium features, such as subscription billing and invoicing, which helps it increase its revenue.
The entire payment processing industry is forecast to grow to $147.4 billion by 2027. This is a compound annual growth rate (CAGR) of 10.1%. Stripe is expected to maintain its position as one of the leading providers in the industry.
One area that Stripe is focusing on is the creator economy which it sees as a key area of growth. The company has made a number of acquisitions in this space, including Indie Hackers, a platform connecting entrepreneurs with experienced mentors. Looking to the future, Stripe plans to help creators monetize their work and build sustainable businesses.
Stripe Features and Products
Stripe has a number of features and products available for its merchants. Some features are available for free, while others may come at an additional cost. Stripe can be integrated with a wide range of website builders and storefronts, including WordPress.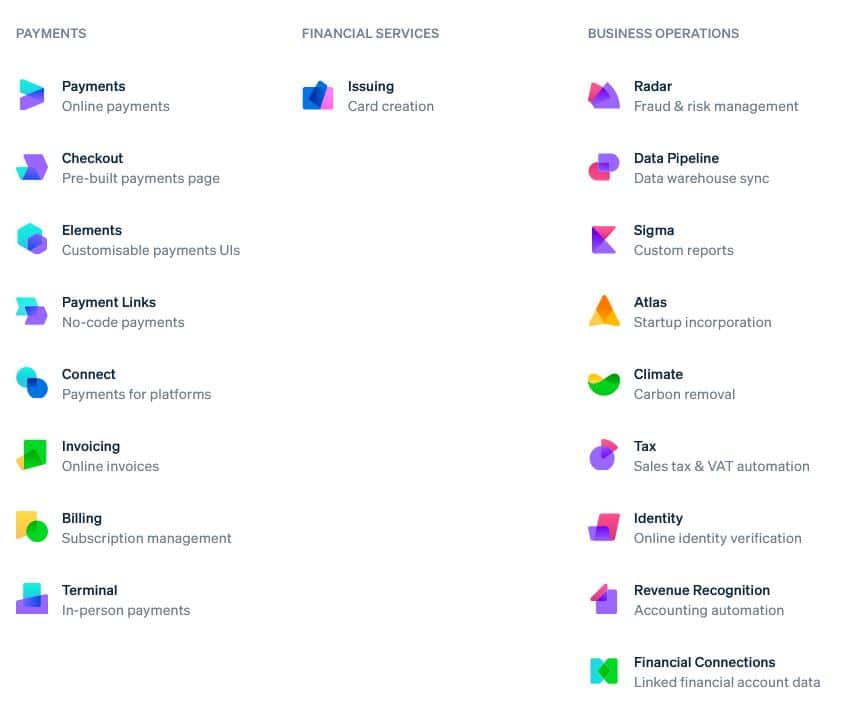 Stripe Invoicing: With this product, you can send professional invoices from your Stripe account and get paid.
Stripe Payment Links: Payment links let you send a payment request via email, SMS, or chat.
Stripe Connect: With Stripe Connect, you can accept payments from anyone worldwide.
Stripe Checkout: Stripe Checkout allows you to install pre-built checkout pages on your website, removing the need for a developer.
Stripe Radar: Radar is a fraud prevention tool that uses machine learning to stop fraudulent payments before they happen.
Stripe Atlas: Atlas helps you incorporate your business and open a US bank account.
Stripe Sigma: Sigma is a reporting tool that lets you create custom reports and dashboards.
Stripe Billing: Billing allows you to automate your recurring payments.
Stripe Terminal: Terminal lets you accept in-person payments with a card reader.
Developers can also take advantage of Stripe's robust API to create custom integrations.
Stripe's Payment Methods
Stripe offers a range of payment methods to suit businesses of all sizes. The company supports all major credit and debit cards and popular alternative payment methods, such as Apple Pay and Google Pay. Stripe also offers ACH direct debits for US customers and SEPA direct debits for European customers.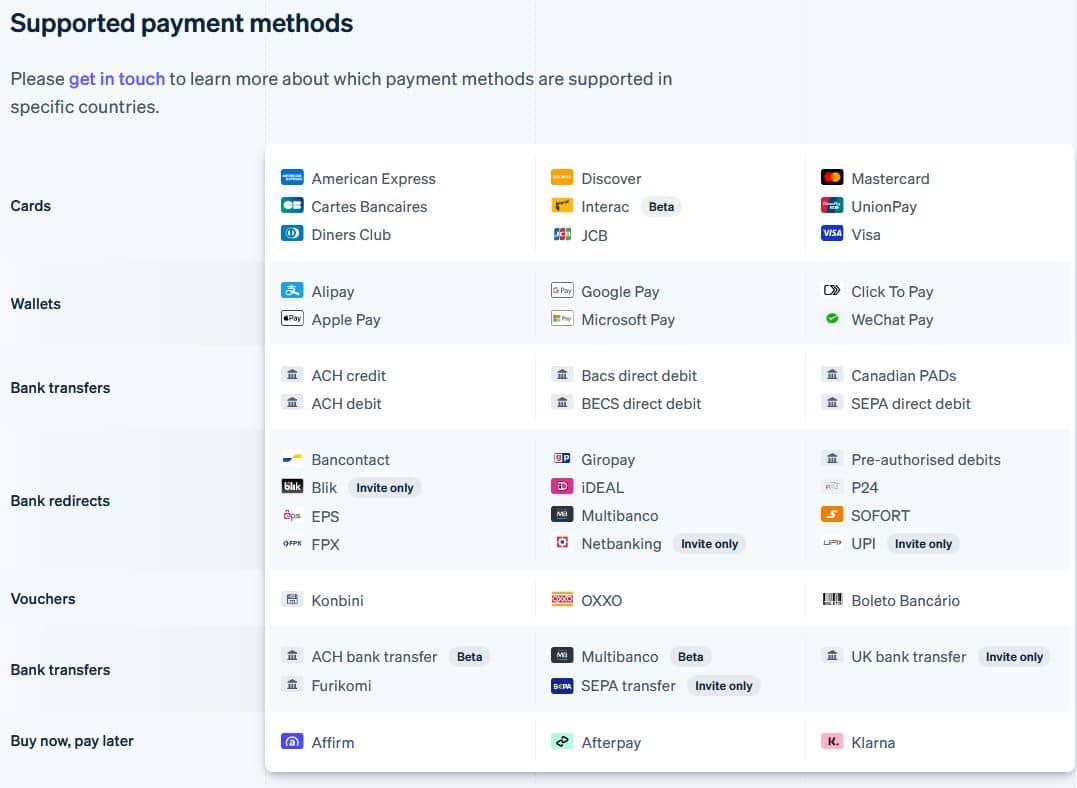 Businesses can use Stripe to accept payments in over 135 different currencies. This is helpful for companies operating in multiple countries or with a global customer base. Stripe automatically converts the funds into the company's chosen settlement currency for a small currency conversion fee.
Stripe Investor Facts
Stripe founders Patrick and John Collison took Stripe to Y Combinator in August 2010 for its initial seed funding round. In March 2011, Stripe held a second seed funding round, which attracted investors, including Andreessen Horowitz, Founders Fund, Sequoia Capital, SV Angels, Elon Musk, and Peter Thiel.
Peter Thiel and Elon Musk are PayPal co-founders. PayPal is Stripe's biggest payment processing competitor. Musk was fired from PayPal in 2000, and Thiel left in 2002 following the sale to eBay.
Sequoia Capital is the most frequent Stripe investor, joining funding rounds at the seed level and at every subsequent funding round. The venture capital firm has invested in some of the world's most successful companies, including Google, Apple, Yahoo!, and Oracle.
In total, Stripe has held 20 funding rounds. Later investors include:
Tiger Global Management
General Catalyst Partners
Shopify
Capital Group Private Markets
American Express Ventures
Visa
CapitalG
Stripe reached unicorn status in 2014 when it raised a $250 million Series C funding round, valuating the company at $1.75 billion. The company's latest Series H funding round occurred in 2021.
Acquisitions Made By Stripe
Stripe has made several high-profile acquisitions in recent years, including the purchase of Kickoff in 2015.
These acquisitions are part of Stripe's strategy to build the best possible suite of tools for running an online business. By acquiring Kickoff, Stripe gained a team with deep expertise in creating beautiful user interfaces and mobile experiences. Stripe also bought Index. It gained a team focused on making it easy for businesses to get started with accepting credit card payments.
Both of these acquisitions will help Stripe continue providing its users with the best possible experience. And they underscore the company's commitment to building the best products for businesses of all sizes.
Here are some of the other notable acquisitions made by Stripe:
Each acquisition aims to improve the company's suite of payment tools, focusing on making it easier for businesses to get started and streamline their transactions.
Stripe vs PayPal
Stripe and PayPal are two major players in the online payment processing industry. Both companies offer a variety of features and services that businesses can use to accept and process payments online. PayPal is currently the leading provider, but with innovative alternatives on the market like Stripe, that could soon change.
PayPal benefits from its brand recognition. The company has been on the market longer than its competitors, and its consumer business is well established. This gives PayPal an advantage in getting new businesses on board. Many customers are already familiar with how PayPal works and are therefore more likely to trust using it for online payments.
As an out-of-the-box solution, PayPal is better suited to small businesses that don't have the time or resources to invest in a bespoke solution. Stripe, on the other hand, is a very flexible platform that can be customized to the specific needs of a business. This makes it a better choice for larger companies that need more control over their payment processing.
Stripe's API is highly customizable, and its documentation is excellent, making it easier for businesses to integrate the platform into their existing systems. PayPal's API is not as flexible and can be challenging to work with.
One of the key advantages of using Stripe over PayPal is that it offers support for Apple Pay and Android Pay. This means that customers can make payments using their smartphones, which is becoming increasingly popular. However, Stripe cannot accept PayPal wallet payments, a popular way to pay online.
In order to keep growing, Stripe will need to challenge PayPal for its position as the leading online payment processor.