Google wants to give relevant search results to every user. It's the whole point of their existence.
They want to be useful and add value. One important way Google (and all other search engines) do this is with snippets. A snippet is the information that appears under every search result. The snippet should be a snapshot of what the website is all about. It shouldn't be misleading, but should explain what the user will find when they click on the website.
A rich snippet is detailed information that helps search engines provide relevant results. It isn't just text, but can be a picture, a review, or even a price range. For example, a rich snippet for a music album may include a list of songs on the album and a link where the user can play the song.
This guide will explain what plugin you should use to create rich snippets in WordPress to comply with Google's standards.
Best Rich Snippet WordPress Plugin: All in One Schema
The easiest way to add rich snippets to your WordPress site is to use the All In One Schema.org Rich Snippets plugin. The All In One Schema.org Rich Snippets plugin is based on Schema.org's  vocabulary along with the microdata format.
Google recommends using  schema.org  to create rich snippets. This means that this specific plugin was created especially to Google's standards. As a plus, it's also super simple to use.
After installing the All In One Schema.org Rich Snippets plugin, a Configure Rich Snippet meta box will show up in your WordPress post editor. To configure the rich snippet, first select what your post/page is about. Categories include: item review, event, people, product, recipe, software application, video and article.
Item Review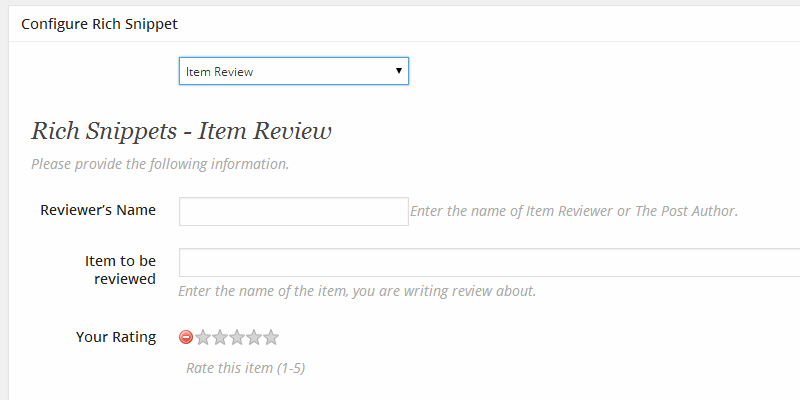 The Item Review Rich Snippet asks for the reviewer's name, the item to be reviewed and your rating.
Google guidelines for review snippets:
One product per page. Google doesn't support rich snippets for multiple products
Google doesn't review adult-rated products or services
The reviewers name must be valid (can be a person or organization)
 People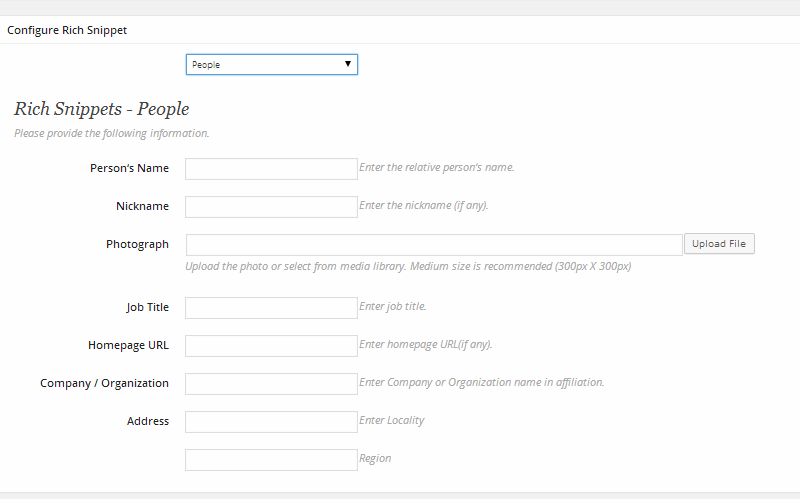 For a person, the All in One Schema plugin lets you add in the person's name, nickname, job title, a photograph, and other personal information.
Google guidelines for people snippets:
This is not the same as reviewing or adding an author
Google is currently piloting a program for author information.
Events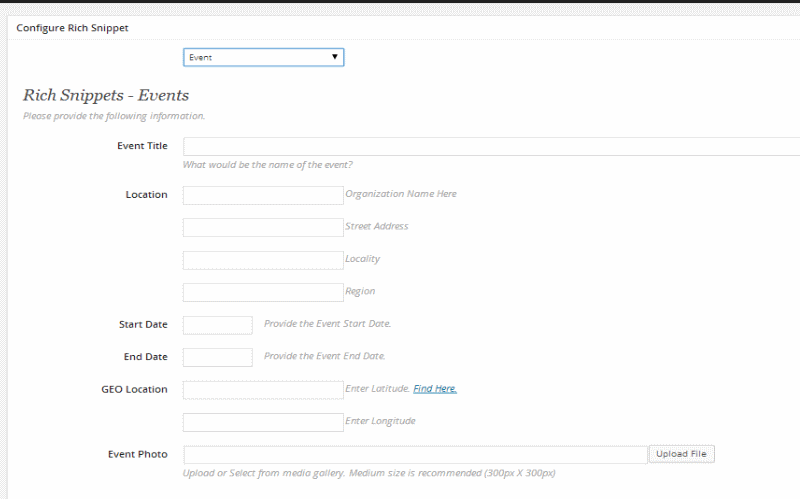 To add an event rich snippet, you can include the event title, location, date, and even geographic location (the plugin will even automatically determine your latitude & longitude coordinates). You can also add an event photo.
Google guidelines for event snippets:
Name and location must be clearly defined
Should not be used for advertising purposes
Valid name: Portland Music Festival
Invalid name: Music Festival — Only $10!
Event must be taking place in the future — it shouldn't have already occured.
Products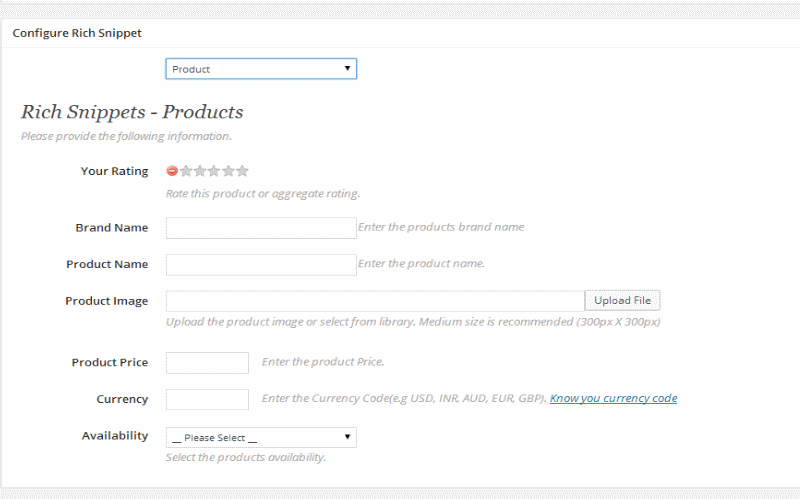 It's simple to add a rich snippet for products. You can add the brand name, product name, and add an image. You can also add the product price, currency, and availability.
The following guidelines apply to product snippets:
The main topic should be a product, not a category of products or list of products
Products should be available to purchase directly on that website (Google doesn't support pages that make the user visit a separate seller's site)
Adult-related products and/or services are not looked on with favor
Recipes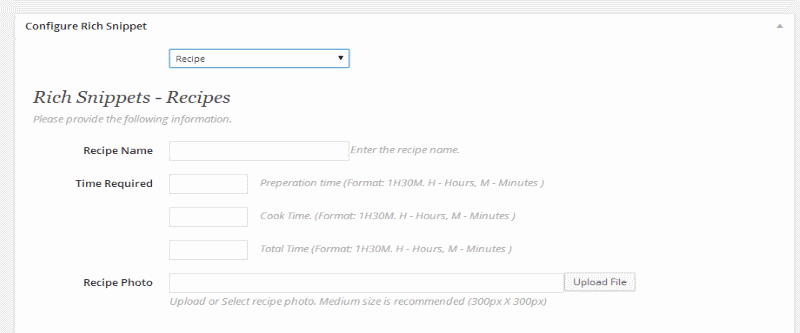 For recipe rich snippets, you can add the recipe name, time required to prepare and cook, and a recipe photo. Google now has a recipe view for the US and Japan, but it will also be available worldwide shortly.
Google guidelines for recipe rich snippets:
The main topic needs to be a specific recipe
Multiple recipes on one page is not supported
Video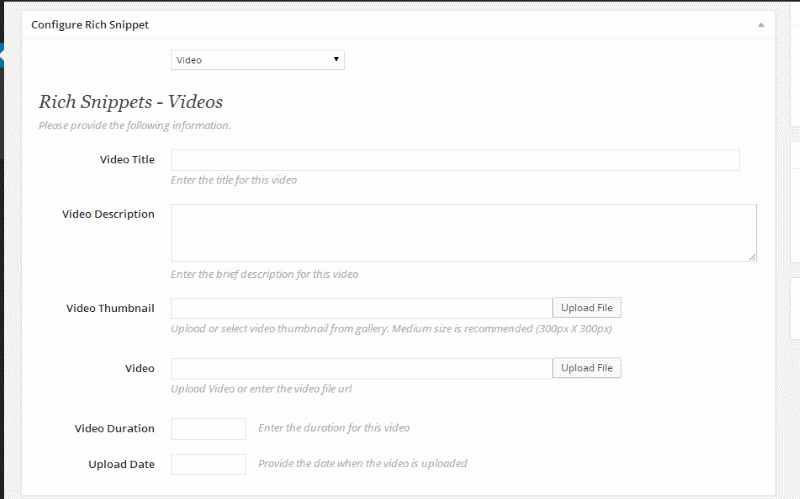 To add a rich snippet for a video, you can add the video title, description, a thumbnail picture, the actual video file, video duration, and date of upload.
Google guidelines for video rich snippets:
Google currently recommends using the Schema.org microdata for videos (supported by the All In One Schema.org Rich Snippets plugin)
Only add one video per page. Google doesn't support multiple videos on one page
Software Applications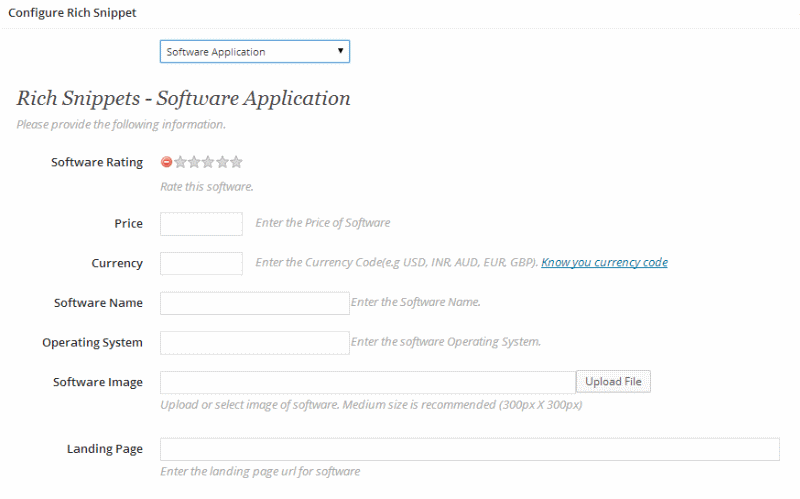 For software application rich snippets, you can give the software a rating, price, software name, the software operating system, an image and a landing page.
Google guidelines for software applications:
The rich snippet should be about one software application, not a category of software
One software applications per page
Multiple software applications per page is not supported
Rich Snippet Best Practices
The first rule in creating and using rich snippets is to be honest. Don't be misleading, untruthful, or try to falsify reviews or ratings. Basically, don't try to be slicker than Google. Google penalizes sites who misuse rich snippets or try to use them for advertising purposes.
Google is very clear about what they expect in rich snippets. Fill in every box, and be clear and concise.  Create a page for each product, item, person, recipe, etc. Don't try to put multiple items on a single page.
At this time, Google doesn't support rich snippets for authors or articles. However, Google suggests creating author information here. And you can use the All In One Schema.org Rich Snippets plugin for articles because it uses Schema.org language. But you should also use a SEO plugin as well.
Follow Google's Guidelines to Better Search Results!
Google is always updating their algorithm, and trying to find new ways to deliver better search results. And Google doesn't always share this information. But they do share how to create better rich snippets. They give us guidelines to follow, terminology to use, and explain what types of rich snippets they support.
If you use rich snippets in WordPress, they will help you to improve content visibility in search results and also increase your CTR.