In the highly competitive world of online payment tools, two companies go head to head: industry-leading Stripe and the upcoming platform Adyen.
Both offer innovative features to help businesses accept payments from customers around the world.
Stripe is ideal for all sizes of businesses and offers a customizable checkout process and advanced API tools. Adyen is suited more for larger online and brick-and-mortar businesses that require an omnichannel payment solution.
This article will compare the notable features, user-friendliness, pricing, transaction fees, and setup costs of both companies. That way, you can weigh the pros and cons and decide which works best for you.
Stripe vs Adyen: Quick Comparison
Stripe
Adyen
Ideal for

All size businesses
All kinds of business models
Available globally
Customizing checkout process

Larger online and bricks-and-mortar businesses
Retailers, subscription businesses
Businesses with international customers, especially European customers

Fees

Free to set up
Pay as-you-go model

2.9% – 3.9% + $0.30 per transaction
Chargeback fee of $15

Enterprise packages available

Free to set up
Pricing determined by payment method + €0.10 processing fee
Chargeback fee between $5–100

Accepted payment methods

Debit card
Credit card (including Amex)
Digital wallets (e.g. Google Pay, Apple Pay, etc)
Bank debits, transfers, and redirects
Buy now, pay later (e.g. Klarna, Clearpay, etc)
Vouchers (e.g. OXXO, Boleto, etc.)

Credit card (including American Express)
Debit card
Digital wallet (e.g. Apple Pay, Amazon Pay, and WeChat Pay)
PayPal
Buy now, pay later (e.g. Klarna, In3, etc)
Pix for QR codes and bank transfers
Mobile payments (e.g. TWINT)
girocard

Special features

Available in lots of countries
Accept payments in 135 currencies and 47 countries.
Custom analytics and reporting
Automation for sales and tax
Stripe Terminal for in-person payments
Stripe Billing for recurring payments
Advanced API tools. Stripe Atlas to help set up business
Stripe Radar for fraud monitoring

Accept payments in more than 30 currencies and nearly 100 countries.
Omnichannel payment solutions
Risk management tools
Tools to help optimize revenue
Notable Features: What Do Stripe and Adyen Do?
Stripe and Adyen are two popular payment processing tools that provide businesses with a wide range of features and benefits to help them accept payments and manage their finances. Here are some of the notable features of each tool:
Stripe Features
Stripe is known for its global reach and ability to accept payments in multiple currencies.
With Stripe, businesses can easily set up and manage various subscription models and customize their payment experience with pre-built payment pages.
Stripe also offers an invoicing platform and flexible recurring billing functionality, allowing businesses to manage their accounting with ease.
Stripe has a good deal of useful tools available for its users. Stripe Terminal enables businesses to accept in-person payments, while Stripe Atlas helps startups set up a company. Stripe Radar is a tool for fraud detection, and Stripe Instant Payouts provides businesses with access to their funds almost instantly.
Stripe also offers a donation feature and advanced automated reporting, as well as hundreds of integrations with other tools.
Adyen Features
Adyen also accepts global payments in several currencies, with access to many European payment methods.
Adyen is straightforward to set up and has a focus on omnichannel payments for cross-channel selling.
The platform provides businesses with recurring billing functionality and options for discounts and promotions.
Adyen also offers customizable payment flows and can be embedded into various selling channels for easier payments.
Fraud detection tools and smart authentication help businesses ensure secure transactions, while revenue optimization tools and advanced analytics help businesses make data-driven decisions.
Adyen also provides over 100 partners to integrate with.
Unlike Stripe, however, where you can simply sign up, Adyen's individual merchant accounts are granted through an application process.
Stripe vs Adyen Market Share
Stripe is generally better known than Adyen.
A Stripe vs Adyen valuation comparison shows that Stripe has 20% of the market share, whereas Adyen only has 11%.
That said, Adyen tends to have a bigger market share in Eastern Europe, South Asia, and South America, while Stripe is the go-to choice in Western Europe and North America.
Ease of Setup and User-Friendliness
Setting up a payment gateway for your ecommerce solution is a crucial step in accepting payments online. Stripe and Adyen are both relatively easy to use, but the complexity mostly depends on what you plan to use these tools for.
Stripe is known for its simple onboarding and has no setup fees.
The complexity of use depends on your business model. The platform is straightforward for basic models but also provides complex billing logic for more complicated businesses.
Stripe provides pre-designed checkout pages for those without developer knowledge and custom checkout features for tech-savvy users. Stripe Elements makes it easy to set up a payment page with real-time validation, and adding it to your website is as simple as pasting in a line of JavaScript. For those using WordPress, a plugin needs to be installed.
Stripe also provides an intuitive dashboard that makes it easy to track payments and create reports. Tool integration is also straightforward, helping you to improve workflows and enhance analytics.
Adyen doesn't charge any setup fees either, but the application process is a chore. Businesses must use a test account and demonstrate their capabilities before being approved. Since there is no self-service onboarding, Adyen isn't ideal for small businesses, as it requires lengthy discussions with a sales representative.
However, the Adyen dashboard is intuitive, and businesses can easily add customized branding to the checkout process. The tool also provides simple-to-use third-party integrations to set up payments on multiple platforms.
Pricing, Transaction Fees, and Setup Costs
When picking a payment processor, it's critical to understand the fee structure.
Stripe and Adyen offer pay-as-you-go pricing models with no monthly fees and options for point-of-sale solutions.
In this section, we'll take a closer look at their fee structures. Check out the table below for a side-by-side comparison.
Stripe
Adyen
Setup costs
Monthly costs
Transaction fees

2.9% + $0.30 per successful charge
$5 per check and $8 per wire transfer
0.5% on recurring charges after $1 million

$0.10 processing fee + fee determined by payment method
Some payment methods are charged as a percentage of the payment, whereas some are a flat fee. Charges range from €0.50 to 4.5%

International fees

Variable depending on payment method

Currency conversion

+1% for currency conversion

Cost for hardware

No monthly fee, but Stripe Terminal charges a credit card processing fee of 2.7% plus $0.05 per transaction. International cards incur an extra 1% charge

No monthly charge or setup fees, but transactions are charged at $0.12 plus a variable payment method fee. Adyen POS requires a minimum of $120 worth of transactions per month.
Dispute and Chargeback Fees
From a business standpoint, managing chargebacks and disputes is a critical part of risk management.
Stripe charges $15 per chargeback or dispute, while Adyen charges between $5-100 per chargeback.
Both platforms offer additional tools, such as Stripe Chargeback Protection and Adyen's RevenueProtect, to help streamline dispute management.
Refund Fees
When it comes to processing refunds, both Stripe and Adyen offer the option for full or partial refunds.
Stripe allows you to take the funds for a refund from your Stripe balance or directly from your bank account, but your processing fees won't be returned. It's worth noting that some banks may charge a fee for refund transactions, which could be passed on to the merchant.
Adyen charges variable fees for refunds starting at $0.20 per transaction and offers Refund Reverse, a reserve of funds set aside for automatic refunds. This can help merchants streamline the refund process and improve their customer experience.
Recurring Billing Plans
Recurring billing is an essential feature for many businesses, particularly those with subscription-based models. Stripe and Adyen both offer options for setting up recurring billing plans, but the cost structures differ slightly between the two.
Stripe offers Stripe Billing, which allows merchants to automatically send monthly, quarterly, or yearly invoices for recurring payments. One-off invoices can also be sent through the platform.
Stripe charges 0.5% on recurring payments over $1 million, and automatic invoice reconciliation starts at a flat charge of $7. Stripe Billing also offers flexible pricing models for businesses with more complex billing needs.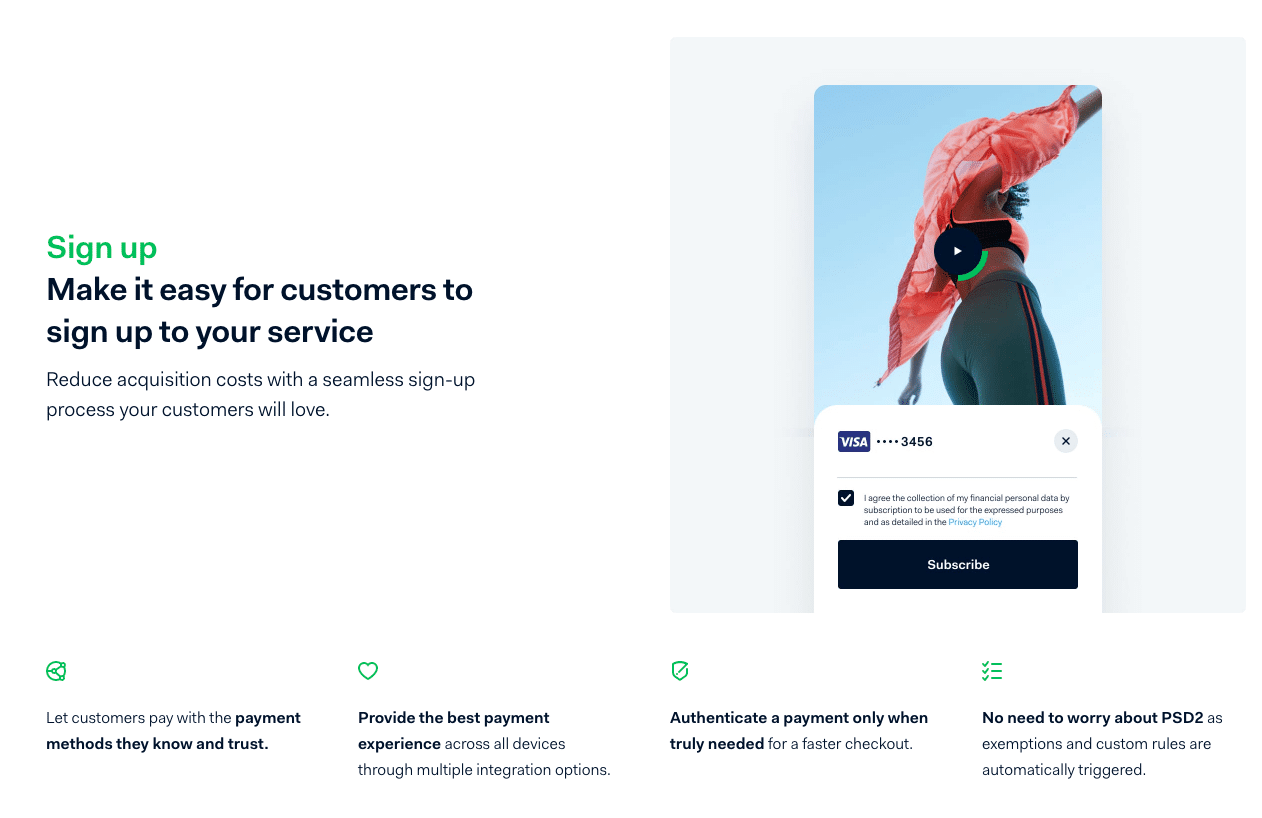 Adyen offers recurring billing at no additional costs — merchants are charged at the same rates as individual transactions. This makes it a simple and cost-effective solution for businesses with straightforward billing needs. Adyen's recurring billing allows you to send monthly, quarterly, or yearly invoices to customers.
Accepted Payment Types
Stripe and Adyen offer a variety of payment methods to suit different customer needs.
Stripe accepts debit and credit card payments from all major providers, as well as digital wallets, such as Apple Pay and Google Pay.
Customers can also pay via bank debits, transfers, and redirects.
Stripe also accepts payments from a bunch of Buy now, Pay later options, such as Klarna and Clearpay, as well as vouchers, such as OXXO and Boleto.
To accept a wider range of international payment methods, users can access the Stripe Sources integration.
Adyen also accepts all major credit and debit cards, including American Express. There are also mechanisms to accept direct debits, bank transfers, and electronic payments.
Customers can pay via digital wallets, including Asian wallets such as WeChat.
Not only does Adyen take payments from Buy Now, Pay Later systems like GrabPay and Atome, there are also over-the-counter cash options.
Like Stripe, Adyen also accepts various vouchers and pre-paid gift cards, but there are also several mobile payment options, such as TWINT and Vipps.
Global Availability and Supported Currencies
Stripe is available in 47 countries, including the United Kingdom and the United States. While mostly concentrated in Western Europe and North America, Stripe also has a presence in some parts of Asia and APAC. Stripe supports most currencies, making it accessible to businesses globally.
Adyen, on the other hand, is available in 33 European countries, plus Brazil, Canada, Mexico, Puerto Rico, the United States, and the UAE. Adyen supports 36 currencies, making it possible for businesses to accept payments from a wide range of countries and regions.
Quality of Customer Support
Stripe and Adyen both provide various types of support, but the quality of their customer service can vary depending on the level of plan you sign up for.
Stripe offers free 24/7 phone, email, and chat assistance, although phone and chat support is only available in English. There's also a free online support center with training resources and developer documentation.
Stripe offers three different plans for tailored technical support. The first plan includes 24/7 email, phone, and chat support, ticket routing, and access to a support account specialist. The other two plans offer more detailed support packages for premium and enterprise accounts. These include technical resources, incident monitoring, and dedicated support channels.
Stripe also has developer communities on Discord and other forums.
TrustPilot reviewers have noted that Stripe's customer chat representatives are quick and helpful when it comes to simple problems. However, complex issues can sometimes take months to fix, which can be frustrating for businesses that need a speedy resolution.
Adyen, on the other hand, offers 24/7 phone support with trained engineers and specialists. They also have a free online knowledge base and a developer documentation library.
Adyen's support team is known for coming up with innovative solutions to tricky problems. However, TrustPilot reviewers have noted that email support from Adyen has been getting slower as the company grows.
Ultimately, both Stripe and Adyen offer a range of customer support, but the quality can vary depending on the complexity of the issue you're dealing with and the package you've signed up for.
Checkout Experience
In today's digital world, it's essential for businesses to offer a seamless and secure payment process for their customers. Both Stripe and Adyen provide robust payment solutions for online and in-person transactions.
Stripe offers a customized hosted checkout that can be tailored to meet the needs of each business. Its built-in features include responsive design, international language support, tax collection, branding options, personalized domains, and discounts.
For those without technical skills, Stripe provides pre-built pages for easy setup. Developers can use Stripe's API for full customization, and businesses can embed the checkout process into their websites, removing the need for customers to leave the site to pay.
Additionally, Stripe Terminal provides hardware that enables companies to accept payments in person for their brick-and-mortar stores. This feature allows businesses to seamlessly integrate their online and in-person payment processes.
Adyen also offers a pre-built payment page that's easy to set up, with options for a fully-customizable checkout. Businesses can create payment logic, customize locations, add branding, and embed the checkout process into various selling platforms, including your website, app, or online marketplace.
Adyen's mPOS solutions provide in-person payment solutions, making it easy to accept payments from your mobile device. These solutions support varying payment methods such as cards, digital wallets, and other payment methods.
Integrations
Both Stripe and Adyen have a strong track record of providing a wide range of options for their clients.
Stripe offers hundreds of integrations, covering everything from commerce to hospitality and accounting. Its integrations include popular ecommerce options like BigCommerce and Adobe Commerce.
Additionally, Stripe offers integrations to enhance workflows and business operations across your whole organization, such as HubSpot, Xero, and BookNow.
Adyen also has a substantial library of integrations with hundreds of options.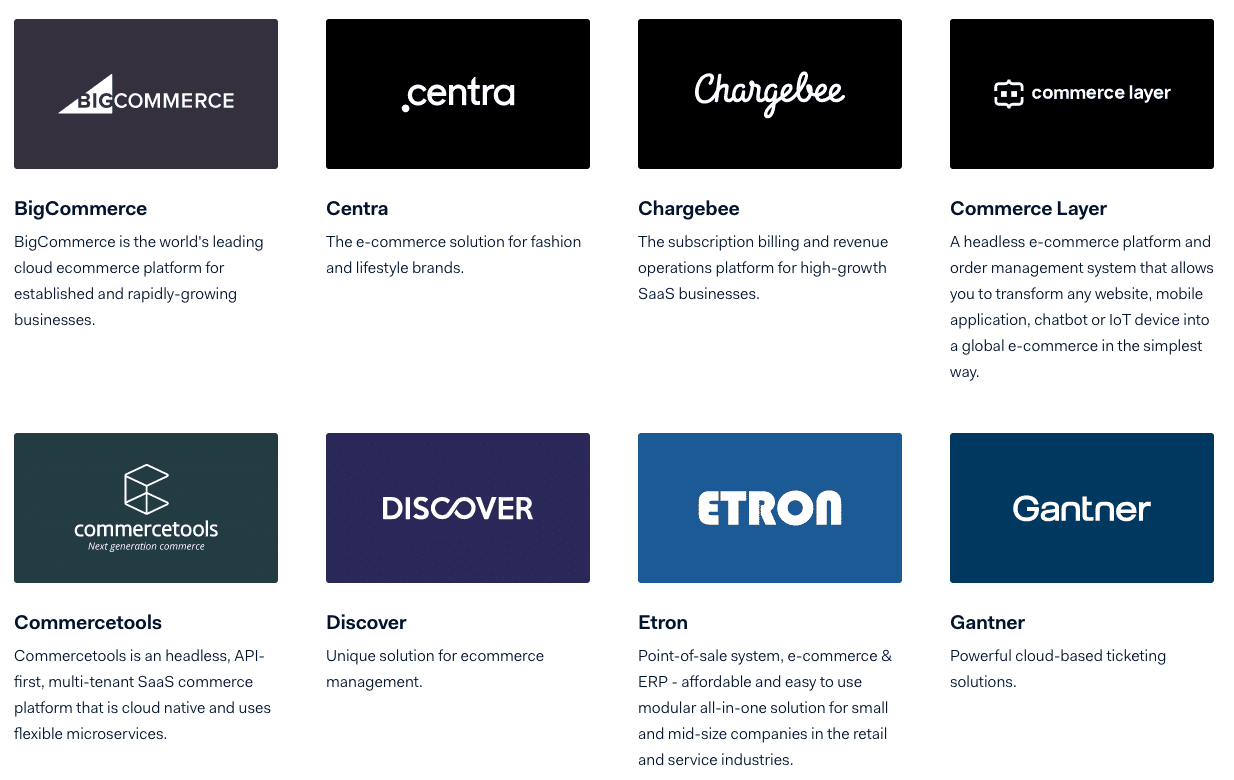 Similar to Stripe, Adyen provides commerce integrations such as Omnichat, WooCommerce, Salesforce B2B, and BigCommerce. Additionally, Adyen offers integrations to streamline internal processes like accounting, customer support, and customer experience with partners such as Chargebee, Aptos, Oracle Hospitality, and DrivenCX.
When it comes to comparing Stripe vs Adyen's integrations, both providers offer a similar range of options. Ultimately, the choice of which integration provider to use will depend on the specific needs of your business and which tools you're already using.
Security
Stripe and Adyen are both highly focused on providing top-notch security for their payment platforms.
Stripe is a certified PCI Level 1 Service Provider, which means that it meets the strictest standards for payment data security. It forces HTTPS for all services using TLS (SSL), and payment details are encrypted using AES-256.
Stripe's payment details are also encrypted in a separate hosting environment, providing an additional layer of security.
Similarly, Adyen is fully PCI DSS v3.2 compliant, ensuring the highest level of payment security. It encrypts payment messages using end-to-end encryption (E2EE) on payment terminals and decrypts them on the platform when sent for bank authorization.
Adyen also uses PCI-approved P2PE payment solutions, which encrypt the PAN and track data in the payment message. Additionally, Adyen's RevenueProtect risk management system can detect and mitigate fraud, as well as handle disputes and chargebacks.
Documentation
Stripe and Adyen both offer developer documentation to help users integrate their payment platforms into their websites or applications.
Stripe's documentation is divided up by product, making it easy to navigate and find the relevant information for your specific needs.
Stripe provides a variety of guides and references for developers who are building a customized checkout process using the Stripe API.
Adyen's developer documentation is similarly comprehensive, with information organized by feature and function. This documentation covers everything from getting started to collecting payments and reporting, as well as guidance on dashboard and account usage.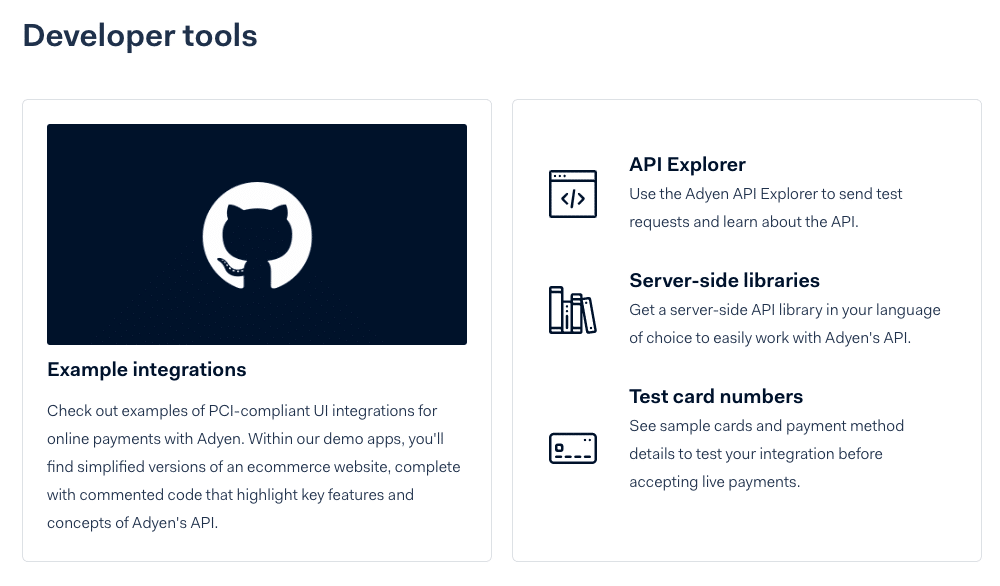 Adyen's documentation also includes resources on security, integration, and authentication to help developers create a secure and streamlined payment process.
Stripe vs Adyen: Pros and Cons
Stripe and Adyen both offer a wide range of payment solutions. Stripe is known for its easy-to-use platform and high-speed payment processing, while Adyen is known for its seamless omnichannel payment integration.
Stripe Pros and Cons
Stripe is popular among businesses of all sizes. It offers fast payment processing and a range of customization options. But, it also has some downsides, such as high chargeback fees and limited support for PayPal.
Stripe Pros:
Three support packages catering to businesses of all sizes
High-speed payment processing that's easy for customers to use
Wide coverage across 47 countries
Supports 35 international payment methods and over 135 currencies
Super simple onboarding process
Intuitive interface and straightforward pre-built checkout
Easy recurring billing and invoicing
Highly-customizable checkout with developer documentation
Hundreds of integrations to optimize payment workflows
Immediate payouts with Stripe Instant Payouts
Fraud detection with Stripe Radar
Extremely secure and stable
Excellent reporting tools
Stripe Cons:
Settlement times are dependent on payment method and can take up to six days
Checkout customization requires a developer
PayPal isn't accepted
You pay extra for custom technical support
Chargeback fees are high
Adyen Pros and Cons
Adyen is an omnichannel payment platform that integrates online, in-store, and app payments. It offers a range of global payment options and advanced security features. However, Adyen has a somewhat confusing pricing structure and a high monthly transaction minimum.
Adyen Pros:
Seamless omnichannel payment integration, connecting online and offline payments in one place
Global payment options with lots of European and Asian payment methods available
Easy to accept transactions through online, in-store, and app payment channels
No monthly fees or setup costs
Test account available to try the software
Comprehensive range of mPOS terminals
Free 24/7 technical support
Highly-customizable dashboard and checkout process
Advanced encryption and RevenueProtect provide top security and fraud detection
Adyen Cons:
Variable pricing is a little confusing
Minimum of $120 of transactions per month
Cumbersome application process
Lack of self-service onboarding
Summary
Stripe and Adyen are payment platforms catering to online and offline businesses.
While Stripe is great for all sizes of businesses, it's particularly suited to small businesses and startups in North America and Europe, with an easy onboarding process, no-code options, and various tools to build your business.
While customization may require a developer, its variable pricing and fixed-fee structure make it affordable, and its top-notch security puts your mind at rest.
Adyen is ideal for larger businesses handling in-person and online payments, with various payment options, mPOS terminals, and in-depth support.
While there are lots of integrations to streamline workflows, the application process can be tedious, and pricing may be confusing.
If you need help setting up Stripe on your WordPress site, check out this guide.