WordPress fonts may seem like an insignificant detail. After all, there are WordPress themes, color schemes, background images, and blog layouts to think about.
Who has time for font styles?
While designing a website can take a long time, the truth is, all website owners should take care to focus on the WordPress fonts they use for their site's written text. Font styles are an important web design detail that affects your site's readability.
Not to mention, using the right font pairings can help you stand out from the competition, boost conversions, and even increase brand recognition.
But only if you do it right. Today we're going to dive into what WordPress fonts are and how to find the best ones for your WordPress website.
Most Common Font Styles
The HTML fonts you use on your WordPress website say something about your brand, whether you want them to or not. And even the tiniest change in a WordPress font can alter a site visitor's entire perception of your company.
Of course, explaining the history and psychology behind typeface would require its very own blog post. But to give you an idea, here are the five major types of font styles you might want to use on your site:
1. Script
Script fonts are fancy and curved, much like cursive fonts. However, they do come in two distinct categories: formal and casual.
Formal scripts are the fanciest of them all. They mimic the beautiful work of the handwriting masters of the 17th and 18th centuries. And most notably, the font styles come with over the top swashes or curls and flourishes that extend beyond the end of every character.
Casual scripts look more like modern calligraphy fonts and are more legible than formal scripts, They are evergreen, meaning they will never go out of style. And they are best used for logos with large font sizes because they can be tough to read in large quantities.
2. Display
Display fonts are creative, eccentric, and oftentimes funky looking. They ooze personality and are used to grab people's attention right away.
They were popularized in the 19th century and often appeared on vintage billboards, posters, and pamphlets. You'll notice that many display fonts, such as Rockwell, come with what are called slab serifs. In other words, the swooshes extending beyond the end of the characters are blocky and thick.
This style is best used on headers or major announcements as they don't have the best readability, especially online.
3. Modern

Modern font styles are very structured. They are professional looking and often have a cold and serious feel to them.
Many modern font styles come with long, thin serifs that extend beyond the ends of each character.
In addition, modern fonts have no slants in the letters because they tend to stress the vertical position. You'll also notice than many of these font styles have varying thickness throughout each letter, which adds some style without ruining the user experience.
Modern fonts are best used for headings and other large-sized body text.
4. Serif
Serif fonts are the most traditional one around. They come with simple markings, called serifs, that extend beyond the end of each character. This practice dates back to Roman times when handwritten letters with flares were commonly seen.
This font style if the most conservative on our list. It also comes as one of the most trusted font styles.
You'll see common serif fonts, such as Times New Roman, appearing mainly in printed materials. Though some people choose this font style for their website's body text, it's not recommended because the serifs can be hard to read when there's a lot of text. It is useful for large headings and logos, however.
5. Sans Serif
Sans serif fonts are most commonly found online. They are clean and modern-looking and lack the serifs that extend beyond the end of each character. In fact, lacking the serifs is what makes this font style so appealing to the eye when viewed online.
This font style became popular in the twenties and thirties when everything was becoming flashy and stylish. Some people even felt this font style should only be used in advertising since they believed it was inappropriate for other materials.
Nowadays, however, sans serif fonts like Helvetica are seen everywhere.
Why WordPress Font Choice Matters
There's a lot that goes into the perfect typography. For example, visual hierarchy, grid, contrast, leading, whitespace, and size all matter. But if you don't choose the right font style from the start, none of those other things will matter.
Take a look at some of the most compelling reasons why font style matters to the success of your WordPress website:
Play a role in your site's web design and matter to the user experience.
Increase brand awareness and recognition while giving you a chance to express some personality.
Ensure the readability and usability of your website and its content.
Establish hierarchy in the site content, especially blog posts.
Reinforce the consistency site visitors are looking for.
Display your brand or business as professional.
Guide site visitors through your content with ease.
As you can see, font style is about much more than looking good. It can have a significant impact on your success as a website owner and shape others' opinions of your brand as a whole.
How to Gather Inspiration for Your WordPress Website
Choosing the right font for your WordPress website can be overwhelming since there are so many choices out there. That's why knowing how to source inspiration is so important.
If you find a website that's using a font you love and want to add to your own site, there's a neat little trick for finding out which font they're using.
All you have to do is highlight the font you like and right-click on it. Then select Inspect Element.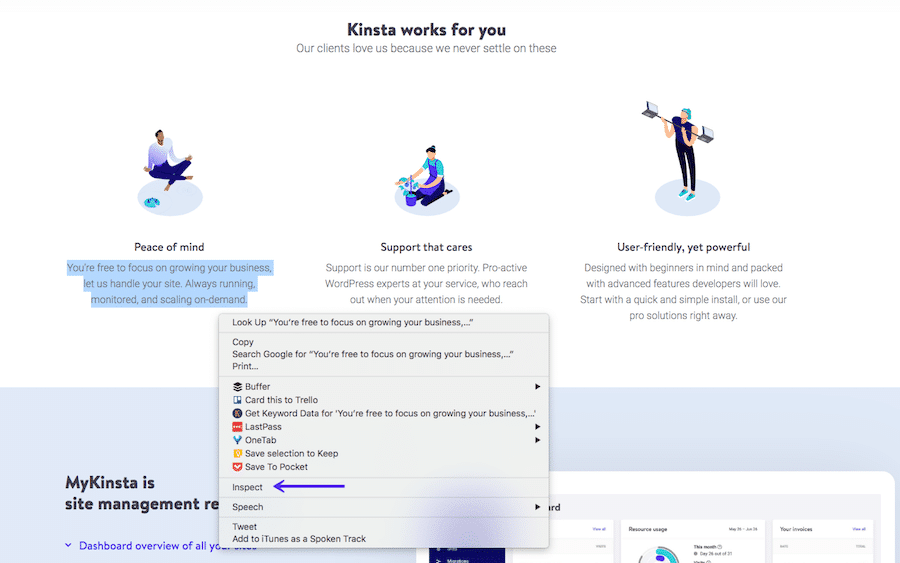 Next, under the Computed section, scroll down to find the font family and other font information.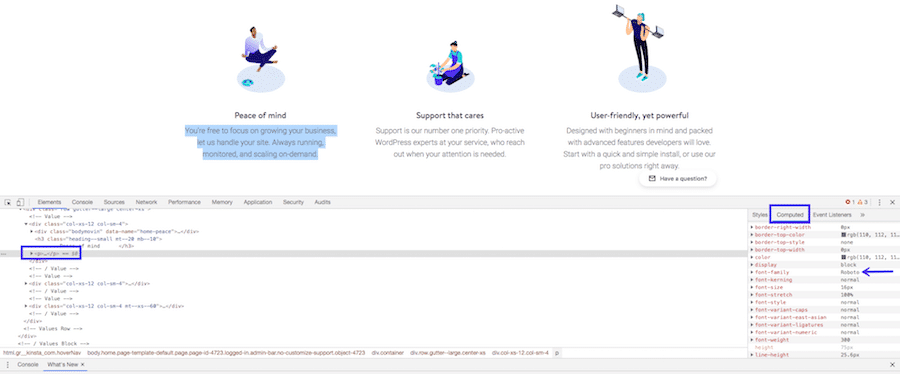 If you happen to source a great font on a website you love but need a little help pairing it with a complementary font style, check out Font Pair.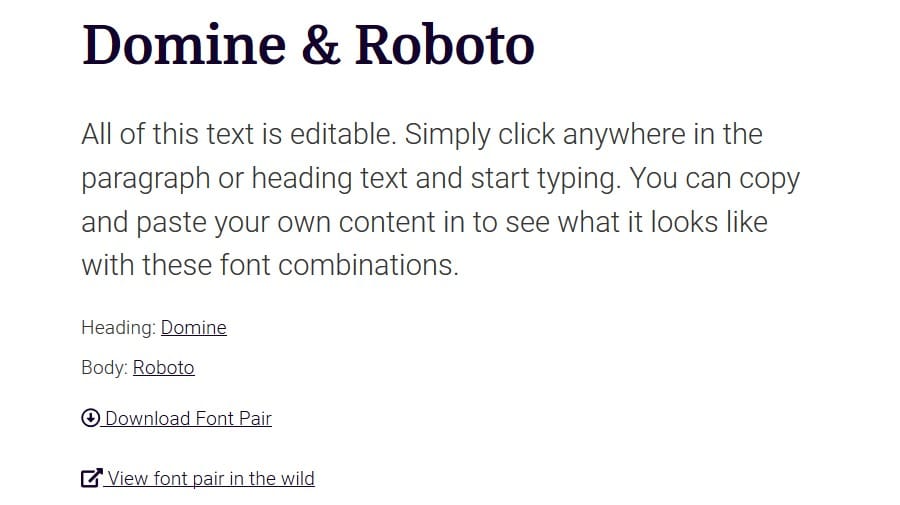 This free online resource helps you pair perfect font styles together that will look seamless on your website. Here, you can view font pairings, download the font pair, and even see the font pair 'in the wild.' This will give you a great idea, whether the font pairing you're interested in will work for your website.
Why Use Custom Fonts in WordPress
Typography can have a powerful effect on your site visitors. And the goal of every website owner is to leave a lasting impression on all site visitors. After all, that's how you build brand recognition and convert more leads and sales.
Not convinced this is true? Let the research speak for itself:
A study performed by two researchers found that when given a set of instructions, one in a simple font and the other in a complex font, the group of people with the simple font finished the task in 8.2 minutes. The other group took 15.1 minutes to complete the same exact task. In other words, the simple font gave off the impression that the task was easier than the task in a complex font.
Those same researchers performed another study in which they gave a group of people a menu with a simple font style and another group a menu with a fancy font style. The researchers found that the group with the fancy font menu believed the chef to have more advanced skills over the chef preparing food on the menu with the simple font.
Another experiment determined that people are more or less likely to believe a statement is true depending on the type of font being used.
People were given the statement 'Gold has an atomic number of 79,' in the following font styles:
Baskerville
Comic Sans
Computer Modern
Georgia
Helvetica
Trebuchet
In the end, most people agreed with the statement when it was written in Baskerville. As the most formal and academic font style in the list, Baskerville did the best job of convincing people a true statement was indeed true.
So, what does all of this mean, you ask?
It means that your choice of font style can determine whether site visitors stick around and see what you have to offer. More so, your website's fonts will help (or hurt) your chances of convincing people you're a trustworthy brand worth doing business with.
So, while it's great to choose a custom WordPress font to set yourself apart from the competition, it's even better to do so with the understanding that font choice is about much more than web design and visual appeal.
Where to Find Custom WordPress Fonts
Individual custom WordPress fonts used to be very expensive. So, changing your font style was not an easy thing to do unless you had a lot of money.
However, these days premium font styles are much more affordable. On top of that, there are tons of really stylish web fonts that you can use on your website and marketing materials.
Let's take a look at where you can find the best WordPress custom fonts:
Google Fonts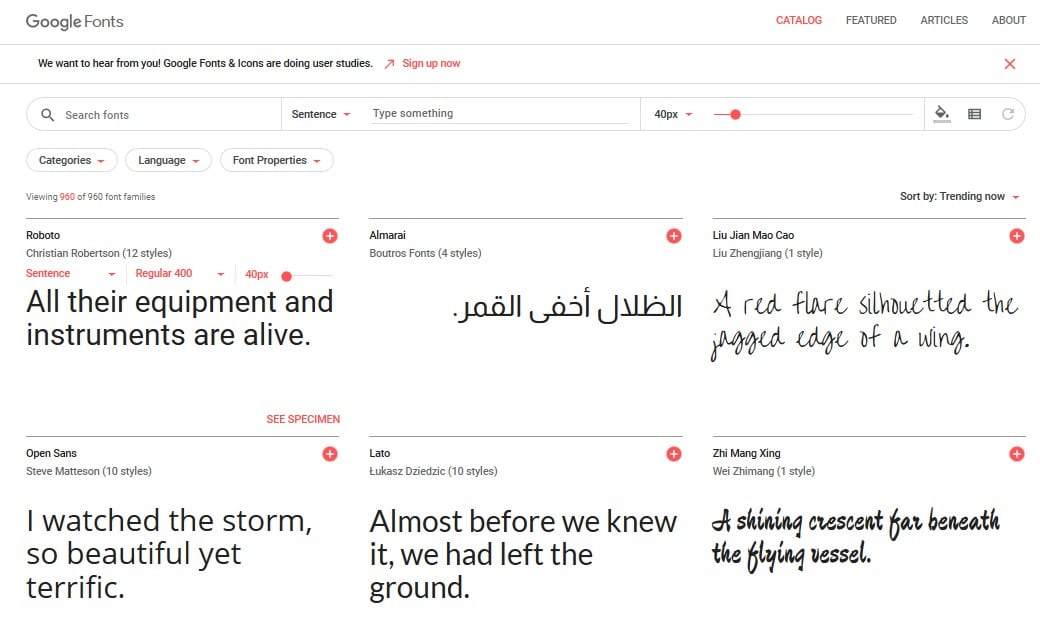 Google Fonts is the best place to find and customize your very own font styles for free! Once on the website, you can test a font you like in sentences, paragraphs, or numbers to get a feel for what it will look like on your website.
Plus, you can change the pixel size, customize the font into bold, italic, light/medium, etc., and even change colors on the Google Fonts platform. Then, when you decide on a font, all you have to do is embed it into your website by copying a simple code. Here's our in-depth guide on how to change fonts in WordPress.
1001 Free Fonts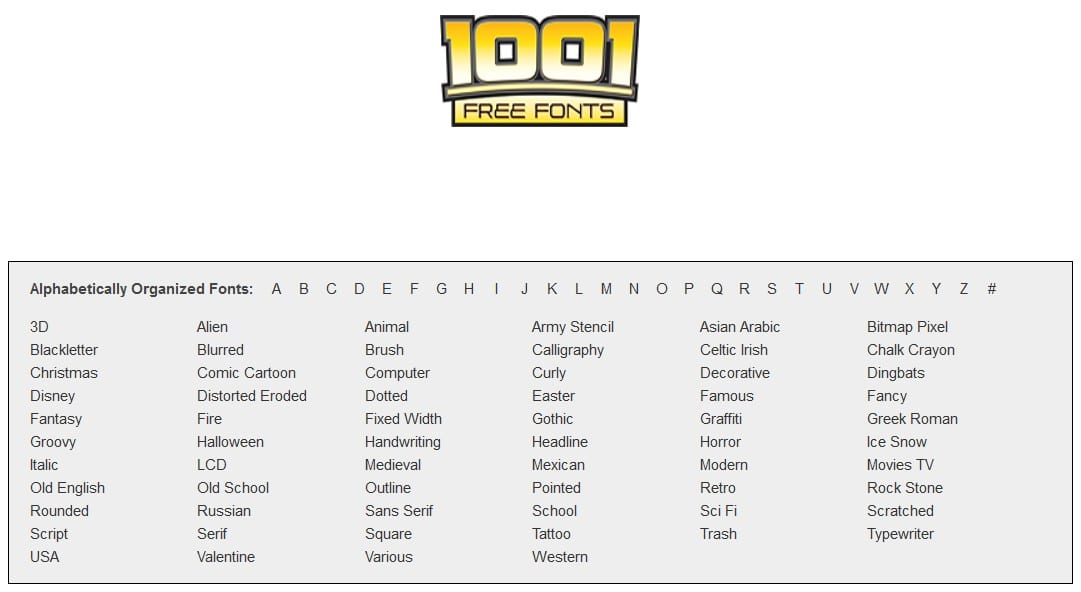 1001 Free Fonts actually boasts an impressive 10,000 free fonts that are organized alphabetically as categories to make finding the perfect font a cinch. For instance, you might click on the fancy, calligraphy, dotted, or brush category to narrow your search.
Once you find a font you love, you can download it for free or make a donation to the designer so you can use the font for commercial uses.
Font Freak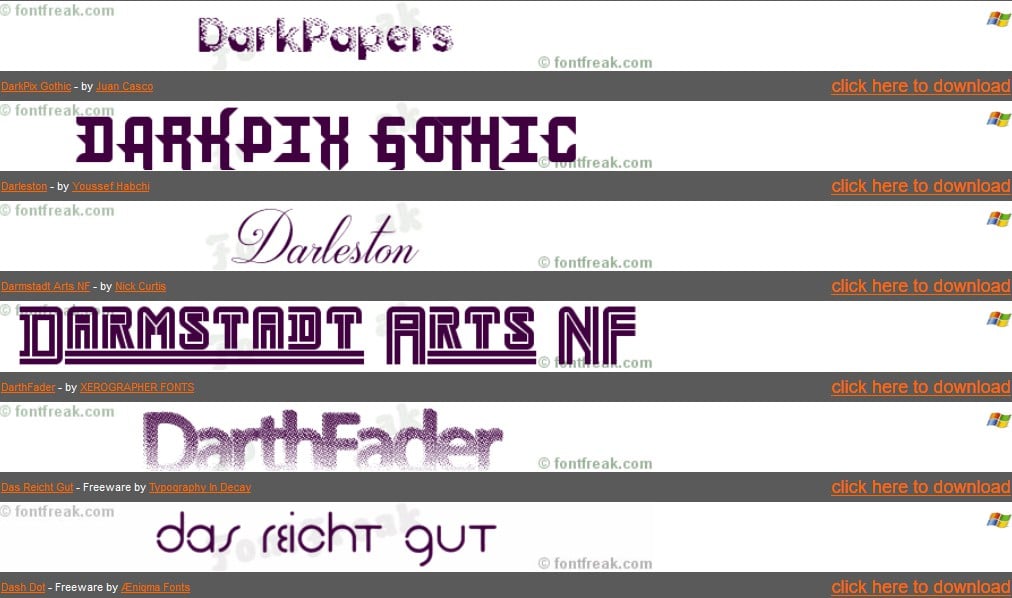 Font Freak has over 9,000 free fonts and thousands more premium ones, so finding one to suit your WordPress site shouldn't be a problem. More than 400 designers submit their creative work to Font Freak, so there is always fresh new fonts being released.
And one of the best things about Font Freak is there are both PC and Mac versions. Lastly, you can build and edit your own fonts using Font Freak's font editor and manager software.
Fontspace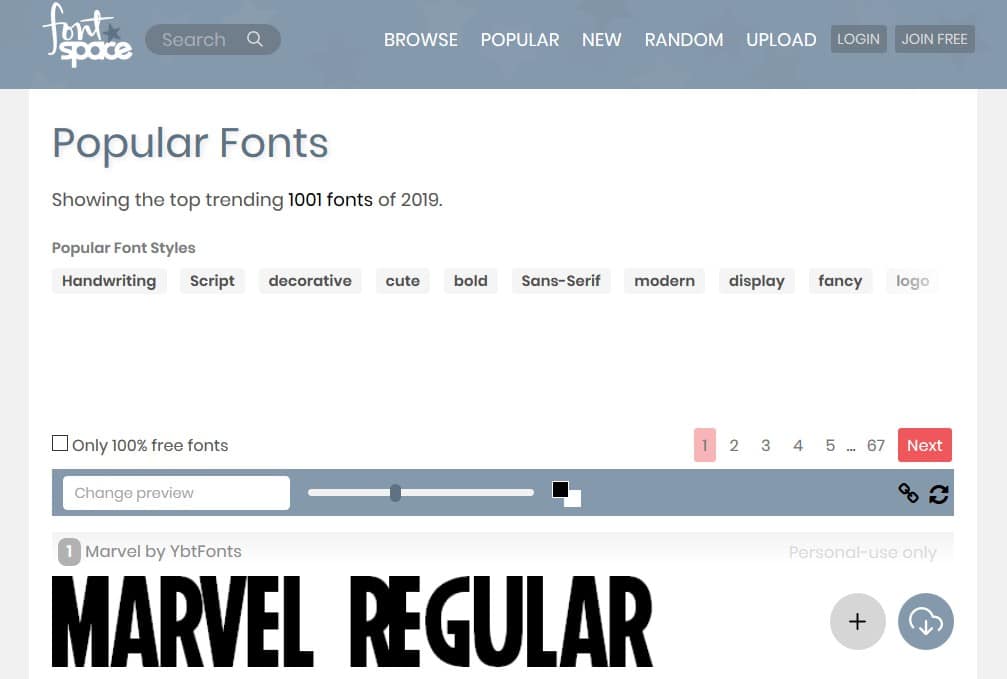 Fontspace has over 61,000 free fonts that can be used on all projects. They are organized into popular categories or by font style, so finding the exact type of font you need is easy.
Designers from around the world contribute to Fontspace and label their work as available for commercial or personal use. To help you make an informed decision, Fontspace also includes font ratings and links to designers and their work so you can narrow your search for the perfect font even more.
Keep in mind that using these third-party font services is great, but that there are some advantages to hosting local fonts in WordPress. When you host your fonts locally, you store them on your own server instead of linking to an external asset.
One of the biggest advantages of doing this is that you never have to rely on the servers of the third-party font service to stay up and running. After all, if their server goes down, there's a good chance your website's font will be affected.
Summary
Font style is a central part of your WordPress website's design whether you like it or not. The fonts you use will convey a certain message to site visitors and ultimately influence whether they stick around, read your content, or even convert.
Luckily, there are many places to find the perfect one-of-a-kind font for your brand. So get out there and find a custom font you love and add it to your WordPress site.
Need a simple way to add icon fonts to your WordPress site? Check out this detailed post about how to use WordPress icon fonts the right way and start adding high-resolution icons to your site that are easy to scale and site visitors love.