People form their first impression of you – and potentially your business – in less than one second. Scary. Thankfully, online articles have a little more wriggle room. Most web pages have just under one minute to make their case for visitors to either stay or bounce.
But still, that's not a lot of time. If you have less than sixty seconds to convince a new user that you're worth their clicks and shares, you better make it short and sweet, right? Actually, no. As it turns out, shorter isn't always better. If you want to stand out in a sea of content and keep users on your page, long-form articles are the way to go. 👍
What Are Long-Form Articles?
Long-form articles refer to pieces of content that are longer than your typical run-of-the-mill post. While standard post length hovers around 1,100 words, long-form articles are usually a minimum of 2,000 words and often extend up into the 2,500+ word territory. Long-form articles are about telling stories and engaging readers.
Those meatier, in-depth articles are often typically more interesting, engaging, and shareworthy as opposed to a standard 500-word post. Plus, they're easy to translate into evergreen material. Long-form content helped one marketer pull in almost a quarter of a million visits in a single year for four websites with wildly different audiences. Talk about awesome for SEO.
But long-form content isn't for marketers alone. If you have a website, you have the potential to make bank with a well-placed article. And, if you're using WordPress, it's super easy to create some real showstoppers. In this guide, we'll talk about what long-form articles are, why you should be writing them, and the tools you can use to make the most of your website's first impression.
Is long-form content for everyone? No, most people will benefit from giving long-form articles a chance. If anything, we highly recommend you test long-form articles on your site and see what happens.
Diving into Long-Form Articles
At its most basic level, the term "long-form" as it relates to content refers to written articles and blog posts that are longer than your typical run-of-the-mill post. While standard post length seems to hover around 1,100 words these days, a long read is often at minimum 2,000 words and often extends well beyond that up into the 2,500+ word territory, however, content-length is not always the most important factor.
Long-form writing has become quite a trend largely in thanks to sites like Medium.com, the blogging platform started by Twitter co-founders Biz Stone and Evan Williams. And while that site didn't invent long-form content, it did put long-form articles on the map as it relates to the digital space and how that translates into greater engagement.
If you're still scratching your head at this point, don't worry. What makes long-form work are puzzling things to contemplate. After all, plenty of websites have featured long content in the past. Long-winded diatribes are no stranger to the Internet and the whole idea that the best posts are about 500-words got its start somewhere, right?
Yes, shorter word counts have been preferred for quite some time now for a reason. The thinking here was that attention spans are so short and that potential customers are so busy that they just don't have time to pore over page after page of text. They'd rather get a brief idea of what's up and then move forward. Sound logic, yes, but the very formulaic nature content writing has taken on is precisely what long-form is reacting against.
Long-form content is the concentrated effort to bring creativity back into content marketing. It's about telling stories and engaging readers. That sort of thing is hard to define. Take Forbes contributor Joshua Steimle, for instance, who read a lengthy case study on a design firm, Teehan+Lax's website that fully engaged him—even though he doesn't typically read case studies. What was it about this long case study that sucked him in? It told a story, yes, but Steimle says there was more to it than that. The answer? The study was written for real people and above all else was something the Teehan+Lax team wanted to write and read.
As unscientific as that sounds, the human approach is what's so effective here. As Steimle writes:
…if you create content you like, others will probably like it as well.
Benefits of Long-Form Articles
It's important to understand that long-form articles can be a lot more than just word walls. So we'll dive into some of the benefits below.
The average blog post from 2017 was, on average, just shy of 1,100 words. And that number will likely keep climbing. Compared to 2014, six times as many blogs put out posts that exceeded 2,000 words last year.
Does that mean that the average article is now considered long-form? It depends on who you ask. While many would say that anything over 1,200 words is in long-form territory, that doesn't make it long-form. Because the length of the content is only half of the picture. The other half is in its — you guessed it — form.
Visually Appealing
Much of the negativity surrounding long-form content emphasizes the "OMG that's a lot of words!" part. But long-form content isn't just long. It's also jam-packed with visual stimulation, subheaders, and easy navigation cues to keep it informative but digestible. Other things that might break on content include Tweet boxes (such as seen below) or even a table of contents.
These little touches make a big and cumulative difference in a long-form piece's reception. Adding visual stimulation has an especially big impact. Mixing visual content into high-quality, thoughtful articles transforms your text walls into awesome, mentally-engaging obstacle courses.
Adding images also dramatically increases the reach of your content. You can get as much as 94% more shares by adding just one image to your articles.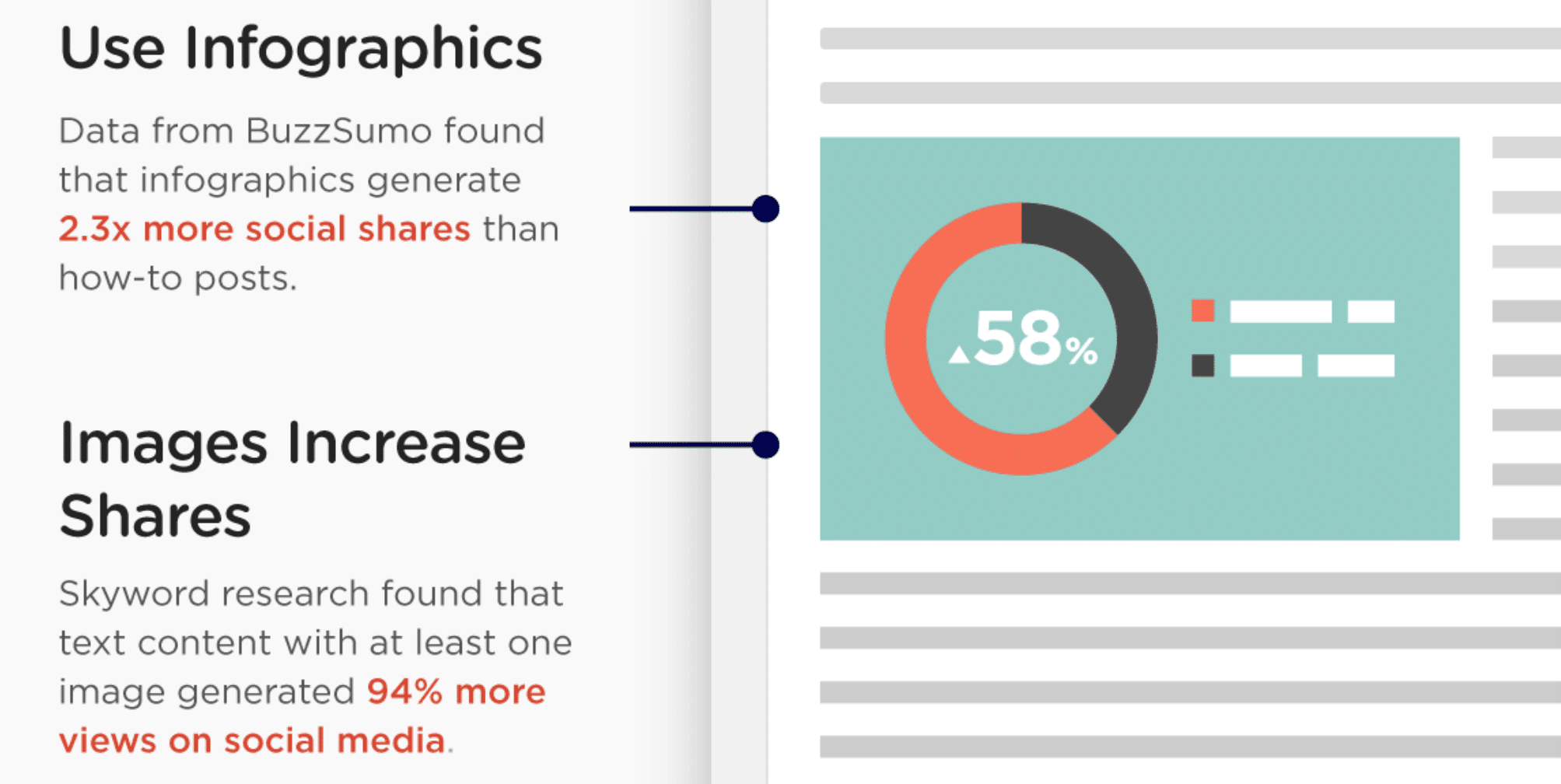 But the more you add, the better. Canva and BuzzSumo looked at data from over 100 million articles. The top performers all had one thing in common: Images everywhere.
They found that adding an image every 75-100 words gets the most shares. Placing images every 125-150 words leads closely behind.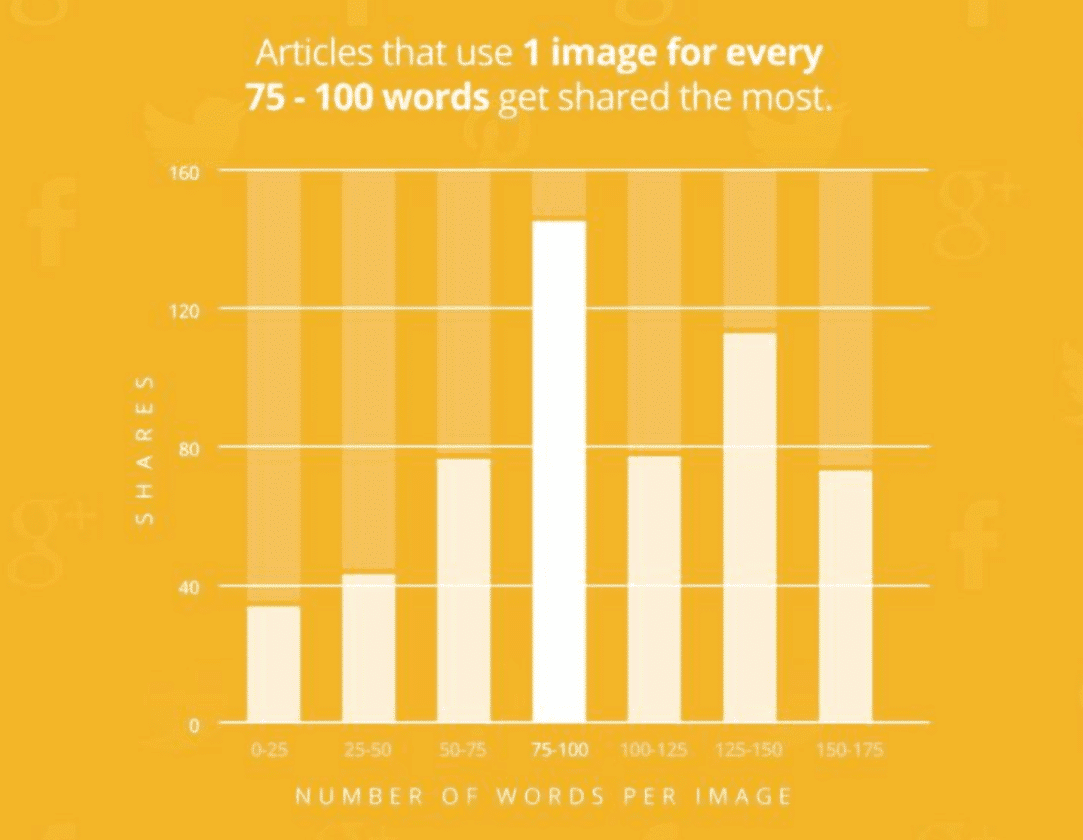 Which means that it isn't enough for a great long-form article to simply have 1,200 or more words. It also needs ten to twelve images to break the copy up and keep it from being a word wall. That's what gives it shape and sets it apart from an early 1990s Encyclopædia Britannica set.
So, if you're committed to creating long-form articles, make sure you're not stopping at word count. Add some visuals to keep things readable and shareable.
Sometimes the content of long-form articles isn't even included in the main blog feed. Rather, it's linked to from the blog and sits on its own static page. A great example of this is our Kinsta Learn Section. Long-form content is more often than not designed to stand the test of time.
Higher Quality
Long-form allows you can create better content. How many times have you come across a post that promises to be a "comprehensive guide" only to find that it just skims over a topic? Yeah, that's pretty frustrating. It's also unavoidable when sticking to traditional blog post lengths. Long-form content lets you delve into a topic more in-depth, include research, and feedback from interviews. It gives you the opportunity to be thorough and that alone can make for higher quality content.
Long-Form Articles Have Huge SEO Impact
Now, with the "what" out of the way, let's talk about the "why." Why should you be writing long-form articles? Well, do you like free search engine traffic?
That question was a bit of a setup, of course. Who doesn't like free traffic? So, lets put it simply: if you want your organic reach to grow, bulk up your word count. Google likes long-form content.
According to research from HubSpot, the longer your articles are, the more backlinks your website will earn.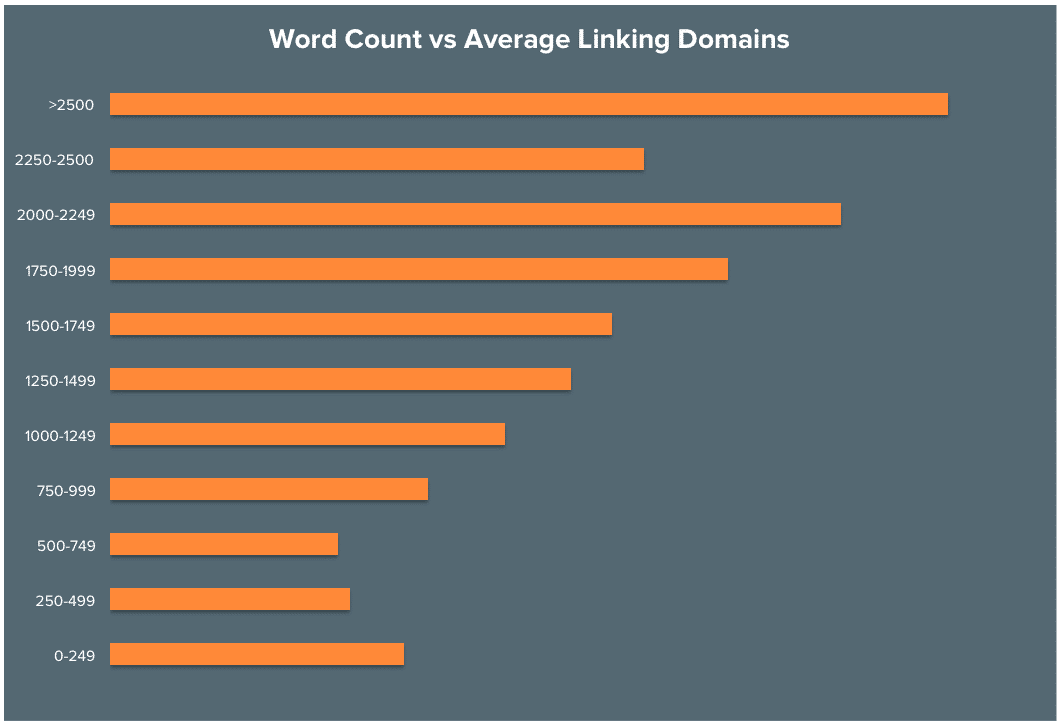 This creates a snowball effect for your rankings. The more links your content earns (especially if they're from websites with a lot of domain authority), the stronger your overall off-site SEO becomes.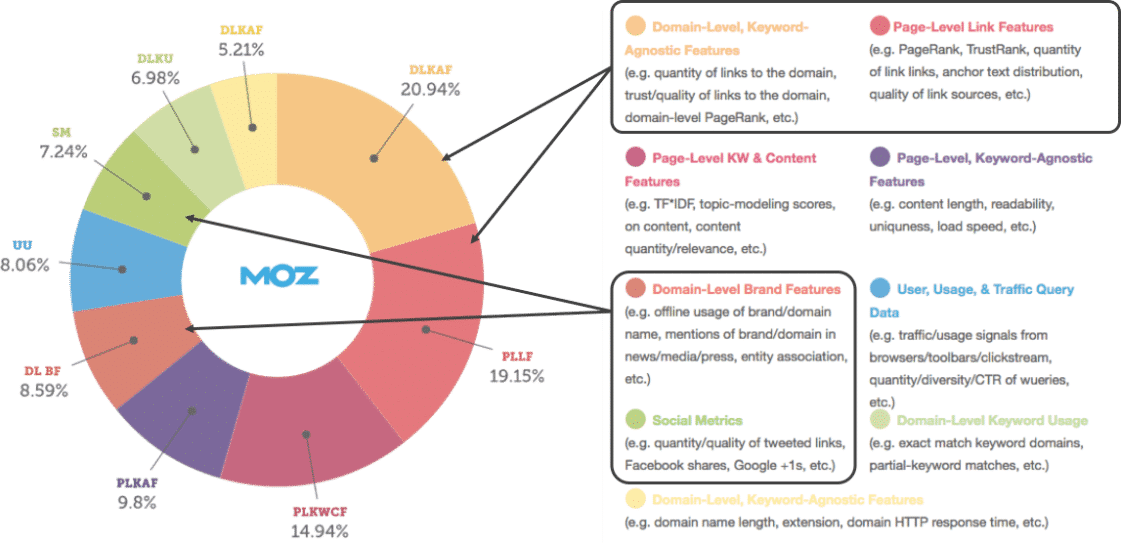 Which is one of the many reasons why lengthier content tends to hold higher organic slots on search engine results pages. In a study conducted by CoSchedule, they also found the same results; long-form content ranks higher on average than short pages.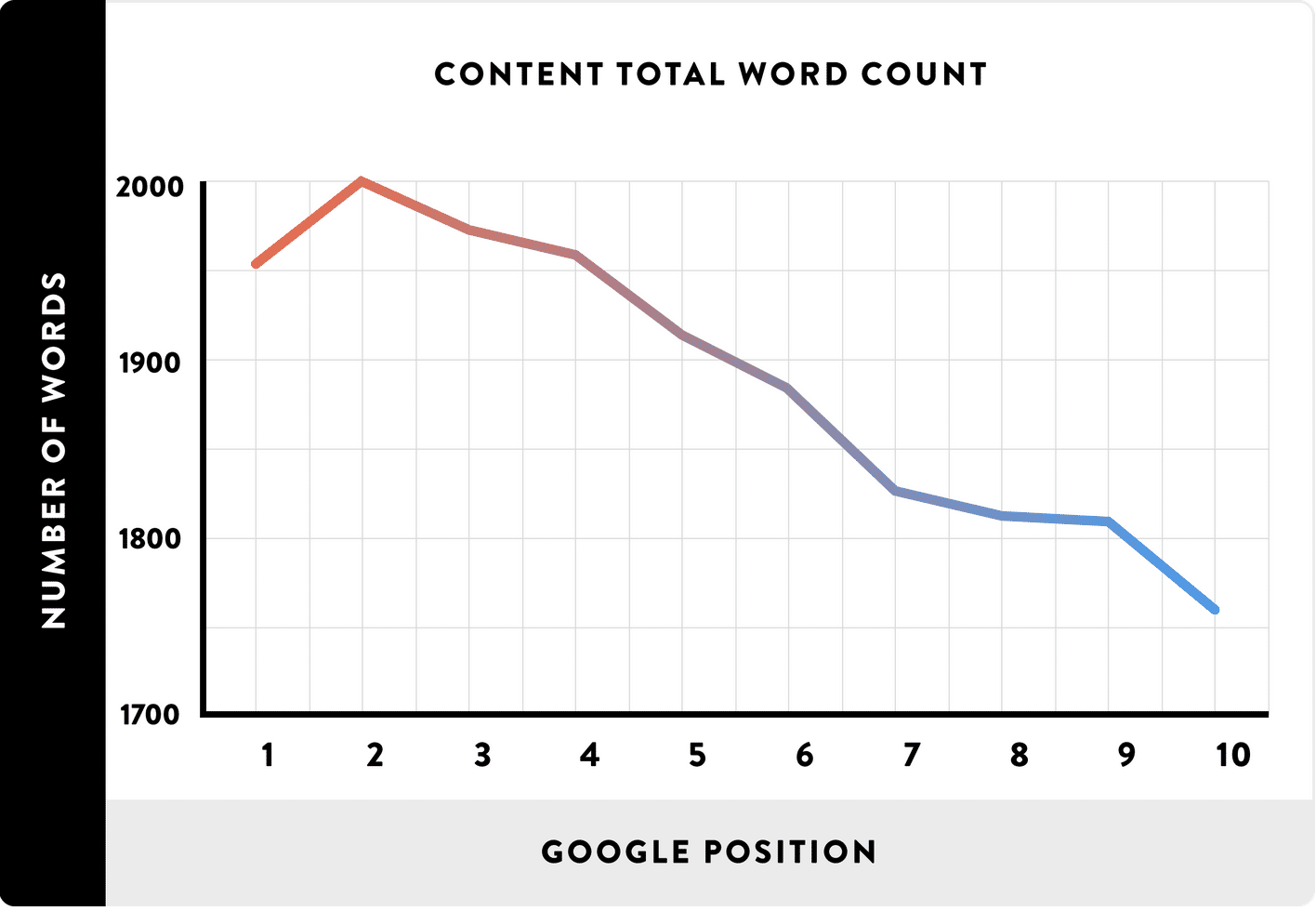 CanIRank, an SEO-specialized agency, wanted to understand this apparent snowball effect. So, they investigated the correlation between content length and organic rank. Their initial results proved stunningly similar to other research.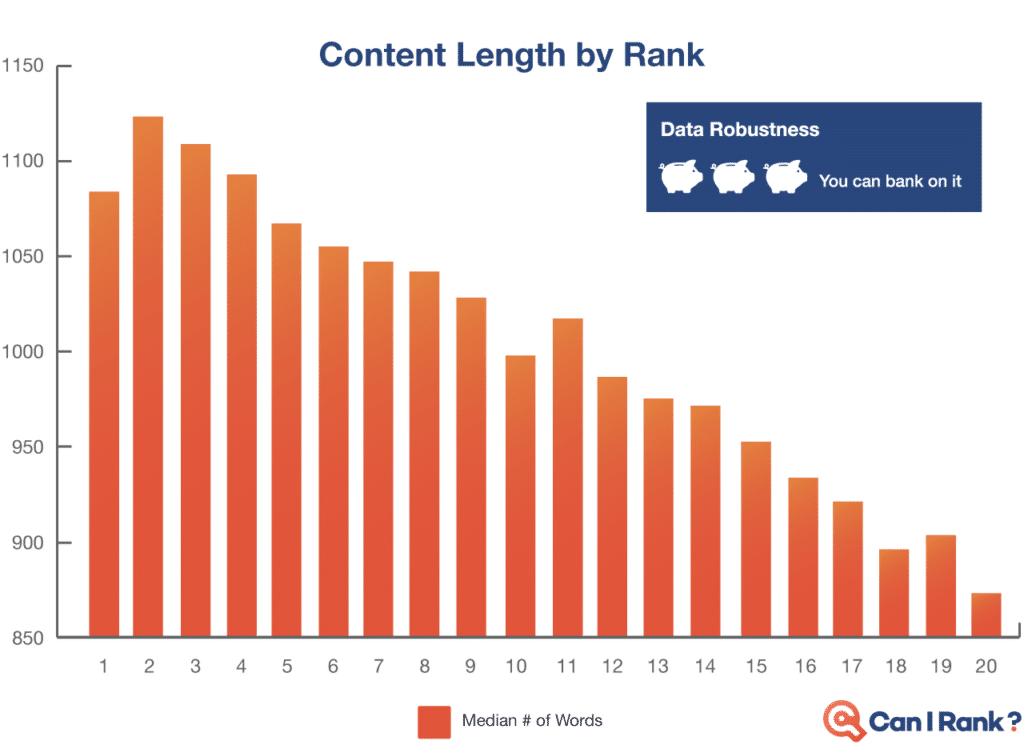 The team dug deeper into the data to find potential explanations for the apparent relationship between content length and search engine rank. They theorized that the following factors might be the cause:
Larger sites with more domain authority tend to publish longer content.
Longer content has more keyword optimization.
Longer content earns more external links.
Expert content creators tend to write more relevant material.
Still, even when controlling for these factors, they weren't able to explain the apparent link between content length and rank. This led CanIRank to conclude that, "…it is, therefore, plausible (though unproven) that Google rewards longer content directly in their algorithm, though the effect is quite small."
But even if the "cause" behind the relationship isn't clear, the "effect" is. Just adding 1000-word posts to your content strategy can help you go the distance. The HOTH deployed this strategy with a new client and saw staggering growth in organic traffic.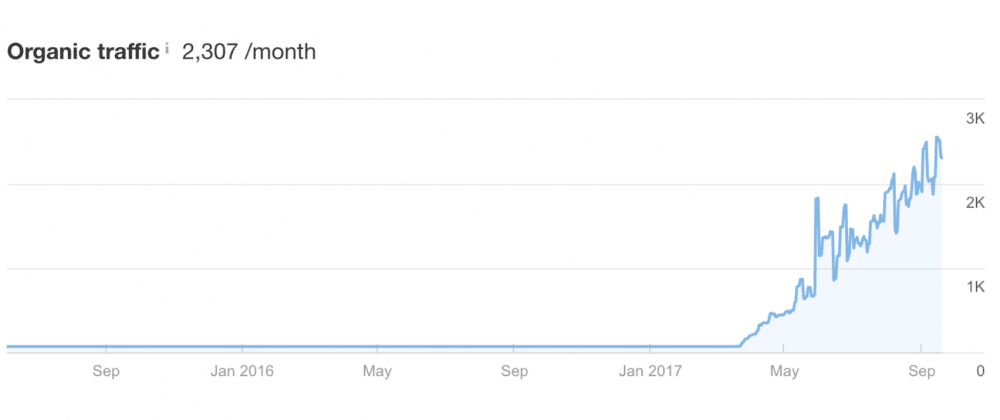 Which brings us back to the original question of this section: Do you like free organic traffic? If so, then bulk up your content and get your word count pumping. Your SEO will thank you, and as more users find their way to your website, your bottom line will show the same gratitude, too.
Now, we've covered the "what" behind long-form articles and the "why." That brings us to the meat of our content sandwich: the "how."
7 WordPress-Friendly Tools and Plugins for Long-Form Success
Optimizing your content is critical for getting the maximum benefits. Neil Patel used this very strategy and saw huge success. In 2017, he doubled his already-monstrous traffic and rankings with the help of MarketMuse's content optimization software.

By changing small things like subheadings, doubling down on his writing word count, and updating his content, his website ranked for almost 100,000 keywords and saw twice the monthly traffic within a single year's time.
And, while the undertaking was still massive for the scale of his site, the changes themselves are easy to replicate on your own. If you decide to move forward with adding long-form content to your site, you absolutely must have the right tools for the job.  Here's a list of third-party tools and plugins that can take your long-form content from drab to Pulitzer-fab. Or closer to it, anyway.)
1. Use Evernote to Keep Your Ideas in One Place
Think of Evernote as a notepad that you never have to refill. You can save audio recordings, handwritten notes, task lists, screen caps, and even whole web pages through Evernote.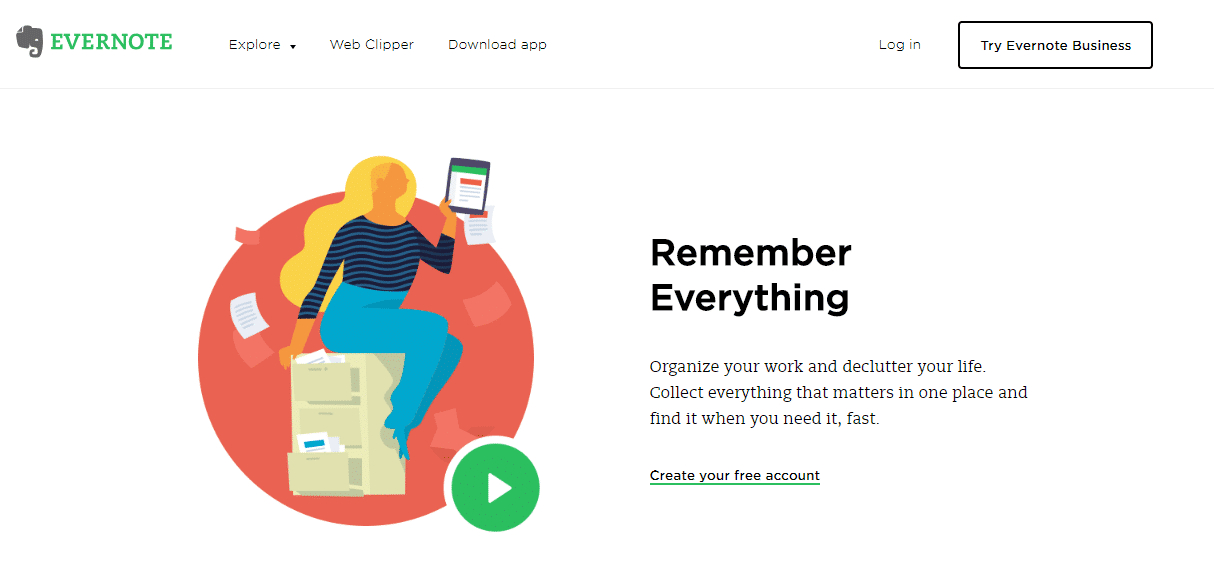 It syncs all of your information across your different devices, which makes this platform an exceptional tool for your long-form arsenal (and a serious productivity booster at that). See an idea for an article on another website? Save it to your digital notebook in Evernote. Come across a great email you can use as an example of a marketing technique? Tag it for later.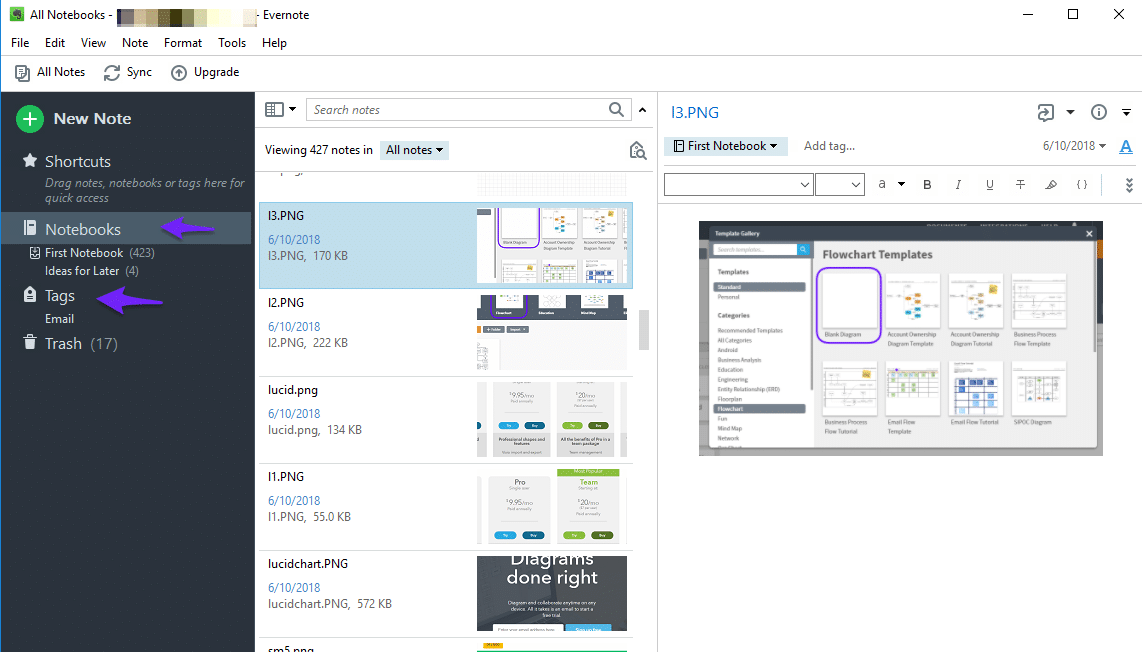 If you're working solo, the basic plan is free and lets you upload up to 60 MB of new notes a month. It has lots of other features, too:
Sync across 2 devices.
Clip web pages, images, PDF files.
Search for text inside images.
Share notes with friends and colleagues.
Lock the mobile app with a passcode.
Have a team? Evernote offers even more flexibility and options with their business package. CoSchedule, one of the company's we'll talk about later, uses Evernote to keep their team organized and on the same page in case of a disaster. Here's what Eric Piela, CoSchedule's Head of Public Relations, says:
Every process is documented. If any system goes down, we have the information to recover quickly. It's all searchable in the notebook.
So if you're struggling to keep your team or your article ideas in one place, Evernote is a definite must-have for sourcing and saving your long-form research. Plus, integrating Evernote with WordPress is a cinch. But don't just take our word for it. Let's take Evernote for a quick spin now.
To start with, head over to Evernote and sign up for an account with your email or Google account.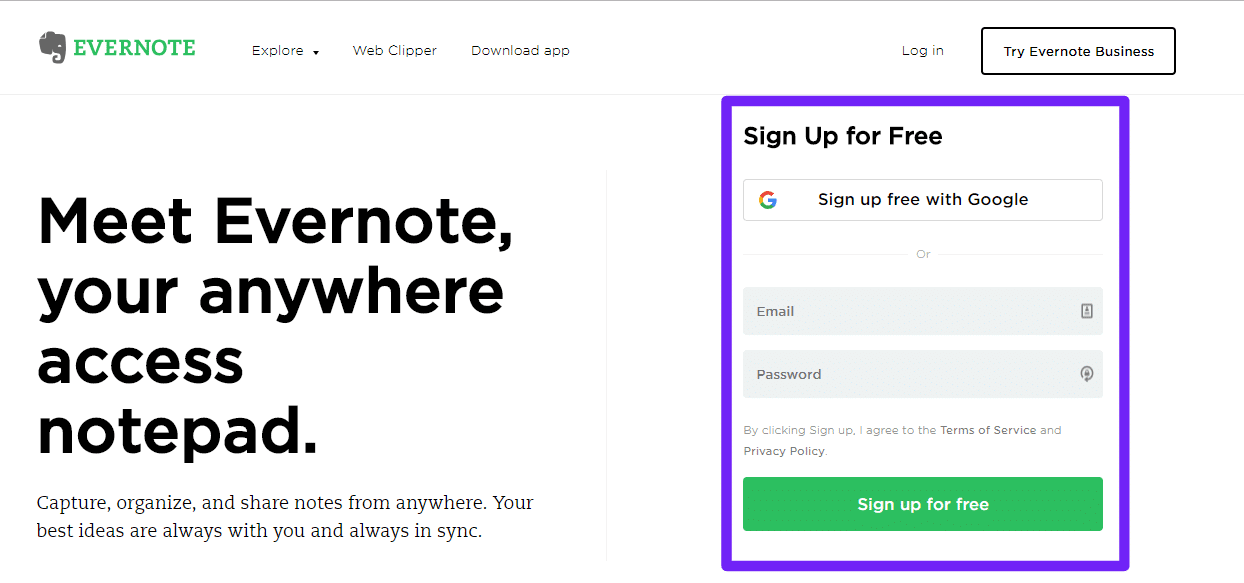 If you use a Google account, you may land on this screen. If so, click on the green "Create Account" button to proceed.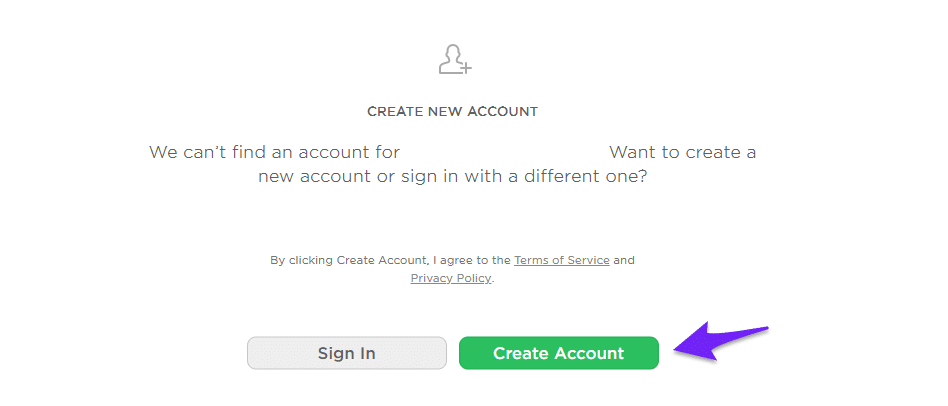 This will bring you to the next part of your account set-up. Since we're using Evernote to save research for our articles, choose the right-hand option "To organize content."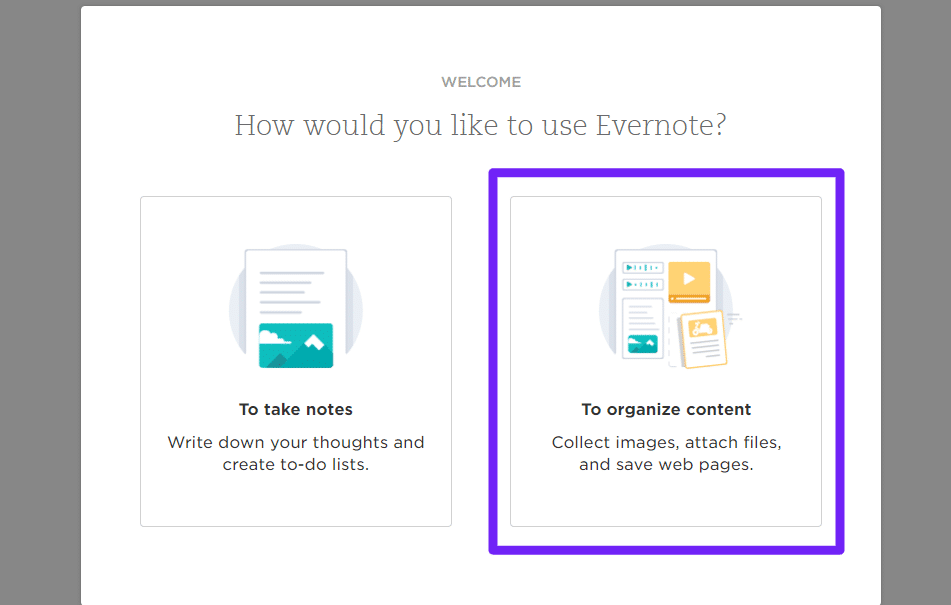 Next, select "Get Web Clipper."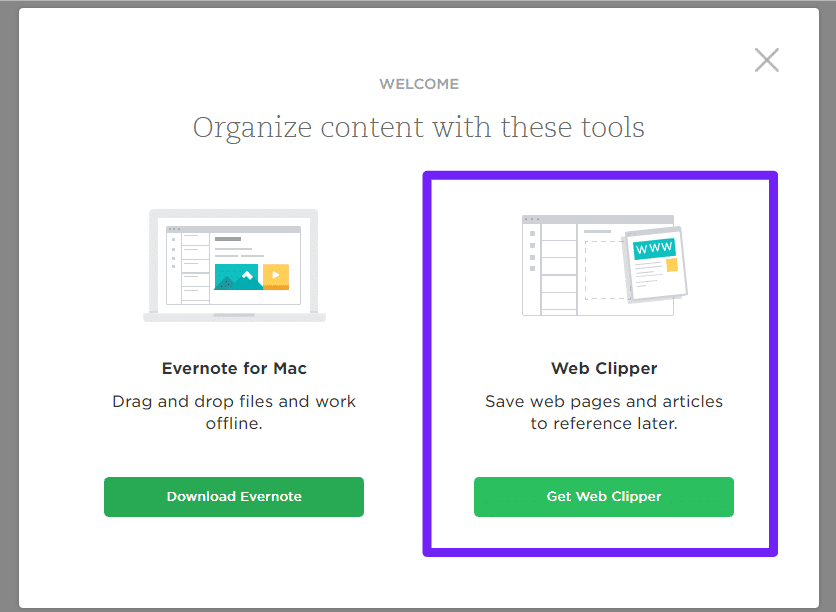 If you want to work with the desktop application, you can also select the left-hand option to download and install that. Both options will open in a new tab. We'll come back to this tab in just a second, so leave it open for now.
Since we're using Chrome, that's the default option on the next screen for us. Evernote is also available as an extension for Internet Explorer 7+, Opera, Microsoft Edge, and Firefox.
Go ahead and finish installing it on your browser of choice. Once you're done, return to the original welcome screen and use the "x" button in the top corner to close it. Here's what your default dashboard will look like. It's a little plain-jane right now, but we're going to change that in the next step. Click through or minimize the "Getting Started" tab.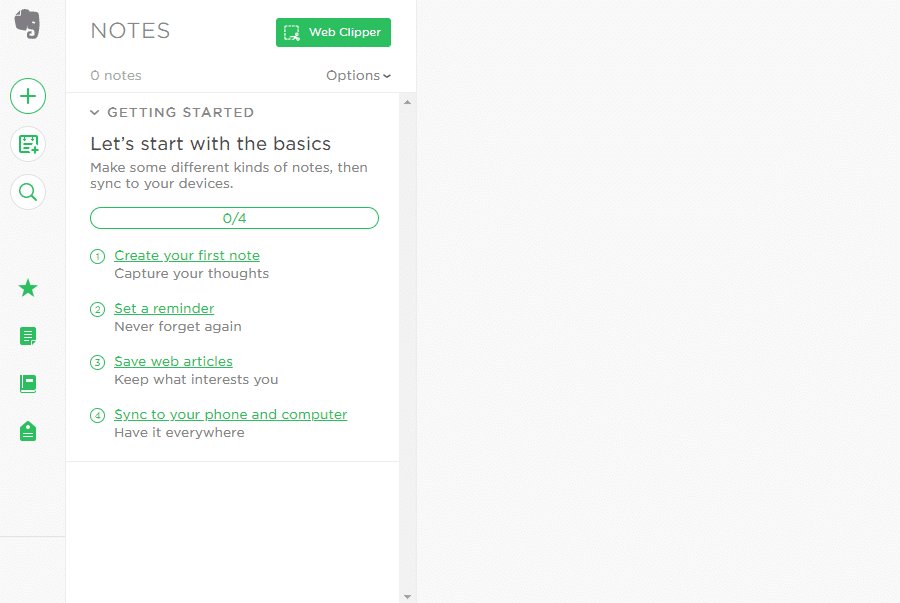 Now, let's do some research and save a webpage. As an example, let's say that we're writing a follow-up for our recent website usability guide. So we swing over to Google, put in my keyword terms ("user experience tips"), and find a page we like.
We settle on "7 Tips to Improve Your UX Design Practice. When you find something you want to save, click on the Evernote icon up in the top right corner.

This will trigger a drop-down menu, which enables you to save the page in a few different ways:
The article as a whole (with the site formatting)
A simplified version of the article
The full page with every bell and whistle
A bookmark
A screenshot
For now, assuming that we want to be able to reference this page back exactly, select the third option: "Full page." As it creates and syncs your clip, you'll see an indicator in the top right corner.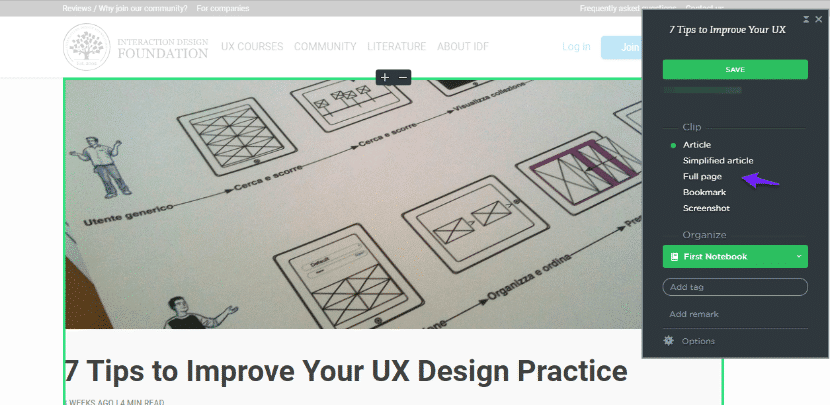 Once it's done, head back to your Evernote dashboard and select the second icon from the bottom to access your notebooks. You should see your fully-clipped page waiting for you.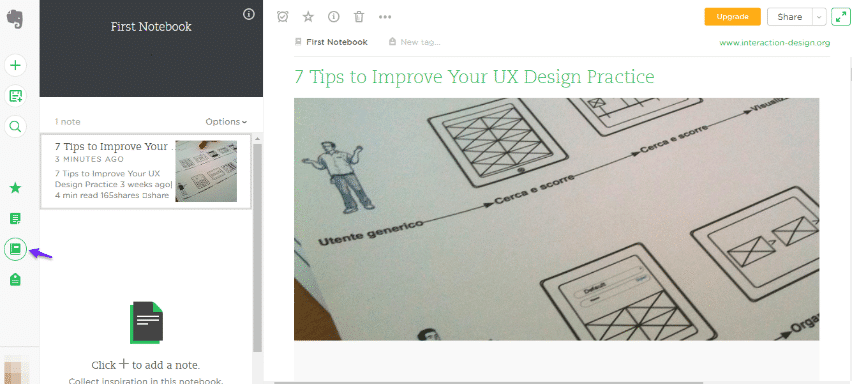 And there you have it. Rain or shine, you can now refer back to this web page with all of its navigational and design features — no matter what happens to the original source. Some other alternative tools you might want to also check out are Google Keep and Trello vs Asana.
But what's better than a notebook you can never lose? One that corrects itself as you work. For that, turn to our next tool.
2. Let Grammarly Make Your Writing Smoother and Smarter
If you've ever tried writing a piece and later discovered that your oh-so-helpful word processor made the executive decision to change "taught" to "taut," you're going to love Grammarly.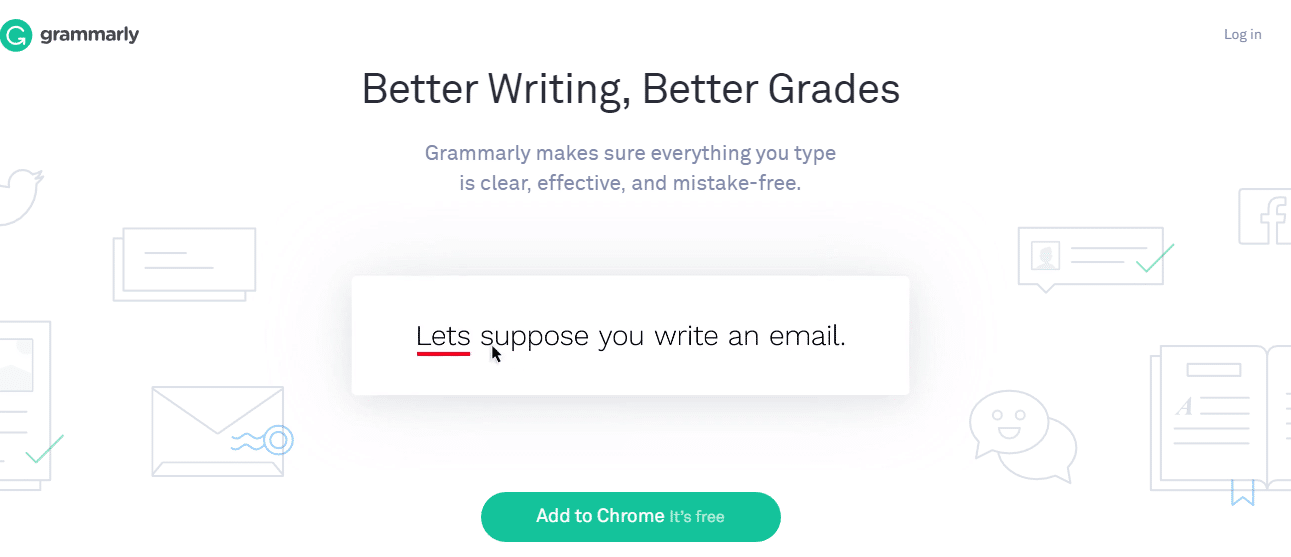 Part personal editor, part writing assistant, and part motivational coach, Grammarly is a plug-and-play browser extension that integrates seamlessly with most text boxes. Which means that, unlike Jetpack, you don't have to install or enable Grammarly as a plugin to proofread your posts directly as you type.
What really makes Grammarly stand out from other word processors is its contextual intelligence. If homophones like "taut" and "taught" ever give you trouble, Grammarly can analyze the text and make intelligent, relevant recommendations for potentially confused words or style mistakes.
Don't leave the quality of your writing up to chance or ineffective word processors. Especially with long-form articles, you're bound to miss something, no matter how good of a writer you are. Or for those of you writing late at night. 😉 Add Grammarly to your browser to proof and polish your copy as you work. It's free, fast, and easy to set up.
And when you're done sourcing and proofing your piece, use this third tool to put the final touches on it by checking your readability level and optimizing your keywords.
For more tools and recommendations you can take a look at our other post: Best Grammar Checker Tools for Writing.
3. Optimize Your Content With Yoast SEO
Trying to navigate the ins and outs of SEO can feel like trying to get on every ride at Disney World before lunch. While blindfolded and pulling a wagon full of kleptomaniac lemurs.
Which is to say that even if you're an SEO expert or professional lemur wrangler, it never hurts to have a little help. That's where the Yoast SEO plugin comes in.
Don't just rely on your word count to pull in organic traffic. Use this plugin to analyze and flag your keyword density, meta descriptions, passive voice, nofollow links, and so much more.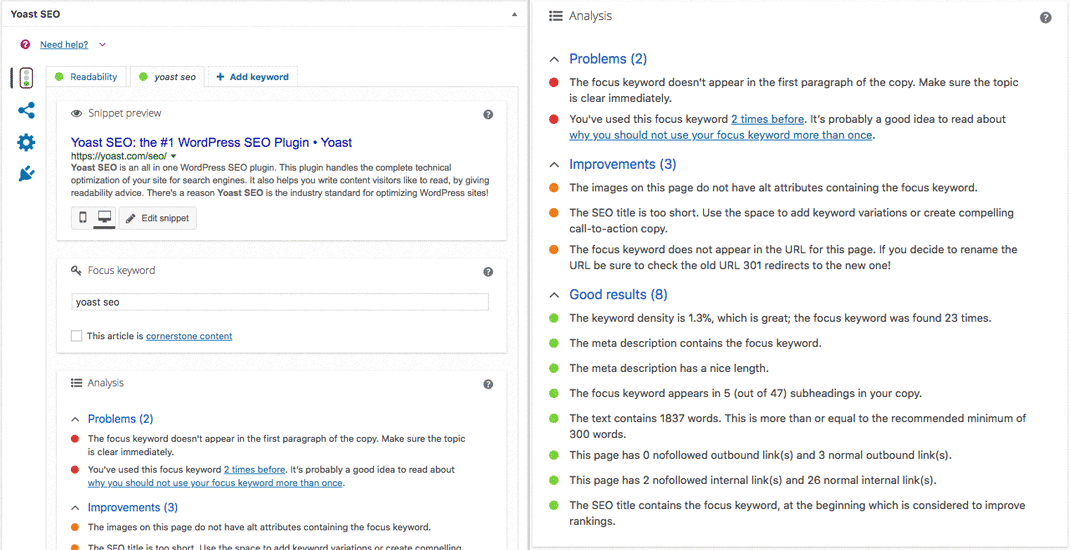 There's a reason this plugin frequently makes "top ten" lists for the best WordPress plugins. You can check out our detailed step-by-step guide to installing and making the most of the Yoast SEO here.
So if you're not already using it for general WordPress SEO, swing by and add it to your website to give your content some much-needed analysis and optimization help. Check out some of these other WordPress SEO plugins you could also use.
But don't just optimize your copy. Forgetting your images can have disastrous effects on your users and ranking.
4. Make Your Images Sleek with Image Optimization
According to HTTP Archive, as of July 2018, images make up on average 43% of an entire web page's weight. With long-form articles, it's more than likely to be even higher than that!
So if you're packing your articles full of visually-stimulating goodness, make sure your images don't slow down your page and do more harm than good. Images that aren't properly optimized can make your web pages take a long time to load. And that's never good for your site traffic.
Pages that take seven seconds to load can easily lose 30% of their visitors. Yikes!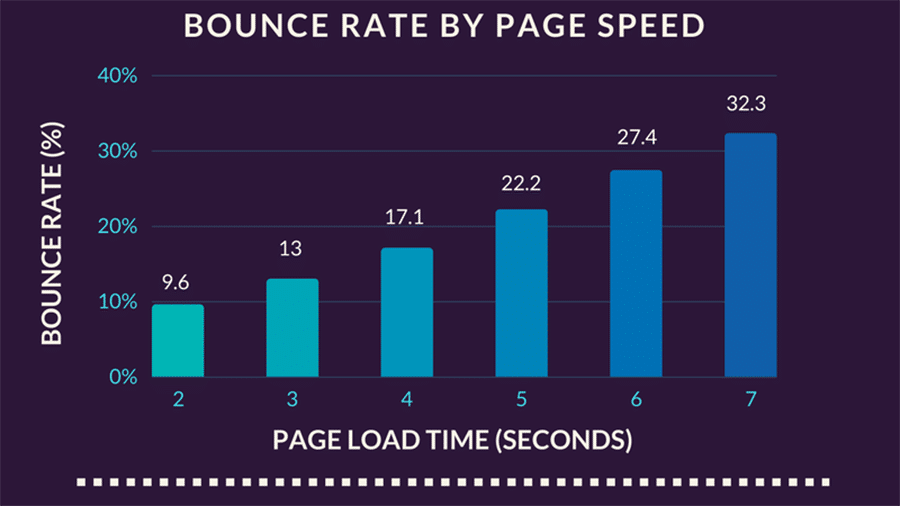 As far as first impressions go, a long load time makes a very, very poor one for new visitors. Thankfully, this is where an image compression plugin comes in. You can easily compress your images without sacrificing their quality, which will cause your pages to load faster.
Here are a few image compression plugins for WordPress that we recommend:
After you set your plugin up, it will automatically optimize everything you upload. Important: all of the plugins mentioned above optimize images offsite, therefore they won't impact the performance of your WordPress site while the compression is taking place.
And for everything you've wanted to know about image optimization but were too afraid to ask, check out our in-depth image optimization guide.
Images ready to go? Now all you need is a "when" and "where" to get your long-form article show on the road. For the "when," consider trying out this next tool.
5. Build an Editorial Calendar with CoSchedule
69% of businesses that do content marketing rely on an editorial calendar to keep them organized. 📔 Whether you're putting out your content as a solopreneur or have a small team, an editorial calendar helps you map out when, where, and how you'll publish your content.
Asana and Trello are both popular tools. Here's a quick peek at a Trello calendar.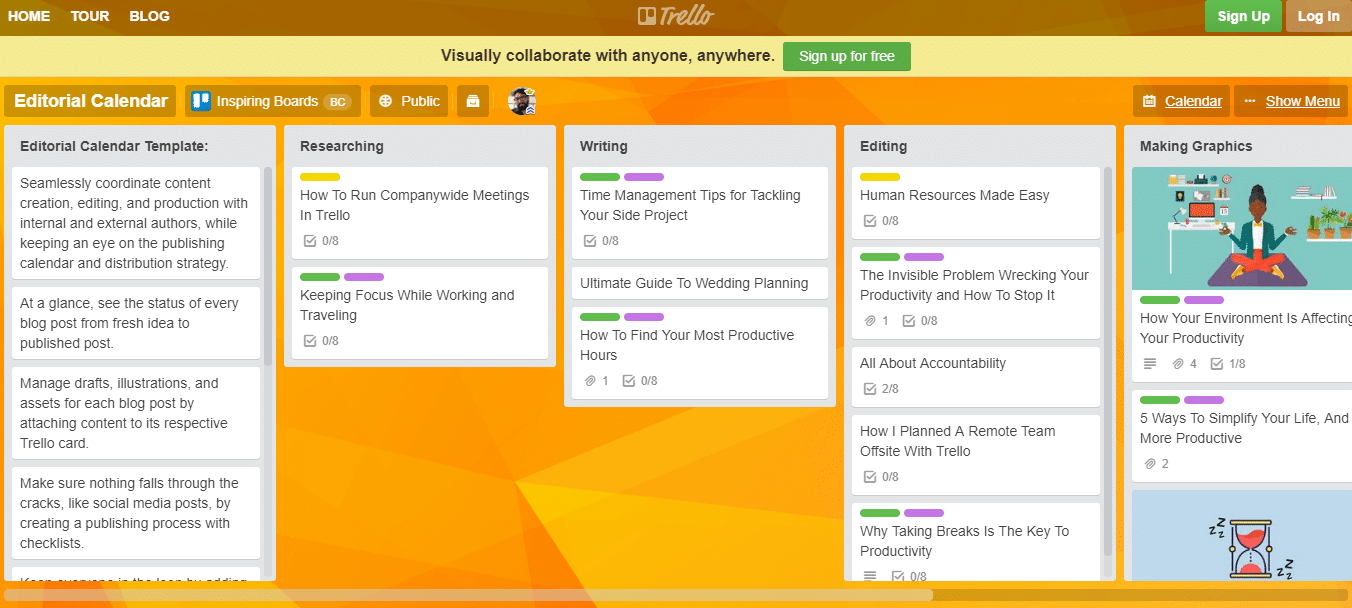 And here's a similar look at a calendar from Asana.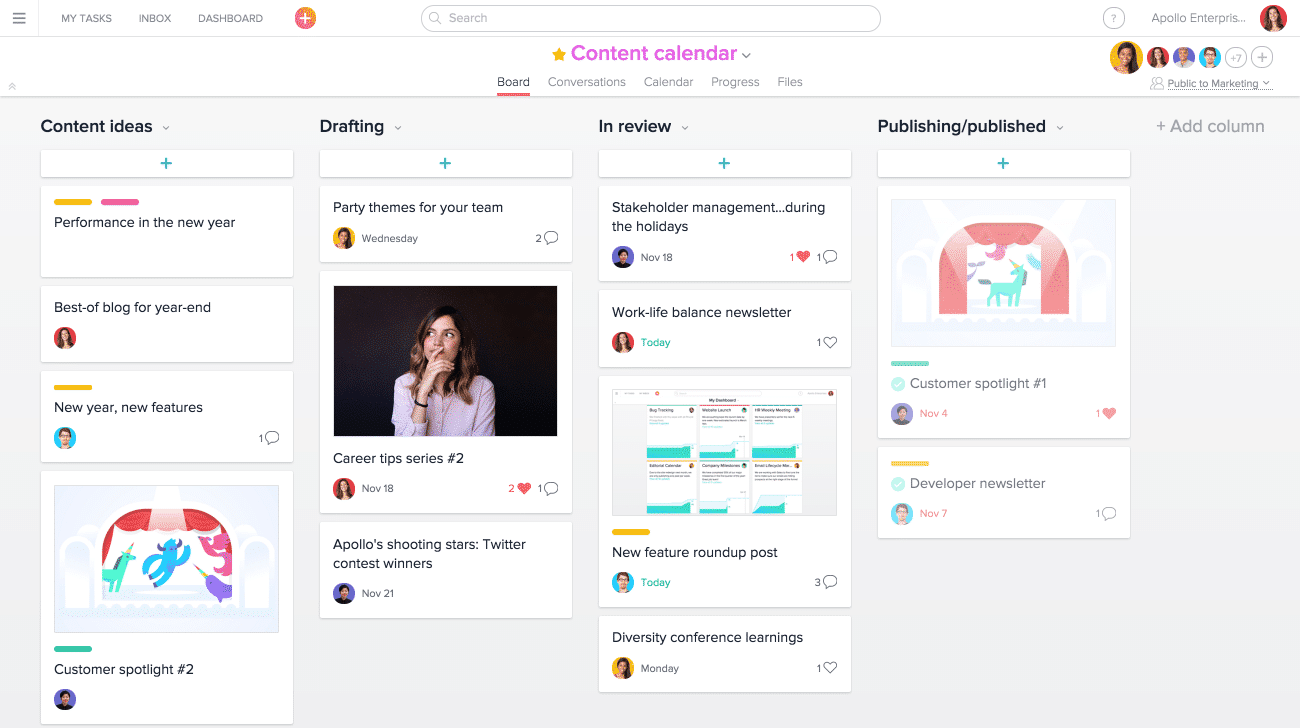 Both of these platforms are robust and offer free plans to meet most small business needs. However, neither of them can hold a candle to CoSchedule for one simple reason: CoSchedule has a native, official plugin that ties directly into WordPress.
Here's what it looks like from your WordPress dashboard.
Neat, right? Plus, CoSchedule's plugin comes with additional features like its world-class headline analyzer to make your articles as engaging as possible.
6. Table of Contents
When dealing with lengthy content, you can help your readers out by providing a handy table of contents. This can be made possible thanks to the Easy Table of Contents plugin. It's a simple solution that falls in line with Wikipedia-style formatting, though it can be styled to suit your needs with custom CSS, too.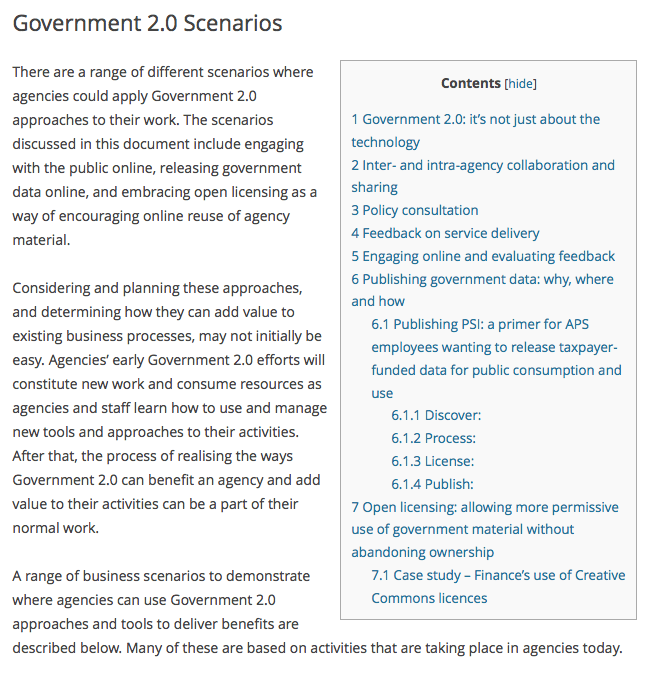 Or you can create a table of contents manually like we do on our blog posts using anchor tags.
7. Post Reading Time
A common trend for sites that host long reads these days is to include the length of time it will take the average person to read a post. Add this to your site using the Reading Time WP plugin. You can display the time in a variety of ways and make your site look more like Medium. Win-win!
Finally, let's check out some awesome themes that make long-form content a breeze to showcase.
2 Long-Form Loving WordPress Themes
If you want to create long-form articles on WordPress that stand out, you need to choose a great theme. Here are two options to help your content grab attention from your audience. You can, of course, create long-form articles with any theme, but these are ones that were built entirely with long-form content in mind.
1. Let Your Writing Shine with Typology
Aptly named, Typology is a writer-ready theme that places your copy on a pedestal and lets your words dominate the page. If the idea of looking for featured images makes you break out in a sweat, this theme is perfect for you. It features beautiful layouts with or without cover images.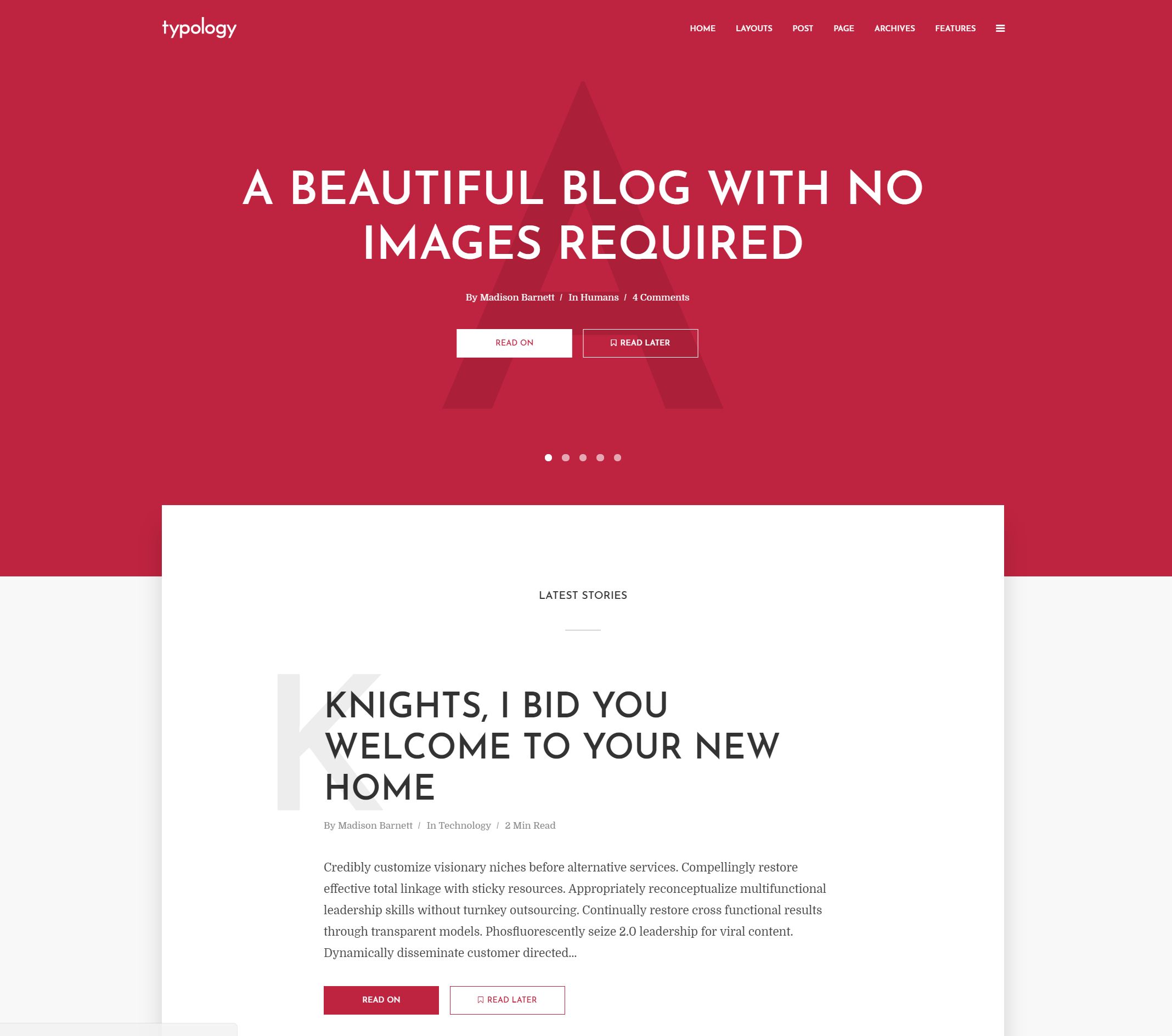 If you do include a cover image, your words will still take center stage. This theme uses scroll-over effects to keep your copy at the forefront of user attention. Typology is ideal for businesses that want to add long-form articles to their content strategy while still enjoying the benefits of seamless WooCommerce integration. And, it's fully mobile responsive.
Typology has earned an average rating of 4.96 out of 5 stars, and its $49 price tag isn't too hard on the wallet, either.
2. Keep it Simple and Clean with Typable
Typable, from Array, is a minimalist's dream built into one convenient, content-focused theme. It's clean, crisp, and gives you stellar white space compositions.
In addition to its beautifully simplistic design, this theme is easy to customize and great for showcasing longer pieces of content.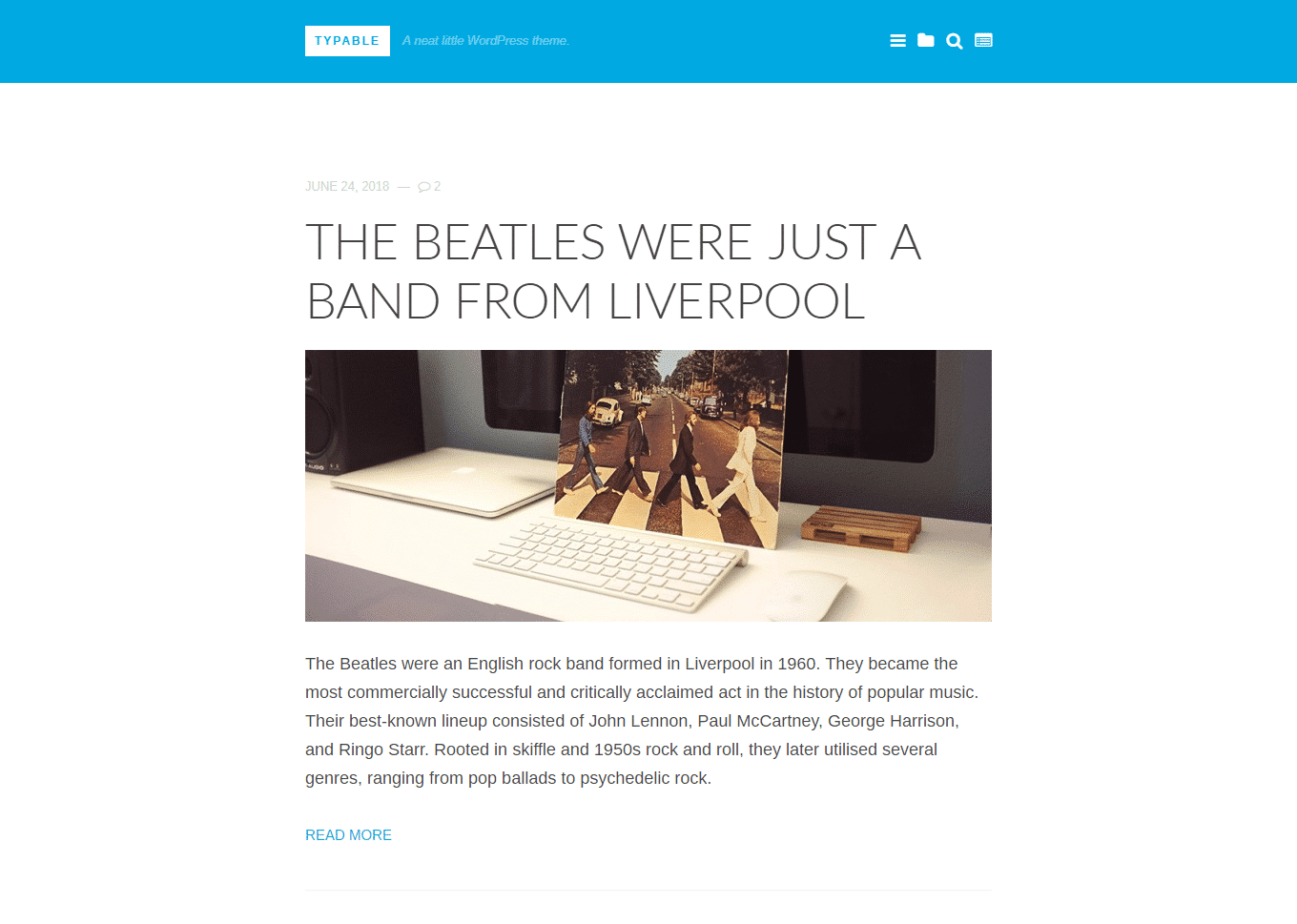 It has an ultra-sleek drop-down navigation menu. With its smooth-as-silk AJAX post loading, this theme comes SEO-ready out of the box. If you purchase Typable as a standalone product, you'll pay $49.
Summary
The sun hasn't set on short posts. They still have their place. But the old ban on long-form content has been lifted in a big way. The new rule is this: If you have something to say, say it in as many words as it takes. Basically, don't let arbitrary guidelines dictate the direction of your content. Instead, let your content be your guide.
Make it easier on yourself and more enjoyable for your users by using long-form articles. Long-form articles are more than just massive word walls. If they feel like a standard blog post, that's what they are. Subheaders, visual elements, and easy navigation are all distinguishing features of this type of content.
The primary reason to write longer articles? Free web traffic and SEO. There is a strong correlation between word count and organic rankings. Evernote, Grammarly, Yoast SEO,  image optimization plugins, and CoSchedule are all excellent tools to add to your content toolbox for creating outstanding articles on WordPress.
Looking for a theme that will let your content do the talking? If you're ultra-minimalist, go for Typology. If you're a little closer to center, Typable is a longstanding favorite. But if you want major versatility, any WordPress theme will do.
Remember, just because long-form articles are long, that doesn't mean that they have to be boring. Use the tools and tips in this article to give your articles some pop and keep them SEO-friendly. First impressions only happen once. Make it a good one. With this mindset, you can't go wrong.
How are implementing long-form articles on your WordPress site? What tools are you using? Have you run into any obstacles thus far? We'd love to hear all about your trials and triumphs in the comments below!