Visual Editor on a High Level
Qards is basically a collection of pre-designed cards, that you can simply put together and customize in order to have your beautiful website ready in no minutes. The plugin is built with WordPress and it's fully responsive, providing a perfect user experience on any device.
The cards are different components/parts of the website which has to be matched in optional order. There's no need for any design or coding knowledge, the built-in visual composer will help you form your website, then edit the cards inline, reorder blocks, add media and format text.
The Usage of Qards
Designmodo kept simplicity in mind again when they created their new plugin. For purchasing the plugin, you'll have to create an account on designmodo.com first. You can activate the purchased plugin in a few easy steps.
After activating the plugin, you'll have to click on 'Dashboard' and select 'Qard License' to enter your API License Key and License Email (which can be found on your account page at Designmodo). This is an important step in order to get access for support and updates.
For those who'd like to see these simple steps in a video format, here's a short tutorial from Designmodo.
When your plugin is ready to use, the next steps will be even easier than the activation. You'll see a new menu item 'Qards' appearing in the navigation bar. You can add new pages to your website here and design them by using Qards' visual editor. After adding a new page, click on the 'Visual editor' button and let the game begin.
You will see a '+' button on the bottom left of your screen which opens a navigation menu containing all the blocks available and ready to be matched together. You can select the type of the top menu, footer, cover, grid, etc. All the blocks contain different types of options, however they are quite similar, the main difference is basically in the layout.
After putting all the cards together in an optional order, you can preview what you've done so far, save it, but you can also reorder blocks at any time in case of changing your mind. Qards uses a simple drag and drop technique, so you'll just need to drag one block and put it somewhere else.
When your blocks are in place and the layout is ready, you can start editing the content of the blocks. By clicking on each box or the content inside it, you'll be able to upload your own photo, enter new text, change fonts, colors or add video. Also, you can set the links of the logo and each button on the page. Simple as that.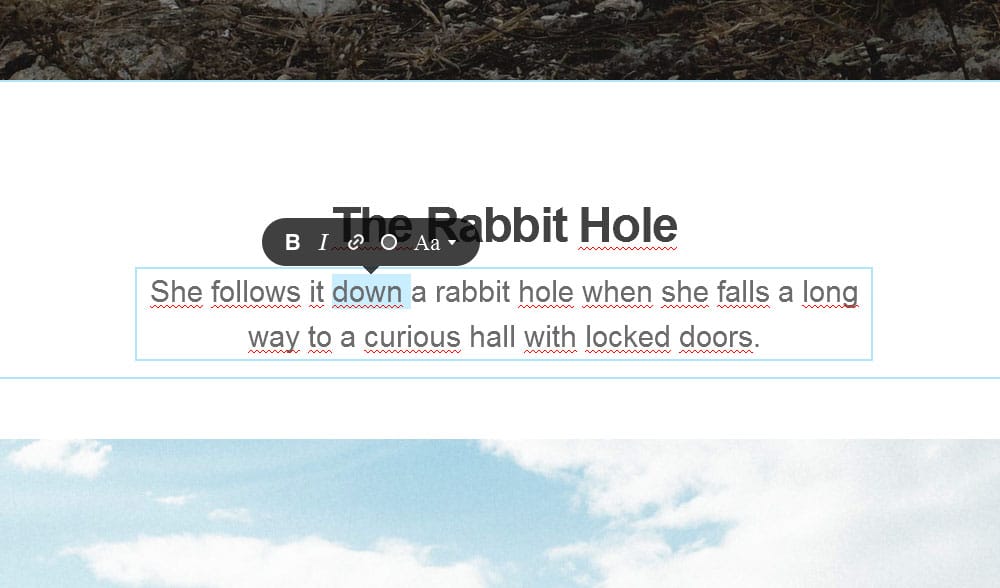 Who is it For?
It is important to note that Qards works with most of the themes that has been coded to WordPress' standards (Designmodo says 99% of the time, however they cannot guarantee that all themes are compatible with their plugin), but most likely you'll be able to combine the features of a theme and Qards to get a website tailored for your needs.
Reviewing the features and possibilities of the plugin, I would mostly recommend it for those who'd like a beautiful and modern pre-designed website and have not too many custom needs or difficult features to be built in.
Qards can be a perfect choice for startups, personal blogs, travel agencies, photography websites and for WooCommerce stores as well. The plugin is also a wise pick when you have to create attractive landing pages, case studies or presentations for your business.
Designmodo also recommends Qards to be used along with WooCommerce in order to create an eye-catching presentation for your products. Watch their video tutorial to get a better insight into the simple steps and nice end result:

Qards is also available for agencies with a bulk discount. However it is possible to edit HTML and CSS in the plugin (note that visual editor will disappear in that block after doing so), every agency has to decide themselves about how custom websites they're making for their clients. You can use shortcodes for example directly in HTML, but Qards doesn't support widgets yet.
How to Get Started
I think Designmodo offers a fair deal by providing the possibility of trying a demo version first, mainly because you can test almost everything in that. After going through the main features of the plugin in the demo, everyone can easily decide whether it's the desired plugin they're looking for.
A single license for one domain is $69, and it costs $289 for an agency to get the license for 10 domains.
The license guarantees you access to constant updates and support (in order to get that, it is very important to enter your license key as described above).
One thing is certain, Designmodo is still working on their product and testing new features to add them as soon as possible, and they are glad to hear every feedback on new features needed.
Summing up the experiences, I think the plugin is able to satisfy the requirements of many online businesses, but even if anyone would be hesitating, trying the demo will make you sure that you won't be getting a pig in a poke.
Have you already tried Qards? What are your experiences? Let me know in the comment section below! We'd also love to see your WordPress site built with the help of this plugin!
Related article:
Slides Review: A Closer Look at DesignModo's New Framework