These days, there's no shortage of options to help you get your website up and running. However, picking the right one can be tough. This is especially true if you're deliberating between two major players such as Webflow vs WordPress.
Fortunately, there's a way to make this choice a little easier. By comparing Webflow vs WordPress in a few key areas, you can figure out which is most suited to meet your needs.
In this article, we'll introduce you to the basics of Webflow and WordPress. Then we'll walk you through five major elements that you might want to consider before you opt for one over the other.
Let's dive right in!
An Introduction to Webflow
Webflow has been offering website building and hosting services since 2013. With a user-friendly visual editor, it offers an experience designed to seamlessly take you from creation to launch: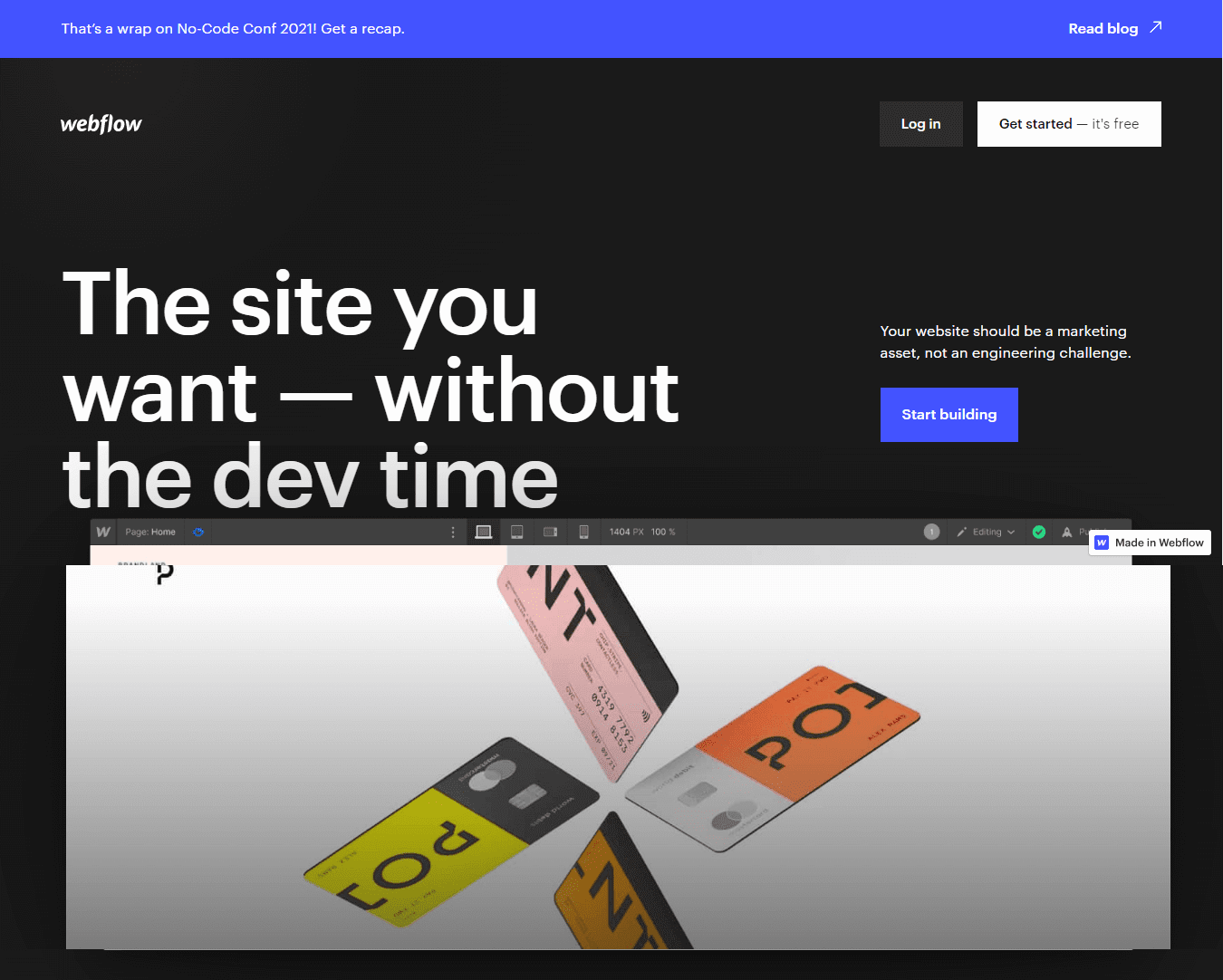 Moreover, there's no need to code. Webflow will automatically generate HTML, CSS, and JavaScript without you lifting a finger. However, if you're a developer, you'll still have the opportunity to edit code directly.
For this reason, Webflow's target audience tends to be those with a bit of web design knowledge. You don't need to be a professional to use this Content Management System (CMS), but it may be helpful if you're hoping to build a highly-customized site.
Here are a few other Webflow advantages that you might appreciate:
Enough flexibility for almost limitless possibilities
Lots of integrations to make centralization easy
A classic visual editor that makes designing more intuitive
Nevertheless, no product is perfect. There are a few potential downsides that you might want to consider as well:
The sheer number of design choices can be intimidating
Pricing plans may not be accessible for some budgets
The interface is complex and comes with a learning curve
Finally, let's talk about popularity. In terms of market share, Webflow makes up around 0.6% of all websites. This is less than other options such as Shopify and Squarespace. However, the sites that Webflow does support tend to have higher traffic than its competitors, making it a notable option in its niche.
An Introduction to WordPress
WordPress.org is a comparatively more seasoned option. Since 2003, this open-source platform has been evolving with impressive speed: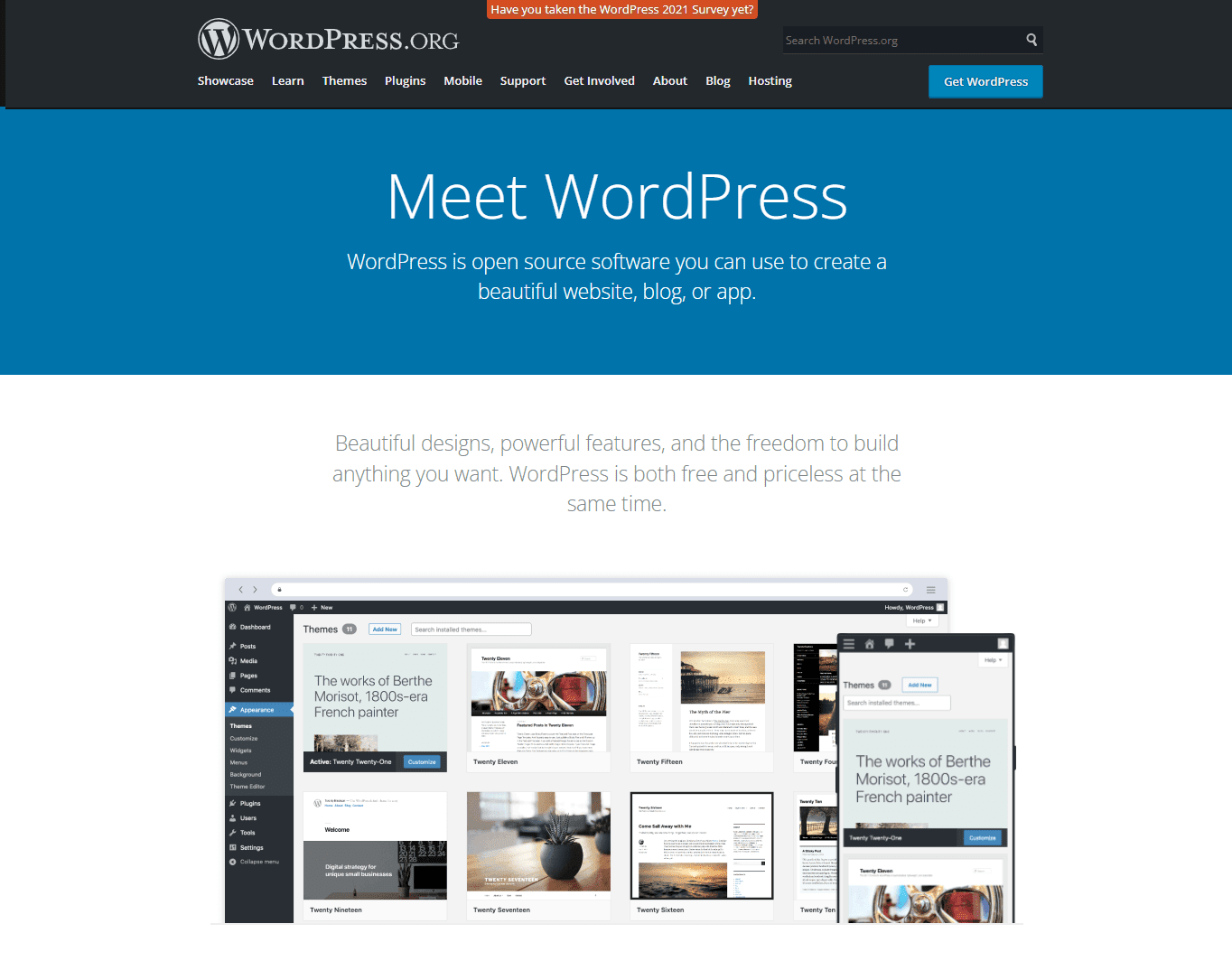 As a quick side note, WordPress.org is different from WordPress.com. The latter offers a fully-hosted solution, while the former is open-source software. Both are distinct experiences, as reflected by their unique statistics.
WordPress doesn't have a single target audience. The sheer flexibility of the platform means that almost anyone can find a use for it.
If you're a web design pro, you can probably take advantage of this freedom. However, it admittedly takes more work to build a WordPress site than it does with out-of-the-box solutions like Wix. Thus, you might need to expect a bit of a learning curve, especially if you're a beginner.
Nevertheless, there are a few reasons why anyone might want to use WordPress:
A highly customizable and flexible platform that can create a wide variety of sites
Open-source design that allows you to fully customize your entire project
Large libraries of themes and plugins, both free and paid
On the other hand, there are some disadvantages as well:
Open-source design that can create more opportunities for hackers
Deep-site editing risks crashing your website if you make the wrong change
Frequent required updates for the CMS, plugins, and themes
Let's wrap up with a look at WordPress's market share. This CMS is a giant in its field, with 42.9% of websites taking advantage of its tech. That means if you're interested in this program, you'll have plenty of fellow users.
Webflow vs WordPress: Which One Is Better for Your Next Site? (5 Key Considerations)
Now that we've gone over the basics, here are five elements that you might want to consider before making your choice between Webflow vs WordPress.
1. User-Friendliness
User-friendliness is central to website-building – after all, struggling with a platform can take precious time away from creating your site. Here are a few facts to help you decide between Webflow vs WordPress for the most seamless user experience.
Webflow
Webflow offers an impressive array of setup resources. For example, you'll get access to Webflow University. This will provide you with a series of courses, boot camps, and videos to get your website off the ground.
Webflow has also tried to simplify the setup process. Upon launch, you'll get a walkthrough in the form of a setup wizard: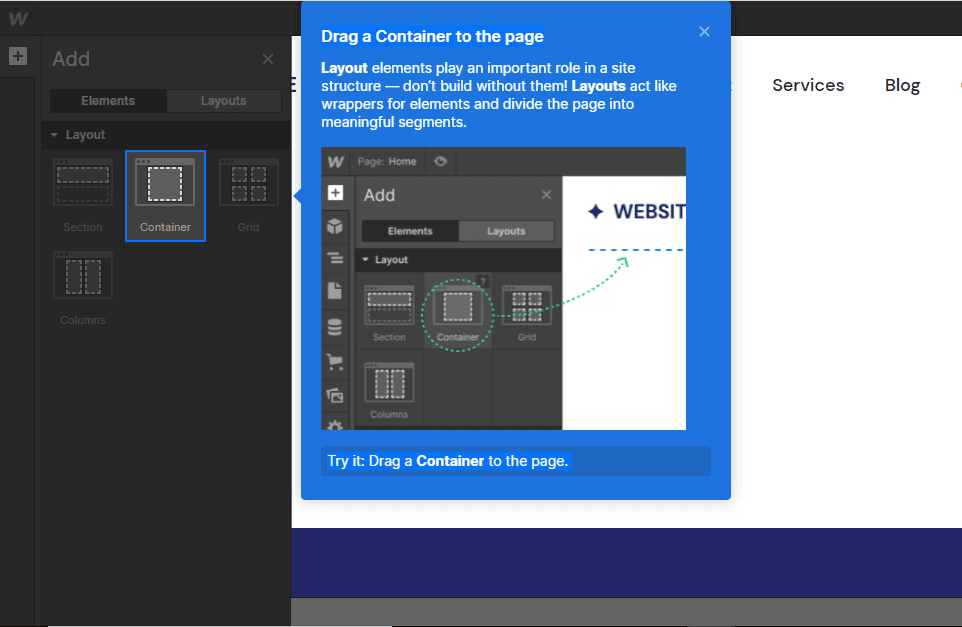 This crash course will probably equip you enough to start navigating the interface. Unfortunately, it may not be enough to familiarize you with all of the key elements – the layout is busy with a dizzying array of options: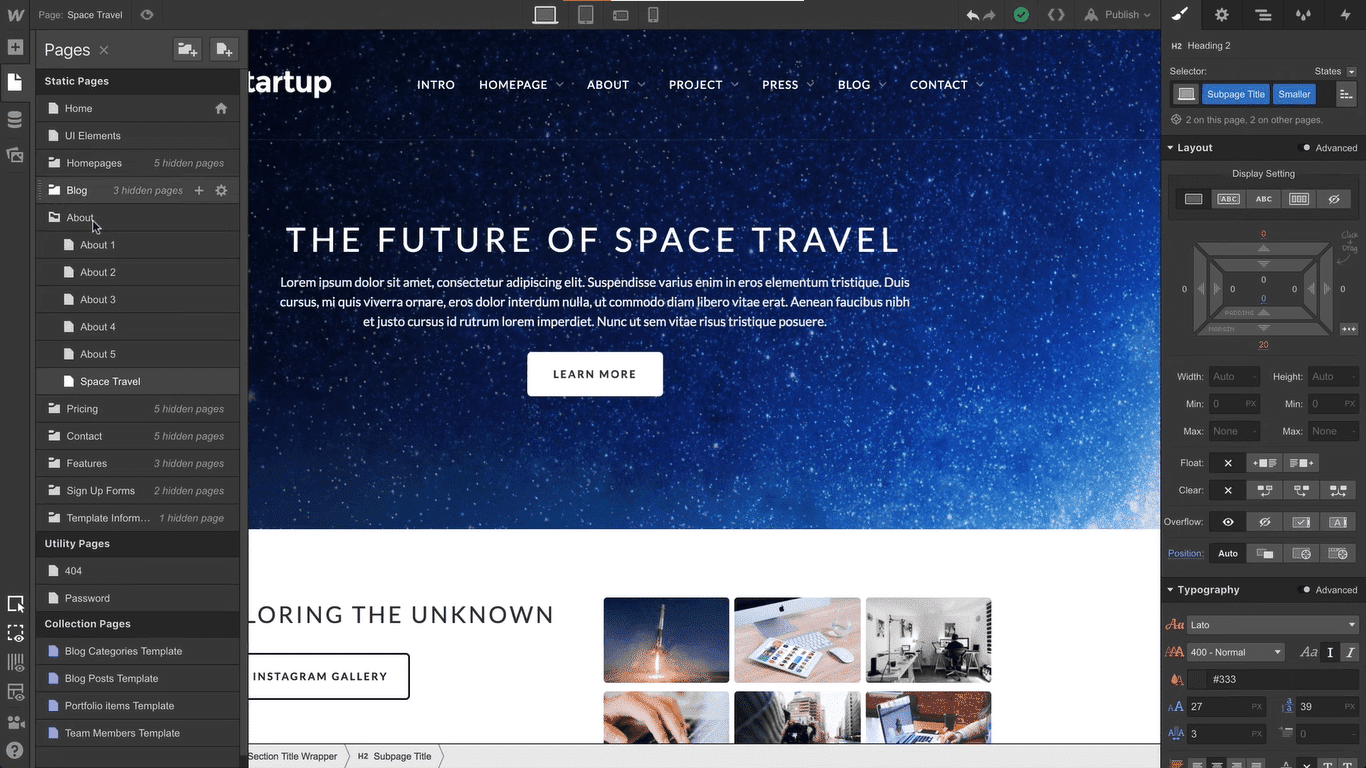 If you're feeling a bit intimidated, don't panic! Even an experienced designer will probably need some time to get acclimated to this interface. You might need a lot longer if you're relatively new to the game.
Nevertheless, you'll probably be happy you invested that time. It may look complex, but the compact design also means you have quick access to the most frequently-used tools.
Furthermore, Webflow is fairly easy to extend to a variety of tasks. Whether you're hoping to build an online store or a small-time blog, you can use the same tools in the same format. However, keep in mind that more complex designs will likely require a more in-depth understanding of the platform.
WordPress
In terms of getting started, the Webflow vs WordPress debate is a close call. However, WordPress's famous five-minute setup process is a formidable feature. All you need to do is enter a few pieces of information and you're on your way.
Nevertheless, using WordPress means you'll need to seek out your own hosting provider. By contrast, hosting is a built-in feature with Webflow. You'll have more choices if you use WordPress, but finding your best fit can take some time.
Once you're done with those initial tasks, you'll be ready to dive into the dashboard. We have already shown you how Webflow is a bit complicated. By comparison, WordPress's simplified layout may be a breath of fresh air: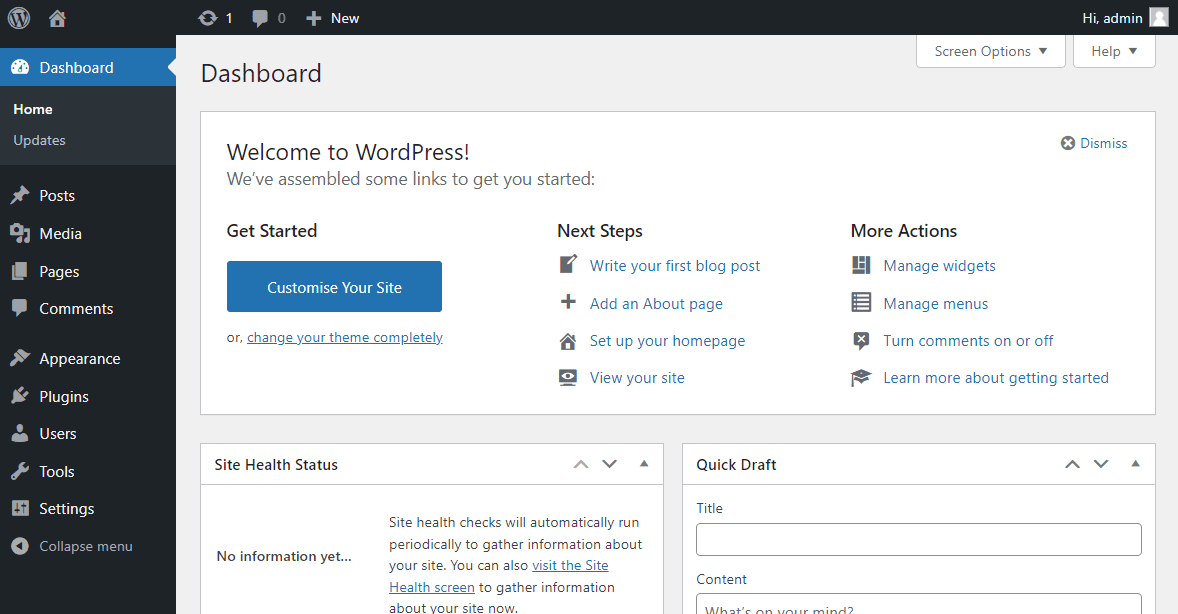 Nevertheless, it comes with its own challenges. This approach requires a few more clicks to reach the tools you'll need for different tasks. That means you might have a harder time learning the ropes if you're not sure where to start. Fortunately, the organized sidebar makes this a little easier.
When it comes to extensibility, it's hard to beat WordPress. A huge variety of plugins and themes mean you can tailor your site to serve almost any purpose. However, this also means you'll have to learn the unique ins and outs of each addition.
2. Community Support
No matter where you fall on the Webflow vs. WordPress debate, one thing is for sure: either choice will provide you with plenty of other users to keep you company. Let's look at how these two platforms differ in terms of community and customer support.
Webflow
Webflow comes complete with a dedicated forum. This functions as an easy way for you to get in touch with other users about questions you might have. It also enables you to search Webflow University for any specific content you're trying to find.
You'll also find the "Show & Tell" section here. This is a place where you can show off the work you've done with the platform. It can also be a source of inspiration from creatives across all different genres.
If you'd prefer professional support, Webflow comes with customer service. You can reach out to its team and receive email support on weekdays. This is especially useful if you have questions about your pricing plan.
The Webflow community also offers a variety of events and groups that you can join. Similar to the forums, these can be opportunities to learn more about the platform and connect with other creators.
WordPress
As open-source software, WordPress lacks 'official' support options. However, this platform does offer a variety of different resources you can rely on. These cover almost every skill level, from seasoned designers to those still learning the WordPress ropes.
One reason for this is the fact that WordPress is open source. That means all of its code is publicly available. Moreover, it also means that you can edit or repurpose that code in any way you want.
In addition to design flexibility, this has also given rise to a robust community. You can check out the complex WordPress documentation, as well as the dedicated forums. Individual plugins and themes even have unique forums you can visit.
Finally, WordPress also offers a variety of events centered around the program, where users can learn from one another. These days, they've largely moved to the virtual sphere. This makes it even easier to get involved with the community.
3. Design Options
Once you're ready to start designing, it's important to consider what options are available to you. Here are a few elements to consider before you make your CMS choice.
Webflow
One of Webflow's greatest advantages is its templates. These are pre-made sites designed by development professionals. That means they're optimized for performance as well as aesthetics: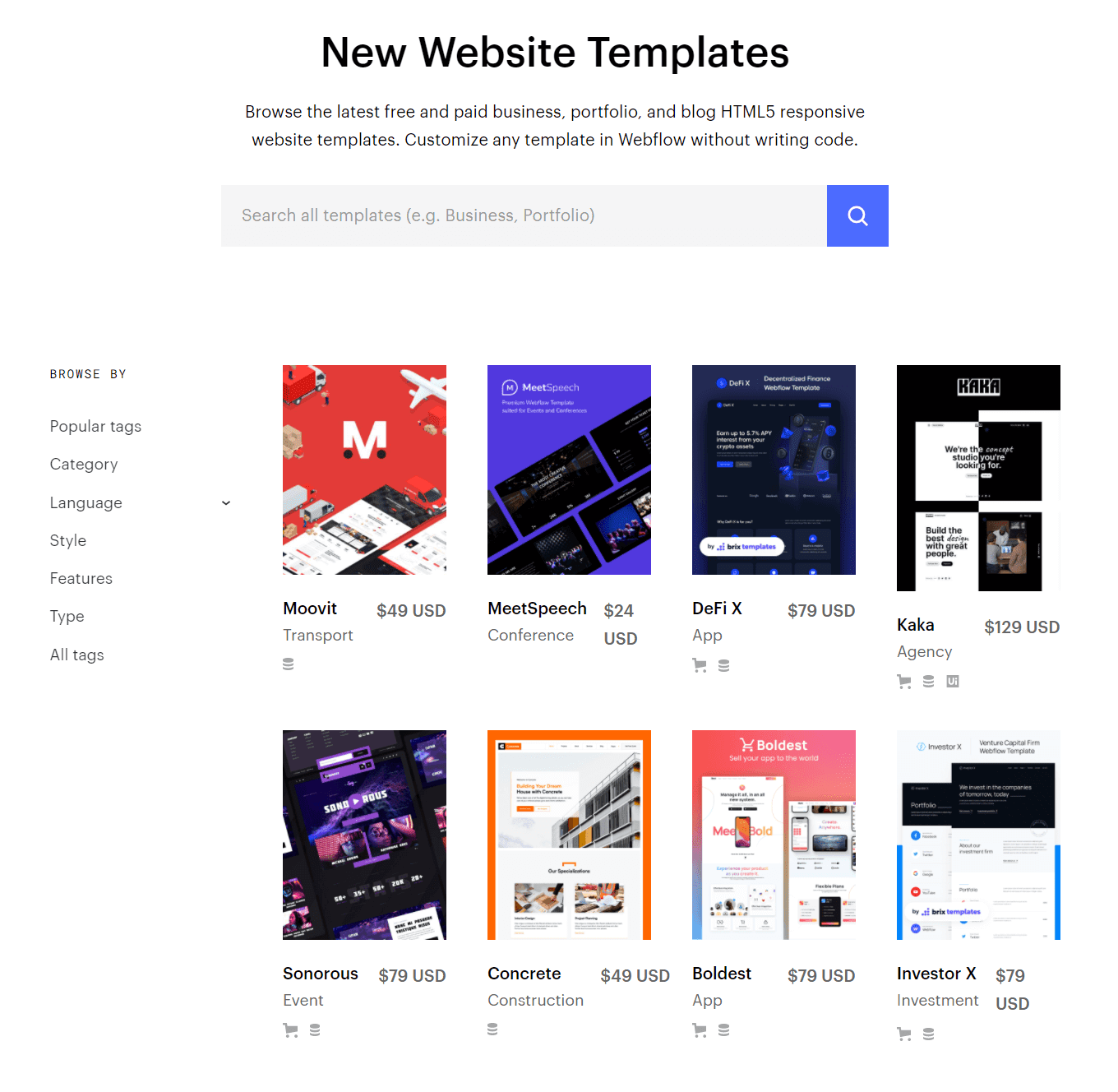 However, you're still free to edit the templates as needed. As a result, you can build a highly-customized website without having to create the base or worry about the background code. You could even change it minimally if you're looking for a quick start.
This editing process is made a bit easier with the visual editor. The results are largely "what you see is what you get," meaning there's less need to switch between the editing screen and your previews.
You also have a large selection of choices within this editor. You can change nearly everything: layouts, spacing, texts, mobile layouts, and more. As long as you're willing to put the time in, it's a virtual sandbox.
It's also worth noting that you can create 'collections'. Collections are reusable content that you can store in a database for future use. Thus, it's an easy way to streamline your work across different areas of your site.
WordPress
If you're comparing Webflow vs. WordPress, the visual editor should be a primary consideration. That's because WordPress doesn't quite use the same approach as Webflow. Instead of a front-end page editor, it uses something called the Block Editor: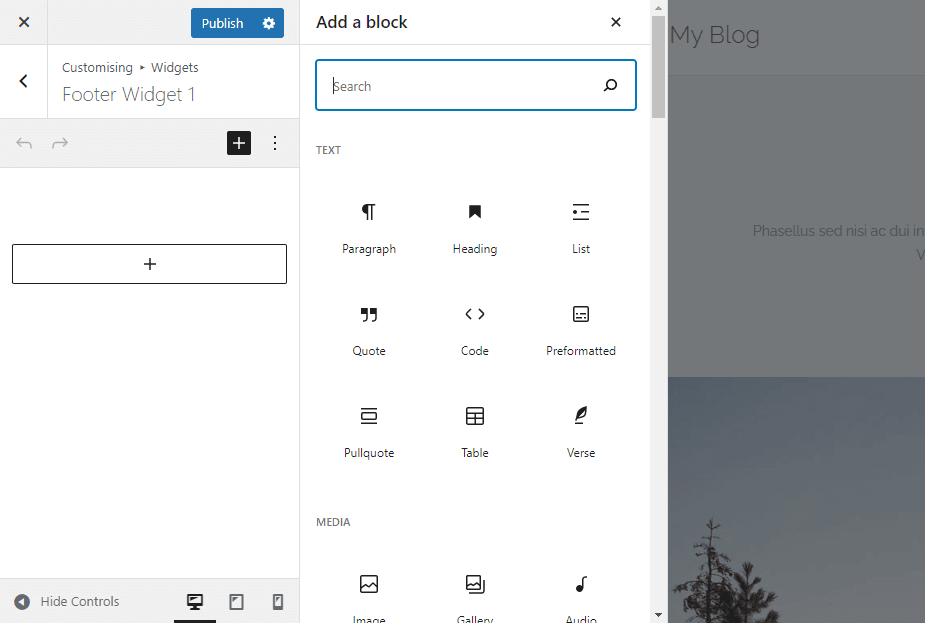 This module-based system is fairly easy to use: each piece of content exists as its own Block and can be individually edited and moved. However, it's not quite as visual as Webflow's editor. You'll need to invest in a page-building plugin to get that effect.
The Block Editing system is also present within WordPress widget sections. These are small functional elements that can be placed on specific parts of your site. It's a simple way to add consistency in areas such as sidebars, headers, and footers.
In terms of pre-made designs, WordPress offers an impressive collection of themes. You can choose between free and paid options that cover an exhaustive range of niches. These themes are also extremely flexible: you can either edit the code directly or use WordPress's built-in system for an easier approach.
4. Search Engine Optimization
Search Engine Optimization (SEO) is a core part of helping others find your site. In large part, how your site ranks will depend on whether you write quality content. However, there are a few behind-the-scenes factors that rely on your choice of CMS.
Webflow
As we've covered, Webflow is more of an all-in-one solution than WordPress. That means it also comes with a variety of tools to help you achieve optimal SEO as quickly as possible.
For example, the platform is built around creating mobile-friendly pages. This metric is critical to placing high in search rankings, not to mention the benefits to your visitors.
Webflow also takes a variety of other measures, including:
Auto-generated and submitted sitemaps
Clean, lightweight code to better appeal to site crawlers
Lightweight construction to ensure faster load speeds
All of this together means you probably won't have to worry too much about back-end SEO. On the other hand, you're ceding control over this important element and must rely on the optimizations Webflow makes for you.
WordPress
By default, WordPress comes with a smaller set of SEO tools. The base code was designed with smooth performance in mind. However, if you change that code – which is one of the main appeals of WordPress – you could lose that benefit.
However, WordPress can also help you take more control over your search rankings, thanks to the many add-on tools that are available. Plugins like Yoast SEO and All in One SEO can help you boost this key metric by optimizing your content for keywords, adding metadata for search engine bots, and more.
It's also worth noting that it can be easier to migrate a WordPress site. This matters because moving your site can harm its SEO if you're not careful. Fortunately, if you've chosen high-quality managed WordPress hosting, you can almost certainly rely on your provider to perform this task for you.
5. Ecommerce and Pricing Plans
Let's wrap up with a look at ecommerce and pricing. This is an area where the Webflow vs. WordPress discussion gets interesting. Both have very different options to offer you, so let's dive right into them.
Webflow
Ecommerce is built directly into the Webflow engine. All you need to do is activate an extension and integrate your shipping services. From there, it's just a matter of designing your site.
However, here's where Webflow vs. WordPress starts to differ quite a bit. If you're using Webflow, you'll have fewer options for payment processors. These will come with a standard Webflow fee – and that's on top of whatever fees you're paying the gateways and shipping companies.
Since Webflow hosts its sites, you'll also need to select a pricing plan: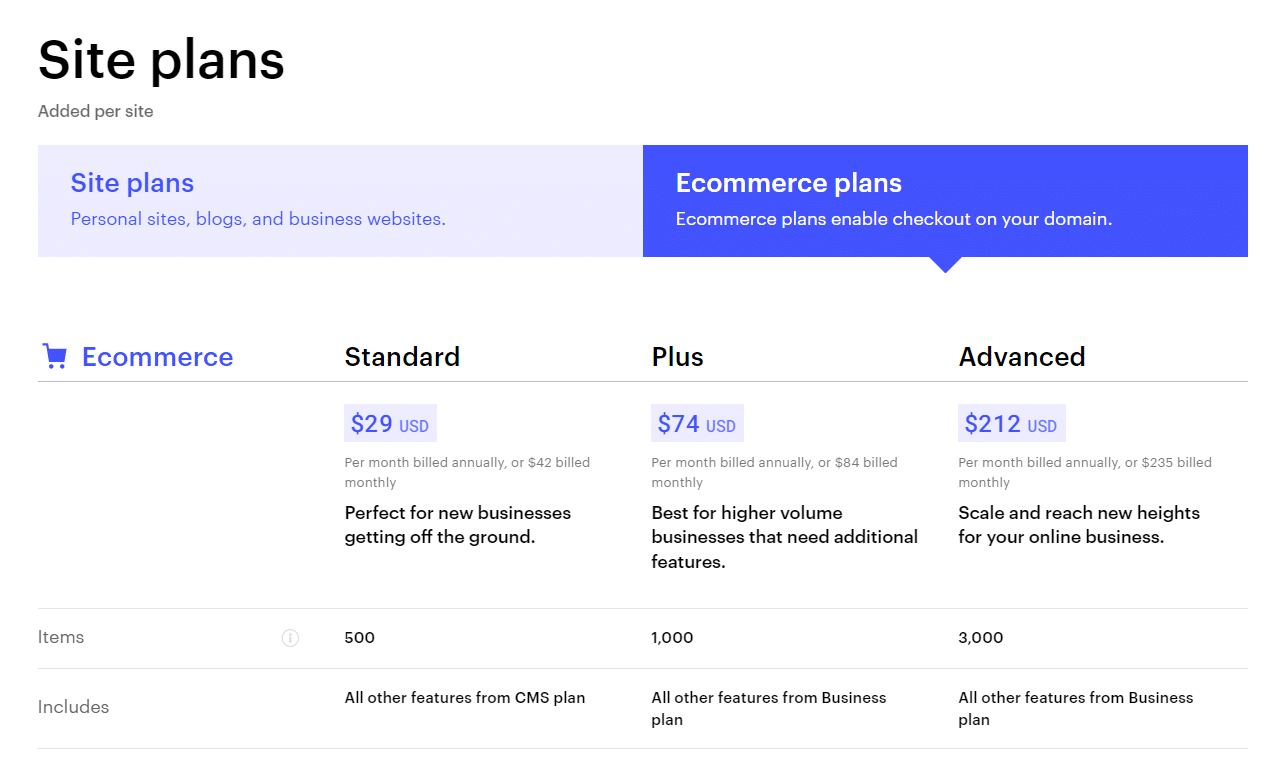 These are paid monthly and start at $29 per month. There are cheaper site plans available, but if you want an ecommerce plan that will enable users to buy products on your site, you'll need to opt for the premium options.
WordPress
WordPress' open-source nature doesn't only make it flexible: it also makes it free. All you have to do is download the software to get started.
However, this doesn't account for other site costs. You'll need to pay for a variety of other elements that are included in Webflow's plans by default, including unmanaged or managed WordPress hosting as well as a domain name.
When it comes to ecommerce, the most popular option for WordPress users is WooCommerce: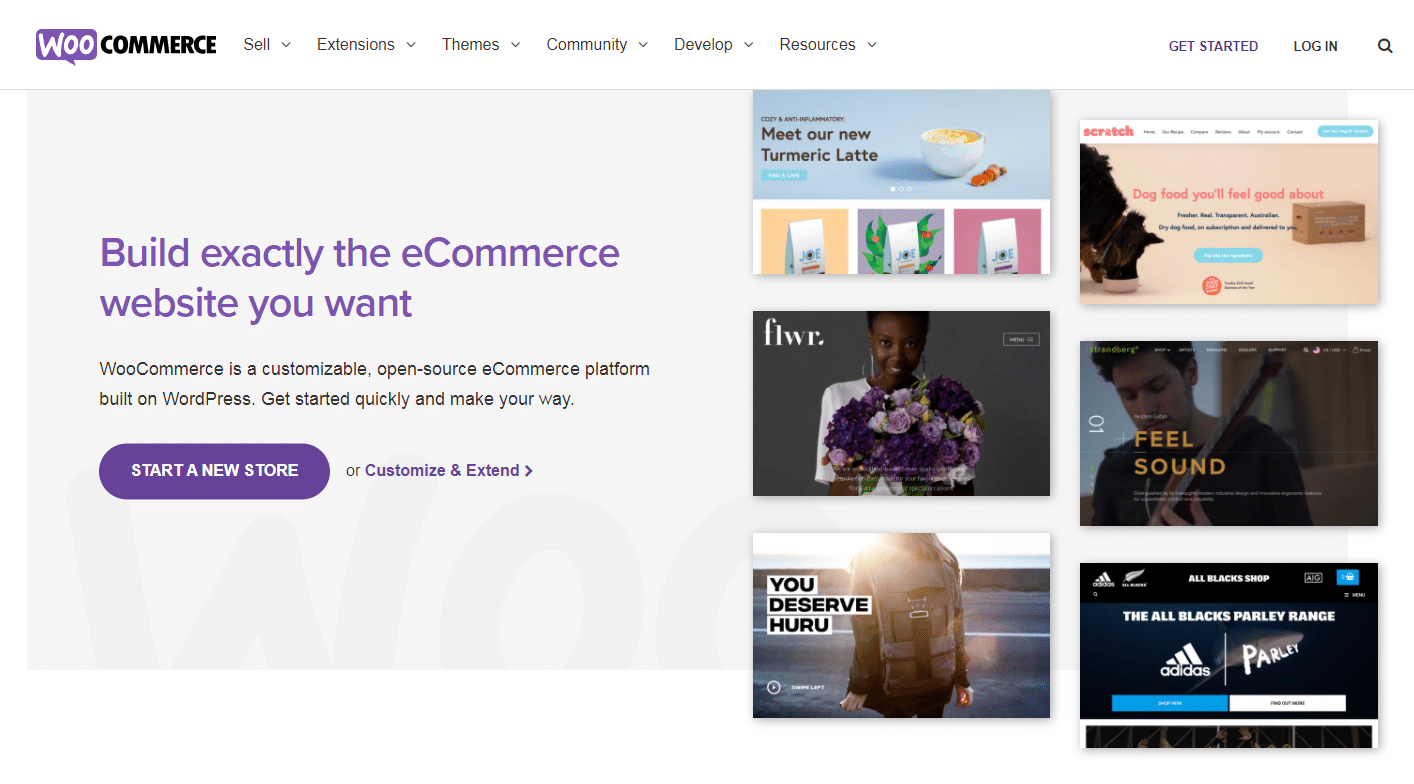 While there are going to be fees associated with payment portals, credit cards, and shipping, WooCommerce itself is free. It may take a bit more setup than Webflow, but it can also end up being cheaper in the long run.
Summary
There's no single answer to which is the best platform out of Webflow vs WordPress. Each system has its own set of benefits, downsides, and unique attributes. Fortunately, understanding how they differ in a few crucial areas can make your decision easier.
In this article, we covered five areas that you may want to consider before making your choice:
The level of user-friendliness
How much community support each can offer
The flexibility and power of design options
How easy it is to achieve high-quality SEO
The options available for paid plans and ecommerce sites
Do you have any questions about Webflow vs WordPress? Let us know in the comments section below!