Google Revenue: Statistics on Market Share, Growth, and Acquisitions (2023)
Google is the most visited website in the world. Since its launch in 1998, the site has become the go-to destination for online search. Since dominating the search engine market, Google has expanded its business into many other areas, including advertising, cloud computing, and hardware. The company also owns the world's largest video site and second-most visited website, YouTube.
Google is a subsidiary of Alphabet Inc., a holding company created in 2015. Google revenue comes from various sources, but the vast majority is derived from advertising. The company offers advertisers three main types of advertising: search, display, and video.
As Google's global economy has shifted in recent years, so has its business. The company is now focusing more on its cloud business and artificial intelligence (AI).
In this article, we'll look at Google and Alphabet's revenue, the markets they compete in, and their key acquisitions.
Google's Revenue Through the Years
Google's revenue has grown exponentially since the company was founded in 1998. Google generated $400 million in revenue in 2002 and $6.1 billion by 2005. In 2010, Google's revenue reached $29.3 billion, and by 2015, it had grown to $74.54 billion.
Google is one of the most valuable and profitable companies — a feat that has been achieved through a variety of innovative products and services. Google has made strategic acquisitions over the years that have helped it to enter new markets and grow its business.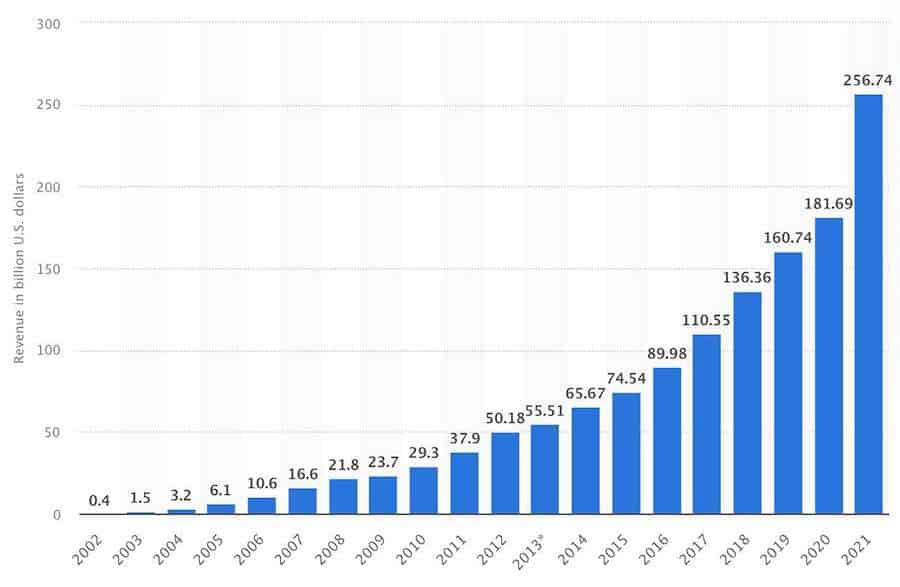 In 2021 Alphabet's revenue reached $256 billion, up from $181.69 billion in 2020. Google's primary source of income is still advertising, but it's making significant gains in cloud computing and hardware sales. Alphabet reports its earnings quarterly, and the stock is traded on the Nasdaq under the ticker "GOOGL."
Google's Market Share
Google is the undeniable leader in the search engine market, but it also operates in more competitive markets. Since the company has one of the most visible brands in the world and many of its services are often free for consumers, the company can be hard to compete against.
The following services dominate their respective markets:
Google's domination in these markets can be attributed to various factors. First, the brand name is synonymous with trust and quality. Additionally, many of Google's services are offered for free, making it difficult for competitors to match its pricing.
Google is able to offer free services because it focuses on ads as its main source of revenue. This gives it a constant stream of income that can be used to undercut competitors or pour money into developing new products and services.
One area where Google is behind the competition is cloud computing. Google Cloud is the third-largest cloud computing company, with 10% of the market behind Amazon's AWS (34%) and Microsoft Azure (21%).
Google Market Capitalization
Alphabet's market cap peaked in November 2021, when it just surpassed $2 trillion. The company has seen a decline in its stock price since then, and its market cap is now at $1.59 trillion. Despite this shrink in market capitalization, Alphabet displaced Amazon in 2021 to become the third-most valuable company in the world. Google has since fallen back down to 4th place.

Apple, Saudi Aramco, and Microsoft are the highest-valued companies in the world, coming in at numbers 1, 2, and 3, respectively. The race for the top spot has been close recently, with Apple's market cap sitting at $2.73 trillion, Saudi Aramco's at $2.30 trillion, and Microsoft's at $2.06 trillion.
Alphabet's position as the fourth-most valuable company in the world is a testament to its size and scope. The company has succeeded in various businesses, from search to cloud computing. While its stock price has declined in recent years, it's still one of the most powerful and influential companies in the world.
Who Are Google's Customers?
Most people think of Google as a search engine, but the company actually provides a wide range of products and services. While some of these are aimed at individual consumers, the majority of its revenue-generating products are targeted at businesses.
Google offers many of its services for free to consumers. Anyone who has used the internet has likely used one of Google's most popular consumer services, such as its search engine, Gmail, YouTube, or Google Maps. Google can do this because of its advertising business, which sells ad space on its various platforms to companies.
The number of businesses using Google's products and services is staggering. Small companies, large corporations, non-profits, and government agencies all rely on Google for email, productivity tools, website hosting, and much more.
While it would be impossible to list all of Google's customers here, some notable examples include:
Google Was Founded in 1998
Google was founded in 1998 by Sergey Brin and Larry Page, two Ph.D. students at Stanford University in California. Together, they developed a new way to organize information on the web, which they called "Google."
Google has since become one of the world's most popular websites, used by billions of people every day. Alphabet's current CEO is Sundar Pichai, who took over the role from Larry Page in 2015.
Larry Page and Sergey Brin registered the google.com domain name in September 1997, one year before the site went live. The name "Google" was a play on the word "googol," a math term for the number one, followed by 100 zeroes.
The duo initially ran the company out of Susan Wojcicki's garage. Wojcicki would eventually be appointed the CEO of YouTube, a position she still holds today. One of the company's earliest investors was another tech entrepreneur, Jeff Bezos. He is the founder of Amazon, one of the "Big Five" American tech companies.
Interesting Google Facts
Google's headquarters are called the Googleplex. The Googleplex is located in Mountain View, California, the heart of Silicon Valley. The word "Googleplex" is a misspelling of "googolplex," which is a 1 followed by a googol of zeros.
An ex-employee of Google managed to acquire the google.com domain when it was mistakenly left unregistered. The employee registered the domain for himself, and Google offered $6006.13 to regain the domain.
Google removed its "I'm Feeling Lucky" search feature, as it bypassed advertising, costing the company up to $110 million each year. Users could click the button and be taken to the first search result rather than be presented with the standard list of results.
Since 1998, Google has released special Google Doodles to celebrate important events, people, and anniversaries. Some of the most famous Doodles include: