Squarespace may seem like the "go-to" option for site builders, but it's not the only one. In fact, there are many alternatives that are often better for some users.
Thanks to its simple interface and sleek templates (and maybe also its aggressive marketing campaigns), Squarespace has quickly become the world's most popular website builder. Though it may be a quick and easy option, it might not have everything a successful website needs.
In this post, we'll run down some of our favorite Squarespace alternatives, as well as what you should look for when choosing one. Read on to learn more.
Why Use a Squarespace Alternative?
Despite its popularity and easy interface, some of Squarespace's features are lacking depth.
While the platform offers sleek design options and some basic ecommerce tools, they're fairly limited. As a result, a growing number of Squarespace users are finding themselves looking for better alternatives to grow their websites.
Of course, that's not to say Squarespace is a "bad" website builder — it's anything but. However, those looking to build more than just a basic website from a template may want to consider some Squarespace alternatives.
But how do you know if you need an alternative in the first place?
To help you out, we've compiled this list of common scenarios that many Squarespace users find themselves in. Whether you already use Squarespace or are still shopping around, consider these factors as you decide whether to switch or buy.
Range of Features
Though Squarespace has plenty of built-in features and integrations, they're exactly that: built-in.
As a result, users are also limited to these features, making it impossible to integrate third-party apps to improve the functionality of their websites. For users looking to build more than a basic website, this limitation is, well, limiting.
As we'll see later in our top Squarespace alternatives, many other site builders allow third-party apps or integration of custom features and software.
Beyond app integration, Squarespace users also have limited design features. Though Squarespace's templates and designs are pretty sleek and well laid-out, they offer little room for customization and personalized design.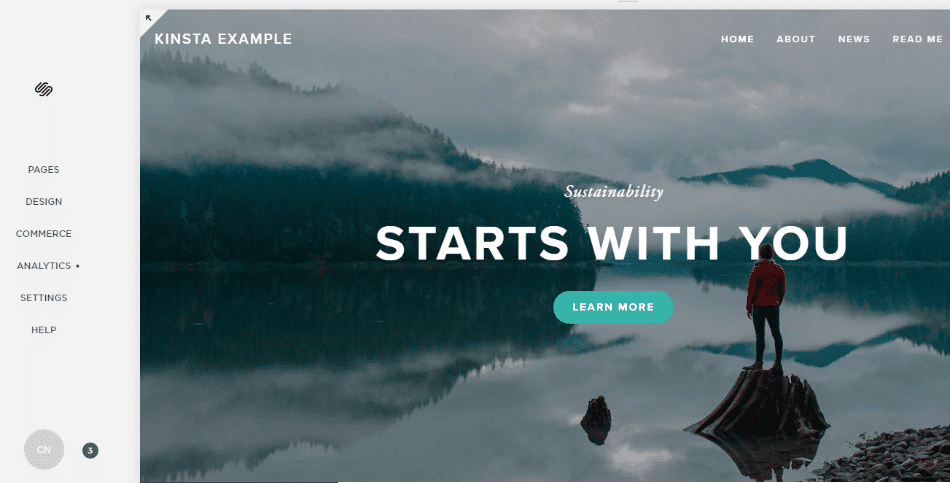 More Flexibility
Squarespace users also have limited design flexibility. Though we already touched upon this in the previous section, it's worth noting some of the finer differences between Squarespace and leading alternatives.
For one, many alternatives offer a "blank canvas" for users to build on. Whether you're a complete beginner or a web design expert, most alternatives allow you complete flexibility in how you lay out your webpage. By contrast, Squarespace only offers a relatively small handful of templates.
Speaking of templates, many alternatives also provide users with customizable templates. In the case of site builders like WordPress, this can also include access to third-party templates and custom designs. As a result, most alternatives allow users to build just about anything they can imagine – regardless of the end result.
Ecommerce Options
Though Squarespace also has some solid ecommerce options, they're limited to a basic storefront, shopping cart, and appointment scheduling.
That may be enough for running online stores as an extension of a basic website, but it doesn't offer enough features and scalability to support more ecommerce-dedicated web presences. As a result, those looking to launch online retail, ordering platforms, or other more "complete" ecommerce solutions should consider more robust Squarespace alternatives.
Squarespace's limited range of third-party ecommerce apps also makes it impossible to integrate more popular tools such as Shopify and PayPal.
Third-Party Apps
Squarespace offers no apps – only integrations of pre-approved tools. As a result, users are limited to whatever Squarespace thinks they need and usually aren't able to use the apps and tools they want.
We've already mentioned this limitation for ecommerce tools, but it applies to nearly every other category.
One of these categories is web analytics. While Squarespace offers proprietary analytics tools, it's not robust enough to compete with specialty search engine optimization (SEO) and business intelligence platforms.
While Squarespace has done well to support integration with popular apps like Google Workspace, those with specialty third-party app requirements may need a more custom solution.
Simplicity
Though Squarespace's simplicity and intuitive interface are major advantages, setting up a website on the platform still requires some effort. Thankfully, there are several alternatives that offer an even simpler setup, some even having fully-automated design options.
Multi-User Collaboration
Building and managing a website can take a team, especially for a company or small business.
In these cases, it's usually better to choose a site builder that promotes multi-user collaboration. While Squarespace allows extra users to provide content as "contributors," it isn't as flexible as having multiple administrators or web developers. As a result, teams should consider more flexible packages for promoting collaboration.
Pricing and Fees
With personal plans starting at $14 per month as of April 2022, Squarespace is definitely a bit pricier than building and managing your own website. Though the extra convenience may justify the cost for some, there are still other costs and fees to consider.
One example is Squarespace's 3% transaction fee for Business Plan users. While Squarespace's other premium plans don't have this fee, the next available option is to pay $27 per month for the Commerce Plan.
With many cheaper Squarespace alternatives available, that may not be a great option for small businesses already dealing with merchant and point-of-sale fees.
Top 15 Squarespace Alternatives for 2023
Squarespace is a great site builder, but there are plenty of equally great alternatives. To help narrow your search, we've compiled 15 Squarespace alternatives that should cover almost every need and application.
1. WordPress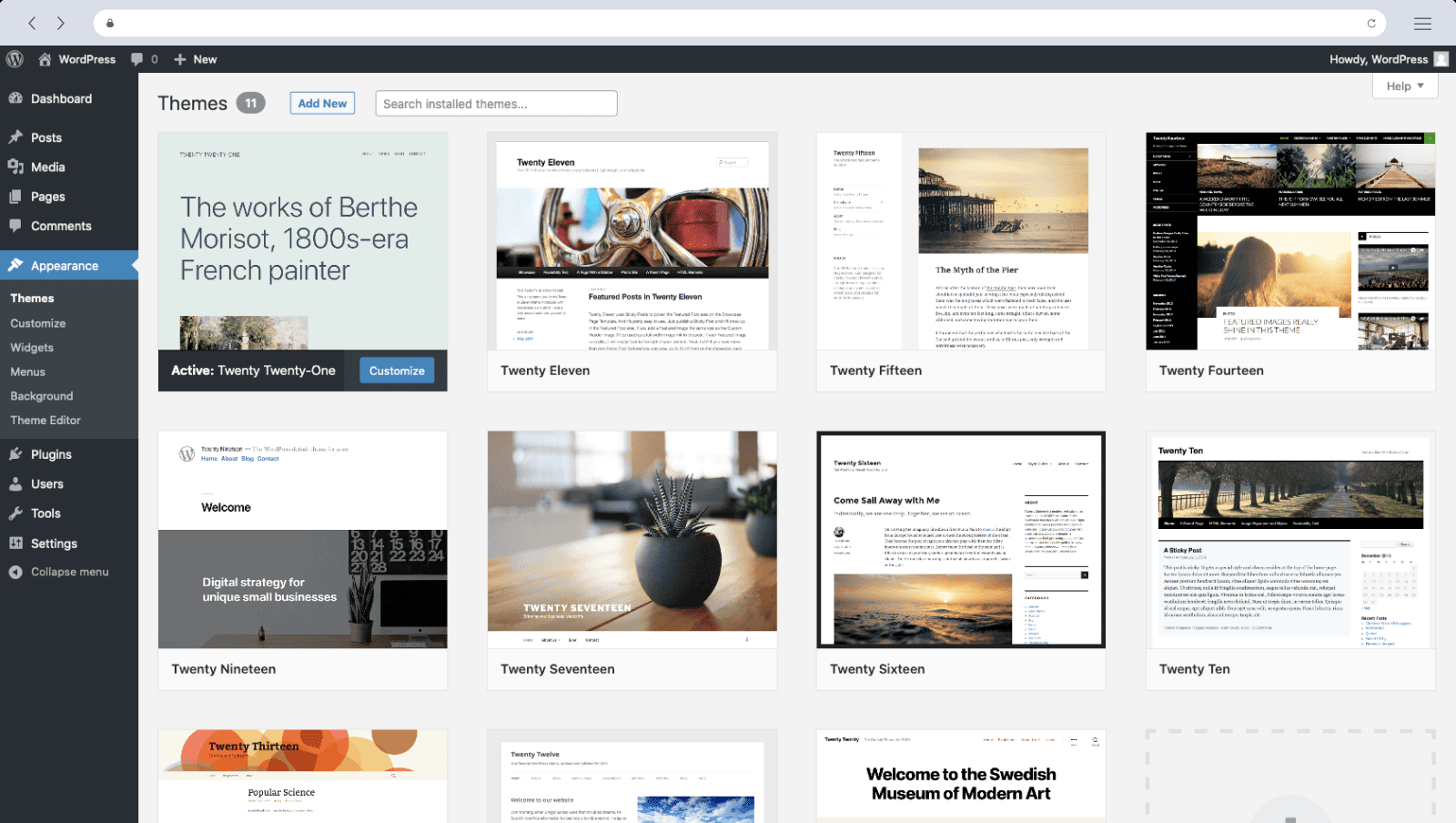 WordPress is one of the most powerful tools available for building a website. While it takes a little more technical know-how than "drag-and-drop" tools like Squarespace, it offers complete customization and integration with plugins like Woocommerce for storefronts.
Though WordPress is free to use, users must pay for their own templates, plugins, and so on. However, with many free templates and plugins available, plenty of customization is possible without a paid subscription.
Top Features:
Fully customizable
Unlimited plugins
Price based on usage
Price: Varies
2. Kinsta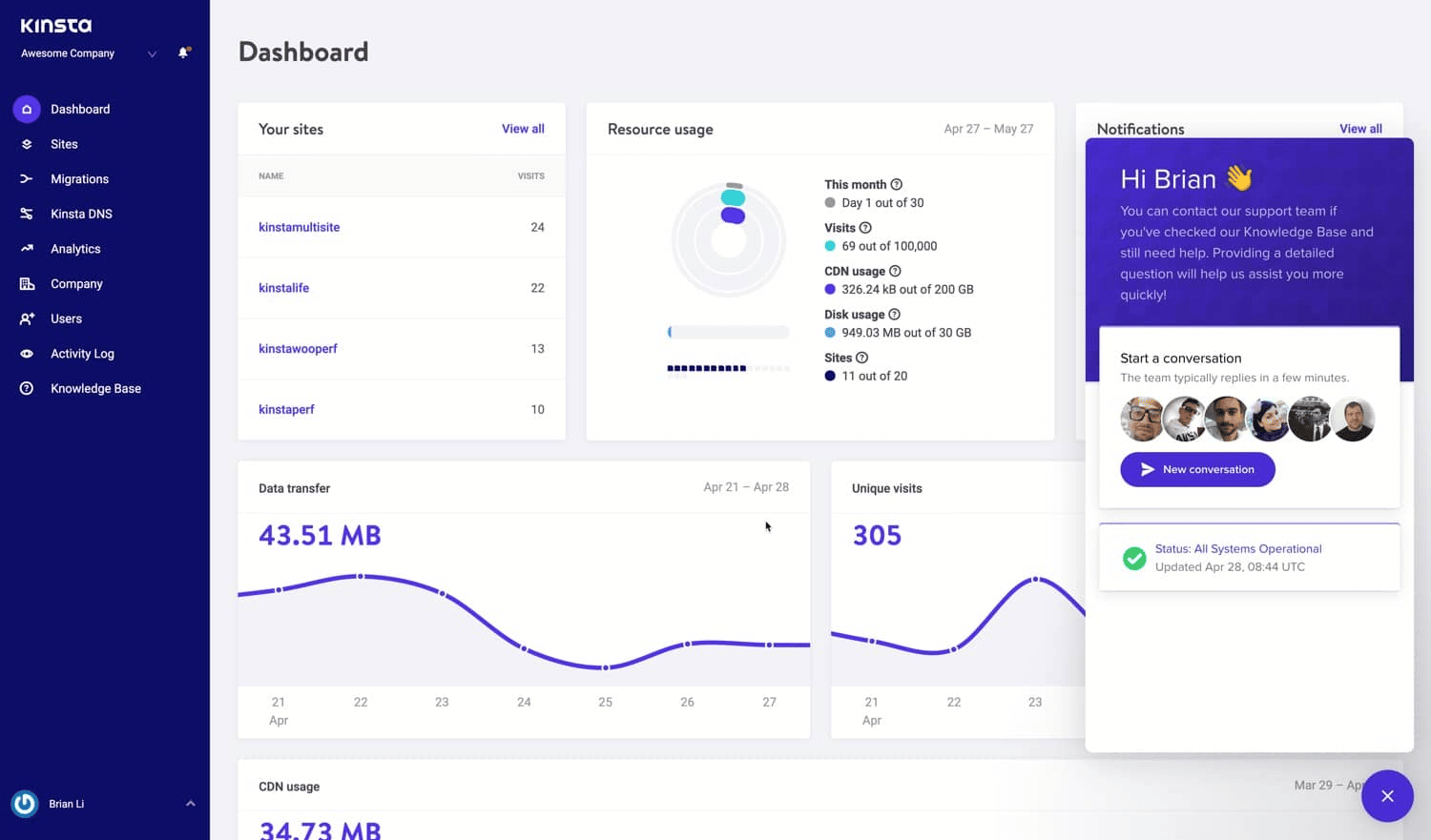 While we're on the subject of WordPress, there's a big difference between hosting through WordPress and self-hosting. Though hosting directly through WordPress may be more convenient at first, self-hosting is a far more flexible option.
Self-hosting comes in two forms: hosting on your own server or using a managed hosting service.
While you can definitely set up and manage your own server, it comes with a lot of overhead. Between having to perform routine (read: tedious) administration and regular security checkups, hosting by yourself can quickly become time-consuming, expensive, and difficult to scale and adapt.
As a result, many people use managed WordPress hosting to easily build, scale, and maintain their websites as their needs change.
With Kinsta's application, database, and managed WordPress hosting services, teams can quickly build powerful hosting solutions custom-tailored to their website's needs and use cases.
Plus, with everything in the cloud, monitoring resource usage, visitor traffic, and other stats are all available on a single dashboard.
Top Features:
Fast infrastructure
Custom solutions for different websites
Convenient dashboard
Price: $30-$1500/mo (enterprise plans also available)
3. Wix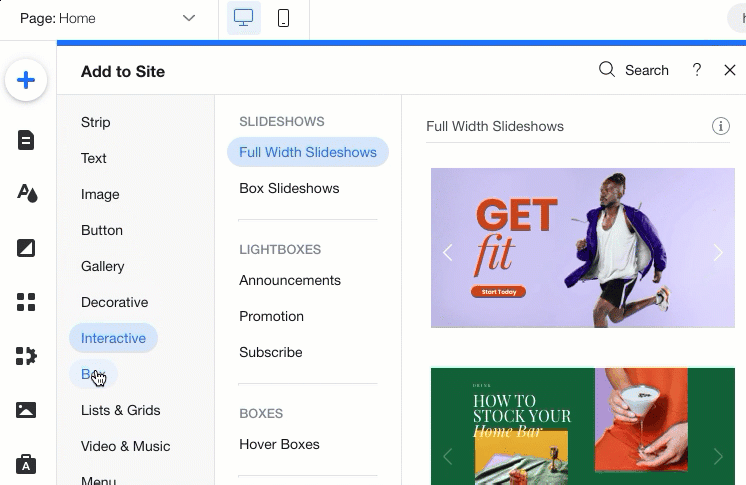 Just as popular as Squarespace (if not more so), Wix is one of the longest-running and most flexible site builders available.
Ideal for both entrepreneurs and those on a budget, Wix offers over 500 completely customizable templates. With so much flexibility, you can design almost any website using a suite of easy and intuitive tools.
While the free plan will require you to use a wix.com subdomain, paid users can use their own domains and hosting packages.
Top Features:
500+ templates
Unlimited storage and pages
Drag-and-drop editor
Price: $0-$49/mo (enterprise plans also available)
4. Weebly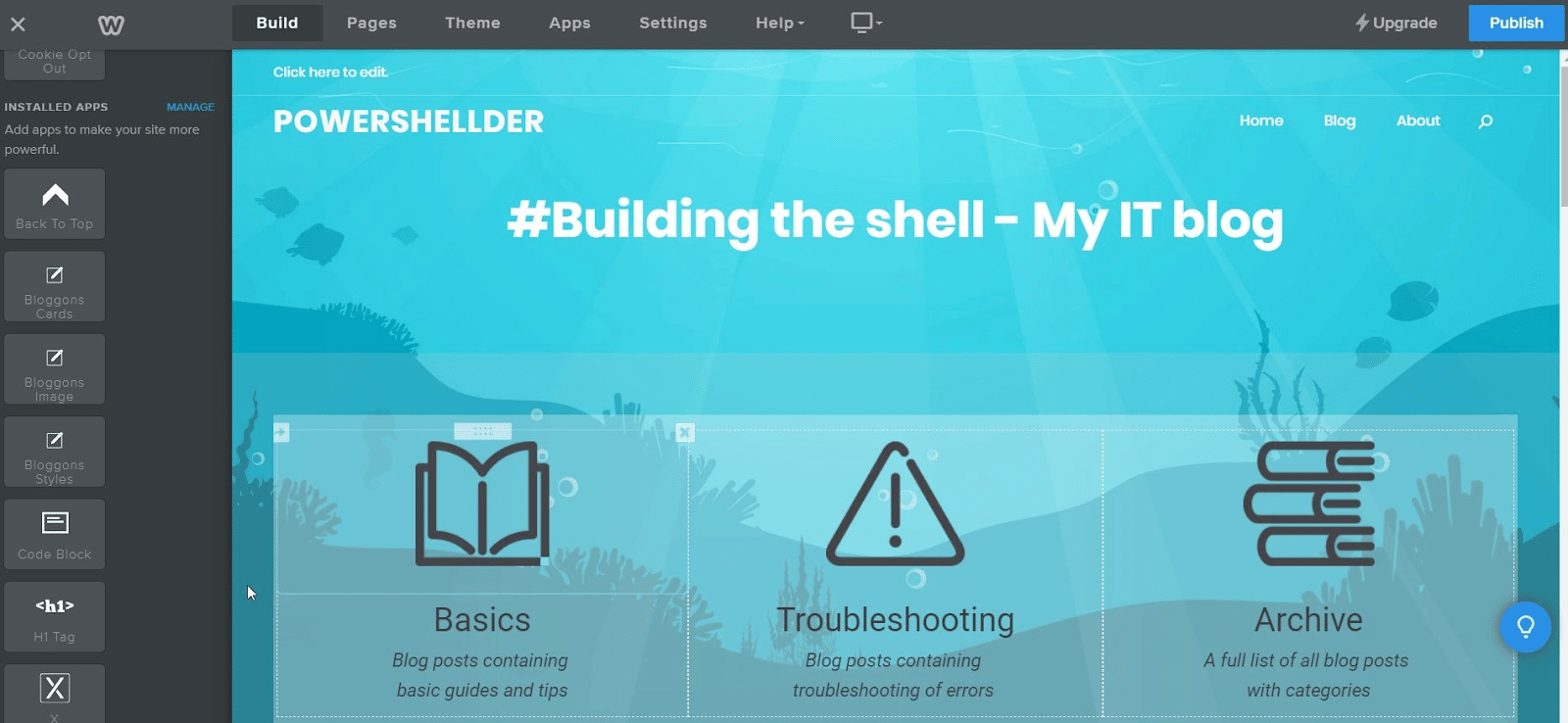 Though very similar to Wix, Weebly is even easier to use. In fact, it may be the most simple and user-friendly site builder we've ever come across.
However, the added simplicity comes at the price of fewer features. While paid tiers of membership unlock features like custom domain names and ecommerce tools, it's still far more bare-bones than most site builders. Even so, it's still a great choice for building simple websites.
Top Features:
Extremely user-friendly
Simple interface
Wide selection of templates and apps
Price: $0-$30/mo
5. Shopify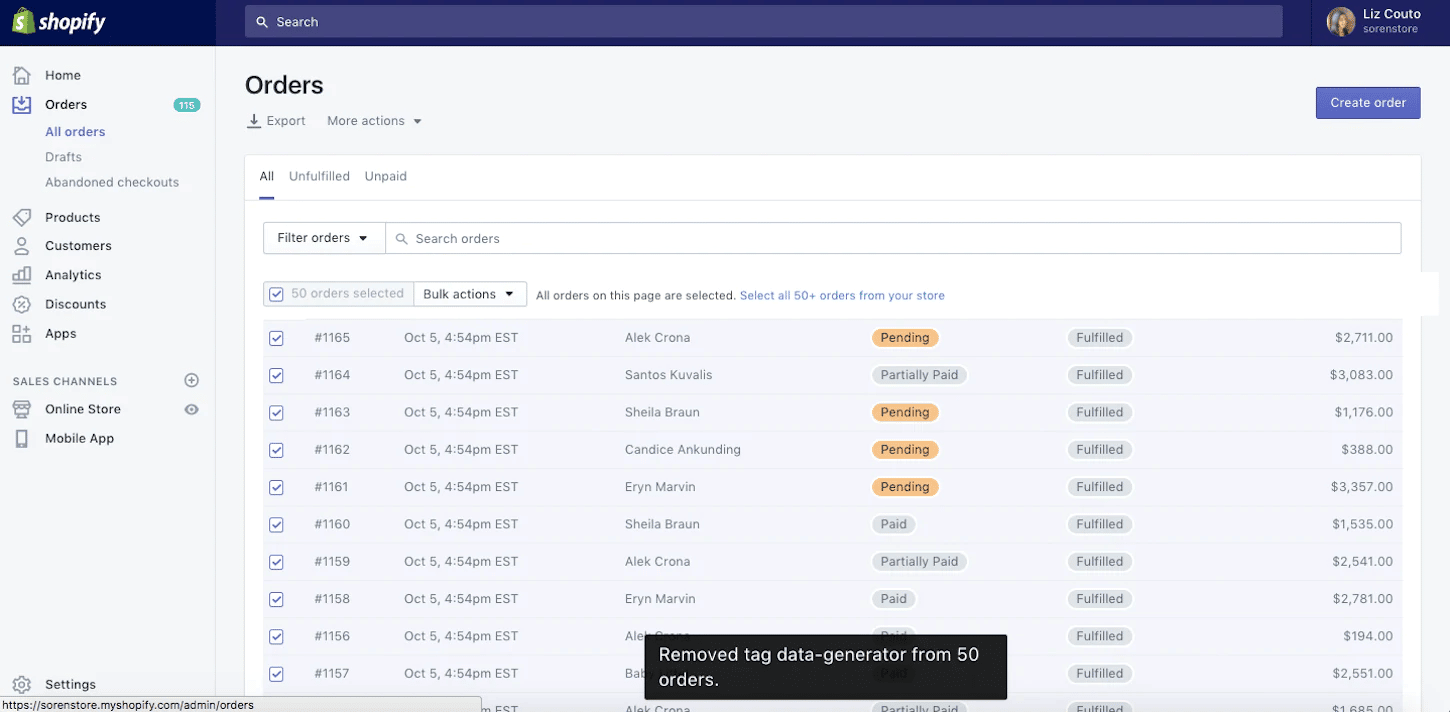 With over 500,000 active merchants worldwide, Shopify leads the pack as the gold standard of ecommerce. While Squarespace and other site builders may offer passable ecommerce tools, none of them offer the scalability, reputation, and reliability of Shopify.
On that note, every feature of Shopify is optimized for online selling. That means no matter if you're configuring a product page or laying out your site's shopping cart interface, Shopify will help you optimize it for sales every step of the way.
Top Features:
Excellent ecommerce tools
App store
Future-proof point of sale
Price: $26-$2000/mo
6. Webnode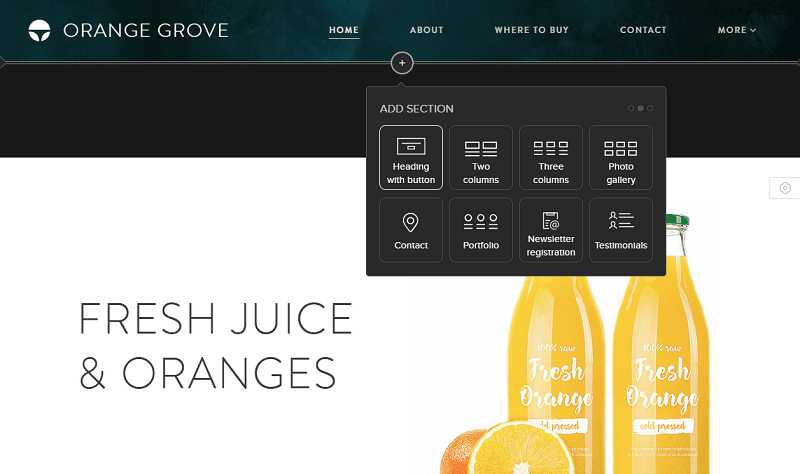 Though Webnode is a fairly typical site builder in most respects, it's second to none when it comes to building multilingual sites. With support for most languages, Standard Plan users ($12+/mo) can have their website automatically translated for multiple audiences.
Another unique feature is email support. Where most site builders and hosts require you to set up your own web email, Webnode provides it by default.
Top Features:
Multilingual sites
Attractive templates
Email included
Price: $3.90-$22.90/mo
7. Jimdo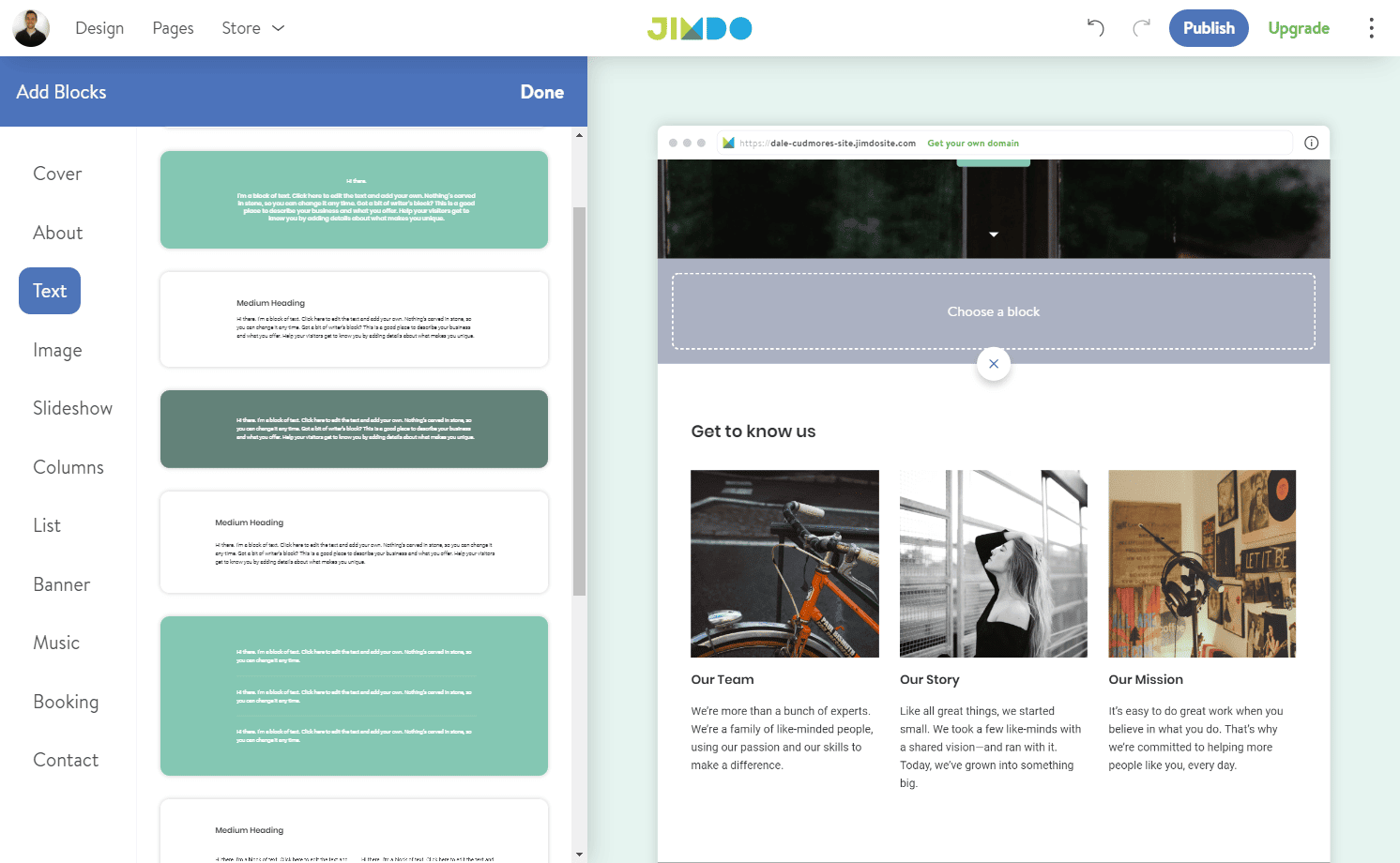 Another simple site builder, Jimdo's tools and interfaces are easier to use than Squarespace, Wix, and many other popular options. While similar to Weebly in many ways, Jimdo is also optimized for speed. This feature alone makes it another great choice for building simple, high-speed websites.
Top Features:
Extremely user-friendly
Simple interface
Speed-optimized pages
Price: $0-$39/mo
8. Webflow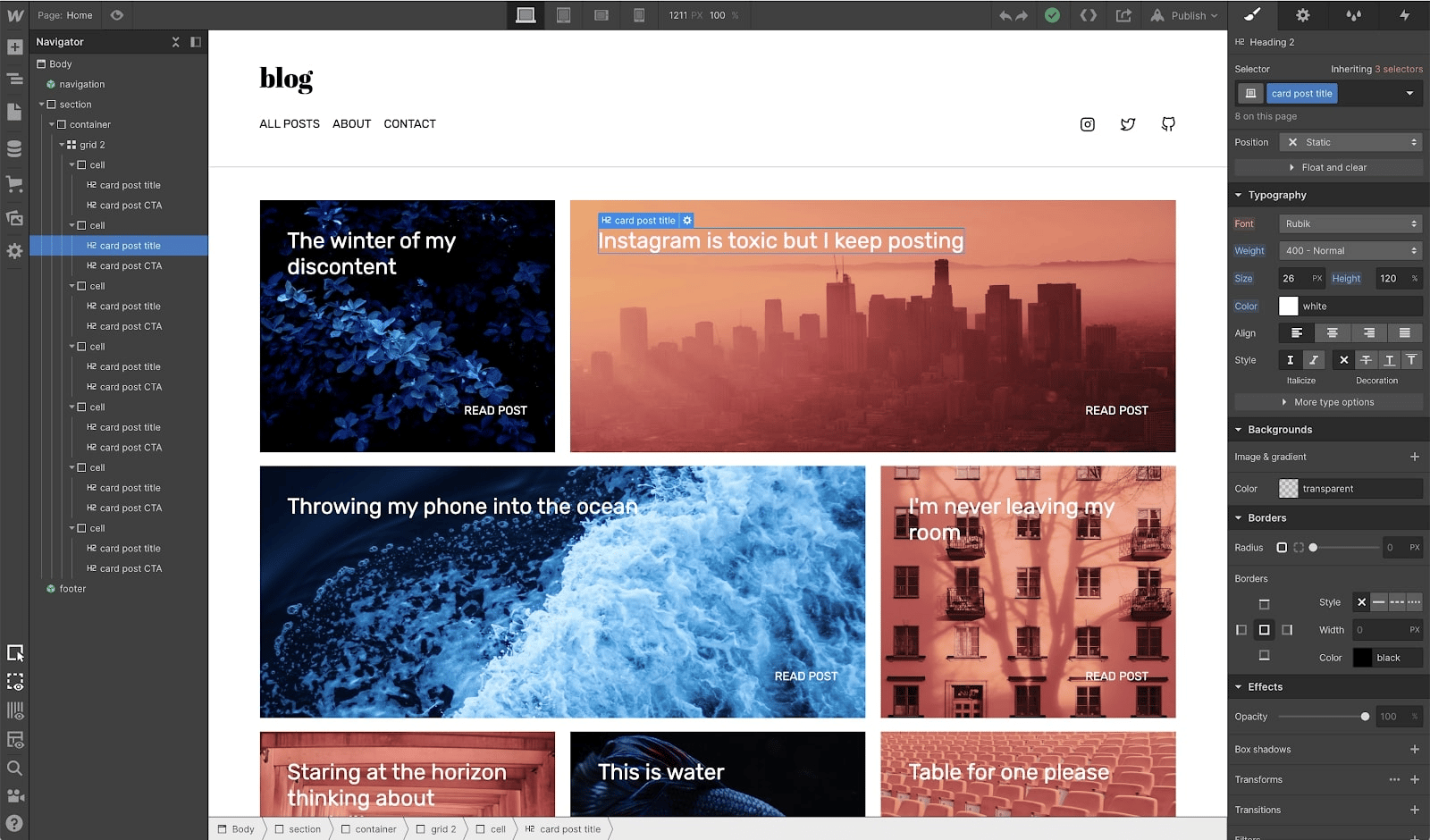 Intended more for front-end designers and developers, Webflow offers some pretty cutting-edge web design tools. However, while Webflow users can enjoy complete customization and control, the high-end package comes with a bit of a learning curve.
Top Features:
Complete customization and flexibility
Cutting-edge design tools
Export code to other applications
Price: $12-$200/mo (enterprise plans also available)
9. Gator Website Builder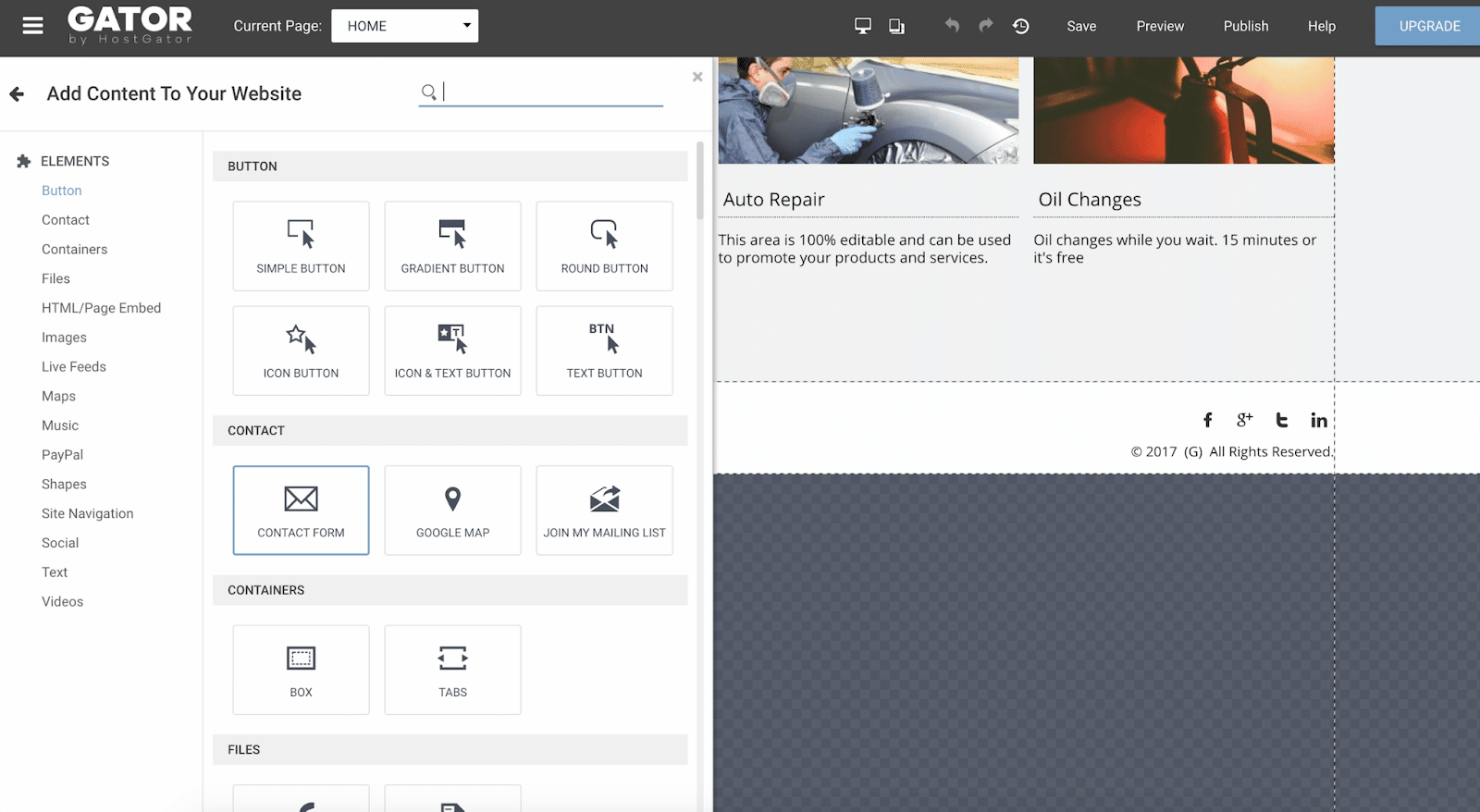 The Gator website builder is another easy "drag-and-drop" option offered by popular web hosting service HostGator. While it's just as easy to use as Wix and offers several attractive designs, it's not very feature-rich.
Still, it's a very convenient option for those who already use HostGator for web hosting or domain registration.
Top Features:
Easy to use
Site rollback feature
Well-designed templates
Price: $9.22-$19.98
10. Duda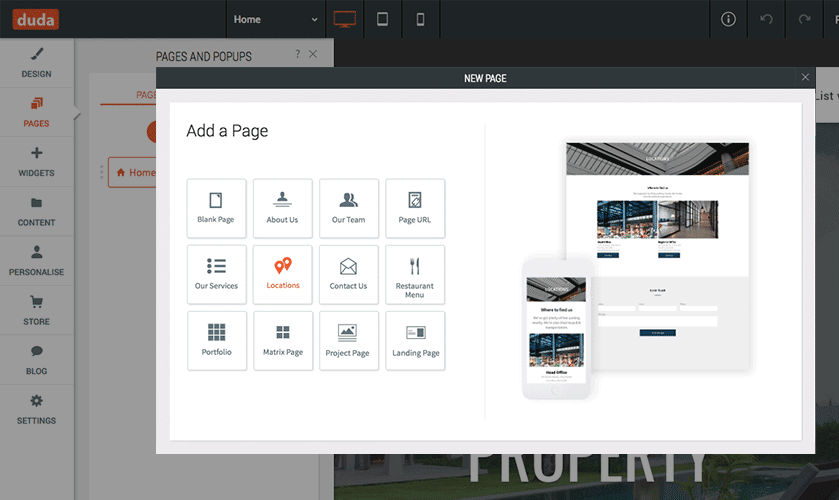 In addition to some great page templates, Duda is unique in offering support for multilingual sites and page personalization. With the personalization features, you can display your website in different ways for different visitors.
Top Features:
Easy to use
Multilingual sites
Visitor site personalization
Price: $14-$44/mo (enterprise plans also available)
11. Strikingly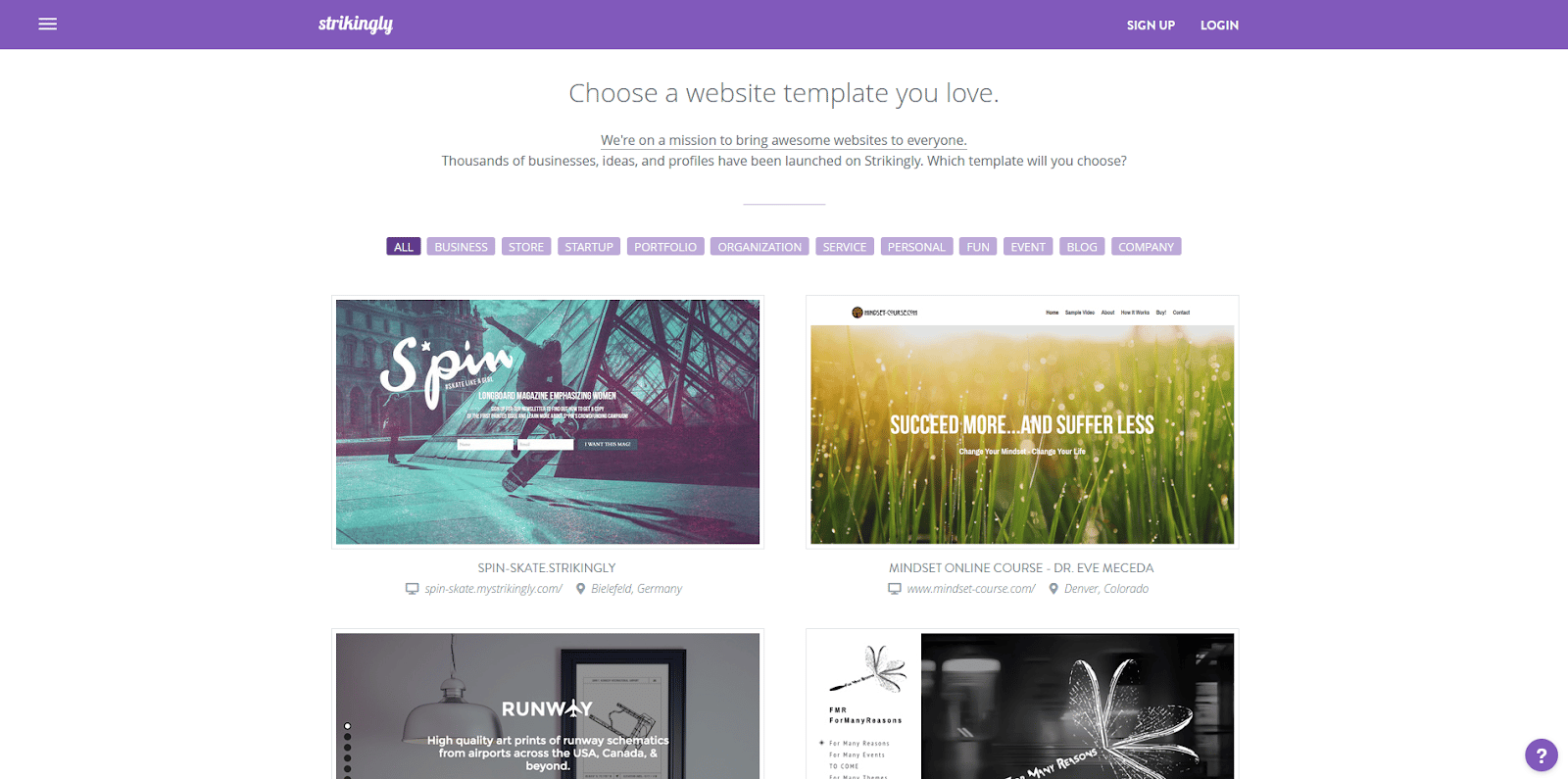 Nothing makes for a "striking" first impression more than a great first page — and that's exactly what Strikingly is all about. As one of only a few site builders specializing in one-page sites, it's a great option for building landing pages, portfolios, and more.
Top Features:
Great templates for one-page site design
Easy to use
Domain name included
Price: $0-$49/mo
12. GoDaddy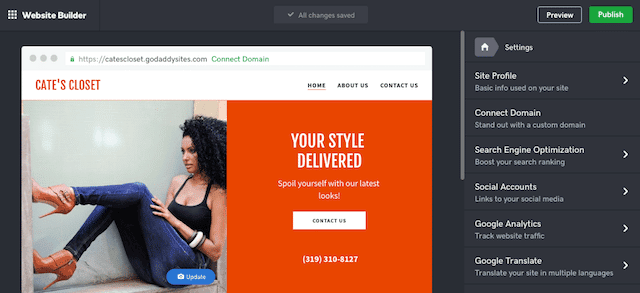 Another web host site builder, GoDaddy makes it easy for existing users to quickly set up a website on their current domain or hosting package. However, it also offers some surprisingly impressive and scalable tools for ecommerce, marketing, SEO, and more.
Top Features:
Easy to use
Built-in apps and tools
Support for scalability
Price: $6.99-$17.49/mo
13. Cargo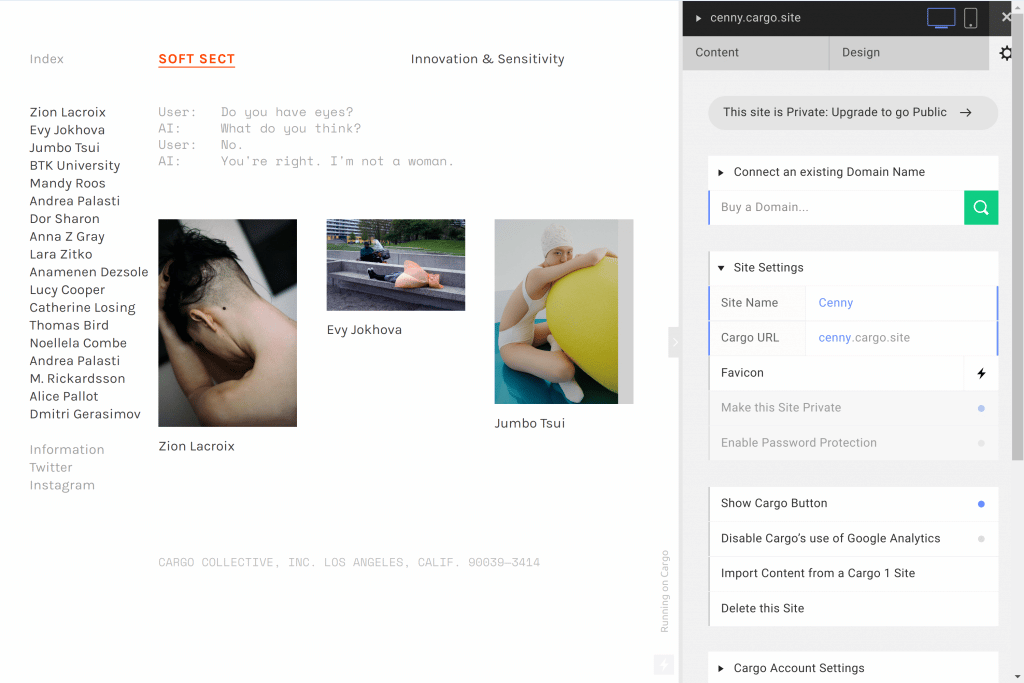 If you're a creative type, look no further than Cargo. Intended as a site builder for artists, Cargo's 70+ unusual (yet stunning) templates are completely customizable, from colors to fonts and everything in between.
Top Features:
Unique templates and layouts
Built for artists
Fully customizable
Price: $19-$28/mo (but free for students!)
14. CMS Hub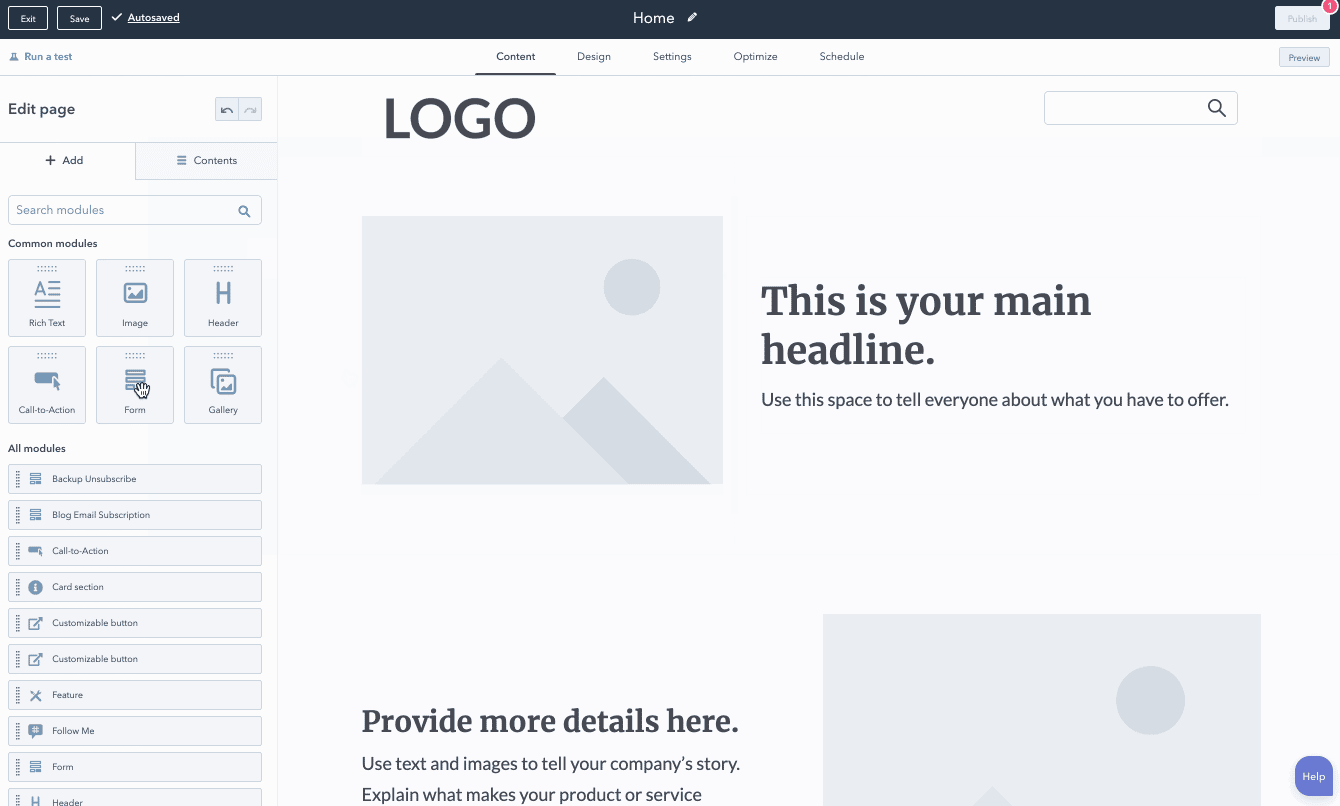 As the site builder for HubSpot, CMS Hub is more of a complete content management system (CMS) than a page builder. Even so, it offers the same drag-and-drop editor tools you might expect from other providers, all with integration with HubSpot's renowned marketing and sales tools.
Top Features:
Price: $23-$1200/mo
15. Leadpages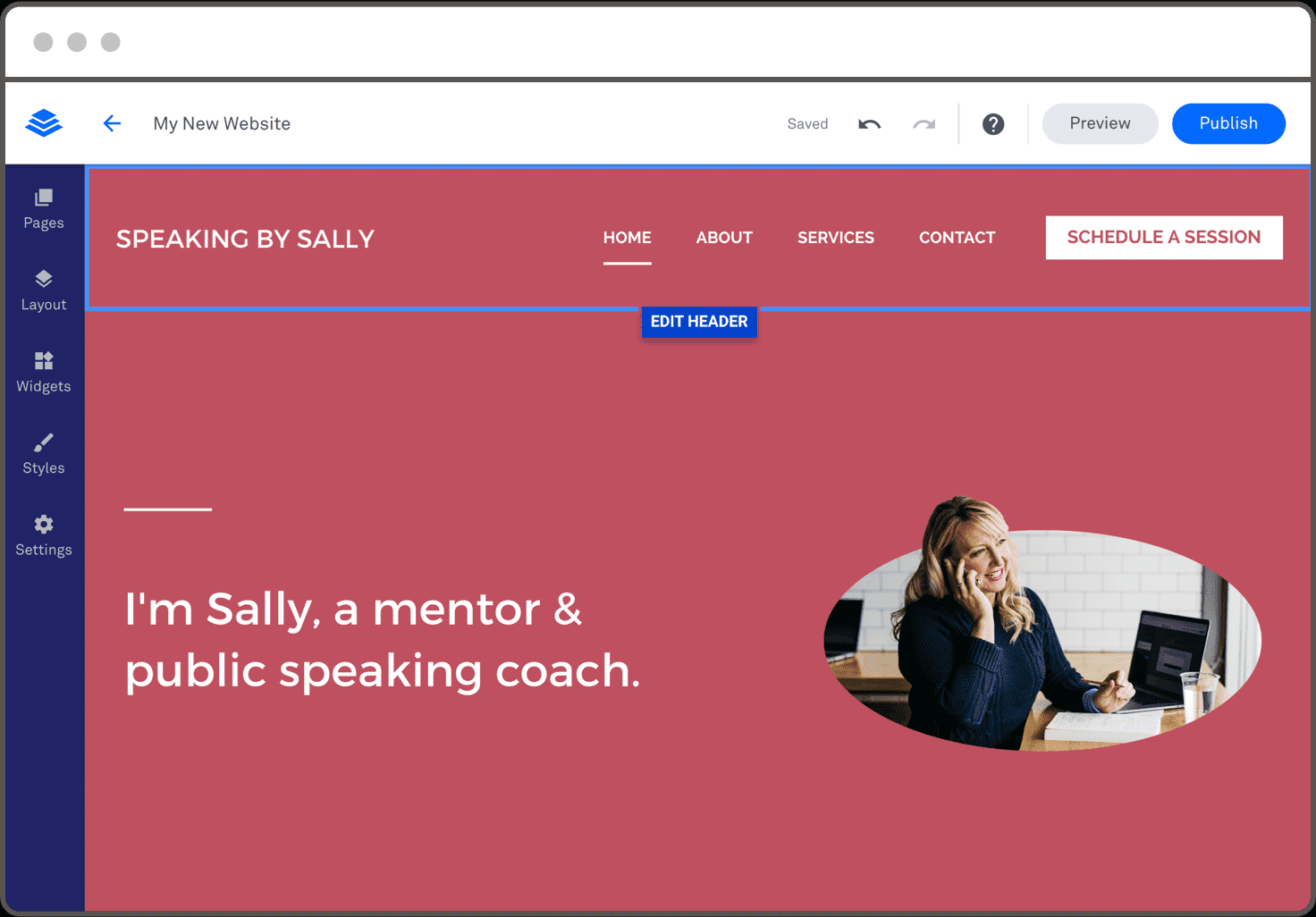 Converting visitors into customers can be a major challenge. Leadpages helps its users overcome the gap with layouts and templates meant specifically for conversions. With built-in sales and analytics tools, it's a great choice for sales and marketing teams.
Top Features:
Templates optimized for conversions
Included sales tools
Performance analytics
Price: $49-$99/mo
How To Choose the Right Site Builder for You
While every site builder has its unique advantages (and unique drawbacks), only a handful may be right for you. But with so many options available, how can you choose the right one?
Squarespace or not, the best site builder should meet your needs. As you begin your search, ask yourself what you're trying to achieve, what tools you want to use, and what features you expect so you can know exactly what to look for.
Consider Your Needs
You definitely know you need a website – otherwise, you probably wouldn't be choosing a site builder. The real question is what you need that website to do.
Though every site builder can technically build a website, specialty websites often need specialty tools. For example, while Squarespace can quickly deploy a homepage and basic shopping features, an enterprise-level ecommerce presence may need a more robust, hard-coded solution.
In any case, always consider what exactly you want your website to do. It may even help to make a list and see whether each site builder you review can check off all your boxes. In doing so, you'll make sure you aren't blindsided by a missing feature after forking over your subscription fee.
Check Design Options (and Limitations)
Even if all you need is a "simple" website, design is still an important consideration.
Good design not only makes it easier for visitors to use and navigate your website, but it also says a lot about you or your company. Similarly, design can also impact users' perception of your website's purpose. For example, you may not want to display your personal blog as though it were a corporate homepage.
Granted, most site builders offer enough templates to cover most types of websites. However, these templates are exactly that: templates. As a result, it's important to have custom design options to stand out from the crowd and convey your brand identity.
As we've covered before, Squarespace users often face pretty limited design options. While the designs and templates are pretty sleek, they're also pretty generic by most standards. Though that might be fine for many uses, it can also be stifling for more creative types.
In any case, make sure your site builder's design options align with your needs and creative vision. Many of the Squarespace alternatives listed above allow users to create designs from the ground up or even build their own templates.
Determine Your Ecommerce Needs
Whether you're a small boutique or a full-fledged retailer, ecommerce will be one of the biggest factors in choosing your website.
Though almost every modern site builder offers some form of ecommerce integration, they vary widely in features and capabilities. For example, while Squarespace's ecommerce options might be perfect for a simple storefront, an online clothing store with a large catalog and point-of-sale system might be better off with something like Shopify.
Of course, your ecommerce platform doesn't have to come from the site builder you choose. If you already use a specific platform or have one in mind, then it may be more important to check that your site builder supports the integration. As we've seen, site builders like Squarespace rarely allow for this option.
Check Compatibility With Your Apps
If you use apps for web analytics or SEO, you'll definitely want to make sure they're supported by your site builder – even if it already offers its own version.
This point is especially important if you're working with a pre-existing technology stack, such as a combination of ecommerce, analytics, CRM, and SEO tools. Unless you're willing to make some massive (read: expensive) changes, you'll need a site builder (or a custom solution) that supports integration with what you already have.
Ask Your Team
If you plan to build and/or manage your website with a team, then they should be fully on board (and fully familiar) with the site builder you choose.
Even if you find the "perfect" site builder, it's only as perfect as your team's capabilities. For example, many people choose site builders for their ease of use. However, if even an "easy" site builder presents a steep learning curve for your team, then it's no better than the worst choice.
That may be an unlikely scenario, but it's an important one to consider. Always check your team's preferences and abilities before deciding on a platform.
Consider the Cost
As if a huge range of features weren't enough, site builders also come at a huge range of prices. These prices can range anywhere from completely free to hundreds of dollars per month.
In most cases, you get what you pay for. The general trend is that higher prices afford either greater customization, greater features, or a higher capacity for users, transactions, and so on.
However, simply paying more doesn't always guarantee that a site builder will meet your exact needs. For example, Squarespace's Business Plan offers more ecommerce tools for $10 more than the Personal Plan, but this also comes with an additional 3% transaction fee when using their tools.
Don't Forget Hosting
Though many site builders include hosting as part of their package, using it can come with several caveats.
For one, you'll have little to no control over the host server, which could impact your traffic capacity or SEO efforts. Plus, as many site builders host multiple websites on a shared server, your website could be negatively impacted if other websites on your site's server have poor rankings or, in the worst case, a criminal history.
In most cases, it's best to choose a hosting plan separate from your site builder. Choosing your own hosting plan not only allows you more flexibility and security, but also tends to be less expensive and more robust than hosting plans provided by site builders.
Summary
Squarespace may be the most popular website builder, but alternatives like WordPress and Shopify offer extra features and better performance – often at more competitive prices.
If you're building your next website with WordPress, you'll need a strong hosting plan to support it. With managed WordPress hosting from Kinsta, you can enjoy the lightning-fast performance and the peace of mind of 24/7 security and support.
Explore our hosting plans or contact us to schedule a demo with a WordPress expert from Kinsta today!