These days, we're blessed with an embarrassment of riches when it comes to the challenge of creating a website for your business. That's a great problem to have, for sure, but it's still a problem. And when you factor in the need to stay within your budget, match your skill level, and align with your business goals and needs, that challenge can become a seriously complicated undertaking, especially for people who aren't coders by trade or avocation.
Two of the top strategies that most people in that situation consider are DIY solutions, primarily self-hosted WordPress, and easy, all-inclusive site builders, such as Weebly.
Which one is right for you depends on what's important to you.
In this Kinsta review, we're going to compare these two platforms — Weebly vs WordPress — on the basis of several key factors, from user-friendliness to SEO tools and more, to help you make the right decision for your business or personal website.
A note before we dive in: When we mention WordPress in this article, we're talking about the open source platform that you can download from WordPress.org and upload on your hosting company's server, and not the trimmed-down version you get through WordPress.com. There are big differences between the two.
Ready to start? Great!

Weebly vs WordPress: What The Numbers Say
Launched in 2003 mainly as a blogging platform, WordPress is today a fully-fledged Content Management Systems powering up to 34% of the website and more than 60% of websites using a CMS.

Weebly, on the other hand, came to life in 2006 thanks to Dave Rusenko, Chris Fanini, and Dan Veltri who co-founded the company at the age of 22 while still students at Pennsylvania State University. Weebly has been then acquired by Square Inc. in 2018.

The original idea behind Weebly was to make the life of Penn State students easier. How? Pennsylvania State University, at that time, required all students to have an online portfolio which could be easily created and updated with such a platform. The three saw an untapped opportunity and launched their product.
As for Weebly's market share, it's used by 0.4% of all websites and by 0.7% of all those using a CMS:
When compared to WordPress, interest around Weebly has never been enough close to it and shows its peak in 2014/2015, years when Weebly scored $35 million in Series C funding from Sequoia Capital and Tencent Holdings Ltd. and expanded its presence in Europe. Both news have probably brought more attention to the company.
So here's the key question: Is WordPress the right pick for you? Or should you go with Weebly instead? Let's find an answer!
Weebly vs WordPress: User-Friendliness
What we're considering: How much of a learning curve will a brand-new, non-technically-gifted person face when trying to accomplish the basics with the website—i.e., adding copy, positioning images, updating the content, etc.? Are these basic tasks easy to complete and fairly intuitive? Or will you find yourself huddled over the keyboard, switching between your site's administrative interface and 14 different tabs of tutorials?
Weebly
Let's get this out in the open right from the start: Weebly is perceived as being super-easy to work with — maybe even the easiest site builder available for personal and business use.
And to a large extent, it's earned that reputation. Weebly offers a simplified nuts-to-soup process of building your site, using one centralized set of tools. You don't have to separately set up your server, install WordPress, and install themes and plugins.
This centralized approach to set up, build-out, and management is probably more appealing to folks without any experience in website creation.
WordPress
Just as Weebly is perceived as being super-easy to learn and operate, WordPress is often perceived as being much harder to learn for the non-technically-minded newbie.
However, in this case, we're not entirely convinced that the reputation is wholly deserved. The basics of formatting and publishing content in WordPress are arguably at least as "WYSIWYG"-easy as most email programs are. If you can handle formatting an email message in Gmail, you can handle WordPress, with a little bit of practice.
WordPress does require a slightly more complex setup process that'll mean handling core files and arranging for hosting, not to mention choosing, installing and configuring themes and plugins from various sources. It might seem like a lot, and it's definitely a bit more than Weebly requires, but you do get more control in the trade-off.
Weebly vs WordPress: Customizability
What we're considering: Any platform can create a functional website (or should be able to, anyway), but here we're talking about how flexible these two solutions are. How easily can the "out of the box" version of each platform be customized to suit your specific branding and business needs?
Weebly
Like WordPress, Weebly employs prefabricated themes. You can customize some parts of it with the drag and drop builder, but what you can change really depends on the theme you choose.
The theme itself gives your site its basic architecture and structure. It also provides a basic website color scheme or palette. Think of it as a background or stage on which you're going to build and customize the rest of your site.
Generally speaking, you have two choices here. You can choose a theme that's as close as possible to what you're looking for, then tweak those few things that you'd like to change. Or alternatively, you can use the site's Base theme as a skeleton and built out your site from there.
If you know HTML and CSS, you can also alter many aspects of the code in Weebly's code editor, in addition to downloading the theme files, editing them in your own text editor, then re-uploading the new files. Just be aware that this access might be limited in some cases. Weebly does give you a tutorial on how to customize its themes.
WordPress
Developers have built thousands of themes for WordPress. In addition, you can choose from several drag-and-drop frameworks, such as Divi, which allow you the same expansive flexibility. Of course, there's always the possibility of hiring your own developer to create a unique theme just for you and your brand, although that can be outside the limited budgets of many individuals and brand-new businesses.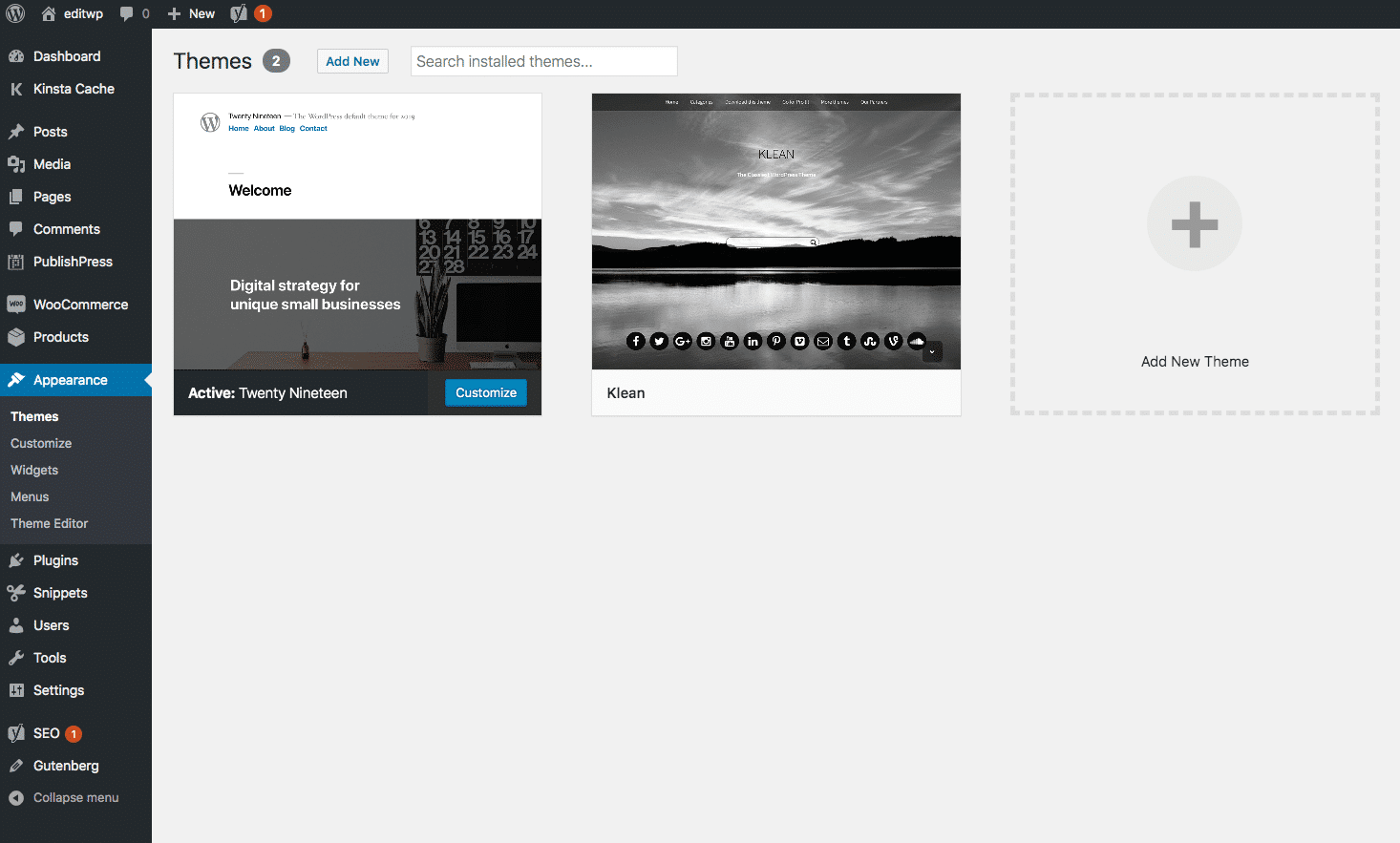 As with Weebly, those who can code are at a distinct advantage when it comes to exercising more finely-tuned control over your site's appearance. If you know HTML, CSS, and JavaScript, you can change just about anything you want on your site. The best practice is to create a child theme to work with your parent theme.
The bottom line here is that WordPress is probably more powerful when it comes to customizing your site. However, that customizability comes with additional complexity or expense, depending on how you choose to proceed.
Weebly vs WordPress: Ecommerce
What we're considering: How simple is it to add a shopping cart to your site and manage its basic functions? How intuitive are the basic ecommerce controls and how flexible are these options?
Weebly
First, the good news: Yes, Weebly supports ecommerce. You can sell physical goods or digital products (e.g., ebooks, audio files), and when your customers check out, they do so on your domain—they won't get redirected to some other site, thus increasing their trust and sense of security in your brand.
The downsides aren't necessarily going to be deal-breakers for many site owners, but they should be considered.
First and foremost, the precise ecommerce features you enjoy will depend entirely on which package level you choose. Pro-level subscribers can only sell a limited number of products, get no flexibility with taxes or shipping options, and pay a per-transaction fee equal to three percent of the total. With the Business plan, the next level up, you can sell as many products as you like, and you get some control over the shipping and tax options, with no transaction fee. Business subscribers also enjoy a few more advanced ecommerce features.
Another consideration is that there's no dropshipping option with any of the Weebly plans, and it's unlikely that will change any time soon. If that's important to you, WordPress is your better option.
The upshot is that if you only need a minimal ecommerce presence for your brand, or if the full Business plan fits your budget, Weebly will work for you. If you need more control, though, you'll probably get more out of WordPress.
WordPress
Almost universally, WordPress ecommerce depends on the strength of your ecommerce plugin. That's a really good thing, though, since there are some excellent, well-coded ecommerce plugins available for WordPress sites.
This means you'll enjoy significant flexibility in setting up both your online store experience as well as the underlying site that supports your ecommerce business. That flexibility and customization is something you just won't get to the same degree from any SaaS ecommerce solution.
At the same time, you'll still enjoy the same robust basic and advanced ecommerce features that help you make your online store a success.
From the types and quantities of products you can sell, through the exact path your buyers take through the shopping experience, to checkout and beyond, WordPress allows you to customize and control just about every aspect of your ecommerce site. And you can incorporate dropshipping, too.
The tradeoff, as always, is that all this flexibility means you'll have to do a little more research to find the right plugin for your plans. It'll also mean a bit more work with setting up and configuring your plugin's options. The payoff is a degree of control you'll be hard-pressed to find anywhere else.
Weebly vs WordPress: SEO and Code
What we're considering: Does the basic interface and code structure allow you to optimize your website for search engines, and if so, to what extent? How simple are these controls to access?
Weebly
With Weebly, you have access to most basic SEO tasks, such as customizing page titles, meta descriptions, and custom URLs for all your site's pages. However, you'll get limited use of headings (H1 and H2 only). If you want to edit these, you might need to install a third-party app from the Weebly store.
You can edit alt tags for your images, set up 301 redirects, and even access some of your site's underlying code. With all the plans (including the free one), you can take advantage of SSL security. There's also a space where you can paste in your Google Analytics code.
WordPress
WordPress plugins, as well as some themes (usually premium ones), allow you varying degrees of access to important fields and code to extend its native SEO capabilities. This includes page titles, meta descriptions, and much more (suggested reading: How to Use Yoast SEO on WordPress: Complete Tutorial).
Straight out of the box, WordPress prioritizes SEO. Custom URLs and URL structure options are built-in, as is the ability to edit alt tags for image uploads. You have complete control over all headings, including H3 and beyond, and can customize the appearance at will by changing the CSS.
Google Analytics code can be added through plugins or by manually inserting it via the dashboard's code editor. SSL and 301 redirects are also available through external solutions and plugins.
Suggested reading: 10 Free HTML Editors on the Market for WordPress Developers and Advanced Users.
Weebly vs WordPress: Support and Community
What we're considering: How much support can you count on when you run into a problem that you can't solve yourself?
Weebly
As a full-fledged SaaS business, Weebly prioritizes centralized support for all of its customers. Weebly offers professional support through its customer service team and knowledge base. In addition, you can seek assistance from fellow users in its community support forums.
WordPress
WordPress support can take a number of different forms.
One of the biggest sources of assistance for WordPress site users is its robust, enthusiastic user community. Millions of dedicated fans and professional developers can offer assistance and support through a number of forums and message boards, chief among them the official WordPress forums. In addition, you can get more direct, one-on-one support by looking into a premium support solution.
Weebly vs WordPress: Administration and Maintenance
What we're considering: On an ongoing basis, how easy is it to keep your site updated, free of spam, and functioning properly?
Weebly
Weebly's self-containment means you're off the hook for the most part, at least when it comes to security and functional updates. The company will take care of all that for you. Simple, straightforward and super easy.
This also means you don't have control over that process, however, so if that control is important to you, Weebly may not be your best choice.
There is, however, a dashboard where you can manage things like your site's SEO, editors, members (if you run a membership site), and installed apps. 
You also have control over some blog settings, such as how many posts to display, whether to enable sharing icons, and most importantly, how to handle the built-in commenting system when it comes to spam prevention.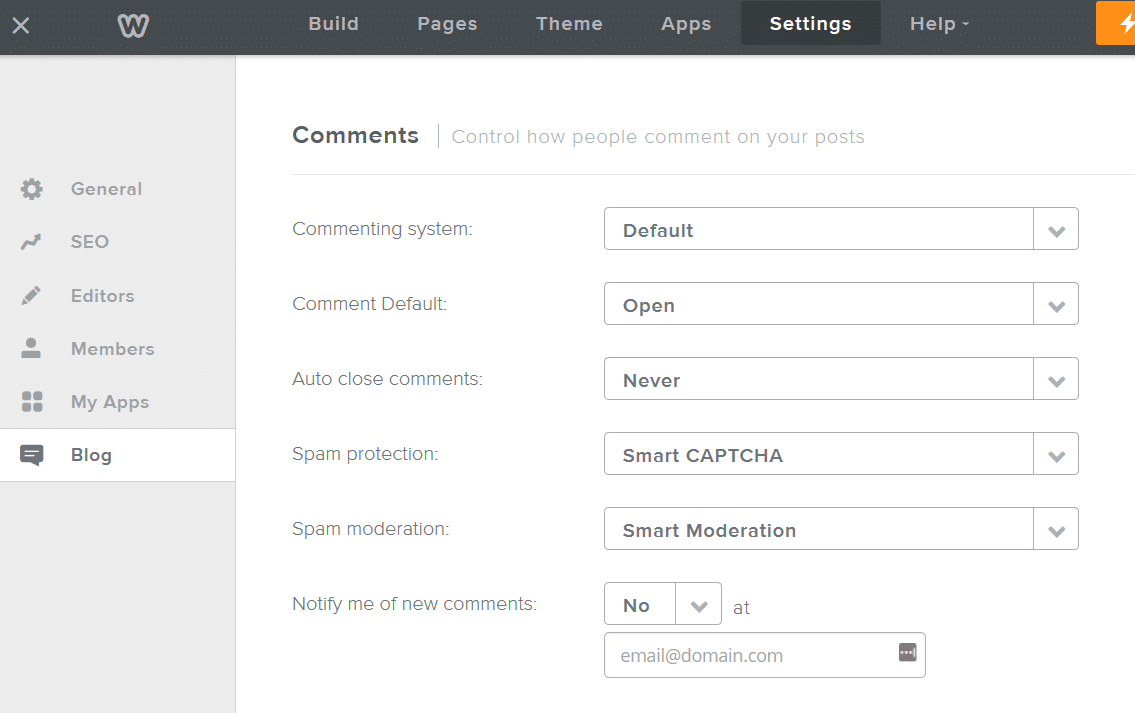 WordPress
Automattic issues WordPress core file updates on an ongoing basis. One of the strengths of the WordPress system is that it enjoys a committed, active, and talented developer community, so updates get issued promptly and perhaps frequently.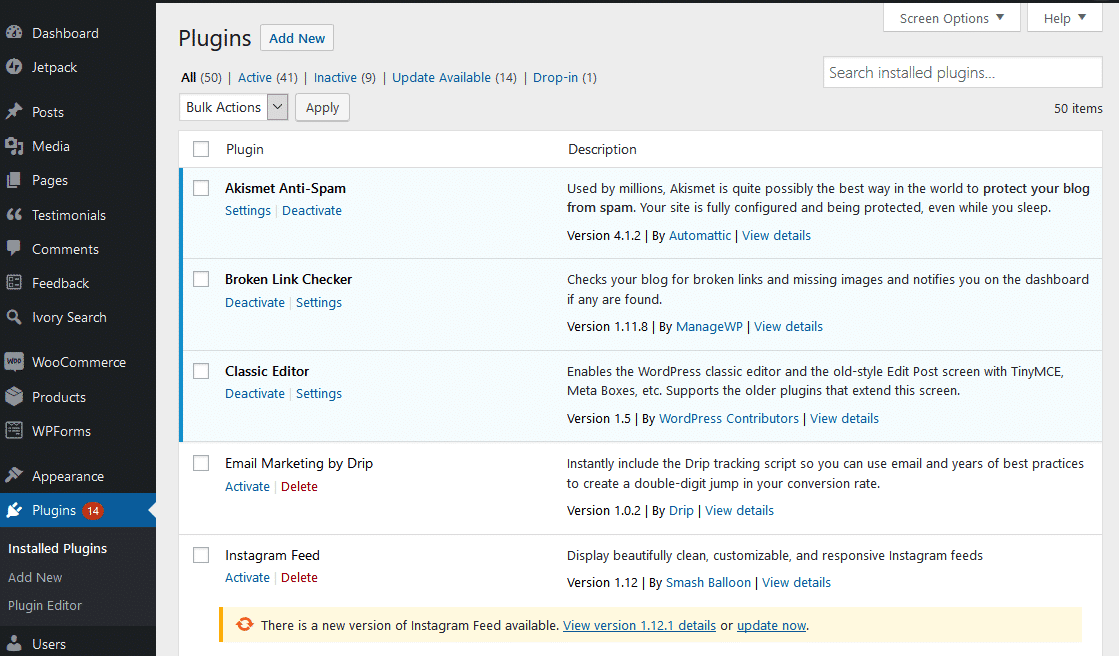 Core file updates are just one aspect of the administration process, though. When new versions are released you also need to make sure whatever other updates may now be required because of that new release.
But sometimes plugin developers don't keep up with development, so older plugins can become out of date and present security vulnerabilities which need to be addressed.
Updating is also easier these days with current versions and one-click updates, though you should always make full backups first unless you're with Kinsta, which offers automatic daily backups and the option to create manual backup points anytime with all its plans.
Weebly vs WordPress: Initial and Ongoing Costs
What we're considering: How much will your new website cost you, both in terms of upfront and recurring costs?
Weebly
Weebly centralizes all your costs, which provides added value in terms of wrangling invoices and expenses.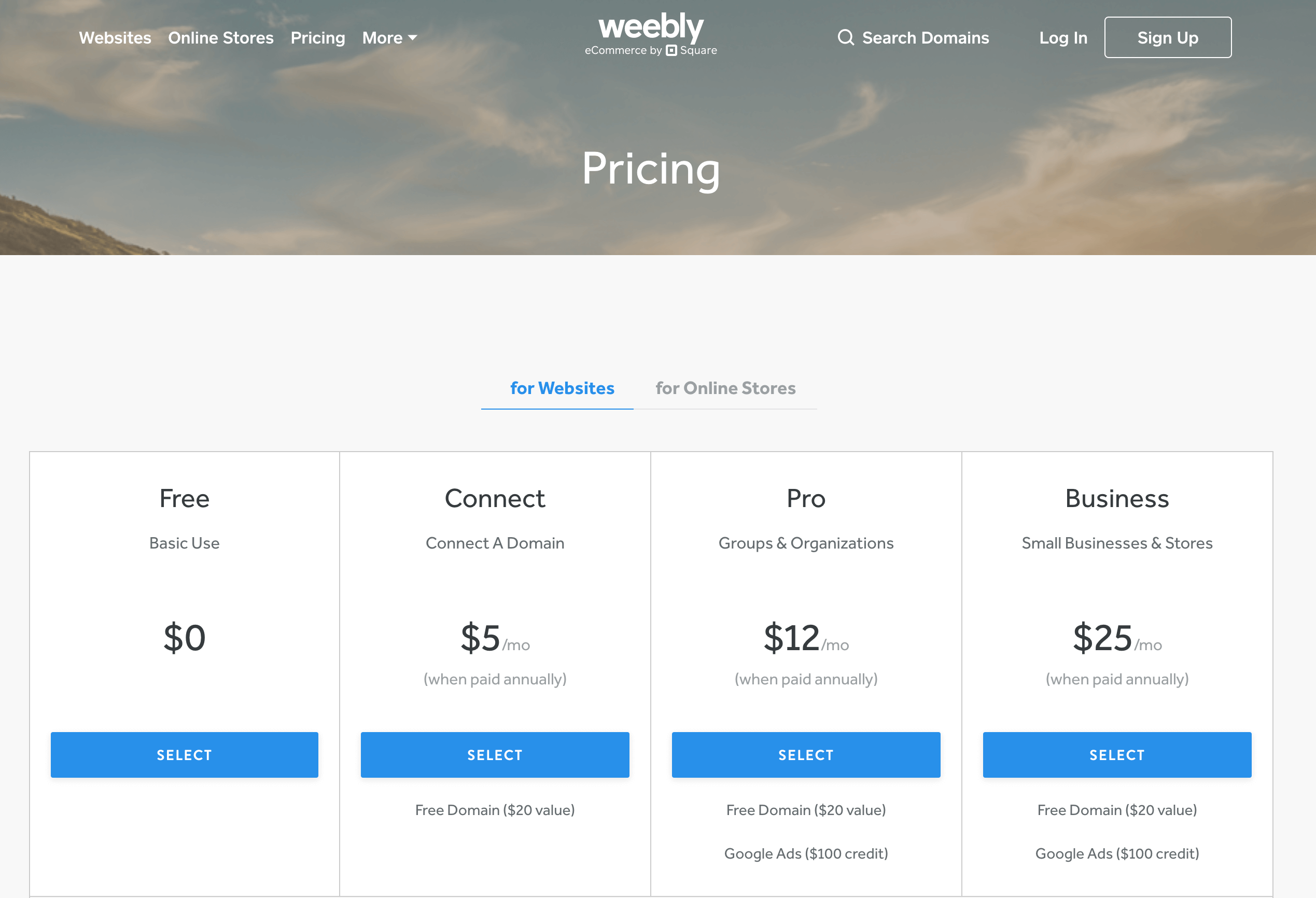 It offers four plans. At one end of the price spectrum, there's a free plan for personal use. You'll get a second-tier domain (i.e., mysite.weebly.com), and basic site tools. Ecommerce is not available at this level. For $5/month (paid annually) you can sign up for the "connect a domain" plan, which is basically the personal plan but with your own (top-level) domain ported over. Both these plans come with Weebly ad display.
The Pro plan costs $12 per month (paid annually) and includes one year of free domain registration as well as $100 in Google Ads credit. Of course, you'll remain responsible for keeping the domain registration current in subsequent years. You also get to remove those Weebly ads, and can enjoy minimal ecommerce functionality.
For $25 per month (paid annually), the Business plan offers small to mid-sized businesses and ecommerce stores greater flexibility and function. You'll get the same free initial domain registration and $100 in Google Ads credit as the Pro plan offers, no Weebly ads, and a full set of robust ecommerce platform and tools.
WordPress
WordPress is open source, so its core files are free. You will need additional WordPress hosting, which generally costs anywhere from $10 to much more, depending on the infrastructure and hosting plan you select.
Thousands of free themes are available, but many brands and businesses prefer to invest in a unique or customizable framework theme that can cost from up to thousands of dollars, depending on the features.
Most plugins are also free, though many also have premium versions that offer additional features.
Your domain name will need to be registered as well, costing up to $12 or so on average each year (depending on whether you select private registration and other services from your domain registrar).
If you decide to hire a developer or designer to help you create a theme or take care of the technical aspects of installation and setup, you can expect to add anywhere from a few hundred to a few thousand dollars to your total cost.
Summary
In Weebly's corner, we can sum up the SaaS site-builder's strengths as follows:
Centralization and simplicity of use.
Professional, centralized support.
"Get what you pay for."
Four plans based on scale of needs.
Who is it best for?
Individuals, freelancers, small biz owners, ecommerce site owners who just want a simple, straightforward site and don't need a ton of bells and whistles or specific customizations
Anyone who is more interested in getting a site up quickly and easily, rather than creating a "just right" site
A summary of WordPress strengths includes:
Mind-boggling customizability via themes and coding.
Significant breadth and depth of function via plugins.
A much higher level of control.
Open source software.
Broad network of committed and enthusiastic users and developers for support.
Who will find WordPress the best solution?
Any kind of organization of any size, from freelancer to large corporation
Those people who have the time and inclination to meet a small learning curve and who can dedicate a few hours a week to keeping the site updated, secure, and functioning properly