Thanks to the Elementor page builder, you can design a website without having to write a single line of code. However, sometimes you may benefit from a helping hand.
That's where Elementor templates come in. These are ready-made page designs that have the layout, content, and even the functionality you need to create a jaw-dropping website.
In this post, we'll discuss what Elementor templates are, why you may want to use them, and how to choose the right one for your site. We'll then share 27 stunning templates that can help you build high-converting stores, business websites, blogs, and everything in between. Let's get started!
Elementor Templates vs WordPress Themes
Elementor templates are pre-designed pages and blocks that you can apply to individual pages or even specific User Interface (UI) elements. The major difference between Elementor templates and WordPress themes is the number of pages they affect.
WordPress themes change the design of your entire website. By contrast, Elementor templates affect the layout of a single webpage:
Since they're limited to a single page, you can use multiple Elementor templates simultaneously. For example, you might use one template for your homepage, and another for your blog layout.
Some Elementor templates are full-page layouts. Other templates control the look and feel of individual blocks. These are sections that contain pre-built widgets, such as headers, footers, and testimonials. You can even use multiple block templates on a single webpage:
Although you can download and install multiple WordPress themes, you can only activate a single theme at any one time. This means it's impossible to use several themes simultaneously on the same website, or mix and match multiple themes on the same page: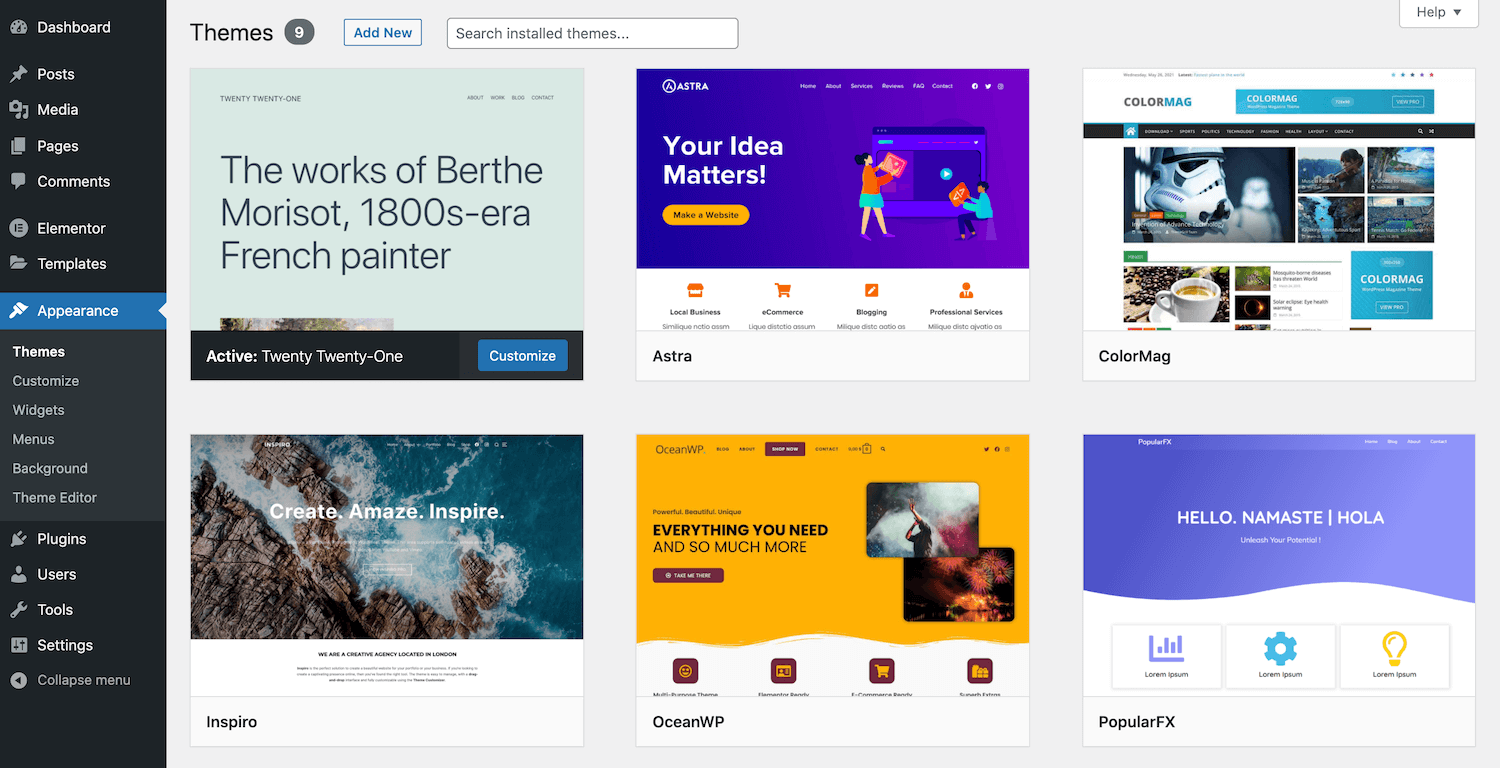 As an open-source platform, you're free to create your own WordPress themes. This includes customizing a third party's work and creating a unique child theme. However, this requires specialist skills and a certain degree of technical knowledge.
With Elementor, you can design a page or block using the intuitive drag-and-drop editor. You can then save this design as a template with just a few clicks.
When compared to developing your own WordPress theme, creating an Elementor template is quick and easy. You don't even have to write a single line of code.
Why Picking the Right Template Is Important
Even with a user-friendly page builder such as Elementor, creating a professional-looking layout takes time and effort. By using a template, you can fast-track through the process.
The right template will provide a solid foundation that you can then tweak to bring it into line with your own branding. This can help you create a stunning website, with minimum hassle.
Elementor templates can benefit all website owners. However, the more sites you create, the greater the benefits.
If you're a WordPress designer or development agency, using Elementor templates means you don't have to start from scratch every single time. With an arsenal of flexible, professional designs at your disposal, you can create more sites in less time. This is great news for your profit margins.
Building your own site can also be a daunting project. This is particularly true if you don't have previous design or development experience. You may also be feeling low on creative inspiration.
The right template will do much of the heavy lifting for you. Once you've added it to your site, you can focus on the minor changes required to make the design align with the rest of your theme. Therefore, the right template can accelerate the design and development process, and improve the quality of your finished site.
What To Consider When Choosing an Elementor Template
There are countless free and premium Elementor templates. With so many options, choosing just one can feel like a challenge.
When shopping around, it makes sense to start with your industry. Many templates are designed with a specific niche in mind, such as travel or car rentals. These templates often ship with placeholder functionality that's geared towards your particular needs. For example, a restaurant template may have a booking reservation form.
You should also consider the features your website needs, such as a shopping cart for your WooCommerce site. While Elementor enables you to customize its templates, the right features can minimize the number of changes you'll need to make.
You can change your template's appearance using the Elementor editor. However, to make your life easier, it makes sense to shop around for a template that closely resembles your desired branding.
In this post, we'll cover a range of free and premium Elementor templates. While it may be tempting to view paid templates as the superior option, there are many free designs that feature clean code and impressive layouts.
The right template will vary depending on your budget. However, it helps to read recent reviews carefully. Many template developers also provide interactive demos, which can help you evaluate the design's quality.
Support is one area where premium and free templates tend to differ. Many paid templates offer complimentary support. If you opt for a free design, you may need to rely on community resources, such as online tutorials and forums. For this reason, it's important to consider the level of support you might need.
How To Create and Install Elementor Templates
After choosing an Elementor template, the next step is uploading it to the page builder's template library. Regardless of whether you purchased a template or opted for a free design, you should have the option to download this file to your computer. Then, you can easily import it into your site's template library.
How To Import and Install an Elementor Template
To import a design, navigate to Templates > Saved Templates. Then, click on Import Templates:

In the subsequent window, find the template that you want to upload to the Elementor Library. Then, click on Import Now.
Just like changing a WordPress theme, it's smart to create a full backup before switching to a new Elementor template. Once you've done this, you can apply your new template by navigating to Templates > Saved Templates.
You can also view all of your custom templates via the Elementor Library. To access this resource, click on the little folder icon inside the Elementor editor:
Then, click on My Templates. This tab displays all of the designs that you've imported into the Elementor Library:

Note that some templates may contain stock content, such as images, videos, and audio. While Elementor has the right to display this third-party content, there's no guarantee you can legally include this media on your public website.
Most reputable template creators are forthcoming about the licensing rights, so it's smart to check the fine print for more information. If you're unsure, you can always reach out to the template's developer for more information.
How To Save a Page as a Template in Elementor
If you want to create your own Elementor templates, the plugin enables you to do so. First off, you'll need to use Elementor to put together a design that you'll want to re-use at a later time.
Once you're happy with the page design, locate the Publish button on the lower left-side corner of the Elementor editor. Then, click on the upward arrow next to that button: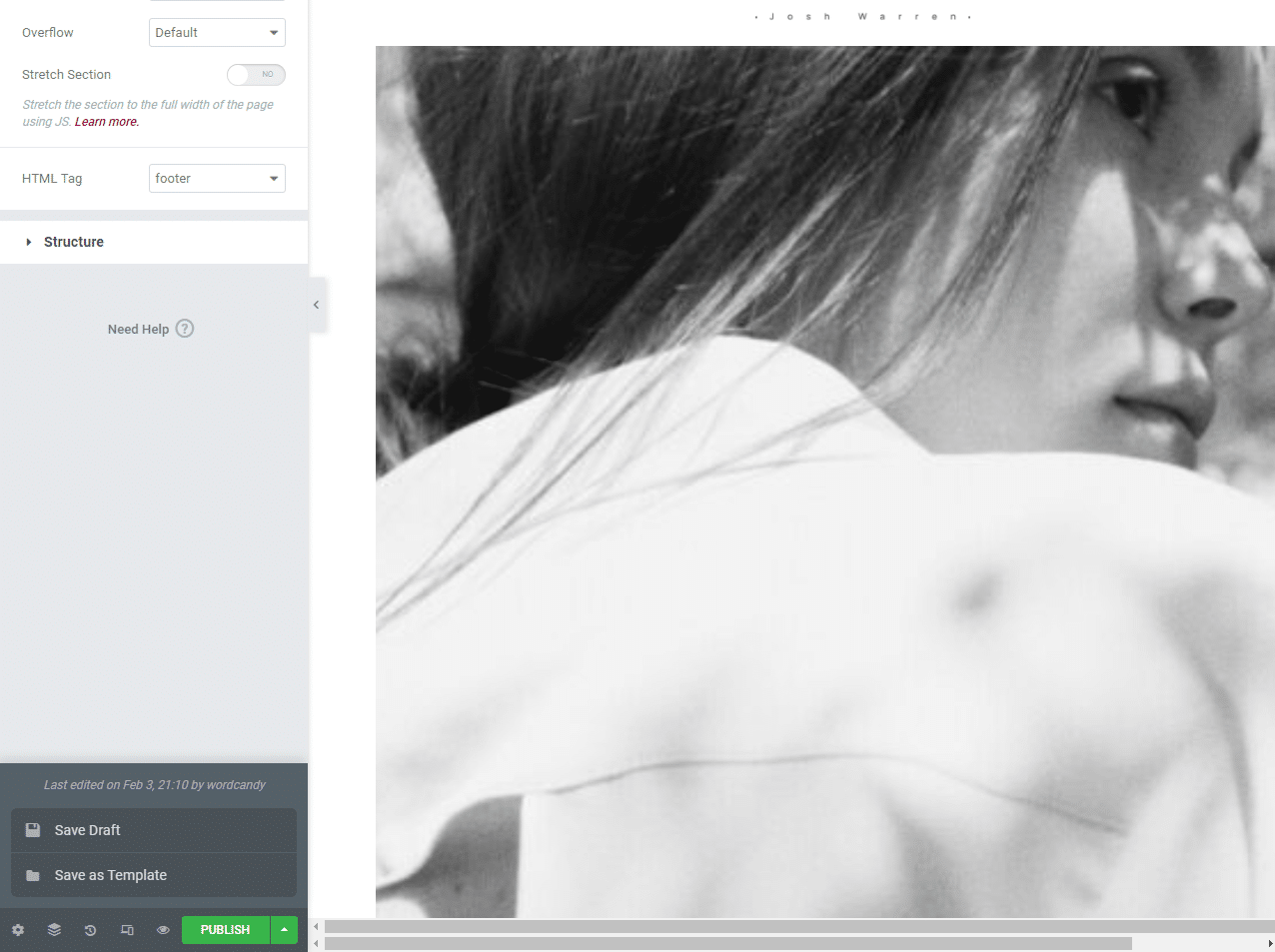 You'll see options to save the design as a draft or as a template. If you choose the latter, Elementor will ask you to choose a name for the template: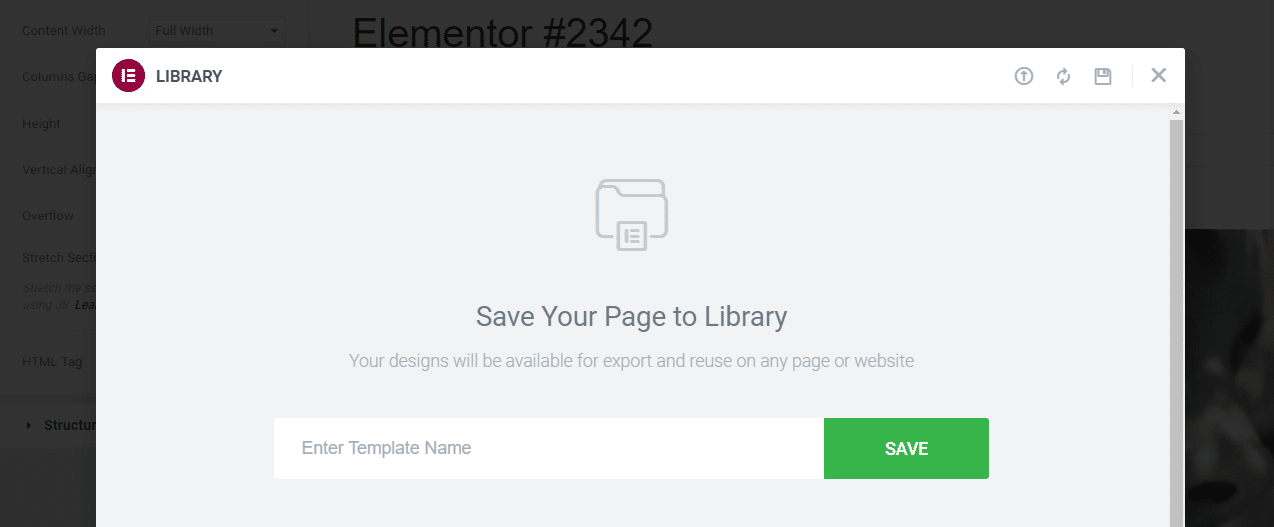 Choose a name and click on SAVE. Now, that template will appear under the My Templates tab within the Elementor library. You can also access the template by navigating to Templates > Saved Templates from the dashboard (as we showed you in the previous section).
With Elementor, there's no limit to how many templates you can create and save. The page builder also enables you to export templates, which is precisely what most of the creators in the list below do. If you're confident in your Elementor template-building skills, there's no reason why you can't sell your designs.
How To Create WordPress Header and Footer Templates Using Elementor
If you're using Elementor Pro, the plugin gives you the option of creating multiple types of page templates. You can use those templates to build entire themes: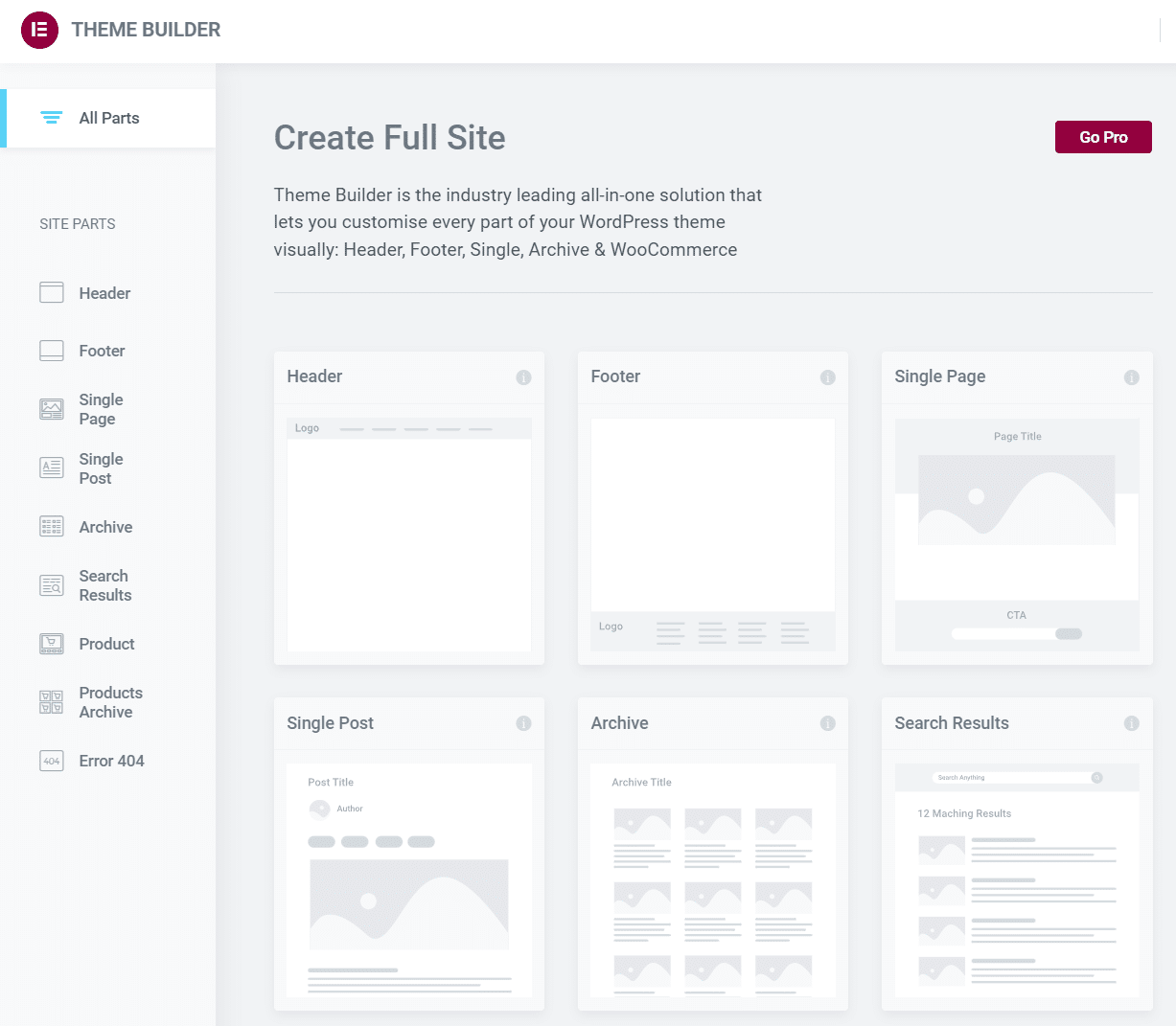 To design new Elementor header and footer templates, go to Templates > Theme Builder and click on Add New Template. Select the option that says Header (or Footer) and the Elementor editor will open.
At this stage, you'll get to choose from multiple header and footer templates, or you can design your own from scratch. When you're done, hit Publish and Elementor will ask you to choose which pages to apply the new templates to.
By default, Elementor will add header and footer templates to every page. However, you can also pick and choose where to use your new templates.
Top 24 Elementor Templates for Your WordPress Website
With over five million active installations, Elementor is one of the most popular page builders. This means there's no shortage of templates to choose from. However, sometimes too much choice can be a bad thing.
To help you find the right design, we've done the legwork for you. Here are 24 of the best Elementor templates for your WordPress website, including plenty of designs for different niches and industries.
1. Organic Shop
If you're launching a grocery store, farm shop, or food-themed store, then Organic Shop is a great choice for your new venture. This template has a clean design, and places product images at the front and center: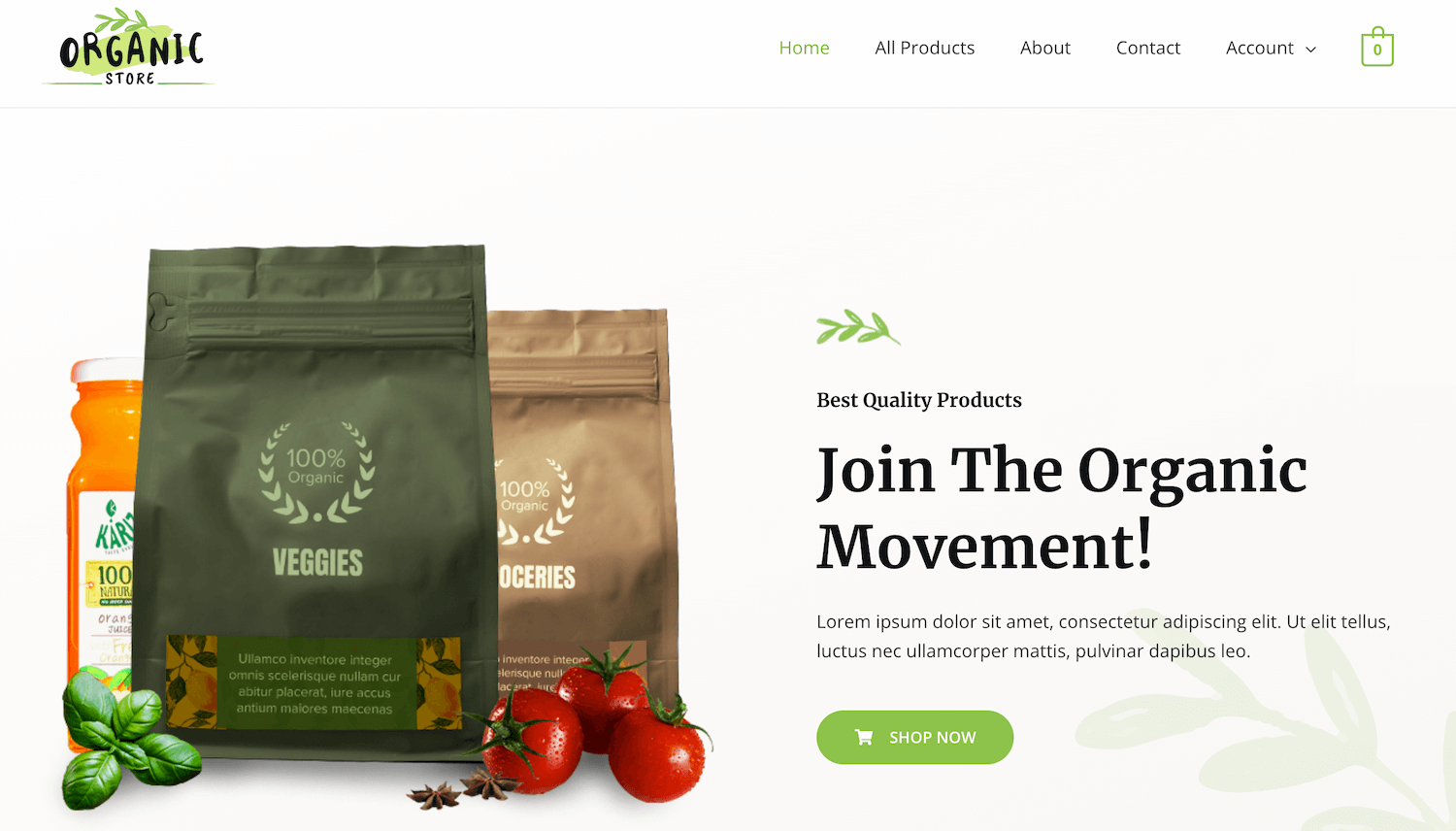 Stand-out features include a calculator, which displays your total number of products and categories. You'll also find a reviews and testimonials section where you can display powerful social proof.
Features:
Informative footer containing social links, and space to promote your ecommerce mobile app
Support for customer reviews
An interactive and engaging FAQ page
Pricing: Organic Shop is a free Astra starter template. You can download the Astra theme for free from the official WordPress repository.
2. Mindful Mambo
With the rising popularity of meditation and mindfulness, you may be looking for a template that promotes wellbeing. Mindful Mambo uses a serene green color scheme and nature-themed imagery to achieve a calming design: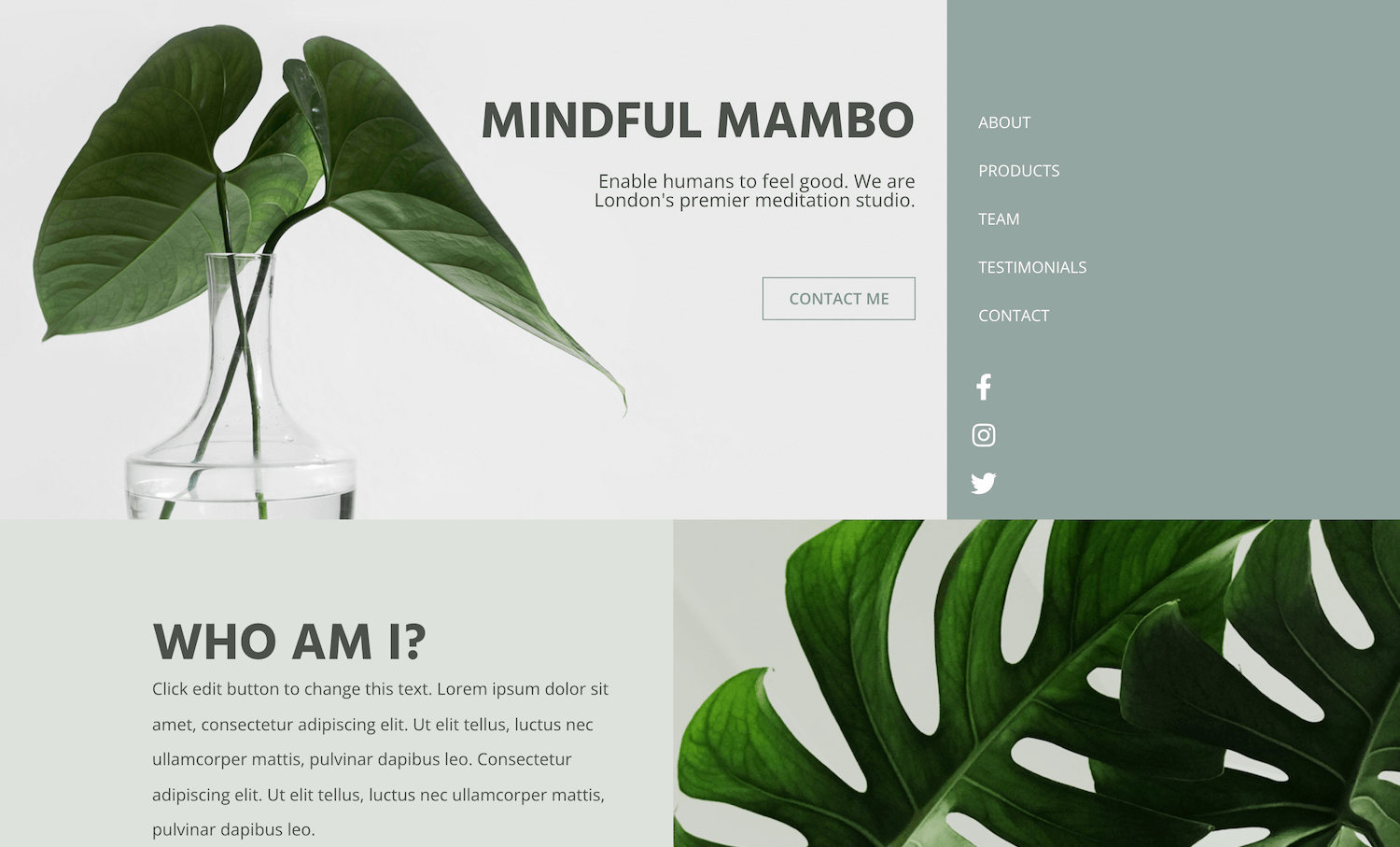 Mindful Mambo is a flexible template that provides various ecommerce-focused sections, including an area to display your products. However, it also includes sections where visitors can schedule classes and appointments. This makes Mindful Mambo a good fit for a wide range of wellness-themed websites.
Features:
A feature-rich homepage that you can use for either an online store or an appointment-based business
An unusual and striking block-based layout
Built-in slider featuring multiple Call To Actions (CTAs)
Pricing: Mindful Mambo is available as part of a 30 template bundle, priced at $49.
3. Education
The Education template from Zita has everything you need to build a website for a university, school, or college. It comes with various education-themed sections, including student library, courses, and event news:
To help encourage signups, Education includes a live tracker. This displays the total number of courses, students, and faculty staff.
This template has a simplistic design, with the occasional pop of bold color. It does a great job of drawing the eye towards the template's most important content.
Features:
Large hero image
Eye-catching overlapping sections
Restrained but effective use of color
Professional design
Pricing: You can purchase a Zita Pro license for $59.
4. DesignConf
If you're arranging an event, the DesignConf template has everything you need to create a buzz around your sessions and collect registrations. This template is packed with useful sections, including attendee testimonials, speaker profiles, and event sponsors:
DesignConf has a collapsible schedule where potential attendees can explore your sessions. This puts a wealth of information at the visitor's fingertips, without forcing them to confront a wall of text.
In terms of design, this template uses quirky slanted sections and contrasting colors. This makes for a vibrant and modern-looking Elementor template.
Features:
A Google Maps block for displaying your event's location
Social media integration
Registration CTAs
A live countdown
Pricing: You can purchase a DesignConf license for $34.30 when paid annually.
5. BBQ Restaurant
BBQ Restaurant was designed with takeaways, cafes, and other food-based establishments firmly in mind. The template immediately puts your product front and center, with an engaging video banner:
The homepage template has an unusual structure that alternates between images and text. It also makes heavy use of animations, which activate automatically as the visitor scrolls.
Beyond the homepage, BBQ Restaurant has sections where you can showcase your menu and some information about your business. It also provides a Google Maps block, which will help diners locate your venue.
Features:
Eye-catching video banner
Alternating parallax and solid color backgrounds
Customer reviews section
Plenty of space for product images
Pricing: You can download Restaurant BBQ for free.
6. SEO Magic
As the name suggests, SEO Magic helps Search Engine Optimization (SEO) agencies and freelancers advertise their services. To help convert visitors into clients, the template has plenty of space to display an image, headline, tagline, and CTA above the fold: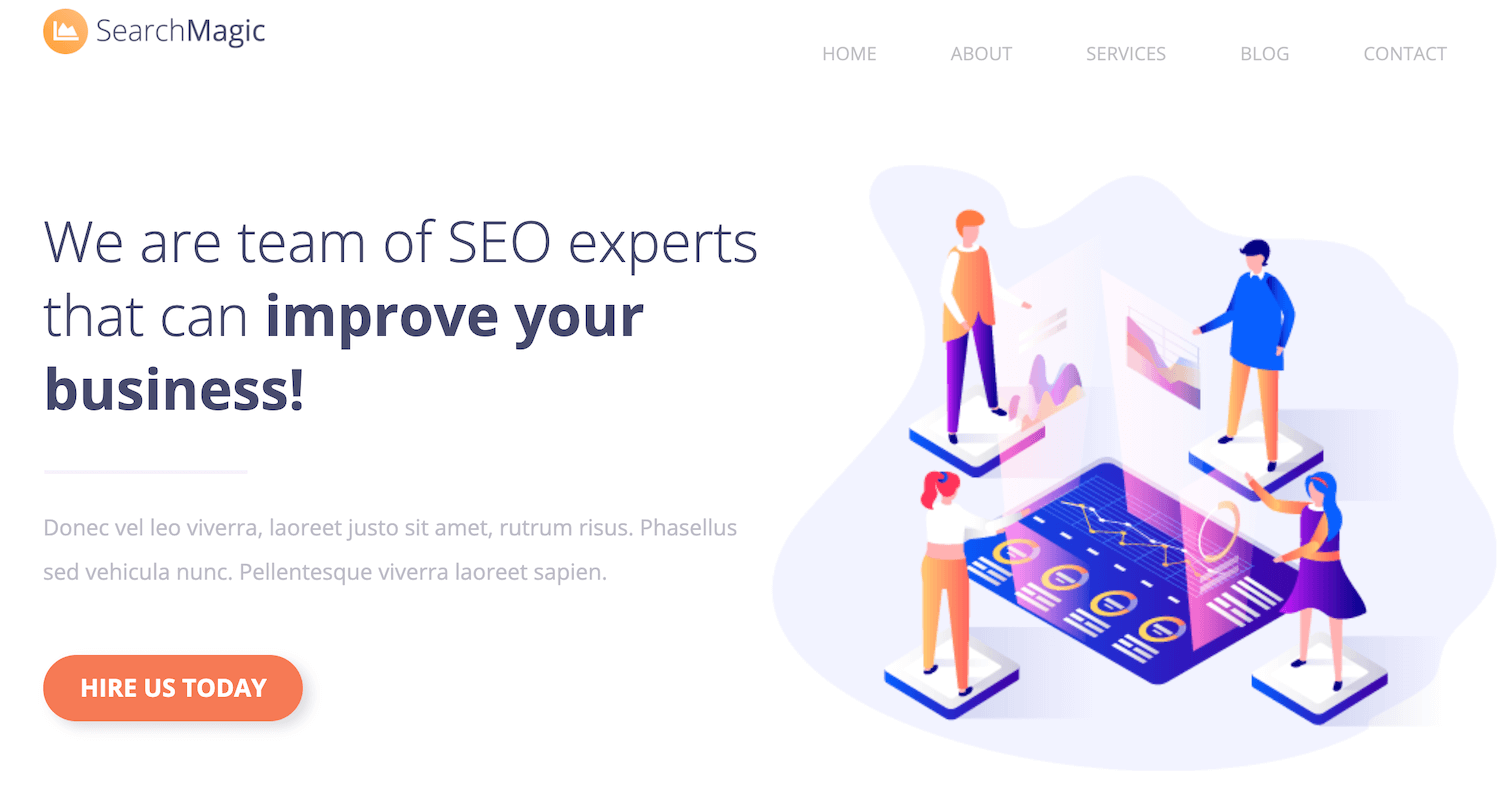 With SEO Magic, you can present all of your services as cards in a structured grid format. This is an effective way to provide an overview of what you offer, without overwhelming the visitor with heavy text.
SEO Magic is fully responsive. Even better, you can easily check how this Elementor template will render across smartphones and tablets, using the demo's various preview settings.
Features:
Attractive illustrations
Scrolling animations
Persuasive CTAs featured throughout the template
Distinctive blue, orange, and purple color scheme
Pricing: A personal license is priced at $16. If you're an agency, then you can purchase SEO Magic for unlimited use, for $63.
7. Hestate
Hestate is a fully-responsive template kit designed for real estate, property agencies, interior designers, and other businesses that have properties to promote. This template has a large video banner that's perfect for displaying a video walkthrough of your most desirable real estate: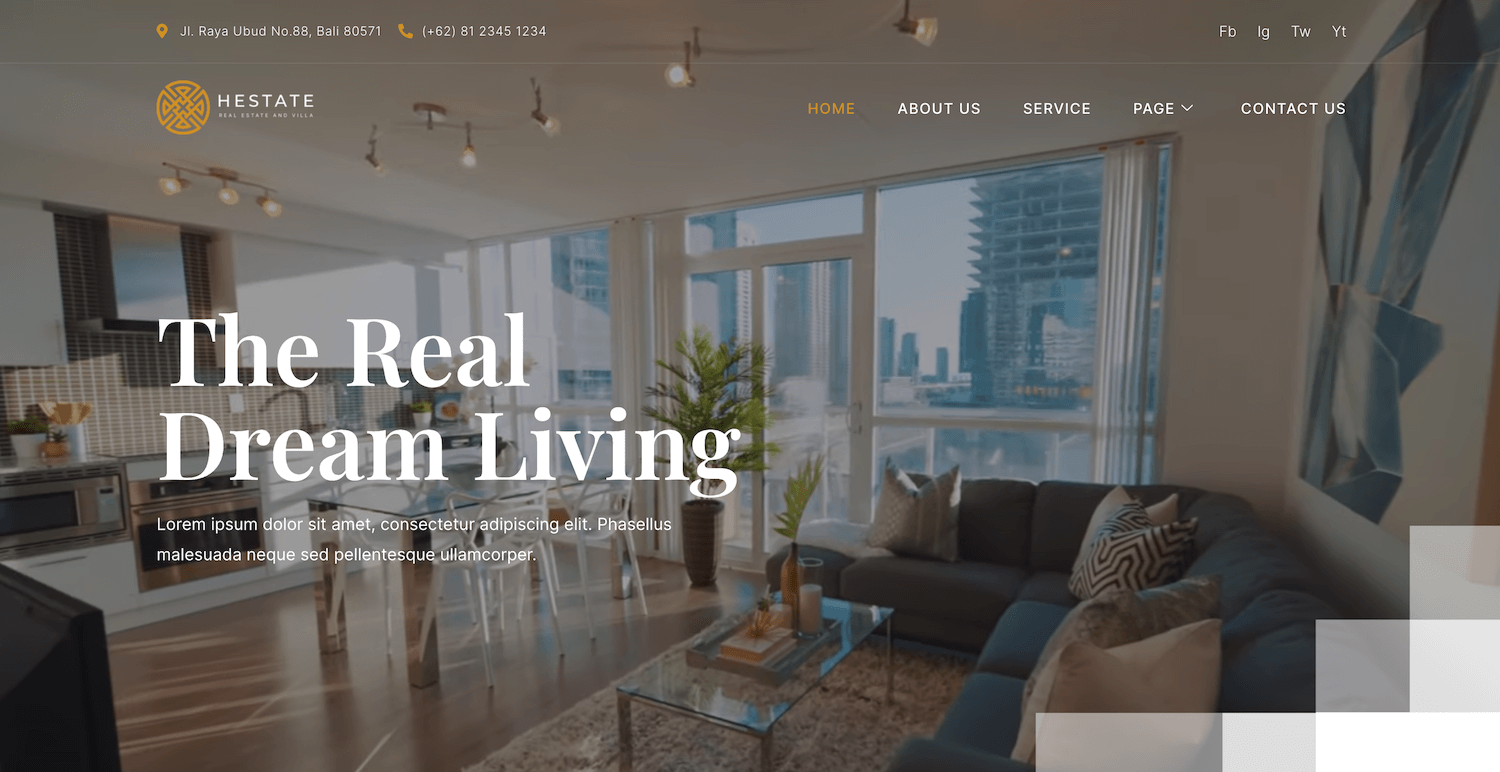 Hestate opts for a simple white background, with various images that slide onscreen as the visitor scrolls. This makes for an engaging and dynamic template.
Hestate has plenty of sections that are ideal for showcasing apartments, houses, and other properties. This includes a section that combines large images with pricing and location information.
Features:
Clean and classic design.
Retina ready.
Over 14 ready-to-use templates.
Dedicated property listing and property detail pages.
Pricing: You can purchase the entire Hestate template package for $24.
8. Katka Music
If you're a musician, then Katka Music has everything you need to promote your upcoming tour, album release, or even your entire musical back catalog. This bold template has plenty of space to display multimedia, including audio clips, videos, and even a gallery of shots from your previous tours: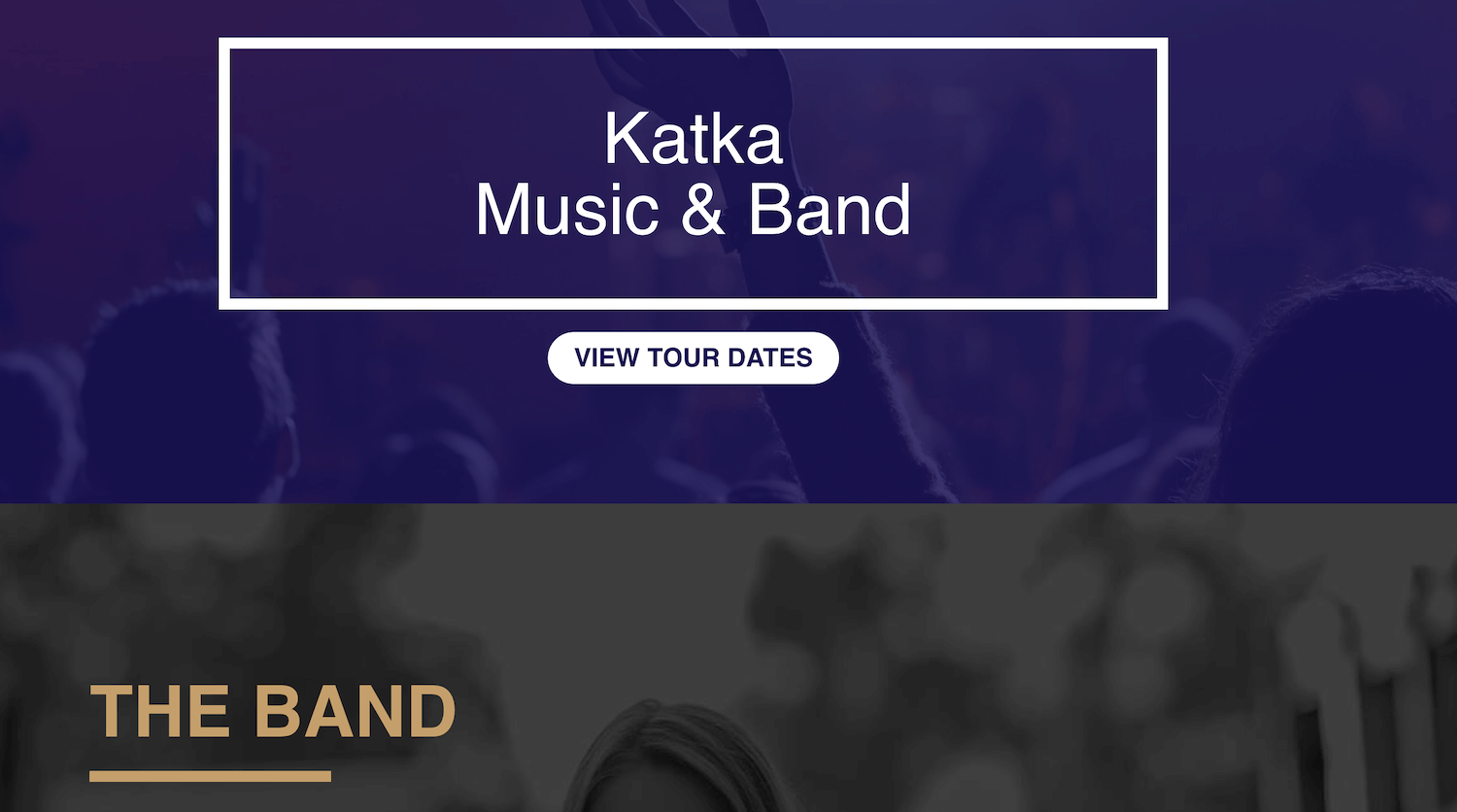 If you have any upcoming events, Katka Music has an entire section where you can list your tour dates, and encourage fans to reserve their tickers. This template also boasts a full-screen design, large typography, and a dark and dramatic color scheme.
Features:
Engaging multimedia homepage
CTAs designed with musicians firmly in mind
Pricing: You can download the complete Katka Music template kit for $5.99.
9. Ultimate Travel Kit
You can create a professional website for your travel agency or tour operator, using the adventure-themed Ultimate Travel Kit. When you're promoting luxurious holiday destinations, high-resolution photos and videos are a must. With this in mind, you'll be happy to learn that this template has a fully-customizable media background that supports images and video, plus parallax effects: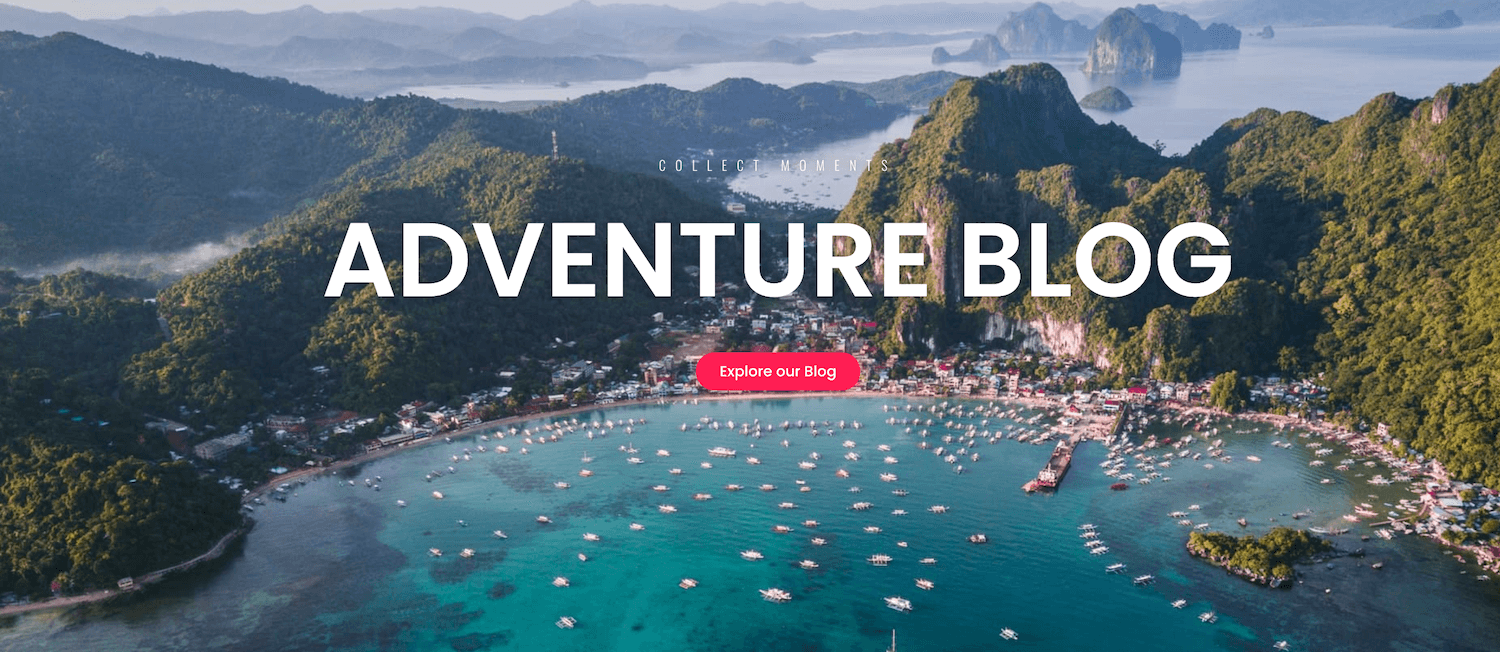 With a range of blog templates, this kit is also perfect for camping, adventure, and travel blogs. Ultimate Travel Kit provides various blog layouts, including a grid and masonry style.
Features
More than ten fully customizable templates
Responsive layout
24-hour customer support
Compatible with the WPML plugin
Pricing: You can purchase Ultimate Travel Kit for $12. This includes future updates, plus six months of support.
10. Dating
With the most popular dating site attracting 182.5 million visitors every month, you may be looking to break into this lucrative membership market. If you're starting your own match-making venture, we recommend taking a look at Zita's Dating template:
This template uses scroll animations to create a more engaging and interactive design. To help drive signups, Dating features a colorful and image-rich Success Stories section, where you can highlight all of the people who've found love via your website.
The Dating template packs a lot of information into its homepage. To help visitors fast-track to the content that interests them, this template comes with built-in jump menu links.
Features:
Pricing: Zita Pro licenses are priced at $59.
11. Beauty Boogie
Beauty Boogie is a user-friendly, ecommerce-ready template. This design is targeted firmly at salons, hairdressers, make-up artists, and other beauty businesses: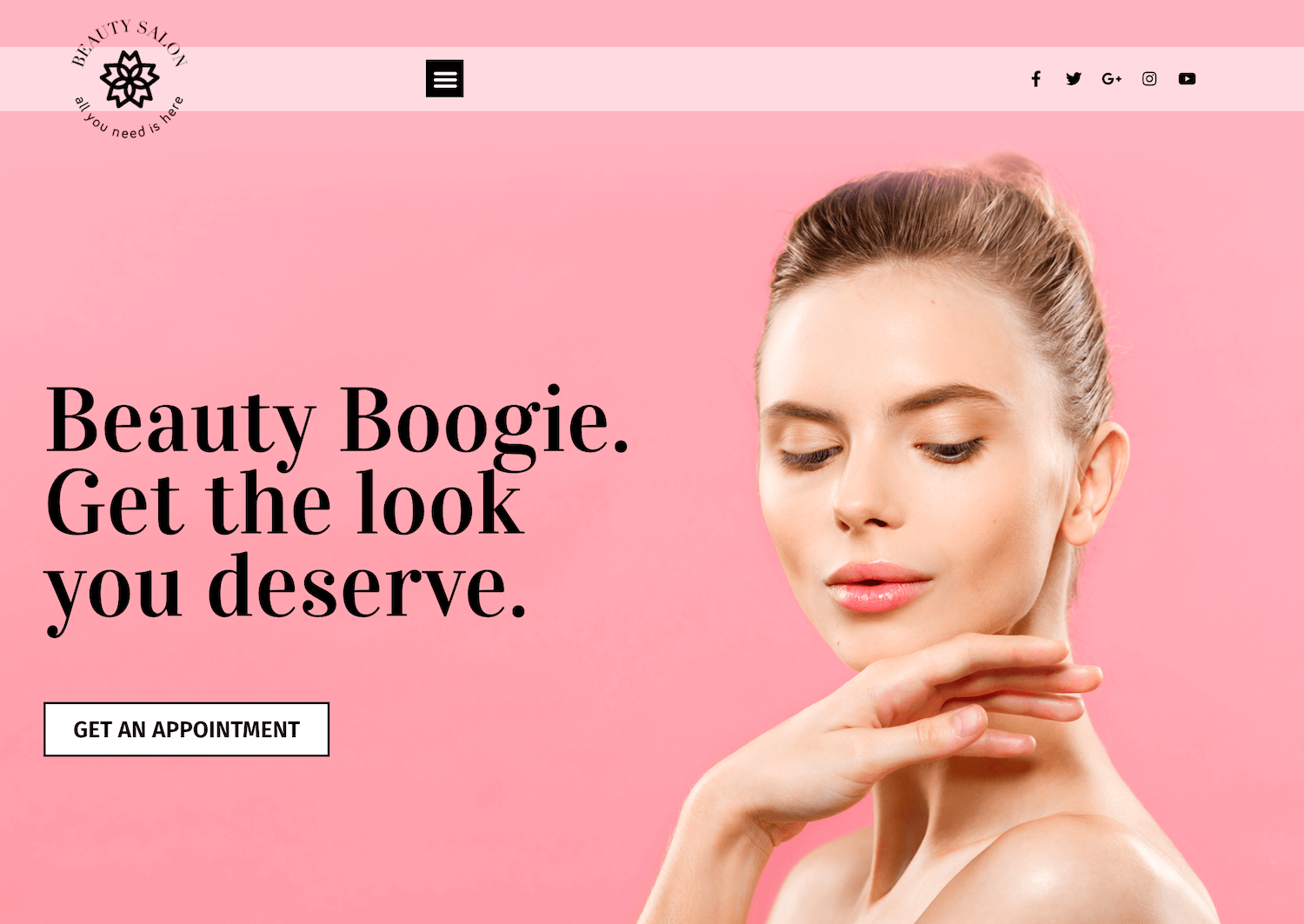 With a bold, contrasting color scheme, Beauty Boogie is an eye-catching and fun template. The collapsible menu promises to provide easy access to all of your site's pages, without encroaching on this lively design.
Features:
Ready-made sections including Products, Appointments, Testimonials, and more
Team section with separate social media profiles for each staff member
Built-in Contact Us form.
Appointment booking CTAs featured throughout
Pricing: Beauty Boogie is available as part of a 30 template bundle, priced at $49.
12. Novelistic
If you're a writer, Novelistic helps you showcase all of your previously-published work. Content creators can also use Novelistic to advertise their services:
This template has a dramatic black color scheme with distinctive tabbed blocks. Visitors can learn more about your work by clicking through these tabs.
In addition, Novelistic features a section where you can advertise your books, blogs, or any other published work in an attractive grid format. It also features a counter, which tracks your total number of readers and pages.
Features:
Full-width hero image for that all-important author headshot
Quirky layout and color scheme
A slider where you can display positive feedback and reviews
Sections for displaying your upcoming publications, workshops, book tours, and other writer events
Pricing: You can purchase Novelistic for $7 for a single site. This includes six months of support.
13. ElementorHQ
The ElementorHQ project takes a unique approach to help you develop a stunning website. Instead of multiple templates targeting specific niches, ElemenetorHQ is a multipurpose Elementor template pack. This means it provides a small number of highly flexible and customizable templates:
You can then use the Elementor editor to really make these designs your own. This flexibility makes ElementorHQ an excellent choice for WordPress agencies or anyone who needs to create a large number of websites.
By using ElementorHQ as the base for all of your projects, you can minimize your design and development costs. Once you're familiar with using this template pack, you should also be able to create high-quality sites in less time. This is great for your overall productivity and your profits.
Features:
Custom designed layouts for all of the most common WordPress pages
Completely flexible and customizable layouts
Sleek and professional designs
Pricing: You can download this multipurpose Elementor template pack for $35.
14. Tow Now
Tow Now is an Elementor template that's focused on breakdown and recovery automotive services. This template makes heavy use of sliding tiles, which trigger automatically as the visitor scrolls the page: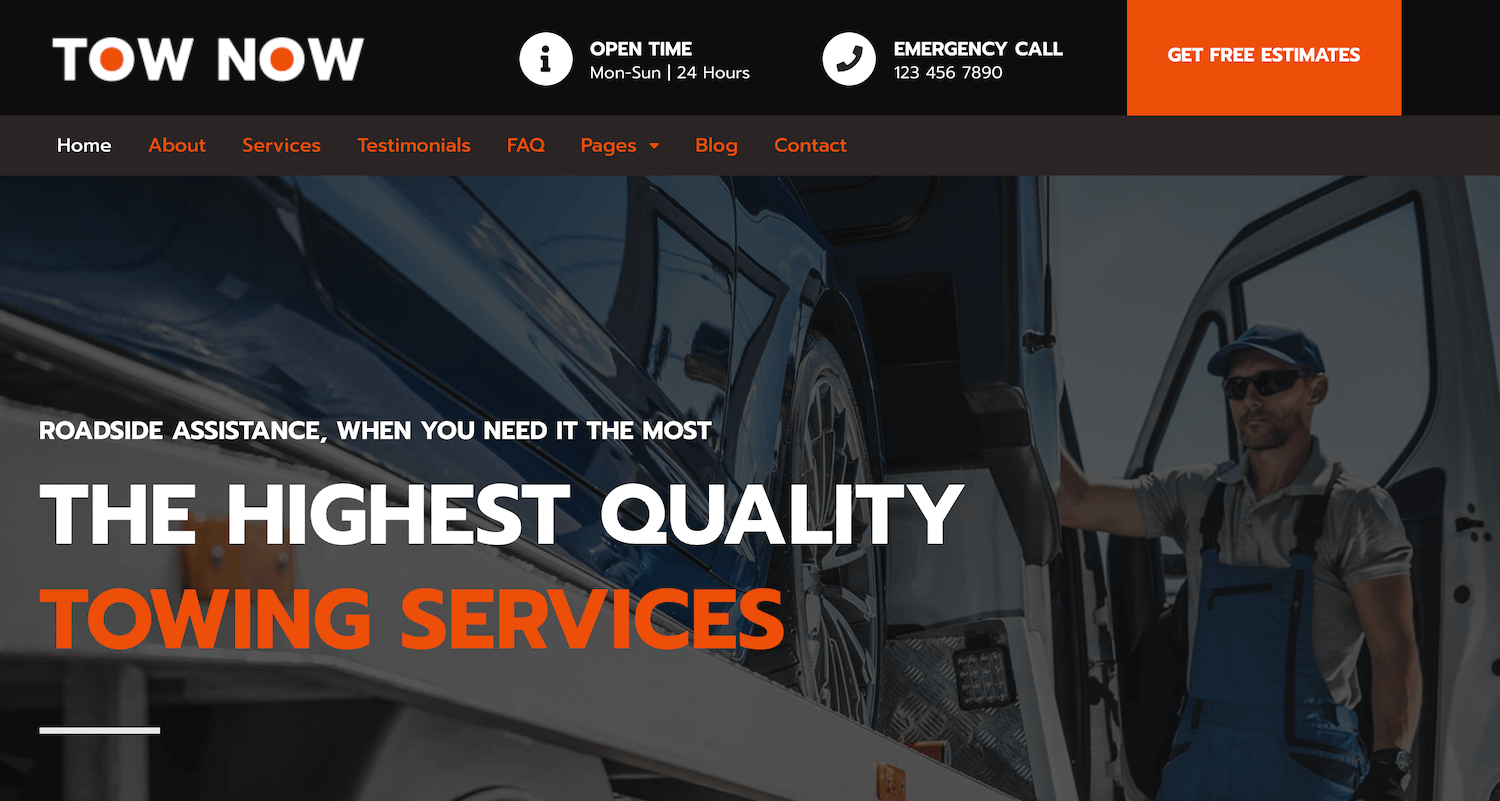 With these animations, you should have no problems drawing the visitor's attention towards your site's most important elements. This includes Tow Now's pre-built lead capture form and its customer testimonials area.
Since this is an emergency service, Tow Now has various sections where you can highlight your telephone number. This ensures that anyone who visits your site can immediately see how to contact your business.
Features:
A complete pack of 29 templates
Fully compatible with the free Elementor plugin
Header and footer builder
Pricing: The Tow Now package is priced at $19.
15. Food Blues
If you run a restaurant, takeaway, or cafe, Food Blues can help you make a splash. This bold template grabs your attention with a full-width banner and strong CTA: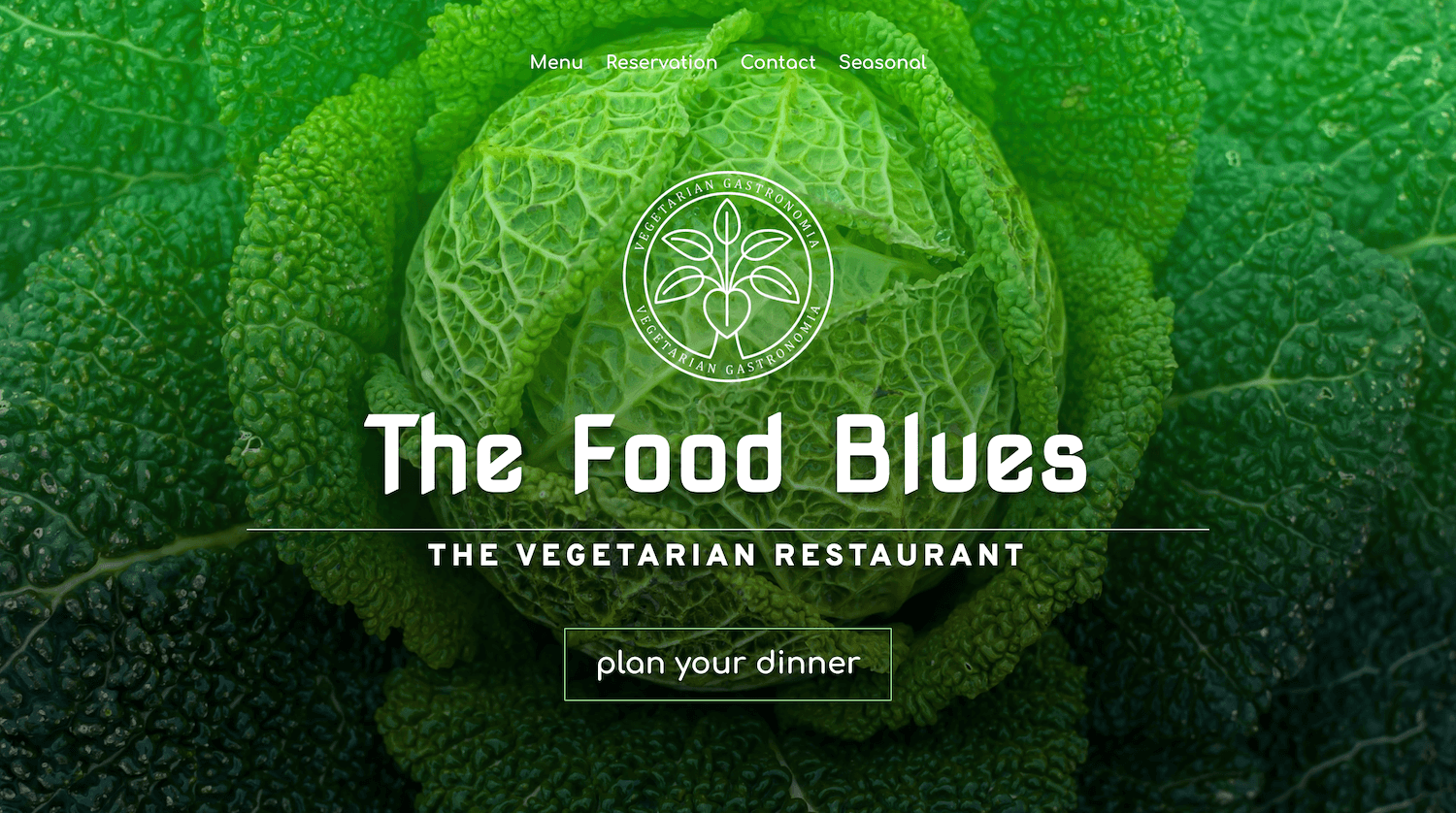 Food Blues features various ready-made menu sections and a slider where you can showcase all of your glowing customer reviews. This template also comes with a pre-built contact form that's designed to collect all of the information you need to create a restaurant reservation.
Features:
Bold visuals
Strong white and red color scheme
Information-packed homepage template
Built-in jump links for easy navigation
Pricing: You can access Food Blues as part of a $49 template bundle.
16. Food & Nutrition
If you run a health food or wellbeing business, you may want to check out Food & Nutrition. This comprehensive package boasts two homepage variations, header and footer templates, a single Post template, and custom designs for your About and Contact Us pages: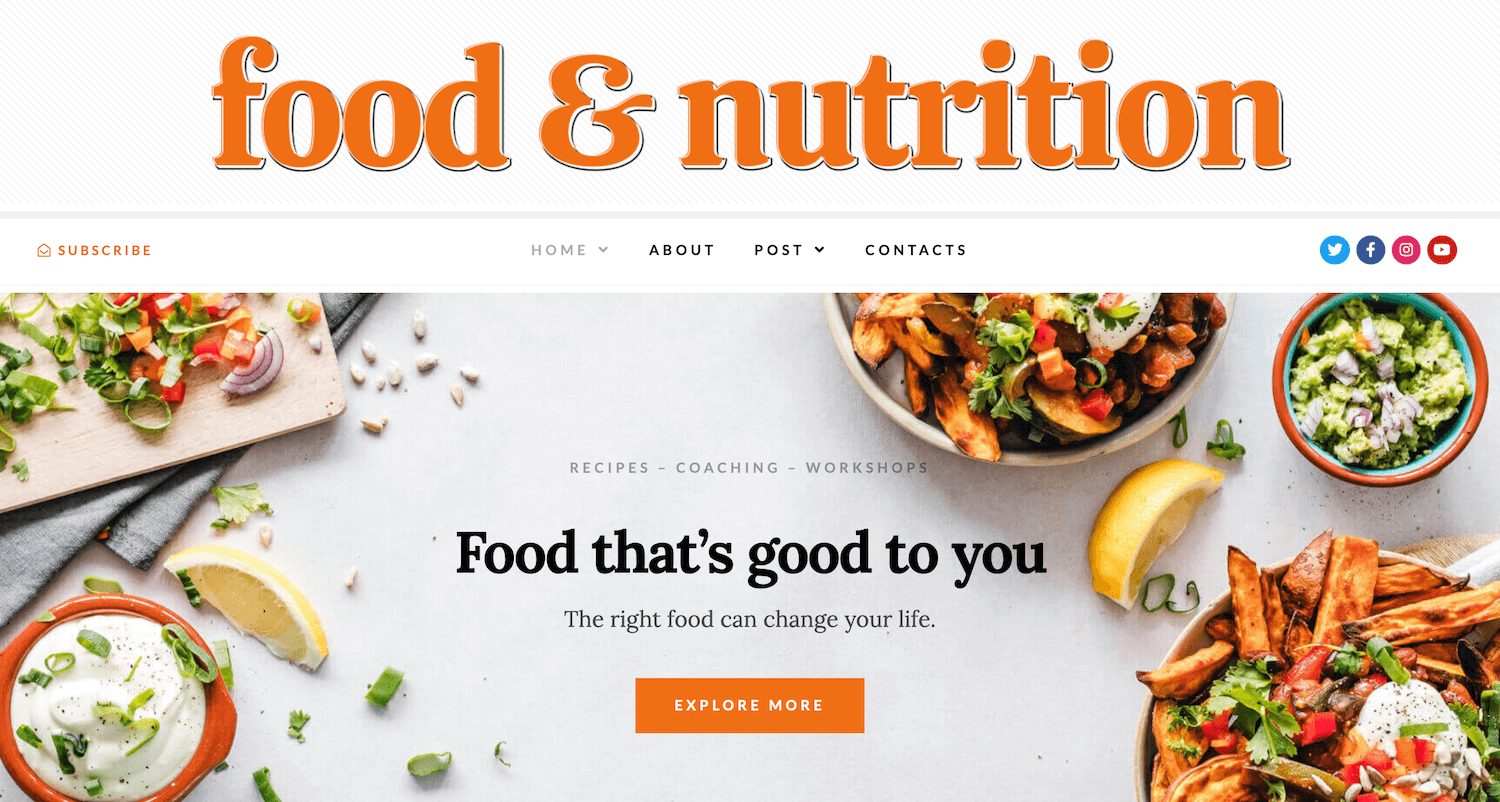 Food & Nutrition also has a recipes block. This makes it a good fit for nutritionists, but also other businesses that operate in the health, fitness, and wellbeing industries. With a dedicated Blog Archive template, you can even use this kit to kickstart your food or recipe blog.
Features:
Dedicated newsletter email block
A multimedia homepage
Built-in photo gallery
Separate designs for Elementor Pro, and the free Elementor plugin
Pricing: You can purchase a Food & Nutrition license for $20.
17. Pet Care
If you run a pet sitting business, vet surgery, or doggy daycare, Pet Care may be the ideal option for you. The template starts strong, with an eye-catching hero image and multiple CTAs: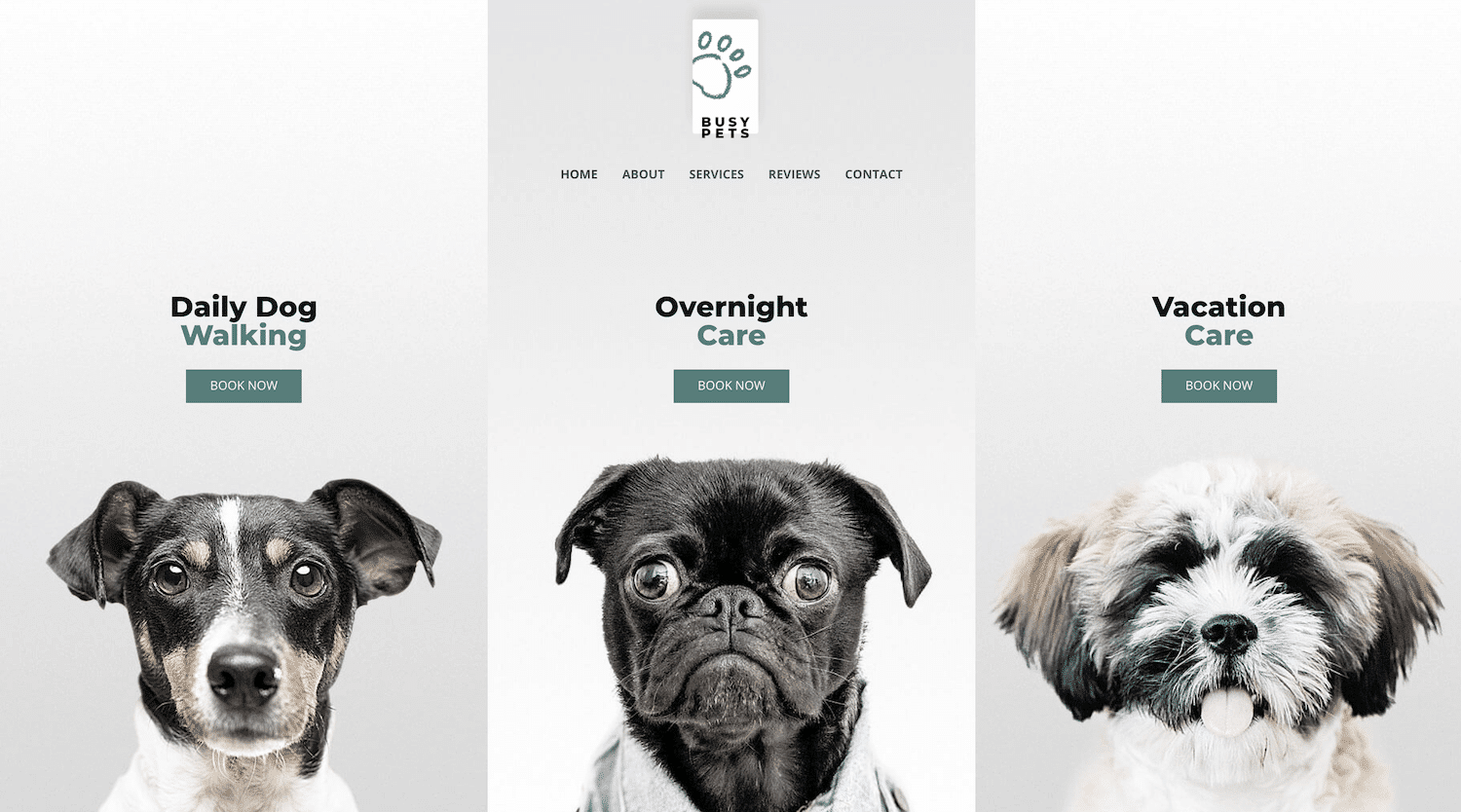 Pet Care focuses on encouraging visitors to convert. Throughout its various designs, you'll find frequent CTAs, product pricing information, and sections where you can display social proof including customer reviews. The Pet Care template also makes heavy use of eye-catching imagery, making this a particularly visually-striking Elementor template.
Features:
Built-in contact form
Google Maps integration
Staff page
Striking imagery and strong CTAs
Pricing: Pet Care is a premium template that's available as part of the Astra Pro templates package. Astra Pro licenses start at $49.
18. Disc Jockey
Disc Jockey is perfect for promoting live events such as gigs, DJ sets, and nightclubs. If you have footage of previous events, this template kicks things off with a full-screen video header. This is a great way to make attendees excited about your event: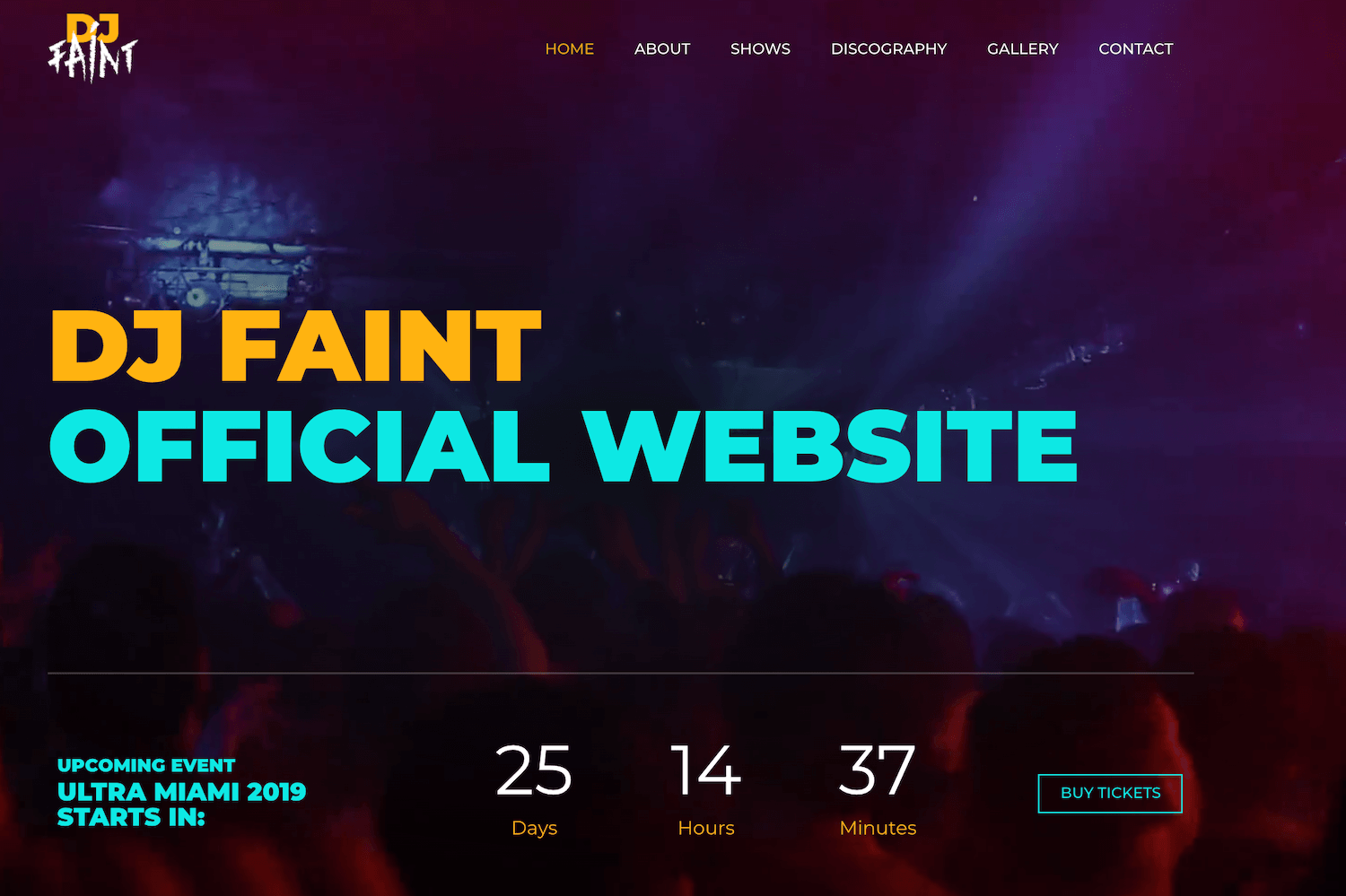 To boost conversions, Disc Jockey's header also features a CTA and a live countdown. The rest of the template has ample space to show off your past events. This includes separate photo and video galleries.
Features:
Video background and banner
Animated countdown
Album discography section
Information-packed footer design
Pricing: Disc Jockey is free to download.
19. Pirus
The Pirus template is branded as a dark and modern design, and it certainly lives up to that promise. The dramatic color scheme makes this an eye-catching design for your digital agency or freelance business: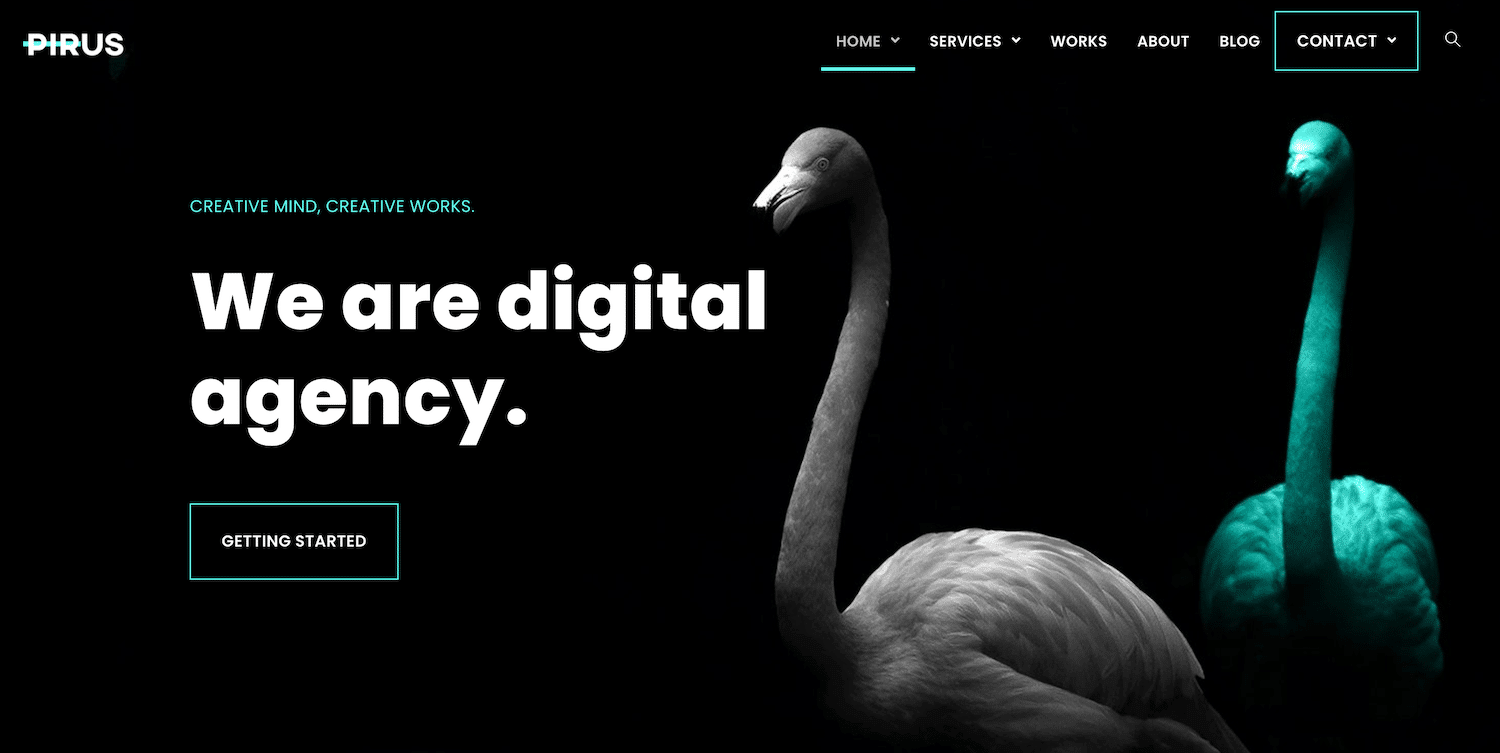 Pirus stands out from the crowd thanks to several hover animations. This includes blue highlights and a zoom effect on its various images. These animated flourishes make this a highly interactive and engaging template.
Features:
A complete kit featuring over 15 ready-made templates
Fully responsive layout
Retina-ready
Heavy use of animations throughout
Pricing: You can download the Pirus template kit for $24.
20. Winery
Winery is a sophisticated template that would be ideal for vineyards, wine-tasting events, or any other food or drink-based experiences. This template puts a lot of emphasis on encouraging visitors to sign up for in-person sessions, which makes it perfect for event-based businesses: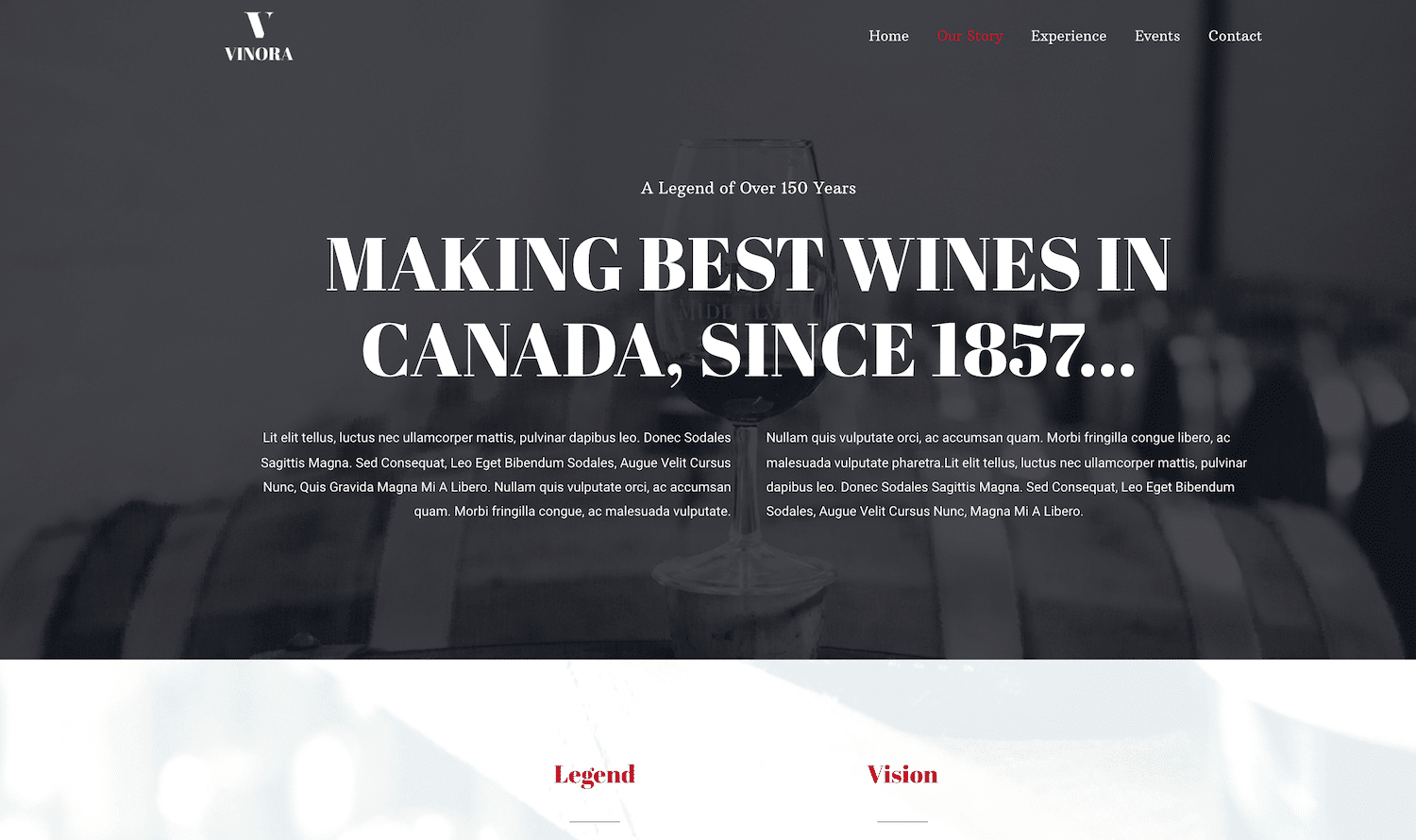 This wine-themed Elementor template has some unusual sections. This includes areas where visitors can book a visit, or even plan a wedding. It also features a section where people can learn more about individual wines and their prices.
When it comes to design, Winery uses alternating blocks of whitespace and large images. In particular, some of this content is displayed as an overlay, which makes for an eye-catching effect when you're scrolling this design.
Features:
Lots of different sections and options
A built-in photo gallery
Interesting animations and scrolling effects
Pricing: This template is included in the Astra Essential Bundle, which is priced at $169.
21. Button Interactive
Button Interactive is a simple Elementor template that makes an impression with its bold and bright color scheme. This is a flexible and customizable design with many different sections:
Using these areas, you can add everything from image galleries to testimonials, client lists, and even a portfolio. Although this template would be suitable for a range of websites, the portfolio section makes Button Interactive particularly well-suited to the creative industry. If you want to showcase your best works in a compact and structured way, this may be the right template for you.
Features:
A distinctive curved footer
Perfect designs for photography websites, graphic designers, and studios
Lots of different sections, ready to customize with your own content
Pricing: You can purchase a single-theme license for $34.30.
22. Fashion Feel
Fashion Feel is an elegant, pastel-toned template. Despite its name, you can use Fashion Feel to build a wide range of online stores, thanks to its WooCommerce integration:

This complete ecommerce kit features ten pages. If you're designing a site for a fashion-themed company, then you may be particularly interested in the Lookbook layout. This is ideal for displaying your product images. There are also plenty of layouts that you can repurpose for other industries, including Shop, Services, Team, and Contact Us designs.
Features:
Fully compatible with WooCommerce
Clean and elegant design
Sample content included
Fully responsive
Pricing: You can purchase the Fashion Feel template for $24. This includes future updates and six months of support.
23. Engirem
When designing a webpage, it's important to fine-tune every piece of your content. However, the information that appears above the fold is particularly important. This is your chance to pitch to potential new customers and encourage them to explore more of your site.
The Engirem template sets out to make the most of this opportunity, with a slider that features multiple CTAs and large images. If you're involved in the car repair industry, this can be an excellent template for promoting your services:
As you scroll, Engirem holds the visitor's interest via an animated counter and "flip" effects. There's even a Google Maps section to help potential customers find your business.
Features:
Testimonial block
A Special Offer block
Fully responsive
Bold colors and images
Pricing: If you're using this template for a single site, then you can purchase Engirem for $7.
24. Dedicated
If you're a hosting provider or reseller, the Dedicated Elementor template is made with your business in mind. This template gets straight to the point by placing a lead capture form at the very top of the homepage:
Web hosting packages can be a complex topic. To make this information easier to digest, the Dedicated template uses a grid layout. Here, you can present each piece of content as a short-and-snappy card.
Features:
A ready-made pricing table
A footer that includes sections where you can notify customers about any potential outages
Testimonial section
Plenty of space for your CTAs
Pricing: You can purchase the Dedicated template for $34.30.
Top 3 Elementor Landing Page Templates for WordPress
If you want to use Elementor to build high-converting landing pages, templates can save you a lot of work. In this section, we'll introduce you to some of our favorite Elementor landing page templates and discuss when to use them.
1. Entrepreneur
Many businesses use ebooks as a lead generation tool. This typically involves the visitor sharing their contact information in return for a free download. In this way, ebooks can be the first step to targeting potential customers with email marketing and other personalized content.
If you plan to use this lead generation technique, then you may want to create a landing page for your ebook. In this scenario, we recommend taking a look at the Entrepreneur template:
This template features a form where visitors can enter their personal information in return for an ebook. To encourage signups, Entrepreneur has sections where you can add testimonials and the logos of any big-name businesses that have already downloaded your ebook.
Features:
Optimized for conversions
Built-in lead capture form and CTA
Plenty of sections to display powerful social proof
Pricing: This template is priced at $34.30 for a single year.
2. Foton
If you want to have a successful app, it's not enough to publish it on the iOS and Android stores. You'll also need to create a website or a landing page for that app.
The landing page should include all the information that users need to decide whether or not they want to install the software. Fortunately, this is what Foton does: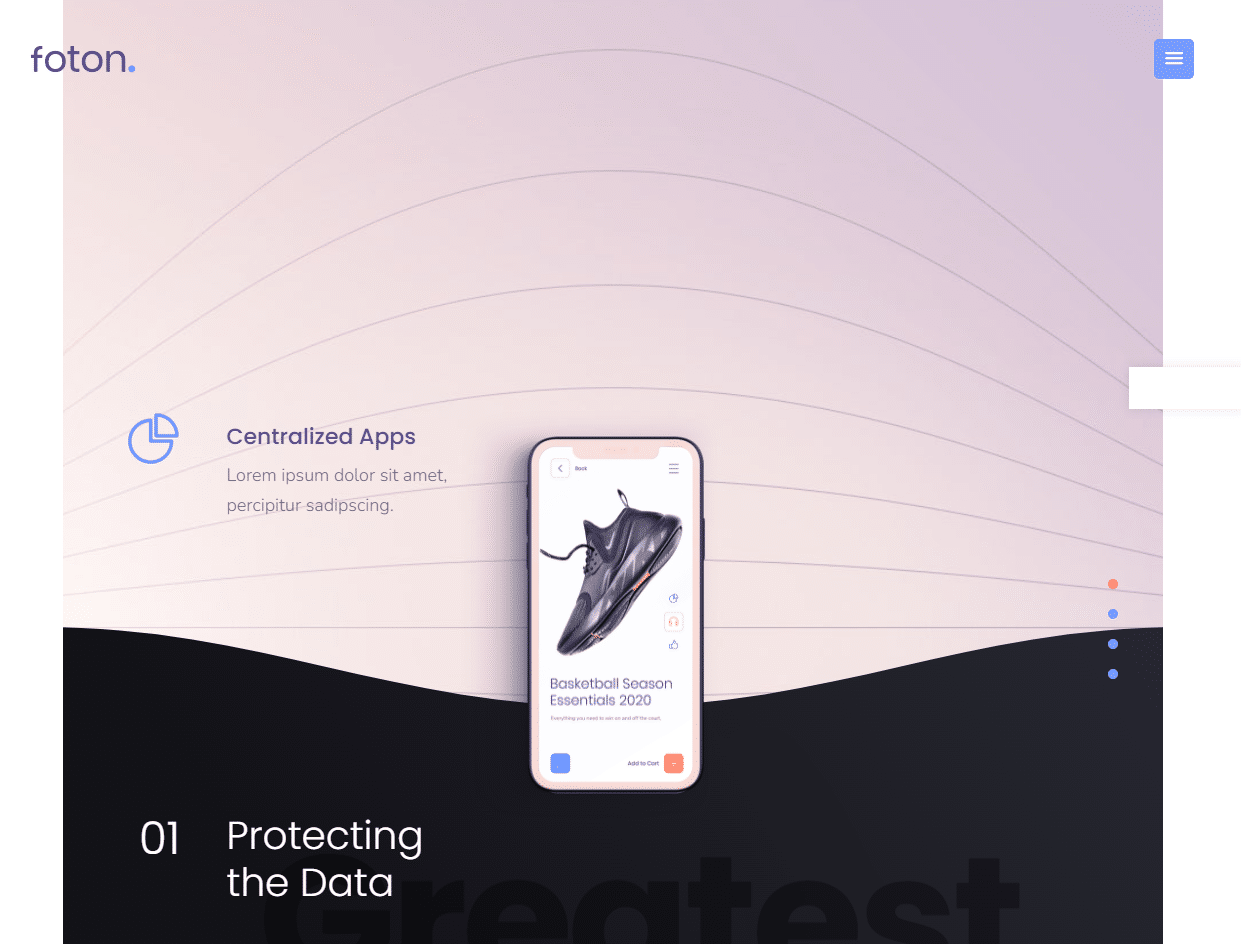 The NextApp Elementor template enables you to showcase app screenshots and highlight the software's key features. You can also include pricing information and lead collection form. Plus, you get to add links to whichever app store you use.
Features:
Capture leads with a built-in form
Highlight your app's key features
Link visitors to multiple app store pages
Pricing: This template is priced at $69 for a single year.
3. Appway
Appway offers landing page templates for both apps and hosting services. The app templates enable you to showcase the software's design including animations. Plus, they include multiple sections for showing off your app's top features: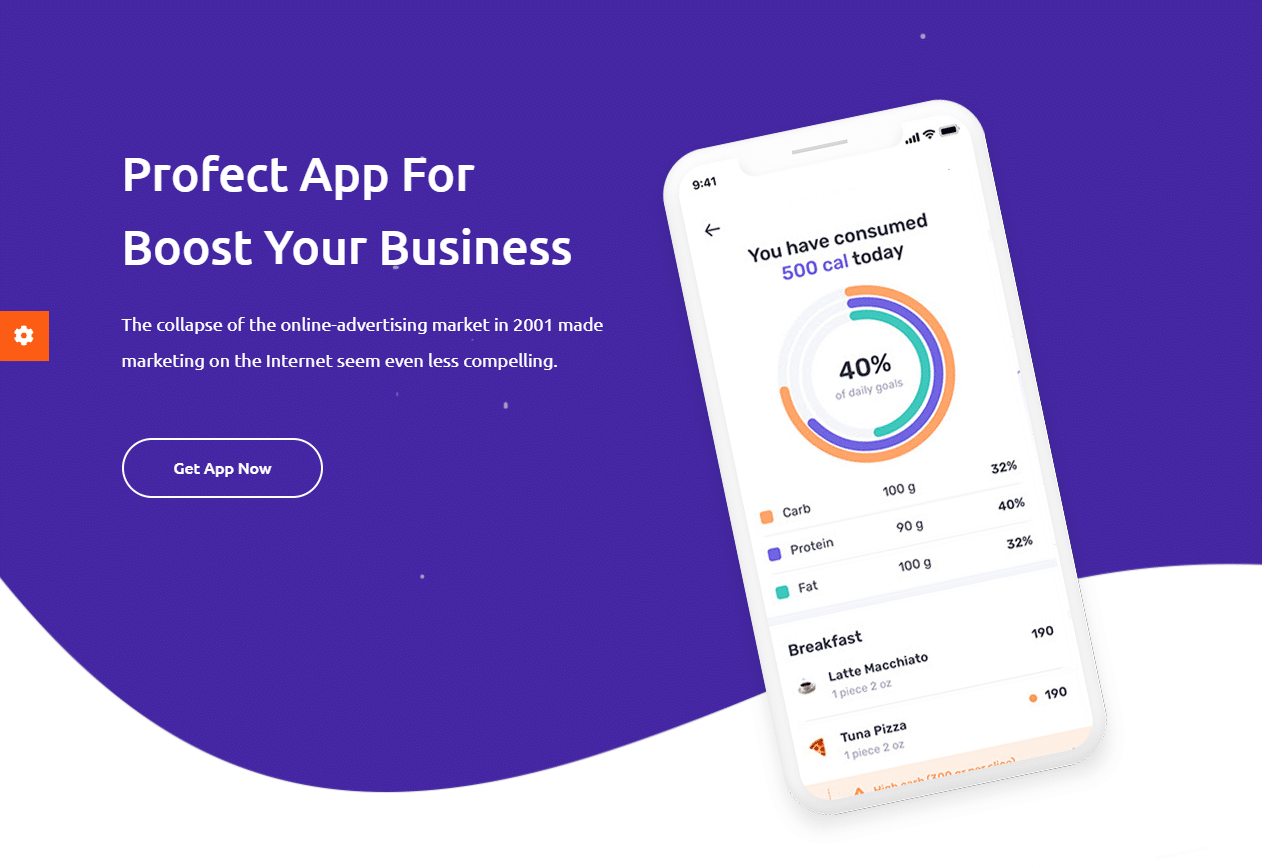 Appway includes a simple form for checking available domains and pricing lists that show how much different Top-Level Domains (TLDs) can cost on average. The template also offers multiple custom-made sections for discussing your main selling points: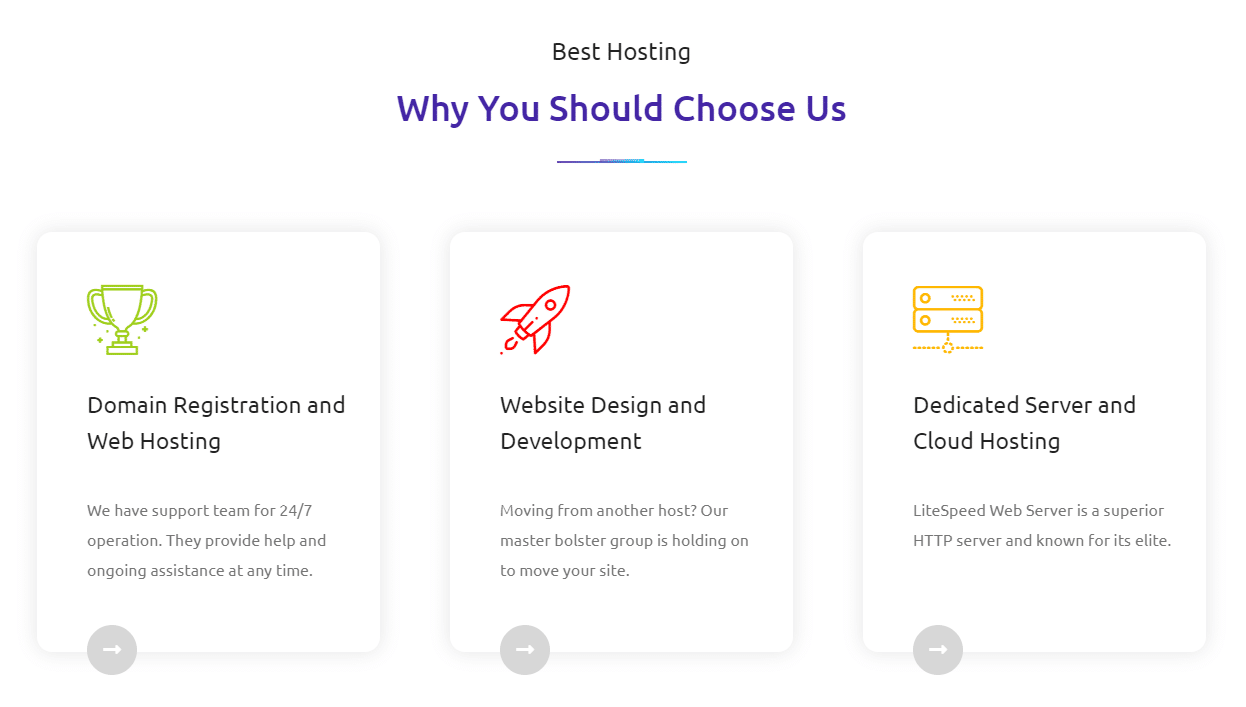 Both landing page templates offer modern designs with plenty of micro interactions. Plus, they're easy to customize since every element was built using Elementor.
Features:
Get access to app and hosting landing pages
Enable users to check available domains
Compare prices for multiple TLDs
Showcase your app's main selling points
Pricing: This template is priced at $39 for a single year.
Summary
There are countless Elementor templates that can help you build a stunning and feature-rich website and together with a good Elementor hosting provider, make it fast. However, choosing the right template for your business site can be a little challenging.
We recommend starting with a list of must-have features. This can be the quickest and easiest way to eliminate templates that aren't a good fit for your particular project. If you encounter an issue with your template, then first-class support can be a lifesaver. For this reason, it's also smart to evaluate the level of community and professional help that's available.
Do you have any questions about any of the Elementor templates mentioned in this list? Let us know in the comments section below!