We apologize for the state of this page! The content is all there but we're busy migrating the design to match our new website. Please check back later for an updated version
WordPress has been continuously growing over the recent years. According to the latest data WordPress dominates the CMS world with a market share of 65.1% and the entire web with over 43.3% of all websites.
The history of WordPress is so eventful that one could fill a volume of books with it. We have already tried to sum up the most important milestones of this success story in one of our previous guides, the history of WordPress, it's ecosystem and community. Our aim with that long read was to provide a general idea on the history of WordPress by featuring some turning points and the people and companies who played a key role in making this platform today's most popular CMS.
However, the work of each WordPress enthusiast, Meetup and WordCamp organizer, and the activity of local communities contributed to the global success of WordPress. They stand for making WordPress a widely known and easy to use platform. That's why we decided to introduce you a couple of local WordPress communities from different parts of the world.
There are hundreds of WordPress communities all around the globe that are growing day by day. In this guide, you'll get an insight into different WordPress communities from 5 continents, 18 countries and get to know their achievements and future plans. If you would like to get involved in your local WordPress community this is a great read on how to get started.
We'd like to say thank you to all of the below-mentioned contributors for their help and support in making this guide complete. In case your country is not featured in this guide, feel free to get in touch or leave a comment!
Featured WordPress Countries:
Singapore
Lester Chan, WordPress Plugin Developer
@gamerz
I am from Singapore and have been coding in PHP for more than a decade. I created the first WordPress plugin back in 2003 when WordPress was forked from b2. The reason I started creating WordPress plugins is because there are a few features like Polls and UsersOnline that could be found in popular forums like vBulletin/IP Board but were not presented in WordPress. I needed those features to engage my readers and hence I decided to create it and share it within the WordPress community as a plugin.
WordPress is getting a lot of traction in Singapore in the recent years. I have noticed that more and more media sites are switching to WordPress, even government related project websites.
Unfortunately, there are a lack of WordPress designers and developers in Singapore to meet the growing demand.
Whenever we organize events, it is always an an individual or companies were looking for developers/designers rather than the other way round.
Singapore WordPress User Group
Singapore WordPress User Group organises monthly meetups. It is not on a regular basis because sometimes the organisers are caught up with their day jobs and busy schedules. The last meetup we had was in October 2014, and as for WordCamp, we had the one and only WordCamp Singapore back in November 2011.
On our monthly meetups, we try to keep a good mixture of topics to cater for both the technical and non-technical crowd. But as mentioned earlier, the non-technical crowd is always a lot bigger.
We wish more WordPress designers and developers could join our group and speak on our meetups because there are always the same few people rotating to speak.
Argentina
Juanfra Aldasoro, Co-organizer of WordCamp Buenos Aires
@juanfraa
Buenos Aires, Argentina hosted the first WordCamp outside the US in 2007, which Matt Mullenweg attended. Since then, a couple more WordCamps took place here, but we were lacking some sort of organization in the community.
When WordPress turned 10, in May of 2013, thanks to a banner in the Codex site we created a celebration meetup. More than 20 people showed up, and the good thing was that we were a bunch of geeks on the same track. We had the people but we were lacking an organization. The ones interested in having an organized community kept in touch, we formed WordPress Argentina (@wpargentina) and during 2014 we started to hold more formal monthly meetups.
It is hard to estimate the number of WordPress users in Argentina, but I'm pretty sure the number is enormous. In a short time we were hosting meetups for more than 50 attendees. They're mostly designers, developers and curious minds.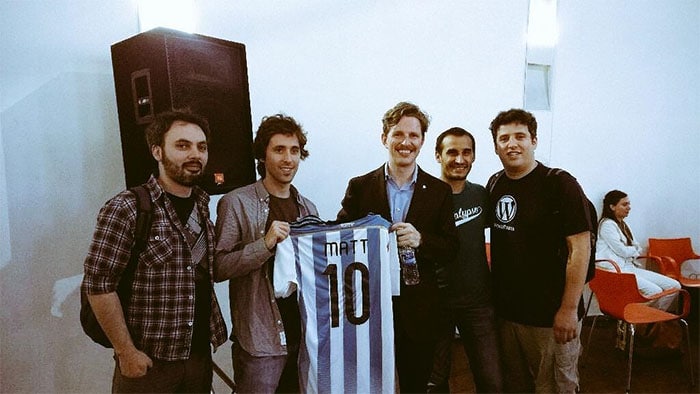 As we try to establish the local community, we organize the events for designers and non-WordPress developers in order to bring more people to the table.
We help each other in many ways, but mostly trying to show non-WordPress users that at some point we're all amateurs and that there's no such thing as a stupid question.
Our greatest success is the tremendous growth we are experiencing, and the organization we've built behind @wpargentina, which is independent from the organizers.
In the first semester of 2015, and after a long wait, we'll be hosting a new WordCamp in Buenos Aires. We'd love to see new local groups from different provinces and towns of our country.
To get in touch with other community members you can visit http://wpargentina.org or http://facebook.com/wpargentina
---
Get all your applications, databases and WordPress sites online and under one roof. Our feature-packed, high-performance cloud platform includes:
Easy setup and management in the MyKinsta dashboard
24/7 expert support
The best Google Cloud Platform hardware and network, powered by Kubernetes for maximum scalability
An enterprise-level Cloudflare integration for speed and security
Global audience reach with up to 35 data centers and 275 PoPs worldwide
Get started with a free trial of our Application Hosting or Database Hosting. Explore our plans or talk to sales to find your best fit.