Fashion blogs are in vogue and now is a good time to start your own. You just need to know how to start one.
With a little know-how and some elbow grease, you can start your own fashion blog and even make money through it.
So, here's how to do it!
How to Start a Fashion Blog
It all starts with the foundation of your soon-to-be blog. And that means your domain name and host.
Pick a Memorable Domain Name
A domain name is the website address that users enter to connect to your blog such as www.domain-name.com. That's also why it's crucial to carefully choose the name you pick: it represents your blog.
Here are the characteristics that make for a great domain name:
It's relatively short in length.
It's effortless to remember.
When someone hears it, it's straightforward to know how to spell it.
It's unique
Sometimes you may not get the exact name of your blog, but a close variation is typically still a perfectly suitable option.
You can choose a domain name that is misspelled on purpose or that's a made-up word. Sometimes, it can work. Just be sure you carefully consider the pros and cons of a name with these characteristics.
While it works for Reddit and Pinterest, it may not be right for your fashion blog. The reason being that both of the aforementioned sites are strictly online.
If you followed in their footsteps and plan on doing in-person appearances at fashion week in the future or you want to be a guest on podcasts and even do TV show appearances, it helps to have a memorable domain name where its spelling will be obvious.
That way, people can actually get to your blog after only hearing about it.
After you have decided on a domain name, you can buy it from a domain registrar.
Check out How Much Does a Domain Name Cost? 4 Key Factors Influencing What You Should Expect to Pay  more for details.

Picking Reliable Hosting
Hosting is where your blog is stored so it can be accessed and there are various plans you can choose between from a variety of hosting providers.
If you want to know how to start a fashion blog, it all begins with choosing a hosting plan and setting up your blog on it.
Picking the right plan is essential. If you pick one that doesn't have enough resources and your blog goes viral, your site can be shut down until you upgrade your plan or you may end up paying a small fortune in overage fees.
On the other hand, if you get a plan that's too robust for your needs, you'll overpay for resources you don't even need.
If you don't opt for managed hosting, you could also be stuck with maintaining your blog and hosting environment on your own. Sometimes, it can seem like a full-time job in and of itself, especially if something goes awry.
The bottom line is, if you want to know how to start a fashion blog, especially if you want to turn it into a business, you need to get the right hosting plan.
Otherwise, it's like being stuck with a pair of pants that don't fit from three seasons ago when you're about to meet Ralph Lauren.
You don't want to take any chances in either case.
Why Free Blogging Platforms Aren't Ideal
It can be tempting to get free hosting so you can learn how to start a fashion blog for free, but there are a few reasons why that isn't a good idea, especially if you plan on making money from your blog.
For starters, free hosting providers display ads on your blog in order to cover costs. This may not seem like a problem until you consider that visitors could click away from your blog and not return to it again.
In some cases, the ads could be associated with your brand and not in a good way.
Free hosting also comes at the price of not having full control over your blog since plans often have restricted features and capabilities so they're financially viable.
That means you'll be limited when it comes to how much you can customize your site's design, layout, functionality, and other similar elements.
While it may be okay starting out, once your blog grows, free hosting just won't cut it.
So, if you plan on growing quickly, self-hosting your fashion blog is the best option.
How to Pick a Reliable Host
You need a reliable host that has great customer support and that can also deal with traffic surges to ensure you are on the right footing. It's a part of the technical aspects you need to know how to start a fashion blog.
With stable hosting and great support, you can rest easy knowing any issues that may arise happen rarely and are quickly solved.
A reliable host is not only stable, but runs fast and is secure as well.
If you need help with your blog, managed hosting is a great option since so many crucial aspects of managing your blog are taken care of for you such as security and updates.
For example, an application, database, and managed WordPress host like Kinsta has all of these qualities.

Choosing a Good WordPress Theme
When it comes to knowing how to start a fashion blog, it's essential to pick a solid theme. That means a well-coded WordPress theme to help your fashion blog load faster. But, you also need one that's eye-catching.
Get a theme that has both and you'll create an improved user experience. This helps visitors stay on your blog since over 46% of people judged the credibility of a site based on its design such as in its layout, font size, typography, and color schemes.
You can find WordPress themes that are free and look great, but premium themes tend to look more professional and stunning. They also tend to have more options for quick customizations as well as support.
Whether you choose a free or premium WordPress theme, be sure it looks visually striking and inviting.
Choosing and Setting up Plugins and Tools
Next up on the to-do list for learning how to start a fashion blog is to create a site and add any plugins and tools you need to it.
Here are common types of plugins to include:
Other types you may need such as affiliate marketing, lead generation, membership, and advertising
Many of these types of plugins are necessary to ensure your blog runs and is maintained smoothly, while others such as photo gallery plugins are entirely optional.
It's also a good idea to use plugins that will enhance the performance of your blog to help your site rank well in search engine results so people can find your blog.
Using caching as well as speed and image optimization plugins can help your blog load faster which is a great way to help users stay interested in your blog.
"From the above graph, we can see that the average bounce rate for pages loading within 2 seconds is 9%. As soon as the page load time surpasses 3 seconds, the bounce rate soars, to 38% by the time it hits 5 seconds."
While speed optimization plugins can vastly improve the performance of your site, it's also necessary to ensure your host is fast as well. That way, you're covered on both fronts.
If finding a hosting provider is still on your "how to start a fashion blog" to-do list, consider looking for hosts that are already optimized for speed.
For example, by hosting your site with Kinsta, your site will automatically be up to 200% faster.
It may also be worth noting that some hosting providers may ban certain WordPress plugins due to security or incompatibility issues. Be sure to check with your host for any plugins that have been known to cause issues.
For details, check out A Beginner's Guide to Website Speed Optimization, How to Properly Run a Website Speed Test (You're Doing it Wrong), and How to Speed up Your WordPress Site (Ultimate Guide).
Picking a Niche
There may be a lot of fashion blogs out there, but there isn't one that has your unique point of view. Narrowing down your niche can help you stand out among the crowd.
If you do some research, you can see what other fashion blogs are doing. Then, when you're familiar with what the competition is doing, you can think about how your fashion blog will be different and pick a niche.
It's also valuable to decide what your writing style will be like since that can help further your brand and set you apart from the competition.
Whatever you choose, be sure your content is authentic and relatable. This will help draw people in and keep them engaged.
Content Strategy for Your Fashion Blog
A content strategy is essentially a plan of what you want to do with your blog's content, then developing, managing, and marketing it.
A good content strategy includes:
Competitor research and analysis
Editorial calendar
Market research
A chosen niche
Once you have analyzed all these areas, you can plan the type of content you will publish on your blog for maximum engagement and conversion of visitors to customers.
For details, check out 5 Things More Important for Your Content Than Content-Length, How to Create Evergreen Content That Lasts (17 Tips and Tricks), and 77 Proven Tactics to Drive Traffic to Your Website.
Create a Blogging Schedule
Now you're really starting to get somewhere with figuring out how to start a fashion blog of your own. Once you have a content strategy and you're starting to come up with blog post ideas, you need to set up a publishing schedule.
To do this, you need to decide how often you're going to publish blog posts.
Researching other fashion blogs and taking a look at how often they publish articles can help you decide how frequently you should publish posts.
Ideally, you should aim to push content out as frequently or recurring more than your competitors.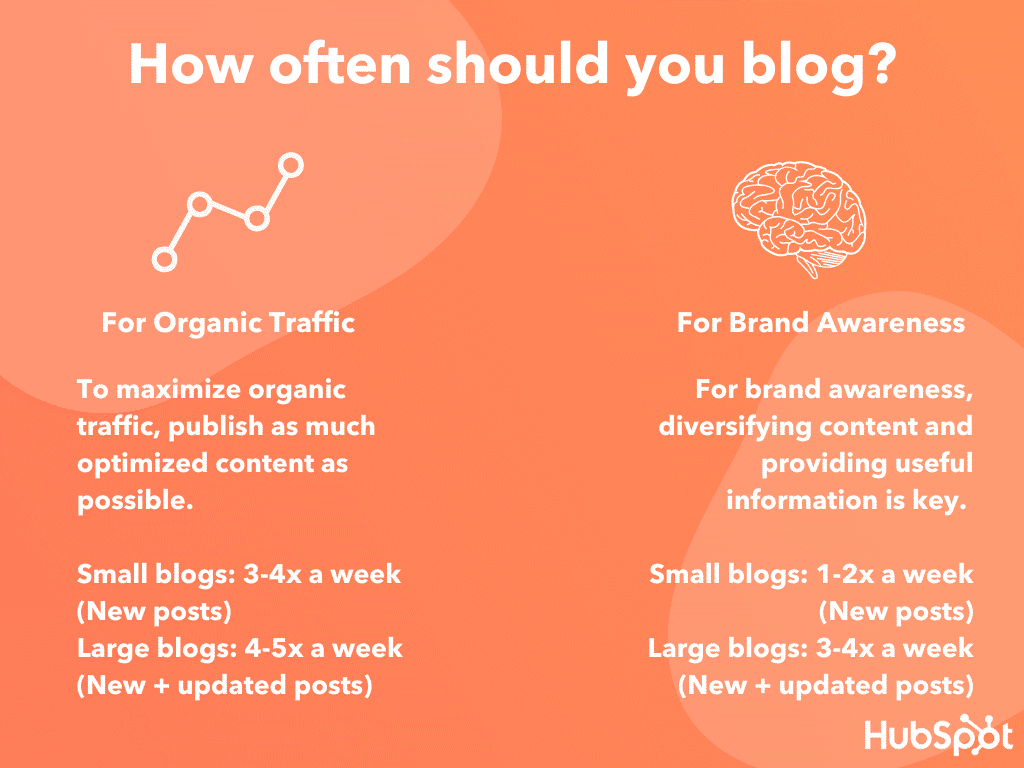 The higher your publishing frequency, the higher your traffic. According to Hubspot, blogs that posted 11 or more articles per month saw two times more traffic than blogs that published only one to two posts a month.
When you publish articles more frequently than your competitors, search engines take notice and designate your blog as active and relevant. This places your posts higher in search engine results so they can be seen by more people.
To help you schedule posts quickly and efficiently, you can use an editorial plugin like Editorial Calendar or PublishPress.

Content Marketing and SEO
Before you're ready to start writing blog posts, it's a good idea to get familiar with content marketing and SEO.
Content marketing entails writing engaging articles that are informative and help promote a brand naturally, and without sounding salesy.
Search Engine Optimization (SEO) is all about improving and optimizing your site and its content so it can rank higher in search engine results.
This helps direct more traffic to your blog without you having to pay for advertising.
Here are several resources with more detail:
Keyword Research
One of the ways you can implement SEO on your fashion blog is to do some keyword research.
In the SEO space, keywords refer to terms that are most frequently searched for in Google and other search engines. When you pick a popular keyword and add it to an article several times, it tells Google (and other search engines) that this is the topic of your blog post.
This helps Google know that when someone searches for that keyword, your site should be listed in the results.
Adding keywords to your content is useful because it helps more people find your articles and blog.
There are three types of keywords:
Short-tail – A keyword that's only one word and is typically difficult to rank with them since they are used so often by many different sites
Medium-tail – Keywords that are about two to three words in length
Long-tail – Several words or a phrase that may contain articles such as "at, a, to, or," and others
Long-tail keywords are typically the best ones to go for since they're specific, more descriptive and tend to be less popular so not everyone is writing content around it. But, it's also popular enough that hundreds of people or more are searching for it regularly.
If you really want to know how to start a fashion blog that's successful, content marketing and SEO should be a key area of focus.
You can check out A Step-By-Step Guide to Keyword Research (Bonus: Best Keyword Research Tools Compared) for details.
Writing Blog Posts with SEO and Users in Mind
After you have picked keywords to include in your content, be sure to write them in naturally. Otherwise, search engines will assume your content is just spam.
The core of writing for SEO is ensuring your blog post answers the questions users have when they search for your topic and chosen keyword.
This is absolutely essential because it will help you rank well, and it will also help you be seen as trustworthy and reliable to readers.
How to Make Money from Your Fashion Blog
When you want to know how to start a fashion blog, a big part of it is the technical details, but just as important is knowing how you're planning on making money from your blog.
Here are several ideas:
Affiliate marketing – Linking to products in online stores where the link is tracked so you get credit and a commission for each person you refer who places a purchase through your link.
Selling digital products
Ebooks – You could write a book to boost your credibility or plan to turn your blog posts into an ebook in the future, then sell and promote them on your blog.
Online courses – Teach various skills related to fashion that could range from how to style outfits properly and practical fashion guides to how fashionistas can land jobs or start careers in the fashion industry.
Other digital products – You could also sell practical items such as downloadable clothing patterns.
Membership site – Set up a paywall so users have to sign up to view premium, exclusive content like how to design and create your own clothes and clothing line, for example.
Digital magazine or look book – You can keep your users up-to-date with the latest fashion trends and sell ad space for extra revenue.
Ads – Display ads directly on your blog to share in the revenue they bring.
Offer a service
Fashion consultant – You can let clients book consults directly on your site and meet over a free video chat app like Skype or a premium option for an enhanced, professional feel.
Events and event tickets – If you want to venture away from your computer and engage with your fans in person, you can plan events and conferences and sell tickets to them on your blog. You can even use webinar tools to create digital events if you prefer to stay at home.
For more ideas, check out 4 Proven Website Ideas for Your Online Side-Hustle, Why Your Business Should Be Based on the Recurring Revenue Model, and 11 WordPress Membership Plugins to Capture Recurring Revenue.
Social Media Marketing
Once you get started with your fashion blog and you're becoming comfortable with your knowledge on how to start a fashion blog, you can do some social media marketing to help your blog get traffic by networking and posting relevant content on social media platforms.
For more ideas, check out: 6 Ways to Leverage Facebook for Marketing Success, 8 Ways To Leverage LinkedIn for Marketing Success, Twitter Marketing Strategies to Beef up Your Social Game, and Pinterest Marketing Tips and Strategies for WordPress Users.
Creating a Social Media Calendar
A social media calendar is a document or spreadsheet where you have your social media posts planned out.
This includes the date and time you want to schedule each post, the content you want to publish including text, links and images as well as the social media sites where the posts will be published.
Social media calendars are useful because they keep you organized and to help you regularly post content so your blog is more visible to people. The more people see your posts, the more likely there are to visit your blog.
This also helps boost brand awareness.
Social media calendars should be created with varying types of posts to keep readers on their toes and engaged in your content.
If you publish only one type of post, it can get really boring, real fast and people will skip past your posts automatically at a certain point. That's why you shouldn't only post when you publish a blog article.
Here are different types of social media posts you can plan:
Informational articles such as user guides, and practical tips
Recently published articles with some details that will pique people's curiosity
Promoting other people's articles that are relevant to your blog
Inspirational quotes or phrases
Funny posts such as jokes and anecdotes
Striking images, especially accompanying other types of social media posts
Your daily life and routine
Daily fashion picks and styles you love
Ask questions to your fans
Be sure to also join the conversation and reply to comments and tweets. You can also find relevant conversations and add your two cents.
As long as you're adding to the conversation instead of squashing it or spamming, you can increase engagement on your posts. The reciprocity also leads to an increase in brand awareness.
While the sheer number of social media sites out there can seem overwhelming, you don't have to join them all. Find the platforms where your potential fans are and stick to those ones.
As a general rule of thumb, if you want your target audience to be between 18 and 35, then ComScore's survey results show you should focus your attention on Facebook, Instagram, Twitter, and Pinterest.
Networking and Further Promoting Your Blog
What's the final step in learning how to start a fashion blog? It's networking. It can help you by spreading the word about your blog.
Here are ways you can leverage networking as well as other promotional ideas:
Write articles and submit them to fashion magazines and blogs.
Join blogging and business groups and wait for opportunities. You may come across podcasters that need guests or maybe your favorite fashion icon is visiting your area and you can request a meeting or an interview with them. You can also get inspiration for your own marketing campaigns.
Seek out fashion events and conferences for chances to spread the word about your blog. You can also offer coverage of these events in your blog since writing about trendy, current events helps elevate your chances of being noticed.
Consider planning a marketing campaign as well.
These are plans that include multiple marketing strategies where you make a schedule of content, ads and other promotional items over a prolonged period of time. They're focused on a specific message that resonates with your brand and audience.
When done right, marketing campaigns can boost positive brand awareness and increase engagement as well as conversion rates. It can also lead to more sales.
For details, check out The Ultimate Guide to Marketing Campaigns, Use These 5 Steps to Create a Marketing Plan, and 13 Ways To Create An Effective Marketing Campaign On A Tight Budget.
Summary
If you have wanted to blog about fashion, it's easier to start now than it ever was in the past.
To start your own fashion blog, you'd need to:
Pick a domain name and a reliable hosting
Choose a theme
Set up plugins and tools
Pick a niche
Go all-in with a solid Content Strategy (editorial calendar, SEO, social media) covering all the areas and channels where your prospects hang out and engage with them
Now, it's your turn: do you plan to start a fashion blog? Have you ever launched a new blog? Share your experience in the comments!