Wow, we can't believe it's almost the beginning of a new decade. This has been an incredibly exciting and rewarding year for the entire team at Kinsta.
We first want to thank all of you for supporting us thus far and trusting us with hosting your businesses, blogs, and ecommerce sites. We wouldn't be here without you, and your feedback and suggestions have been invaluable to our team. 👏
Kinsta is growing exponentially and we now have clients in 120 countries and 6 continents. Many new faces have joined our team, including developers, support engineers, marketers, and more. Because of this, we've been able to continuously push out new features and improvements at a rapid pace.
WordPress saw three major releases in 2019: 5.1 (Betty), 5.2 (Jaco), and 5.3 (Kirk). And of course, a lot of changes to the new Gutenberg block editor. As the CMS and community continue to grow, 35.2% of the web as of December 2019, so will Kinsta. Our mission hasn't changed, and that is to continue building the best managed WordPress hosting platform in the industry.
Some of the changes and new features we're especially proud of this year include:
Releasing Google Cloud Platform's new "compute-optimized" (C2) machines to all Kinsta clients. We saw performance improvements of up to 200%.
Being one of the first hosting providers to release PHP 7.4. Performance has and always will be a top priority for us. We're always trying to help move the WordPress and developer communities forward, and this means no longer using unsupported PHP versions.
Releasing hundreds of improvements, both big and small, to our MyKinsta dashboard. The goal of our dashboard is to be an all-in-one solution for managing your WordPress sites.
Listening to your feedback. We added more PHP workers, more disk space, more migrations, and awesome new optimization features this year.
Adding two new data centers, allowing you to choose from 20 different data centers to host your sites.
Check out more below of what we accomplished in 2019 and some exciting features we have planned for this upcoming year.
Customer and Revenue Growth Rate
Kinsta is proud to be a bootstrapped company, and this has allowed us to focus on the things that are important to us: performance, client feedback, and providing the best support. It also gives us the flexibility to pivot and adapt when needed, which is necessary when you're working in such a competitive industry such as WordPress hosting.
But the proof is in the pudding!
Kinsta has yet again seen continuous customer and revenue growth throughout 2019. We try to stay as open and transparent as possible, so here is our annual run rate graph below, pulled directly from Baremetrics. Over the past 12 months, we've seen a 105% increase in revenue. We are now generating over 28x what we did in 2015.

And over the past 12 months, our client base has grown by over 134%! February was by far our busiest month ever.

Every year we get to work with so many incredible clients, all in different types of industries. The diversity of websites we host always amazes us. From small bloggers to WordPress agencies, startups, and big-name brands all across the globe (including MariaDB, Buffer, Flippa, Tiller Money, Later, and more).

Here are a few fun facts about the massive amount of data we deliver every month:
12.7+ billion HTTP requests are served through Kinsta's servers.
519+ terabytes egress data transfer travels through Kinsta's servers.
5.2+ billion HTTP requests are served through the Kinsta CDN.
207+ terabytes data transfer travels through the Kinsta CDN.
We Take Support Seriously, Check Out These Stats
According to our data from Intercom, we again managed to decrease our median support ticket response time, down to 1 minute and 27 seconds (previously 1 minute and 35 seconds in 2018, 2 minutes in 2017, and 7 minutes in 2016). And this is while more than doubling our client base this year.
Some other interesting stats:
Year to date, our team has solved 69,139 tickets. 🙌
23,673 of those tickets were just over the last 90 days.
The median time to solve and close your issue also changed. Year to date it's at 50 minutes and 44 seconds. This is up slightly from 48 minutes in 2018, but still down from 55 minutes in 2017.

According to our data from Intercom, the busiest period for our support team is Tuesdays, 2-3 PM UTC.

As we grow we continue to add new highly-skilled support engineers so that we always maintain the same level and quality of service. And we are proud to say again this year, so far so good. For two years in a row, 97% of all live chats/tickets are closed with the client happy and satisfied.
A big shout out to our amazing support and sysadmin teams for accomplishing this! They work around the clock to ensure all Kinsta clients get the best support possible.
Our English support is available 24/7, but this year we are also excited to further extend our hosting support and hours in additional languages. That's right, many of our support engineers are bilingual as well. The schedule is as follows:
Spanish support is available weekdays between 2 p.m. and 12 a.m. UTC. 🇪🇸
Dutch support is available weekdays between 6 a.m. and 2 p.m. UTC. 🇳🇱
French support is available weekdays between 6 a.m. and 2 p.m. UTC. 🇫🇷
German support is available weekdays between 6 a.m. and 2 p.m. UTC. 🇩🇪
Italian support is available weekdays between 7 a.m. and 3 p.m. UTC. 🇮🇹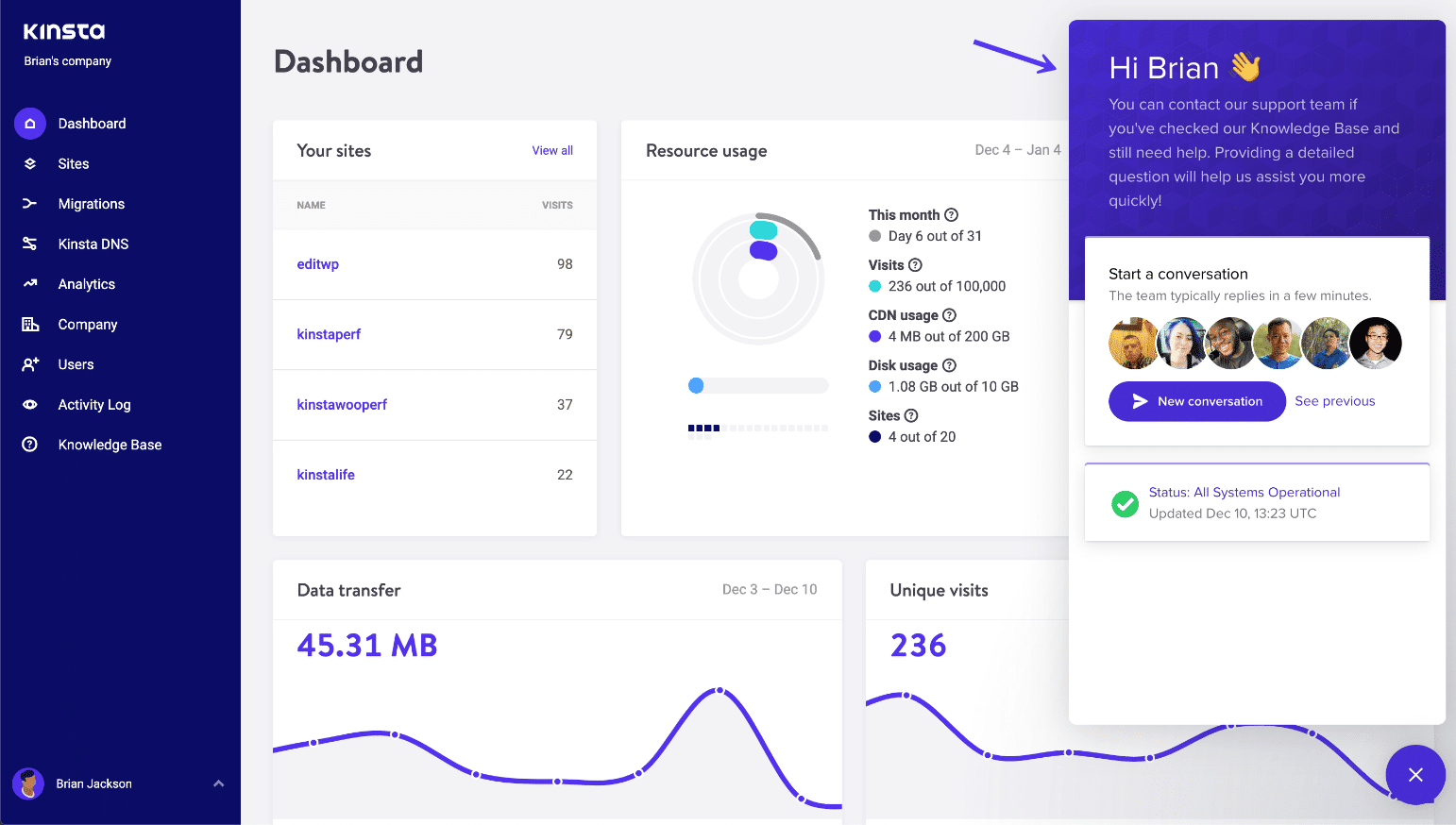 See more about our multilingual support.

Team Expansion Never Stops
The Kinsta team is literally growing on a daily basis and is 2x bigger than it was the same time last year. We now have over 100 people working to provide you the best WordPress hosting experience possible.
We are always looking for new talent to join the team. In fact, we have nine positions open right now! Check them out on our careers page.
On the marketing front, we're excited to have Matteo Duò on board as the Editor in Chief. He's in charge of wrangling up all the awesome content you see on the Kinsta blog.
We are continuously working on bringing you better support and content in your native languages. To help us with this, we brought on three new Business Development Coordinators.
If you've attended a WordCamp or Meetup in these regions in the past year, you might have seen them around. 😉
On the sales front, we are excited to have Nathan Bliss on the team as our Outbound Sales Manager. If you're wanting to get a demo or set up a call to chat about what we can offer you at Kinsta, Nathan is your guy! Schedule a demo with him today.
We also now have a dedicated migration team working around the clock (Monday through Friday) to help move your WordPress sites to Kinsta. This is all they do, so you can rest easy knowing that they have the expertise and experience to help make your transition to Kinsta a smooth one.
Restructuring
As with any fast-growing company, there is restructuring that happens. We want to put team members in positions where they will succeed the most, as well as doing something they enjoy. Over this past year, we've made a few notable changes to the team:
Tom Sepper has been moved from Director of Support and Sales to Chief Customer Officer.
Jeff Paul has been moved from Support Lead to Head of Support. 💪
Kinsta Week, Getting to Know Colleagues
Every year or so we try to get the Kinsta team together. This past year it took place in beautiful Budapest, Hungary. Being a distributed company means this is the first opportunity that many of us get to meet each other somewhere other than Slack or at WordCamps.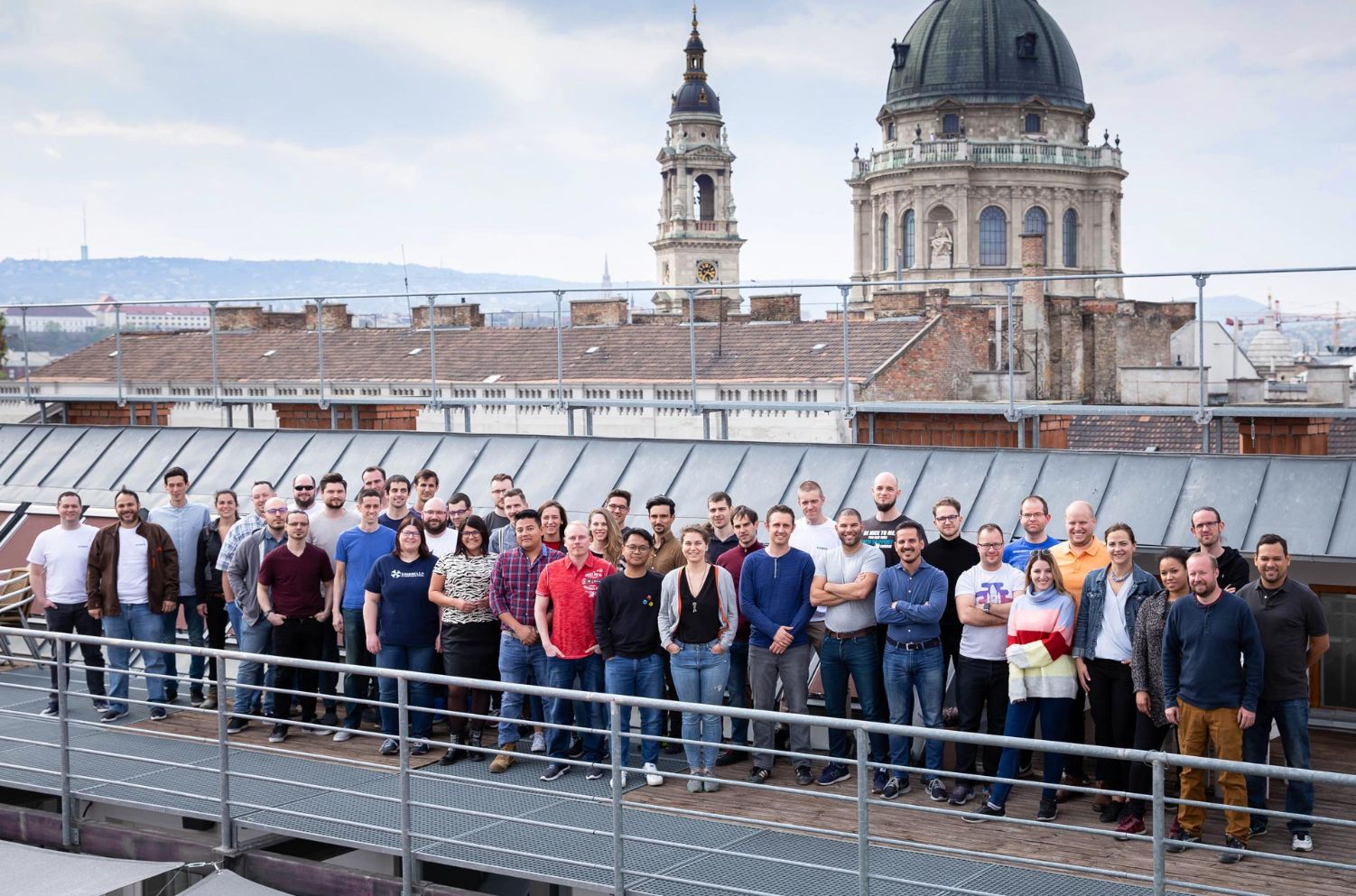 Nothing like playing a little laser tag to break the ice!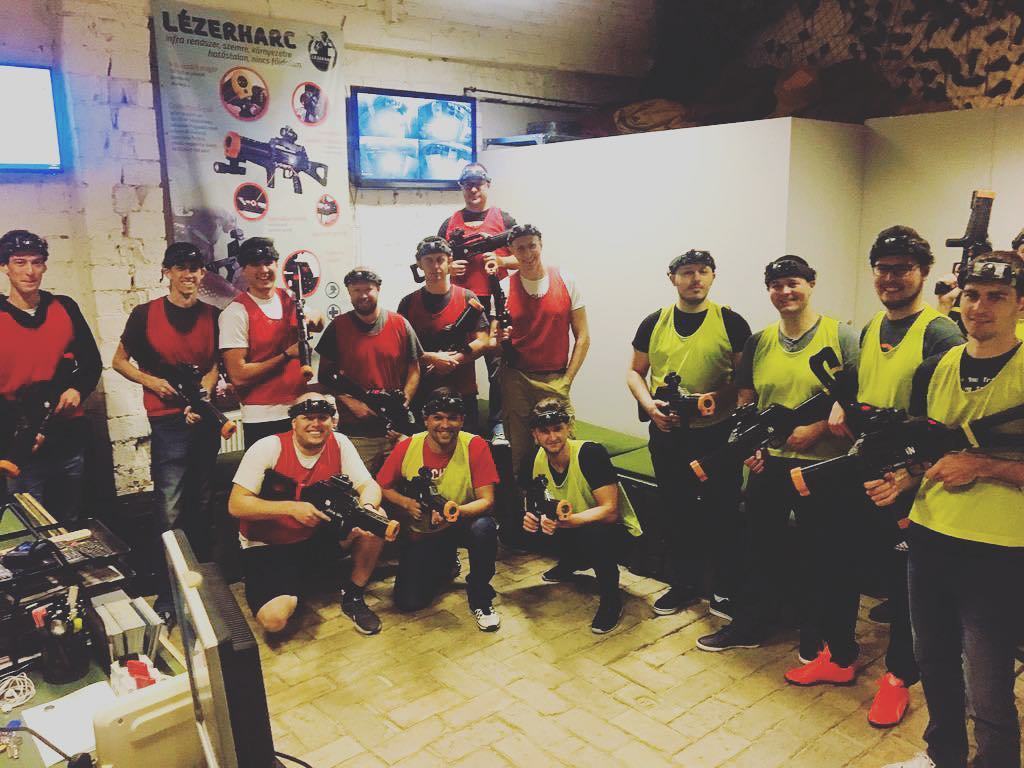 Or making it out of the escape room with 7 minutes to spare.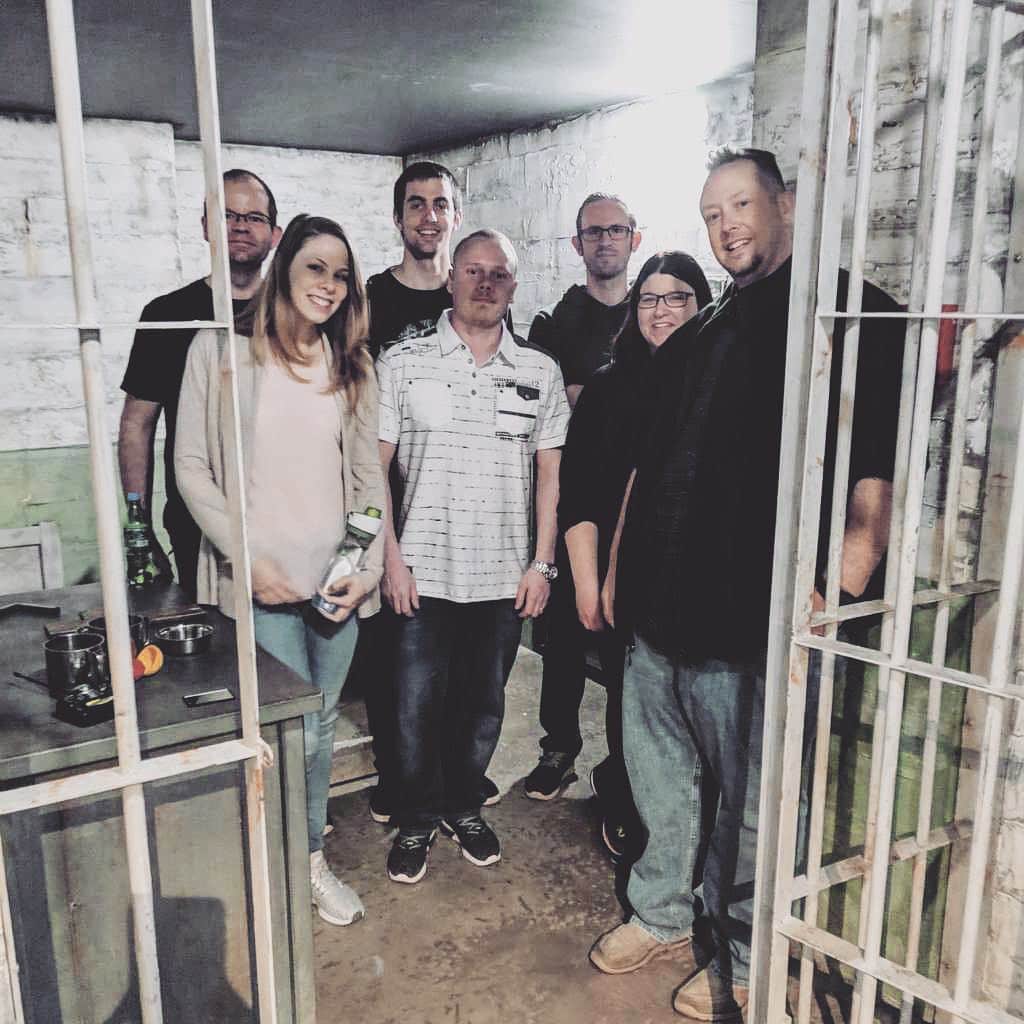 And here's the team relaxing on an evening cruise down the Danube river, our CEO at the bow. 🛥️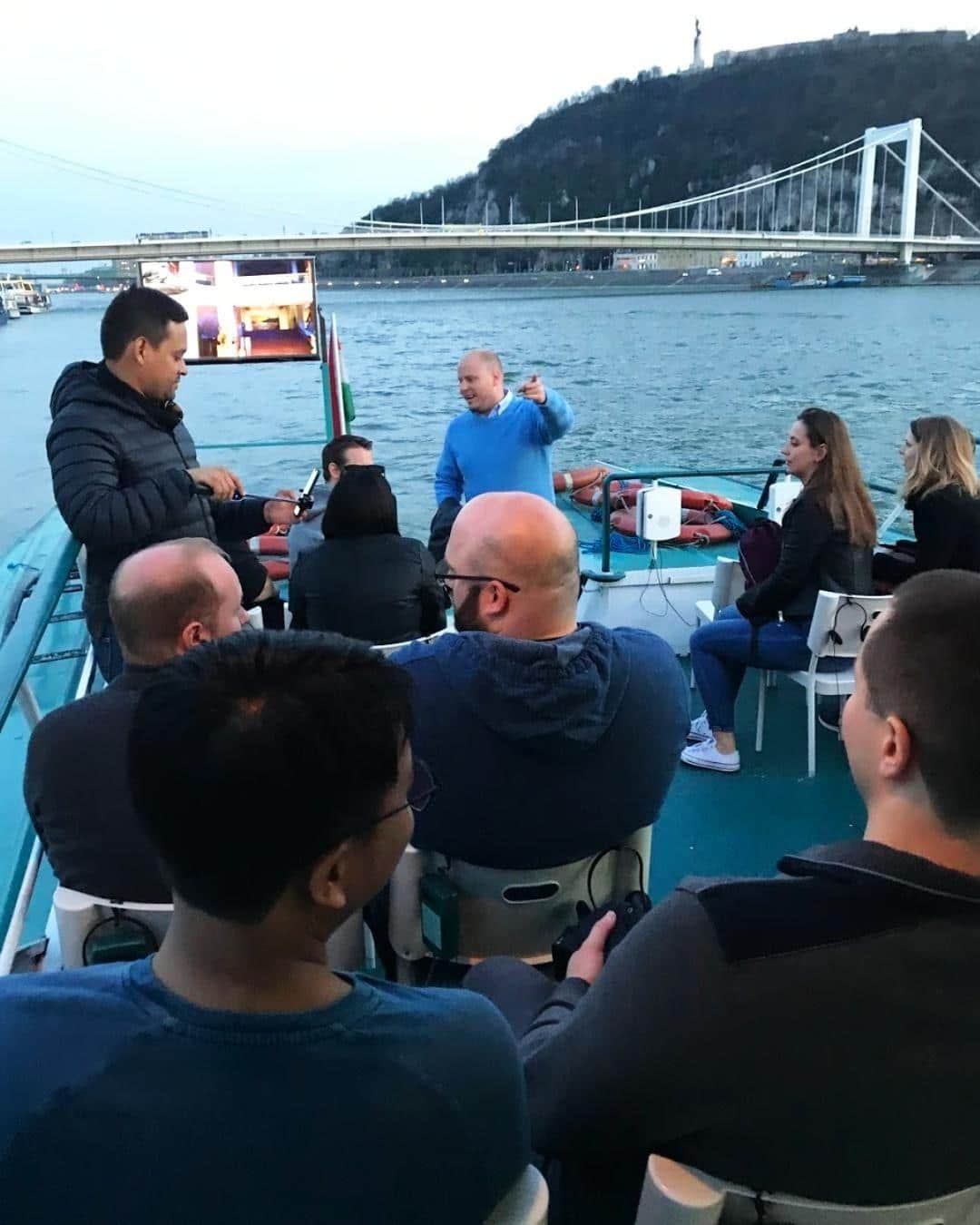 But of course, being a 24/7 hosting company, it always comes down to shifts and careful scheduling. So even though there might not be as much work getting done during Kinsta week, our support team is always still available to help!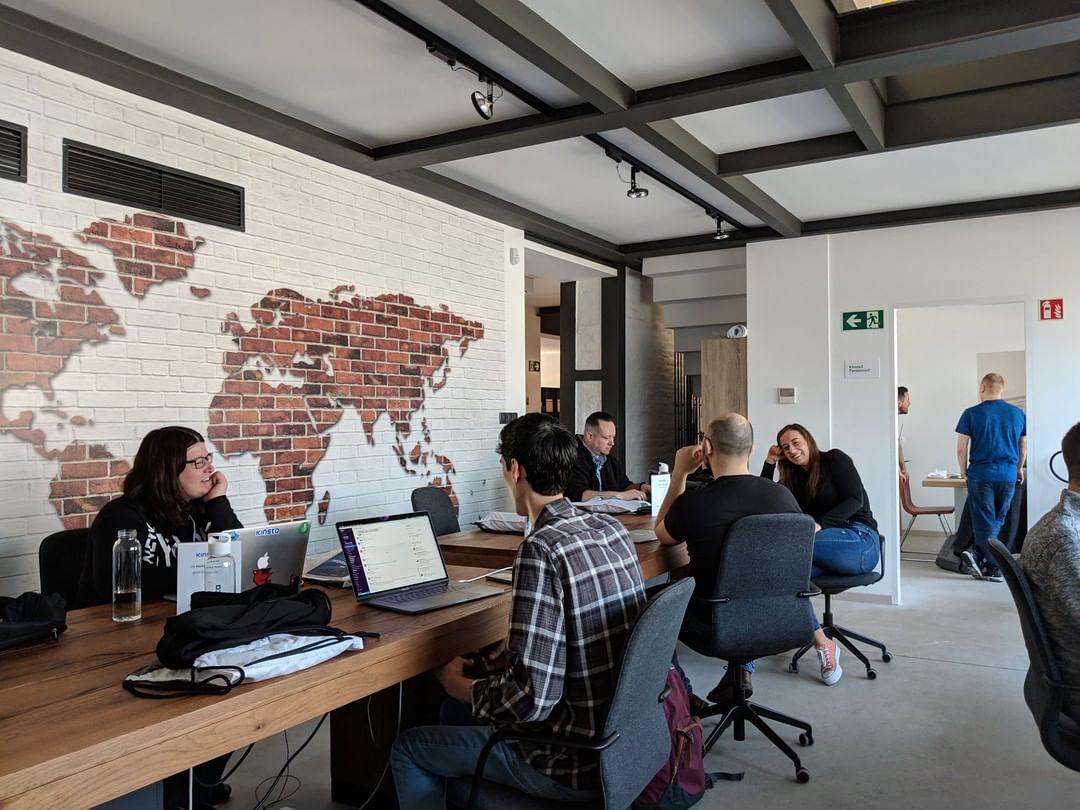 Feature Updates and Changes in 2019
Now for the exciting part, the feature updates and changes our team was able to ship this past year. We obviously can't go into detail on all of them, so here are the important highlights.
Latest PHP 7.4 Release
PHP 7.4 was released for general availability (GA) on November 28th, 2019 and Kinsta was one of the first hosting providers (not just WordPress specific) to make this available to everyone! You can switch to it with a single click in your MyKinsta dashboard.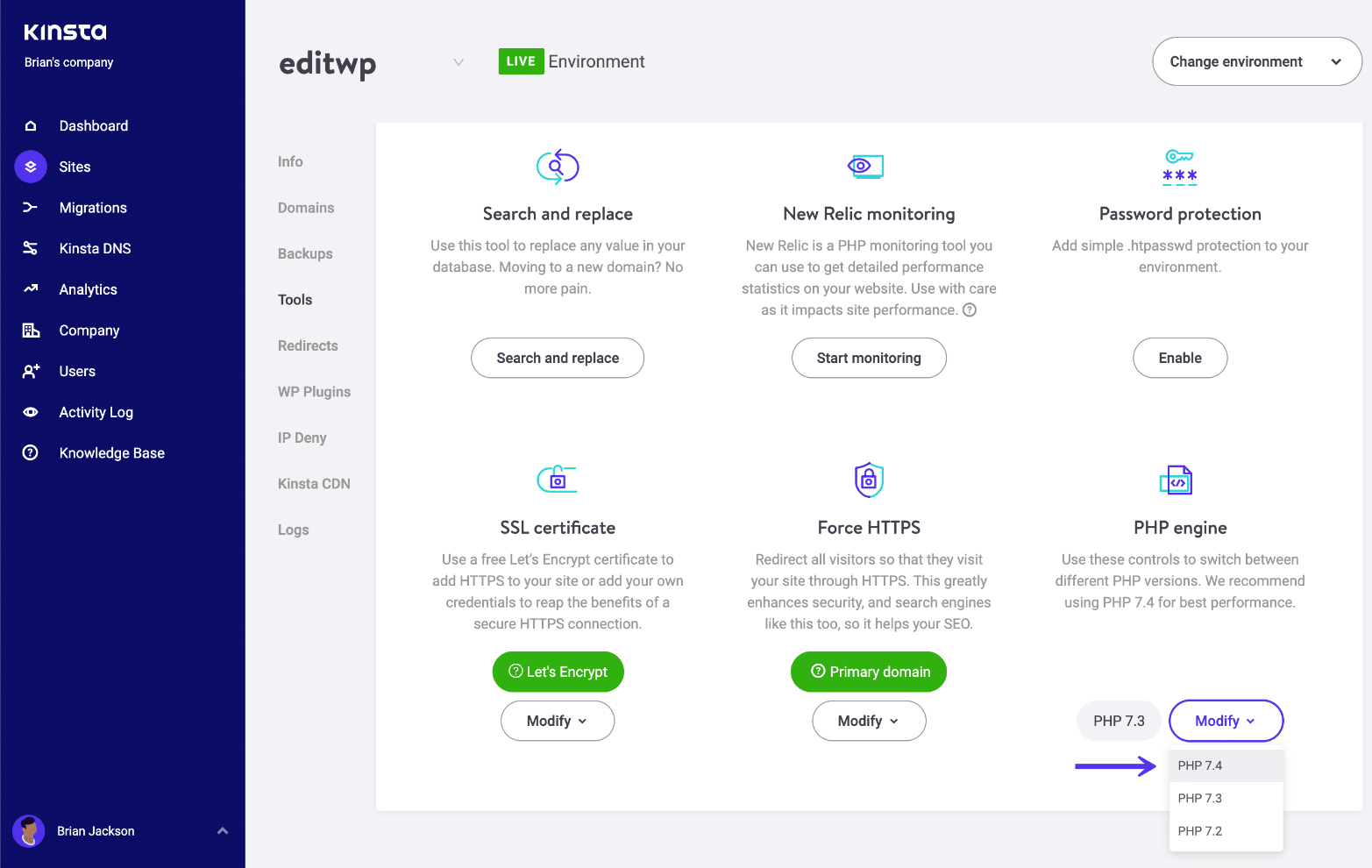 We'll be releasing our annual PHP benchmarks report within the next couple of weeks so you can see how much this new version will impact the performance of your sites. Spoiler alert: PHP 7.4 is faster than PHP 7.3. 🚀
To make sure your WordPress sites are as fast and secure as possible we have adopted the same schedule which means that we will be removing unsupported versions of PHP when they reach end-of-life (EOL).
We were curious about the PHP adoption rate at Kinsta, so we took a look at the numbers.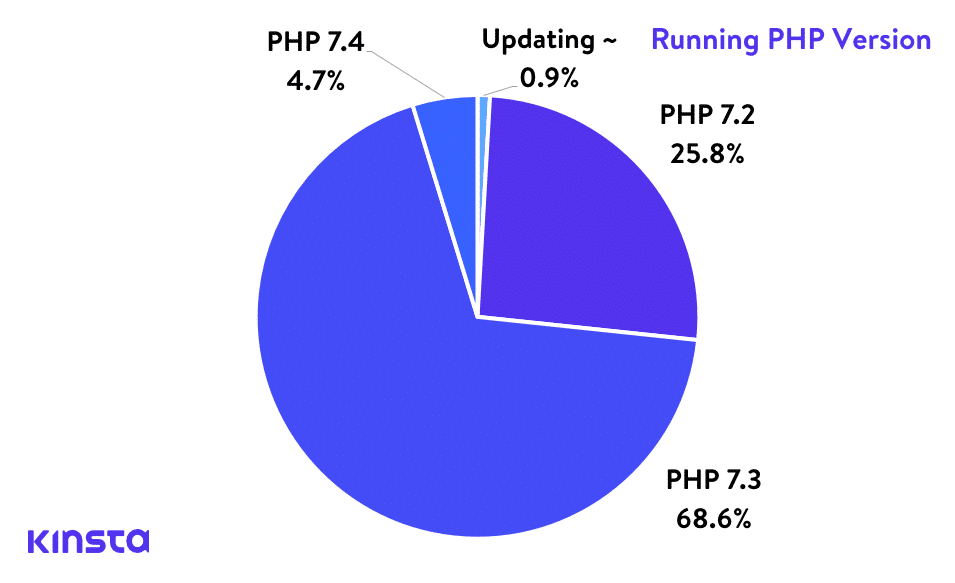 Here is the rundown:
25.8% of WordPress sites at Kinsta are running PHP 7.2.
68.6% of WordPress sites at Kinsta are running PHP 7.3.
4.7% of WordPress sites at Kinsta are running PHP 7.4.
We are working on that final <1%. 😉
We were proud and excited to uncover these numbers. Why? Because it means the PHP adoption rate among Kinsta clients is very high! Much higher than the general WordPress population, which according to WordPress stats is only 14.6% if you're looking at PHP 7.3+. This is important not only for security reasons but also for performance advantages.
Read more about why you should be using a supported PHP version.
Faster C2 Machines for Everyone
The most exciting update by far to the Kinsta infrastructure this year was releasing Google Cloud Platform's new compute-optimized VMs (C2) machines.
These machines offer the highest performance per core that GCP offers on Compute Engine and they are optimized for compute-intensive workloads. They are equipped with Intel Scalable Processors (Cascade Lake) and up to 3.8 GHz sustained all-core turbo. They are able to handle even the most demanding WordPress sites!
We've always developed our WordPress hosting platform to be completely scalable, from our Starter plans all the way up to our Enterprise plans. This means we didn't want to just move a select few to this new hardware or limit their use to only our higher-tier plans. So we did the complete opposite, we made the new GCP machines available for everyone at Kinsta.
We ran benchmarks with client's sites. It of course varied based on the type of site, but we saw performance improvements from 30% all the way up to 200%!
New WP_DEBUG Tool for Developers
We launched our new WP_DEBUG tool. This lets you quickly see warnings, common errors, and notices on your WordPress site to troubleshoot problems.
This can help make a life a little easier without having to always drop a line of code into your wp-config.php file. And it's a click away in the MyKinsta dashboard.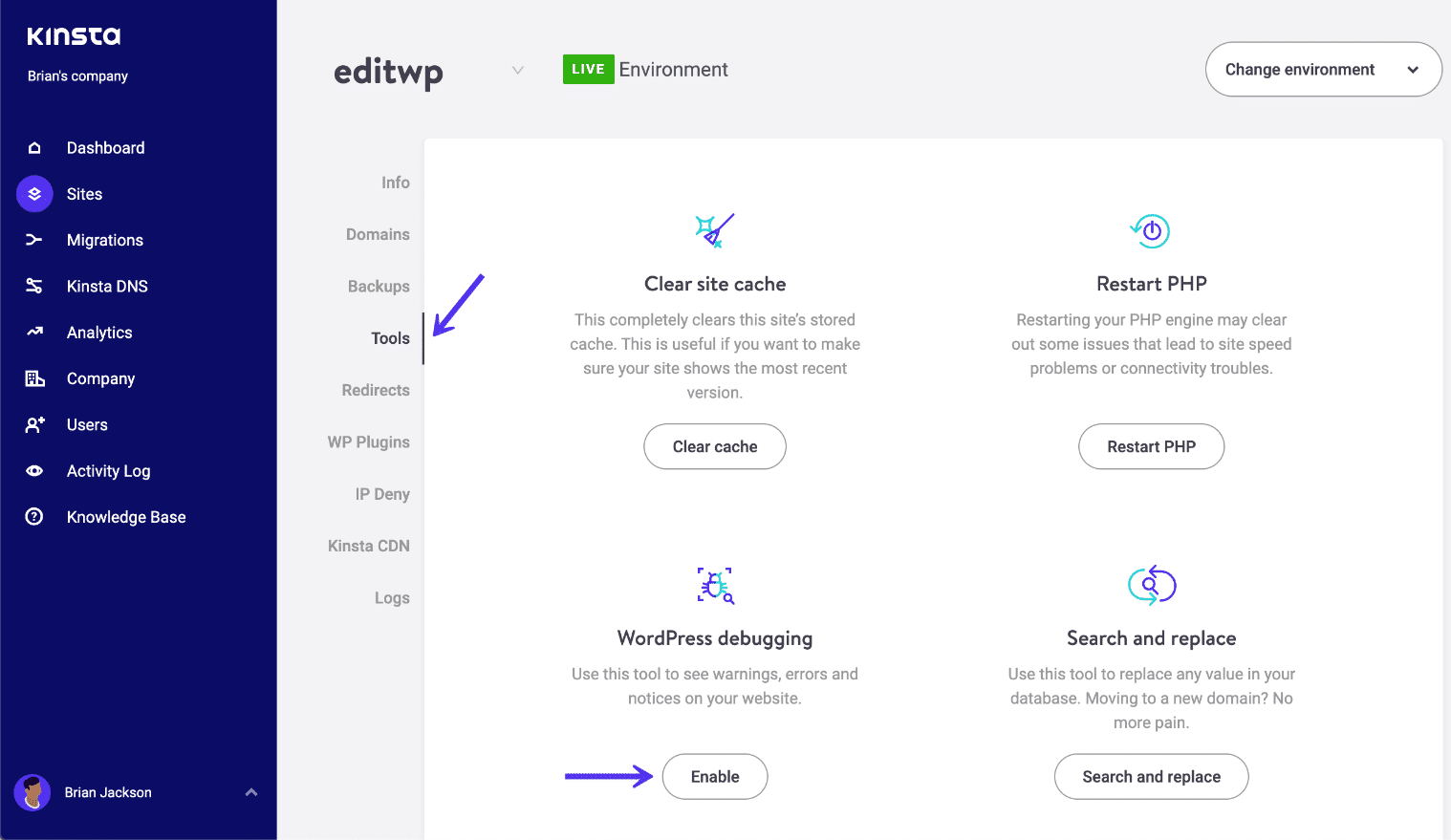 Launched Disk Space Add-on
Some of you run what we call "heavy" WordPress sites, meaning they contain a lot of large files. In some industries, photography, for example, this might mean you're having to host high-resolution photos. While you can offload these, the fact is that this isn't always easy or convenient.
Another common pain point we see with agencies and developers is that they will sometimes have just one or two clients that are consuming all of their plan's disk space.
We want you to have as much flexibility as possible at Kinsta, so we launched our disk space add-on. You can now increase the storage space of your hosting plan with a few simple clicks. Need 100 GB of storage on a Pro plan? No problem, we've got you covered.
Added More Disk Space on All Plans
If our disk space add-on wasn't enough, we added more disk space on all of our standard plans (from Starter through Enterprise) earlier this year. On some of the plans, in fact, we doubled the amount! All at no extra cost. 🎉
Here is a summary of the disk space changes that took place on each plan:
Starter plan: 10 GB (previously 5 GB)
Pro plan: 20 GB (previously 10 GB)
Business 1 plan: 30 GB (previously 15 GB)
Business 2 plan: 40 GB (previously 20 GB)
Business 3 plan: 50 GB (previously 30 GB)
Business 4 plan: 60 GB (previously 40 GB)
Enterprise 1 plan: 100 GB (previously 80 GB)
Enterprise 2 plan: 150 GB (previously 120 GB)
Enterprise 3 plan: 200 GB (previously 150 GB)
Enterprise 4 plan: 250 GB (previously 200 GB)
Automatic MySQL DB Optimizations
Optimizing your database is one of those things that often gets neglected. But in fact, it can be one of the most important factors to ensure fast performance, especially for the long-term health of your site.
One of the great things about Kinsta is that every WordPress site runs in an isolated container. This gives us more control as it means each site has its own separate MySQL instance.
To help combat database performance woes, we implemented a new system that automatically fine-tunes your MySQL database settings based on the needs of your WordPress site. This optimization runs once per week and ensures better MariaDB performance.
Read more about our MySQL DB tuning feature.
All Clients Are Now Behind Google Cloud Platform Firewall
In the past, we used a third-party firewall solution. But no more. As of earlier this year, all WordPress sites at Kinsta are now secured behind the Google Cloud Platform (GCP) Firewall.
Read more about the role the GCP firewall plays in the Kinsta infrastructure.
New Self-Healing PHP Feature
Earlier this year we introduced what we call self-healing PHP. 🏥 From now on, if PHP goes down for any reason, we try to auto-restart it back up. In a lot of cases, this is all that's needed and you're good to go! On rare occasions, it might be a bigger issue. In which case, our system automatically logs this for our sysadmin team to check out.
Password Protection (htpasswd) Tool Launched
We launched our new htpasswd tool. This was a highly requested feature as many developers and agencies utilize this to keep a site private when sharing with clients.
You can now easily enable password protection on your entire WordPress site with just a few clicks in the MyKinsta dashboard.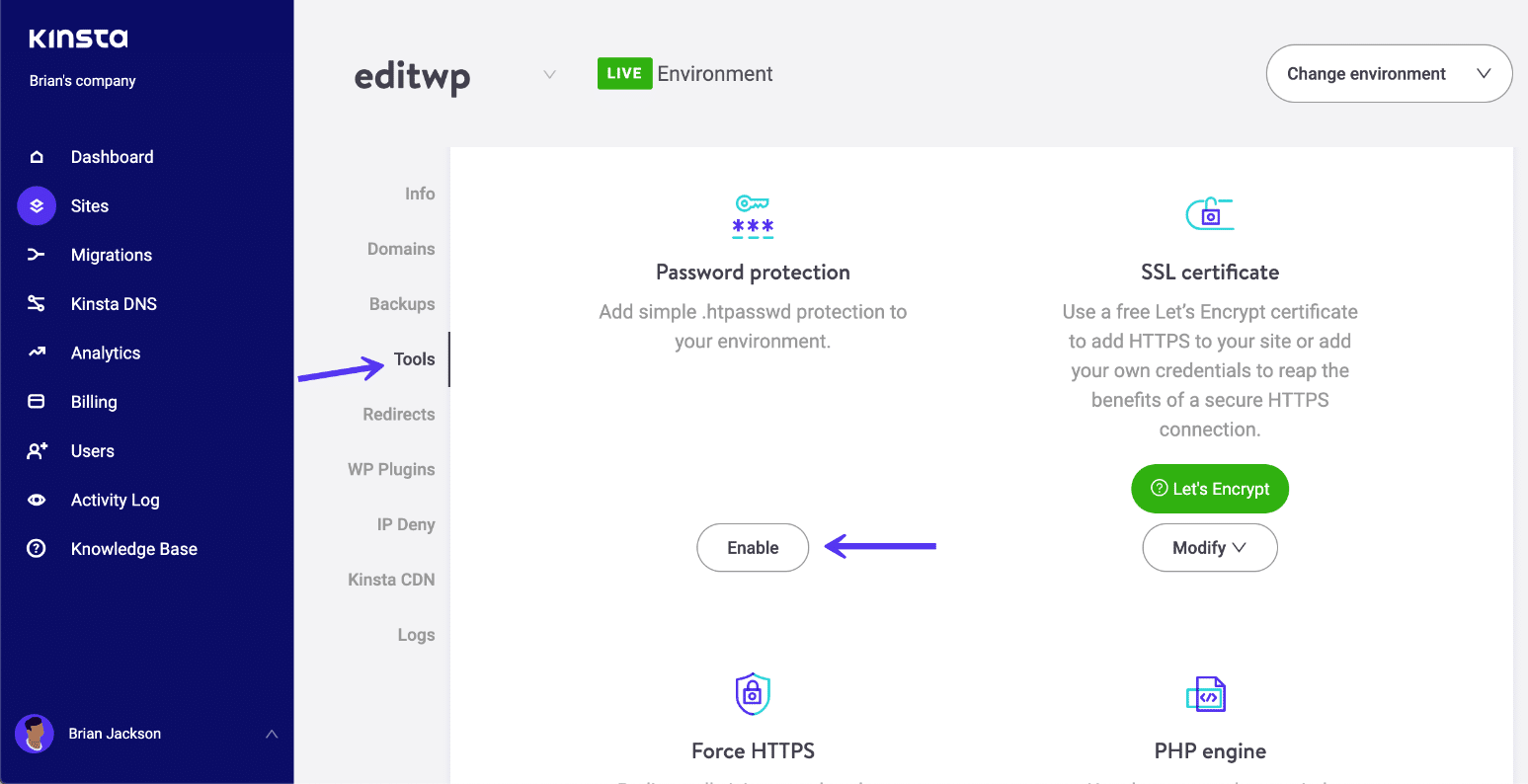 More Migrations For All
Previously our starter plan required that you pay annually to be eligible for a free migration by our support team. But we heard your feedback and removed this. All plans from Starter to Enterprise now include one or more free premium migrations, no exceptions.
We also added more free premium migrations to a few of our hosting plans. Changes:
Pro plan now includes 2 free premium migrations (previously 1).
Business 1 plan now includes 3 free premium migrations (previously 1).
Business 2 plan now includes 3 free premium migrations (previously 2).
And we didn't stop there, we also added more providers to increase eligibility for our unlimited free basic migrations offer.
Added More PHP Workers
PHP workers determine how many simultaneous requests your site can handle at a given time. To put it simply, each uncached request for your website is handled by a PHP Worker.
To improve performance, we increased the number of PHP workers on the following plans:
Business 1 plan now includes 4 PHP workers (previously 2)
Business 3 plan now includes 6 PHP workers (previously 4)
This change was made for all Kinsta clients and helped with those running membership sites, ecommerce (WooCommerce, Easy Digital Downloads), LMS, etc.
404 Pages Added to Caching Rules
404 pages can be very resource-intensive. A lot of WordPress sites, especially large membership sites, generate more 404 errors than you might think. And the problem is these pages also tend to have queries to pull alternate search results which then hit the database.
To ensure better performance on your WordPress sites, Kinsta now caches 404 pages for 15 minutes.

Infrastructure Additions: Two New Data Centers
Adding new data centers is always a big priority to us, not only because of performance but also for data privacy laws. Because Kinsta is built on Google Cloud Platform, our team has the ability to roll out new locations almost immediately after they become available. This means as Google grows, so does Kinsta! This allowed us to add two more data center locations this past year, bringing us to a total of 20.
This infrastructure change allows you to even more strategically position your WordPress sites closer to your visitors and customers. This helps to decrease network latency, TTFB, and ensure faster page load times. Below is a list of old locations and new ones added over the past year:
Osaka, Japan (new)
Zürich, Switzerland (new)
Hong Kong
Los Angeles, California, USA
Hamina, Finland
Montreal, Canada
Eemshaven, Netherlands
Council Bluffs, Iowa, USA
St. Ghislain, Belgium
Changhua County, Taiwan
Sydney, Australia
The Dalles, Oregon, USA
Ashburn, Virginia, USA
Moncks Corner, South Carolina, USA
London, UK
Frankfurt, Germany
Jurong West, Singapore
Tokyo, Japan
São Paulo, Brazil
Mumbai, India
Added TLS 1.3 Support On All Servers
TLS 1.3 is the latest encryption protocol update that is both faster (reducing HTTPS overhead) and more secure than TLS 1.2. Earlier this year Kinsta added TLS 1.3 on all of our servers. 
Below is an example of a WordPress site at Kinsta scanned with the SSL Server Test tool.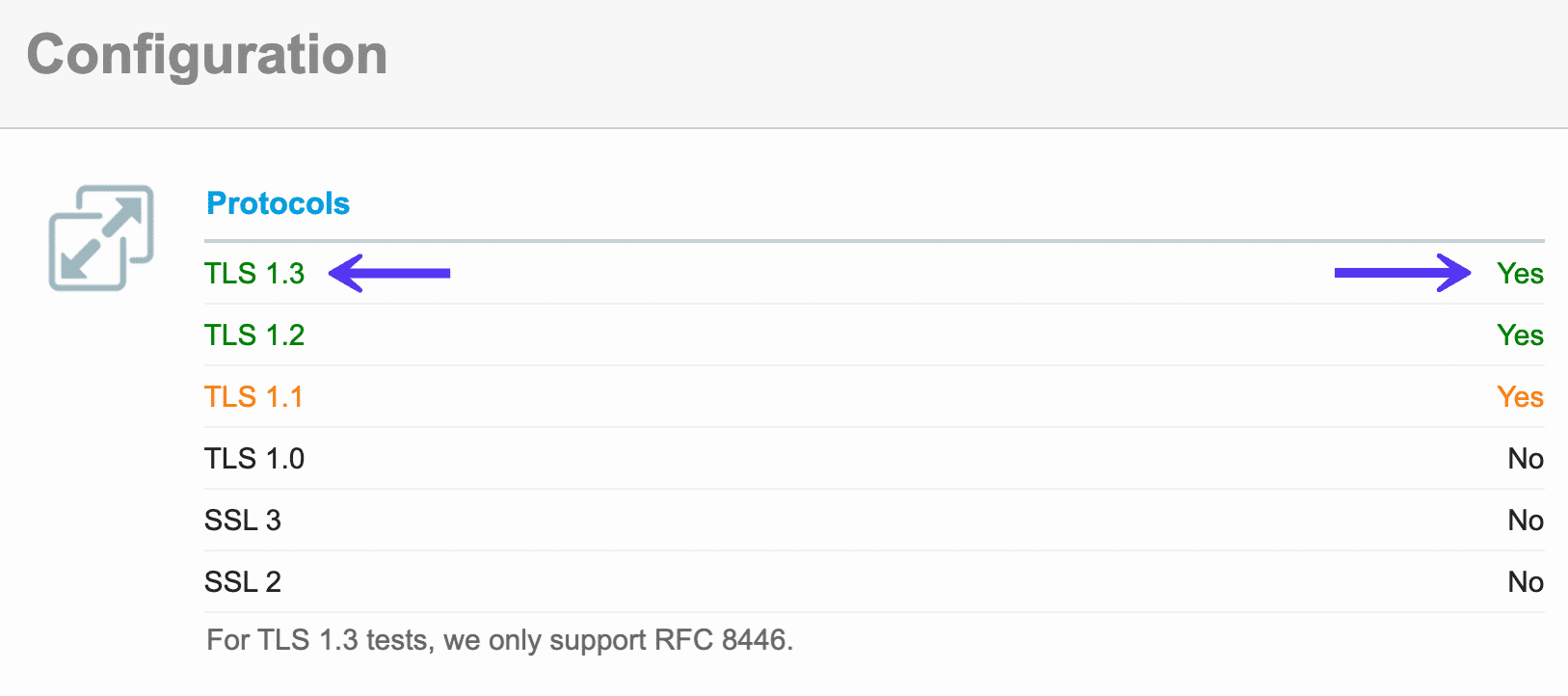 Additional Updates
Besides all of the major features updates and changes mentioned above, here's a quick rundown on a few additional ones. As you can see, our MyKinsta development team has been busy!
We hope it's apparent from everything we launched this year that our team is focused, or some might even say obsessed, with figuring out how to add long-term value to our hosting plans. 
The Kinsta Reviews Are In
Review Signal released its annual 2019 WordPress hosting performance benchmarks, and we're ecstatic that five years in a row, Kinsta has been one of only two companies that earned Top Tier status on every plan, from Starter all the way up to Enterprise.
Kinsta had a perfect run at the Enterprise tier. This is why people shell out top dollar for Enterprise level hosting. Kinsta had a perfect 100% uptime on both monitors. They also had 0 errors on both load tests and the lowest peak response time on the Load Storm test. A Top Tier Performance was rightly earned.

Kevin Ohashi
Founder, Review Signal
WP Shout also released its annual hosting survey where they collect aggregated reviews from third-party sources around the web. Kinsta was ranked as the best-managed WordPress host. 🏆 
Kinsta is also consistently ranked among the best options for WordPress hosting on popular review sites.
We appreciate all of you who took the time to leave us feedback.
Connecting with the WordPress Community
WordPress as an ecosystem and the people it's made up of is very important to us. Therefore, we always try to connect with the growing community as much as possible. This year we are excited to have well surpassed our goals and got involved more than any previous year. This included sponsoring WordCamps, Meetups, various marketing events, and even feeding the homeless.

WordCamp US 🇺🇸
One of the biggest events of the year for us, and perhaps for some of you as well, was WordCamp US in St. Louis, Missouri. Not only did we get to meet a lot of new people in the WordPress community, but we got to hang out with some of our favorite Kinsta clients! And of course, we couldn't resist grabbing a picture with Matt Mullenweg, the co-creator of WordPress and founder of Automattic.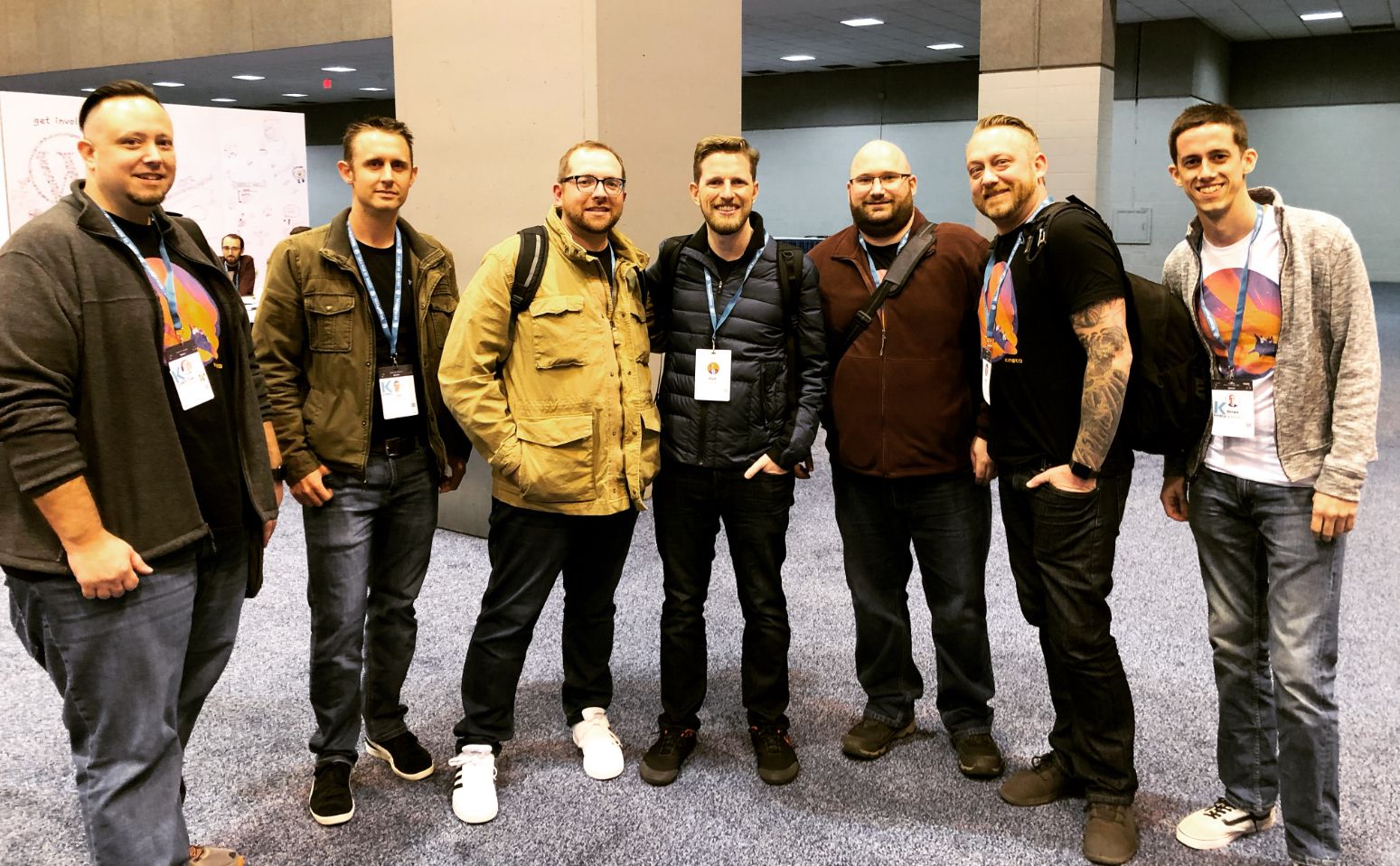 WordCamp Europe 🇩🇪
Another big event for us was WordCamp Europe in Berlin, Germany. Due to the fact that we are a distributed company, many of us attend different events based on their locations. This allows us to meet all different types of WordPress folks from different walks of life. Everyone has a different story about how they started working with WordPress, and we love it!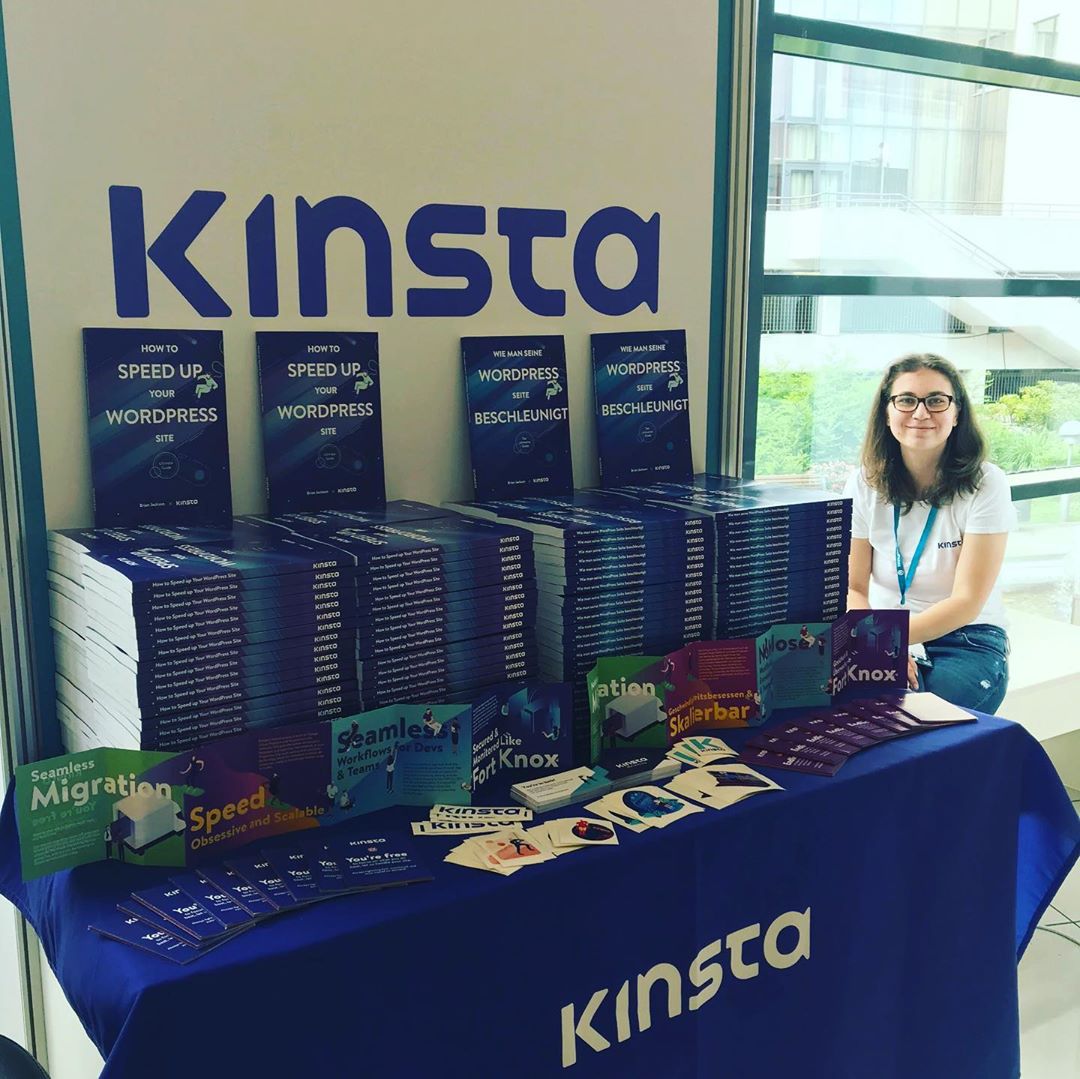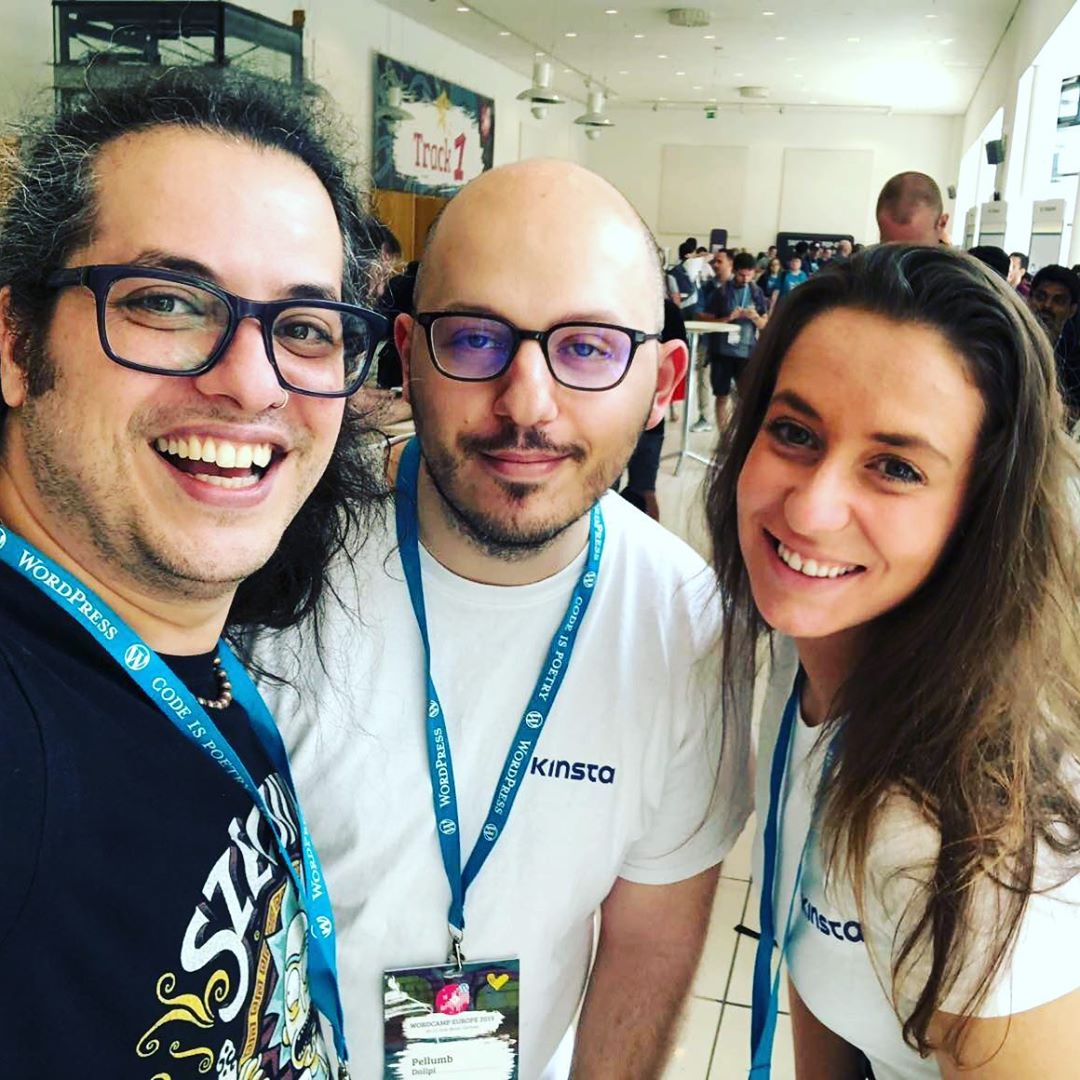 There are too many WordCamp stories and adventures to possibly share in this one post! So here are a few pictures we took throughout the past year while Kinsta was on the road. ✈️🚋🚗
WordCamp Nordic 🇫🇮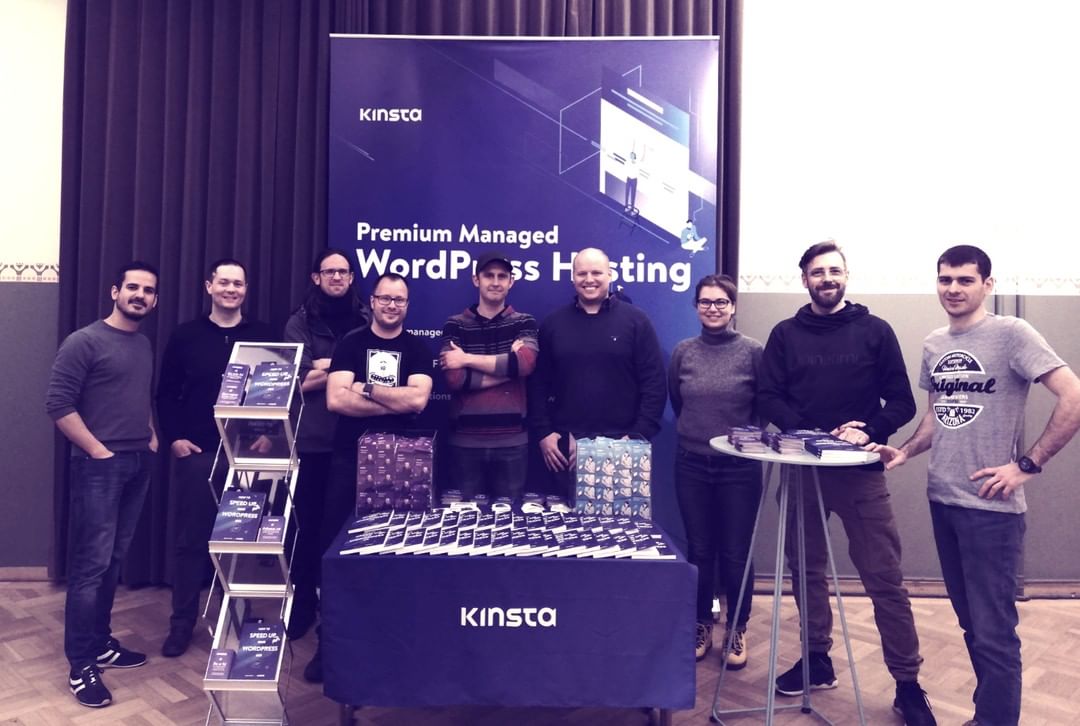 WordCamp Rotterdam 🇳🇱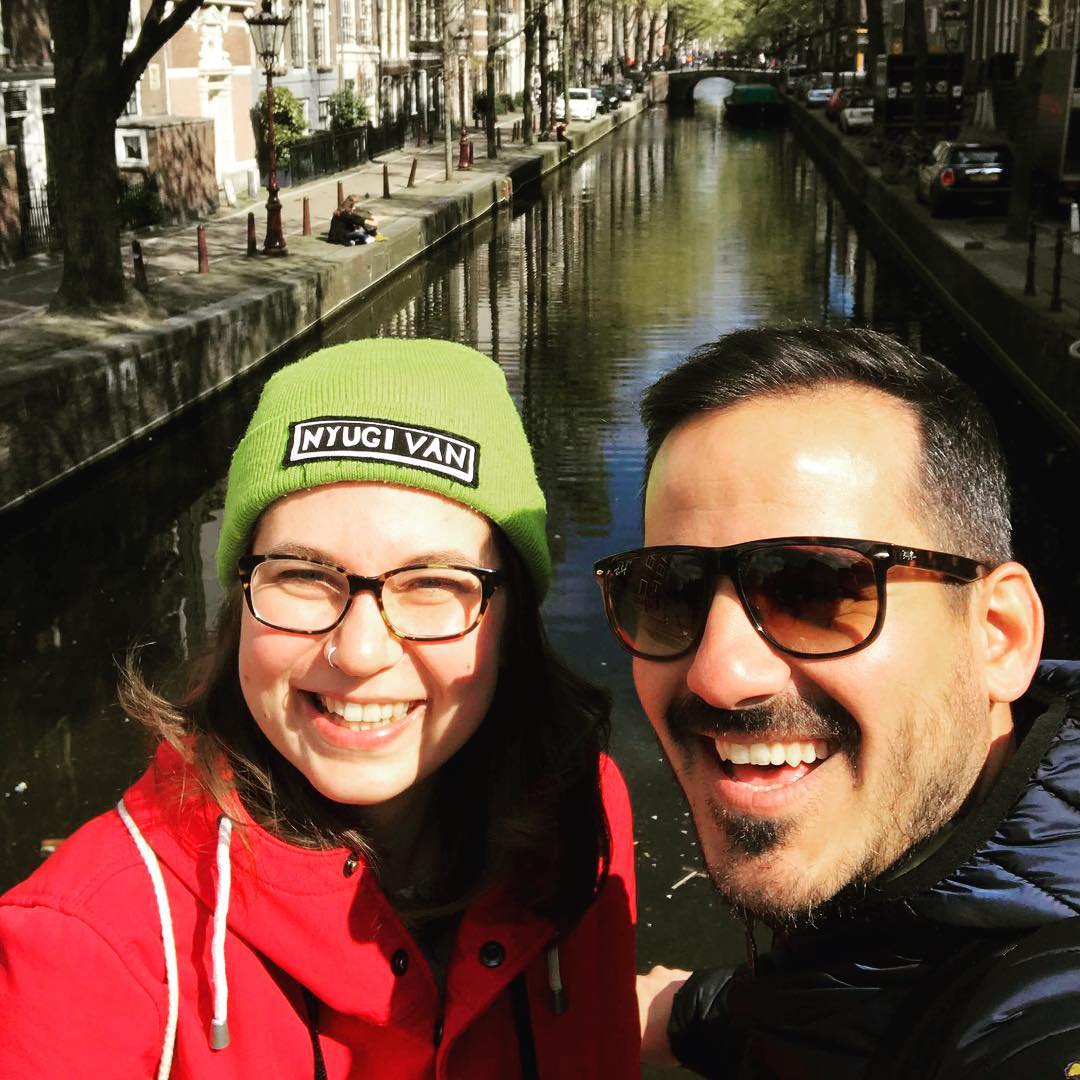 WordCamp Paris 🇫🇷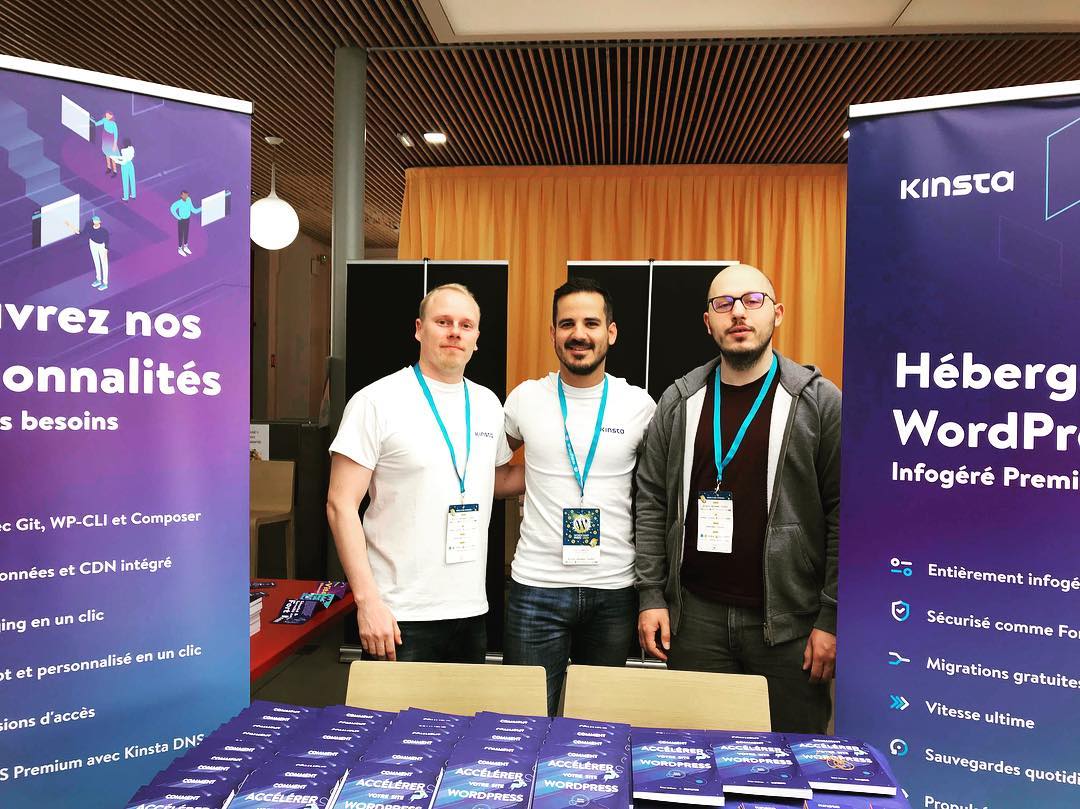 WordCamp Managua 🇳🇮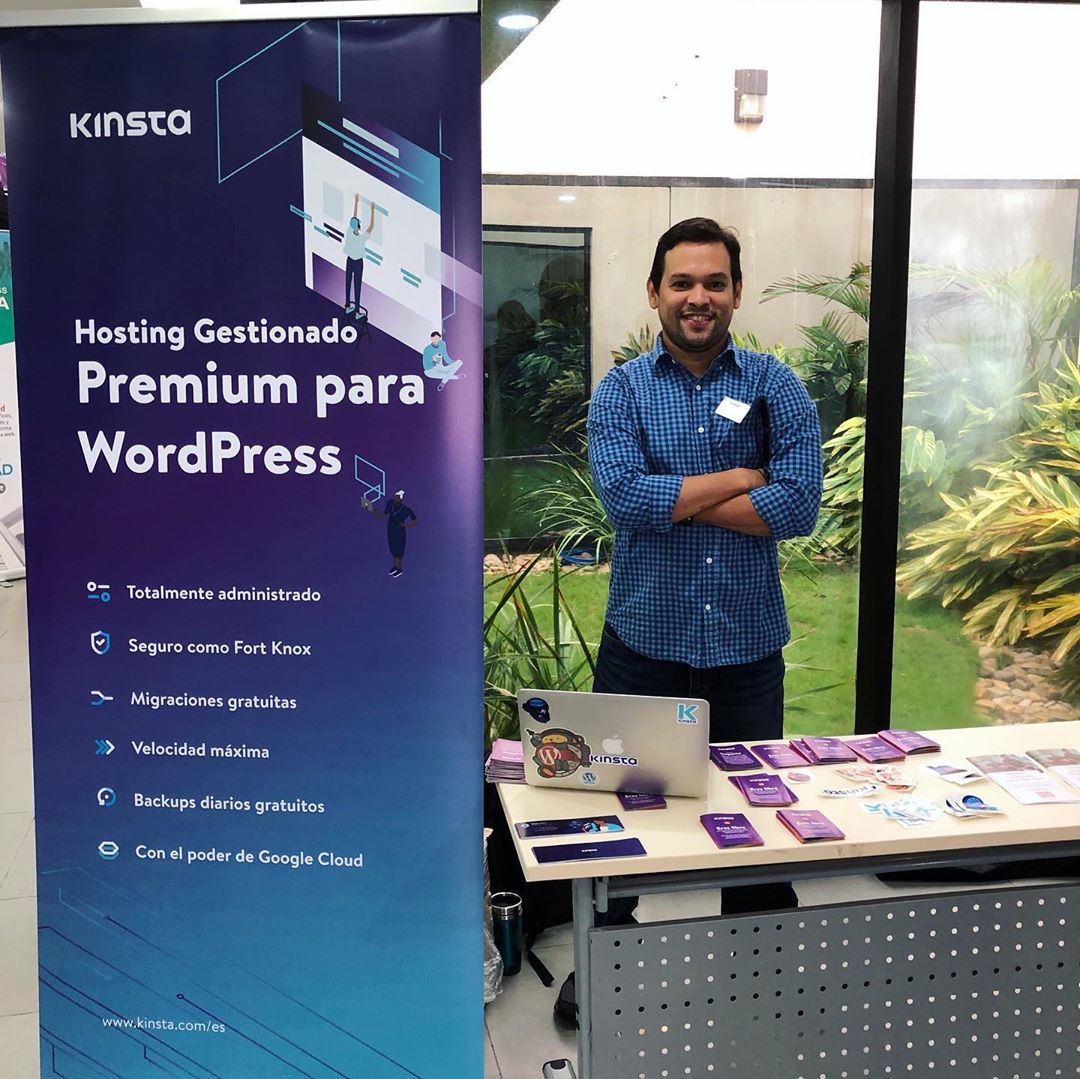 WordCamp Montréal 🇨🇦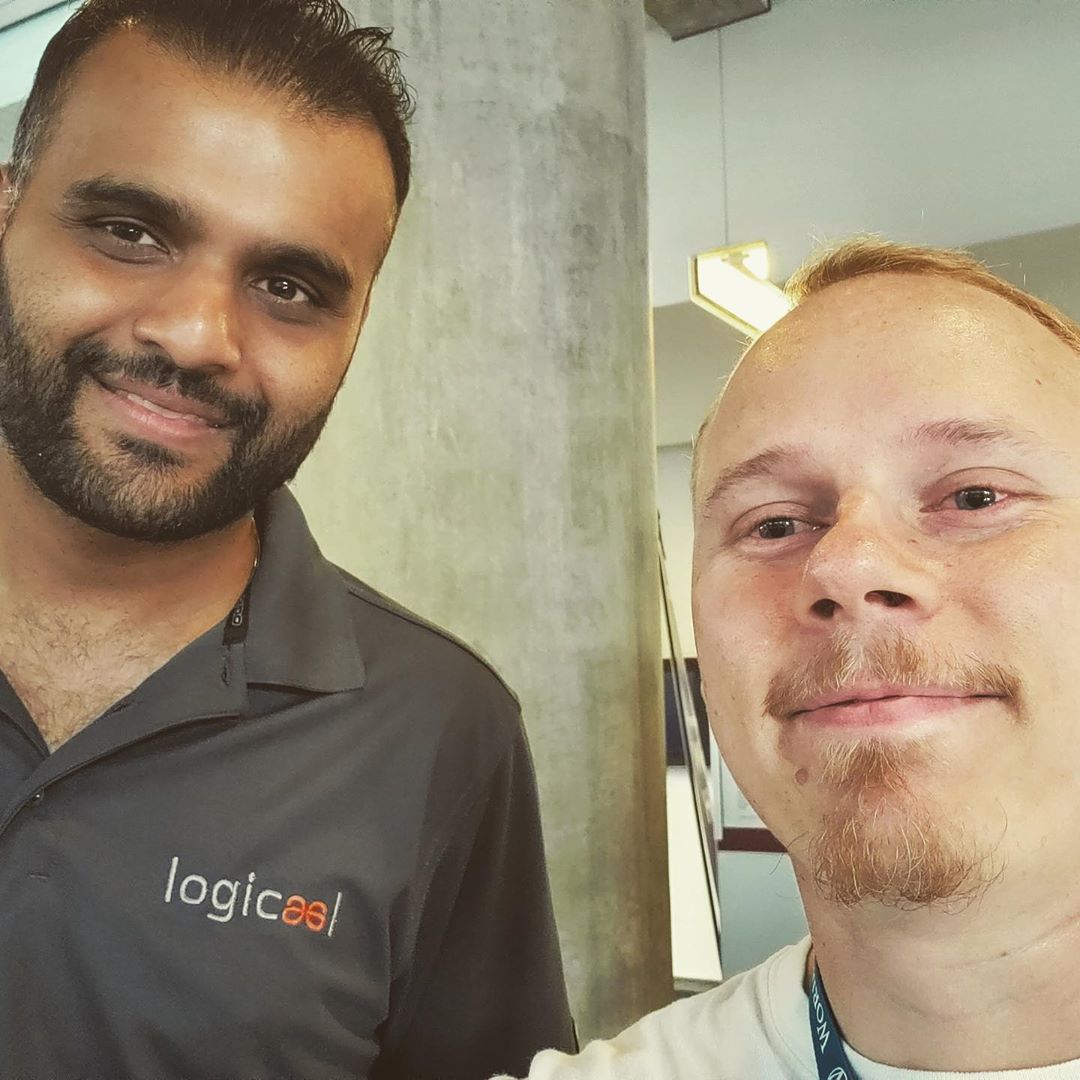 WordCamp Singapore 🇸🇬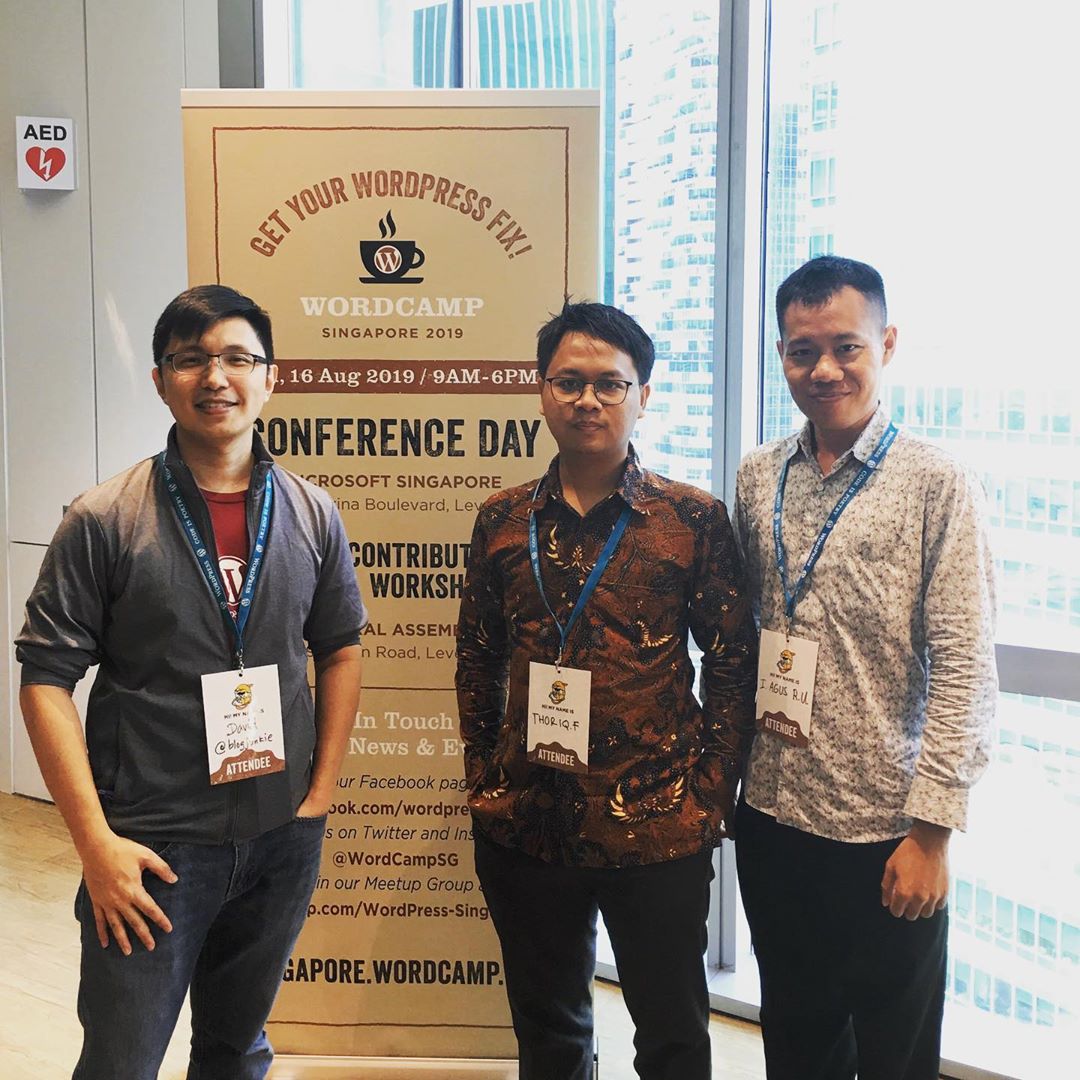 WordCamp Nijmegen 🇳🇱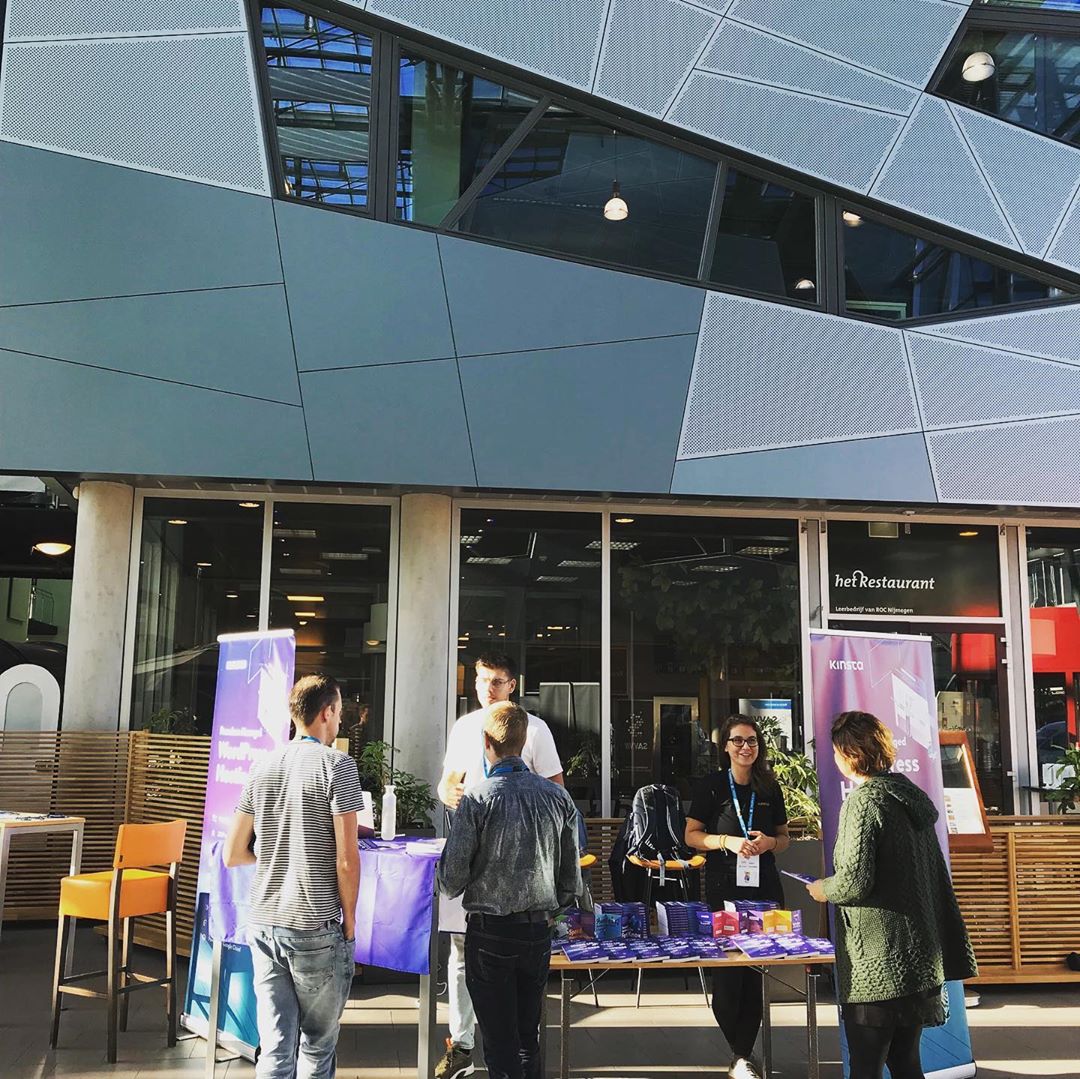 WordCamp Dallas 🇺🇸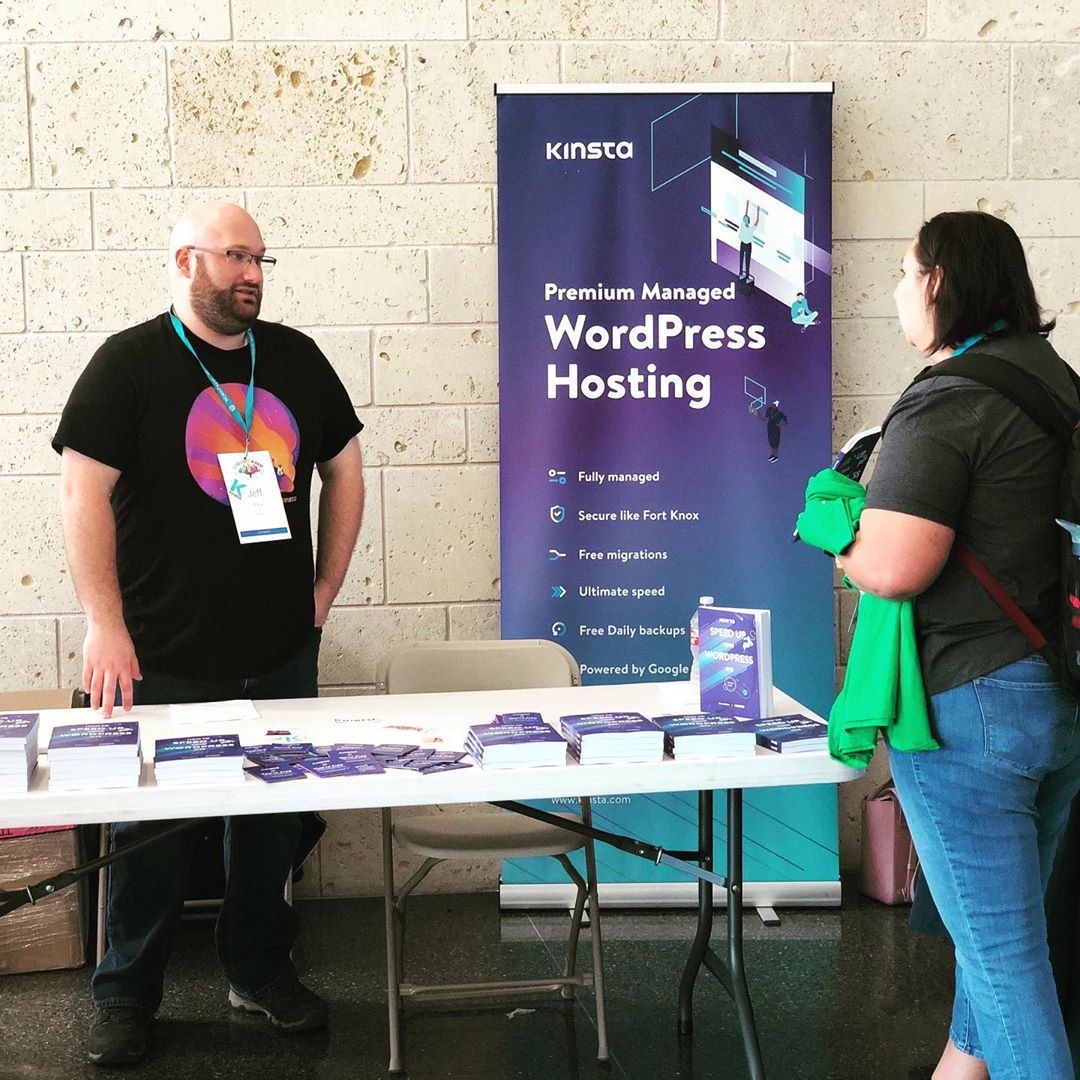 Here are a few more WordCamps we sponsored or attended:
WordPress Meetups and Other Events
Meetup has become a great platform for small groups to gather together and learn more about WordPress. Because of this, we try to sponsor as many WordPress Meetups as we can. Or sometimes we send some of our "Speed up WordPress" books.
Below are meetups we were involved with this year:
Merci @Kinsta_FR ! Ça fait du bien de manger une bonne pizza après un chouette meetup WordPress 🍕🤩❤ pic.twitter.com/WJrlEQW6AT

— Rashel LaGeekette (@RashelMedia) November 21, 2019
@isvictoriousss teaching Creating a #Gutenberg Block 101 at @WPNYC thanks to @kinsta pic.twitter.com/j26Tv7AynI

— Mervin (@HrMervin) January 30, 2019
On vous accueille ce soir chez @laboikos pour une nouvelle édition du #WPinLille avec le soutien de @Kinsta_FR ! pic.twitter.com/ymmh6AKAGA

— WPinLille (@WPinLille) November 13, 2019
¡Gracias a todos por asistir a nuestro Meetup de WordPress vol. 25!
Como cada vez es fabuloso ver a nuestra comunidad comprometida con el aprendizaje y las ganas de compartir todo lo que saben sobre WordPress.
Gracias a nuestros Sponsors: @Kinsta_ES @kinsta @uxdivi pic.twitter.com/yK1ipM1DDj

— Comunidad WordPress Monterrey (@WPMonterrey) September 25, 2019
Merci @Kinsta_FR qui offre à nos participants ce soir au meetup #WordPress Lyon un exemplaire du guide « comment accélérer votre site WordPress » pic.twitter.com/SGW9x84O1S

— WP Lyon (@wplyon) August 28, 2019
A few other events we sponsored included BlendWebMix and Indie London Meetup #8 – Building a $1m Remote Business with No-Code.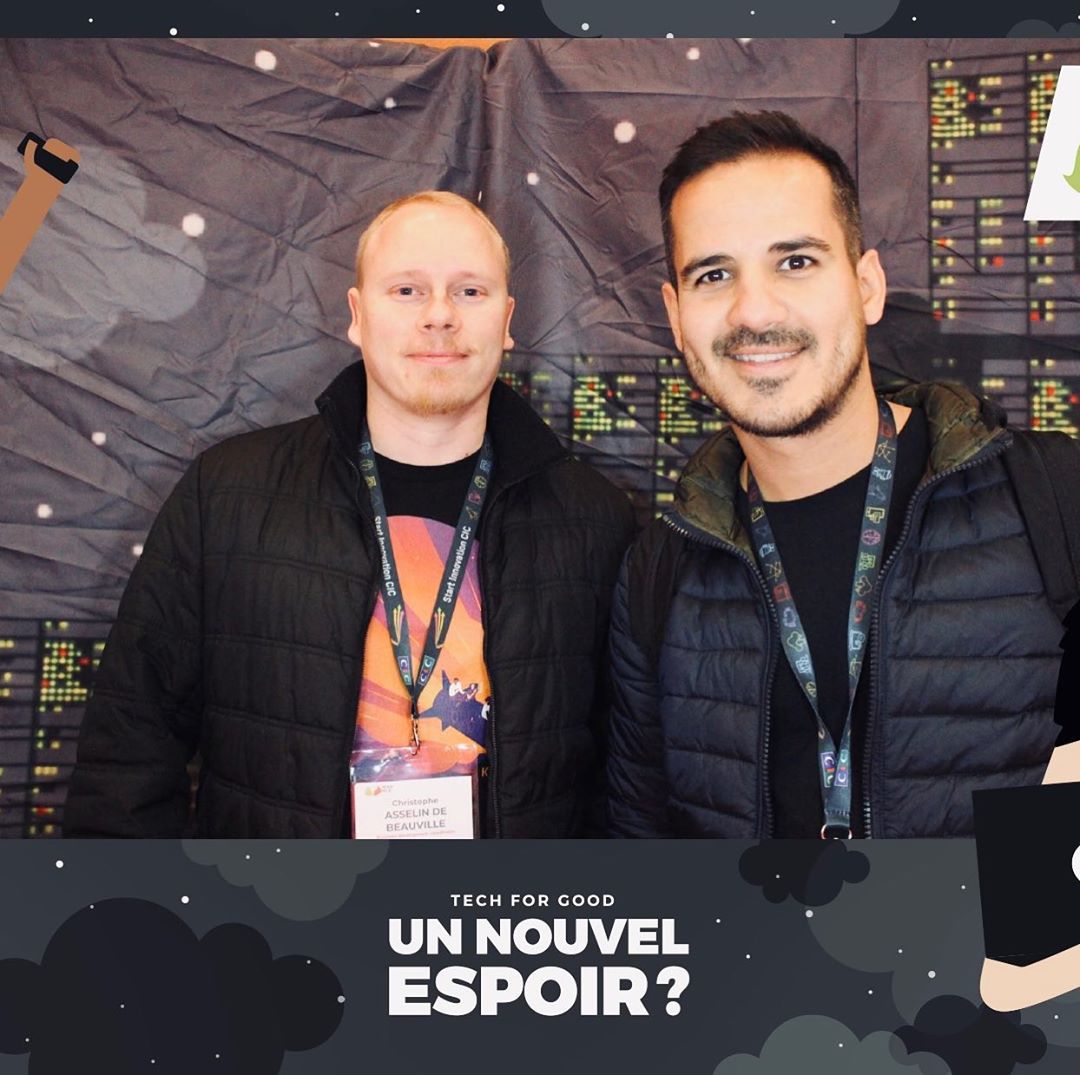 Kinsta in Print
Over the past year, we've made a lot of improvements and updates to our "How to Speed up WordPress" book. After all, who doesn't want some inside tips on how to make your site load faster? 😉
Thanks to our multilingual team, our book is now available in six different languages (EN, FR, ES, IT, DE, and JP). We gave out over 6,000 free copies at different WordCamps, Meetups, and various events around the globe in 2019!
If you haven't had a chance to grab a book from us, you can get the "always up to date" English ebook version by signing up for our newsletter. Or you can check it out the long-form version of it here: https://kinsta.com/learn/speed-up-wordpress/
Sponsorships
There's nothing quite like a bunch of WordPress fans gathering together to chat about WordPress! 😄 There are always amazing projects going on in the community. But for many of them to exist, they rely on sponsors. This is where we are excited to help out.
Walk to WordCamp Europe
One of the most interesting events we were proud to help support was Marcel Bootsman's Walk to WordCamp Europe. He trekked 465 mi. (748 km) on foot from his hometown of Berkel en Rodenrijs to WordCamp Europe in Berlin, Germany.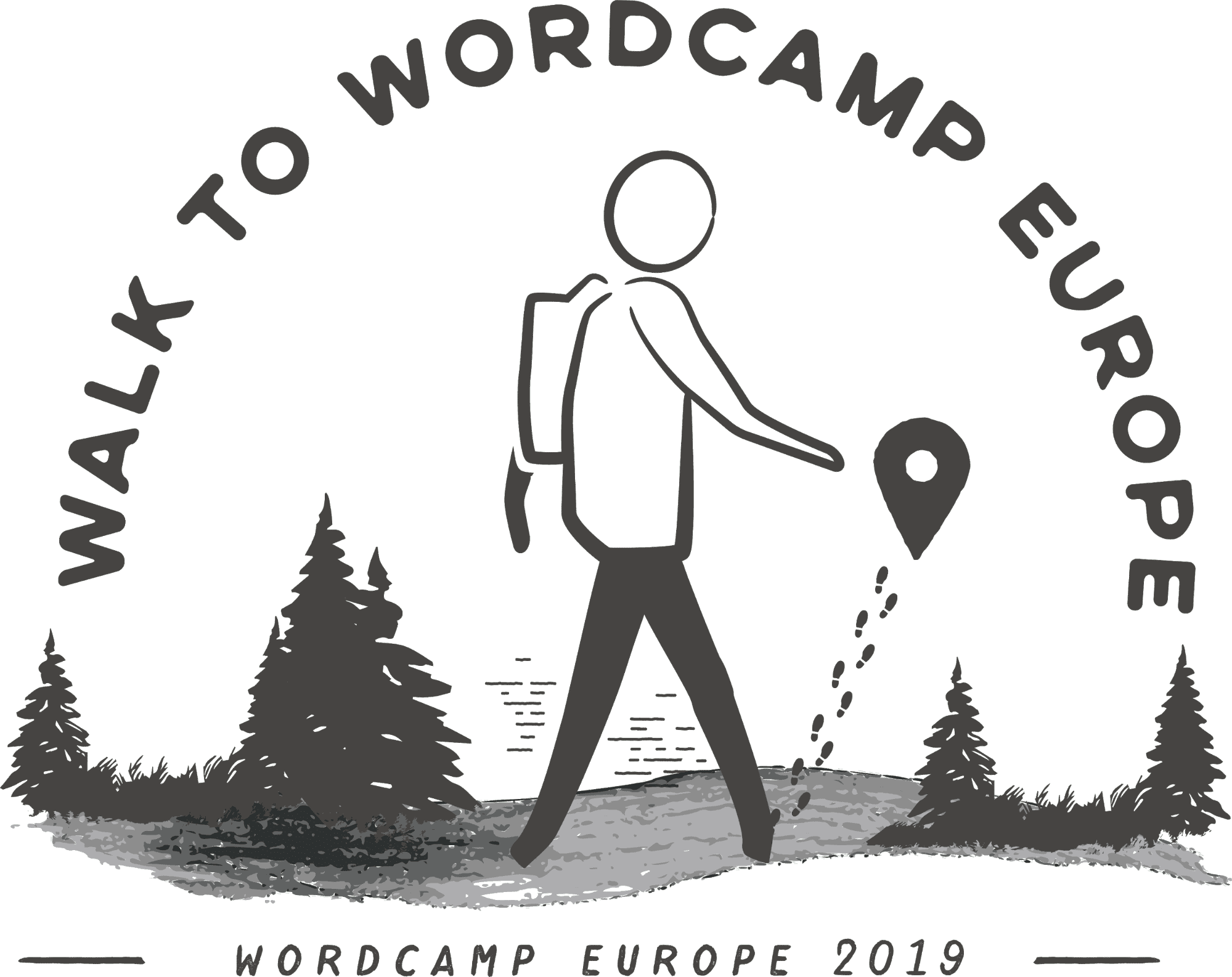 All the proceeds he raised (€8283) went to DonateWC, which is an awesome project to provide people with lesser financial means with funds to get to a (big) WordCamp.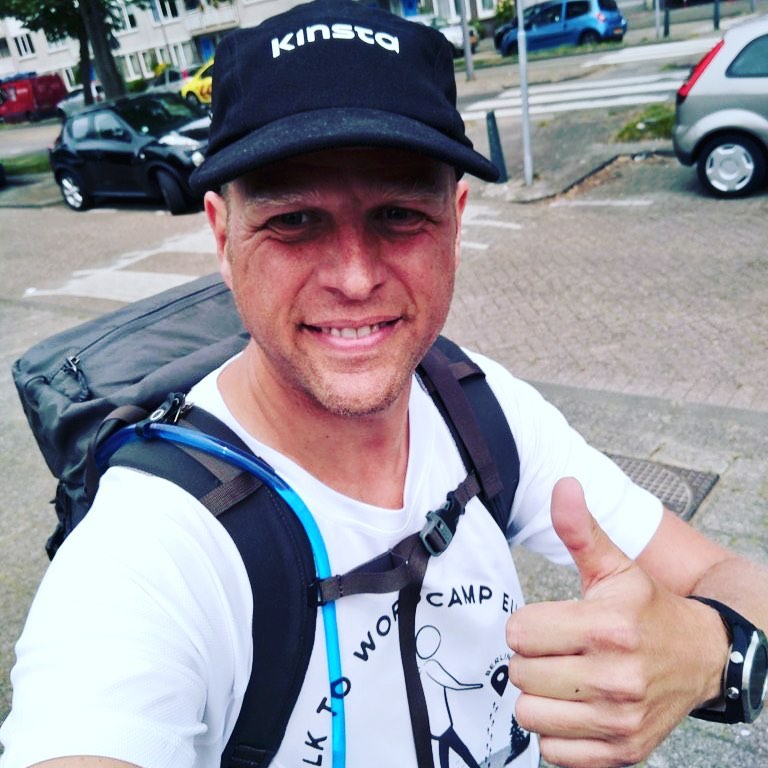 WP Builds
WP Builds is a fun weekly WordPress podcast from Nathan Wrigley. It covers news and interviews with business owners and developers in the community. Check out episode 150 where Nathan interviews Kinsta. We talk about Google Cloud and how it plays an important part in WordPress hosting.

WPwatercooler and WPblab
Jason Tucker is involved with two awesome weekly shows, WPwatercooler and WPblab. We recommend checking both of them out!
WPwatercooler brings together people from the WordPress community to discuss how it is changing our businesses and our lives.
WPblab is a free form questions and answers show where viewers ask questions regarding WordPress, web hosting, social media integration, SEO, etc. This is co-hosted with Bridget Willard.

TheDevCouple
We currently sponsor TheDevCouple, previously WPCouple, so they can focus on open source projects and give back to the community. They currently contribute to WordPress core, Gutenberg, and have a multitude of other projects.

The Repository
We are excited to help sponsor The Repository. It's a new kind of newsletter for WordPress professionals, business owners, developers, and tinkerers. Rae and Kim's mission is to keep you up-to-date on what matters most in WordPress. This is one we subscribe to ourselves.
WP-Tonic
WP-Tonic, a WordPress maintenance company, is a weekly WordPress business podcast covering the intersection of WordPress development, business, and marketing. They interview some of the biggest names in WordPress and online marketing and also host a round table discussion on a regular basis. If you want to listen to WordPress folks talk about WordPress, this is the podcast for you!

Kingpin Interviews
Throughout 2019 we had the pleasure of interviewing 10 of the top minds throughout the community; from developers to bloggers, and even WordPress maintenance companies.
We're Obsessed with Content
As you might have guessed, we love content marketing here at Kinsta! 🙌 Between all of our language sites, we literally spent thousands of hours publishing and updating content in 2019. Over 3,000 articles were translated! There is no way we could possibly share everything, so here are a few of our favorite and most popular pieces:
What to Expect in 2020
2020 will be the year of new features for Kinsta clients. While we can't unveil everything coming down the pipe, we can tell you that almost all of them originated directly from user feedback. After all, we aren't building a hosting platform for us, we're building it for you!
Here are a few exciting things we can share:
New Google Cloud Platform data centers locations in Salt Lake City (United States), Las Vegas (United States), Seoul (South Korea), Jakarta (Indonesia), and Warsaw (Poland). This will result in lower TTFB and latency for those hosting sites in these regions.
Multiple environments (live, staging, and development).
Selective backup restores for more control over your data.
Automatic external backups add-on for third-party solutions like Google Cloud Storage and Amazon S3.
MyKinsta notification center to keep informed of everything going on with your hosting account and updates from us all in one place.
Grouping sites in MyKinsta for better organization. We realize some of you, especially agencies, have hundreds of sites and work with a lot of different clients. This should help.
Always feel free to let our team know if you need anything and we appreciate your continued support. From all of us at Kinsta, we wish you a Happy Holidays. 🎄 Here's to a successful new decade!