Recently, the demand for telematic services has been growing dramatically all over the world, and companies providing services and selling products online increased at the same pace. Public agencies and governments have also had to adapt their organizations to meet the increased demand for online services.
Nowadays, in the exchange of goods and services, telematic channels play a critical role, and the infrastructure supporting this exchange becomes a key element in delivering complex services to people, businesses, and public organizations.
In this scenario, cloud computing technologies play a strategic role in the global economy providing infrastructure and services that are essential to staying competitive in a hypercomplex global economy.
The speed, scalability, and security features of cloud infrastructures are must-haves for private, nonprofit, and public actors of all industries and sizes.
This evolution is affecting all the world's major economies, albeit to different degrees and with different characteristics due to the specificities of the industrial, social, and regulatory systems of the different world regions.
But despite the differences between regions, the path for the coming years appears to be set. According to Gartner:
By 2024, more than 45% of IT spending on system infrastructure, infrastructure software, application software and business process outsourcing will shift from traditional solutions to cloud. This evolution makes cloud computing one of the most continually disruptive forces in IT markets since the early days of the digital age.
Given the necessity that cloud technologies in today's economies be competitive and continue to expand, we decided to provide an in-depth overview of the state of cloud computing across different regions of the world.
In this article, we will explore the state of cloud technologies in Europe, including the European Union and the United Kingdom.
As we'll explain in more detail in the following sections, the adoption of cloud technologies is quite heterogeneous among EU countries, but there is one common trait shared by all European countries: Cloud computing technologies are subject to tough regulation. This means that cloud infrastructure and service providers must meet strict requirements for data security, privacy protection, and sovereignty over infrastructure.
We'll find out the countries where cloud technologies are most widespread among enterprises, how the adoption of cloud technologies is regulated in individual countries, and how Google is working to support businesses in the adoption of cloud technologies while complying with national and international regulations.
Happy reading!
The State of Cloud Computing in Europe
According to a recent report by Eurostat, the statistics office of the European Union:
41% of European enterprises used cloud computing services in 2021, mainly for email hosting and file storage in the cloud
73% of these enterprises used advanced cloud services related to application security, enterprise database hosting, and use of computational platforms for application development, testing, and debugging
From 2020 to 2021, there was a 5% overall increase in the usage of cloud services in Europe.
The rush to the cloud has several causes, and the quest for greater efficiency is a primary factor: Instead of creating or expanding their own technology infrastructure, companies are accessing ready-made resources provided by third parties on the cloud.
By adopting a cloud infrastructure, companies gain state-of-the-art technology with security, scalability, and high performance. At the same time, they avoid the need to tie up resources, converting investment costs to operating costs and gaining greater operational flexibility.
For small- and medium-sized enterprises and startups, cloud technologies open up new business opportunities that were simply inconceivable just a few years ago. Indeed, large investments in infrastructure and the hiring of highly skilled staff to manage that infrastructure are no longer requirements.
However, while the Eurostat report shows that more than 98% of EU companies with 10 or more employees/collaborators have internet access, only 41% of them are using cloud services, with considerable differences between individual countries.
The chart below compares EU countries based on the usage of cloud services among enterprises in 2020 and 2021. Sweden and Finland share the top of the leaderboard with 75% of enterprises using cloud services in 2021, followed by the Netherlands and Denmark with 65% and Italy with 60% of enterprises.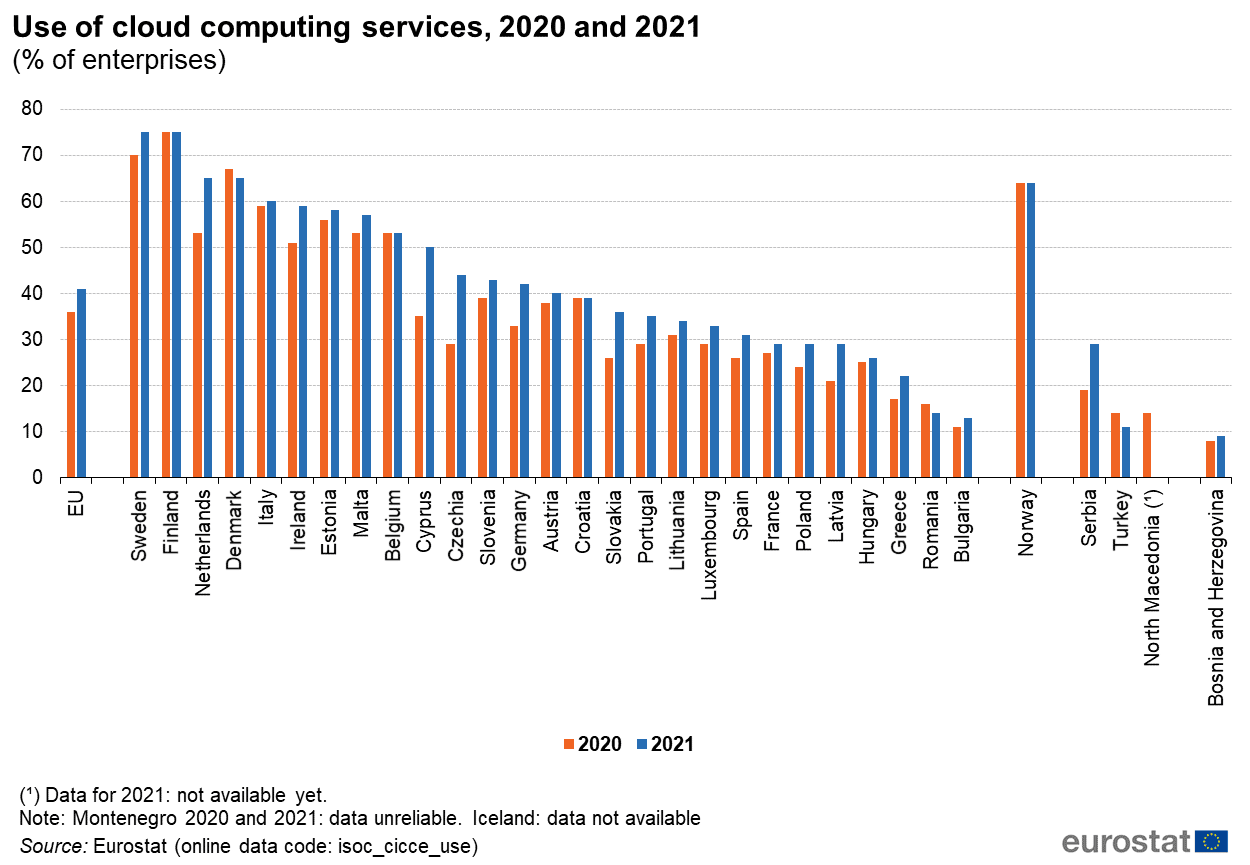 In detail:
Sweden (75%)
Finland (75%)
Netherlands (65%)
Denmark (65%)
Italy (60%)
Ireland (59%)
Estonia (58%)
Malta (57%)
Belgium (53%)
In the EU, cloud services are most widely used in the information and communication industry and professional, technical, and scientific sectors.
Looking at the various company sizes, it is not surprising that the usage of cloud services is highest among large companies, but with a good increase in adoption rates among medium and small companies as well.
Another interesting breakdown that's useful for understanding the state of the cloud market in Europe is the breakdown of the choice of cloud services by service model.
In Europe in 2021, the vast majority of companies (94%) used SaaS (Software as a Service) services, including email services, office applications, finance or accounting applications, security, ERP, CRM, etc.
74% of enterprises used at least one IaaS (Infrastructure as a Service) service, i.e., database hosting, file storage, or computing power.
Last, 21% of European enterprises used PaaS (Platform as a Service) services, which include cloud hosting services for application development, testing, and/or deployment.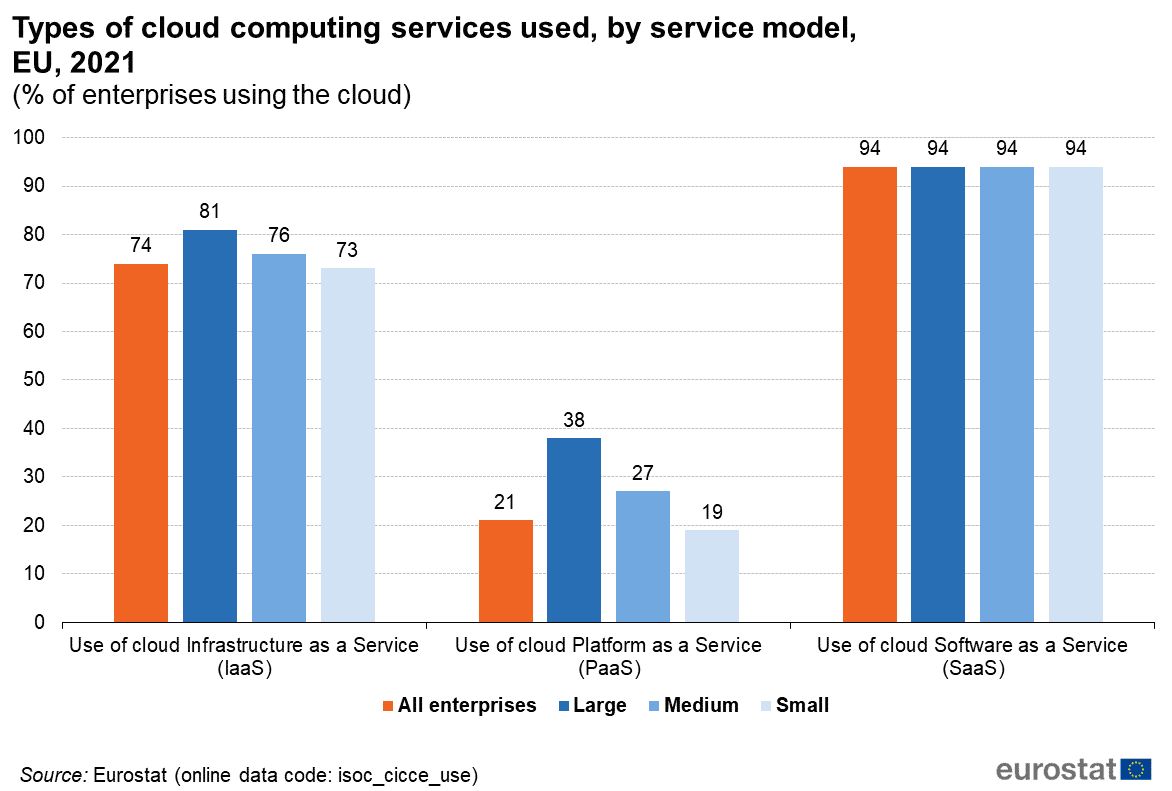 A final interesting distinction in the Eurostat report concerns the level of dependence of enterprises on cloud services. The Eurostat study assumed that the greater the level of sophistication of cloud services used by enterprises, the greater the level of dependence on cloud services would be.
Based on this assumption, the firms in the sample were divided into three categories based on the type of cloud services used:
Firms using basic cloud services, such as "email as a cloud service," "office software as a cloud service," or "storage of files or computing power to run enterprise's own software."
Firms using intermediate cloud services, such as "finance or accounting software application as a cloud service," "ERP software application as a cloud service," or "CRM software application as a cloud service," but none of the sophisticated services.
Firms using advanced cloud services, such as "security software applications," "hosting enterprise's databases," or "computing platform providing a hosted environment for application development, testing or deployment."
Eurostat data show that 30% of the total firms surveyed said they use at least one sophisticated cloud service. In the adoption of these services, Sweden (60%), Denmark (59%), Finland (57%), the Netherlands (56%), and Italy (48%) rank in that order.
European Regulation and Requirements for Cloud Service Providers
From Eurostat's research, it is clear that the adoption of cloud computing technologies among European companies is steadily growing, and this trend is expected to continue in the coming years.
However, the adoption of cloud technologies in Europe needs to conform to the requirements of data sovereignty, protection, and privacy, as well as regulations protecting competition.
According to a 2020 whitepaper from the European Parliament:
Another growing concern for EU Member States is their lack of control over data produced on their territory. The global public cloud market is currently largely dominated by US and Asian companies, and European governments and industry players in Europe have become concerned about using non-European data services, given the expansive extra-territorial ability granted to U.S. law enforcement agencies to obtain foreigners' personal data under the 2018 U.S. CLOUD Act. European governments have started to move away from cloud solutions offered by non-EU companies and to instead deploy European-designed cloud solutions.
This draws a particularly complex competitive landscape to which non-EU cloud infrastructure and service providers must adapt to operate in the market.
To meet the digital sovereignty requirements set by the European Union "while enabling the next wave of growth and transformation for European organizations," Google introduced Google Cloud Sovereign Solutions and partnered with several European companies, including T-Systems in Germany, S3NS in France, Minsait in Spain, and Telecom Italia in Italy:
Our Sovereign Solutions are designed to support data, operational and software sovereignty requirements, increasing customer control and transparency for sensitive data moving to the cloud. For example, Sovereign Solutions can help support compliance with European regulations such as GDPR and legal rulings such as Schrems II.
All major cloud infrastructure providers are taking steps to make their products and services compliant with European regulations. Among Google's main competitors, both Microsoft and AWS adopted their own programs to ensure data safety, security, and sovereignty.
Microsoft launched Microsoft Cloud for Sovereignty, enabling residency options for the entire Microsoft Cloud, including Microsoft 365, Dynamics 365, and Azure, while Amazon AWS ensures that organizations using AWS cloud services can be fully compliant with European regulations.
While this is the overall scenario, it should be noted that the adoption of cloud computing is not growing at the same rate across different countries in the European Union.
The next sections provide breakdowns of the major EU markets. We will see what cloud services are most widely used by enterprises, try to understand the specificities of national markets in the European context, and how Google Cloud meets the peculiarities of individual markets to provide cutting-edge technologies in compliance with local regulations.
Cloud Computing in France
According to Eurostat, France shows a slight increase in cloud computing adoption among enterprises, rising from 27% of enterprises in 2020 to 29% in 2021. These are not very high values when compared to other European countries, but it is still in line with the overall growth.
Among French companies that used one or more cloud computing services in 2021, basic services such as cloud storage services (76%) and email in the cloud (67%) have the highest adoption rate. Sophisticated services are also widely used by French companies, with 59% of enterprises using database hosting services.
Here is the breakdown:
Basic services

67% use email services in the cloud
76% use cloud storage services
54% use office software in the cloud

Intermediate services

44% use finance or accounting software applications
30% use CRM software applications
22% use computing power for the enterprise's own software services
31% use ERP software applications

Sophisticated services

51% use security applications
59% use database hosting services
25% use cloud services such as platform for application development, testing, or deployment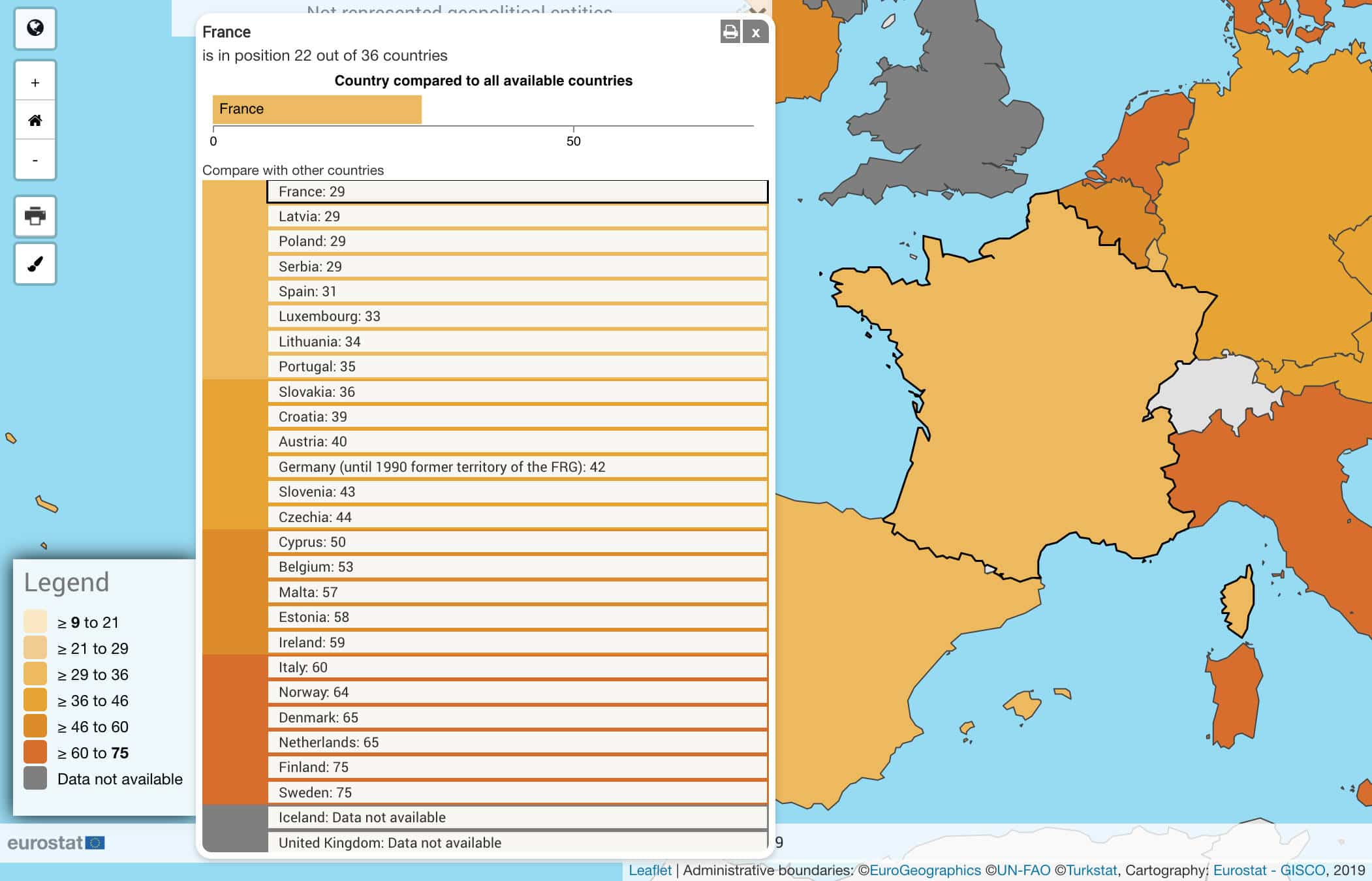 Despite not being among the countries making the quickest sprint to the cloud, the importance of cloud computing technologies is felt in France, not only in the current market situation but also in a future perspective. In particular, the Autorité de la concurrence stated that the digital sector is a priority and launched an ecosystem survey whose results will be made public in 2023:
The cloud therefore offers multiple advantages for consumers, companies and public administrations, with easy and fast access to computing resources. The cloud also allows for new types of work organisation, which has been particularly useful during the crisis caused by the COVID-19 epidemic. This opinion comes at a time when the French and European cloud market is booming, with average annual growth expected to exceed 25% over the next few years, resulting in strong value-creation challenges for the economy. This growth in the cloud is accompanied by significant support from public authorities in the research and development of innovative technologies, in order to support the digitization of the economy as well as European and French industry. The recent national plan to support the French cloud industry is an illustration of this.
In France, cloud computing technologies are the focus of the government and public agencies because of the impact they have — and will increasingly have — in the future on the national economy. The French government allocated 1.8 billion euros to support the French cloud ecosystem with the following goals:
The achievement by French cloud service providers of a sufficient technological and commercial base to be competitive in today's key markets.
The use of trusted cloud (cloud de confiance) offerings by government agencies, large enterprises, and strategic companies for their sensitive data.
The development of the French data economy around data spaces built on trusted cloud offerings.
Google Cloud in France
The need to meet France's sovereignty criteria and cloud de confiance requirements using the most advanced cloud technologies led to a partnership between Google Cloud and Thales, a French cybersecurity company, to jointly provide a trusted cloud offering:
Google Cloud's services, which will be enhanced and complemented with new innovations regularly, will bring elasticity, agility and technological openness, enabling companies to innovate transparently and autonomously, without vendor lock-in. Thales, a leader in cybersecurity for more than 40 years, will bring the necessary guarantees of France's sovereignty requirements by ensuring the management of encryption keys, access, identities, and cyber threat monitoring with its Cybersecurity Operations Center. Thales thus provides the levels of trust and of security required from French customers so that they can migrate their most sensitive applications to the cloud while maintaining control.
But there is more besides the partnership with Thales. In response to concerns about security and data sovereignty from French authorities, Google announced the opening of its new cloud region in Paris. On that occasion, Anthony Cirot, Managing Director at Google Cloud France, wrote on the Google Cloud blog:
At Google Cloud, we recognize that to be truly global, we must be local too. This means we need to be as close as possible to our customers, their locations, their regulations, and their values.
And:
Designed to help break down the barriers to cloud adoption in France, the new France region (europe-west 9) puts uniquely scalable, sustainable, secure, and innovative technology within arm's reach, so that French organizations can embrace and drive digital transformation.
The new Cloud Region in Paris will allow enterprises and public administrations in France to host and "run their applications, store data locally, and better leverage real-time data, analytics, and AI technologies."
This is an important step in a booming market because it establishes Google Cloud's presence in France as being in compliance with French and European security and sovereignty requirements:
Across Europe, companies of all sizes and in every industry are looking to migrate their mission-critical workloads and data to the cloud. But despite the proven benefits of cloud—from agility to scalability to performance and innovation potential—many IT decision makers have opted for lesser technology capabilities due to lack of trust. Beyond powerful, embedded security capabilities, Google Cloud provides controls to help meet your unique compliance, privacy, and digital sovereignty needs, such as the ability to keep data in a European geographic region, local administrative and customer support, comprehensive visibility and control over administrative access, and encryption of data with keys that you control and manage outside of Google Cloud's infrastructure.
The impact of Google Cloud on the French economy will be considerable. Recent research estimated 2.4 to 2.6 billion euros in GDP growth and 13,000 to 14,000 new jobs by 2027 (read more about the impact of Google Cloud on the French economy).
Cloud Computing in Germany
According to the Eurostat report, Germany is one of the fastest-growing countries in the adoption of cloud computing technologies in Europe, rising from 33% of enterprises using cloud services in 2020 to 42% in 2021.
But how does cloud computing adoption differ among German companies?
Eurostat data show that the majority of German enterprises use basic cloud services, while a minority of enterprises use intermediate complexity services. A fair number of them all use high-complexity cloud services such as database or application hosting and security applications.
In detail:
Basic services

65% use email services in the cloud
61% use cloud storage services
55% use office software in the cloud

Intermediate services

40% use finance or accounting software applications
21% use CRM software applications
25% use computing power for the enterprise's own software services
18% use ERP software applications

Sophisticated services

48% use security applications
33% use database hosting services
23% use cloud services such as platform for application development, testing, or deployment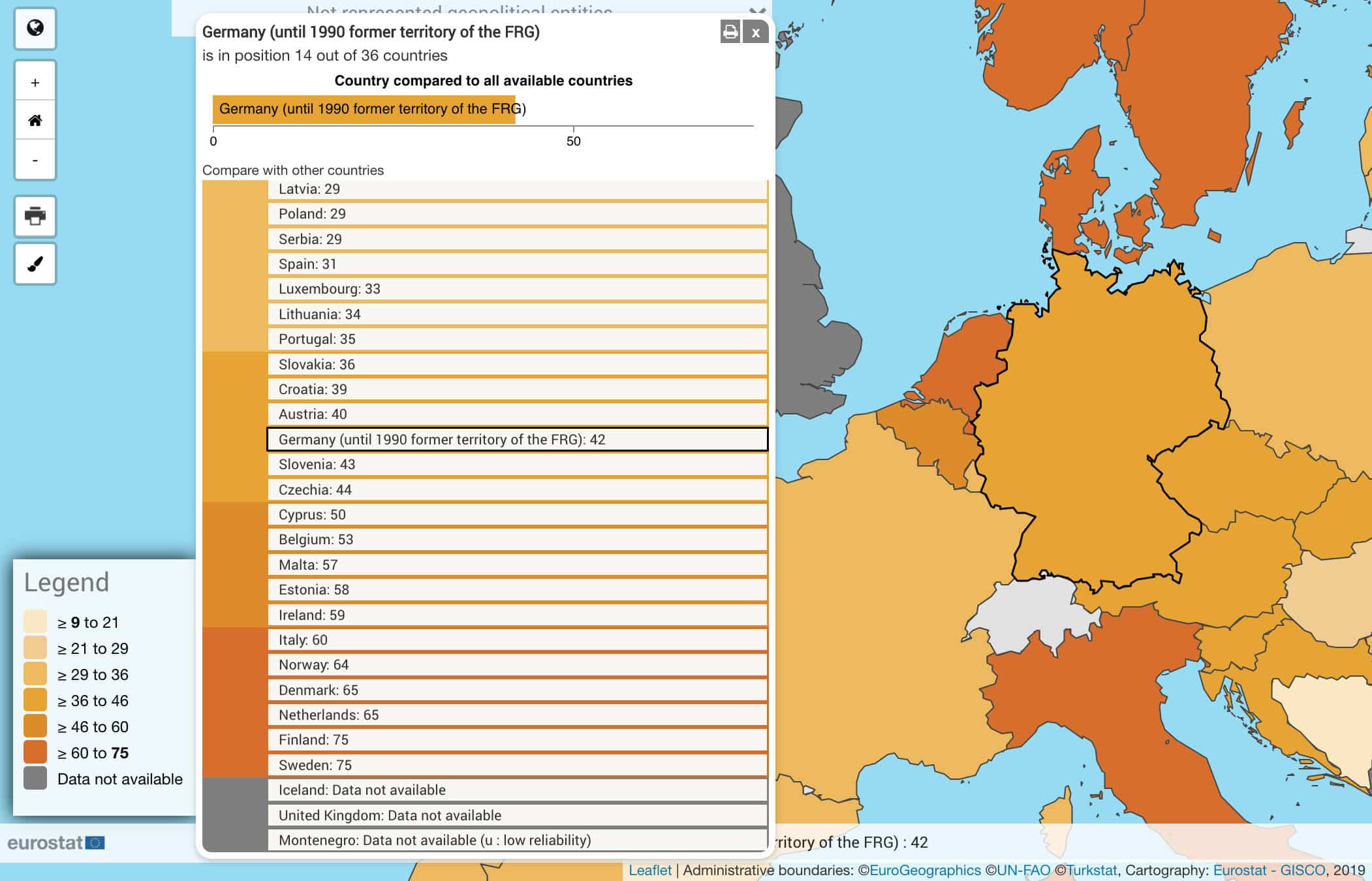 Other researchers confirm the strong growth in demand for cloud computing services in Germany. According to a study from ISG Provider Lens™, demand for cloud computing services is growing so fast that it will account for more than half of data center capacity by 2025:
The rising demand for cloud services is driven by the growing use of digitalization, combined with the need for resilience and increased agility in modern enterprises. To improve agility, enterprises are using cloud technologies in data centers and hosting and colocation facilities to enable the rapid deployment of new services in the most suitable infrastructure. The demand for service support has increased, as the handling of such architectures and technologies is complex and, in most cases, cannot be managed by in-house staff. Enterprises are investing less in their own hardware and relying on the flexibility and scalability of cloud providers to reduce their capital expenditures.
From ISG's report, the growth of cloud computing drives the expansion of digital networks and the advancement of digitization in Germany, as witnessed by the rapid growth of data throughput of the DE-CIX node in Frankfurt, which increased from 7.5 Tbit/s in January 2020 to over 14 Tbit/s in October 2022. That's nearly double in under three years.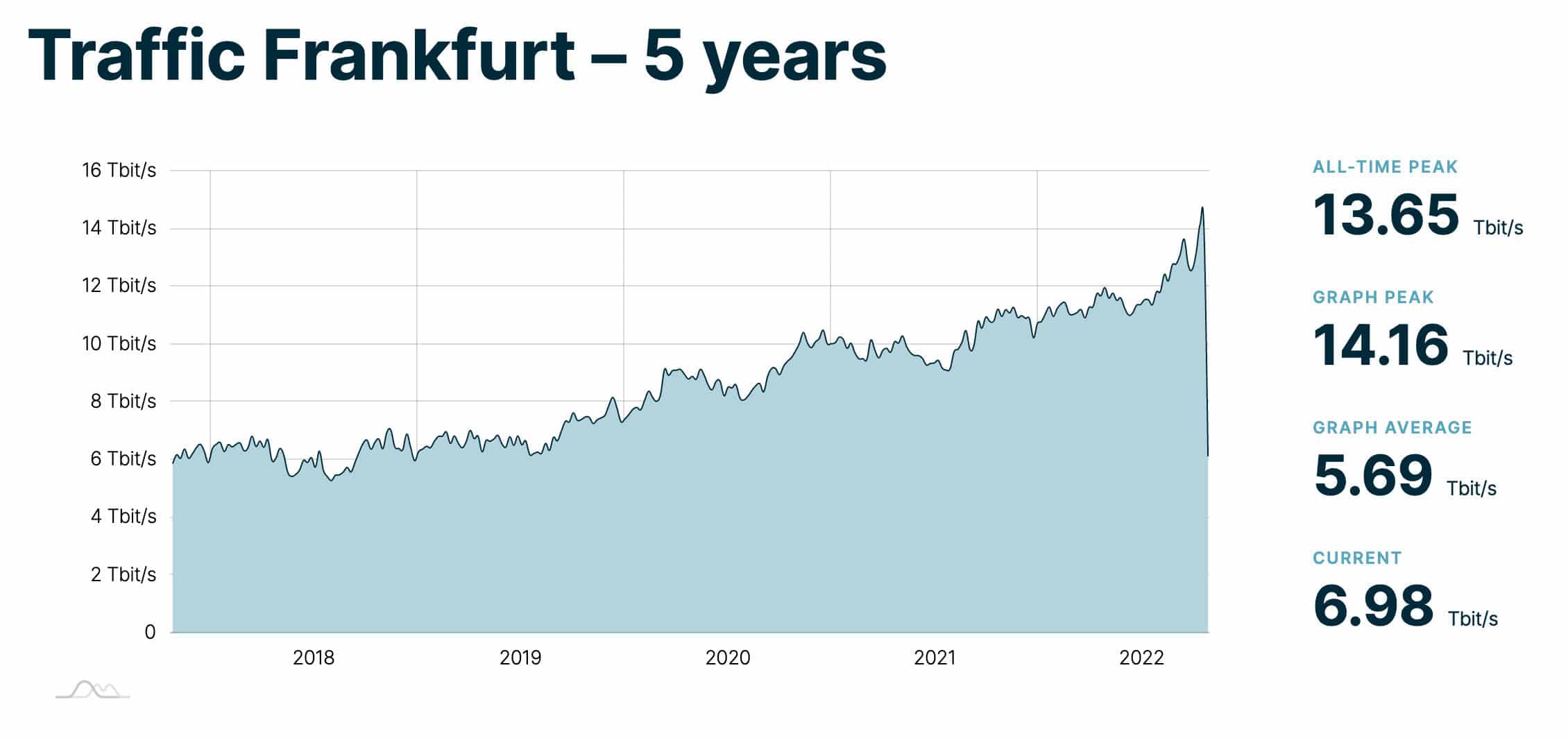 Increasing demand combined with steadily decreasing resources has led to greater awareness of data center construction. Data center energy effectiveness is steadily improving, and the ISG reports that:
In 2020, the average Power User Effectiveness (PUE) value was 1.63, but the average PUE value of each new data center is falling to 1.3 and below currently.
Google Cloud in Germany
Germany plays a major role in the European and global economy, so it isn't surprising to see how much attention Google is paying to the German market. Google's first office in Germany opened in 2001, and by 2021, they employed 2,500 people in four offices across Germany.
And in 2021, Google announced a huge investment program of 1 billion euros in the country by 2030, including the expansion of the cloud region in Frankfurt, the introduction of a new cloud region in Berlin-Brandenburg with three zones, and a broad investment plan in renewable energy:
With the expansion of our Cloud Region in Frankfurt in a new Google-owned Hanau facility, a new Google Cloud region in Berlin-Brandenburg, and a broad investment plan in renewable energy, our commitment is clear: Google is investing in Germany's potential and supporting the transition to a digital and sustainable economy. Between now (2021) and 2030, this investment in digital infrastructure and clean energy will total approximately 1 billion euros.
Back in 2020, Google publicly announced the goal to run their business on carbon-free energy by 2030, aiming to offer cloud customers one of the cleanest clouds in the industry while helping Europe achieve its ambitious climate goals.
With that in mind, Google selected ENGIE Deutschland as their carbon-free energy supplier in Germany:
This is the first energy supply of its kind in Europe, with a focus on sourcing carbon-free energy for every hour of Google's operations. Not only will this new agreement draw the roadmap for the industry and more 24/7 carbon-free energy contracts in Europe, but it provides our cloud customers with two more regions where they can lower their carbon footprint. And importantly, by working with our energy suppliers to transform how clean energy is delivered to customers, Google is supporting the broader decarbonization of the German electricity grid.
This is an innovative partnership aimed at promoting the use of renewable energy sources including existing carbon-free energy, wind, solar, and next-generation technologies, also using artificial intelligence, with the explicit goal of moving forward with the development of advanced infrastructure and clean energy projects, help accelerate digital transformation, and secure a sustainable future for German and European companies.
Another important factor in Google Cloud's presence in Germany, as in the rest of Europe, is the offering of cloud solutions that meet the EU requirements for security, privacy, and digital sovereignty, without compromising on functionality or innovation. With this goal, Google launched Cloud. On Europe's Terms:
As part of this initiative, we will continue to demonstrate our commitment to deliver cloud services that provide the highest levels of digital sovereignty, all while enabling the next wave of growth and transformation for Europe's businesses and organizations.
As part of that initiative, Google and T-Systems announced a partnership to build a Sovereign Cloud offering in Germany for private and public organizations.
Cloud Computing in Italy
According to the Eurostat report, Italy stands among the European countries where cloud technology adoption is moving faster. In 2021, 60% of Italian enterprises used at least one cloud service.
The vast majority of these enterprises use basic services, such as email hosting in the cloud (96%), but the use of more advanced services is also quite widespread, with 70% of enterprises using Security software applications.
Here is the breakdown of cloud technologies adoption in Italy:
Basic services

96% use email services in the cloud
58% use cloud storage services
58% use office software in the cloud

Intermediate services

52% use finance or accounting software applications
19% use CRM software applications
14% use computing power for the enterprise's own software services
20% use ERP software applications

Sophisticated services

70% use security applications
39% use database hosting services
10% use cloud services such as platform for application development, testing, or deployment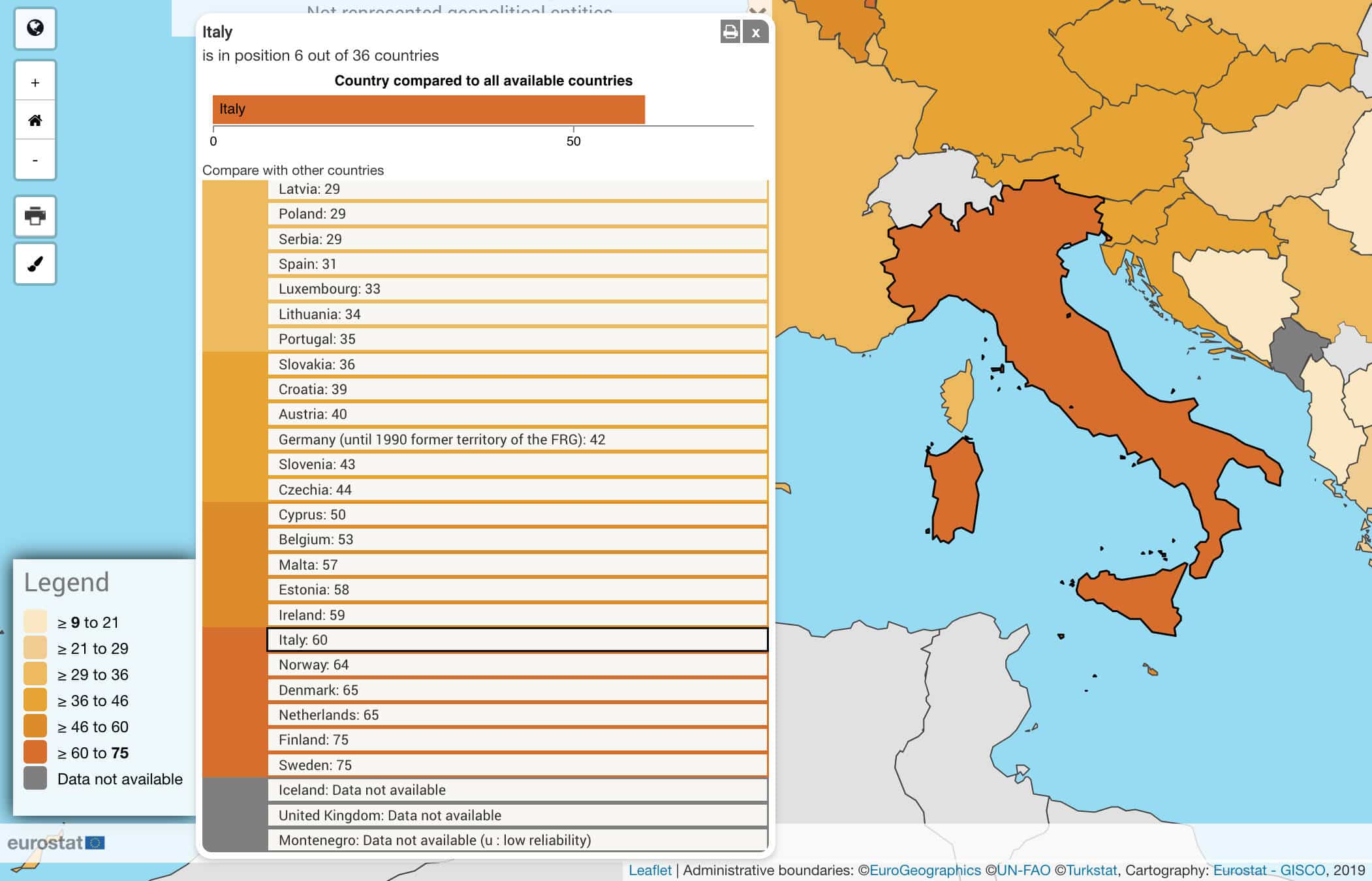 According to the Cloud Transformation Observatory of Politecnico di Milano, in 2021 the cloud market in Italy was worth 3.84 billion euros, an increase of 16% over 2020.
From the data collected by the Observatory, SaaS services are no longer the driving force in the country. In 2021, the strongest growth was in PaaS (Platform as a Service), with an impressive +31% over the previous year, and IaaS (Infrastructure as a Service), with +23%.
These are significant growth rates, although cloud adoption is not always paired with appropriate organizational measures. The Cloud Transformation Observatory points out that 34% of companies report that they have not yet accompanied this technology journey with organizational change actions aimed at the IT department, such as enriching the skills of existing staff, strengthening the organizational structure with specialists in Cloud technologies, or reviewing the business processes involved.
In short, to take full advantage of the potential for growth and development offered by the cloud, organizational modernization is also needed.
Regarding the service deployment model, in Italy, Public and Hybrid Cloud gather the largest share of spending, with about 2.39 billion euros spent in 2021, an increase of 19% over 2020.
In this area, PaaS services register the highest growth over 2021, reaching total spending of 390 million euros, thus registering a +31% increase over 2020.
Still referring to the service deployment model, Hybrid Cloud and Multi-Cloud strategies are the most popular in large enterprises, which on average use services from 5 different providers.
According to the Cloud Transformation Observatory report, the benefits for companies turning to cloud services are numerous and diverse:
There are many benefits: from increased scalability, flexibility and portability of applications, to broader design agility related to rapid development, to lower software implementation and management costs.
But which economic/manufacturing sectors are most affected by the growth of cloud computing adoption in Italy?
Reading the data, it seems that no sector is excluded, both in the public and private sectors.
Within the private sector, the banking industry stands out, with 64% growth in cloud computing investment:
Cloud Computing, which last year was the area of greatest focus in terms of research and survey, this year it is the most frequently reported item among the top 10 investment priorities, especially by larger banks (Image source: Rapporto ABI Lab 2022_)
If the adoption of cloud computing affects a large portion of the private economy, a real cloud revolution can be expected in the public sector. To ensure the country's technological autonomy, secure control of data, and increase the resilience of digital services, the Department for Digital Transformation and the National Cybersecurity Agency drafted the Strategia Cloud Italia, including "[t]he strategic guidelines for the migration path to the cloud of data and digital services of the Public Administration":
Migration to the Cloud allows Public Administrations to provide digital services and secure, efficient and reliable technological infrastructure, in line with the principles of privacy protection, the recommendations of European and national institutions, while maintaining the necessary guarantees of the country's strategic autonomy, security and national control over data (Source: Team per la Trasformazione Digitale)
Google Cloud in Italy
The excitement related to the cloud in the country pairs with the recent opening of the new Google Cloud region in Milan (europe-west8) and the announced opening of a second cloud region in Turin planned for the end of 2022.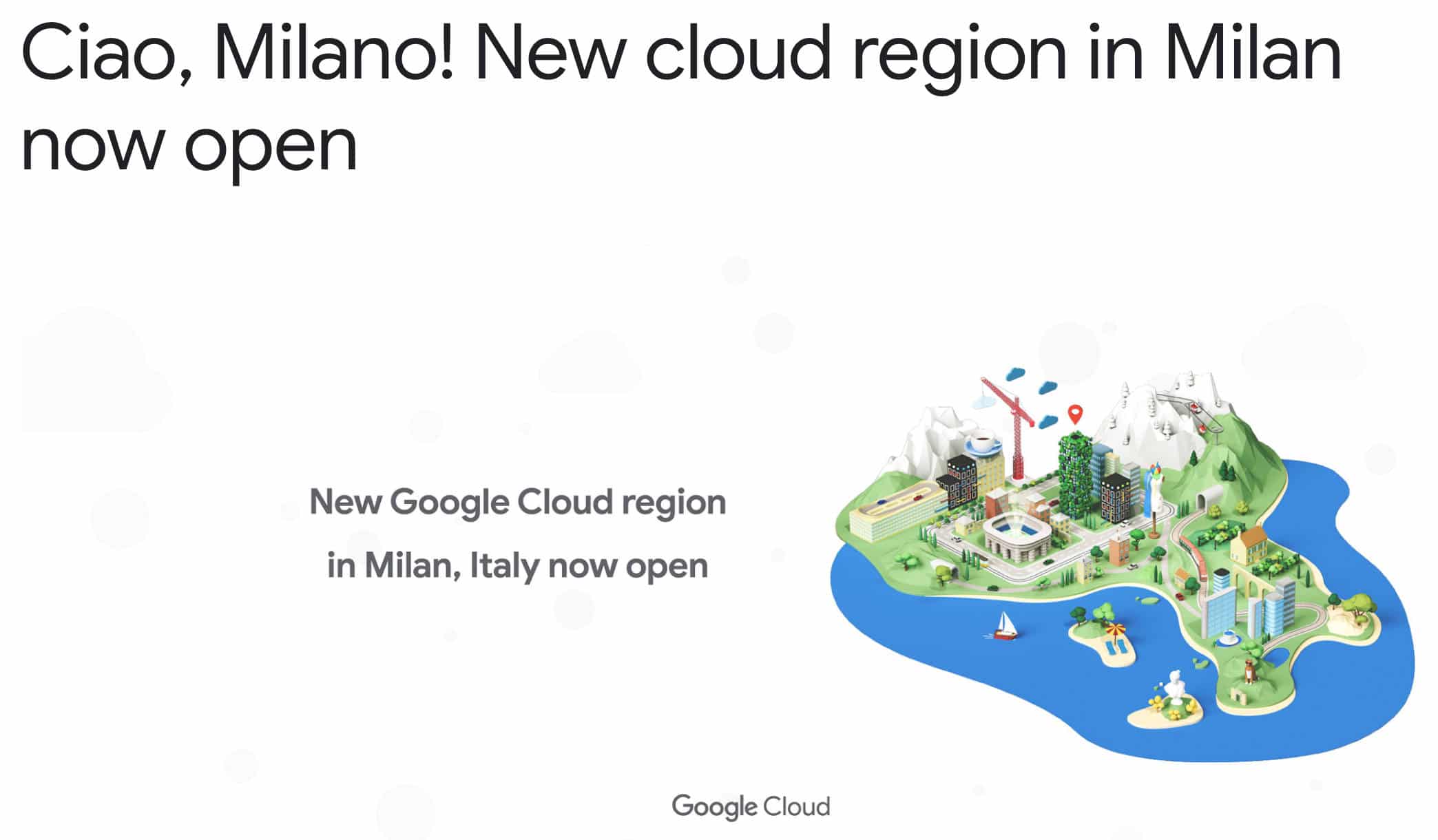 The new cloud region will enable Italian users to store data and leverage the power of "fast, reliable, and secure" cloud services and to develop and deploy high-availability, low-latency applications from data centers located in Italy. And all this with a cloud solution that has been defined as "the industry's cleanest cloud."
The opening of the two new Cloud Regions, in partnership with TIM and Banca Intesa, was preceded and accompanied by a research from the University of Turin which calculated an induced effect that could be as high as 3.3 billion euros and 65,000 new jobs by 2025 for the Piedmont and Lombardy regions alone. And this is without counting the structural effects that the two new data centers will have on the entire national economy and production system as companies adopt cloud infrastructure.
The new Milan region aims to provide innovative public, private and hybrid cloud services to help Italian companies of all sizes and sectors accelerate their digital transformation.
In addition, Google Cloud's new data centers will give a strong boost to the modernization process of the economy that's already underway and to the migration of infrastructure of public and private organizations as well as private citizens:
This new region represents a concrete step toward building local-level capacity to meet the needs of the Italian digital economy in terms of data availability and residency, digital sovereignty and sustainability.
Moving to the technical side, the new cloud region will have the standard Google Cloud services: Compute Engine, Google Kubernetes Engine, Cloud Storage, Persistent Disk, CloudSQL, and Cloud Identity.
In addition, Italian Google Cloud customers will benefit from data residency control, default encryption, organizational policies, and VPC service controls.
A strategic feature of having two cloud regions in Italy will be security: Having two regions in the same country will allow Italian Google Cloud customers to have a duplicate local site to ensure better disaster recovery and high geographic availability.
During the presentation conference of the two cloud regions held in Milan on June 15, Fabio Fregi, Google Cloud's Country Manager Italy, highlighted that:
Google is the only cloud provider to have two regions in our country, which makes it possible to have two sites that can do disaster recovery for each other, and this is a unique feature in Italy that translates into reliability and availability, as well as security.
But there's more than just security. Enrico Bagnasco, Executive Director of Information Systems at Intesa Sanpaolo, stressed the importance of infrastructure scalability and data storage across the country:
To be able to rely on strong infrastructure elasticity and speed of growth to accommodate business needs and at the same speed to be able to turn off and contain costs, and thus be very flexible in cost allocation, is crucial for us, just as it is crucial to have the data on the Italian territory because for a bank, being a hyper-regulated institution, the data aspect is a key issue.
Google Cloud's presence in Italy is not limited, however, to infrastructure. The opening of the two data centers in Milan and Turin is part of a larger investment program (approximately $900 million) that focuses both on the creation of the cloud infrastructure and on high-level technical skills that promote its adoption in the country.
Even before the opening of the Cloud Region in Milan, Google had launched three different training projects:
Opening Future: A portal dedicated to digital training and development for SMEs, startups, students, and teachers, born from a collaboration between Google, TIM, and Intesa Sanpaolo.
Google Cloud Pro: A free training program on cloud technologies, made in collaboration with TIM and open to the entire ecosystem of Italian developers. Students can follow three different educational tracks — Cloud Engineer, Cloud Architect, or Data Engineer — at the end of which they can take an exam to obtain Google Cloud certification.
Italia in Digitale: A project dedicated to digital training for SMEs and individuals. The courses offer an introduction to topics covering various aspects of the digital economy: digital marketing, data management, communication with customers, starting online businesses, using data analysis tools, and more.
You can read more in this Google Italy blog post.
Cloud Computing in Spain
Like all EU countries, Spain has seen a significant increase in the number of firms using at least one cloud computing service between 2020 (26%) and 2021 (31%).
Among the 31% of enterprises utilizing at least one cloud computing service, the vast majority use email hosting in the cloud (82%) and cloud storage services (80%). The percentage of firms using advanced cloud services is also high, with 62% using security applications and 69% using database hosting services.
In detail:
Basic services

82% use email services in the cloud
80% use cloud storage services
63% use office software in the cloud

Intermediate services

40% use finance or accounting software applications
38% use CRM software applications
35% use computing power for the enterprise's own software services
33% use ERP software applications

Sophisticated services

62% use security applications
69% use database hosting services
28% use cloud services such as platform for application development, testing, or deployment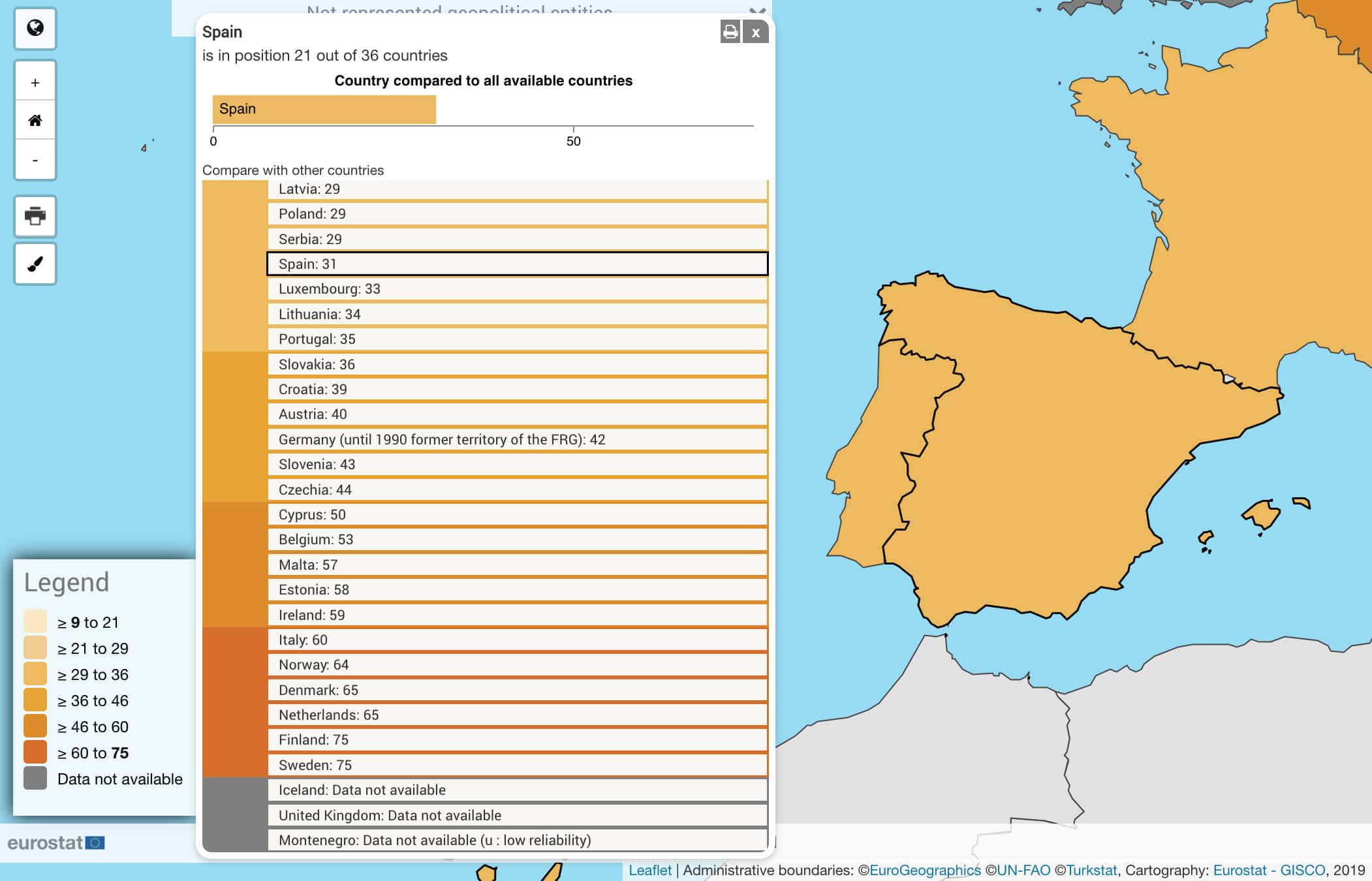 Eurostat's data are confirmed by the European Commission's DESI report (Digital Economy and Society Index), which revealed that in 2021 Spain's enterprises were still lagging behind on new and advanced technologies such as cloud computing, with 27% of Spanish firms having adopted cloud technologies compared with the European average adoption rate of 34%. You can download the full report from the European Commission website.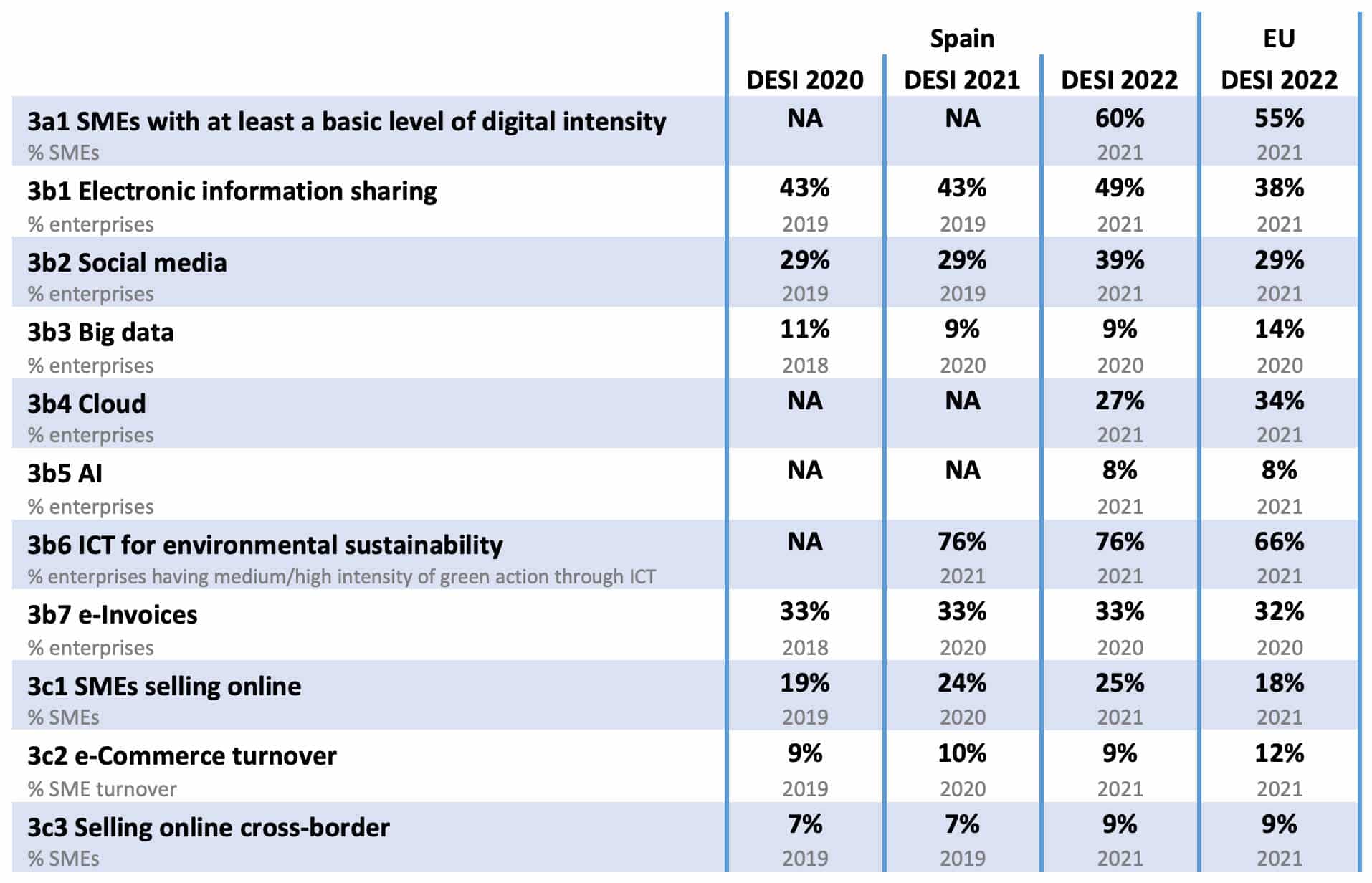 But as in the world's other major economies, there is great and growing interest in cloud technologies in Spain. Spanish authorities are aware of the importance of digitization and the adoption of cloud technologies as resources and opportunities for the development and modernization of public and private organizations in the country.
According to Nubes, a project supported by Asociación Española de Startups, the public cloud market in Spain generated around 2.86 billion euros in revenue in 2020 — most of which came from the Software-as-a-Service segment, with around 1.06 billion euros (download the report here).
Google Cloud in Spain
Back in 2020, Google Cloud and Telefónica announced a new partnership to accelerate digital transformation for Spanish companies. They presented several goals, including the following:
Boost the digitalization of companies, support Spain's public administration, and aid the economic recovery of the country post-COVID-19
Launch a cloud region in Spain
Jointly develop a portfolio of 5G solutions using Google Cloud's Mobile Edge Computing platform
Then, in April 2022, Isaac Hernandez, Country Leader at Google Cloud Spain, finally announced the opening of the Madrid cloud region (europe-southwest1) in partnership with Telefónica:
Designed to help meet the growing technology needs of Spanish businesses, the new Madrid region (europe-southwest1) provides low-latency, highly available cloud services with high international security and data protection standards — all on the cleanest cloud in the industry.
The new cloud region aims to create new digital transformation opportunities in compliance with local regulations. It already meets government requirements for security and sovereignty, which is particularly important in highly regulated industries, such as government, healthcare, and financial services:
Having a new region in Madrid helps remove these barriers to cloud adoption, allowing both Spanish businesses and government entities to meet their availability, data residency, and sustainability needs in Spain while also accelerating their digital transformation.
Trust, security, privacy, and sovereignty are must-haves for companies in the cloud computing market. To that end, Google has also partnered with Minsait to jointly provide Spanish organizations, public and private, with sovereign cloud solutions.
The partnership aims to build enhanced trusted cloud services for public and private organizations by encouraging innovation while keeping the most sensitive data private, secure, and sovereign. The initiative was supported by the Ministry of Economic Affairs and Digital Transformation.
Google's commitment in Spain is extensive. It also includes the development of new skills for the adoption of cloud technologies. As Isaac Hernandez reports:
Google has already helped to train more than 1 million people with our Grow with Google program in Spain, and we have future plans to open a center of excellence for cybersecurity in Malaga and support the creation of the AI Lab Granada, in collaboration with Indra Minsait in the coming years.
Cloud Computing in the Netherlands
According to Eurostat data, the adoption rate of cloud computing technologies in the Netherlands is growing fast, rising from 53% of enterprises using at least one cloud service in 2020 to 65% in 2021.
According to this data, the Netherlands ranks third among European countries in terms of cloud technology adoption rate among enterprises.
But that's not all. According to Eurostat, the Netherlands also leads Europe in the adoption of sophisticated services (such as enterprise database hosting services) with an impressive 78% of firms.
This is the breakdown:
Basic services

82% use email services in the cloud
81% use cloud storage services
72% use office software in the cloud

Intermediate services

66% use finance or accounting software applications
49% use CRM software applications
28% use computing power for the enterprise's own software services
35% use ERP software applications

Sophisticated services

64% use security applications
78% use database hosting services
30% use cloud services such as platform for application development, testing, or deployment
The Netherlands is no doubt among the countries at the forefront of digital transformation. According to The Digital Economy and Society Index (DESI 2022) report:
The Netherlands ranks third out of 27 EU Member States in the 2022 edition of the Digital Economy and Society Index (DESI). The country has been a consistent top performer in the EU and is, despite its already high scores, still able to make progress in some key areas.
On average, Dutch firms rank well above the rest of Europe, especially for the share of enterprises using cloud technologies (60%), big data (27%), and social media (49%).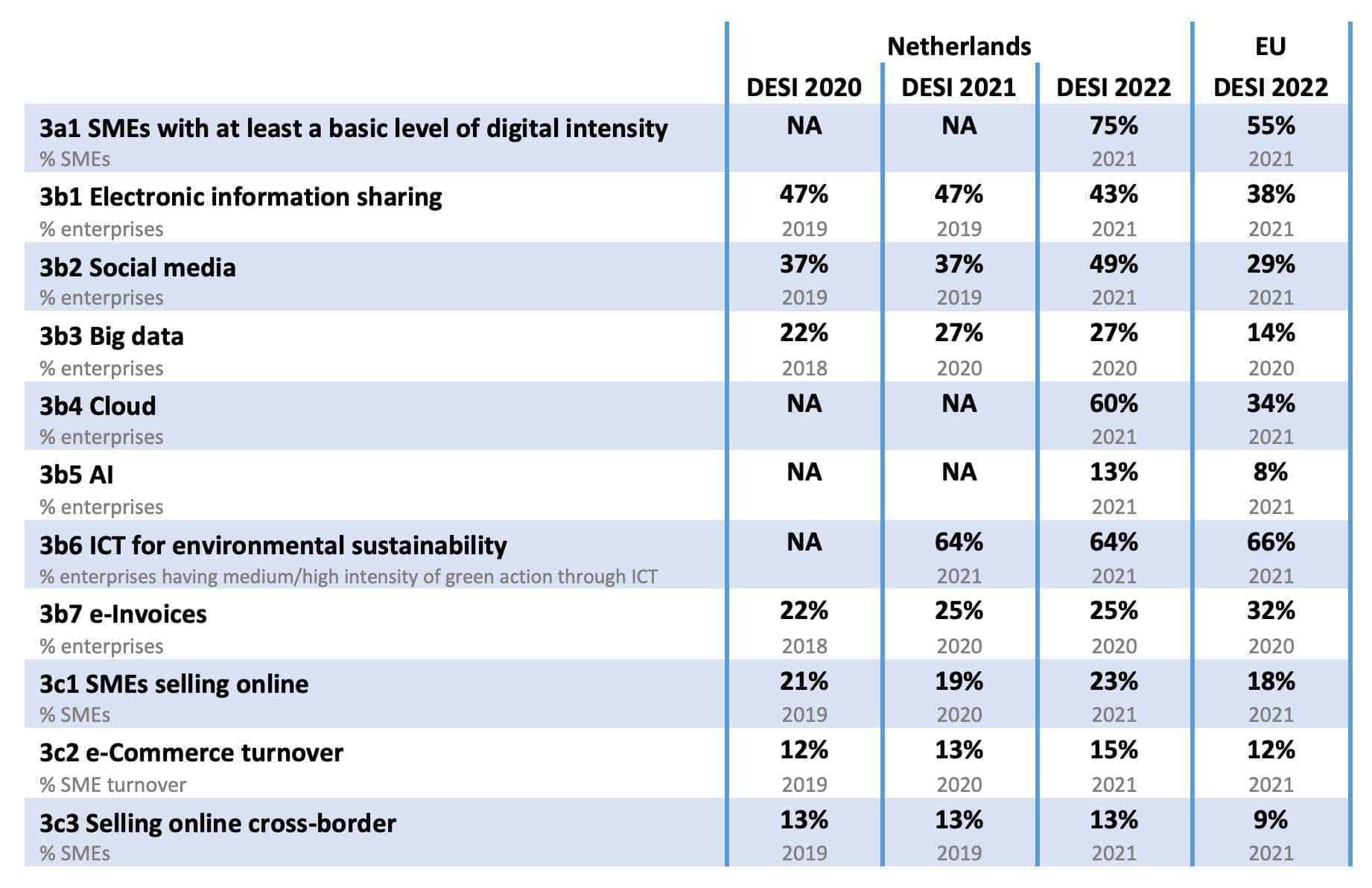 Although there are still areas for improvement, the Netherlands is among the most advanced countries in Europe — and the world — in terms of cloud technology adoption and digitization of the economy and society (see also Dutch Digitalisation Strategy 2.0).
Google Cloud in the Netherlands
Given the importance of the Netherlands in the European economic scene, it's not surprising that by as early as 2016, Google had launched a new data center in Eemshaven, in the Dutch province of Groningen, with an investment of 600 million euros.
Later, in 2018, Google announced a 500 million euros campus expansion; in June 2019, a further expansion of Eemshaven; and in 2020, a new site in Middenmeer.
This brings Google's total investment in data centers in the Netherlands to 2.5 billion euros.
In addition, Google says that its Dutch data centers are committed to running all their data centers on renewable energy:
Since 2017, we've been matching all of our annual electricity consumption with 100 percent renewable energy, and in 2020, we committed to running all our data centers and campuses on carbon-free energy 24/7 by 2030. To help achieve this in the Netherlands, Google has agreements with wind farms in Delfzijl and Zeeland (Krammer and Bouwdokken) and a solar energy park in Delfzijl Sunport for the purchase of renewable energy for the data center.
Insights From the Dutch Cloud Community: Interview With Simon Besteman
Simon Besteman, Managing Director of the Dutch Cloud Community, shared with us an in-depth overview of the state of cloud computing in the Netherlands.
About the DCC (Dutch Cloud Community)
Dutch Cloud Community (DCC) is a branch organization of the hosting and cloud sector, recently formed as a merger of two branch organizations:

ISP Connect, an association of parties active in shared/web hosting
The other organization was an association of IT outsourcing companies

One journalist described it very nicely: a club of parties that put thousands of customers on one server, and the other a party that has thousands of servers for one customer.

The distinction between these two associations was overtaken by reality — the market — because various parties became involved in the various aspects of hosting. In 2020, DCC was created as an organization with about a hundred members.

There is no SBI code available for hosting companies, so it is difficult to name an exact number of active companies in hosting in the Netherlands. If you host some customer data on your server, are you an IT company or a hoster?

DCC's mission is not only to ensure a healthy sector, but also free and open internet. DCC takes an active role in this. About a hundred members, from the big ones in the industry but also the smaller parties.

DCC has members and partners. The partners are often suppliers in the sector, who can communicate with the sector through a partnership with DCC. This way, they can spread their message. DCC is a place where these partners can reach all members in an easy way — for example, at the annual barbecue.

Partners are seen as sponsors. Some pay to be a partner; some share knowledge in return and members can get free advice with them, which of course includes the option for members to become a customer of this partner.
What the DCC Does
The Dutch Cloud Community is active in roughly four areas:

Advocacy: The sector is busy transitioning from a young and unregulated industry to a heavily regulated industry — similar to the telecom industry. Think of good processes when reporting content hosted by Dutch companies.
Education by sector: There is a high demand for young, well-educated people. A bachelor study program has been set up together with the Hogeschool Utecht. It is set up as a dual course; students work four days in the office and one day in education per week. Two courses: Network Engineering and Cloud Security and Software Development.
Knowledge center: DCC ensures the sharing of knowledge. There are theme days every quarter, where experts from specific areas share knowledge. There are also six different working groups in which members but also partners work together in areas such as security, legal affairs, sustainability, social responsibility, etc. An example of an initiative is Cloud for Ukraine, in which Dutch hosting companies took over the hosting from Ukrainian companies free of charge, so that it simply remains available — especially if a city is bombed.
Community: Every year DCC organizes a barbecue at Cloudfest (a major event in Germany). Here, the Dutch Night is a great event, where about 500 people come together to exchange knowledge.

Hosters that have been around for a while — say, longer than 10–15 years. They sometimes attach great value to their own servers, which could delay switching to a cloud solution. For many parties, the switch to the cloud is a choice made based on convenience and cost, to Google Cloud, AWS, and even local private cloud solutions.
Number of Companies Using DCC
Adoption in the Netherlands is reasonably high, in Belgium it is slightly lower. The cloud-first policy is no longer just something for large corporations, but now also for SMEs.

In 2019, 75% of companies in the Netherlands with more than 20 employees were using the cloud, and, in 2021, 93%. The COVID pandemic has helped a lot with this, such as working from home.
Highest Adoption Rates
Adoption is highest in business services/trade. Education and non-profit are somewhat behind the other sectors. The reason for this may be that the majority of nonprofits are run by volunteers and often there is little knowledge and budget available to support cloud aspirations. There are subsidy options for schools, but not all schools are aware of this.
The Various Usages of Cloud Services
Office/Productivity
Backups/Storage
Processes/transaction
Financial administration
CRM
Logistics
Intelligence / Analysis
Development

SaaS has exploded from 65% to 80% during the pandemic. Many see the great power of unburdening, compared to the "old" systems… although there are always managers and administrators who protect their own systems so as not to lose their jobs.

Cloud adoption is so high in the Netherlands because there is a pragmatic culture. We have many companies that are owned by younger people, many startups, and there is no startup that will manage their own IT infrastructure and software.
Total Value of the Cloud Market
In 2021, the global turnover of the cloud market exceeded 275 billion euros. The market has grown by 20 to 30 percent every year since 2017. The largest part of the turnover, about 50 percent, is generated by selling SaaS services. You can read more about this in the document Market Study Cloud Services of the Netherlands Authority for Consumers & Markets (Dutch content).
Biggest Players in the Region
There are three major parties that provide cloud services, namely Amazon Web Services (AWS), Microsoft Azure, and Google Cloud Platform (GCP). These three parties are sometimes called "hyperscalers" because they account for the majority of cloud services offered and used.

A large part of the customers/users use a local service provider/service provider, which also opens the door for the users to start using the public cloud. They often use one of the three major parties to be able to offer their own cloud service.

The cloud service market has grown tremendously in recent years. This will continue to grow in the coming years. New users and companies that will continue to invest in cloud services will continue to enable growth.
We would like to thank Simon Besteman for his participation in this interview.
Cloud Computing in the Rest of the EU
While the cloud market is growing fast in the larger European countries/markets, the adoption rate of cloud computing technologies in the rest of Europe is very heterogeneous. It ranges from the top positions of Northern European countries to the lower adoption rates seen in Eastern and Southern European countries.
Among Northern European countries, the adoption rate of cloud technologies is astonishing:
Finland 75%
Sweeden 75%
Denmark 65%
Norway 64%
According to Eurostat, Finland and Sweden rank first in Europe, with 75% of enterprises having adopted at least one cloud technology in 2021. Denmark and Norway (Norway is not a member of the EU) follow closely behind with 65% and 64% respectively.
Good adoption rates have also been recorded in Austria (40%), Belgium (53%), Czechia (44%), Estonia (58%), and Ireland (59%).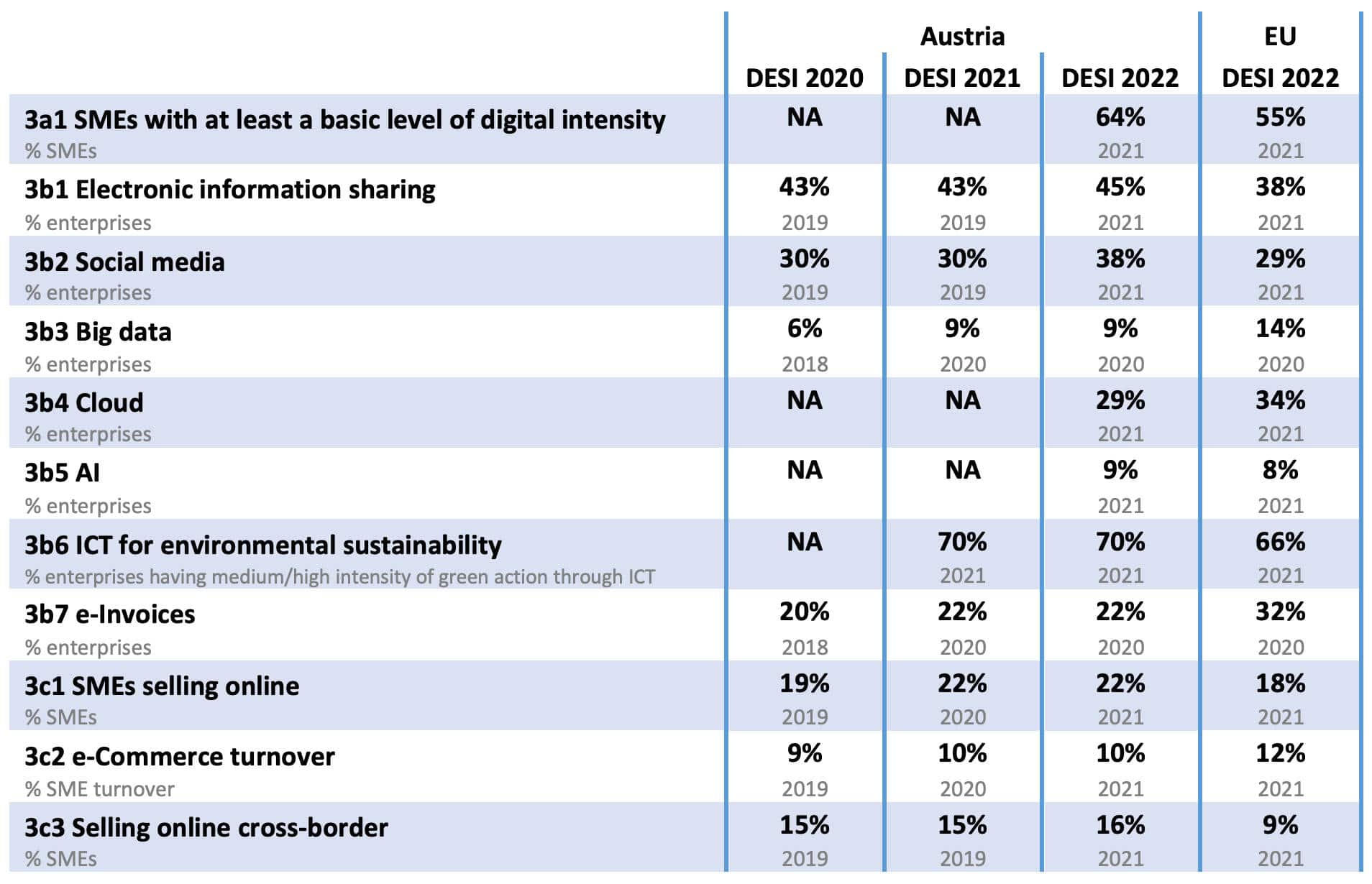 The scenario is much different in Eastern and Southern European countries, where the average adoption rate of cloud technologies is below 30%.
The State of Cloud Computing in the UK
According to the U.S. International Trade Administration, the United Kingdom (U.K.) is the largest cloud market in Europe and the second largest ICT market in the world, right after the United States.
Furthermore:
UK tech VC investment is third in the world (after U.S. and China), and more than any other European country (more than France and Germany combined), hitting a record high of $21 billion in 2020 in the face of challenging conditions.
In 2020, revenue in the U.K. from public cloud services was approximately $12 billion. AWS, Microsoft Azure, and Google Cloud are again the top players.
The ITA report claims that the demand for public cloud services was growing significantly in 2020 and that the market trend affected both large enterprises and small and medium-sized enterprises:
Indeed UK businesses are steadily adopting a cloud-first approach, and a growing number of companies can foresee a time when they will move a large majority of their IT to the cloud.
Another trait of U.K. enterprises highlighted by the ITA report is the adoption of multi-cloud strategies and cloud-native solutions. U.K. firms seem to prefer providers that can deliver the most value for their IT investment and want the ability to move their data and avoid vendor lock-in, although this may eventually lead to greater complexity.
ITA data are confirmed by several recent reports. The U.K. Parliament states that an estimated 89% of the U.K.'s larger organizations use at least one cloud-based service, and the U.K. cloud market is forecast to be worth over £35 billion by 2023 (an impressive 73% rise from 2019).
And the forecast for the coming years does not seem to be any different. According to Business Wire, the U.K. cloud market is expected to register impressive growth over the period 2023-2027. The spread of emerging technologies such as Artificial Intelligence, Internet of Things, and Machine Learning will further boost the growth of the cloud market.
One barrier to the widespread adoption of cloud computing technologies in the U.K. is the concern related to the movement of data from the U.K. to foreign states. The U.K. Parliament report states that:
Due to the dynamic nature of cloud, data are regularly moved. Organizations are unlikely to know the exact location of their data unless they have requested that it remains in a particular location. Some stakeholders have expressed concerns about storing data belonging to UK organizations and individuals in jurisdictions where the UK has no legal control.
In addition:
The Centre for European Policy Studies has estimated that 92% of the Western world's data are stored in the United States, and 4% in Europe.
The report also states that the U.K. currently has no legal data residency requirements, and the continued free flow of data between U.K. and EU organizations will be dependent on an EU assessment of the adequacy of U.K. privacy protections.
In the meanwhile:
To avoid any regulatory barriers that may arise following the transition period, Google's UK users are now provisioned for by Google LLC (US), whereas previously they were under Google Ireland Ltd.
Google Cloud in the UK
Google opened its first U.K. office back in 2003, with the London data center opening in 2017. Today, Google employs more than 6,400 people in the U.K..
The United Kingdom holds a leading position in cloud computing technologies. For this reason, Google continues to invest heavily in the U.K. A new undersea cable between the U.S. and U.K. (Grace Hopper) was laid in 2021, and a $1 billion investment has been devoted to purchasing the Central Saint Giles development, reaching capacity to house 10,000 employees across Google's U.K. offices.
Kinsta's Cloud Services: From SaaS to PaaS on Google Cloud
Due to recent international events and the evolution of the market, many companies and professionals have migrated their products and service offerings to telematic channels. It's never been more vital to have a website that's fast, secure, and scalable at all times to maintain high standards of service quality. And when it comes to ecommerce, features like speed, security, scalability, and reliability are must-haves.
This is why more and more companies are migrating from traditional web hosting solutions, such as shared, dedicated, or VPS hosting services, to more flexible, reliable, and high-performing cloud solutions.
While adopting a cloud hosting solution may at first glance seem to be too complicated for small companies and professionals who lack the resources and skills of a larger company, small businesses cannot give up the advantages of cloud computing if they want to stay competitive in the market and grow with their websites.
This is why Kinsta is the perfect intermediary between Google Cloud and entities of all sectors and sizes that want to take advantage of cutting-edge cloud services without jumping all the hurdles that can pop up with the direct adoption of a cloud solution.
Kinsta's mission is to offer the best cloud hosting based on the Google Cloud Platform with the greatest simplicity and at the most competitive prices on the market. For Kinsta customers, installing a website or an app on Google Cloud requires just a few clicks.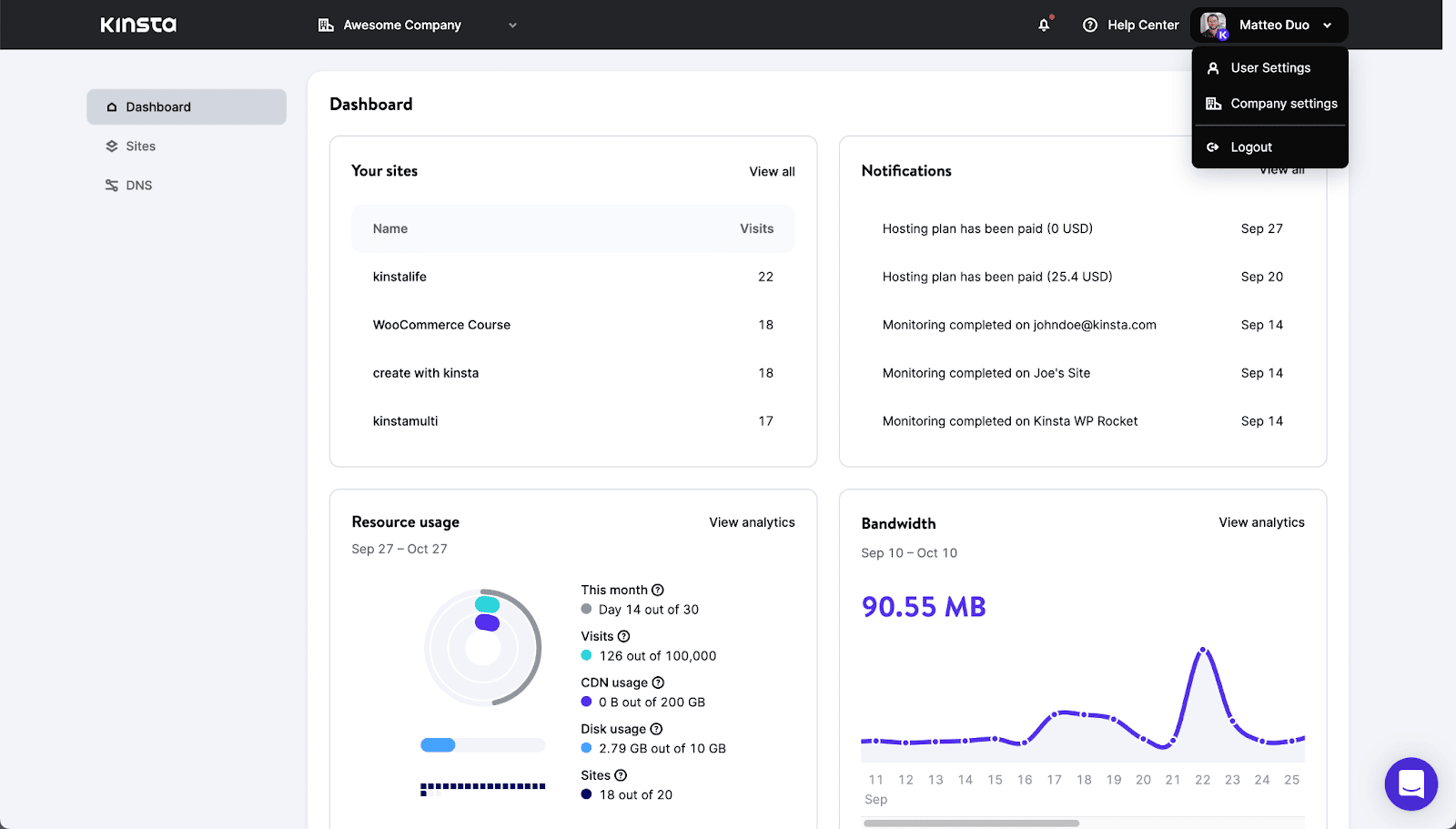 Kinsta's PaaS Service Model
Kinsta's entire infrastructure is based on Google Cloud's Premium Tier network. The difference between Premium Tier and Standard Tier is that with the former, data in transit passes almost all the way over Google's private internet backbone. This translates to fewer hops, lower latency, and higher performance.
All of Kinsta's clients also benefit from C2 compute-optimized VMs in the regions where these are available. These machines feature ultra-high performance for compute-intensive workloads and are suitable for:
Compute-bound workloads
High-performance web serving
Gaming (AAA game servers)
Ad serving
High-performance computing (HPC)
Media transcoding
AI/ML
But Kinsta's services are not limited to Google Cloud hosting. We round out our offerings with a set of enterprise services making a platform that's unique in the industry.
Regardless of the plan selected, all Kinsta customers benefit from the following tools:
MyKinsta: Kinsta's powerful hosting dashboard developed in-house to give all our customers complete control over sites, applications, and databases with as much simplicity as possible.
Staging environments: Available for all sites.
Free Cloudflare integration: To ensure greater security and further improve the performance of all our customers' websites, we implemented a Cloudflare integration on all our plans. As a result, our customers get a free integrated Firewall with DDoS attack protection, CDN, HTTP/3 support, automatic SSL certificates and wildcard support, regardless of their plan.
DevKinsta: Our free suite of local development tools for building, testing, and deploying WordPress sites in minutes. DevKinsta allows you to create WordPress sites on your local machine with just a few clicks and provides powerful development and management tools, such as Adminer and MailHog. And once the work is done, you can transfer the local site to a staging environment on Kinsta with a single click.
In addition to all this comes a support service at the top of the industry in terms of knowledge and speed of response, as well as a multitude of other tools that allow otherwise complex (if not downright dangerous) operations to be performed with just a few clicks, such as search and replace on the site's database, user management, enabling debug mode, transferring websites in and out of Kinsta, and much more.
But that's not all. To enable our customers to be even closer to their market target, Kinsta makes all Google Cloud data centers available as soon as possible. We have a knowledgebase articles with the complete list of 35 data centers currently available which explains how to choose the best data center for your site in MyKinsta.
And to be even closer to our readers and clients based in major European markets, we decided from the very beginning to localize our services and the content published on our website and blog in as many languages as possible.
Currently, our readers and customers can read the content of our website and MyKinsta dashboard in the following languages:
We also provide multi-language support in French, Italian, Portuguese, and Spanish – Monday to Friday – during the following times (UTC):
English 00:00 – 24:00
French 06:00 – 17:00
Italian 06:00 – 14:00
Portuguese 09:00 – 17:00
Spanish 14:00 – 24:00
In short, Kinsta is the perfect gateway to access the power of the Google Cloud Platform infrastructure, but with high value-added services that make our offering unmatched.
You can try Kinsta free of risks thanks to our 30-day money-back guarantee, you can try schedule a demo of our MyKinsta dashboard, or take advantage of our $20 offer to try out our new Application Hosting and Database Hosting services.
Summary
In this article, we have offered an in-depth overview of the state of the cloud computing market in Europe based on data provided by Eurostat, the statistical office of the European Union.
From the report, we can see that the adoption of cloud computing technologies is growing fast in all major European markets, albeit with noticeable differences across countries.
A key element that so-called "hyperscalers" have to deal with is European regulation aimed at ensuring data sovereignty, security, and privacy. The fact that European citizens' data reside in different jurisdictions, such as the United States, is indeed a problem to which European lawmakers responded with strict regulations to guarantee the rights of their citizens.
This, however, has not discouraged large cloud service providers, who have responded by adapting to the requirements of European regulations. Among these hyperscalers, Google has responded with the opening of new cloud regions and partnering with large European ITC and telecommunications companies.
The bottom line is that European firms will be able to continue to benefit from the most advanced cloud technologies while respecting the laws and rights of citizens.
In this landscape, Kinsta stands as a prime player, offering all customers top-of-class Managed WordPress Hosting, Application Hosting, and Database Hosting services on the Google Cloud Platform.