It might be tempting to stick to a familiar website builder tool, especially when the sheer number of alternatives makes your head spin. However, no two website builders are the same. If you choose Wix just because you don't know any better, you're likely to miss out on some great opportunities.
Don't take this the wrong way — Wix is fantastic for creating personal and commercial websites. However, in some cases, you may need a cheaper, safer, or more advanced Wix alternative that'll suit your needs better.
We've looked at 10 competitors to Wix to see how they outperform Wix and what their ideal use cases are. We've also pointed out their weak sides to help you make a confident and informed choice.
Read through to find out which website builder will work best for you.
Check Out Our Video Guide on The Best Wix Alternatives to Try
Why Should You Consider Looking for Alternatives to Wix?
There are currently over 3.3 million websites using Wix. It's a powerful website builder, but it has its limitations and downsides, too.
Not everyone likes a one-size-fits-all approach and generic templates. If you want a unique, custom website, you may need a more hands-on solution.
The cheapest Wix plans don't give you analytics tools, which are essential to any website owner.
Wix uses a subscription-based model. To make the most out of the platform, you'll need to use it consistently. If you create just one website and never touch Wix tools again, it makes little sense to keep paying $20–$50 every month for it.
Wix is stuffed with extra features that some may consider superfluous, yet they're included in all business and ecommerce plans, which influences its prices.
The marketing, design, and SEO tools that Wix offers are still pretty basic and can't fully substitute professional software.
With Wix, you don't have full ownership of your website. It's hosted on Wix, and, as a result, if Wix experiences a power outage or suspends your account, your website will suffer.
The Wix premium plans cannot be used for multiple websites. You'll need to purchase a premium plan for each site, which can get uncomfortably expensive very quickly.
It's not possible to change a template to a website you've already created, so you should be cautious when experimenting with different designs.
To create a state-of-the-art website, you need to know what's possible and what kinds of tools are available to you. Once you learn about various competitors to Wix, you'll better understand Wix's pros and cons as well as your own needs.
10 Best and Most Popular Wix Alternatives
Wix is one of the most popular website builders, but it's far from the only choice. Here are the top Wix alternatives, so you can explore your options.
1. WordPress
WordPress is an open-source software for creating all types of websites. It's the most popular Content Management System — every fourth website is built on WordPress. It's also the most powerful Wix alternative because professionals worldwide contribute daily by fixing bugs, reviewing documentation, etc.
With WordPress, you truly own your website. Because of that, you need to purchase a domain name and hosting before you start working with the platform. The comprehensive WordPress tutorials and lessons will help you with the rest.
WordPress has over 60,000 plugins and 10,000 themes, which gives you limitless ways to customize and enhance your site. WordPress plugins are add-ons that extend your website's functionality. WordPress themes are templates created by professional designers — they define the look of your site.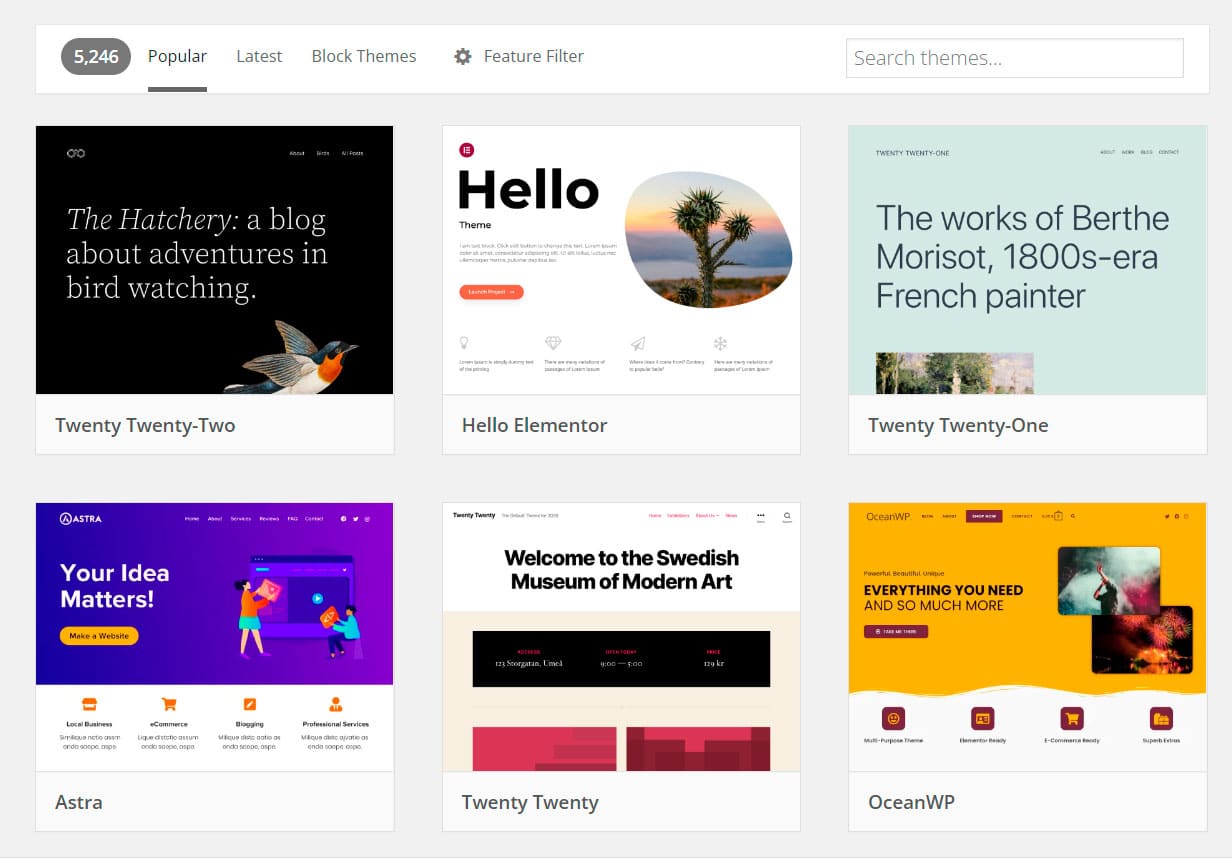 Then, there are tools like SeedProd or Elementor that take the best of both worlds. Elementor allows you to build stunning WordPress websites in a visual editor, completely code-free. It reduces the need for other plugins, gives you an impressive variety of design tools, and offers built-in hosting.
Pricing: WordPress is a free alternative to Wix, but you'll need to pay for premium themes or plugins, not to mention hosting and a domain name.
Recommended for: Anyone.
2. Squarespace
Squarespace is one of the trendiest and easiest website builders out there. It enables you to create tasteful responsive websites using professionally designed templates. You can also use third-party templates and design kits to make your Squarespace site stand out.
When editing, you can add any type of content, form, or button in one click: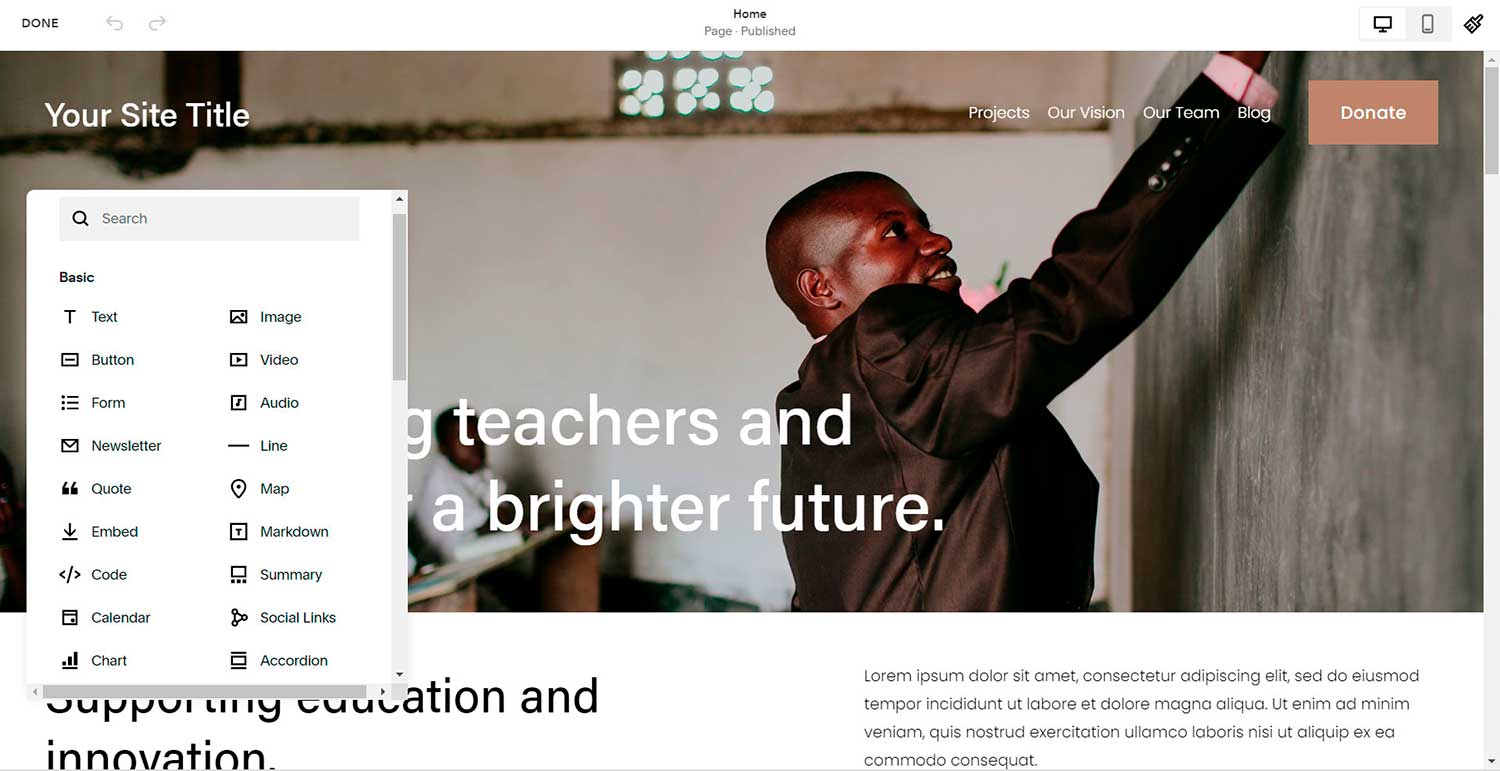 These are the main Squarespace features:
Intuitive visual website builder
Fully-managed cloud hosting
Link-in-bio site builder
Domain finder
Basic analytics and SEO tools
SSL security
Video Studio app
Stock photo library
Free online logo maker
When it comes to ecommerce, Squarespace offers shipping, pricing, and fulfillment automation along with multiple payment options and intuitive order management. That functionality can be further extended with third-party apps and connected services.
With Zapier, Squarespace connects to over 5,000 apps, which is still less than what WordPress has to offer. However, it's possible to move from Squarespace to WordPress once you outgrow the platform.
Pricing: If you want to avoid the 3% transaction fee and get full access to the ecommerce suite, you'll need the Commerce plan, which starts at $27 a month. You can save 25% by paying annually.
Recommended for: Creators, small businesses, entrepreneurs, freelancers, bloggers, and service providers.
3. Jimdo
Jimdo is a code-free website builder created with small-business owners in mind. With this platform, you can quickly create mobile-optimized websites and customize them to reflect your brand.
Jimdo is a cheaper Wix alternative with a set of familiar tools and features:
Drag-and-drop website builder
100+ modern templates
Coding features for deeper customization
Custom domains
Online logo maker
Personalized support
Legal Text Generator for creating GDPR-compliant websites
Jimdo also has an inspiration gallery: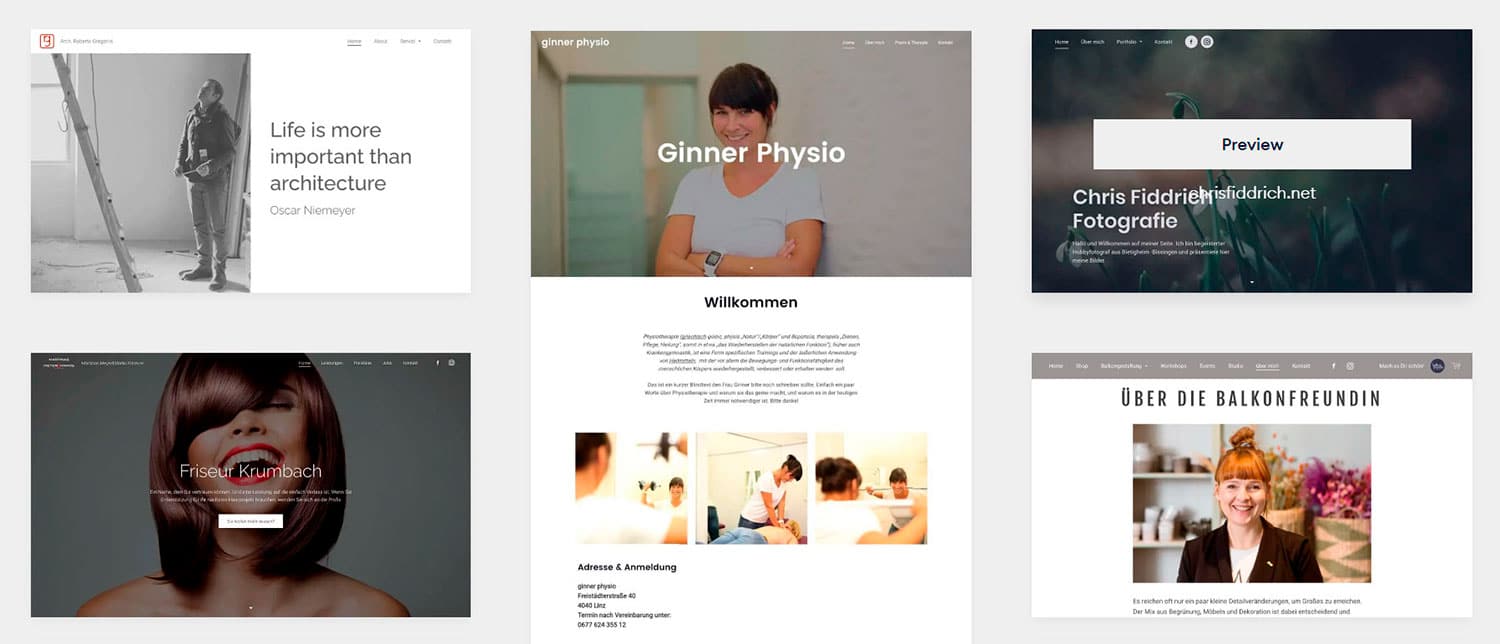 In addition, Jimdo gives its users streamlined access to Facebook's selling tools. You can automatically sync your Facebook catalog with your Jimdo store products. You'll also be able to create shoppable posts and Stories on Instagram.
Pricing. Jimdo doesn't charge transaction fees. The platform has a free plan. The cheapest plan with visitor statistics costs around $16 a month.
Recommended for: Small businesses, independent professionals, and bloggers.
4. Webnode
Webnode is a website builder used for creating responsive blogs, portfolios, event pages, and online stores. It has over 100 editable templates and an extensive knowledge base to help you get started.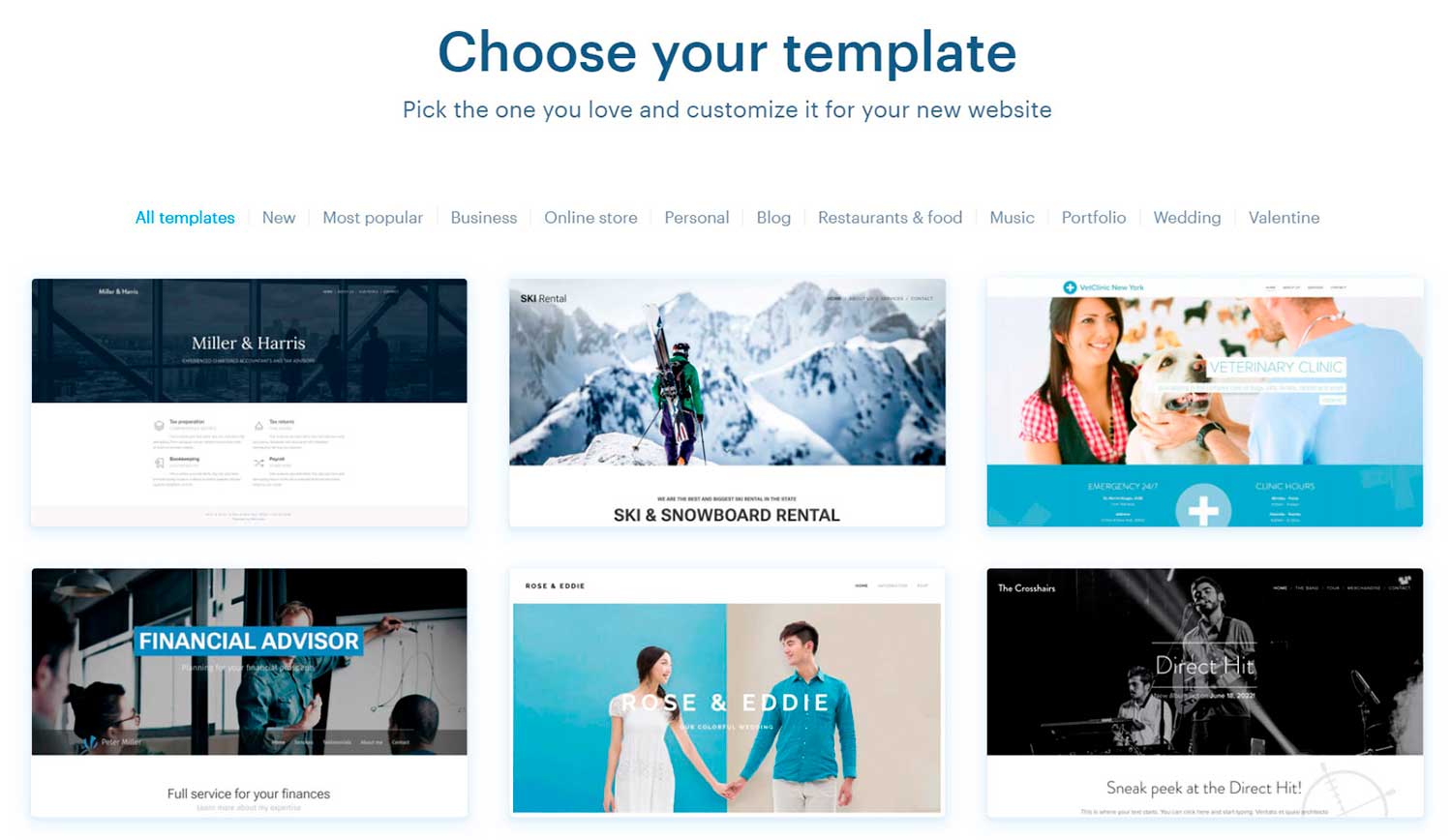 Webnode has everything you need to build converting, pixel-perfect websites:
Scalable hosting
Website editor accessible from a smartphone
GDPR-friendly form builder
Easy backups
Parallax scrolling and other visual effects
Image and icon gallery
Easy widget integration
Unlimited number of pages
Statistics tools
Built-in SEO features
Business email addresses
Domain finder and anonymous domain registrations
One-click website publishing
Multilingual support team
With Webnode, you can sell memberships and offer various payment options. The platform lets you import products in bulk, add product variants, and offer discounts and free shipping. Webnode supports 40+ languages, which is rather unusual among Wix competition.
Pricing: Webnode has a free trial, and it offers annual billing only. For creating a personal website, you can pay as little as $3 a month. The most advanced plan for professionals costs around $17 a month. Ecommerce plans start at $11 a month.
Recommended for: Small businesses, freelancers, and entrepreneurs.
5. Webflow
Webflow is an advanced no-code website builder for designers, marketers, and developers. Unlike other Wix alternatives, Webflow isn't based on rigid templates. You can combine the power of HTML, CSS, and JavaScript in a visual editor and create phenomenal custom websites, commercial or personal.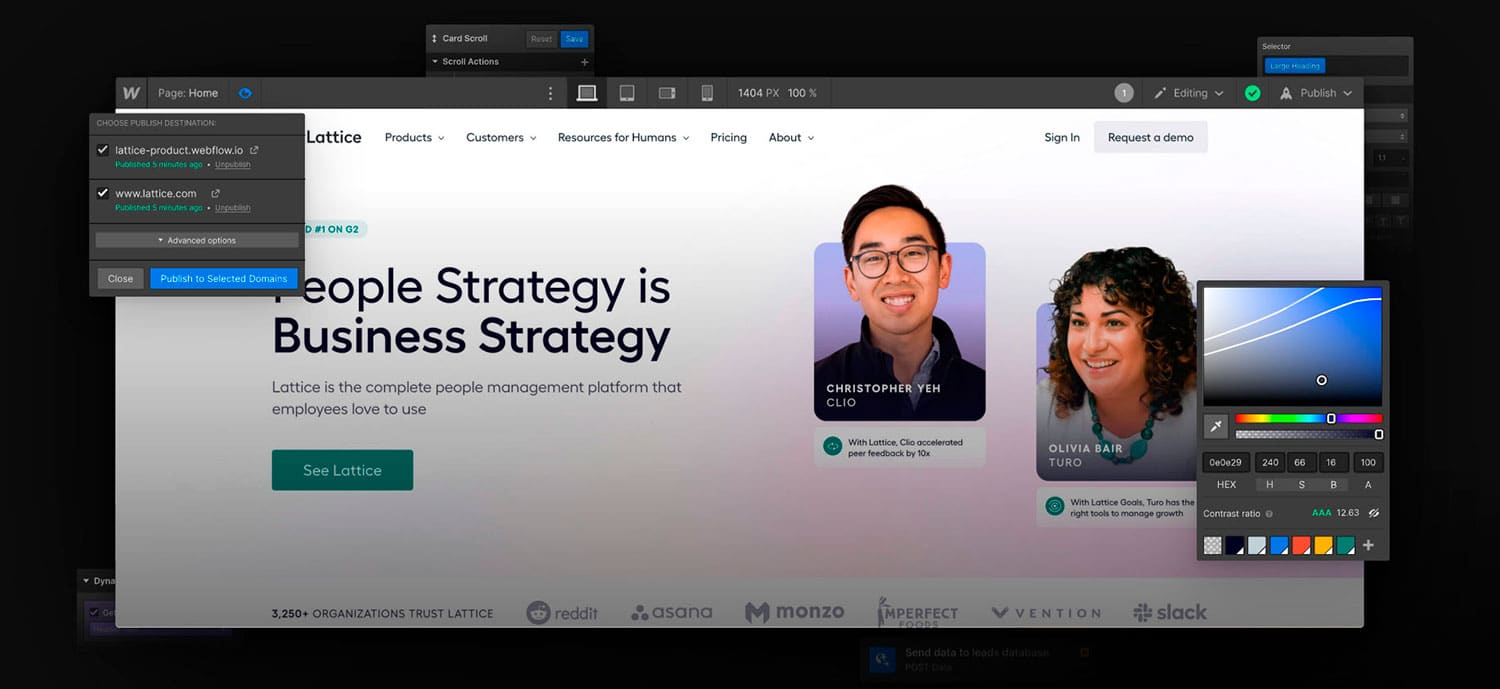 Here's a quick overview of what you can do with Webflow:
Use Webflow CMS to strategize, write, edit, and structure your website content.
Build unique online stores and highlight key product features through customizable product fields.
Customize your cart and checkout experiences.
Collaborate with your team and track changes in real-time.
Instantly make changes to your website without messing with complex code.
Use integrated SEO tools to make your sites more visible and searchable.
Rely on Webflow's speedy, fully-managed hosting.
Create unique interactions and rich animations to delight your visitors.
Preview and restore your site from automatic backups or set save points.
Let Webflow write clean, semantic code for you and easily integrate custom code whenever needed.
Create custom forms for lead generation.
Explore Webflow libraries, apps, and templates to add new functionality and advanced features to your site.
This is just a fraction of Webflow's functionality. It's an extremely versatile builder that has become just as iconic as Wix but in its niche. It's used by over 3,500,000 designers worldwide. Check out our WebFlow vs. WordPress comparison to make an informed choice.
Pricing: Webflow offers scalable pricing and a free plan. To create a content-driven website, you'll need the CMS plan for $29 a month. The cheapest ecommerce plan costs $42 a month. You can save up to 30% by paying yearly.
Recommended for: Solo designers, agencies, freelancers, developers, marketers, and anyone in between.
6. GoDaddy Website Builder
The GoDaddy website builder is one of the biggest competitors to Wix. It's an all-in-one builder with a generous free plan, 100+ nice-looking templates, and a complete set of ecommerce and marketing features. Even though it's a code-free platform, it can help you set up a powerful online store and scale it with ease.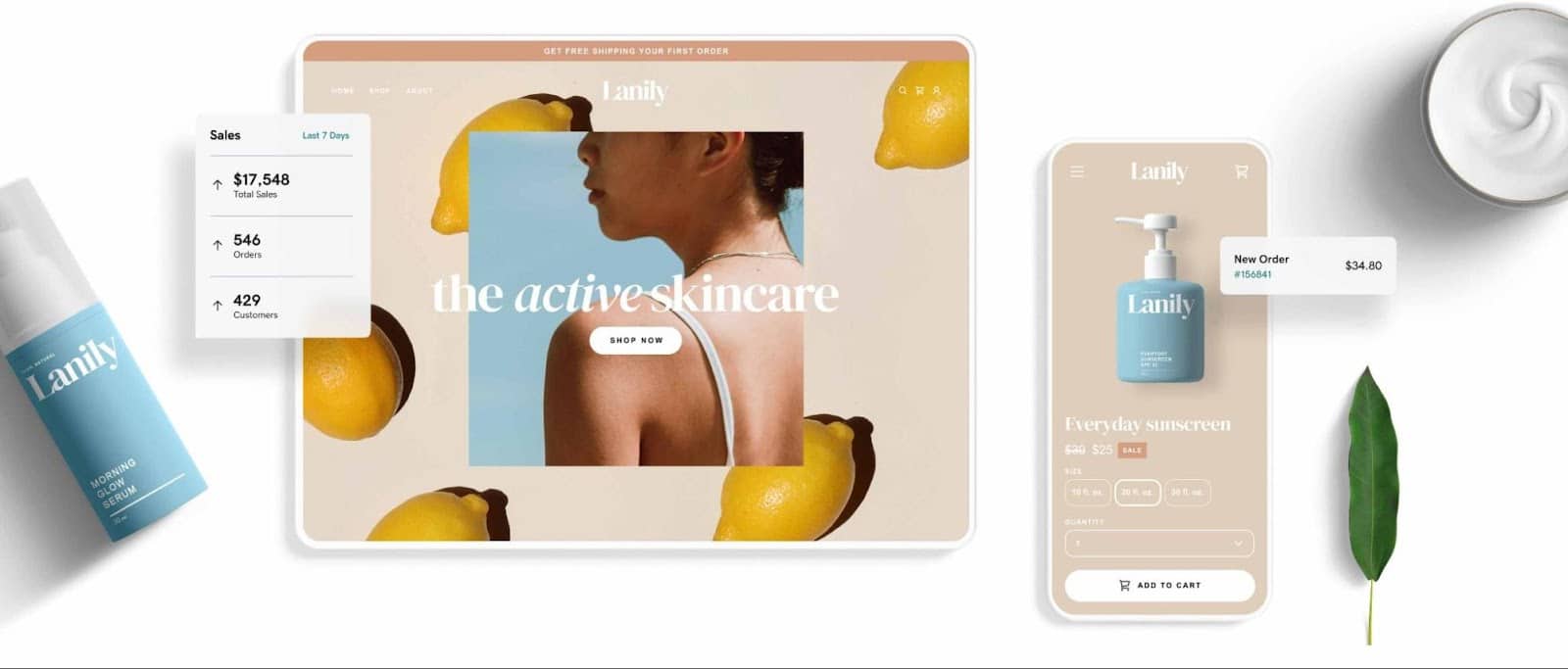 Here's what the GoDaddy website builder enables you to do:
Design customer-friendly websites in no time with customizable themes and templates.
Make quick changes to your website pages from your smartphone.
Create eye-catching content with GoDaddy Studio, a beginner-friendly editor.
Collect and store information about your customers in one place.
Make some pages members-only to control access better.
Send your customers personalized messages without leaving GoDaddy.
Use SEO and social media tools to boost your brand's visibility online.
Track your site's performance, email campaigns, and orders.
Receive suggestions from GoDaddy on how to make your online presence more effective.
Let your customer book appointments and pay in whichever way they prefer.
Manage all your customer communications from a single tab.
Sync your online store with marketplaces like Amazon, Etsy, eBay, and Walmart.
Customize your menus and pricing and offer discounts and various delivery options.
Besides, the platform provides custom domains, hosting, convenient GoDaddy Payments, analytics, and 24/7 support.
Pricing: There's a free-forever plan, which includes content creation tools, an appointment booking system, and other ecommerce features. More advanced plans start at $9.99 a month when billed annually. GoDaddy charges around 2.3% + 30¢ per transaction.
Recommended for: Small and medium-sized businesses, startups, and service providers.
7. Pixpa
Pixpa is an easy yet feature-rich website builder for visual artists and content creators. It's mostly used to create professional portfolios, but you can also use it to build a solid online store.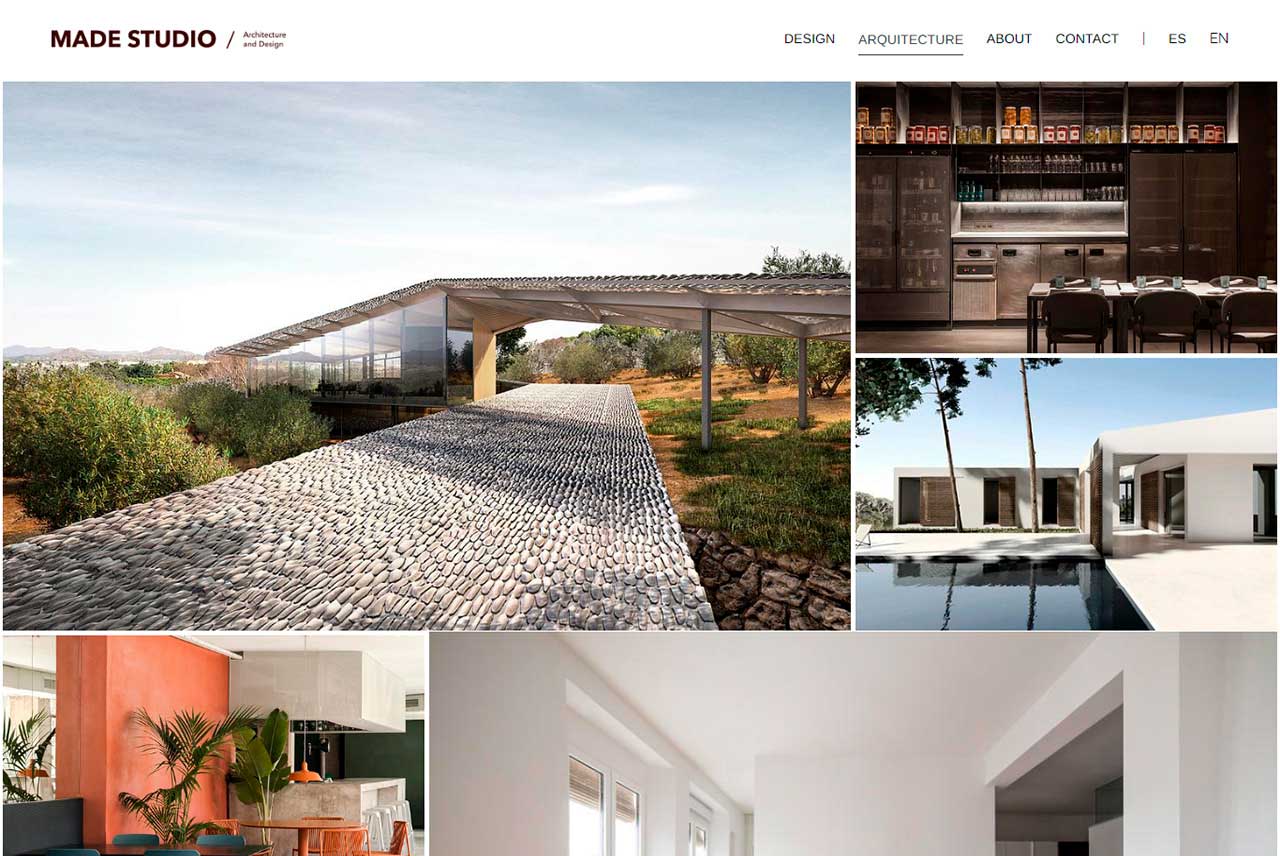 Unlike other competitors to Wix, Pixpa is a visual-first platform. It's a great choice if you want to display your work and establish your expertise through your new website.
Pixpa's top features include:
Drag-and-drop builder and 150+ captivating, responsive templates
Ecommerce enabled galleries and client galleries
Option to sell products, services, and digital assets like prints
Fully-managed cloud hosting
Built-in SEO tools and social media tools
Transparent inventory, shipping, taxes, and order management
Streamlined branded checkout experience
Custom forms and marketing pop-ups
HTML editing and CSS overrides for a unique look
100+ apps & integrations
Website setup service
24/7 live chat and email customer support
Pricing: Pixpa offers a 15-day free trial and a 30-day money-back guarantee. The platform doesn't have transaction fees. A plan for creators costs $12 a month, and a professional plan costs around $17 a month. Paying yearly will save you 20%.
Recommended for: Anyone building their personal or commercial brand.
8. Shopify
The Shopify website builder is a fully customizable Wix alternative. Shopify makes it ridiculously easy to create full-featured ecommerce websites without having technical skills. It's created specifically for busy sellers who want their online store to be attractive, user-friendly, and easy to maintain.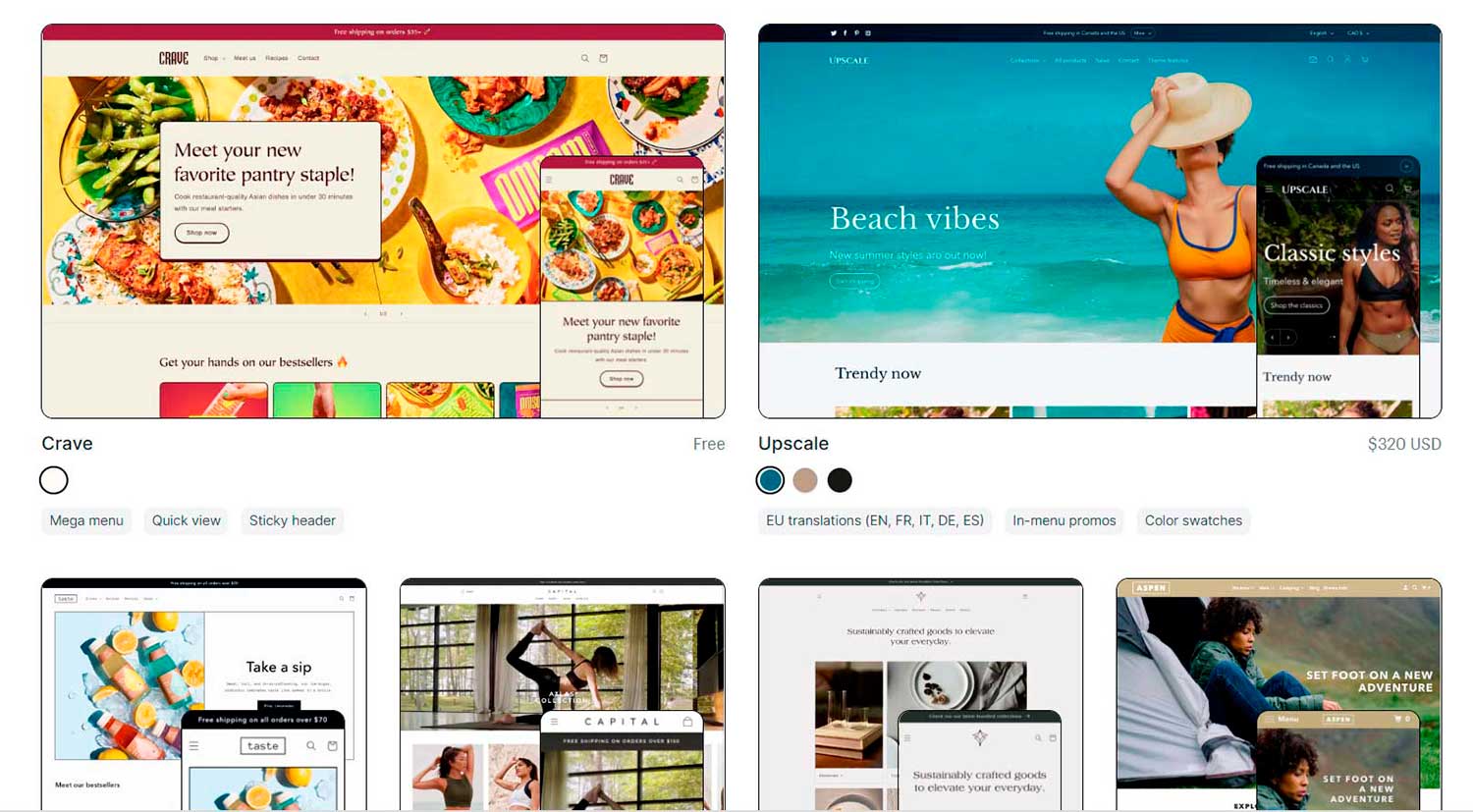 Shopify's feature list includes the following:
70+ customizable store themes and a drag-and-drop builder
Shopify Payments and over 100+ external payment gateways
Comprehensive dashboard offering a bird's-eye view of your sales
Integrated SEO and marketing tools
Inventory sync across all your channels
App for managing orders and content when you're away from your PC
Over 6,000 apps in the Shopify App Store
Shopify dominates the US ecommerce market. It offers a low-effort high-reward way of creating online stores, and it's extremely scalable and versatile. Moreover, you as an online seller can enjoy other Shopify services and perks such as shipping discounts, an all-in-one POS system, or a no-fee business financial account.
Pricing: Shopify has a free 3-day trial. A basic plan costs $29 monthly plus a transaction fee of 2.9% + 30¢. Make sure to choose annual billing to save 50%.
Recommended for: Business owners and entrepreneurs.
9. Weebly
Weebly is among the most affordable and popular Wix alternatives. The code-free platform lets you create personal websites as well as online stores. Weebly has dozens of professionally-designed themes, but you can also find custom themes and fill them with your content.
The platform also includes a fully functional commercial email builder: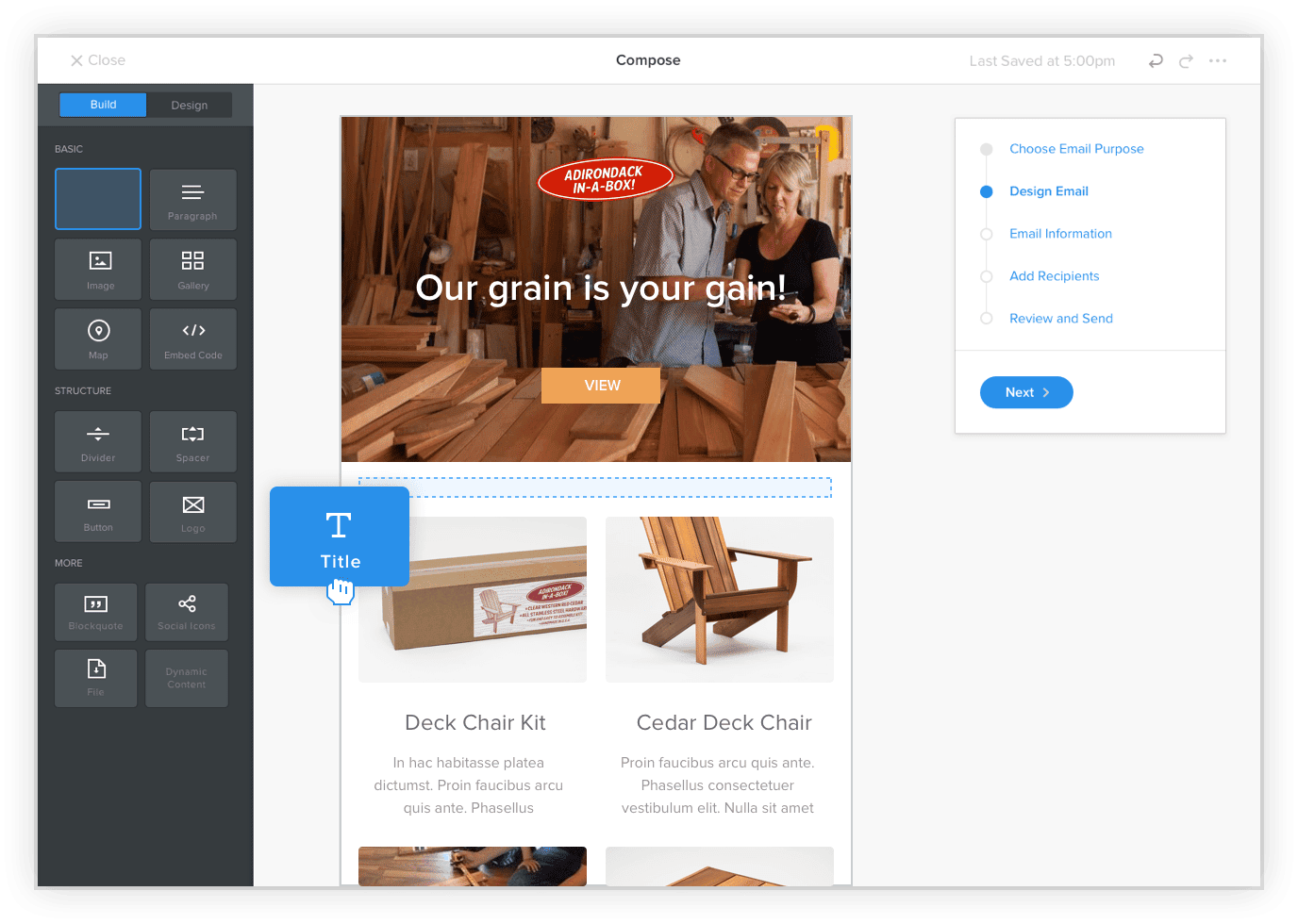 Weebly gives you plenty of tools for creating not only magnificent but also user-friendly websites:
Video backgrounds
Animations such as parallax and reveal
Site search
Free ecommerce hosting
Built-in image editor and custom fonts
Integrated analytics
Custom lead generation forms, RSVP lists, and surveys
Content scheduling
Custom code
Domain finder
Integrated social media tools, SEO tools, and AdWords credit
SSL certificates, DDoS Mitigation, and 24/7 support
Fully functional mobile app
Weebly currently has over 40 million users. Its App Center allows you to extend Weebly's functionality with third-party integrations. The platform also offers shipping and inventory automation tools, various payment methods, customer reviews, and other must-have ecommerce features.
Pricing: Weebly has two pricing categories. If you want to build a personal website, it'll cost you $5–$20 a month when paid annually. There's also a limited free plan. Building an online store is slightly more expensive — the prices start at $10 monthly.
Recommended for: Creators, freelancers, bloggers, and small businesses.
10. Square Online
Square Online is a visual online-store builder and part of the Square ecosystem. It allows you to manage all orders from a single place and create a unified customer database. You can also sync online and in-store inventory and orders to avoid overselling.
With Square Online, you can quickly create gorgeous online shops that will also look great on mobile devices: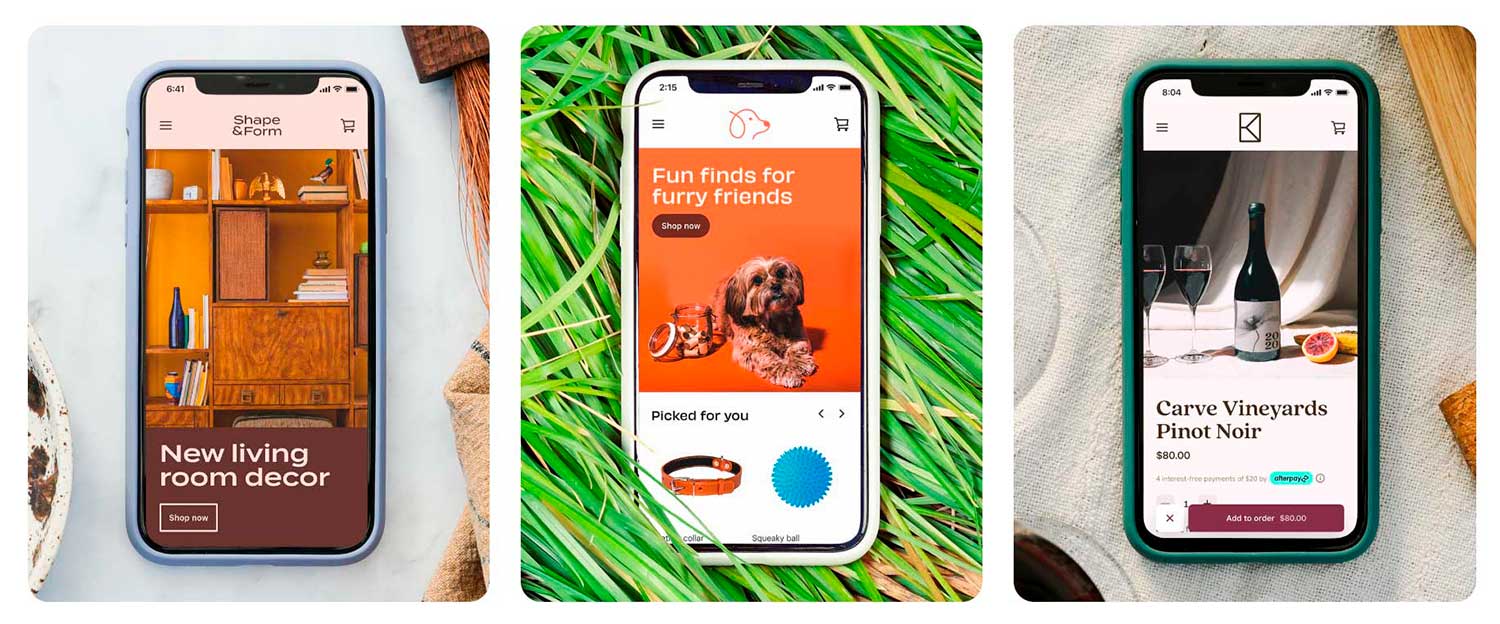 Let's take a closer look at the platform and what it enables you to do:
Create lightweight, mobile-friendly websites in minutes.
Use dynamic styling tools to customize every inch of your website.
Offer personalized shopping experiences to your customers by sending them tailored recommendations and reminders.
Create different levels of access for your employees with team-based permissions.
Schedule product drops, special offers, and seasonal sales and launch them automatically.
Use banners and pop-ups to drive attention to your offers.
Quickly prepare high-quality product images with the Square Photo Studio app.
Offer your customers shipping discounts and various delivery options.
Generate shipping labels right from your Square dashboard.
Accept various payment methods such as Afterpay, Square Pay, Apple Pay, and PayPal
Pricing: Square has a free plan with a standard transaction fee of 2.9% + 30¢. If you want more features, you can pick a more advanced plan, which costs $29 monthly plus the same transaction fee. A premium plan costs $79 a month.
Recommended for: Small- and medium-scale retailers as well as enterprises.
Which Is the Best Wix Alternative?
As you can see, there's no right or wrong when it comes to website builders. Now that you know your options, you can make a confident choice based on your personal and commercial goals.
Let's conclude:
If you'd like more flexibility and creative control over your website, choose WordPress over Wix.
For delivering impeccable shopping experiences at scale, consider moving to Shopify.
If you want to create stunning websites without extra effort, check out Squarespace.
To make an online shop for free or test a new ecommerce idea, use Square Online or Webnode.
If your goal is to deepen your design skills while sticking with code-free tools, look no further than WebFlow.
Thankfully, most Wix alternatives have a free plan or a trial period so you can click around and see them in action before you commit to anything.
Can You Move to a Wix Alternative if You Already Have a Wix Website?
Wix websites aren't transferable, meaning you can't use another hosting for your existing Wix site. It only allows you to pick a different domain. However, there are some workarounds. You can migrate Wix to WordPress — be sure to check out our step-by-step tutorial on how to do so.
Here's a quick summary:
Find a WordPress hosting provider.
Buy a domain name if you don't have one yet.
Use the help of WordHerd to handle the rest of the migration process.
The migration will help you gain more control over your site and break away from stiff and generic templates. You can't go wrong with WordPress since it's one of the best Wix alternatives.
Summary
If you choose WordPress, you must ensure that your website is in good hands. Move to our feature-rich hosting in a stress-free way and say goodbye to slow load times, unexpected downtime, and DDoS attacks. You can learn about how hosting can affect your SEO from our blog and make a confident choice.
Kinsta helps you save time and money by providing global availability, CDN, 24/7 application performance monitoring, and award-winning support. Try our hosting for free with a 30-day money-back guarantee!