Some WordPress sites, by necessity, are a bit "heavy," meaning they contain a lot of large files. In some industries, photography, for example, you may need to host high-resolution photos. While you can offload these to a file storage service like Google Cloud or Amazon S3, this isn't always easy or convenient.
Another common pain point we see for agencies and developers is that you may only have one or two clients that need most of your plan's disk space.
We want you to have as much flexibility as possible at Kinsta. With our disk space add-on, you can increase the storage space of your hosting plan with a few clicks.
Check Total Disk Space Usage
You can quickly check your total disk space usage on the Resource usage chart on the Dashboard in MyKinsta. Curious which files might be taking up the most space? Check out our blog post on additional ways to check your disk usage.
When you see the "Upload: Failed to Write File to Disk" error in WordPress, it's possible that you have used all of your available disk space. If that's the case, besides removing any unused files from your site, you can upgrade your hosting plan or add a Disk Space Add-on to your current MyKinsta plan.
How to Add the Disk Space Add-on
The disk space add-on is available in MyKinsta under Company > My Plan. In the Disk space add-on section, click the Add to Plan button.
The disk space add-on can be purchased in 20 GB increments at $20/month per hosting plan. You can purchase as many of these add-ons as you want.
For example, if you're on the Business 1 plan at $115/month and purchase one disk space add-on, your monthly bill would be $135/month. The plan already comes with 30 GB, so you would then have a total of 50 GB of available disk space. If you purchase two add-ons, your bill would be $155/month, with a total of 70 GB of available disk space.
Disk space add-ons are automatically prorated, and the subscription will appear on your next billing cycle.
If you're in the EU, VAT is charged if applicable to you.
How to Modify or Remove the Disk Space Add-on
To modify the disk space add-on, navigate to Company > My Plans, and under the Disk space add-on section, click on Change. You can then modify the number of add-ons or remove the add-on altogether.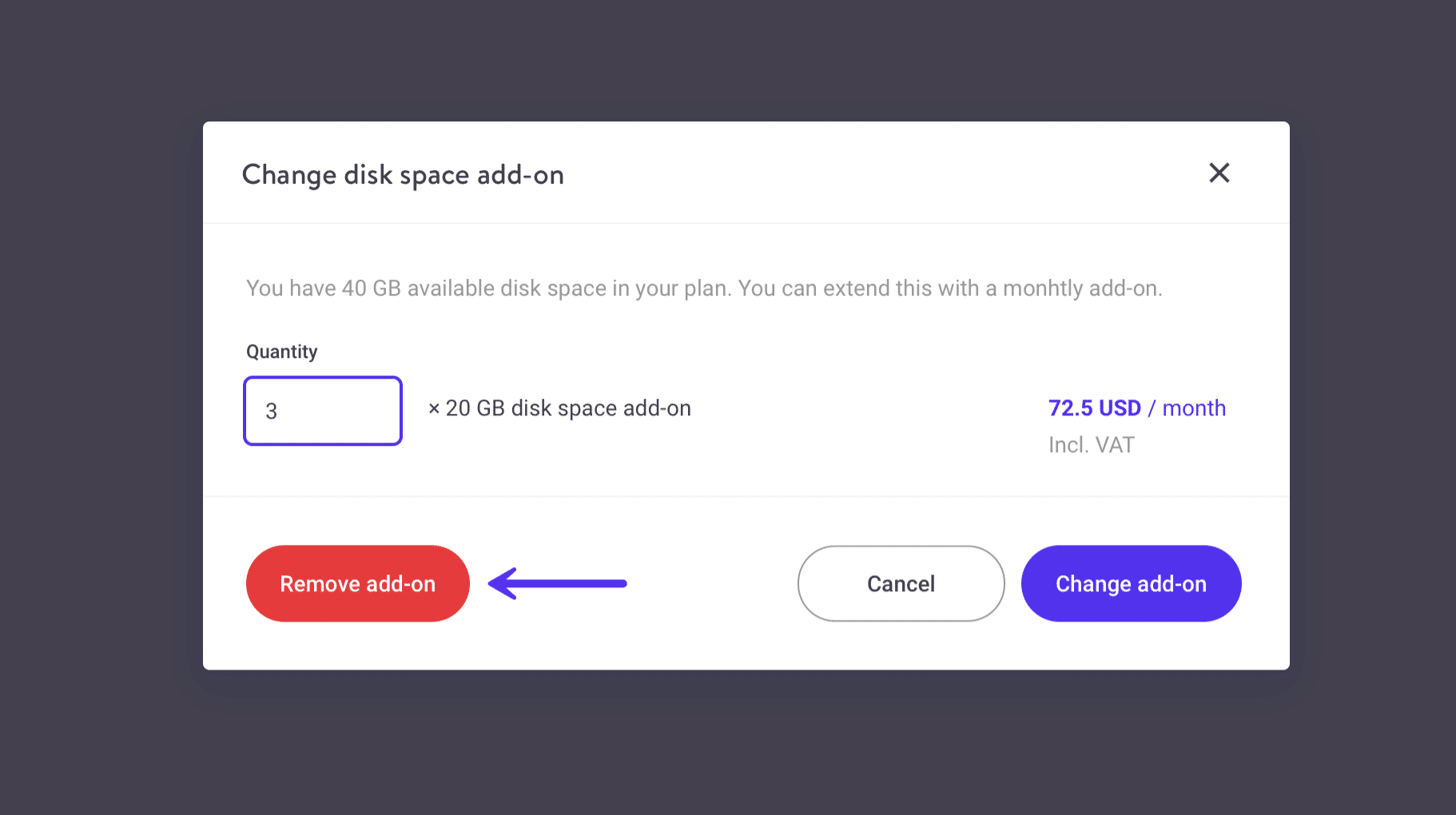 Tracking Changes to the Disk Space Add-on
Any actions related to adding, removing, or changing the disk space add-on are recorded in the MyKinsta Activity Log.