Who knew a pandemic would be part of our lives? 2020 is now a thing of the past and, honestly, I'm happy we left that behind.
Yet, looking back and taking stock of our progress is an important step as we plan for the future.
And that's what we'll do today.
Before diving in, we'd like to thank all of you customers for trusting us with hosting your businesses, blogs, and ecommerce sites.
Also, a big "thank you" goes to all of our readers, followers, and anyone who engages with us on our different channels. It's a cliché – I know – but it's the truth: we wouldn't be here today without your support and feedback.
Now, it's time to share some really cool stats about 2020.
Ready? Let's jump in!
Customer and Revenue Growth
In 2020, Kinsta saw a resounding 75% increase in revenue. To put things into a bit more perspective, by the end of last year our recurring revenue was approximately 39 times what it was at the end of 2015.

Revenue growth tells us only half the (great) story here. Our customer base, in fact, has grown by over 84%, when compared to the previous year! October was by far our busiest month ever in 2020 in terms of new customer signups.

Here are a few interesting facts about the amount of data we deliver every month:
22+ billion HTTP requests are served through Kinsta's servers.
970+ terabytes egress data transfer travels through Kinsta's servers.
10+ billion HTTP requests are served through the Kinsta CDN.
360+ terabytes data transfer travels through the Kinsta CDN.
If you compare this data with the numbers from 2019, you'll see we've seen a massive increase in traffic over the past year.
PHP Version of Sites Hosted at Kinsta
Wondering which PHP version was the most common among Kinsta customers in 2020? Well, here's the data:
72.1% of WordPress sites at Kinsta are running PHP 7.3.
27.8% of WordPress sites at Kinsta are running PHP 7.4.
0.1% of WordPress sites at Kinsta are running PHP 8.0.
Note: PHP 8.0 for use on live sites was enabled at the very end of December 2020, which explains why it hasn't been not widely adopted yet.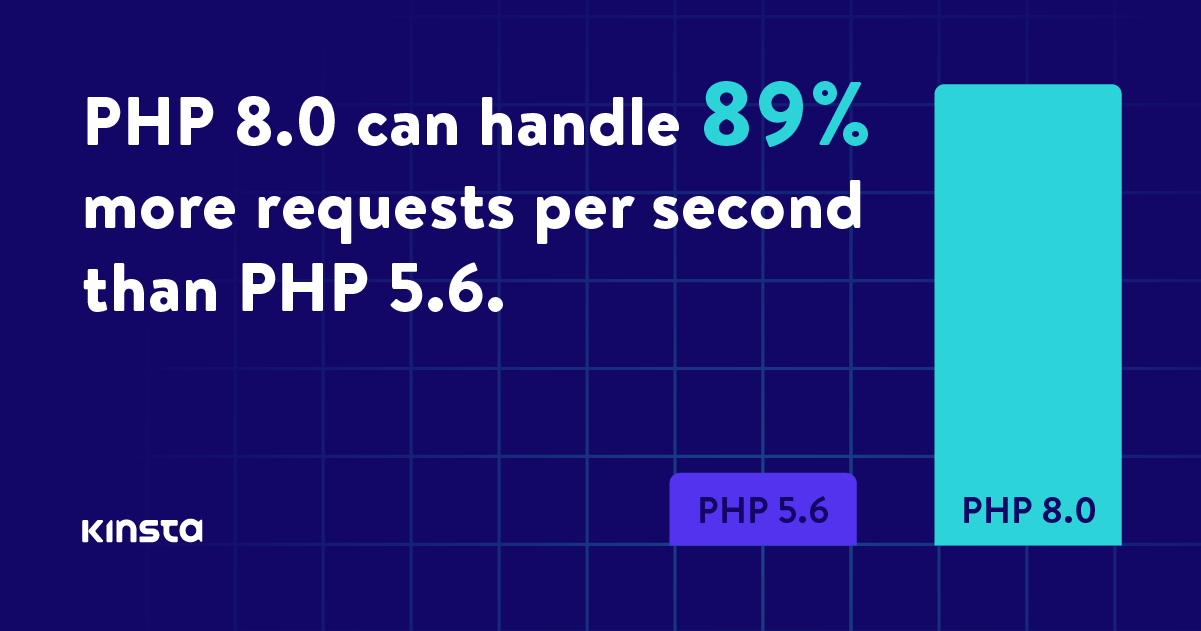 If you have been following us, or you are an actual customer, you know that performance is our obsession.
That's why we encourage everyone to upgrade to the latest PHP version available. We make this process super easy through MyKinsta.
Kinsta Keeps Providing Unmatched Support
Kinsta's great customer support is one of the pillars on top of which the company was built. When our customers need help, we'll make sure there's a capable and knowledgeable Engineer available to assist.
In 2020, Kinsta hired 15 new Support Engineers (we are always on the lookout for more talented Engineers to join our team). Expanding the Support team has allowed us to improve our weekend Support coverage and create a specialized team dedicated to malware remediation and investigation of platform misuse.
This is how customers have rated Kinsta support in 2020: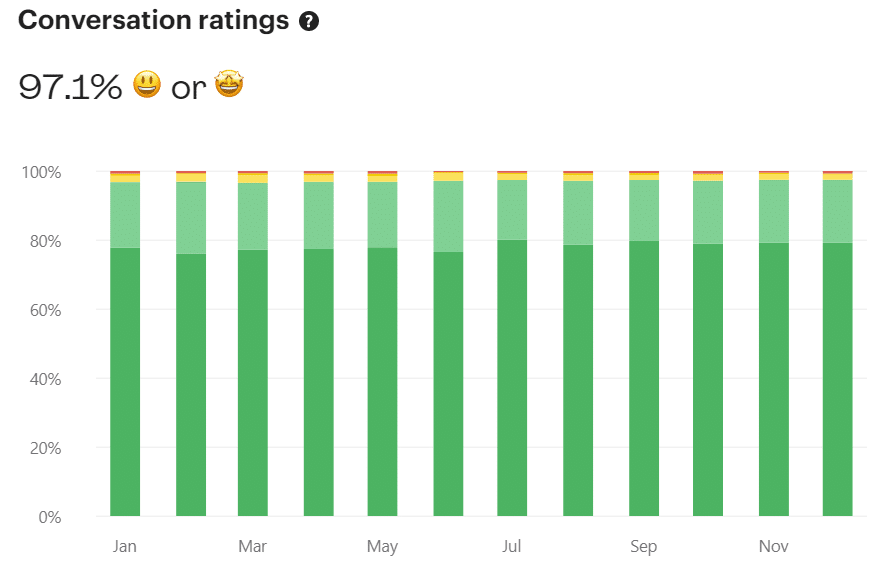 We've averaged around a 97% positive conversation rating all year. But that's not all! Here are a few additional statistics about Kinsta's support efforts in 2020:
Kinsta's support team has solved 105,182 tickets. 21,547 of those tickets were just over the last 90 days of last year.
The median time to solve and close issues was 43:55.
Tuesdays at 4 pm UTC is the busiest time for Support.
The median first-time response is 1:40 mins.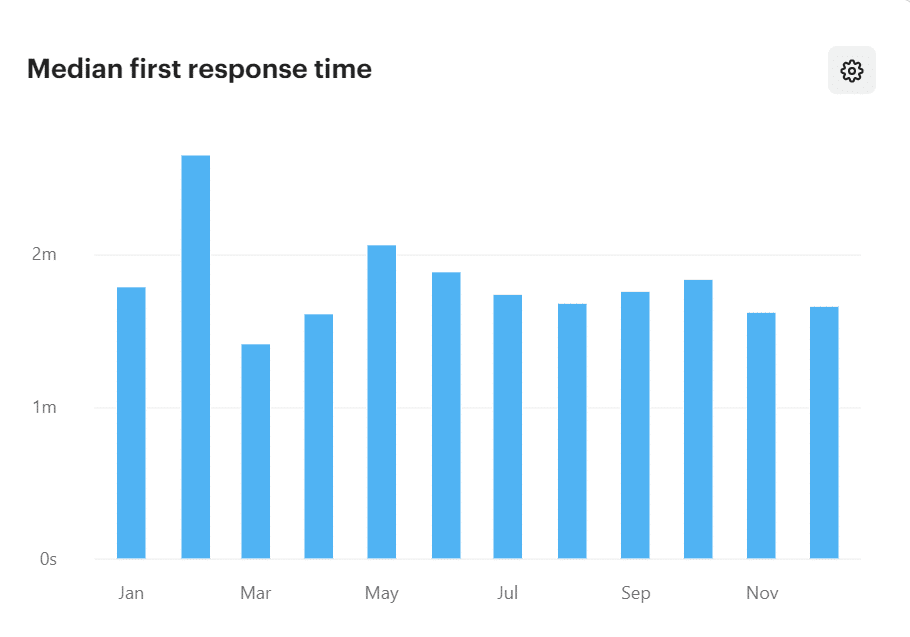 Support is available in English 24/7. In addition, thanks to our bilingual Support Engineers, we are also able to assist customers in several other languages. The multilingual support schedule is as follows:
Spanish support is available weekdays between 2 p.m. and 12 a.m. UTC. 🇪🇸
French support is available weekdays between 6 a.m. and 5 p.m. UTC. 🇫🇷
German support is available weekdays between 6 a.m. and 2 p.m. UTC. 🇩🇪
Italian support is available weekdays between 7 a.m. and 3 p.m. UTC. 🇮🇹
Portuguese support is available weekdays between 9 a.m. and 5 p.m. UTC 🇵🇹 – New addition!
It's our privilege to serve our amazing customers, many of whom regularly let us know how much they appreciate what we do, and I'd like to share what a few of them have said about us recently: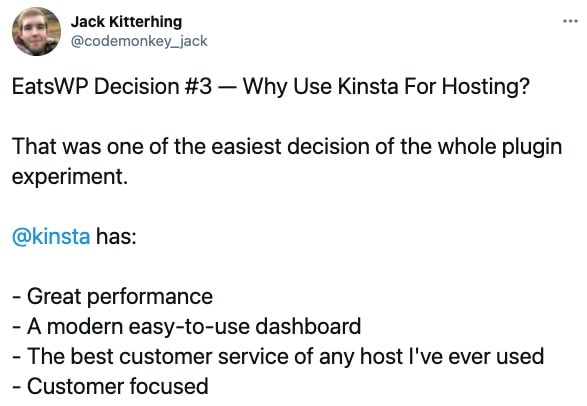 A big thank you and shout out to our phenomenal Support and Sysadmin teams for their incredible work!
Team Expansion Doesn't Stop (Up by 57%)
How many people worked at Kinsta in 2020? Before I tell you, I'd l like to take a moment to recognize our HR teams for their work which allows all teams at Kinsta to work with talented professionals.
So, we started 2020 as a team of 96 and we closed the year with 151 team members (aka Kinstanians), which means a 57% increase in a single year. Our busiest month for new hires was March when we added 13 people to the team, followed by August with 11 people, and December with 10 people.
On the Marketing front, we've grown our team to 15 amazing people that help craft and convey our content, campaigns, and brand message across all our channels.
On the Sales side of the house, we're now available 24/5 with sellers in North America, as well as EMEA, and APAC regions. This means we're available in 6 languages (English, French, Spanish, German, Dutch, Japanese). Last but not least, in 2020 we introduced the possibility to chat live with sales on our website.
2020 was a challenging year because Covid disrupted workflows, habits, and routines we've been embracing for years. Although we weren't new to remote work, the pandemic accelerated a process we had already started: becoming a fully-distributed remote-first company.
If you're on the lookout for your next professional path, we are always looking for new talent to join the team. Check our job openings out on our careers page.
Connecting and Supporting WordPress Communities Around the World
In-person events were badly affected by COVID-19 in 2020. In a show of resilience, many WordPress communities moved their events online. It was our privilege to sponsor several digital events in 2020.
Here they are:
WordCamps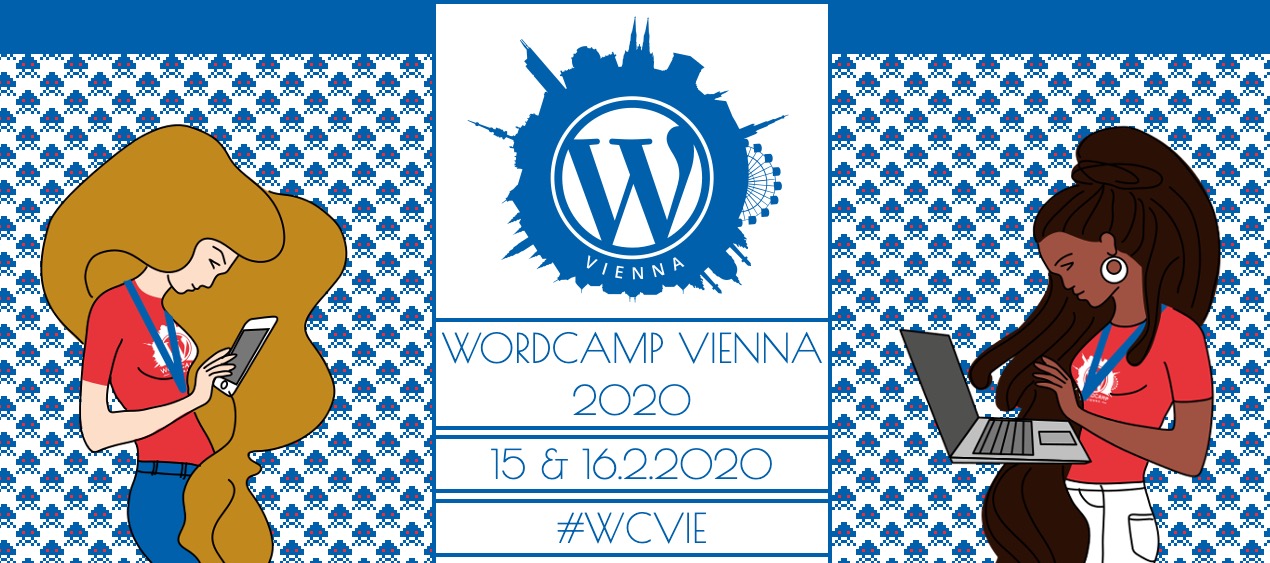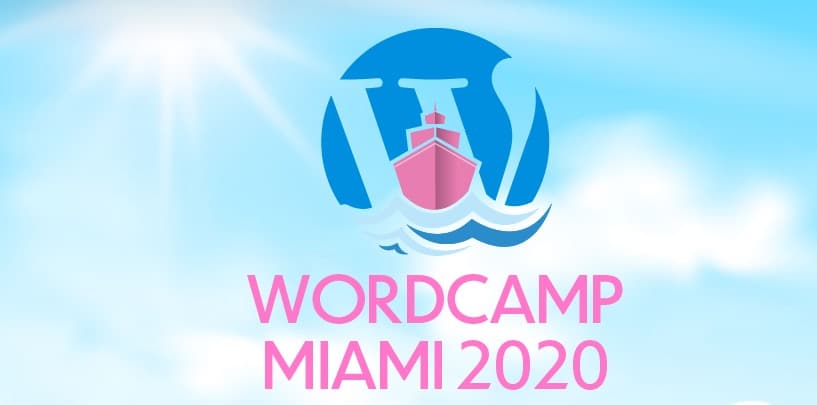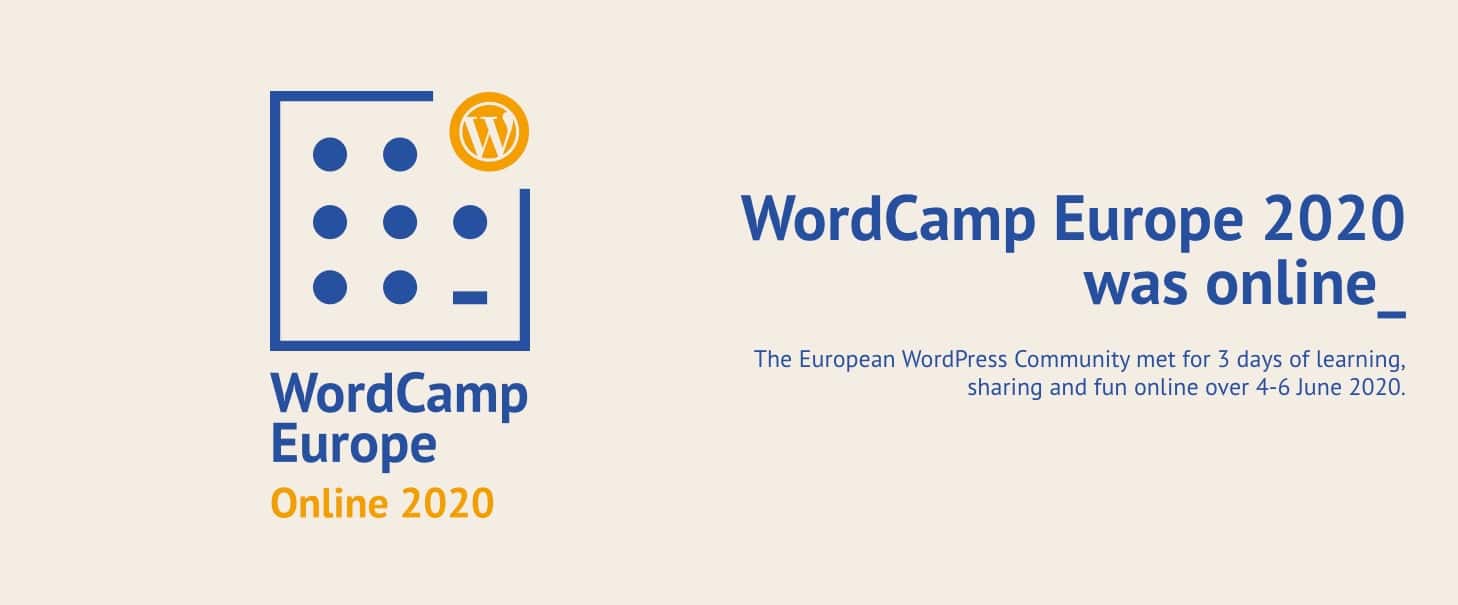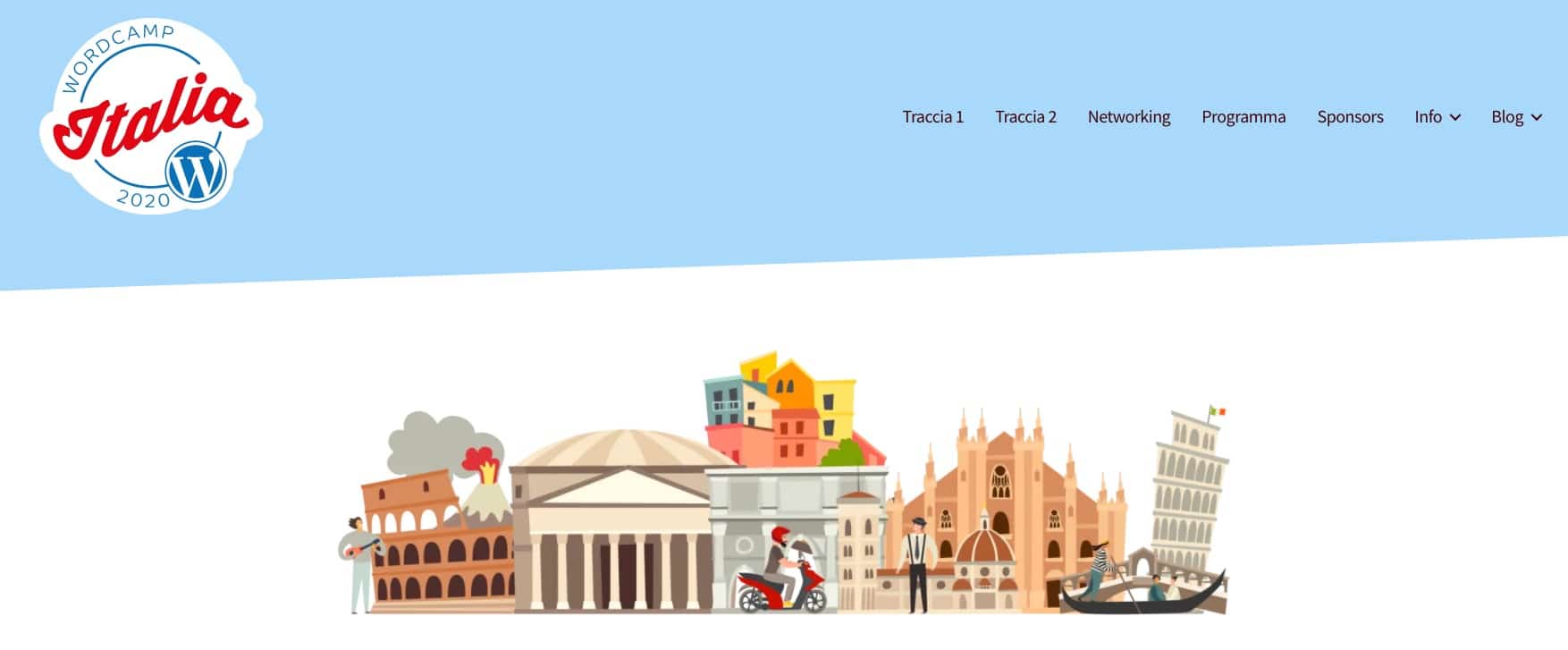 Meetups
Kinsta supported several local meetups as well in 2020, such as: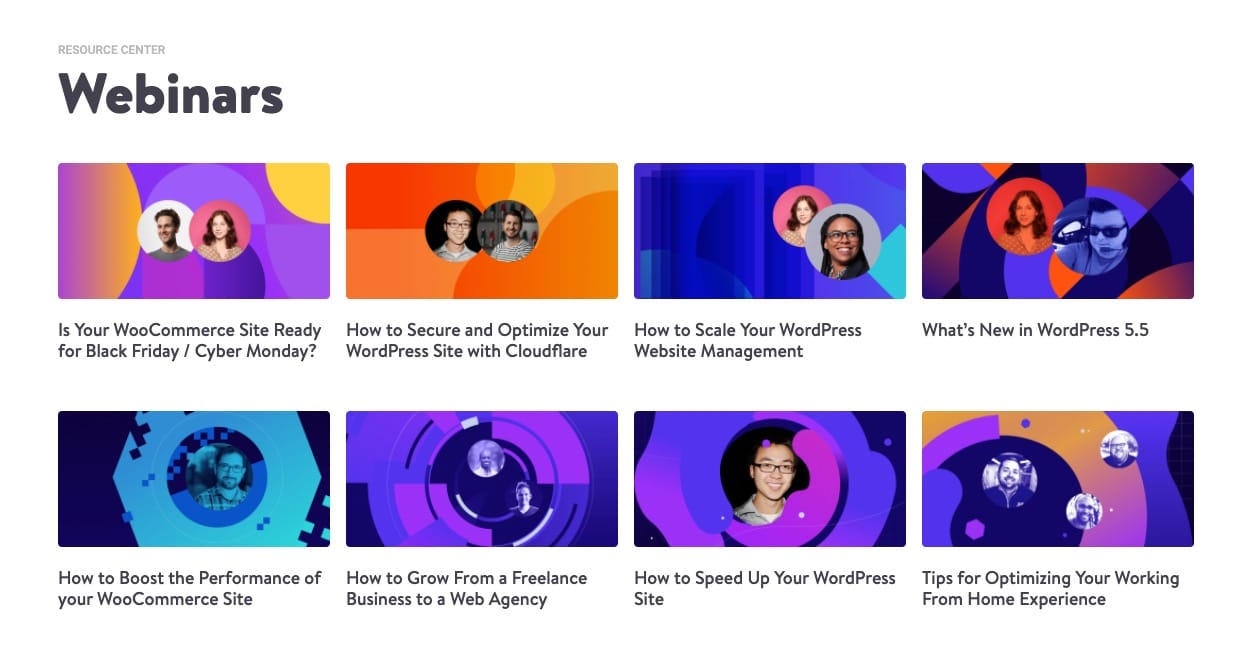 In addition, in 2020, we held a total of 17 free webinars in 3 different languages:
As valuable as the digital events of the past year have been, we can't wait to meet you all face to face as soon as in-person events are possible.
Feature Updates and Changes in 2020
Now let's take a look at the feature updates and changes our team was able to ship this past year. We can't go into detail on all of them right now, so here are the highlights (make sure to subscribe to our newsletter to never miss an update).
PHP 8 Available for All Environments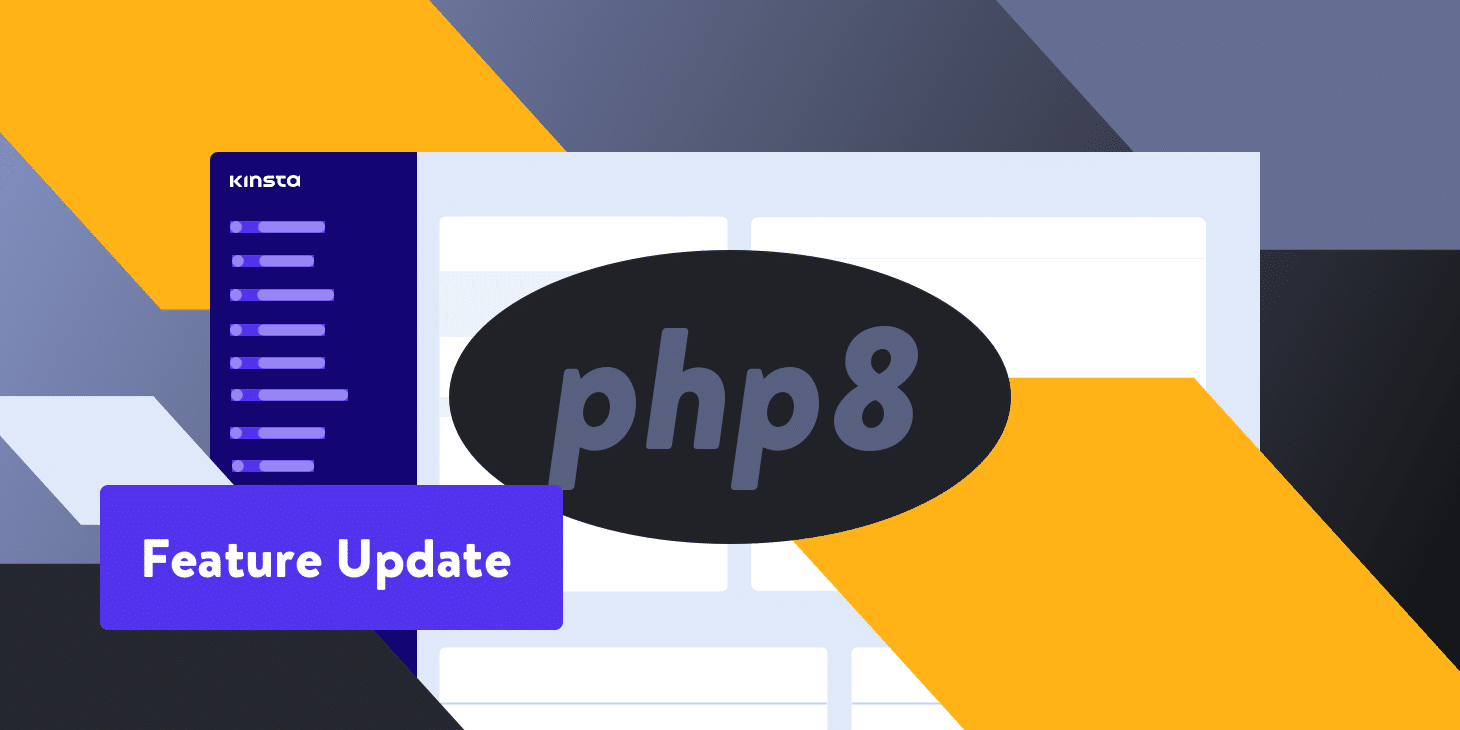 Released at the end of December 2020, PHP 8 is the latest version of the language and introduces a bunch of optimizations and powerful features to PHP like JIT compilation, Union Types 2.0, negative index arrays, and more. Following the release cycle, we made PHP 8 available to all our customers, both on their staging and live environments.
Kinsta's APM Tool
It's no news that speed and unmatched performance are near and dear to our hearts. One of our priorities in 2020 was to equip our customers with a tool to help them pinpoint and debug what's slowing down their site. That's why we created Kinsta APM, our free and powerful tool for application performance monitoring.
Thanks to Kinsta APM you can easily identify and fix performance issues for all your WordPress sites including WooCommerce stores and membership sites.
External Backup Options
You can't successfully manage a site without a backup system in place. In 2020, we enriched the backup options available for customers by adding external backups as well. The external backup feature can be configured to automatically push a backup copy of your site on a regular basis (once per week or once per month) to either Amazon S3 or Google Cloud Storage.
More Data Centers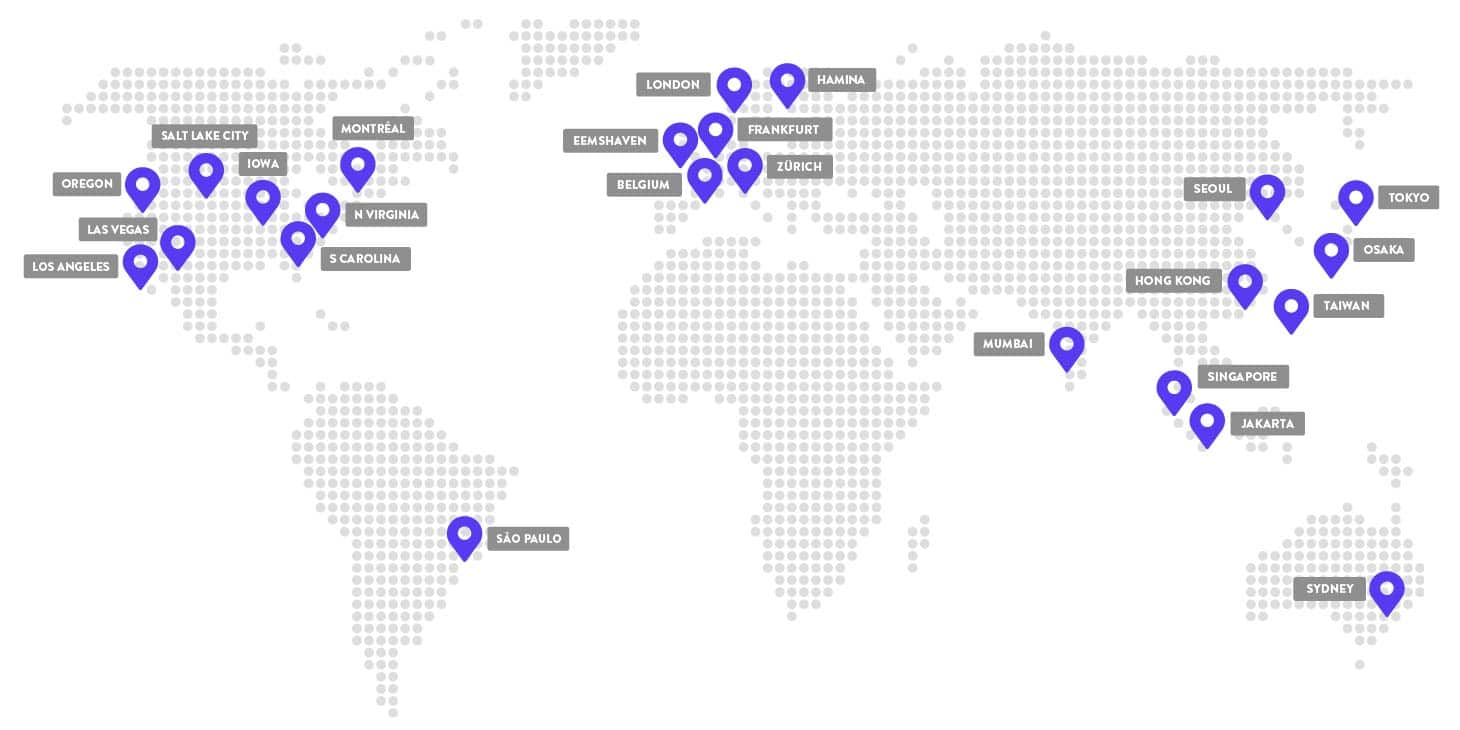 Picking the closest data center to your users ensures low latency and really fast load times. In 2020, we added 4 additional Google Cloud data center locations to choose from:
Council Bluffs, Iowa, USA (us-central1)
St. Ghislain, Belgium (europe-west1)
Changhua County, Taiwan (asia-east1)
Sydney, Australia (australia-southeast1)
The Dalles, Oregon, USA (us-west1)
Salt Lake City, USA (us-west3) – New
Ashburn, Virginia, USA (us-east4)
Moncks Corner, South Carolina, USA (us-east1)
São Paulo, Brazil (southamerica-east1)
London, UK (europe-west2)
Frankfurt, Germany (europe-west3)
Jurong West, Singapore (asia-southeast1)
Tokyo, Japan (asia-northeast1)
Mumbai, India (asia-south1)
Montréal, Canada (northamerica-northeast1)
Eemshaven, Netherlands (europe-west4)
Hamina, Finland (europe-north1)
Los Angeles, California (us-west2)
Hong Kong (asia-east2)
Zürich, Switzerland (europe-west6)
Osaka, Japan (asia-northeast2)
Seoul, South Korea (asia-northeast3) – New
Las Vegas, Nevada, USA (us-west4) – New
Jakarta, Indonesia (asia-southeast2) – New
More Visits for Starter and Pro Plans, Same Price
We're always all ears when it comes to listening to your feedback. That's why we added 25% more visits to our Starter and Pro plans at no additional cost!
Notification Center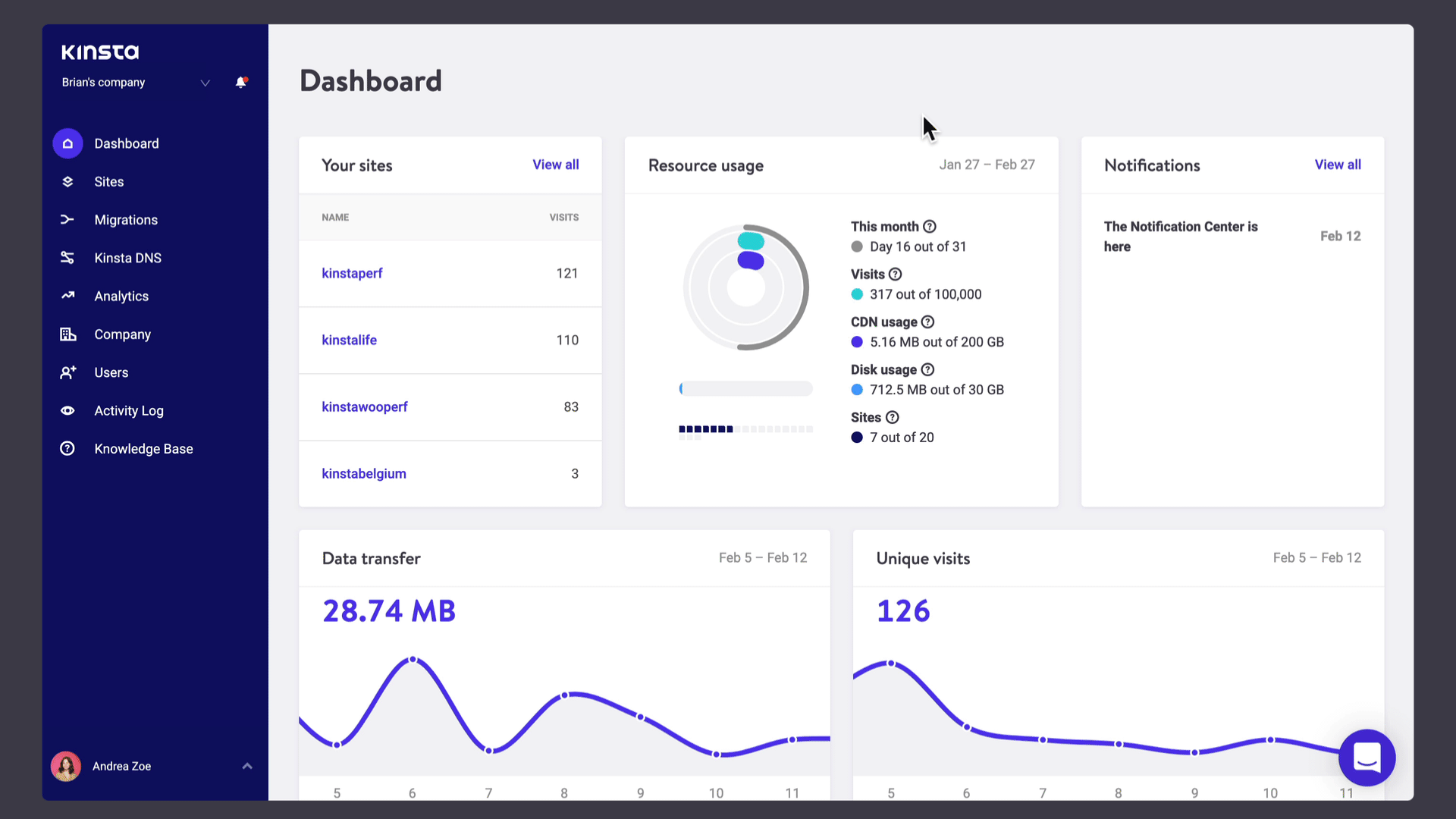 Thanks to the Notification Center we released at beginning of 2020, Kinsta customers are notified about important events and updates related to their site.
Additional Updates
In addition to all of the major feature updates and changes mentioned above, here's a list of a few additional smaller feature updates. As you can see, our MyKinsta development team has been busy!
The Kinsta Reviews Are In
Month after month, we received stellar feedback about our hosting and support, not just in customer chats, but also on public review sites. Once again, WPShout named us the best managed WordPress host and we earned awards in categories like Easiest to Use and Market Leader on G2.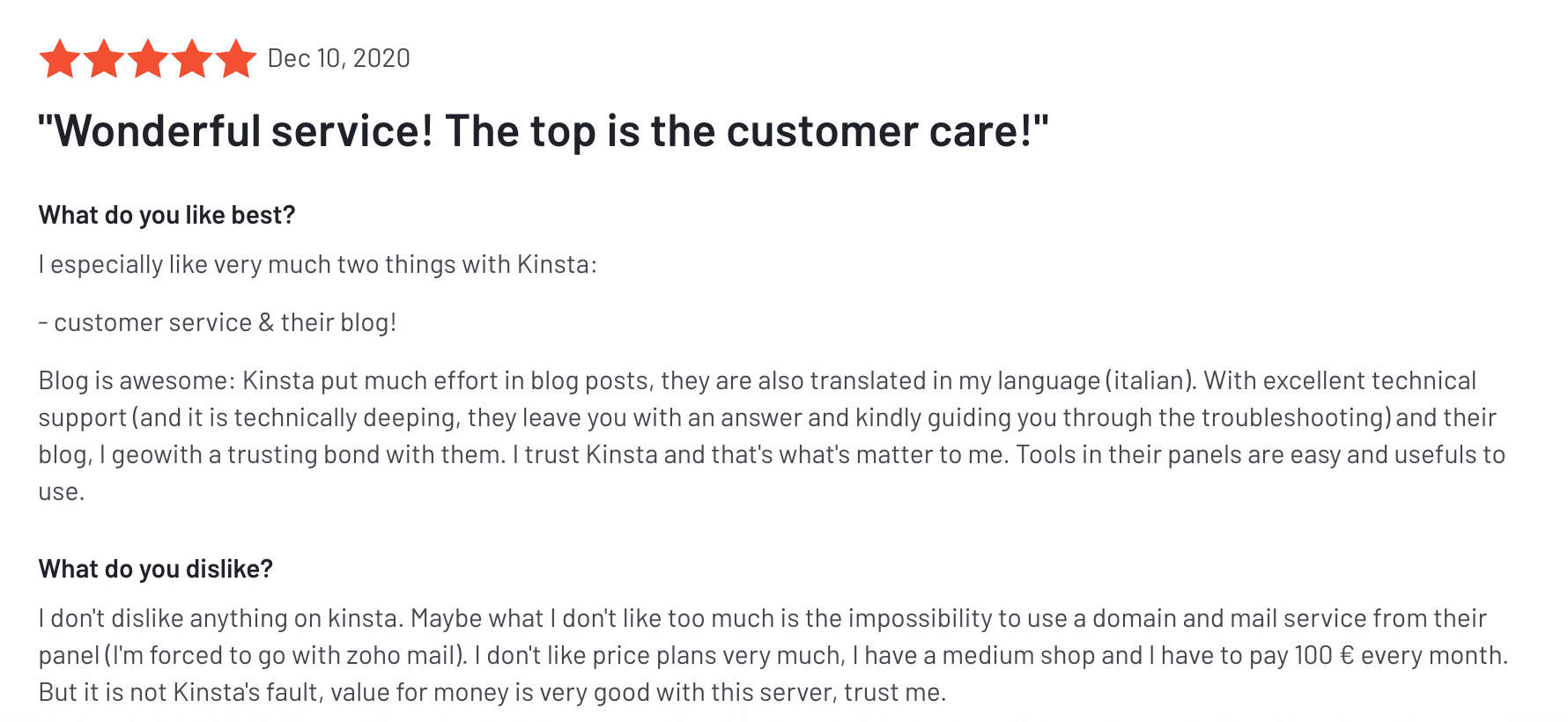 Kinsta is also consistently ranked among the best options for WordPress hosting on popular review sites, such as:
More Content, More Formats
At Kinsta, we believe so much in content, it shouldn't come as a surprise to learn that in 2020 we pushed our goals even further and went beyond written content by launching our YouTube channel.
In case you haven't already met, let us introduce you to the latest addition to the Kinsta content family!
Kinsta's YouTube Channel
YouTube is the second biggest search engine, and for a good reason. You can find (almost) anything that you're looking for on YouTube and see it in living color.
We had plans to get started testing with videos for a long time and, finally, in mid-November, we kicked off our publishing schedule and started producing videos that cover topics our readers (and us) love.
Here's one with tips on how to drive more traffic to your site leveraging content promotion:
Here's another one that shows you how to customize your WordPress theme:
Besides these types of video, we're continuously releasing video tutorials on how to use and get the best from our tools and features.
Check out this one about how to install DevKinsta:
Or this one also, about how to password-protect your WordPress site using MyKinsta:
If you love videos and like the idea of enjoying new ones every week, make sure to subscribe to our YouTube channel and give a thumbs up when you see something you like!
I know what some of you might think now: "Matteo, videos are great but… we came here for the data."
I know, you're interested in numbers, so let me share them with you:
How Much We Published in 2020
New Blog Posts: 151
New Knowledgebase Articles: 61
New Landing Pages: 30
Webinar Pages: 8
Affiliate Academy Content: 3
New Case Studies: 9
New Partner pages: 7
New Feature Updates: 14
New Ebooks: 4
Client Quotes: 107
Weekly newsletters sent: 50
This list doesn't take into account all the content updates pushed throughout 2020.
Most Read Articles of 2020
Now that you know the quantity, let me share which content pieces performed the best:
10 Best Blog Posts
10 Best Knowledgebase Articles
As Kinsta serves audiences with different language preferences, we can't forget to mention the incredible work our Global Expansion team and translators have done to help deliver content in other languages that aren't English.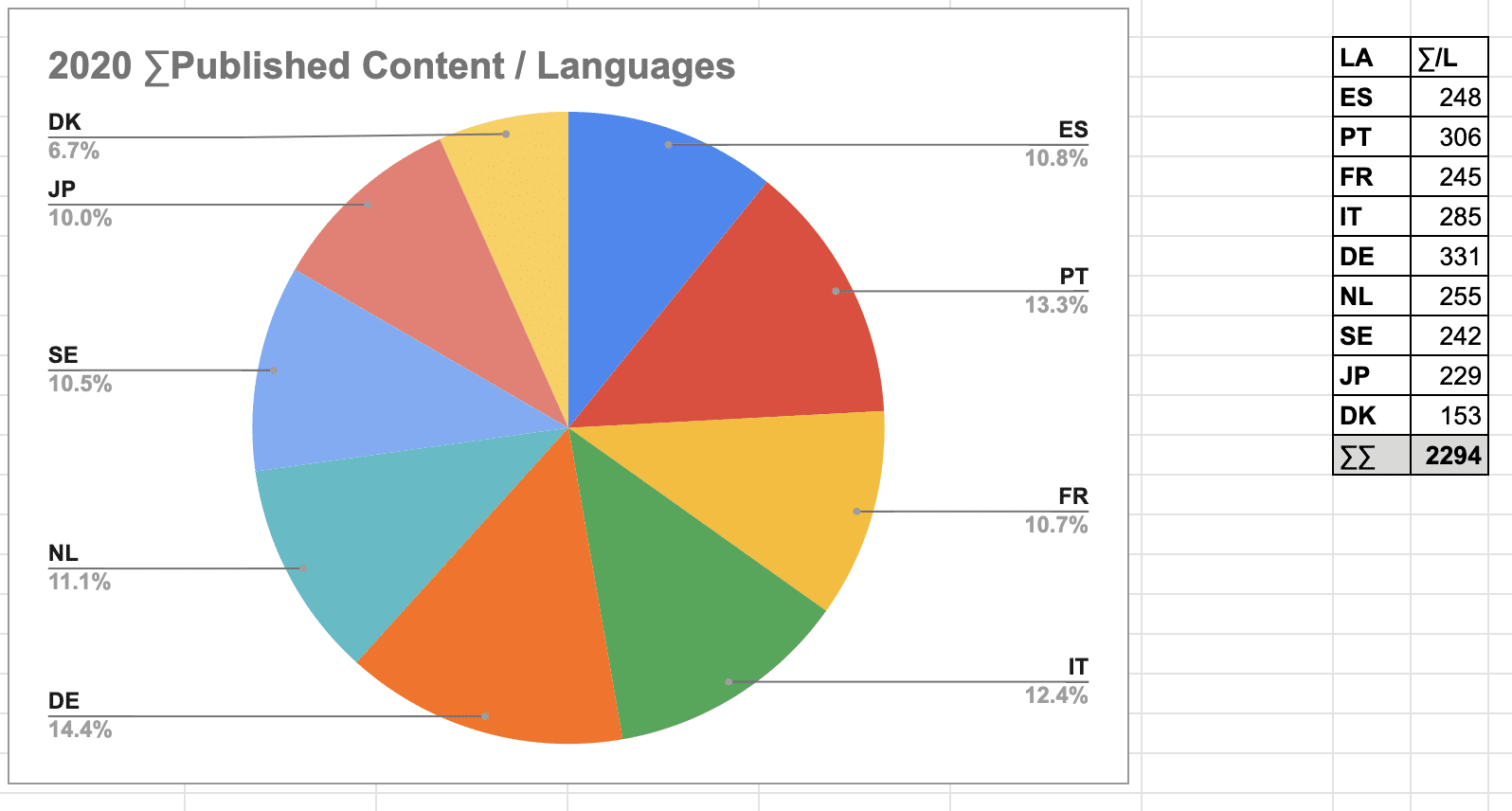 Specifically, 2294 translations were published in 2020 in 9 different languages. Wow!
What to Expect in 2021
Phew, that was a lot to share! But that's about the past, so where's Kinsta headed and what should you expect in 2021?
I can't share too much now but some gems have already popped up:
Better tools for developers: at the beginning of 2021 we released DevKinsta, our free suite of tools for local WordPress development. The team has been working on bug fixes and improvements, based also on the feedback we've received from the community. More to come on that, for sure!
Improved performance and security: Kinsta's Cloudflare integration makes WordPress sites hosted on our platform faster and more secure. Read about how we plan on using Cloudflare.
More content, more formats: we only scratched the surface when it comes to video production, and we're having a lot of fun in this journey. In 2021, you can expect us to increase the amount of content we create on a weekly basis.
Improved MyKinsta dashboard: we never stop working on our custom-built MyKinsta dashboard and you can be sure some really "juicy" new features and enhancements will be gradually rolled out in 2021.
This list is far from being exhaustive and 2021 will be a kickass year, I promise.
We appreciate your continued support and we're always looking forward to hearing from you. Here's to a great start!
 

View this post on Instagram