Bookkeeping and accounting can be time-consuming tasks on their own. If you're handling multiple users and clients, the time required can quickly pile up.
At Kinsta, we're always working to support our customers' business with new features to make their life easier. That's why we've implemented a per-user automatic invoicing system where you have full control over the recipients of your invoices.
If you're managing different users in your Kinsta account, or rely on a partner who takes care of billing for you, you can ensure all invoices are sent automatically to multiple email addresses at the end of the month.
Where Do I Find My Invoices?
First of all, you always have access to your invoices right within MyKinsta.
All invoices feature the invoice number, the amount charged, the billing cycle (monthly vs. yearly), the invoice creation date, and the start/end dates taken into account.
To access your invoices, here's what you should do:
Log in to MyKinsta.
Click your name in the upper-right corner.
Select Company settings from the dropdown menu.
Select the Invoices tab.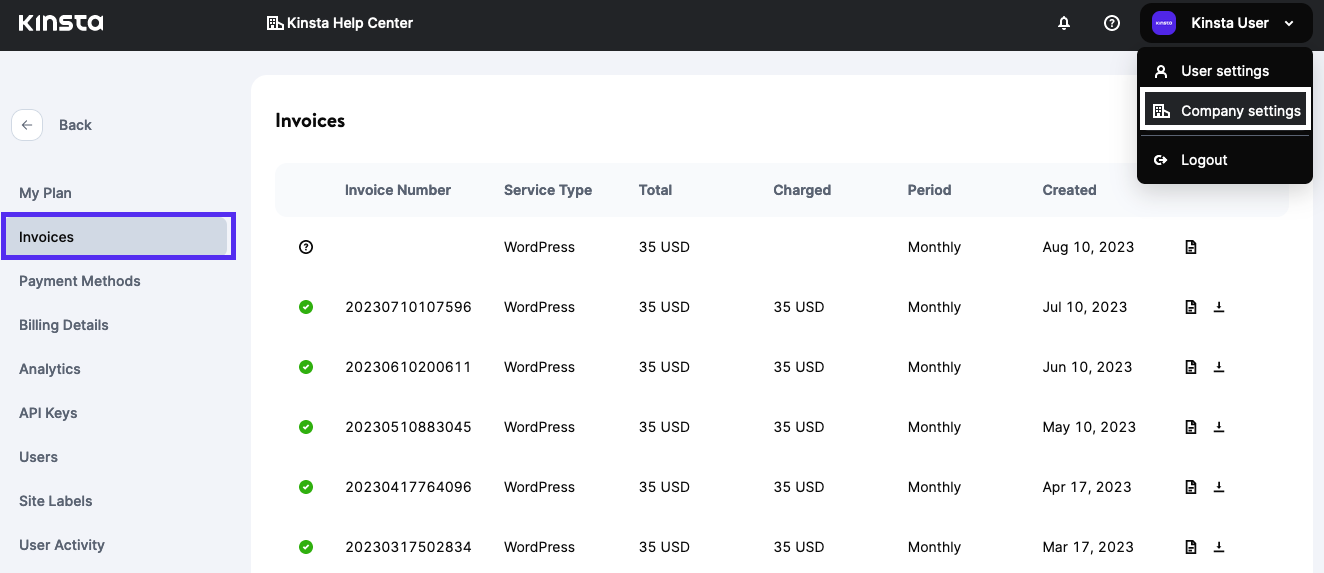 Here you'll find a list of all your invoices. To view an invoice, click the view (paper/memo) icon. To download a previous invoice, click the download (down arrow) icon.
The PDF version of your invoice has all the information you need, like the total amount due, start and end dates of the service billed, taxes (if applicable), and account balance, just to name a few.
Depending on your browser and settings, the PDF may open in a new tab instead of downloading to your local computer. If that happens, at the top of the page, there will be a link to download your invoice as a PDF file.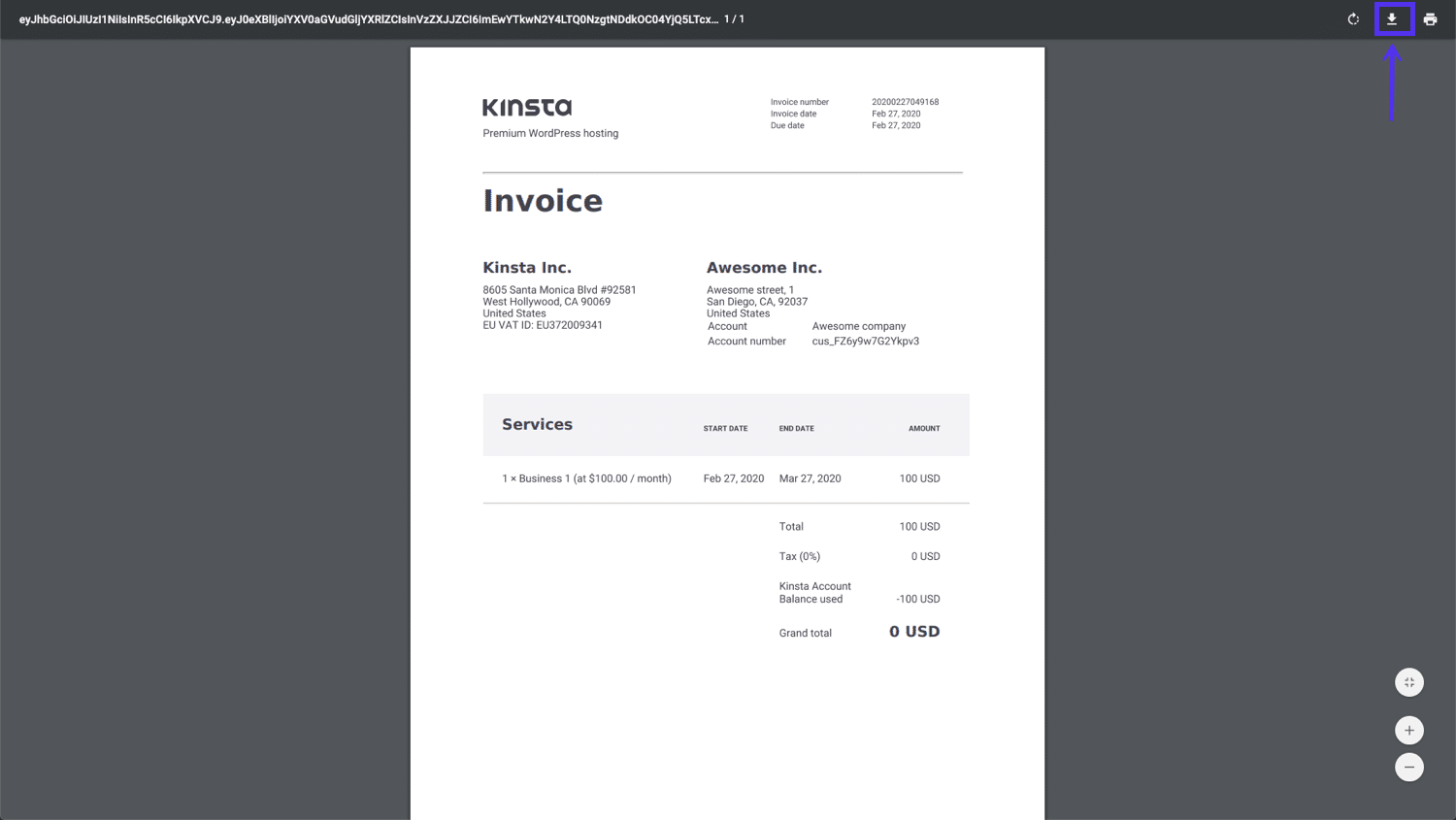 For customers on annual plans, we'll generate only one invoice per year instead of monthly invoices. This doesn't take into account any active add-ons or overages, which are billed on a per-use basis.
How to Manage Users Who Receive Invoice Emails
With our multi-user feature, you can create and manage a team and give them access to various aspects of your account, such as billing. For a detailed explanation of the different access types, please take a look at our knowledgebase article about how MyKinsta user roles work.
To grant access to invoices and automatic invoice emails, you can invite a company billing user that only sees billing details and company settings. They can see/receive invoices and modify company details like name, address, and payment method. They do not have access to any websites in any way. To give a user company billing access, select Company billing when you invite the user to your company.
Enabling Automatic Invoice Emails in MyKinsta
Automatic invoice emails are disabled by default for every user. If a user would like to start receiving invoices via email automatically, they'll need to enable this feature in their own User Settings in MyKinsta:
Log in to MyKinsta.
Click on your name in the upper-right corner.
Select User Settings from the dropdown menu.
Click on the Notifications tab on the User Settings page.
Scroll to the Invoice in email section and toggle the switch to on.