Migrate Guru is a free migration plugin available from WordPress.org. It is relatively easy to use, works well even with larger WordPress sites and is compatible with Kinsta.
These are the steps you'll need to take to migrate your WordPress website to Kinsta using Migrate Guru:
This guide is provided to help you perform your own migration. However, please note that Migrate Guru may not be fully compatible with some WordPress sites. Our Support team is always happy to help with basic migration questions, but cannot assist with failed migrations, as this falls outside of the scope of our support.
All of our plans include one or more free migrations. If you're at all worried about the integrity of your data, we highly recommend using our professional Migrations team. Additional migrations can be purchased for a one-time fee of $100, and we also offer bulk migration pricing.
Add a Site in MyKinsta
Once you've signed up for a Kinsta hosting plan, to use Migrate Guru, you'll need to add a site in MyKinsta.
When creating the site, be sure to select the Install WordPress option.
What Domain Should You Use?
When you create a site, you have the option to specify a custom domain or leave the domain name field blank.
Adding your live domain as a custom domain will result in MyKinsta creating an install that's set up to use your live domain. If you don't add a custom domain, the site will be set up to use a temporary URL.
Either option can be used when migrating your site, but your choice will affect the process later on.
Using a custom domain will make it a little harder to preview the migrated site but easier to go live with the migrated site when you're ready. Using the Kinsta temporary URL will do the opposite: previewing the migrated site will be easier, but going live will require a few additional steps.
In our experience, we've found that being able to preview the site with a temporary domain is very important for users migrating to Kinsta. Thus, we recommend leaving the domain name field blank during site creation and migrating to the provided Kinsta temporary URL.
Other New Site Details
The rest of the fields in the form in MyKinsta can be filled in however you like. Once the migration finishes, the WordPress site name, user, and password will be overwritten by the site you're migrating.
Once you've filled out all of the fields, click Add Site. MyKinsta will need a few minutes to set up your site. While that's happening, you can move on to the next step.
Install Migrate Guru
While the site is being created in MyKinsta, log into your existing website (the one you want to migrate). Once you've logged in to the WordPress admin area, navigate to Plugins > Add New and then search for Migrate Guru.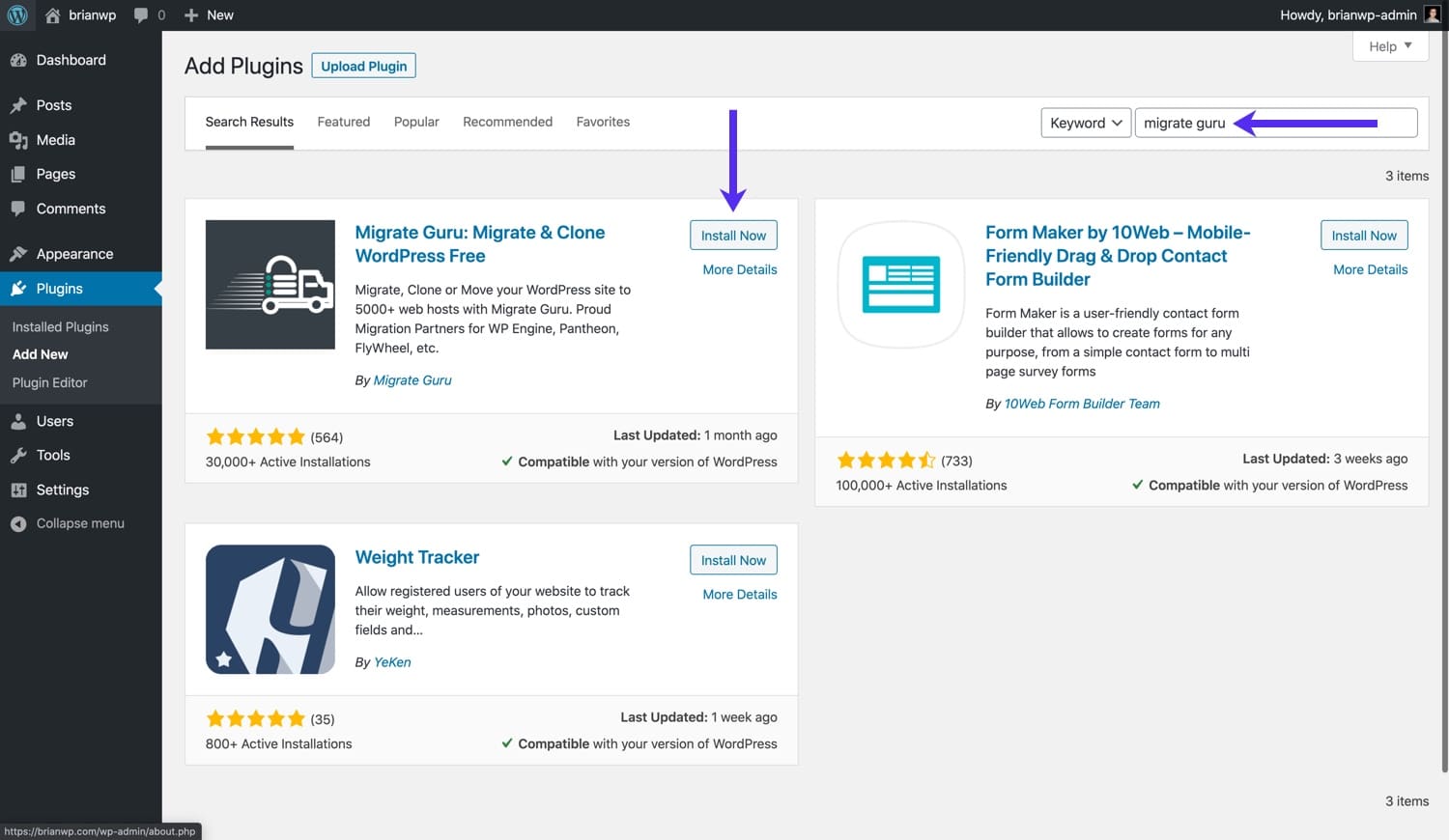 Once you locate the plugin, click the Install Now button to install it.
Initiate the Migration
After installing Migrate Guru, activate the plugin. Once activated, you'll be redirected to the Migrate Guru admin menu. If you happen to click away and need to find your way back, you can find this screen by clicking on Migrate Guru in the WordPress sidebar menu.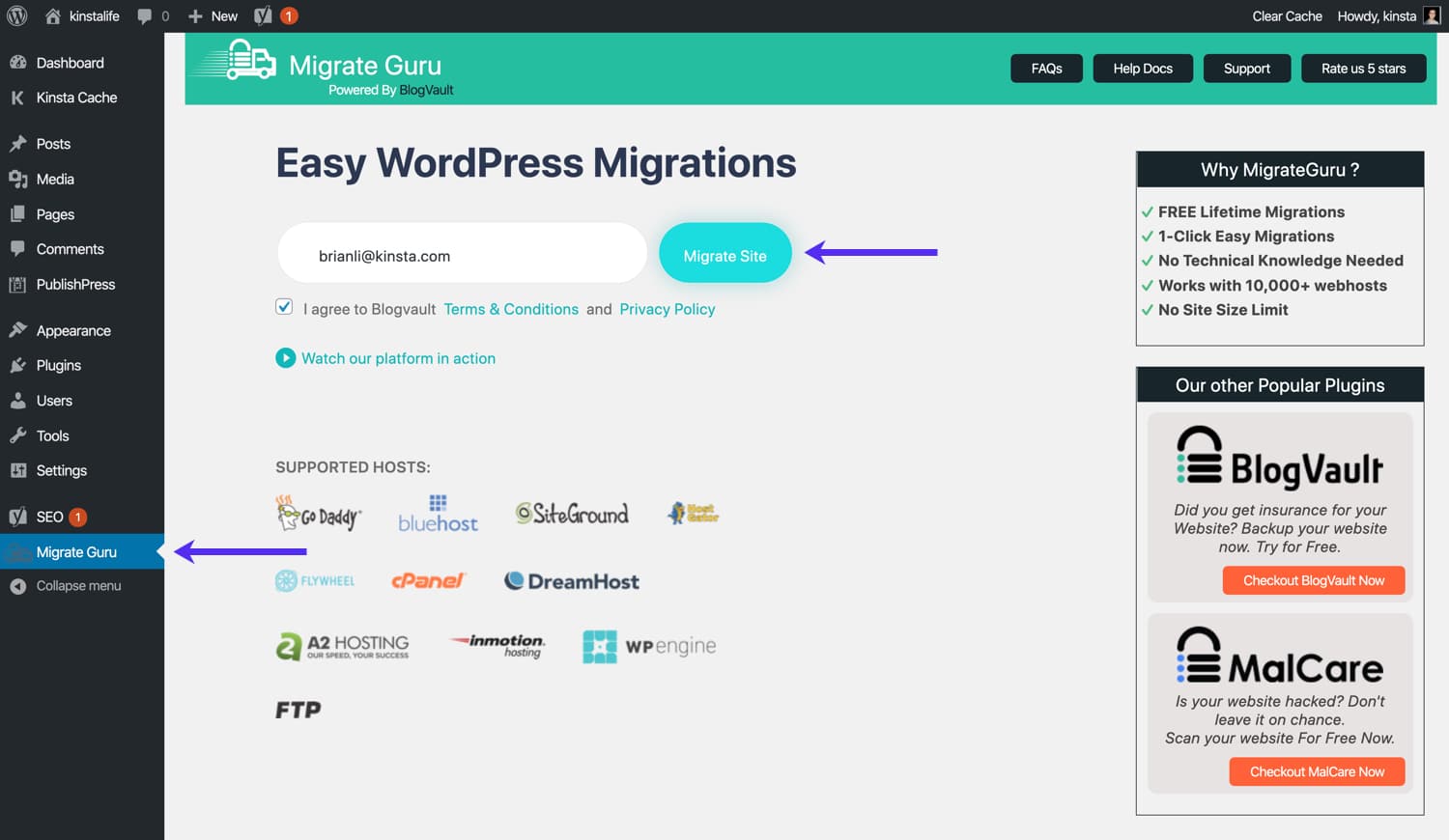 On the Migrate Guru page, enter your email address, check the box to agree to the Blogvault Terms of Service and Privacy Policy, and then click the Migrate Site button.
On the next page, select Kinsta as the host you are migrating to.
Domain and SFTP Details
Next, go back to MyKinsta and gather the domain and SFTP details for the site you just created.
Domain Details
Find your kinsta.cloud domain in Sites > sitename > Domains.
SFTP Details
Find your SFTP username, password, port, and directory path in Sites > sitename > Info.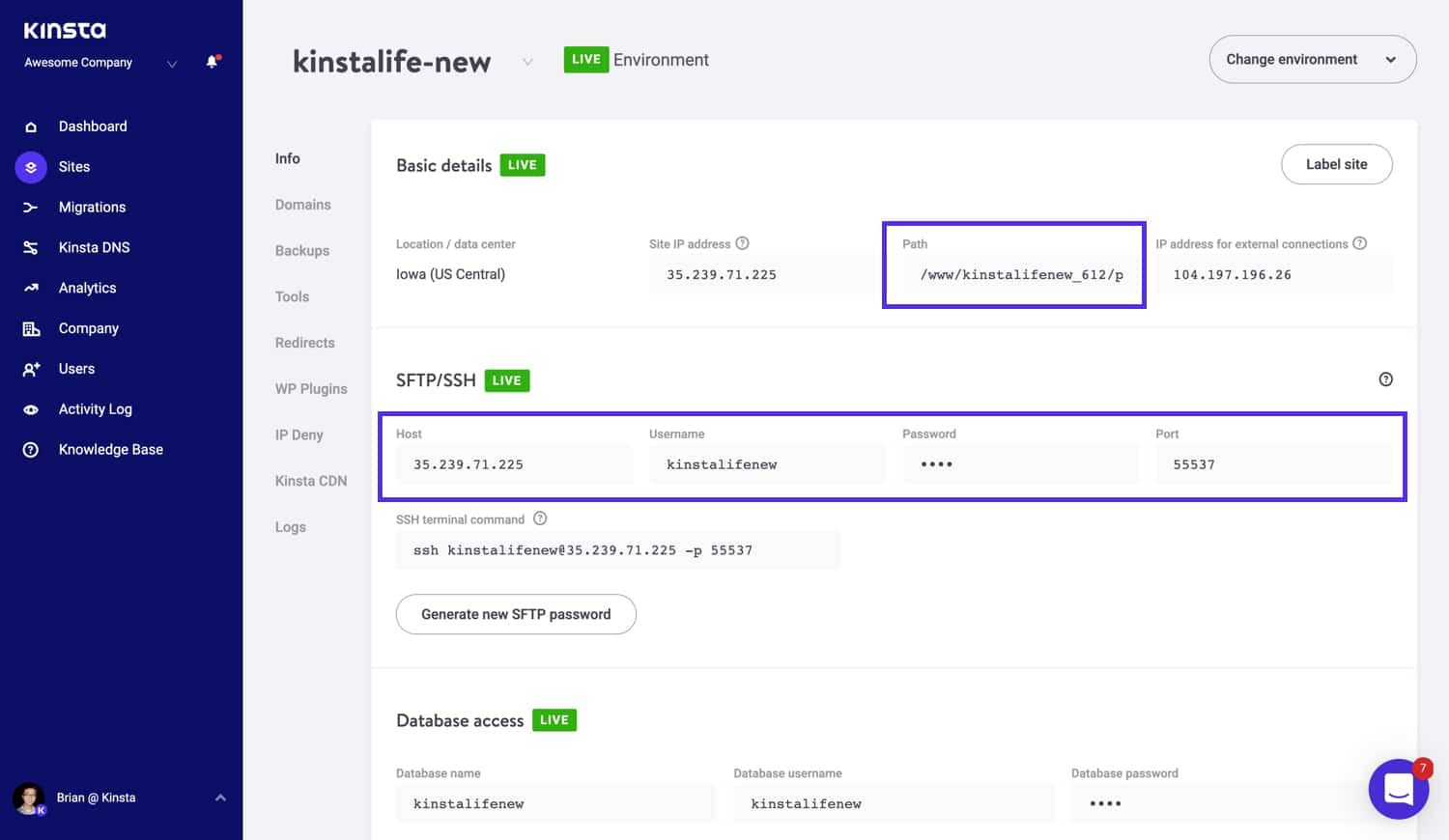 If you're unsure where to find these details, our article on How to Use SFTP can help you locate them. Once you have the necessary details, enter that information into the Migrate Guru form.
Important Migration Details
Below are very important migration settings you must configure properly. Otherwise, you won't be able to get to the next screen.
Destination Site URL – You need to include the protocol of your site, whether it is https:// or http://. For kinsta.cloud domains, you can use https://.
Directory Path – Make sure to use the full path /www/sitename_123/public as shown in MyKinsta.
Start the Migration
Next, input your kinsta.cloud domain in the Destination Site URL field in Migrate Guru, and add your SFTP details and directory path. After you have verified the details are correct, scroll down and click the Migrate button to start the migration.
Migrate Guru will now test the SFTP credentials you provided. If any problems are encountered, Migrate Guru will return to the SFTP details screen and highlight the fields that need to be reviewed. Check the details, correct any mistakes, and click Migrate again.
If you don't enter the correct directory path or destination address, you'll receive the following error:
Unable to access wpconfig file. Please check if WordPress is installed on the destination address. Also, check if you have permission to access the folder.
If Migrate Guru repeatedly reports issues with the SFTP details, please contact our Support team for assistance. Multiple failed SFTP connection attempts can trigger an IP address ban.
Once the connection is made successfully, Migrate Guru will migrate the site and display a page that you can use to monitor the progress of the migration. Depending on the size of your WordPress site, the migration can take a while.
When the migration is finished, you'll see a page that says Migration completed successfully.
Test the Migrated Site
After the migration is finished, you can test your site. In our example here, we'll use the Kinsta temporary URL. In the screenshot below, our migrated site is accessible over kinstalifenew.kinsta.cloud and looks exactly like our previous site at kinstalife.com.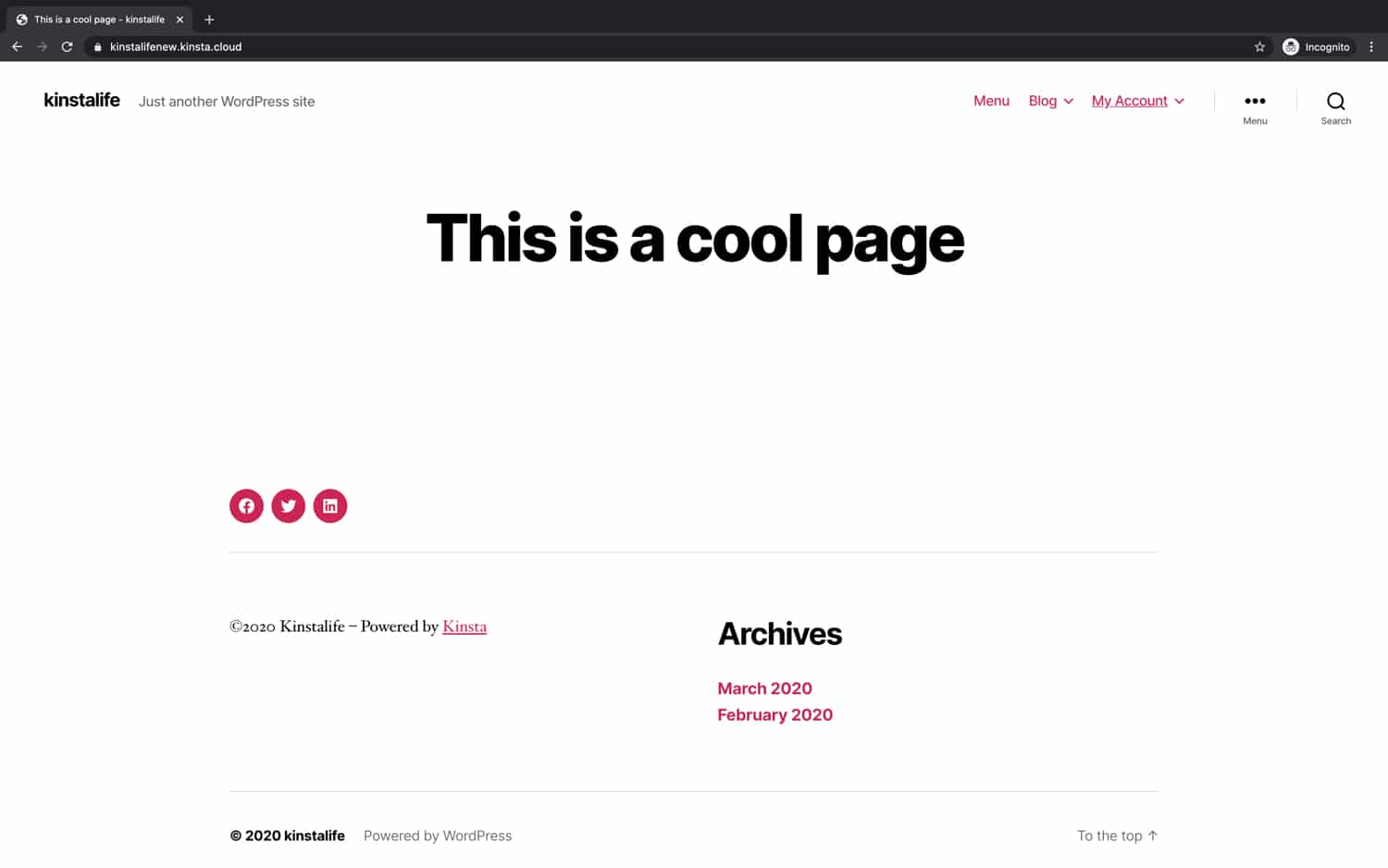 Switch to Your Live Domain
If you used a Kinsta temporary URL to preview your site, you can switch the site to use the live domain by following these steps:
After confirming that the site loads properly using the live domain, update your DNS to point your live domain to Kinsta.
(Optional) Install Your SSL Certificate
If your site uses an SSL certificate and loads over HTTPS (either currently or after you move it to Kinsta), you'll need to install an SSL here at Kinsta. Depending on the type of SSL you're using, there are a few steps that may need to be taken:
If you want to use Kinsta's free SSL option, all verified domains are automatically protected by our Cloudflare integration. This means you won't have to worry about manually configuring an SSL on Kinsta.
Once the SSL is installed, you will need to run a search-replace of the site database to update every occurrence of the site URL in the database from HTTP to HTTPS. Our post on fixing mixed-content warnings includes a detailed description of how to update these URLs.
Once the site is successfully loading over HTTPS, you can use the Force HTTPS tool in MyKinsta. This will cause all HTTP requests to be redirected to HTTPS, ensuring your site can only be accessed over HTTPS.
Install Kinsta MU Plugin
Our Kinsta MU plugin is automatically installed on fresh WordPress installations done here at Kinsta. However, since you've migrated your site yourself and site files were overwritten (including this plugin), you'll need to download and install the Kinsta MU plugin manually. This includes our full page caching and other functionality, such as the ability to deploy the Kinsta CDN.