In order to process payments, we ask you to input your payment details in MyKinsta, but your payment details are never stored on our servers. They are stored with Stripe, our credit card processing company. Stripe is one of the most secure payment providers in the industry.
How To Add Your Credit/Debit Card
To add a credit/debit card, log in to MyKinsta and click on your name in the upper-right corner. Click Company settings in the dropdown menu. Click on Payment Methods in the left-side menu, then click on the Add payment method button.
A form will be displayed for you to fill out your payment details. Your CVC number is a three-digit number found on the back of your card.
If you have an American Express card, the CVC is a four-digit number on the front of your card. Once you've entered your card details, click the Add Card button.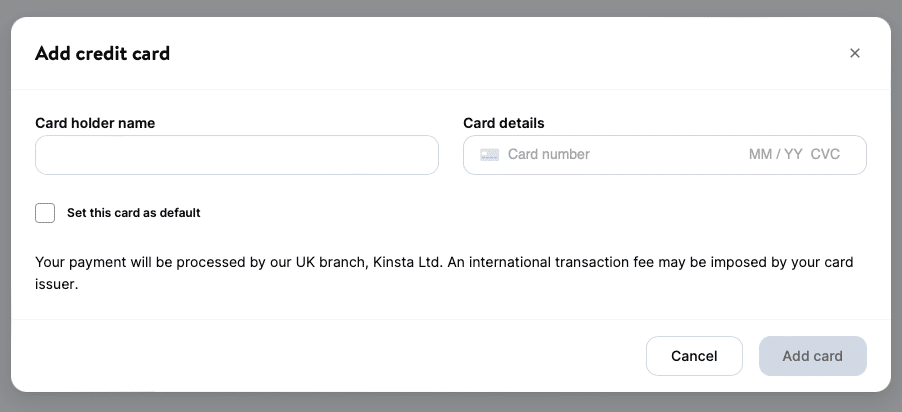 After a few moments, your card will then show up under Payment methods. If you only have one card, it will automatically be assigned as your default payment method.

You can add multiple cards, but our payment system will always charge your default card if possible. The additional card(s) may be used if we are unable to charge your primary card for some reason.
You can change your default card at any time from the Payment Methods tab by clicking the kebab (three-dot) menu for that card and choosing Set as default in the dropdown menu.
How To Add a Cross-Border Credit Card
If you would like to use a cross-border credit card in MyKinsta, you may need to input your postal code or ZIP code without letters. For more information, see our detailed information on how to add a cross-border credit card.
More Information
You can also check out more details on how to update a card and what to do about failed payment statuses on invoices.