At Kinsta, we are committed to continuously improving MyKinsta and your hosting experience. We've launched a variety of useful and time-saving features like Edge Caching, an improved SSL renewal process, an updated look and navigation in MyKinsta, and Premium Staging Environments, just to name a few.
When it comes to selecting which features to develop, our strategy is simple – we listen to our customers. Previously, we operated a beta testing program on a case-by-case basis. Recently, we expanded this program to all customers and officially rolled out the Kinsta Beta Crew.
As a Kinsta Beta Crew member, you'll be able to directly impact how future MyKinsta features will look and work. Here's how you can join the Kinsta Beta Crew today.
What to Expect as a Kinsta Beta Crew Member
After joining the Kinsta Beta Crew, you'll get exclusive sneak peeks at upcoming features before they go live. Our team will also ask you for your first impressions and feedback on new features, which means you'll be able to share your thoughts directly with Kinsta developers.
You don't have to be worried about spam. Even though we're constantly working on new features and improvements, being a Kinsta Beta Crew member doesn't mean you'll be bombarded with questions. We value your time and effort!
If participating in the development processing for upcoming MyKinsta features sounds interesting to you, continue reading below to learn how to join the Kinsta Beta Crew.
How to Join the Kinsta Beta Crew
To join the Kinsta Beta Crew, click on your user icon in the upper-right corner of MyKinsta, and click User Settings.

On the User Settings page, click on Notifications in the left side menu and scroll down. Enable the toggle in the Beta Crew Participation section to join the Kinsta Beta Crew program. If you decide you want to leave the Kinsta Beta Crew in the future, disable the same toggle.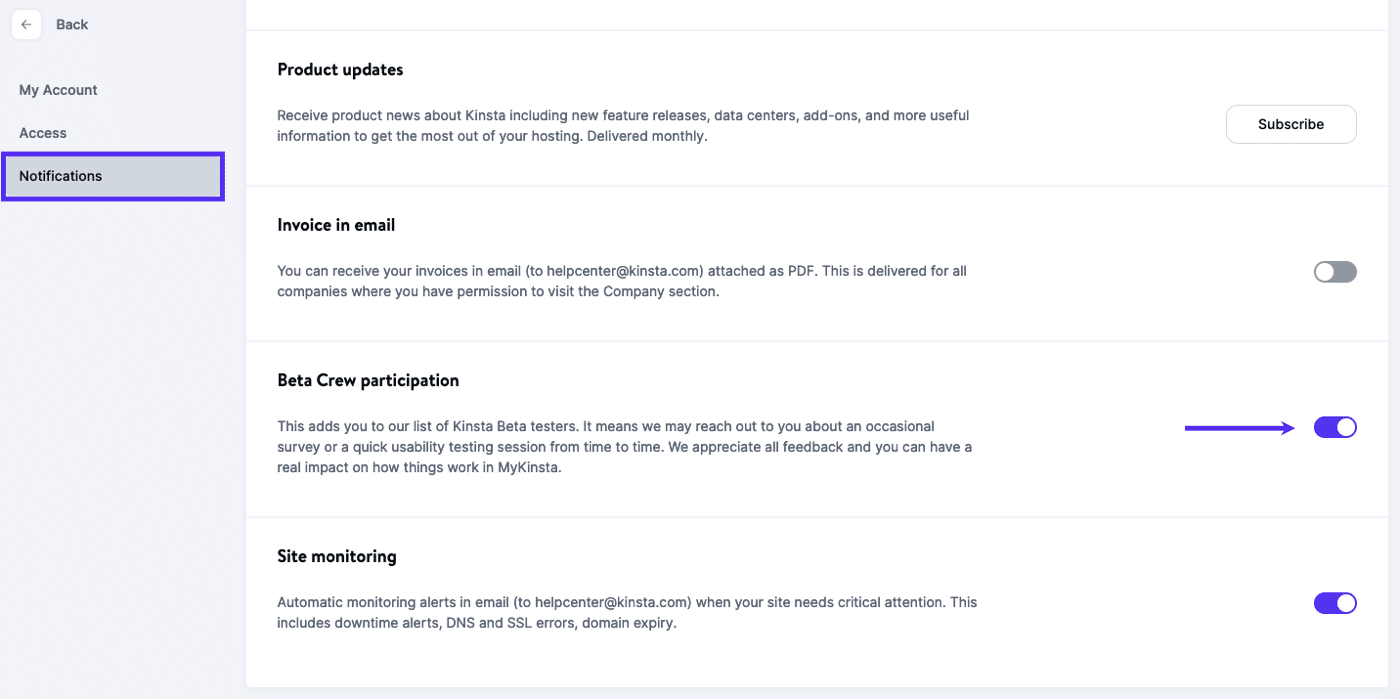 That's it! As a Kinsta Beta Crew member, we'll reach out to you to test new features and give feedback from time to time. We take customer engagement and feedback very seriously, so we truly appreciate the time and support of all our Kinsta Beta Crew members.