We use Google Cloud Platform's multi-regional deployment mode. This means that you can choose between different Google Cloud data center locations for each of your WordPress websites, which allows you to place your website in a geographical location closest to your visitors. This ensures low latency and blazing fast load times for your visitors and or customers.
Google Cloud Data Center Locations
You are free to choose from the following three data centers for your WordPress websites:
US Central – Council Bluffs, Iowa (us-central1)
Europe – St. Ghislain, Belgium (europe-west1)
Asia-Pacific – Changhua County, Taiwan (asia-east1)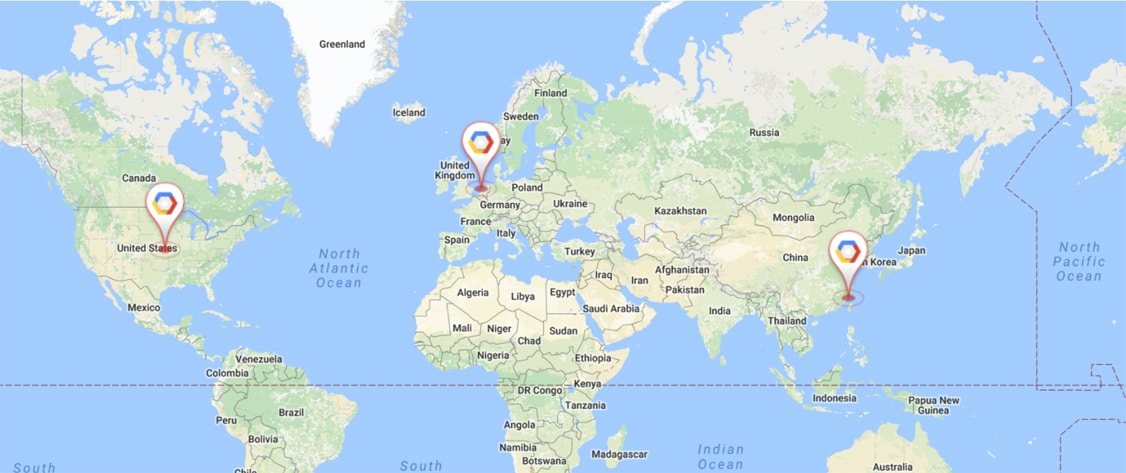 The following regions are coming soon:
Asia-Pacific – Sydney, Australia (australia-southeast1)
Europe – London, United Kingdom (europe-west2)
About Google Cloud
Some notable companies that are using Google Cloud data center locations include Spotify, Snapchat, HTC, Best Buy, Philips, Coca Cola, Domino's, Feedly, ShareThis, Sony Music, and Ubisoft. Even Apple has been seen moving some of its services away from AWS, spending between $400 million and $600 million on Google Cloud Platform; although this couldn't be independently confirmed.
And most recently Evernote made the decision to migrate its 200 million users. Ben McCormack, VP Operations at Evernote stated on their blog:
"Evernote will gain significant improvements in performance, security, efficiency, and scalability. Moving to the cloud also allows us to focus time and resources on the things that matter most."
See a full list of case studies and companies utilizing different services on Google Cloud Platform.