If you're having trouble with your WordPress site or have questions about your plan, please open up a new chat with our team. We're here for you 24/7 and are happy to help! Otherwise, if you need to cancel your hosting plan, we understand. While we hate to see you go, we try to make every aspect of using Kinsta as easy as possible, from signing up to cancellation. Perhaps your project has ended, or you were simply testing Kinsta for a client. Whatever the reason, you can cancel your hosting plan at any time from within MyKinsta.
Cancel Your Kinsta Hosting Plan
Follow the steps below to cancel your Kinsta hosting plan.
Step 1
In MyKinsta, click on your name in the upper-right, then Company settings in the dropdown menu. Click on the Cancel plan button on the My Plan tab.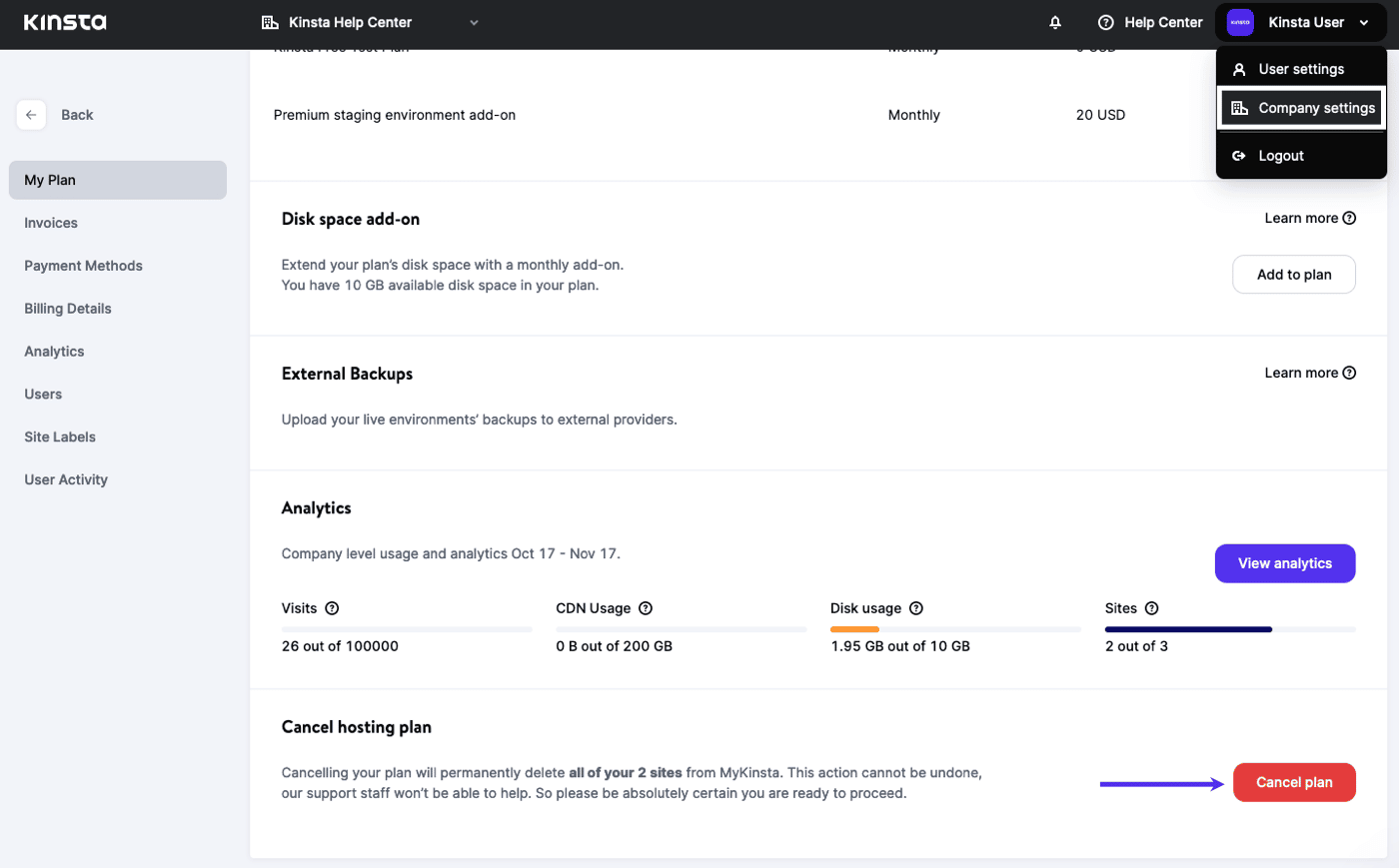 Step 2
You will then need to check each of the boxes to indicate that you understand that:
Your live and staging environments (Standard and Premium) will be deleted for all of your WordPress sites.
All of your DNS records in MyKinsta will be deleted.

This includes your DNS Zone and the ability to edit it.

All of your CDN configurations and settings in MyKinsta will be deleted.
It's important to understand all data is permanently deleted and cannot be recovered. Click Next to continue with the cancellation.
Step 3
After canceling, your final bill is automatically calculated. There may be outstanding charges or refunds you are entitled to. Kinsta has a 30-day money-back guarantee. Click Next to continue to the next step.
Note: If you have a custom plan or have made plan changes recently, we may not be able to generate the final bill for you automatically. In this case, we'll manually create your final bill, and you will receive it within 3 days. Your account will be fully closed once your final bill is created and cleared.
Step 4
Finally, you'll need to confirm your plan's cancellation by entering your MyKinsta password. Then click on the Cancel Plan button.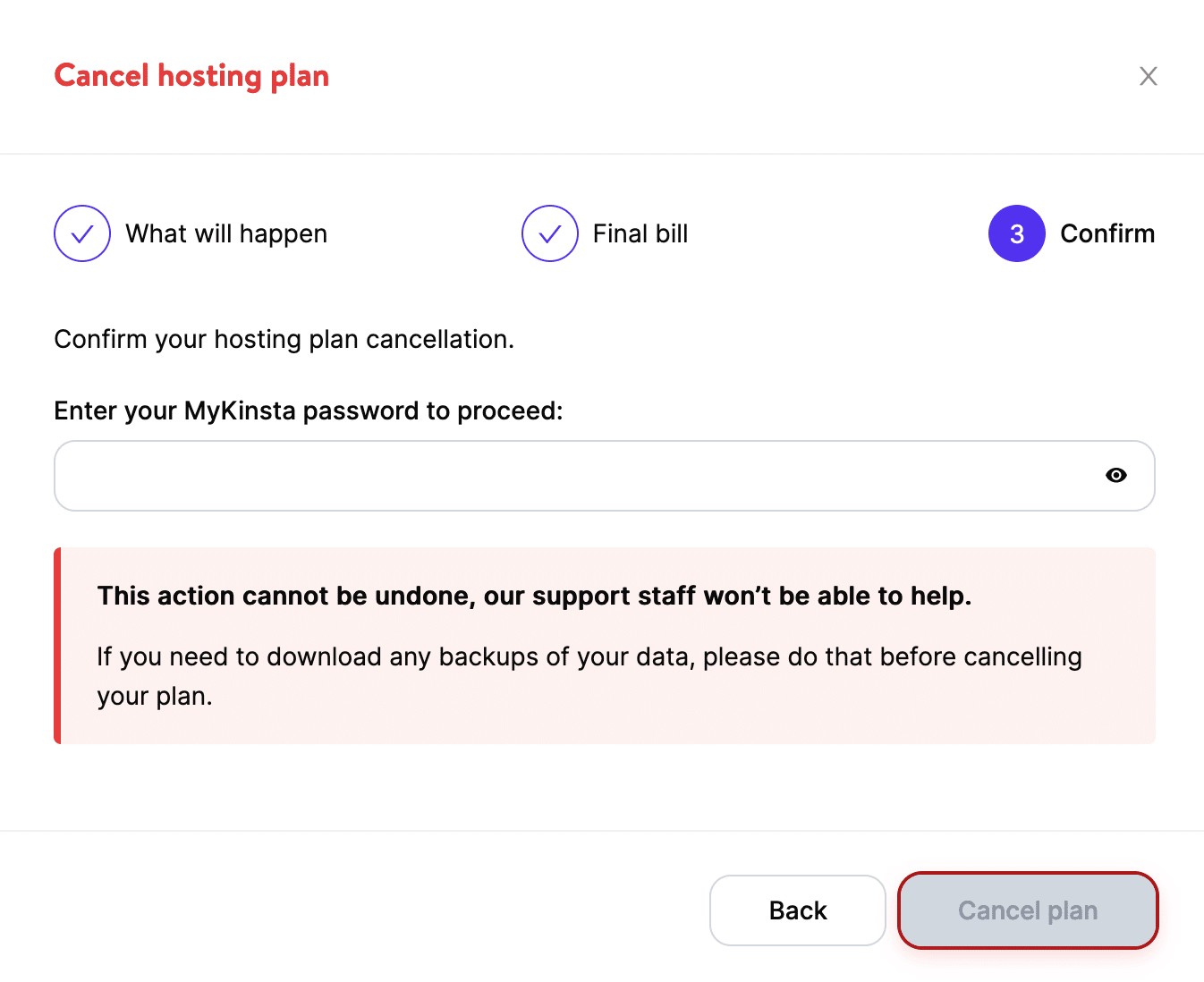 Step 5
Your plan will then be canceled. We'll ask that you provide some feedback on why you are canceling your Kinsta hosting plan. We greatly appreciate you taking a few moments to fill this out for us. Kinsta was built from the ground up on user feedback, and we take all of it, even the negative, very seriously. This helps us improve our platform for everyone.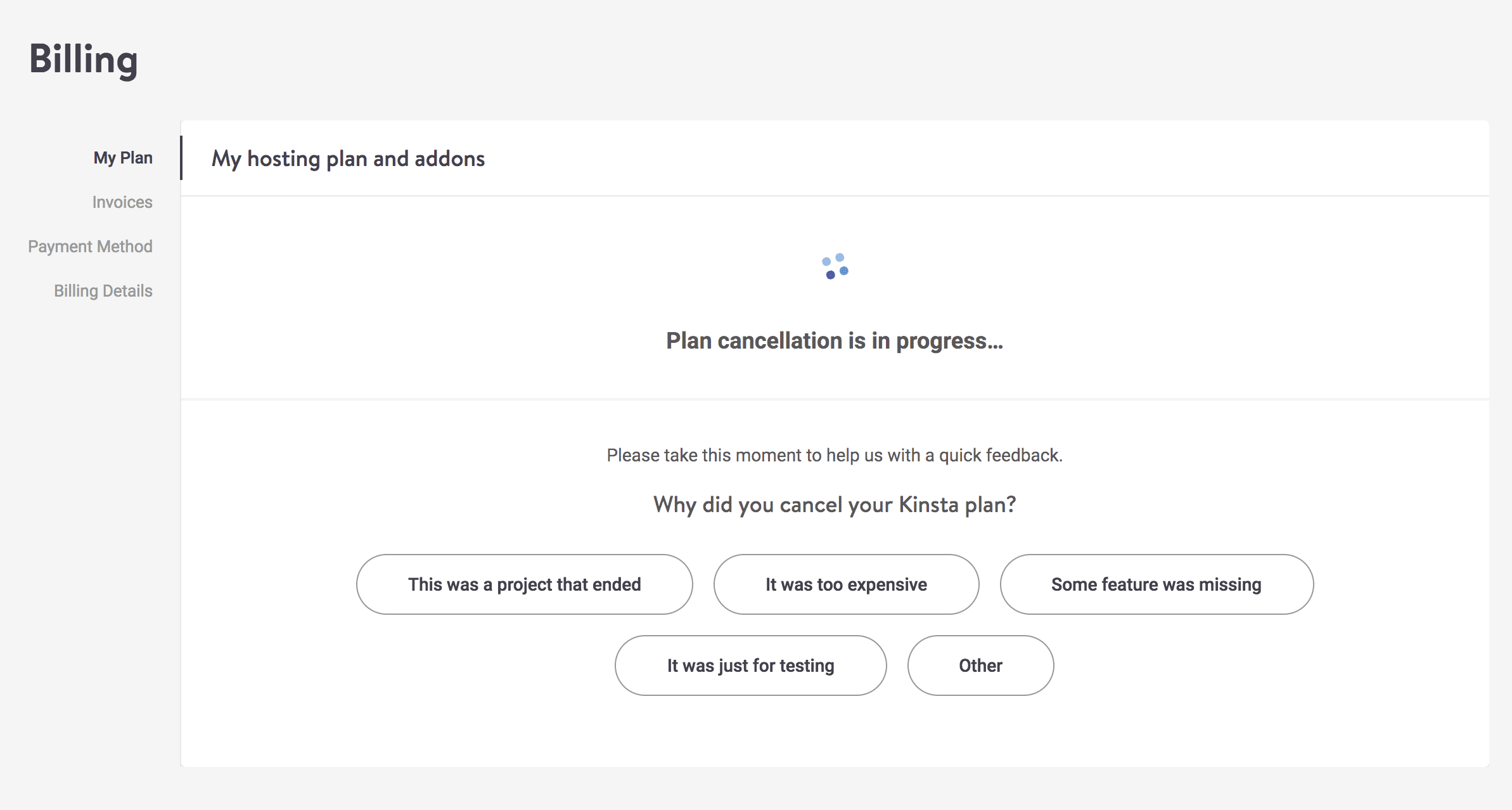 We thank you for using Kinsta and hope to see you back one day! 👋
Canceling Add-ons
To cancel a Premium Staging Environment add-on, delete the Premium Staging Environment to stop additional billing. Deleting the Premium Staging environment will also cancel the add-on.
If you want to cancel other add-ons (Redis, Reverse proxy, etc.), you'll need to reach out to our Support team. Please note that only users with billing permissions (Company owners, Company administrators, or Company billing users) are able to request the removal of an add-on.