Your hosting invoices are always available from right within the MyKinsta dashboard. These contain the amount charge, period dates, status and creation dates. We are constantly improving and adding more data to our invoices. Simply follow the steps below.
Kinsta Hosting Invoices
Login to your MyKinsta dashboard. Click on "Billing" and select "Invoices".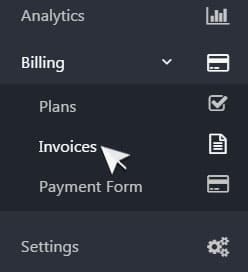 You'll find a list of your invoices on this screen. After clicking on "View" for a particular one, there will be buttons allowing you to download or print the invoice.