You can now add redirect rules from right within your MyKinsta dashboard! Redirect rules allow you to seamlessly direct traffic from one location to another. It is particularly useful for preventing 404 errors, ensuring proper SEO when you make changes, and routing visitors to the correct locations on your site.
Using free WordPress plugins to implement redirects can sometimes cause performance issues as most of them utilize the wp_redirect function, which requires additional code execution and resources.  Adding them in MyKinsta means the rules are implemented at the server level, which is a much more optimal way. Just follow the steps below on how to add them.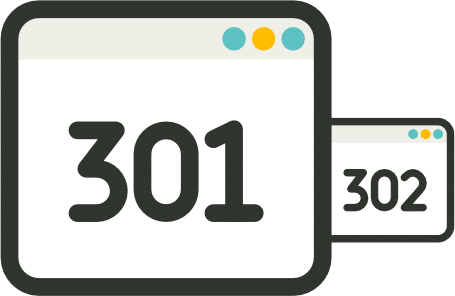 How to Add a Redirect Rule
Step 1
To add a redirect, click on your site in MyKinsta and go to "Redirects." Then click on "Add Redirect Rule."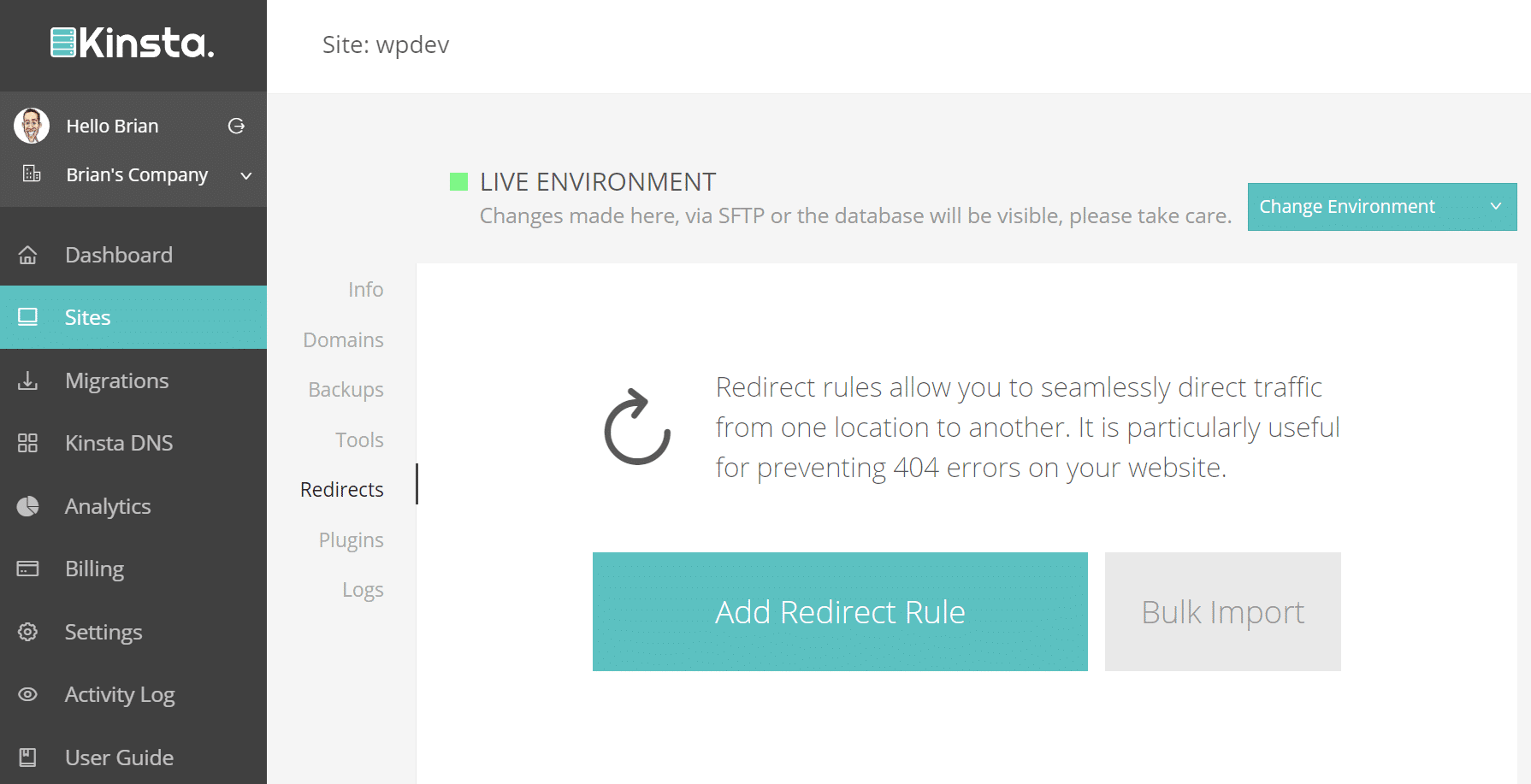 Step 2
You can then choose the type of redirect rule you want. Check out this article on redirection to learn more about which type of rule you should use. Regular expressions can also be used.
301 redirect:

Used for URLs and or content that is "moved permanently." Typically this is the one you will want to use for SEO purposes.

302 redirect:

Used for URLs and or content that is "found" or "moved temporarily."
In this example below, we add a 301 redirect for a blog post URL that was changed and updated to something else. This ensures that all traffic, backlinks, and link juice from Google is now sent to the new URL. 301 redirects pass between 90-99% of link juice. You can select which domain prefix you want it to be added for. In this case, we want both www and non-www traffic to redirect.

Note: This will automatically redirect UTM parameters or anything on the end of the URL. For example, if the old URL is shared on social media using a tool like Buffer, it might appear as the following:
https://wpdev.ink/blogpost/?utm_content=buffer
This will automatically be directed to:
https://wpdev.ink/newblogpost?utm_content=buffer
It is also important to check your current backlinks in a tool such as Ahrefs. For example, you might have backlinks on 3rd party sites that point to two different versions of your URL:
https://wpdev.ink/blogpost
https://wpdev.ink/blogpost/
Notice the second one has a backslash on the end of it. If you don't take this into consideration, it could break the redirect. Therefore, if you aren't sure what version third party sites are linking to, you can always use a wildcard regex command (asterisk) instead to ensure that both work. See example below:

In the above example all links to both /blogpost and /blogpost/ (with the backslash) would get redirected to /newblogpost. You can then easily manage all of your redirect rules from the dashboard.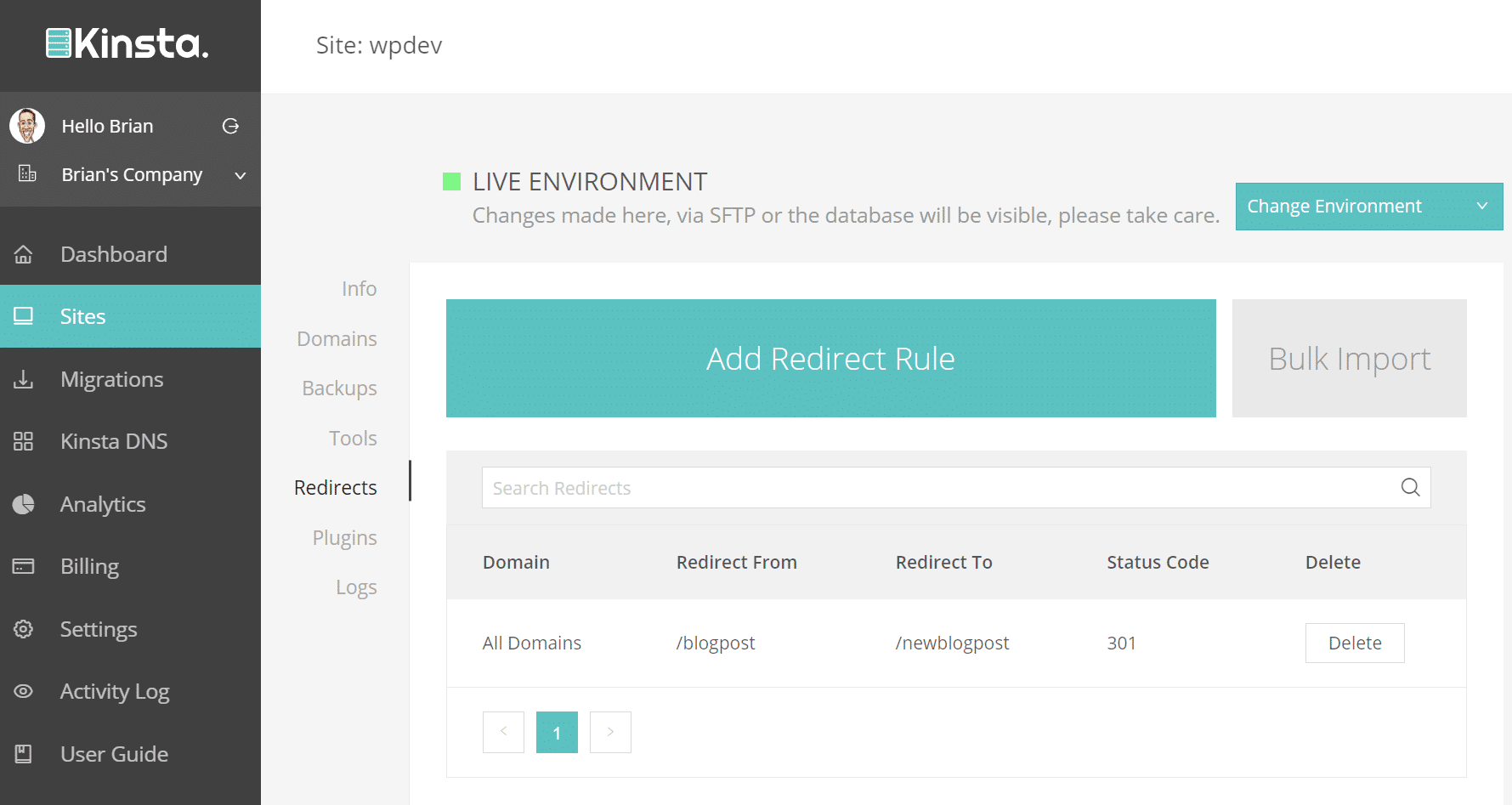 How to Bulk Import Redirect Rules
Perhaps you have a more complex setup or want to get rid of your 301 redirect plugin on your WordPress site. We also have the option for you to bulk import redirect rules from a CSV.
Step 1
To add bulk import redirect rules click on your site in MyKinsta and go to "Redirects." Then click on "Bulk Import."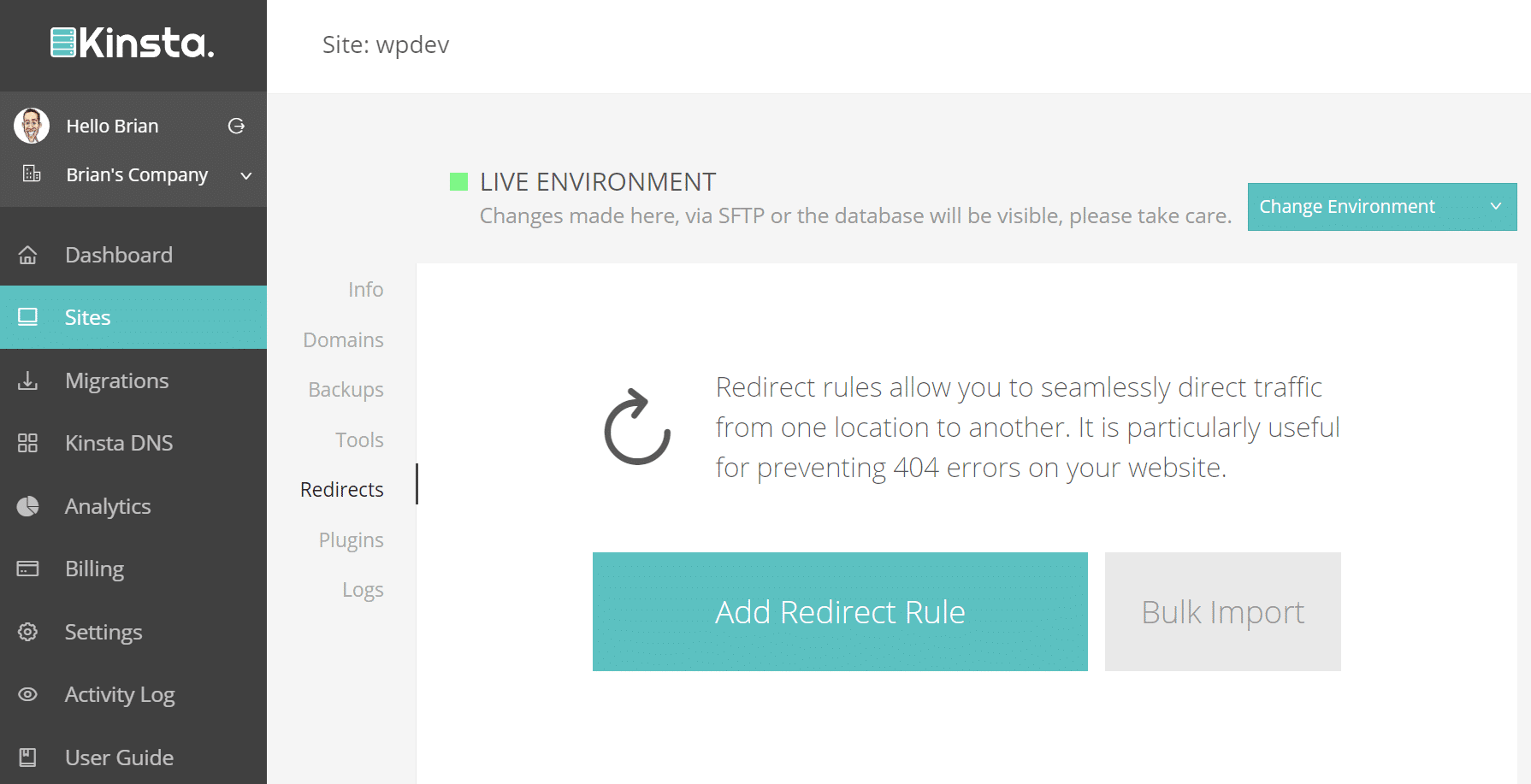 Step 2
Paste the contents of a CSV file in the field. The CSV should contain information separated by commas in this order: status code, domain (all for all domains), redirect from path and redirect to URL. Each redirect rule should be placed on a new line. Then click on "Import Redirects."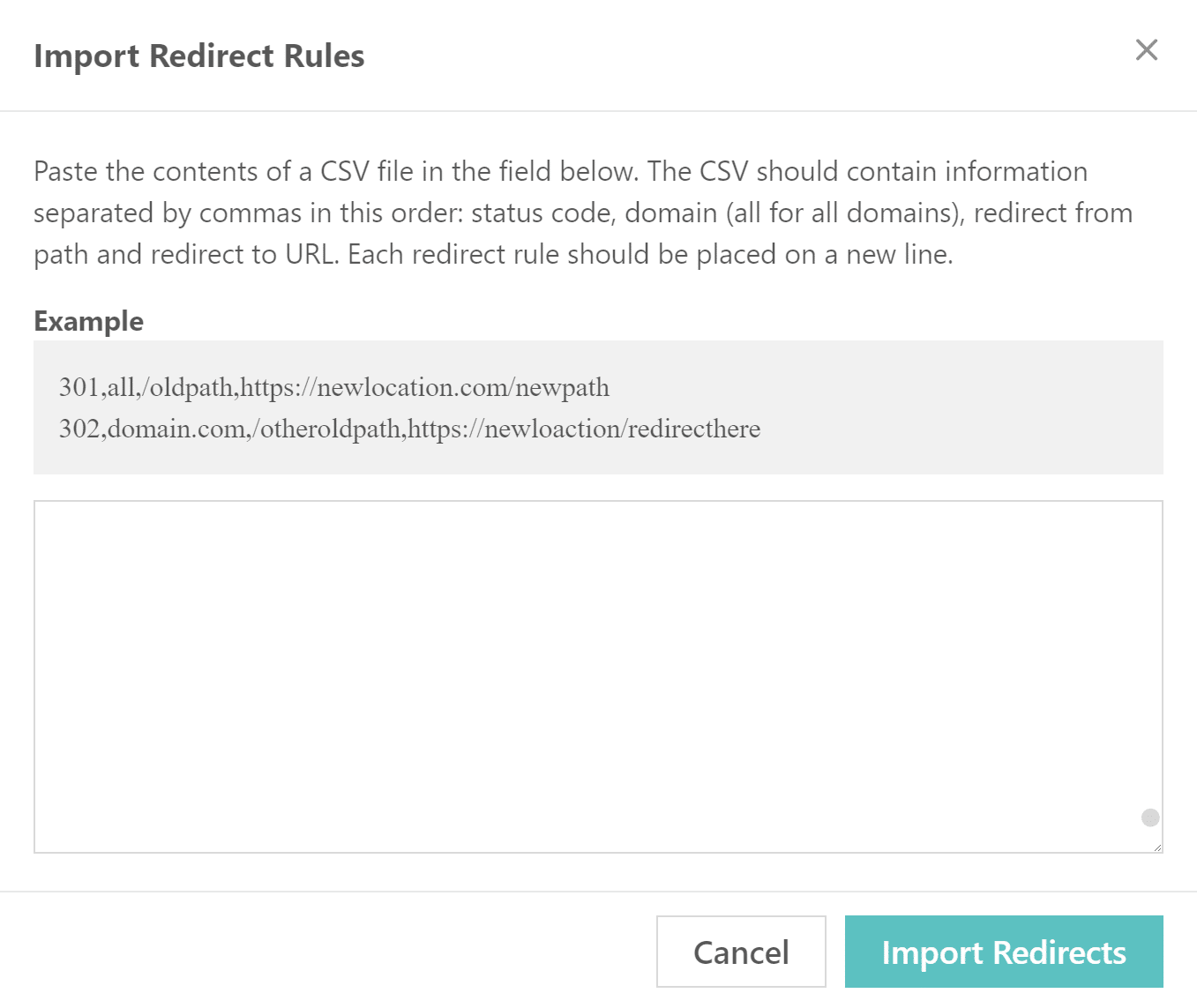 Exporting Redirects from WordPress
If you are wanting to migrate your current redirects from a WordPress plugin to MyKinsta, many of them have export options available in their settings (export option example below from the EPS redirects plugin). Just ensure they are properly formatted before bulk importing.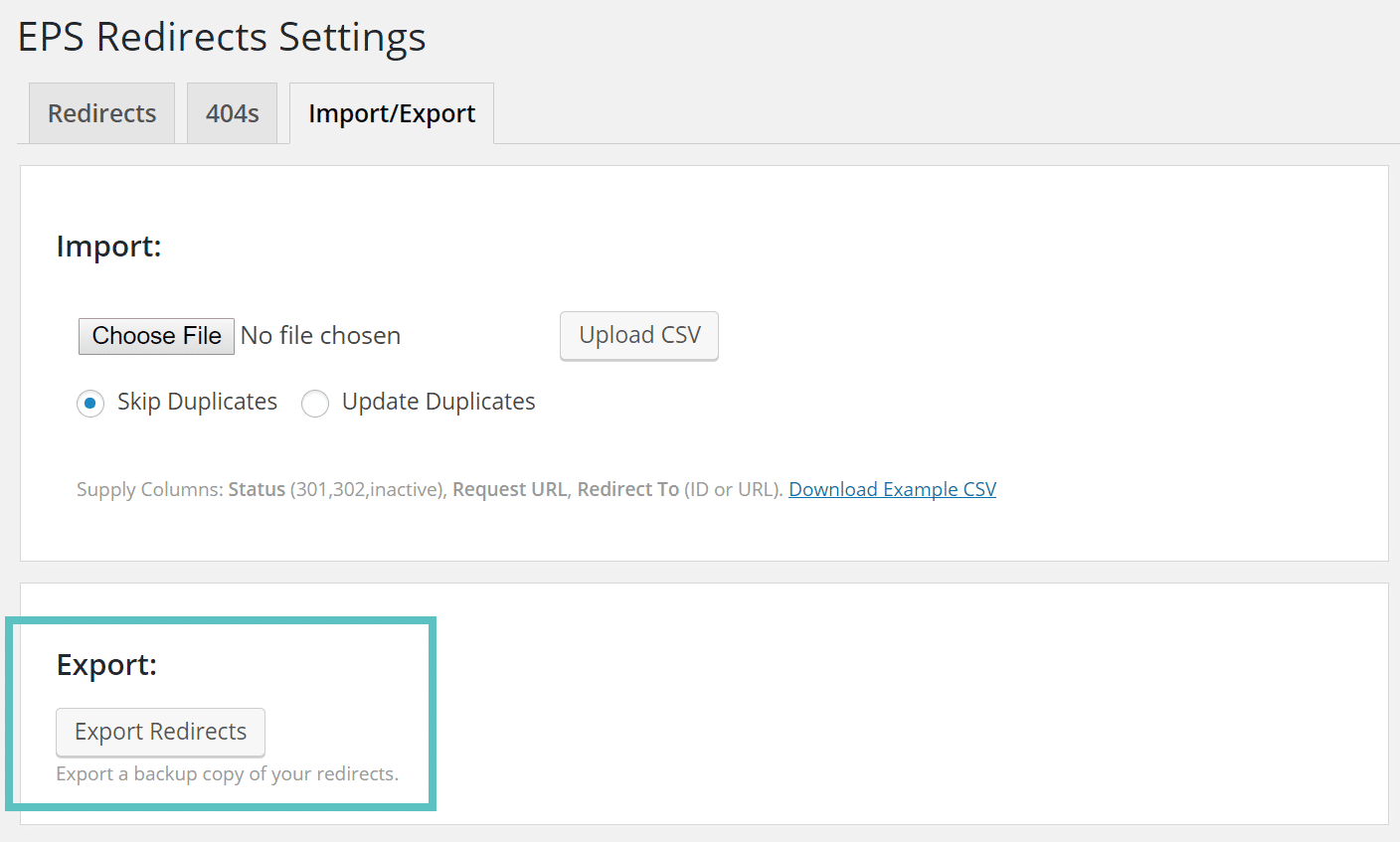 If you are using the Simple 301 Redirects plugin you can use this Export Simple 301 Redirects to CSV plugin.
Notes
For more complex redirects you might need to open up a support ticket. Since we don't run Apache, you can't use .htaccess. Instead, we run NGINX which has its own rewrite rule syntax; whatever you can do with .htaccess files you can "translate" to Nginx's syntax and we'll add them to your site's NGINX config file.
Related Articles