We take WordPress security very seriously here at Kinsta and have implemented active and passive measures to stop attacks and malicious intent in its tracks.  But there is always a chance that your WordPress site could get infected with malware. That is why we are happy to offer free WordPress malware removal for all customers to ensure your site, visitors, and our servers are not compromised.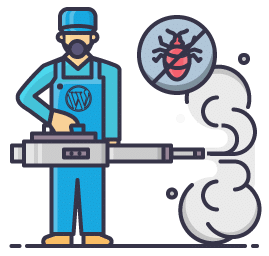 What is Malware?
The term malware is very broad and can be used to describe a lot of different security vulnerabilities, such as computer viruses, spyware, adware, intrusive software, etc. This is usually in the form of executable code and scripts which are designed to secretly access a system without the user's knowledge. Typically people think of malware as something that infects their computer or laptop, which then requires an anti-virus software. But malware also works the same way on web servers and websites. If you download a plugin with a virus in one of the files and then install that plugin on your WordPress site, it can infect your entire website, and spread just like it would on your computer.
In 2015, 34.2% of user computers were subjected to at least one web attack. Kaspersky
How Kinsta's WordPress Malware Removal Works
We monitor your sites every minute for uptime with Sentry, detect DDoS attacks as they happen and proactively stop malicious code from entering our network. Hardware firewalls are in place and have very tight software-based restrictions to protect your WordPress site.
If you are coming to Kinsta from another web host we offer free site migrations. If malware is detected upon migration you will be charged a one-time fee of $100 for us to clean it up. The great news is that once you are with Kinsta we provide all WordPress malware removal for free for as long as you host with us. If anything ever comes up our expert support team will handle everything.
---
If you enjoyed this tutorial, then you'll love our support. All Kinsta's hosting plans include 24/7 support from our veteran WordPress developers and engineers. Chat with the same team that backs our Fortune 500 clients. Check out our plans